I only recommend products or services that I believe will add value to my readers. By using these affiliate links, I'll receive a commission if you purchase through my link, at no extra cost to you. Please read full disclosure here
The best graduation party ideas ever!
I can't believe it's finally the time to start browsing the internet for the most epic graduation party ideas to plan the most INCREDIBLE graduation party the world has ever seen!
After a long year full of a lot of accomplishment and stress, it's high time for high school and college graduates to run the best graduation party ever to celebrate the end of this chapter of their lives and enjoy their time with family and friends.
Planning an epic graduation party is going to be so freaking easy because I've totally got you covered.
This blog post is dedicated to all the graduate's parents and of course, the graduate's themselves to discover the most outstanding graduation party ideas to create a party that'll be remembered for many years to come.
These grad party ideas are the best on the internet to make the party of your dreams. I literally haven't missed a single detail in this one!
You guys won't believe the craziest ideas I have for your grad party which won't only impress you but will quite literally blow you away.
I can guarantee you won't find another graduation party ideas post on the internet that is as comprehensive as this one!
The Best Graduation Party Ideas
1. Graduation Polaroid Frame
Recreate this Polaroid Frame as a photoshoot backdrop:
This is the first coolest graduation party idea you have to get your hands on for your graduation party this year.
You're the star of the day, and there is no better than making a customized polaroid frame with your name to take pictures and make memorable moments with your friends and family.
This cute polaroid frame is so cheap to make as Polaroid films can be pretty expensive.
I got a similar yet cheaper one for my party from Amazon, and it was of good quality.
You can DIY the way you want. To make it even more special, get some LED letters to spell out your name and attach it to your frame.
2. Setup a Classic Grad Photoshoot Backdrop
Recreate this Classic Congrats Backdrop Photoshoot
Another must-have for any grad party is setting up this cute backdrop with a congrats sign and a balloon arch to create the perfect backdrop to take pictures with your guests.
I really love this classic green graduation party backdrop, especially if you're having an outdoor graduation party in your backyard (or even to bring the outdoors in if the weather doesn't happen to be on your side on the day).
3. Make A Memory Board
Make this Memory Board
There is no party without a memory board. It's a tradition now. I believe it's one of the most crucial parts of running an epic high school or college graduation party by displaying all your best memories during this chapter of your life.
Sharing your best and weirdest moments with your family and friends is just so wonderful and the perfect keepsake too to take a trip down memory lane in the future.
Imagine looking back when you're married with kids and laughing about all the silly times you had and sharing your best and craziest moments!
This memory board will carry so much sentimental value too. It's so easy to make it though.
Get this cheap Polyword backdrop from Amazon and you can stick all your memorable photos from kindergarten to college.
Oh, and how about keeping a polaroid camera next to another (blank) board at your graduation party so guests can take photos and instantly add it to the memory board there and then?
That way you can look back and reminisce about the best graduation party to have ever taken place too!
I literally have some pictures which I'm so embarrassed to share but don't worry I'll share them with you one-day ahaha.
4.Graduation Gift Tags
I know it's more common for guests to bring grad gifts but if you're looking into making your grad party a bit special and making your guests feel like VIPs.
Why not show them a token of your appreciation by making them a small thank you gift thanking them for gracing your party with their presence and making the evening/day absolutely perfect.
Obviously, this gift can be anything from sweets or a small customized bracelet with their names.
The graduation gift tag pictured is literally everything as this small detail adds the perfect final touch to any graduation gift.
You can leave a thank you note for them by including an Instax Photo you can take with them on the day to make it even memorable.
5.Cupcake Toppers
Get These Graduation Cupcake Toppers
Graduation party ideas are all about the little details. If you want to add extra graduation decoration, you'll absolutely need to get these graduation cupcake toppers.
These toppers are so freaking cute and they come with so many options at such a cheap price.
I just love the fact you can get them customized to match your graduation party theme.
6. Graduation Friends Theme Backdrop Setup for Pictures
Recreate This Friends Backdrop
Friends backdrops for graduation parties are so popular. If you are a true friends fan (who's not though?), set up a grad friends backdrop as a photoshoot background to take pictures with your very own friends and family.
This friends' backdrop setup is so easy to make. The only thing you need is to get is this Polywood backdrop and paint it black.
Also, you can get this friend's banner and hang it up in the middle of your backdrop. Also, you can use an old family couch for this and you're good to go.
7. Graduation Entrance Sign
Create this Lettered Chalkboard Entrance Sign
I really love graduation entrance signs and every grad party should have one. It's a great way to announce your graduation to everyone and welcome them to your graduation party.
Make a hand-lettered chalkboard sign to welcome your guests. Most importantly, add a special touch to it from your college whether it's your college logo or famous words or mottos that identify it.
8. Taco Bouta a Future Graduation Party
Recreate This Graduation Party Theme
This is one of the funniest graduation party ideas I've ever come across.
I love the fact that it's so different from any other traditional graduation party where they are mostly themed with the school colors or classic black and white graduation parties.
Also, to make it even more special and on point, make a taco bar station where you can serve different taco tortillas and margaritas along with some gorgeous cookies and your graduation cakes.
9. Congrats Grad Cheese Board
Get this Cheese Board
Make a cheese board as a treat to serve at your graduation party. My friend made one at her party and the guests were in love with it.
Charcuterie boards are the latest and trendiest offering at any and all parties these days and they're guaranteed to go down a right treat with your guests!
I love the class year topper too, such a great addition.
10. Graduation Bar Trailer
Get the Balloons Arch
One of my favorite graduation party ideas is setting up a bar trailer especially if you're having an outdoor graduation party in your backyard.
It's a great way to serve cold drinks for your guests.
Also, it will make a great addition to your party decorations.
I've even seen some epic burger food trucks at graduation parties too and I don't know about you, but I find that burgers just taste SO much better when they're made out of a food truck!!
11. Frame Your Go-to Graduation Inspired Quote
Get this Chalkboard
Frame your favorite quote and display it at your entrance table. If you're using a chalkboard, make sure to change it as long as you go through the party or even ask your guests to write their favorite quote they think matches you.
Go for motivational and inspirational quotes as these are guaranteed to be a hit and get all your graduate guests hyped up to start their new beginnings in their professional life and beyond!
Related: 48 Best High School Graduation Party Ideas You Can Ever Find
12. Graduation Toppers
Graduation toppers are a must. They are literally what makes the whole aesthetic of your graduation look on point.
You absolutely have to get this topper for your graduation party to decorate your cakes, cupcakes, tables and anything else that could do with some decorating.
13. Donuts Board
Get this Donut Board
Get a donut board to display your delicious donuts at your graduation party instead of just adding them to a typical plate at your dessert table. Make it fun instead.
14. She is One Smart Cookie Bar
Make a cookie bar for your guests. You can offer all kinds of cookies. I love how this One Smart Cookie Bar sends rustic vintage vibes.
To make it even more special, decorate with some of the kitchen supplies and don't forget to order some of your state's most known cookies to add a special touch to it.
Also, if you're planning to make the same, don't forget to serve some milk too because everyone loves milk and cookies.
You can even serve strawberry-flavored milk or chocolate milk with your cookies instead of just plain milk.
15.Graduation Banner
Get the Congrats banner
I'm a huge fan of banners, not going to lie. It can't be a graduation party without a congrats grad banner.
Hang all your graduation banners everywhere lol. This can be at your dessert table, photo backdrop set up, and even at hung up at your entrance.
There are so many options lately when it comes to banners but I really love these ones as they come in different colors and styles.
You can even customize them with your name which is what I love the most, especially if you're like me and want everyone to know it's your graduation party and this day is all about you (because you deserve all the fame and more on this special day of yours!).
Related: 29 Easy Graduation Cap Ideas To Add Some Serious Eye Candy To Your Graduation Day Look
16. DIY a World Globe with Your Favorite Quote
DIY this World Globe
There are so many graduation decoration ideas to get you inspired when decorating your own party.
DIY a world globe with your favorite quote and add it to your decoration at the entrance table with your graduation card box to add a little special touch to the decor.
Get this world globe from Amazon which is really cheap and you can paint it with your grad party color scheme.
17. Create Your Dreamy Graduation Dessert Table
Style up your dreamy graduation-themed dessert board for your graduation with all your favorite chocolates and treats.
I really love this dessert board and how it's made to match the grad party theme.
18. Graduation Party Game Ideas
This is a must for all graduation parties to make it more fun and interesting. Graduation party games are really cool and there are some amazing game printables you can play with your guests.
This who knows the grad better printable is the most common one you'll find at graduation parties.
You can really enjoy it and discover know who knows you better from your guests. Maybe the one who gets the most correct answers can even get a small prize too!
Also, I love the fact this graduation arty game comes with 3diffrent template styles that will match your graduation party perfectly.
19. Graduation Premium Ice Cream
This is a really cool idea. Make your graduation super cool (pun intended!) by adding an ice cream station for your guests, especially if you're having your party on a warm day. Order some premium ice cream for your party with your favorite flavors.
Related: 29 Insanely Cute Graduation Party Themes You Will Want to Recreate
20. Display Your Graduation Year Balloons as a Photo Backdrop
Get the Balloons
Decorate your wall with gold and black balloons to create a super glam vibe.
Get 2023 balloons and create a large balloon arch as a backdrop for your photos.
21. Graduation Cake Cart
Get the Balloons Garland
Can I just say that this has to be the cutest graduation party idea of them all!
Set a graduation cake cart for your guests where you serve all kinds of deliciousness from donuts, French macarons, to cake pops and anymore of your favorite sweet treats.
If you want to go for something unique for this year's graduation party, you absolutely have to rent this cake cart.
22. Display Grad Sign with Large Balloons in the backyard
If you're making your graduation party in your backyard or in your basement, rent a grad sign decorated with a massive balloon arch as a backdrop to take pictures with friends and family, or to make it very obvious to your guests which house is the grad party house!
You can even display your name instead of the grad one if you want to make it even more about you.
23. Make Personalized Graduation Tote Bags
Make personalized graduation tote bags with a little 'you did it class of 2022' tag.
24. Chocolate Covered Pretzels
Pretzels are really popular at graduation parties because they are SO delicious and easy to make too.
Make sure to dip them into colored chocolate to make them even cuter (and tastier!) and to match your grad party theme.
Also, these are probably the only treats you can make ahead of time so you can make them 3 days before your big day and they'll keep just fine.
Related: Insanely Cute 64 Graduation Cap Ideas You'll Want To Steal Immediately
25. Graduation Chalkboard As a Backdrop
Make a graduation chalkboard decorated with large balloons as a photoshoot station. Chalkboards aren't hard to make at all and don't cost an arm and a leg to make either.
This one was created by Brinley where she basically traced out the lines of the design with chalk using a projector and then filled it with white paint.
Also, make sure to have some extra sticks of chalk at the ready for your guests to write some cute messages for you.
26. Set Up A Graduation Drinks Table
Recreate this
Don't forget to set up a drinks station with some cool drinks for your party.
Sangria, water, and lemonade are some of the most common drinks served at graduation parties.
27. Use Hanging Lights to Decorate your Backyard
Get these hanging lights
If you're having an outdoor graduation party, don't forget to use hanging lights to decorate your outdoor area.
You can even hang them all along the food table to add a special touch to it.
28. Decorate Your Driveway With Your Childhood Pictures
A great way to decorate your graduation entrance way is by displaying a string of childhood picture signs along the driveway with a balloon arch.
It's not only a great way to decorate your doorway, but also your guests will see your girl growing and every single stage of her journey and feel like they are a part of that journey.
29. Black and White Graduation Party Theme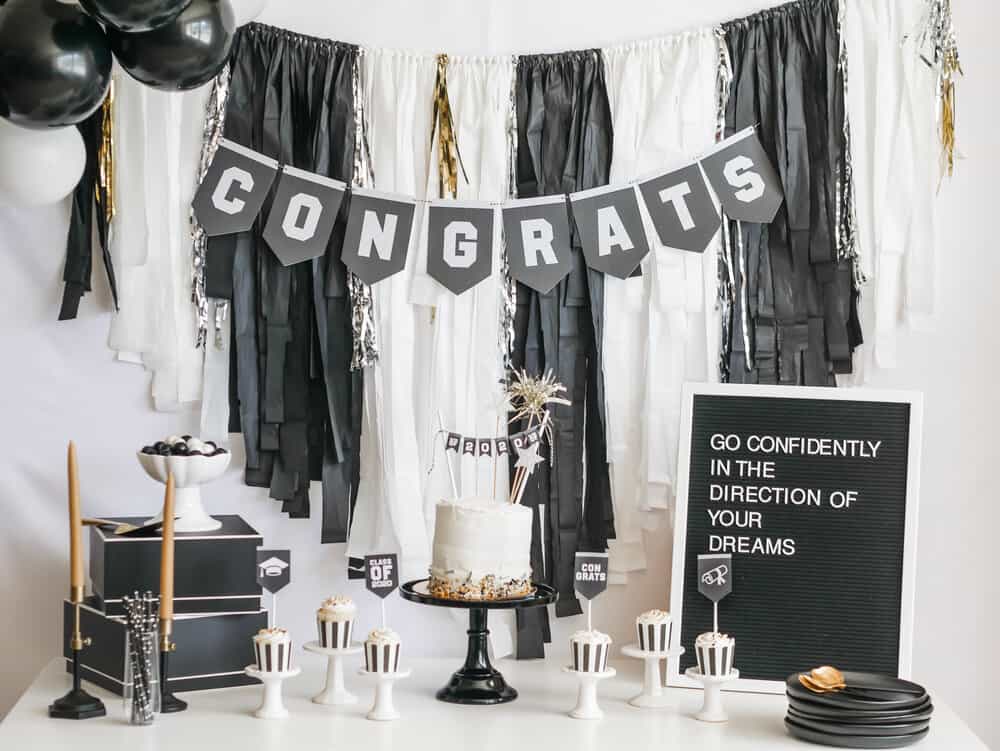 Recreate this black and white graduation party theme
One of the most important things to note when scrolling for graduation party ideas is discovering and setting up a themed graduation party.
I love how cute this black and white graduation party idea is.
It's one of the most common grad themes among graduates and we just can't get over this super chic (and neutral) setting.
These congrats banners and cake toppers along with the black and white garlands make the whole look so on point.
Related: 43 Mouthwatering Graduation Party Food Ideas Your Guests Will Indulge In
30. Decorate Your Door Entrance With Balloons
Get the balloons
Don't forget to decorate your door entrance with your grad balloons. You can get customized class balloons with your school logo.
Also, this red carpet will give you and your guests the ultimate red carpet experience before they set foot in the graduation party of dreams, not to mention it looks so stylish and expensive too.
Graduation Party Ideas For Daughter
31. Get a Congratulations Sash
Get the graduation sash
I'm a huge fan of sash and it's no longer limited to birthdays and weddings.
Get a congratulations sash to take cute pictures on your big day.
32. Customize Graduation Labels
Get the graduation labels
Customize your water labels and drinks labels by displaying your graduation year and add in an image of a graduation cap too.
Also, get some grad stickers for your actual caps too.
33. Graduation Instagram Hashtag Frame
It's a cool graduation idea to let your guests know what hashtag to use when sharing your best moments with them on Instagram.
34. Heart Drop Frame
I've seen this heart drop in almost all graduation parties last year. It was mostly used at weddings but lately, grads everywhere are obsessed with it.
It's a cool way to get your guests to sign the smaller wooden hearts included with their names and drop them in.
To make it less expensive, get these heart stickers instead.
35. Setup a Rose Gold Backdrop
Recreate this Setup a Rose Gold Backdrop
It can't be a grad party for your daughter without setting up a cute backdrop for taking pictures.
Rose gold backdrops are really popular among college graduates especially for girls who want to make a rose gold graduation themed party.
36. Graduation Cupcakes
You'll absolutely want to get these cute graduation cupcakes. You can plan to make them at home a day ahead of your graduation party, or you can order them from your favorite store in town.
Make sure they go hand in hand with your grad party theme to make the whole thing uniform and on point.
37. Use Themed Straws For Your Graduation Drink Glasses
Get the Straws
You have to get these themed graduation straws for your drink glasses. Details are important at any party so you absolutely don't want to miss this one.
38. Wisdom Jar for the Graduate
Get the Cards
Add a wisdom jar filled with empty cards at your entrance table to allow your guests to leave a word of wisdom for you that might be helpful for the next chapter of your life.
39. Make a Snack Station
Make this Snack Station
Whether you're setting an indoor or outdoor graduation party for you or for your daughter, you absolutely need to make a snack station for your guests.
This station is such a crowd-pleaser at any party.
You can serve whatever snacks you fancy like chips, popcorn, chocolate bars, etc.
40. Polaroid Station
Create this polaroid station
Polaroid stations have been getting more and more popular among graduates lately. This little setup invites guests to take a pic and leave a message for the graduate in his/her guest book beside their polaroid photo.
It's a really fun and easy way to bring unique interactions to a party! It's one of the graduation party ideas you have to recreate for your grad party to make unforgettable memories.
41. Rose Gold Graduation Party
Create this Rose Gold graduation party
If you're looking to set up the prettiest and coolest graduation party for your daughter and you know she will be obsessed with it and impressed,
you'll have to think about making a rose gold graduation party theme for her as it's so feminine and stylish.
42. Graduation Card Box
Get the card
Every graduation party should have this little cute graduation card box. This box is really big and can hold up to 50 cards. Also, it's really sturdy so it won't really move even with the wind blowing.
You can decorate it with some large grad balloons. Preferably, put it at your graduation entrance table to make it easy for your guests to put their congrats graduate cards they've made for you when arriving.
43. Order Or Make A Graduation Cake
Get Cake Stand
Order your graduation cake. Probably the most important part of your whole party because you want to have a grad cake as the masterpiece of your desserts table.
You can personalize your cake with your college colors, or party colors and add "Congrats" followed by your name written on a sash and displayed on the cake stand.
Also, this cake topper makes the whole look. Make sure to get it :p
44. Make Graduation Centerpieces
Get the graduation centerpieces
Making graduation centerpieces are one of the easiest graduation party decorations to do. They are a great and cool way to display your graduation photo or your college memories.
They honestly don't take much time at all and you can even get them done at a very cheap price.
Another way to make your centerpieces a bit different is making them yourself using an Instax camera and then you can add a note to the polaroid picture.
45. Make Graduation Cap Cookies
You can't run your graduation party without making graduation cap cookies and diplomas with your class of 2023 displayed and diplomas wrapped in gold string icing.
Black and white graduation cap cookies are the most traditional ones to make or order.
Grduation Party Ideas For Guys
46. Make Graduation Balloon Bouquets
Get creative and make graduation balloon bouquets to decorate your door entrance.
47. Make a Baseball Graduation Theme Party
If your son is a huge fan of baseball or he has been playing it since his childhood days, there is no better way to celebrate his baseball journey than throwing him a baseball graduation party.
48. Congrats Sign with Grad Photo Entrance Sign
To make your graduation entrance sign a bit special, stick your graduate picture to it with class of 2023 with a massive balloon arch to frame it.
49. Create a Graduation Wreath
I've already told you that in order to make your graduation party extra special, it's all in the details.
Create a graduation wreath with your kid's best college or high school moments and hang it on your door with graduation balloons.
Also, don't forget to add a class of 2023 banner to add to the whole graduation vibe.
50. Get Napkins With Your College Colors
Get these napkins
Attention to detail is so important and is always appreciated by party guests.
Get your napkins to match your school colors or to even match the overall theme of your graduation party.
51. Decorate your Backdrop with Large Balloons
Recreate this backdrop
It literally can't be a graduation backdrop without large balloons.
Make sure they complement your backdrop color nicely too (aka stick to the color theme of say 3 main colors and don't get carried away with too many random colors unless your party happens to be rainbow themed the go crazy!).
52. DIY Balloon Arch In Your College First Letters
Get the balloons
One of the graduation party ideas is making balloons as your college first letters. For example, SU stands for Southern University.
You can get the balloons to match your college colors too to go that extra step.
53. Make a Barbecue Table
Get this chaffing dish to keep your food warm at your party
As much as dessert tables are important, you can't go wrong by serving some of the most delicious barbecues for your guests.
Make a barbecue table where you serve barbecue, briskets and other food you and your guests will enjoy.
54. Key to Success
I really love this graduation party idea where your guests will leave you advice to encourage you and support you in the next chapter of your life.
Get this key to success tags and let your guests leave their wise words for you signed with their names so you know who left it for you.
These were the Best Graduation Party Ideas to Make an Epic Graduation Party People Will Keep Talking about for the Rest of the Year.
You Will Also Love
48 Best High School Graduation Party Ideas You Can Ever Find
29 Insanely Cute Graduation Party Themes You Will Want to Recreate
Insanely Cute 64 Graduation Cap Ideas You'll Want To Steal Immediately
Unexpectedly Wanted 40 College Graduation Gifts For Girls They Will Love
38 Insanely Good High School Graduation Gift Ideas They Will Actually Use
29 Easy Graduation Cap Ideas To Add Some Serious Eye Candy To Your Graduation Day Look
43 Mouthwatering Graduation Party Food Ideas Your Guests Will Indulge In
Don't forget to pin this for later!