This post may contain affiliate links, which means I'll receive a commission if you purchase through my link, at no extra cost to you. Please read full disclosure here
Here we meet again in my blogging income report for May 2022!
A few months ago, I decided to share everything about how much I make every single month blogging. My first blog income report was back in October and there was a lot of stuff going on since then so I kind of procrastinated to share more but here I am again and I'll commit to it!
The only reason I really enjoy these blogging income reports series is that first, they are really inspiring, and second, who doesn't love to read more about how much bloggers actually make from blogging!
The point isn't how much we've actually made money blogging ( although we all love seeing numbers) but how we've actually been able to make it to this point.
Also, if you haven't started a blog yet, I highly recommend going through my how to start a blog guide as I promise it's the most comprehensive yet he easiest guide to help you start a profitable blog!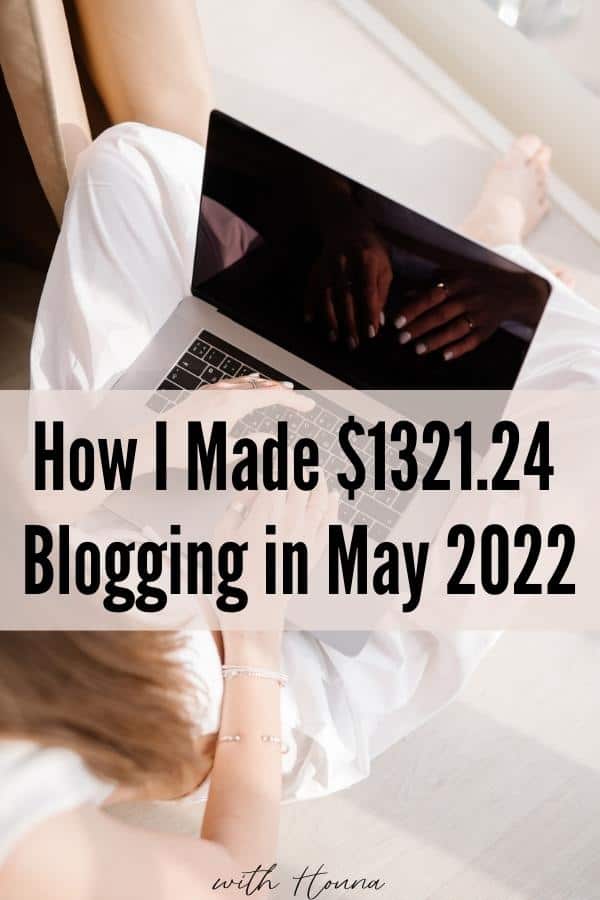 First, For those who are new, With Houna was born back in May 2020 and took its real place in the internet world just a year ago. I started With Houna when I was a first-year Master's degree studying Applied Linguistics.
This website is my passion, my dream, and my everything. It's even more than a business to me, It's my world. Everything I share with you is absolutely after a lot of dedicated time, a lot of energy, and hard work to make everything work and provide for you the best version of anything you want to see and read. 
Now, let's get into it! 
With Houna Blogging Income Report Of May 2022
Amazon associate: $850.62
Rewardstyle: $391.39
Legal Templates: $59.43 (I highly recommend getting these affordable legal templates to protect your website)
The 17th Avenue Themes: $19.80
Total: $1321.24
As you can see from the above, all my income is 100% affiliate marketing.
I want to say that this amount isn't the actual profit as there are a lot of expenses conducted from it like my monthly blogging expenses, fees, and others.
I really want to be as transparent with you as possible and I can 100% say blogging isn't easy money nor will make you a billionaire overnight!
The last time I share with you my October blog income report, my income was both affiliate marketing and ads income. However, in January I decided to take off ads as they were doing no good to me and I really hated the fact of having a slow website and spending 70% dealing with technical issues that I had no idea how to fix most of the time. I know most bloggers would disagree with me as I would have made a lot from Ads, especially since ad income is passive. However, I've chosen to have a better user experience rather than just making money with a slow, bad website.
I believe these May results are mostly of everything I did and committed to these last 3 months which I'll share with you in a moment.
I succeeded in the most important thing in the whole blogging world which is COMMITMENT. I'm actually surprised I've pushed myself to stick to posting one article every single week for the past months and I highly recommend you do the same.
May has been a very long month for me as I've applied to a big ad agency so there is nothing I hate more than waiting LOL.
I did a lot of work behind the scenes that helped me grow.
I feel so bad to say I wasn't able to upload an article for May which is the worst thing you can ever do in blogging because I just wanted to focus on updating my old content as it's as important as posting new articles.
Mostly in May, it was all about fixing technical issues, and let me tell you, I'm not a tech-savvy person at all. I wanted to change my theme as the 17th Avenue themes came with a new theme called Clover and OMG I was so in love with it! It allows you to customize your website the way you want it to be without paying a leg and an arm for a web developer to create your dreamy website for you! It's just drag and drops and I just love it.
I tried to install it myself thinking it was going to be easy as the first time but I've almost deleted my whole website. Now, I guess I'll hire someone to do it for me or just order the installation service they provide.
Another thing I did in May was invest my time in blogging education because I'm a huge believer in blogging courses and I think they are the reason to let you grow quickly so this month was absolutely productive.
I want to get more into SEO and email marketing so I invested a lot of time and effort into it.
I've grown my email list into 3000+ subscribers in the past month which is just insane. I'm yet so scared as I got no idea how to email them and what to say although there is a lot to say LOL. I guess I'm just afraid but this month I'll absolutely commit to emailing my list once every single week and I've planned amazing stuff for it in May. I can't wait to see how It's going to turn out.
With Houna Blogging Goals for June
Let's talk more about my blogging plan for June as I find it interesting.
The very first thing I'm going to do is to change my whole blogging strategy. This is the most daring, exciting, and scary stuff I'll ever take.
I'm more into putting my eggs into different baskets which is something I wanted to do for so long. I always hear from fellow bloggers that diversifying your income is the most important thing in blogging to maintain a consistent income. Second, I'll stick to posting one article every single week and commit to it along with all marketing materials.
Another thing I'm still debating, I really want to invest in an email list course as I really want to prioritize my email list building and learn everything about it.
I've always dreamt about having super close girlfriends with that we share our passion together and I'm planning to make it work.
To sum up, what I'd be focusing on and what would be the best for you to do so is to stay consistent and provide high-quality content SEO optimized. Also, it should be a good fit for my audience as I really want to be more targeted now.
Again, if you really want to start a blog and are still hesitant as you don't know what to start from , I highly recommend going through my how to start a profitable blog as it's seriously the best guide to get a professional website in just half a day.
These are all about my blogging income report for May 2022. I really hope you liked it and I can't wait for next month to share everything with you and keep you updated.