I only recommend products or services that I believe will add value to my readers. By using these affiliate links, I'll receive a commission if you purchase through my link, at no extra cost to you. Please read full disclosure here
Looking for the best, and trendiest autumn nail designs to rock this season?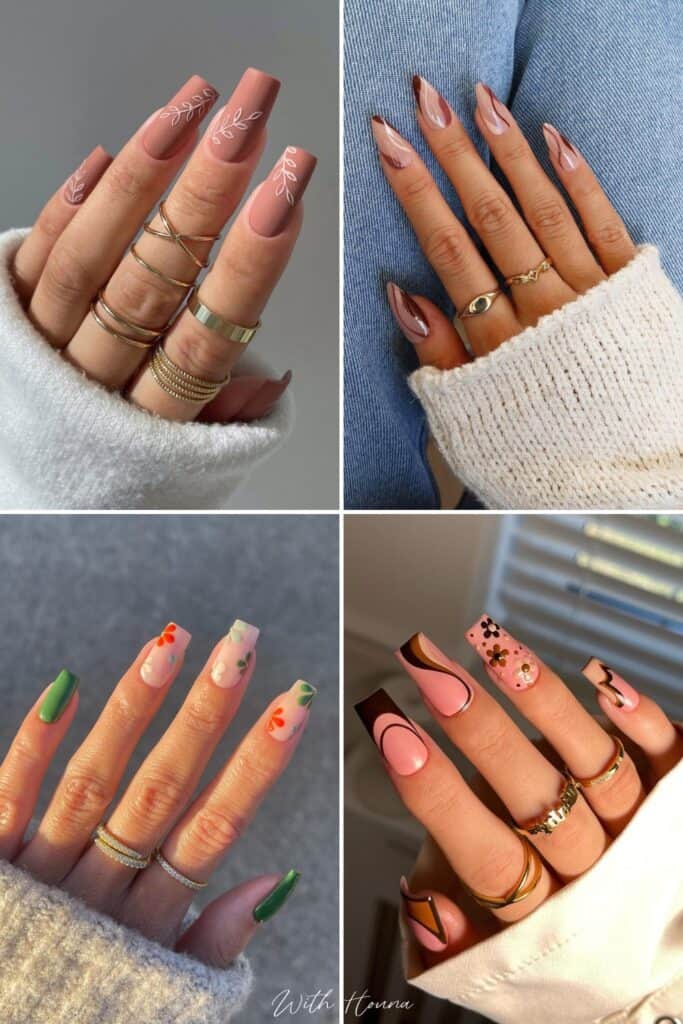 As we say goodbye to the hot summer days, autumn is here with brown foliage and cooler weather.
And it's the perfect time to switch up your summer nails to beautiful autumn nail designs, especially if you love warm-toned nails and are obsessed with having your nails match the season.
Imagine having an Instagram and Pinterest-worthy autumn nail design and fall nails to match your fall fashion, whether you slay in your Pajamas while working from home or rock those boots to college.
I love warm to nude colors, and autumn color nail designs are perfect. From blush to fuchsia, soft, muted pinks, dusty rose shades, and blush tones, deep burgundy colors will leave your nails looking pretty.
As you rock your knee-high boots and cozy brown sweaters, you may want to pair these with brown to nude autumn nail designs.
Also, blending warm, earthy tones like burnt orange, mustard yellow, and chocolate brown with a soft pink or blush shade will take your autumn nail designs or fall nail designs from basic to Pinterest-worthy nail fashion.
You can transform your traditional French tip nails from pretty to elegant and feminine by blending pink and nude colors instead of the regular white on a bold background.
Whether you want to go bold and colorful or keep it warm and switch things up with some floral pattern design, we have assortments of stunning autumn.
Autumn nail designs are the perfect and fun way to switch up your look and bid goodbye to summer, whether you add a pink trend to create a touch of femininity and whimsy.
Perhaps, you prefer a classic French manicure, a bold animal print, or a floral autumn nail design; you'll find the perfect autumn nail design for you so that you can switch up your manis for the season.
Cute Autumn Nail Designs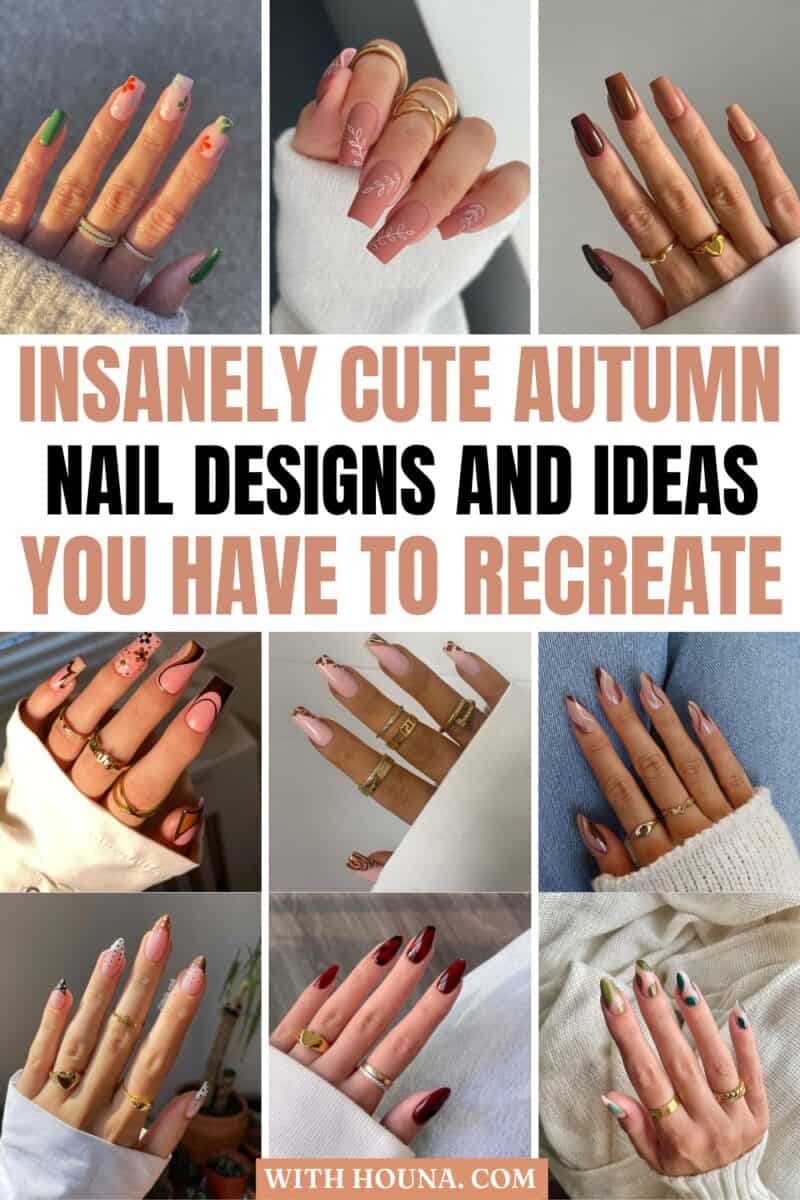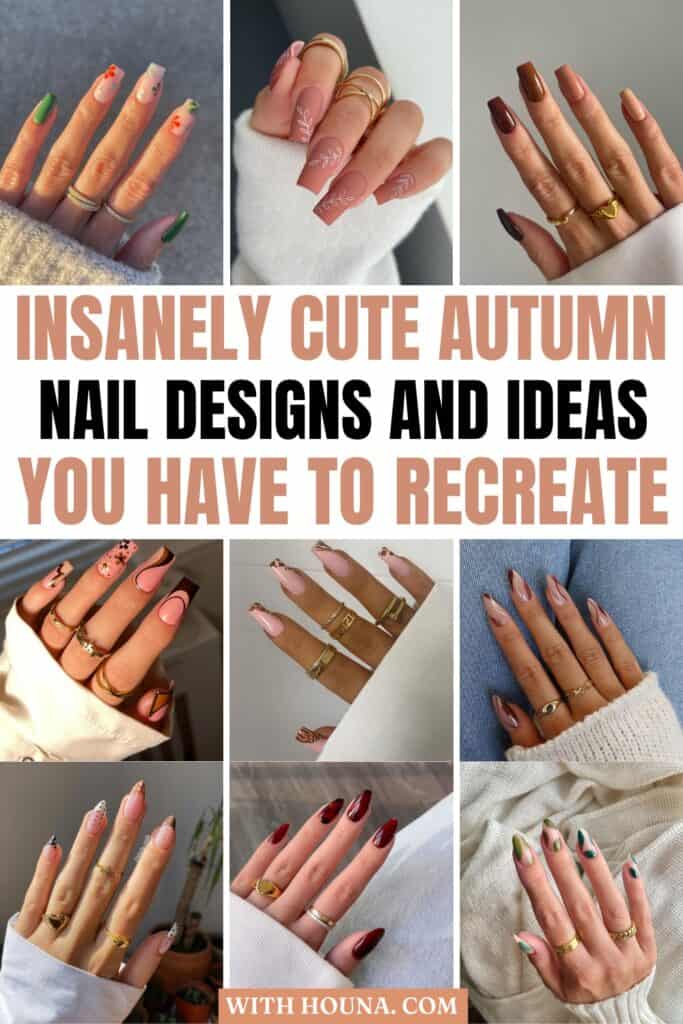 1. Tonal Nail Tips
These nails are the epitome of Autumnal beauty. They're a lot extra and very striking, but that doesn't take away from the soft, charming, and warm tones that make these ideal for the most lovely season.
Long, lightly-edged stiletto shaped nails are key to perfecting this look alongside a semi-translucent blush base. Then, slick on each shade and apply the underline after to cover any mistakes.
2. Subtle Tortoise Nails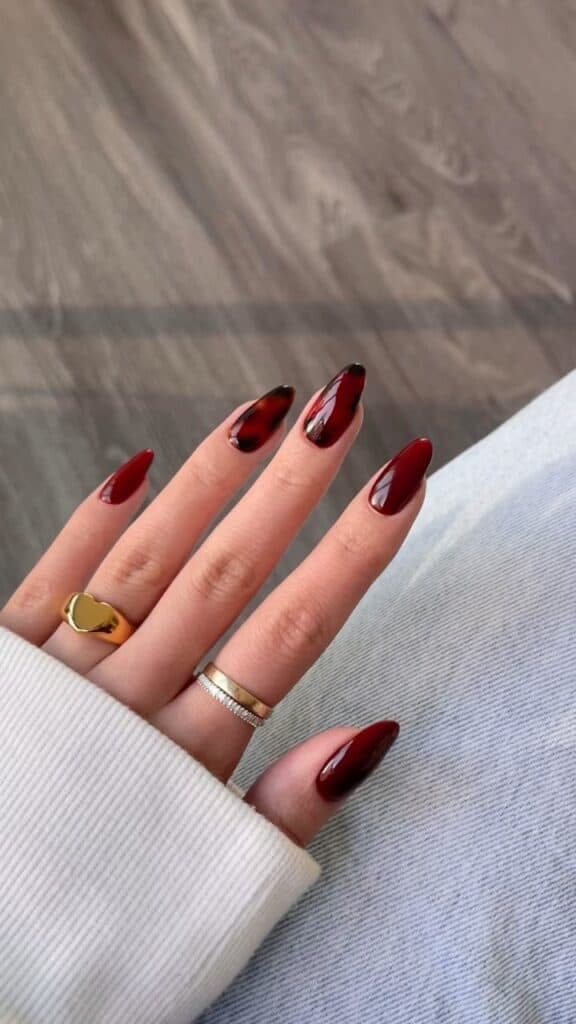 This Autumn nail idea brings the romance vibes. They're all heart with their deep red mixed with black, creating a set-in-amber effect that's so vintage-chic.
To achieve the glossy tortoiseshell effect, get ready to apply plenty of overcoats after dabbing black nail polish over a red base.
While that may sound too easy, it really is as simple as that to achieve these stunning nails.
3. Autumn Floral Nails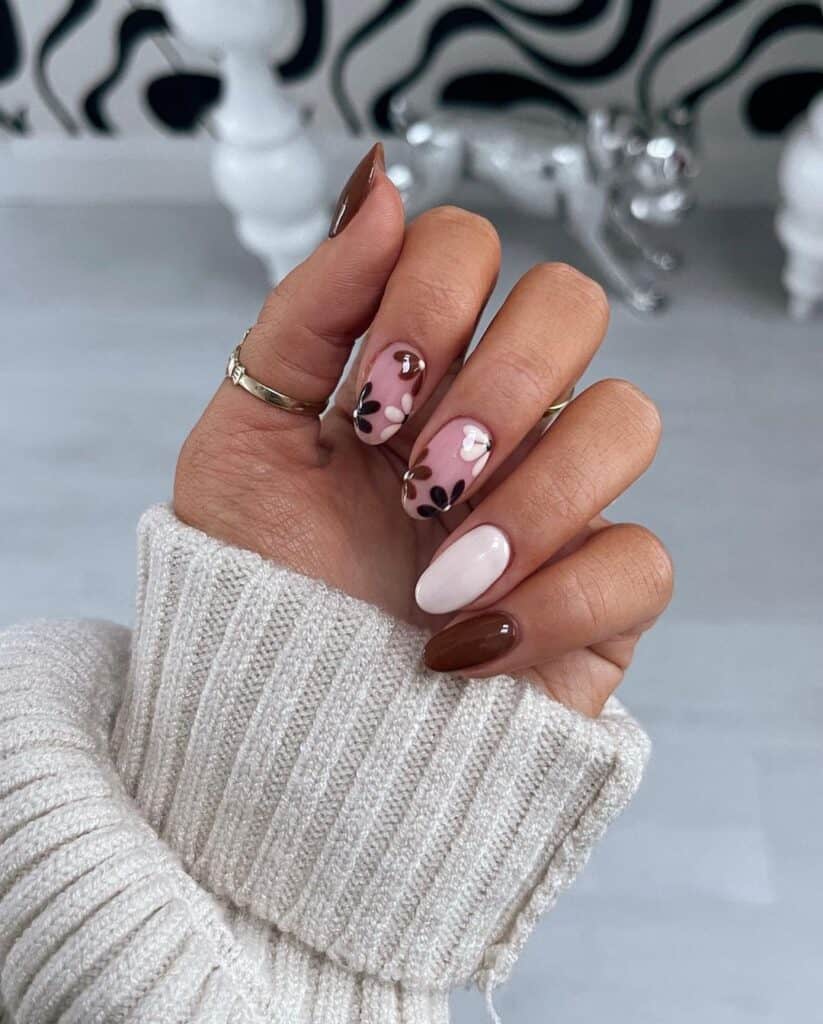 Not ready to let go of Summer just yet? No problem. These free-spirited and fun-loving nails are so sunny with lovely florals and light colors, mixed with a few dark shades, of course, just to pay homage to the lovely season.
As long as you get the shades and oval nail shape right, the flowers can just be dotted on with the average-sized nail varnish brush.
4. Autumn Leaves Nail Design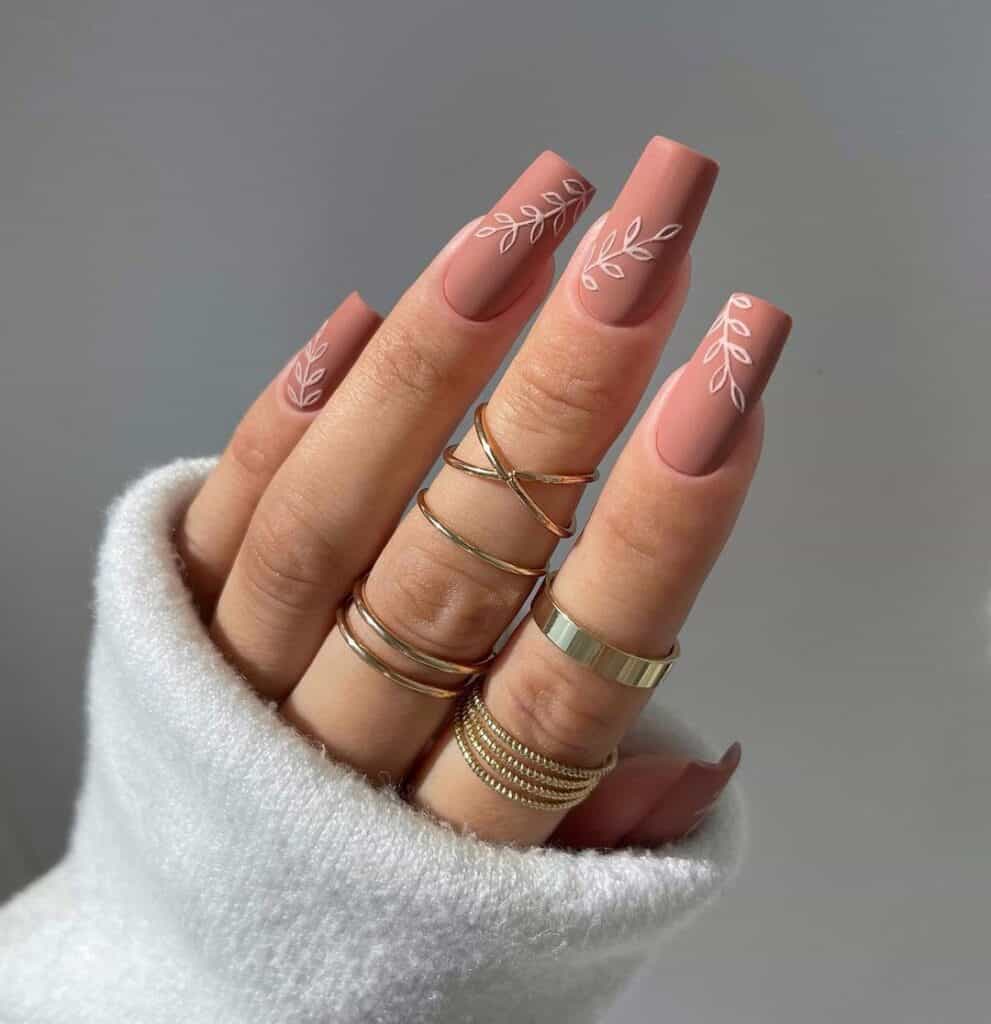 Pinks and blushes are huge this year. This is one of the most neutral version I've seen, and it works.
The shade always clashes delightfully and so elegantly with white nail polish, especially when it's used to make a whimsical shape such as above.
I just love the natural tones, and it's so lovely how the sharp square shape gives a chic edge to the overall look.
5. Mouldy Pumpkin Gardient
I have never seen such delightfully quaint and free-spirited nails that look like they came right of the page of a fairytale book.
There are such light-hearted and whimsical vibes to these truly one-of-a-kind nails, and the best part is that they're easy to bring to life as long as you use a toothpick to draw on the details.
Of course, the shape is essential to complete the look, and the deep green shade as well. You may also want to use a milky base layer to really make the look pop.
Don't forget to add that golden foil leaf. It's just the hint of shimmer and shine this look needs.
6. Autumn Yellow and Orange Nail Design
We're so used to seeing neutral and muted tones in Autumn trends that it can be easy to forget that the most citrusy, funky, and vibrant color of all is still a proud part of the Autumn spectrum.
The same goes for animal print, with its daring vibe that is softened by a natural feel. Put them together, and we have one of the grooviest and unique looks on the list. I think the long oval nail shape is essential to making this work look.
The higher the tip, the more dramatic and striking the manicure will look.
7. Autumnal Side French Floral Nails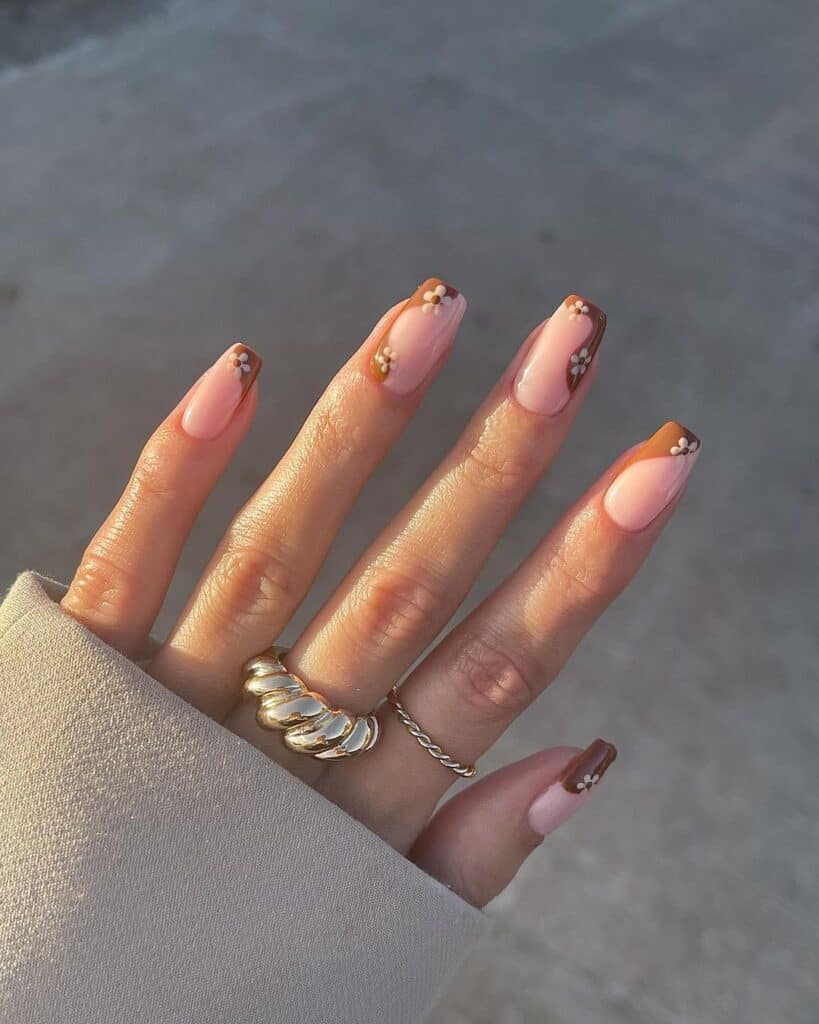 If you want an autumnal manicure that's made for wrapping around coffee cups and hot chocolate mugs and for staring at non-stop because really, who'll ever be able to take their eyes off such a pretty picture?
Just a quick hint: If you're planning on wearing plenty of gorgeous rings this Autumn, this is the manicure for you.
The best part is that it's easier to recreate than it looks, with most of the beauty actually lying in the shape and shade.
8. Autumn Coffee Swirls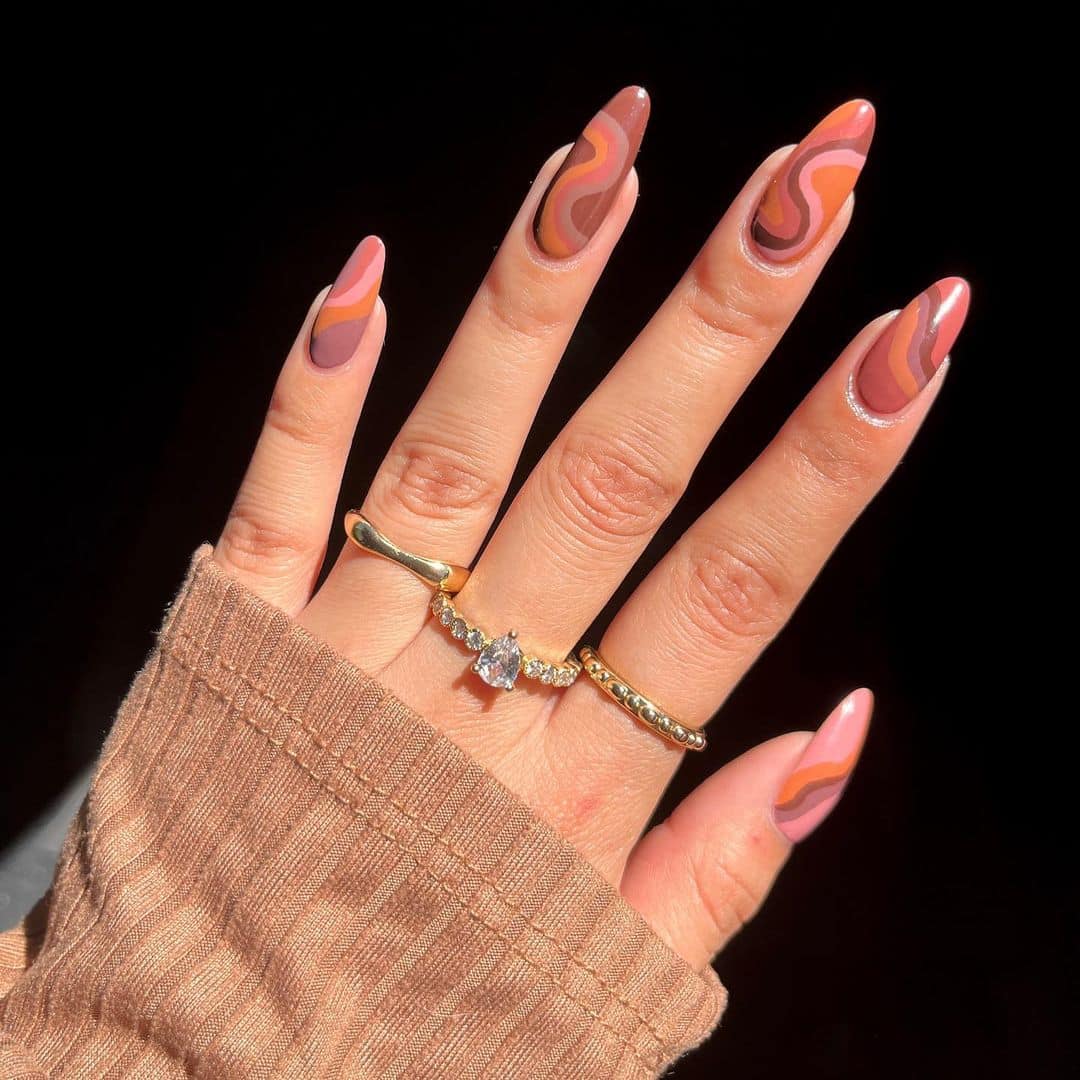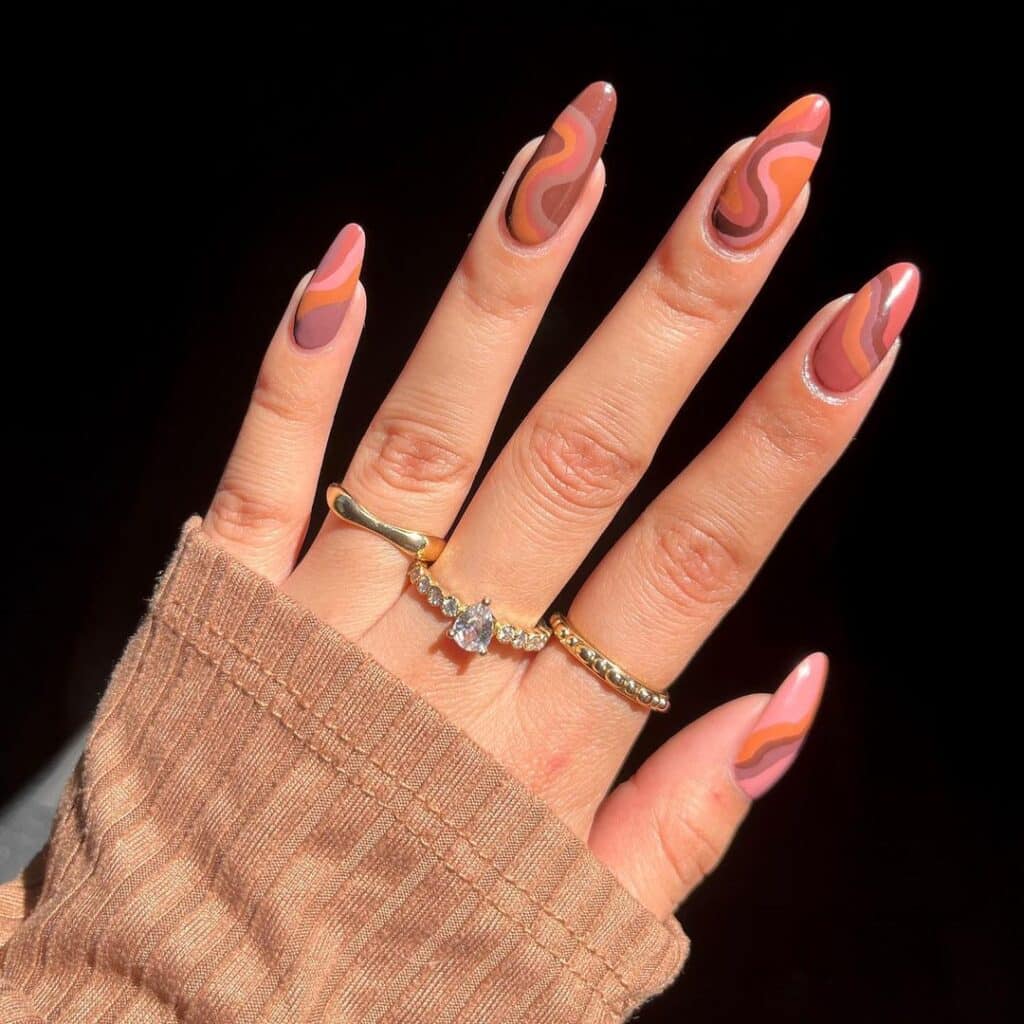 Everyone's talking about swirls this year. They're funky, fun, and the definition of groovy-chic. They're also so soft, wavy, and perfectly soft for Autumn.
This manicure includes every Autumn shade at once and makes a work of art out of them all. From warmth to earthy, this is a look that exudes exciting vibes.
So, if you're ready to make the most of Autumn, take plenty of pictures with your gorgeous nails in full view, and receive plenty of compliments, this is the look for you.
9. Leanardo Autumn Nails
These nails are as bright as they are dark, mixing the evening sunshine with those cozy sunset shades to create the perfect all-autumn quirky mix.
It almost resembles turtle shell, which is huge this year and really draws out the more casual side of this look that makes it an all-occassion look.
The lengths and shape of these nails are absolutely essential to getting the most out of the unique pattern, but if you can pull it off, I promise the effect will be powerful, and people won't be able to take their eyes off your entirely unique and sensationally seasonal nails.
10. All Neutrals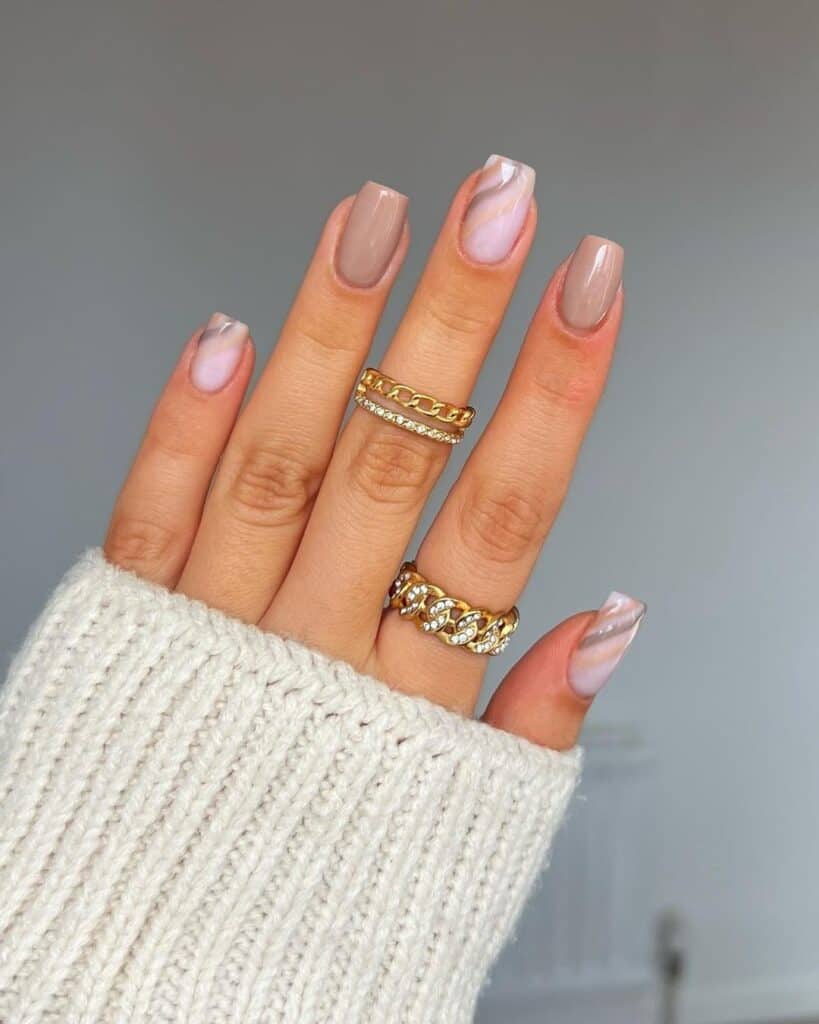 Short and square nails girls look forward to Autumn all year round. It's really their time to shine with most of the Autumn styles, trends, and designs, bringing out the best in their neat nails.
So, get out your file and work those edges. This is one look that you simply have to try. It's also one of the softest manicures on the list, with very dainty and girly vibes that also enjoy a sophisticated and elegant edge thanks to the neutral and milky-white shades.
Of course, some soft swirls are a must for any light-hearted Autumn manicure. This look is really just delightful.
11. Autum Green Nails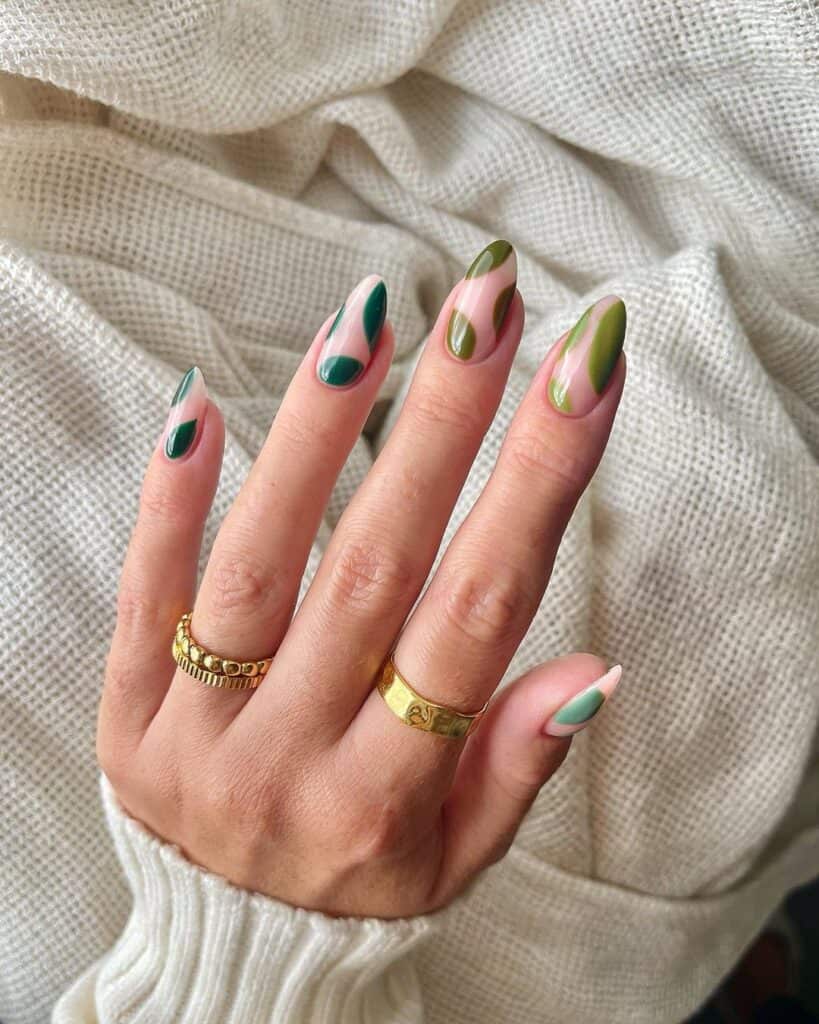 You may think this abstract eggshell effect is for April or Spring alone, but that simply isn't the case. The cute and charming look also translates effortlessly to Autumn if you just dip into some of your season-appropriate shades.
Of course, it's essential to line up 5 different shades of the same color, but that's easy done, especially if you choose the color above.
Greens and blues can be used all year round but have that earthy and nature-based effect that really does Autumn justice.
Since the varnish patches are rounded, the soft edges of an oval nail really help to keep this look extra soft, inviting, and more than ready to be posted online.
12. Cute Autumn Swirly Nail Design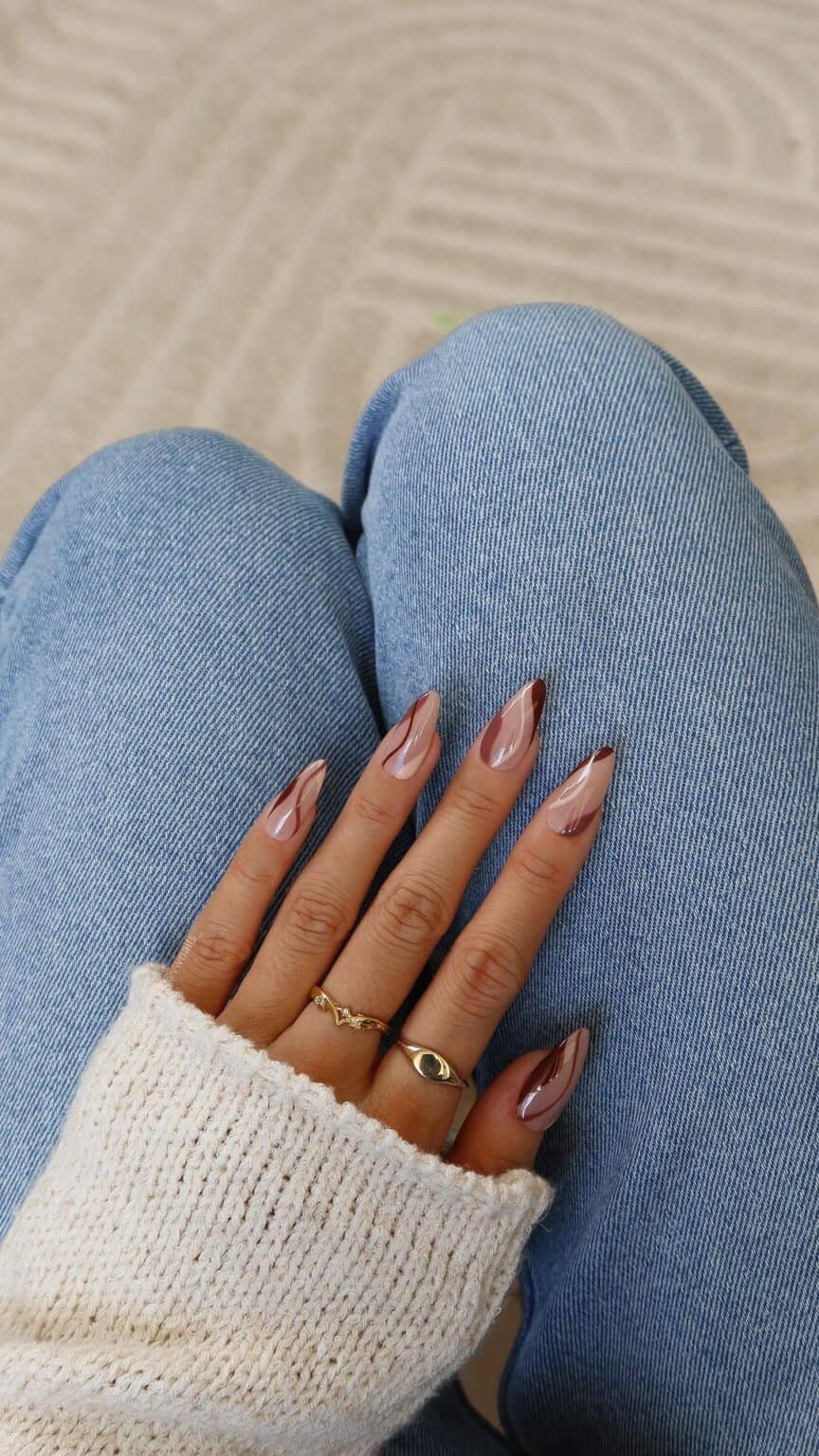 A common misconception is that Autumn's nail ideas can't have attitude or too much personality. Otherwise, they may become too sharp.
This manicure design debunks that idea perfectly with its dainty undertone that complements its daring overtones perfectly.
Maybe it's the gentle sharpness of the manicure's tips or the sharp glossiness that really brings this look to life.
Either way, the neutrals and swirls are elevated to the next level by every feature of this manicure.
13. Safari Tips
We can't escape animal print this year, and we wouldn't want to either. But before you say it doesn't belong in Autumn nails inspiration, think again.
It's a nature-based pattern that thrives with the shades of the season. If that's music to your ears, then there's no better manicure for you to try out this Autumn.
It's a bit edgy, full of personality, but also quite casual at the same time while covering almost every single animal print on the scene.
It's easy to miss, but the animal print is applied with a slight bend, making the look a little softer and less sharp, which works perfectly to counteract the edge of the coffin-shaped nails.
14. Short Autumn Nails
Short and square nails gals stay winning this Autumn and pretty much every Autumn, really. The soft patterns and muted shades of the season are made for their hands, and this year is no different.
Here, we see the perfect example of some of the most popular Autumn shades being put to good use with full-colored nails alongside soft swirls that are right on trend this year.
This manicure is truly dreamy and quite easy to DIY.
An overcoat isn't even strictly necessary, making this look perfect for the gal on the go who also wants to have the most gorgeous nails of any room she walks into.
15. Dotted Almond Autumn Nails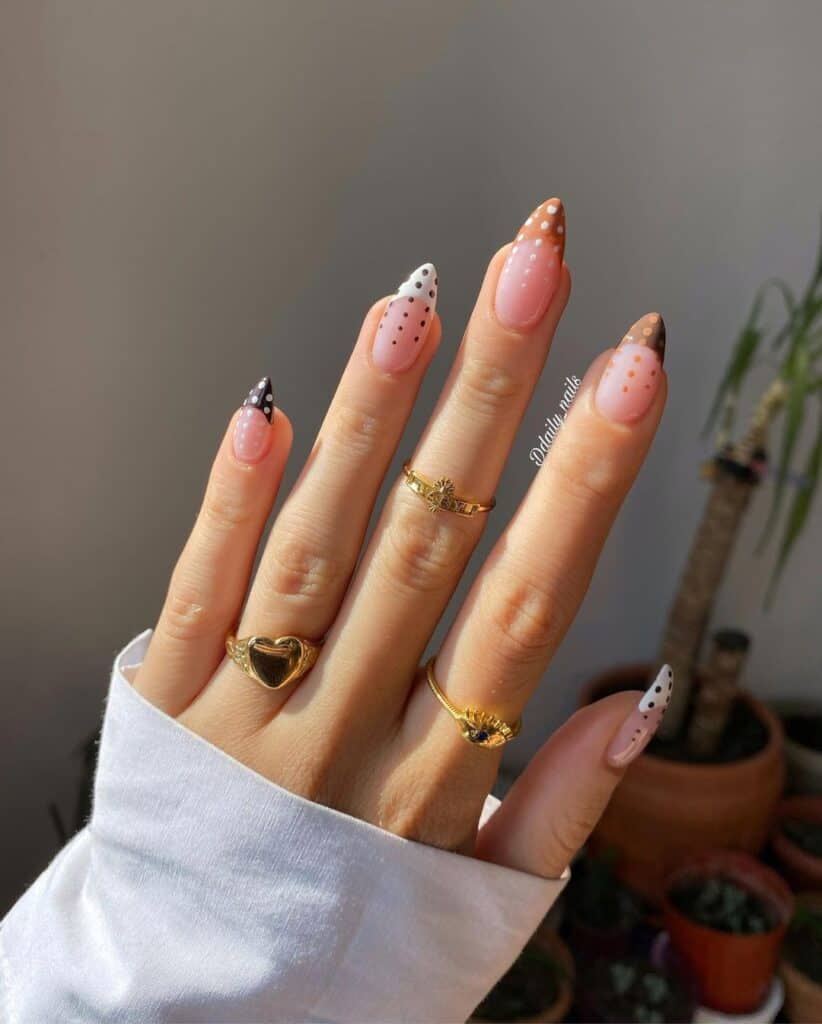 Now is the time for softly sharp nails. With just a slightly rounded and narrow tip, any charming look is given an instant edge.
The best part is that they never look too dramatic around this time of year due to the muted shades and gentler patterns, which generally means you can wear them anywhere from the office to the club.
While the overall look is quite complex, this manicure is actually delightfully easy to recreate.
All you have to do is your typical French tip routine with the shades above before using a toothpick to apply the dots. All you really need is some patience, and it's more than worth it in the end.
16. Sweater Weather Fall Nail Designs
Square nails come with a natural edge that just makes these rustic and adorable Autumn designs look so soft and cozy.
So, this manicure already has that down, and just to really steal the show, it also features a plaid pattern that's almost too good to even believe. These nails are just perfect.
17. Autumn Orange Leaves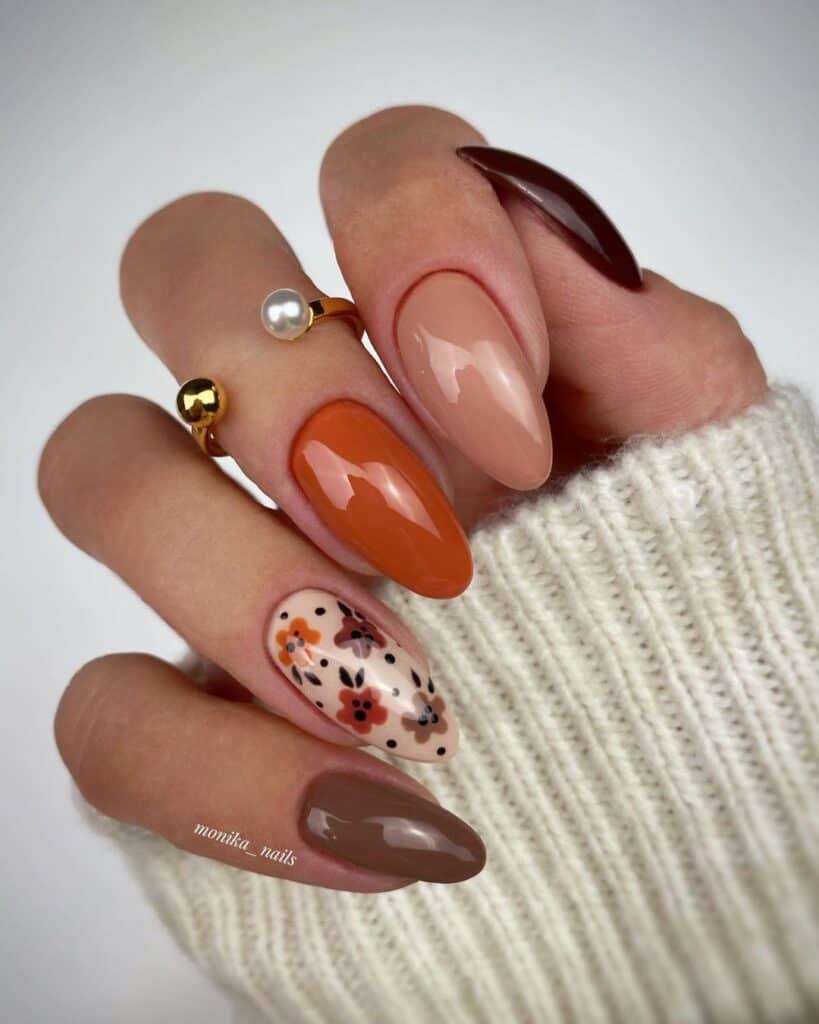 The nails are what Autumn is made out of. They're vibrant and fresh yet also cozy and cute all at once.
They tick every single box with style, covering all of the Autumnal spectrum all the while. Since they're quite dainty, you'll want to get that accent nail just right and keep the oval nails as soft and blunt as possible.
18. Different Autumnal Green Colors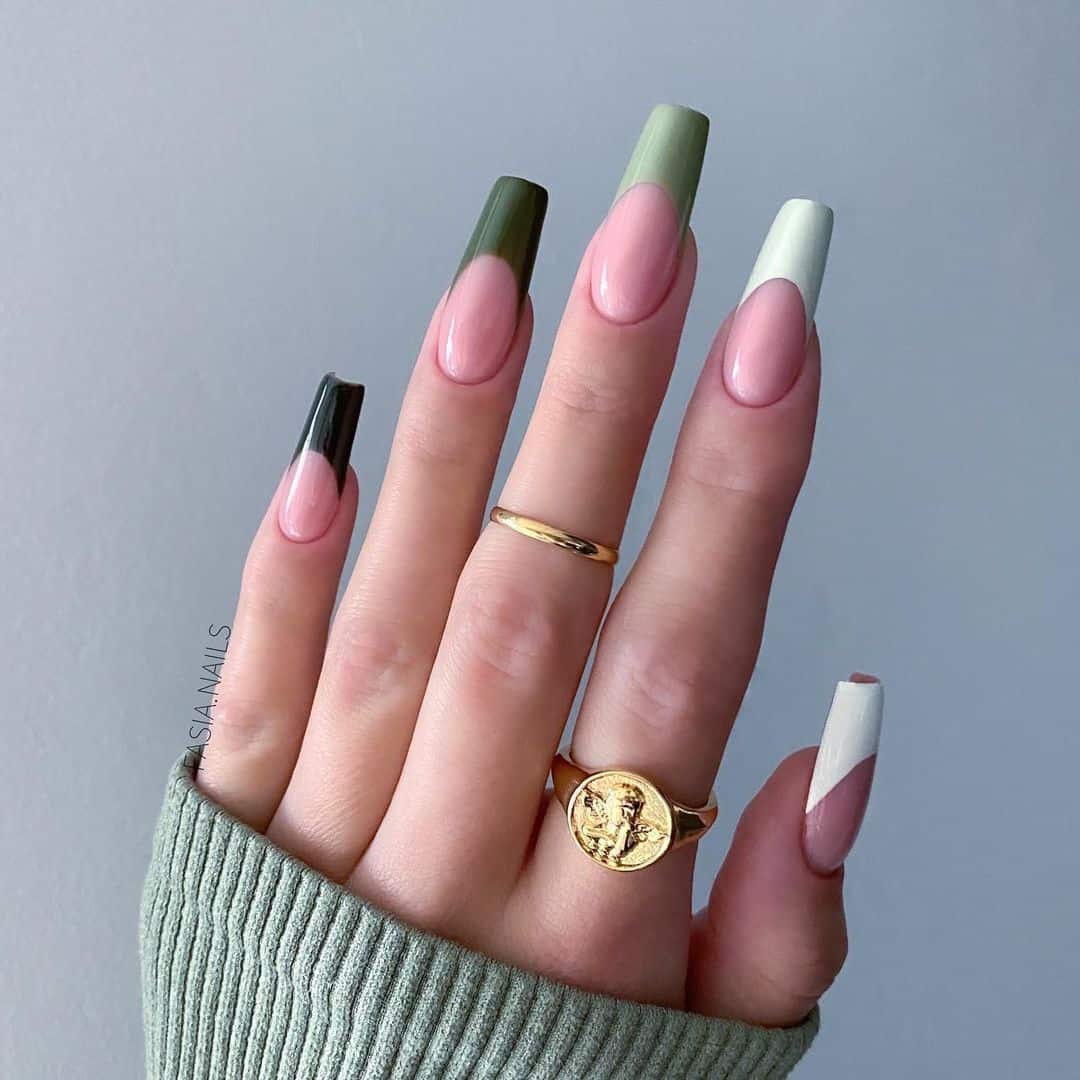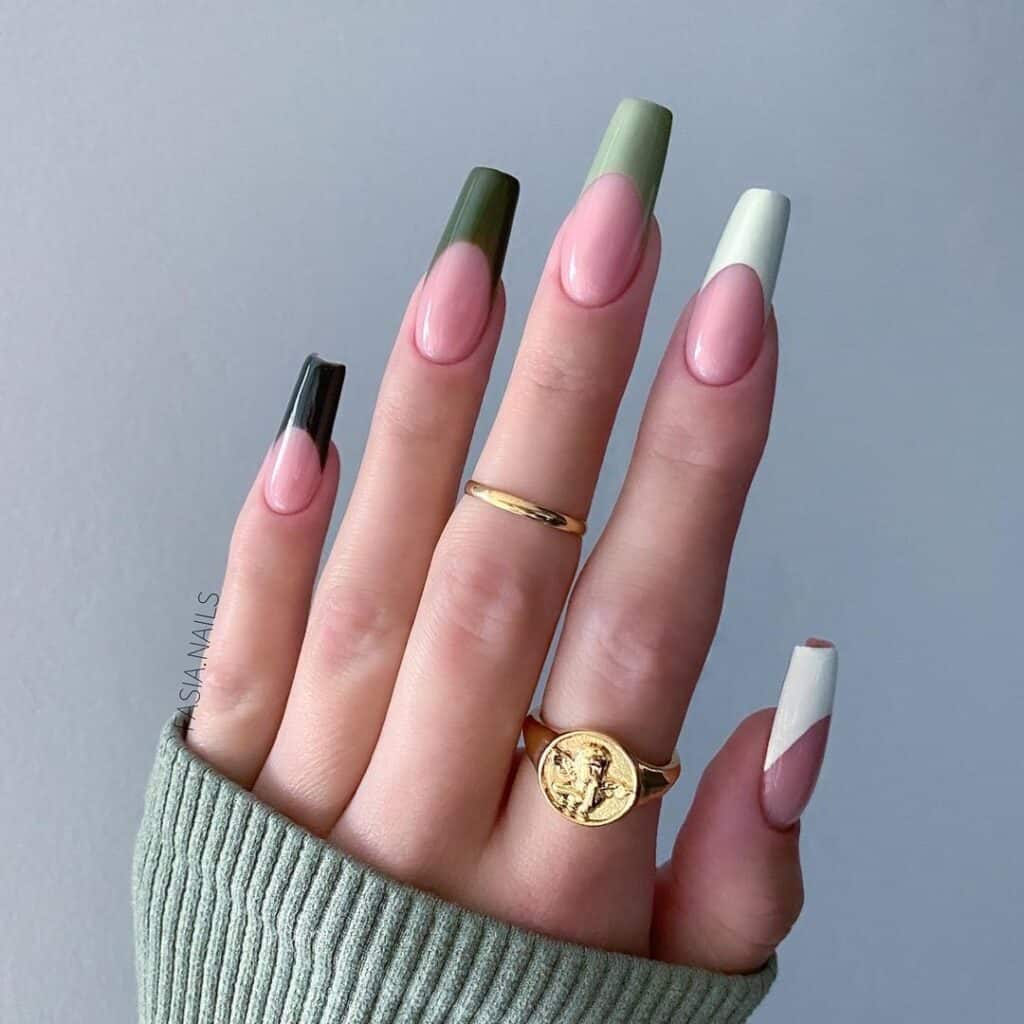 When we see gradient tips, they're usually not quite so dramatic. But maybe it's the long squavol shape of these nails that really just demands for all of its beauty to be seen.
Plenty of overcoat is required when it comes to these gorgeous nails to really make them pop.
19. Shades of Brown Accented with Thin Swirlies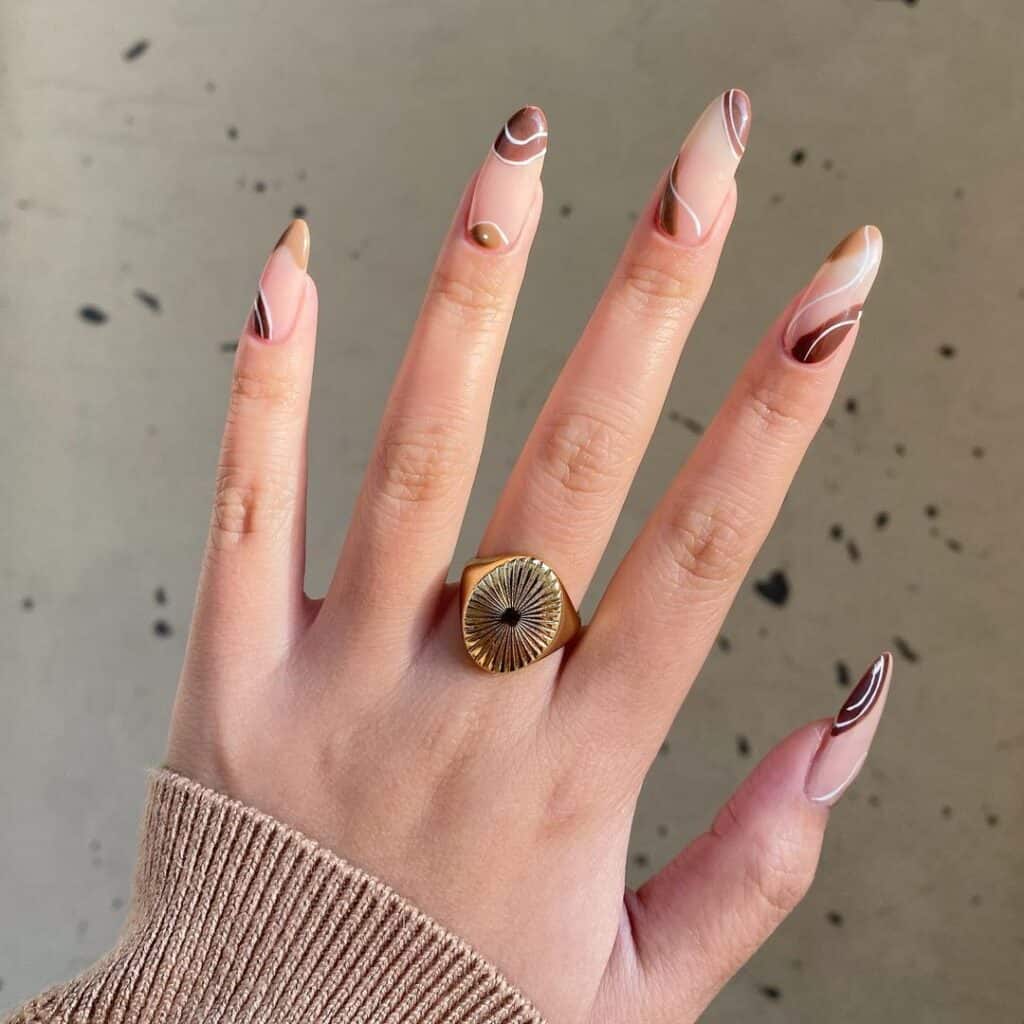 These nails are truly striking despite also being invitingly warm and cozy. The sharp almond shape is key to creating a clean-cut and sharp look before the muted tones and white swirls anchor the look.
Be sure to bring your cuticles all the way back and let those nails grow long before trying this look. Or, of course, there's always acrylics.
20. Marble Autumn Nail Design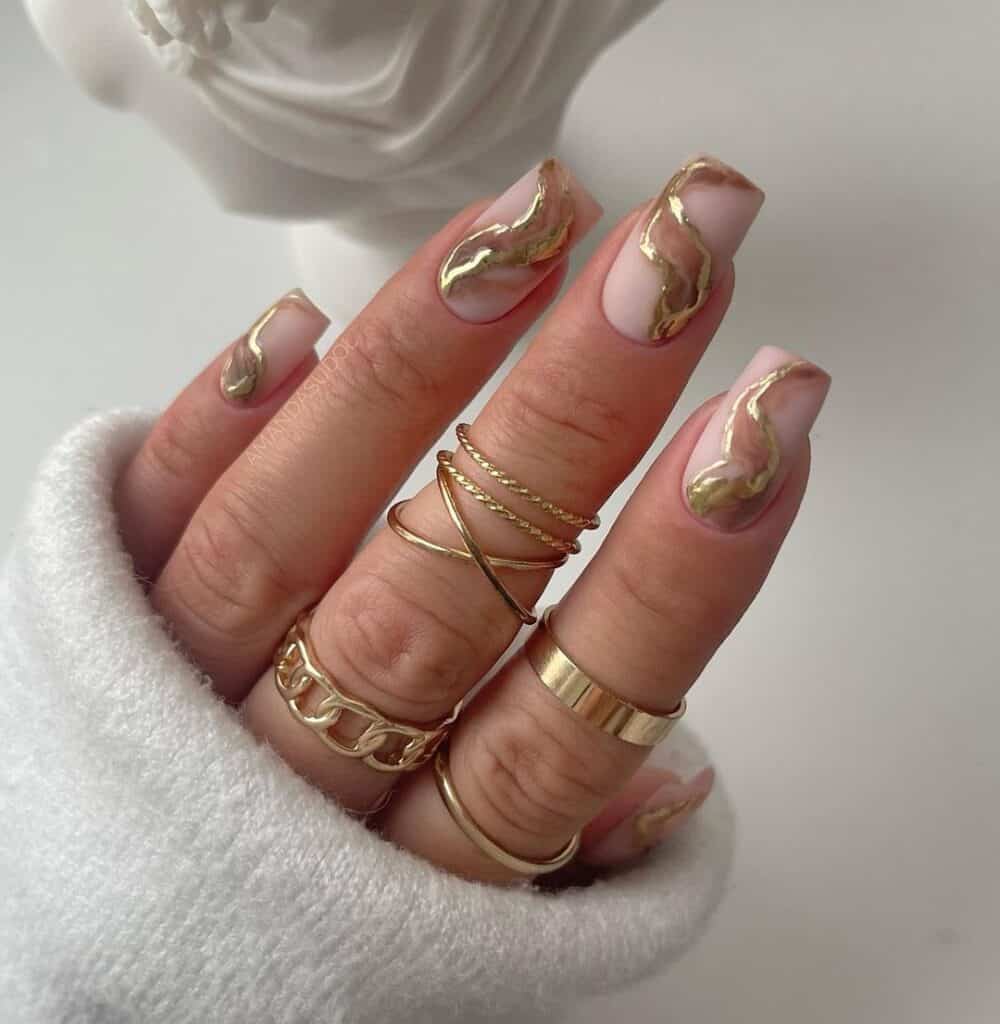 These are the fall nail designs of a goddess and bring out the more shimmery side of Autumn. They're a little bit whimsical and a lot luxurious, but just muted enough to be right on theme.
The nails are completed exactly as you might think. Lay down a milky base before going heavy-handed on the gold nail polish swirl to create the 3D effect.
21. Textured Cow Print Nails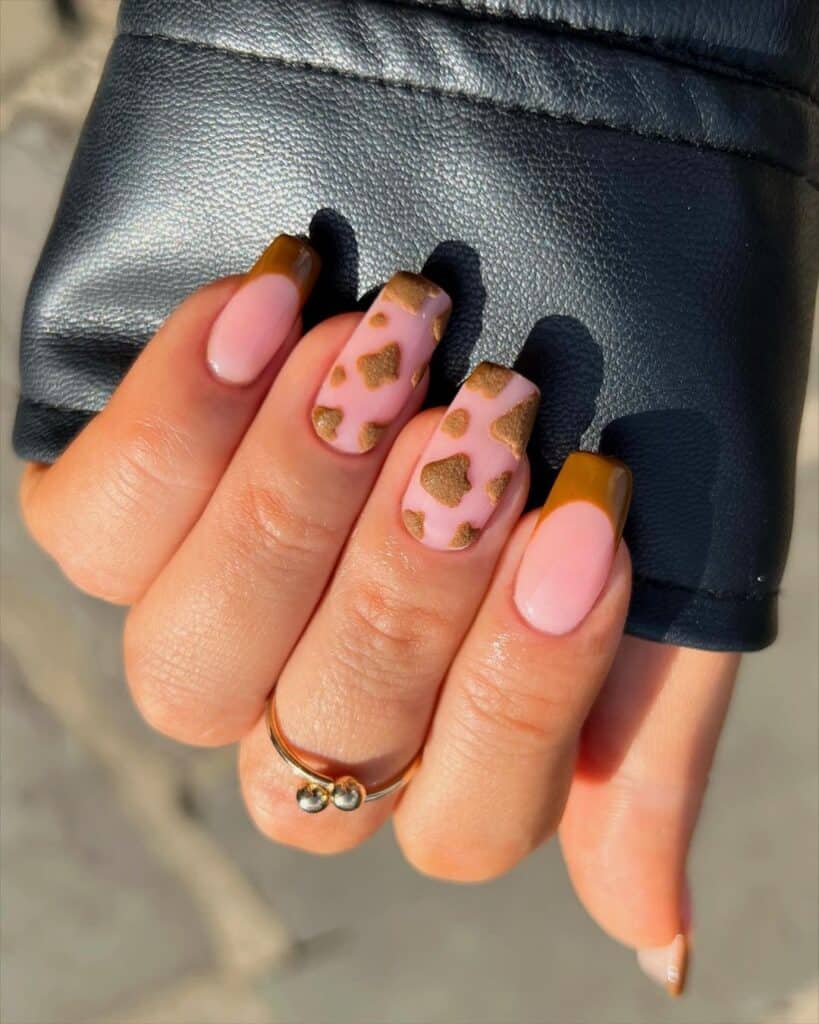 Sometimes, you want cozy and fun at once and you can have your heart's desires with this light-hearted manicure that's so sweet.
While you've likely got the rest covered, you're probably scratching your head at the textured animal print.
While you can definitely do your research on how to perfect the look, your nail tech would be more than happy to show off their skills while bringing the print to life.
22. Autumnal Abstract Nails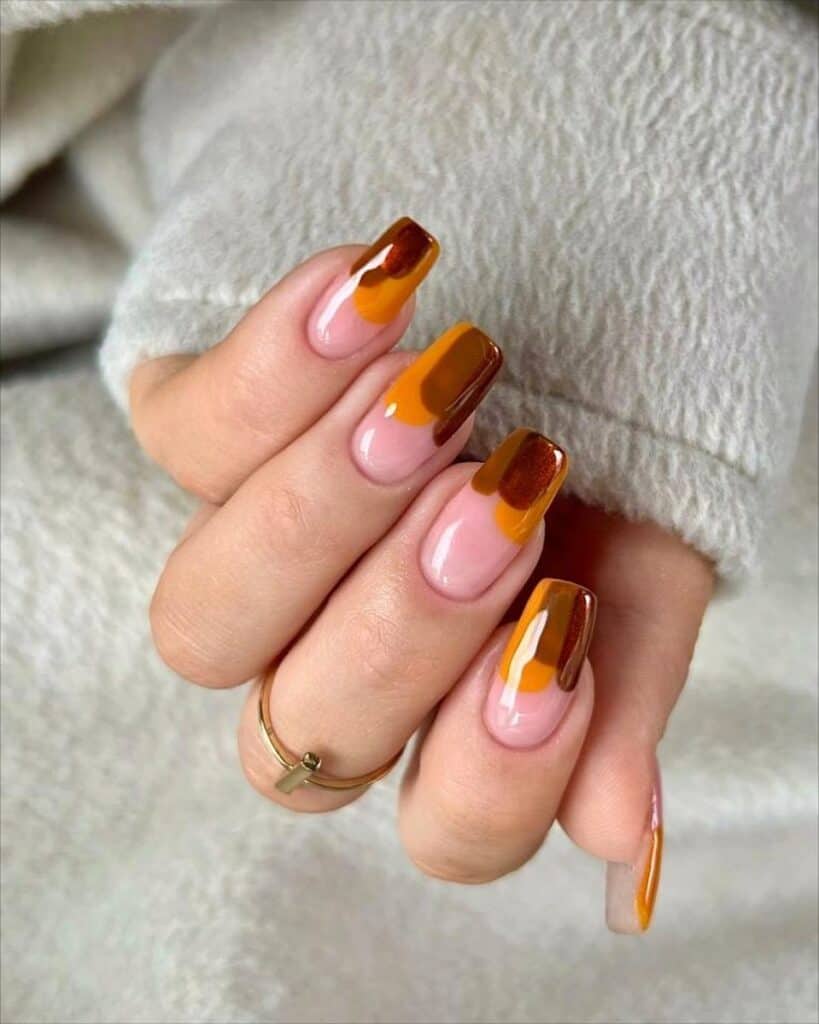 This manicure is the definition of abstract and vintage. The two meet beautifully to make nails that look just like a cozy Autumn evening with hot chocolate and marshmallows.
To achieve the look, gather around your three neutral shades and dab one shade on one at a time, with a bit of overlap before applying an overcoat.
23. Side French Florals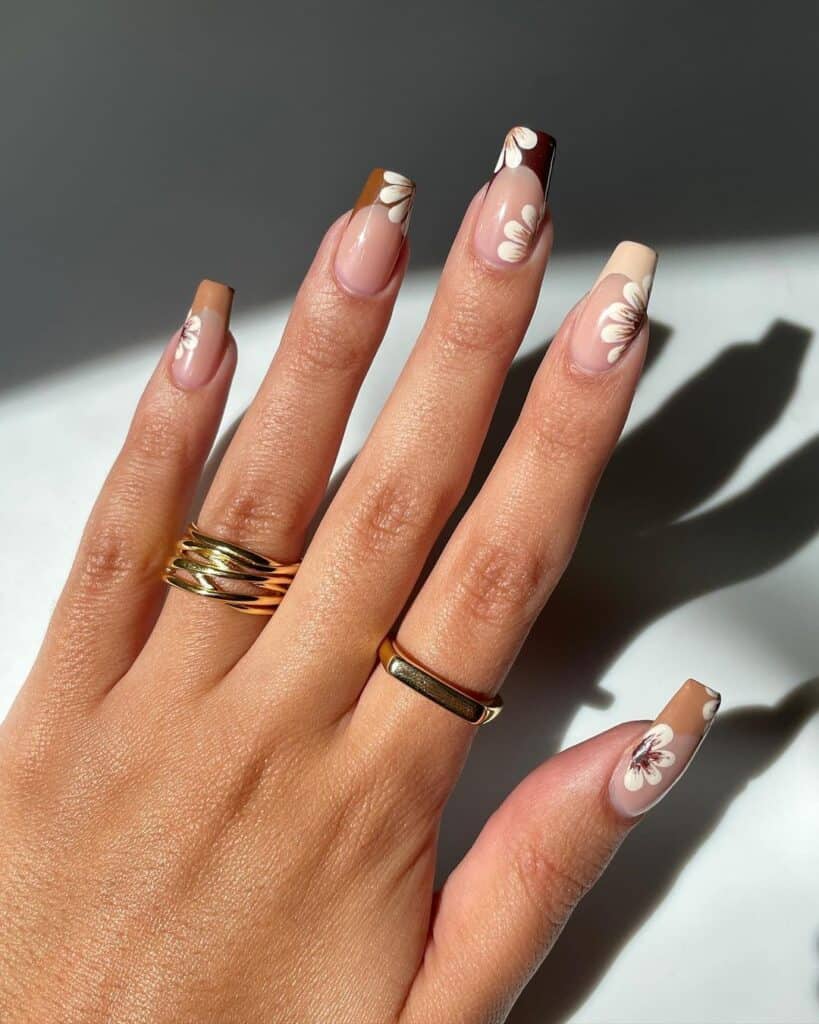 Florals belong in Autumn trends no matter what anyone says. They're so free-spirited and refreshing, spot on for the season's vibe.
Plus, if you can't decide which muted Fall tone to go with, you can have them all thanks to the multi-shade tips that cover the whole spectrum of the most lovely season.
24. Autumn Brown and White Abstract Nails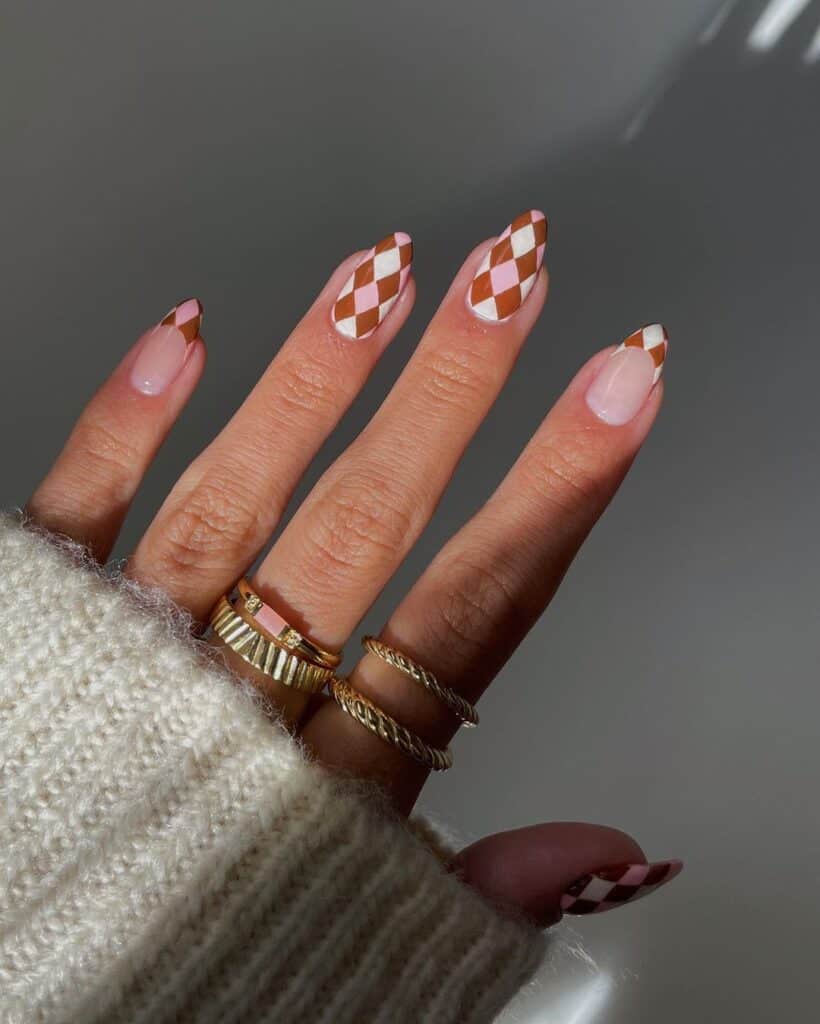 Checkers are so in right now. It also helps that they match the cute plaid patterns that are so often seen in Autumn trends.
So, if you're planning on having a fashionable Autumn and don't want your nails to let the team down and match with everything instead, these are the nails for you, adorable tips included.
25. Cow Print French Nails for Autumn
Autumn is on the way, and you're just not really feeling it yet. That's fine. With these nails, you can keep your manicure right on theme all year round.
There's even a slight shimmer that adds some dreaminess and glamour to the look that's just divine.
26. Cabernet Autumn Nail Color
I am absolutely obsessed with this nail polish shade and unapologetically dip into my rich reds and burgundies every Autumn.
There's so much warmth and charm to the color that's only enhanced by the intense glossiness. To keep this a soft, autumnal look, be sure to file your nails into the oval shape.
27. Asymmetric Torties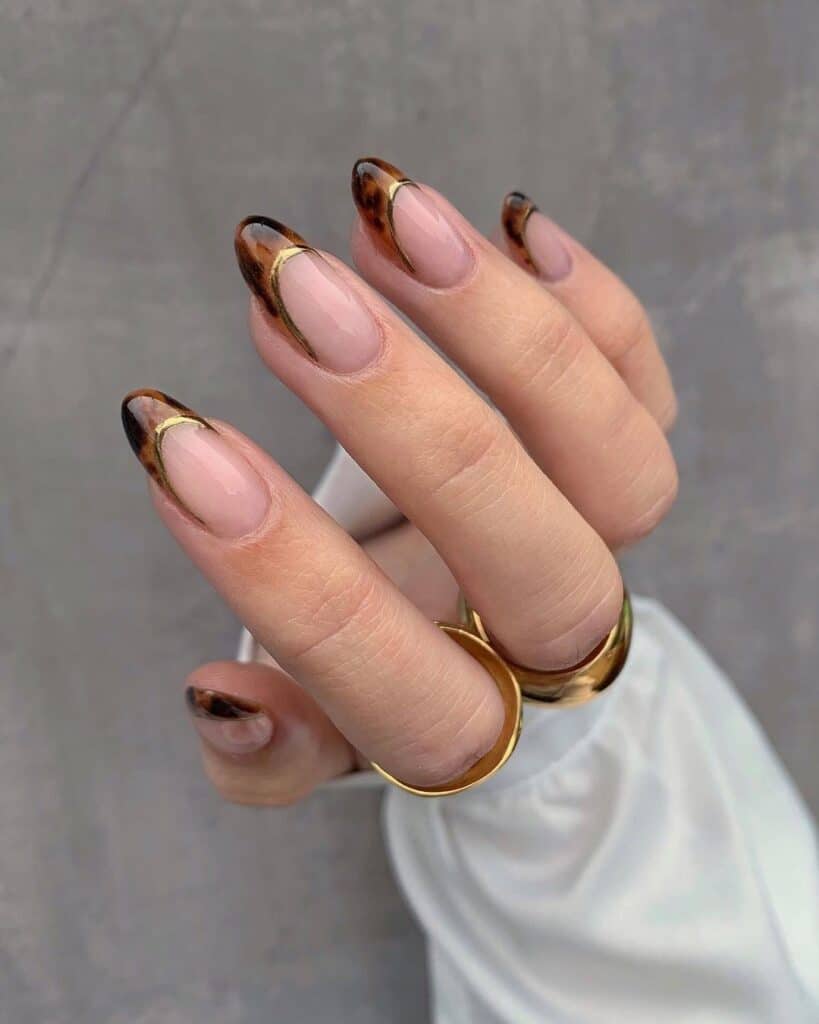 These nails are the definition of vintage chic. They look like they came right out of the swinging 1920s to a hand near you.
I can't recommend getting your nail tech onboard enough. These nails will certainly be a challenge and require a skilled hand that knows what it's doing.
28. Full Swing Autumn Nails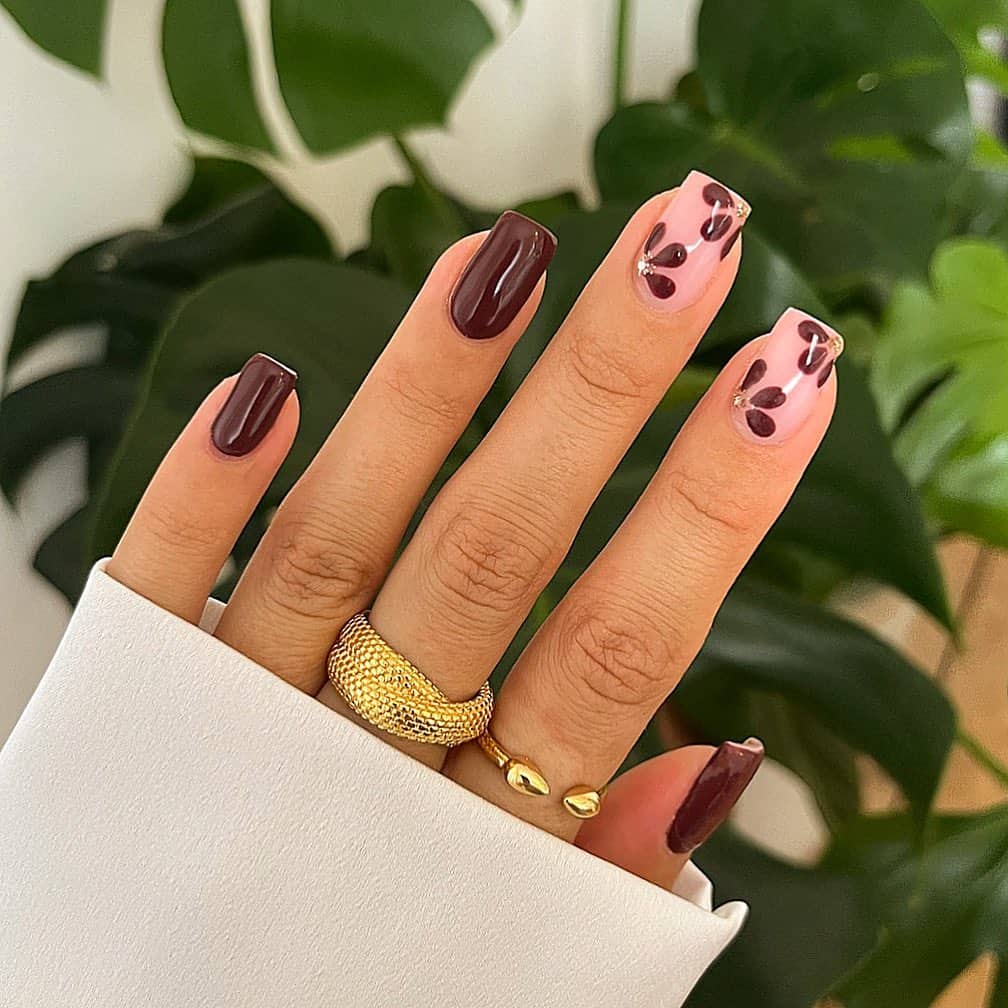 These nails are light-hearted and sophisticated at the same time. They're perfect if you're not yet ready to let go of Summer thanks to the flowers but are stepping confidently into Autumn, represented by the rich red color.
There's a lot of warmth to this look, with a touch of bling that's the perfect flourish.
29. Matte Brown Leo Print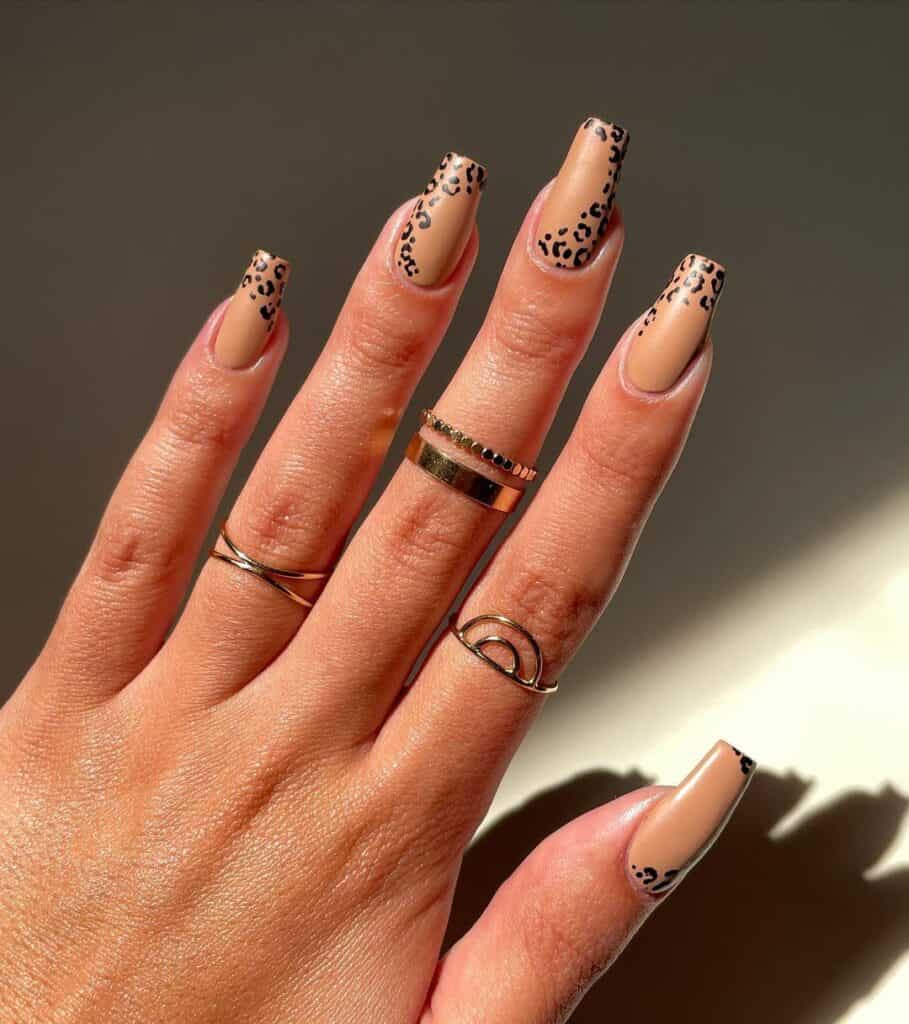 Matte and Autumn just go together. They're the perfect casual pair that always looks cozy and calm.
That said, if you're looking to make your matte a bit more striking, then animal print is the way to go.
The leopard print looks particularly great on top of the tan neutral base, which just happens to be one of the most Autumnal colors available.
30. Swirly Gloss Matte Nails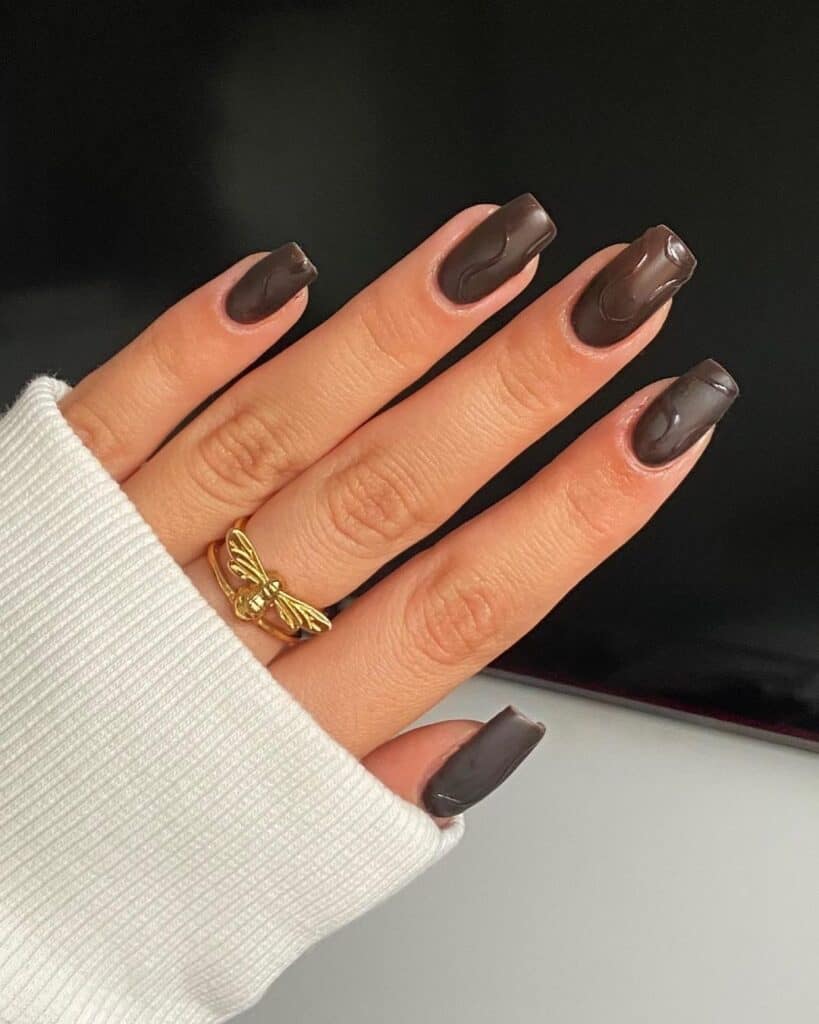 These nails literally look like melted chocolate. They're simply divine and utterly gorgeous, with the mixture of textures really making them pop.
The look will also match fabulously with any rings you wear.
The length of the nails is essential here, but the shape can vary, giving you some freedom to make this look entirely your own.
31. Different Shades of Brown Nail Design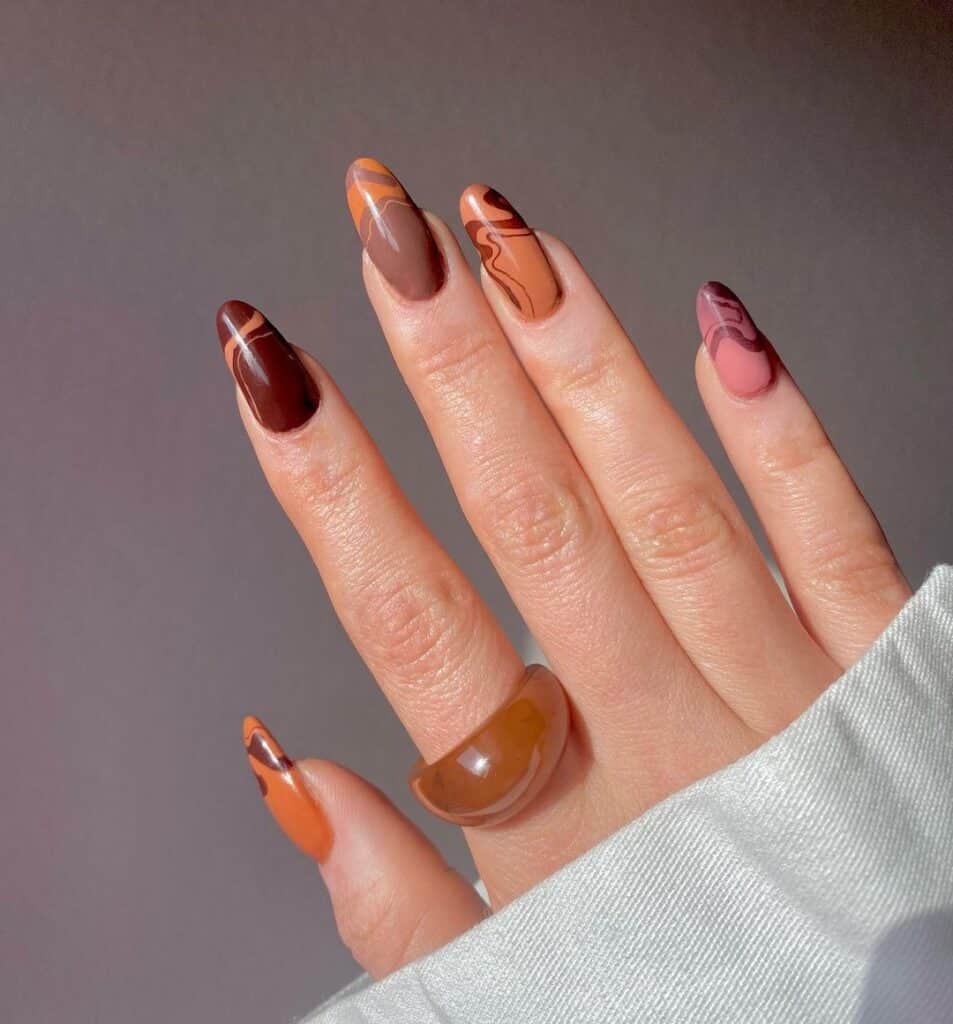 These nails look good enough to eat. I love the light, wispy swirls that are definitely created using the watercolor effect on the tip, so don't even try to apply these any other way; the end result just won't be as ethereally breathtaking.
Plus, I love the addition of a warm pink nail alongside the neutral shades.
32. Sweater Weather Nails for Autumn
I am obsessed with these adorable nails. Is there really anything that says I love Autumn more than literally wearing little sweaters on your nails? They're just to die for.
Gushing over, now it's time to get to the reality of this cozy manicure. Unless you're a nail professional, you'll need to take this one to your nail tech.
Or, you can buy these nails and apply them yourself. Whichever you choose, just please do yourself a favor and wear these nails this Autumn.
33. Autumn Snake Print Nails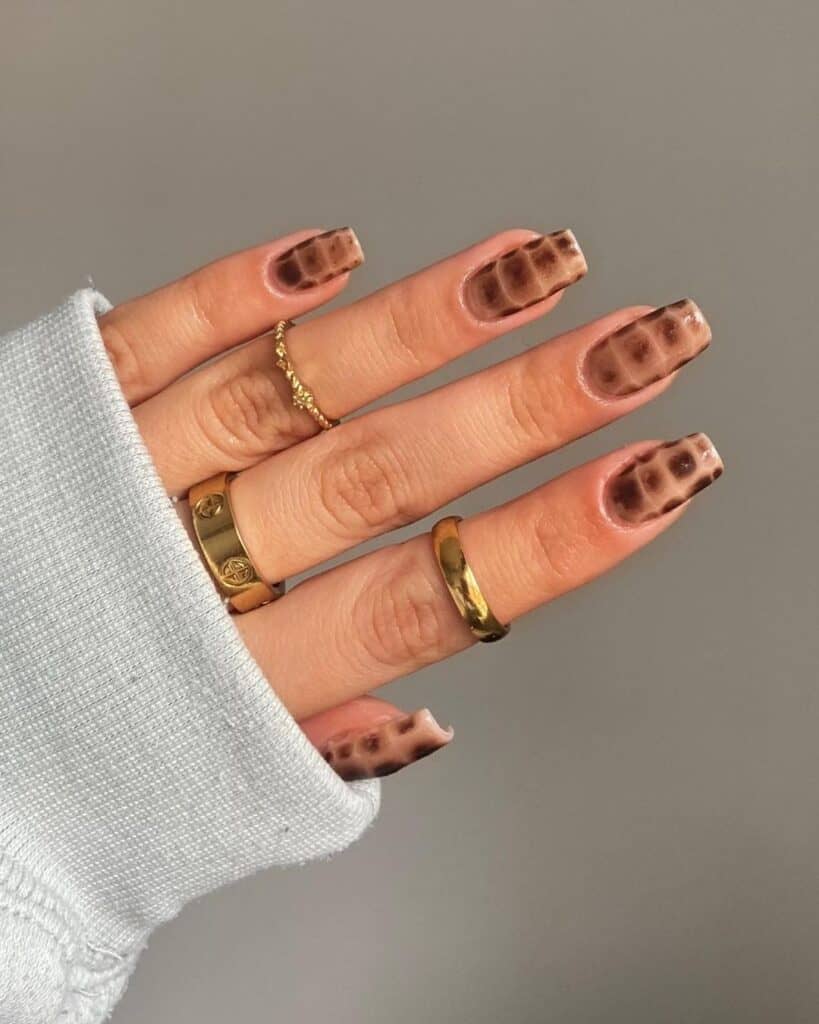 Autumnal vibes and animal print might not go together in your mind, but trust me, it works.
It also makes a lot of sense, considering most animal prints use earthy and neutral colors. Of course, they're also gorgeous.
The only downside is that they can be hard to perfect, so you might want to save this one for your nail tech.
34. Matte Early Tone Nail Colors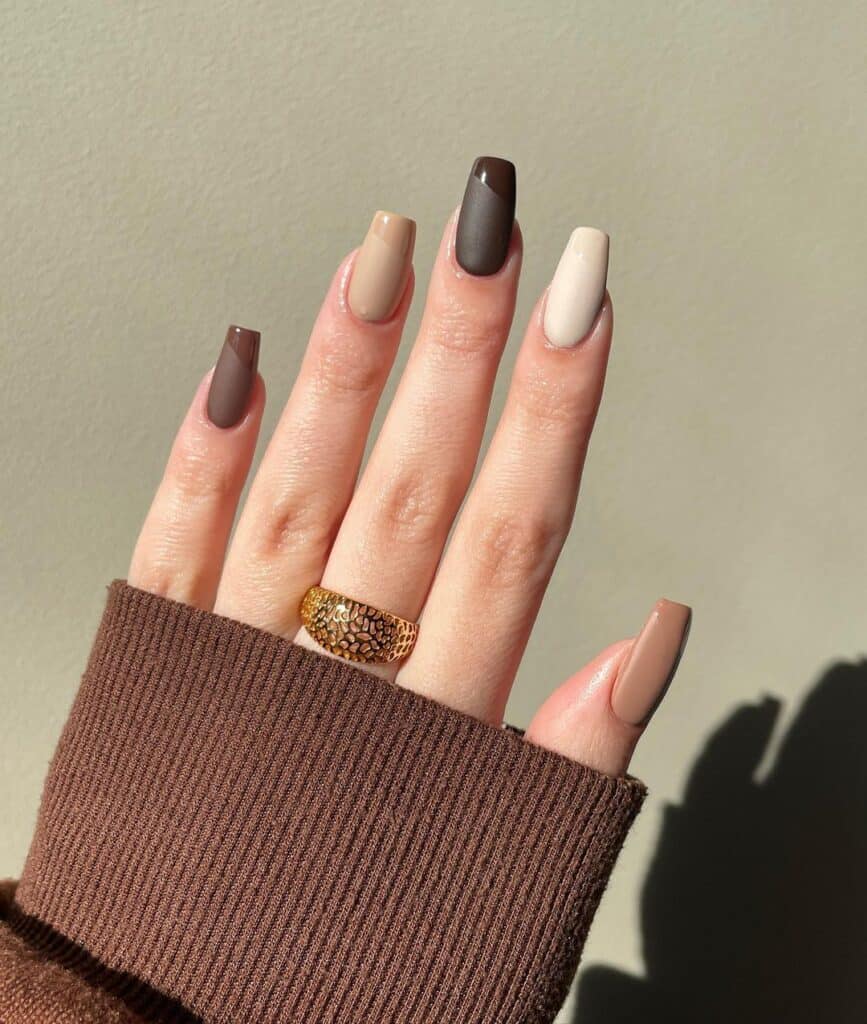 You might take one look at these nails and think absolutely not. Textured nails can be daunting, but I promise these ones are doable and definitely worth it.
All you'll need is to paint your nails with the glossy nail polish first before letting them dry.
Next, apply some nail tape diagonally across your nails before applying nail powder to the bottom half. Take the tape off, and it's really as simple as that.
35. Classy Sage Almond Autumn Nails
Sometimes, it can be tough to combine elegance with quirkiness, especially when it comes to long, almond nails.
Here, we see all of those things thanks to the abstract lines, sprinkles of glitter, and refreshing green shades.
If you're a matcha tea kind of Autumn gal, then these are your nails soulmate.
36. Neutral Nails with Gold Thin Swirls
Low-key glitz and glam are in. Looking like golden jewelry for the nails, this manicure is subtly glamorous and entirely gorgeous.
This manicure will see you through the day and into the night as an all-occasion and casual-chic look that teeters on the edge of standout.
It's such an irresistible mix, and I can guarantee you'll see this look on my nails this Autumn.
37. Nude Gardient Autumn Nail Designs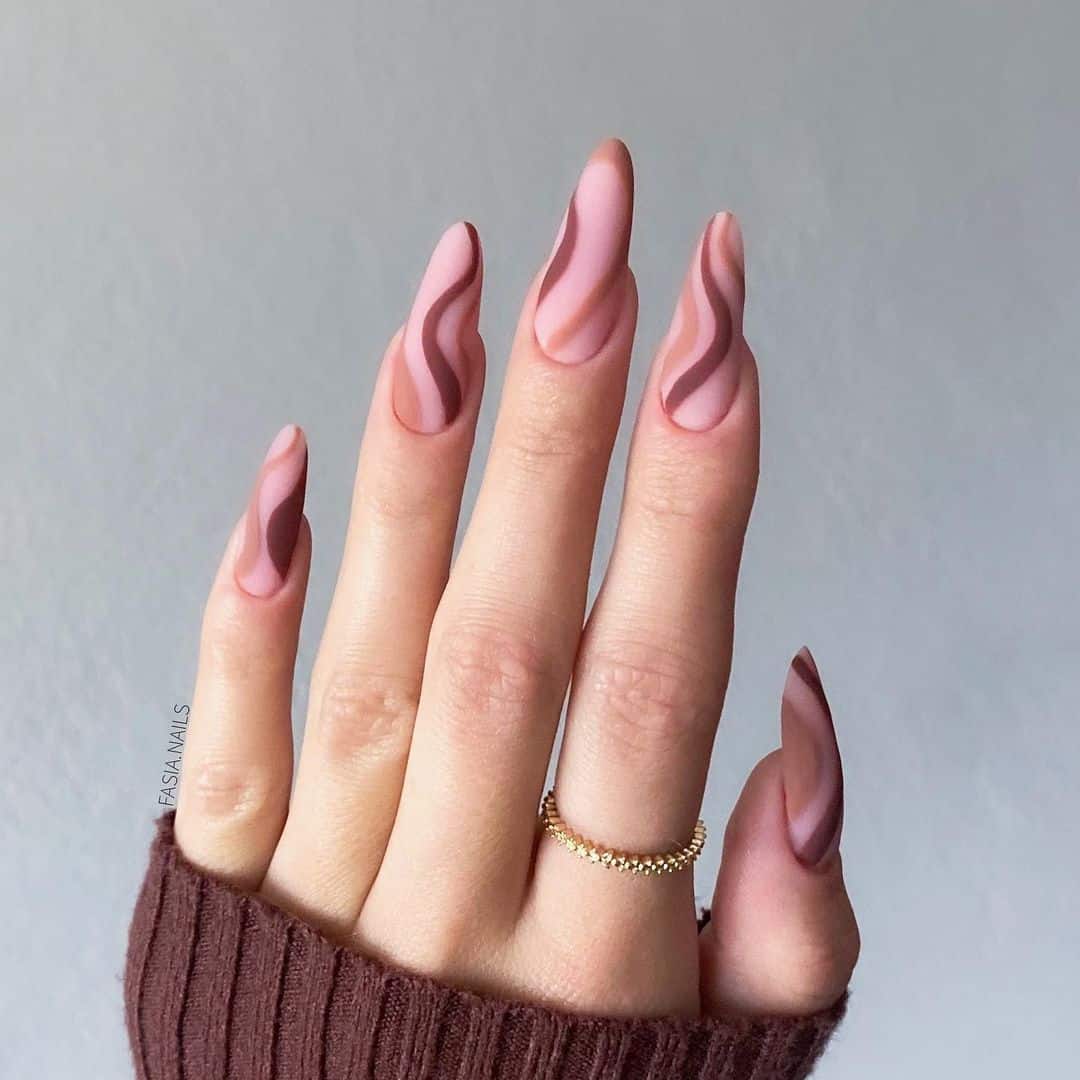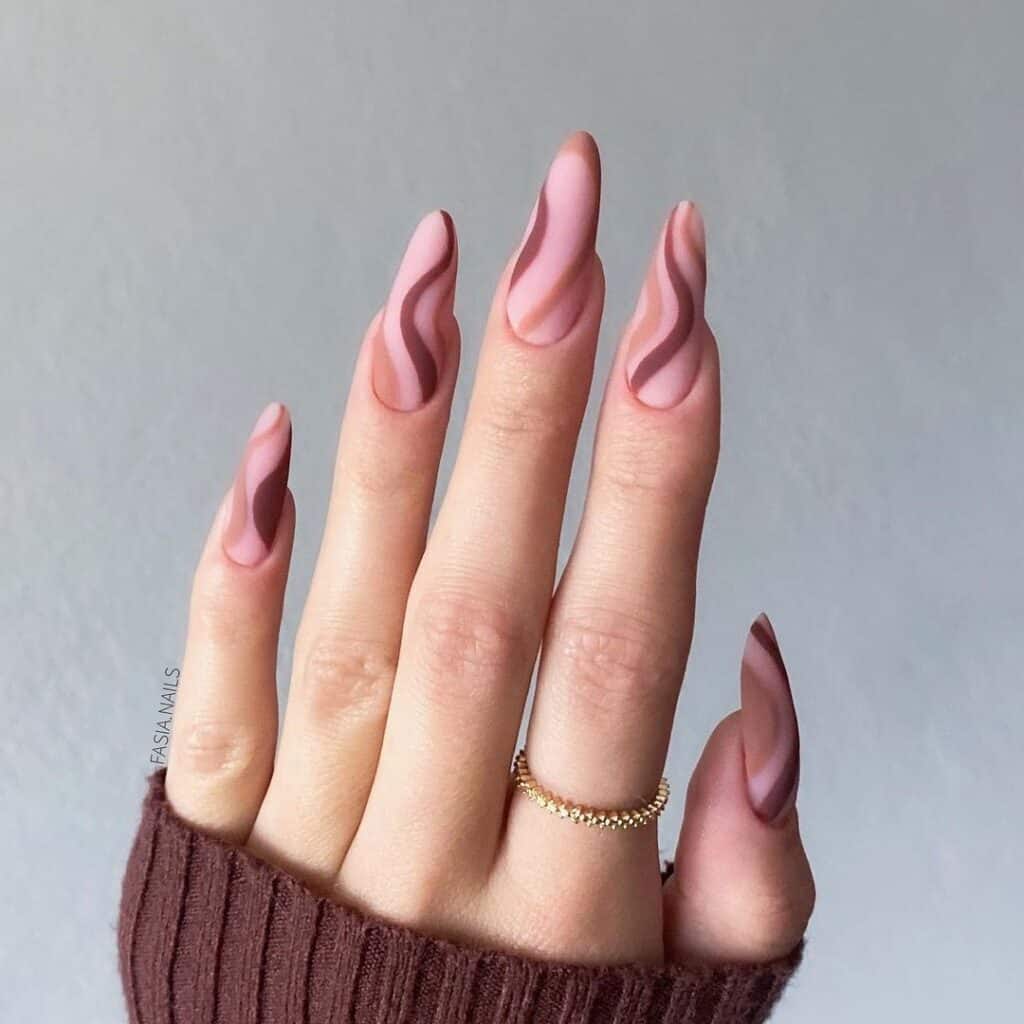 Waves and swirls have dominated the manicure scene this year. Nail technicians worldwide have tried every type and aren't done quite yet.
This manicure shows the best of swirls as they swoop from the cuticle to the tip like neutral-colored ribbons.
Keeping your nails long is really essential to getting the best out of this manicure, and be sure to keep the tips narrow.
38. Half Moon Brown Autumn Nail Idea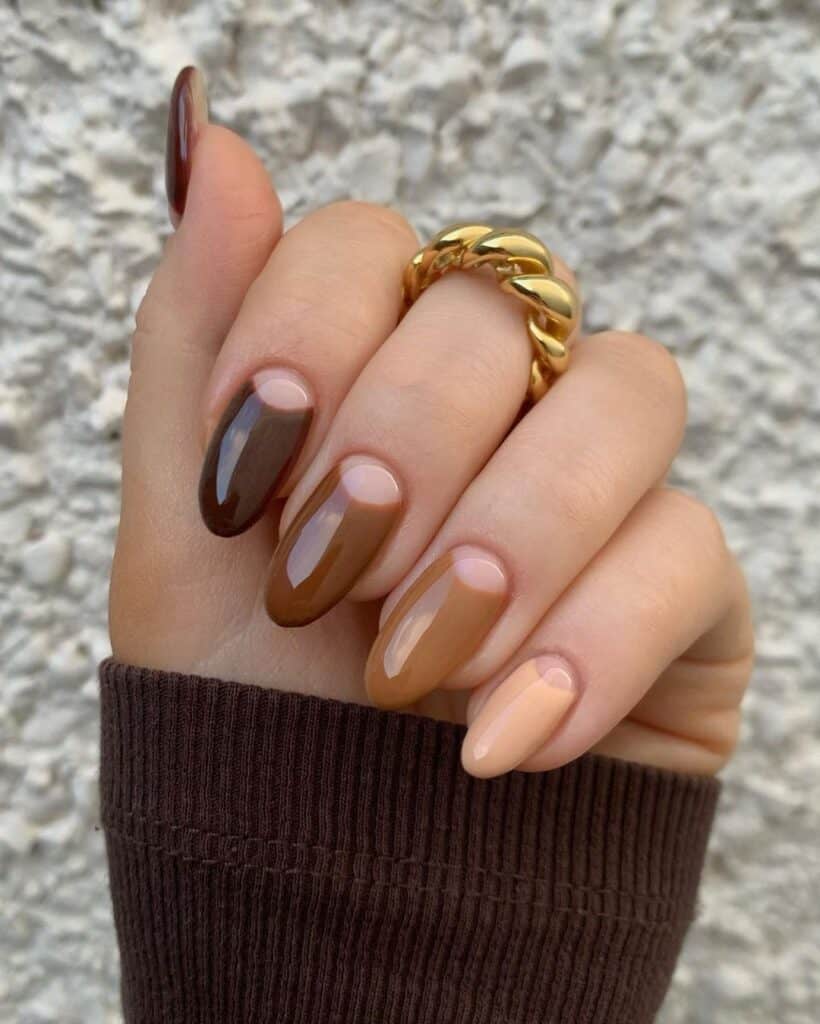 Inverse tips are still so rare on the nail design scene that they still make people stop and stare.
I can also guarantee that they're sure to catch on, especially when it comes to cozy Autumnal looks.
They can really elevate a simple manicure, add in the gorgeous gradient style, and this is one of the best manicures I've seen this season.
39. Autumn Swirl Nail Colors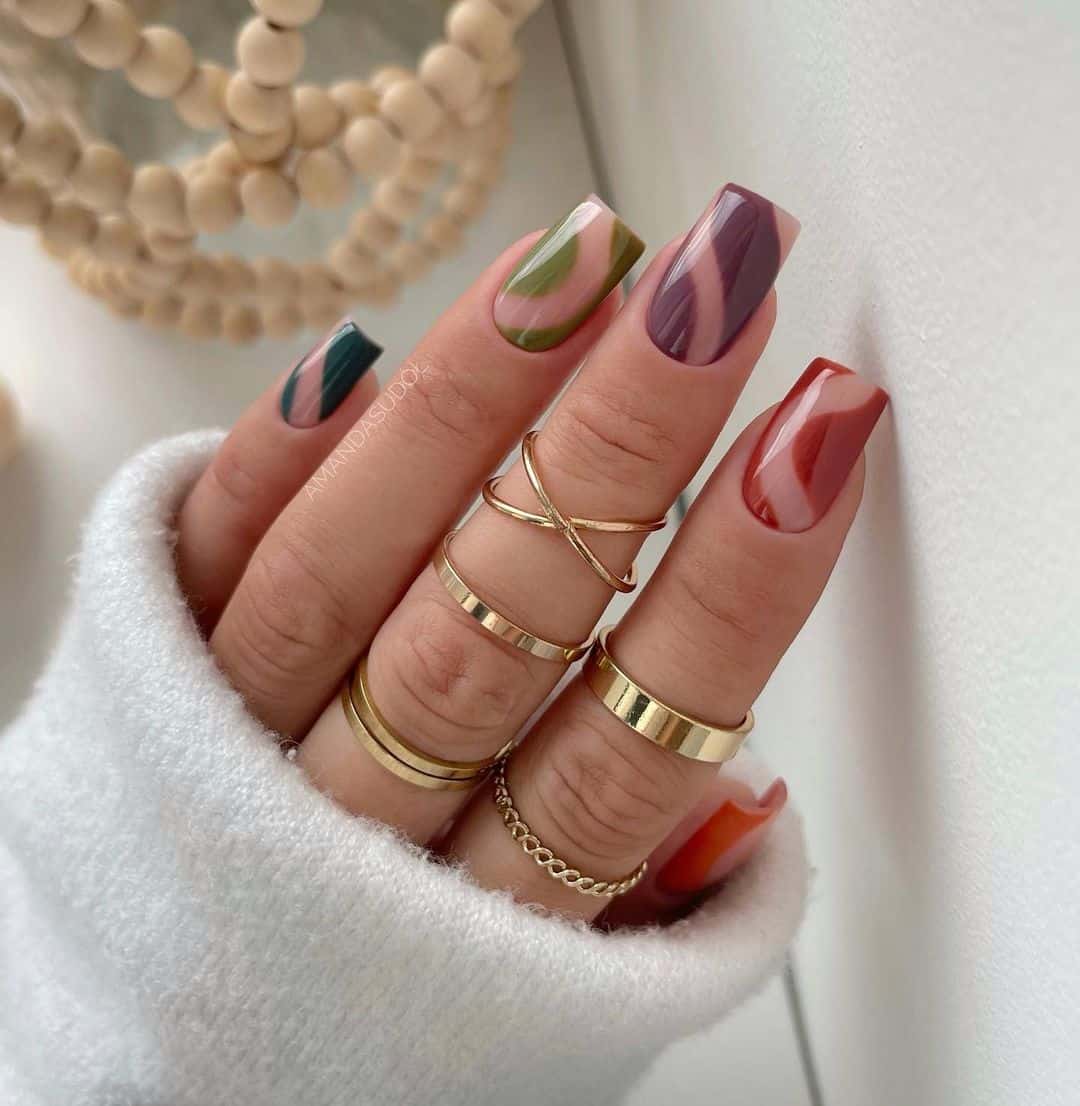 These nails look like they've been set in acrylic, but truly, they just enjoy the glossy sheen that an under and overcoat provides.
Of course, in the middle, you'll have to add the swirls, but that's easier than it looks as long as you keep a Q-tip for any mistakes nearby.
Plus, I recommend you stick to the color theme above to keep things Autumnal and stunning.
40. Simple Sage Short Autumn Nails
The swirls on these autumn nail designs are reminiscent of an Autumn meadow. In other words, they're so refreshing and charming and look absolutely stunning as well.
To create the perfect nails for this look, be sure to file down to a short and slightly rounded square look to keep things soft.
You'll also need to keep your cuticles well-groomed for the rounded look that's to die for.
41. Long Almond purple Nails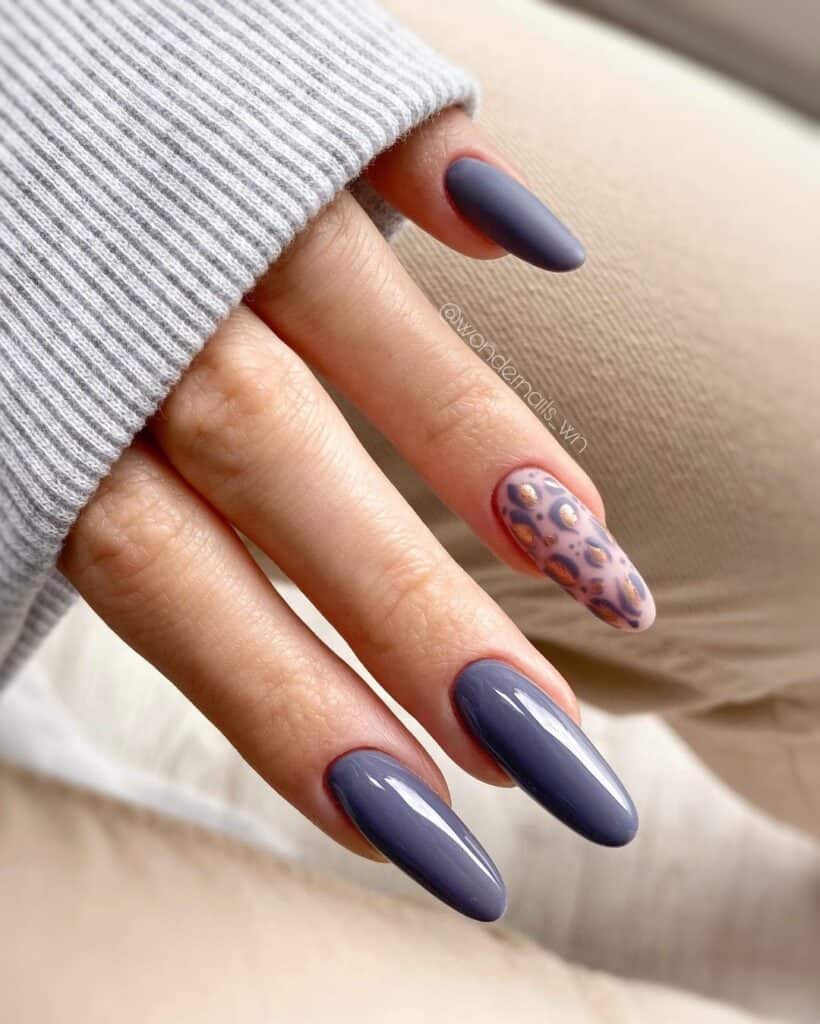 This is one for the thin-nailed girlies out there. If you have a lot of length to work with, but not much width, don't worry, this Autumn manicure makes the best of what you've got.
The purple polish adds warmth and coziness, while the accent nail elevates the look to unique and gorgeous status.
42. Fall Flakes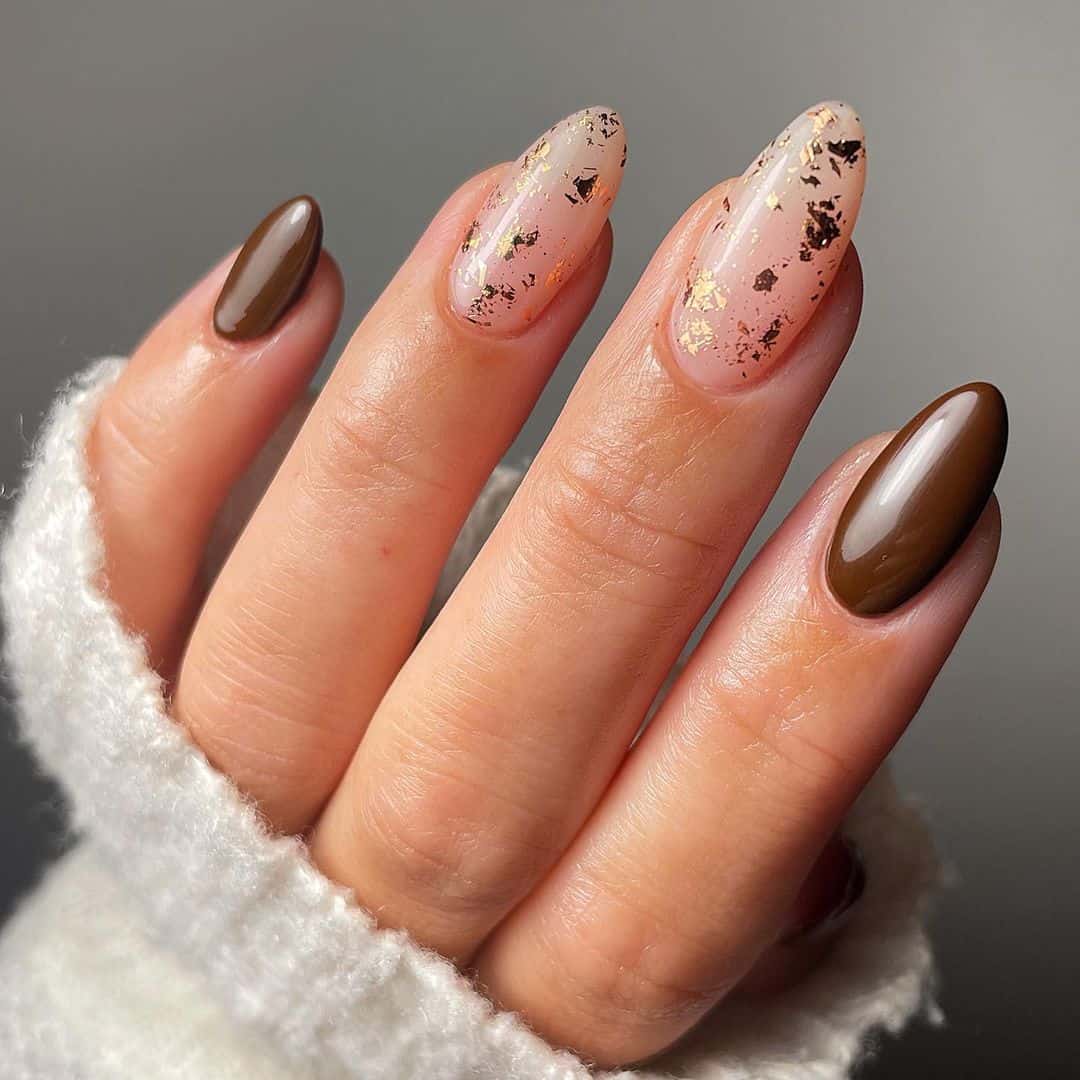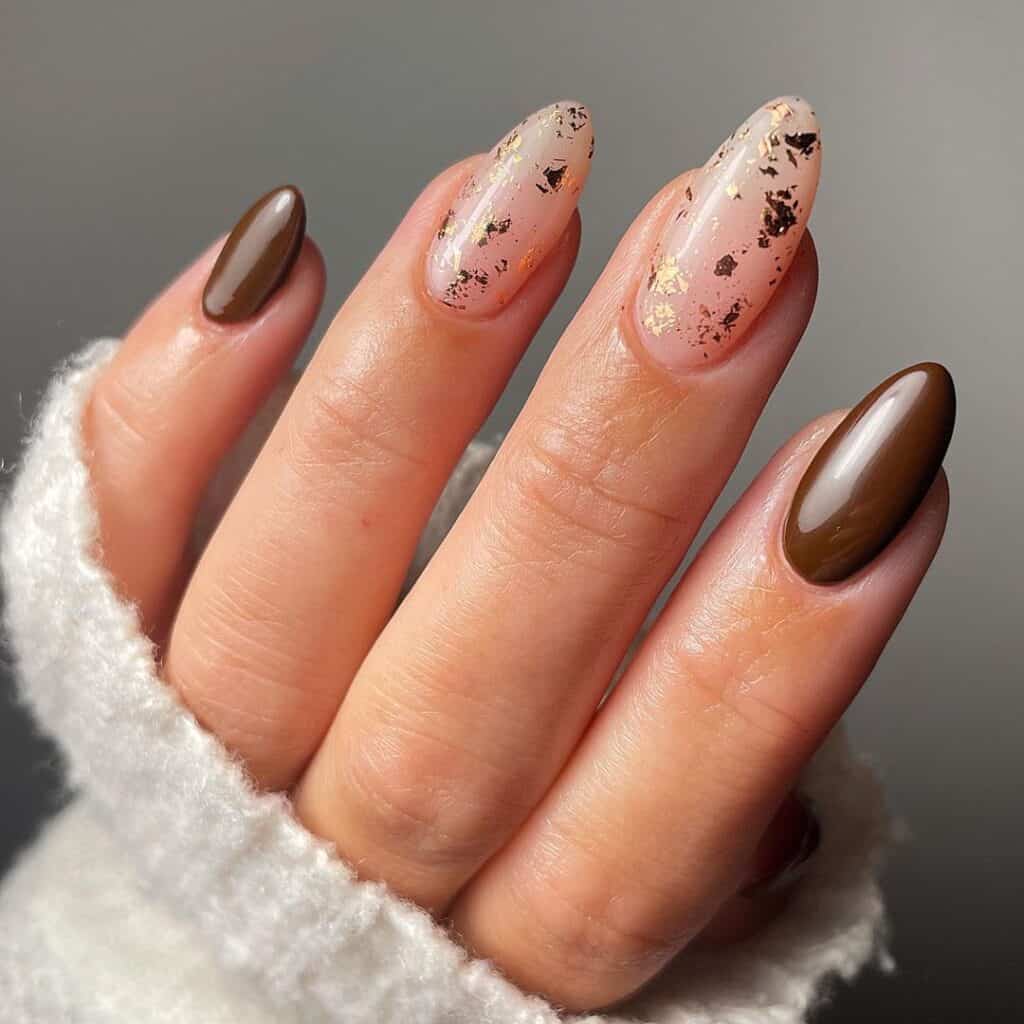 If you want to take part in the Autumn theme but are really looking forward to Winter, then these are nails for you.
The sumptuous, chocolatey shade is so rich and sets the scene for what's to come next. That is the dreamy and light-hearted golden-speckled nails that are oh-so-charming and dainty, like an image straight out of a fairytale.
This manicure is easy to do. All you have to gather around is a milky white shade, a rich brown, and some golden nail foil.
File your nails into an oval shape and get to work on this piece of art.
43. Matte Fall Nail Design
This manicure really has it all. But despite including many trends, it's also charmingly understated and quite cosmopolitan.
It's the definition of chic and stylish, not to mention that it's every fashionista's best friend, considering how well it goes with all colors and outfits.
The manicure also doesn't ask much of you, being delightfully easy to replicate. Of course, you'll need a different textured polish or an overcoat.
44. Autumn Vibes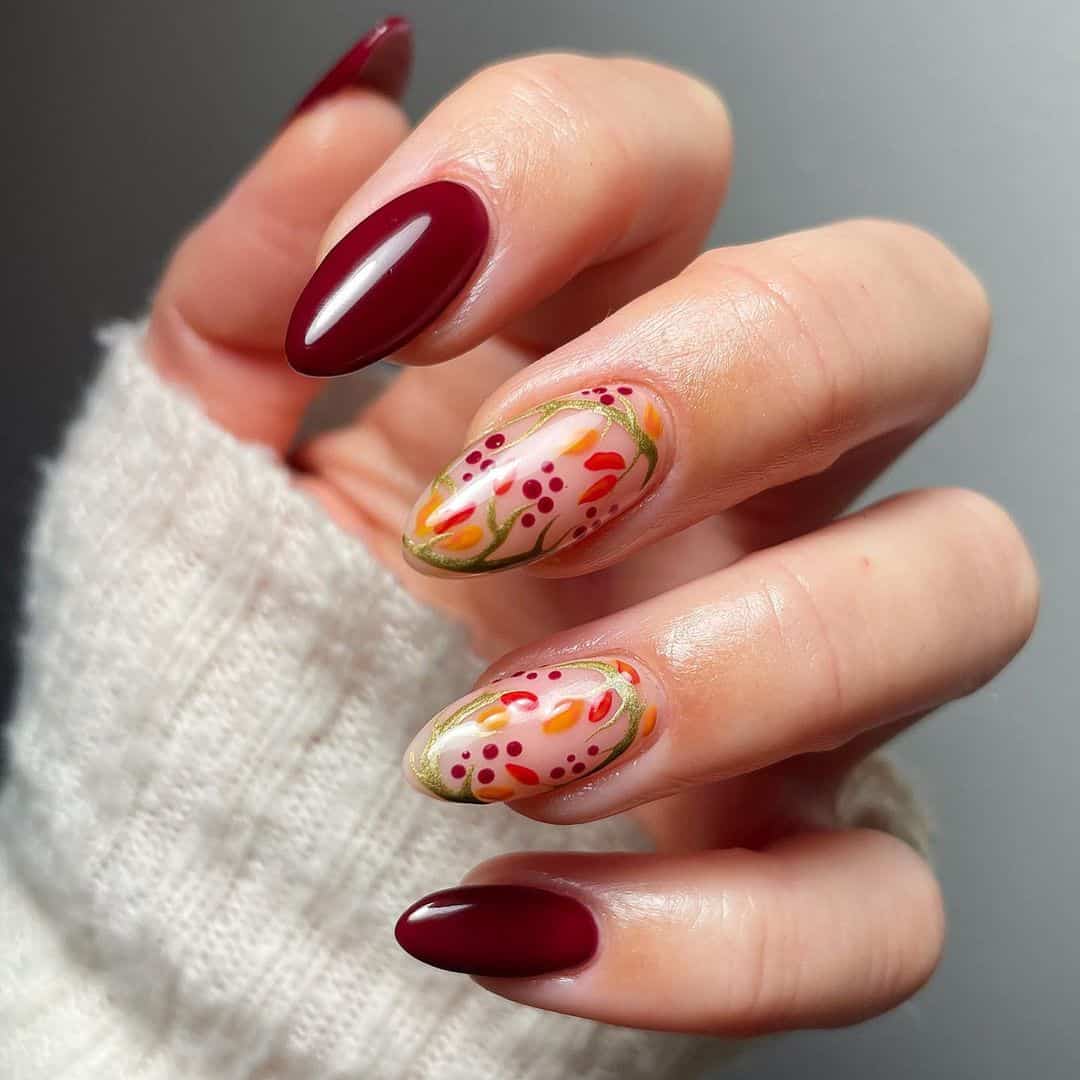 These nails look like a cozy autumn day. They're so lovable and warm with a free-spirited aura that will steal the heart of anyone who's fortunate enough to see such gorgeous nails.
Seriously, you won't be able to stop looking at your hands and will be planning your accessories and outfits around them because they'll steal the show every time.
There's a lot going on in two breathtaking nails. So much, in fact, that I recommend you take this work of art to your nail tech.
They'll be delighted to get to work on such a fantastic design, and you'll be even happier with the results, that is, of course, unless you'd like to flex your own nail skills on this beauty.
45. Raw Olive Fall Nail Color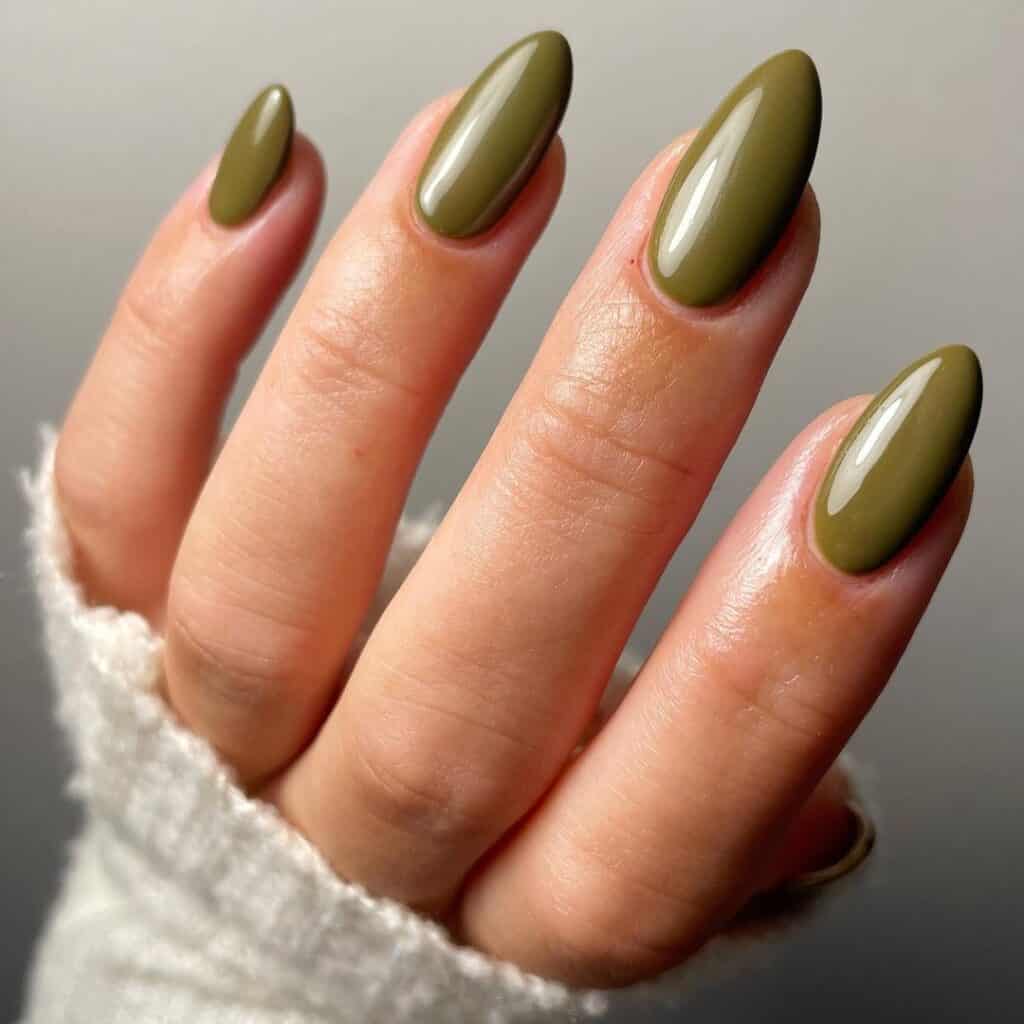 It's a toss-up when it comes to this Autumnal manicure. I can't decide if the nail polish shade or the nail shape are more beautiful. These autumn nail designs are truly going viral lately especially this color.
The oval shape is exquisite and speaks for itself. This manicure needs no extras because the soft shape and angles are gorgeous enough how it is.
However, the nail polish shade works hard alongside the almond-shaped nails to perfect this manicure.
These Were The Cutest Autumn Nail Designs You Have to Recreate This Autumn Season.