I only recommend products or services that I believe will add value to my readers. By using these affiliate links, I'll receive a commission if you purchase through my link, at no extra cost to you. Please read full disclosure here
Are you into the trend of getting your pink Barbie nails done after the release of the Barbie movie?
These trending Barbie nail designs and Barbie nail ideas are going to help you take your pink mani to the next level.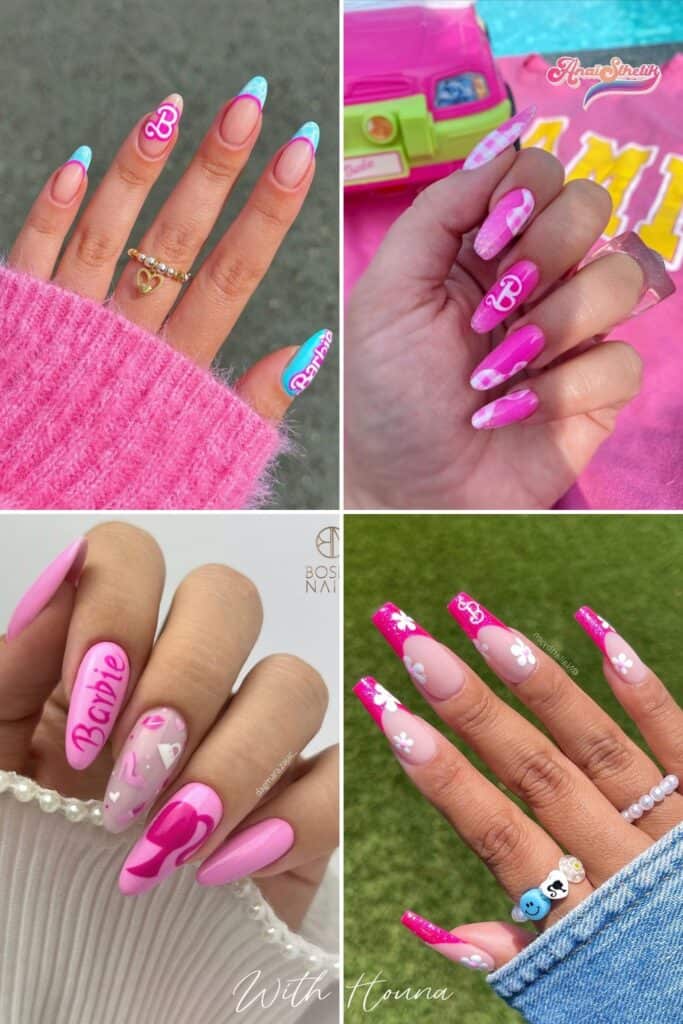 I bet you're looking for cute Barbie nails to channel your inner Barbie after Watching Margot Robbie step into Barbie's fabulous shoes, bringing our favorite doll to life on the Big screen?
You agree that there's Barbie fever seriously taking over the world, and we're here for the new trends of Pink, from Barbie Nails to fashion, the best Barbie Halloween Costumes and some Barbie motivational quotes and memes.
Like when you realize you're "Kenough," insert your name at the beginning and make the quote yours. I digress,
The release of Barbie caused a shortage of Pink in the world. But what's riding the wave of this buzz? You got it – the incredible Barbie nail trend!
Even our favorite celebs are making classy fashion statements with cute Barbie nail designs.
If you hope to transform your nails, you're alone in this. I'm here rooting for your transformation.
Plus, I've gathered a collection of the cutest Barbie Nails Ideas to help you up-level your manicure game and finally own your nail narrative like Barbie.
Whether you want to keep it simple with French tip pink Barbie nails or you want to stand out with Barbie's Iconic font design.
Or you want to let your creativity run wild with effects and inspirations from the Barbie world, such as adorable mini purses, shoe designs, and quotes to create Insta-worthy Barbie nail designs everyone will obsess about.
You'll find the best Barbie nails from our collection that allows your style and personality to shine through, helping you embrace your creativity and become as bold Barbie herself.
Cute Pink Barbie Nails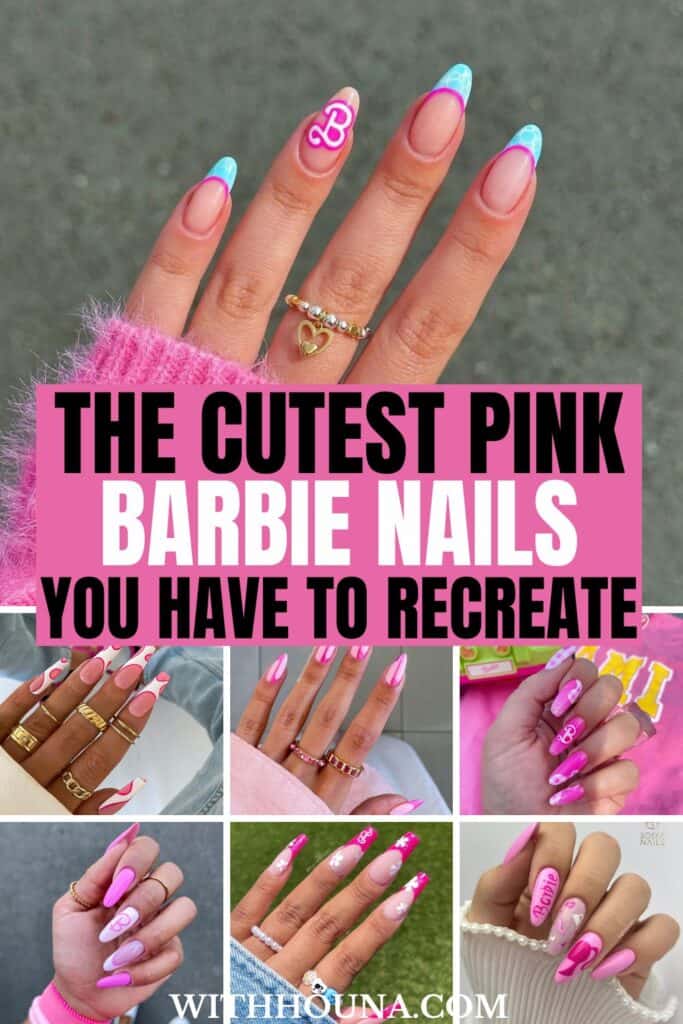 1. Long Almond Barbie Nails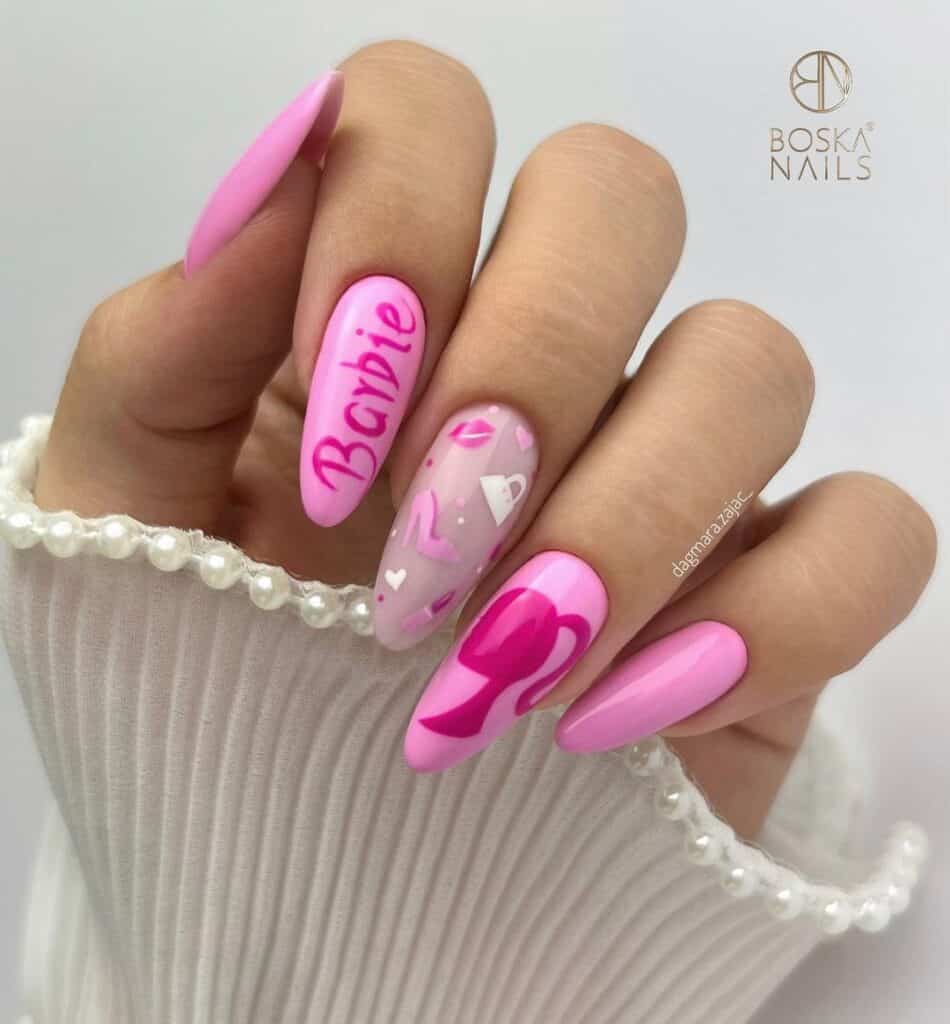 These Barbie nails look like they walked right off the catwalk and onto your nails. They're like Barbie, but make it high fashion.
Vogue is getting pretty cute these days and isn't afraid to flaunt it when it comes to adorable details, so consider this manicure the height of trendiness and do yourself a favor and try them out.
2. Hot Pink Barbie Nails
Who says Barbie and stilettos don't work? Since Barbie can do anything, she can also bring edge and sharpness to even her cutest looks.
It's giving adorable with a twist, and that twist is "don't mess with me." There's so much attitude in these unapologetically pink nails that are also sharply shiny while even managing to keep things playful with the groovy, 70s vibes flower nail art.
I'm utterly obsessed with them.
3. French Pink Barbie Nails
Barbie nail ideas are stunning full-stop, but when you add the classic elegance of French tips, the effect is intensified.
These nails are almost too much to take in. They really are just that gorgeous. I love the little trademark B that adds a chic twist while, the groovy flowers bring a dash of playfulness, while the sparkles throw some glamour into the mix.
4. Long Barbie Disney Nails
Light pink is utterly irresistible, and I love to see it included in the Barbie nail trend. While they're so pretty, girly, and delicate, the stiletto shape of the nails adds a gorgeous runway edge to the manicure.
The frosted effect is also so trendy and adds extra hint of intriguing texture to the nails.
Plus, that little Barbie portrait nail art is so unique, but means you can definitely use this design as an excuse to book a trip to the salon.
5. Doubled French Barbie Tip Nails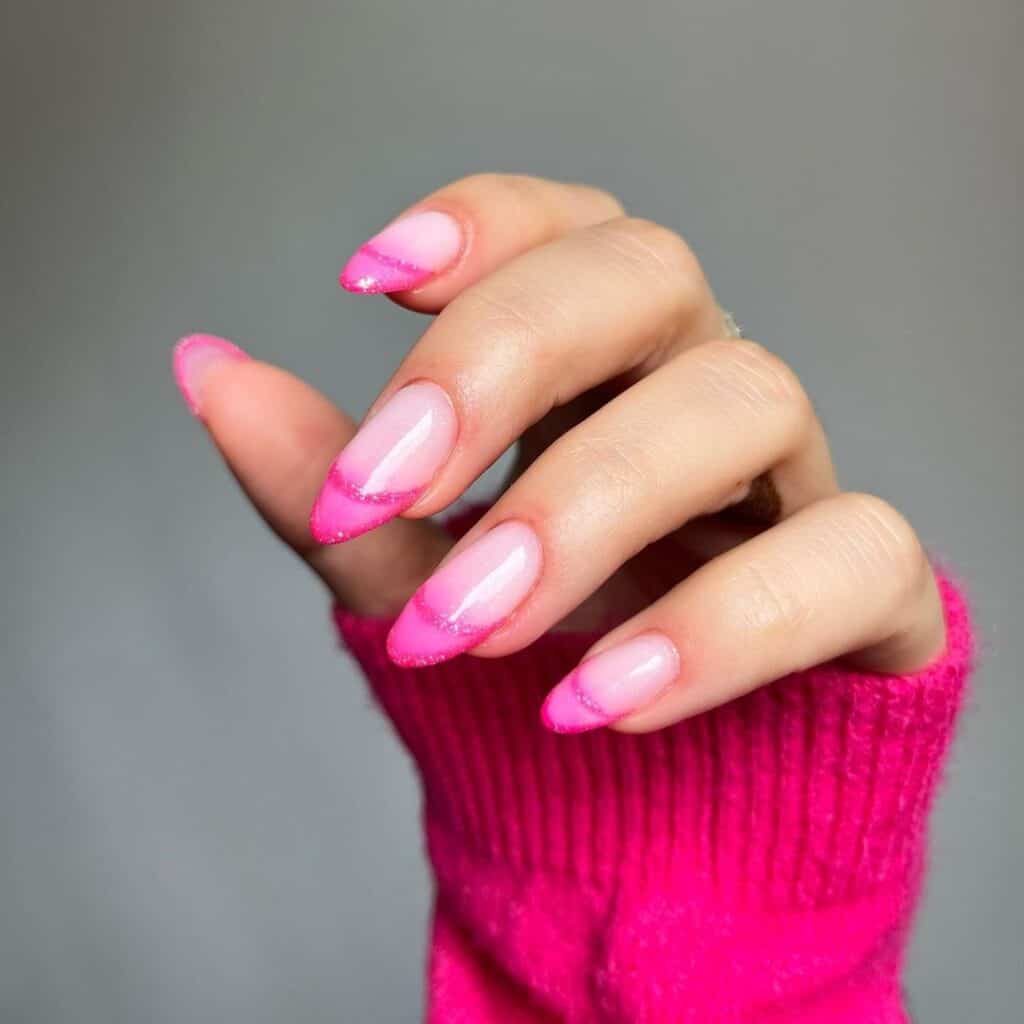 Warm, pink, and cozy French tips with a fabulous faded effect and shimmery aura? Sign me up.
There's just such a girly and chic allure to these nails that's even a little sensual. These are the simple yet effective Barbie nails that keep you fabulous, right on trend, and are ideal for if you're feeling yourself this year.
6. Classic Barbie Nails
These are the classic Barbie nails that you'll go for a typical Barbie look. This Barbie nail design is inspired by one of these popular Barbie hair styles that everyone is obsessed over.
These lovelies are by far the most girly and playful nails on the list. Plus, it makes the most of Barbie Nails Art without ever going overboard.
The manicure is just perfect and statement enough to be entirely one-of-a-kind and attention-grabbing.
It'll get you loads of compliments and questions, so do yourself a favor and get your nail tech prepared.
7. Barbie Pink Flamez on Natural Nails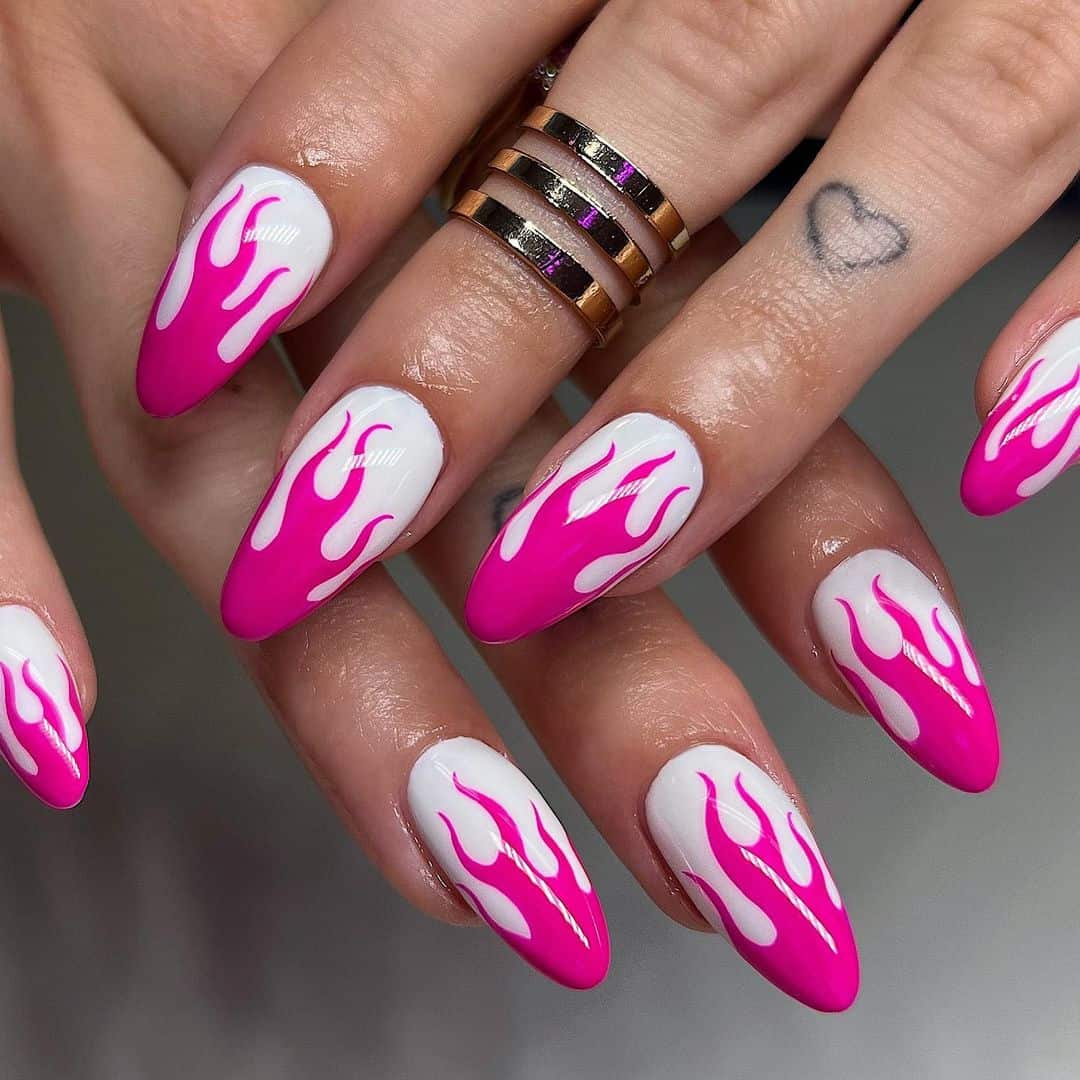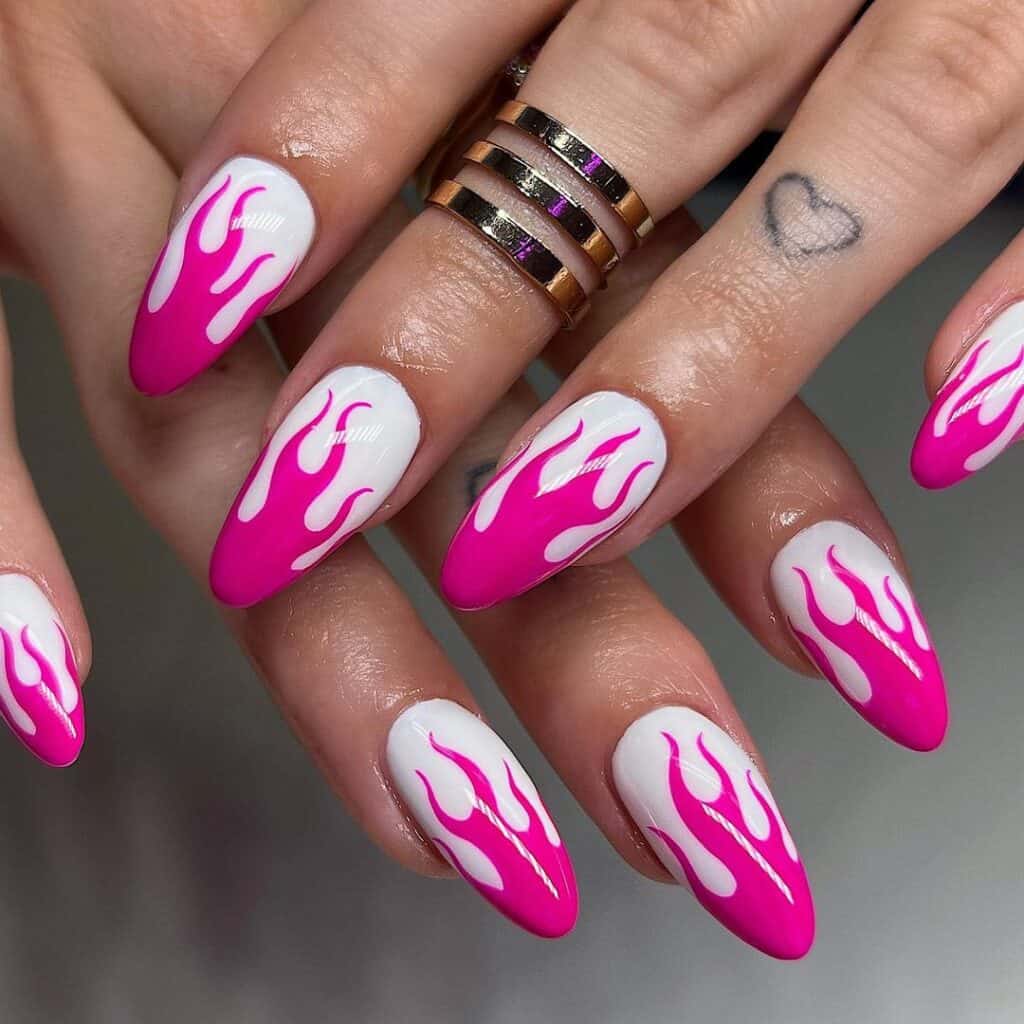 Barbie can do anything, which means she can also bring bundles of attitude and edge and do it all in style.
These are the cool girl Barbie nails. They're drop-dead gorgeous and strikingly stunning. I love how the white clashes beautifully with the hot pink flames.
The sharp oval shape keeps things cute while even adding a further edge. Just fabulous.
8. Luxury Barbie Nail Idea
I'm obsessed with how these Barbie nails go all in. They leave no stone unturned when it comes to attracting all the Barbie vibes and letting them shine in unapologetically fabulous style.
The stunning nails just scream Barbie and even make good use of Chrome, which is really having a moment right about now.
9. Barbie Nail Swirls
These are the IT girl nails of the Barbie trend. They're definitely the nails Barbie would wear for her party nights because they're groovy, fun, and utterly flawless.
The wavy swirls and love heart are what Gen Z fashionista dreams are made out of, so if you want a single set of nails that could make you into a style influencer alone, these are those powerful beauties.
10. Trendy Sparkly French Pink Tip Nails
When it comes to Barbie nail designs, it makes sense that some would look like they're made for Californian beach vibes.
This is one of those gorgeous additions that look like it's made for fashionistas who just can't get enough of Barbie.
It's glamorous fun, and it is the moment. What more can I say?
11. Another Version of Barbie Nails
These are what I would call mesmerizing and sensationally soft nails.
The glitter is so fine that it almost leans into the frosted effect, and the detailing of the swirls is so subtle that it almost looks like a work of art.
I also love the almond shape that keeps things delicate and striking in style. 
12. Pink Barbie Nails
For when pink just isn't enough, sometimes you need to go for the most intensely pink shade in your nail tech's collection.
If the Barbie trend has you hungry for more pink, then this is the extremely pink manicure for you.
Plus, the B for Barbie is just wonderfully understated, while the flowers bring the groovy vibes that are huge right now.
13. Universal Barbie Pink with Minnie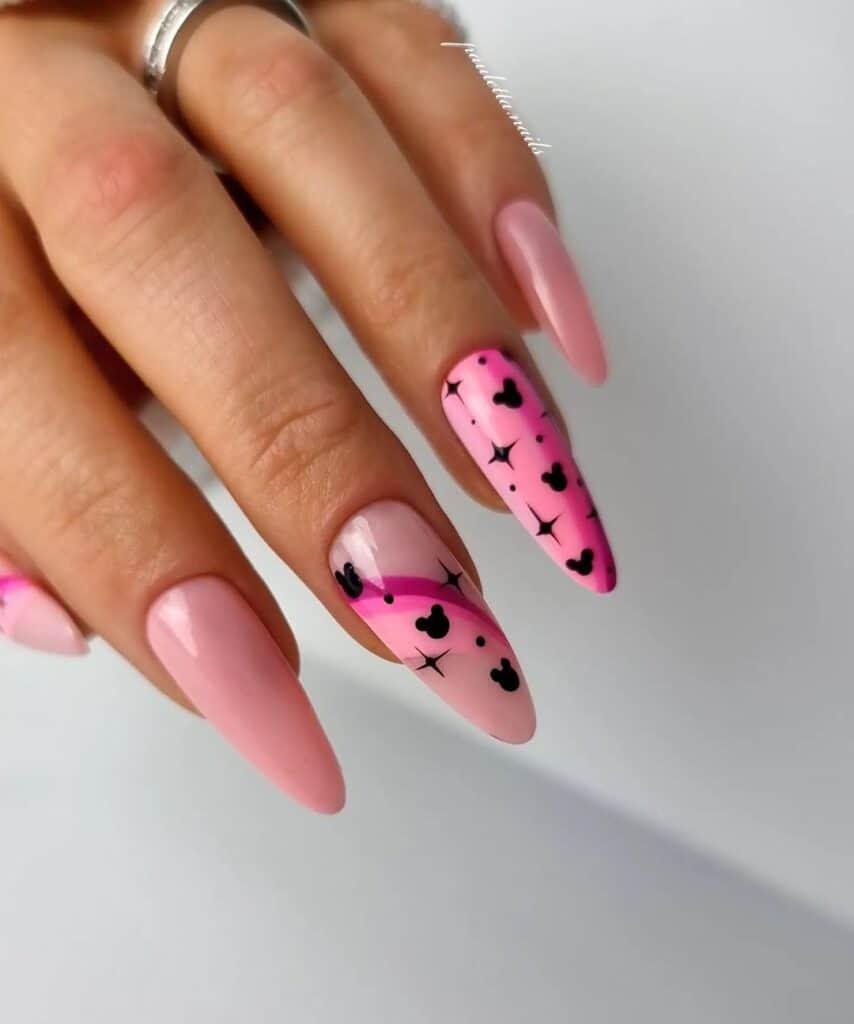 Barbie and Disney just go together. It's a fashion fact. They're both fantastical, fabulous and really the stuff of dreams.
Plus, it's princess vibes galore, which makes these nails some of the prettiest and most playful on the list.
Just be sure to keep those nails amazingly almond-shaped, and the rest should take care of itself.
14. Classic medium square Barbie Pink Nails
The quickest way to bring attitude to nails is to file them down sharp and keep them square.
Add in some strong shades, and you're on to the most attention-grabbing and unapologetic nails possible
Now add all things Barbie, and things just keep getting more exciting and gorgeous by the moment. I'm truly obsessed with this design.
15. Blush Nails with Charms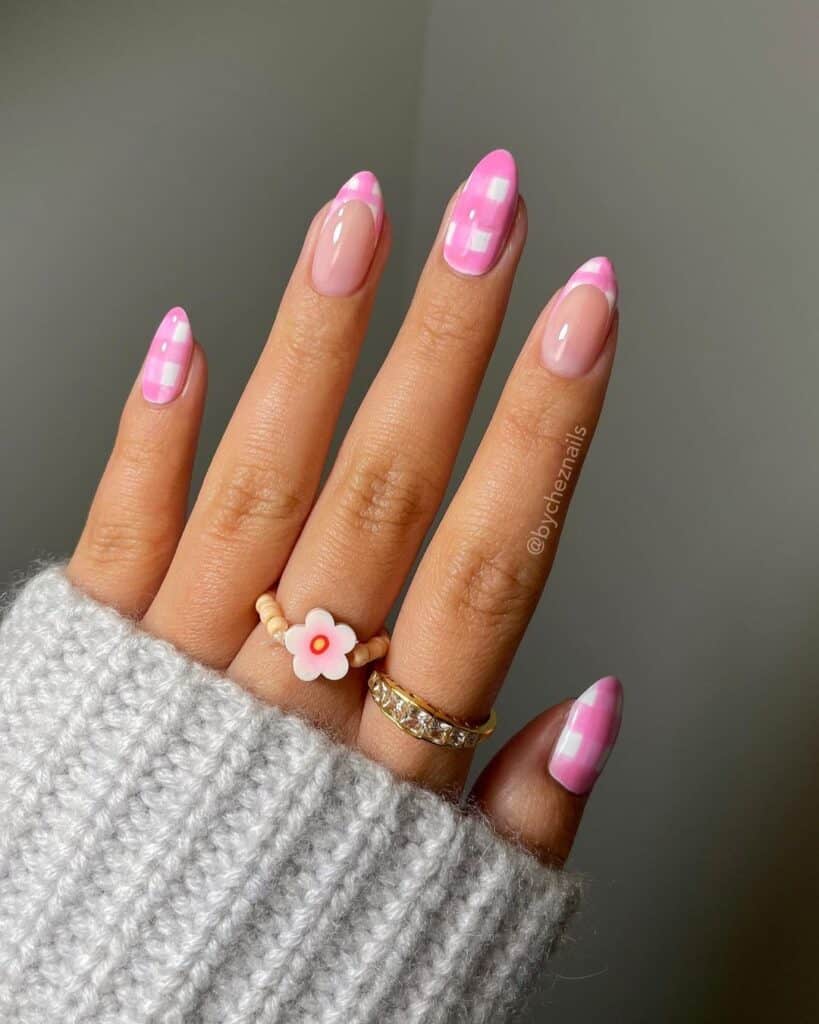 Barbie has brought checked patterns back, and I'm here for it. It's so quaint and fits right in with the rustic-chic vibe that's really having a moment on the fashion scene.
Here, we see the pretty pattern at its best, used in a variety of manicure classics that keep this look fun, exciting, and effortlessly gorgeous. Enjoy.
16. Barbie Inspired Nails Pink 3XL Square Nails
Barbie nail ideas don't get much more dramatic or extra than this. These nails don't just steal the spotlight; they are the spotlight.
The length is so astounding and daring that I can't take my eyes off them.
If you're one of the girlies who goes for these breathtaking nails, please post loads of them online because I need to see more of these beauties.
17. Matte Cute Barbie Nail Designs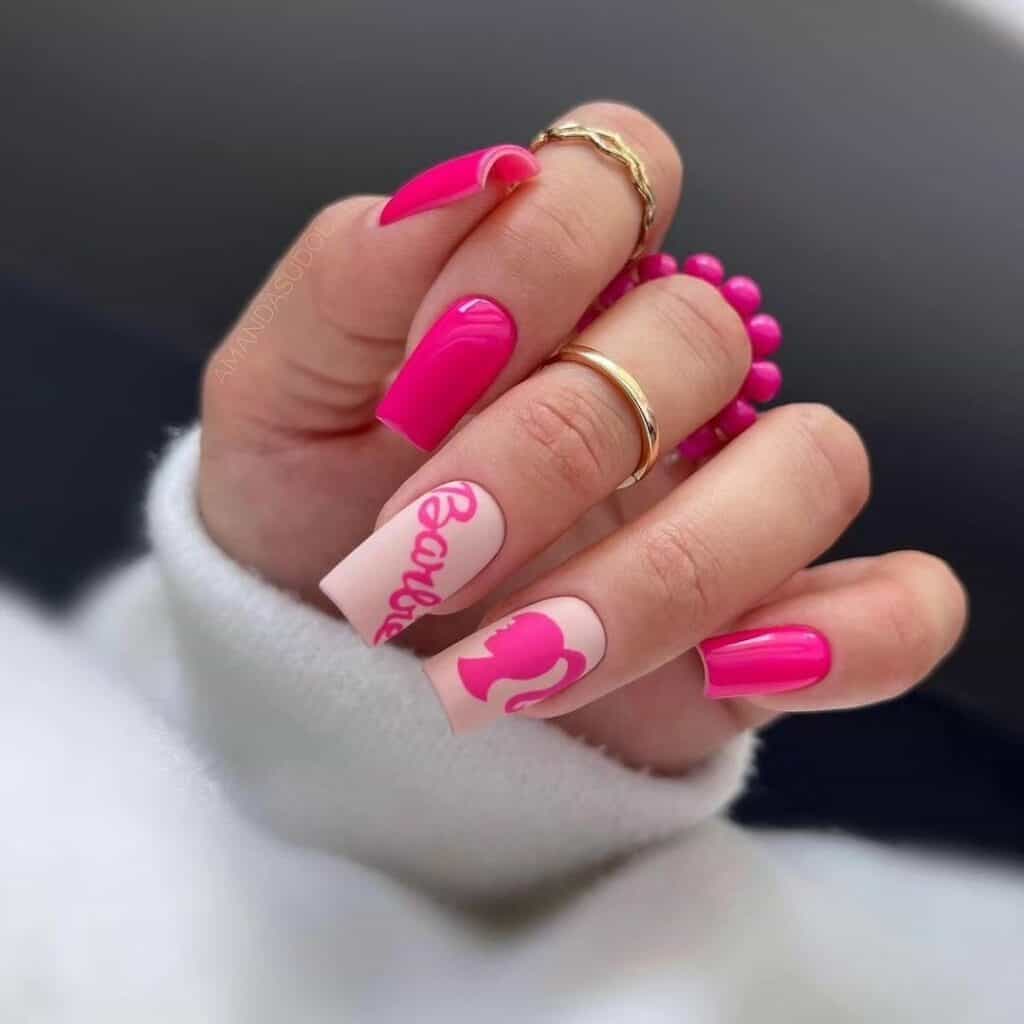 When it comes to Barbie nails, these are the more understated of the bunch.
They make Barbie's nails look like the most natural and effortless thing in the world despite literally writing Barbie across your nails and having Barbie's profile gorgeously printed on them as well.
Plus, they make the most of kind of short, square nails, and that's a win in my books always.
18. Pink French Tip Charm Nails
Barbie Nails Art is winning fashionista hearts all over the world, and here we see it at its most unapologetic and gorgeous, in the shape of a huge, sparkly diamond over the middle nail.
It's simple yet striking and the definition of luxury. The pink Frenchies keep everything chic as well, which is just to die for.
19. Sparkly Barbie Inspired Nails
Yes, we all know French tips are classic chic and have beautifully assimilated to absolutely every single trend known to the beauty world.
But truly, we've never seen such drop-dead gorgeous and irresistibly girly tips until the Barbie hype started.
Add the fabulous fade effect to the mix, and we have a manicure that's about to take off, so be sure to get ahead of the curve on this one.
20. Classy Barbie Nail Designs
I sincerely think that blue is such an underused and unfairly ignored color when it comes to Barbie nails.
Always by the beach, this fresh and ocean-blue shade is synonymous with Barbie.
It's such a staple color of barbieland and makes these nails look like they were designed by Mabel themselves. I'm simply in love with them.
21. Barbie Core French Nail Designs
Contrast tips were made for pink. The more pink shades, the better, as far as I'm concerned, so exchanging the natural nail for another pink tone is what I'm all about.
It's also a genius way to spice up the classic French tip while keeping the chic vibes and adding a dash of girliness and pure prettiness.
Just be sure to apply a generous overcoat to get that glossy, super-fresh sheen. 
22. Barbie Candy Nails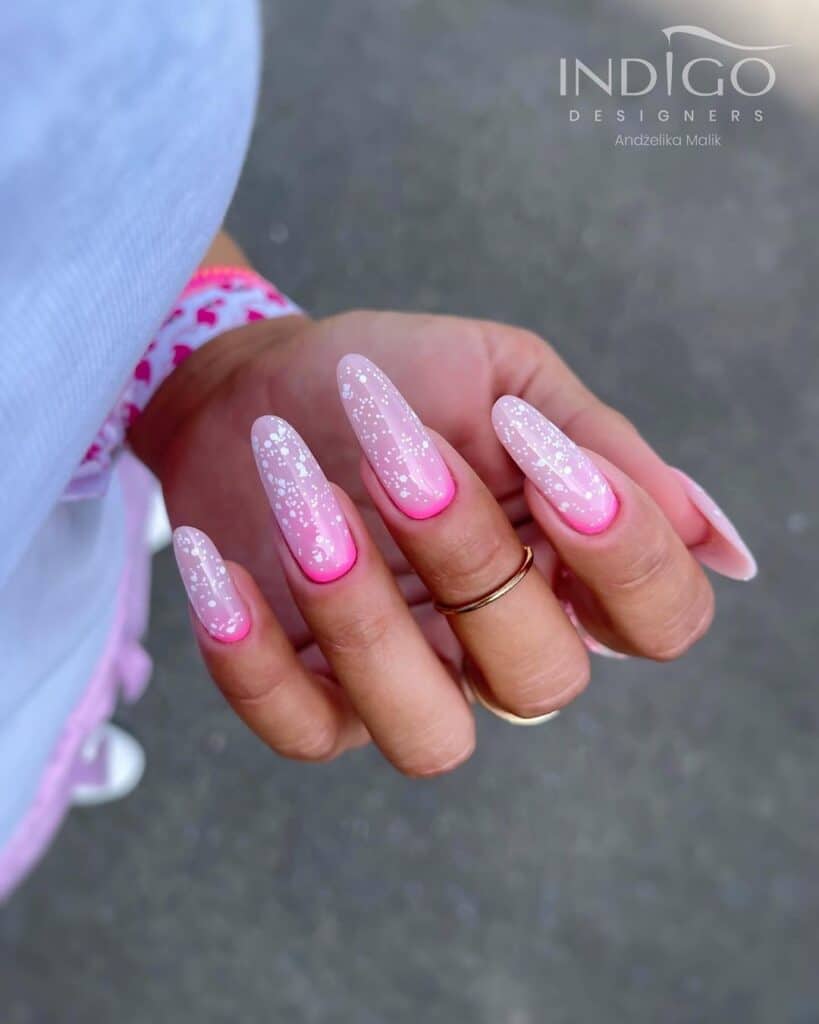 Barbie nails are taking on all trends and styles. Here, we see the speckled effect in gorgeous pink.
I also love the darker shade used around the cuticle that creates such a dreamily warm effect and adds length to what are already elegantly long nails.
While the ovaly almond shape is definitely key to making this look pop, this Barbie design actually works quite well on all length and shape nails. 
23. Simple Pink Chrome Mani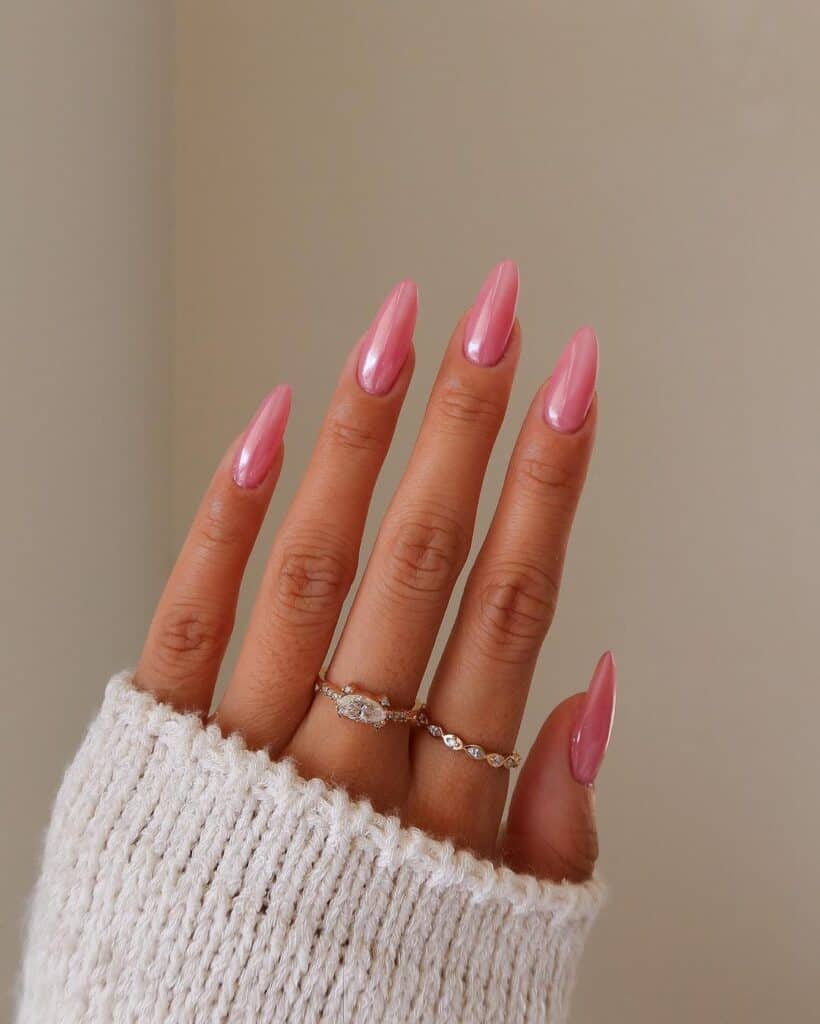 Pink is always enough. It's an iconic shade and what Barbie is all about. When it's so soft and shimmery, it really is at its best and most irresistible.
That's just one of the reasons these nails need no extras. They look fabulous with any rings or outfits and suit all vibes in chic, girly style. 
24. Cute Barbie Nail Idea
Simple yet effective and intensely Barbie, this is the epitome of Barbie nail designs.
The Barbie printed nail is just so elegant and gorgeous at the same time, while the faded pink effect is dreamy as can be.
They add such a soft and feminine touch to the manicure, while the little tiara diamonds add such a royal touch. 
25. For the Sake of the Barbie Collection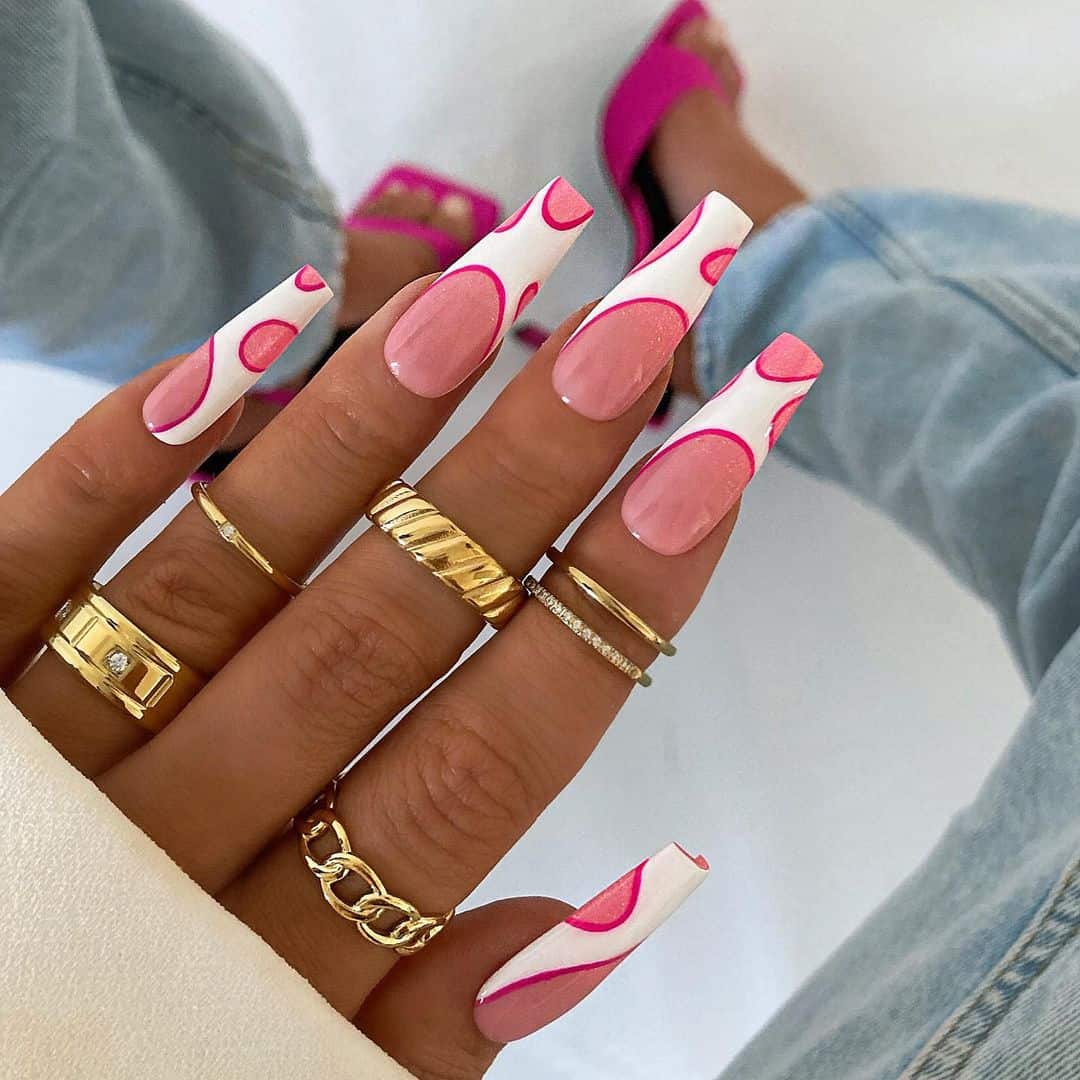 Barbie and 70s vibes go together like a little black dress and a gold necklace. The bubbly lava lamp tips are the perfect example of that.
I just love how the shimmery pink shades contrast strikingly with the white tips.
The darker shade of pink used to line the circles adds such a lovely touch of definition that really just perfects these stiletto nails. 
26. Hand-Painted Barbie Nail Art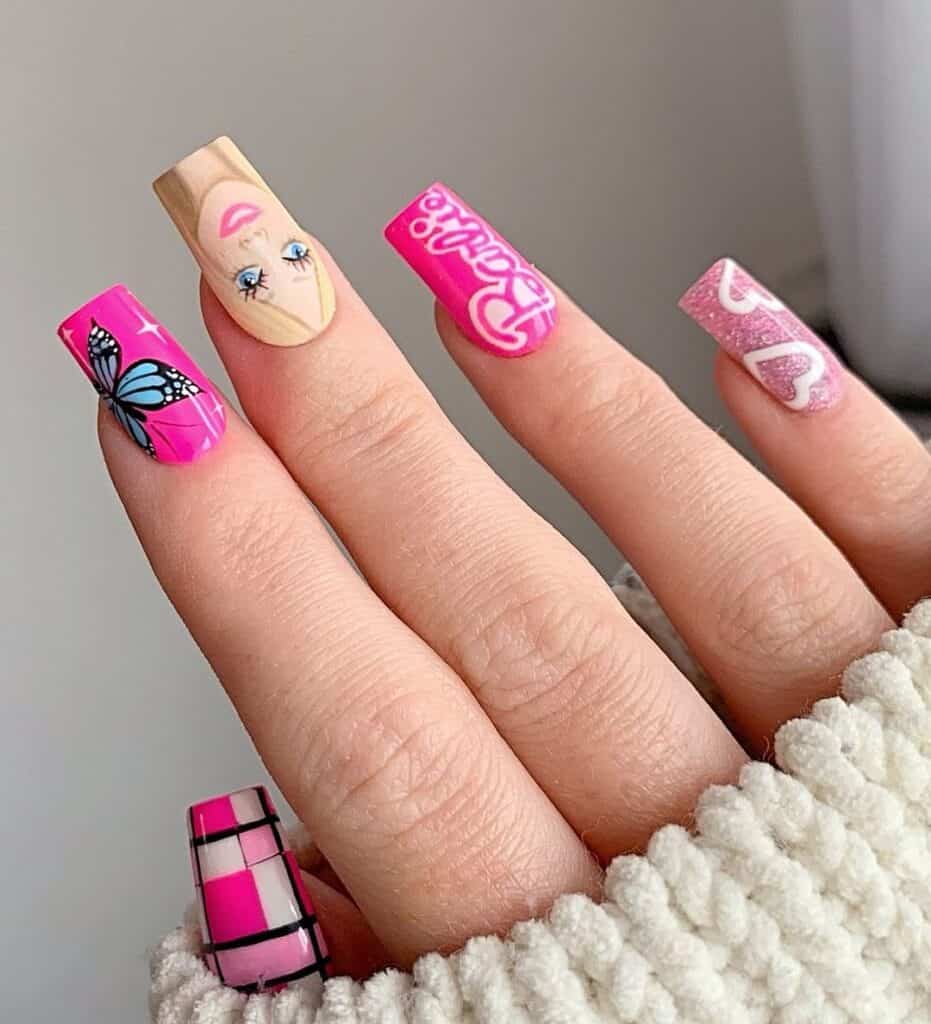 Barbie's nails that feature the iconic gal herself are amazing. They take the trend and go all in, not afraid to be that bit extra and utterly extraordinary.
These are definitely the nails for the biggest Barbie fans out there, and they're so gorgeously intricate that your nail tech will certainly need to be contacted. 
27. Pottles Barbie Nails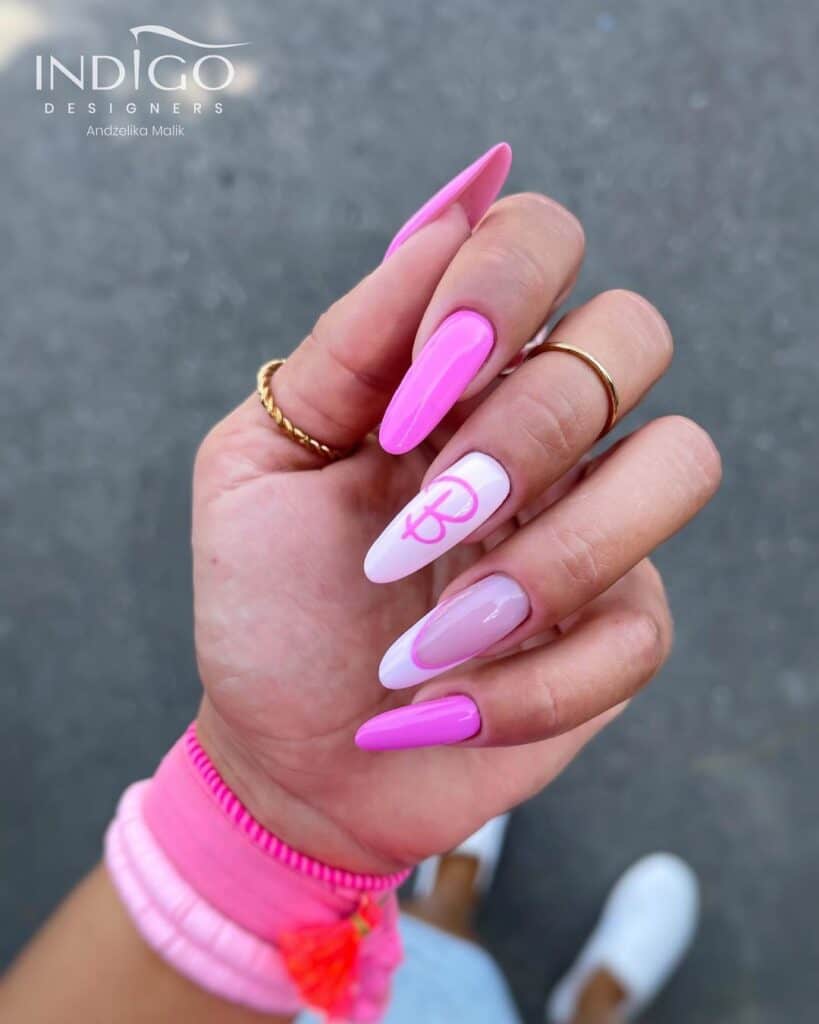 Some people think that a hand of Frenchies needs an accent nail, while others use the French nail as the accent nail.
I love how stunning and chic this manicure is, and the shades are so gorgeous and loud. They're unmistakable classic Barbie, and I'm here for it. 
28. It's All About Barbie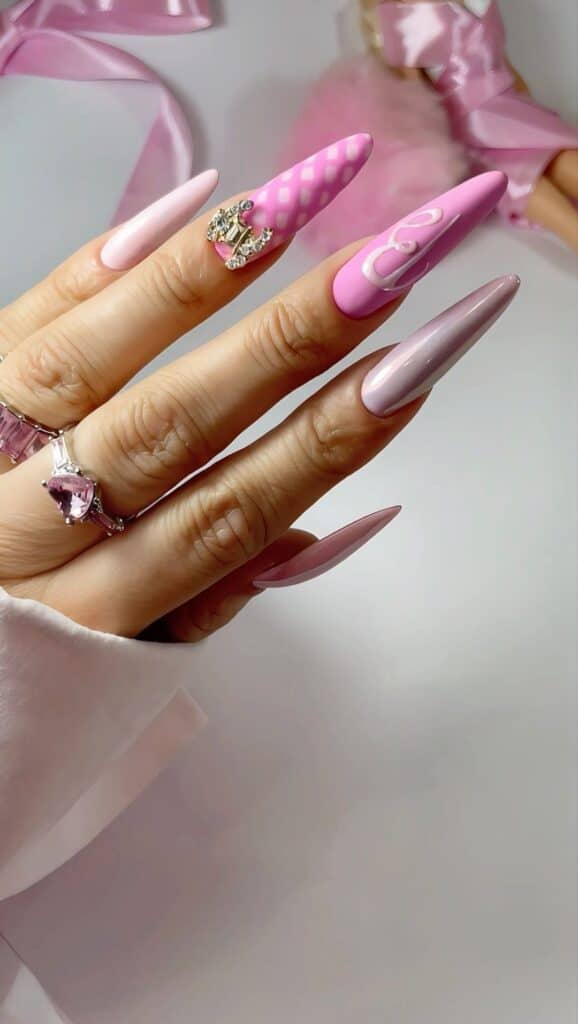 These nails look like little fairytale palaces on your fingers.
They're so striking, regal, and refined all at once and are definitely one of the more unique Barbie nail designs I've seen since the trends started.
They're definitely on the Disney wavelength, keeping things cute while the extra long and softly sharp shape adds attitude. 
29. Beautiful Pink Swirly Nails
Here we have the influencer Barbie Nails. They're a little deconstructed and even quite abstract by bringing out the beauty in the basics of Barbie.
They're a little bit minimalistic and a lot chic. The length and almond shape are the secret behind keeping these nails looking so striking and distinct.
Plus, those trendy multi-colored swirls definitely need a lot of space to spread their gorgeous goodness. 
30. Barbie Princess Nails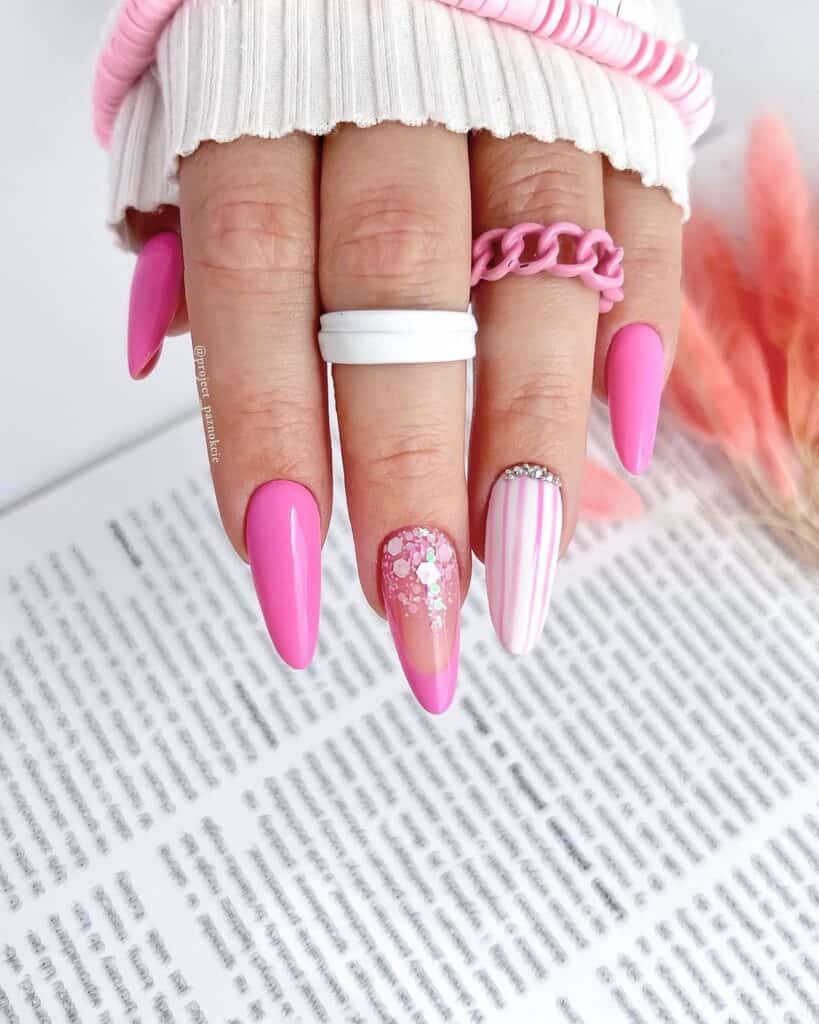 These nails are fit for a queen who's still on her princess vibe. They've got that effortlessly royal aura and are just so refined all over.
They're the kind of nails that bring the party to a tea party while still looking effortlessly cute and girly.
I'm also just so obsessed with the strawberries and cream nail and love how the glittery sparkles are relatively loud which makes the whole look just so unapologetically fabulous. 
31. Barbie Dreamhouse Hearts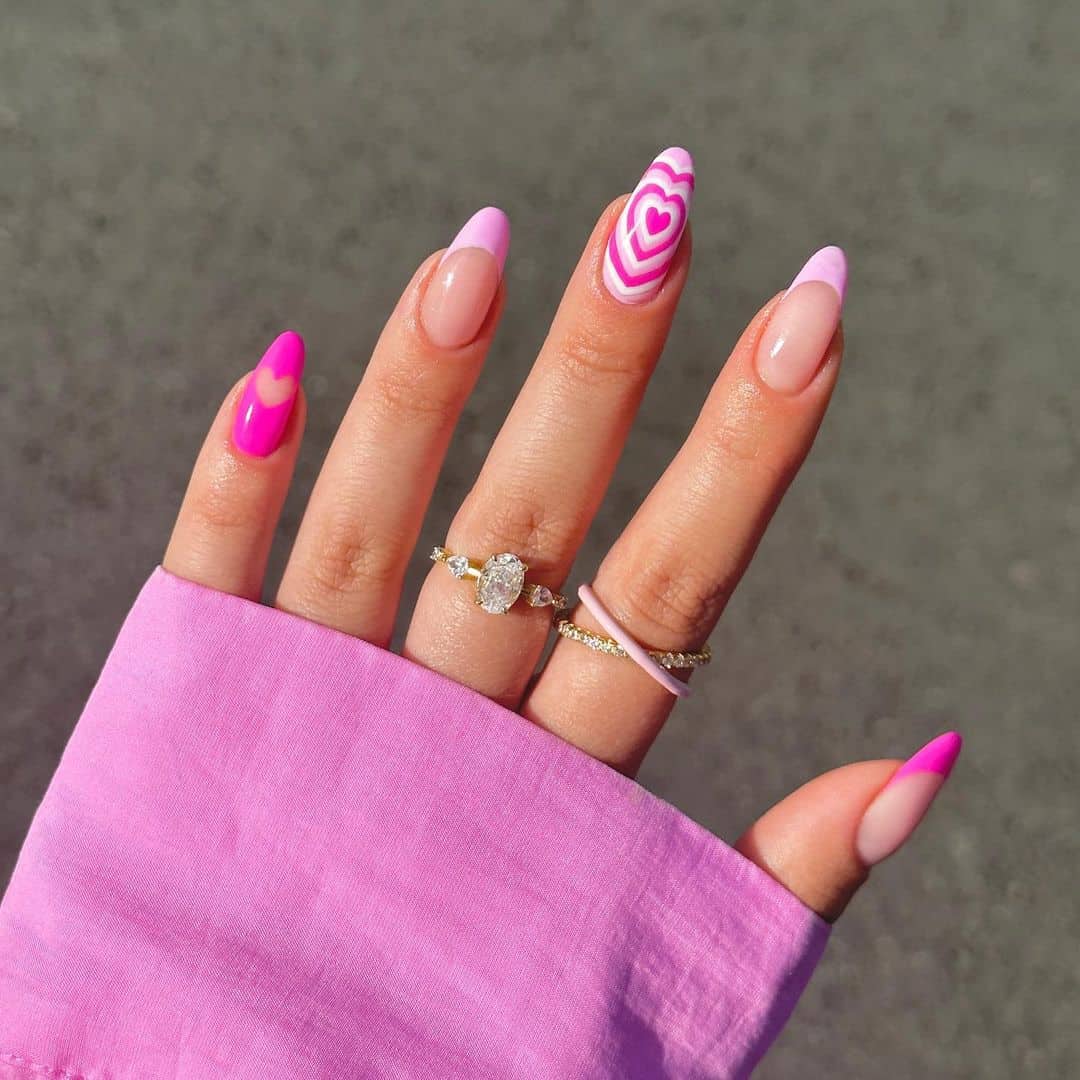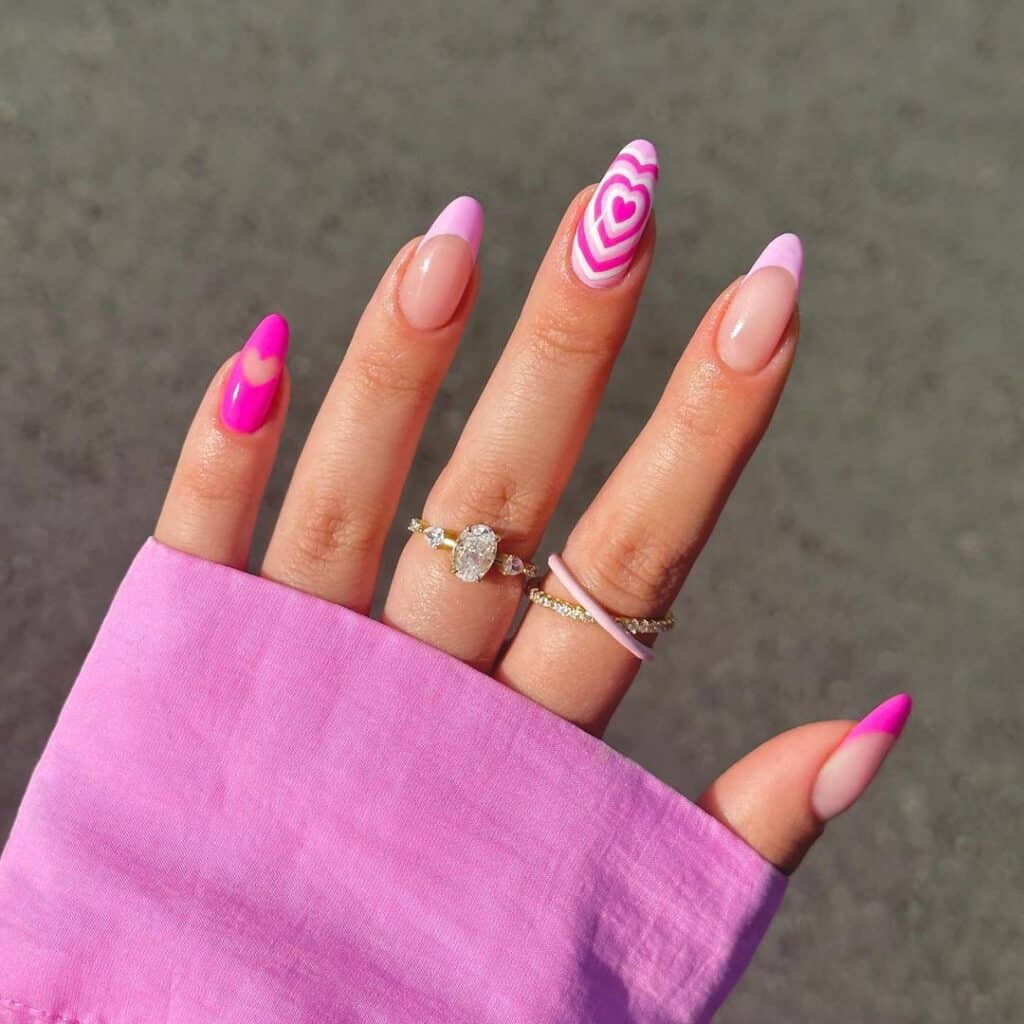 Excuse me, but any manicure, never mind Barbie nail ideas, that has a groovy love heart is already my favorite.
It just so happens to be a match made in heaven with the Barbie trend because it's all girly, fun, playful, and just the right amount of funky.
This is all before I even get to the negative space heart on the pinky nail.
These are hands down cool girl nails, and I will definitely be trying them out this year. 
32. Barbie Mini Swirls with Sparkles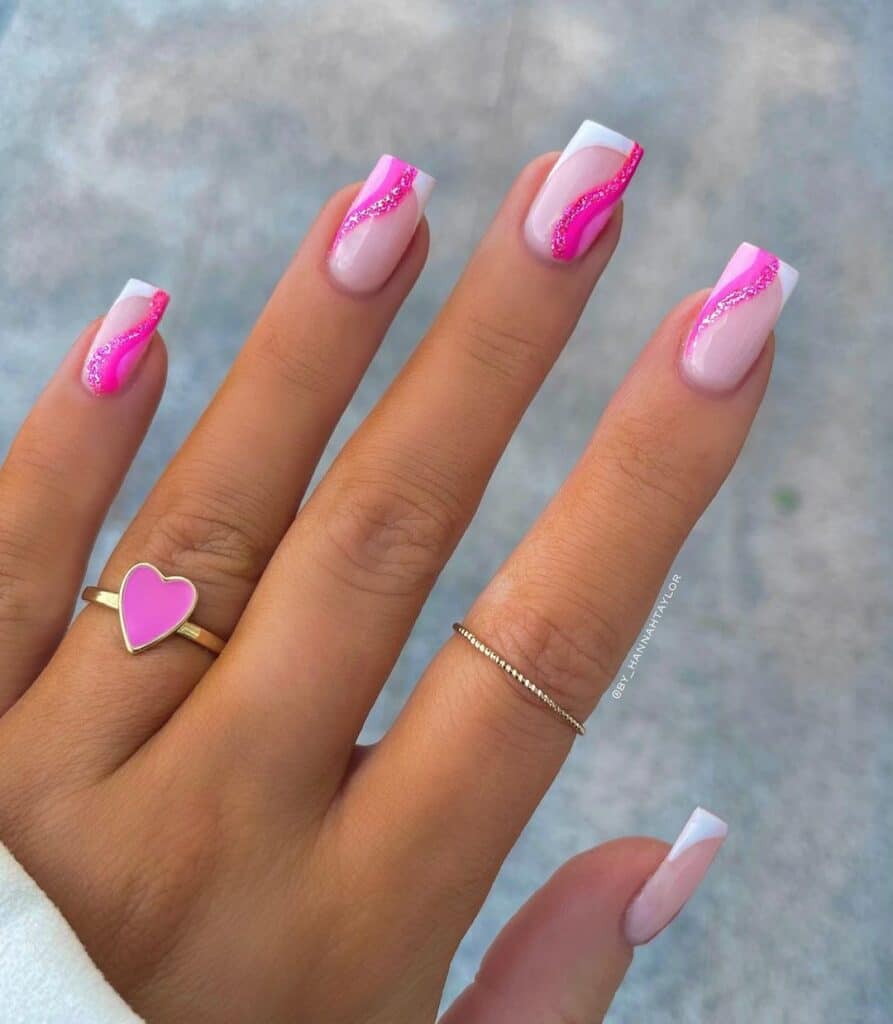 If you're a short, square, and simple nail girlie who loves to keep things chic and low-key, then these nails are on your vibe.
They're essentially classic Frenchies with a dash of Barbie. But that dash is oh-so effective and gorgeous.
It makes use of the right-on-trend swirls and the best of pink shades, with a sprinkle of glitter on top, of course. Can you tell that I'm in love with them?
33. Let's Go Barbie Nails
When Babie does stiletto, she goes soft. Her gorgeous kitty claws have attitude, but they're still delightfully delicate.
And that's not the only part of this manicure that's dainty. The faded shade effect is just gorgeously soft and actually makes the tips look a little more intense as the shade gets stronger while the nail narrows.
Of course, the glitter is a must to really allow the beauty of the nails to shine.
34. Pink and More Pink Nails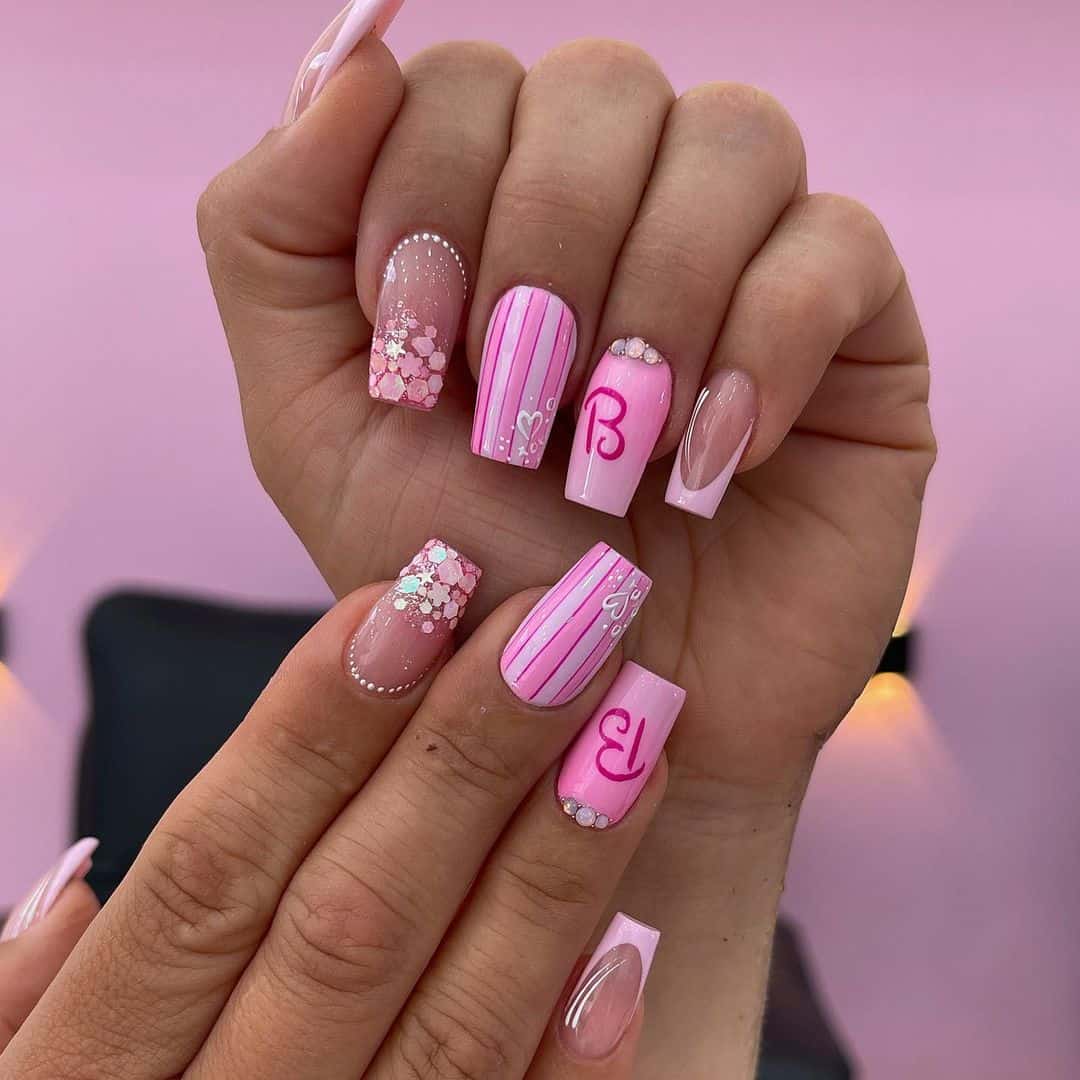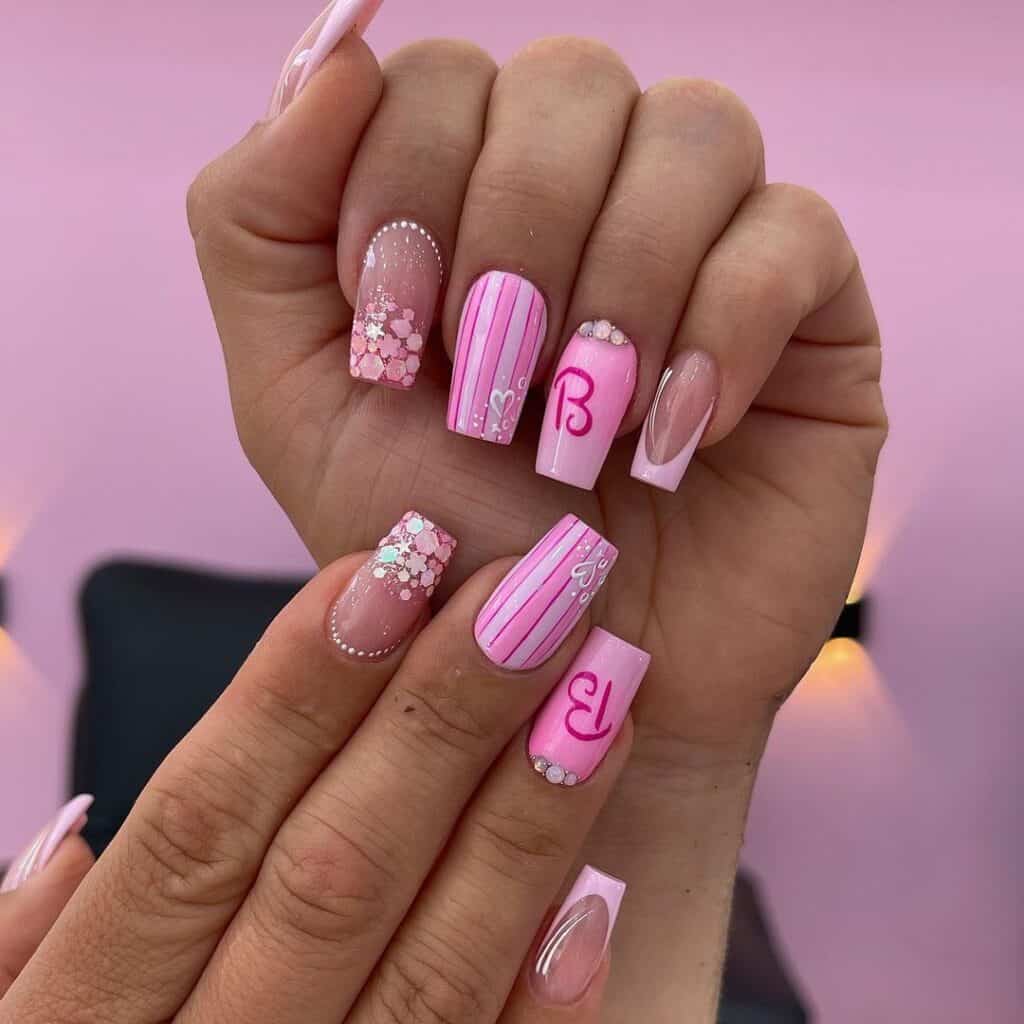 I think these are the most glamorous and elegant Barbie nails I've ever seen. They have an element of high fashion to them thanks to the symmetrical lines and pearly diamonds.
Plus, the level of glossiness is off the charts and is key to making this manicure look so polished and flawless.
35. Barbie is Calling Nails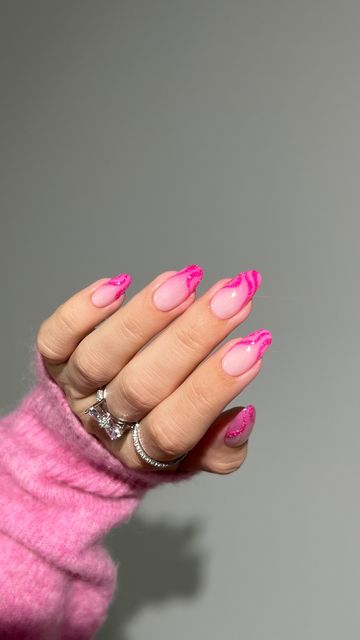 Swirl tips are having a moment, and it's timed just perfectly to match the explosion of pink onto the nail art scene, thanks to Barbie.
Sprinkle some glitter on top and keep things nice and oval, and you've got yourself a unique and exciting pair of chic Barbie nails that can be worn anywhere, anytime, without even clashing with your outfits or accessories.
36. She's a Barbie Girl Nails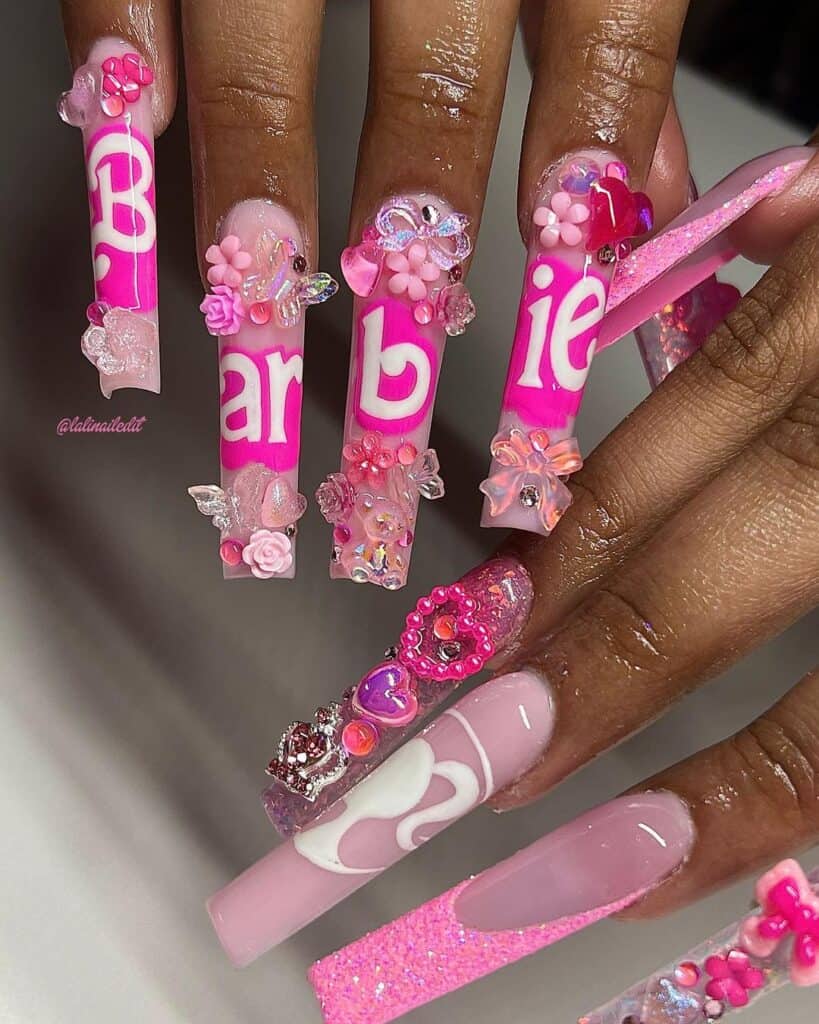 I'm blown away. These nails have literally left me speechless. If you had these on, you'd need no accessories, jewelry, or literally anything because all anyone will be able to look at are these breathtaking beauties.
These nails are seriously the stuff of girlhood dreams come true and are the glamorous champions of Barbie Nails Art.
So, if you're feeling very extra and want your nails to literally scram Barbie, then these are the set for you. Just be sure to let your nail tech know in advance.
37. Barbie Ombré Illusion Nails
Sometimes, all you need to take gorgeously pink nails to the next level is to create a two-tone illusion.
While these nails may look shiny, because they are really, this isn't the magic behind the illusion.
What's really doing all the work here is a shading effect that's masterfully evoked using carefully placed white polish to create the allure of contrast.
I also meant to use the word masterfully because these nails really do require a master of nails to be brought to life.
So, don't think twice before booking an appointment with your nail tech, and please do us all a favor and share plenty of pics once these beauties are completed.
38. Trendy Barbiecore Nails
These are the Barbie nails we dreamed of as little girls. They're so playful and light-hearted while looking preciously pretty all over.
I also just love how beautifully bubbly they are from cuticle to tip. The almond shape is the secret behind why these fun nails also look so chic and elegant at the same time.
In fact, it's also the genius high placement of the two-tone French tip that adds length to the nails while allowing more valuable space for adorable love hearts and cottony soft dots.
39. Hot Pink and a Little Spark Nails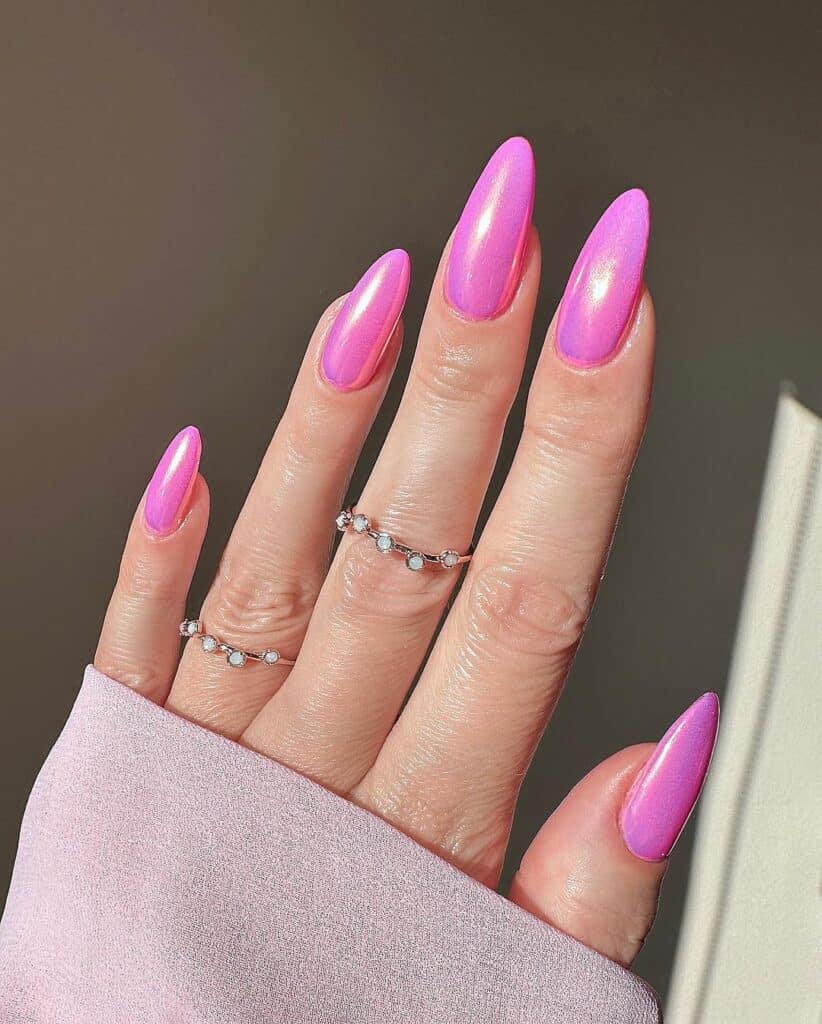 There are Barbie nail designs that scream Barbie, and then there are Barbie nails that Barbie herself would definitely wear.
I know exactly which group this set of perfectly pink and shimmery nails belongs to.
It knows that pink is more than enough and is all you need to create a truly glamorous look that can be worn any time of the year.
These Were Cute Pink Barbie Nails Trends To Recreate Immediately