This post may contain affiliate links, which means I'll receive a commission if you purchase through my link, at no extra cost to you. Please read full disclosure here
Christmas is finally here and if you're looking for the perfect gift for your mom, we've got you the best Christmas gift ideas for your mom that she will use every single day.
Christmas is my favorite season because it's gift-giving season. I get to treat myself and my family getting them the best Christmas gifts of all time. Also, I get the chance to be gifted what I wanted for long as well.
Thus, when it comes to finding the perfect Christmas gift for my family member, I get them unique and practical gifts they will use every single time.
That's why my mom loves my gifts the most because I always know exactly what's the ideal Christmas gift for mom she will use daily.
If you're looking for practical and unique Christmas gift ideas for mom, you're in the right place as we've wrapped the best Christmas gifts your mom will love.
The

Best Christmas Gift Ideas For Mom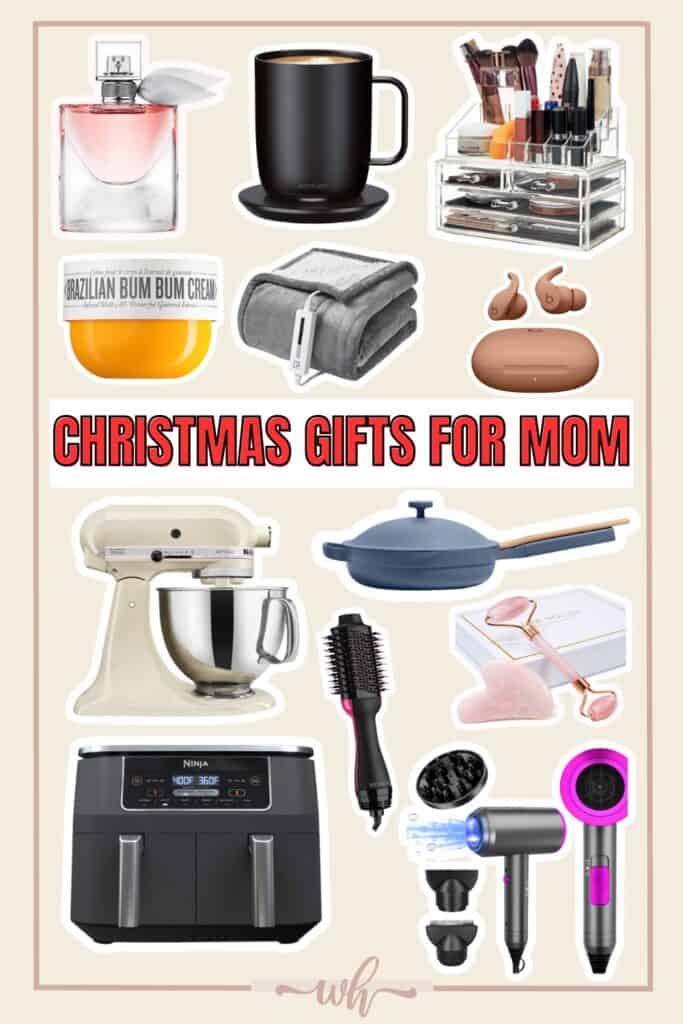 1. Get a Cozy Wearable Blanket
My mom can't stand cold at all and who does? Getting her this life-changing cozy wearable blanket made the whole difference.
It keeps you warm and I just love the fact that it's a blanket yet wearable lol.
Mom loves this one as it's loose, lovely, and soft.
Also, the size of it is just perfect to curl up in when the weather kicks in.
2. Get a Tea Set
This tea set is one of the most recommended Christmas gift ideas for moms this year.
I remember getting it for my mom on Mother's Day last year and I wasn't disappointed at all, she loved it!
Honestly, it's a perfect high-quality gift to offer. I just love how the honey straws are a lovely touch and of course the insulated tea cup is everything! You should get this for Christmas!
3. T3 Curling Iron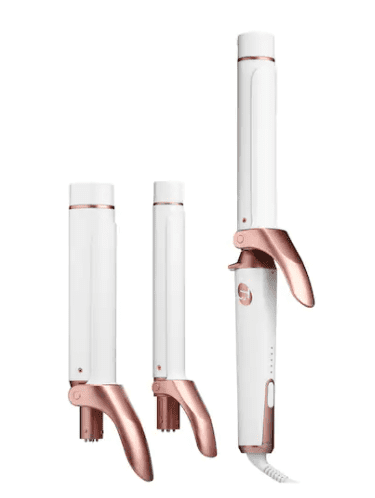 Having a curling iron is a must and I know how much it's hard to get the perfect curls using your straightener (I tried it once and it was a big failure)
If you're looking for a great Christmas gift idea your mom will use every day, this T3 curling iron is the ideal gift for her.
It makes life easier. It is flexible, works on all hair types, curls, adds volume, and increases shine.
Honestly, it gives the best curls ever that last all day long. Your mom will love this gift for sure.
4. Makeup Organizer
Another gift idea your mom will love is this makeup organizer for I know how messy a woman can get when she's preparing herself to work and how happy she will be if she can find that one missing lipstick.
Moms are no different, maybe it's even common among them to lose a piece here and there.
That's why, I do believe that your mom needs this adjustable makeup storage organizer to help her be more organized and clean.
5. Ionic Hair Dryer
This is the cheapest alternative to the GHD and Dyson hair dryer.
It makes the best Christmas gift idea for your mom as it's luxurious.
6. La Vie Est Belle Perfume
This is one of the best perfumes among moms, No jokes!
It makes the perfect and most thoughtful Christmas gift idea for your mom. This perfume is a fav as it smells fresh and the scent lasts all day.
It's just durable, sultry, and feminine.
If you want to be complimented for your taste by the one woman who loves you unconditionally, then you should get her this.
7. The Always Pan From Our Place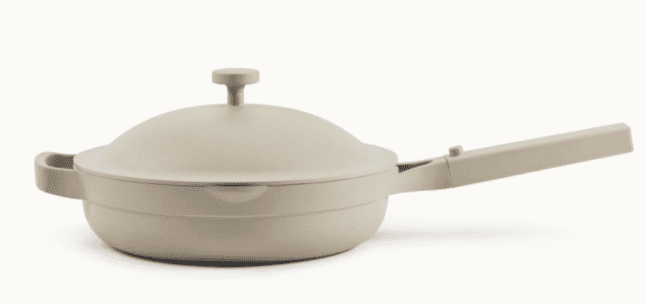 I can't say enough about this wonder pan. My followers have been raving about it for so long and I admit it's one of the best-selling pans on the market.
I love the fact it's aesthetically beautiful, non-stick, and multifunctional as well.
It makes the perfect Christmas gift for your mom as she needs it in her kitchen.
8. Ember Temperature Mug
This mug is everything! It keeps your coffee warm and I hate when my coffee gets cold. It's a cheap amazing gift idea for coffee lovers.
I love how you can set the temperature to the degree that you like to keep your Coffee nice and hot, the fact that you can take it with you anywhere, and of course the life battery.
What can I say? It's just perfect for Coffee lovers.
I mean mom is a tea person, and she uses it to keep her tea warm so it works for this too. Your mama will love this as a mom's gift for Christmas if she's a Coffee lover.
And, even though it comes in many colors, I prefer the black one …
Again, if your mom is a coffee lover, this Christmas gift idea is worth it!!
9. Revlon Hair Brush Dryer
Can I just say I'm in love with this Revlon Brush Dryer? I know most of you do as well. It beats the typical hair dryer unless you're having a GHD lol.
You can't know how much it makes your life easier. Mom has one too and she uses it EVERY.SINGLE.DAY.
It's super easy to use and gives you the most beautiful blowout ever. I love the fact it reduces hair damage and mom swears by it! It's a cool Christmas gift idea for moms.
Trust me, your mom will love it!
10. Chain Bracelet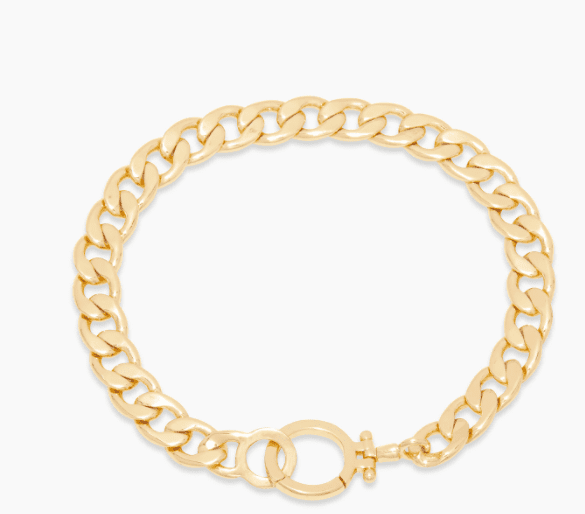 No mom says No to accessories!
I mean this little detail just adds a lot to a woman's appearance. It's a thoughtful gift for moms they will adore!
It's perfect for everyday wear and I love that it's gold and looks EXPENSIVE.
This is something she would wear and brag about the fact that I gifted to her in front of her friends haha
11. Crape Maker
If your mom is a crepe lover, she just can't imagine her breakfast without them!
So, yes this one is a good choice for sure, I mean it's clean, easy to use, and practical. I'm sure your mom will love it!
It's such a morning treat to make crepes for oneself or the rest of the family… that's what Mom says.
12. Makeup Case
This one is for moms who are always on the go. I love how you can put and organize different cosmetic products and that it comes with a lighted mirror.
I got to admit… The case is just cute especially if your mom feels like adjusting her makeup on a lunch break or if she decided to travel somewhere.
You should think of getting her this makeup Case!
13. Air Fryer
This Ninja Air Fryer has become one of the necessities and mom all-time favorite kitchen appliances ever. Let me be honest with you, it's a game changer.
I got one for mom last year and she swears she decreased her cooking time by 30 minutes. It's worth the hype.
It saves time making your dinner while doing other things. Also, I love that it can cook two foods in two different ways and finish them at THE SAME TIME!
Honestly, if your mom doesn't have one, you have to get her an air fryer for Christmas this year.
14. Throw Blanket
This throw blanket is one of the most wanted Christmas gift ideas for moms this year.
It's cozy and keeps you warm in the cold weather while sitting on the couch watching your favorite TV show.
It's soft, light weighted, warm, fluffy, and a good investment.
I think it's perfect as a Christmas gift for your mom, I mean even if she leaves it thrown on her couch or chair, it still makes it look good.
15. Heated Massager
You can't image how this heated massager is a life changer for moms. Your mom will be thankful for this Christmas gift idea.
This heated massager relieves the muscle pain, massages your mom's back and neck, and heats her legs, shoulders, hands, legs, and even feet.
Your mama will give you all her blessings this year if you get her this heated massager for Christmas, and who doesn't want to be blessed by their mom?
16. Manicure Set
You know how busy Moms are and the fact no time for me with all their endless everyday tasks.
This manicure set is the most thoughtful Christmas gift idea for moms to care for themselves at home and feel treated as in a beauty salon.
17. Best Mom Ever Cup
Your mom will remember you as the best son/ daughter whenever she drinks coffee.
I like the cup it's cute and the straw, the lid, and the straw cleaner are just a perfect combination.
And of course, it reminds your mom how much you love her every time she carries it!
Definitely, this one should go on the list for Christmas this year.
18. Luxurious Candle
Making the house smells divine is what every mom wants by the end of the day after a deep house cleaning. Well, guess what? This candle does the job!
This luxurious jasmine blossom is everlasting, the scent is great and the fragrance is lovely.
Your mom can light it and enjoy the smell after a long cleaning day or when taking a bath, it's romantic and relaxing after a hard day.
19. Mini Fan
This cute cheap Christmas gift for moms is perfect as a bit of decorating detail your mom can place on her desk or carry with her during summer or whenever she feels like it especially when on the go.
It also helps when your mom attends a wedding, it keeps her makeup last all day.
20. Satin Pillow Set
Pillows give a fancy look to the bed, couch, and whatever you place them on and these satin ones are the definition of the words fancy and classy together.
And the good thing is that it's satin and we know how good it is for your hair and skin.
Your mom will be like: "I just love this pillow" Every time she puts her head on it, after all, it's comfortable and it does make the bed look good.
21. Night Lounge Set and Slippers
Nightie nightie! This one is just so cute! It comes in all sizes and colors, it has knit long sleeves, which we know moms love, and of course, the material is soft, comfortable, thick, cozy, and suitable for casual wear.
Also, these slippers are a perfect addition to this.
I bet your mom will look good and cute in it while lounging at home at night or even during the day.
22. Ninja Professional Blender
This ninja blender is a must appliance to have in every house. Well, this one doesn't only make drinks for the whole family, it makes a bunch of other stuff.
I love the fact it beats the other premium blender with many accessories.
I would recommend this as a Christmas gift for your mom, she'll be grateful for having it, especially every time she goes on a run in the morning.
23. Chocolate Basket
If your mom is a chocolate lover, and I mean who isn't? Then this Chocolate Biscotti basket is a perfect gift for her.
My friend's husband got her this box for their annual anniversary along with a beautiful necklace, and it was the best gift ever.
Trust me, you can't go wrong with a chocolate basket as a Christmas gift for your mom.
24. Robot Vacuum
Let me tell you, having a vacuum is more than just a necessity, it's a must! Especially this robotic one.
Your mom will never have to think about pushing it around, it just works automatically.
It maps, cleans, separates rooms and colors, and takes notes of the furniture. Isn't that amazing? Your mom will never have to think about cleaning the house again, she can sit, watch TV and watch this wonderful thing doing its job.
25. Anti-Fatigue Mat
I find this gift not only thoughtful but also very considerate! This anti-fatigue mat will help her do what she enjoys for as long as she wants to without taking a break.
It is comfortable for sure and any mom would appreciate having one in her kitchen or bedroom, so I think it makes a good Christmas gift.
26. Pressure Cooker
No mom would say no to this one and of course, every mom would agree that it's a thoughtful gift for Christmas. This Ninja pressure cooker air fries, bakes, roasts, dehydrates, steams, sauté, and does a lot more like preparing crispy, juicy food.
Your mom will love you for getting her this one as a Christmas gift, it's special and thoughtful of you, and she'll just remember you every time she cooks something and sighs with relief.
27. Veggie Chopper
Okay, let me tell you, I personally swear by this. It's a life changer and saves you so much time. Mom uses this all the time and said it's her best purchase on Amazon.
It chops any veggies you choose and the size you want in less than a minute. I believe with have 3 of them at home. It's kind of an obsession lol.
If my mom is in love with it and has a stock of it at home, your mom will love this veggie chopper as a Christmas gift idea for her.
28. Dyson Vacuum
This is the Christmas gift of the year for all moms. It's one of the most practical and wanted gift idea among moms. This Dyson vacuum is really handy, practical and leaves your house clean AF.
I can't see a perfect gift idea for your mom this holiday season if you can afford it. I love that it comes with pieces for cleaning the rug, Sofa, and even the most minor areas from dust.
It's a life changer to have and it is great as I know moms want and need these useful tools to make their lives easier.
29. Toaster
This one is one of the best toasters for making muffins, bagels, and on-the-go sandwiches.
It has four wide slots, quick and fast, it won't take a long time for your toast to come up. I think every mom would like to have this in her kitchen and you'll be the one making her life easier by getting her one.
This Blog Post is All about Christmas Gift Ideas for Mom She Will Love