This post may contain affiliate links, which means I'll receive a commission if you purchase through my link, at no extra cost to you. Please read full disclosure here
It's the New Year, and if you're looking for cute New Year's nails to recreate, you'll fall in love with this year's stunning New Year's nail ideas to celebrate New Year's Eve.
Remember the famous saying, "New Year, new beginnings." Well, it's supposed to be "New Year, New Nails," and you're in for some stunning New Year's Nails ideas.
Reflecting on how you spent the previous year, what you hope to change, and who you wish to become in this new year is vital as we move into a New Year.
Also, reflecting on how you take care of yourself is essential, and the quickest way to begin self-care in the new year is to do away with those dull old nails and switch them up with beautiful New Year's nail designs.
I mean, not some boring nail polish, but a New Year's nails design that describes how you want to feel walking into the new year (I'm ready for anything).
Because I know when it comes to expressing yourself, your nail design is the perfect way to show off your personality, mood, and vibe.
Whether you're the girl who loves classic and sophisticated designs with glittery new year's nail colors like gold, silver, and black that scream "New Year, New Me."
Or you're all about bold and daring New Year's Nails Ideas like Marble and black designs, a perfect twist from the regular New Year's nails. There's a perfect New Year's nail design to match your style and mood.
Hence, we've got you the best and the prettiest New Year's Nail designs that will help you pick the suitable New Year's Nails for you and set your mood for the rest of the year.
Cute New Years Nails Designs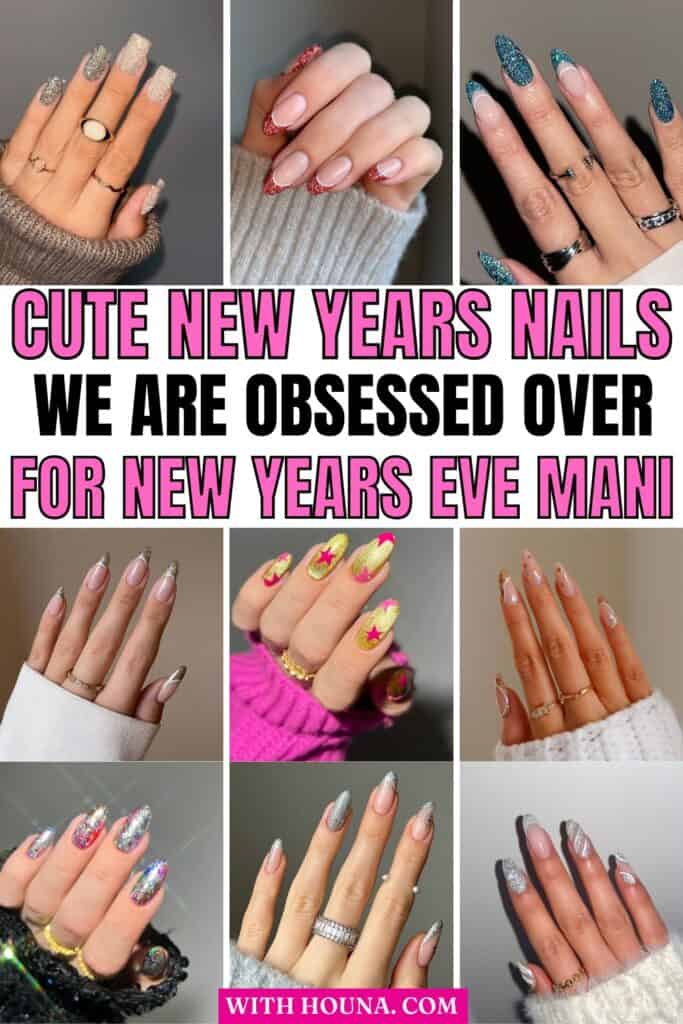 1. New Year's Glittery Nails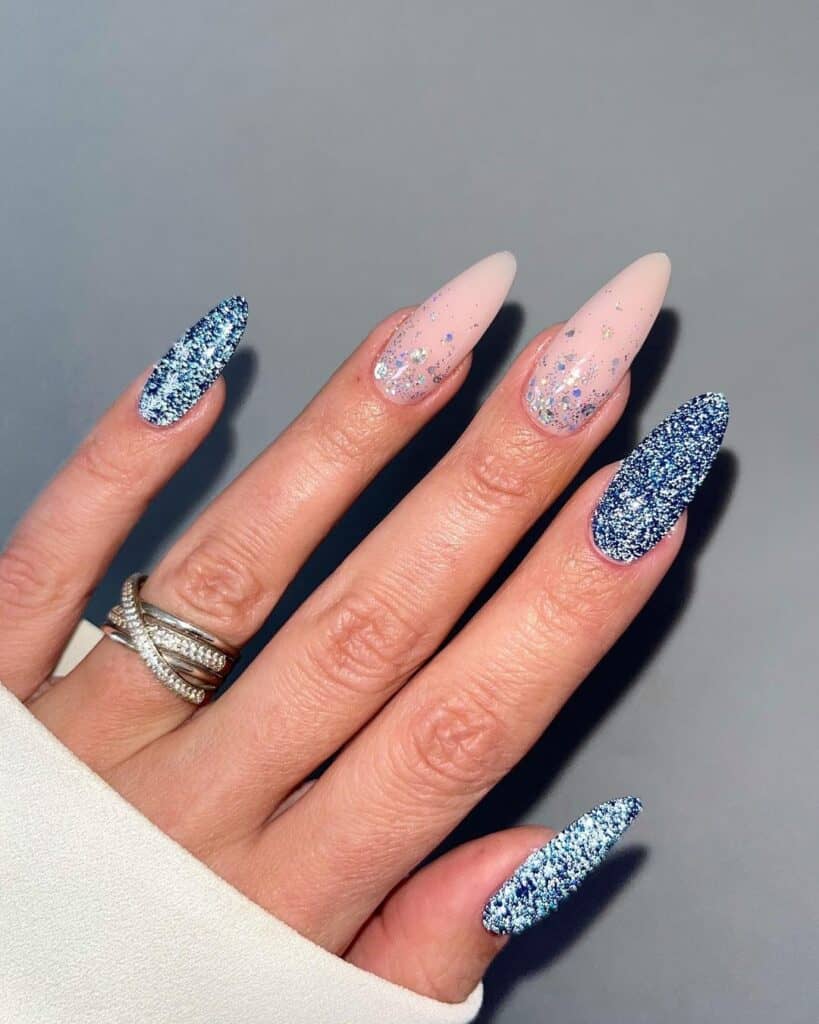 These nails are literally what New Year's night looks like. The shimmer explodes across your nails like fireworks, and every nail just looks like a party.
The light sprinkle of glitter around the cuticle on the two beautiful blush nails looks just like confetti. Altogether, the effect is absolutely dazzling and breathtaking while being sure to catch everyone's attention all night long.
Plus, if you want to stand out in photos, this New Year's manicure is guaranteed to catch the light just right, creating that much-loved twinkle effect that we all try so hard to capture.
Key to keeping these nails looking chic is the almost shape. Without it, things could start to look a little harsh instead of just pure glamorous.
2. New Years Starry Nail Idea
Not too understated or overstated, these fairytale nails lie right in the Goldilocks zone. They're literally just perfect and the definition of Instagram-worthy.
They're also just the right amount of loud and extravagant with the looping tips that stretch the whole length of the nail, creating a playful yet elegant allure all at once. The twinkling stars also keep things cute.
Truly, these New Year's nails are above and beyond stunning and tick all the right boxes for a beautiful celebratory manicure.
3. All White New Years Eve Nails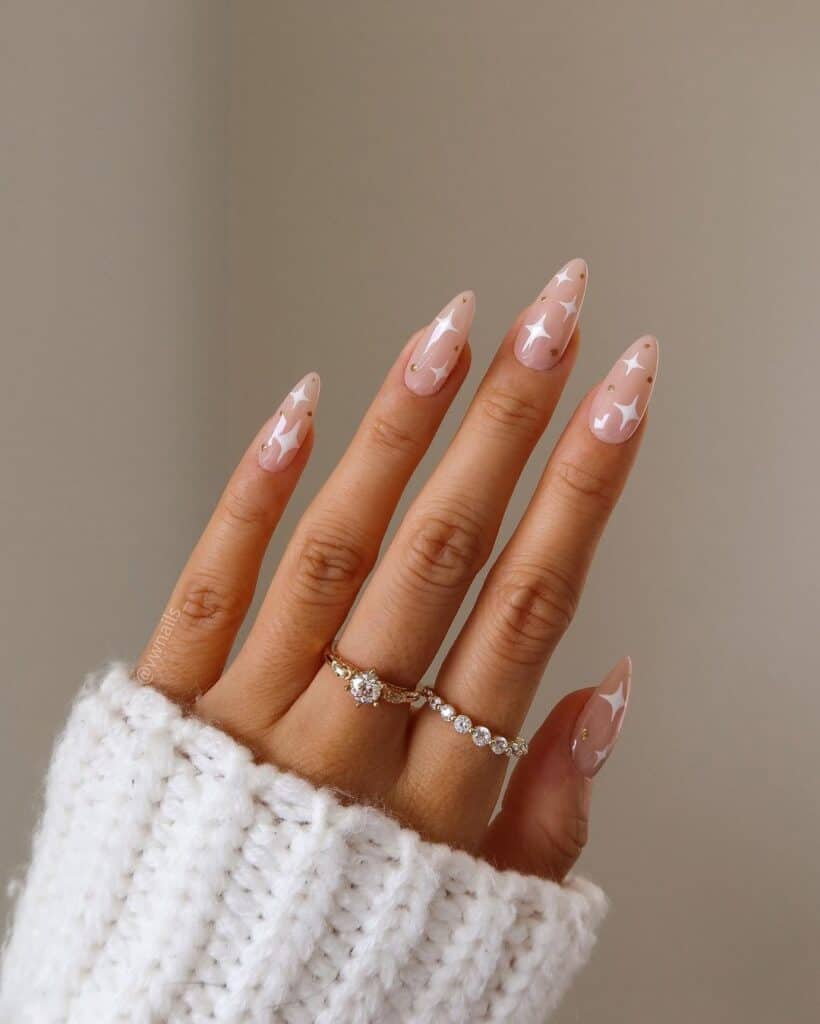 These nails don't scream New Year's Eve but instead whisper it. What they do scream is that it's party time and you've come to have a good time.
I just love how loud and large the stars are while still looking soft and girly. The result really makes the nails pop without any complications or looking too messy.
While the nails may look dazzling enough to have diamonds, those little details are actually mini gold dots that create a more natural shine.
Keeping things soft and girly is the almond shape that's really having a moment right now.
4. Mesmerising Double French New Year Nail Design
I'm in love with these nails. The classic French tip never fails. It's so flexible and multi-talented that it can be used in pretty much anyway for any occasion.
It's an all-year-round nail as well, and these ones are trademark parts. These are the nails for a cocktail party, girl's night, or pretty much anywhere where some sensational sparkle is ready.
Plus, they're just the right amount of low-key to almost look fabulous throughout the day. In other words, I'm absolutely obsessed and will definitely be wearing these nails this year.
Also, these make the perfect Christmas nails so it will be a win-win.
5. Gorgeous Glittery Blue New Year's Nails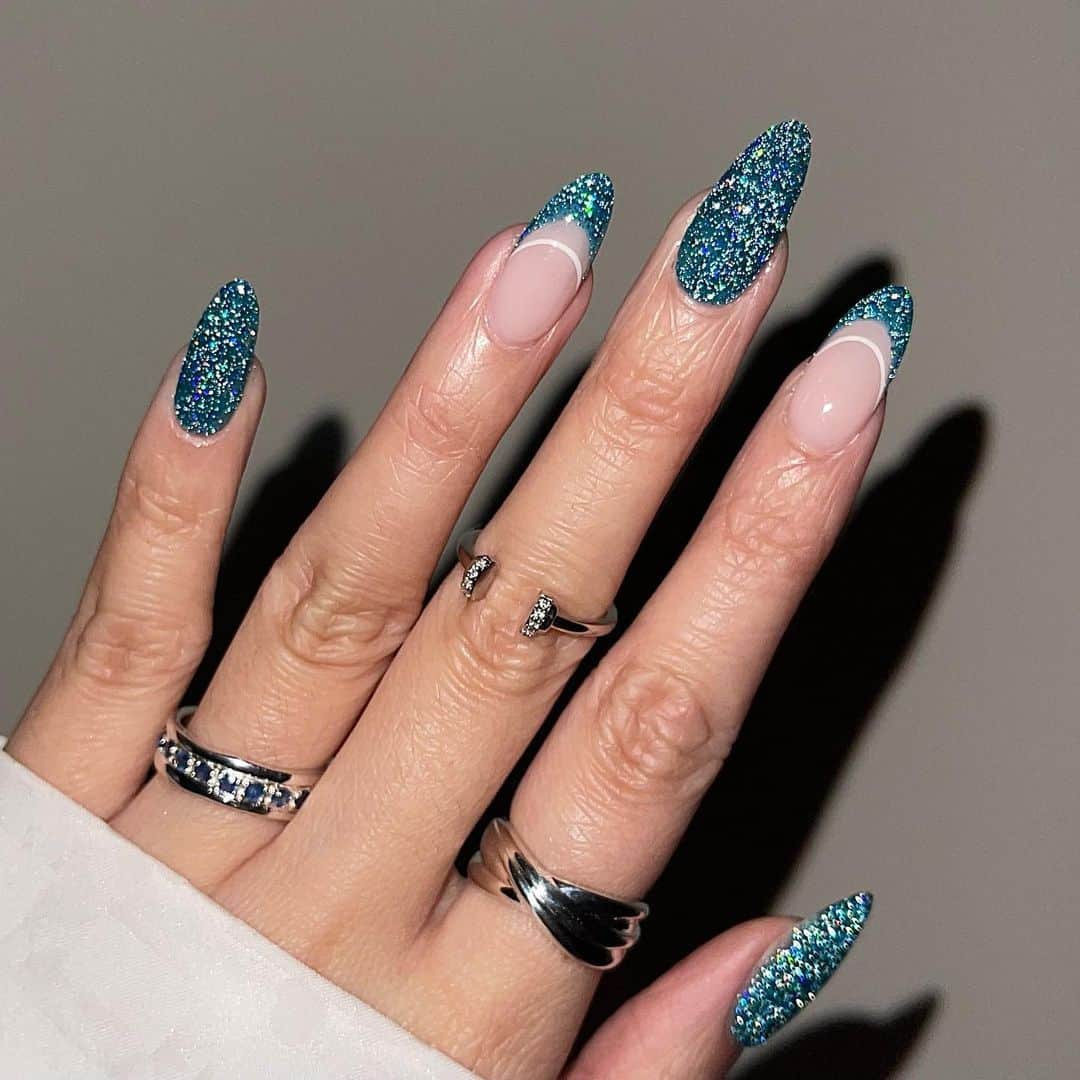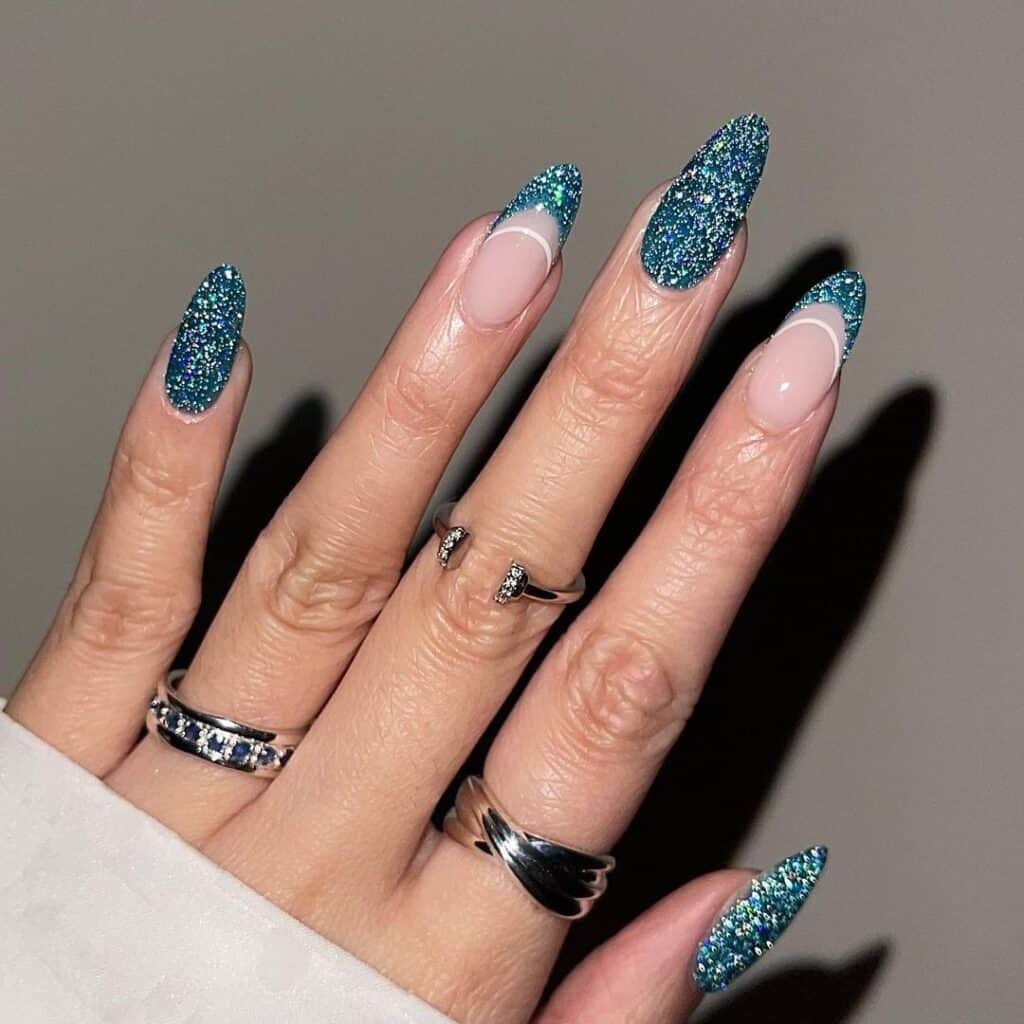 These are New Year's nails, but make them futuristic. The blue glitter nail polish are so distinct and unique.
After all, blue is such an underestimated color when it comes to this time of year. It's a classic winter shade, but tends to disappear when it comes to New Year's nails.
Beyond the sci-fi-chic vibes, they've also got all the allure of royalty. What I also love is that the shape is the perfectly elegant balance between oval and almond.
These nails also look like a lot of effort, but really, they can be achieved in a few minutes and are sure to last.
6. All Shining Nails for New Year's Eve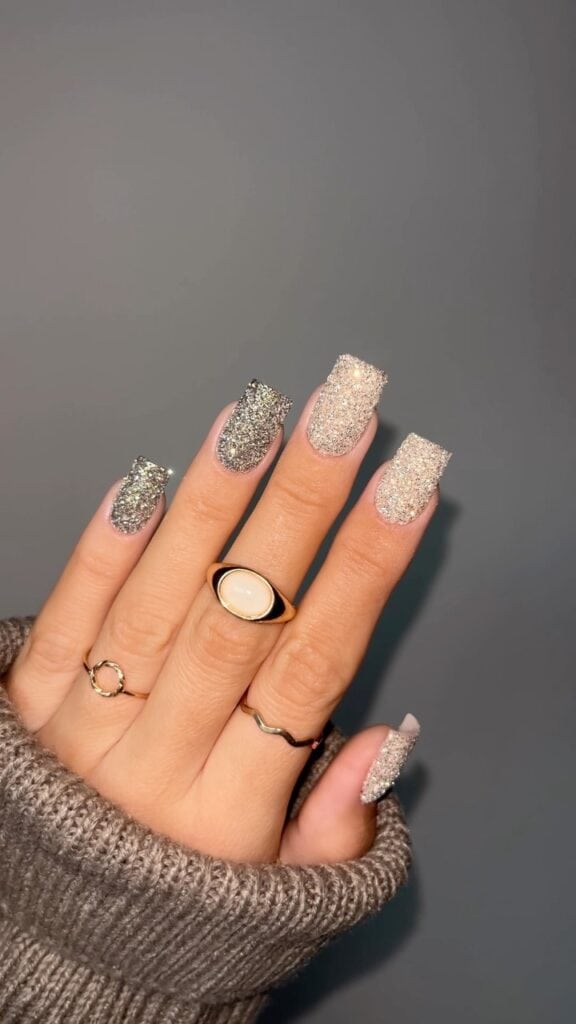 If there was a prize for the shimmeriest nails known to fashionistas, these nails have won it. There's not a single inch of these nails that isn't absolutely dazzling.
So, while they look like a trip to the salon, really, all you have to do is buy two different shades of the most glittery nail polish you can find and lay it on heavy.
Two or even three coats should do the trick. Also, the square shape isn't necessary.
Since there are very few details involved in these nails, they look just as good on stiletto shapes as they do short and square.
7. Festive New Years Nails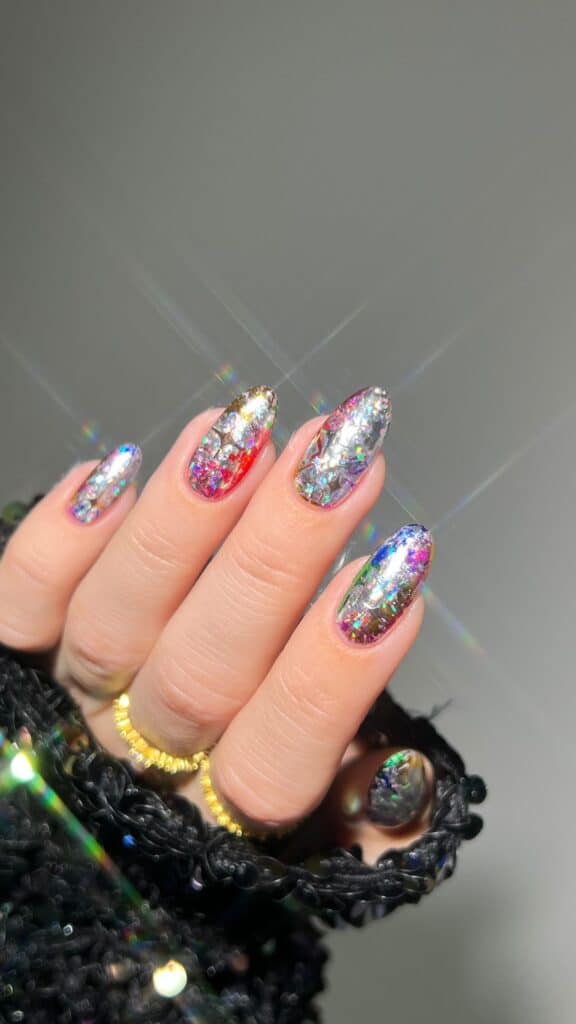 These nails are what the best night of your life looks like. Absolutely breathtaking and mesmerizing, they almost create the illusion of being their own light source.
They shine so bright that you'll need to be ready for loads of compliments and questions if you wear these nails.
And while I'd love to give you tips on how to achieve these nails and say that they're DIY with a little skill and patience, I just can't do that.
These nails need a professional touch, so it's time to book a salon trip, enjoy.
8. Golden French Tip Nails for New Year's Eve
Chic, simple, and reliable, you can expect to see these nails infiltrate your Instagram feed this year.
They really are influencer nails with their classic beauty with a contemporary French tip twist. Plus, they shine bright and are guaranteed to love the camera.
9. Carnaval New Years Glittery Grey Nails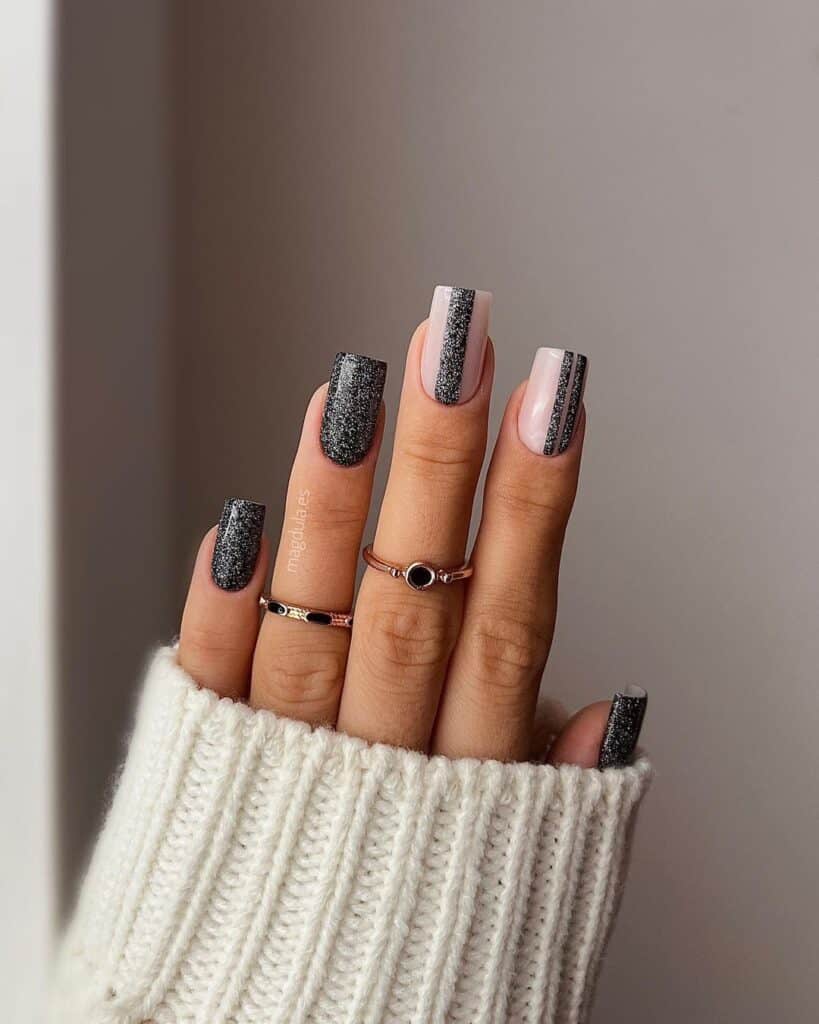 It's so good to know that simple black shimmery nails can be elevated by letting some natural nails shine through.
That said, it's not exactly all natural, with the base being covered by a milky white semi-translucent coat.
It really lets the light shine through while keeping the look neat and striking.
10. New Year's Eve Vibes Nails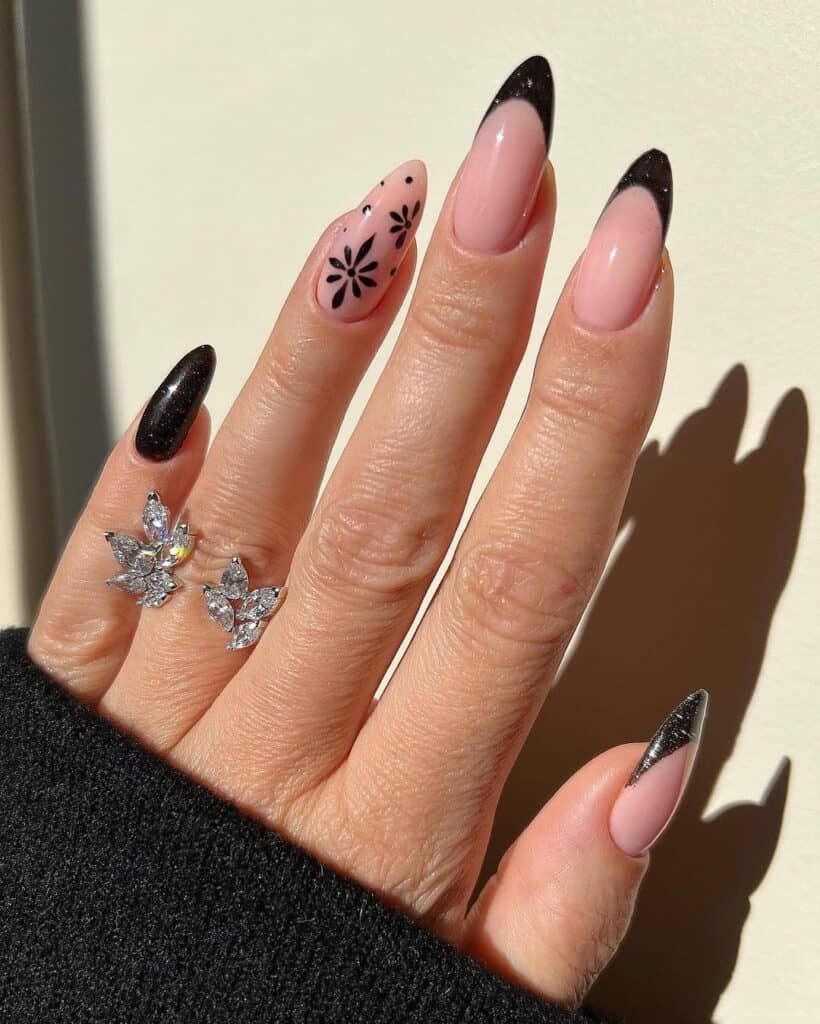 New year's nail designs so often include black shimmery French Tips because they're classically beautiful and look wonderful with every outfit and all accessories.
But sometimes you just want something a little different without ruining all of the benefits, and that's this gorgeous accent nail that's a little quirky, a lot chic, and easy to replicate.
11. Time Square Ball Nail Idea
Who knew green, lilac and bubble gum pink could look so good together? This genius design swirls them together with glitter included and the classic chic French Tip nails along for the gorgeous ride.
Seriously, this manicure looks good enough to eat and is giving dancing away at-midnight vibes.
12. Festive Nail Design for New Year's Eve
Bring the disco ball and party everywhere you go with these iridescent nails that shine no matter what.
You really can't dim their light, and they look absolutely mesmerizing.
To really bring out their shine, it's best to let your nail tech enjoy bringing this look to life and be sure to post plenty of photos afterward because I simply need to see more of these nails.
13. It's Christmas Until New Year's Eve Nails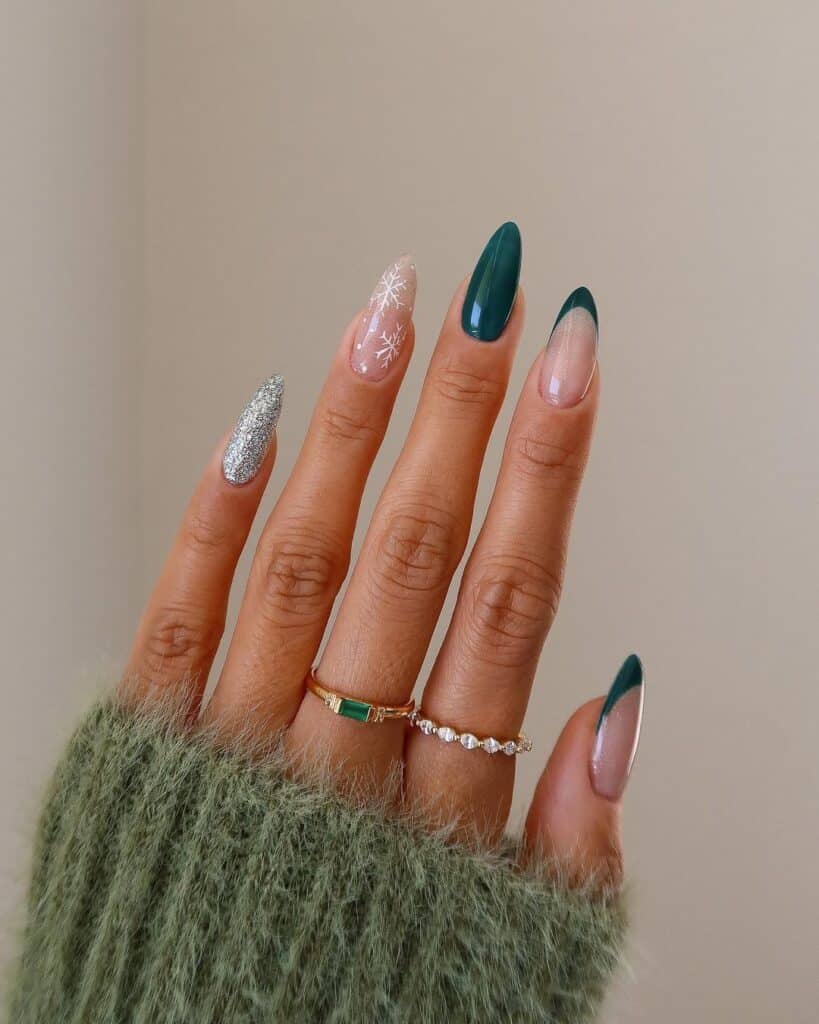 I just love the ice queen vibes of these New Year's Eve nails. They look like a winter wonderland scene painted across your nails and have somehow managed to not look overdone or complicated.
That's really the magic of these contemporary-chic New Year's nail designs that are honestly genius and Instagram-worthy nail-to-nail.
14. Glittery Pink New Year's Nail Design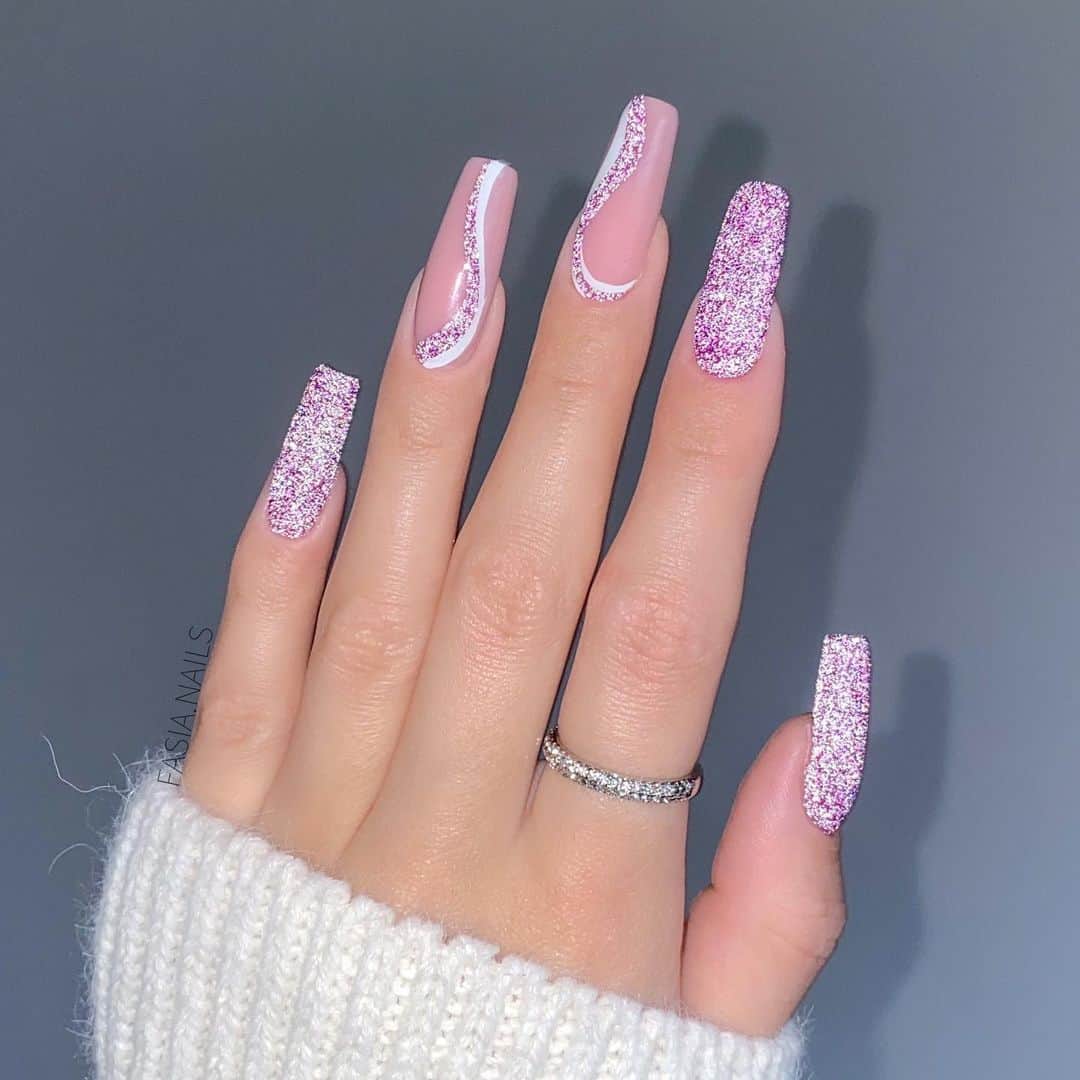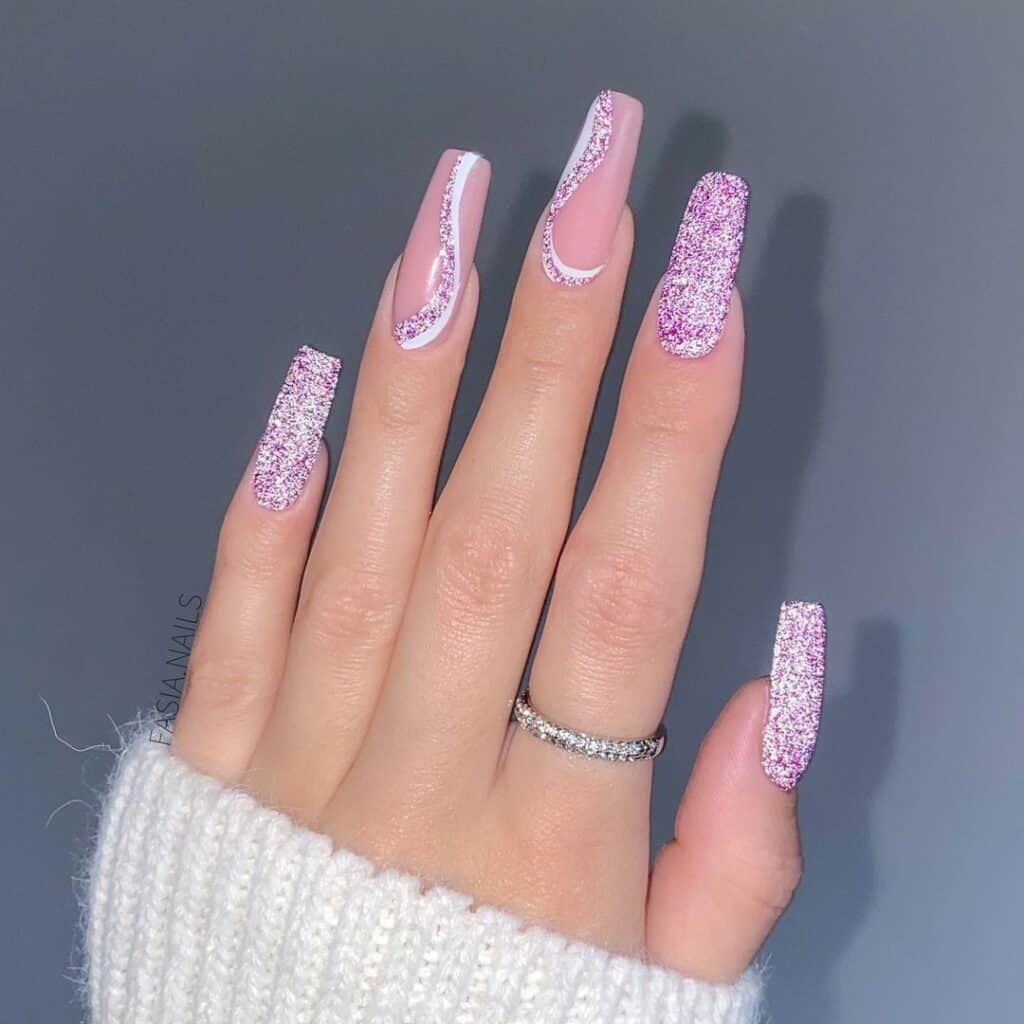 Is anyone else getting Barbie? Because I'm pretty sure these nails are screaming Barbie.
Everything about them is so groovy and girly, and those swirls are bringing beach vibes to the exciting look that I'm sure is going to be huge this year, next year, and beyond.
That is because pink may be having a moment, but it's really the truly timeless shade, and you never need an excuse to wear it across your nails.
15. Double French Starlight Nails for New Year's Eve
Square French tips are such a rare sight that they always make us stop and stare. There's just something so striking and polished about the look.
Add in a light pink nail polish shade and a few shimmery lines, and you've caught my attention for good.
Seriously, these nails are so unique and actually quite easy to DIY, so be sure to give them a try.
16. All white New Year's Star Nails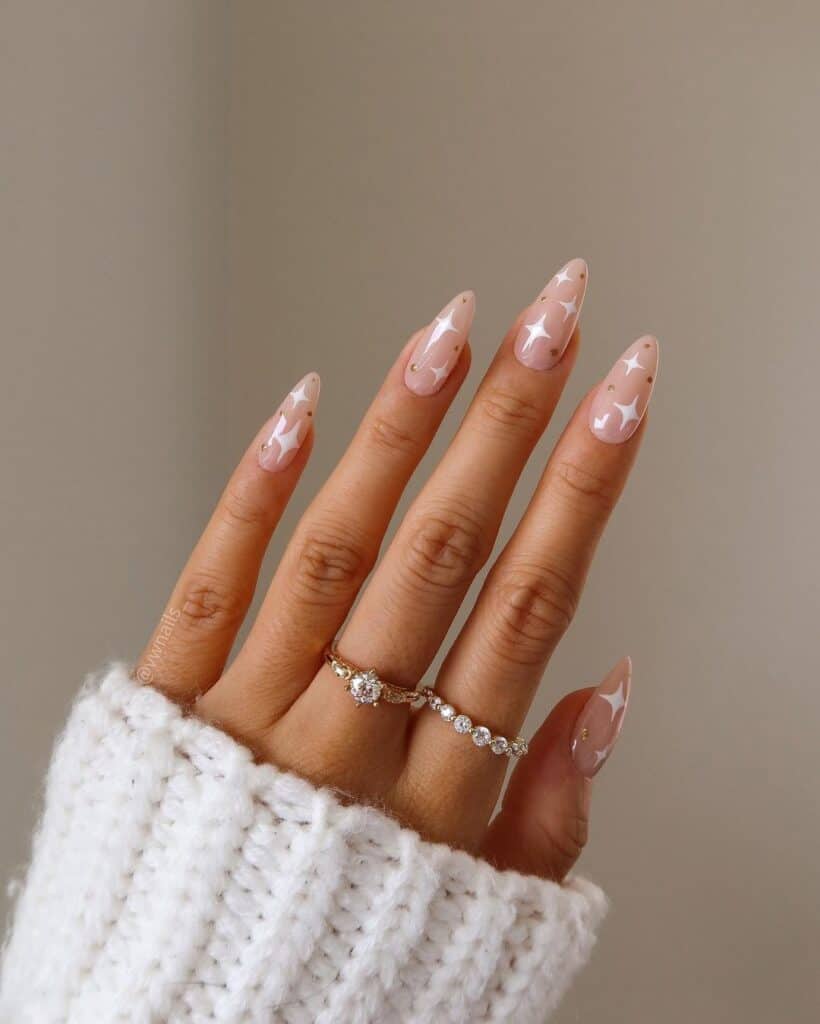 Who doesn't love New Year nail designs that look like a dream come true? These nails honestly look like they fell from the night sky in a fairytale.
They're cute, adorable, and chic all at once, and I think it's largely in thanks to the soft, almost shape paired with the large stars that just pop.
Be sure to keep the base a charming milky white to really perfect that soft, sensational vibe.
17. Galaxy Nail Design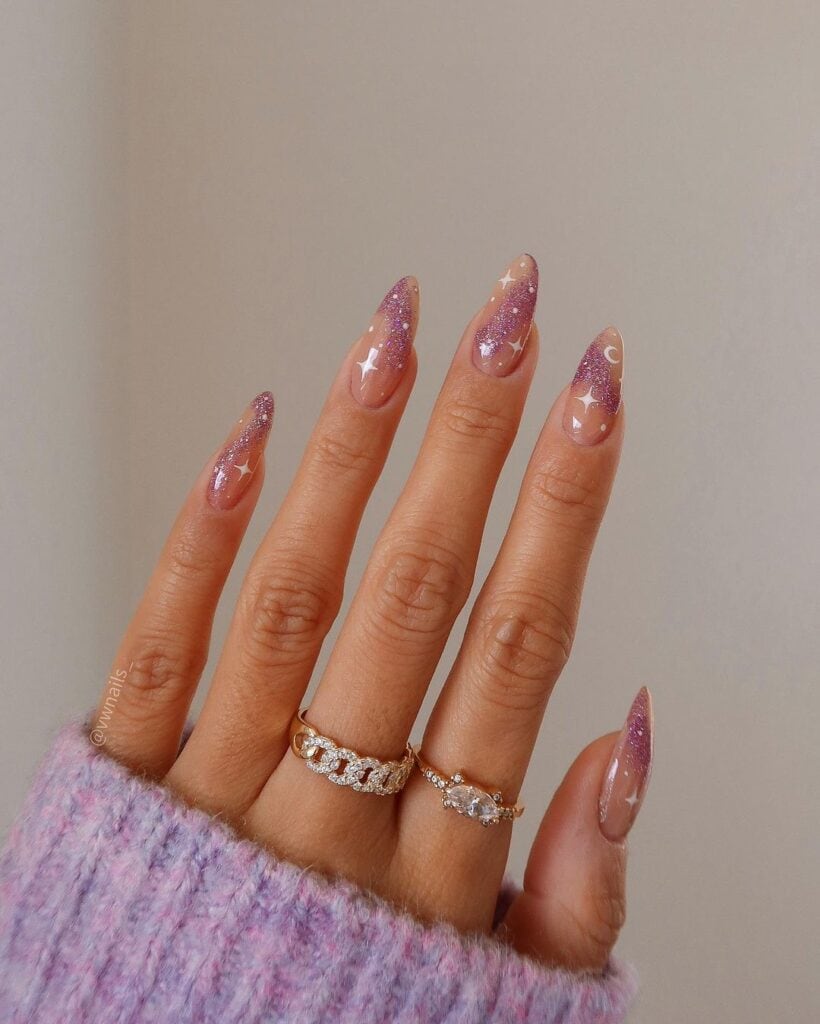 It's sailor moon vibes all over for these fantastical New Year's Eve nails that are just so charming and gorgeous.
While the night sky detailings are adorable, it's really the dash of pink glitter polish that makes these nails.
It looks like the galaxy in the night sky and makes these nails entirely one-of-a-kind and oh-so-cute.
They're definitely on my must-try list anyway, that's for sure.
18. Bling Bling Nails for NYE
These nails look like a 70s New York party. They're all shining lights, good times, and oh-so cosmopolitan-chic.
It's no surprise then that I'm going to call these the cool girl influencer nails. Attitude is written across every nail and electrified by the sharp edges of the angled middle nail. The shape of the nail cannot be ignored when it comes to this manicure.
Sharp angles and compact size are a must for this look to really pack a punch.
Plus, be sure to choose shiny nail polish with the largest glitter pieces because nothing about this manicure is small or quiet besides the shape of the nails themselves.
So, get your file out and get to work. It'll all pay off when these party nails finally come to life.
19. Disco Ball Nails for NYE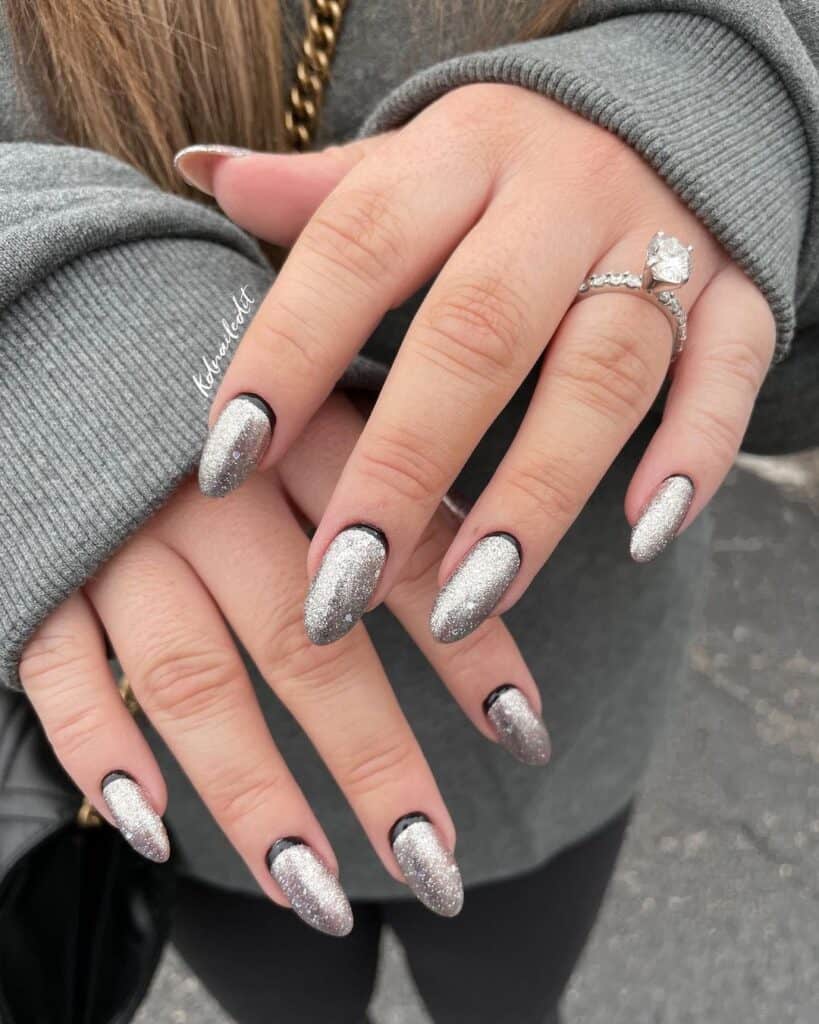 It's easy to get carried away with shimmery nails, and sometimes, especially if you're pale-skinned, silver glitter can almost blend into the skin around your fingers.
If this is an issue you've run into before, there's a solution, and it comes in the delightfully simple shape of a defining black line that's slicked along your cuticle.
The magic of this miracle-working solution is that it doesn't detract from the classic and reliable beauty of glitter nails.
Instead, it only works to make them pop by offering a dark contrast to their bright shine.
Also, it's not immediately recognizable in the photo because the manicure is done so beautifully, but each nail is actually delicately speckled with small diamonds that add a unique and subtly glamorous twist to this manicure that really takes the whole aura to the next level.
20. Green Swirly Nails
Some nails stun, others impress, and there are a few that just win a place in our hearts immediately.
I think you can guess exactly which category I'm filing this quirky design under alongside my must-try file.
They're minty fresh but in all the right ways. There's nothing cold about them. Instead, they're effortlessly cool and eye-catching as they swirl, shimmer, and shine before your eyes.
They're the nails that make you proud every time you spot them and the reason, you'll be finding excuses to show your hands in every photo taken of you this New Year.
You might notice that the base isn't natural nail or completely opaque. Instead, it's covered using a semi-translucent coat that allows the light to shine through.
This smart design element also evokes a dreamy and ethereal effect that combines gorgeously with the sparkly swirls.
21. Pink French Swirly Nails with a Touch of Glitter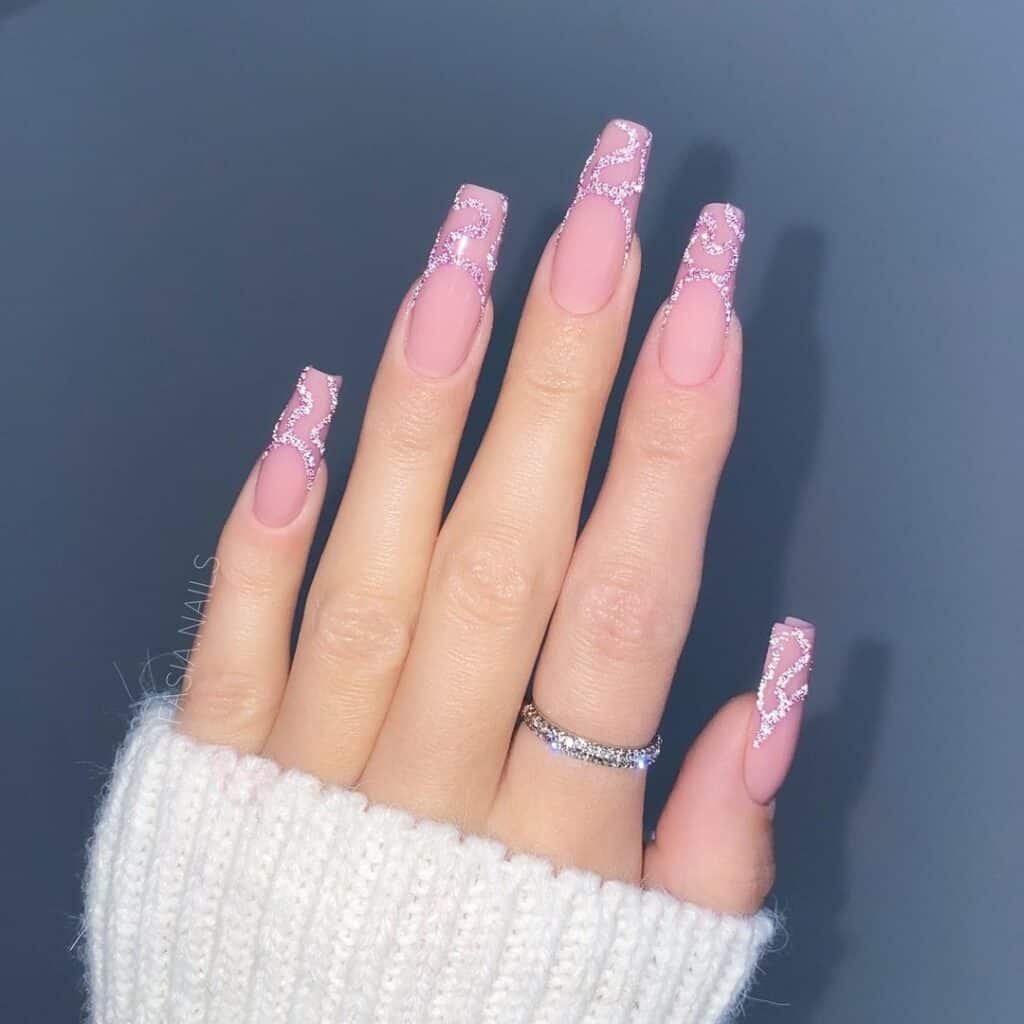 There are princess nails, and then there are fairy princess nails with Barbie vibes. Because really, sometimes you just want to be a little girly, carefree, and playful while your nails reflect that exact vibe.
Nails like this have taken the Korean manicure scene hostage, with most of their trending designs resembling this beauty in shade and shimmer.
So, if you want nails that are pretty as a picture and get ahead of the trend, look no further than these breathtaking beauties.
Also, while the nail shape is stiletto, I wouldn't say you have to feel stuck to that shape.
This New Year's nail idea would look just as good oval as it would stiletto or absolutely any dimensions you'd like your nails to take on.
The only thing I recommend is that you keep your nails long to really allow space for this manicure to do its gorgeous thing.
22. Golden French New Years Tip Nails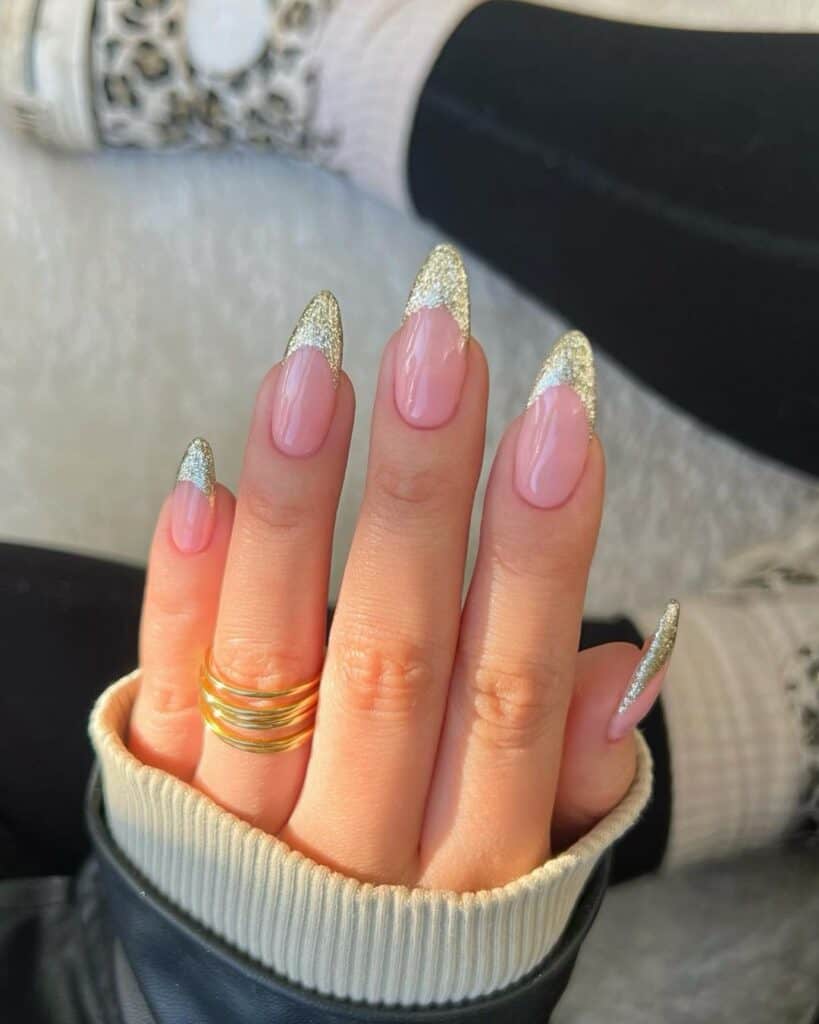 Long, chunky tips are always daring. They're just so full and right there that they simply can't be ignored. If you want your nails to be seen, this is the loud-and-proud design you should go for.
Interestingly, it's also simple to recreate. You just have to apply a base that matches the natural color of your nail before doing your typical French tip routine with the glittery polish.
Before all of that, though, you're going for one of the sharpest almond shapes you can manage to really bring out the pointy strikingness of those tips.
If you can manage that, then you've already got the most beautiful nails this year.
23. Nude Glitter Nails for NYE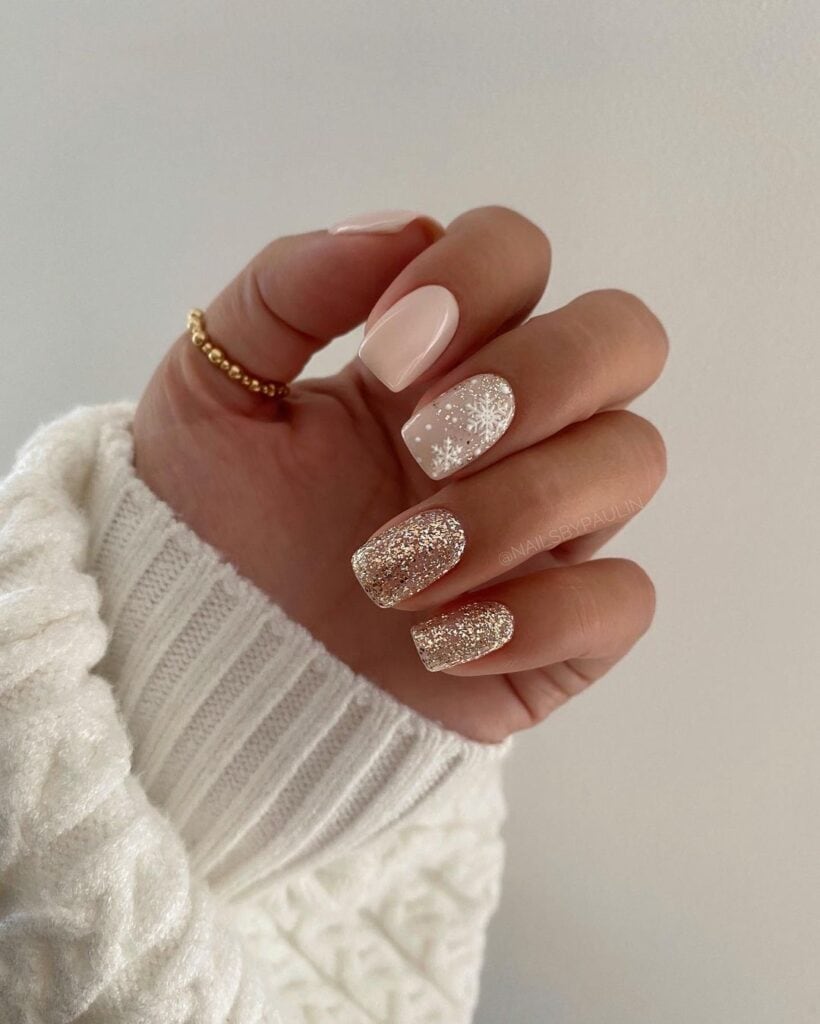 It can be hard to let go of Christmas, even with the excitement of the New Year ahead.
So, if you're on that vibe and still looking back to the festive season while also looking forward to what's to come, these are the nails for you.
They're absolutely stunning and make the most of the compact canvas that is short and square nails.
I love the muted yet somehow bright colors that really bring a casual-chic allure that's hard to recreate.
And it really does have everything any good Wintertime manicure needs, from sparkles to snowflakes. This is the look to go for.
If you don't know what look to go for, know what I mean?
24. Black and Gold Simple NYE Nail Design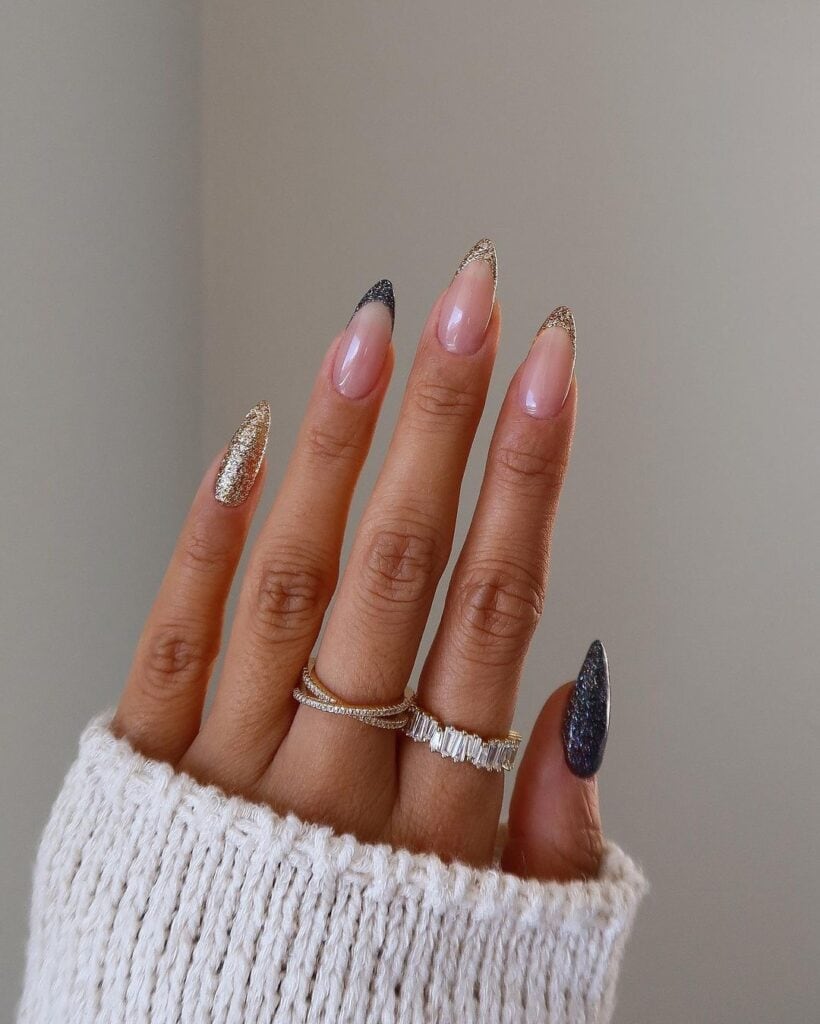 New Year's Eve nails don't have to be over the top or overly detailed. Sometimes, it's the silent beauty that really sings.
The nails are so long and elegant, with just a small flourish of glitter on top. The little finger and thumbnail being fully covered is an interesting twist and also likely much welcome for the busy gal who glamorous nails in the littlest time possible.
Just be sure to paint the tips on at a slightly sharp and high angle to really evoke that polished look that makes this manicure so magnificent.
Plus, wear your most sophisticated and exquisite rings with this look. Just trust me on this one.
25. Alternative Half Moon for New Year's Nails
These nails are such a treat. They're all sparkly with a formal twist, and we all know that's a look that's almost impossible to achieve.
Somehow, this genius design makes climbing that mountain look fabulous. So, really, if you want a manicure that stylists have fought to perfect for decades, this is it.
No one will have what seems to be sparkles wrapped up in a refined outfit, so you're sure to receive plenty of compliments and be the talk of any party you attend.
That said, the details of this manicure might need a professional touch to really bring out that classic look, so consider contacting your nail tech and keeping them on hand for New Year's.
26. Matching Dress and New Years Nail Design
I want to have these mesmerizing nails all to myself every day of the year.
I have literally fallen head over heels and am honestly thinking of printing out a pic and hanging it up near my dresser and inspiration whenever I'm doing my nails because aren't they just perfect?
The swirls, the shades, the shimmer, it's everything that nail-loving girlies dream of. Another lovely aspect of this manicure is that the shape isn't fixed.
You can choose absolutely any shape your heart desires, and this fabulous design will work with you.
27. Another New Years' Nails Inspo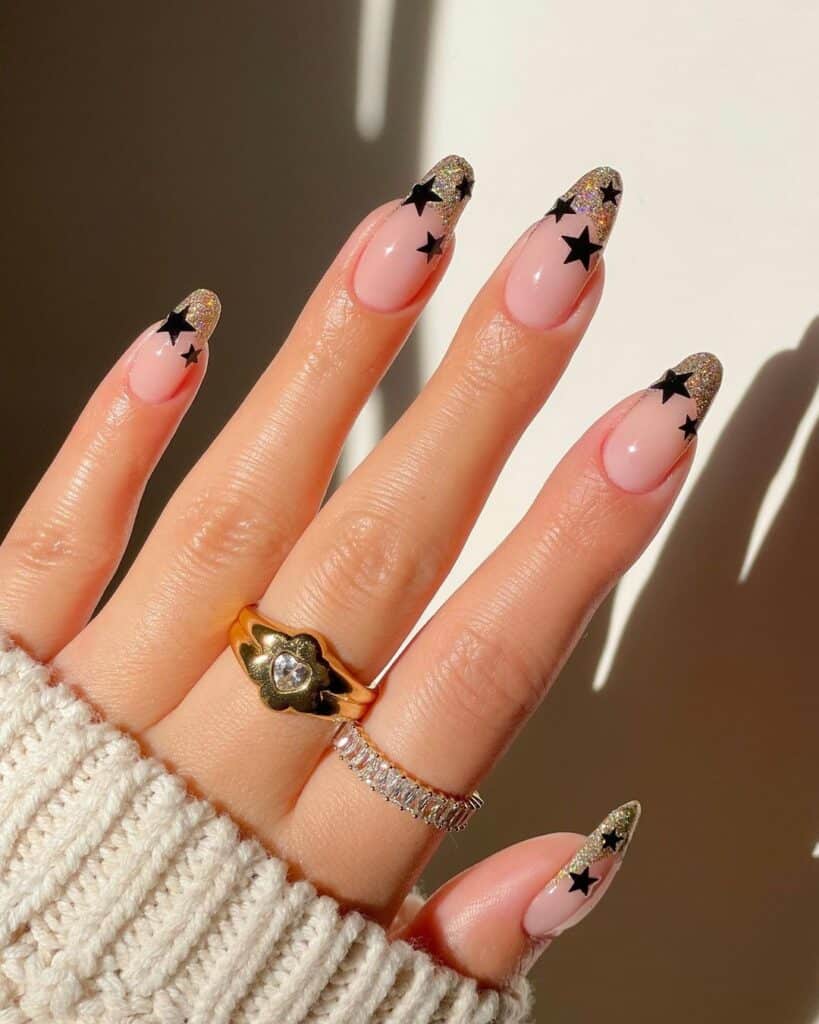 Whenever I see glitter tips, I know what time of year it is. It's time to let our hair down, have fun, say bye-bye to our worries, and welcome in a fabulous new year.
To do that in fabulous style, shimmery pointed tips are your go-to.
They symbolize walking into the future with confidence and fieriness.
So, this New Year's nail idea already has that covered with gorgeous style, but the stars on top really bring the party factor and make these little beauties something special and entirely your own. Enjoy.
28. Short New Year's Eve Nails
I'm already head over heels with swirls, along with pretty much every other girly in the world right now, and to see them literally swirl into a funky whirlpool has literally fed my fashionista soul.
The light pink shade is so subtle that it's almost milky white, but there's just enough perfect pink in there to create a blush effect that's utterly adorable.
Add in the glitter, and this manicure is honestly my soul animal. It's beyond gorgeous, and I barely even have words to describe its beauty.
Plus, this manicure somehow makes short nails look loud, long, and elegant while still allowing you to keep things compact and workable throughout the season.
29. City of Stars Nails for NYE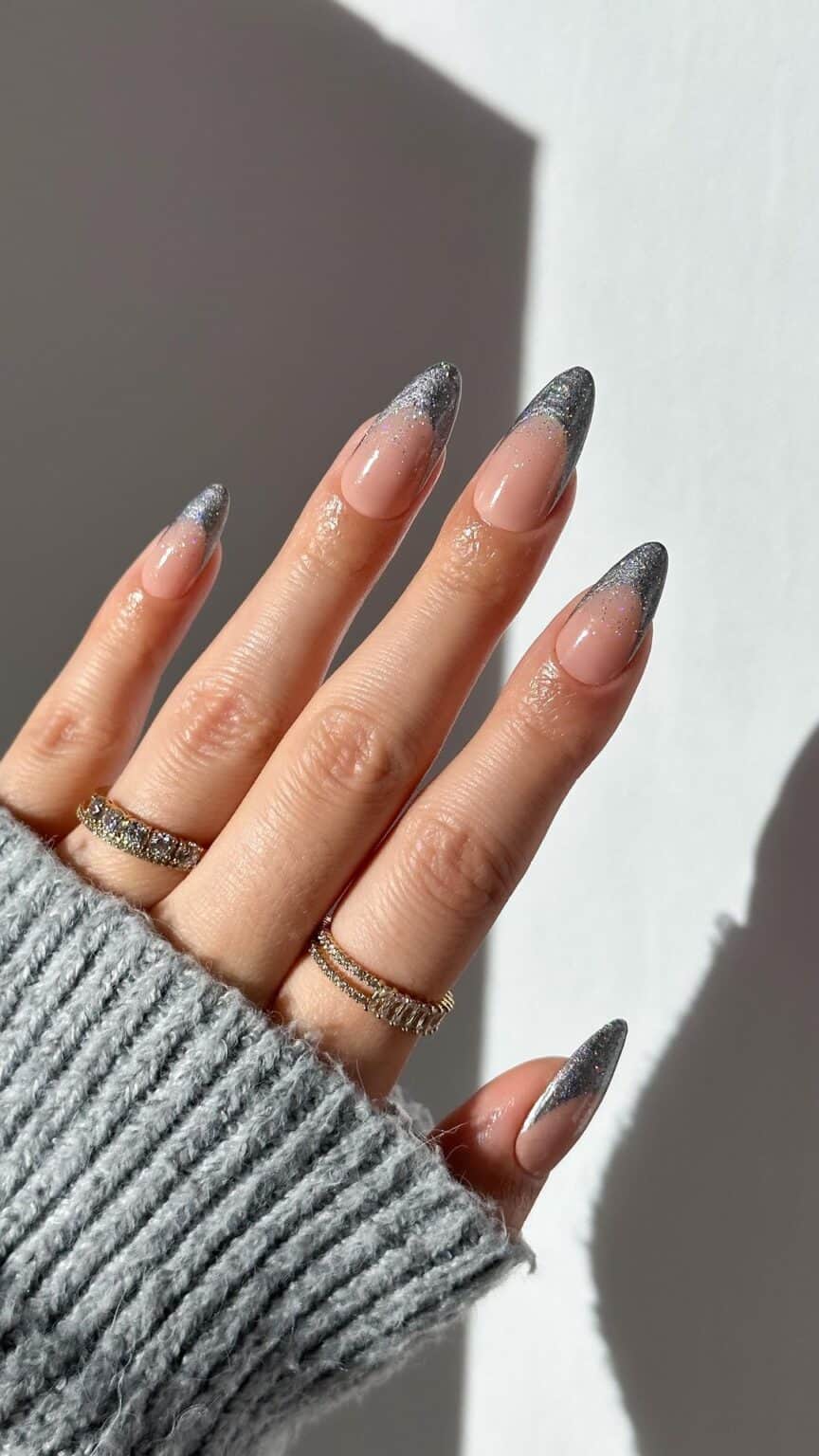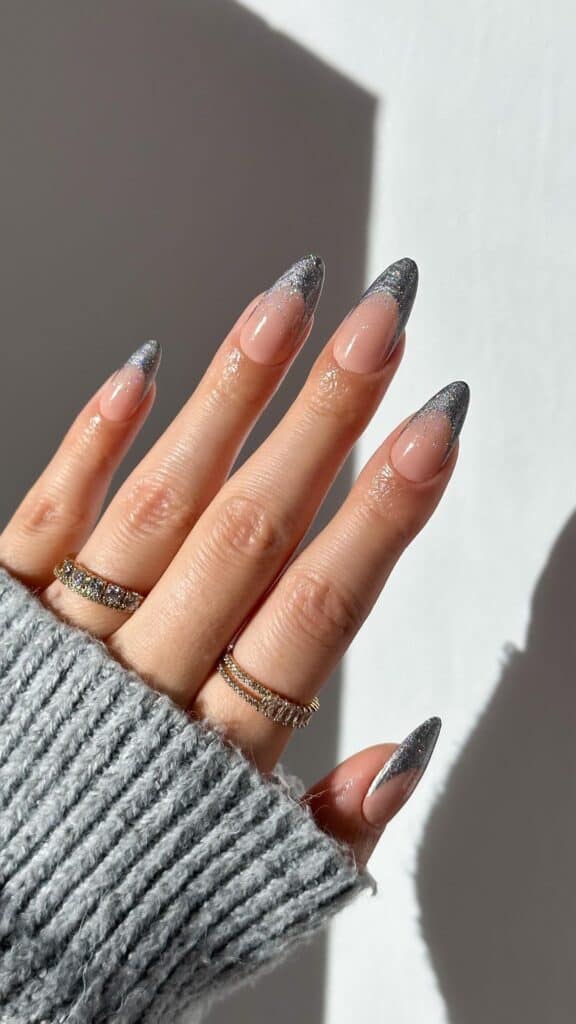 These are the ice queen nails of the bunch. They're ice-cool, calm, chilled, and know exactly what they're about.
Excuse the pun, but they're such a metallic look, and that's huge these days. It's a little bit sci-fi and futuristic.
If you want nails that really love themselves and look like pure confidence, this is the winning manicure you're looking for.
30. It's All About the Shine New Years Nails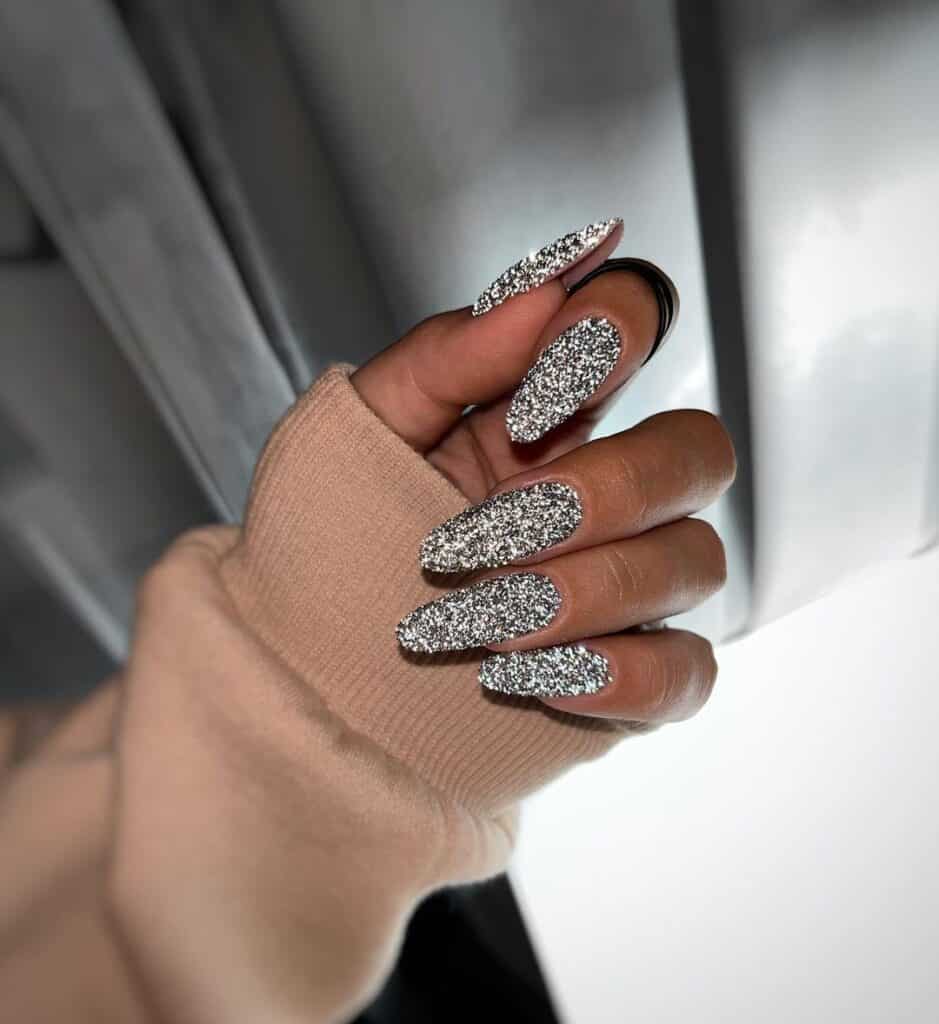 Talk about bringing the WOW factor. These nails just demand to be seen and look out-of-this-world shimmery.
You'll dazzle wherever you go with this party on your nails. Seriously, if you want to have the biggest, baddest night of your life and let your personality shine bright, consider these nails your best friend for the night.
They're just such a delight and absolutely breathtakingly stunning. Just be sure to keep them a sharp stiletto shape, and you're ready to strut your stuff.
31. Feeling Frosty Nail Design for December
If you're still riding the Christmas wavelength but know you need to change your nails to get in on the New Year's hype, then these delicate nails are here to help.
They're the ideal transformative nails that straddle the trends and vibes of both big occasions while looking gorgeous for both.
In fact, if you want one set of nails that'll last for both events, both day and night, these nails are on your side.
The silver glitter also works fabulously with any outfits and accessories, so this is an incredibly reliable manicure that's a must-try for every gal.
32. Black Jack Nails for New Year
I am obsessed with the edge of these nails. They may be adorable at their base, but they're all attitude on top.
And not to use a cliché, but they really are quite fiery and badass, to say the least. Plus, they're actually quite easy to bring to life.
With just a simple lavender base coat, glittery tips, and a toothpick to draw on the flames using black polish, you can consider yourself the most fashionable nail artist around.
33. Reflective Pearly Nails for NYE
These are the most beautifully bubbly nails I've seen in my entire life. They just look so gorgeously giddy and full of fun.
They fit in great with even your most dramatic of looks and will be right on your side if you're feeling a little wild but still completely chic head-to-toe this year.
Honestly, if there were a competition for prettiest New Year's nails, these would win it.
Don't miss the chance to be the chic champion this year.
34. Dreaming Of New Year's Eve Nails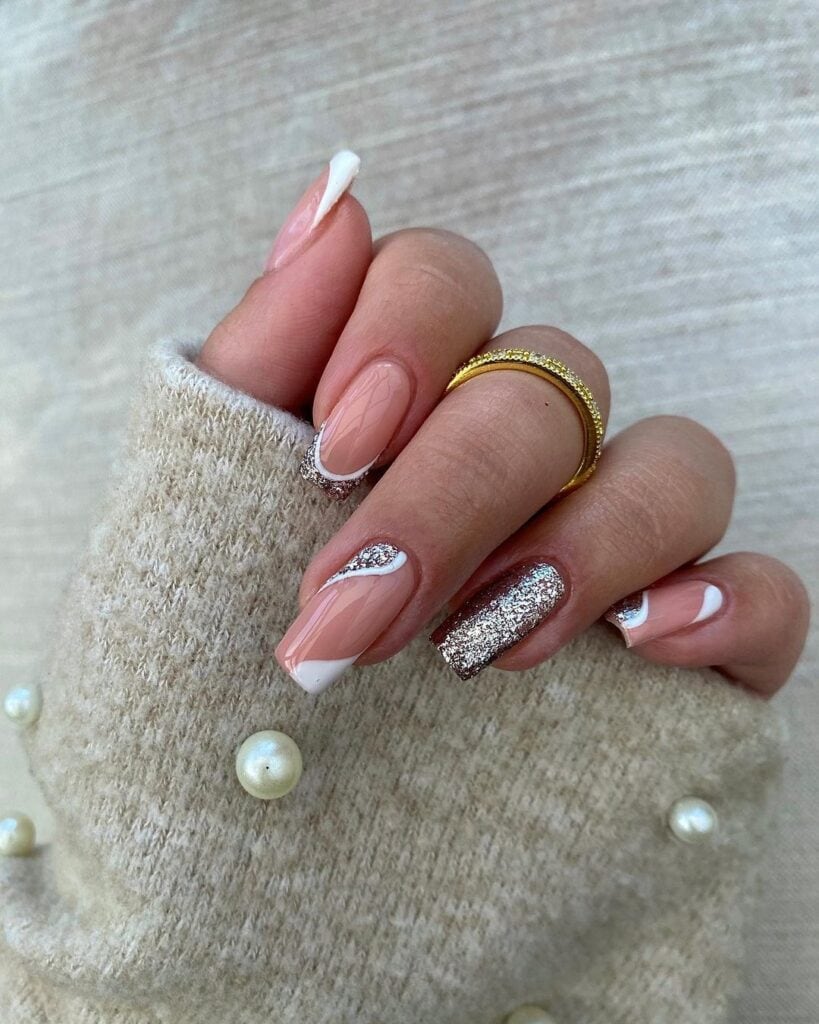 If you're not quite ready to let go of Christmas but still want to welcome in the New Year, these are just the comfort nails you need.
They're also brimming with party and fun time vibes that really shine in photos and look absolutely stunning in real life.
They're the type of nails that you can't stop looking down at throughout the night and that you really won't ever want to take off.
35. Black French Tips with Silver Chrome Stars
Dark influencer vibes are huge this year, and gothic-chic is having more than just a moment.
They meet together on this manicure with a little sparkle added in just for fun and to make them right on theme for New Year's Eve.
So now you don't need color to have the most vibrant and chic nails of the night. You can go classic black and still have plenty of fun.
36. Gardient Glitter New Years Nails Design
These nails are giving sprinkles vibes. They look just like the delicious sweets that you might pop into your mouth throughout the night of New Year's Eve.
I'm also just obsessed with their fresh take on sparkles by adding a slightly colorful twist and keeping things a little muted.
Plus, they're elegantly oval, which brings a chic vibe.
37. Creamy Velvet Mani for NYE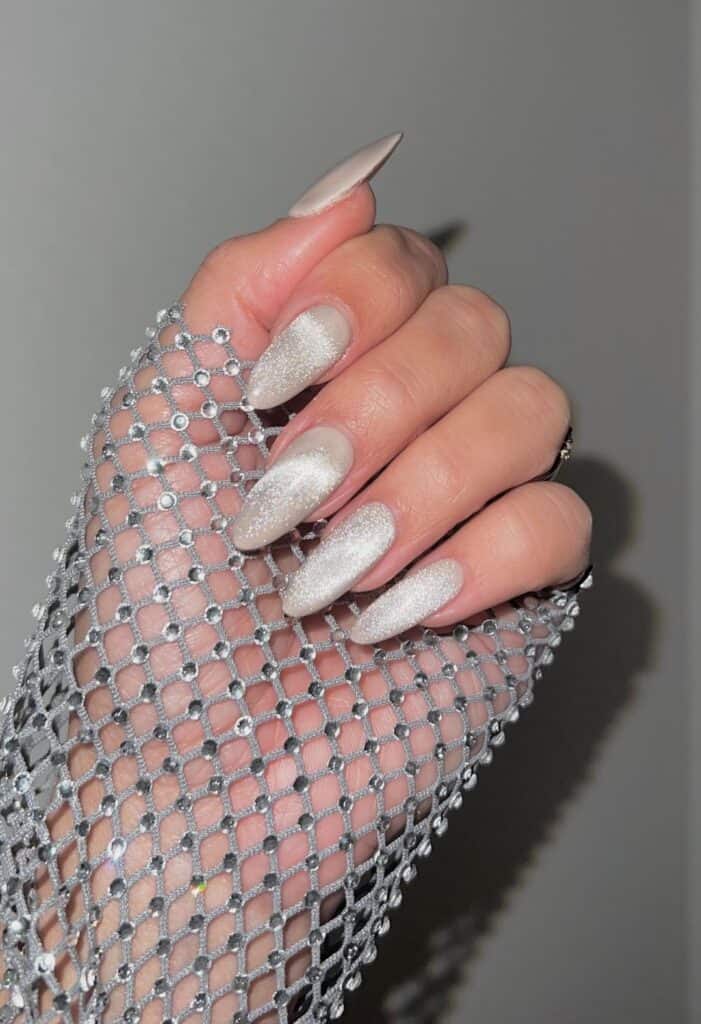 These nails are the party. They are the moment. And they're for the fun-loving life and soul of the party girlies among you who just want to shine bright for the night.
Plus, these nails are completely acceptable all throughout the day during the excitement of New Year's time, so don't think you just have to keep them on for the night; be sure to savor their beauty a little longer this year.
38. Reflective Glitter French Tip Nails
These nails remind me of prom night or some other occasion where we all get to be princesses for the night.
They just look like they stepped right out of a fairytale book or our girlhood dreams and right onto our nails.
I just love split tops in general, but all the more when they're glittery, and don't even get me started on the light blush base that's so soft and delicate. I just love this look.
39. Nails Made of Peals
I am honestly in awe of these nails New Year's Eve nails. They're literally diamond-studded and nothing else.
But really, when you're already that dazzling, why would you even need any added colors or details?
Diamonds really do speak for themselves. They truly are every girl's best friend because these dazzling nails look absolutely stunning with any New Year's outfits or accessories.
40. Silver Tips and Mistletoe Cuffs Nails
These are the nails of the future. They beautifully incorporate chrome and blush while even managing to add a charming sprig of ivy to the manicure.
The shape is sharp, but the look is even sharper and oh-so-lovable.
This is just another way of saying that these are entirely one-of-a-kind nails that only you'll have this New Year, so enjoy.
41. White and Gold Dream Nail Design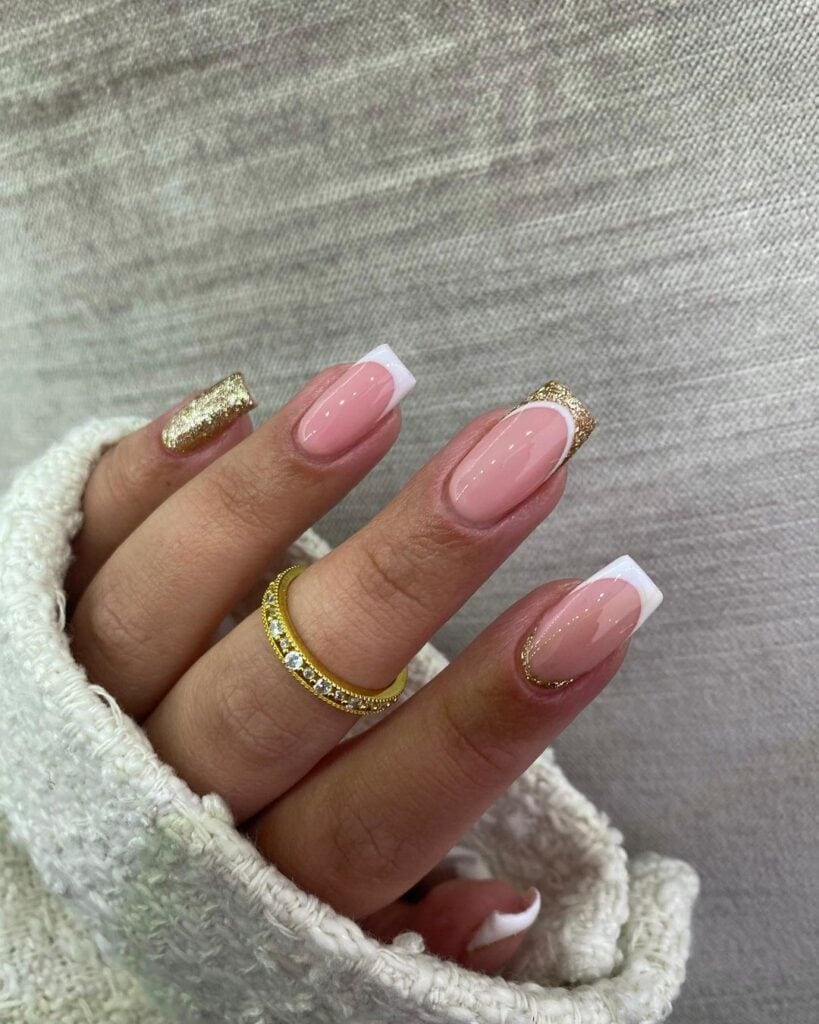 These are New Year's nails fit for a queen. They're as gorgeously glossy and sharp as can be.
Plus, the sparkly gold glitter flourishes are just so shiny that they capture the eye and win the heart.
The secret behind these nails is keeping the tips high, creating the illusion of longer and more elegant nails.
Wearing rings with these nails is a match made in heaven, especially if they're in any way shimmery.
42. Reflective Nails for NYE
Like red, wearing gold on New Year's is thought to bring good fortune and prosperity for the year ahead.
If you're wondering how to incorporate shade into your look on the night, don't worry; your nails have it covered.
These nails look like expensive gold jewelry from cuticle to tip and don't even get me started on how they shimmer.
All I will say is that these nails look even better with rings and bracelets, so don't hold back.
43. Silver Fireworks New Year Nail Idea
There's nothing a French tip can't do. They can even be the perfect guest to a party and the ideal accessory for all of your party outfits if you just sprinkle on a dash of glitter.
The secret behind what makes these simple nails look striking is that the tips are painted on quite high on the square nail, adding length to the nail and allowing more space for glitter.
This is the reliable and gorgeous manicure that's ideal for the gal who isn't quite sure which look to go for yet but knows she wants to look fabulous at all times.
44. Soft Glittery New Years Nail Designs
Barbie has found her way into absolutely everything this year, and I'm here for it. Here, we see her girly influence again in these adorably pink toney New Year's Eve nails that are absolutely stunning.
While the manicure may look entirely shimmery, you might notice that the nails are slightly opaque, allowing some light to pass through.
Not only does this make the nails look a little more 90s and playful, but it also allows natural light to pass through, meaning the glitter can really shine.
These Were Stunning New Year's Nails and New Year's Nail Designs You Have to Recreate