This post may contain affiliate links, which means I'll receive a commission if you purchase through my link, at no extra cost to you. Please read full disclosure here
Are you looking for ways to save money in college while still having fun? If so, these 10 ways to save money is for you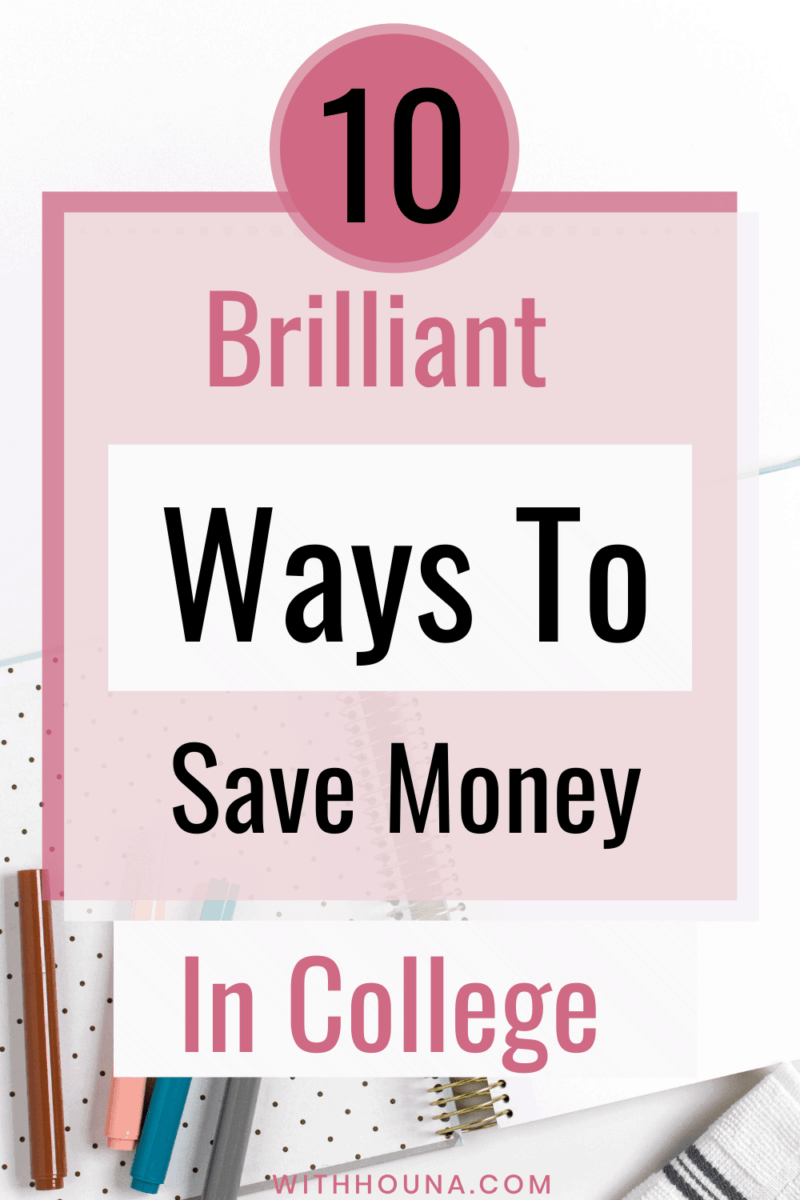 College can be expensive. It's frustrating, especially for freshmen. I almost went insane. I had no idea what I was doing, feeling I was throwing money everywhere and had 0$ in my pocket by the end of the day, and absolutely I wasn't able to maintain the bills or anything else ( Frustrating, innit ? ). Along with that , I didn't know how to save money in college with all of my spendings
This caused me anxiety like literally, I was thinking about it EVERY SINGLE DAY !!
I had to figure out how to save money in University as I couldn't spend my 3 years of the University being broke and mired in debts.
So here are the absolute best ways to save money in college that you ended up with 5k$ saving by the end of the semester.
1.Limit your Spending :
Spending Spending Spending
I bet this is the best horrible thing you do as a freshman, don't you?
Don't get me wrong! It was my Fav too :p but it made me broke for the past 2 years of University.
So, !here is what to do about it: ' Do not get what you don't need, PERIOD '
Stop spending your money on unnecessary things or expensive things like clothes. You absolutely don't need that.
Prevent doing grocery shopping when you're hungry. Take it from me matte. you'll end up getting a lot of food that you'll get rid of.
Also, drinks are expensive my friend. if you're consuming a lot of alcohol, you should stop doing that. Or you get cheap drinks instead.
2.Student Discounts :
This is the best so far for saving money in college. Student discounts are everywhere: Groceries, entertainment, clothes. So make sure you always have your Student ID with you.
There are a lot of stores that offer students discounts like Amazon Prime Student, Asos, Target.
3.Cook at Home/Dorm:
This is where most of our money goes away. here are my best tips to save money in meals :
Make Your Own Coffee :
It's quite simple and takes less than 5 minutes. Make your own coffee instead of buying it at your campus.
People spend up to 300$ monthly just on coffee without even noticing. Also, I can ensure you it will be tasting as good as the one you get.
I got this Nespresso Coffee Machine 5 months ago and OMG!! This is one of my best investments I've done. It saved me a lot of many and to be honest with you; its coffee tastes so freaking good!!
Make Your Own Meals :
Your weekly meals can be less cheap when you make them on your own. It won't take you much because you're only cooking for yourself (Easy, hein ? ).
Save Money by Planning your Meals :
Planning your weekly meals can make the process much easier. Take it as a fun activity every Friday evening, plan and price out your meals for the week according to your budget.
4.Avoid Debt to Save Money in College :
Cut your Debt as much as possible and don't use student loans t pay for your college expenses. Instead, get a part-time job to cover your college living expenses like food, partying, shopping, etc.
Remember that you'll be paying this off after graduating. I'm pretty sure you don't want to spend the next 3 years after college paying all that.
5.Save Money in Books :
Books can be really expensive and can be between 13$ to 50$.
If you're a linguistic Student like me or a literature student, you can't imagine how many books we have! So here are the best 3 ways to save money in books :
Library:
You'll be surprised that 75% of your course books are available in the Library for free?
Here is a stupid mistake I've done: I had to get a linguistic book to work on my dissertation where I paid 28$ for it on Amazon. Then I released it's available in my University Library!
Dumb Houna !!
Borrow Books :
You can borrow books from your friends, people who've already taken the class or exchange books with your classmates. It will save you a lot doing so.
Buy Used Books :
New books are ways expensive. I told yaa, innit? so it will be better to get a used one for 3$ rather than paying 20$ for it.
Free Books Online :
This is my best. Before I ever get to do any of the previous. I first check if I can find a PDF version for it for free.
The best place of the best for free PDF books where they have Hundreds of books is PDF Drive It is the best where you can find any book you're looking for.
6.Monthly Budget Goals:
If you want to save money in college, you have to make a monthly spending goal.
Set your budget for the month and make a spending limit for every section: food, Gaz, Entertainment, etc, and especially stick to it.
7.Use Public Transportation :
Start using the bus and metros. You can get metro student cards where they have special offers for students.
Better than this? try to rent a place close to your campus which will take you only 2 min walk to arrive.
8.Get Job On Campus / Online :
Get a campus job as a side hustle to pay to cover your college living expenses.
Or, you can work as a Freelancer using Fiverr which I highly recommend. I make up to 600$ monthly just from my freelancing job in Fiverr which is pretty amazing.
9.Get a Saving Account:
It is a must for college students. I do always make sure to put in the extra money after setting my monthly spending goals.
10.Monthly Spending Envelopes :
The best for the last!
I've learned this technique from Dave Ramsey. It helped me a lot and I'm sure it will be your life-changer too!
Here is how it works :
You get 5 envelopes ( it depends on your spending categories ) and make each one according to how much you'll be spending monthly. For example, Make one envelope for Grocery shopping, another for Entertainment, Clothes and so on.
Once your envelopes are empty you're done with spending in that category for this month.
So! These are the best 10 ways to save money in college for college students. Now, What are your methods or techniques you've followed during college to save money? I'd love to know about them and learn from you !