This post may contain affiliate links, which means I'll receive a commission if you purchase through my link, at no extra cost to you. Please read full disclosure here
The best dorm room color schemes to create an aesthetically pleasing dorm room that speaks you.
By now, you're about to move to your dorm room or your college apartment, you're probably in the phase of finding the most inspiring dorm room color schemes to create your dreamy dorm room.
The idea of going to college away from home is quite stressful itself so having an aesthetically pleasing space that looks just like home is a must.
Now, I know you have a dorm room style that you want to recreate but in order to make it looks just perfect as in your imagination, you need to go with the right color schemes.
As I'm moving to my college apartment this year, I want to have an aesthetic neutral dorm room that will make me feel at home and just Instagram-worthy. So I decided to go with more neutral colors.
I went with a blue and white dorm room color scheme as a freshman and I really loved it because blue is my ultimate favorite color. However, styling and going with the perfect color match for your dorm can be trickly and this is what you'll learn today.
You'll be able to pick up your dorm room color schemes, learn how to match colors together, and come across the most perfectly created dorm room ideas as your ideal sample.
Dorm Room Color Schemes
How to Choose the Perfect Dorm Room Color Schemes
Now it's the time to put your dreamy dorm room into real life.
I'm absolutely not an interior designer nor a professional, but I've figured out some ways to help you and me come up with the perfect dorm room color schemes.
1. Go with your Favorite Colors
This is the obvious and the easy step for choosing the perfect dorm color scheme. What's your favorite color? Is it ivory, or blue, or you're more into neutral dorm room color schemes?
In my freshman year, I went with a blue dorm room color scheme because this is my favorite color and blue is a peaceful and calming color.
That way, I was able to build my color palette based on blue and match it with white and a bit of beige.
If you don't really know what's your ultimate favorite color because you can't only think of one color, I've got a tip for you that will help you to decide.
You just need to go to your closet and check your clothes, like the pieces you wear on a daily basis. If you find out that you wear more neutrals, ivory, or pink, then neutrals, ivory or pink is your favorite color and voilà, you've got your dorm room's dominant color scheme.
2. Check Dorm Room Inspirations on Pinterest
Pinterest is your best friend when it comes to finding the perfect dorm room ideas and color scheme. You can just type best bedroom color schemes and you'll come across millions of color palettes that you can choose from.
If you're going with a bohemian dorm room this year as this is a trend lately, the only thing you need to do is type a bohemian color palette, and you'll come across the most cohesive boho color schemes with examples.
What I did last year, I checked some dorm room ideas and took the above dorm room as an inspiration for me. Also, I've made sure to extract the dominant colors so I know exactly what I'm going for and everything I'll get will be matching together.
I wanted to print my dorm room inspiration because I love physical stuff so I can plan how my dorm room will look in a better way.
3. Use a Color Palette to Get the Perfect Color Match
Now, you've found your target dorm room inspiration. You're probably by now able to at least identify your dominant color, it's time to choose the secondary colors that go perfectly with it. The best way to figure it out is to use a color palette or a color wheel.
A color palette or a color wheel will help you coordinate colors together to create the perfect match.
For example, if you're going with blue, you can match it with light pink and white.
4. Get Inspired By Wall Arts
This is a tip I've learned from Jenny Reid who is an interior designer. you can use wall arts as an inspiration to come with the perfect dorm room color scheme of your dreams.
This is an amazing tip because for a fact wall arts always have matching colors.
5. Use a Bedroom Color Scheme Generator
Using a bedroom color scheme generator is a great option to identify a dorm room color schemes you've come across and want to recreate. I find this an easy way to identify dominant colors if you can't decide.
I really love this option, especially when going to Pinterest and coming across the cute dorm room ideas that you want to recreate but you can't really know what are the dominant colors, these color scheme generators can help you identify these college dorm room color schemes.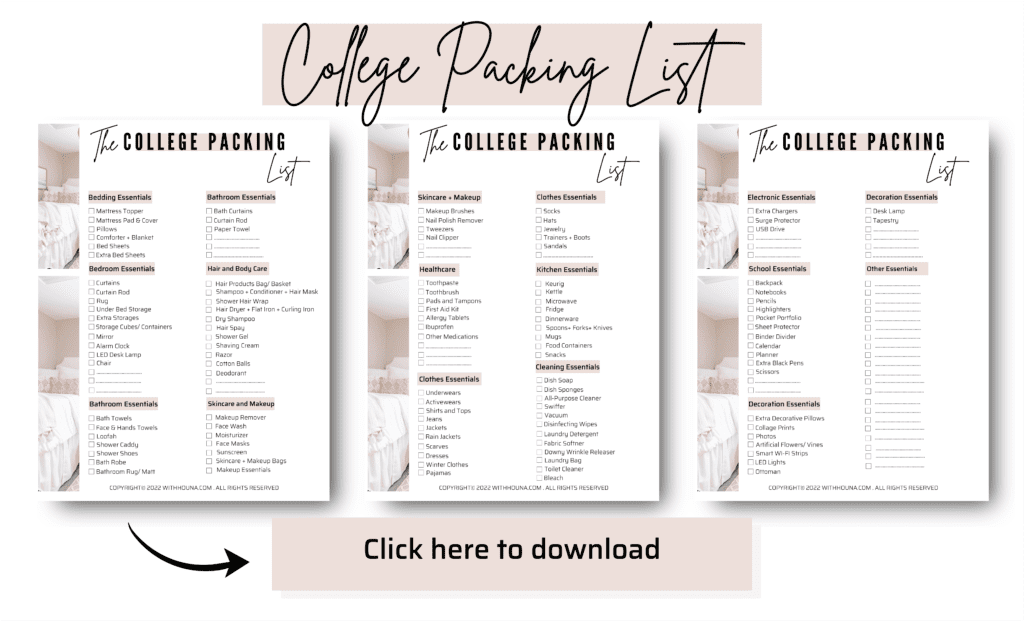 6. Don't Go with More Than four Dorm Color Schemes
In order to create the dorm room of your dreams and make sure everything matches together. You avoid going with more than four dorm color schemes. Instead of having a cohesive dorm room, you'll end up with a dorm without a layout and busy.
7. Make Sure Your Dorm Room Color Scheme Matches With your Roommate
I've almost forgotten to mention this crucial step to get the most aesthetic, Instagram-worthy dorm room. If you're moving to a dorm room and having a roommate, you sure absolutely ask her what dorm room color schemes she's aiming for so you can both match together.
It will be just dreamy if you and your roommate decide to go with the same colors. However, if you decided on different colors, you can coordinate stuff by choosing a similar secondary color that works with the two-color palettes. For example, you can both have matching ottomans, a rug, and blankets.
The Best Dorm Room Color Schemes You'll Love
This is probably going to be your best part where you come across the best dorm room color schemes to be able to recreate yours. Every single dorm room comes with its color palette and this is my favorite part. It will be easy you're you to identify the dominant color along with the secondary ones.
Not only this, you can even easily shop the same exact dorm room without bothering to spend hours looking for matching items.
1. Ivory and Neutral
Recreate this dorm room

Every college girl's dream is to have a boho dorm room or at least an aesthetic dorm room.
Having this stylish and peaceful dorm room is just an amazing transition you can make for your home. I love the texture created with the ivory and neutral colors. The rug is everything and I love how the color is coordinated with the tied pillows from Urban Outfitters.
Related: 22 The Cutest Dorm Room Ideas Everyone is Obsessed Over
2. Green and Blush
Recreate this dorm room
I really love this dorm room color combination as it brings life and energy. The combination between the green wall vines and the blush is just amazing. I personally would never think it can turn out that good.
This dorm room is no surprise inspiration for freshmen because it's simple and clean and keep their energy up.
3. Orange and Yellow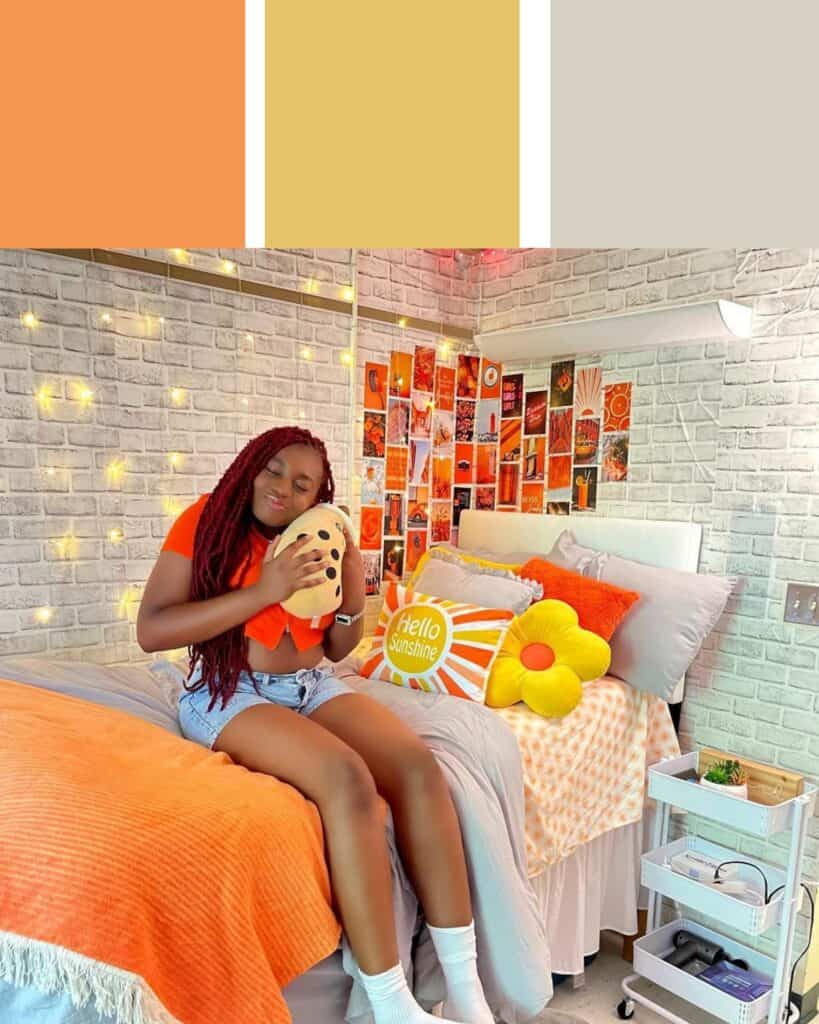 Recreate this dorm room
There is no better than having a happy, bright dorm room, and this dorm room color scheme says it all. I really love the orange color. It's bright, happy, and brings joy to your dorm room, especially on days when you feel most down.
The other two color palettes that go perfectly with orange are yellow and beige.
The yellow throw pillows are a perfect match with the orange collage wall art and the blanket.
4. Ivory and Straw Dorm Room
Recreate this dorm room

Another favorite bohemian dorm room style with a focus on two main color schemes: Ivory and wicker color. The latter adds texture to the dorm room and it just makes the perfect combination with ivory. The pop color should go with anything you desire like your throw pillows or wall arts.
5. Light Pink and Wricker Dorm Room Color Scheme
Recreate this dorm room

This is my favorite dorm room ever. I love the combination of the wicker color, light gray color with light pink. The pink bed skirt and wall arts is an amazing combination that adds texture to the whole bedroom.
Related: 18 Cute and Trendy College Dorm Room Ideas you Have to See
6. All White Dorm Room Color Scheme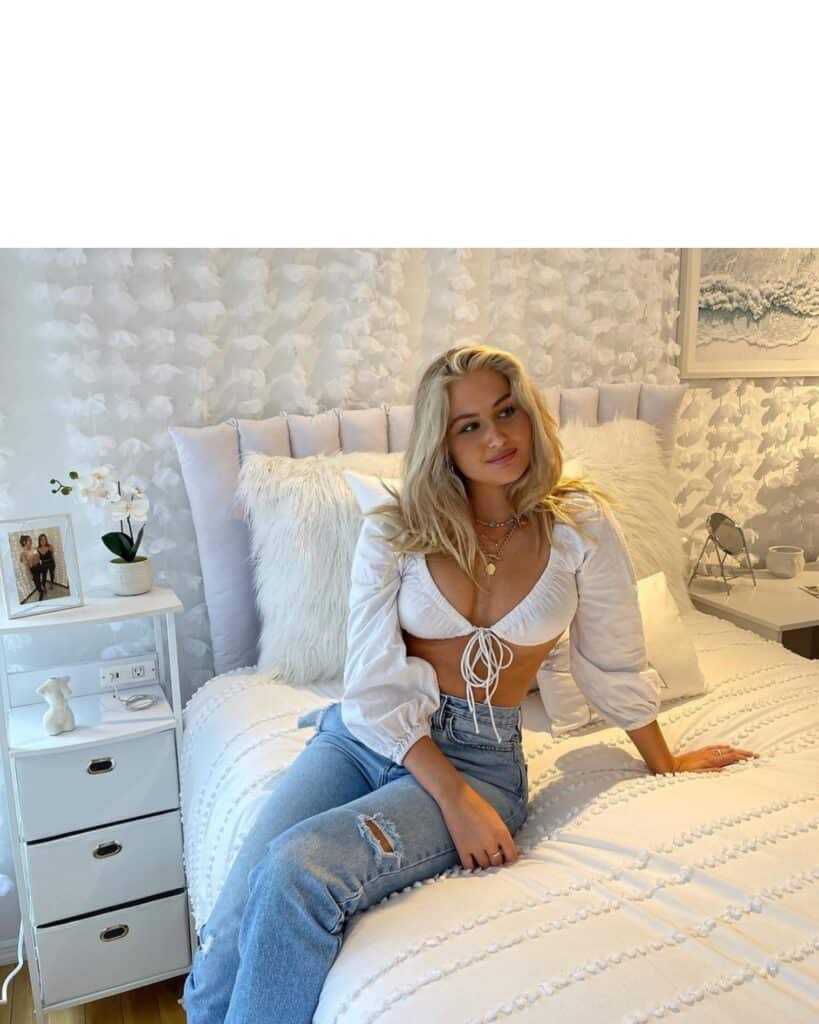 Recreate this dorm room
White dorm room color schemes can never be old-fashioned. If you're the type who loves to have a very clean, peaceful space, you'll want to copy this dorm room.
I really love the artificial hanging flowers on the wall which give a soft, glamorous and feminine look.
What I really love about this dorm color scheme is the fact it spends cozy vibes all around.
Also, you can always decorate with different colors items just for a change as everything blends well with white.
7. Green and Yellow
Get the string lights
Another college dorm color scheme for the love of bright colors. I love the white bedding paired with the yellow blanket and the green wall art. If you want to have a happy space that brings life, you absolutely need to copy this dorm room.
8. Neutrals, Neutrals, and Neutrals
Recreate this dorm room

This is the dorm room color scheme I'll be having next year. I love neutral colors and this combination is next level. I love how clean and neat it looks and it just sends soothing vibes all over.
Another great thing is you can add any pop-up color to this combination just for a change and it will never break the amazing vibes it sends. This dorm room style is for every minimalist girl out there.
9. Silver and Light Gray Dorm Room Color Scheme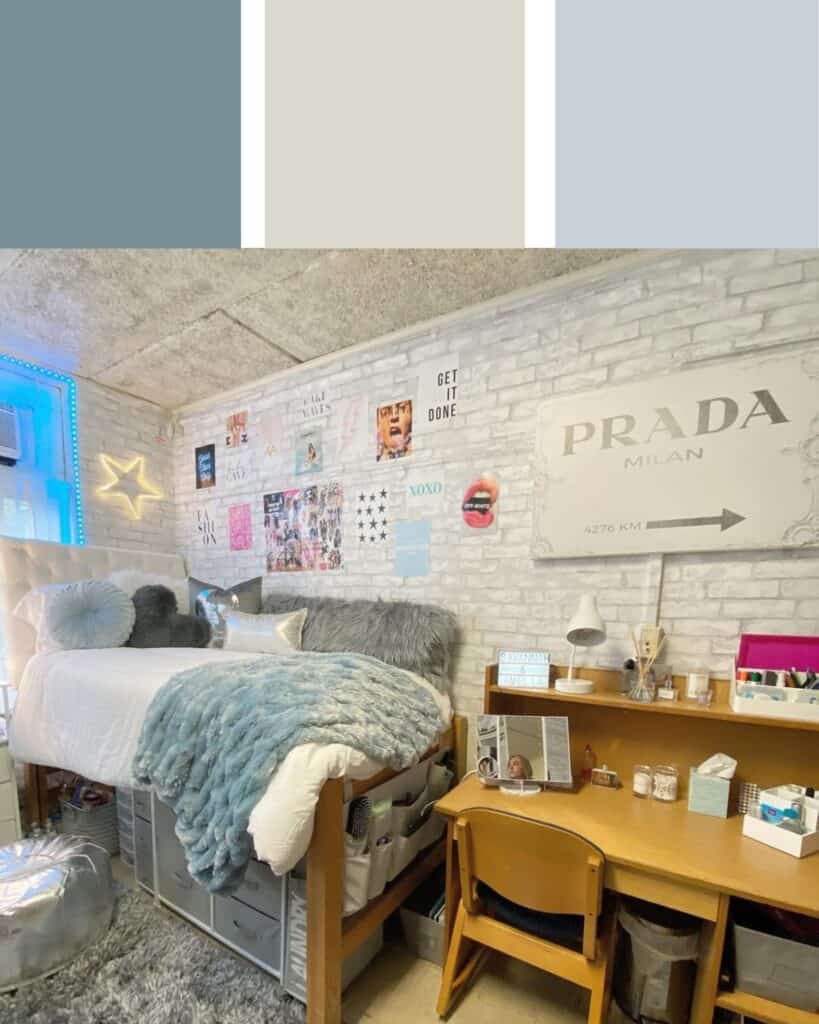 Recreate this dorm room
Can I just say these two colors in this dorm room complement each other so well? The dark gray throw pillows and blanket and the silver ottomans along with the white bed sheets aren't only matching together but just blending well creating the most aesthetic, calming dorm room.
I love how the collage prints add a bit of bright colors to this freshman dorm room without breaking the whole look.
10. Pink and White Dorm Room
Recreate this dorm room

The pink and white color scheme is so cute. I love how colors blend. When I've come across this dorm room, I could barely say it was even a dorm.
Like it's just so aesthetically pleasing.
If you want to truly have such an aesthetic dorm room, you'll need to make sure you're matching your roommate.
You can agree with your roommate to have the same blanket color and go with white bedsheets.
Also, you absolutely don't want to forget having curtains because they will add a lot to your whole dorm look and they can transform your whole bedroom look.
11. Brick and Brown Dorm Room Color Scheme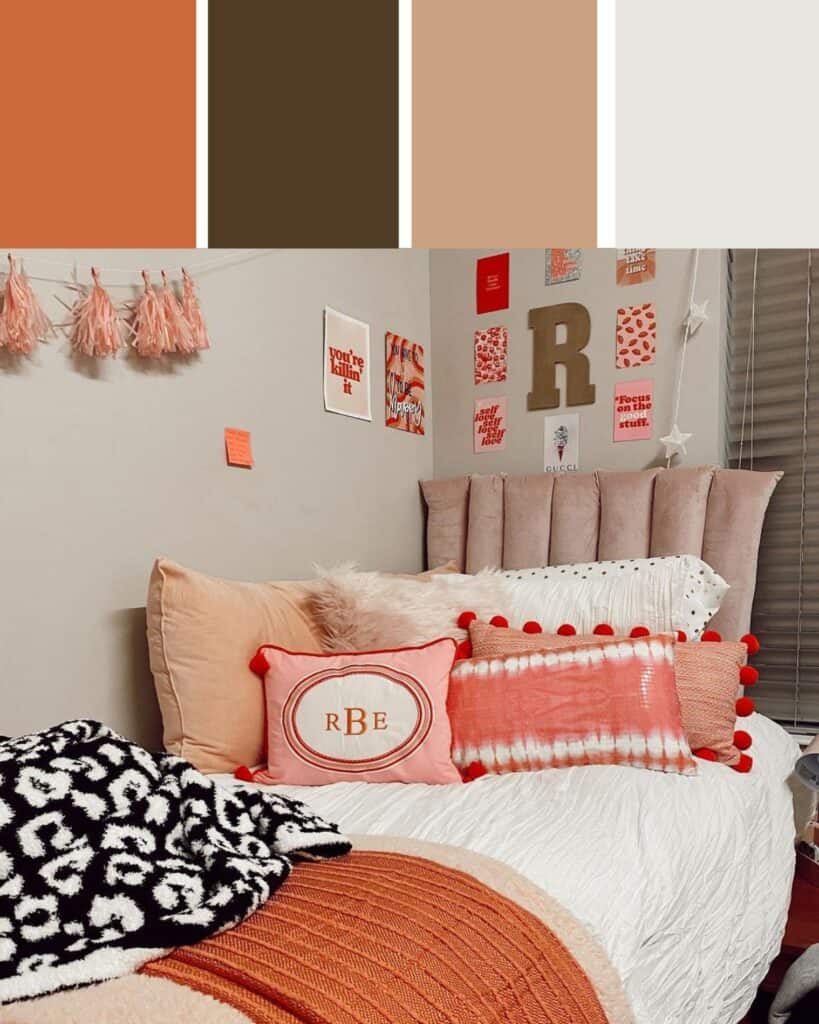 Recreate this dorm room

I'm honestly surprised how good this dorm room is.
It's one of the most loved among freshmen because it's not only Instagram-worthy but the way it's transformed just sends home vibes.
I mean, I dare you if you can even tell it's a dorm room. The blend of these warm colors is just perfectionism.
I love the black blanket that just adds a little texture to the whole dorm design.
12. Navy Blue, White and Gray Dorm Room Color Scheme
Recreate this dorm room
You already know I'm obsessed with all the shades of blue. The mix of blue, Light wicker shade, and white just screams your personality. Like powerful and a minimalist which is the best type.
I really love the light gray pillows and the navy blue blanket. Also, the fact that the blue color is kind of dominant when you see it but not really at the same time to just not send moody vibes.
Also, the nightstand and the lamp just make it sounds more home.
13. Yellow and White
Recreate this dorm room
When you first come across this dorm room, you can feel happy, and motivated to start your day at college and achieve a new record.
The yellow wall arts and throw pillow along with the blanket don't only bring life to this dorm room but actually, turn it into a positive space that will help you stay positive even on your worst days. Also, the hanging lights are just cute and make it cozy.
14. Blue Accent
Recreate this dorm room
If there is one color that can go hand in hand with the blue accent to have the most aesthetic dorm room, that should be light Gray or silver.
I love the combination of the different hues of blue with white and the rug is what completes the whole dorm room look.
15. Beige Dorm Room Color Scheme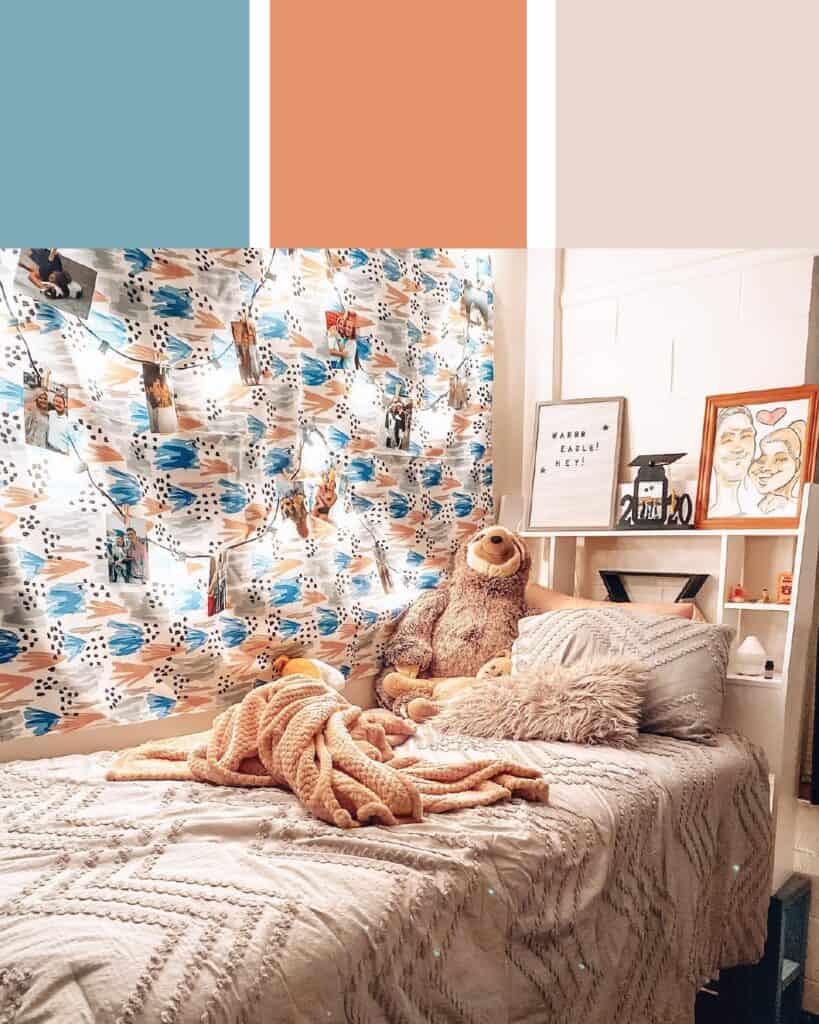 Recreate this dorm room
This tapestry is everything. Pairing this beige dorm room with a shade of this tapestry blue is cute and it adds texture to the whole room.
I would go for this dorm room look in fall and winter if I want a change and to just spread festive vibes of the best season of the year. Also, it just sounds cozy just like home.
16. Hot Pink Dorm Room Color Scheme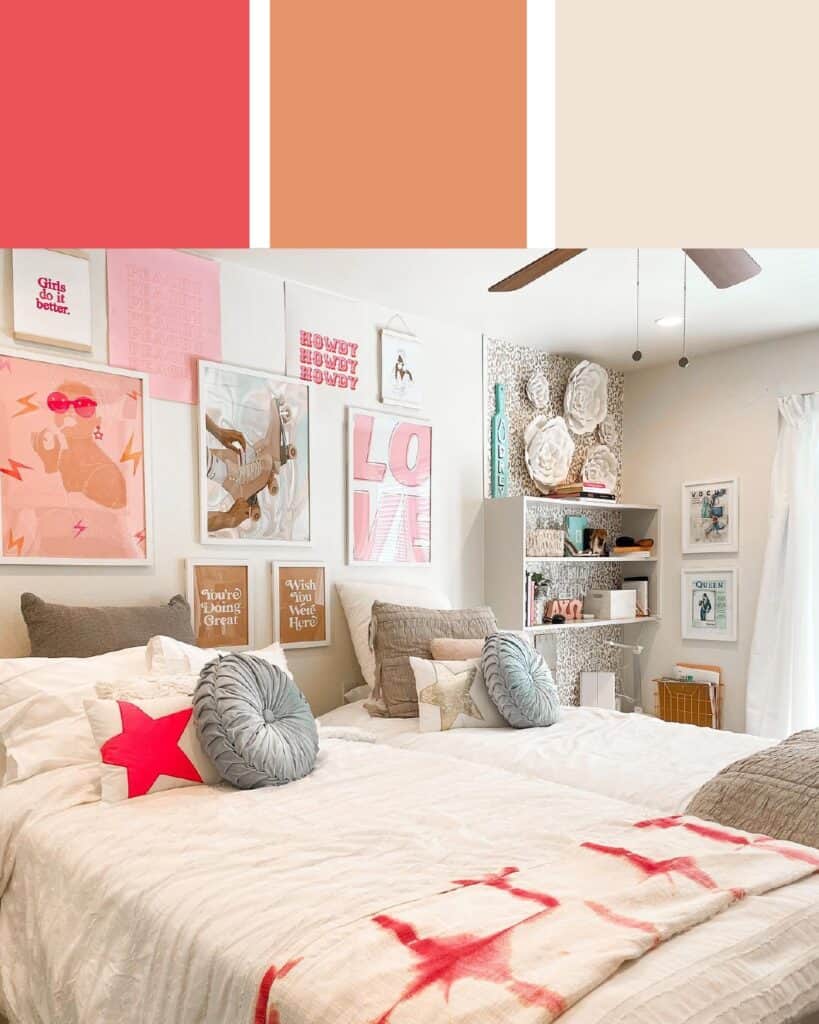 Recreate this dorm room

If you want to add a touch of hot pink, or other pink shades to your whole dorm room look without going crazy, you can't go wrong with this bed blanket and hot pink star pillows.
I really love how the roommate decided to go with the brown color for her side keeping the same vibes which are so cute.
This post is about The Best Dorm Room Color Schemes
You'll Also Love
18 Cute and Trendy College Dorm Room Ideas you Have to See
22 The Cutest Dorm Room Ideas Everyone is Obsessed Over
26 Life-Changing Things I regret Not Bringing to College
15 Amazing Stores to Buy the Best Dorm Room Stuff
Don't forget to pin this!