I only recommend products or services that I believe will add value to my readers. By using these affiliate links, I'll receive a commission if you purchase through my link, at no extra cost to you. Please read full disclosure here
These are the cutest short nail designs and short nails you'll want to recreate. They are super practical and for everyday wear.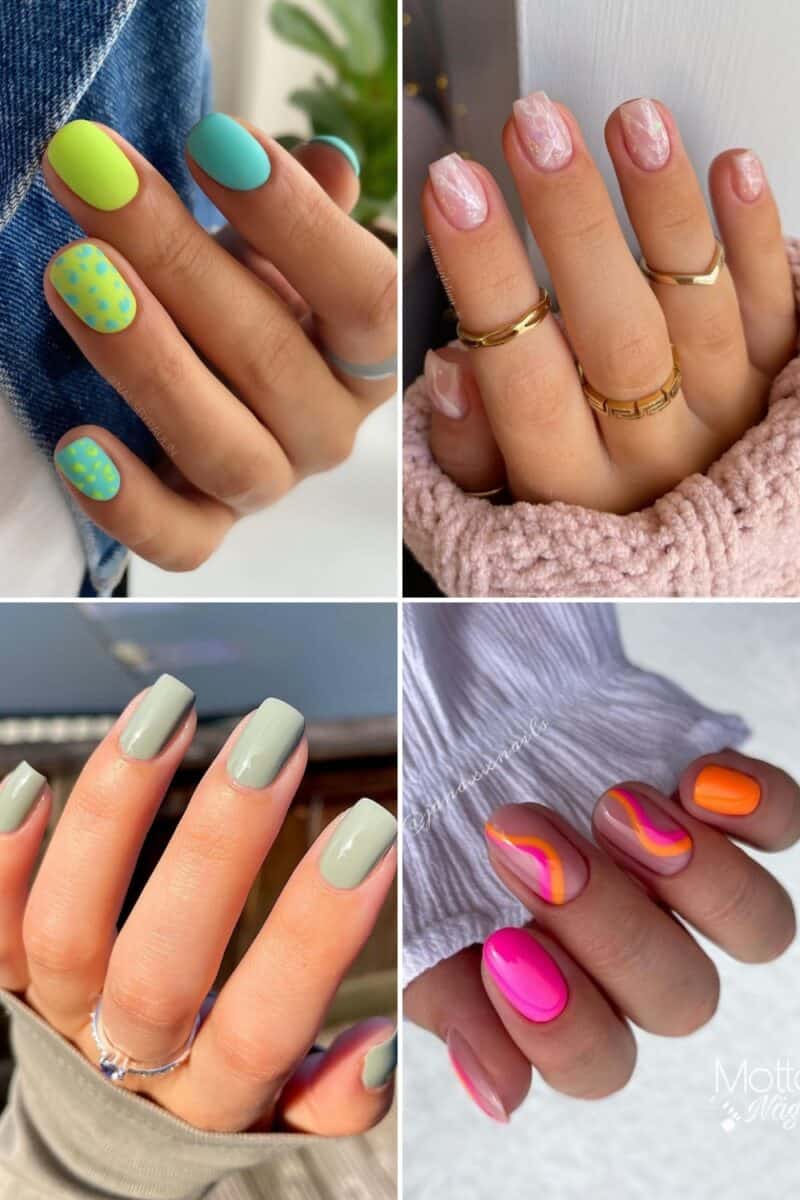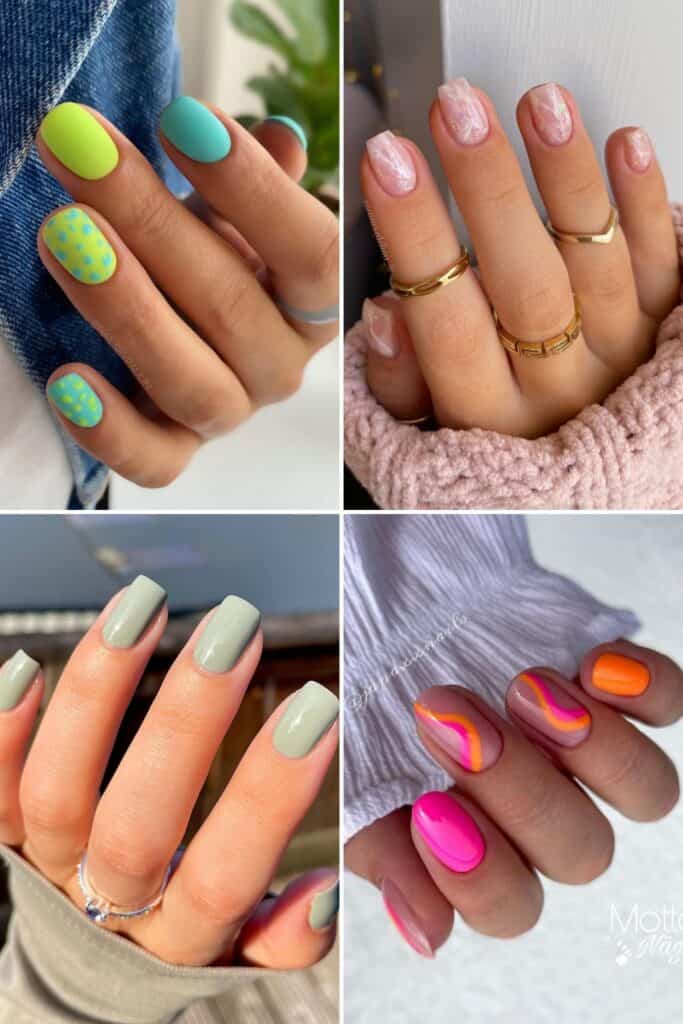 You've already noticed that most women have been more into short nail designs these last few years as they are cute and practical.
I can't say the same about myself. I've always liked mid-length nails thinking they are cuter.
When I got into real life, it was a bit harder to maintain my long nails as they really make it hard for me to do anything especially work.
Once I got into short nail designs, I never looked back again into anything else.
These short nail designs and ideas are for everyday wear and you'll never get bored of them as I know we tend to get bored of our nail designs as quickly as the weather changes.
Trust me, you'll never feel you're into them until you try them out, and these cute short nail ideas will make you forget your obsession with long acrylic nails.
Cute Short Nail Designs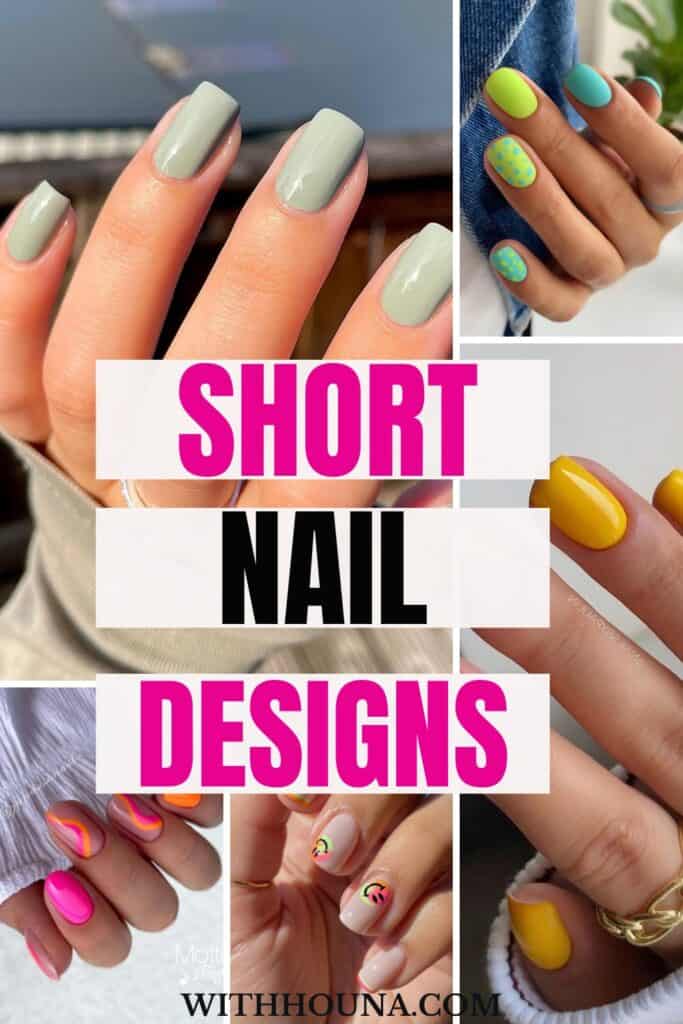 1. Let's Go Simple
This cream polish is super simple while still keeping your short nails looking fresh and clean. To up the gloss factor, paint on a shiny top coat to finish off your look.
2. Leopard Short Nail Design
Leopard print has been having a moment, and while we don't always see it paired with green, it works. The green nails are tempting to try.
However, you might want to bring the leopard pattern to your nail tech to enjoy the best results.
3. Simple Abstract Lines
Here, light pink and white play in a design that's reminiscent of a modern work of art. Consider this a slightly more light-hearted take on the contemporary trend.
Given the intricate nature of the lines, you might want to save this abstract nail art idea on your phone and ask your manicurist to bring it to life.
4. We Love Sage Short Nails
Muted nails have a natural talent for looking effortlessly cute. Add short nails to the mix, and you have yourself a beautiful duo.
Sage is a smart and chic nail color that never fails to produce fabulous results.
5. French Short Nails
We tend to associate French tips with oval or "squoval" nails. Here, we have the shorter, punchier version that creates an overall sharper effect.
The result is a clean, polished, and a little more practical alternative to the much-loved classic.
6. Purple Mix Nails
Swirls and bright colors are dominating the nail scene. With these short nail designs, we see the best of both worlds, using purple and white polish to craft flames, split French tips, and swirls across the nails.
While this mani looks complicated, you may be able to take it on yourself with the right polish, patience, and a lot of determination.
7. Patchwork Hearts Short Nails
The white lines complement rather than contrast with the light blush base, making for a rather neutral appeal that's perfect for everyday wear.
The adorable heart nail art elevates this mani to adorable status without too much extra work.
8. Cute Frenchies with Cherries
Adding cute to adorable, these nails are the idyllic fruity combo that makes the most of both chic and fun vibes.
One of my favorite ways to instantly enhance timeless French tips is to add some charming nail art, all the better if it gives color pop.
9. Fine Swirls Short Nails
This is a more refined take on the swirl trend. The finer swirls suit shorter nail designs, as there's more room for curves that don't overwhelm the nail.
The ribbon-like swirls should be set to a neutral tone backdrop for best results.
10. Pastel Dreams
Pastels are everyone's most popular pick at the moment. Fortunately, they go hand in hand with short nails, making this look a fashionable combo.
11. Lady Mani with a Twist
These French tips start with a milky-blush base that leads into more stark white tips with a strike through them.
Interestingly, their beauty is rather easy to recreate as you only have to start with the base before applying the tip and using a toothpick to slick through the white polish.
12. Rawr Short Nails
Everyone loves to get a little wild with their nails now and then. If you're just experimenting or usually prefer long and have to go short this time and would still like something a little extra, the color and print of these nails are just what you need.
13. Sunny and Cloudy
Using two different colors across your nails is a fantastic way to achieve professional-looking nails without the effort to match.
Here, we see an unusual but powerful mix of grey and orange with adorable polka dots to boot.
14. Skinny Green French Tips
Sometimes all you need is a little flick of nail polish across your nails to achieve an understated chic look that works for all occasions.
Be sure to file your nails before applying this look, as the sharper and more polished, the better.
15. A Little Touch of Leopard
Bring life to your short nails with this wildlife-inspired look that's absolutely adorable. Black and white is always a winning combo, especially when applied as animal print.
These nails are ideal for special occasions or for adding a little bit of fun to your nail collection.
16. White Polka Dots Nails
Casual-chic nails don't have to blend into the background. Instead, they can stand out with perfectly-applied white polka dots that stylishly line a blush background creating an adorable look that can be worn anywhere.
17. Set Yourself Free Nails
If you're waiting for your nails to grow, I can't recommend this look enough. Vertical lines create the illusion of length, making your nails look longer than they really are.
Of course, the colorful lines also look fantastic and are brimming with personality.
18. Halloween Vibes Short Nails
A common misconception is that themed nails are only for special occasions or certain times of the year.
If you're feeling the spooky vibes now, why not let it show in your nails? These short nails pair black French tips with Halloween-themed nail art for a chic finish that can be worn all year round.
Related: 80 Spooky Halloween Nail Designs that Speaks Halloween For 2023.
19. Gold French Nails
These nails are effortlessly chic. As well, you don't necessarily need to go to a salon to achieve this salon-style look.
Instead, file your nails into the popular oval shape and apply a clear base.
After, add a small line of shimmery gold polish to complete this Instagram-ready manicure.
20. Let's Get it Green
I love crescendo nails that start subtly before becoming more dramatic or detailed toward the middle and tapering off again.
It makes the most of the minimalism and 'extra' trends and is entirely captivating to look at.
21. Natural Look Short Nails
If you want nails, you can wear to the office but will also fit right in on a night out, these are the classic, minimalist nails for you.
They can be perfected in a matter of minutes and even used as a blank canvas if you want to spice up your nails down the line.
22. Olive Abstract Swirls
Olive is one of my favorite colors to use on nails as it brings an elegant, smart vibe that pairs gorgeously with rings.
It's a little unique, especially due to its abstract design but worry not; that just means you can get a little creative when trying out this chic look.
23. A French White Mani
Who needs all those bells and whistles when you could just have a straightforward, ultra-chic, and no-nonsense manicure that can be done within minutes.
File your nails into a square shape, grab some white polish and coat those layers on.
24. Mini White Hearts
We all love a little fairytale charm now and then, and this manicure delivers.
It's not the easiest to master, but it's completely worth it as a nail design that can be worn anytime, anywhere, while looking effortlessly cute.
25. Blue Steel Nails
If your nails are on the cusp of being short and long, this is the style I recommend for you.
The blue polish needs a little more space to come into its own, showcasing its beauty across the entirety of your nail.
Don't be afraid to get creative with this look and apply the blue blobs wherever your heart desires.
26. Full Nails Swirls
Short nail ideas often avoid any full or chunky lines that can crowd the nail.
However, what we see here is the perfect execution of a trendy look that's almost irresistibly gorgeous.
Almost like straight lines, these vertical swirls create the illusion of length, making your nails look longer in style.
27. Sand Nails
Sand-colored nails are the hidden gem of the neutral palette. They should be trending by now, so we fully expect them to get the recognition they deserve in the coming months.
If you are looking for a great color for every day and a chic yet fuss-free manicure, then this is the choice for you.
28. The Calm in the Chaos
It's not every day a nail design gives rustic, but I'm loving it. These nails have a free-spirited appeal to them that's laid down by the neutral backdrop.
A light sand color coats the outside nails, while the accent nails are reminiscent of a delightful cornfield on a sunny day.
It won't be an easy one to replicate, so you might want to allow your nail technician to do it justice.
29. Rose Quartz Nails
Shades of pink and early white meet in this mesmerizing design that takes the watercolor trend and makes it look fabulously stony.
This gem-inspired style suits short nails perfectly, almost making them look like little gemstones.
While this look is manageable, it's best to let the professionals create that sleek sheen that's like real-life rose quartz.
30. Candy Nails
Almost appearing to be LED-lit, this mani simply leaps from your hand and truly shines brightly.
The orange and blue pieces are lined by neon lines of the same color, creating an electrifying look.
However, I have to note that the sheen emanating from these lines may be a little tough to recreate. Perhaps this is a stunning one to take to your nail technician.
31. Classic White Nails
Short nails and white polish are a dreamy match made in heaven.
The clean look enjoys some warmth due to the lightly rounded shape of the nails, which can be easily achieved with a nail file.
Feel free to layer with nail art and get creative if you want to jazz up your nails.
32. Feeling Blue Nails
Like a snowy sky, these polka-dot nails are a timeless beauty. A navy background sets the scene for white dots that are entirely charming and cute.
I highly recommend that you enlist the help of a toothpick to achieve this neat nail short nail design.
33. Zebra Prints Nails
Negative space is in at the moment making these nails one of the hottest on the list. Slivers of natural nail peep through the white stripes creating a zebra pattern without the contrast.
This more parred back approach is ideal for short nails as it doesn't overwhelm the small working space but rather makes the most of what's already there.
34. Globe Short Nails
Acqua never really goes out of style, and these nails are the perfect example of why that is.
However, the classic look has been reimagined with a contemporary twist, using wavy swirls to create an almost oceanic appearance that's completely mesmerizing.
While I'm never strict on colors, I think the glitter nail varnish is essential to the charm of this short nail design.
35. Natural With Butterfly Wings Touch
I've rarely seen such a beautifully understated nail design before. While minimalism and neutrals reign supreme currently and can both be seen in all of their glory here, the delicate butterfly wings are what really make this unique manicure.
All it takes to achieve this breathtaking look is blush nail polish and either a butterfly nail sticker or the patience and skill to craft a butterfly yourself.
Either way, these distinct nails are worth trying out.
36. Lilac Frenchy Tips
A blush base with a slight hint of lilac forms the backdrop of these purple Frenchies that use the entire palette.
I love how warm these nails look. They're really quite chic without any need for extravagance or OTT extras, which makes them ideal for short nails.
37. Smiley Short Nail Designs
Rainbow French tips are the pinnacle of chic-fun. Here, we see that effect achieved with ultra-fine lines that work to bring out the best in short nails.
Adding an extra hint of heart-warming color are multi-colored smiley faces that appear to float around the nail for a laid-back look that steals everyone's hearts.
38. Fresh and Clean Nails
These are the low-maintenance nails that are always reliable, practical, and never truly go out of style.
They enjoy classic status due to their monochrome neutral appeal that's actually been trending big these days, thanks to the likes of Kendall Jenner and Hailey Bieber, who're sporting muted tones lately.
39. Blue Florals Short Nail Design
This nail design is every nail tech's dream come true. By just using two colors, a world of texture and intrigue is created without appearing too overwhelming.
Instead, these classic French tips with a floral accent nail turn out to be blue and white perfection with plenty of charming vibes.
40. Dolce Short Fall Nails
These Were the Cutest Short Nail Designs and Short Nails You Have to Recreate This Year.