This post may contain affiliate links, which means I'll receive a commission if you purchase through my link, at no extra cost to you. Please read full disclosure here
Smoothie Bowls are one of the best healthy breakfast ideas. These mouthwatering smoothie bowls recipes will be your next obsession. They are one of the easiest yet best breakfast ideas to make in your dorm room or your home. I promise it will take you less than 5 minutes to make my favorite smoothies for a healthy lifestyle.
The most important tool for these 5 smoothie recipes is having a good blender.
I love and use the Ninja kitchen Blender. It's freaking cheap and so good. I have it for the past 4 years and it is still doing an amazing job.
The Best Smoothie Bowls
1. Berries with Chia Seeds Smoothie Bowl
This tends to be my favorite and I make it mostly 4 days a week hahaha. It's really Yummy! I'm obsessed.
It's so easy to use and most ingredients aren't expensive which is great if you're a college student and you want to stay on a budget yet eat healthily.
Ingredients:
1 Cup of Mixed Berries.
1 Frozen Banana.
Milk.
Protein Powder ( if you want ).
Chia Seeds.
Instructions:
Add the frozen mixed berries, banana, chia seeds, and protein powder.
Mix well.
Add the milk and mix again.
Toppings:
My favorite part of the smoothies is the toppings, you can garnish them with whatever you have! I've chosen to use to garnish with Chia Seeds, Granola, apple, and some Coconut flakes.
2. Avocado Smoothie Bowl
This Acovado Smoothie is so delicious! It was my discovery of the month! worth trying.
Ingredients:
1 frozen banana.
1/2 Haas avocado.
1/2 lime juiced.
1/4 cup pineapple.
1/4 cup honeydew.
Instructions:
Blend all the ingredients together and serve!
Toppings:
Garnish with:
Granola.
Figs.
Honeydew.
Grapefruit.
3. Choco Protein Smoothie Bowl :
This Choco Protein Smoothie is delightful! No jokes. It's the perfect breakfast smoothie bowl before a workout or after. It's full of Carbs and Protein to build muscle.
Ingredients:
1 1/2 frozen bananas.
1 cup frozen papaya or mango.
1/2 cup soy milk.
2 tbsp cocoa plant protein powder ( 31 grams ).
1/4 cup rolled/quick oats.
Instructions:
Add all of the ingredients to your blender and mix well!
For Toppings:
Garnish with: banana, cashew nuts, cacao nibs, and nut butter.
You can garnish it with your favorite toppings.
4. Green Smoothie Bowl :
I'm truly in love with this one. I know many healthy green smoothie bowls don't taste so good. But I promise this one tastes amazing!
This recipe is delicious and easy to make and doesn't take so much time.
Ingredients:
1 Ripe banana.
2 Cups of honeydew melon.
1 Peach.
2 Cups of spinach.
1 Tbsp of flaxseed powder.
Instructions:
Mix all the ingredients together. Better on high speed and blend well.
Toppings:
This recipe, it's topped with :
Peach,
Melon,
Pumpkin seeds, and finally cashews for extra crunch.
5. Pitaya Smoothie Bowl
This recipe is the best for me. This recipe is for 2 people. You can make it for breakfast with your partner or in your college dorm with a roommate.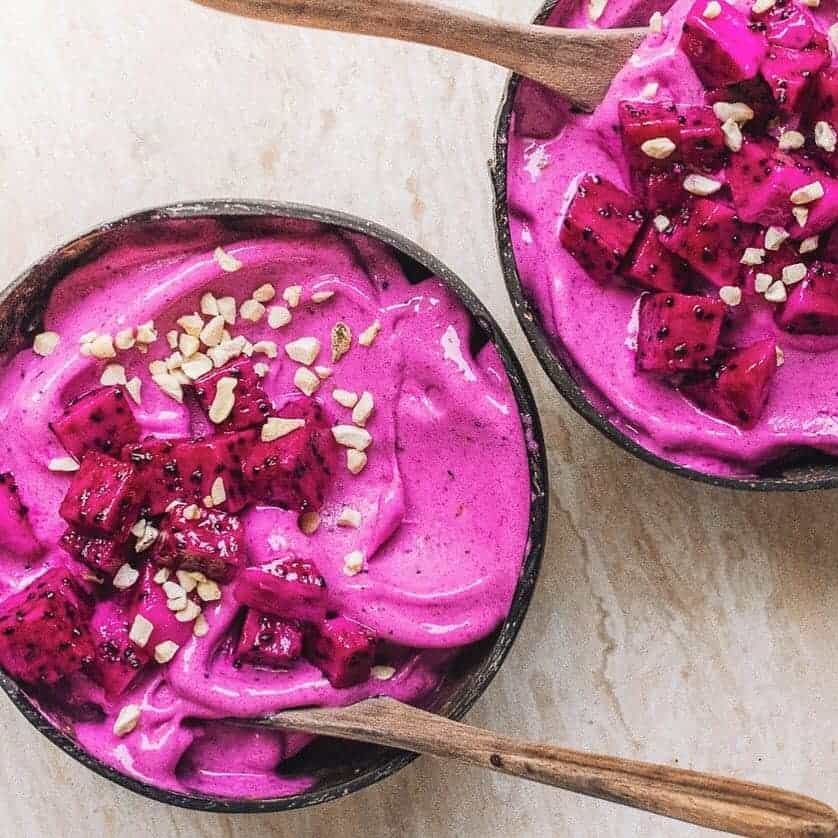 Ingredients:
2 Frozen Bananas (chopped).
1/2 Pink Pitaya or frozen pitaya pure.
1/3 cup plant milk if you're using frozen pitaya.
Instructions:
It's easy to make it truly lol.
Blend in a high-speed blender or in a food processor until creamy.
Toppings:
Top with your favorite fruits of your choice! Enjoy.
These are my best 5 Smoothie Bowls for Breakfast ideas. What is your favorite smoothie bowl from these?