I only recommend products or services that I believe will add value to my readers. By using these affiliate links, I'll receive a commission if you purchase through my link, at no extra cost to you. Please read full disclosure here
are you looking for the cutest and the best women's Halloween costumes for this year? These Amazing Halloween costumes for women are the best costumes and so perfect for this Halloween season.
Halloween is the most important event in October and everyone wants to have the best and most spooky Halloween decorations along with sexy Halloween costumes to attend the Halloween party.
Thus, all women and especially college girls are by now started to look for the best women Halloween costumes to get for this Halloween.
If you're anything similar, I've made it easy for you to be the hot girl in your Halloween party wearing the sexiest Halloween costume that reflects your personality.
You can now choose among the best Halloween costumes everyone is raving about.
However, this post will be about the best women's Halloween costumes from Amazon.
As I know, almost everyone wants to get their costumes from Amazon because it is easier and a lot cheaper.
You'll no longer have to worry about spending hours looking for hot women's Halloween costumes as we've got you more than what you need.
From simple, to sexy, to spooky and scary women Halloween costumes, we've got costumes for every taste and style.
The

Best Women Halloween Costumes
1. Sexy Cowgirl Costume
Amazon has hit it out of the park with this one! When it comes to costume ideas for women, the sexy cowgirl is always at the top of the list – but never quite like this.
A cheeky cutout offers a peek at a right-on-theme denim undergarment that's framed by flared animal-print bottoms that are just WOW.
And what's a cowgirl without her cowgirl hat? This outfit's version is the bright red cherry on top of this oh-so-sexy cowgirl costume. Giddy up!
2. Power Ranger Women Halloween Costume
Get ready to throw some shapes with this action-ready costume that's straight from Amazon's top shelf!
This unique Halloween look is loaded with badass vibes and baddie energy. The wig adds a dramatic and fun twist that's Instagram-ready.
3. Thing 1 Thing 2 Women Halloween Costumes
4. Sleeping Beauty Halloween Costume for Women
Looking for your knight in shining armor? Or do you just love sleeping so much that you feel like you could sleep forever?
Enjoy feeling stunning? If you answered yes to one, two, or all of the above – you're already Sleeping Beauty, and you don't know it yet – it's time to dress the part!
5. Jasmine from Aladdin
Related: 40+ Hottest College Halloween Costumes for Girls you Have to Try in 2023.
6. Firefighter Women Halloween Costume
There's no smoke without fire, and there's no steam without your hot self-wearing this outfit. This outfit is on FIRE. It's hot. It's everything that real-life firefighters hate.
This firefighter Halloween costume is not only attractive but will get everyone's eyes on you on your Halloween party.
7. Got Cookies Halloween Costume for Women
This is such a unique Costume idea for women! It's cute and bares just the right amount of skin to be just as bold as it is fun.
Why not be everyone's favorite person and carry around some cookies to hand out throughout the night?
8. Sexy Pirate Costume
Somebody come take my laptop away! I'm about to buy 100 of this outfit. Even just for the gorgeously detailed hat alone, I would pay a fortune.
But the cute little silk skull-embossed fabric? Ah! It's all just too much, but not as extra as those fishnet tights – to die for.
9. Galaxy Girl Astronaut Halloween Costume
This outfit is perfect for the gal who wants to show off without baring anything at all. It's also ideal for those in colder countries who need a lil extra insulation in their costumes.
Oh, and in case I get too into technical talk – it's out-of-this-world-stunning.
10. Barbie Workout Halloween Costume for Women
Nobody puts you in a box! The Barbie workout ensemble was always going to be on the Best women Halloween costumes from Amazon list – it's just fate!
This outfit is an all-around winner that can be worn to fancy dress parties, Halloween bashes, and even for your own personal bedroom dance session!
11. Belle Women Halloween Costume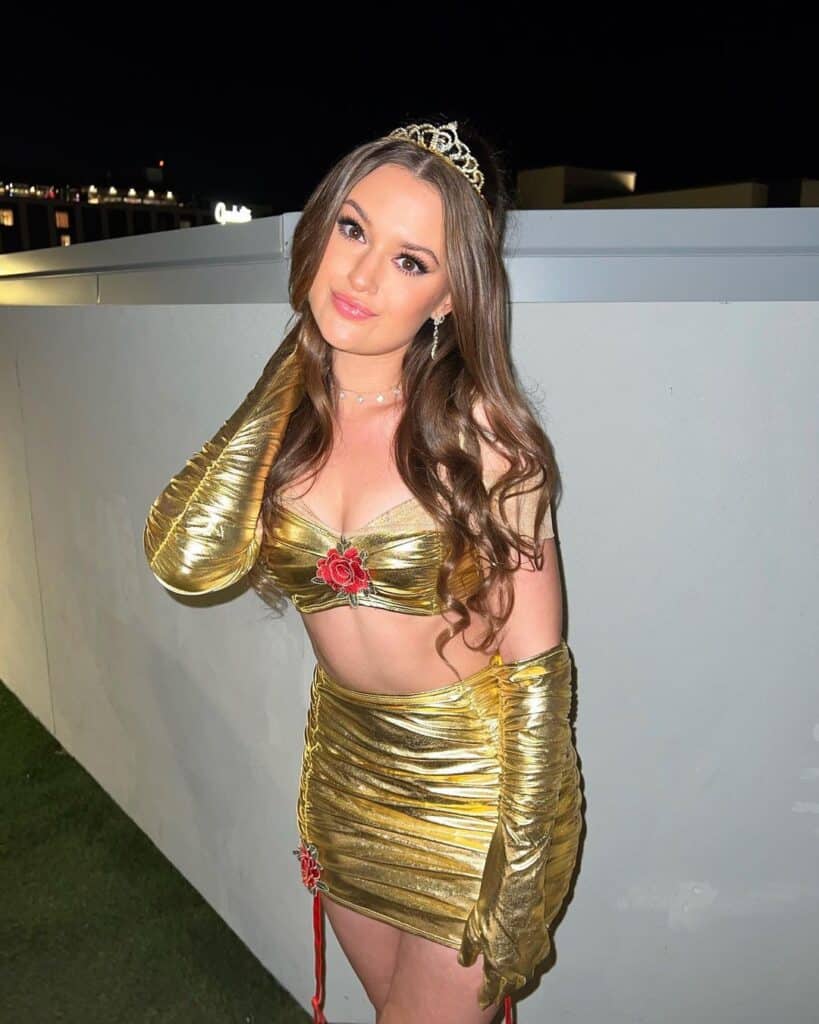 GURL, if you do not go and buy this flawless costume right away – I will. It's irresistible. How can one costume be so elegant, sexy, and flash all at once?
Related: 76 Trendy Halloween Costumes Everyone is Raving About.
12. Bunny Squad Costume
13. Another Power Rangers Halloween Costume
So good I had to add two styles? Yes. You're not seeing double. Here's another power rangers costume. How could I help myself?
This one is equally figure-hugging, but it shows a little more skin. And who didn't want to be the pink power ranger?! Live your dream!
14. Cruella Halloween Costume
Oh my, those shoulder feathers have my heart. I'm categorizing this number among Scary women Halloween costumes, but really, it's mainly astonishingly stunning.
There are so many textures and striking colors to look at – I just can't get enough!
15. The Incredibles Costume
You're incredible. This costume is incredible. It's written in the stars, a match made in heaven. To add my favorite part real quick: how incredibly realistic is this costume?
Usually, cartoon character costumes get a bit botched along the way – this one looks pretty authentic!
16. Spiderman Women Halloween Costume
Related: 80 Spooky Halloween Nail Designs That Speaks Halloween For 2023
17. Superhero Costume
Costume ideas for women? More like costume ideas for heroes!
This costume appears to be the female version of the Captain America outfit, and it works! Show off your figure with this two-piece costume set that's just as unstoppable as you are.
18. Racer Costume
19. Blast Off
Unique Halloween costumes are always impressive in their ability to amaze. This futuristic-chic costume is no different.
It's slick, sexy, metallic, silvery, and looks like it came right off a sci-fi film set – snap it up!
20. Snow White Costume
Make looking for the Best women Halloween costumes from Amazon a fairytale rather than a horror story by simply choosing this gorgeous outfit of pretty much everyone's fashion fantasies!
21. Referee Costume
22. Sexy Medusa Costume
23. Starry Halloween Costume
It was a bit of a challenge to find any starry women's Halloween costumes. So, I had to settle for a scary concept!
But I never settle on fashion, as you can see from this spectacularly stylish costume.
Related: 46 Sexy College Halloween Costumes That You'll Be Obsessed With in 2023.
24. Mermaid Halloween Costume
25. Alien Halloween Costume for Women
26. Alice in Wonderland
27. Flirty Cop
Related: 78 Trendy Halloween Costumes Everyone is Raving About.
28. Sexy Nurse Costume
29. Sexy Game Babe
30. Buzz Light Year Woman Halloween Costume
31. Fairy Costume
32. Clown Halloween Costume
33. Postal Delivery Costume
34. French Maid Costume for Women
35. Safari Best Women Halloween Costume
36. Flight Attendant
37. Sailor Women Halloween Costumes
This outfit is the definition of stunning. Red from head to toe is always breathtaking and beautifully striking. But this outfit is more.
Honestly, this is one of the most recreated Disney Halloween costumes of all time.
It goes beyond the usual Halloween costume beauty and into the fairytale realm. I seriously can't get over the silky sheen and gold trim.
Mixed with the knee-high socks and black high heels, this outfit is honestly a work of art that'll also make you look like beautiful art in every single photo.
39. Police Officer Woman Halloween Costume
One of the steamiest outfits on the Halloween costume scene, the cop ensemble gets more popular by the year, and it's clear to see why.
It's steamy with just the right amount of attitude, and everything about it means business. It's sleek, chic, and just downright cool.
I love the badass vibes that surround this outfit and just how figure-hugging and flattering it is while being piled with personality.
40. Trendy Barbie Halloween costume
This is one of the most loved Barbie Halloween costumes for women is absolutely darling. Of course, it's straight out of Barbie, and that can only mean that it's incredibly gorgeous, girly, and sure to make you look like something out of a dream on Halloween night.
So, if you want to be as pretty as a picture and downright doll-like in iconic style this Halloween, this is the outfit of your dreams.
41. Snow White Women Halloween Costume
Women Halloween costumes are getting more edgy by the year, and I'm here for it. Get on the spooky hype and opt for a twist on a fairytale classic this year that'll be a lot of fun to put together and is sure to land you tonnes of compliments on the night.
Not to mention that this costume is essentially made for being photographed, so be sure to practice your posing before you step out of the house.
42. Legally Blonde Halloween Costume
Recreate this hot legally blonde women Halloween costume
Girly is back this year, and it's claiming the spotlight. So, step into that spotlight and claim the attention you deserve with this legendary outfit that every girl must try at least once.
I absolutely live for seeing everyone's unique take on the outfit every year. Some people opt for big curls, while others go for softer looks.
No matter what you choose, you're sure to be the star of any Halloween party you enter.
Oh, and just to mention, it's also worth having this outfit on hand, even if you don't plan on wearing it this year, because someone always wants to dress up like the legendary Elle Woods every year.
43. Sexy Nun Halloween Costume
I've seen the goofy version of the sexy nun Halloween costume plenty of times, but I've never seen the chic version before, and I'm loving it.
It's downright gorgeous and quite striking with the classic black-and-white mix. I just love the long gloves and thigh-high tights that add such a sleek and sophisticated edge to the ensemble.
The whole look is just so striking and sharp, and I can't wait to see it in person this year.
44. Giving Buzz a Woddy Halloween Costume
These are the classic duo Halloween costumes that every besty group must try at least once. Buzz Lightyear and woody are a tale as old as time and are such a dynamic duo that absolutely everyone recognizes.
As well, if you're not a huge fan of dressing up, this is such a reliable option.
It looks like you put a lot of effort in, and it is perfectly Halloween-themed.
45. Hot Bunny Halloween Costume
Cuteness and steaminess meet in this outfit that literally never fails. Every year, every girl who wears it looks drop-dead gorgeous and stunning in every single photo taken of her.
Seriously, this is one of those rare costumes that looks good from every angle and at every single party, no matter what the theme.
It's also taken on classic status lately, meaning that it's a must-try.
46. Scary Clown Halloween Costume
This is one of the most intricate and complicated Halloween outfits on the list and the one most likely to win you best dressed no matter where you go this year.
It's also plenty of fun to get dressed up in this look. You can have endless fun dressing up and adding little trinkets or accessories here and there.
47. Wonder Woman Halloween Costume Idea
I love this outfit with all of my heart. I know it's related to Marvel movies and all that, but just to look at, it's such a masterpiece.
Red, gold, and blue are such an underestimated combination, making this Halloween costume for women such an underrated favorite of mine.
You also get to enjoy feeling powerful all evening long. What's not to like? Also, the boots, the knee-high gold boots. Need I say more?
48. Cheer Squad Women Halloween Costume
Preppy has been having a moment when it comes to Women Halloween costumes, and I'm obsessed. It's always just such a fun look, and it's becoming one of those timeless themes that we're all hoping to see more of.
Plus, while being very flattering, it also covers quite a lot to keep you comfortable and free of wardrobe malfunction worries.
Really, though, think about how creative you can be with your hair and makeup when it comes to this outfit.
You can be as cutesy and glamorous as you like, and no one can stop you, not that they'd want to anyway.
49. Daphne Woman Halloween Costume
If purple is your color or if you ever happen to look good in purple, you know what to do. This outfit is perfect for those girlies who don't really want to dress up but still want to take part while looking utterly fabulous.
This stunning outfit is essentially made up of a dress and a wig. Everyone will know exactly who you are, and you'll feel and look fantastic.
Plus, it's not often you get the chance to purchase stunning orange high heels. So, while they're not a necessary addition to the outfit, they really will complete the look, and can you really pass up the chance?
50. Another Sexy Buzz Lightyear Costume
If you've seen this outfit countless times in the search for your ideal Halloween costume this year, this is your sign.
It's a daring outfit, so even if you think you'll be seeing plenty of this costume this year, think again.
The risk will pay off, and you'll steal the show everywhere you go. It's just so steamy and sleek with a chic edge that's sure to look absolutely stunning in every photo.
After daring to try it once, you'll probably want to wear it every year after, I promise.
51. Hot Waitress Halloween Costume
Cute, fun, and playful vibes are written all over this stunningly charming outfit that's perfectly pink. Speaking of pink, it's this year's color, thanks to Barbie.
Seriously, trust me when I say you'll want to be part of the pink hype this year that's sure to make this one of the best Halloween nights in years.
Plus, an upside of this outfit is how it cinches your waist before spreading into a pleated skirt, creating an hourglass figure that's absolutely to die for.
Plus, need I even mention everything good about sheer white knee-high tights, or will I spare you reading another paragraph?
52. Woman Galaxy Goddess Costume
Sci-fi is huge this year thanks to all the mention of space travel, UFOs, and aliens. So, if you're looking for an outfit that's somehow classic yet also contemporary, I can't think of a costume that fits the bill quite as perfectly.
Also, chrome has been huge this year all over the fashion scene for its metallic futuristic sheen. And let's be real, chrome just looks fantastic in photos as it catches the light just right.
Mix that with a white, figure-hugging bodysuit, and you're the proud wearer of one of the most gorgeous costumes on the night that can be worn time and time again.
53. Sexy Sailor Halloween Costume for Women
It's all fun and carefree vibes with this Halloween costume for women. It's perfect for those free-spirited gals who are dying to look drop-dead gorgeous this year but don't have much time to put into their outfit.
The sexy sailor costume always goes down a treat and takes care of itself, meaning all you have to do is your hair and makeup to look like a queen.
I can't recommend a striking red lip with this look enough and neat, simple high heels that really add to the adorable and flirty vibe of the costume.
54. Squid Game Costumes
You might be looking at the inspiration pic and the Amazon costume image and be wondering how one can be made into the other. Truth is, it's easy.
There's a zip on the Amazon version of the costume, meaning you just have to zip it down while wearing a leotard or the figure-hugging body piece of your choice underneath.
This takes the original costume and puts an irresistibly sexy twist on it with little effort. Also, it's such a modern and trendy look that has slightly-nerdy vibes that are just so cute.
In other words, this quirky and incredibly sexy Halloween outfit idea truly has it all.
55. Wonder Woman Costume
When it comes to women Halloween costumes, the Wonder Woman outfit is one of the most powerful.
It has queen and goddess written all over it while also managing to look completely flawless. While red, blue, and gold aren't a combination we see every day, it works.
It's even a little bit preppy, which is right on trend this year. A huge upside to this outfit is that absolutely everyone knows who Wonder Woman is from age 1 to 100, meaning you can wear this outfit absolutely anywhere and steal the show.
56. Pink Sexy Bunny Halloween Costume
Pink is the color of the year. It's absolutely everywhere, and I'm living for it. It's truly the most lovely color, and I've yet to meet a girl or woman who doesn't look stunning in it.
I completely understand if you're just dying to wear pink and don't really care how.
If that sounds like you and you also want to look absolutely stunning and irresistible all at once, this costume is the answer to all your prayers.
While the Amazon version of the outfit doesn't come with tights, I really can't recommend adding a pair yourself.
You can either go sheer or fishnet or really whatever your heart desires. That's just if you'd like a little extra warmth and coverage.
Other than that, go all out and feel your best self all day and night long.
57. Cupid Women Halloween Costume
This Halloween costume for women has such warmth and charming vibes. It's such a lovable little number that will win the hearts of many and have you the center of attention no matter where you decide to grace with your angelic presence.
It's all about love with this outfit, so be sure to keep your makeup look warm and your hair soft.
I also recommend that you keep accessories dainty and shimmery while keeping the bow and arrow prop near to hand.
The look is the perfect mix of playful and alluring, meaning you'll be the center of everyone's attention, and the camera will just love you.
58. Sexy Blast Off To the Moon Costume for Women
This outfit is over the top in the best way possible. It's loud and lavish, with just the right amount of sexiness added to the lovely mix.
Plus, it's got the material that everyone's obsessing over this year, and you've probably even seen take over your Insta feed in anything from furniture to fashion.
It's lovely, shiny, metallic, and futuristic chrome. We don't see it often in Halloween costumes, but when we do, it's always striking.
I can guarantee that this outfit will go the distance. It looks so high-quality and well-made. A little look into its description, and you'll see that this is one of those costumes that won't give up after just one night.
So, you can look forward to having the costume of a lifetime when you claim this gorgeous and timeless number as your own.
59. Fembot Halloween Costume for Women
I know we all associate this outfit with Austin Powers, but you can't deny it also has princess vibes.
It's just so cosmopolitan and cute at the same time while also having a funky-groovy theme. I just love seeing this outfit every year in all of its soft and girly glory.
It's so charming and incredibly easy to style. Plus, if you're dying to try out a new up-do, now's your chance.
This outfit is ideal for dramatic eye makeup and easy hairstyles.
60. The Greast Ring Leader Circus Woman Costume
When it comes to women Halloween costumes, this is by far the most Instragram-ready.
Every year, I fall in love a little bit more with this outfit when I see it bringing out the best in every gal's beauty. It's just such a flattering fit, with the figure-hugging body piece cinching the waist and creating an hourglass figure.
This outfit also has such powerful and strong vibes to it that it's perfect for the divas among you.
It's just packed full of personality and will be the source of jokes and compliments all night long.
Seriously, do yourself a favor and get this Halloween costume that you won't be able to stop looking at.
61. Killing Doll Halloween Costume
If you have a score to settle and mean business this year, or if you just want to be quite scary for the night while looking absolutely stunning, this is your outfit.
It's perfect for your bad girl era, and no one will mess with you. If anyone ever needs a reminder, just send them a picture from this Halloween night, and they'll get the idea.
I just love how the colorful preppy vibes clash so quirkily with the spookier elements of this outfit. It's the perfect contradiction and doesn't need much tweaking.
62. Barbie Cowgirl Woman Costume
Women Halloween costumes have always had a gorgeous edge, but they've never seen anything as fabulous as the wave of Barbie outfits that have burst onto the scene this year.
Seriously, it's going to be such an exciting Halloween, seeing everyone's take on Barbie's iconic looks.
Through your cowgirl hat in the ring and, try out this costume that's sure to make you look as good as you feel all night long.
Plus, can you really pass up the chance to be one of the many Barbies in Barbieland this Halloween?
I am totally obsessed with the gingham neckerchief and pink sunglasses, which can always be used again. Even the stunning pink bodysuit can be worn and will be just as drop-dead gorgeous as the first time around.
These were the Best Women Halloween Costumes Everyone is Buying This Halloween