This post may contain affiliate links, which means I'll receive a commission if you purchase through my link, at no extra cost to you. Please read full disclosure here
Christmas is here, and It's the season of gifts and sharing with others. But it's also the time to show love to your fingertips with beautiful Christmas Nail designs to match those warm sweaters and stockings.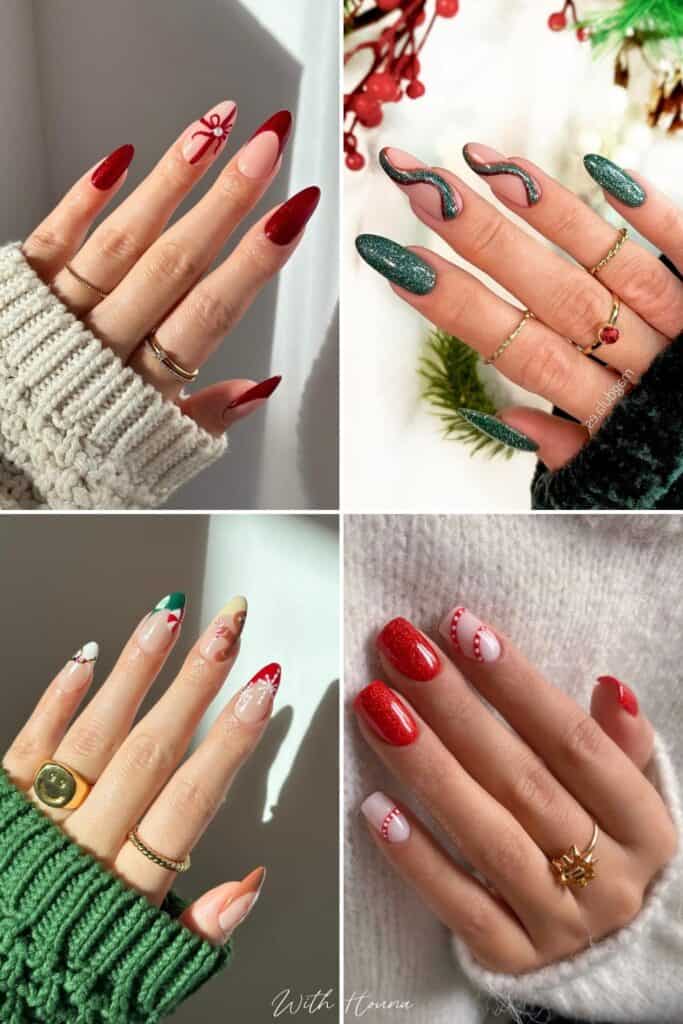 Christmas is the season with shimmers, green and red decors, the smell of snow, cold days, and gifting others.
Most importantly, it's a season of self-reflection, relaxing, binge-watching Netflix and Hallmark movies, and showing yourself love for making it so far this year.
And to kick-start relaxing and showing love to yourself – start with getting your manis done for the season with some pretty Christmas nails ideas.
Show your nails some love with Christmas nail colors such as hunter green, icy blue, white, and gold to beautiful Christmas nail designs.
Besides, you need to pair your Christmas outfits with well-done Christmas manicures, even if you're staying at home or hanging out with Friends.
Whether you're going for classic red and green to more playful Christmas nails like candy canes and gingerbread men, go minimalist with snowflakes on white gel polish Christmas nails, or go bold with ornament designs.
With Christmas nail designs, you'll have an assortment of options to pick from, and it can be overwhelming, especially endlessly scrolling on Instagram and Pinterest for ideas.
Luckily, we've made a list of the best and the prettiest Christmas nail designs, so you can treat your nails to the next quick manicure without wasting time scrolling endlessly.
Cute Christmas Nail Designs
1. Speaking up Christmas Nail Design
I love Christmas nail designs that literally look like Christmas. Since we're getting back to basics this year, I'm seeing an awful lot more of what I love.
They're just such honest and too-the-point nails that say Christmas outright. Every time you look down at your cute little work of art, your excitement for Christmas will only grow.
This really is the manicure that was made for looking great around mulled wine glasses and hot cocoa mugs.
You also won't want to stop showing them off and spreading some of fabulous chic Christmas cheer around.
2. Mushroom Glam Christmas Nail Design
Yes, you heard it here first. Christmas nails can be a little bit quirky and even nerdy while still maintaining their lovable festive flourishes and sensationally soft shape.
This is minimalist Mario or even rustic-chic "Fairycore" meets the nail essentials of the most wonderful time of the year.
I'm looking forward to seeing more similar designs this year and hope it catches on.
Plus, it's actually quite simple to perfect if you have a clean toothpick nearby to do the drawing of the nail art.
Failing that, take this heart-warming look to the salon and be sure to post loads of photos for us all to enjoy afterward.
3. Cute Christmas Mix and Match Nails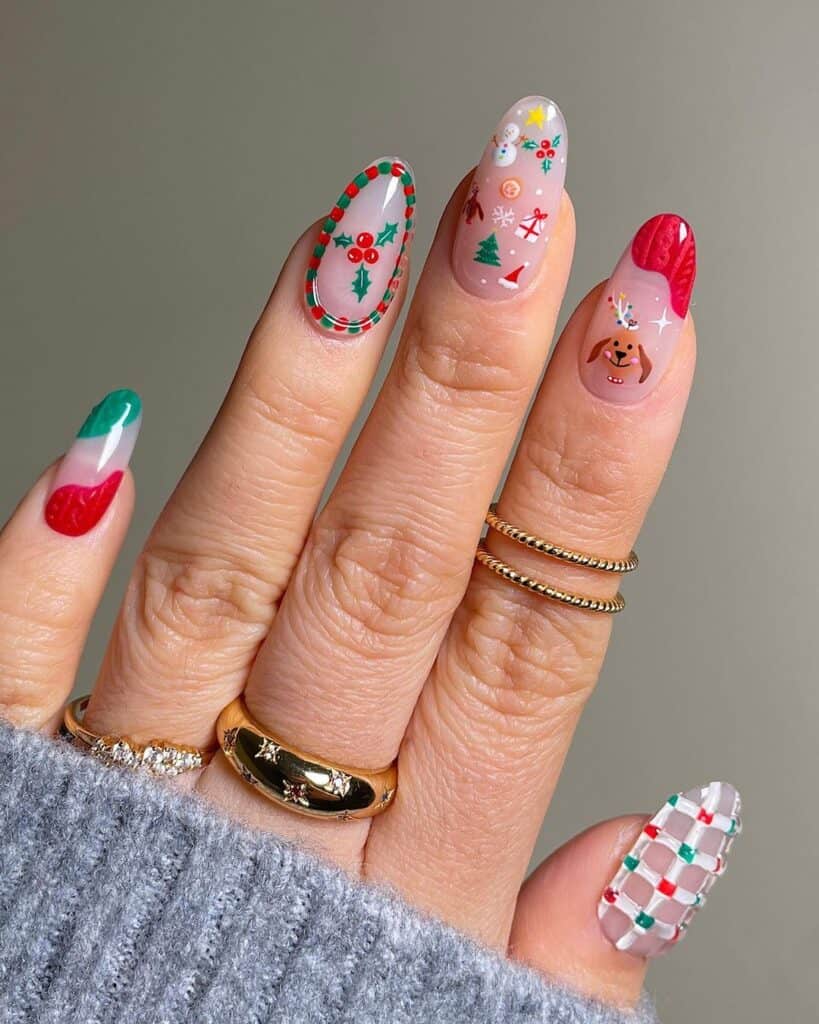 If the excitement and joy of Christmas could be depicted in nail art, this is what it would look like.
It honestly resembles happy childhood memories and nostalgic scenes out of children's Christmas books.
But beyond the sentimental value, there are just so many stylish and intriguing details such as the 3D effect and sweater stitch.
In fact, so much happening that it's best to let your nail tech bring these adorable beauties to life.
4. Gilded Holidays Nails for Christmas
These nails really just glow. They also have a special place in my heart because they look like the inside of a jewelry box painted across your nails.
There's nothing quite as opulent and lavish as sparkly gold nail polish, especially when it's almost yellow due to its iridescence.
These luxurious chic nails also feature swirls, gift-wrapping nail art, and a French tip.
They're literally the IT girl nails, and you can bet I'm going to be wearing them all Christmas.
5. Festive Grinch Christmas Nail Art
Christmas nail art is at its best when it features the Grinch in all of his ba humbug glory. These cartoonish nails are super cute and beyond fun.
They're definitely conversation starters at any party you attend and are sure to land you loads of compliments.
They also might just be a good excuse to take a trip to the salon because they're just a little too intricate to take on alone.
6. Candy Cane Wonderland Christmas Nail Design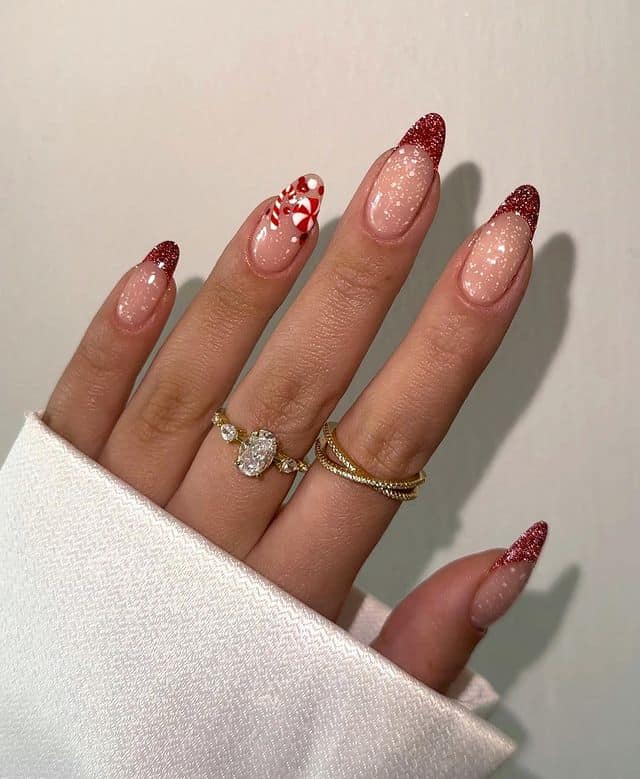 If you're determined to draw on the classic and vintage vibes of classic French tips this Christmas but also want a twist, these gorgeous nails have just the festive flourishes that you need.
The snowflake effect is absolutely stunning and can be dotted on using white polish and a clean toothpick.
The same can be said for the charming candy cane nail art that's really the cherry on top of this gorgeous manicure.
7. Green Matte Christmas Tree Inspired Nails
These are THE Christmas nails of the year. They've really got it all, from art-deco detailing to shimmer and all the way to a wonderful use of the color green, one of my festive favorites.
Plus, it also bucks the trend of softly shaped manicures this time of year and opts for a daring long, square shape instead that adds drama, and I'm here for it.
8. Snowflakes and Tinsel Ribbons Nail Designs
These Christmas nail designs look like what decorating feels like. It's invigorating, refreshing, exciting, and gets us all in the mood to celebrate the most wonderful time of year.
They're so playful and colorful yet never become over the top, thanks to the milky white base that keeps things looking dreamy and cotton-soft.
9. Blue Claw Christmas Nails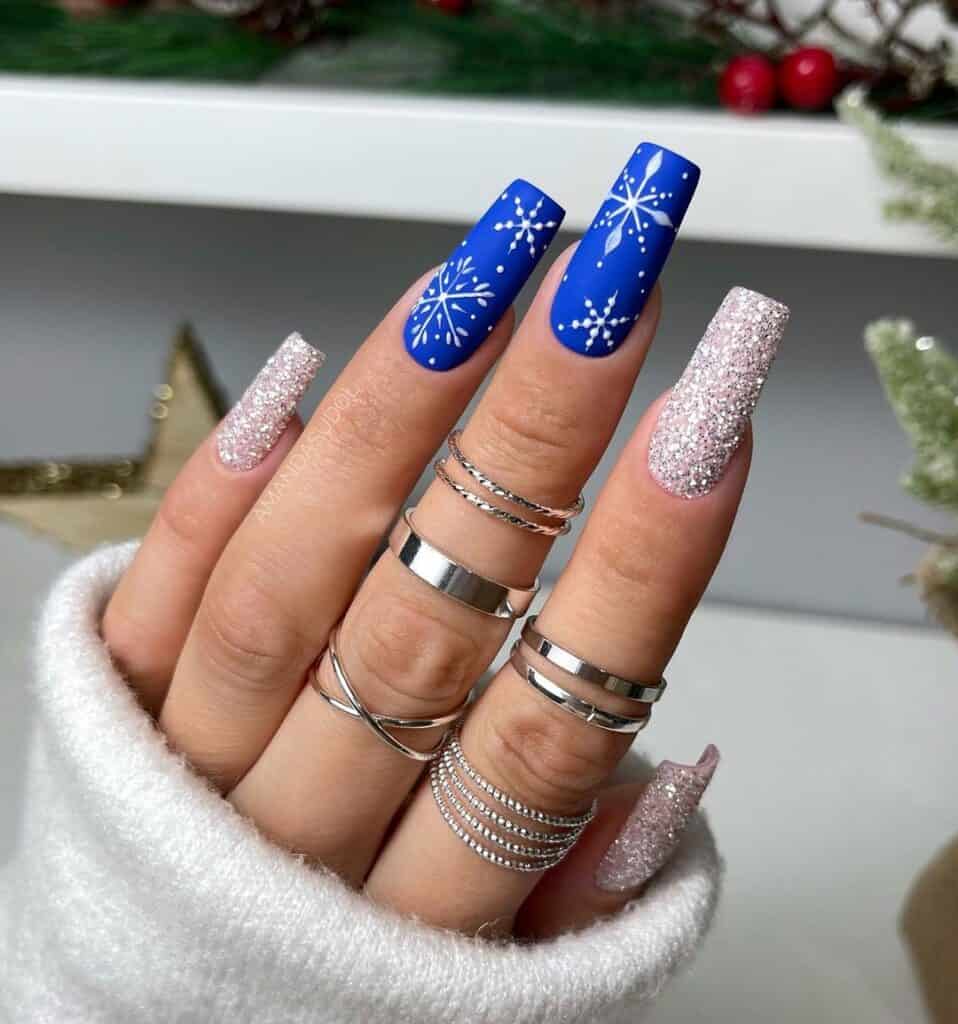 This manicure is what I would call the princess Christmas nail style. It's quite regal and elegant but also so confident and sure of itself, which will ensure you look as good as you feel.
Both you and your nails will be on your most fabulous vibe as you sparkle, shine, and shimmer.
I think the long square shape is essential to the attitude of these nails, but it could also work on stiletto or coffin nails.
10. Gold Christmas Flakes Nails
If you don't like being outright festive but still want to celebrate Christmas and have your nails reflect not only your excitement for the season but also your flawless sense of style, then these are the gorgeous nails for you.
They're so creative and quite simple to replicate since there's plenty of freedom to make mistakes and still have them look wonderfully intentional. I just love it.
11. Glittery Christmas Nail Colors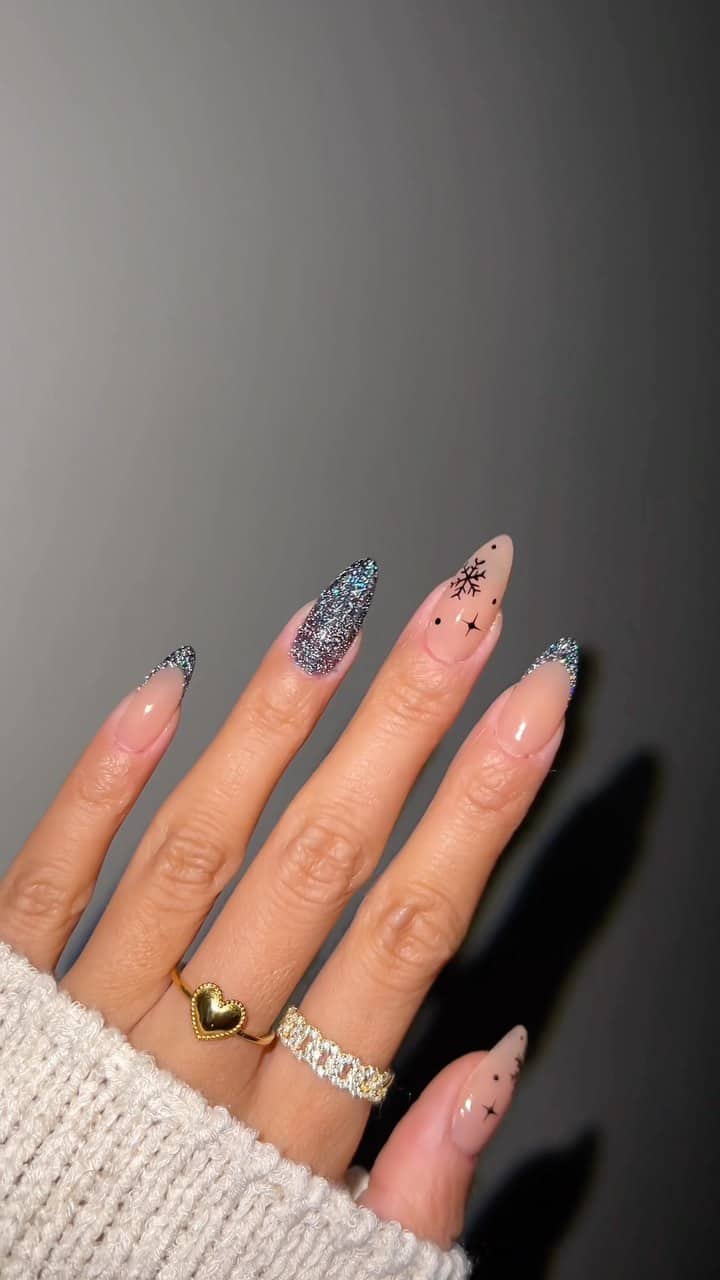 In between oval and almost shaped, the nails have such a soft and refined edge that's the perfect canvas for the Winter Wonderland scene that takes place across them.
When you get down to it, the elements of this manicure are quite subtle, simple, and classic.
They combine to create timeless beauty and classic style that simply never goes out of fashion.
I also love how shimmery the whole look is without being overpowering. In other words, it's the epitome of chic and a must-try manicure this Christmas.
12. Snowman Christmas Nail Art
In terms of Christmas nail designs, these are festively fabulous and beyond breathtaking. It's Pixar meets holiday season style, and literally no one will be able to take their eyes off your Forzen-inspired nails that are absolutely one-of-a-kind and so attention-grabbing.
This is definitely one to take to your nail tech, so get them on the phone ASAP.
13. Simple Santa Claus Holiday Nails
Christmas nail ideas are unique in that they can look drop-dead gorgeous and minimalistic at once.
They don't need much other than strong festive shades such as red and white alongside a couple of adorably and simple designs that just work.
14. Simple Candy Cane's Christmas Nail Design
If your nails are looking a little shorter than you'd like this year, here is the miracle-working and genius design that's about to solve all of your problems.
The thing candy cane is, yes, first things first, gorgeous and charming, but it also creates the smart illusion of lengthening your nails.
If you'd like to enhance this effect, draw the lines on at an angle instead of straight across.
15. Red Christmas Nail Design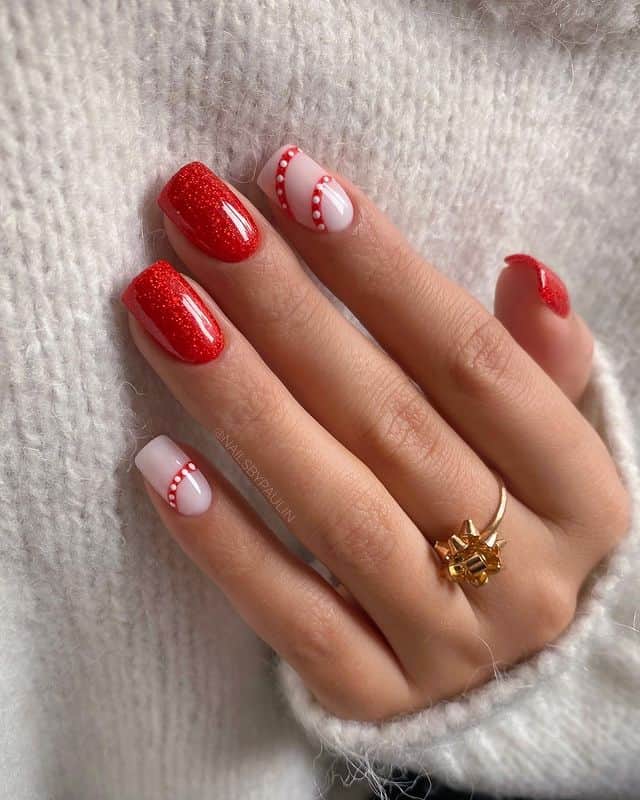 For the gals who've got business to take care of this season and want to do it all in style, consider these adorably short and square nails your first pick this year.
Firstly, they're incredibly charming, lovable, and right on theme for the season while not being too festive.
They're also super easy and fast, meaning you can have them done in a moment and get right back to business.
These nails really are a girl's best friend. 
16. Christmas Abstract Nail Design
Expect to see more Avant-garde nails this year as experimental designs make a huge comeback.
Geometry, symmetry, and clashing primary colors tend to be essential to these mesmerizing and captivating looks that capture the attention as much as the imagination.
Really, the sky is the limit when it comes to putting your own twist on these abstract Christmas nails. Just be sure to include some sparkle.
17. Chrome Snowflakes Nail Art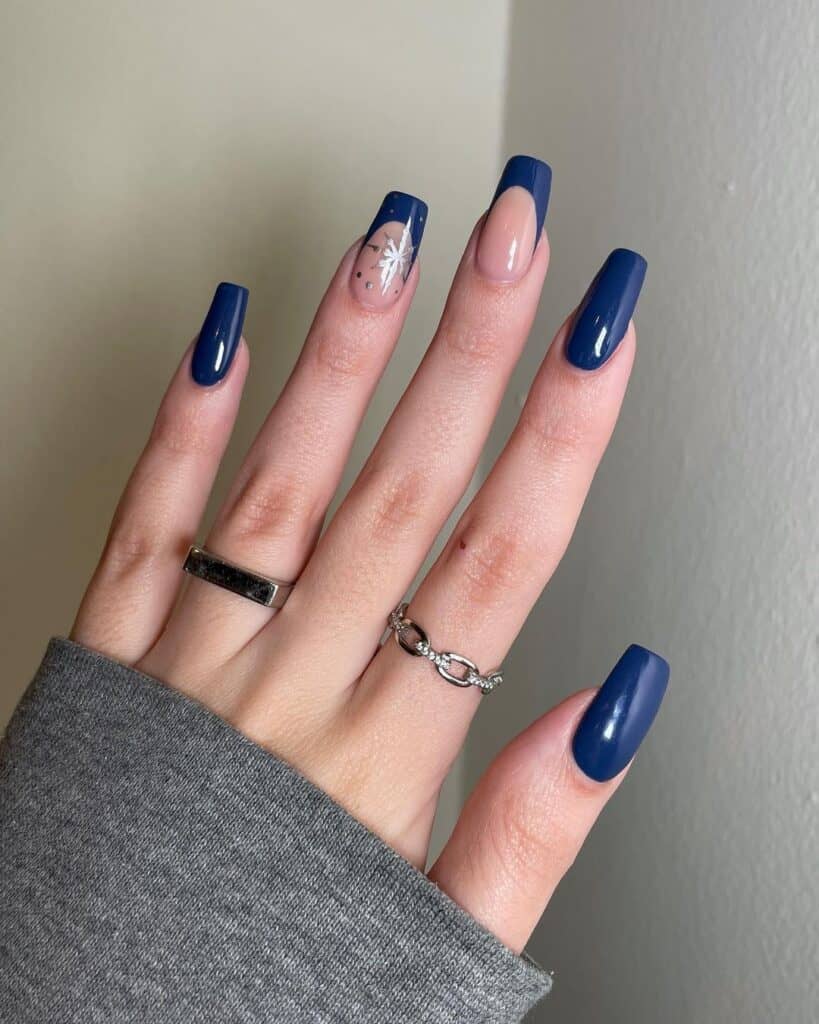 These are the all-occasion nails for the girly who's got stuff to do but would like to look fabulously festive while she takes on the world.
The French tips with a slightly seasonally correct flourish can be worn absolutely anywhere with any outfit, from the office to the dancefloor.
Plus, if you need to keep your nails a little shorter, the look still works.
18. Grinchmas Nails
When it comes to Christmas nail ideas, we're free to have lots of fun. This design takes on the task of including one of Christmas cinema's most iconic characters in such a fun and unique way.
I love that it's just the Grinche's immediately recognizable hand holding up a red Christmas tree bauble.
The Frenchies are, of course, also gorgeous. All things considered, these cartoonish-chic nails may be a bit of a challenge, so have your nail tech at the ready.
19. Rudolph the Red Nose Reindeer Nails
I'm putting these nails on my Santa list this year because I must have them at all costs.
The fresh, swirly nails next to the heart-warmingly adorable reindeer is such a charming combo.
That's even before we get to the gift-wrapped nail or the rich red French tip that keeps things classy.
I also just know that these nails would look fantastic with any type of jewelry or outfit.
20. Classic Santa Nails for Christmas
Who says long square nails and festive fun don't go together? These nails prove everyone wrong, which gives them an edge and attitude from the get-go, just two more things that are rare in Christmas manicures.
Beyond that, they feature the finest of the season quite adorably and manage to do it to a pink backdrop, which is incredibly impressive and right on trend.
These are definitely rebellious Christmas nails.
21. Noelle Candy Heart Christmas Nail Design
If you're wondering what's so striking about these Christmas nails, it's, without a doubt, the glossy sheen.
Yes, the Santa hat tip is adorable, and the candy cane tip is absolutely irresistibly cute, but I really can't get past the fact that these nails are almost reflective.
So, yes, the nail art and nail shape, including the length, are essential, but the multiple layers of the glossy overcoat are entirely crucial. Enjoy.
22. Half Moon Christmas Nail Art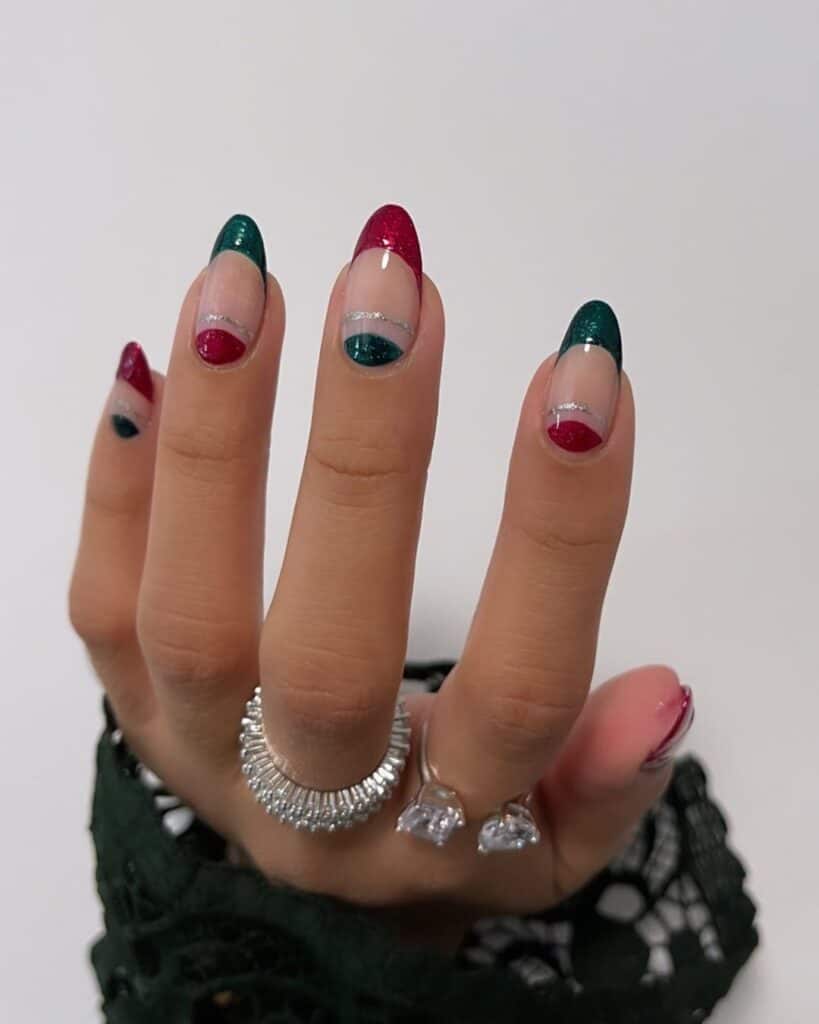 This fabulously festive manicure wins the award for most creative.
I'd also like to add chic and charming to that list, but really, I can't get over the use of clashing Christmas colors being mismatched from nail to nail.
It's so simple yet effective, even powerful, and the slight silver line just drives home how effortlessly cool and gorgeous these nails really are.
23. French Christmas Nail Design
Stylishly smart, classy, subtle, and yet brimming with chic vibes, these nails whisper Christmas in the most high-fashion way possible.
In other words, they're the cool girl influencer nails that I just know are going to be gracing our social media feeds this Christmas.
I honestly think this wonderful manicure idea effortlessly earns a top spot on my all-time favorite list. It really just is that lovely.
24. Classic Christmas Swirly Nails
Christmas nail art comes in many shapes and sizes, but it fills my heart with fashionista love the most when it comes in a swirly shape.
Yes, it's trendy, but it's also just such a treat for the eyes, which will keep you and everyone else starting at the festive beauty of your nails all Christmas long.
25. Red Christmas Gift Nail Design
If you're looking for a classic Christmas look with a lovely little twist, then this is it. What's more excitingly festive than a gift-wrapped accent nail?
It's honestly so simple yet genius and undeniably cute. Apart from that, the red sparkly Frenchies do what they do best by looking absolutely stunning.
26. Frosted Pine Christmas Nail Design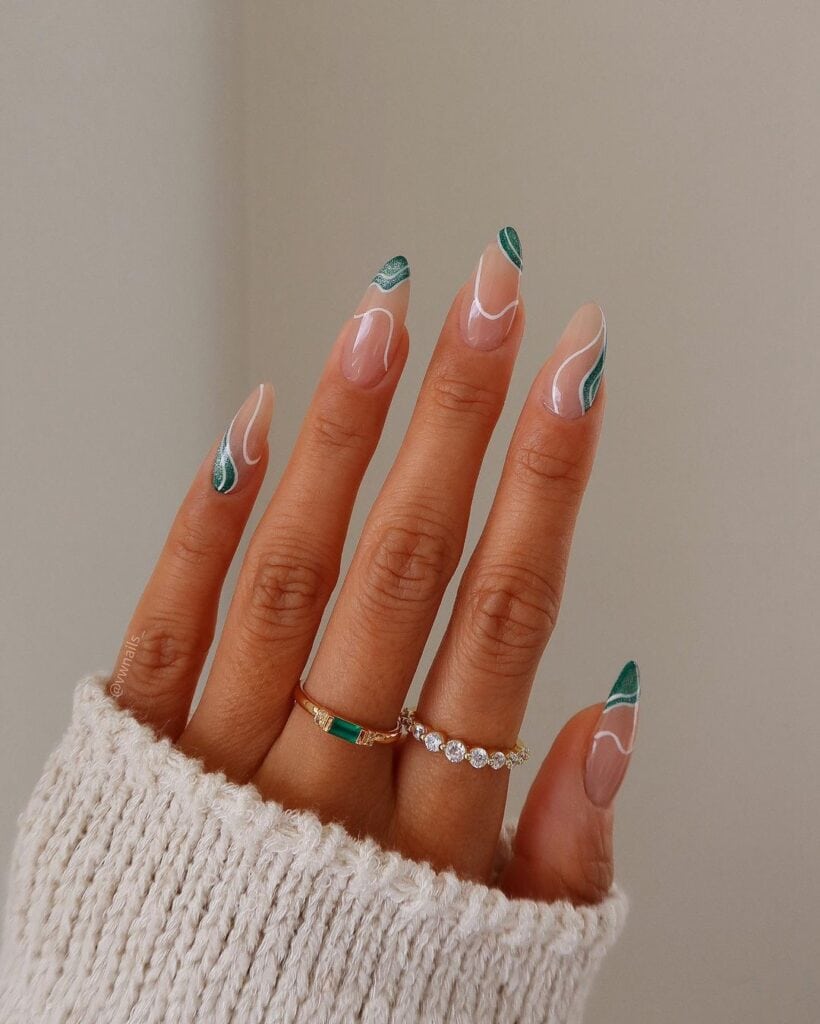 These frosted glittery green Christmas nails put the holiday in the holiday season. Seriously, they look like a little relaxing getaway on your nails, and you just know it's at a 5-star resort when they look THIS chic.
There's so much elegance and dreaminess in all of those swooping swirls that give you some
amount of freedom when it comes to putting your own unique mark on this look.
That said, the milky white semi-translucent base, blue shade, and nail shape are absolute essentials to keeping things mesmerizingly beautiful.
27. Reflective Snowflakes Nails for Christmas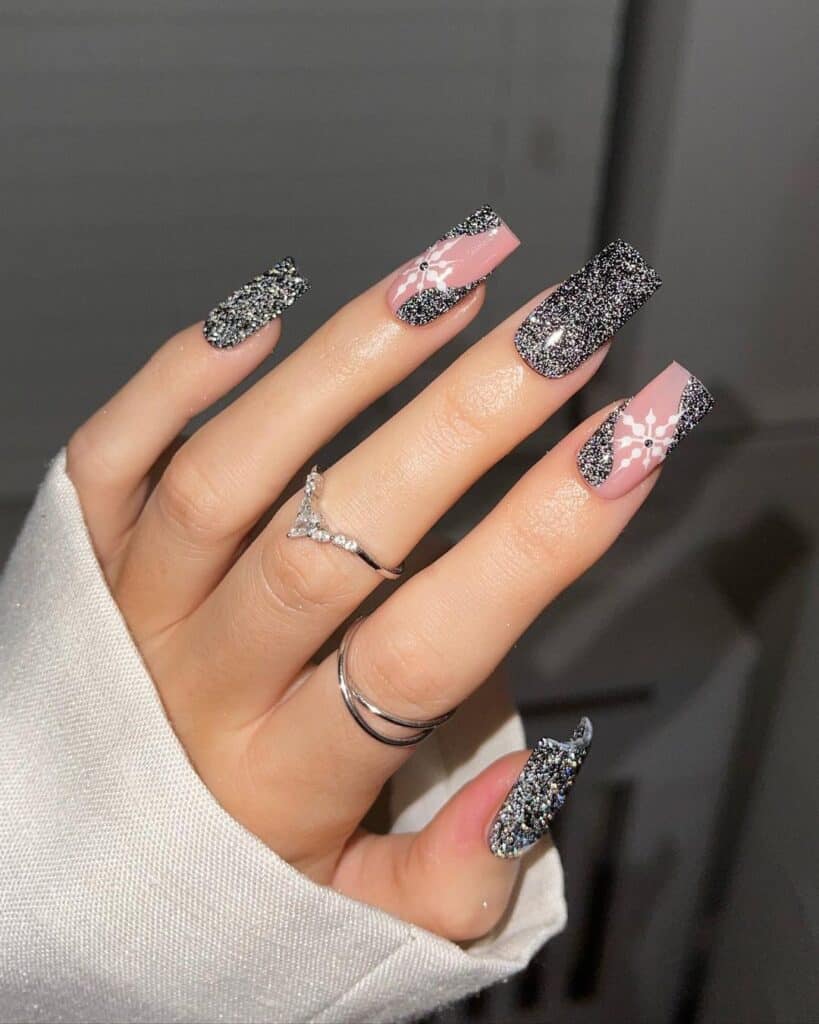 Of all the Christmas nail designs I've seen over my nail-loving life, I've yet to see one that mimics falling snow against the night sky quite as perfectly as this one.
It's almost gothic-chic in a way, which is really having a moment right about now, that's before even getting to the pink part, which everyone knows is the color of the year thanks to Barbie.
In other words, I love these nails with all my heart.
28. Cute Gingerbread Christmas Nails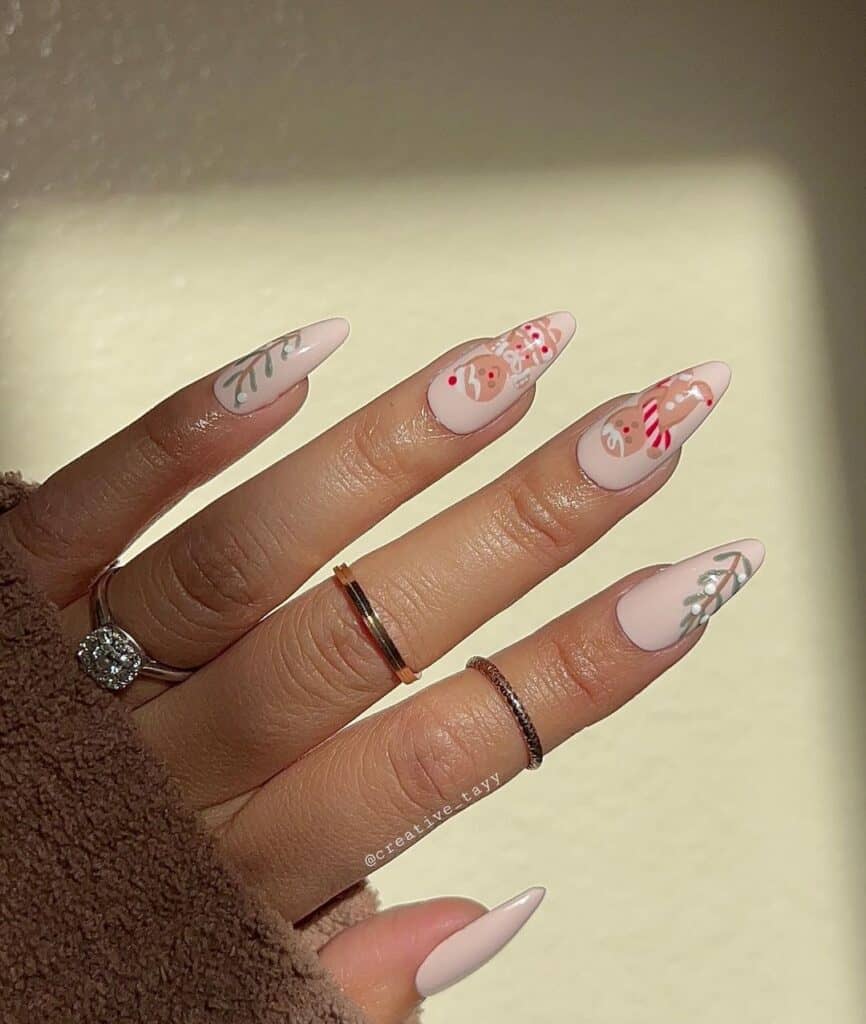 I just love when festive manicures are bright, neat, and set to a snow-white backdrop. This chic manicure is so cozy with all of its grandma's cooking vibes.
It takes that feeling of sitting by the fire with a warm cup of cocoa and turns it into high-fashion nails that look like they belong in a festive Vogue article.
While the Evergreen tree branches may be easy to DIY, I have a feeling you might want to take the adorable gingerbread men to be brought to life by your nail tech.
29. It's Holiday Season Nails
If you're not sure which holiday manicure to go for this year but want to make sure you cover absolutely all of the most classic details, shades, and nail art, these are the nails that have it all.
From a sparkly bauble to a mint-sweet nail and even a print nail paired with a Christmas tree, it can't get any more captivatingly Christmassy than this, truly.
30. Green Plaids Christmas Nail Design
Christmas nail designs that look trendy and awesome every single year are hard to come by.
That said, I truly think these are timeless Christmas nails that can last from the 1st of December to the end of the month, even fitting right in on New Year's Day.
They're just so exciting, chic, and ready to party while also looking great with all outfit and accessory choices.
31. Peppermint Candy Cane Nails
Freshness and energy are completely invaluable when it comes to perfecting the classic Christmas nail.
In fact, these lively designs are one of my favorite types of festive nails with their creative use of blue and adorable application of delicious nail art.
The oval nail shape is absolutely essential to the playfulness and softness of this look, so be sure to keep everything as rounded as possible.
32. Cute Red French Tip Nails with Starry Snowflake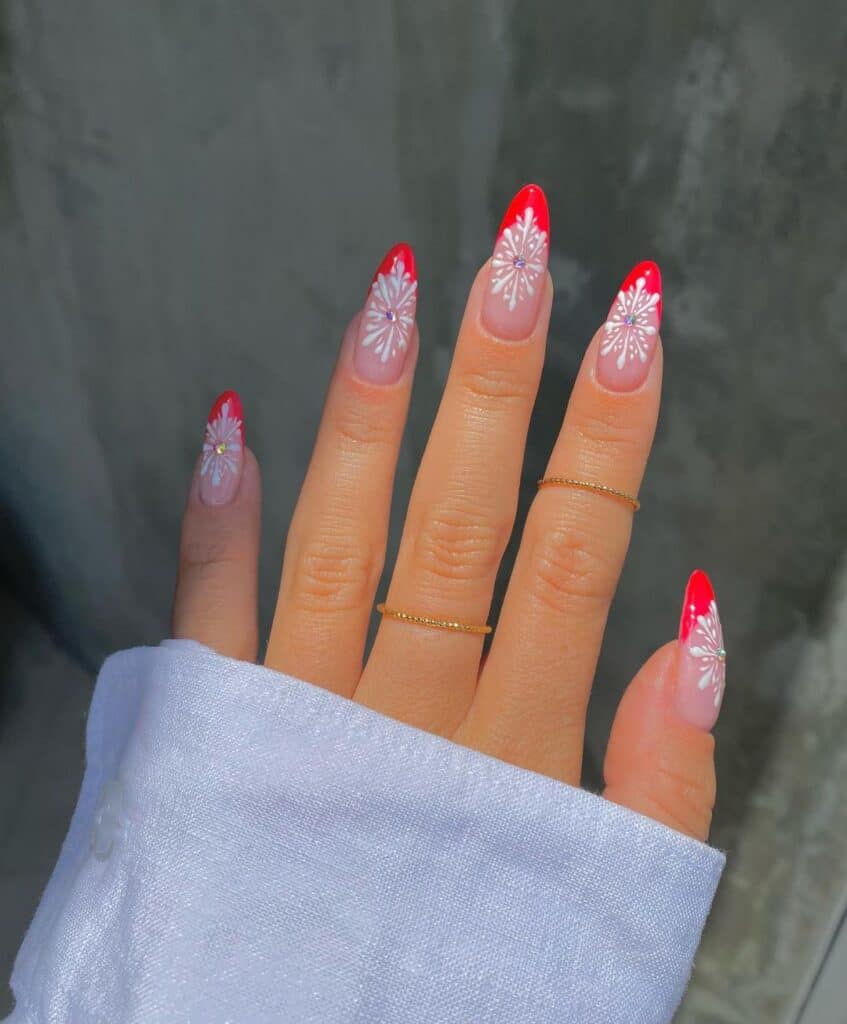 The snowflakes look like little fireworks explosions across your nails.
They almost look 3D as they leap off the nails and grab attention from all around.
You might also notice the little light shade around the cuticle that brings out the warmth in these stunning nails.
33. Glowy Green Christmas Nails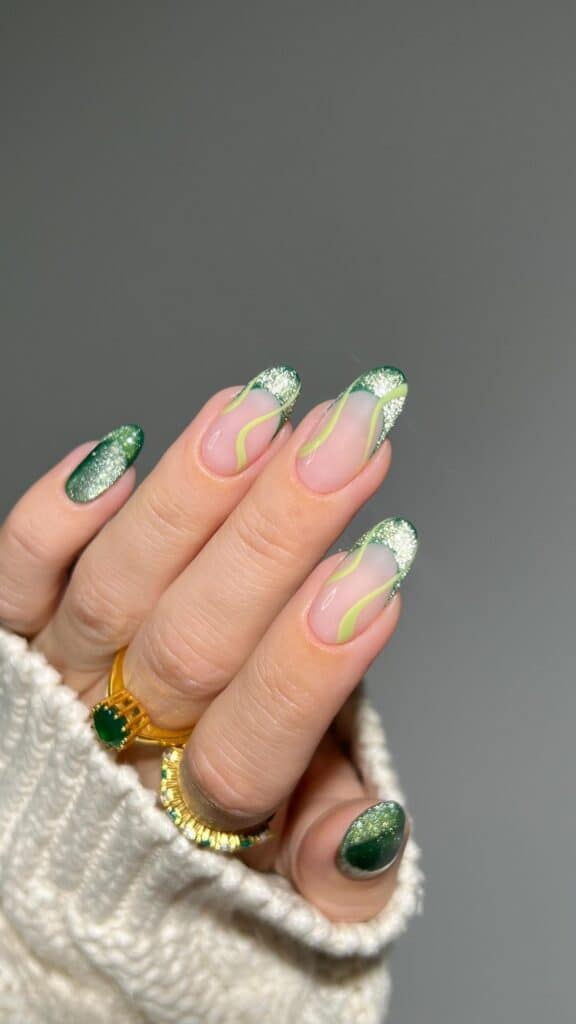 This is possibly the closest to neon that's not really neon that you're going to get around this time of year.
The manicure is almost iridescent thanks to clever use of shades and sparkles, with the semi-translucent base playing an important role by allowing the natural light to shine through.
Plus, green is just one of those unique Christmas colors that works perfectly for experimental and abstract looks that are getting more popular every year.
34. Delicate Xmas Nails
These Christmas nails were made for the gal on the go who wants to take care of business while still looking her absolute best.
The short oval nail shape is so practical and fits all of the gorgeous details wonderfully. It's just such a neat and no-fuss look that's cut from top to bottom. I'm in love.
35. Chrome Glittery Christmas Nail Design
Silvery chrome has inflicted every style domain this year. From home decor to high fashion, the sci-fi and metallic sheen is really basking in the spotlight.
So, there's no better time to turn up the lights on your classic sparkly nails and make them as bright as possible.
The swirls keep things cool, chic, and even a little fun, so the manicure doesn't become too intense for the festive season.
36. Side Santa Hat French Christmas Nails
French tips seem to have taken on every shape, shade, and theme by now.
However, just when you think you've seen it all, some nail design genius comes up with a new addition that just takes my breath away.
The Santa hat tips are just so unique and adorable. Plus, the fluffy line means that they're simple to DIY since you don't really have to worry about making mistakes. Just be sure to file your nails down well first.
37. Christmas Puds Nails
Not to use a cliché, but these nails really are good enough to eat. As far as Christmas nail ideas, this is by far one of the most loved and cherished worldwide.
The idea of a dessert-based manicure is just so fun and is sure to land you plenty of compliments.
Plus, they're always fun to show off and joke about around the dinner table. So, do yourself a favor and put these surprisingly easy-to-DIY nails on your must-try list.
38. Sparling Black Christmas Nails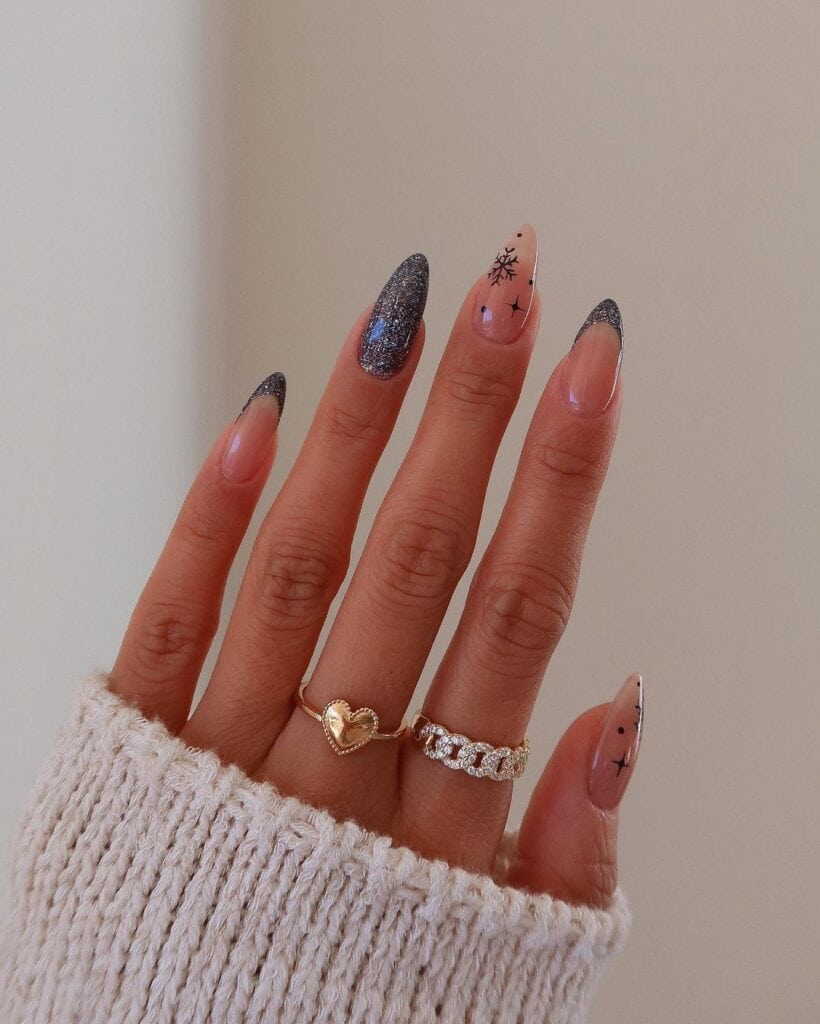 Consider these nails your ultimate accessory this Christmas. They're just the right amount of sparkle and twinkle without stealing the show.
They're like a tasteful diamond ring that you wear all year round, but this time, it has a festive twist. I just love the black polish snowflakes.
That's a nice change from white and also keeps this look low-key chic.
39. Mistletoe Christmas Nail Designs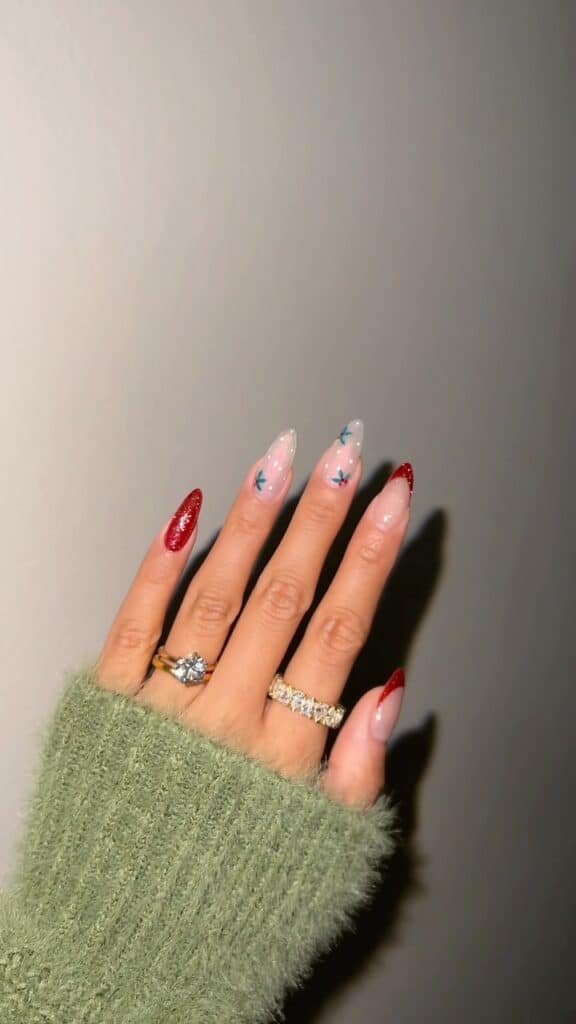 These nails bring a vibrant and fun vibe to Christmas. They're like mulled wine and too much pudding.
They're the nails for the girlie who plans on enjoying Christmas to the fullest while looking absolutely stunning in the process.
Plus, as long as you start with a slightly opaque milky base, the rest should take care of itself.
40. Frosty Christmas Nail Idea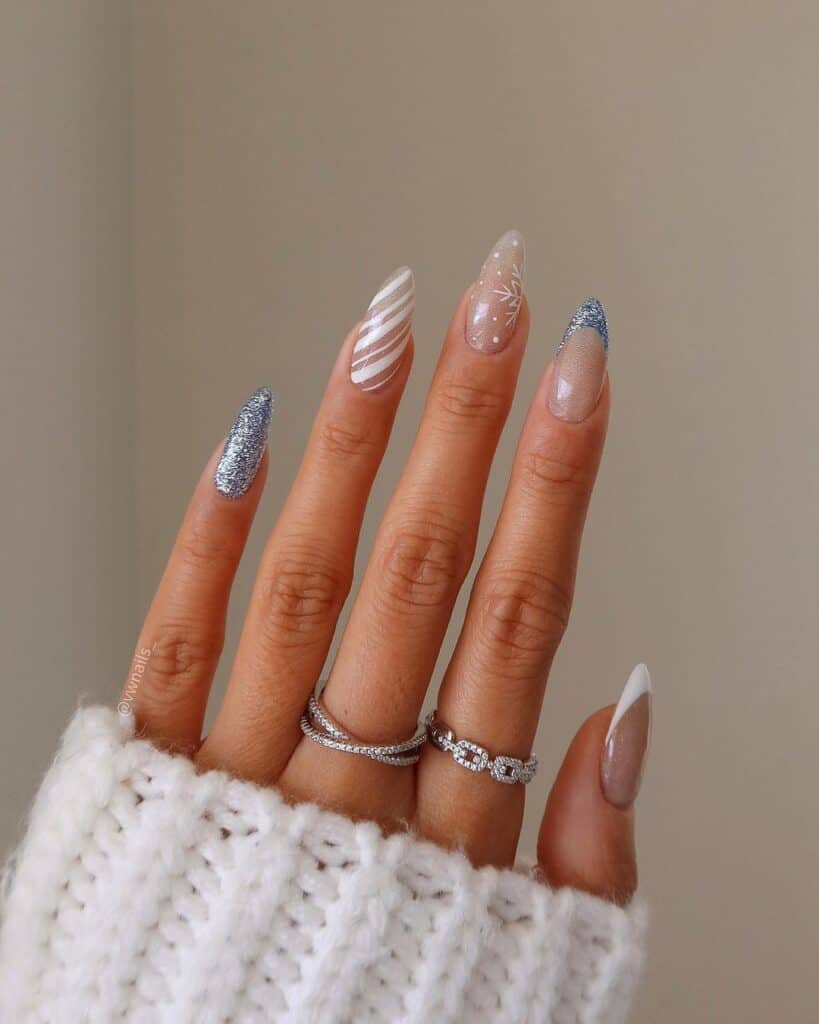 There's something a little ice queen about these types of Christmas nail designs, and I'm here for it.
It's hard to add attitude to festive nails, but this manicure mangoes it with effortless style, all while looking like a winter wonderland painted across your hand.
Since they include everything that makes Winter nail designs fabulous, I'm going to call these the influencer nails for the gal who just wants to look great this year. 
41. Christmas Tree Nail Art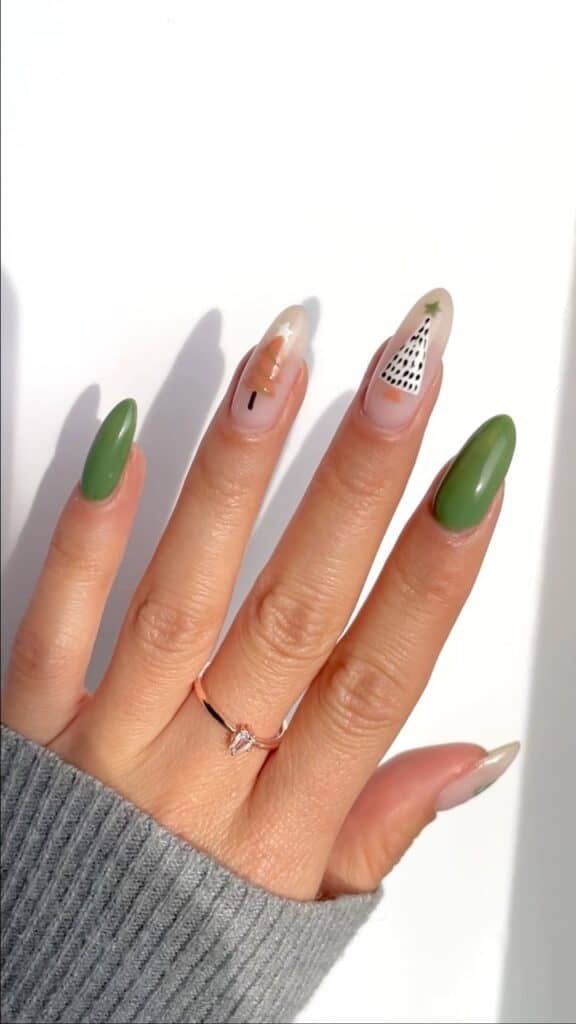 If you're a teacher, student, work in an office, anything beyond, or anywhere in between, these are your adorable, every-occasion nails.
They're easy-going, good vibes, and literally suit any mood or environment.
There's absolutely nowhere these beauties don't fit in, and they also won't get in the way of any of your outfit plans. What's not to love?
42. Sparling Christmas Mani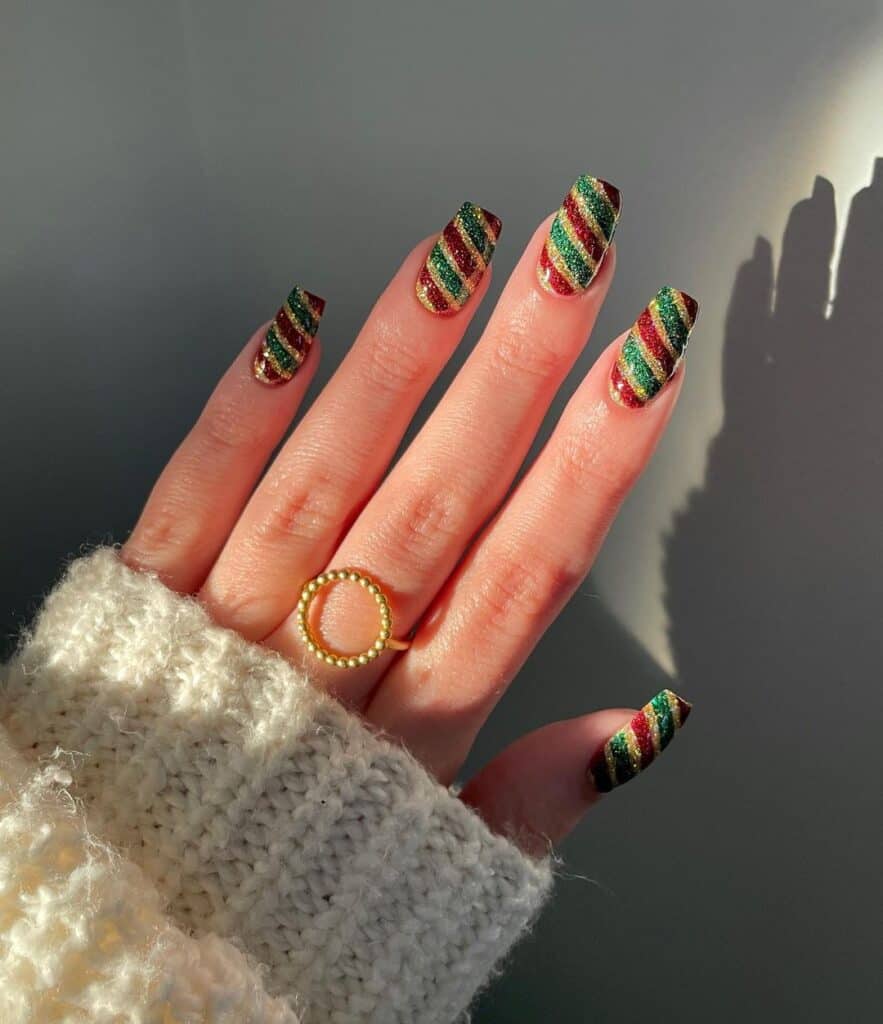 Like presents wrapped under the tree, these nails are pure excitement and good vibes. While they're quite playful and dazzling, they're also, excuse the pun, really polished.
What I mean by that is that the sharp lines, contrasting Christmas colors, and clear glossy overcoat make this look strikingly neat and strong.
It's actually quite powerful and intense and I'm here for it.
43. Classy and Clean Green Nails
Green is the most sophisticated and vintage color of this wonderful time. It's almost a little retro and brings the aura of the 50s.
So, really, this manicure is a little old-school but in a classic Audrey Hepburn way. Elegance is their main trait, and refinement follows soon after.
Just be sure to pick the right shade of emerald green while keeping the adorable nail art compact and low-key.
44. Christmas Swirls Idea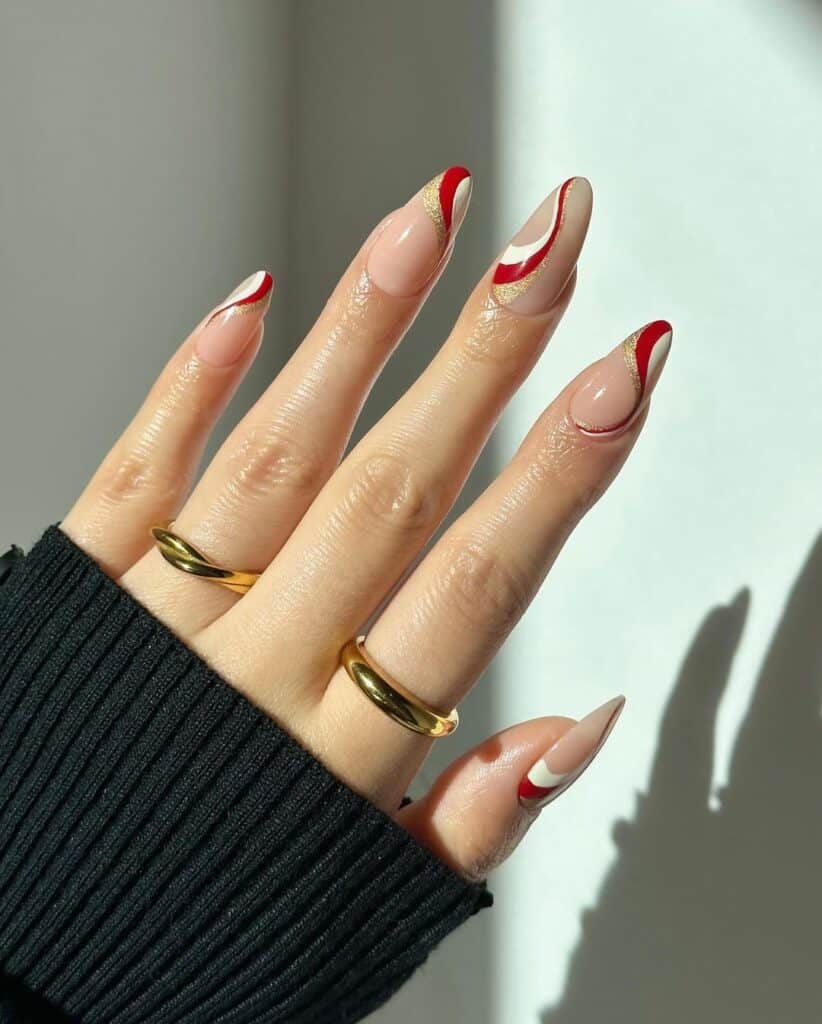 There's something minty, fresh, and exciting about this manicure. It's even a little low-key, which I love.
That means it'll keep things light-hearted and match perfectly with absolutely any Christmas outfit you choose.
The manicure also won't clash with any of your rings while still looking entirely gorgeous and distinct in its own right.
45. Christmas Nail Art for Wednesday Addams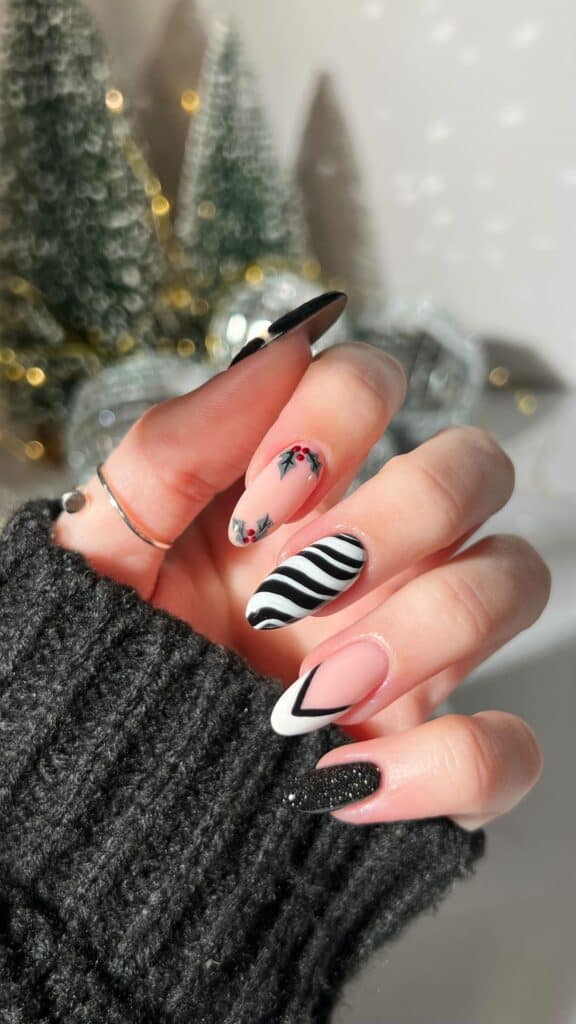 When it comes to Christmas nail art, little sprigs of holly have to be my favorite kind. I especially love it when they pop against a black or white background.
Bonus points if both colors are included, like in this design.
Your biggest challenge to achieving these fun yet elegant nails is likely the swirl nail that'll need a little extra patience and skill, but I have faith in you.
46. Trendy Short Christmas Nails
For all short nail lovers, you can't miss out on getting your short Christmas nails done. These short nails for Christmas are classy and unique.
You can easily recreate this Christmas nail design in no time.
47. Golden Wintery and Christmas Nails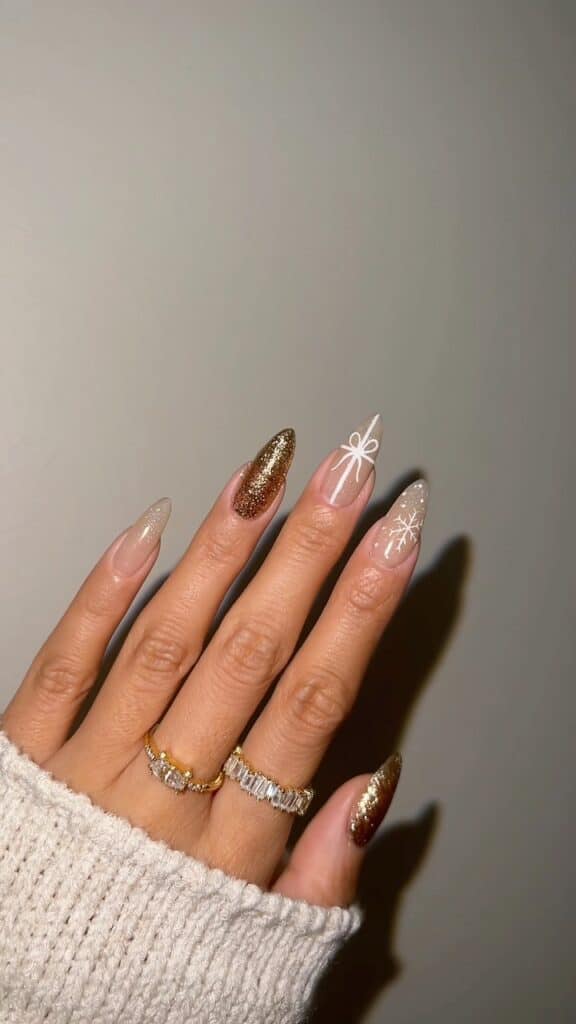 Consider this manicure a little present to yourself this Winter. It glistens like tinsel and twinkles like fairy lights.
And that's before we even get to the adorable gift-wrapped nail that's actually quite easy to DIY.
All you'll need to do is dip a clean toothpick into white polish and get painting. The same could be said for the delicate snowflake and mesmerizing snow effect.
48. Glam Holiday Nails
These are Christmas decorating nails. They're exactly what you want to see on your hands as you hang baubles on the tree, string lights around the house, and place decorations everywhere your heart desires.
They're just so exciting, cozy, and full of good vibes, thanks to the life that the sparkles bring.
The little red baubles are such a lovely touch and don't forget to place a semi-opaque coat over the natural nail to create that dreamy and polished aura.
49. Pink Christmas Nail Design
Pink is having more than a moment this year. It has become the moment. In fact, thanks to Barbie, it's the color of the year, and I expect to see even more of it next year.
Here, we see the entire perfectly pink spectrum fade across the nail with multi-sized glitter sprinkled on top.
The glitter is quite large in some parts, creating more of a confetti effect while adding depth to the nail.
As for the snowman nail art, well, that's just adorable.
50. Frozen Christmas Vibes Nail Design
Blue is a color that comes with royal and luxurious connotations, especially when it's deep, sapphire blue that's quite sumptuous and even somewhat mesmerizing.
Combine it with dizzying silver sparkles, and you have yourself some of the most sophisticated Christmas nails we'll see this year.
51. Christmas Nail Sets
It's a cute, chic, and simple manicure, but make it festive. Perfectly pink and leaning into the tanned neutral side, the shade is low-key, and the nail shape and length match perfectly.
The little adorable penguin is perfectly created and completely adorable, making this simple look quite Christmas-chic.
52. Fat Santa Holiday Nails
It doesn't get much more classic Christmas nail designs than this.
If you're overwhelmed by the selection of wintertime nails to choose from and just want something that says Christmas while looking chic and unique all at once.
Consider this manicure an early Christmas gift wrapped up in a sparkly bow.
53. Chrome Christmas Nails with Pearls
These nails are so luxurious and mesmerizing.
They're state-of-the-art nails that look incredibly futuristic thanks to their metallic, almost chrome-like sheen that's taking the nail scene and fashion world by storm lately.
On top of the dreamily shimmery background is a treasure chest of delicate and girly nail art detailing that I'm head over heels for.
54. Tiny Gingerbread Cookies Nails
Christmas nail art has never looked so fabulous. They look like little presents that have been wrapped in pretty Christmas paper.
I love the candy cane lining that frames the nails for the party within. Pink polish with red speckles and a cute gingerbread man on top is always a winning combo.
55. Holo Taco Merry Christmas Nails
These nails remind me of cherished childhood Christmas memories.
They're so quaint and adorable and like something right out of a Christmas children's fairytale book.
Of course, they also have a gorgeous edge thanks to the funky yet refined swirls and the adorable nail art. 
These nails remind me of cherished childhood Christmas memories.
They're so quaint and adorable and like something right out of a Christmas children's fairytale book.
Of course, they also have a gorgeous edge thanks to the funky yet refined swirls and the adorable nail art.
56. Classic French Candy Cane Nails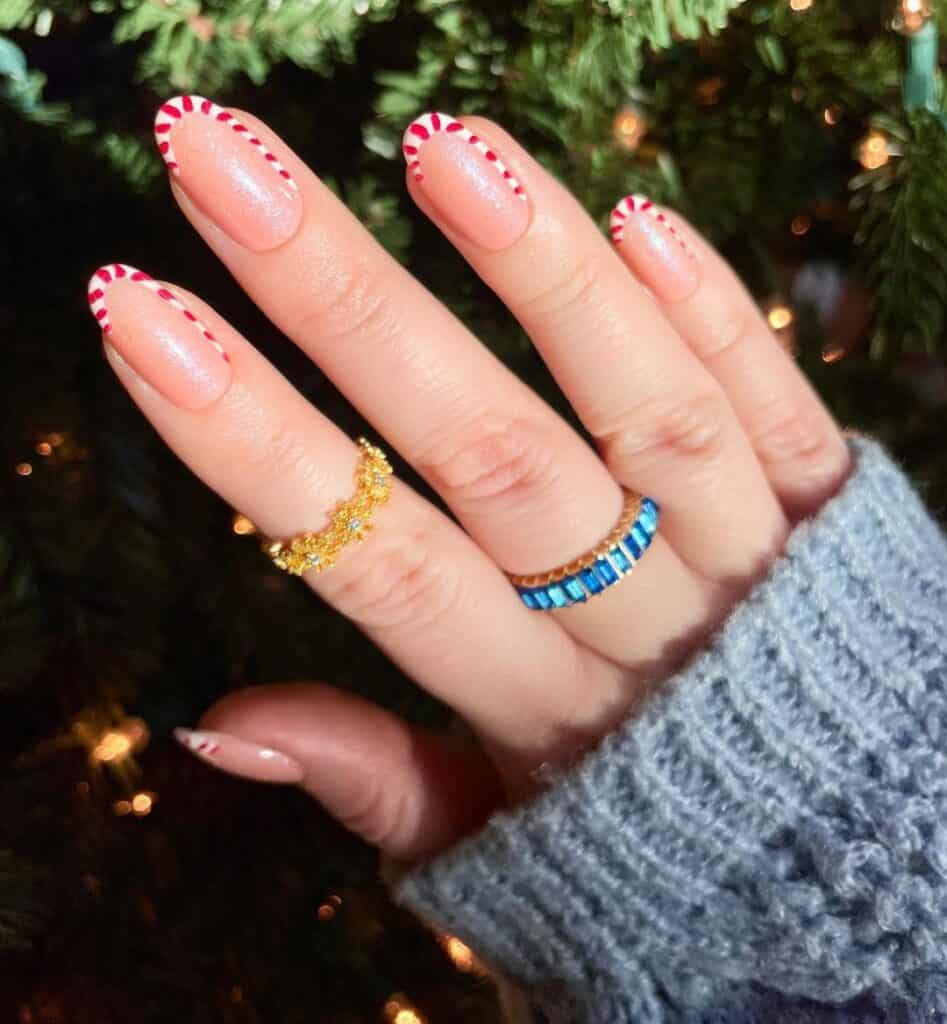 I am utterly head over heels for these Christmas nails. They're so sweet, literally.
They're also just genius using the classic, much-loved, and pretty candy cane to create chic and fun French tips.
They're such a unique idea and actually pretty easy to DIY, so you know what to do.
57. Cute Christmas Lights Nails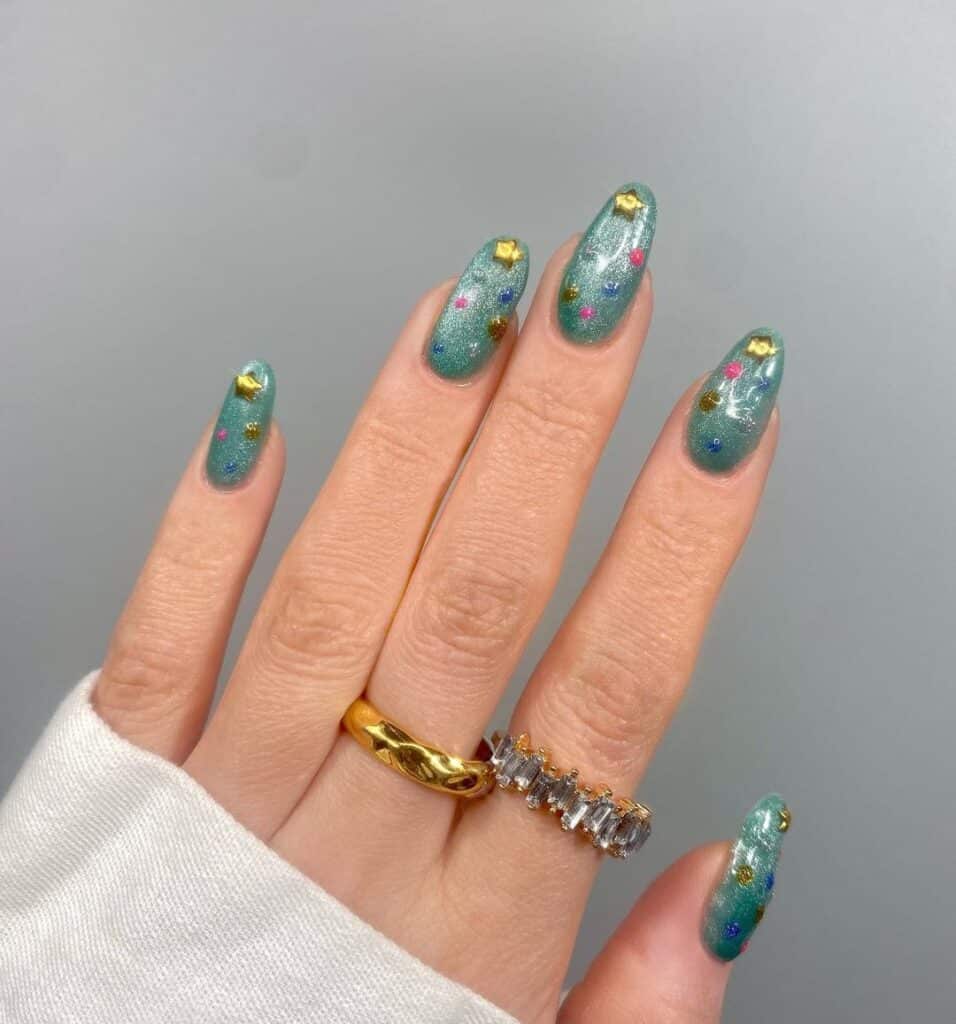 These nails are like little adorable and ornate Christmas trees painted across your nails. I just love seeing green in Christmas nails.
It's such an underestimated color around this time of year, but is fabulously festive and adds a fresh touch to manicures.
My favorite part about these nails is also that they look like a lot of effort but are actually delightful and easy to create with just a layer of green glitter polish followed by multi-colored dots.
58. French Christmas Nails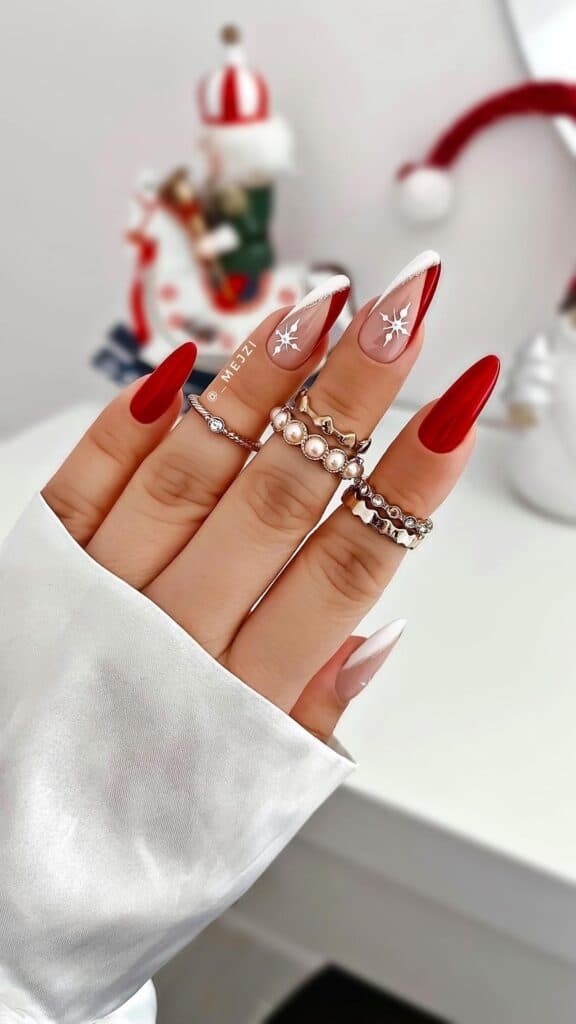 When it comes to Christmas nail designs, this is the Mrs Claus manicure of the bunch.
She's been busy and taking care of business all year long, and now she's ready to shine. These are the girlboss winter nails.
They've got attitude and sass, and they're as chic as can be. All that's needed to finish the look is a glossy coat to keep things fancy.
These Were Cute Christmas Nail Designs and Christmas Nail Ideas You Have to Recreate This Year