This post may contain affiliate links, which means I'll receive a commission if you purchase through my link, at no extra cost to you. Please read full disclosure here
Looking for some cool, pretty winter nail designs, so you switch up your nails this winter? You're not alone!
These winter nails of 2023 are the best nail art you can find this winter season.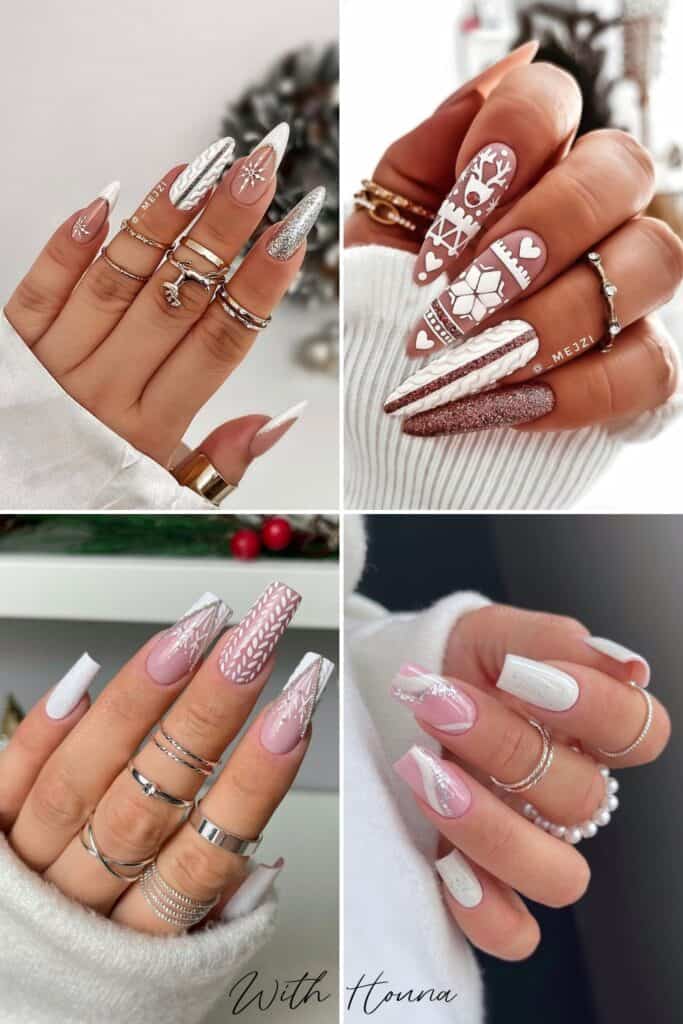 The cold winter season is here, and gloves are back on our hands. But what happens after you take off those gloves?
And when your gloves go off, a pretty manicure should be out glittering as you attend those endless meetings and festive parties.
Imagine receiving compliments from others every time you take off your gloves – Exciting, right?
Even when you don't have events lined up for the season, having a well-done manicure makes anyone feel good as you curl up in the blanket and binge-watching your favorite shows. (I don't know if I'm alone, but pretty nails make me feel prettier, lol).
If we're being honest, winter nails are so pretty, cool, and heartwarming because of the cool-toned polishes, especially those icy blues with snowflakes' winter nail designs.
Whether you want to go for the classic look – the French manicure with a twist or you want to go for bolder winter nail designs with burgundy, navy, and emerald green nail polish.
Or you can opt for ombre effects, icy blues and shimmering silvers, and holographic Stripes. There are assortments of winter nail designs to match your personality, mood, and outfits for the season.
And to make it easier for you to get your winter nails done. We've made a list of the prettiest Winter nails ideas, so you can get your manis ready and show off. These winter nail designs are stunning, and I know you'll love them too.
The Cutest Winter Nail Designs
1. White Sweater with Snowflakes Winter Nails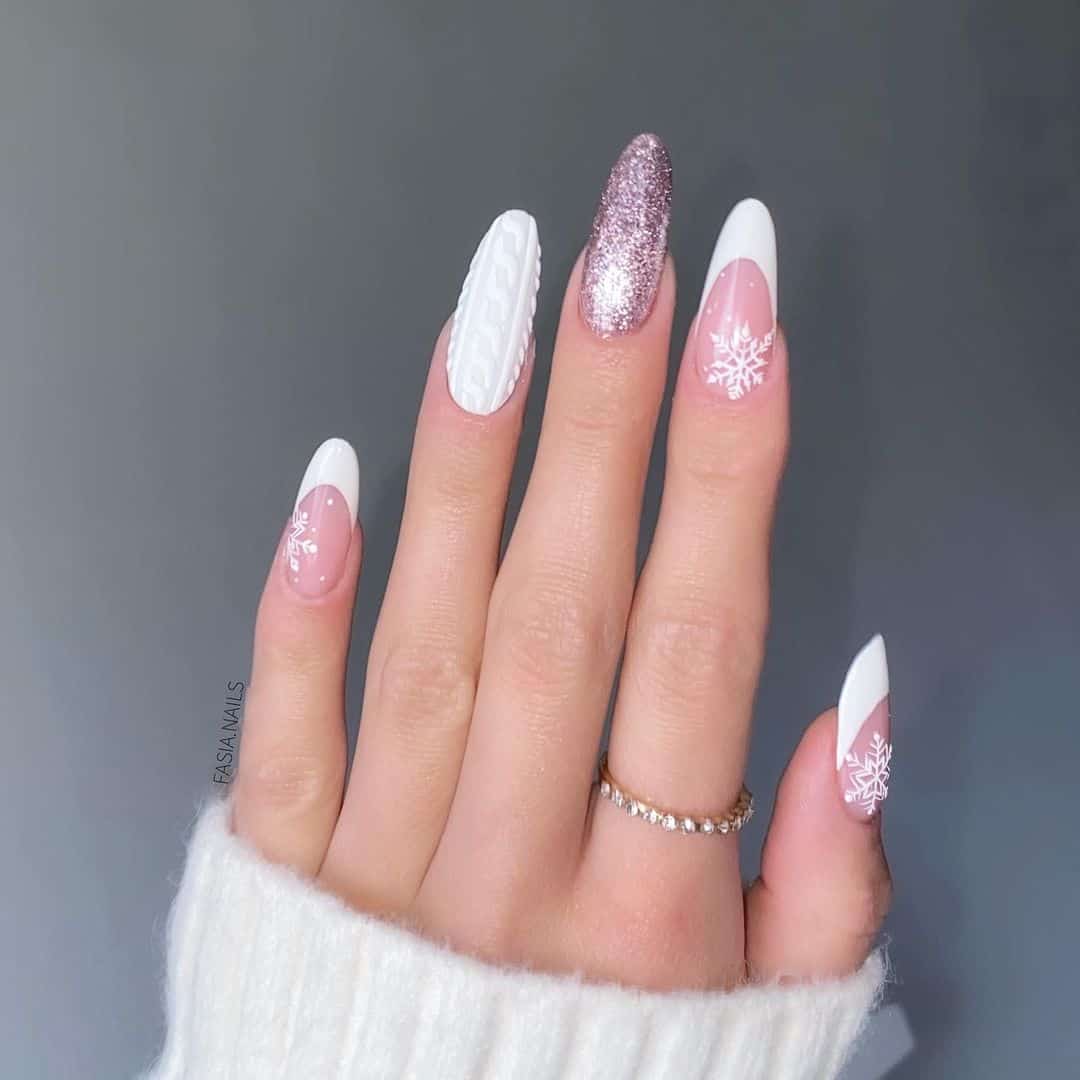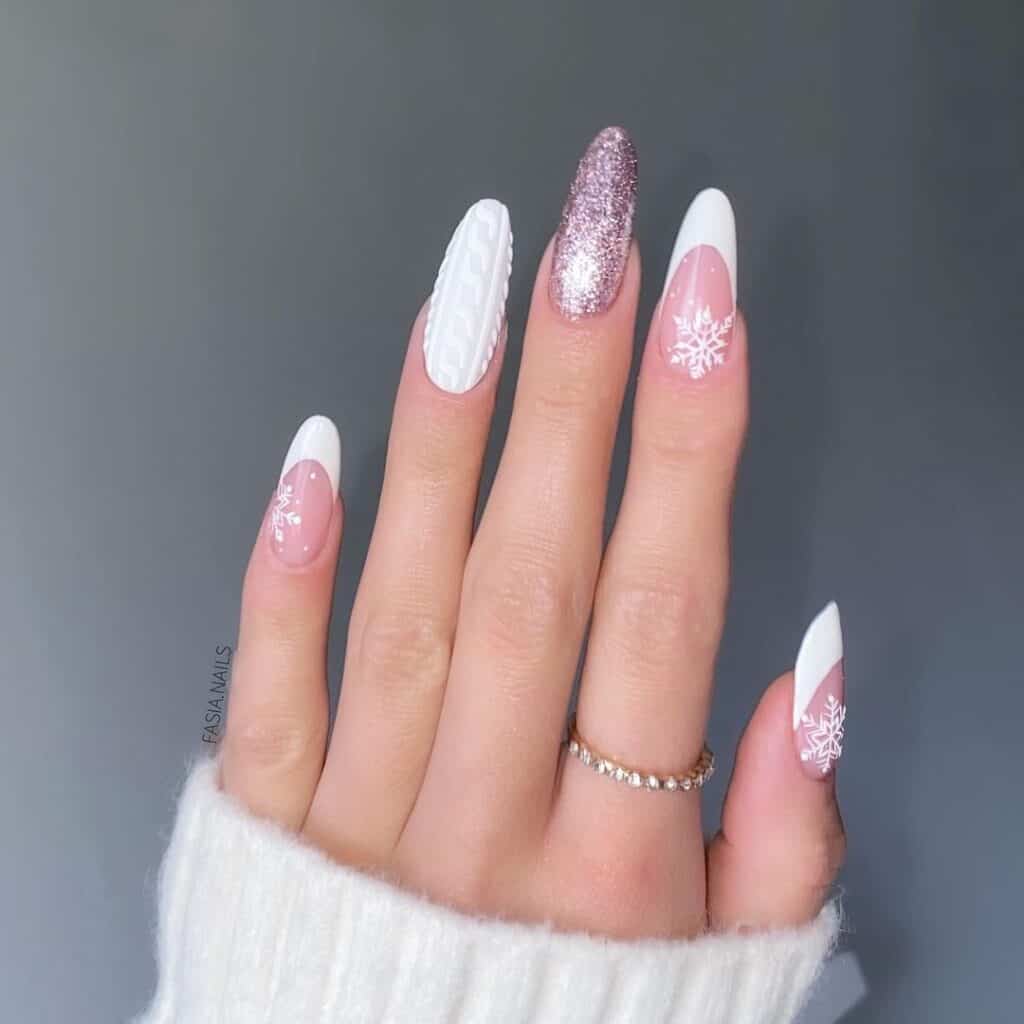 Christmas has become synonymous with the term sweater weather, so it was only a matter of time before we wrapped up our nails in stitch cable.
The result has been about as cozy and cute as you'd suspect, but since we're never satisfied in the style world, we went beyond that and paired it with snow-white French tips sprinkled in snowflakes with a warm purple nail to really bring the shine.
The length and shape of this manicure is absolutely essential to the effortlessly elegant allure, so be sure to keep them long and leave no sharp tips or angles.
2. Lilac Winter Sweater Nails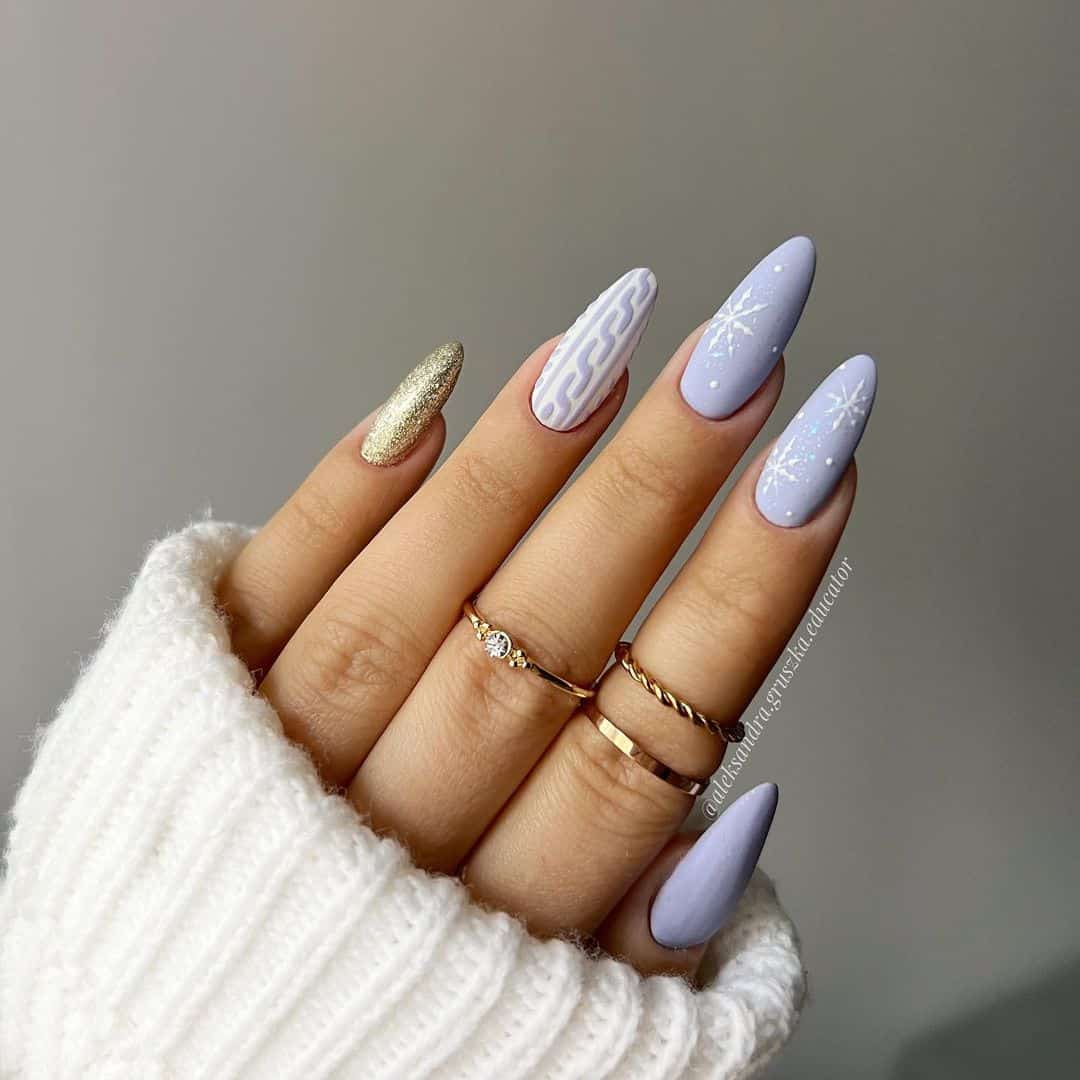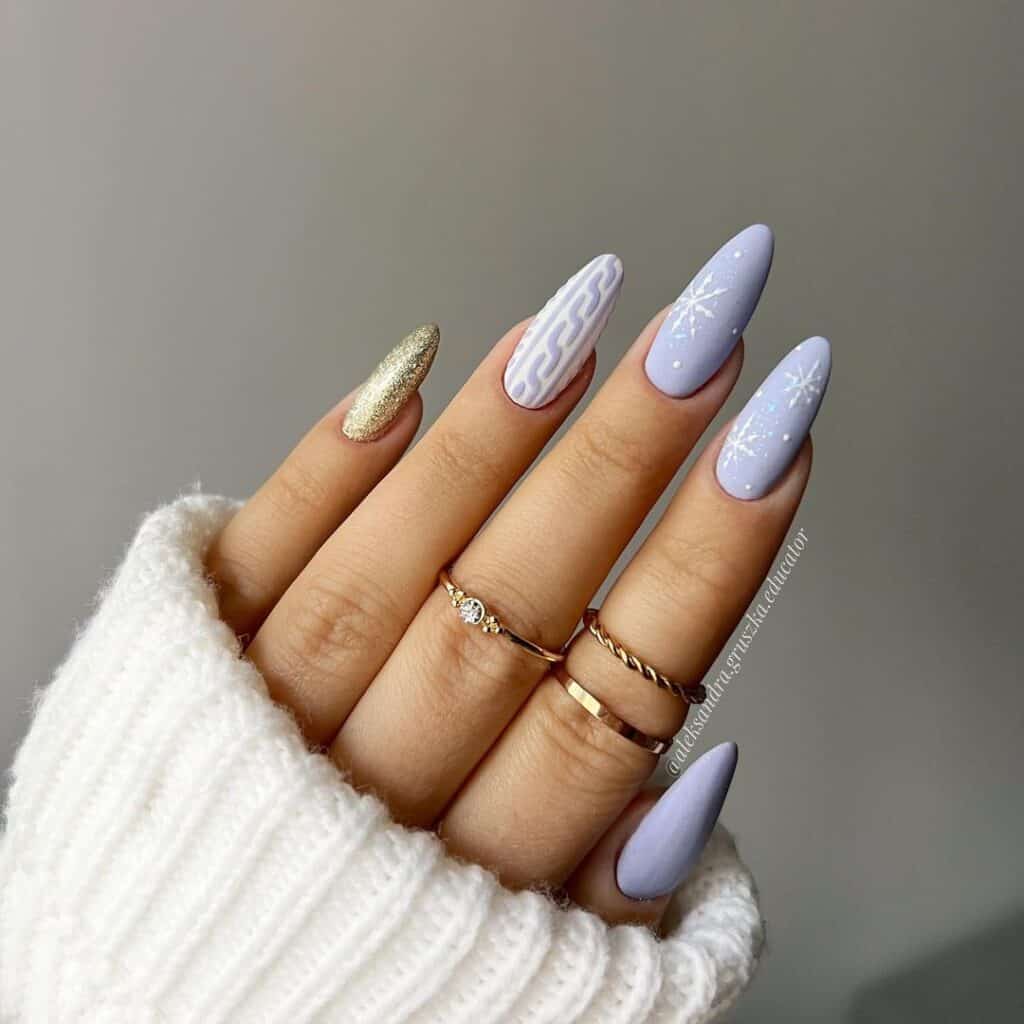 If you plan on having a low-key and snug Wintertime, then these are the nails that'll match your vibe and look fantastic by your side.
They're the type of nails that look just as good wrapped around a hot chocolate mug as they would on the dancefloor at a work party.
Plus, the pastel purple won't clash with any of your outfits, and the sparkly nail is just enough shimmer and shine to elevate them to exciting status.
They cover most of the Christmas trends, which means you should be able to take them on yourself, but if you'd like to give them a professional edge, then your nail tech will be delighted to take such a cute design on.
3. Cute Winter Chrome nails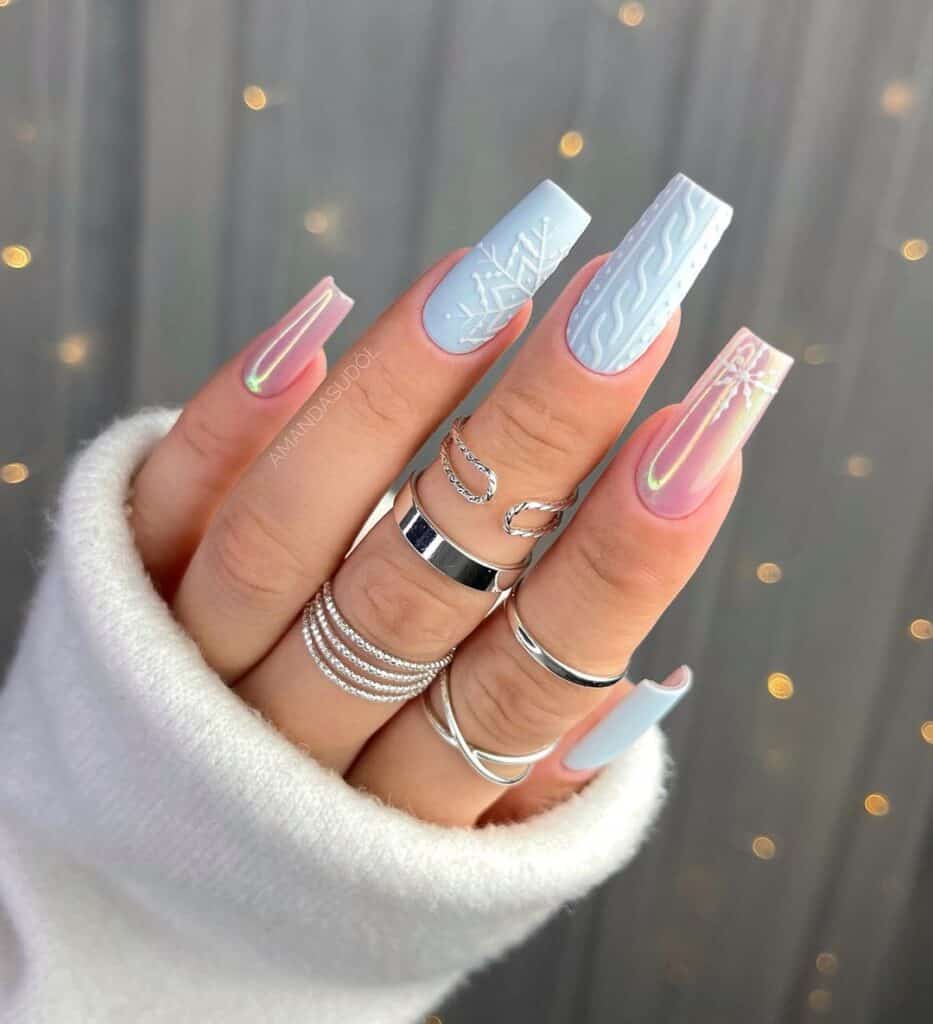 Maybe it's because they have the sharpness of ice and icicles, but filed-down square nails really bring out the best in Christmas nail designs.
That's probably why these nails literally look like Christmas in manicure form.
There's magic everywhere, from the 3D effect to that glossy sheen that almost twinkles. It's really a shimmery sensation and quite a lot to take on for yourself, so use these nails as an excuse to book a trip to the salon and then post them everywhere because we all need to see more of these breathtaking beauties.
4. Pink Winter Snowflake Nails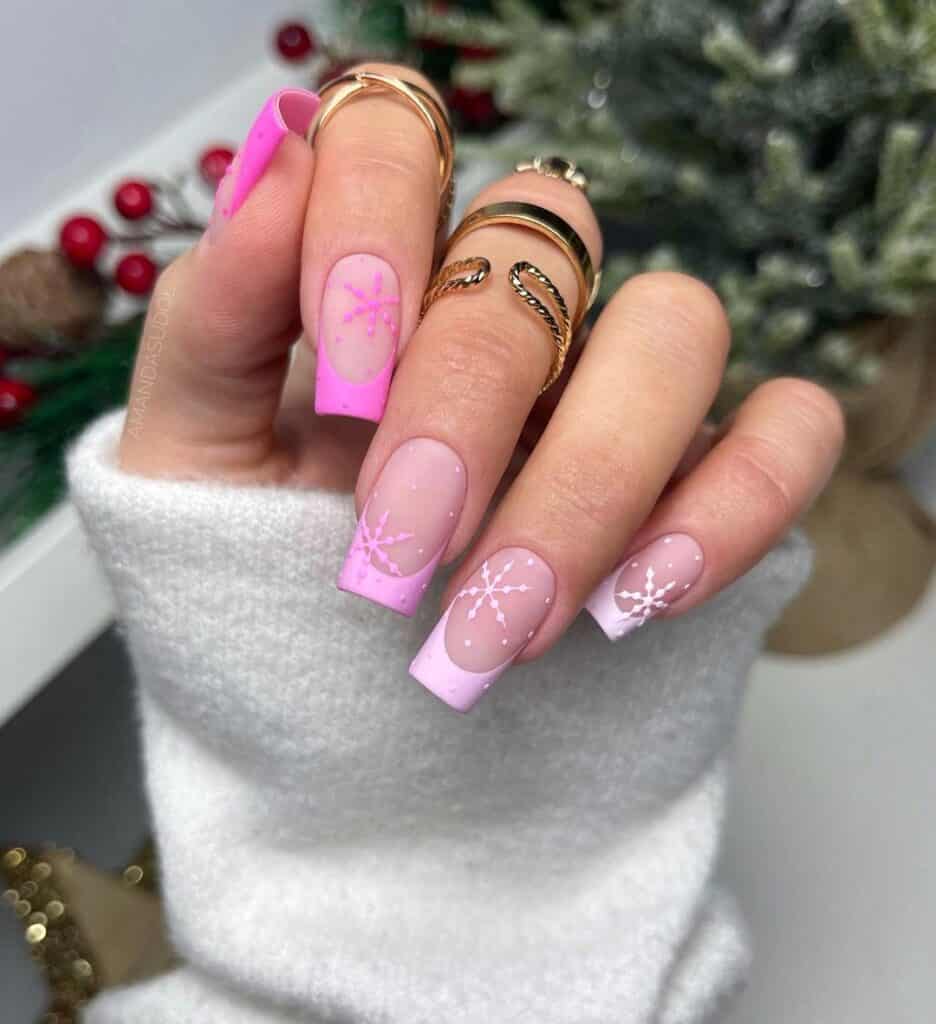 We're having a pink year, thanks to Barbie, and I'm here for it. I knew my favorite shade would find its way into every season's designs, but I had no idea it would do it with such effortless style.
Pink looks right at home in the Winter nails as it goes from cold to warm across these gorgeous gradient nails.
Using most of your natural nails, this manicure is mainly tips and detailed nail art that easily comes to life with a bit of patience and skill. Just keep a Q-tip nearby to mop up any mistakes.
5. Blue Glittery Winter Swirls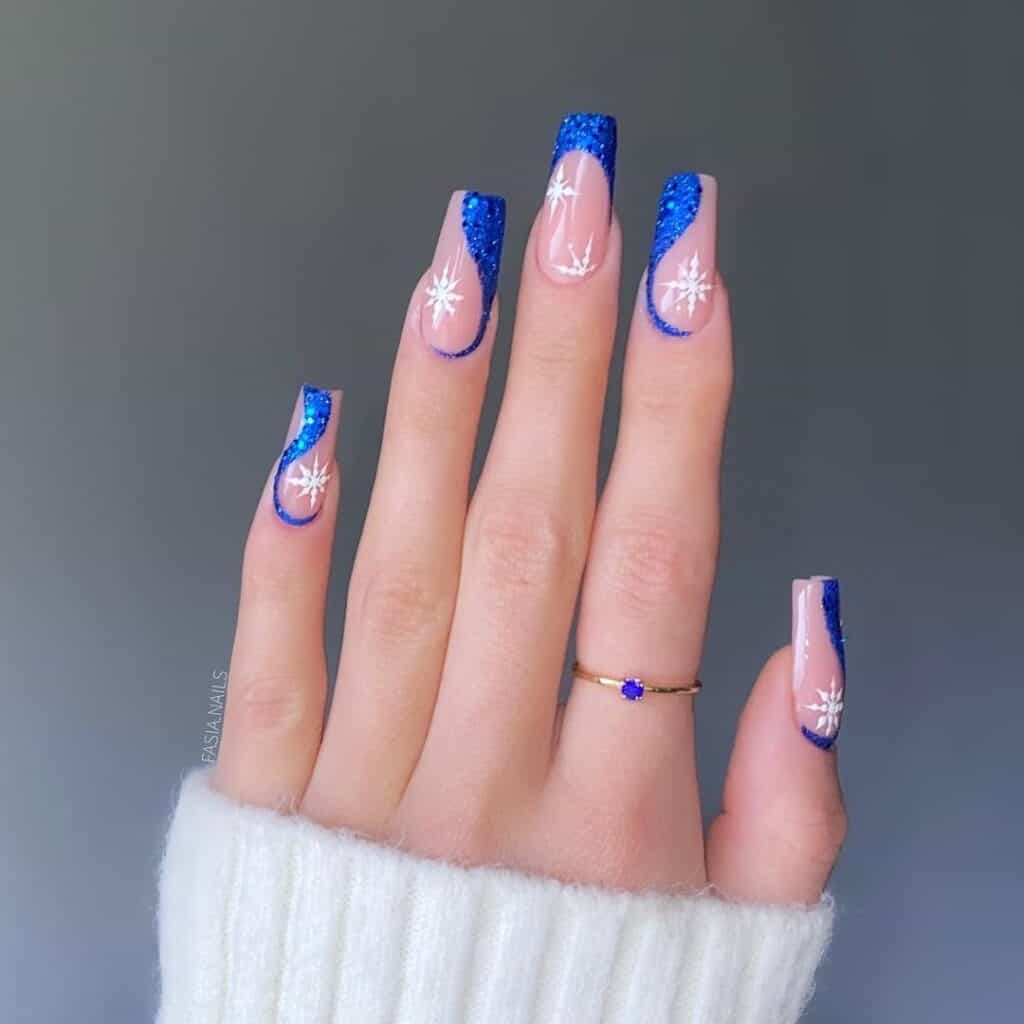 I'm getting all the iciness, glamor, and heart-warming vibes of Frozen from these nails. They're quite Disney in composition, with striking swirls, fun details, and a nail shape fit for a princess.
They really are the ideal fairytale Christmas nail designs. And while they really look like they tell a whole story and would be quite hard to take on yourself, in reality, all you need are long nails, a strong nail file, blue glitter nail polish, white polish, and some skill.
It really is as simple as that.
6. Sugar Effect Winter Nail Designs
Every year, there's one high-fashion Christmas nail design idea that just takes my breath away.
This year, it's this beauty, and maybe not for the reasons you think. Really, I'm just in awe at how modern and classic favorites have been brought together in a single manicure that really steals the show.
We have symmetry, 3D effects, different textures, and perfect plaid. Need I say more? Well, no, these nails really do speak for themselves.
But, I just have to point out that the nail shape is absolutely essential as a canvas for this design, so keep them well-filed and long if this is the manicure you see yourself wearing in the future.
7. Black Snowflakes Winter Nails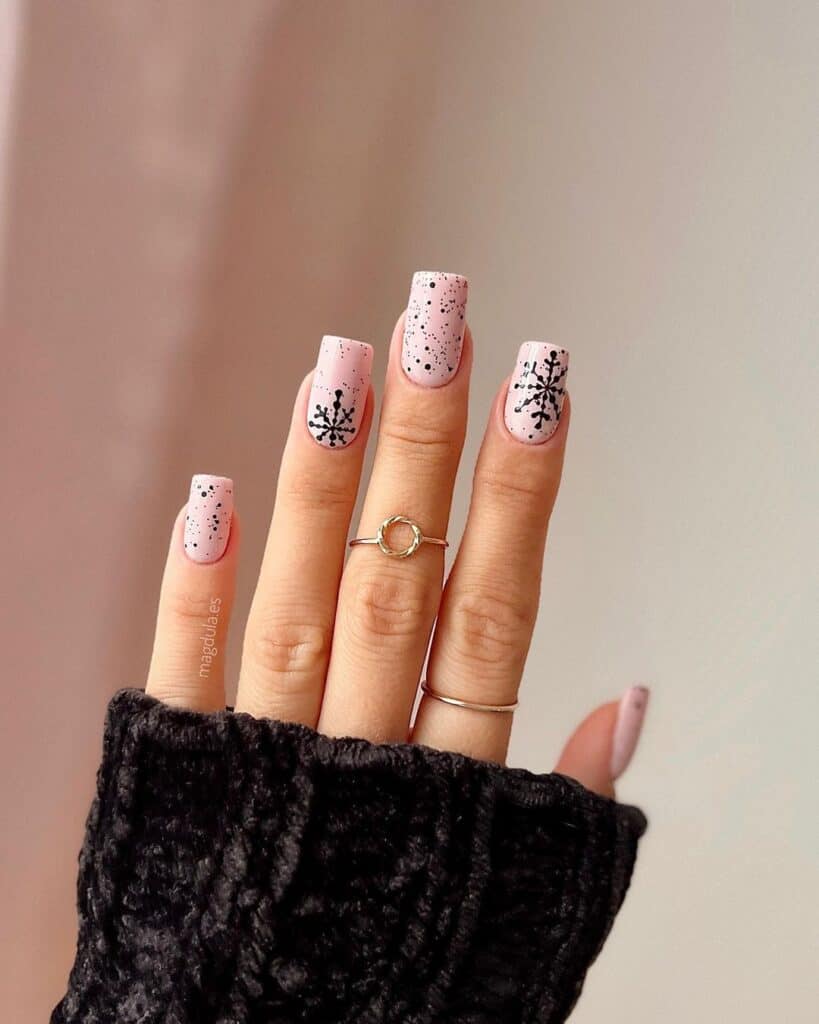 I think of these as coffee shop nails. They're just so cozy yet sleek at once and could make any coffee cup or hot chocolate mug look high fashion.
They're the type of nails we see on our Instagram feeds, and wish we'd thought of doing them first.
So do yourself a favor, especially if you're a short and square nail girly, and add this Christmas manicure to your must-try list. You really won't regret it.
8. Flashback Winter Nail Design
I just love dark and gothic Christmas nail ideas with a bright twist. These nails are white darkness, and light meets in style.
A manicured depiction of a snowy night sky, they're also some of the most dreamy and abstract nails I've seen in a while.
I love just how artful they are. Plus, while they may suit average-length nails, this Winter manicure design is quite flexible and can stretch to suit long nails or shrink down to look absolutely striking and adorable on shorter nails.
9. Pink Winter Nails with Sweater Nail Design
If you're a gal who wants it all and wants it all in pink, this manicure has heard your desires and answered in style.
I probably don't need to tell you again, but pink is the IT color this year, so you can freely add it to your winter nail looks.
I actually expect to see more pink-nail Christmas designs next year because these manicure designs are taking my and everyone else's breath away.
Here, we see all of the latest nail trends done perfectly in pink. It really is the very best.
10. White Winter Nail Design
These are celeb nails or superstar nails. Whatever you want to call them, they have all of those sleep lines and fancy shimmer that just screams classy.
Plus, they're as white as snow, which compliments and clashes against the natural nail just perfectly, making them simply divine.
While most of the manicure is quite a darling to try yourself, the frosting may prove a little trickier.
So, to really get those sharp lines and make those textures just right, it's time to give your nail tech a call.
11. Almond Sweater Winter Nails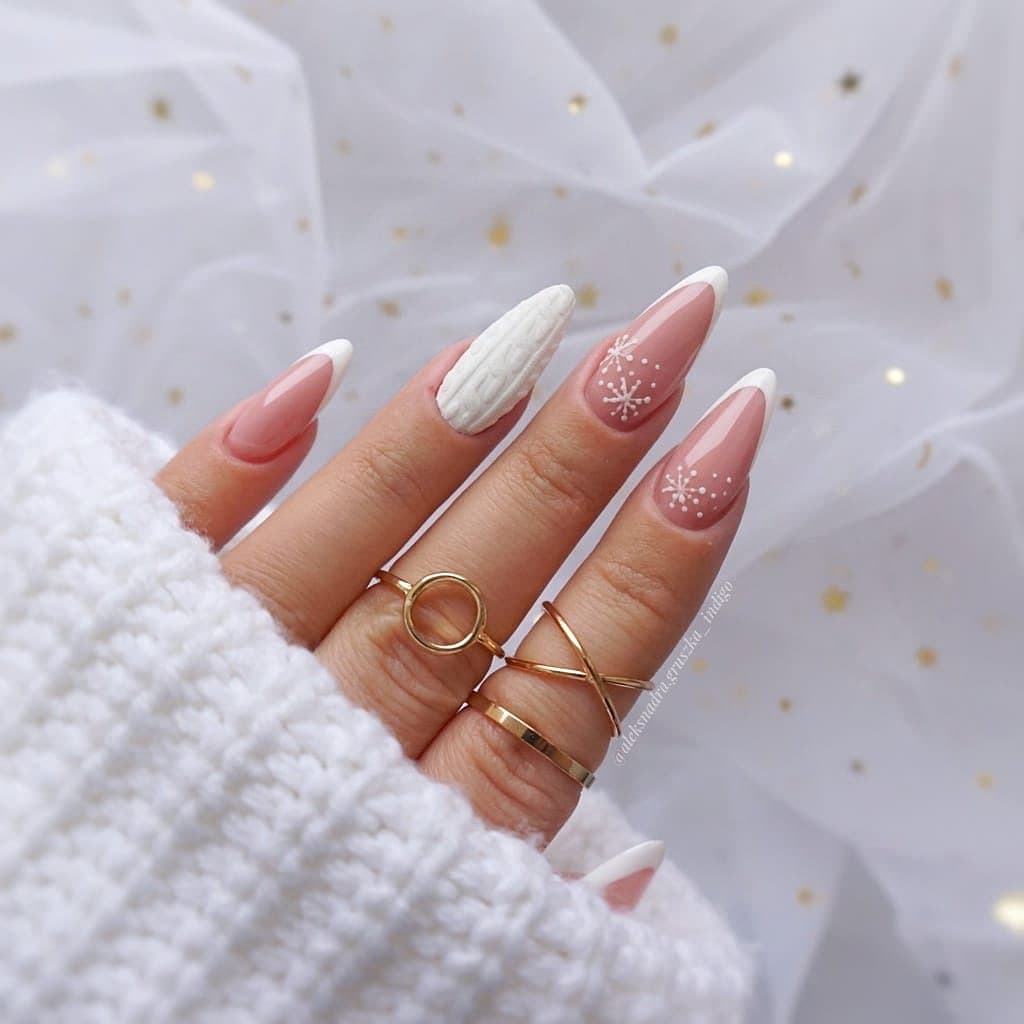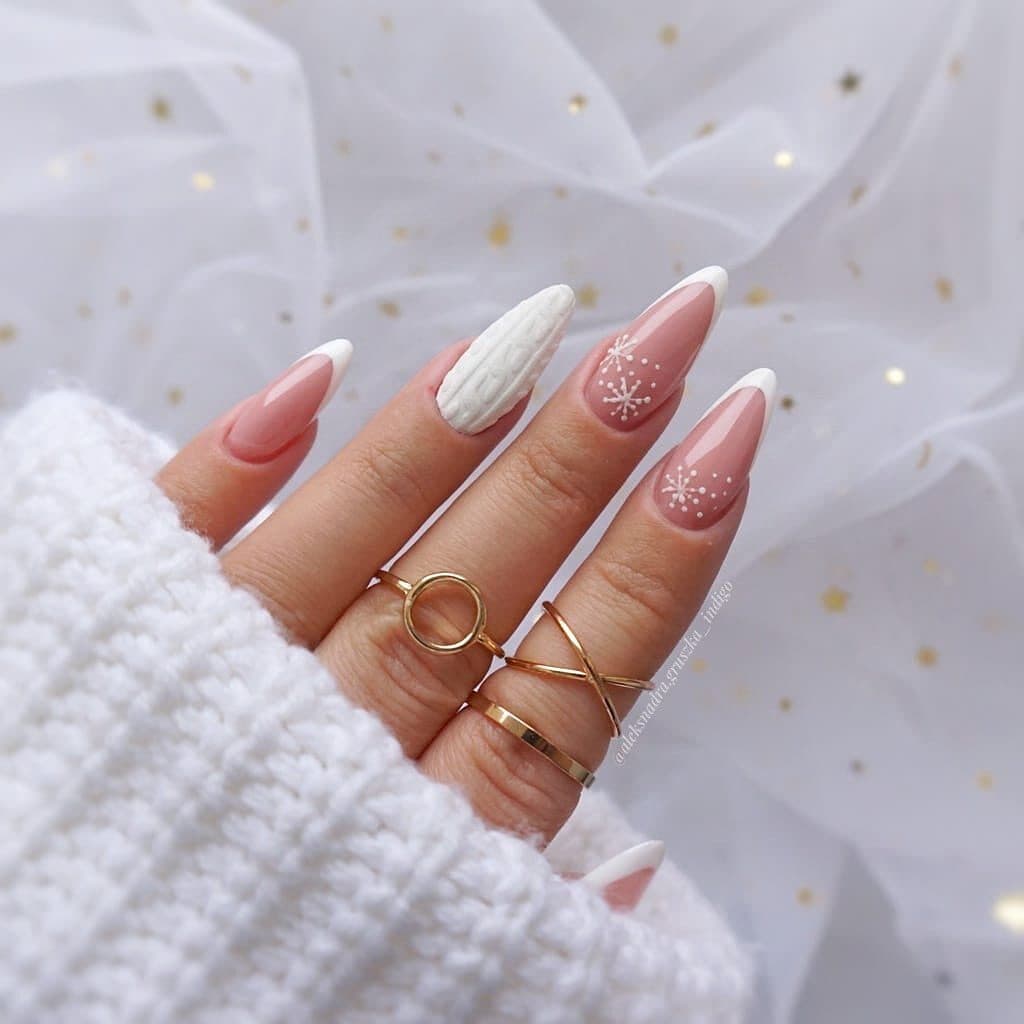 The secret to making shorter almond nails look impossibly long, sleek, and elegant has always been to paint the French tips on higher.
Painting a blush coat on underneath also helps keep the nail look neat and clean, creating the illusion of much longer nails in the process.
To highlight the added length here, some gorgeous nail art is placed around the cuticle. And, of course, I can't let this manicure go without mentioning the cozy sweater effect accent nail that keeps things warm and chic.
12. Short Winter Nail Design
Winter may be the most wonderful season of all, but it's also the most wonderful season for short-nailed girlies.
All of the cozy manicures look just right on their smaller canvases, creating an adorable and snug allure that's just perfect for this time of year.
Plus, when your nails are shorter, you can get away with more shimmer, making these an all-occasion nail that you might even be able to get away with at this office around Christmas.
Plus, need I even mention how gorgeous and utterly adorable they are?
Pink in winter nail designs is having a moment, so this Christmas nail idea is also right on trend. 
13. Icy Blue Chrome Nails for Winter
Do you remember those nail ideas you'd dream up as a child? For me, and I bet many of you, this is what they usually looked like.
Like something out of a winter wonderland fairytale, these nails are almost unbelievable. But you better believe them because that glossy light blue sheen that just happens to look like the purest of snow and ice can be whipped up by the magician that is your lovely nail tech.
They'll be able to make those delicate snowflakes look like they just fell upon your nails effortlessly.
And when these beauties are finally completed, please share them with us because I need to see more of these winter nails.
14. Long Glittery Winter Nail Design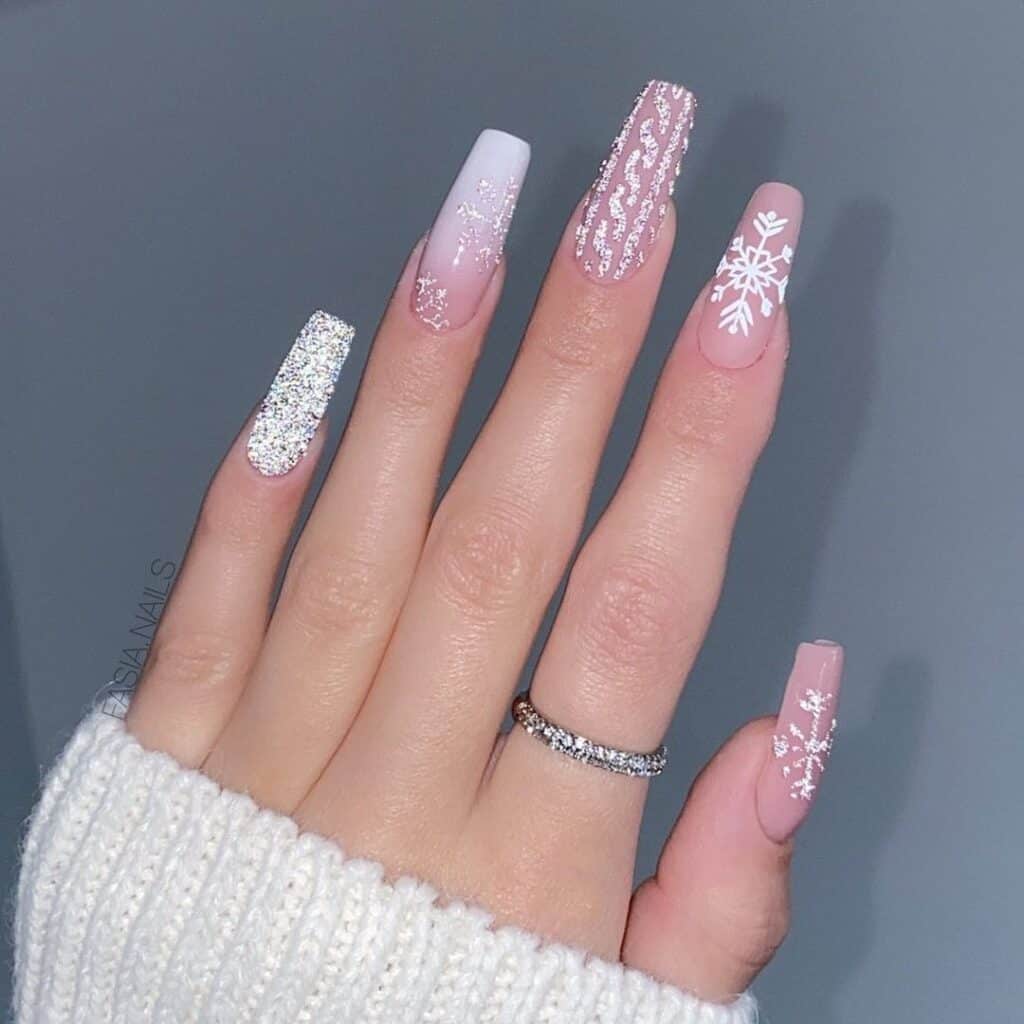 When I think of princess and Christmas nail ideas, this is exactly what comes to mind. They're absolutely divine and just scream elegant and sophisticated Winter.
But there's also just even glam and shimmer to make them steal all of the attention at any Christmas party you go to this year.
Honestly, with so many intricate details, striking glitter, and long shapes, these nails are the perfect accessory this year, and you need to try them on.
15. Winter Sparkly French Tip Nails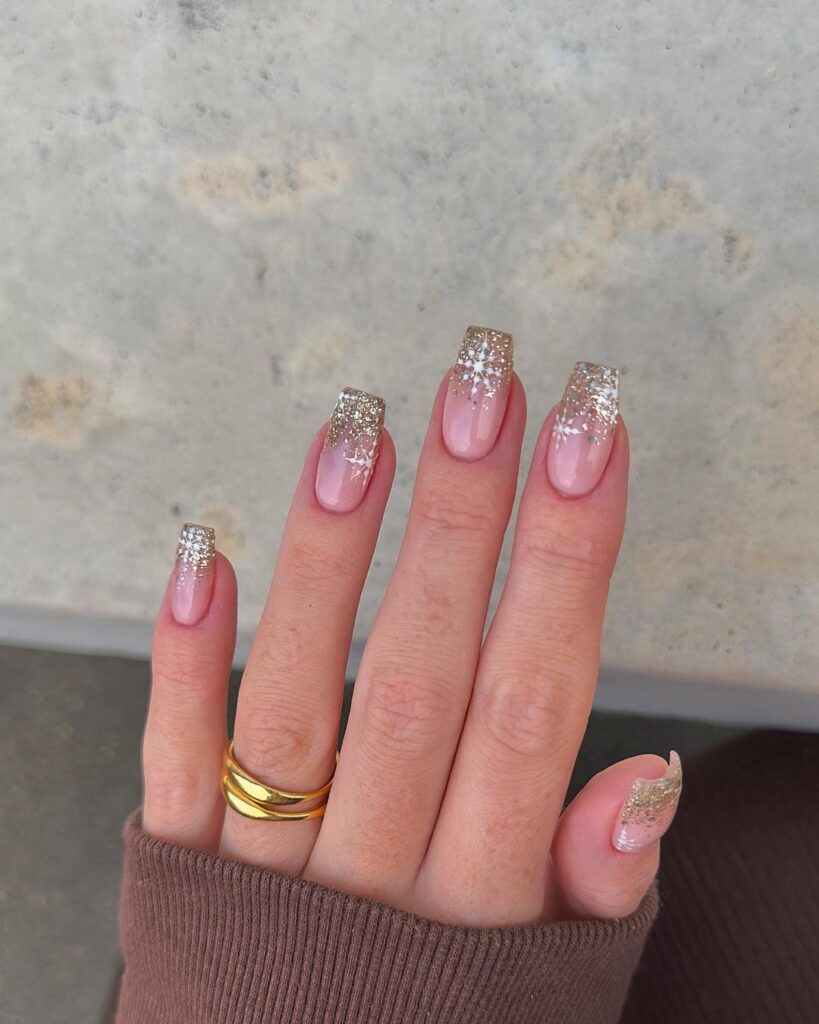 Understated but still eye-catching, these nails remind me of expensive gold jewelry and high-end Christmas parties where the champagne flows freely.
Seriously, they're like the winter manicure equivalent of a cosmopolitan penthouse apartment, and I'm just in love with them. Luxurious and opulent vibes are written all over the shimmery glitter tips and the delicate snowflake placed above.
I also think the squoval nail shape is key to keeping these nails looking like money.
16. Snow Leopard'ish Winter Nail Designs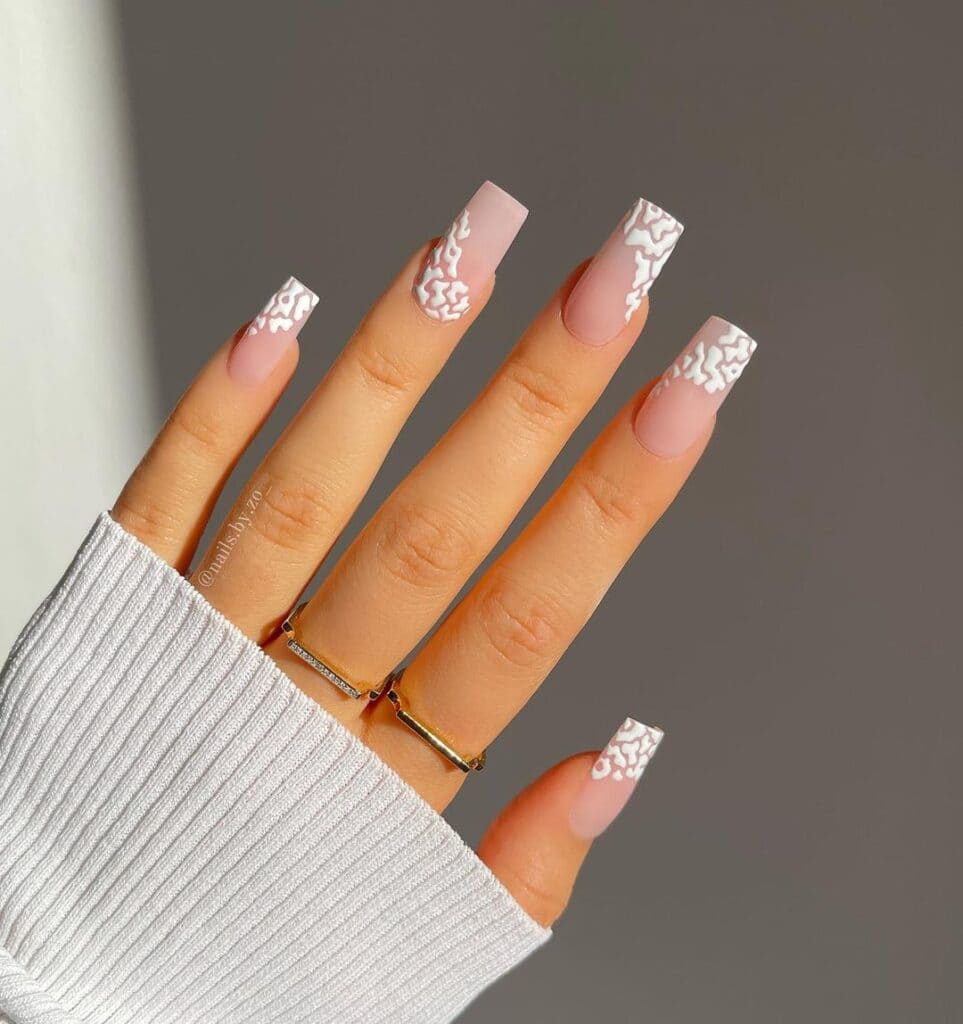 If you want nails that don't scream Christmas but instead whisper in with style, then look no further than this gorgeous manicure that knows how to keep things low-key in all the right ways.
What I mean by that is the animal print is quite chic and understated, yet still catches the eye and exudes personality.
The rest of the nail, thanks to a blush, semi-opaque undercoat, keeps things chill. Together, they make undertones of Winter and overtones of high fashion nails that could really be worn all year round.
The sharp square shape of these nails is absolutely essential to their overall allure, and I recommend filing them down quite intensely.
17. White and Gold Nails for Winter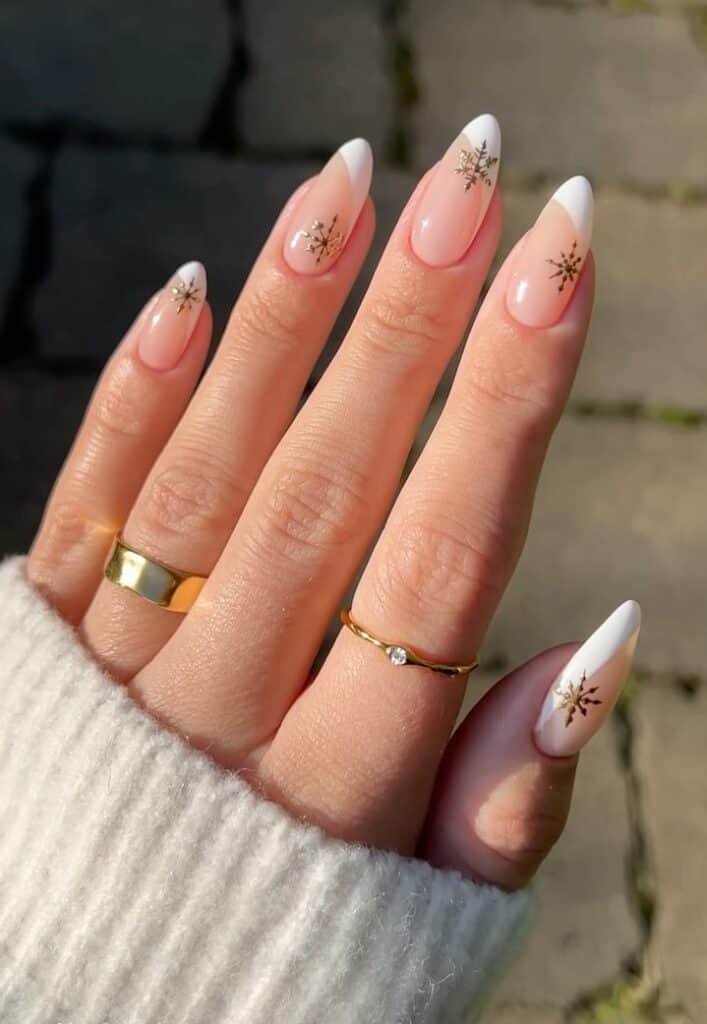 Here's the every girl Christmas nail. If you're not sure what design will fit in with your Winter style just yet but know you want it to be something special, then this manicure has it covered.
Slanted French tips naturally elevate the classic look, especially when set to a sharp, oval-shaped background.
You might also notice a lack of cuticle, which keeps the nail looking clean and neat and is entirely down to a blush base that's easy to apply and delightful to paint over, causing the French tips to pop even more.
Last but not least, the golden snowflakes are key to what keeps this manicure looking distinct and elegant, so be sure to follow their design stroke for stroke of whatever thin nail polish brush you decide to use.
18. Pink Winter Nail Design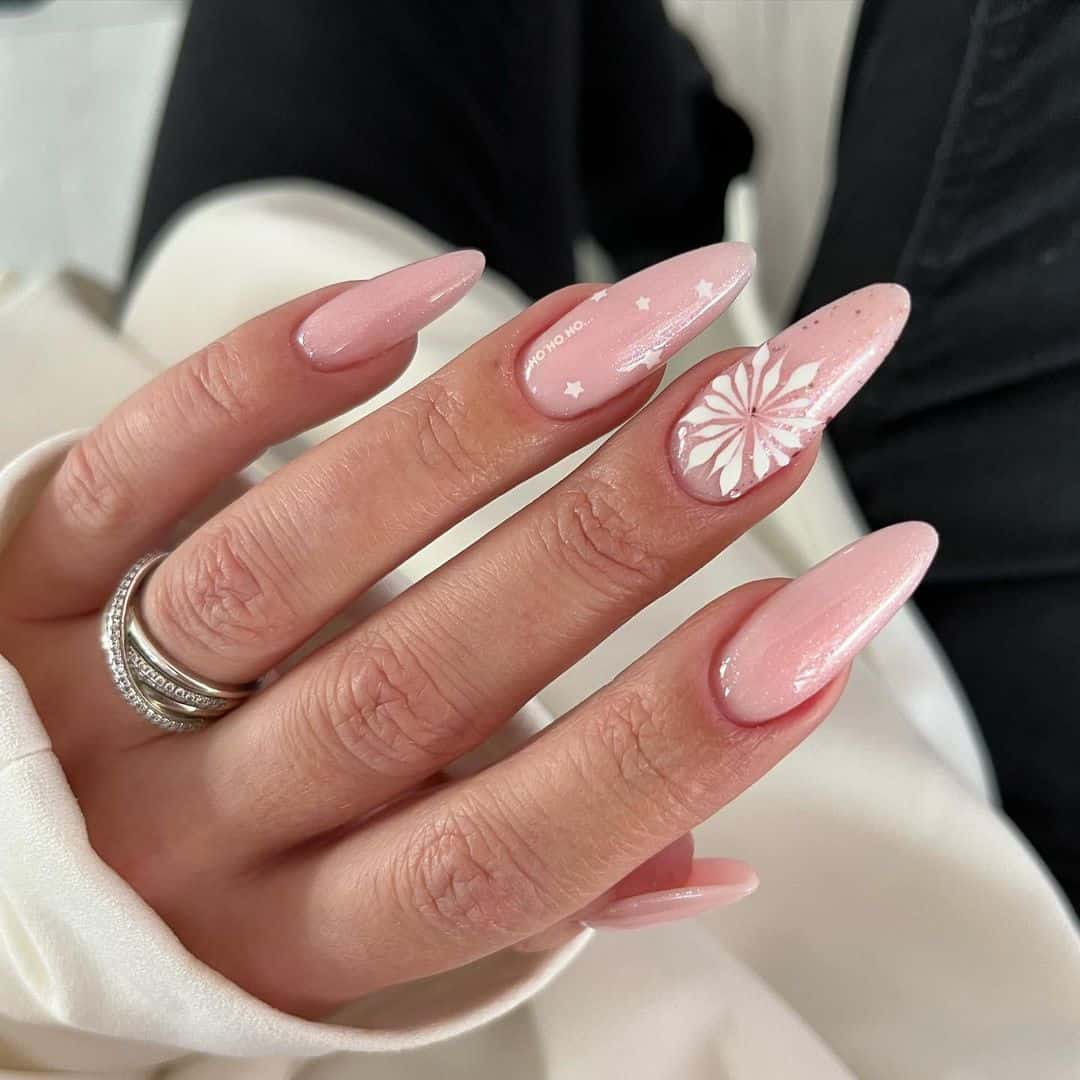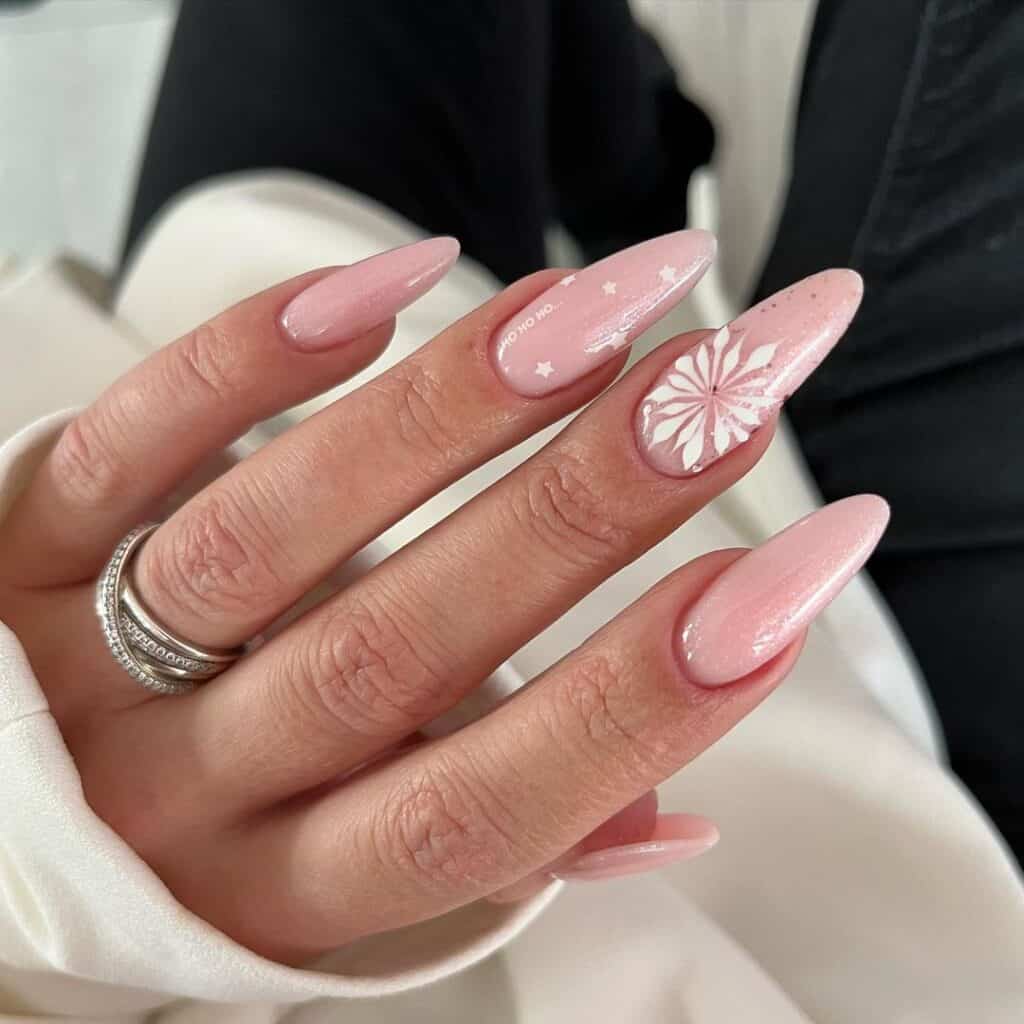 These nails are all bubble gum and candyfloss. They're emanating good, calm, and girly vibes from every angle, and I'm here for it.
I'd also imagine that these are the Christmas nails Barbie would choose to wear because they're perfectly pink and playful.
It's hard to draw my eyes away from the shimmery light pink shade, but when I do, the manicure treats me to the explosion of a snowflake that just jumps off the nail while solidifying these beauties as the most charming Christmas nails.
19. Cozy Weather Nail Design
Cozy and chilled all at once, this manicure is like the whole Christmas experience written across your nails.
There's also something incredibly cool and hip about these nails. They just show a lot of attitude and personality.
The shine is almost blinding and will catch the light wonderfully in any photo, while the pink sweater effect softens the looks, keeping things cute and playful.
These are definitely the right nails to take to a party and for dancing Christmas time away. Or just for showing off, looking at yourself, or posting online so the rest of us can get to fawn over their beauty.
20. Winter Abstract Nail Design
These winter nails are just Breathtaking, simply breathtaking. These nails just stop you in your tracks and make you stare in awe.
The long oval and pointed shape is huge around Christmas time for its striking yet soft effect.
Plus, with nails this stunning, the more the merrier rule definitely applies.
The glossy, almost metallic sheen can be hard to achieve at home, that's before even mentioning the more detailed nails, so you might want to let your nail tech take care of these lovelies for you.
Just be sure to post them when you're done because I need to see more of these nails.
21. Simple White Christmas Nails for Winter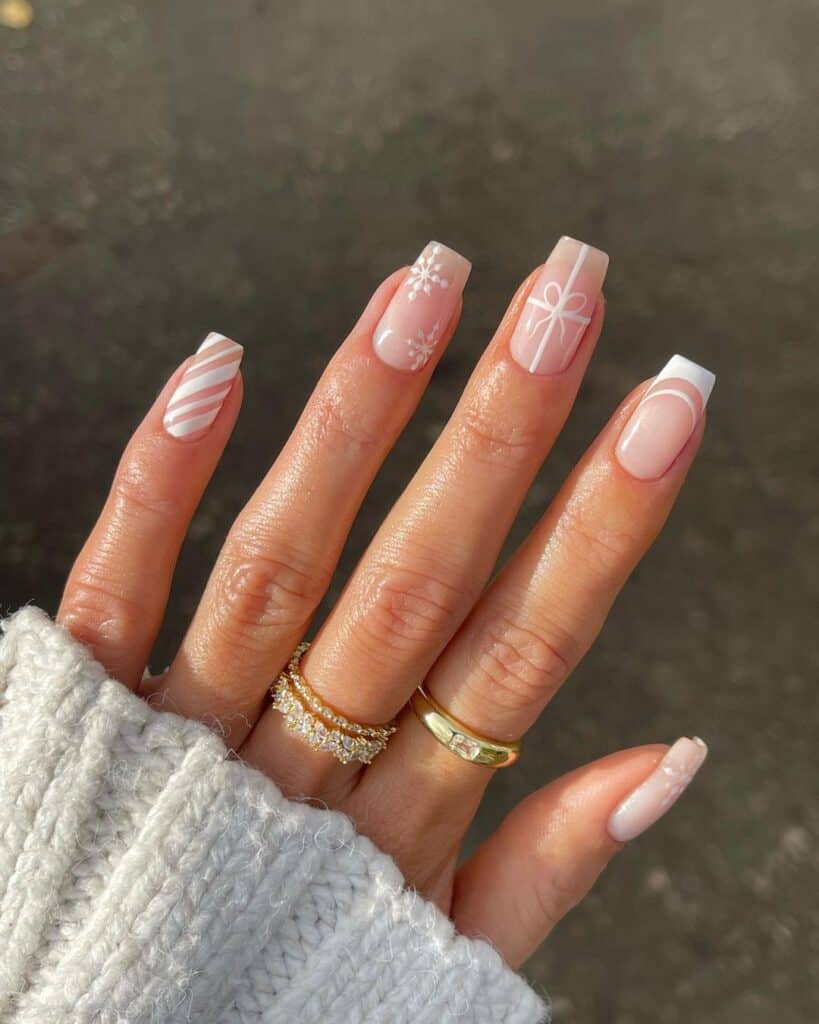 If you choose these nails, they'll be like a constant reminder that it's the most wonderful time of the year.
They really are such a little burst of warm and fuzzy feelings with excitement and Christmas vibes just written across every nail.
They're also here for the short and square-nailed gals who like to keep things short and sweet.
These nails are so neat and dainty that they look adorable on even the shorted of nails.
22. Starbursts Winter Nail Designs
If you want nails for Christmas that are clearly wintery but not in-your-face festive, then these nails are waiting for you to pick them out and paint them on.
To do just that, start with an opaque clear coat for a base before getting started on the twinkling stars.
After drawing them on with the small brush of your choice, place the nail diamonds in the middle, and you're ready to show these stunning beauties off to the world.
23. Bringing Out the Sparkles for Winter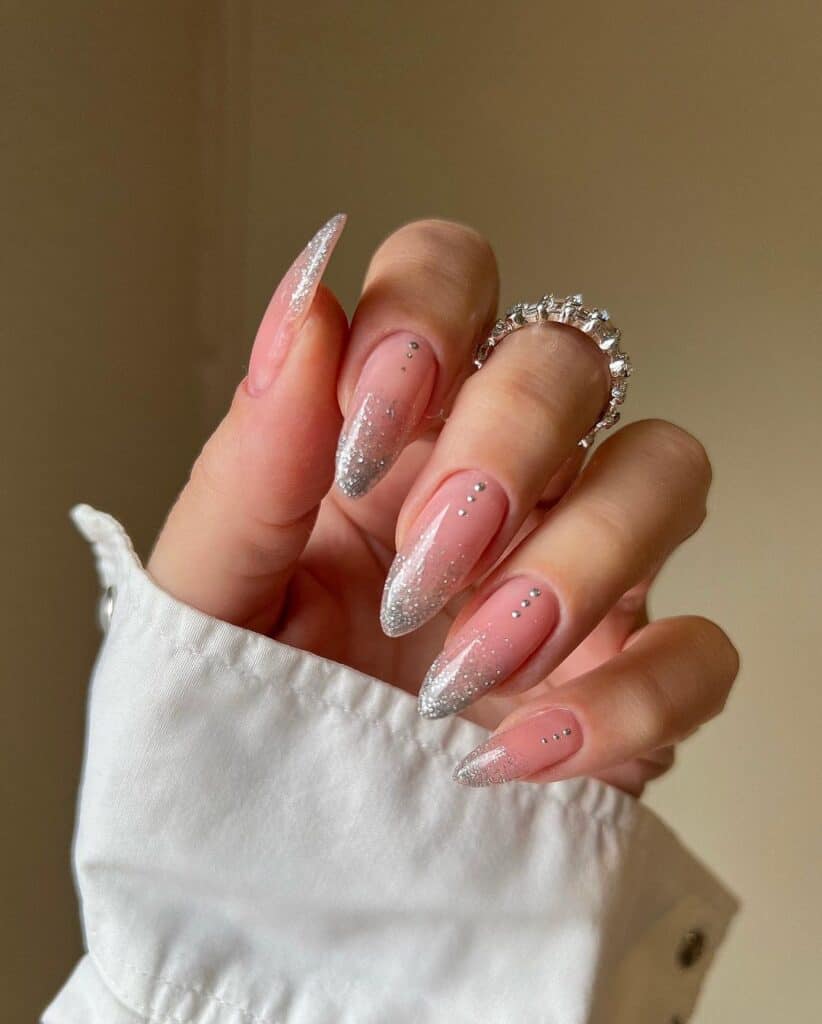 These nails are the epitome of girly soft. That is, of course, until we get to the shimmery sharp tips, and things become a little ice queen.
This is a manicure of two sides. One warm, one ice-cold, and the little dots are a lovely futuristic twist that make these such compelling nails.
Really, they look very intricate and like a lot of hard work, but if you take the task on of recreating them yourself, they'll blossom beautifully and effortlessly with such little time and effort.
24. Silver Glittery Winter Nails with a little Deer Nail Design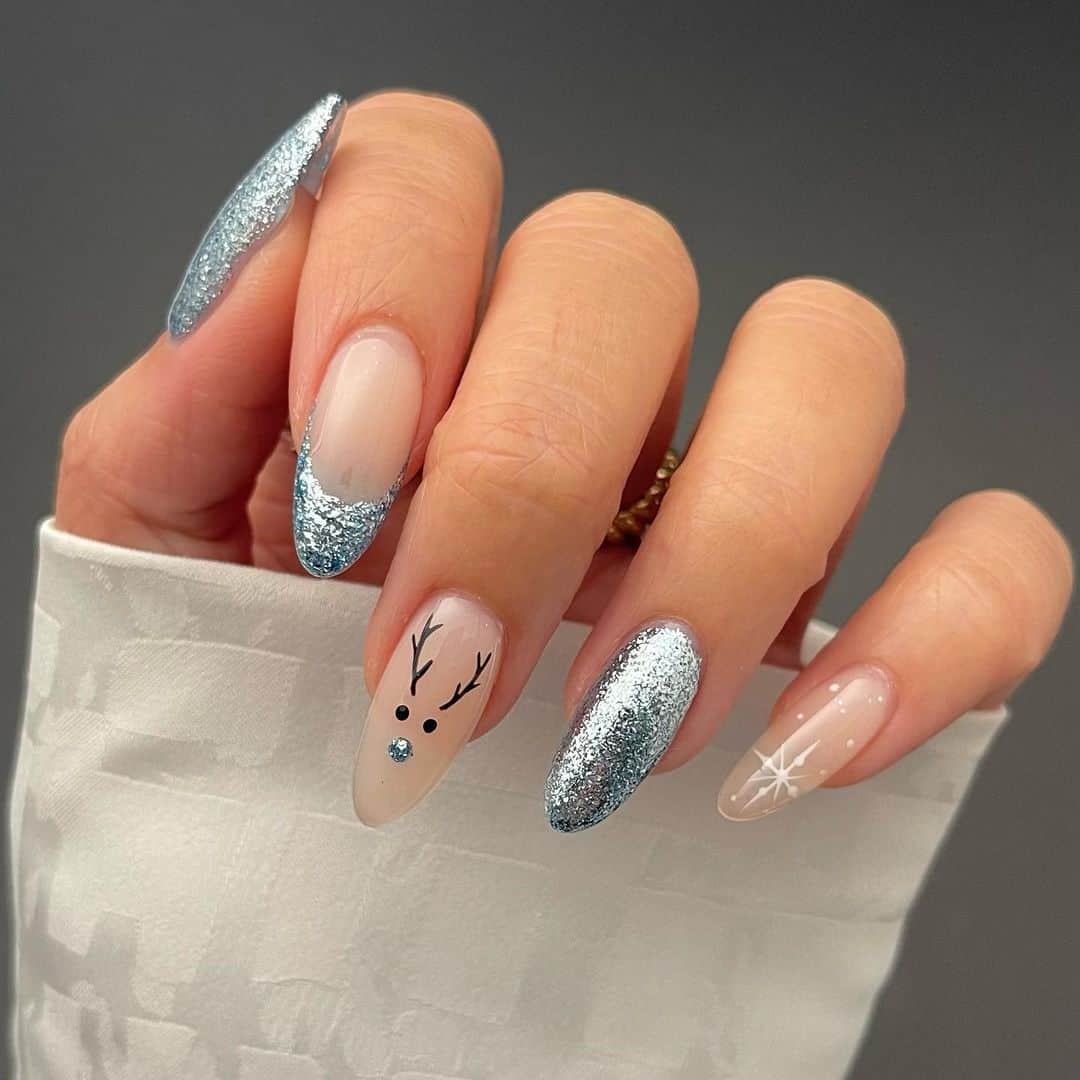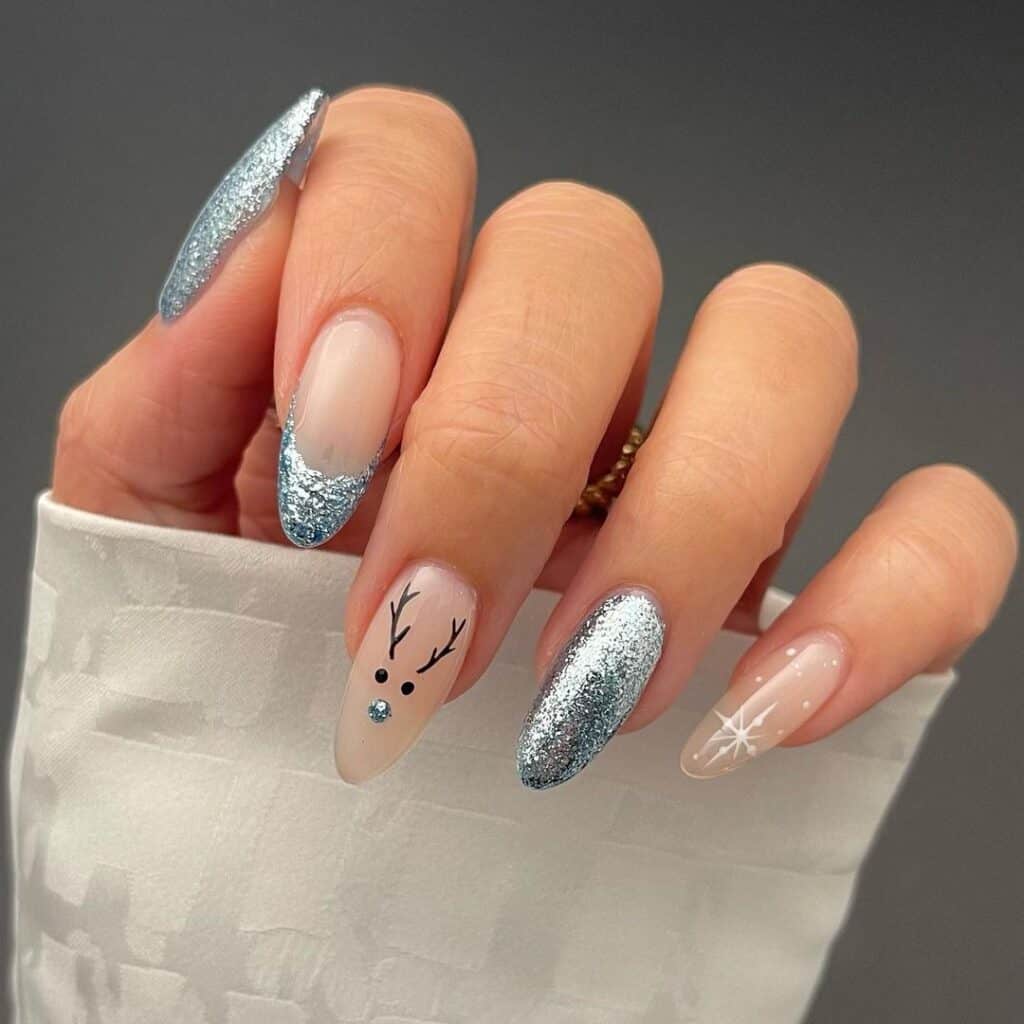 My heart would simply melt if I saw this manicure in person. The deer nail art adds such a fun edge to what's quite an elegant look.
Of course, it's the shimmery glitter nails that bring the dazzling sophistication. They also look quite luxurious, with the clear, snowy night sky nail helping to ground and anchor the look so it doesn't become too loud.
I would call these stealth wealth Christmas nails that we're guaranteed to see a lot of this year.
25. Black Winter Nails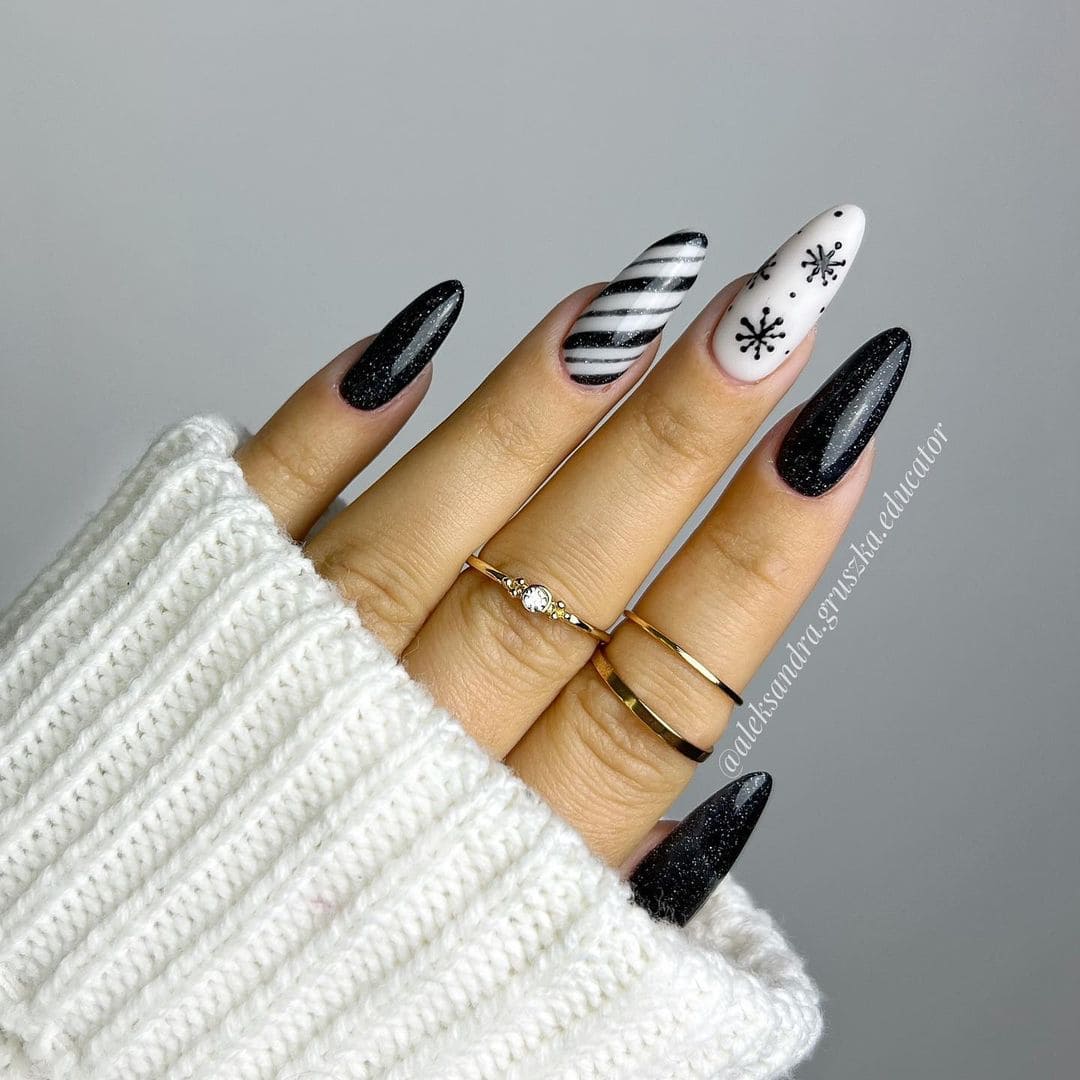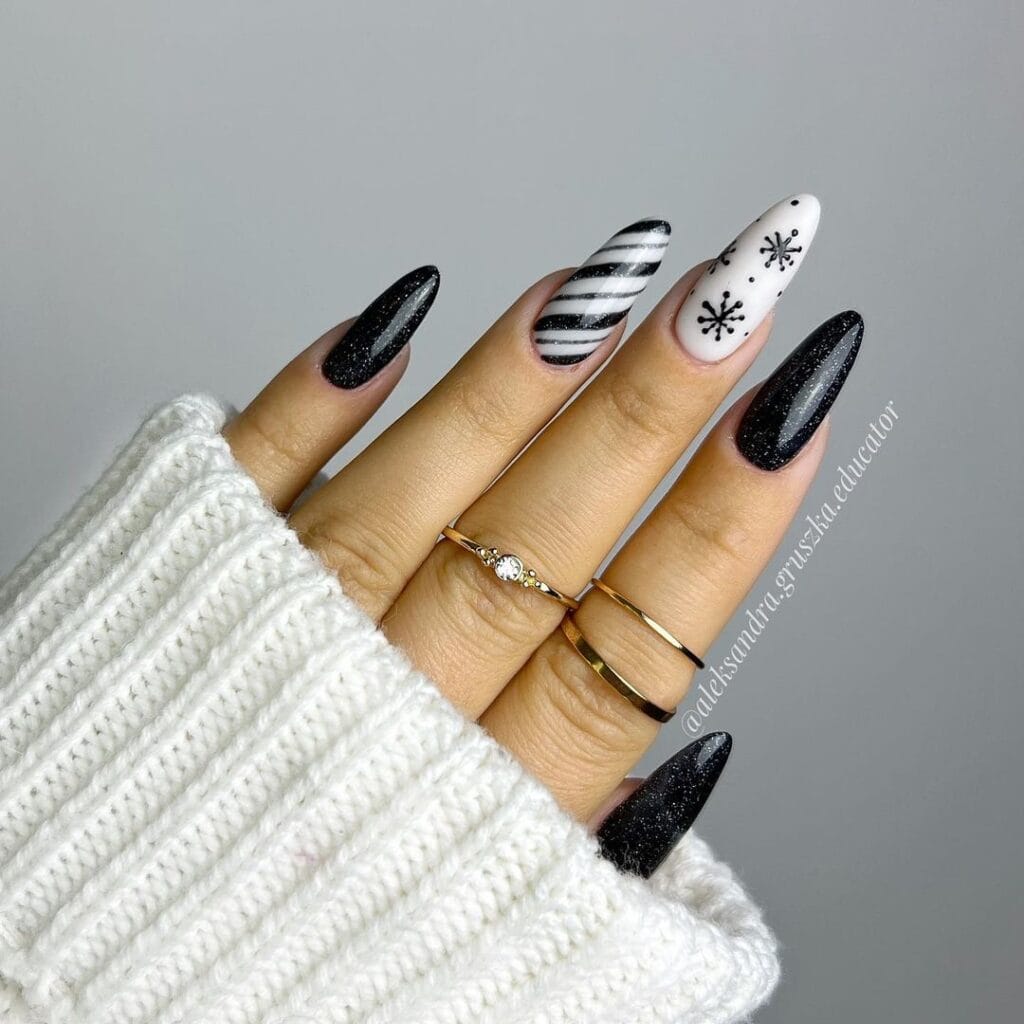 Gothic chic is huge this year, so expect to see a lot of black polish used during every season, yes, even Christmas.
Really, it's quite fitting because black represents the night sky, with the glitter evoking a sensationally starry effect.
The swirls create a breezy, almost windy allure while being right on trend, and the snowflakes do what they always do best: look adorable and chic at once.
Plus, it's worth mentioning that this look was made for wearing rings with, so don't hold back on the accessories side of your outfits this year if you wisely choose this look.
26. Cute French Winter Nails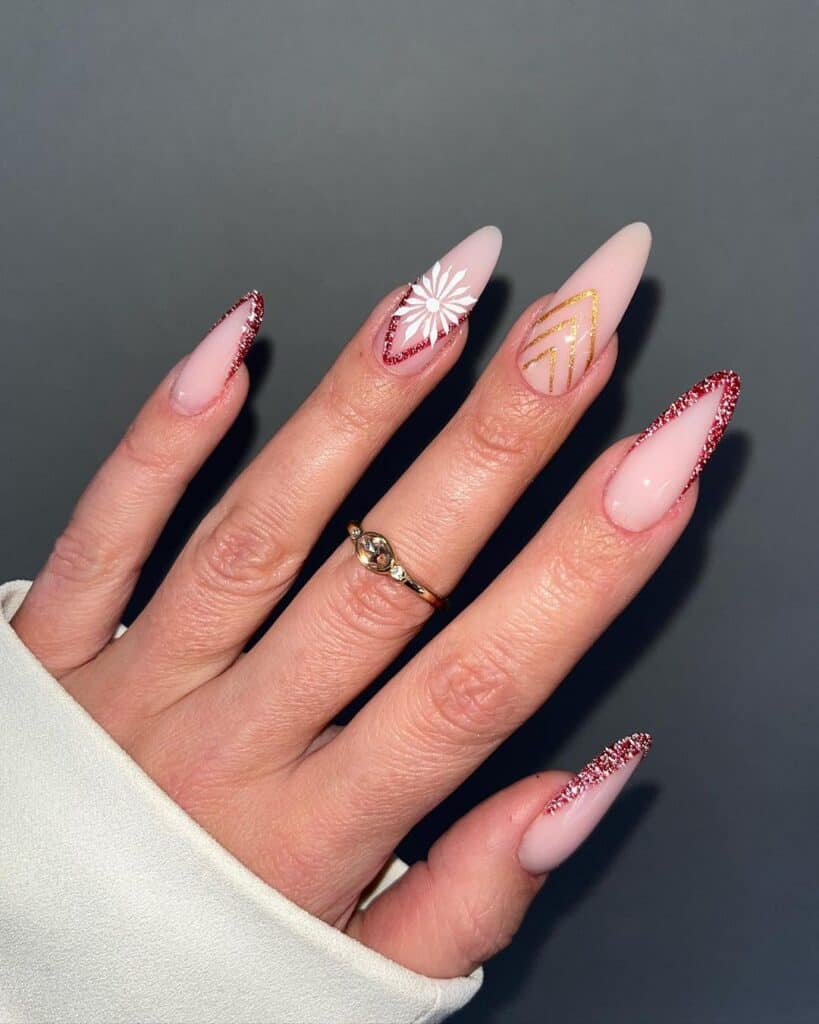 Flawless is the word that comes to mind when I see the striking glittery lines and soft, oval, almost pointed shape of these winter nails.
I'm thinking flawless for many reasons, but the blush base canvas is definitely one of them, so be sure to start with that.
Then, move onto the glitter using a toothpick to really perfect your lines before finishing on a high note with the adorable snowflake.
27. Glass Effect Winter Nail Design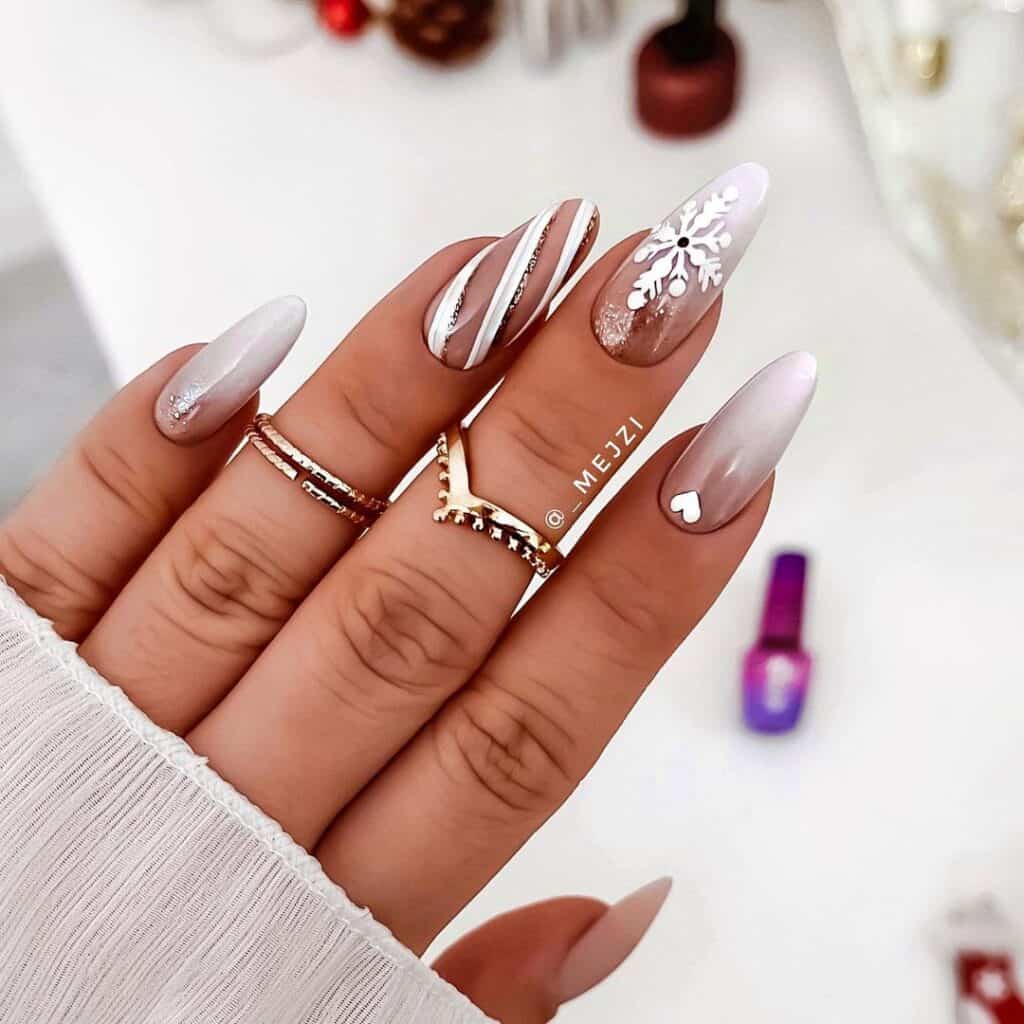 Some nail designs look like they belong on the catwalk or in an art museum. This one is both.
So, if you're one of the lucky gals who tries out this look this Winter, remember that it was born Instagram-ready and that you need to show them off as much as possible because I want to see much more of these beauties.
28. It's Snowflake Season Nail Art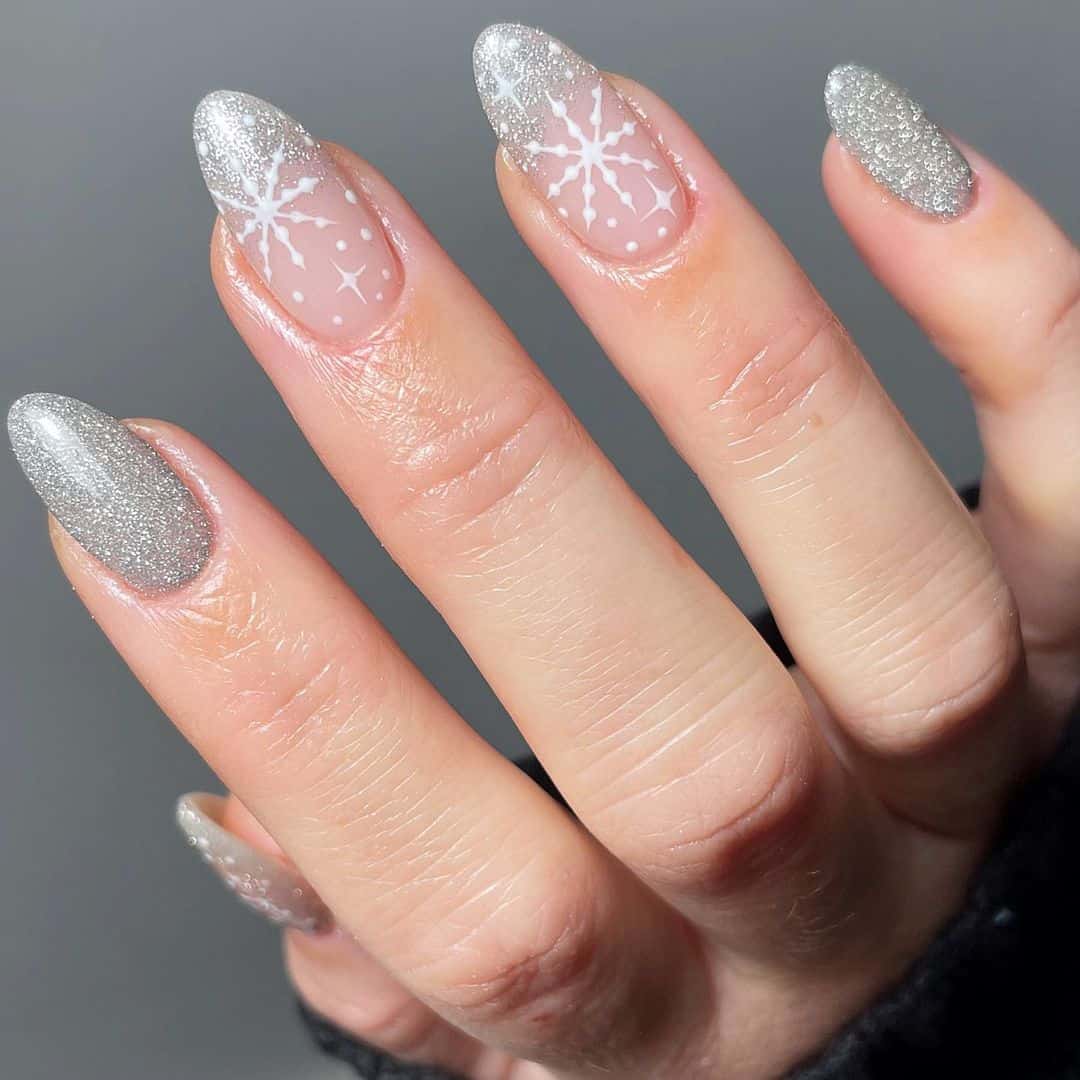 These nails alone have gotten me excited for Winter. They remind me of Christmas parties and that feeling of excitement as you smell freshly baked cookies coming from the oven.
They just look so happy, and you'll be even happier when you realize how easy they are to bring to life.
All you really need is glitter polish and a toothpick to draw the gorgeous snowflake on with white polish. It really is as simple as that.
29. Classic Long Winter Nail Art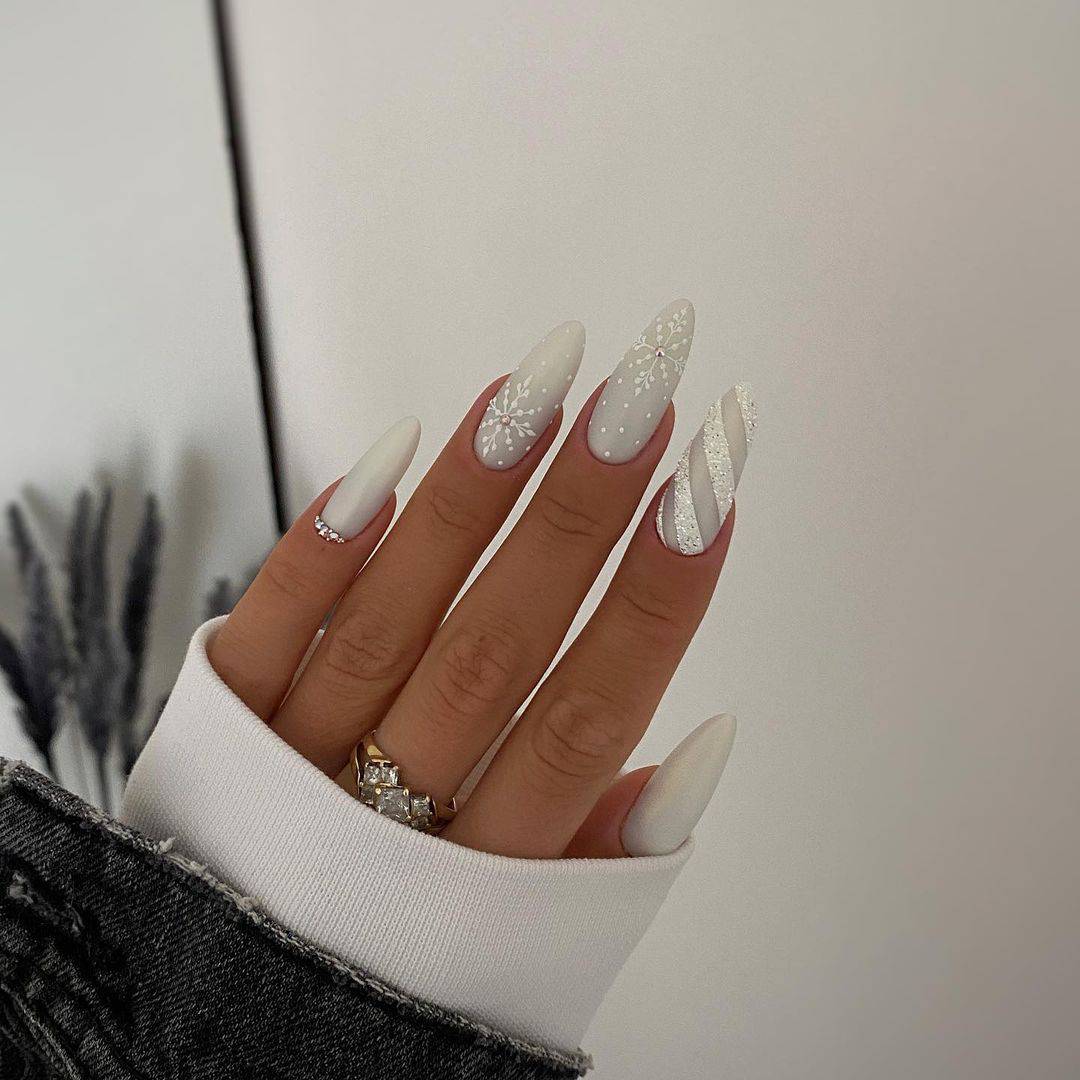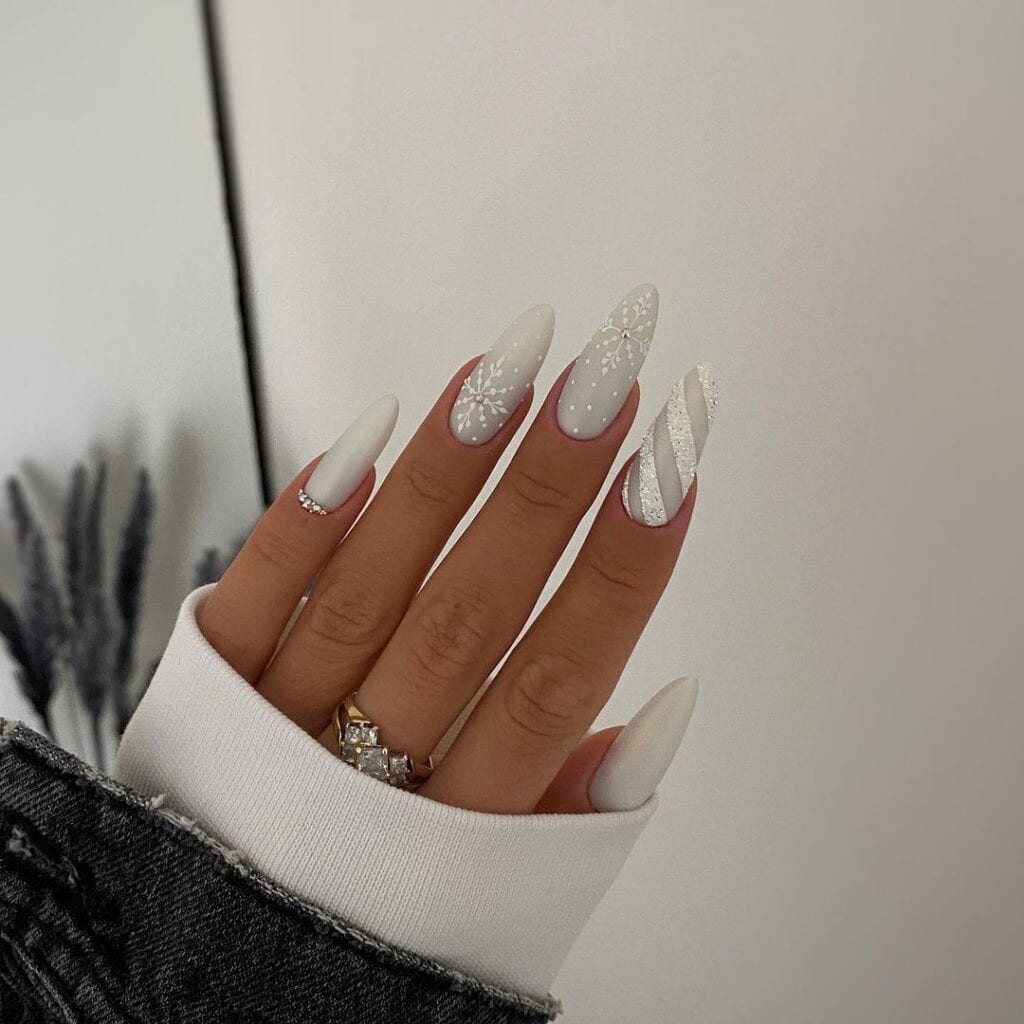 I've yet to see nails that look like literal ice until now. It's almost crazy how realistically frozen these distinct and striking nails look.
You'd swear the long, icy nails would be cold to the touch. That's really just the magic of white nail polish with dark undertones mixed with loads of winter wonderland detailing.
If you can't find the right shade, I recommend painting your nails black or a darker shade before painting one coat of white over them.
30. Icy Sweater Nails with a Touch of Glittery Pink
Sometimes, you just want your nails to reflect what you love best about Christmas. In other words, you want your nails to look like getting tucked into a warm bed while the snow falls down outside.
That's exactly the scenario these nails are influenced by, which can be seen in the snug sweater stitch 3D effect alongside the twinkling winter sky nails. Together, they look like magic.
31. Golden Winter Nails with White Tips
Glitz and glam just doesn't cut it when talking about these nails. We need a new word for this level of glamorous because these nails are the moment.
Looking like royalty painted across nails, they're so luxurious in gold, while the tips add a sharp allure.
The snowflake on top is such a cute flair that ensures everyone knows exactly what season you're all about.
Also, if you're looking to show off your ring bling this Christmas, these beauties are on your side.
They complement all accessories, and for as intricate as the style is, it won't clash with any of your outfits.
32. Soft Winter Nail Design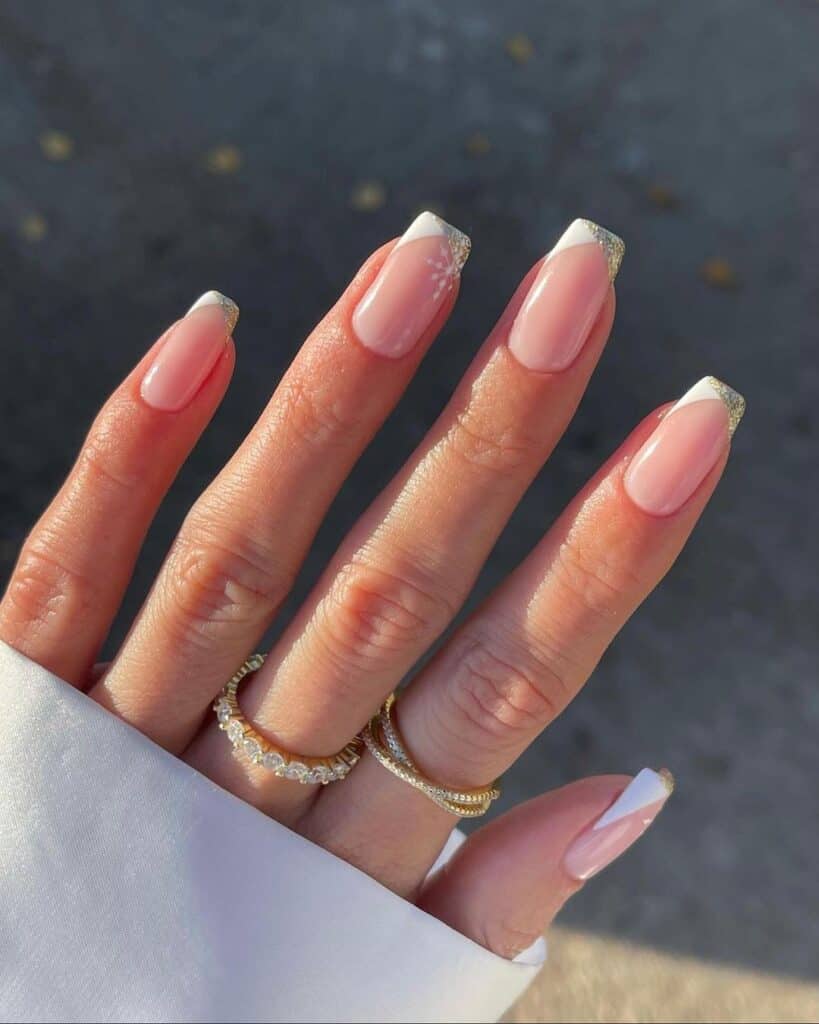 These nails are everything I want. They take the classic and reliable French tip, and they make it something special.
Such small detailing weaves its way into a work of art as the sparkles meet the white polish.
The tiny, barely-there snowflake really is just the dreamy cherry on top of this magical manicure that you'll definitely see on my nails this year.
33. Cute Winter Mani Art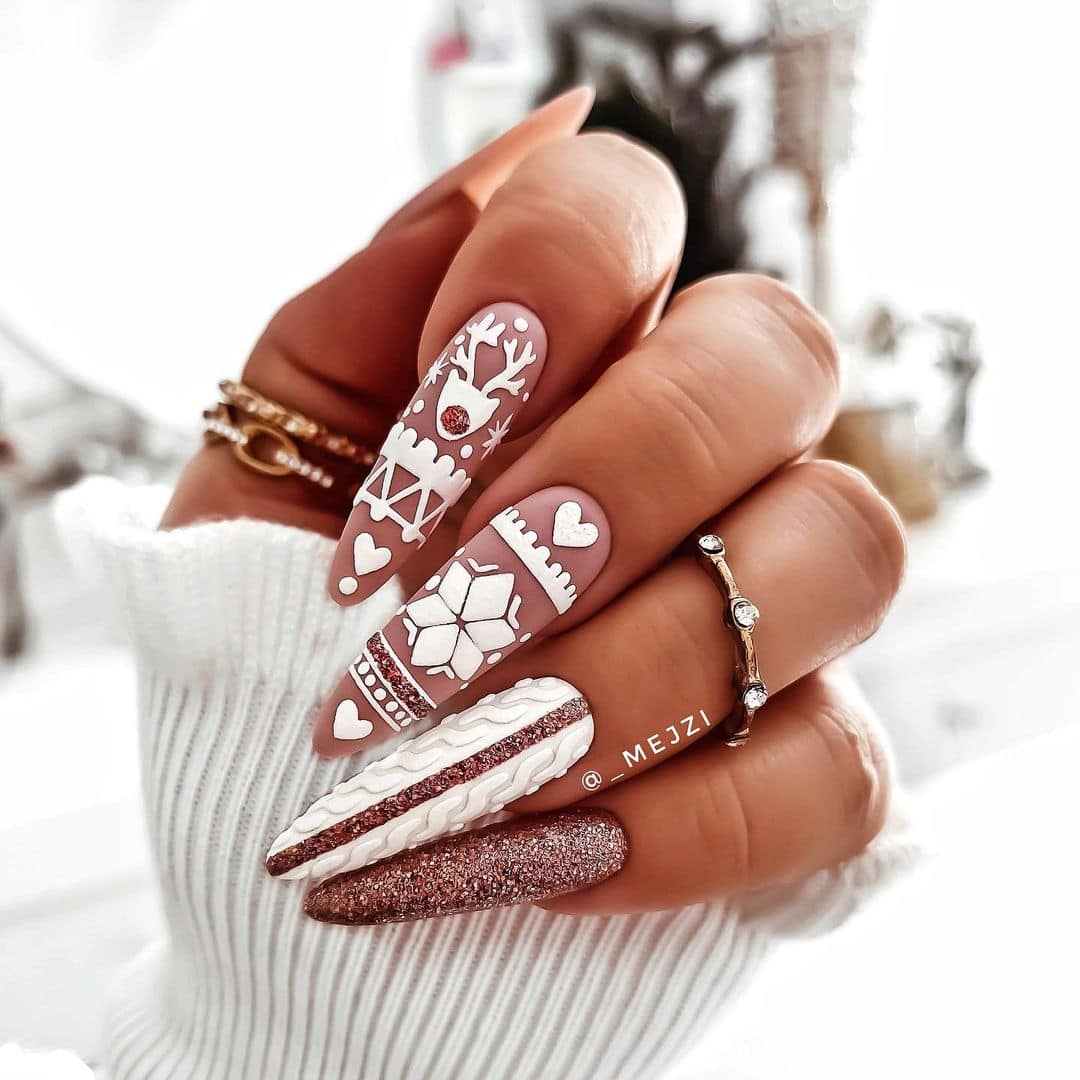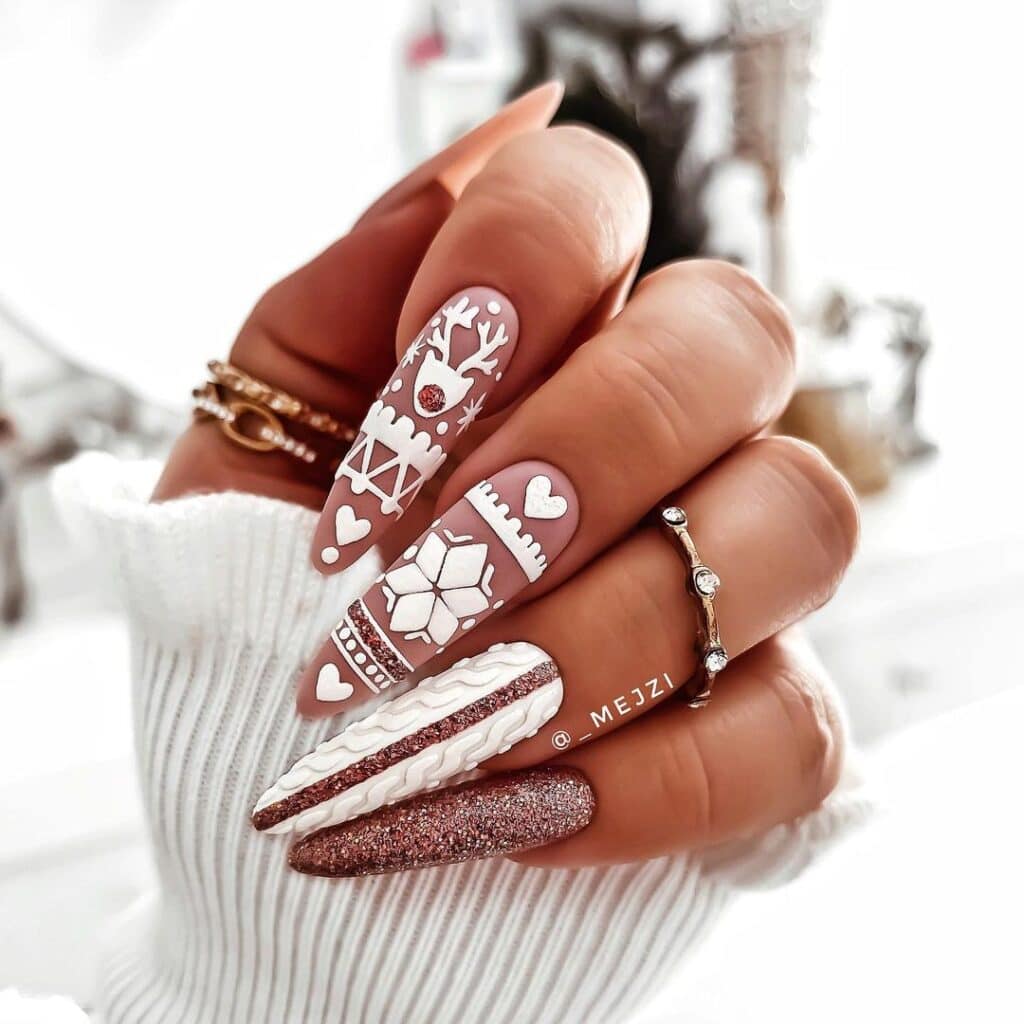 I am beyond obsessed with these nails. There are barely enough words to describe their otherworldly beauty that has stolen my heart and won a position at the top of my must-try Christmas nails list.
So dramatic, cute, and intricate all at once. They really just have it all, and I want everything they have so bad.
34. Winter Sweater French Tip Nails
Yes, you can really have it all when it comes to winter nails. You can have coziness and chic vibes in one alongside textures that are to die for.
These are influencer nails, for sure, and they always steal the show.
There's also no denying that they look like royalty thanks to the gold addition, but I wouldn't recommend DIYing them.
These winter nails need to be perfect in every sense to really do them justice.
35. Classy White Christmas Nails for Winter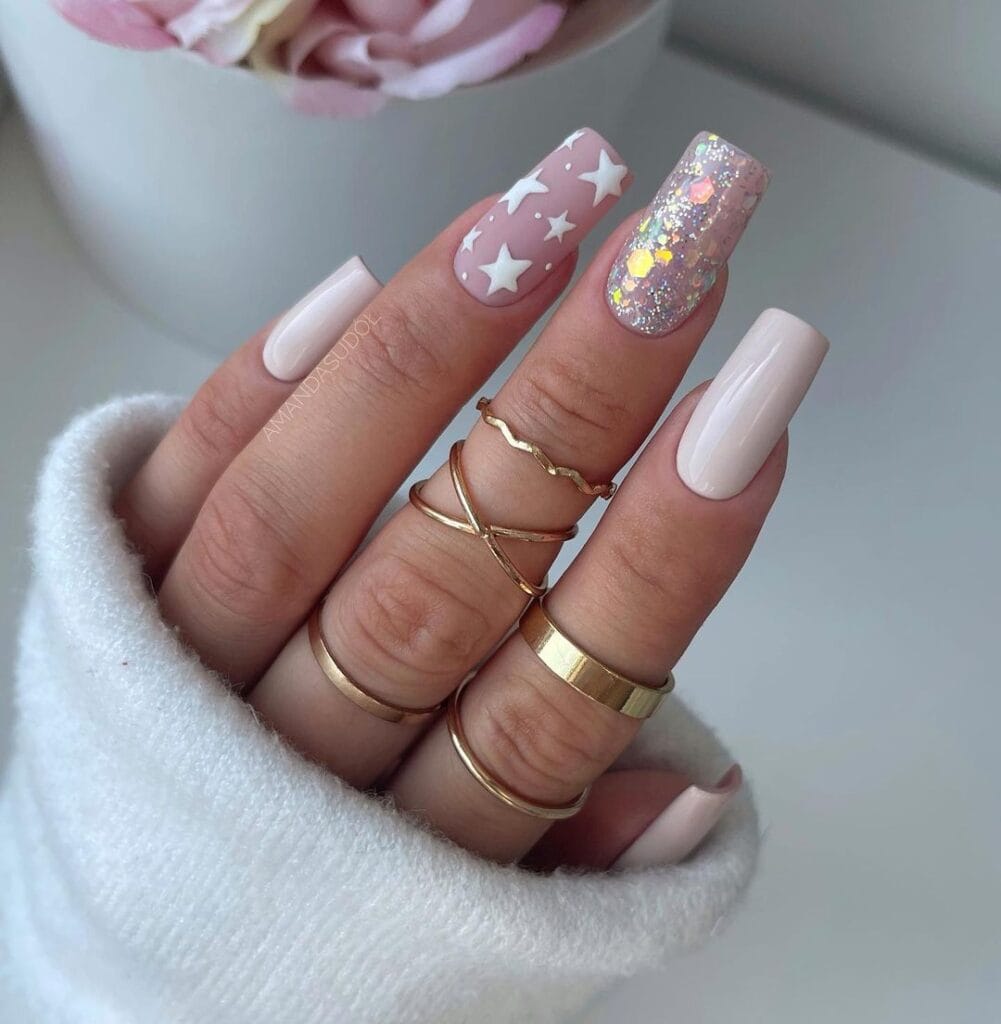 Everyone loves nails that pop, and there's no denying they're loved on Instagram and pretty much anywhere else fashionistas reside.
These nails are quite stand out just the right amount, with three nails in full white and the other two bringing the party with sparkles and big cartoon stars.
The shape of the nail is key to really bringing out the statement part of this manicure, so be sure to file right across the top.
36. Glittery Blue Half Moon Nails for Winter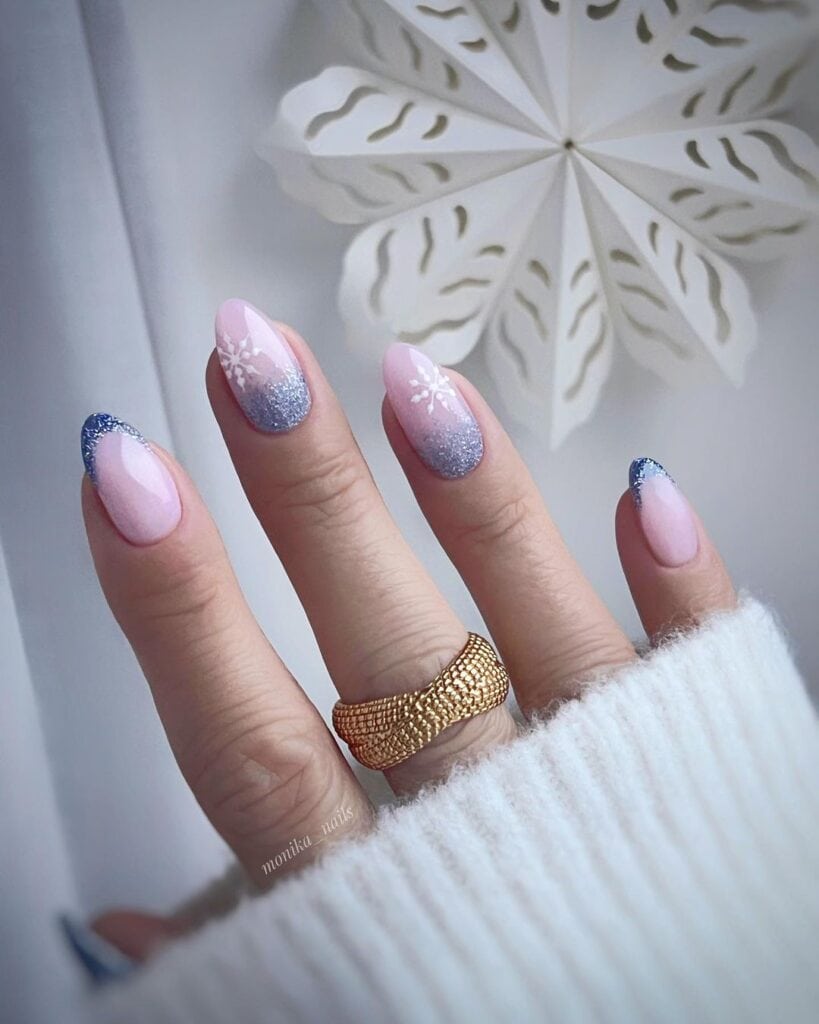 Christmas nails don't always have to be cold and white, often they can look like a cozy night in, bringing those sitting by the fire with a warm cup of coco vibes.
Here, we see those vibes at their best, brought out by the light pink and purple glitter mix that make these one of the more charming-chic looks on the list.
37. Silver Glitters Nails for Winter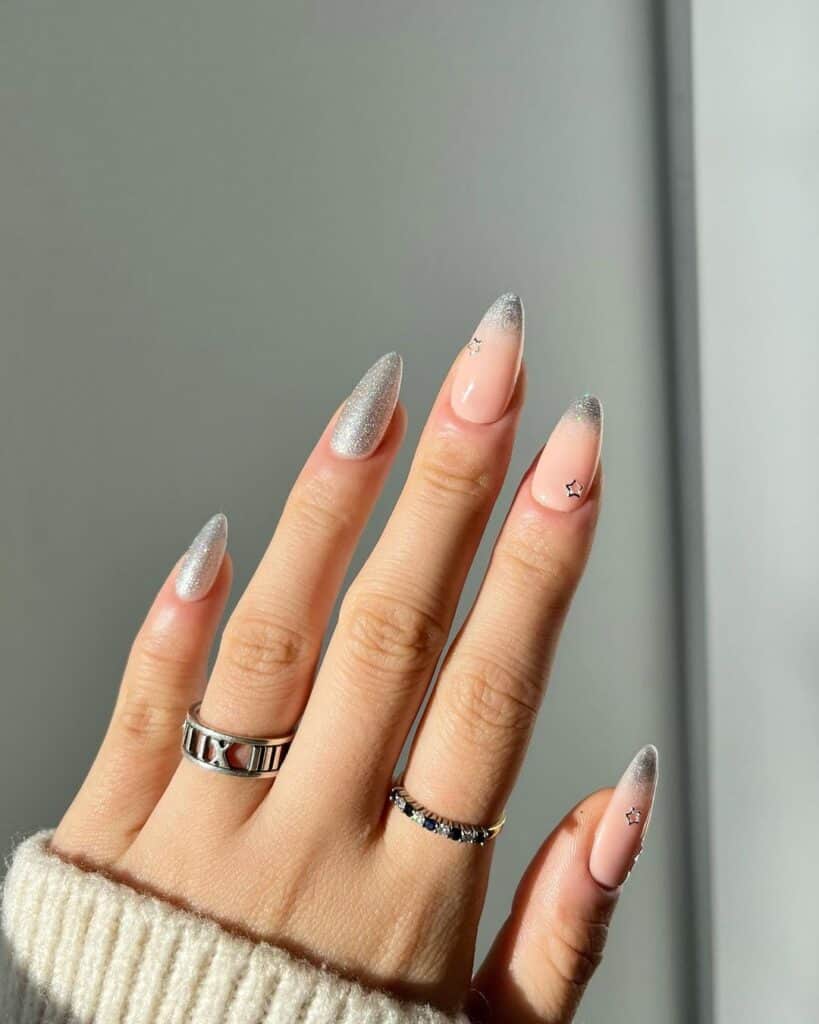 Shimmer tips are in, that's no secret, but paring them with full-colored shimmer nails is such a unique take on the trendy look.
Plus, the little star nail art adds a playful and somewhat whimsical touch that takes this manicure to the next level.
I love how the sharp point also makes these nails quite sophisticated and elegant.
38. Flame Moonlight Effect Nails for Winter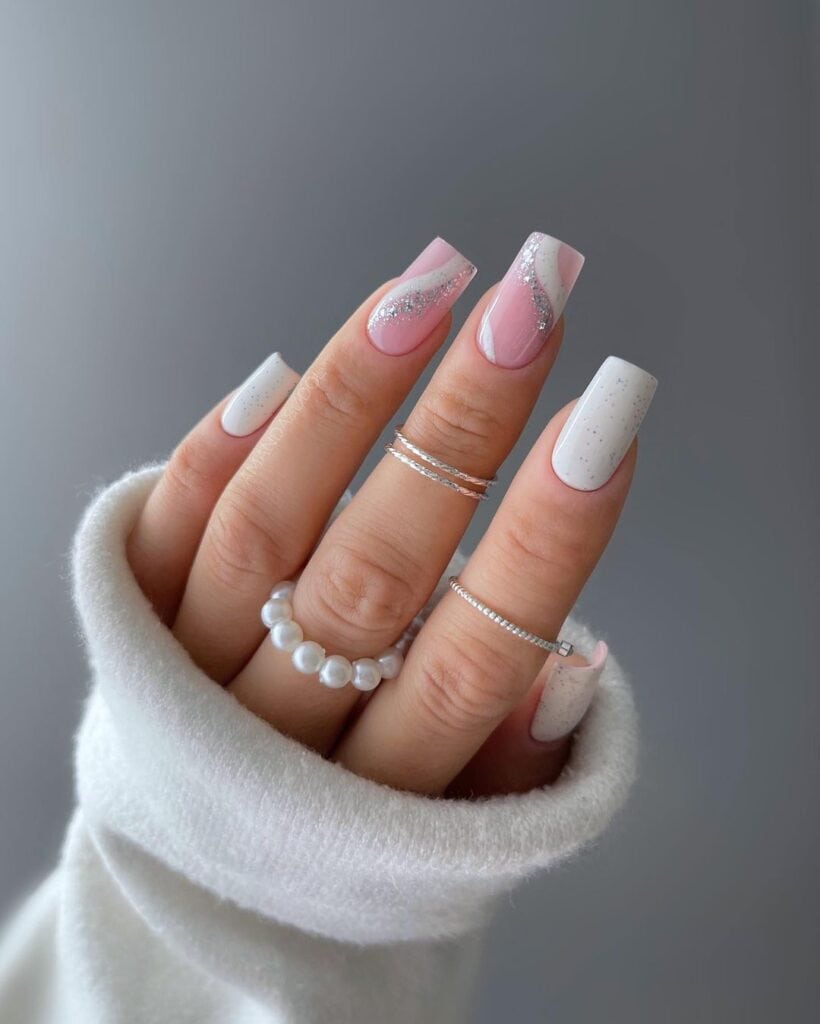 These winter nail designs are like strawberry and cream a la wintertime. They're as sweet as a dessert and incredibly girly-chic.
While these nails are long and square, the delicious design looks just as good on shorter nails.
What really matters are the sparkles and swirls and the unique black dotted white nail polish.
39. Blue Swirly Winter Nail Design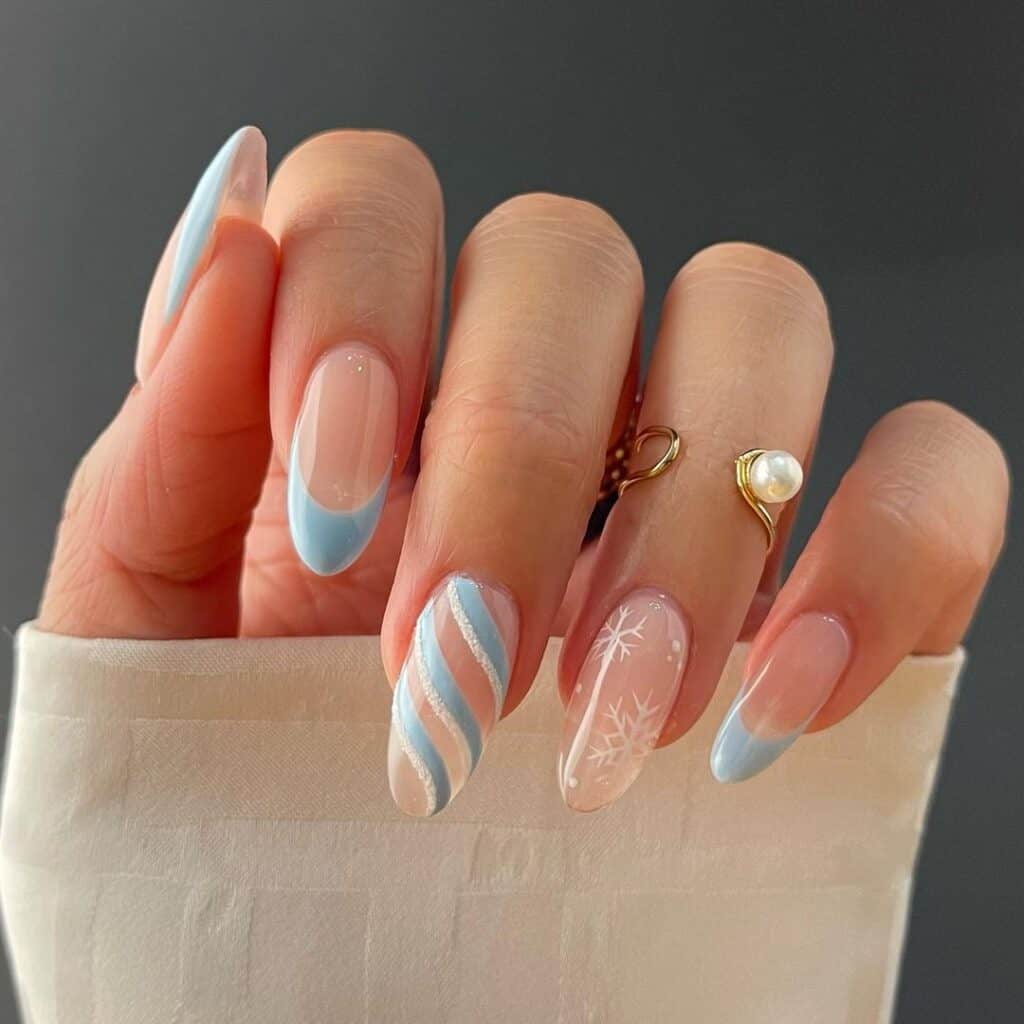 Blue and Winter nails go together like hot chocolate and marshmallows. They're just the perfect couple, and as you can see from this darling design and many others, they're simply in love.
Add in the sparkly white polish to make swirls and snowflakes, and you're onto one of the most strikingly gorgeous manicures on this list.
40. Pink with Glittery Sided Nails
Two-tone nails have always had my heart, but these ones? They've stolen my attention desire, and taken top spot on my must-try list this Winter because who doesn't love light pink and sparkles?
Here, the winning combo shines with an abstract twist that makes them sensationally quirky yet also fit for every occasion.
41. White Snow French Tip Nails with Snowflakes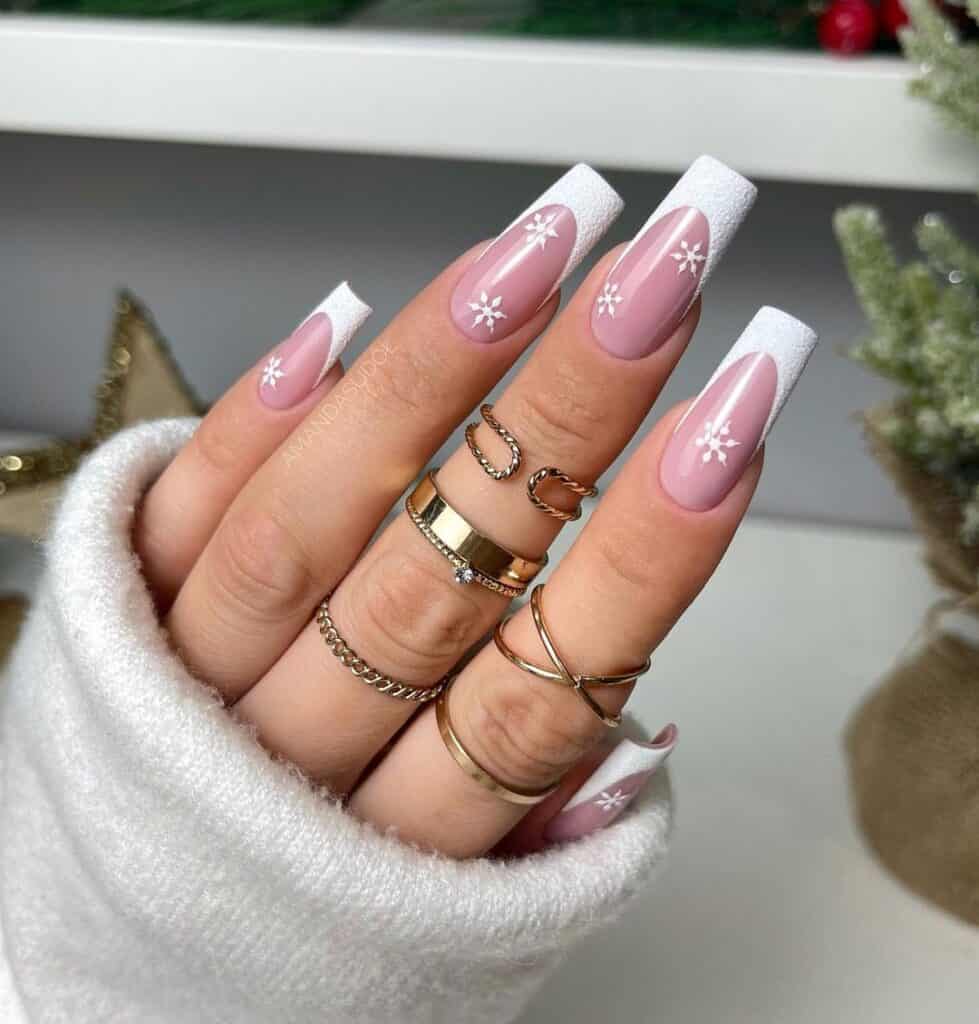 If cozy and causal with a chic edge is your thing, then these nails will also be your thing.
Sure, the long, square shape of the manicure brings a bit of drama, but it's effortlessly softened by the frost effect tips and the adorable snowflakes.
Key to keeping this look low-key-chic is the blush base as a clear canvas.
42. White Winter Nail Design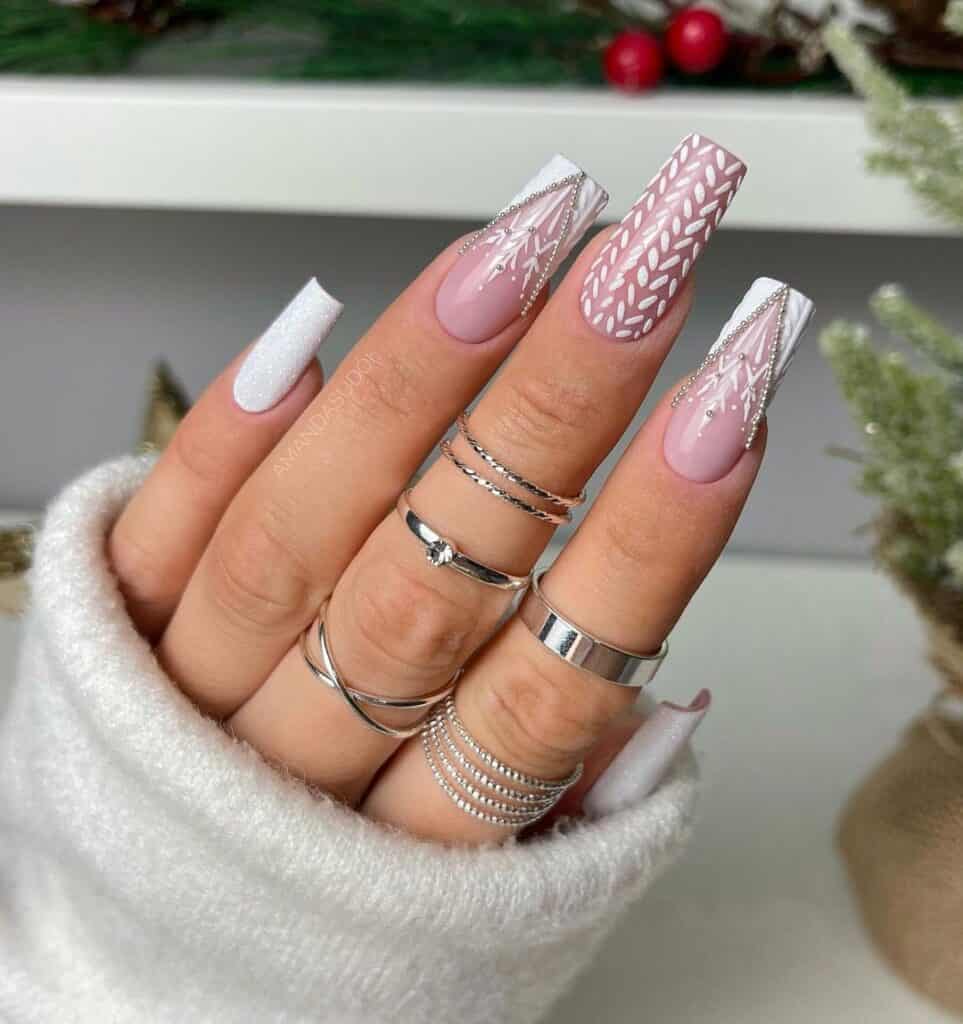 Opulence meets luxury on these nails that are fit for a Winter princess. They're also the definition of glitz and glam thanks to the detailed beads, but what really makes it is the patterned accent nail with rustic vibes.
There's so much going on that this look is certainly a challenge to DIY, but I'm sure your nail tech would love to bring this winter wonderland to life.
43. It's All White Winter Nails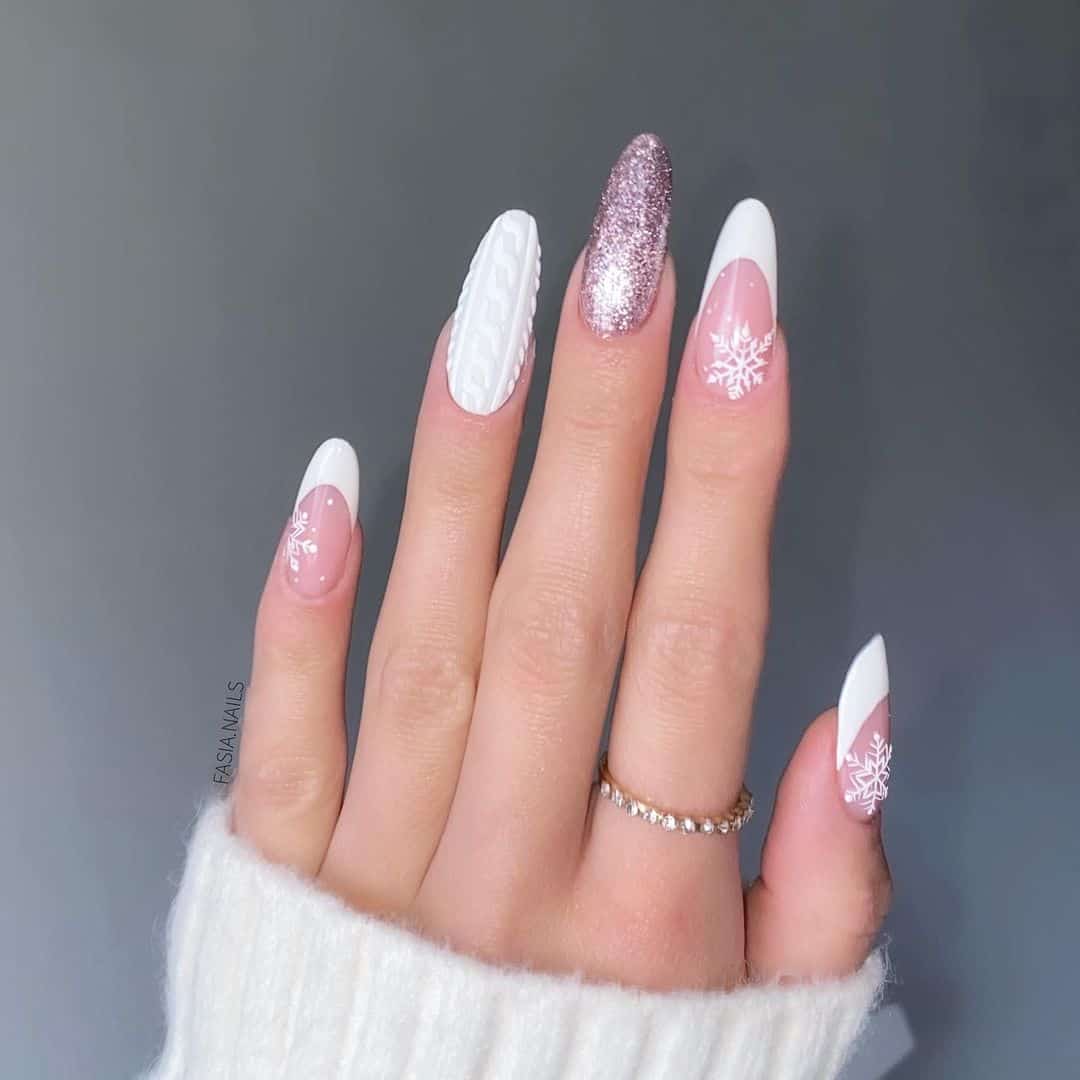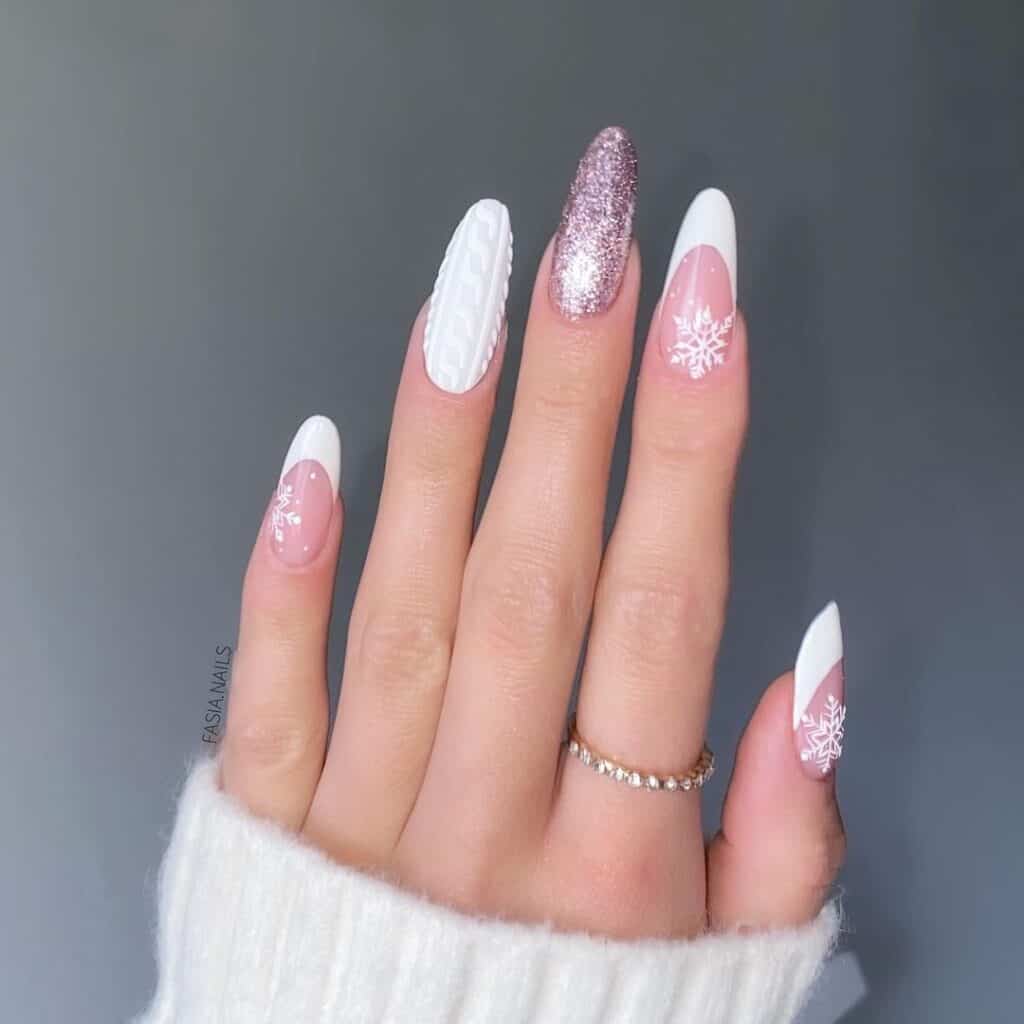 These winter nail designs are the perfect fit for an ice queen who knows what she's about. They're so elegant and delicate at once, with plenty of textures and shimmer that really make them pop.
Maybe it's the sweater cable nail or the dainty snowflakes, but there's such a cozy vibe to this look that feels just like a Winter evening in with hot chocolate and an open fire.
Plus, they're one of the easier designs on the list, so they're a must-try at least once.
These Were The Best Winter Nail Designs and Winter Nails of 2023 You Will Absolutely Love
Don't forget to pin this!