This post may contain affiliate links, which means I'll receive a commission if you purchase through my link, at no extra cost to you. Please read full disclosure here
What is the new comic book nails trend?
With TikTok, just about anything can go viral, and today, we're saying hello to the Comic book Nails, the latest trend.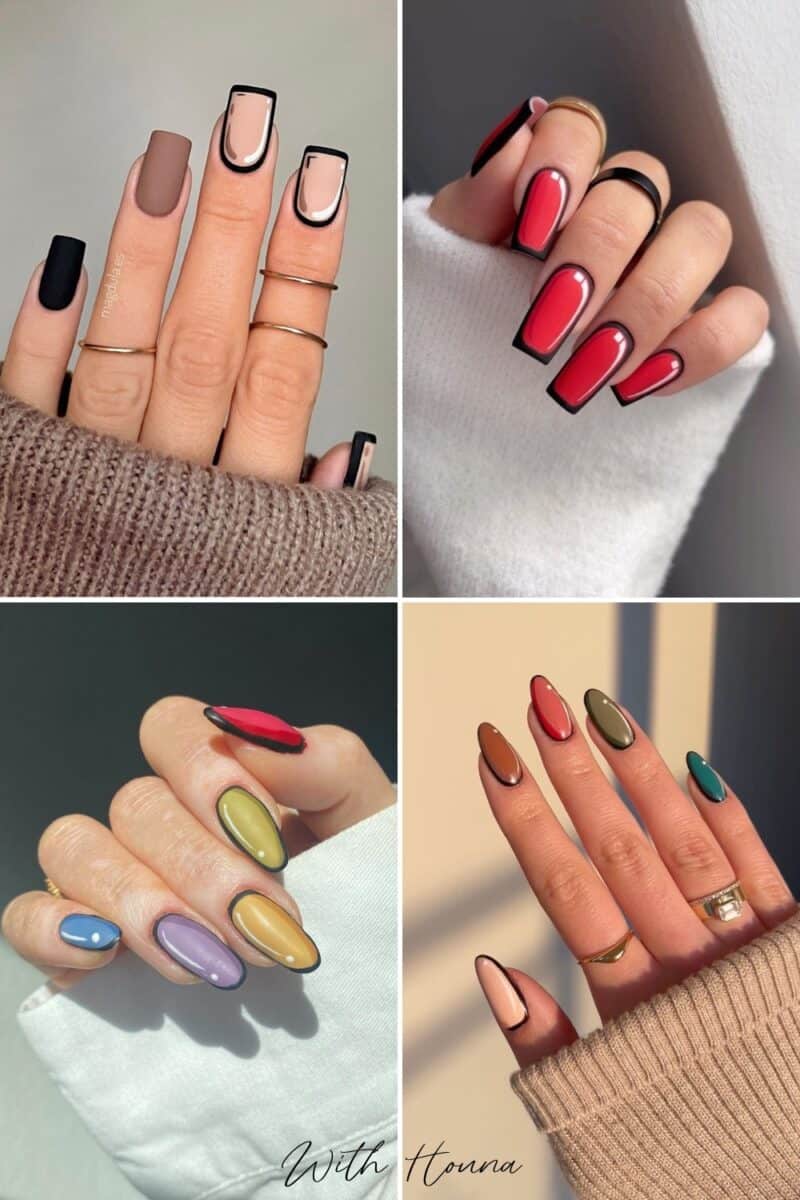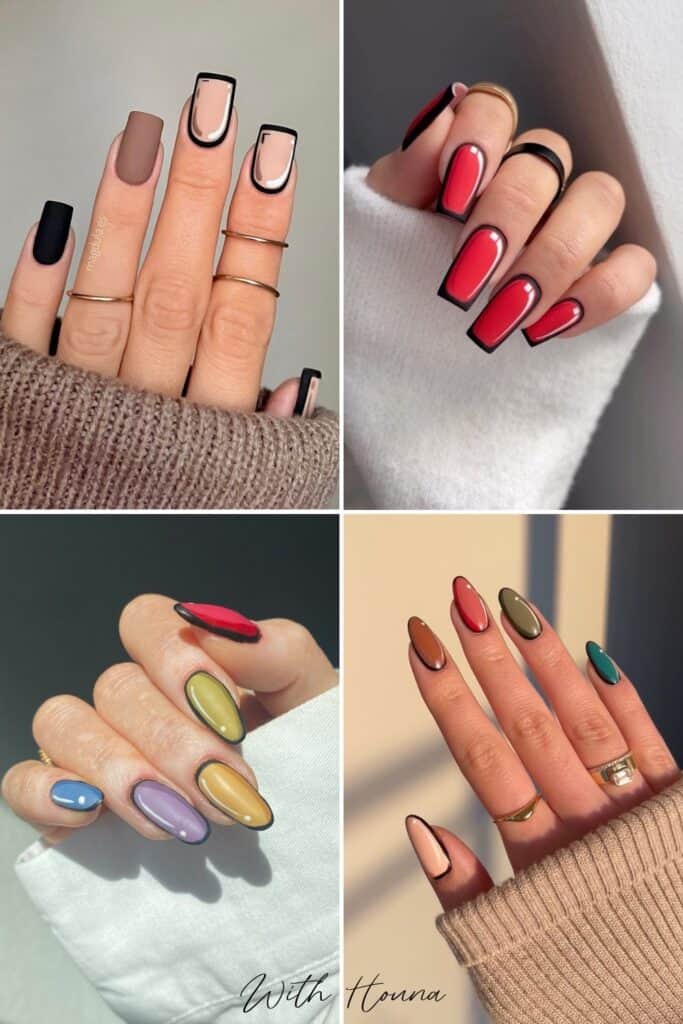 While scrolling through Instagram, Pinterest, and TikTok, you see some 3D comic nail designs that are out of the box, and you're wondering what's a comic character doing on her nails.
Surprisingly, this is an unexpected but creative trend, and we are in for more comic nails design.
As an obsessed Nail lover, I can tell you for free that these comic book nails are so pretty, eye catchy, and creative.
These Comic book nail designs take your nails from basic looking to something between a comic character and high-end Gen-Z fashion (Okay, I'm tripping, lol).
Are lost for a minute on what exactly are comic nails, and how can you get them done?
Comic nails or pop nail arts are creative nail designs characterized by 3D effects, and it's all about making your nails look like they're popping straight out of a comic book using painted-on lines around the edges of the nail to create a 3D effect.
It's like your nails are jumping right off the page!
One of the best things about comic nails is the assortment of options. From classic comic book covers to your favorite comic characters.
You can even mix and match different designs to create a truly unique look that's all your own. Also, these comic nails are the perfect fall nails you to recreate this year.
If you want to join the trend and get your nails popping with some comic nail design. Luckily, I'm sharing some creative and fun comic book nail designs to give your nails some comic love.
Cute Comic Book Nails
1. Cute Autumn Cartoon Nails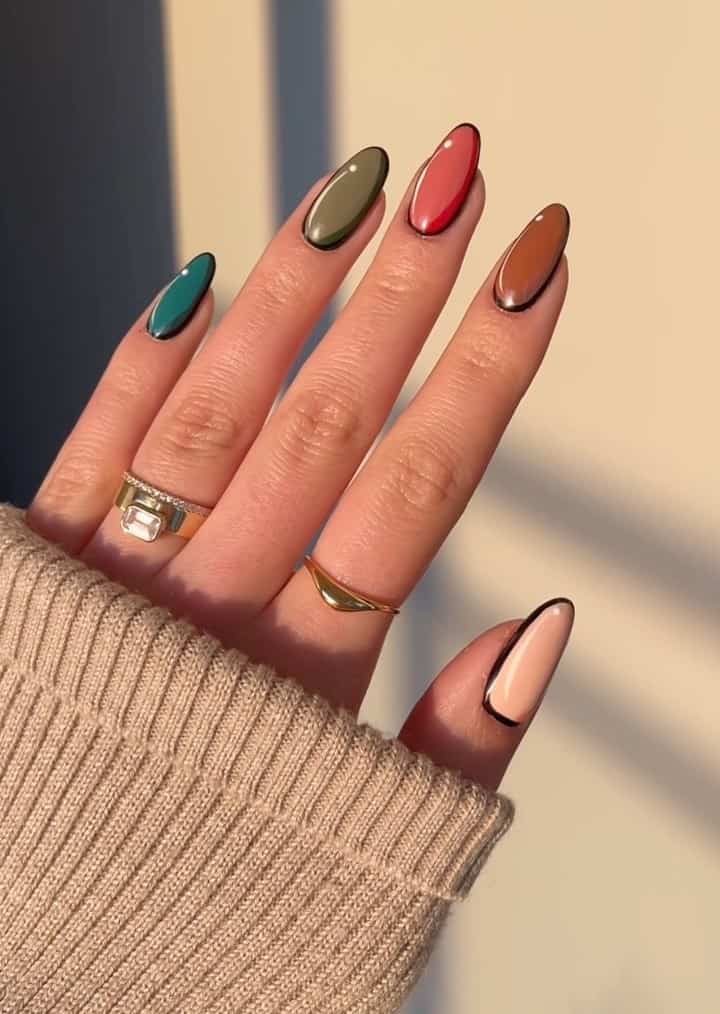 I can't get over how much like precious gems these nails look. They're almost iridescent and have that glassy sheen of diamonds.
The optical illusion is absolutely captivating and entirely unique, considering that it's only entered the trending list this year.
While you may think these nails are tough to master, the recipe is simple: Picking the right shades. Each nail has four shades on it.
One main color, a darker shade of that color for shadowing, black for the rim, and white to create the reflective effect. That's really all there is to it.
2. Colorful Comic Book Nails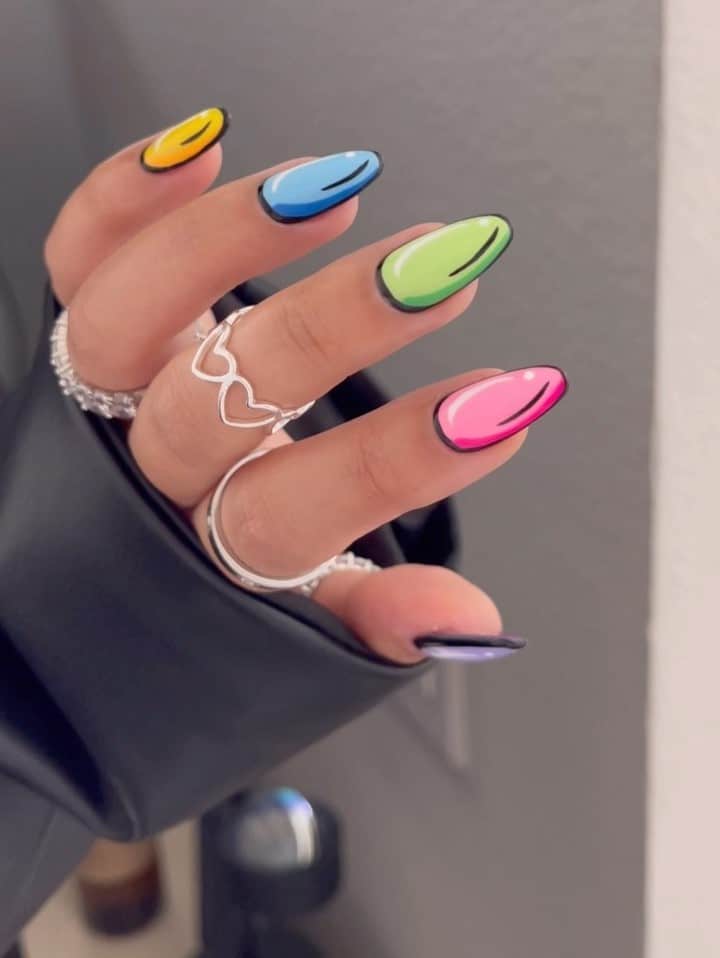 This manicure looks like it's come straight out of the TV and onto your nails. The cartoon effect is pretty trendy at the moment and certainly stands out in a crowd.
Not many people will have seen optical illusion nails before, so they're sure to be transfixed by yours.
If you're worried about going DIY, don't be.
While these nails may look next level, they're actually delightfully simple to recreate on your own. All you need are the right shades and a steady hand.
3. Nude Cartoon Nails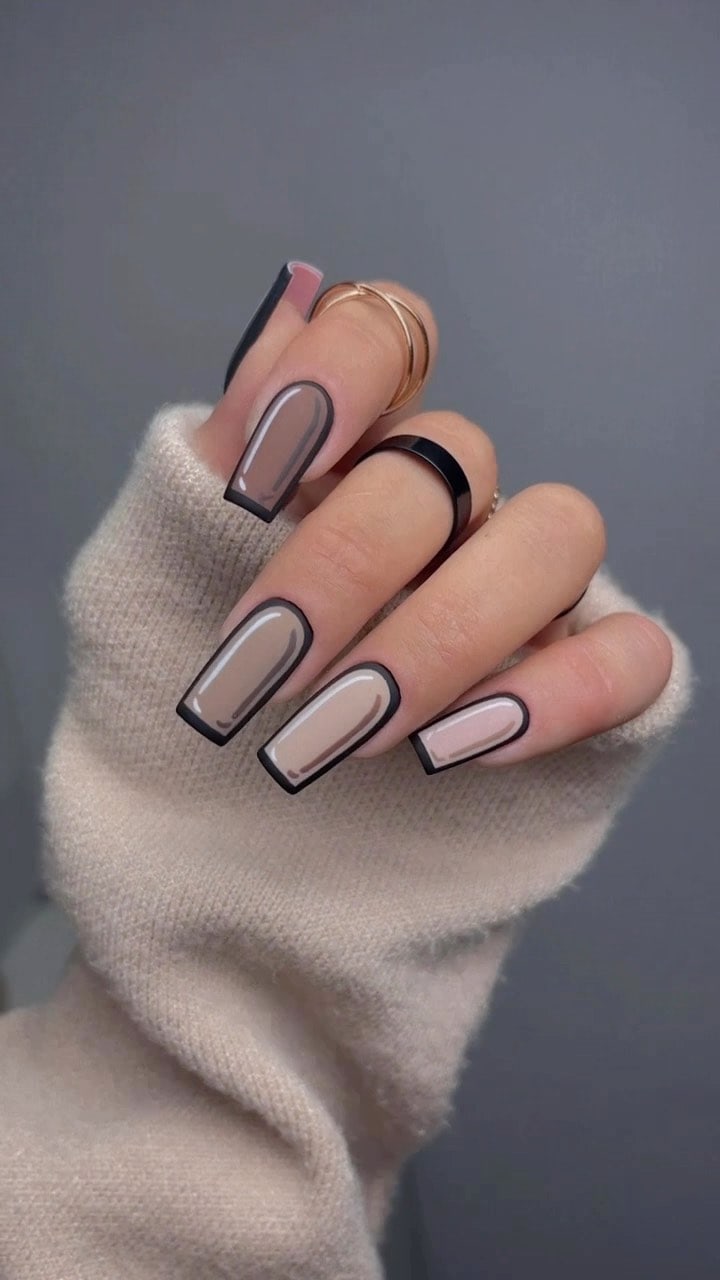 These nails prove that you can be chic and groovy at the same time. They also show how you can squeeze many trends into one nail without things getting complicated.
Nothing short of impressive, these Autumn nails combine the gradient style with a cartoon effect.
The key to keeping things in line is to opt for the most neutral Autumn shades without clashing any colors.
Plus, be sure to keep the thumbnail completely black to ground the manicure.
4. Red Comic Book Nails for Christmas
I love just how in your face these nails are. They're full of attitude, grab the spotlight, and never go unseen.
There's so much attitude and sensuality in these nails that they're giving Betty Boop. The key to making these loud nails really pop is to keep your nails long and either pointed or oval.
That way, you'll have plenty of canvas to play with. The wider the black rims, the more cartoonish and stand-out the nails will look.
Just be sure to pick the richest and brightest color of red you can find.
5. French Comic Book Nails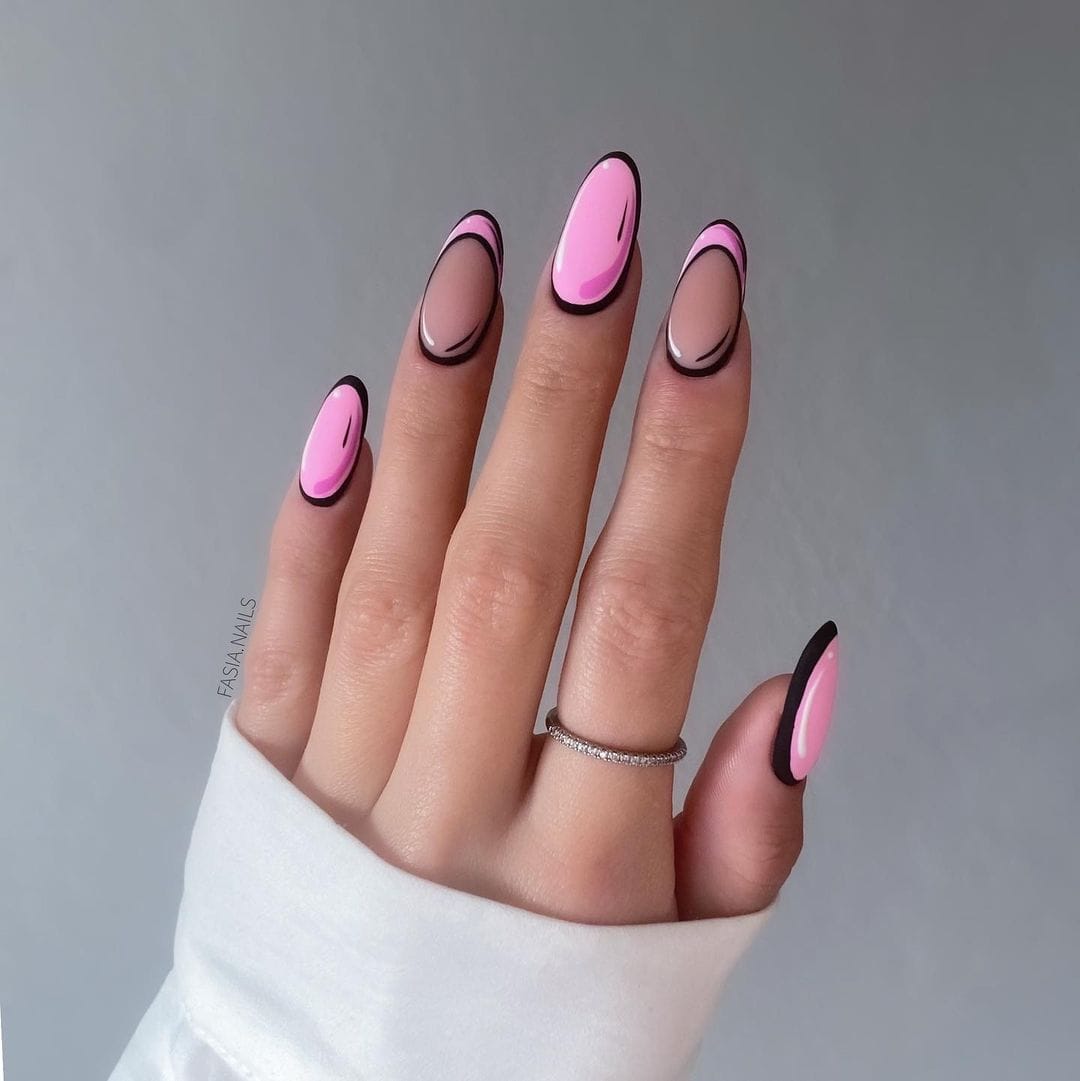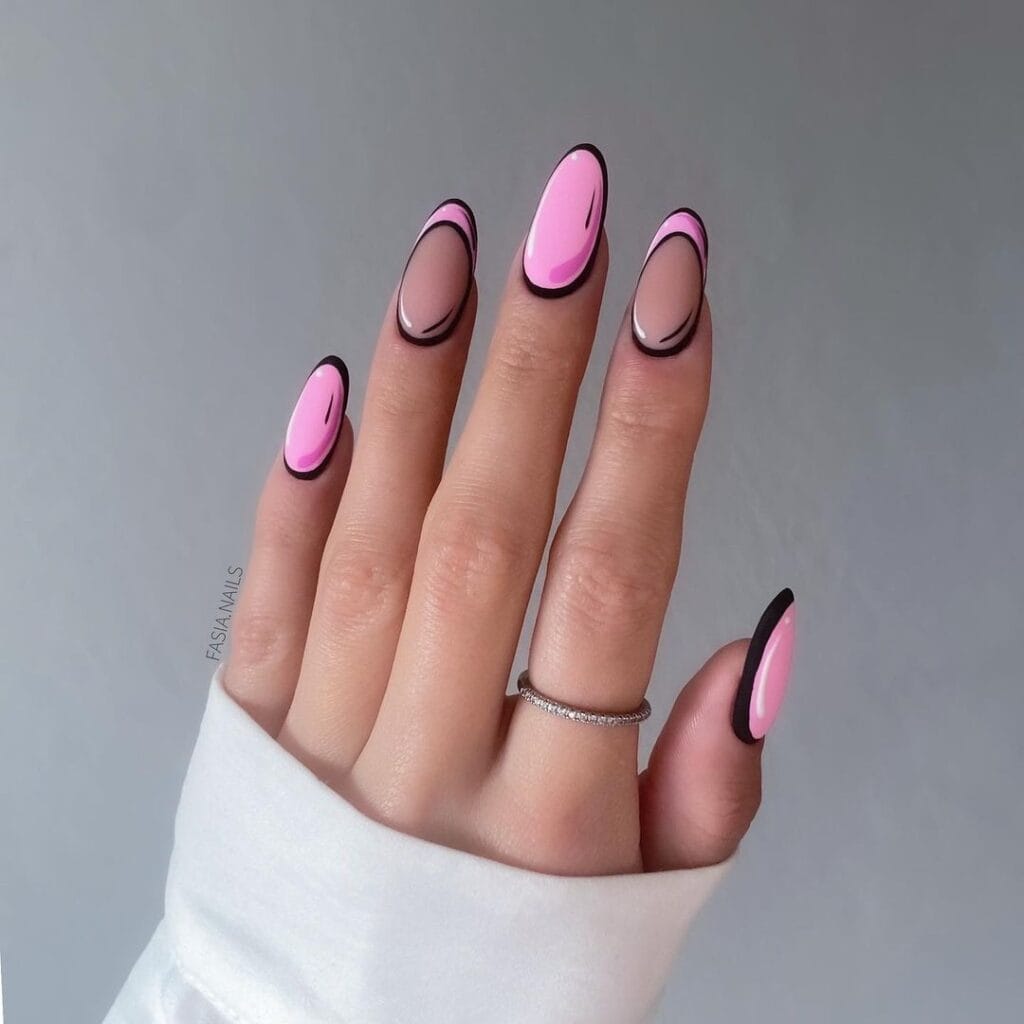 These nails are just so stunning that I could look at them all day long. They combine the negative space trend with the cartoonish design that really helps the nail to pop.
The best part of these nails is the light bubblegum pink shade that is so girly and fun. I'm obsessed with this Autumn manicure and am definitely adding it to my must-try list this year.
That said, while it's great for a day or night out, it may not go down a treat at the office, so be sure to check in on the nail rules before showing off these beauties.
6. Comic Love Nail Design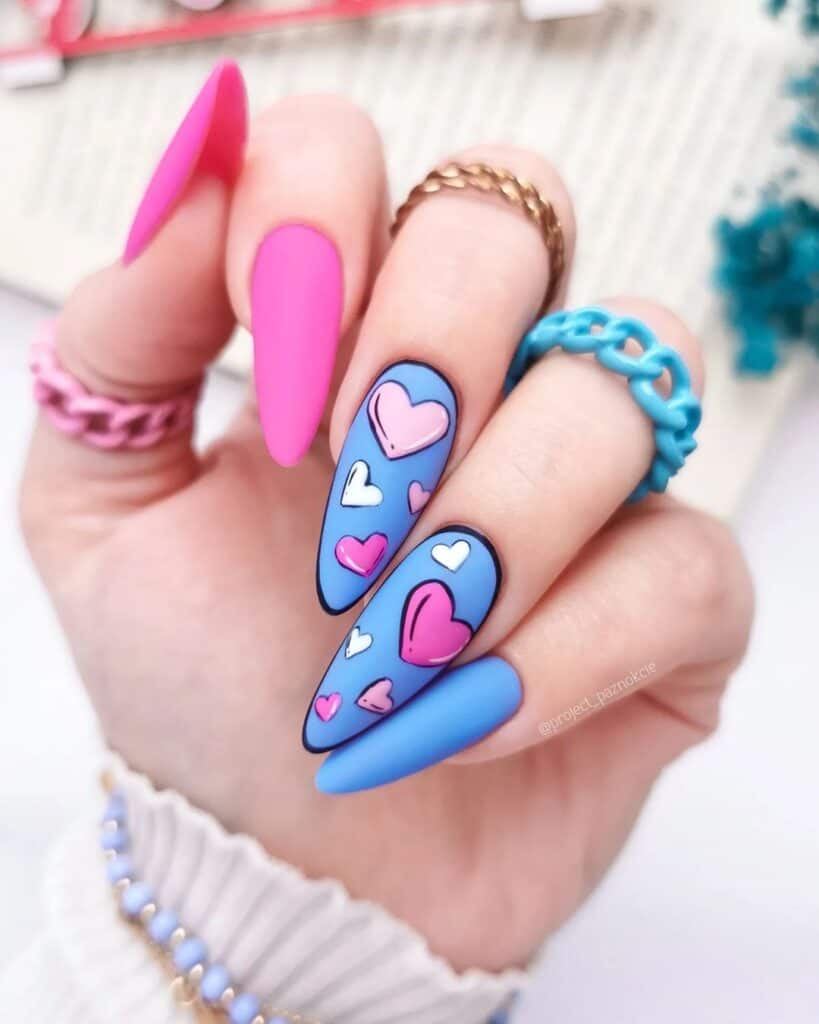 These are some of the cutest and quirkiest nails I've seen in my whole life. They're absolutely adorable and look good enough to eat.
The lovable manicure will impress everyone who sees them, especially if you stick to the oval shape.
That said, these nails are so gorgeously intricate that I recommend you bring them to your nail tech to really perfect and give them life.
7. Cute Matte Neutral Comic Book Nail Design
Gradient nails are huge this year, and their popularity is only growing by the day. It comes as no surprise then that the multi-shade look has found its way into Autumn nail inspiration lists.
You're probably already seeing neutral and earthy-colored gradient nails filling your social feeds, and they'll hopefully be coming to a hand near you.
What makes these nails different is that there are two non-rimmed nails that don't feature the shadow or reflective effect.
So, these may be ideal if you're short on time and still want to enjoy statement cartoon nails with a twist.
8. Spider Web Comic Nails
If you think having short and square nails means you can't take part in the cartoon nail movement this Autumn, think again.
Here is proof that even the shortest and squareest nails are the perfect canvas for the comic look.
In fact, I'd argue that sometimes, the sharper the edges, the more enhanced the look is. While the pink shade brings warmth, the spider web adds a quirky and gothic edge.
That said, the nail art web isn't obligatory, and the nails will still look stunning without it.
9. Blueberry Comic Nails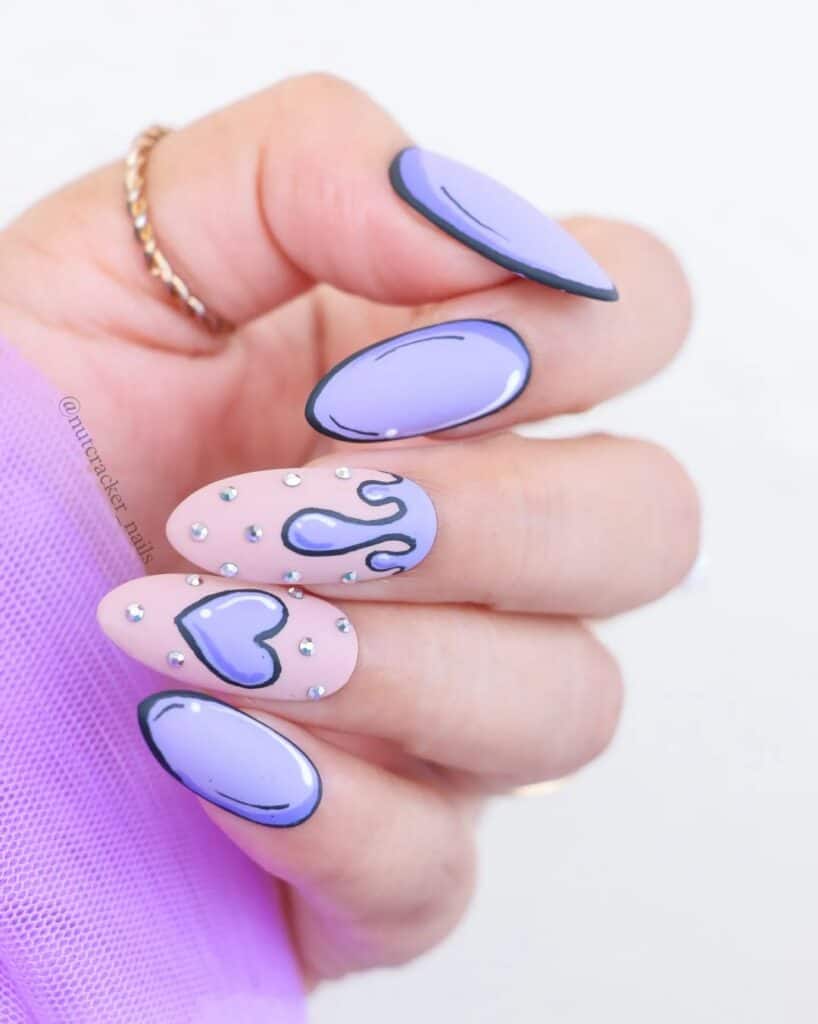 These nails are giving candyfloss and merry-go-round vibes. They're so fun and bubbly. I'm also sure they'll bring a smile to everyone's face because people of every age can appreciate the beauty and quirkiness of cartoon nails.
The violet shade is so soft and only complements the light pink nail polish. The nail art is really what makes this manicure so special.
Alongside the inverted tip, it's all just perfect.
10. Autumn Comic Long Nail Design
If you're looking to try out the cartoon nail trend this Autumn but don't want to go all-in, that's okay.
You can dip your toe into the trend thanks to these nails that keep things simple. But just because they're a little less emphasized or vibrant than the other Autumn manicures doesn't mean that they can't also shine.
They stand out due to their elegance and sophistication, which still feature some vibrant shades.
Of course, yellow and blue are natural autumn colors, so the nails stay on theme, and they still have a light shading and reflective optical illusion included. Two of the nails are kept full-coloured and without any design flairs.
They're painted using matte nail polish that really anchors and completes the cosmopolitan and modern look.
11. Pastel Cartoon Nail Design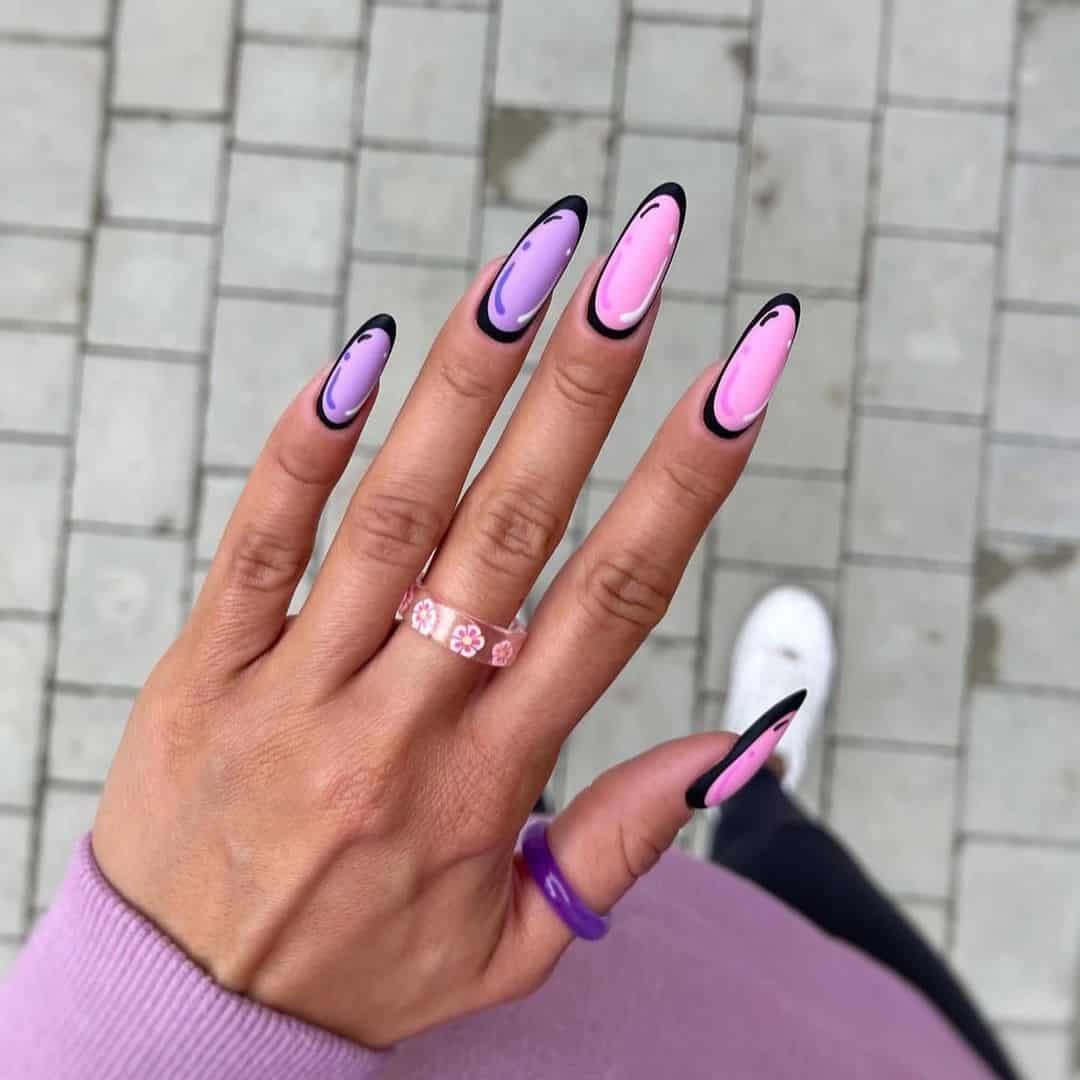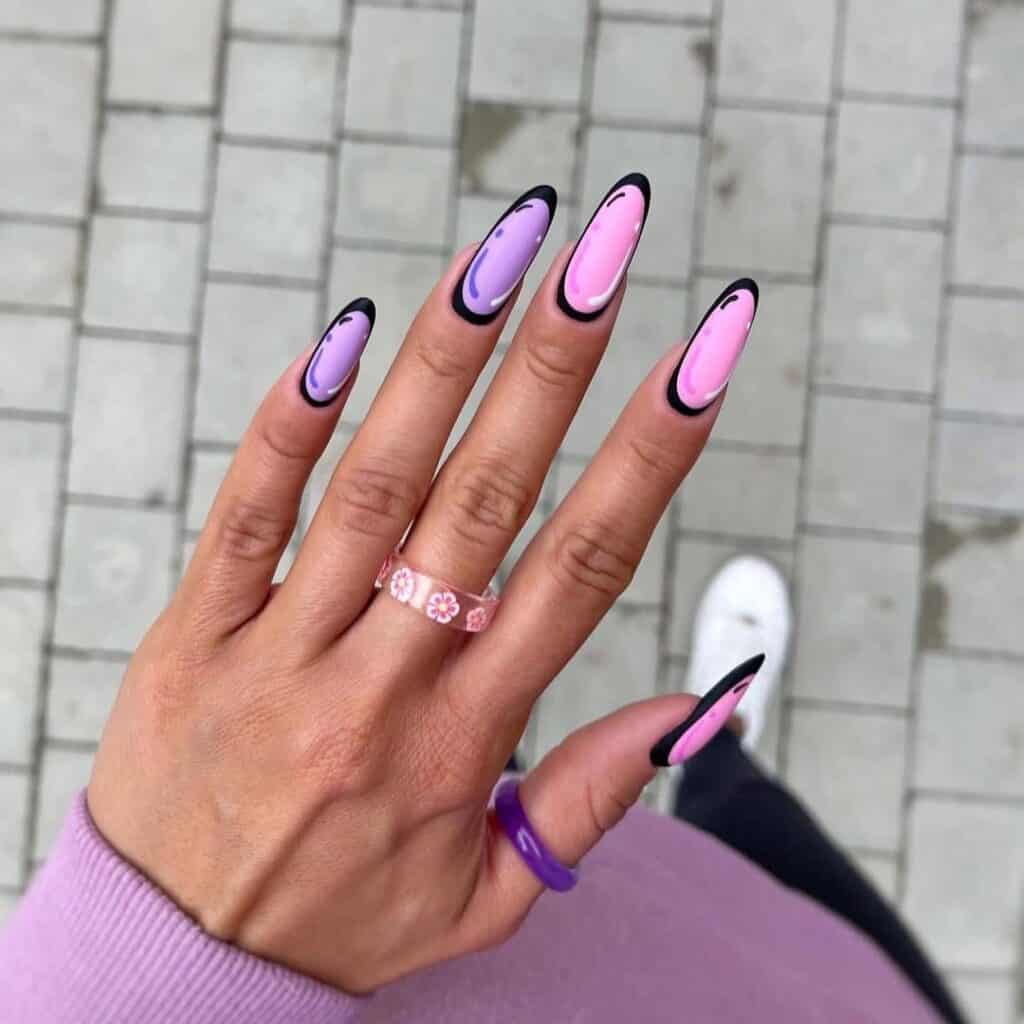 These nails are so easy-going, fun, and easy-breezy. They're the epitome of girly style that's having a moment this year and fits in perfectly with the softness of Autumn.
Plus, they're gradient, and that means they have my heart. I love how strong and soft the shades are at once, and I think that's the main quality to achieving the cartoon design.
With this manicure, you can really play around with the shading and size of the rim.
One thing for sure is that this manicure is made for trying out new, cute rings. They'll go perfectly with the softer shades and never clash.
12. Dark Blue Comic Nail Idea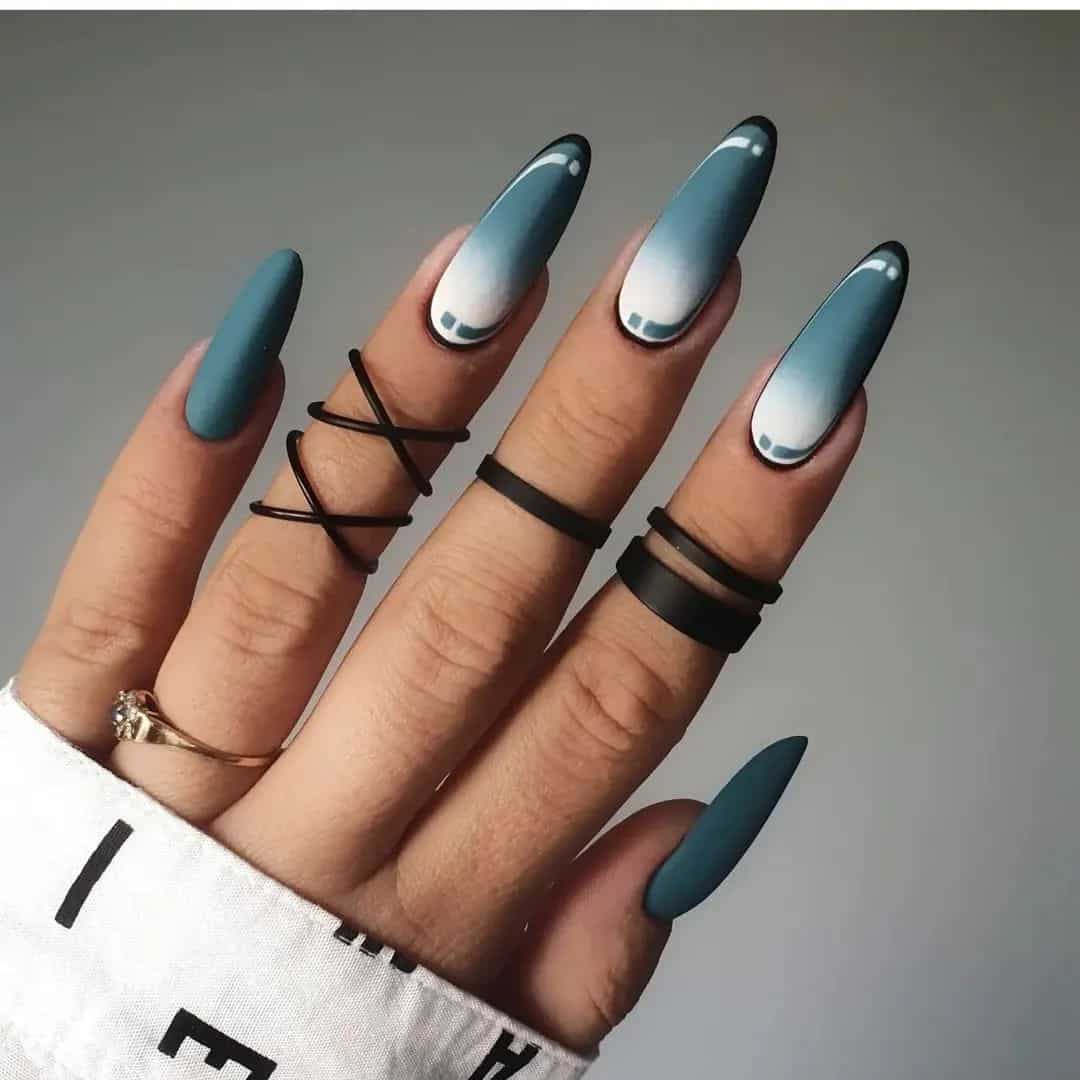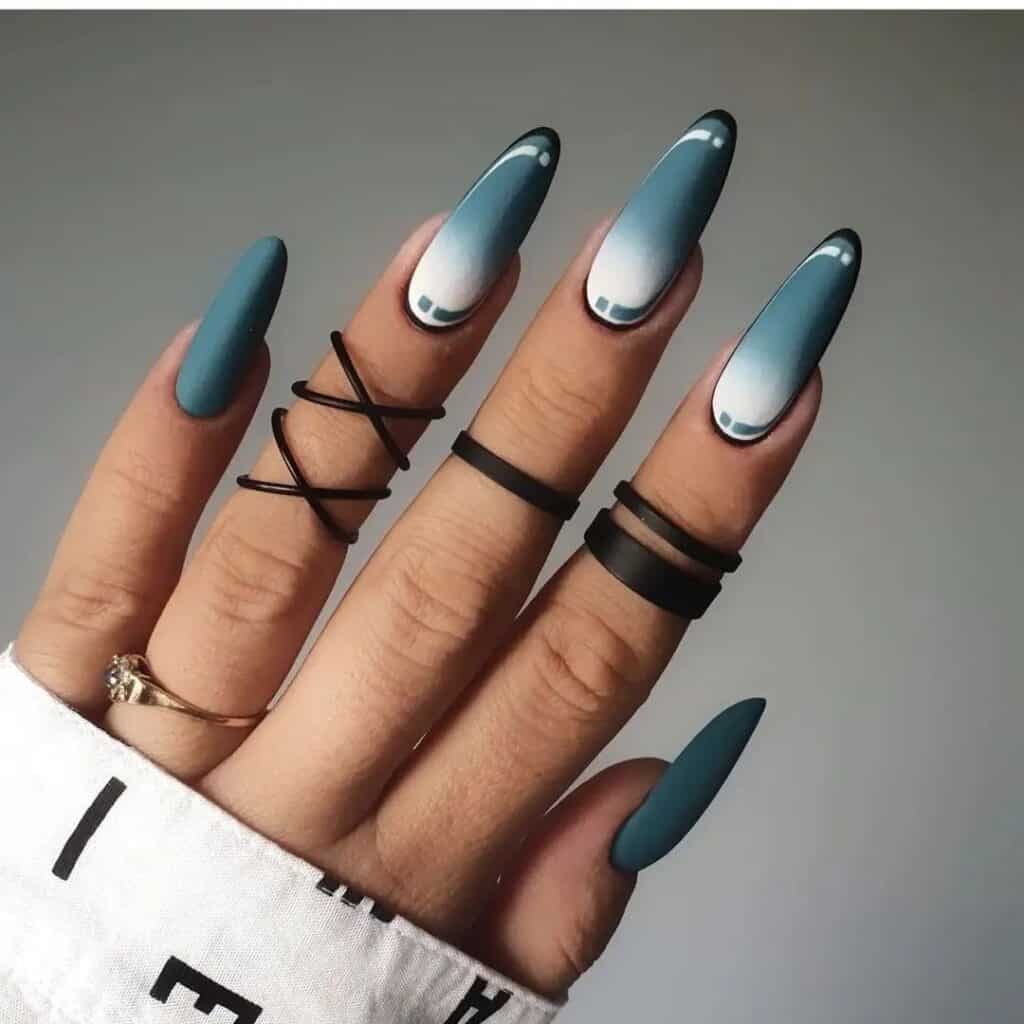 I am absolutely obsessed with these spectacular nails. From cuticle to tip, they're absolutely breathtaking, and they're top of my list of manicures to try out this Autumn, or forever, really.
These are the type of nails that I truly wish would last a lifetime. They're like a work of art and have just the right amount of cold and warmth to keep the look delightfully neutral. It's like this manicure was designed for Instagram.
It's just so striking and should be photographed at every chance so that everyone can appreciate its beauty.
I will say, though, that while the nails don't look too over the top, there really are a lot of small details that make the bigger beautiful picture.
That considered, it might be best to take this look to your nail technician so that they can perfect the look. Or, if you'd prefer to test your nail skills, then this is the perfect look to try.
13. Yellow and Black Nails
I love how these nails bring so much drama to short and square nails. They also effortlessly avoid the trap that some short nail designs fall into, and they don't look complicated or messy.
It all starts with two full-colored, glossy black nails that are so strikingly neat and clean. Next, we move onto a negative space nail with a black rim. Inside, we see the fade effect in all of its gorgeous glory, and while we rarely see yellow faded nails, it looks stunning and works perfectly.
On top, to complete the three dots nail art, all you have to do is dip a toothpick into nail polish and get dotting.
The thumb is also yellow and faded but without a rim. And now it's on to the main character of the show, the newspaper print nail that you can definitely achieve using a toothpick and polish as your brush.
But, it might be best to bring this design to your nail tech solely because of this distinct nail.
14. All White Comic Book Nail Design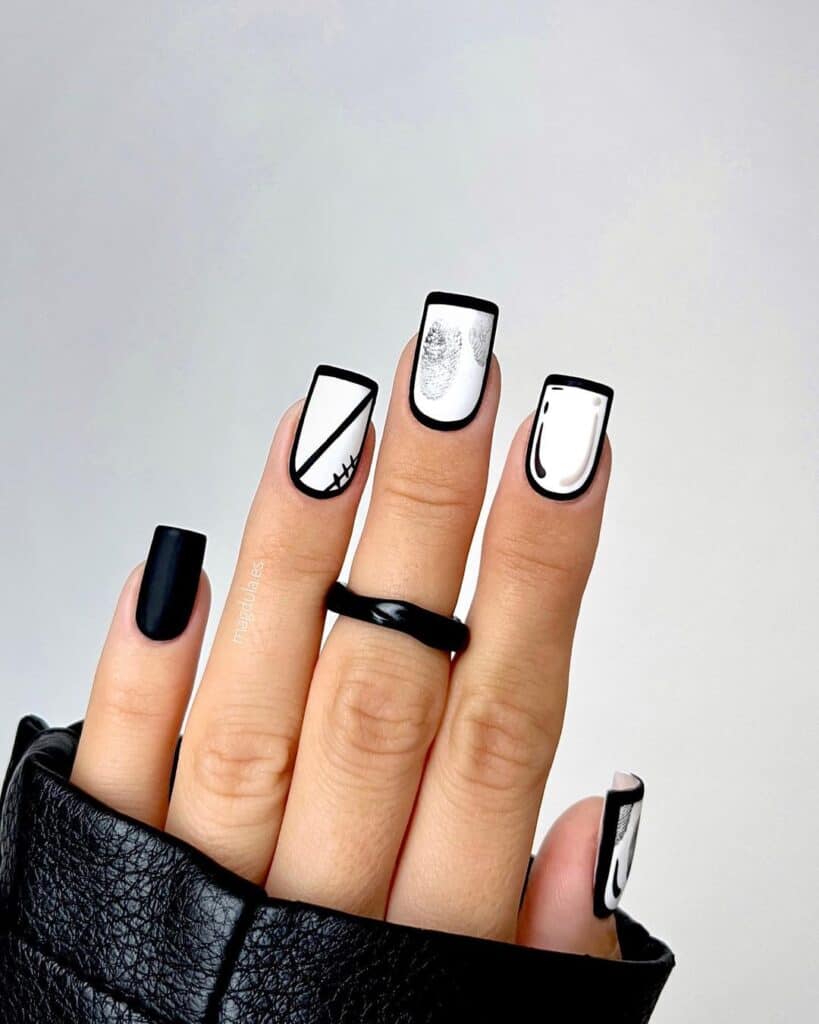 These nails are so stunning and captivating. You'll be styling all of your outfits around your manicure and ensuring your hand is in every picture because it would be a crime not to share these nails with the world.
In general, I'm obsessed with white and black nails.
15. Acidic Halloween Comic Nails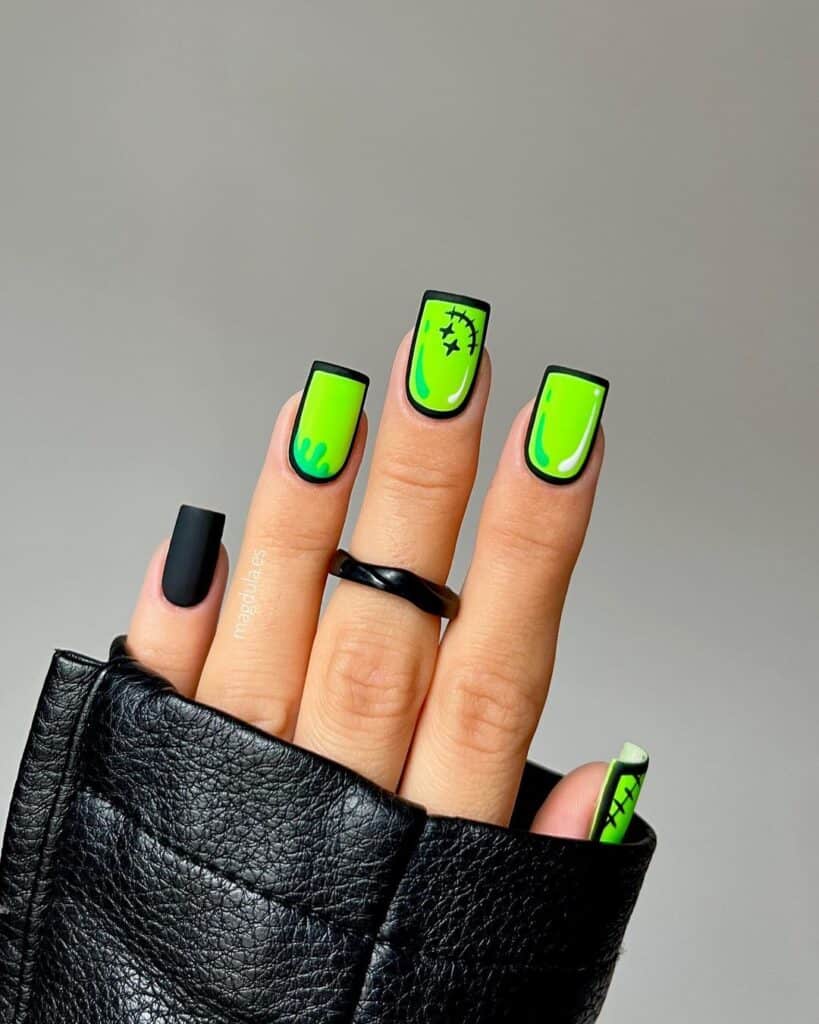 Excuse me, but these have to be the coolest, most psychedelic nails on the list. They were just made for those punk rock girlies who still want to keep things cute.
The neon green shade really just explodes off the nail, while the jet-black accent nail keeps things anchored.
Plus, the grunge smiley face art is just so fun and full of attitude. Keep your nails as short and as well-filed down as possible to really enhance the comic book illusion of this funky manicure.
16. Short Classy Comic Book Nail Trend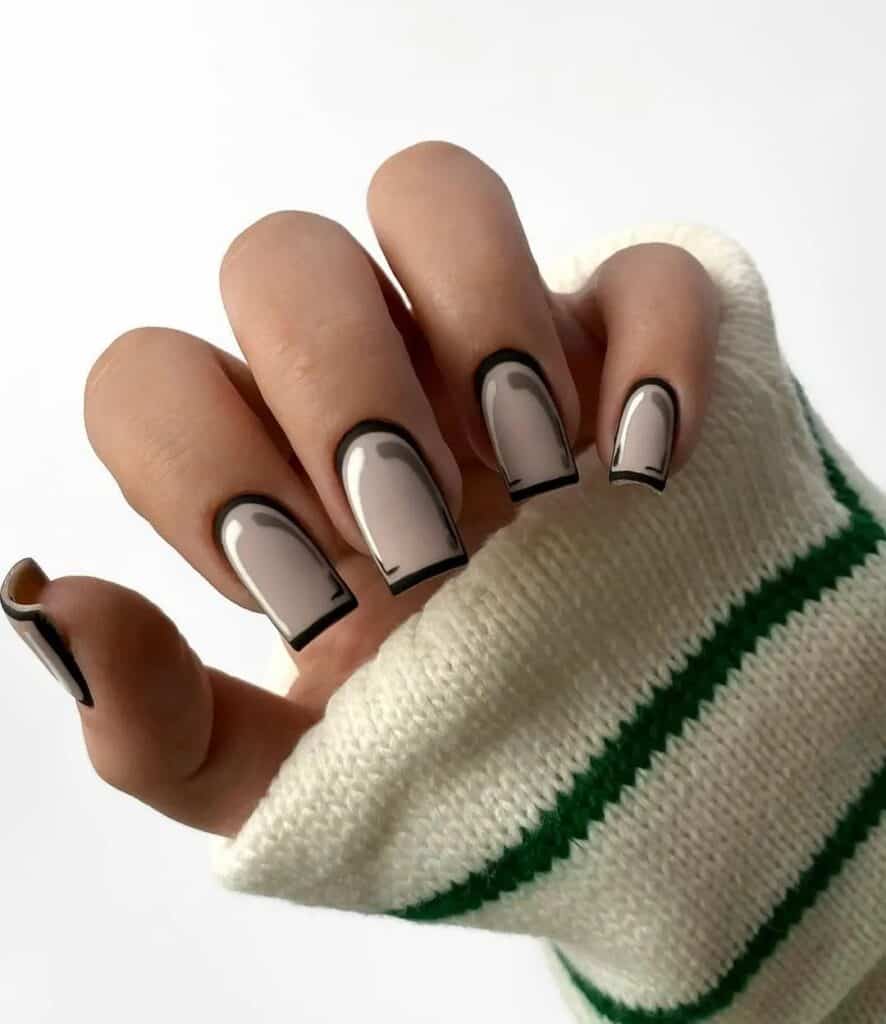 These nails are bringing grunge back, just like TikTok and pretty much every Gen Z social media feed is, too.
They're a little on the dark side and have those noir French film vibes and I'm here for it.
They're also nails that you could wear pretty much anywhere whether to the office or to a cocktail party.
They just work so well in all settings and always get along with any outfits or accessories you choose.
17. Ocean Blue Almond Comic Nail Design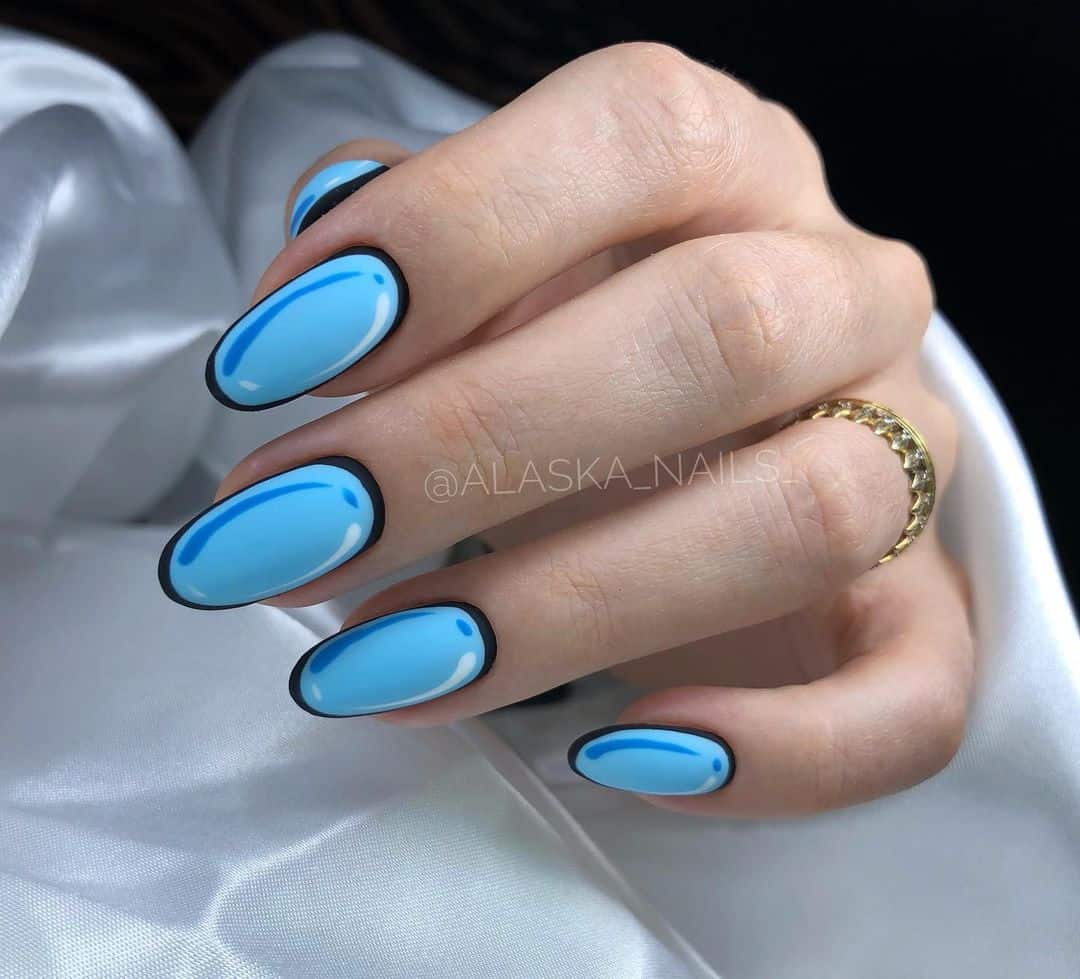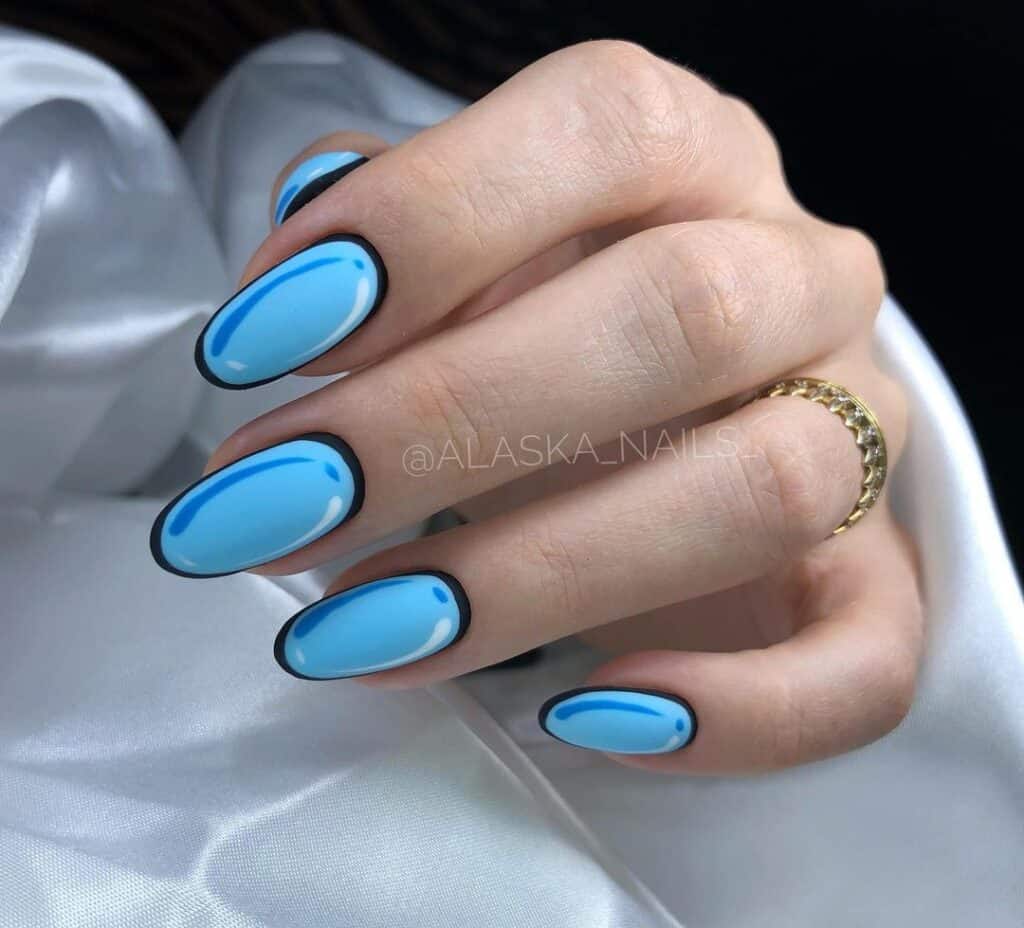 A good pair of nails can brighten your day. These super bright blue nails will add a splash of sunshine to every day.
I'm just so in love with how fun yet casual they are. Seriously, you could probably get away with wearing these nails on your wedding day. They really just are that light-hearted and sophisticated.
Plus, the blue shade is absolutely to die for, and once you see that color on your nails day-to-day, you'll never want to take it off.
18. Red Comic Nail Idea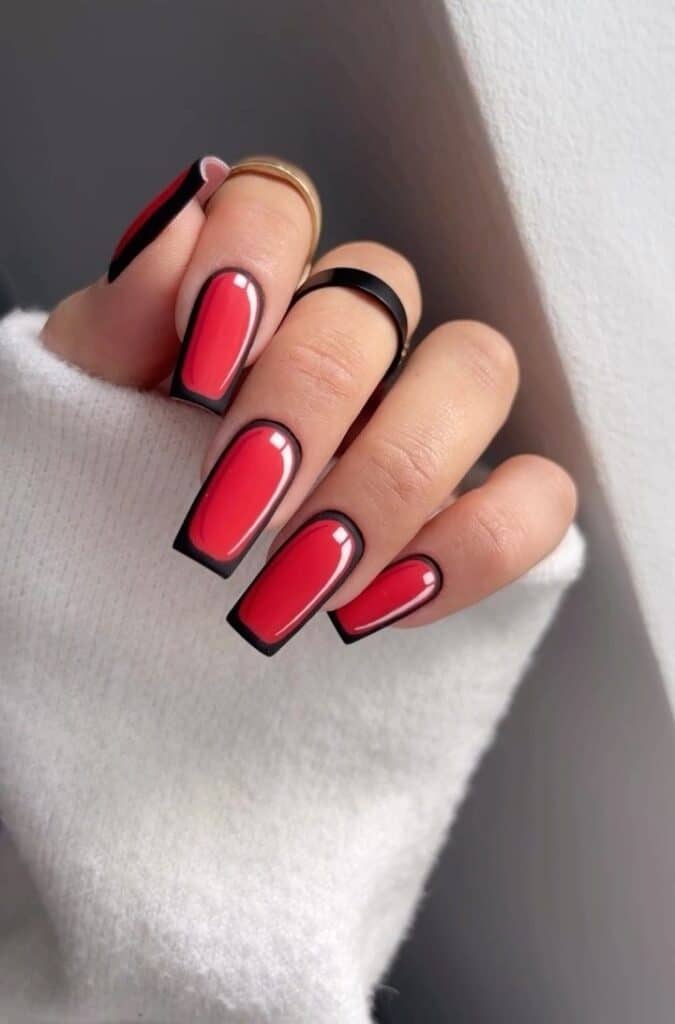 Hello, Betty Boop nails. They're sensual, warm, rich and they come to life across your hand.
They'd look right at home wrapped around a wine glass as much as they would reaching for a gold necklace.
In other words, they're the luxurious and lavish cartoon nails that you deserve to treat yourself with.
19. Almond Abstract Comic Book Nail Idea
These nails are all girl power. They remind me a little of Sailor Moon and the comic book superheroes of the 90s.
They were all so girly, cute, and groovy, with sparkles all around. Why wouldn't you want your nails to look just as dazzling and powerful?
20. Matte Shimmery Comic Book Nails
These are Catwoman nails. Just a little softer than claws, they're not quite stiletto shape, instead rounding into a nice almond or oval finish.
Far from soft is the white nail polish that's shaded all over, which may make this nail a little tricky.
To achieve the flawless and captivating effect, you might want to book a salon appointment ASAP.
21. 2D Comic Book Nail Idea
I feel like Rainbow Nails were made for the comic book trend. The light-hearted and vibrant aura just looks like it belongs in another dimension.
Plus, these nails prove that drawing within the lines or perfecting your polish isn't even necessary, because a few mistakes here and there just create that rustic, natural comic book look that was so popular in the 90s.
22. Brown Comic Book Nail Art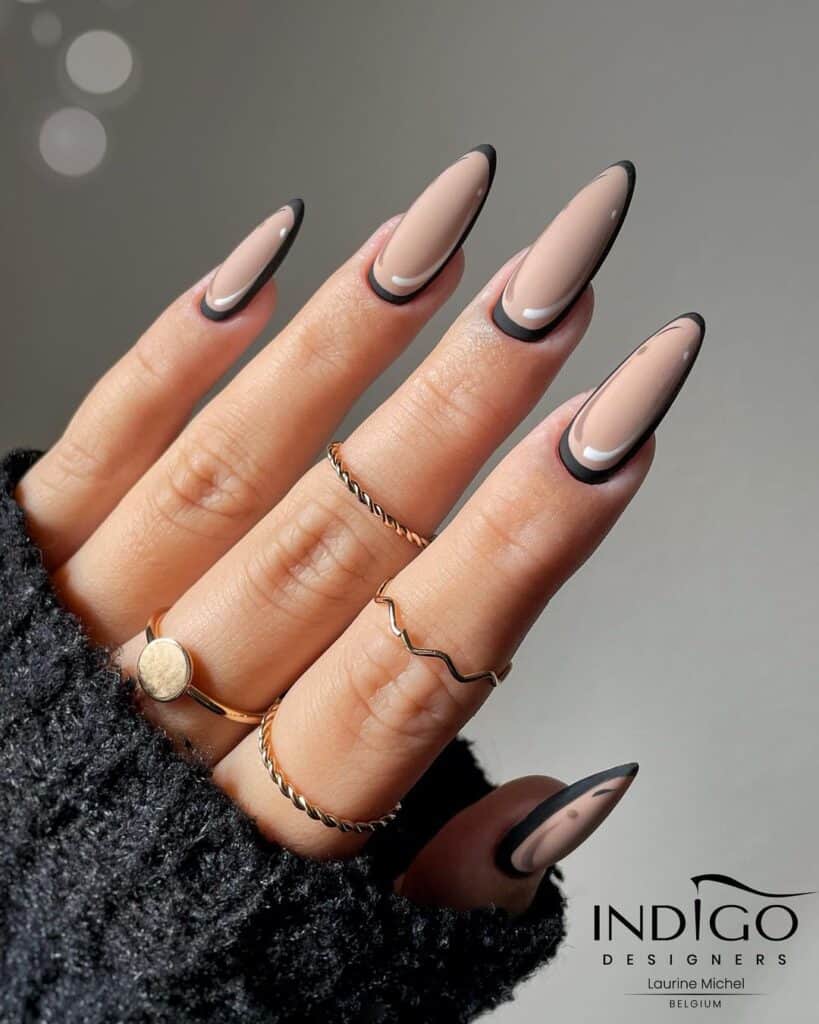 If you are worried that long, elegant, and softly angled almond nails could never look cartoonish, this manicure is here to prove you wrong.
Meet this year's most sophisticated and refined comic book nails that definitely belonged to either the richest woman or the baddest villain of the story.
They've just got those business and attitude vibes that make you feel like you could rule the world.
23. Black and Gold Halloween Nails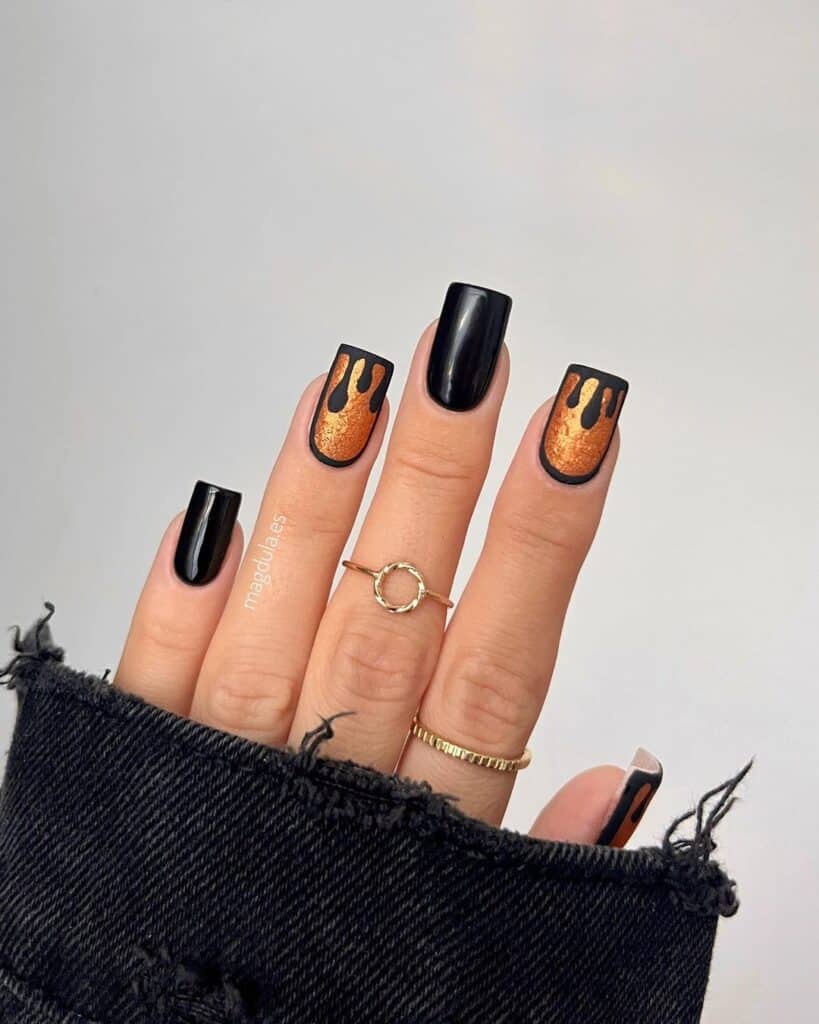 Not every manicure needs special effects or illusions to really pop. This gothic-chic manicure is bursting with glitz and glam vibes that are given a cool edge by the black polish, especially when it forms the blood drop nail art.
That's just what happens when bright, glittery gold polish meets stark black shades.
It really is a sizzling and sparkling combination that explodes fantastically on short square nails.
24. Nude Short Comic Nails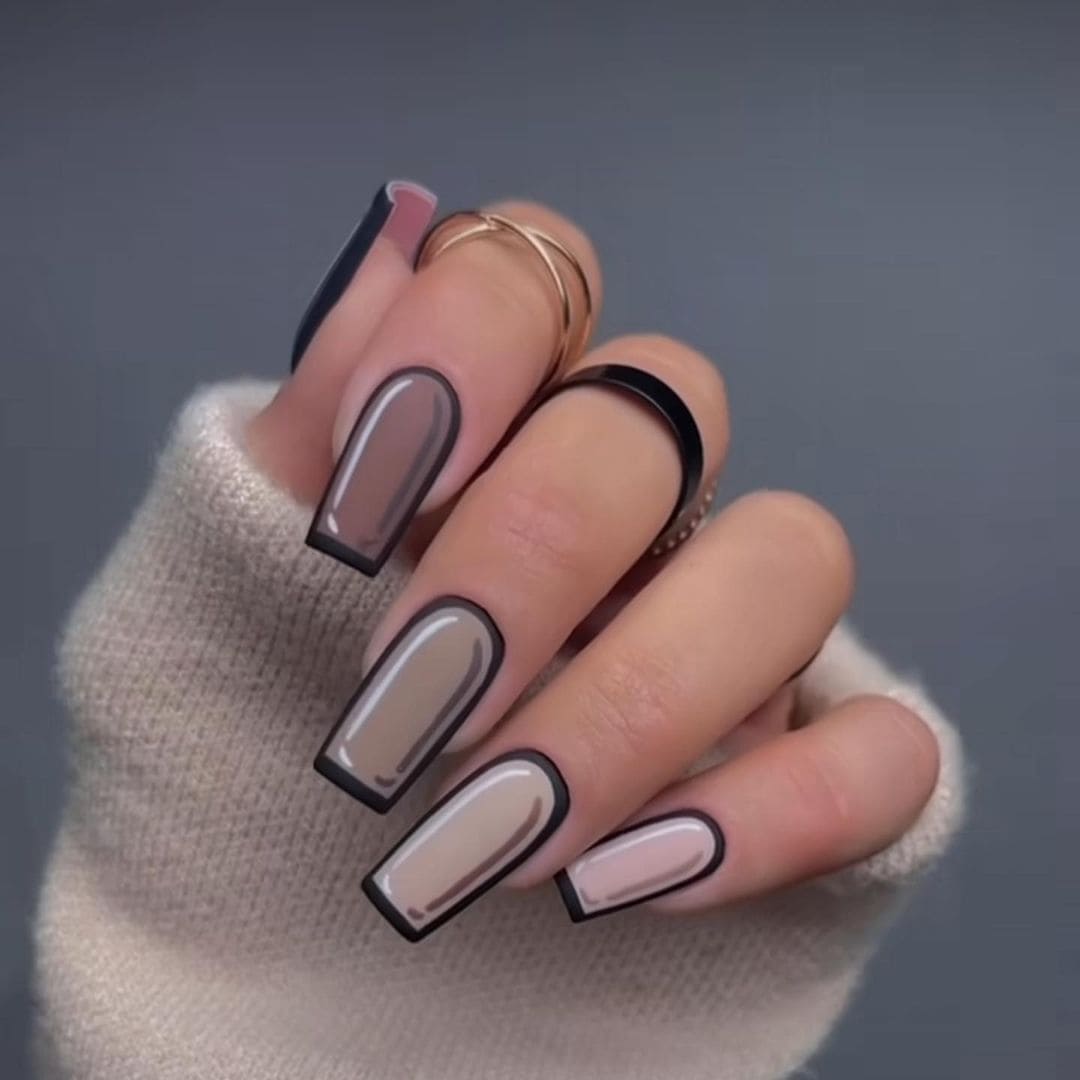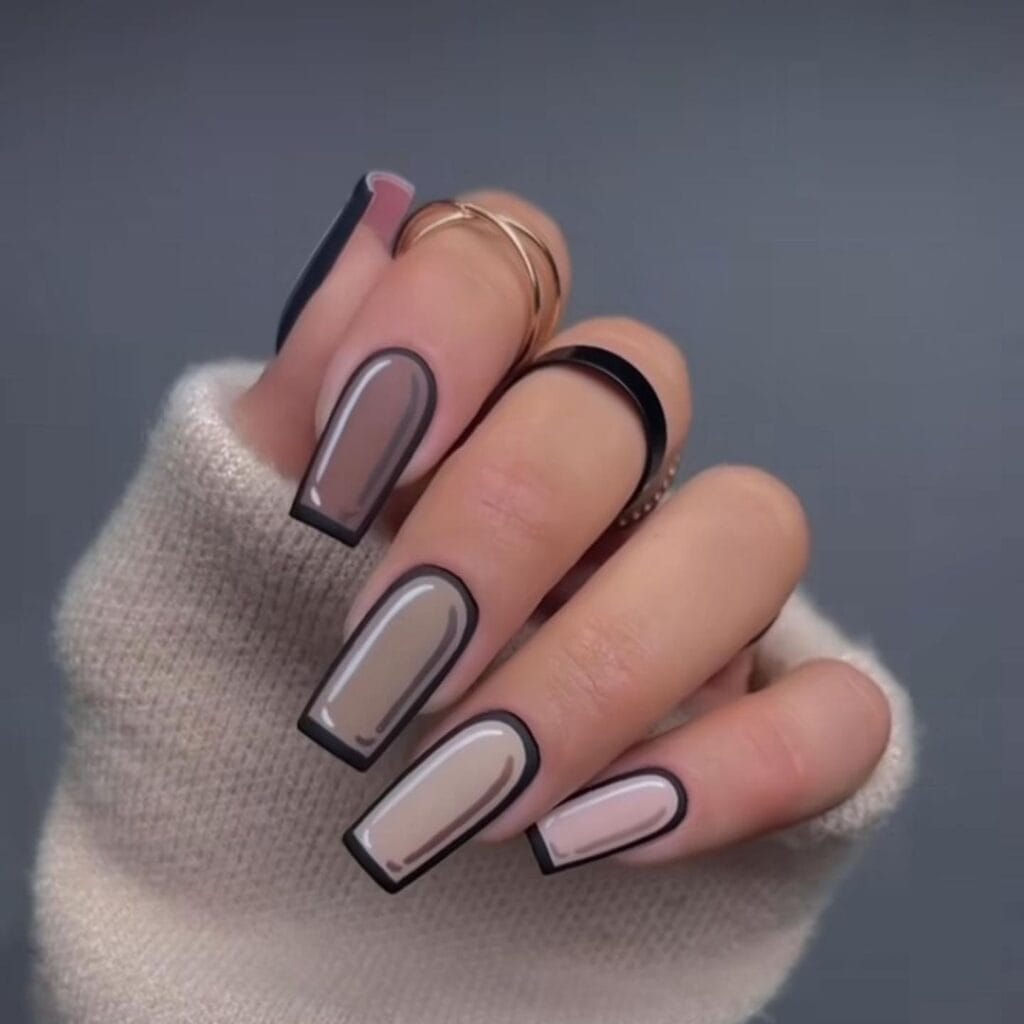 These nails look so realistic that I've had to look at them for a few moments to wrap my head around them.
They look like they were literally drawn on, thanks to the perfectly curated shadowing effect and the expertly chosen shades.
This is just one of those looks that I recommend you save to your phone.
Book an appointment with your nail tech and show them exactly what you want. Their expert hands will work magic.
These Were Cute Comic Book Nails Trend Everyone Is Obsessed Over