I only recommend products or services that I believe will add value to my readers. By using these affiliate links, I'll receive a commission if you purchase through my link, at no extra cost to you. Please read full disclosure here
The best dorm room before and after you'll love to see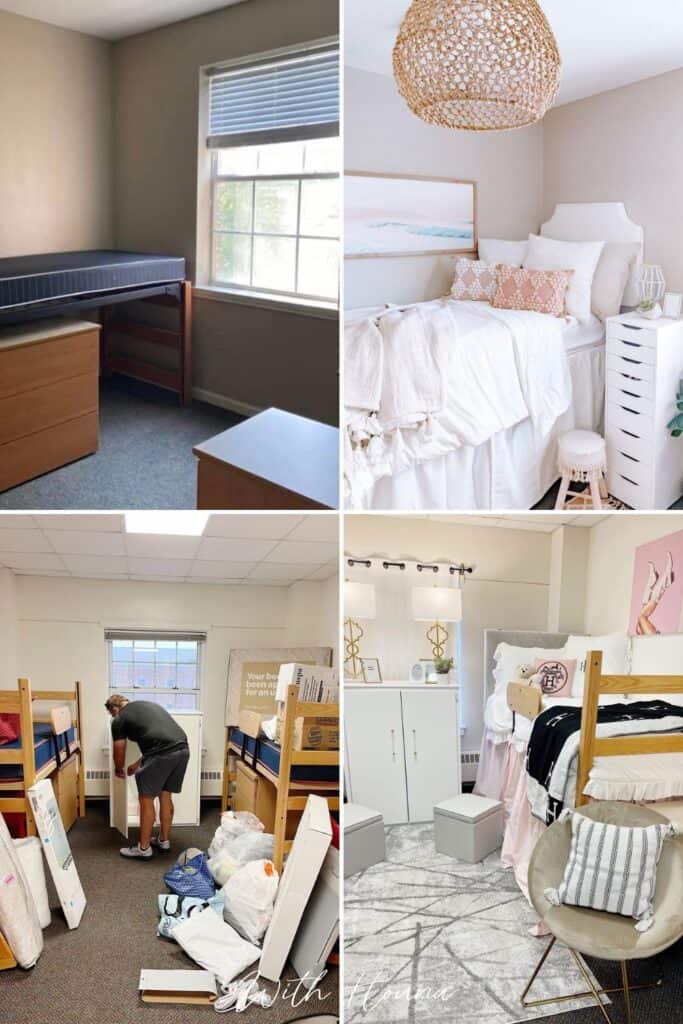 There is nothing more satisfying for college girls than seeing their dorm room before and after transformation and just feeling proud of how good it turned out dressing and decorating their empty dorms.
You should think of your college room as a plain girl who needs a makeover. We all love those kinds of TV shows, don't we? Well, we love dorms makeovers too.
It is just exciting to compare the before and after, maybe post them on your social media for everyone to see and praise your genius decorative skills and take your dorm room before and after as an inspiration to transform their own.
To be honest, when I first walked into mine, I felt like I was in a cold place that lacked so many elements. I needed to place some things here and there to make it feel like home, my home, every decorative item, the decor itself, and the color scheme that reflected my personality.
Now, looking back on my old dorm room pictures, makes me feel proud of how I transformed it and try to make my own dorm a lot better than before.
Clearly, I wasn't the only one who did this or felt that way, so I took the time to take a look at some of the most amazing shocking dorm rooms before and after the transformation. And let me admit, what I found was impressive, I mean those girls did a great job! The before and after dorm room pictures were stunning and you'll be shocked by the results as much as I do.
The Number One Reason to Check these Dorm Room Before and After Transformation
s
College students don't really pay attention or even bother to check dorm room transformation. I know there is a lot of college girl who is just into these stuff as they are really satisfying. Apart from this I highly recommend checking the room makeovers for two important reasons.
First, dorm room transformation videos and articles help you get to know your future dorm layouts. This is essential, especially for freshmen. If you're moving to college, knowing the dorm room's size and layout is important. It will help you with knowing exactly what size dorm room essentials you need to bring because dorm rooms aren't that different from each other.
The second reason is getting to know what others got for their dorm rooms and it looks really nice. I don't know about you but at least for me, I love to see what others got for their dorm rooms and how it reflects the whole room look before I get it. It will save you a lot of time and money as well. Now, let's get to the real thing, shall we?
The Best Dorm Room Before and After
1. Pink, Grey, and White Dorm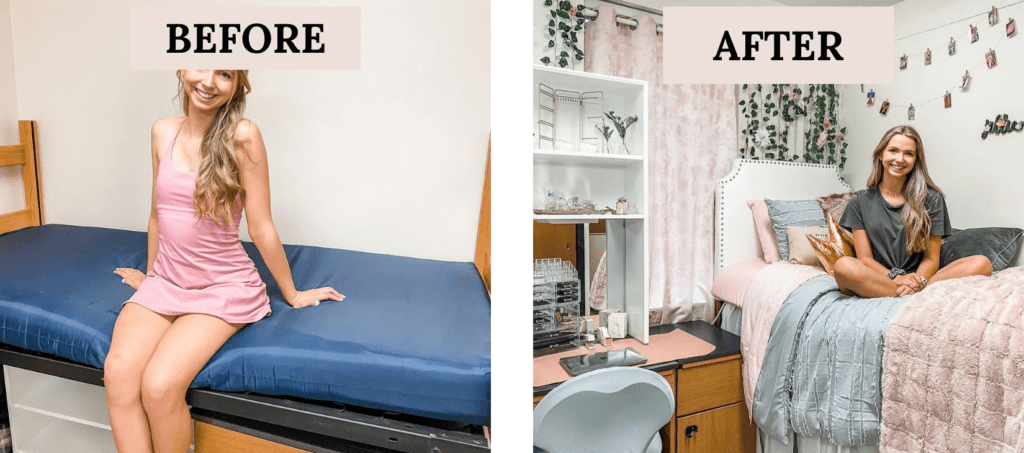 The very first dorm room makeover is this beautifully simple combination of pink, grey, and white decor.
If you can just notice how the colors melt together. This gives the room both a sense of comfort and a more feminine look. I love how the colors are chosen carefully.
For example, the curtain matches the bedsheets, the blankets, and some other items on the desk while the grey is like the glitter on the eyes, sparkling and attractive.
The before dorm picture is as plain as it could be, and I can't be in love with such a dorm room transformation.
2. White, Pink, and Whicker Dorm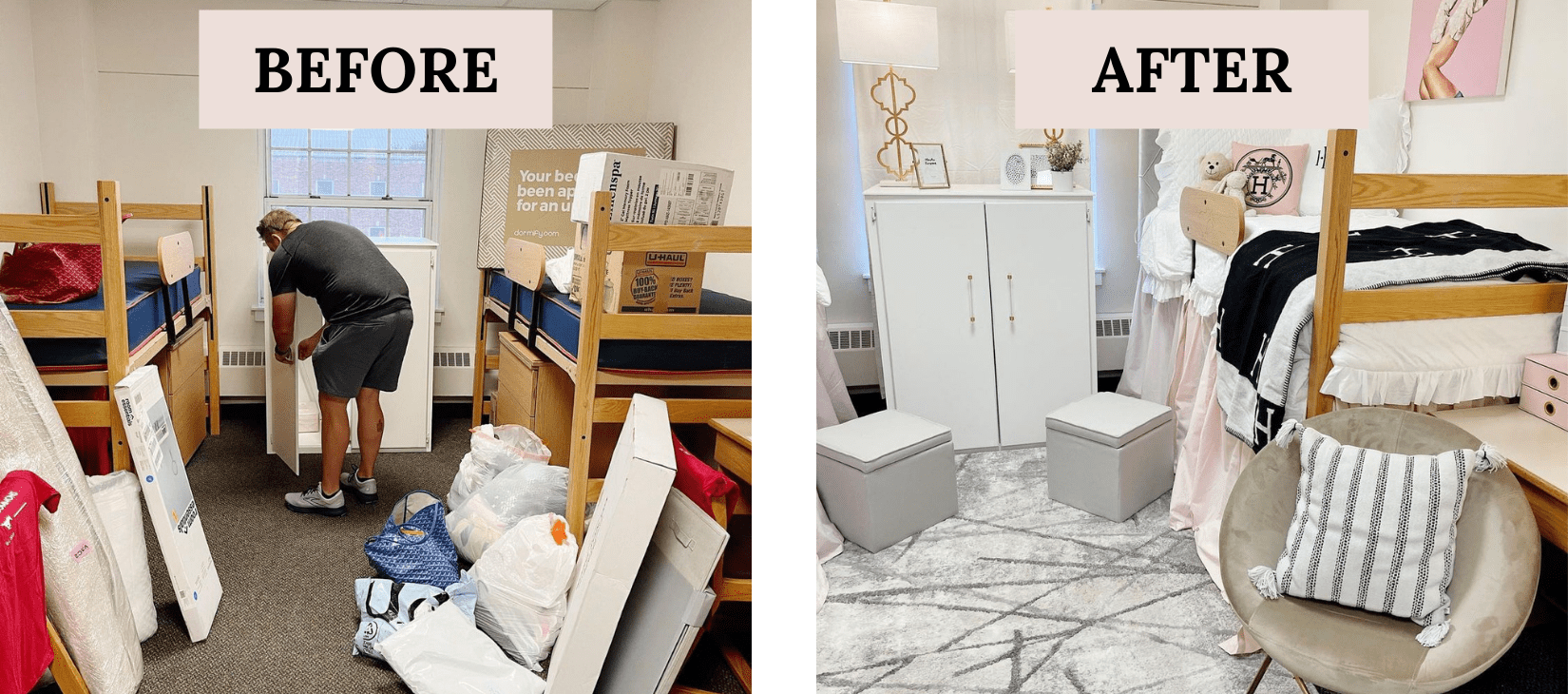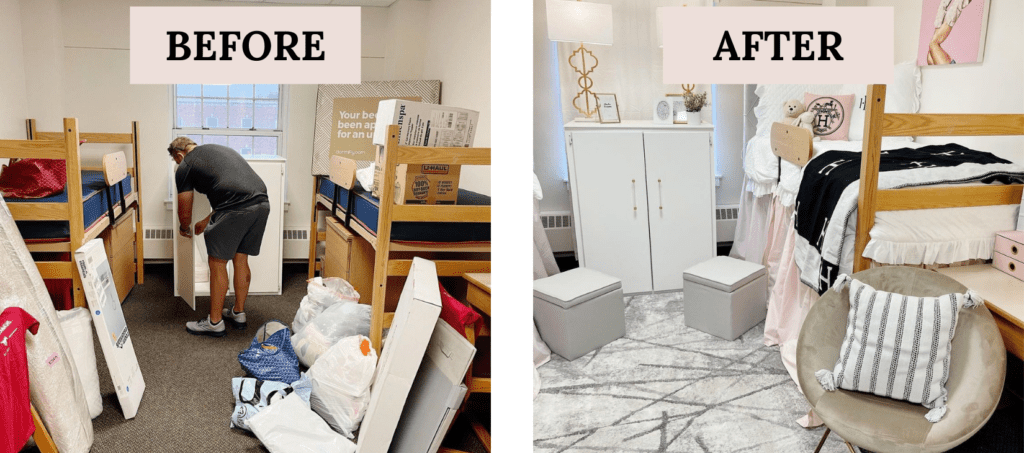 It's just amazing how college girls can get creative with colors and dorm room decor. Of course, it is a tough job to do, to transform your empty room into a completely beautiful space that you can call home. However, it's not impossible.
This is another combination of white, pink, and whicker dorm room color scheme but it's scattered all over differently from the first picture.
As you can see, there is an emphasis on the whicker color. It's a sparkling color, very comforting, cozy, and fits perfectly with its neighbor "white".
There is a little pink on the bed and wall, it's like a little detail on top of the white wardrobe which blends perfectly with the other dorm colors. Also, the ottomans and the grey carpet highlight them perfectly.
I find this a really cool space that's sparkly and classy in a way, the before and after dorm room pictures are proof that so much work was put into perfecting it.
3. Silver, White, and Light Gray Dorm Transformation
I'm in love with the harmony in this room! This college girl did a great job and I'm sure that whoever walked into her room would love to stay.
I find it smart how they went with colors that go well together. The Gray and silver vibes with a touch of blue are just amazing.
The white bed sheets match the lamps and the grey carpet is a luxury. When you look at the before dorm room picture, you wouldn't guess that this transformation would happen, it's incredible how those two made it a charming, luxurious, classy place. If I walked into this room after the makeover, I'd definitely stand still and say WOW because it deserves applause for the smart décor, colors, and placement of objects.
4. White and Blue Accent Dorm Combination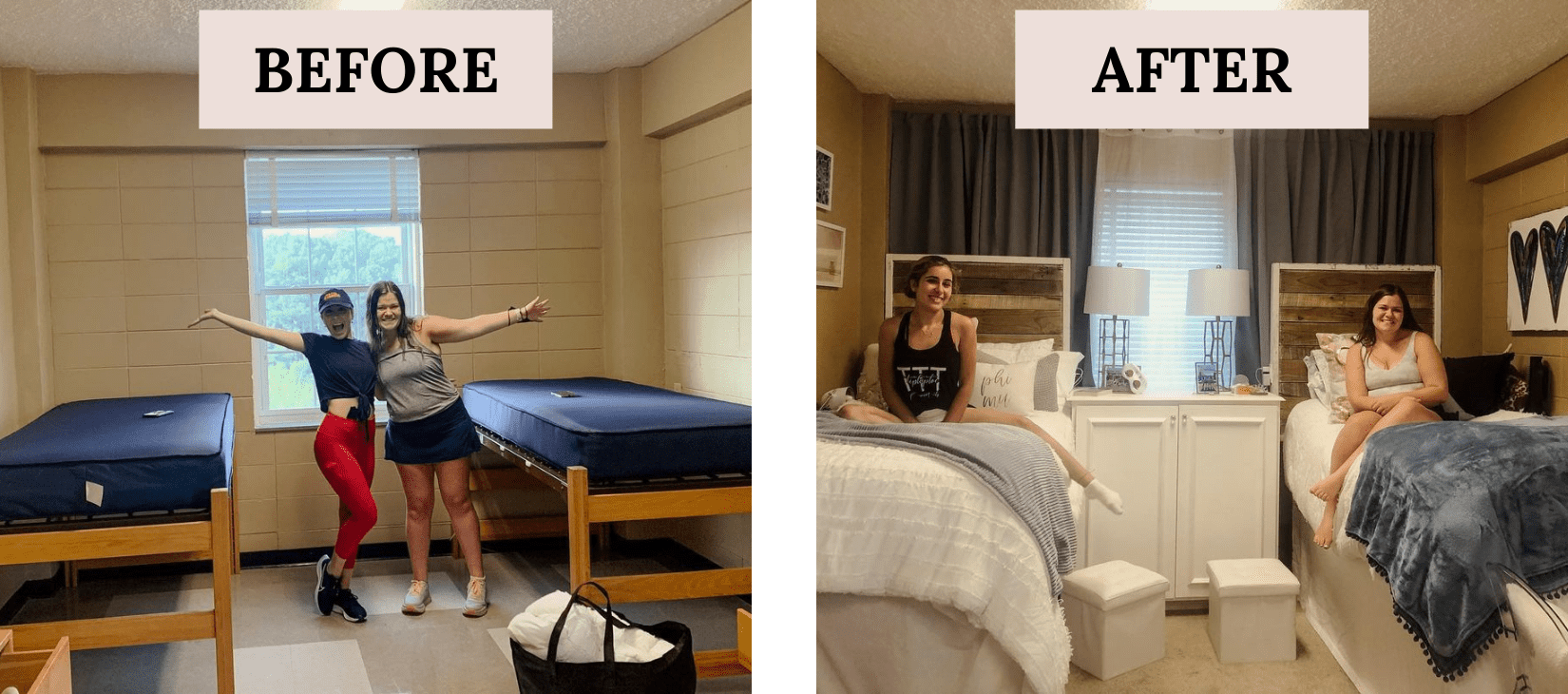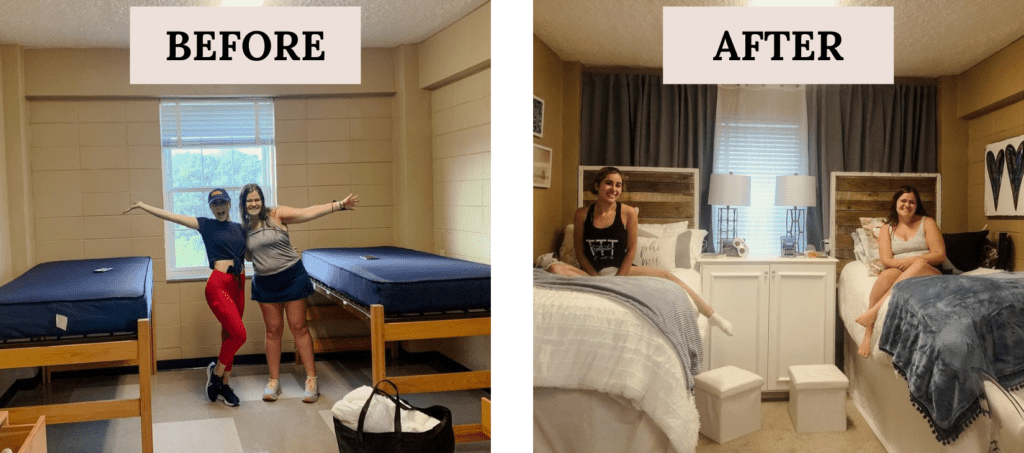 If the above room picture looks glamorous and luxurious, this dorm room is simple, yet extremely attractive in a way.
I love how these roommates agreed to have a unified dorm room color scheme to make the most aesthetic one ever.
Choosing white as the main color scheme is just a key.
This dorm room makeover is mainly about having a clean and that just feels home.
If you and your roommate are into simple elegant dorm room ideas, this choice will perfectly work for you.
I'd say that in these girls' case the room is small, so they tried to do their best and they succeeded especially with the fact that dorm rooms are small.
If you have a similar small dorm room layout, be smart and decorate it in a way that'll make it look elegant and cozy.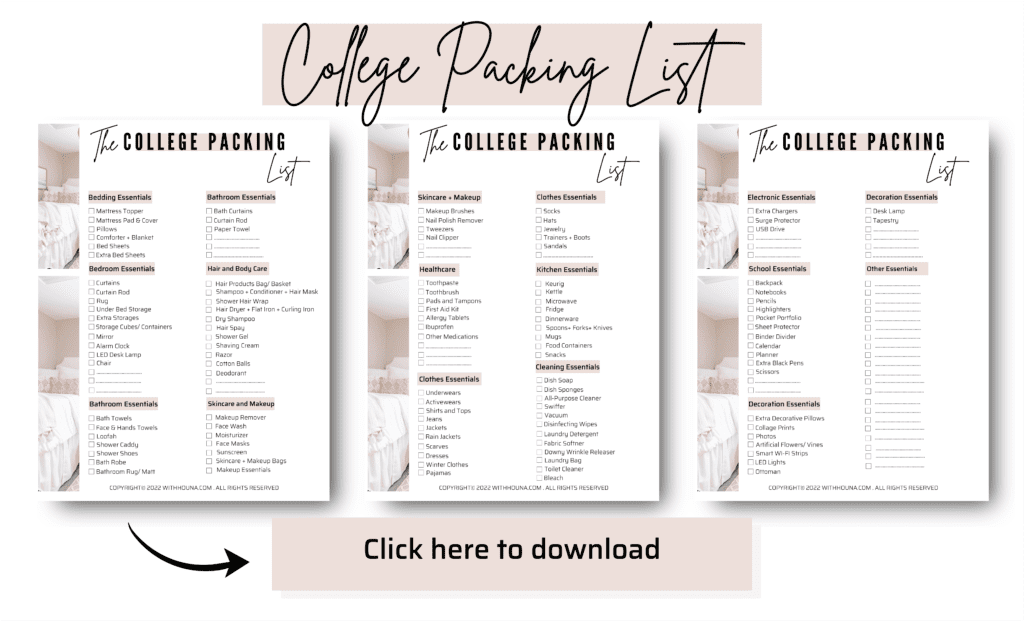 5. White and Pink Dorm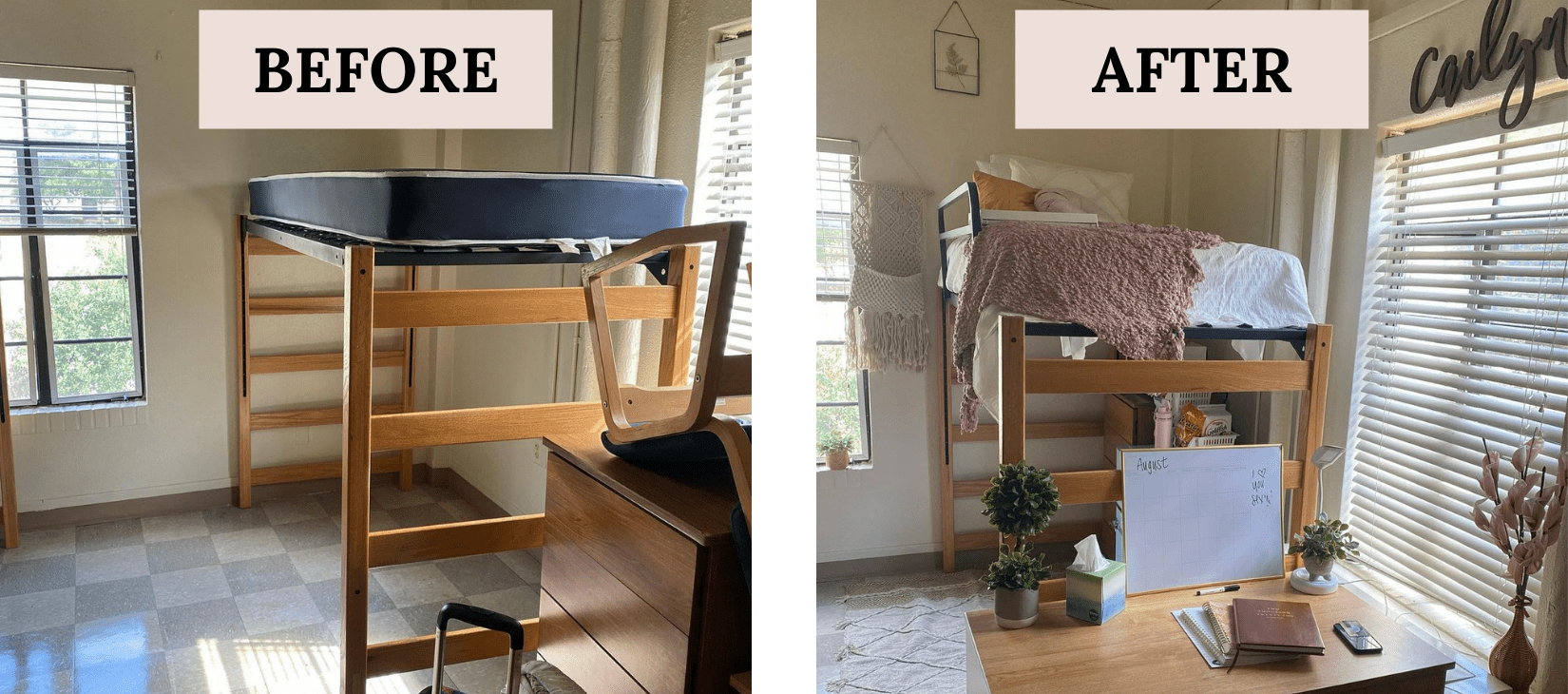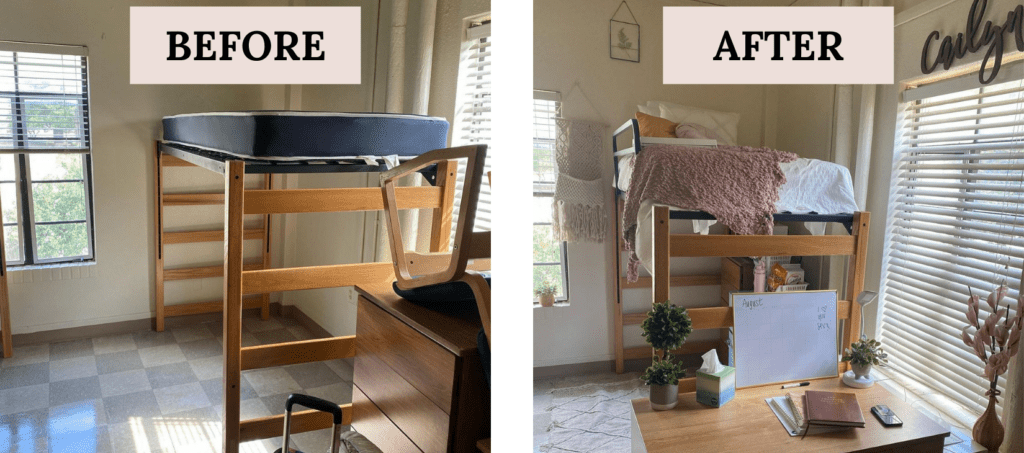 OMG! this dorm room layout is quite similar to mine and let me confess that I'm impressed with how she transformed it.
This makeover is insane. I mean, the girl took the time to place the bed right before the window to have more natural light, while she placed the desk next to it.
Isn't that smart? She, also, took advantage of the space under the bed to put her other stuff there, this was a good use of the room's space and I had to speak about it before I move to speak about the dorm colors.
The dorm room color scheme is just beautiful. The combination of white and pink is always a safe choice.
Also, the love the fact she kept everything simple whether the dorm decorations so she can just make it look a bit bigger.
Related: 18 Cute and Trendy College Dorm Room Ideas you Have to See
6. Green and Yellow Dorm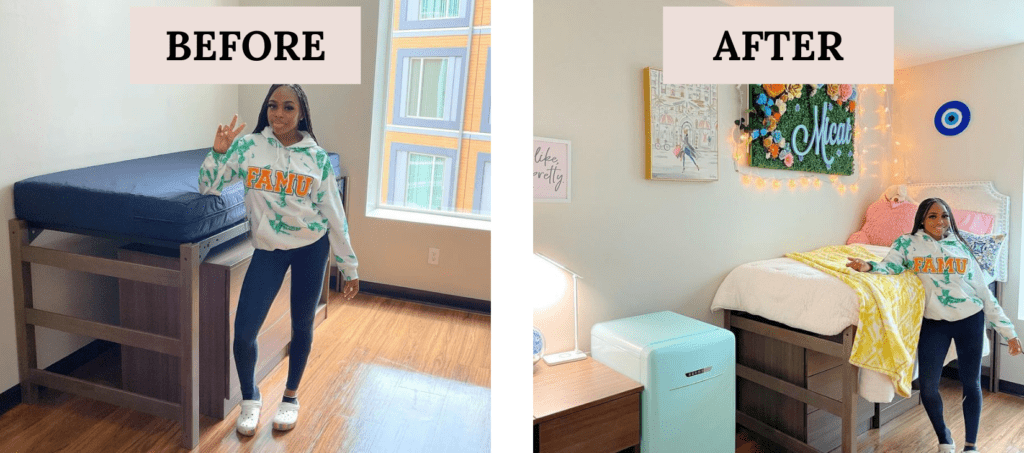 Can I say this dorm room tells you exactly how the person feels and it describes her vibrant personality in a way? The combination of the different colors, the flowers and the name on the wall say one thing: "Hello! That's me, welcome to my room, life is beautiful, I hope you enjoy your stay!" at least, that's what I think it says.
I can't fully judge it, it is simple, colorful, and just dreamy.
It brings life!
It is absolutely stunning and this girl succeeded in reflecting her personality by putting a little bit of her everywhere.
So, if you're the kind of person who loves to show their bright, dreamy optimistic side, I recommend you go with such a decor.
7. Ivory and Neutral Dorm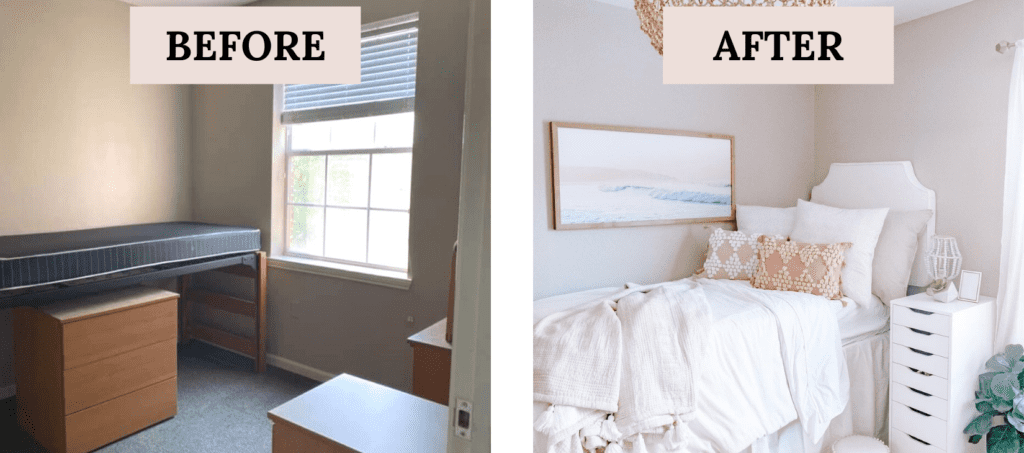 Another simple boho dorm room transformation is one of the most inspiring ones on the internet.
There is nothing better than recreating an aesthetic dorm room that just feels home and this room makeover is everything.
If you're someone who's into glamorous stuff, then I recommend you check our other beautiful pictures, but if you're into simple, chic, and cozy, then stick with me.
I love what this girl did to the lamp. This room is warm, and you can sleep there, study, and even meditate.
The combination of the ivory and the neutral colors inspired by the wall arts can barely make it sound like a dorm room. Can you even tell that this is a dorm room? I bet you do! I find it cool and it's absolutely impressive, this room can be described in just three words: Chic, aesthetic, and homely.
8. Elegant White Dorm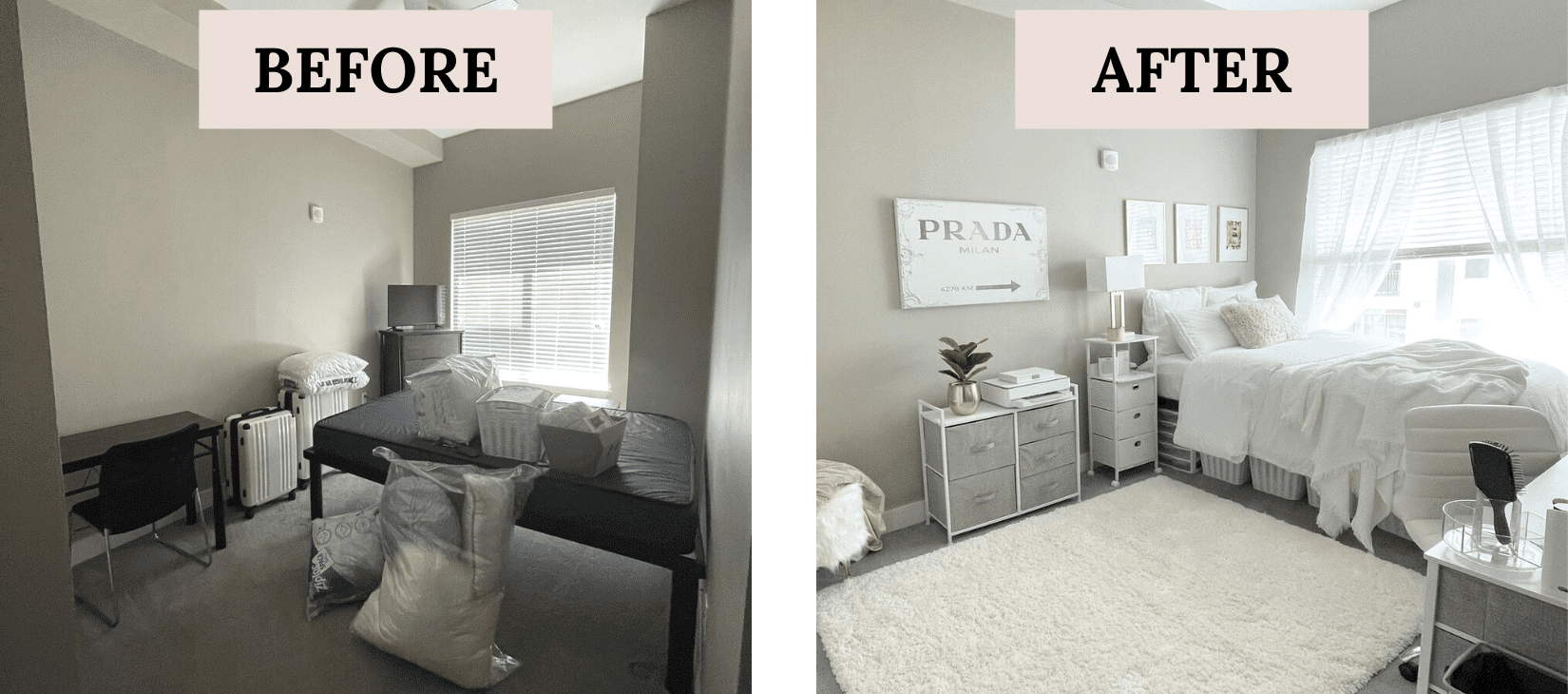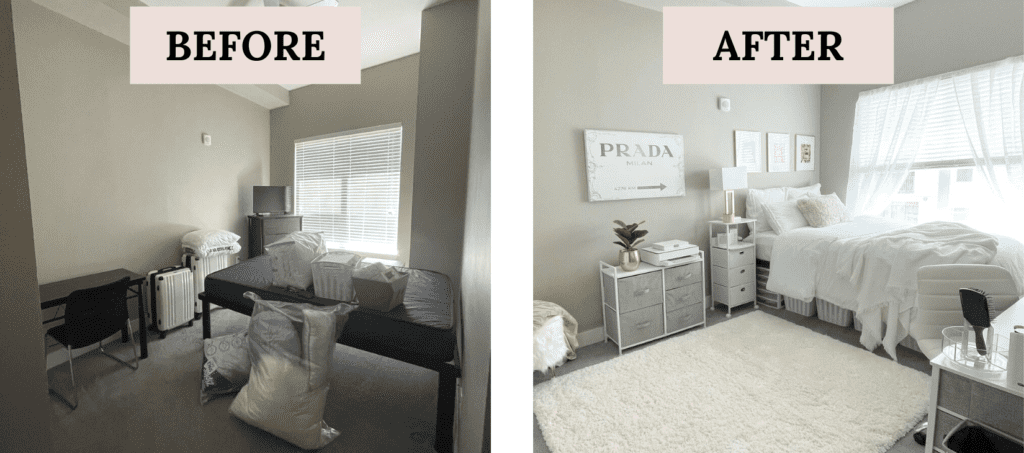 The college apartment room is large as you can see. In the before picture, the stuff was placed here and there, but in the after picture, they're perfectly and carefully placed. The dominant color is white with some light grey and pink.
The room looks bright and welcoming. I'd say whoever did this, Good job! It's amazing, I'd hang out there all day if I could without feeling bored. It is so welcoming, elegant, feminine, cozy, and warm. Don't you agree with me?
These are the best dorm room before and after transformation that everyone is obsessed over. The dorm room transformation photos are just amazing and will help you recreate your dreamy dorm room that just feels like home.
You'll Also Love
18 Cute and Trendy College Dorm Room Ideas you Have to See
22 The Cutest Dorm Room Ideas Everyone is Obsessed Over
Don't forget to pin this!