This post may contain affiliate links, which means I'll receive a commission if you purchase through my link, at no extra cost to you. Please read full disclosure here
This college packing list is the best on the internet you can get to pack for college.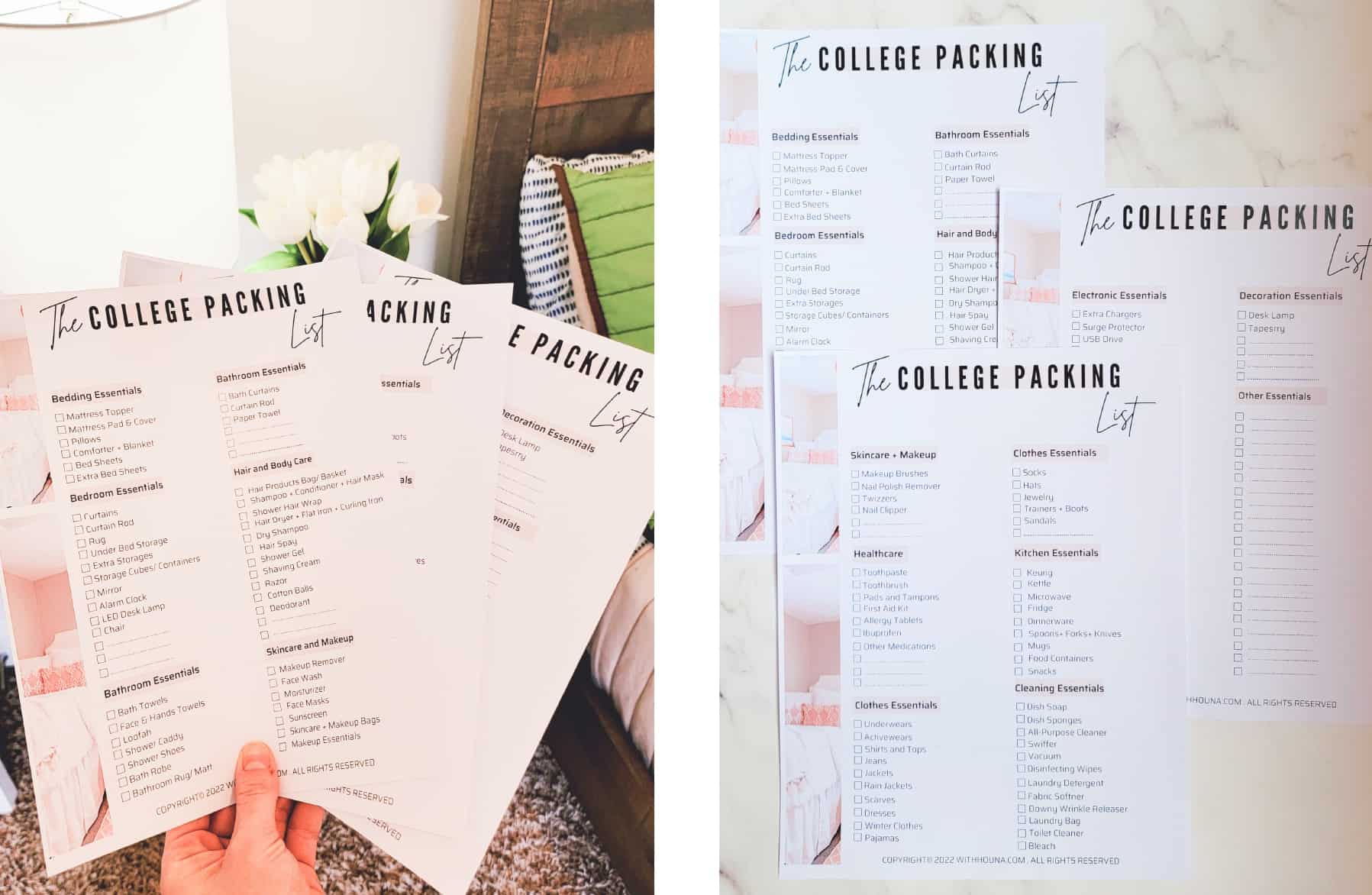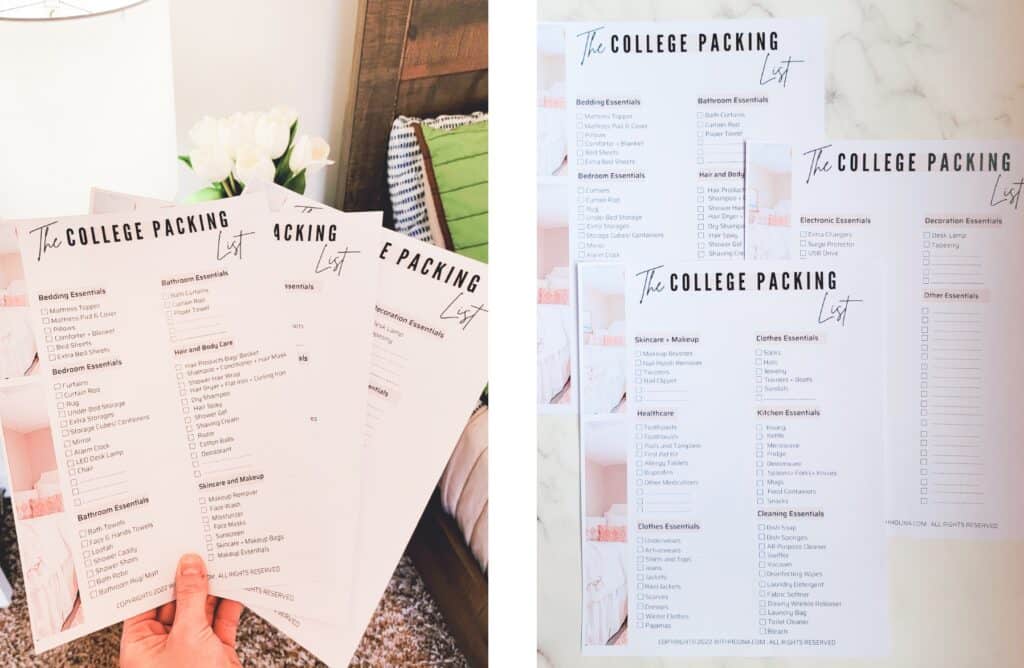 Moving to college is exciting and overwhelming at the same time. I remember the two weeks before moving was absolutely hectic with all the packing things and stressed with everything I should take or leave.
Having a list to keep you track of all of your college packings is crucial. If you already know me, you know I'm a planner freak and love to keep everything organized, and planned, so I get everything done the perfect way without missing anything.
This college packing list was a life savior for me, for my best friend who I've shared with, and they shared it with everyone who's been moving to college because it's honestly the list you can ever come across.
The reason why I really love it is the fact it has everything you need to pack for college. It has all the college essentials that you'll need to make sure you've packed.
Not only this, This is the best dorm packing list that works for all four years of college and for anyone (Like I really made sure to be for all people so you won't miss anything).
Whether you're a freshman or a senior, a girl or a boy, I promise this college packing list will make you pack your stuff in just hours instead of weeks.
College Packing List
The Ultimate College Packing List Printable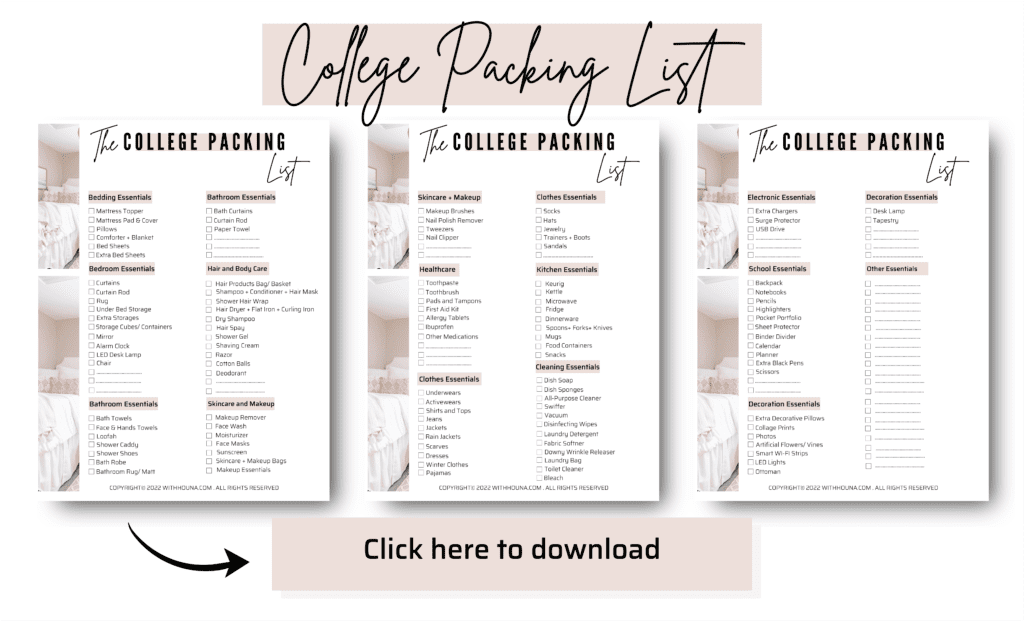 College Packing Guide
When packing for college, there are two crucial things you need to keep in your mind.
1. Don't Over Pack
This is so important. Don't get everything in your closet and unnecessary items you won't be using in college just because you don't want to leave them home.
Your dorm room is 2X small than your actual room. Make sure to pack only the stuff you will need.
2. Pack the Clothes You Will Wear
This happened to me personally, I decided to get almost everything with me to college thinking I'm be wearing them on different occasions LOL.
If you have clothes you haven't worn that much before, don't bother bringing them to college because you won't wear them as well.
Your dorm closet is small so I highly recommend bringing clothes you wear on a daily basis, a few dresses for events or just to dress well, and your favorite shoes to match everything.
College Packing List: Bedding Essentials
Mattress Topper
The best Mattress topper you can ever get for your dorm or college apartment.
Mattress Pad and Cover
Pillows
Blanket and Comforter
The best comforter
Bed Sheets Extra Bed Sheets
College Packing List: Bedroom Essentials
Curtains
Curtain Rod
Rug
Under Bed Storage
Extra Storages
Storage Cubes / Containers
Mirror
Alarm Clock
LED Desk Lamp
Chair
College Packing List: Bathroom Essentials
Bath Towels
Face and Hand Towels
Loofah
Shower Caddy
Honestly, I'm just obsessed with this shower caddy. It's the best and holds a lot of stuff.
Shower Shoes
Bath Robe
Bathroom Rug or Matt
Bathroom Curtain
Curtain Rod
Paper Towel
Hair and Body Care
I really wanted to make this hair and body care section more specific under your college bathroom packing list just to be sure you've packed all of your care essentials without forgetting anything.
Hair Product Bag/ Basket
This is the best thing you'll be thanking me for after getting it. It's a must to store all of your hair product essentials and save so much space in your dorm or college apartment.
Shampoo, Conditioner, and your Hair Mask
Hair Dryer, Flat Iron, and Curling Iron
Dry Shampoo
Hair Spray
Shower Gel
Shaving Cream
Razors
Cotton Balls
Deodorant
Skincare and Makeup
When it comes to skincare and makeup, I highly recommend you pack only the essentials you use daily. I'm a makeup and skincare addict, I thought I'll be using every single product I have. I ended up giving them to my best friend because they were just taking up so much space, I was able to use them for other things.
Makeup Remover
Face Wash
Moisturizer
Face Masks
Sunscreen
Skincare and Makeup Bag
Makeup Essentials
Makeup Brushes
Nail Polish Remover
Tweezers Nail Clippers
Healthcare Essentials
This is the section that most of us don't take seriously.
Since you're living alone, and there's no your mom to look after you without forgetting it's a brand new place, you have to make sure you have all the healthcare essentials you need on daily basis, if you ever get sick, or need something.
Toothpaste
Toothbrush
Pads and Tampons
First Aid Kit
Allergy Tablets
Ibuprofen
Other Medications you need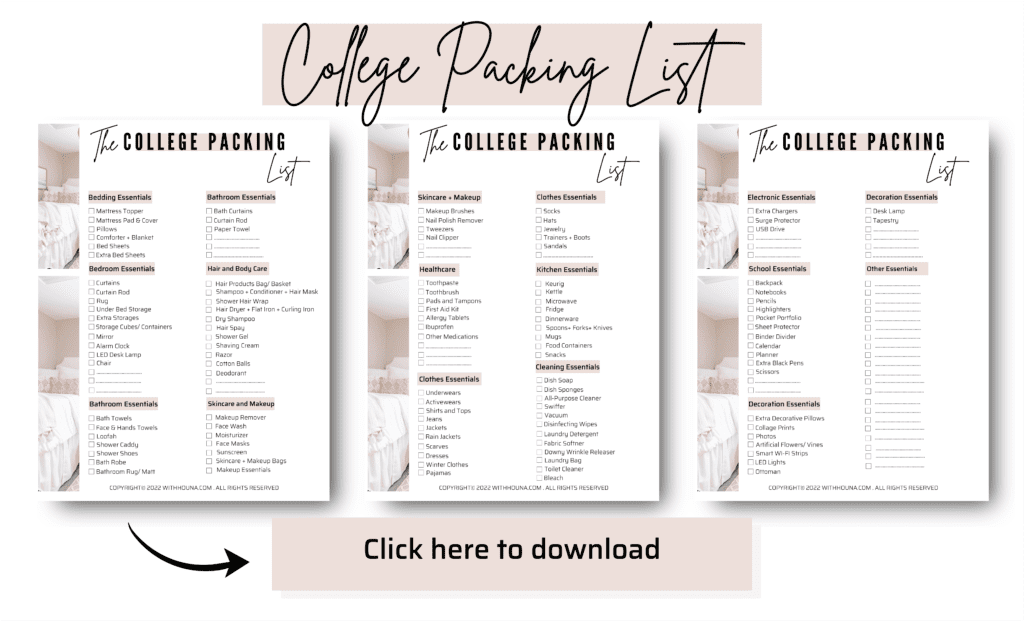 College Packing List: Clothes Essentials
College clothes packing is the hardest part when it comes to packing for college.
As I've mentioned earlier, don't pack what you usually don't wear at home or you feel you don't need.
It will be a huge waste because it will only take up space in your tinny dorm room closet and the highest chance you'll be bringing it back home.
Underwears
Activewear
Shirts and Tops
Jeans
Jackets
Rain Jacket
Scarves
Dresses
Winter Clothes
Pajamas
Socks
Hats
Jewelry
Trainers and Boots
Sandals
College Packing List: Kitchen Essentials
Keurig
Kettle
Microwave
Fridge
Dinnerware
Spoons, Forks, and Knives
Mugs
Food Containers
Snacks
College Packing List: Cleaning Essentials
Keeping your dorm room clean is important so packing dorm cleaning essentials is important, especially when moving in as you'll have to clean your dorm room to install everything.
Dish Soap
Dish Sponge
All-Purpose Cleaner
Swiffer
Vacuum
Disinfecting Wipes
Laundry Detergent
Fabric Softener
Downy Wrinkle Releaser
This is a must-have in college and you'll absolutely need to have it when packing for college.
Laundry Bag
Toilet Cleaner
Bleach
Related: (26 Dorm Cleaning Supplies You Have to Get for your Dorm)
College Packing List: Electronic Essentials
Extra Chargers
Surge Protector
USB Drive
College Packing List: School Essentials
Backpack
Notebooks
Pencils
Highlighters
Pocket Portfolio
Sheet Protector
Binder Divider
Calendar
Planner
Extra Black Pens
Scissors
College Packing List: Decoration Essentials
When it comes to your dorm decoration essentials, it's up to you what you have to bring with you. These are only the dorm decoration essentials you have to pack for college.
Extra Decorative Pillows
Collage Prints
Photos
Artificial Flowers or Vines
Smart WI-FI Strips
LED Light Lamp
Ottoman
Desk Lamp
Tapestry
This is the Ultimate College Packing List You Absolutely Have to Get Your Hands on it When Packing for College
Don't forget t pin this!