This post may contain affiliate links, which means I'll receive a commission if you purchase through my link, at no extra cost to you. Please read full disclosure here
The best First Apartment Grocery List you have to get your hands on to get all your kitchen essentials for your first apartment kitchen.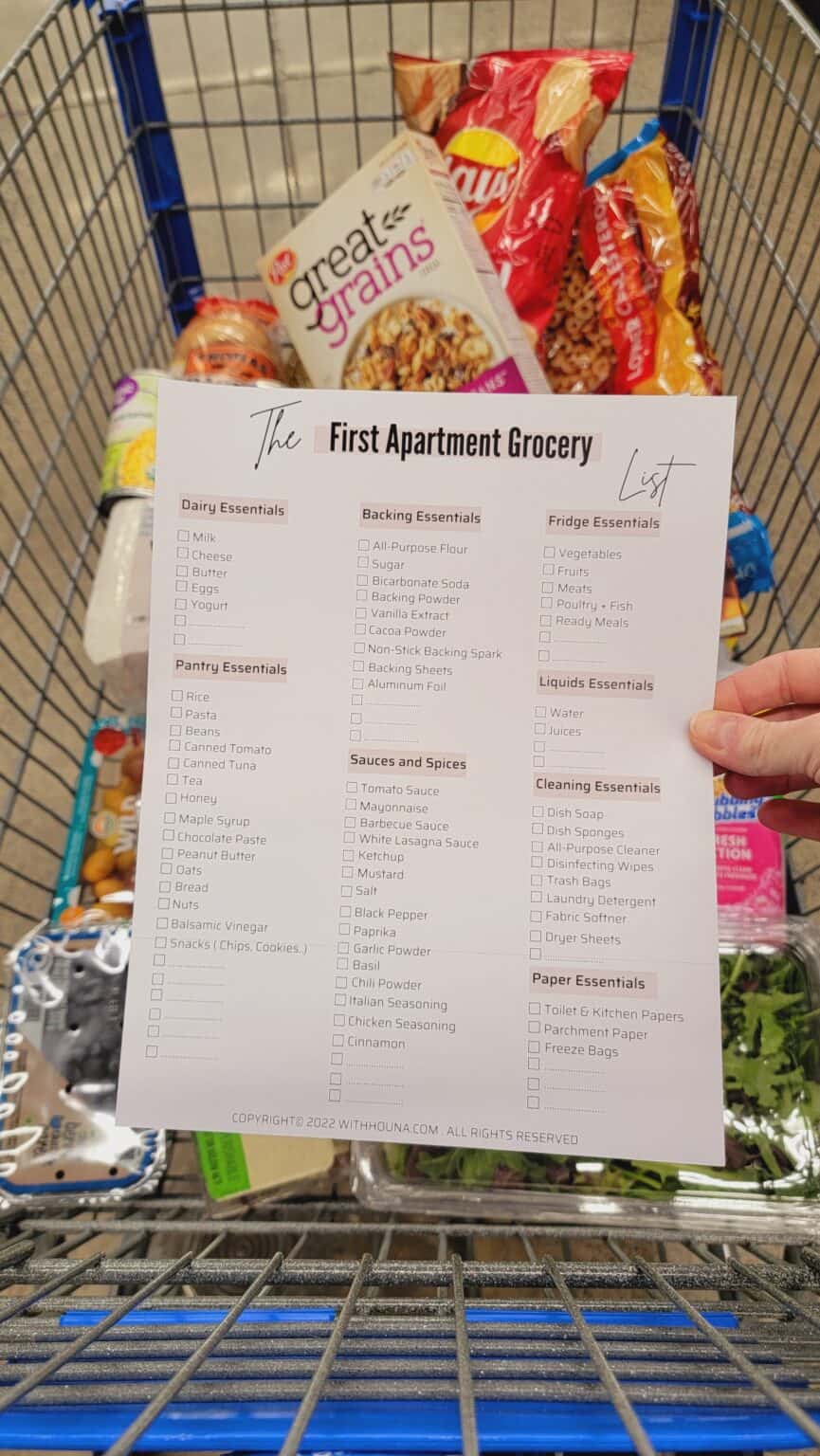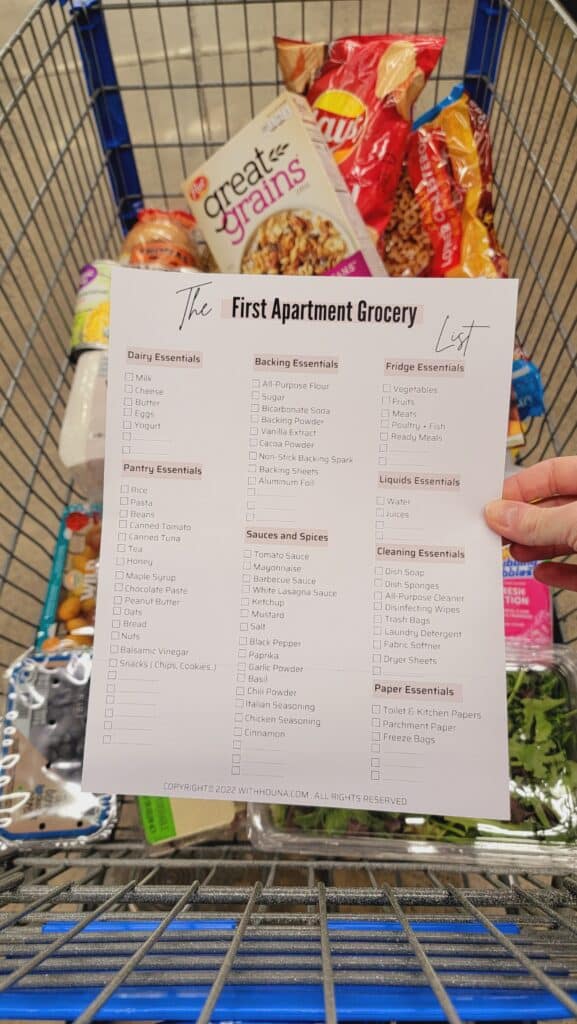 Doing grocery shopping for my first apartment was the last thing I thought about with all dilemma of moving to my first apartment and making sure I got everything I need.
I haven't thought about going grocery shopping and getting all my kitchen essentials to make my meals until the first night when I moved.
I was happy that my first apartment checklist helped me get everything and yet grocery shopping was the last thing it came to my mind.
Yet, I was excited about doing grocery shopping for my first apartment and starting cooking because I'm not someone who eats a lot outside and I can save a lot by making my own things.
I created this first apartment grocery list to help me stay organized on all the grocery shopping essentials for my new apartment.
This first apartment grocery list is a must for me because if you don't know yet, every time I go grocery shopping, I get everything except the stuff I actually need.
Literally, I'm the worst at grocery shopping so I needed a list to keep me on track.
Also, I want to make sure I get all my grocery kitchen essentials for my new empty apartment.
By the way, if you're moving to your first apartment, you need to get this first apartment checklist. It's literally the best checklist to help you pack and get everything for your first apartment.
First Apartment Grocery List PDF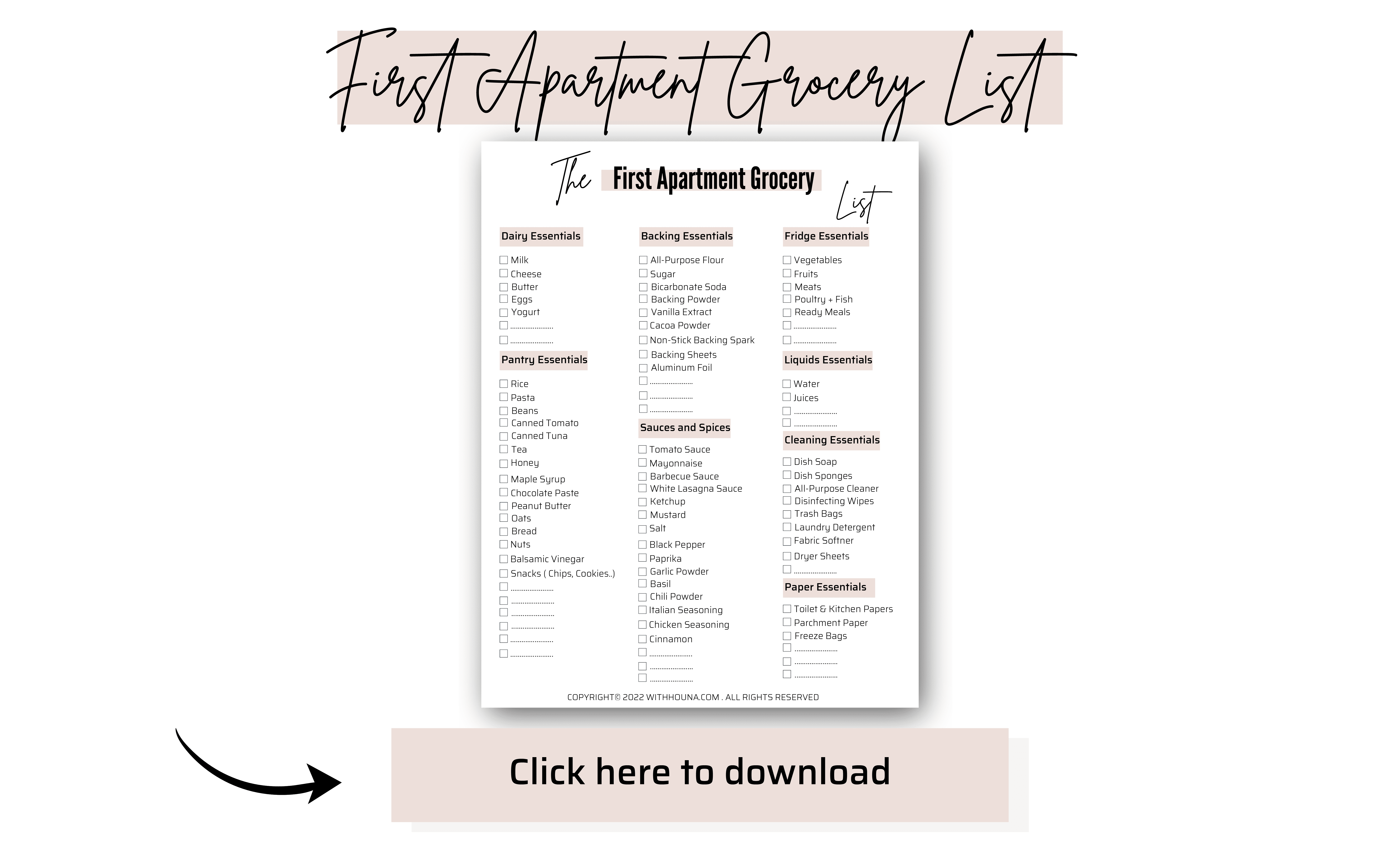 This is the exact first apartment grocery list pdf I used when I did my first apartment grocery shopping.
As you can see, these are what I got for my first apartment kitchen essentials. They are just the basics and must-have in every kitchen to make meals.
If you are wondering What groceries you need when you first move to your first apartment, this free grocery shopping checklist has everything you need.
However, I know some people would prefer to get other stuff. Personally, I made sure to have all the grocery items I will actually use.
That way, I've included an Empty first apartment grocery list with the main checklist. Thus, you can use it to make a good grocery list quickly and you can use my own as your sample if you want to make your own.
First Apartment Grocery Shopping Tips
Before doing your grocery shopping, I highly recommend going through these first apartment grocery shopping tips because they will help you a lot to know exactly How do you do groceries for your first apartment.
Set a Budget
After having your grocery shopping list for your first apartment, set your budget of how much exactly you want to spend on groceries. This step is crucial as you can spend hundreds of dollars in grocery shopping without even noticing it. I made a budget of $250 to spend on all my groceries for my first apartment.
Your budget may differ from me to you and to others. Whether you're living alone or with a roommate, set your first apartment grocery shopping budget accordantly.
The second thing about setting your budget for your first grocery shopping is adding only $50 extra. I know a lot of people would say have an extra $100 when you're doing your first grocery shopping for your new apartment just in case you'll need to pay extra.
Trust me, that's not true. I admit it can be expensive. However, you won't get over your budget.
Check Prices Online
This tip helped me a lot in deciding which store I would go to for my first apartment grocery shopping and I can save money.
Here is exactly what I did: I went to Walmart, Aldi, and Costco online and added all items I have in my first apartment grocery list as if I'm actually shopping online and compared prices.
Believe me, I was able to notice the difference between prices for every single item.
I had a lot of stuff to spend money on for my first apartment and I wanted to save as much as I can.
I ended up shopping at Walmart and Aldi as they were budget-friendly.
That way, I haven't exceeded the budget I set and got every single item if my grocery list.
The most asked question of all is how much does first apartment grocery shopping cost. This is the first thing I looked for before I even make my first apartment grocery list.
The answer is it depends on your budget and on the grocery list you've set. I've spent $250 on my groceries and maybe you'll spend more than me or less. It all depends on the food you get.
Don't Buy What You Don't Need
Your first apartment grocery list should have only the items you actually eat and use to prepare meals in your everyday life. Don't buy items you think you might use just because you feel so.
Your first apartment grocery shopping should be only to get the basic kitchen essentials to start cooking.
After settling down in your first apartment, you can test other groceries. For now, stick to what you actually need.
Don't Shop When You Are Hungry
Please, have your breakfast or lunch before going grocery shopping for your new apartment.
I used to do groceries when I'm hungry and I always end up buying a lot of stuff I never eat just because I was hungry by then.
So, eat before going to groceries so you'll commit to buying only the grocery list you have set.
First Apartment Grocery List
Dairy Essentials
Milk
Cheese
Butter
Eggs
Yogurt
Pantry Essentials
Rice
Pasta
Beans
Canned Tomato
Canned Tuna
Tea
Honey
Maple Syrup
Chocolate Paste
Peanut Butter
Oats
Bread
Nuts
Balsamic Vinegar
Snacks (Chips, Cookies..)
Baking Essentials
All-purpose Flour
Sugar
Bicarbonate Soda
Baking Powder
Vanilla Extract
Cacao Powder
Non-stick Baking Spark
Baking Sheets
Aluminum Foil
Sauces and Spices
I want to mention quickly to not forget to get only the spices for your first apartment that you actually use for cooking.
Tomato Sauce
Mayonnaise
Barbecue Sauce
White Lasagne Sauce
Ketchup
Mustard
Salt
Black Pepper
Paprika
Garlic Powder
Basil
Chili Powder
Italian Seasoning
Chicken Seasoning
Cinnamon
Fridge Essentials
Vegetables
Fruits
Meats
Poultry + Fish Ready Meals
Liquids Essentials
Water
Juices
Cleaning Essentials
Dish Soap
Dish Sponges
All-purpose Cleaner
Disinfecting Wipes
Trash Bags
Laundry Detergent
Fabric Softener
Dryer Sheets
Paper Essentials
Toilet and Kitchen Papers
Parchment Paper
Freeze Bags
This is all the First Apartment Grocery List You Need to Settle Down in your First Apartment
Don't forget to pin this!