This post may contain affiliate links, which means I'll receive a commission if you purchase through my link, at no extra cost to you. Please read full disclosure here
I'm so freaking EXCITED to share my very first blog income report. It's really shocking that blogging is actually profitable and from the very first month if you're doing it right!
I'm so freaking EXCITED to share my very first blog income report. It's really shocking that blogging is actually profitable and from the very first month if you're doing it right!
As I'm sharing with you exactly how much I've made from my blog after only four months of blogging and how I was able to make it happen, can I say I'm over the moon?
I've been reading blog income reports every single week even before I've started my website as I've found them really inspiring and motivating. They are the reason behind starting With Houna website. Now, after a lot of hard work behind the scenes, I'm thrilled to be me now sharing my first blog income report of my website and my experience with you.
If you're looking to start a website that makes full-time income and you can finally consider yourself free financially, this blog post is in detailed steps that will not only help you start a blog, but start a profitable one that you know will make you give up your 9-5 boring job.
A little Background Story
I've always wanted to start a little business to help me cover my expenses without the need of a boring 9 to 5 job especially after graduating. This is the reason behind this website. I've started With Houna back in November 2020 and I barely have worked on it until July 2021 which was a breaking point for me.
I was able to make money from it after only four months of hard work and taking it seriously as my life depends on it.
In October, I had to do so many changes in my strategy that helped me achieve almost 15k page views within a month knowing I was only 4k in September.
My Trafic in September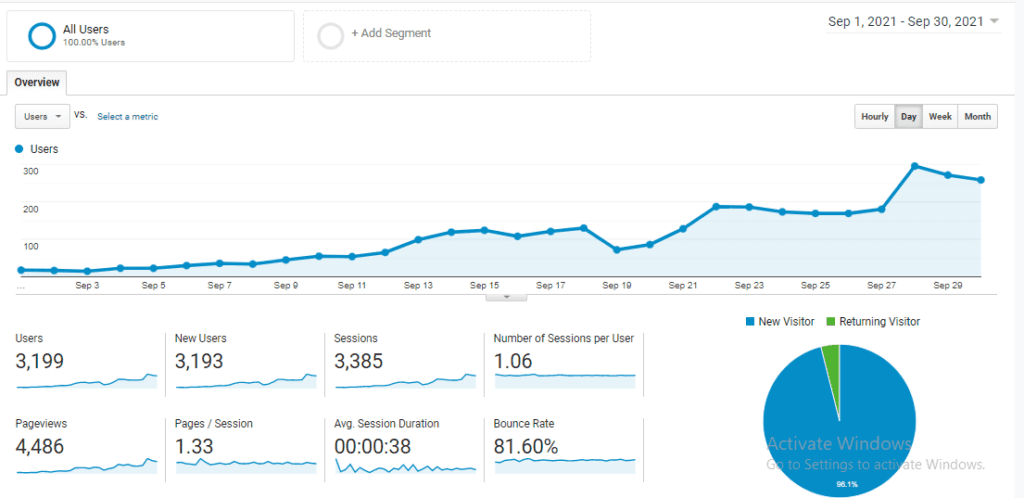 Traffic in October
The strategy I follow, which I'm going to share with you, along with the tools and the blogging courses that were the reason behind my success, will take your blog to the next level.
My Blogging Strategy
In July, I was finally able to decide what I will be exactly blogging about. I was able to niche down which plays role in growing fast. Knowing what is your niche means you know your target audience, what they like, and what they want to read from you and are interested in your offers.
After figuring this out. I started writing articles that are both profitable for my readers and for me. You really want to focus on this. I know the goal is to write articles that solve others' issues. However, you need to know how these blog posts will be profitable for you as well.
When I started thinking this way, my blog started to convert. Whenever you decide to write a blog post, consider these 3 things:
Choose topics that have more than 500 search volume. It's pretty useless to start brainstorming topics out of the blue and start writing. You always have to write topics within your niche that are high searched. You can use Google Trends to figure out the search volume of a particular topic.
I swear by Google Trends, especially when writing seasonal content. It helps me out decide what to write about and when it is most popular. The second thing you need to consider after choosing your topic is knowing how it can benefit your readers. Whether by providing a piece of information they are looking for, or a list of products or services that will solve their issues. Always think about the reader when choosing a topic to write about.
2. The second thing you need to consider after choosing your topic is knowing how it can benefit your readers. Whether by providing a piece of information they are looking for, or a list of products or services that will solve their issues. Always think about the reader when choosing a topic to write about.
3. The most important for us as bloggers is deciding how we will make money out of the topic we're writing about. This is something I started doing for the past couple of months which made me feel stupid waiting so long and just writing and publishing articles, adding bunches of affiliate links without having an actual plan of how I can make hundreds to thousands out of it.
I made over 200$ just because of this important tip. Whenever I'm doing outlines for any blog post I'm writing, I always decide whether my main focus is generating more affiliate sales, or it will be more focused on Ad Revenue.
After applying these three steps, blogging started to sound a bit fun and something I really enjoy, yet profitable.
Tools and Resources that Helped Me Blogging
I started to focus more on SEO and made sure to implement every single thing I've learned.
I've invested in some SEO courses that really CHANGED the whole game. I committed to implementing them on 2 of my Halloween posts. I wasn't only getting thousands of page views after only 2 months of posting them, I've also outranked my top established competitors with a DA of 1.
Trust me, it looked kinda impossible as I know it's hard to rank high especially for seasonal content and with low DA and a new website.
The two blogging courses I highly recommend and if you already haven't took them, I believe it's the time to invest in them now:
This was the very first SEO course I had when I started blogging. Debbie makes over 20k a month thanks to SEO. Her blog income reports are really inspiring and one of the reasons I wanted to start learning SEO from the very beginning. It helped me build an understanding of how SEO works and how to write an optimized blog post from day one of blogging. It goes through everything in details of writing the perfect blog post Google will push to its first pages.
I can't say enough about this course. I own it all the success I had this month and getting almost 15k with only 4 posts. If you're trying to learn how to do keyword search from A to Z and write high-quality content that will absolutely rank, Get your Keywords together by Trinity is a must.
I've searched for so long for a detailed step-by-step guide for doing a keyword search and I barely could find one thing that was helpful. Also, my website was so new and I couldn't write about what my competitors are writing as my DA was low, and didn't know what to focus on.
Trinity's strategy is quite different than what I've seen. She doesn't only teach you how to do a keyword search with free tools, she also helps you to change your mindset about SEO being hard and being able to target difficult keywords and can rank for. I had a DA 1 or maybe nothing when I started writing Halloween posts where the keywords were really difficult, yet I ranked on page 1 within 2 weeks only!!
The best thing she offers is a case study. I promise this was everything I needed and what you need too. An A-to-Z case study of doing a keyword search, and writing an SEO-friendly blog post that you can follow writing all of your blog posts.
This year with all the Pinterest updates. She was able to prove Pinterest is a huge source of traffic and I can prove it myself too.
Thanks to everything I've learned in the course throughout the whole year, I was able to hit 3 million within October!! Like it was a huge and quick success!!
Btw, Her course is always updated according to Pinterest changes and lately, she recently upgraded the course to a new version Pinteresting Strategies 2.0.
This is the only course you need to elevate your Pinterest traffic.
She has also made a Site Niche Dive course which is super affordable where she goes through everything she has done to grow her Pinterest account for her new niche site. This one was so freaking helpful as she shared everything from how many pins she was doing every single day to other stuff.
Again, thanks to this course, I'm getting a lot of traffic from Pinterest. Hopefully, will help me out to join Mediavine by January.
My Pinterest Traffic By Mid October
Now, Let's get to the Numbers
First Blog Income Report
After reading so many motivating blog income reports, here is my first blog income report for the month of October.
Affiliate Income:
Amazon Income: 297.51$
I really focused this month on Affiliate marketing. Most of my income is from Amazon. I tried to make the focus my most popular posts on generating more affiliate sales. I really focused on Amazon because it's where my audience shop from a lot and I'm yet to use other things. I've also joined both Amazon Canada and the UK as I have an audience from these countries too. If you do have at least 1k traffic from another country that has Amazon, it's worth applying to. However, there are some stuff you need to consider and know when applying that I wasn't aware of before. My income for this month was supported to be 300+$ but I had an issue with my Amazon UK store and lost the sales.
I've made a guide for you for everything concerning Amazon and especially how I was able to make more than 300$ this month along with other tips I've learned that no one will share with you.
Ad Revenue:
Ad Revenue: 37.79$
You won't believe it, but I really suffered setting up ads because I was scared, they could be too much and will affect my user experience. My ad revenue isn't even a thing compared to the monthly visits I get. This is mostly because I didn't know how to place ads. Luckily, I was able to fix this by end of October thanks to my Ad account manager who helped me set up ads the correct way. I'm expecting to make more next month.
What I've Done in This Month
October has been a hard month for me. I knew what I had to do but I couldn't set a plan to follow so I got distracted a bit. I'm a huge planner and setting monthly goals for my blog always helped me to achieve better results than the ones I've set out. My main focus for the month was creating more content and learning SEO even more. I really wanted to master SEO to the bones so I can write about whatever I want and have a solid strategy.
I can't say I've achieved all my goals. But here are my plans and what I was able to achieve.
12 Blog posts to be posted: I ended up with only 4 published. I know it's like the third of what I wanted. However, I know these posts are well written and they even rank and bring traffic which is my goal.
Get 10k page views: I got 14 page views and OMG! this was one of the goals that I wasn't sure about. After only 4k by September, it's really huge to jump to this within a month only. I can say this huge success thanks to the huge traffic I got from Pinterest and SEO
Grow my Pinterest to 3 Million: I made it to 4 million Wohoo!! This is a dream. All my pins skyrocket it even with the Pinterest update where a lot of bloggers have been losing traffic lately. The only I've done is try to update my account and make my strategy work for their endless updates. The thing I have been avoiding doing is story pins. I know so many have been in love with them and doing them. Although they bring a lot of impressions, they are pretty useless to bring traffic to your website or even clicks to your own Pinterest profile.
November Blogging Goals
This month, I have a lot to do and bigger goals to achieve:
One of the most important ones for this month is coming up with a blogging plan. It will be for the next 6 months and focus on content creation. It's absolutely a must for me to have a writing routine. I'm planning to get into the habit of writing 600 words a day.
Another goal is to take my email list seriously. I have people subscribing to my email list. However, I'm still don't know how I can grow it and monetize it. My goal is to send out an email every single week. I do have two different email lists so that would be eight a month. The reason behind focusing on my email list is I really want to get close to my readers and know each other better. It will be so helpful and to know even more what they want to read next.
The last thing is having a blogging routine and being organized and focus on the real work. I've spent so much time focusing on finishing the small endless tasks instead of doing the real work. This will be my focus for this month.
Get about 25k by the end of October and make 500$ from affiliate marketing.
Keep learning SEO. SEO is huge and I still miss out on some aspects that still confuse me. Also, I'm getting a new course to help me update my blog posts to enhance my ranking. I'll update you about this later.
This Blog Post is all about my First Blog Income Report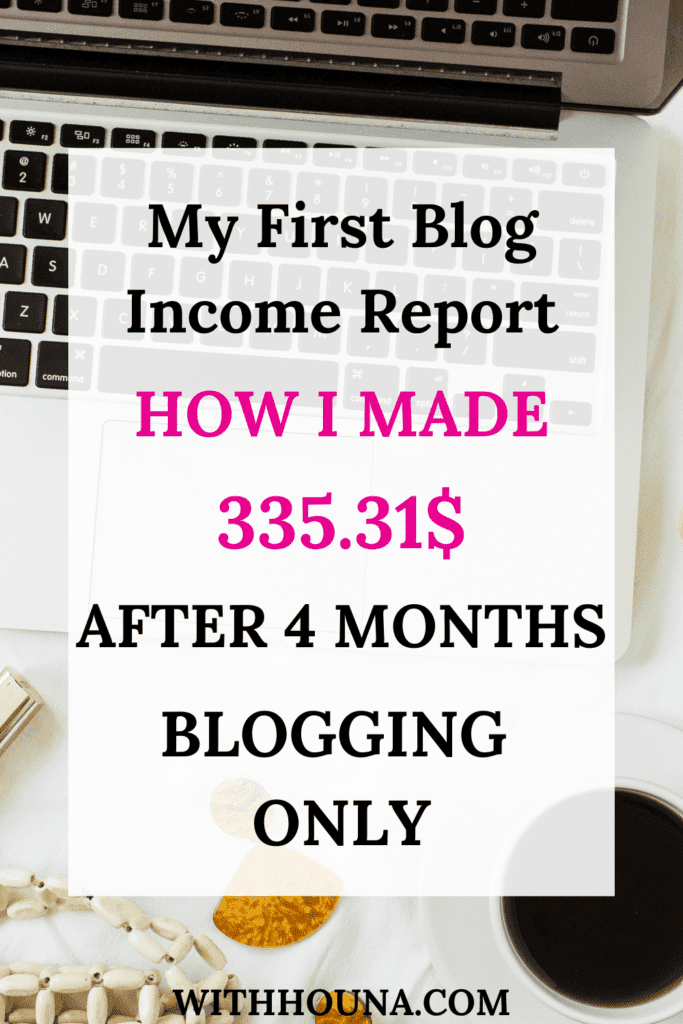 You'll Also Love
How to Start a Profitable Blog
10 things I've Learned My First 6 Months Blogging
7 Crucial Things I Learned My First Year Of Blogging | My First Blog Anniversary