This post may contain affiliate links, which means I'll receive a commission if you purchase through my link, at no extra cost to you. Please read full disclosure here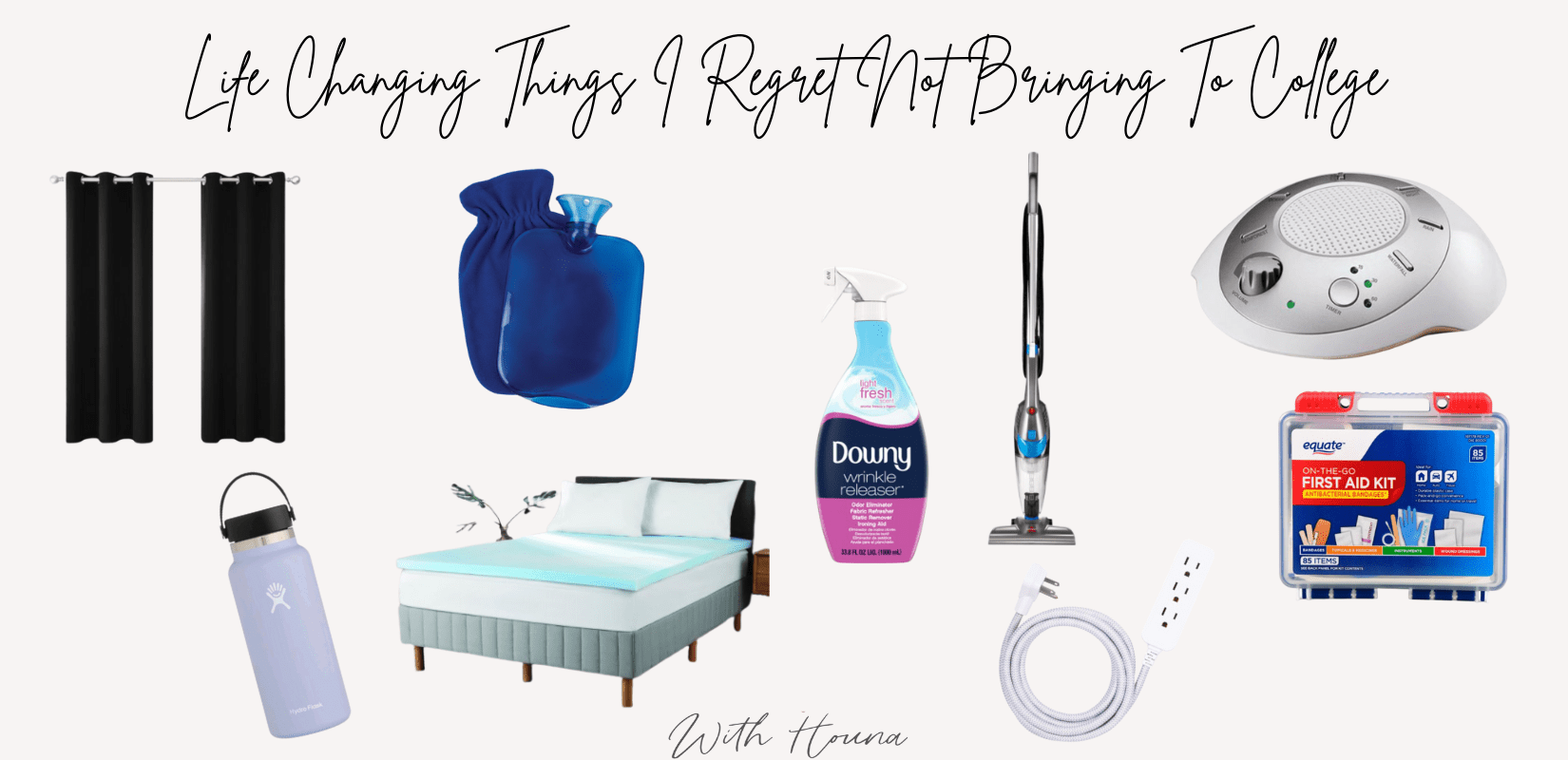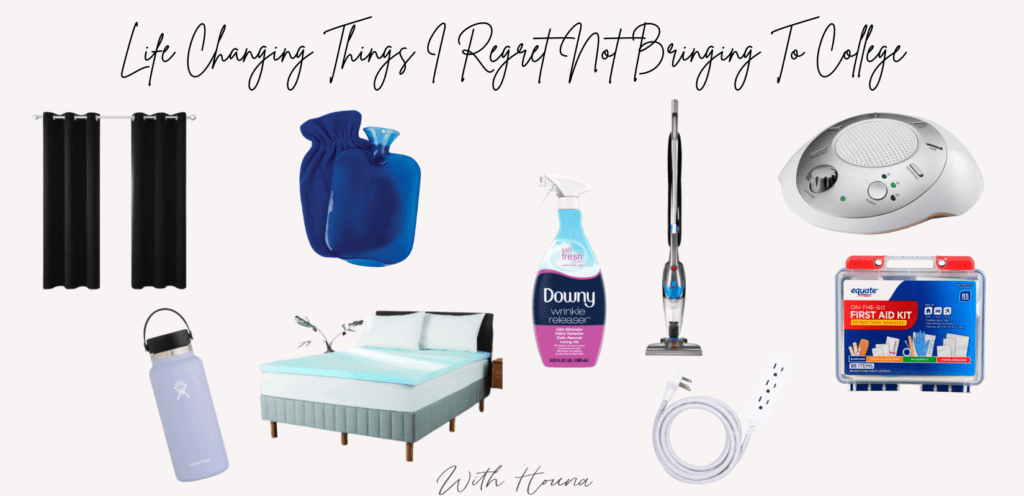 When I was a freshman, I've made sure I've got everything I needed to survive college. I admit that I overpacked the essentials (and even things I probably never used lol) and never thought I would ever need something.
After my first two months, I've released I've literally missed life-changing things I regret not bringing with me to college as they were a time saver.
They honestly changed my life in college, making it 3X times easier.
These 26 unexpected things you actually forgot to bring to college or probably you thought you wouldn't need until you moved.
Things I Regret Not Bringing To College
1. Extension Cords
Extension cords are one of the things I regret 10 times not bringing to college with me. This one is huge because you're limited on outlets, so you probably need to get two. One for your fridge and other appliances and the other for charging your phone, laptop, and other stuff.
Make sure to get a good surge protector for your dorm, so you don't end up with trash.
2. Basic Medicines
One of the most essential things that some people don't pay attention to and end up regretting is getting a small medicine cabinet. Make sure to have basic medicines like cold relief, pain killers, allergic tablets, and some basic ones.
You don't have to pack them with you but make a note to get some because you don't want to walk across your campus and pay for the overpriced medicines when you're sick, which is the last thing you want to do.
3. Scissors
You won't think you've missed getting it until you need it. Most college students forget to get it when buying their school supplies but I honestly can't tell you how many times I lent my pair to people on my floor.
4. Get A Fan
You absolutely regret not bringing a fan to college till you release how freaking stuffy your dorm room can be. Some dorms don't have an AC, so a fan is a lot, especially if you're living with others. Also, some dorms' AC isn't always great.
5. Earplugs
If you have noisy roommates or have a light sleep, this is one of the essentials you'll be regretting not bringing later on. It will be one of the things that will change your whole life and have the most peaceful night of sleep ever.
Related: 18 Cute and Trendy College Dorm Room Ideas You Have to See
6. Get a Brita
This one was recommended by most of this year's freshmen. College water may not be the purest and safest to drink. Getting a water filter for your dorm an essential for every college student.
If you're heading to college this year, you'll absolutely need to check out these easy college classes that you'll want to take this year.
7. Mattress Topper
You literally can't survive college without having a mattress topper. It's absolutely one of life-saver things you'll regret not bringing to college.
When I first moved to college, my mattress in my dorm was a BRICK. I felt like sleeping on lumpy wood. This life-changing mattress topper from Amazon is so comfy and makes me sleep like a baby.
8. A Desk Fan
This is not something I'd really call a must dorm, but having a desk fan can make things different especially when you're studying or doing your homework.
9. Get Enough Underwear
You need to pack enough underwear and socks. I totally forgot to do, and luckily my mom did it for me as I was busy with the other essentials and forgot important small details.
10. Get LED Lighting
Dorm lighting is so bad, and you already know it's a fact. The lighting is just very bright and bad so bring LED desk lights and string lights to make your dorm brighter and even cozy when you switch the lights up.
11. Water Bottle
I'm just in love with this hydro flask water bottle, and it's one of the best ever. It's actually one of the best reusable water bottles ever and you absolutely need to get one for college.
12. Your Official Documents
This is one of the essentials most college students forget about. Make sure to bring your official documents with you like your passport, a copy of your birth certificate, and your social card too. You won't even think you need these until you get a job and need them for I9 verification.
Also, make sure to put them somewhere safe.
Related: The Cutest 22 Dorm Room Ideas Everyone is Obsessed Over
13. A Rug
This is one of the most important things you'll regret not bringing to college. You cannot believe how the floor is bad on some campuses and hard to clean. Having a rug will make the whole difference. It will make cleaning your dorm so much easier, and it's absolutely an excellent dorm decor piece.
I just love this rug from Amazon, and it looks amazing. I highly recommend not going for brighter colors because they tend to get dirty easily if this makes sense to you.
14. A Small Vacuum
This is a life-changer. If you don't believe your dorm can get dirty enough to vacuum, well, you're wrong, mate!
Having a small vacuum to clean your dorm room will save you so much time and will make it easy for you, especially if you're doing either deep cleaning or just making a quick cleaning.
Also, this vacuum is every college student's favorite because of its size and being removable, so you can use it for bed if you're really messy.
Related: 26 Insanely Good Christmas Dorm Decorations You Have to Get for this Holiday Season
15. A Printer
A printer this year has become essential to get. As usually, the printer in the college library gets often, you can manage to get one with your roommate, which will save your life.
This is one of my all-time essentials because I usually love working at night and do everything for work and even my homework and other stuff I need and print them out, so this one make sense to me. Also, I would save some bucks on printing.
16. Get an Extra Phone Charger
I honestly regret not bringing an extra-long phone charger with me. I've been a messy person and used to not paying attention to where I put my charger. Make sure to get an extra phone charger and something that's not pricy because you don't want to lose something expensive.
17. Under the Sink Rug
Okay. I never personally thought it is one of the essentials I'll regret not bringing to college. It's absolutely great to add under your sink so you don't get your floor dirty or wet. I actually use this exact one and I just love it!
18. Hot Water Bottle
I swear by the hot water bottles. It's a must college essential for me. I seriously cannot stand feeling cold, and literally both my hands and feet never get warm even if I'm wearing socks.
This hot water bottle makes me feel so warm and sleep in peace. Also, if you suffer from bad period cramps like me, it helps so much with pain.
19. Downy Wrinkle Spray
I believe you're already aware that the Downy wrinkle spray is a must to have in your dorm. I thought it's only me who's not into ironing my clothes, and I honestly don't have so much time for it.
This Downy wrinkle spray s one of the life-changing things I regret not bringing to college.
I just love it's so practical, especially if you're on a hurry; just spray it on your favorite t-shirt you're going for, shake it a bit and you're done!
Another great thing, I don't only use it on my clothes, its just perfect to get rid of my bedding wrinkles, pillow and others.
If you don't have it yet, then you absolutely need a stock!!
20. Sound Machine
I'm one of the people who have light sleep, and earplugs doesn't actually work for me.
I admit I don't honestly sleep that much but I love to sleep in peace, noise-free for the hours I do and this sound machine is my BFF while sleeping.
It literally cancels all the noises. If you're having noisy roommates and things earplugs don't do the job, then you have to get a sound machine.
21. Winter Clothes
You'll regret not bringing winter clothes for rainy days to college. Mostly the first rain in college you'll be absolutely soaked walking to class. This is important because you'll be walking around the campus. Make sure to get some rainy boots, a rain jacket, and a golf umbrella because it's big and will cover you well.
22. Kleenex Tissues
If you have an allergy or for whatever reason, you always need to make sure you have tissues with you.
It's one of the top recommendations of freshmen as some professors didn't keep the room as stocked as your K-12 teacher.
Having tissues in your hand is a huge thing.
23. Get a Ladder
Some dorms' beds are so high, and you literally cannot bring them down. Having a step stool or small ladder is life-changing thing to get.
24. Get Extra Towels
Get some extra towels for hands, face, and body. Also, some all-purpose towels for using them as napkins, cleaning towels.
25. Trash Bags
Trash bags mate!! You won't realize you forgot to bring any until you've already thrown out the one that came with your room. They are essentials.
26. Blackout Curtain
If you're not a morning person and you usually don't have morning classes, you actually need blackout curtains in your dorm if you don't want the sun to wake you up. This black curtain does its job perfectly and it's really cheap.
These are the best life changing things I regret not bringing to college with me.
You'll Also Love
The Cutest 22 Dorm Room Ideas Everyone is Obsessed Over
18 Cute and Trendy College Dorm Room Ideas You Have To See
26 Insanely Good Christmas Dorm Decorations You Have to Get for this Holiday Season
Don't forget to pin this!