This post may contain affiliate links, which means I'll receive a commission if you purchase through my link, at no extra cost to you. Please read full disclosure here
This Post is in detail steps of how to start a profitable blog
This is the most exciting blog post I've written. You guys can actually see my passion for blogging ahaha
Are you wondering how to start a blog ? a blog that actually makes full-time income ( 20k monthly )?
This article is in detail steps of how to start a blog post that actually make money. It's the same process I followed to start blogging
This post may contain affiliate links, which means I'll receive a commission if you purchase through my link, at no extra cost to you. Please read full disclosure here
I started a website on Blogger(dot)com months ago and thought I'm going to blog about Beauty / Fashion and skincare. I thought that's the thing, you know ahaha but it wasn't actually. 
 when started actually writing, I had only ideas about finance, freelancing. So,  I knew that's what my blog will be about ( for now :p)
I was looking on the internet how to start a profitable blog that makes money and I've come across some guru bloggers blog Income report blog post and I felt it's a sign.
I've read every blog post of her about blogging and it was quite encouraging. I knew if I ever want to make a full-time, I need to invest in a self-hosted website where I have full control over everything.
To start a profitable blog, well, it's easy. But it's hard to find all the necessary information in one place to take it as a guide ( which what happened to me before ).
Related: 10 Things I've learned in my First 6 Months of Blogging 
I will show you the same process I followed to start a blog : 
1. Choose a Niche  
You choose to have a clear idea of what's your blog going to be. Choosing your niche is the first and the most important step to start with. 
I highly recommend you blog about something you're passionate about because you don't want to get overwhelmed in the long run 
2. Get a Domain Name : 
After deciding what's you're going to blog about. You need to decide what you're going to name it. 
It took me about a month to decide how to name my website with a little help. So, don't feel like you need to decide right away. 
After deciding about your domain name, you need to get it 
I know most hosts offer a free domain name for a year. I don't recommend that.
It's better to have both domain and host separated as it makes you organized. 
I highly recommend NameCheap for domain names. Their customer service is amazing and also they offer free privacy protection forever ( Can you believe that ? ) 

Even better? it only cost few bucks 
Here is What to do :
Go to NameCheap:
Tape the name you want for your website. For example: By Leena Be. Then, you'll be directed to a page to see if the domain is available to use.
Once you check the availability, get the one that ends with (dot)com i.e, the first choice you get because in my opinion (dot)org or (dot)net is more for organizations. The ' (dot) com is what we all get anyways ahaha 
That's it! Now you have your domain name! Yay! The first step is done. Enjoy the free privacy protection forever 😉 
3. Pick A Host  
Now, you want your site to go live and be available on the internet. You absolutely need a self-hosted blog if you're serious about blogging and want to make a full-time income. 
Try to avoid free platforms like Blogger WordPress(dot)com as they have full control over your website. 
There are 2 hosts I highly recommend and 100% in : 
The host that I use for my website and the one I'm in love with. Back in November, I was scared to go with the wrong one and get into trouble that has no end ( if you're a perfectionist like me, you know what I'm talking about )
When I've chosen Namehero, I had the idea in the back of my mind that after a year I will change the host if I'll ever face issues. 
Now, I regret the day of not getting the 2 years or 3 years plan. Namehero is by far the best host on the market, especially for beginners.
I can't say they mislead me in anyways. Their customer service is amazing and I live for their Live Chat
Trust me, I'm not exaggerating. If you're using Namehero, you know what I'm talking about. 
Ouh ! Wait have I mentioned that they really cheap for a high-quality host? like it's only 3.58$ for a month with a free SSL certificate which is a win-win.
I've paid for my self-hosted website 74$ for the Turbo Plan ( which supposed to be 180$ ) on Black Friday. They always have huge discounts throughout the year!
Also, if you truly want to start a profitable blog and start earning money, you want to avoid free platforms like blogger(dot)com. Free platforms have full control over your website and it will be so hard for you to monetize it later. 
So, here is what to do : 
Click on Get Started Now 
You'll be directed to a page where you should add your domain name. Add your domain name and click Next
You'll get to the page of their web hosting packages. If you're new to blogging, I recommend starting with the ' Starter Cloud ' as you can upgrade later when you have more page views. I got the Turbo Cloud when I started as I wanted to get an advantage from the extra features.
After deciding which plan you'll get, click continue
Now it's time to configure your web hosting package. I recommend getting the 1 year or 2 years plan.
Btw, You don't need to pay extra for the backup or anything else ( No need, truly )
Click Continue and Voilàà !! You're done getting a self-hosted website! pretty easy, innit?
As much as I love Namehero, Bluehost is the 2nd best host for bloggers.
It's a big surprise for me to say so but it's amazing. Their customer service is so responsive and helpful and they are beginner-friendly. It also offers a free SSL certificate and 24/7 Customer support. That's an important aspect as it's the place where you'll be spending most of your time when you start ( if you're ever curious the way I am ahaha )
Also, it's really cheap, highly recommended
Here is how to start a website with Bluehost
Go to Bluehost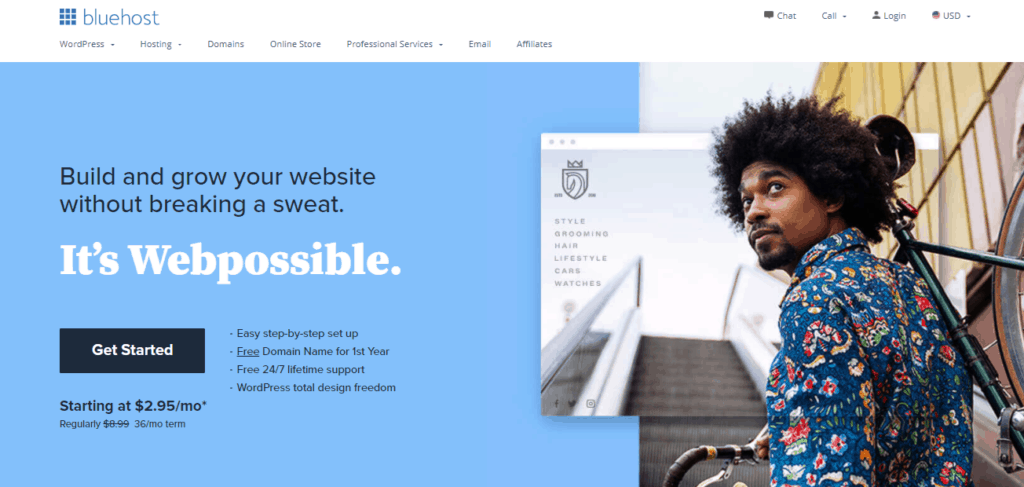 Click on Get Started
You'll be directed to a page where you should add your domain name. Click Next
Now, you have to choose a plan. I recommend starting with basic as you don't need the other features yet ( at least when you start )
Click select
Now you just need to add your account information and you're done. You officially have a self-hosted website ( proud of you mate ! )
The Third step of starting a profitable blog is done!
4. Theme
Now after you choose your niche, get a domain and self-hosted website. You need to design your website.
This is the step that stresses out most of the new bloggers.
Don't worry, you don't have to be a graphic designer or web developer to do that. Actually, if you are, that's amazing truly.
There are plenty of themes for WordPress on the market, both free and paid.
For free themes, I recommend the Astra theme if you're on a budget.
However, I recommend investing in a paid theme as free ones are limited in features.
I use the 17th Aveune Theme ' Amelia ' . They're the most beautiful feminine themes I've found.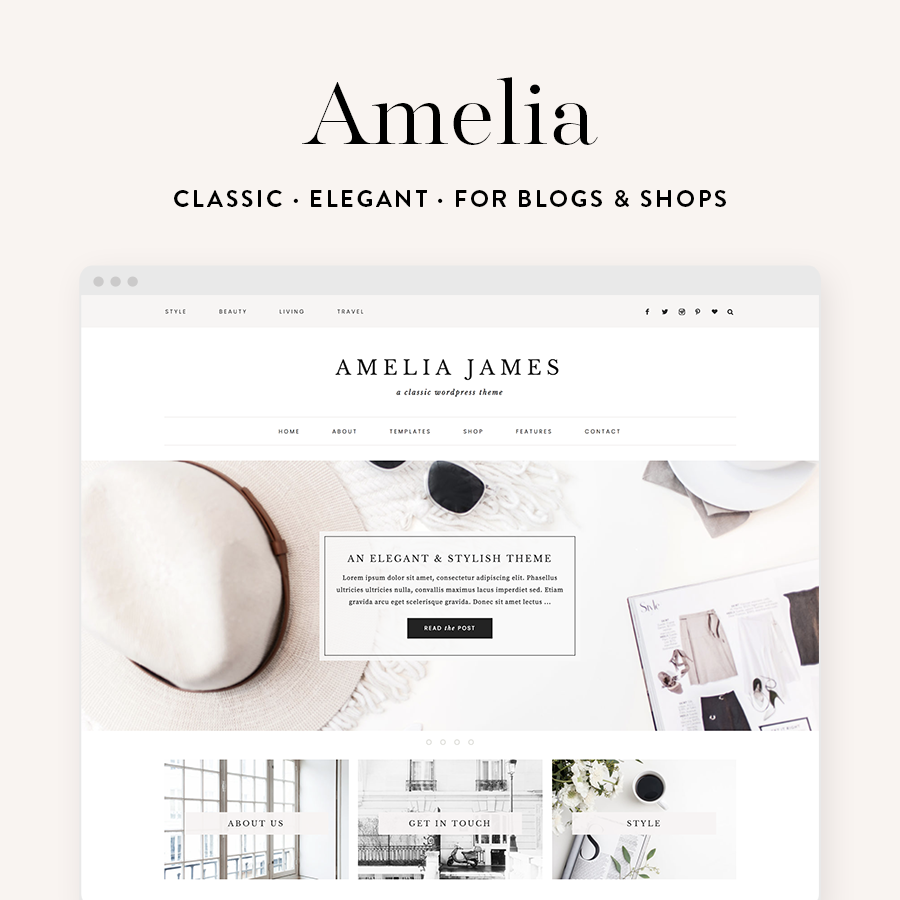 I love the fact that their themes come with so many features. 
 The most important feature is that their themes are ' Optimized for SEO '. You absolutely need to consider if you want to get organic traffic.
You can find many options on Esty that will fit your needs.
We've come to the serious part about blogger yet really important.
To start a profitable blog that generates full-time income for you ( hopefully very soon ) is just like any physical business. You need to protect yourself and your business.
Also, you want to avoid any legal troubles out there on the internet.
I know it sounds scary. That's how I felt when I started my blog.
But Luckily, Amira Law is an entrepreneur and a lawyer who offers very affordable legal bundles for bloggers and entrepreneurs to protect your business.
It made the life of many of us easy and risk-free.
if you're just starting, I recommend getting her Starter Bundle which include all the necessary 3 legal templates
The next step is .. LOL just kidding! That's it
Congratulations, You officially now have a blog. I believe I can call you a blogger right? 
I cannot wait to see your success! Don't forget to join my email list where I share all my blogging tips and tricks!