I only recommend products or services that I believe will add value to my readers. By using these affiliate links, I'll receive a commission if you purchase through my link, at no extra cost to you. Please read full disclosure here
Looking for nail ideas for Spring to add a pop of color to your nails and switch those moody winter nails as we transition into warmer weather?
With winter's cold and boring days finally over, "spring has sprung." T''s a new season with warmer weather, brighter colors, petals, blooming flowers, and springtime fashion.
If you're anything like me, your Instagram is already flooded with nail ideas for Spring that leave you yearning for Spring manis.
From classic French manicures to Floral and pastel nail designs to geometric manicures and the hottest "Hailey Beiber's" chrome nails making a comeback, this year's nail ideas for Spring are obsession-worthy and nothing short of captivating.
Thus, I've curated a list of nail ideas for Spring to help you show your manis some springtime magic and match the new season's fashion.
Even if you're looking for bright, fun, warm spring nail colors to match your spring fashion or switching to holiday nails, get you excited, and you can't wait to try new Easter nails and St Patrick's Day nail ideas.
Best of all, you'll find the perfect nail art, even if you're enjoying a DIY nail day at-home manicure or ready to book a pamper session with your manicurist.
These Pinterest-worthy nail designs will guide you to choose the perfect nail art for the season.
So, keep scrolling to find the most fabulous nail ideas for Spring that suit your style and embrace the spirit of the season.
The Best Nail Ideas for Spring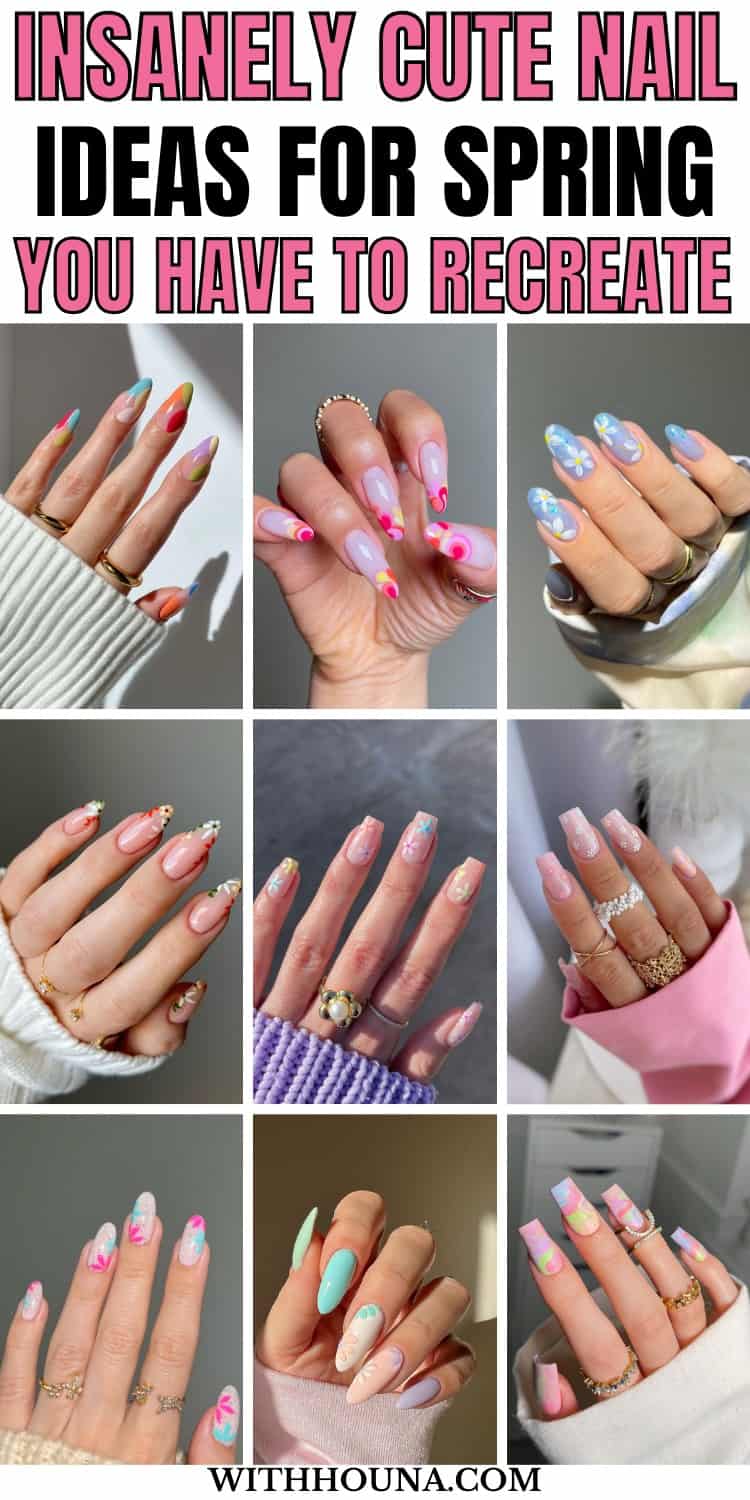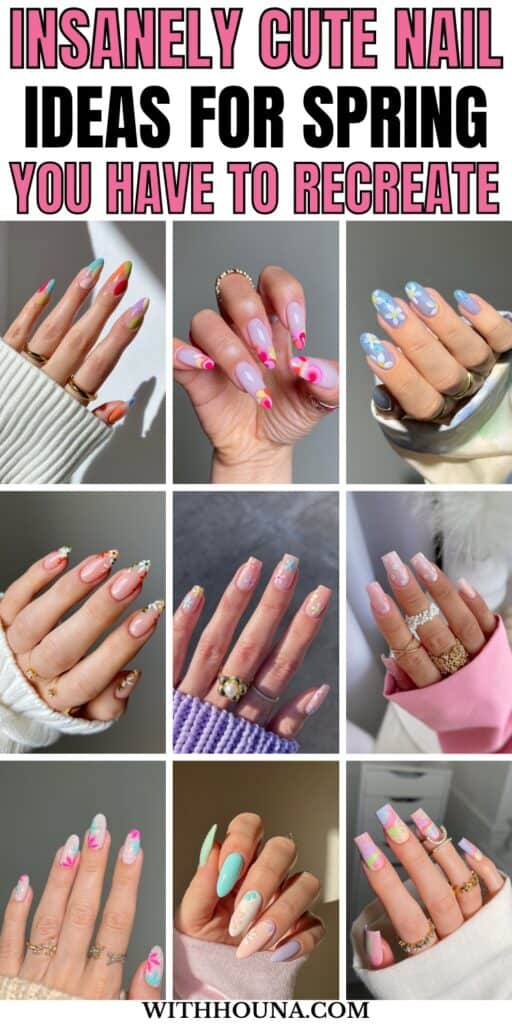 1. Funky Nail Ideas for Spring
Contemporary-chic is in. It's futuristic, creative, exciting, and elegant, all wrapped up in striking simplicity. All these nails need are the classic colors of Spring to get their point across in style.
Nothing about these nails is obvious, but we know they're Spring-themed anyway because what else could those gorgeous colors be for? How cool.
It's always refreshing to see a new take on nail designs for spring, so if you want to get ahead of the trend or be part of the trendsetters this Spring, these are your nails. 
2. Pink Nail Base with Colored Florals
It's the season of cottage-core, rustic, cuetsie nails that are a breath of fresh air. This manicure answered the call.
It's Spring-themed perfection. The light pinks, the small, vibrant flowers, and a long almond as the perfect cherry on top of this to-die-for manicure.
It's all good vibes here, and so gorgeous, too. Be sure to pair it with gold jewelry to really make this look shine.
3. Cottage Core Nail Designs for Spring
Green looks gorgeous all year round, but it SHINES for Spring. It's such a naturally earthy and organic color that relaxes into any lush look.
And let's not beat around the bush; it's great to look at and gives us all a little dopamine boost and a wave of relaxation. So, really, these beautiful nails are the whole package in one.
This is all before I even get to the work of art: milky white nails adorned with fresh florals that just make my inner fashionista heart happy.
4. Mix and Match Nails for March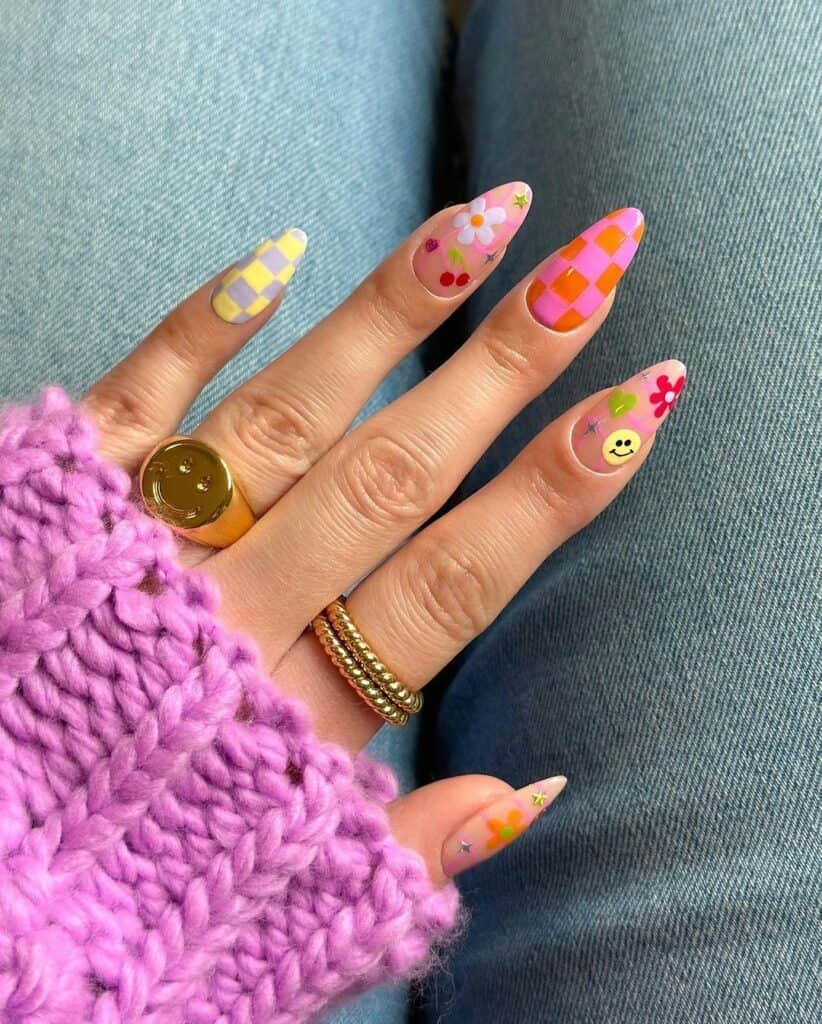 Festival season starts now, and it's only set to heat up while Spring sets in and summer starts to bloom.
Funky vibes are in the air all around, from the vibrant florals to the hum of music. So, if you're ready to have fun, dive in and crowd-surf those vibes with these groovy March nails that incorporate some of the trendiest trends of the year.
They're striking, loud, and so exciting. They're also a great DIY project to get lost in for a while or even a great excuse to book an early Spring trip to the salon. Enjoy.
5. Nude Delicate Flower Nails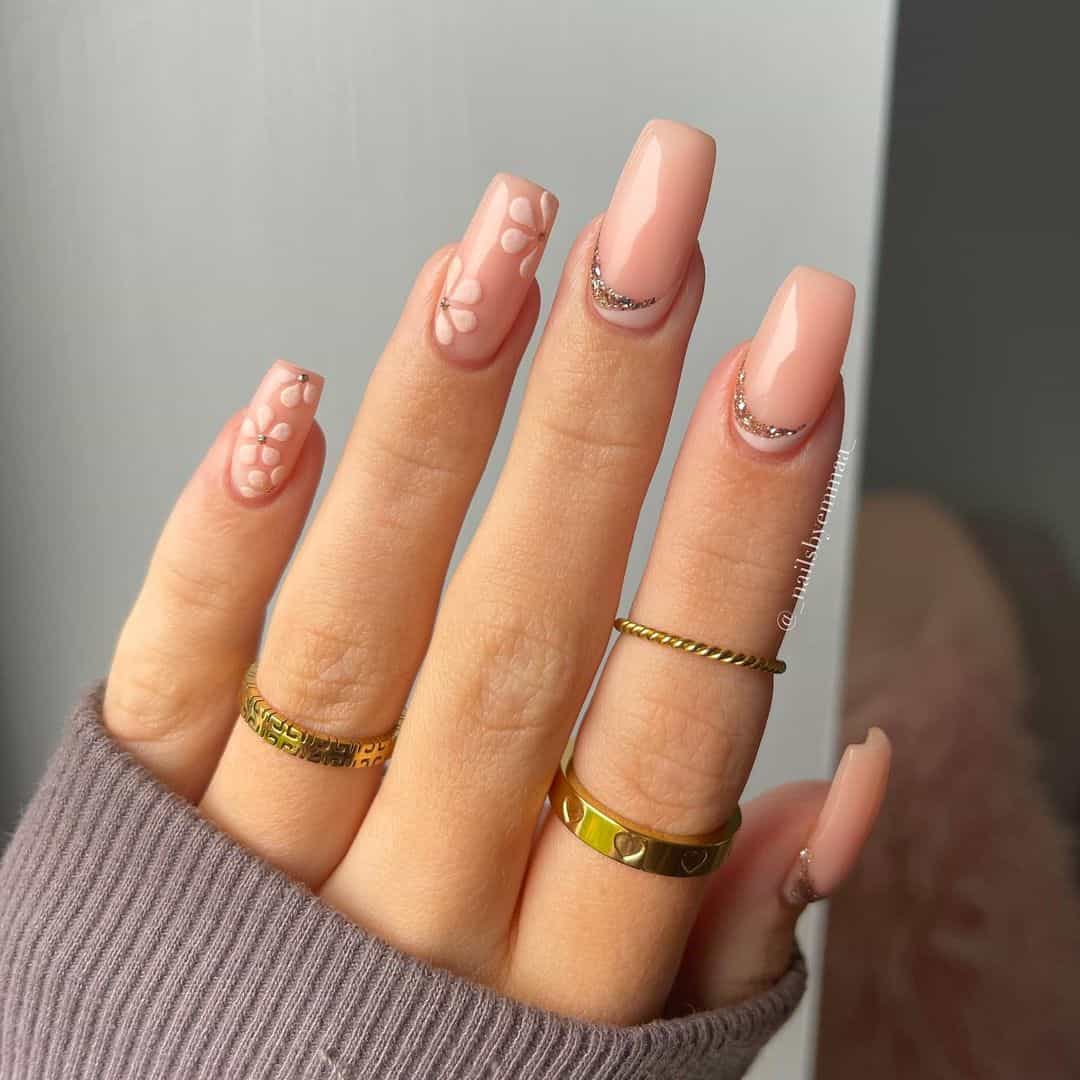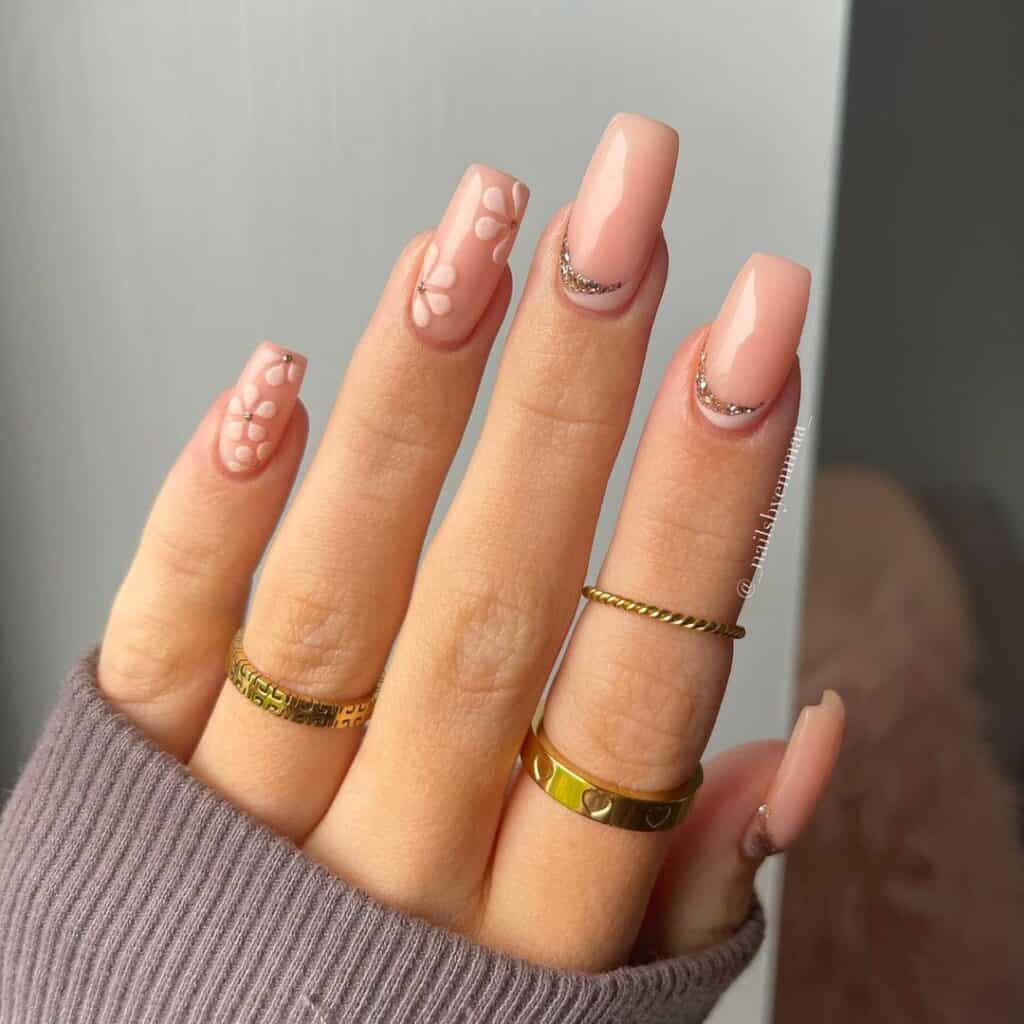 Sprink is all about taking it easy, laying back, kicking up your feet, and taking in the budding beauty around you.
It's also time to do some closet and beauty collection spring cleaning, so why not start fresh with this clean-slate look that goes with literally every accessory, outfit, mood, and vibe under the sun.
This low-key look is adorned with hints of gold glitter and nude, diamond-studded flowers. It doesn't get much more subtly sophisticated than that.
6. Vanilla Chrome Nails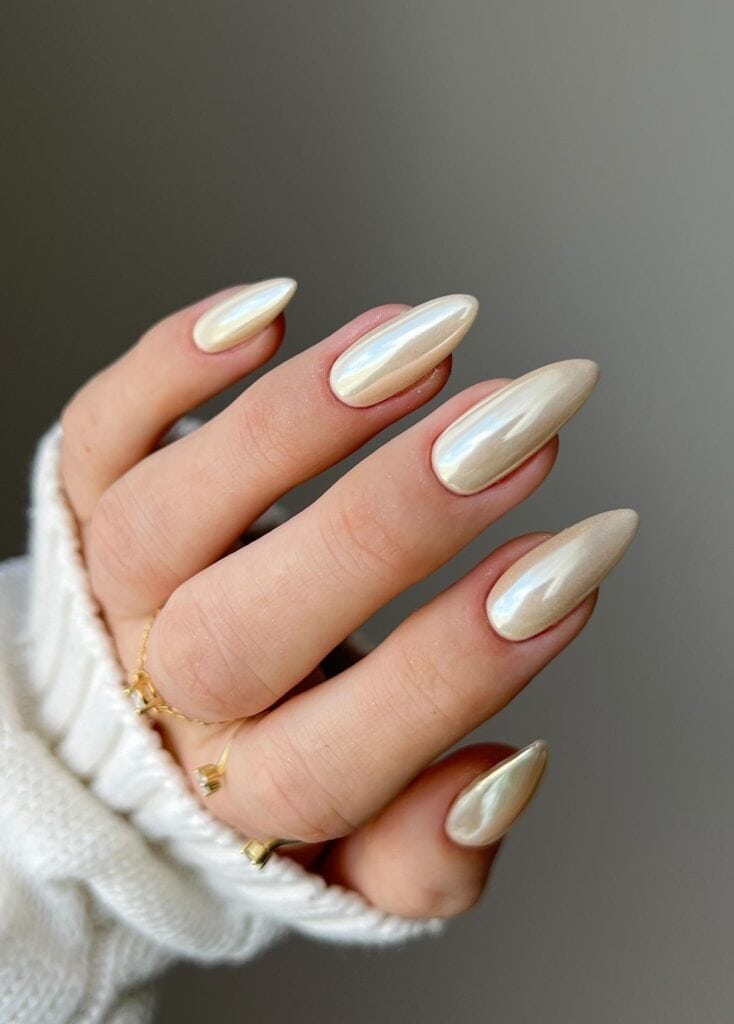 Nail ideas for spring have taken quite a futuristic turn this year, and I'm here for it. Here, we see the metallic trend in full swing.
The chrome shine is perfectly prepossessing, catches the eye, and holds attention without being complicated or loud.
There's an otherworldly, reflective vibe to these radiant and almost luminescent nails that are honestly made for shining in photos.
So, if you want nails that you can wear absolutely anywhere while also stealing the show in effortless style.
7. Yellow Spring Mini Daisies
These lovely little nails are just the right amount of unique to steal my heart. They pop while keeping things casual.
Maybe it's the light-hearted yellow French tips, the adorably dotted flower accent nail, or the milky white base that's just like a fresh Spring day, but this manicure just makes me smile.
And all that for about five minutes of nail painting? Count me in.
8. Pink and Orange Nail Ideas for Spring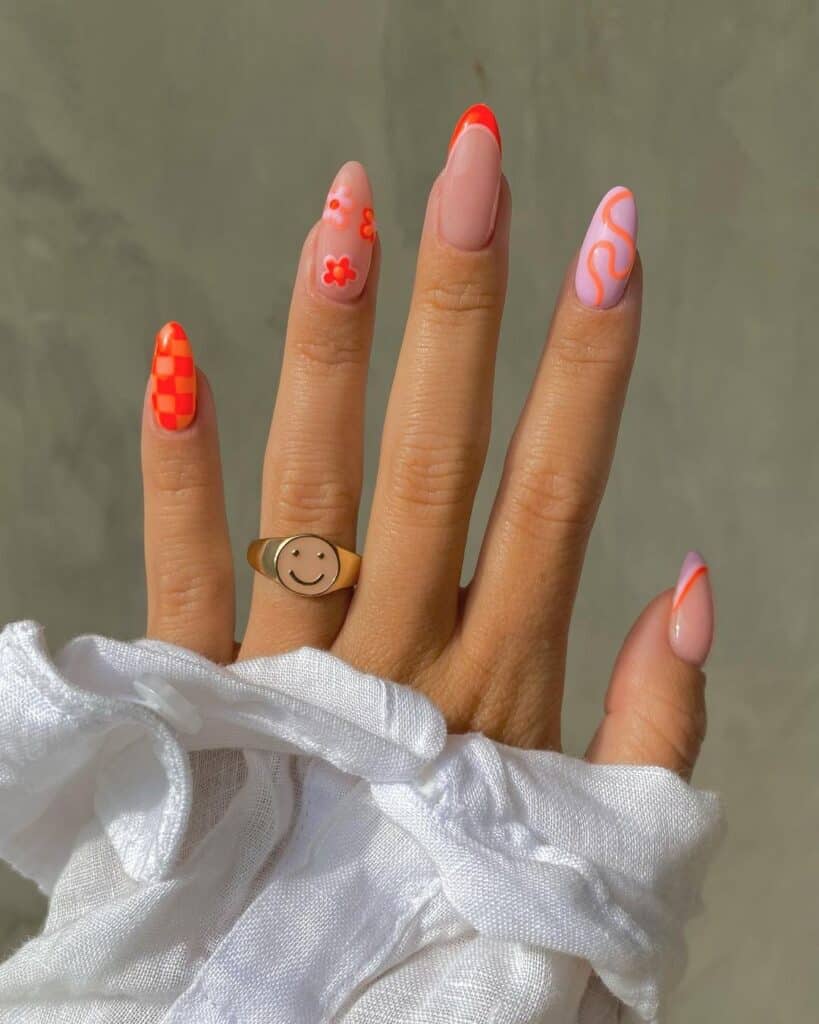 For all of your citrusy nail girlies out there, you know Spring is your season to shine. Shine extra bright with this manicure that seems to have harnessed the rays of the sun.
Honestly, have you ever seen more heart-warmingly charming any joyful nails?
Plus, the smiley nails are all festival vibes if you're planning on dancing your way through Spring and right into festival Season in exciting style.
9. Daisies Nails for Spring
Daisy nails are a weak spot for me. They have a special place in my heart, which means I have to wear them at least once a year, and you can bet it's most likely to happen this flowery time of year.
It also helps that this is one of the freshest looks on the list, and really, also the freshest Spring manicure I've seen all year.
The shades have been genially picked, and the design relies on timeless classics to bring the beauty of Spring back around every year. I'm here for it.
10. Pastel Floral Nails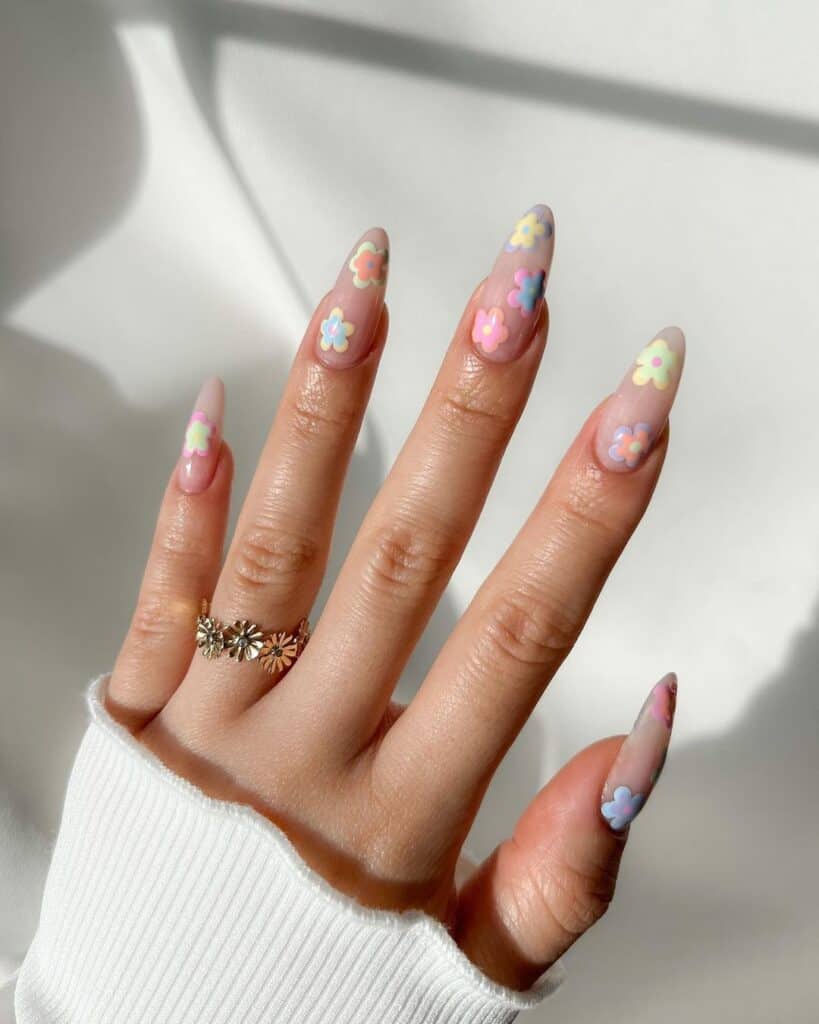 These flower nail designs are made of the stuff of our girlhood dreams. Seriously, I feel like a kid in a candy shop just looking at these sweet nails.
They're so fun, playful, and let's not forget, drop-dead gorgeous. Fabulous from cuticle to tip, these are the nails that you, and pretty much everyone else, won't be able to take their eyes off of.
I love the twist of adding one flower to the Pinky and two or three to the other nails. It just makes the whole manicure look carefree and casual-chic, which is right up my alley.
11. Starburst Mood Board Nails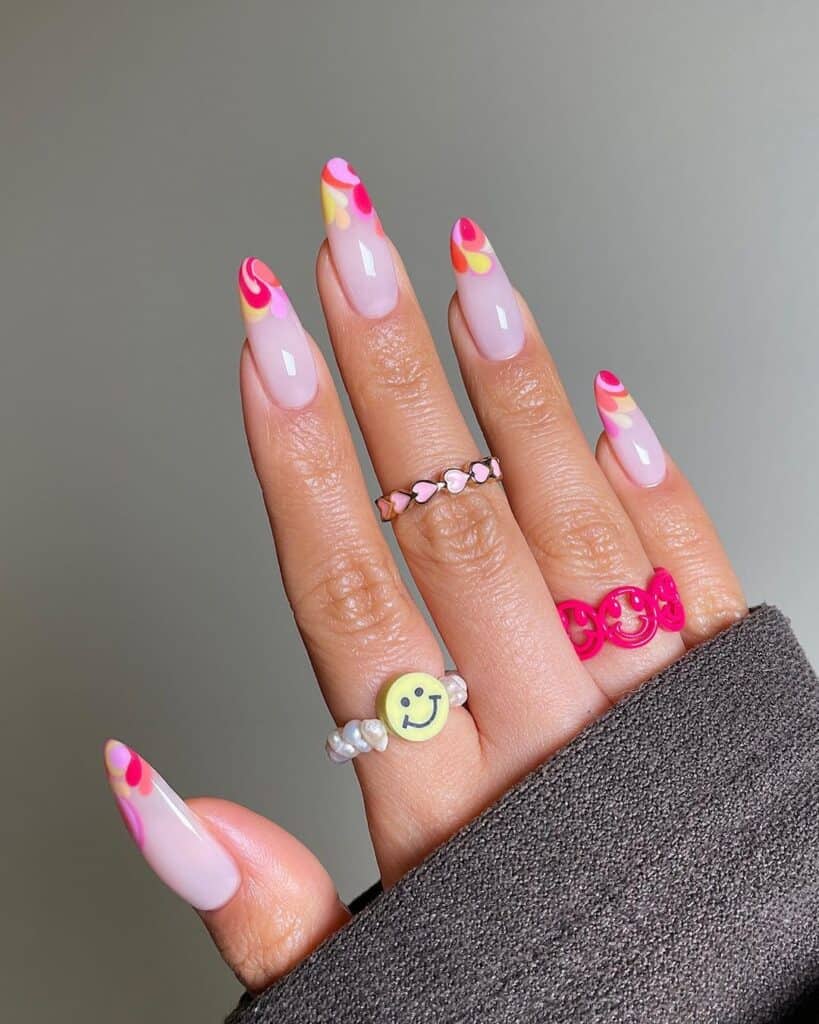 Every season has their own version of the much-loved strawberries and cream manicure. This is the classic look with a peachy twist.
It's all fruity, sweet, and, let's admit it, completely delicious looking. It just looks like a little happy dopamine hit, and the funkadelic look won't stress you out, either.
With a little patience and the right tools, you should be able to take care of this work of art on your own.
12. Spring Green French Tips
I truly hope gradient nails never go out of style, especially in their French tip version. They have a hold over me, and I'm not too afraid to admit that I try out at least one gradient look every season.
They're just so flawless and effortlessly elegant while also keeping things fun. So, break out all of your green shades and get to work on these beauties.
They'll only take you 5 minutes to complete, but they'll give you a whole season of happiness, compliments, and Instagram pic inspiration. What's not to love?
13. Gucci Flower Nails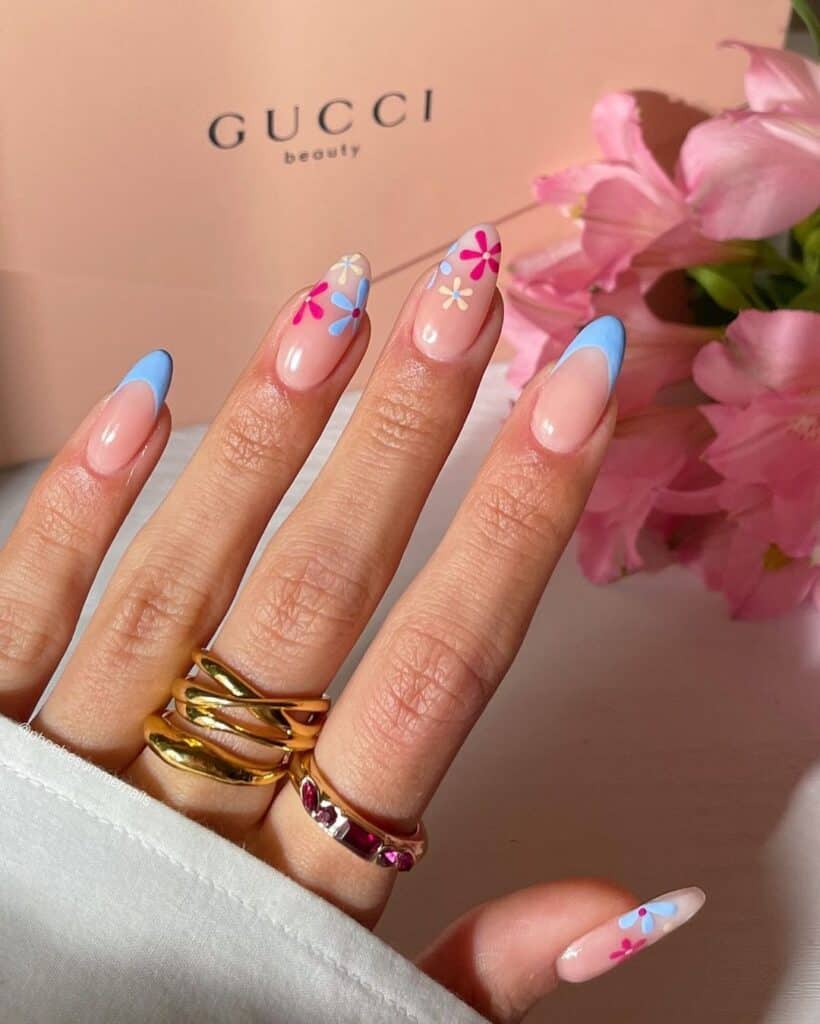 These nails walked right off the catwalk and onto your hands. They're designer nails and, honestly, the height of fashion.
That said, despite the opulent and high-quality design, there's also an easy-going edge that's ideal for Spring.
Take these to your nail tech to really get those lines and colors just right. Then, be sure to share them wide and far on social media so that we can all enjoy gawking at these absolute beauties. Promise I won't be too jealous.
14. Spring Farmers Market Nails
Sprink nails are meant to look fresh, clean, and like a clean slate. That's why these rustic, cottage-core and downright darling nails are on my list.
If you're already in on the checkers trend, then this is the perfect way to up your trend game by sprinkling on some gorgeously colorful flowers.
Don't be afraid to get creative when it comes to this design's nail shape? This work of art looks as good on oval nails as it does on squares.
It's truly a gorgeously inclusive look, even if you're a short-nailed girlie.
15. Sun Out Swirls Nails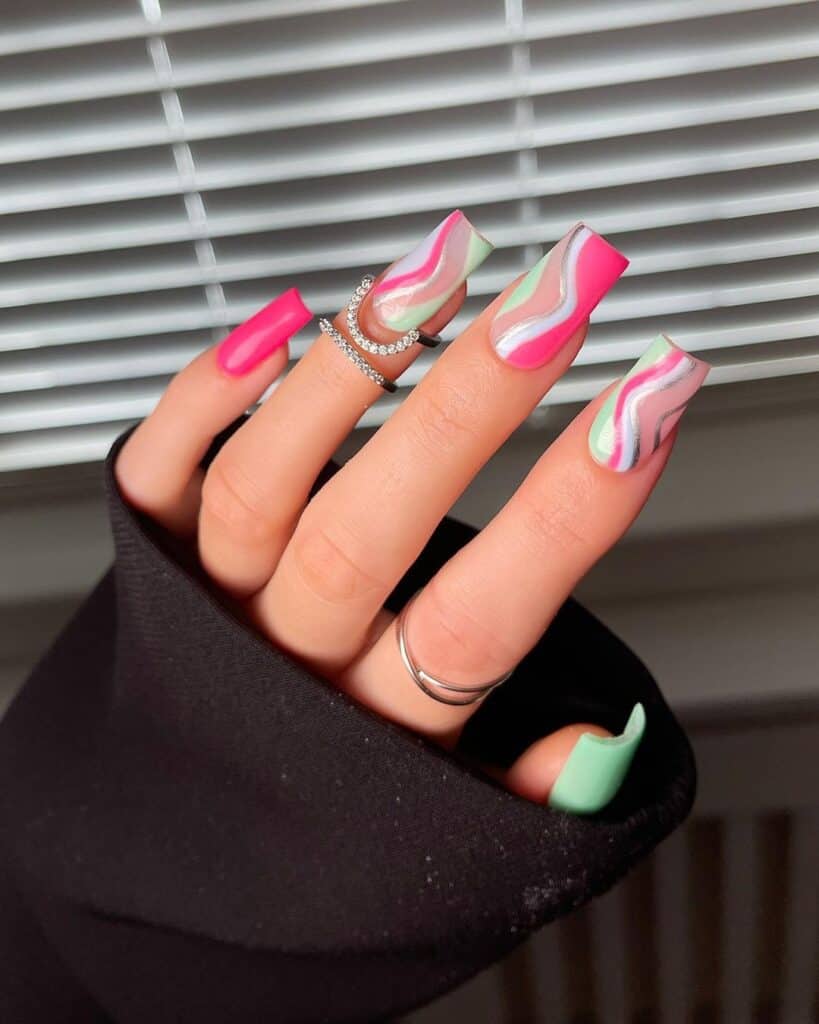 It's giving midday weekend cocktails and streamers at festivals. But I'm also getting glamour and confidence from this look that's entirely one of a kind.
All of your Sprink looks will be taken to the next level thanks to these stunning nails that won't have you pulling your hair out trying to replicate.
Just pick out the right shades and follow the design above. The swirls give you plenty of room for error, so don't be afraid to make mistakes or get creative.
16. Funky Spring Manicure
This manicure looks like what frolicking through a meadow feels like. It's all dandelions and daisies.
Oh-so girly and downright adorable. That said, the long almond shape paired with the sloping French tips adds an elegant aura to the manicure that can't be denied.
17. Plaid Flower Nails
When it comes to nail ideas for spring, these win the prize for being the most creative of the year. Yes, they use a very popular trend (hint: the checkers), but they use it to perfection.
The checker polish shades contrast and complement perfectly, and while the look is incredibly eye-catching, it's actually all pastel.
How unexpected and gorgeous. It just works. Then you add the lovely white flowers to the mix to really emphasize the Spring-ness of the look, and what you have is pure beauty.
18. Pearlescent Blue, Glittery Nails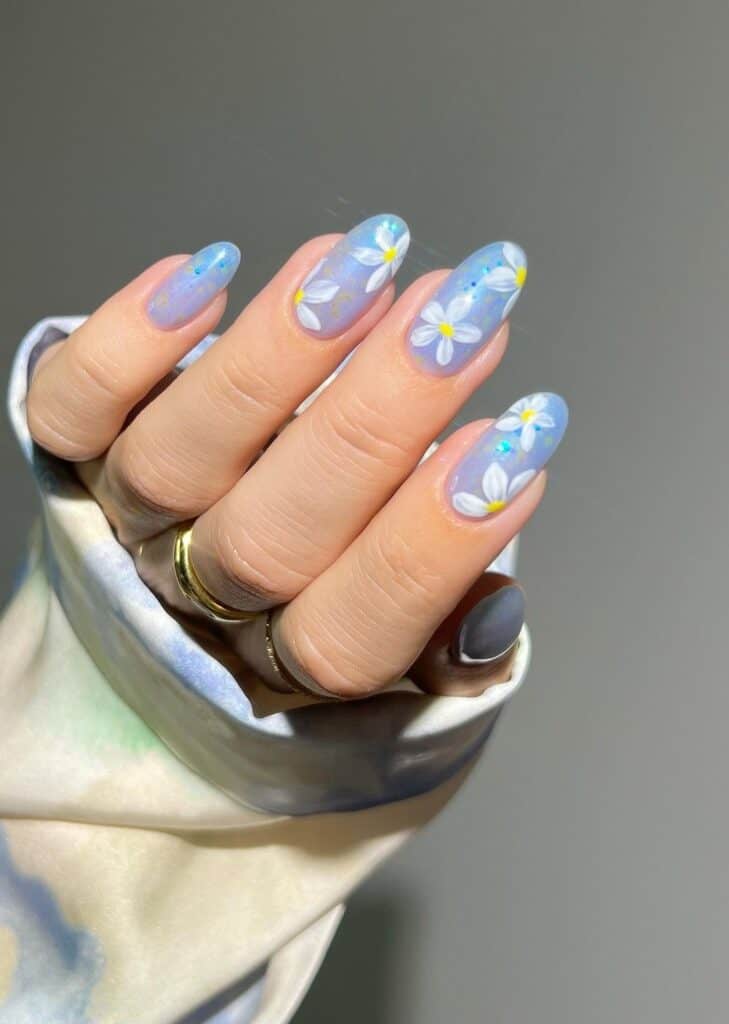 Some nails have that dreamy, whimsical allure that's quite mysterious and also carefree at the same time.
These nails are the real essence of spring, drawing on natural and organic influences. Of course, the shimmer reflects the sun while looking radiant in its own right.
The flowers are also painted on so carefreely. This look really has my heart.
19. Pastel Spring floral Nails
Please tell me I can wear Spring nails all year round because I'll almost cry seeing these beauties wiped away by nail polish remover.
They're just astoundingly beautiful. The stuff of dreams is perfect for gazing at all day long, pairing with outfits, sharing online for all of us to gaze at, and adorning with lovely accessories.
You'll honestly feel like a princess with these nails, so what are you waiting for?
20. Orange and Blue Swirly Nails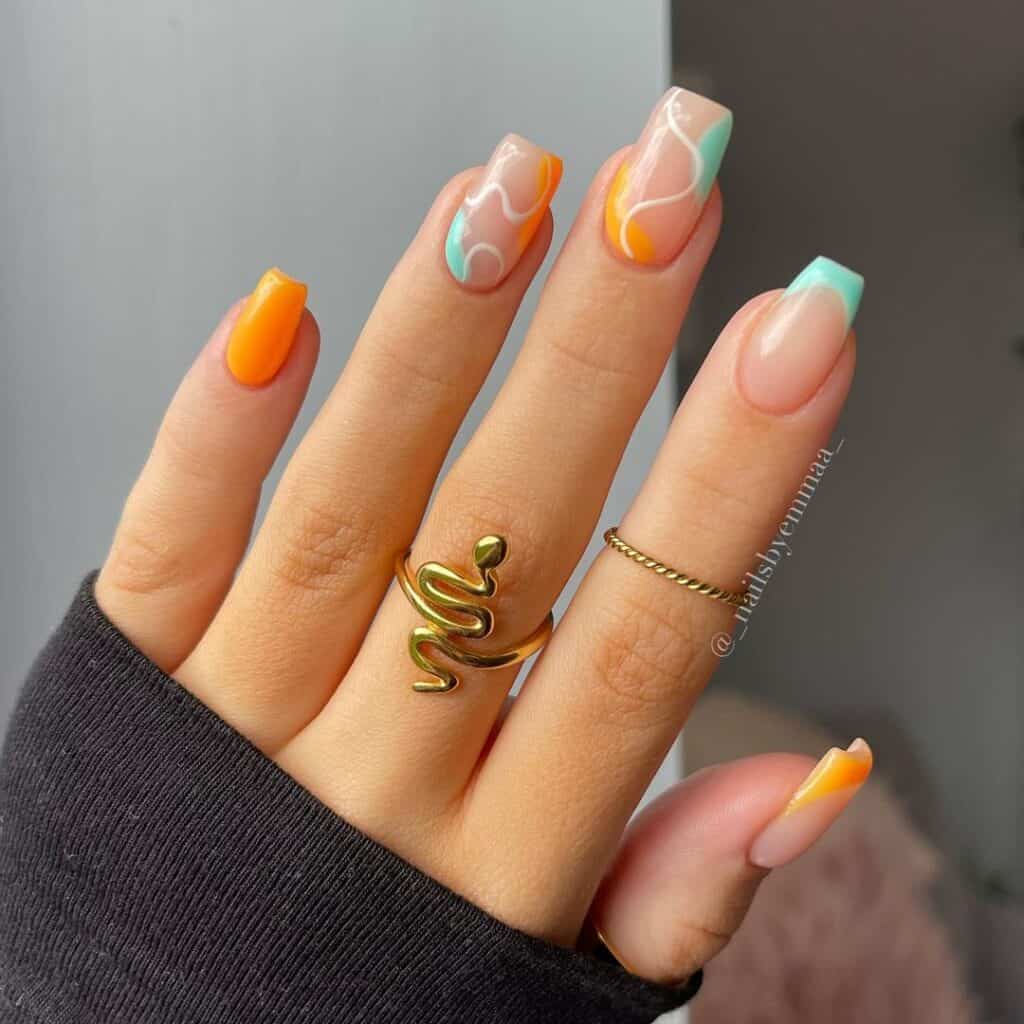 If you're not crazy about Springtime nail designs, that's okay. There are always low-key nail designs that nod in the direction of the season and look fabulously fresh without going all-out floral.
This bright blue and citrusy orange mix is a beautiful example of that, with a few elegant white swirls added in, making things all the more elegant.
Seriously, if you're not about Spring but you are all about beautiful nails, then look no further.
21. French Flower Tip Nails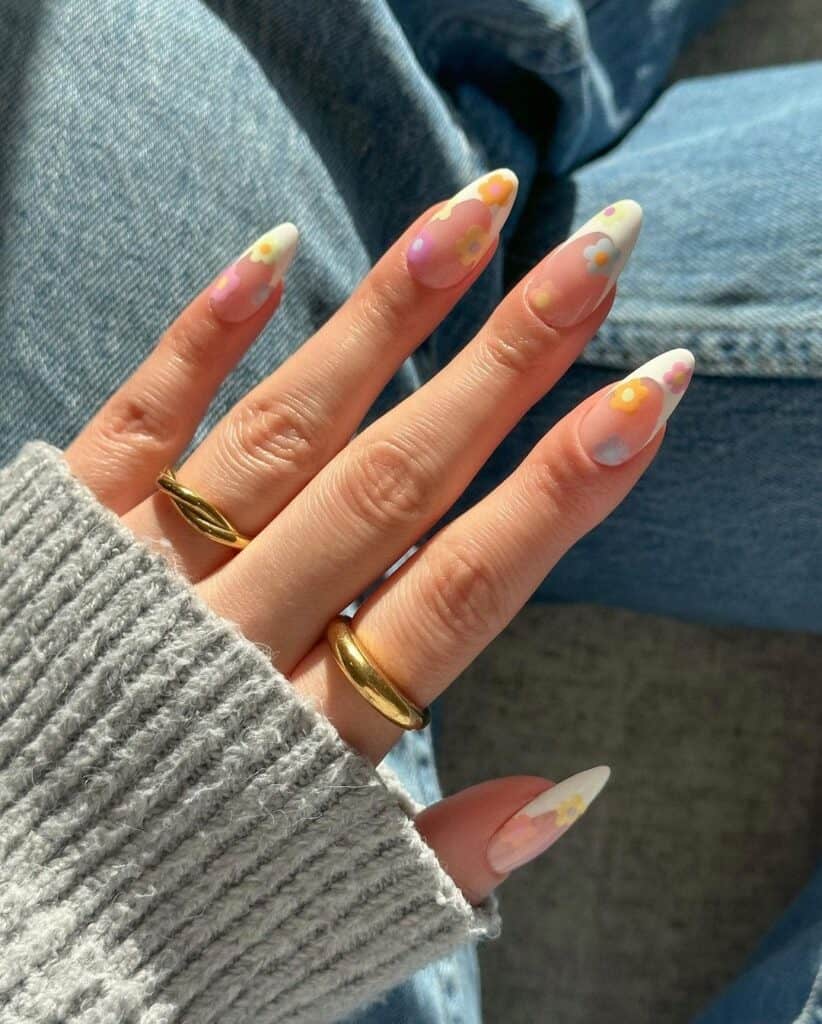 We're not having a single bad thought or off vibe this Spring, thanks to these feel-good nails. Seriously, who knew a classic French tip could look so cheery?
Apparently, all you need to do is sprinkle some colorful flowers on top. It's pure beauty.
Just be sure to keep the nail tips long and nicely rounded to really bring out the amazing softness of this marvelous manicure.
22. Bright Spring Mani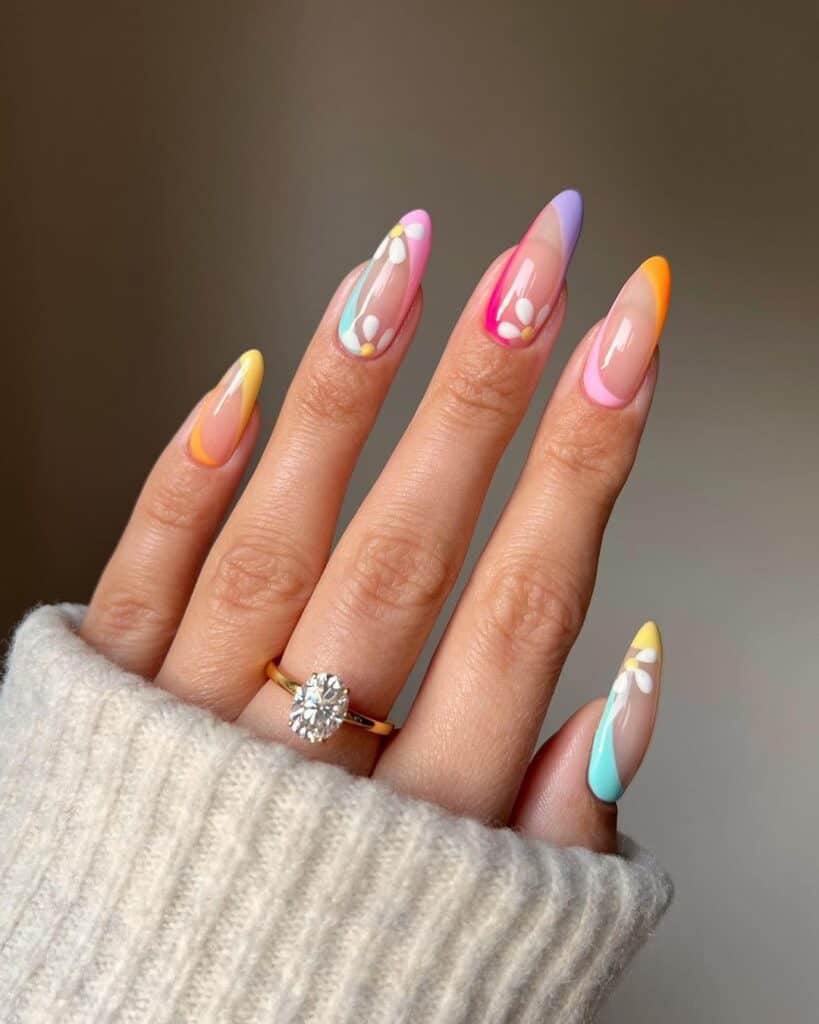 I am in awe of these nails. Designers are really taking Springtime looks to the next level, and I'm with them all the way.
Seriously, these nails are astoundingly beautiful. Slanted double-edged tips are definitely set to become a trend, thanks to manicure designs like this.
The color choice is genius, and the flowers are so sweet while keeping things light-hearted. Be the envy of pretty much everyone with these nails this Spring.
You won't regret it, and you won't want to take them off, I promise.
23. Aurora Nails for Spring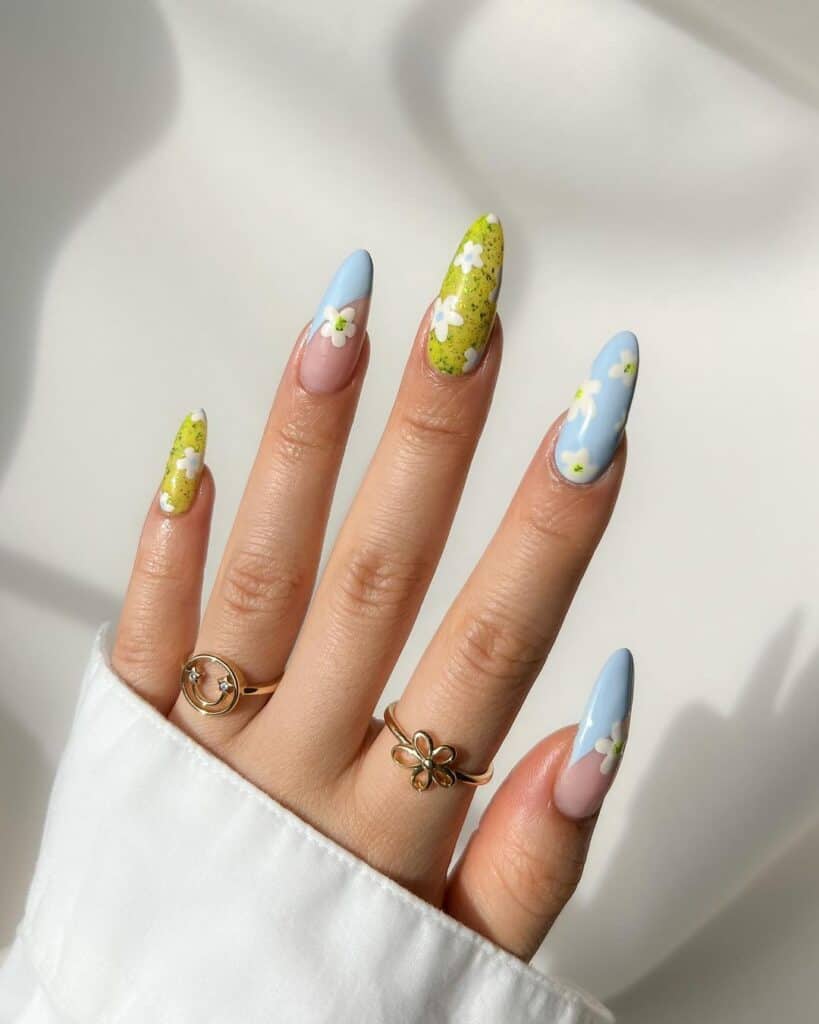 These nails are so vivid and authentically Springtime that I can almost already see the bright sun rising and flowers blooming.
With these nails, you'll completely embody those fresh and feel-good vibes that are always buzzing in the air this time of year.
The glitter of the green nails is even a bit of an eggshell effect, which even makes these the perfect Easter nails. What's not to like?
24. Secret Garden Tips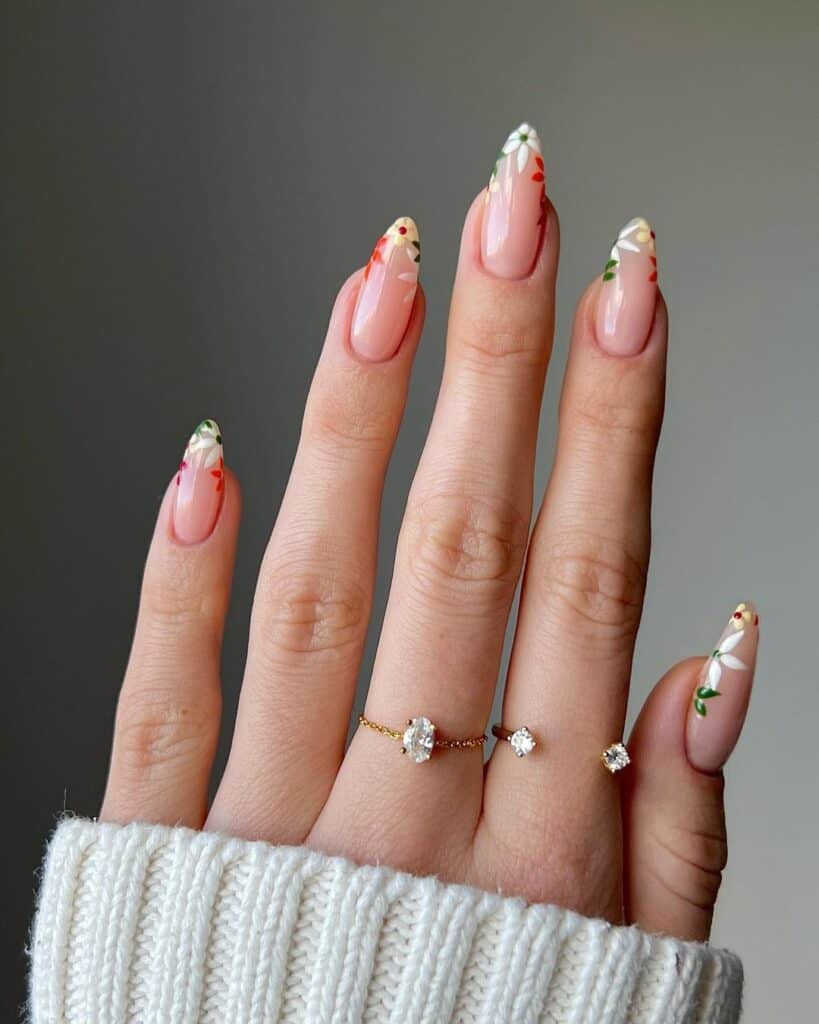 I am head over heels for the barely-there-nails trend. It shows that sometimes less is more, especially when it comes to the light-hearted season of Spring.
It makes for such a casual yet mesmerizing allure that feels like pure elegance.
25. Marbled Pastel Nail Colors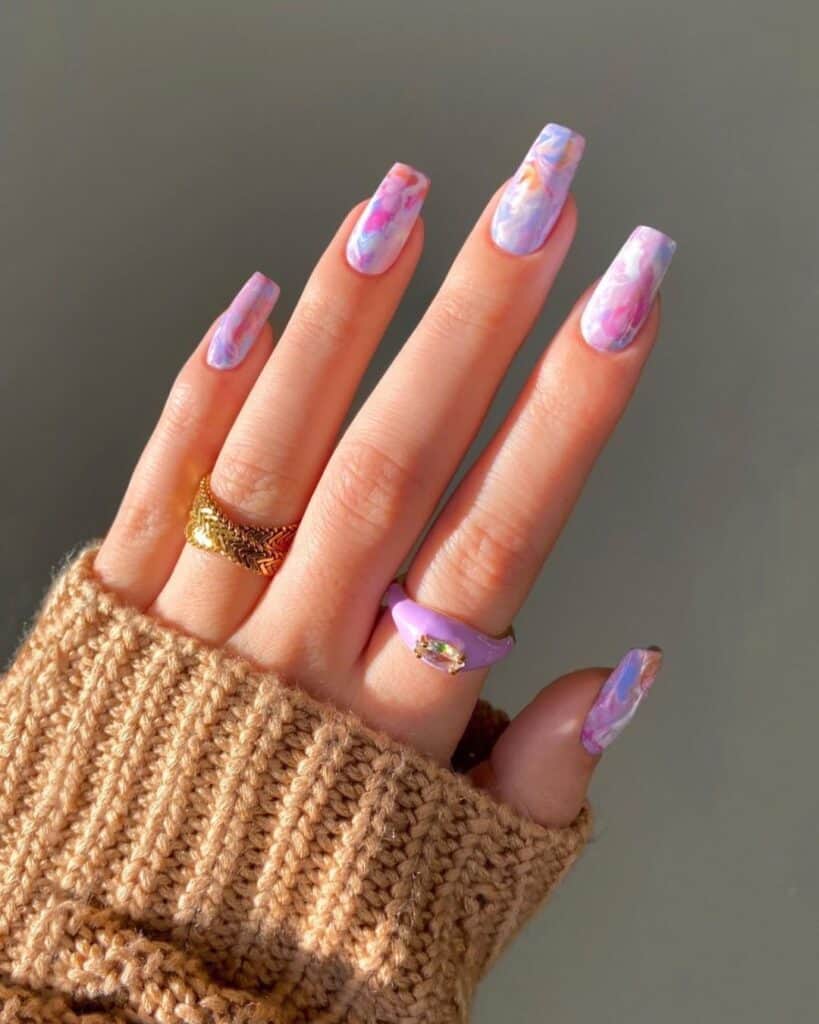 These are IT girl's nails. From cuticle to tip, it's all beauty. It's all dazzle, style, and show.
If you want nails that you won't be able to stop posting on your Instagram story and that you'll include in absolutely every shot this season, then these are the influencer nails for you.
They really are next-level, and the watercolor effect won't take you hours to perfect. Within minutes, you can have this work of art perfected and ready to show off.
26. Butterflies and Floral Blue Nails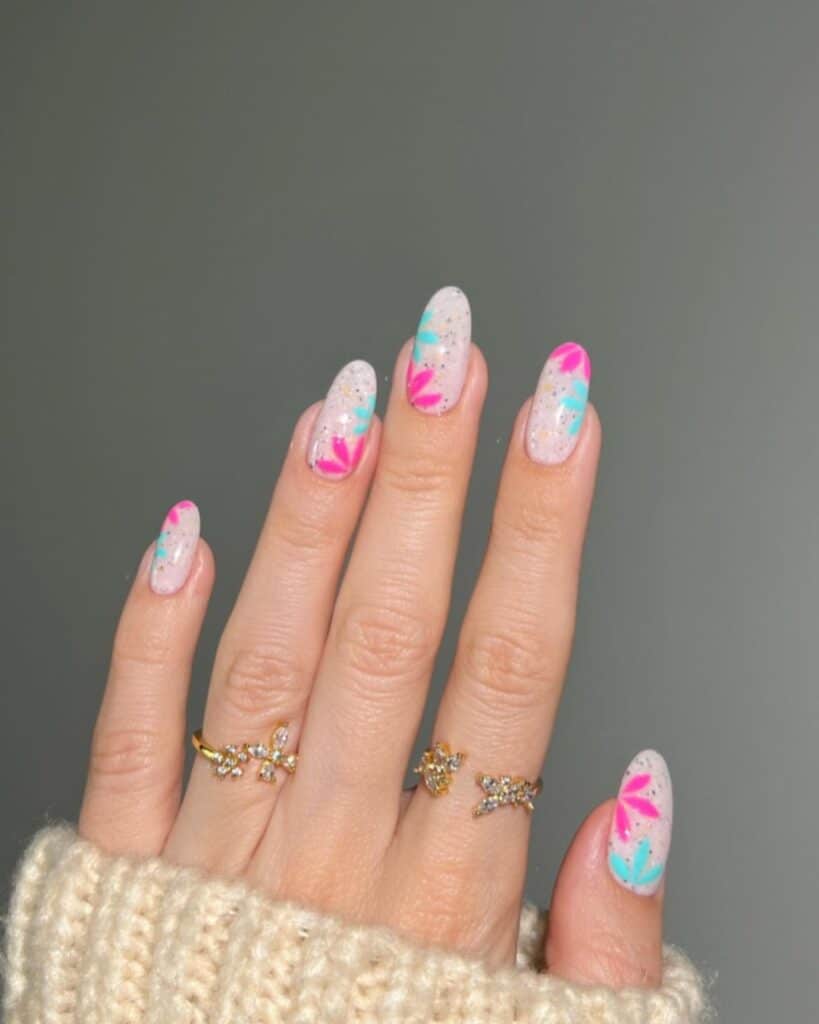 Breathtaking. That's the first word that comes to mind when I see these nails. The milky white undercoat sets an elegant backdrop while the glitter shimmers gracefully on top.
The blue and pink mix adds energy and life to the mix that just sings Spring. I'm more than here for it. I'm living for it.
27. Multicolored Daisies Nails
It's raining tropical vibes and that sun holiday feel. These nails achieve that bright, carefree aura by just tweaking all of the right parts of the nail.
From the mid-length square shape to the peach base and, of course, the star of the show, the chill flowers, this manicure is just effortlessly cool.
If you're feeling easy-going and want to channel surfer girl this year, then these are the nails for you.
28. Little Dainty Flowers Nails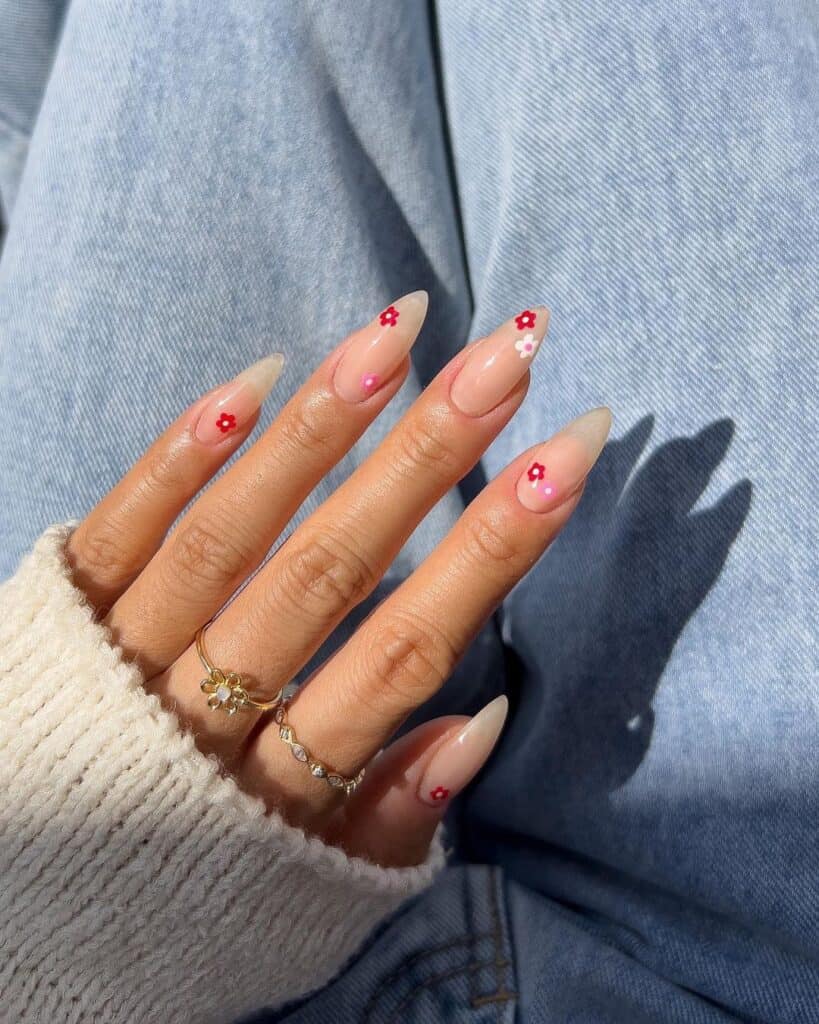 Get these nails on Instagram ASAP. They are low-key in all the right ways. They're like a little breeze of beauty with hints of elegance and colorful flourishes, all wrapped up on amazing almond nails.
If you're going for subtle, dainty, girly, and perfectly pretty this year, look no further than these absolute stunners.
29. Spring Neon Colored Flower Nails
Light neon green and hot pink isn't a dynamic duo we see every day, but it works. The two energetic polish shades fuse powerfully and explode like a firework off the nails.
They're happy, bright, and all good vibes. Plus, double-sided tips are trending, which is the perfect modern contrast to the classic florals.
These are happy days and festival nails if I've ever seen them.
30. Purple Flower Nails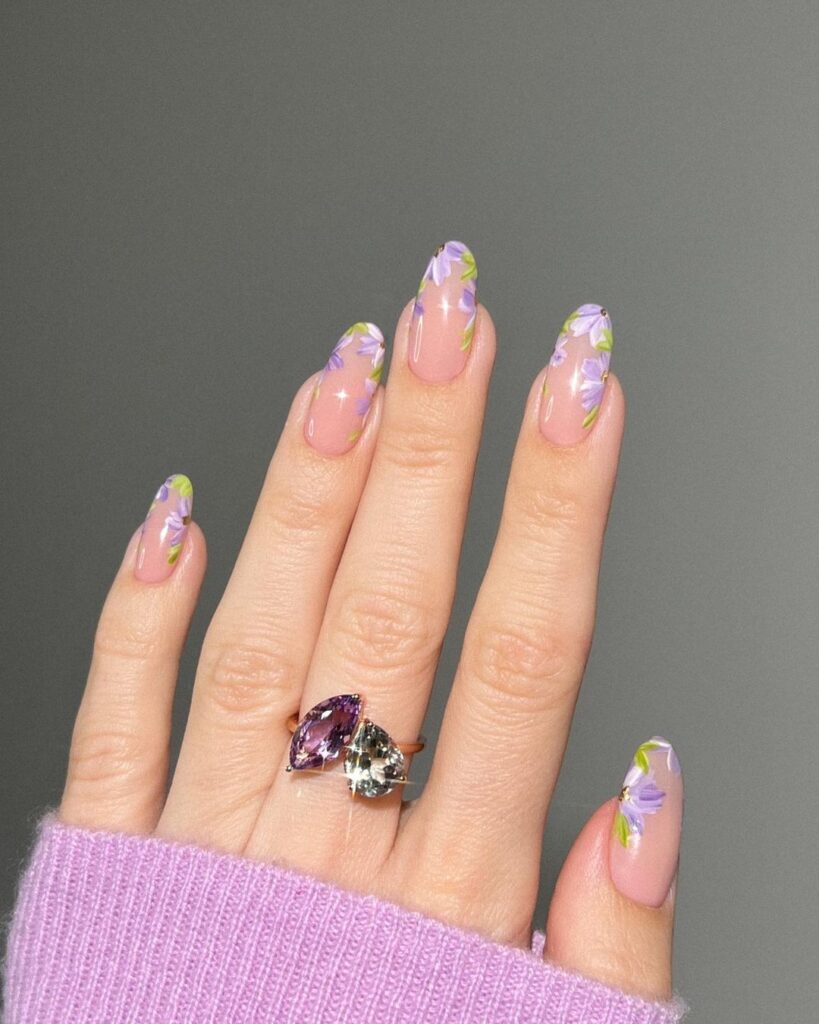 These nails look like a walk around the manor gardens in your finest gown on a sunny Sunday evening.
You've just finished tea, and you're appreciating the freshly bloomed lavender in the palace's garden, taking in their heavenly aroma and gazing at their dreamy purple shade. It's perfection.
Yes, these nails really are fit for a princess and are so elegantly chic and dreamy that they're going right on my must-try list because I can't let them slip me by.
31. A Twist on the French Tip Nails for Spring
There's something regal about this manicure. It has all of the right polish shades for nail ideas for spring, but there's also something elegant and sophisticated about how they clash and complement to perfection.
Plus, the fine golden line separating the shades adds a gorgeously gilded look that's really graceful and honestly to die for.
32. Sorbet Gardient Nails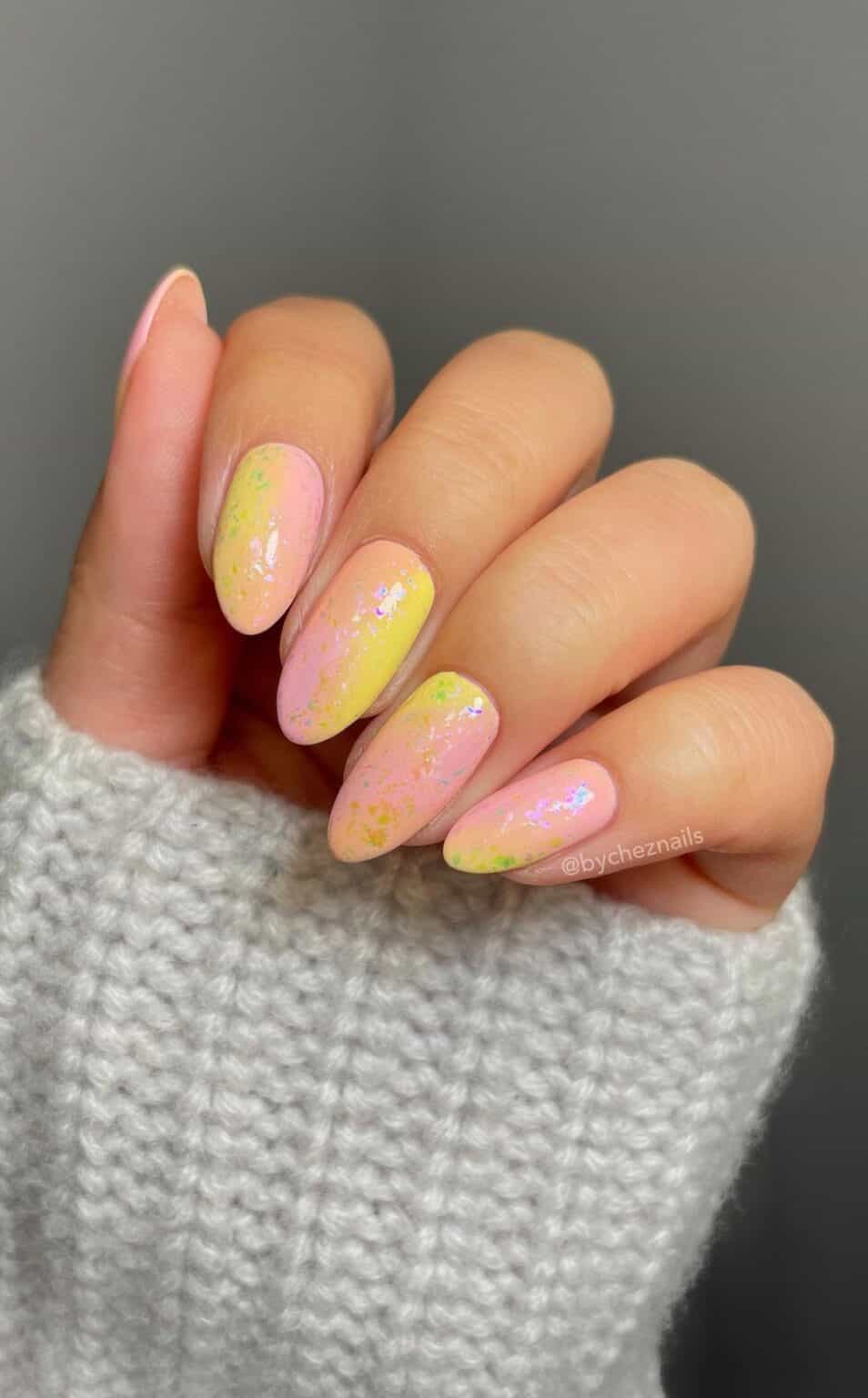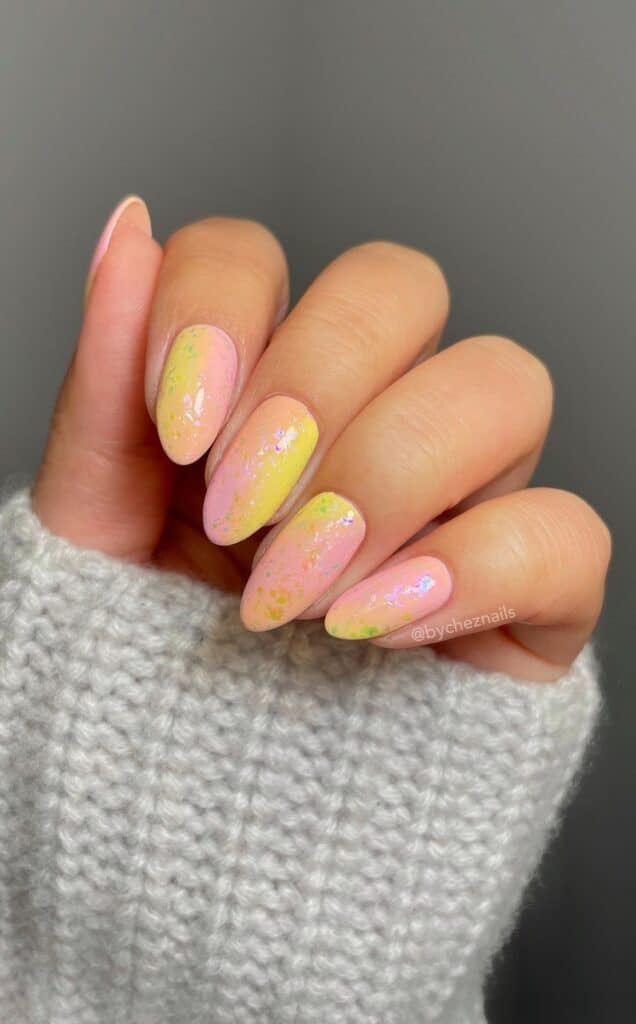 Shade fade nails are going to be huge in 2024. Here, we see the two-tone version of the soon-to-be-trend, and it's already winning me over.
The pretty peachiness mixed with sunny yellow is a winning match, while the sprinkles also make these the ideal nails for one of the most important Springtime occasions, easter. It almost looks like an egg-shell effect, but is still just general enough that these could be worn at any time of spring. I'm in love.
33. Pastels are Always a Vibe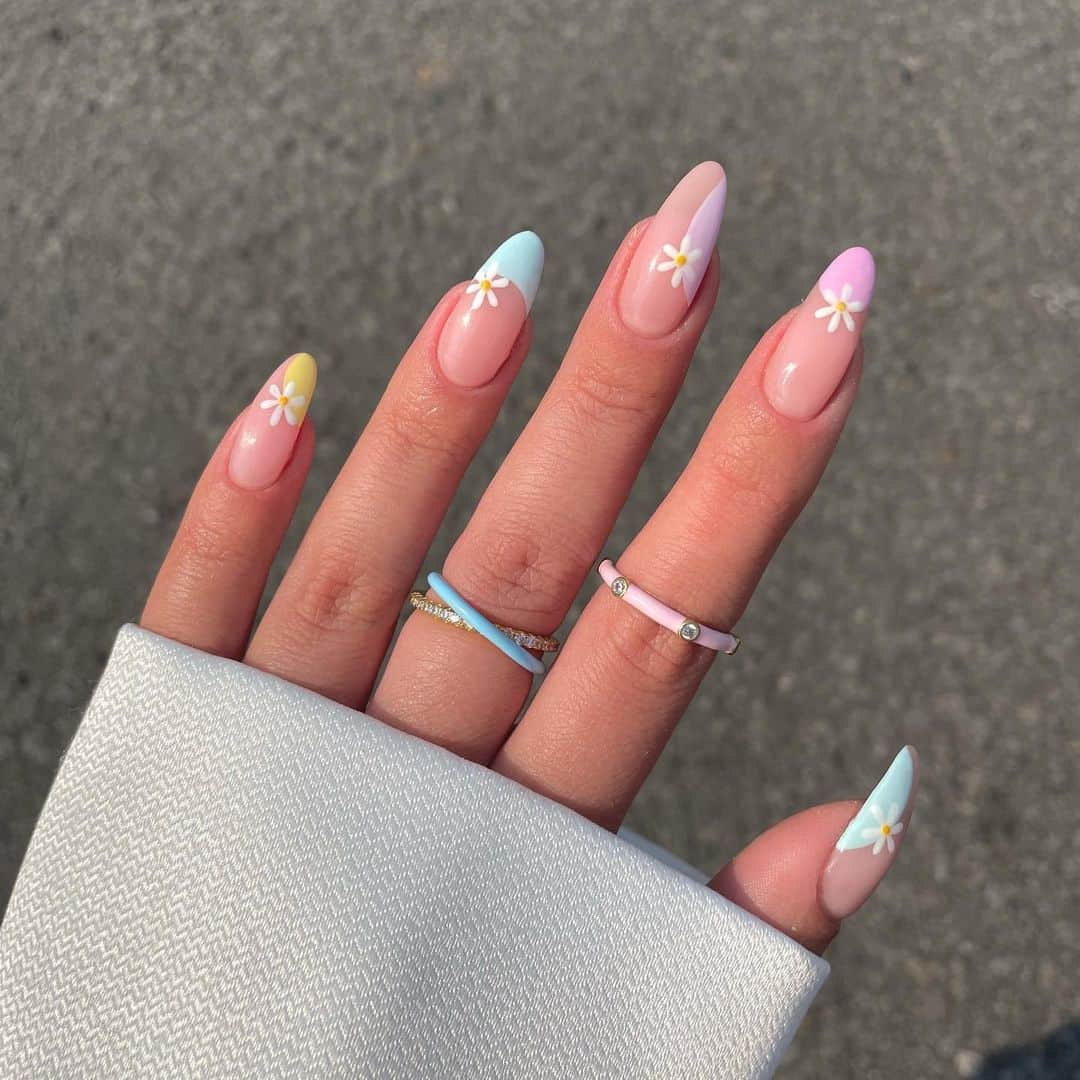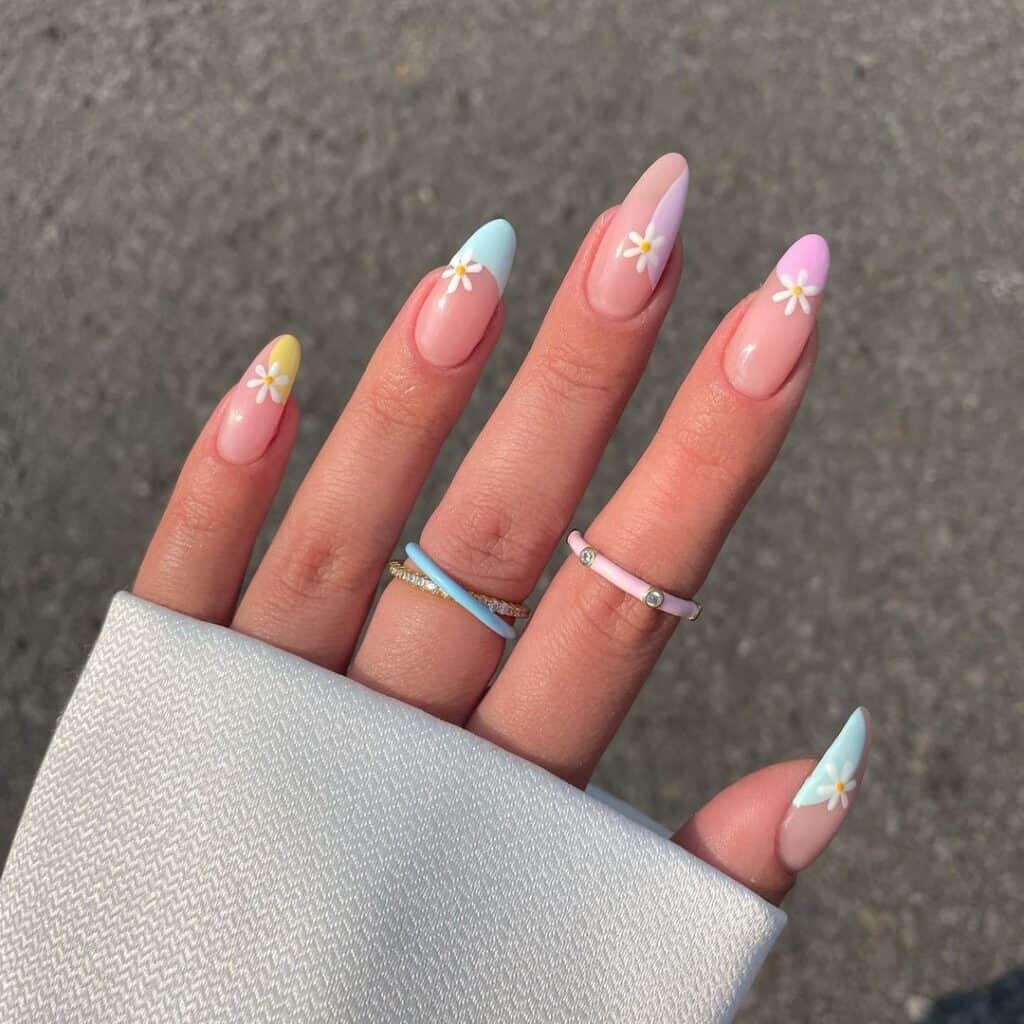 Floating French tips are set to take off any season now. They've been gracefully gliding through the trendy levels for some time now and are set to become the next big thing.
I, for one, can't wait for the floating French tips revolution because I'm always here for a new take on the classically chic look.
Add a dainty daisy on top, and you're set to be a trendsetter this Spring.
34. Blue Floral Vibes Nails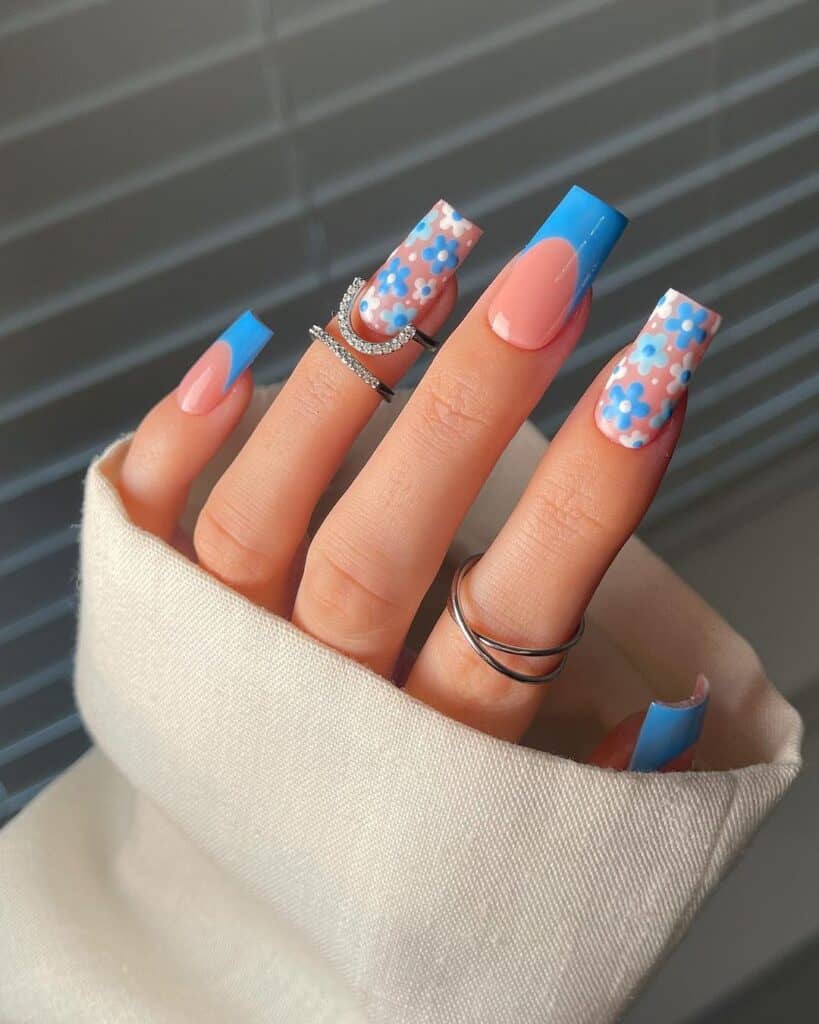 Blue is such an underrated Spring color. It's ocean-fresh, full of joy, and brings sipping piña coladas by the sea to mind.
Blue is also the ideal color to lean into if you want your Spring look to stand out this year. It looks great on its own, doubles up on glamour with accessories, and gets along with most outfits.
That said, though, if you choose these striking nails, keep in mind that they'll be the star of the show when it comes to your Spring looks this year.
35. Cute Mini Spring Floral Nails
Some nail designs for spring just look like a fresh start. They're usually quite delicate, always like a breath of fresh air, and so calming to gaze at.
It's these. Them. Yes, I'm talking about this nail polish meadow that's like something out of a dream.
I honestly want to thank whatever nail genius dreamt up this manicure fit for a princess.
36. Blushed Glazed Nails for Spring
Barbie nails. Need I say more? This manicure looks Mattel-made. It's all Malibu and California gal vibes.
It's working overtime, being cute, adorable, glamorous, and somehow even ticking the lipgloss trend box.
While the chrome-tinted pink polish would easily be enough, this look takes it further in the name of glamour and adds delicate florals to the mix that are honestly life-changing, look-changing, and pretty much everything else. Can you tell I'm in love?
37. Pastel Dreams Nails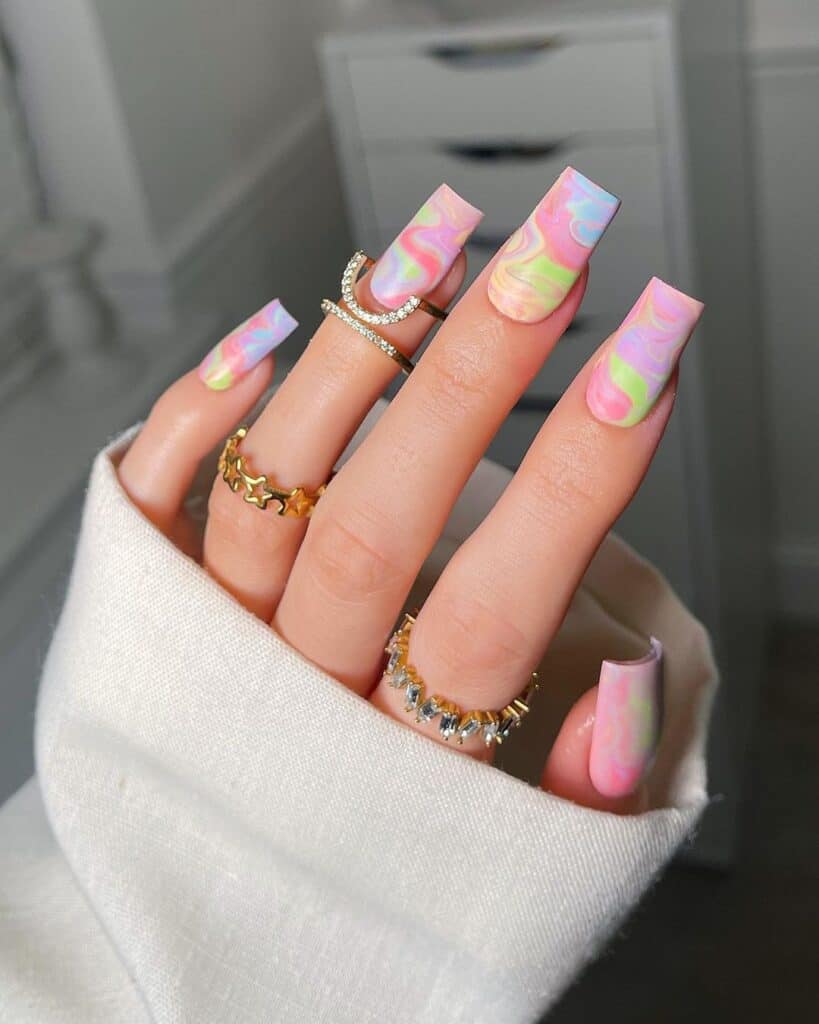 While these nails may be spacy, psychedelic, and like a trip through the chic version of the cosmos, they're actually not a headache to master.
To claim these Instagram baddie nails with a funky twist, all you'll need is some water around 5 vibrant nail polish colors.
Think along the lines of blue, pink, purple, and green, and you're set to do some of the best nail artwork of your life. Add a drop of each to the water, swirl using the utensil of your choice, dip your nail in, let it rest, take it out, and enjoy. Repeat 9 more times, and you're ready to share your masterpiece with the world.
38. Blue Ombre Nails for Spring
Here, we have the 5-star nails. They're all luxury and elegance, with a heavy helping of sophistication.
Think strutting into a cocktail evening wearing your favorite silk dress. You feel like a million bucks, and your nails match the vibe.
They live up to your expectations and effortlessly meet your high standards, which you know you deserve. These are queen nails. Claim your crown.
39. Groovy Baby Nails
As swirls have become more popular over the last year, their curves have become more pronounced.
Now, we're reaching lava lamp-level gorgeousness, and I'm here for it. It's so groovy-chic and entirely psychedelic.
If you're planning on bringing good vibes everywhere you go this Spring, then this is the look for you.
40. Spring Bloom Nails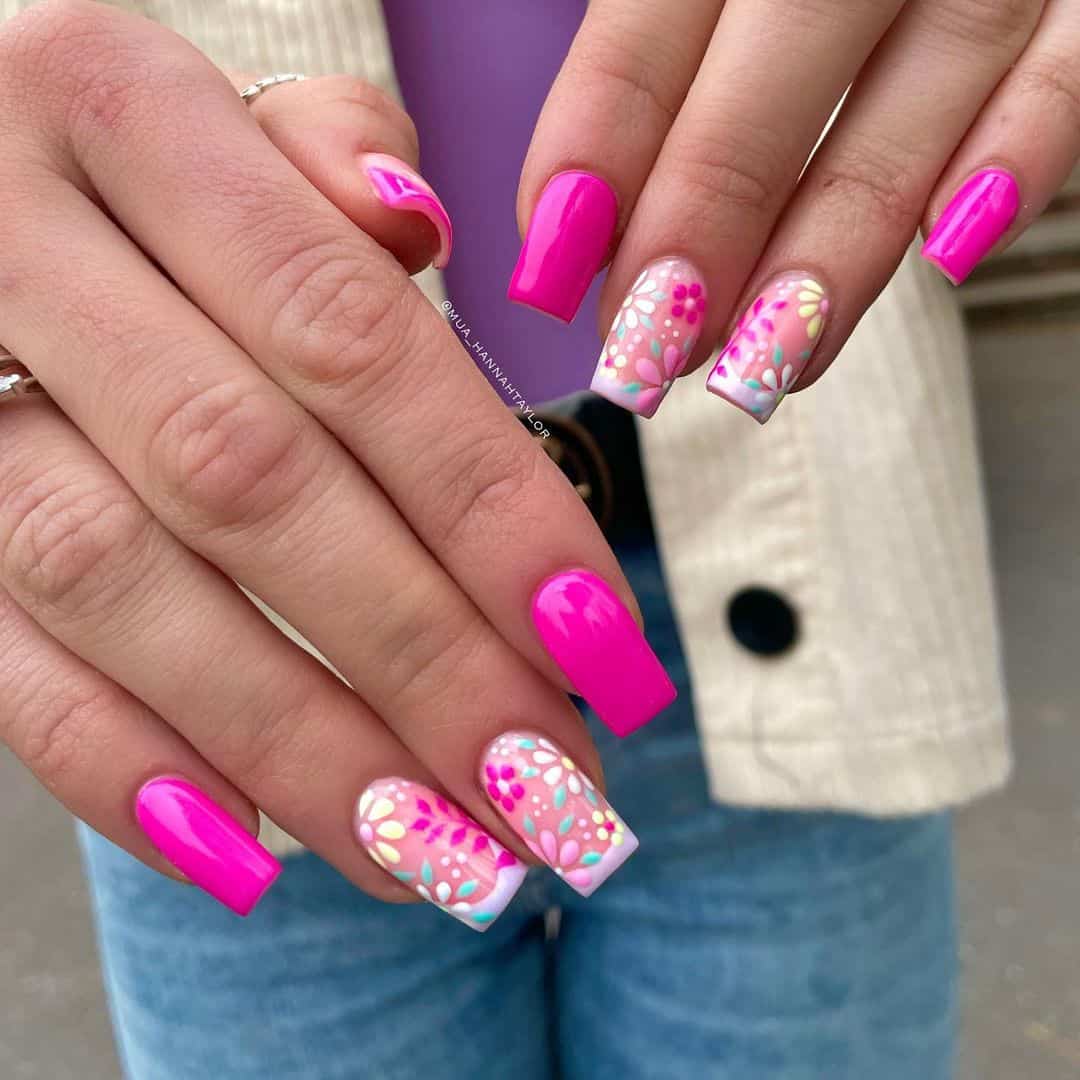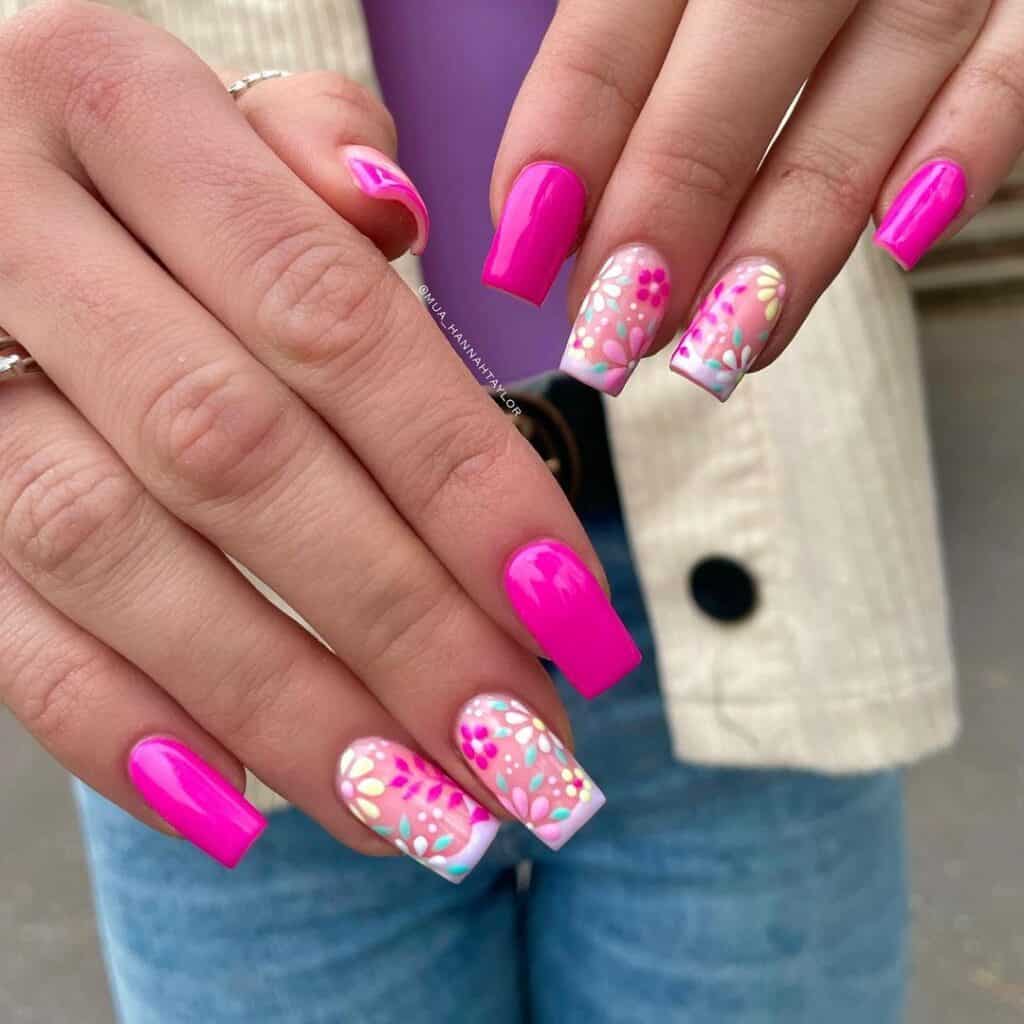 Does it get any more Malibu Barbie than this? They're just the right amount of extravagant and full of life to kickstart your Spring on the right foot.
If you plan on being the most stylish person while spreading joy everywhere you go this Spring, then these are up for the job. The square shape also adds so much attitude to the look.
41. Light Blue Floral Design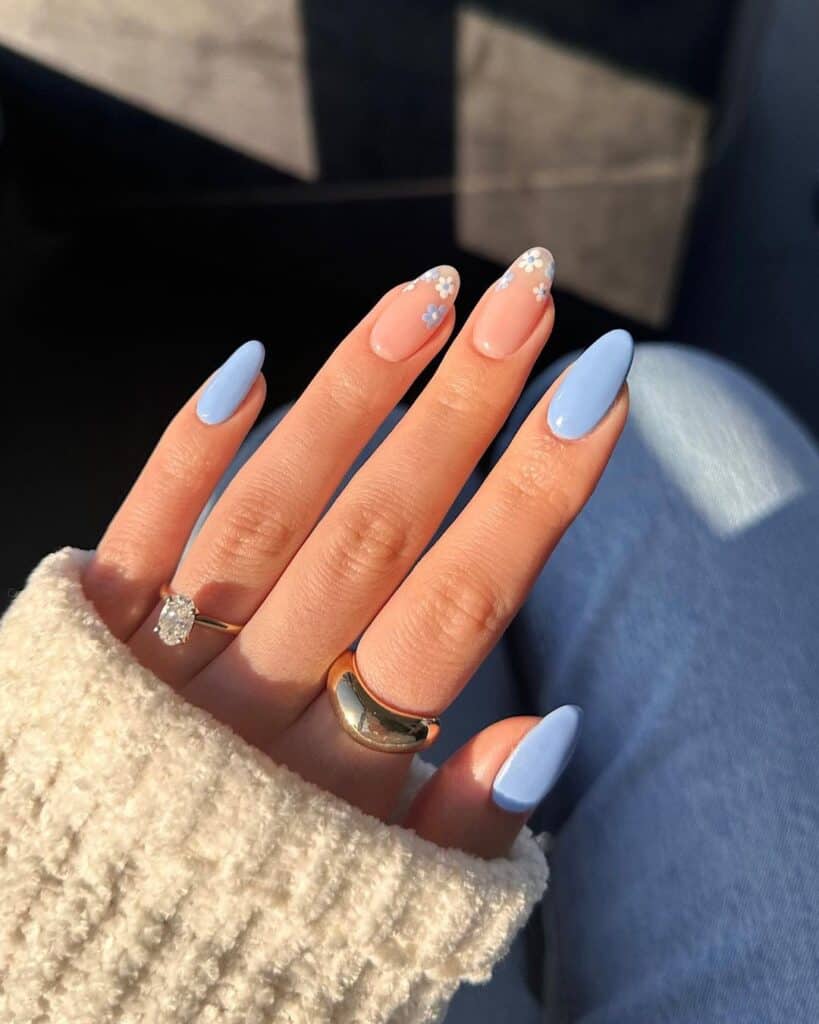 Here's one for the soft girlies out there. It's a trend, but it's also a way of life and a complete vibe. Like an easy-breezy day, candlelit, tea in hand, these nails are just delightful.
They look like happy springtime memories and are sure to spread a smile across the face of anyone who sees them, yours included.
So, stay happy this Spring and incite these beauties into your life. I promise they look fabulous alone, with any accessories or outfit. You know what to do.
42. Peachy Nail Art for Spring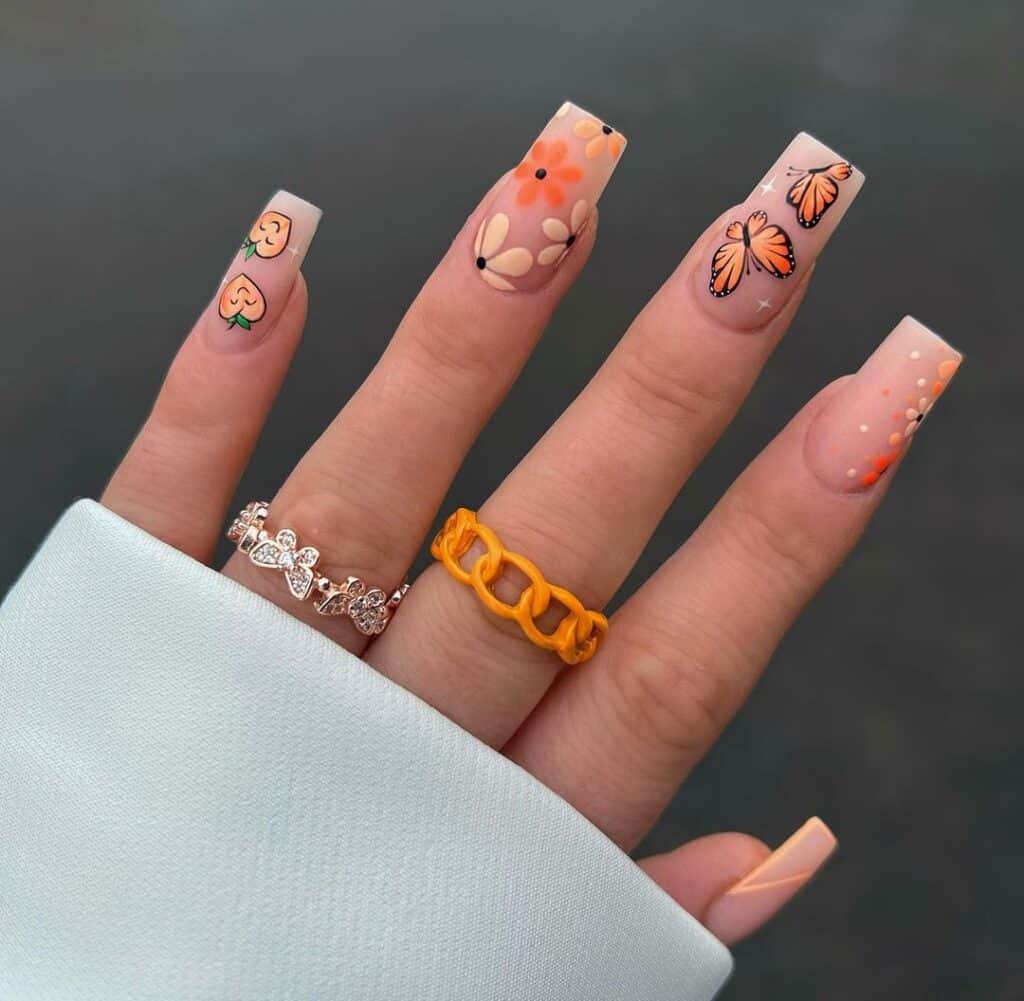 Orange is one color we don't see enough around Springtime. It's also the perfect lifeline for those girlies who wish they could wear Halloween nails all year round.
But don't worry; there's not a single spooky vibe here. Even if they are a little autumny, they're still all cute vibes.
The peachy and butterfly nail art is just the stuff of dreams, so please treat yourself to this whimsical look this Spring.
43. Spring Has Sprung Nails
This season, you tell Spring when it can start. With these nails, you let everyone know what time of year it is, and you let them know you're enjoying every second of it.
Everything about these nails says joy and, really, celebration.
The colors and swirls combined are all party, while the shark square shape means business. So, if you're feeling a little extra this season, these nails will bloom alongside you.
44. Delicate Spring Daisies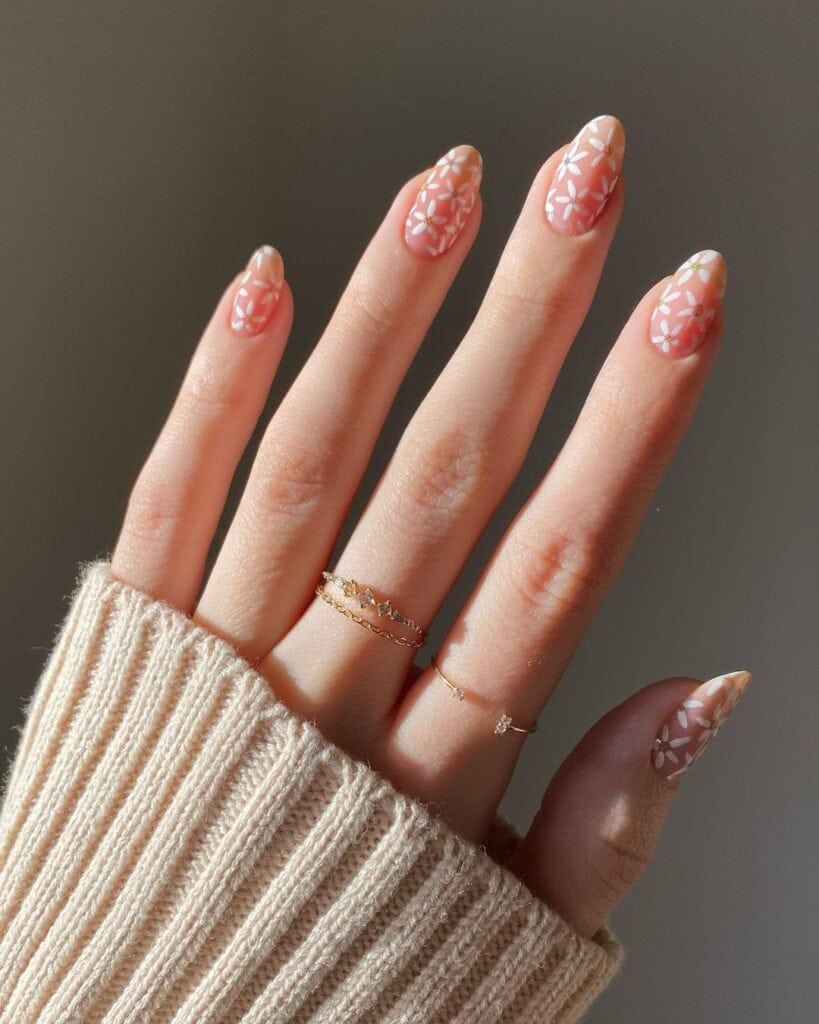 Minimalism is so out. This Spring, we're going all out and bringing intriguing intricacy back. This manicure is brimming with petals.
It honestly looks like a bouquet. So fresh, natural, and crisp, it's like a breeze blowing through your hair.
45. Purple Glittery Swirly Nails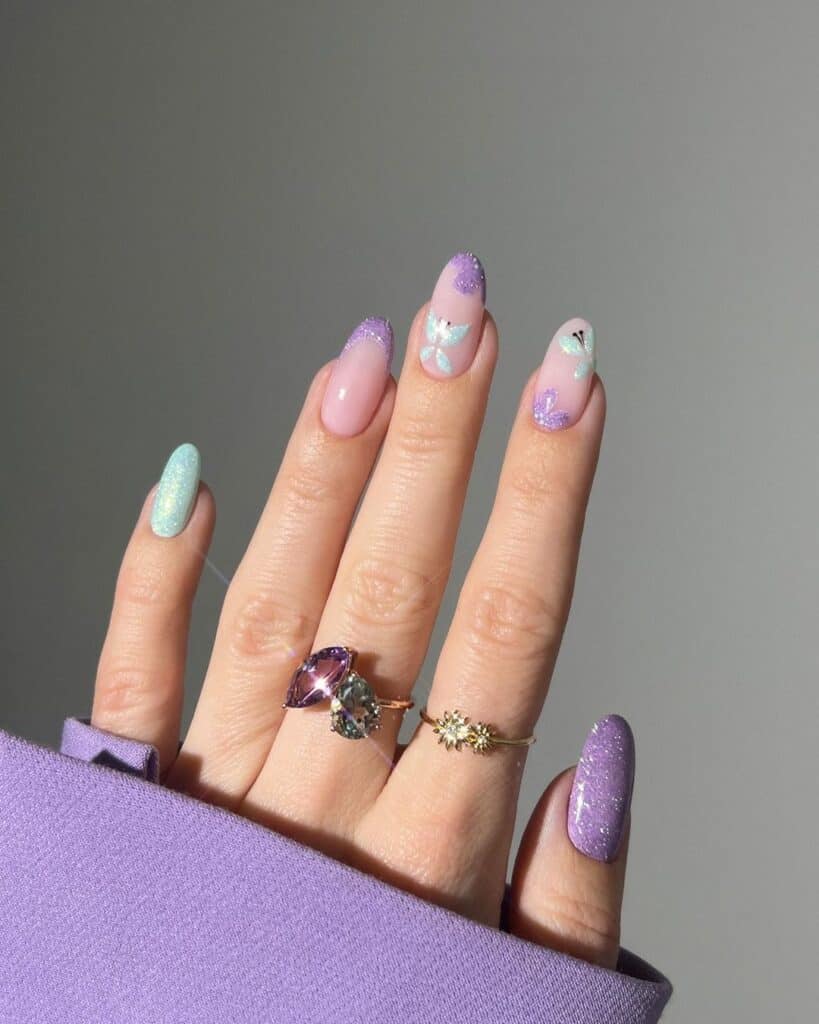 Nail ideas for spring are sometimes just art. This manicure looks like a dream.
They're just so whimsical, with a hint of elegance and a sprinkle of magic there, all whipped up with dazzling glitter that's just amazingly gorgeous. They're just so lush and girly.
46. Colorful Danity Daisies Nails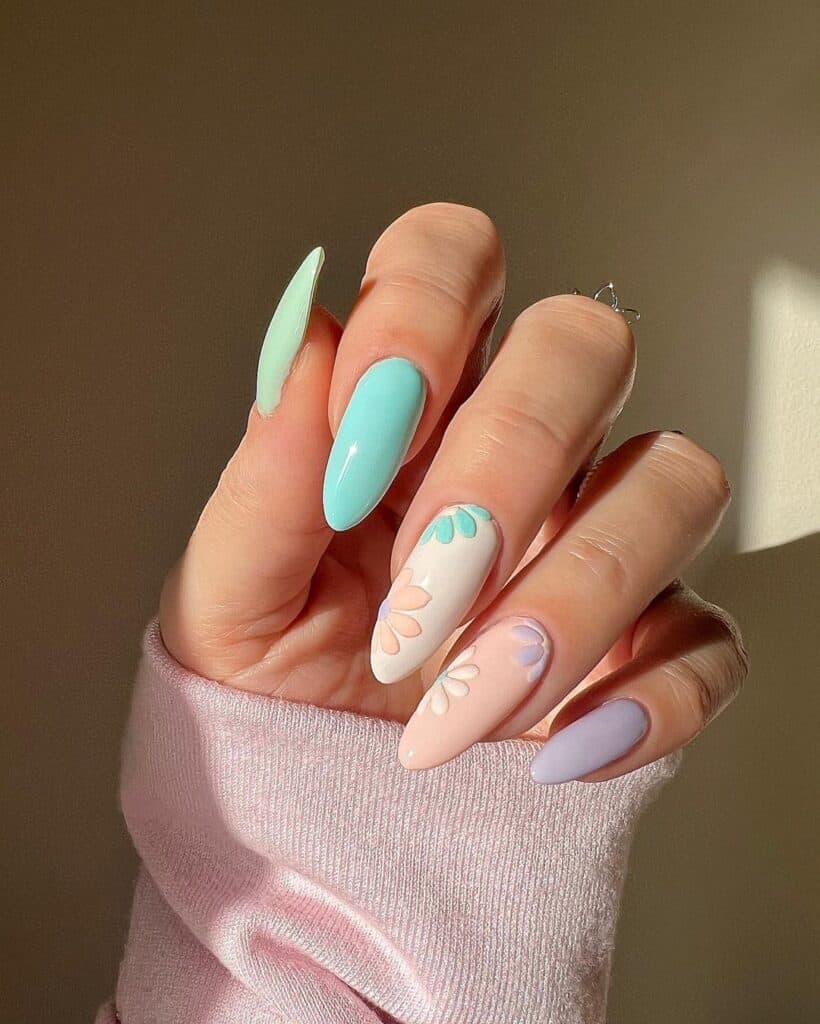 Some nails scream Spring, while others whisper it like a light breeze. I think we both know which category these light-hearted nails fall into.
All things subtly sunny considered, the length and shape keep things interesting and striking, making this manicure one of those Instagram-ready kind.
It's also the perfect chance to try out all of the best spring polish shades at once while perfecting your 3-D nail art skills.
47. Blue Floral Manicure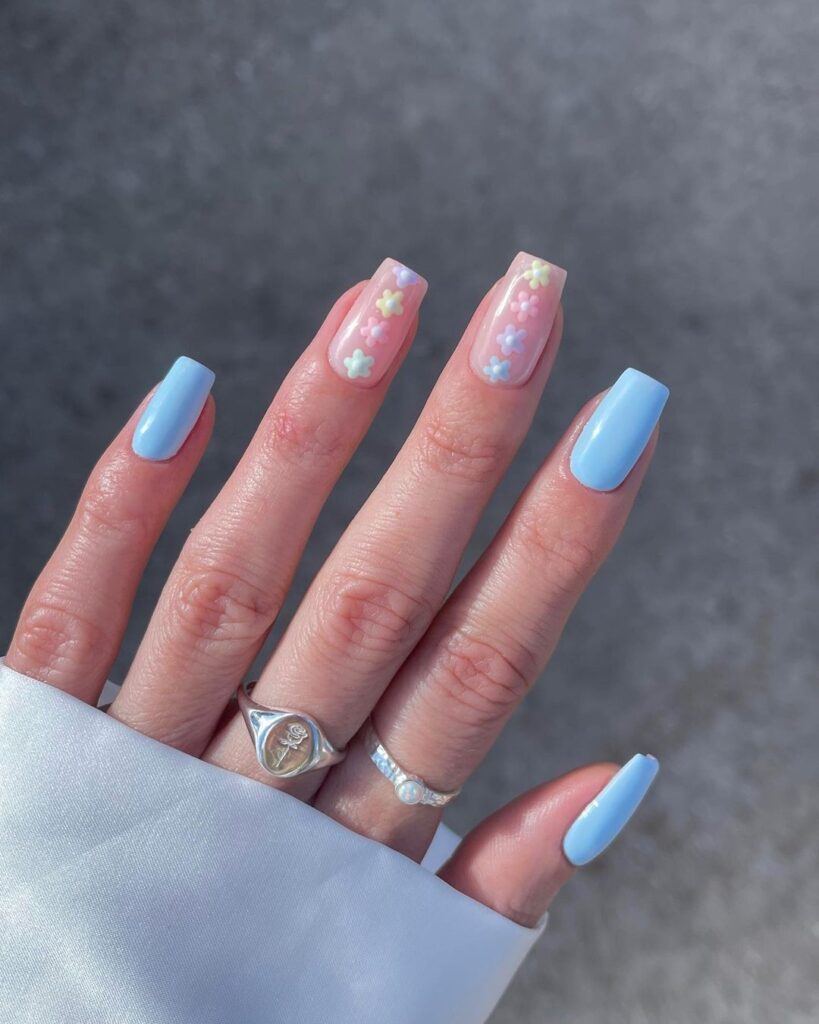 Clean, neat, fresh, and just the right amount of sharp, these nails remind me of freshly washed white sheets and clear, blue skies.
There's maybe even a hint of cut grass and vibrant florals in there. To conclude, these nails are sensationally Spring.
The glossiness of the clear nails is so in thanks to the lip gloss nails trend, and those florals just speak to our child at heart. The baby blue keeps things cool and light.
48. Colorful French Tip Nails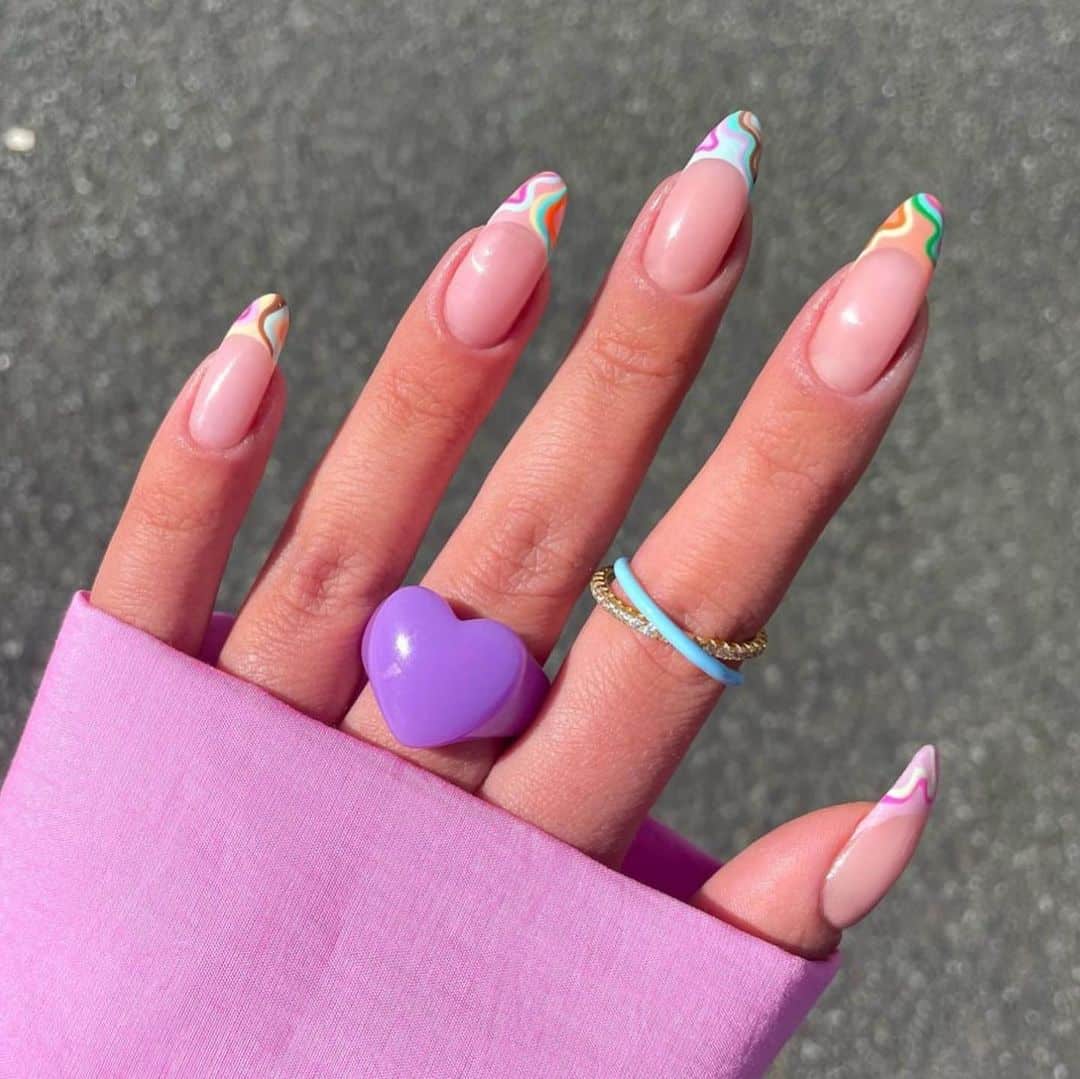 These oh-so-gorgeous nails are giving sipping on bubbly mimosas and picking flowers while watching the sun rise with your besties.
They capture all of the excitement and buzz of a season that's blossoming into summer.
Swirls are also the design of the moment, so why wouldn't you jazz up the classic French tip with their sensational swirliness and light-hearted loveliness?
They're really just so sweet, so get your brightest polish shades ready, and maybe even consider going gradient with the French tip bases.
49. Little Flower on Blue Nails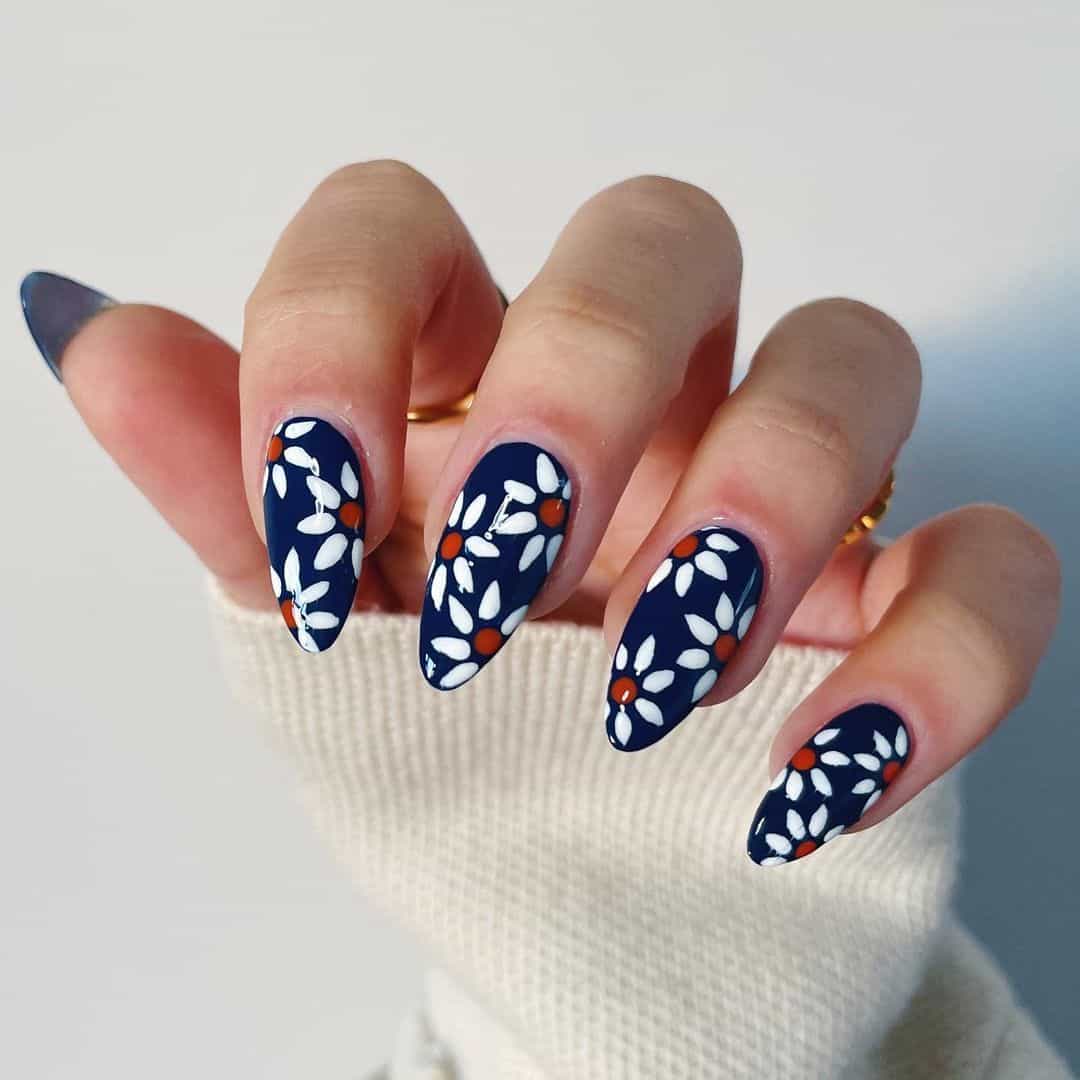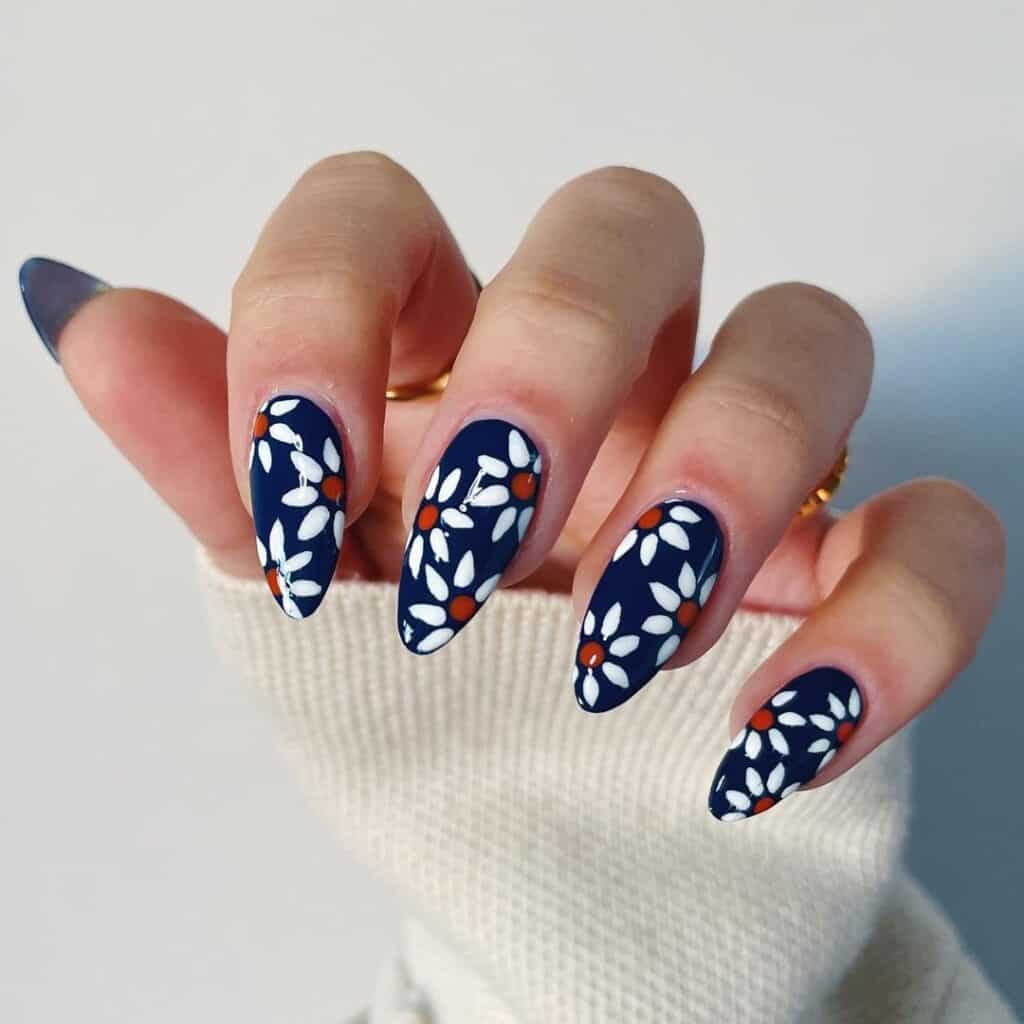 These flowers are loud, proud, and in full, beautiful bloom across your fingers. But long from your traditional florals, these budfull beauties are almost abstract in their striking appeal.
So, while they're quite funky, they still maintain a formal and casual side that means you can fully indulge your love for Spring while keeping things appropriate for the office.
Plus, they're quite easy to DIY, and let's be real, even though the oval shape looks outstanding, this manicure design would shine on any nail shape.
These Were The Best Nail ideas for Spring You Can't Miss Out But Recreate