This post may contain affiliate links, which means I'll receive a commission if you purchase through my link, at no extra cost to you. Please read full disclosure here
Are you looking for the cutest graduation cap ideas for our big day? this post is about the best grad cap designs you can find.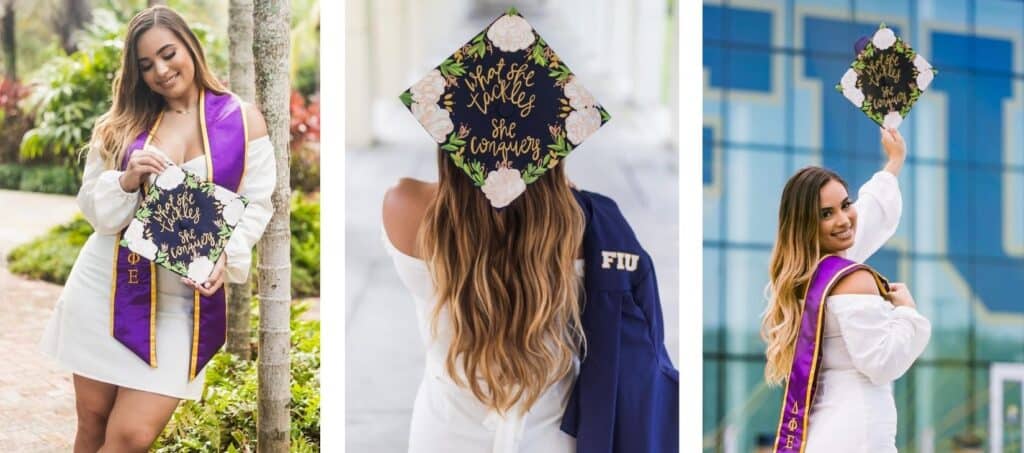 Graduation is the most important day in your life. You absolutely want to capture this hot moment for life and celebrate your achievements. Any graduate wants to make it special and leave memorable and impacting words on their classmates. Can we just say your graduation cap will do the work for you?
Having an attractive graduation cap with your best quote of the day written, knowing that everyone is reading it along your way to getting your diploma?
If so, I bet you want to get the most beautifully designed graduation cap with your favorite wording to leave an impact on others and enjoy it yourself. It's a moment of pride for all graduates.
You have to trust me in this. These are not only the best graduation cap ideas you can find on the internet, but your fellow graduates will really want to steal from you.
Related: 54 Epic Graduation Party Ideas to Make the Best Grad Party of the Year
Graduation Cap Ideas
1.Already Forgot Everything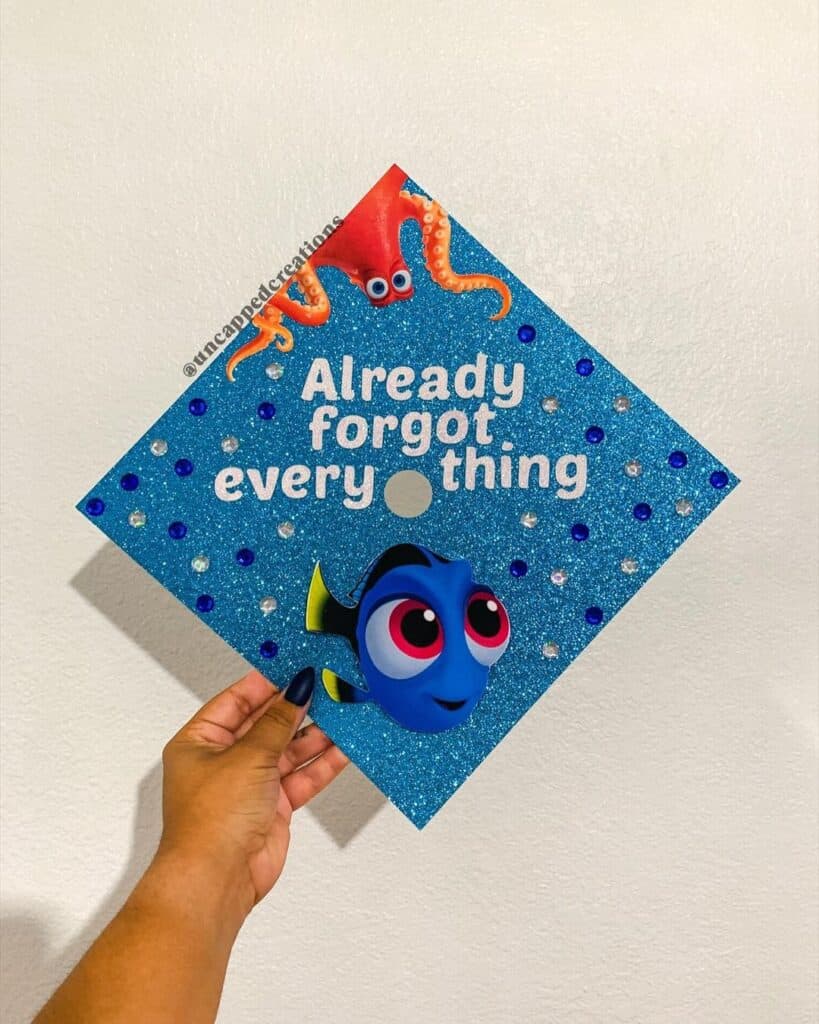 Exams are finally over for good.
Yep, I don't even remember a single thing! Just like this cute Finding Nemo cap idea, I'm on my way home now. It's funny in a way, isn't it? After all, what really matters is that I'm done and it's my Graduation day!
If you're looking for a fun graduation cap idea to tell the world you're done, this one is for you!
2.Disney Graduation Cap Design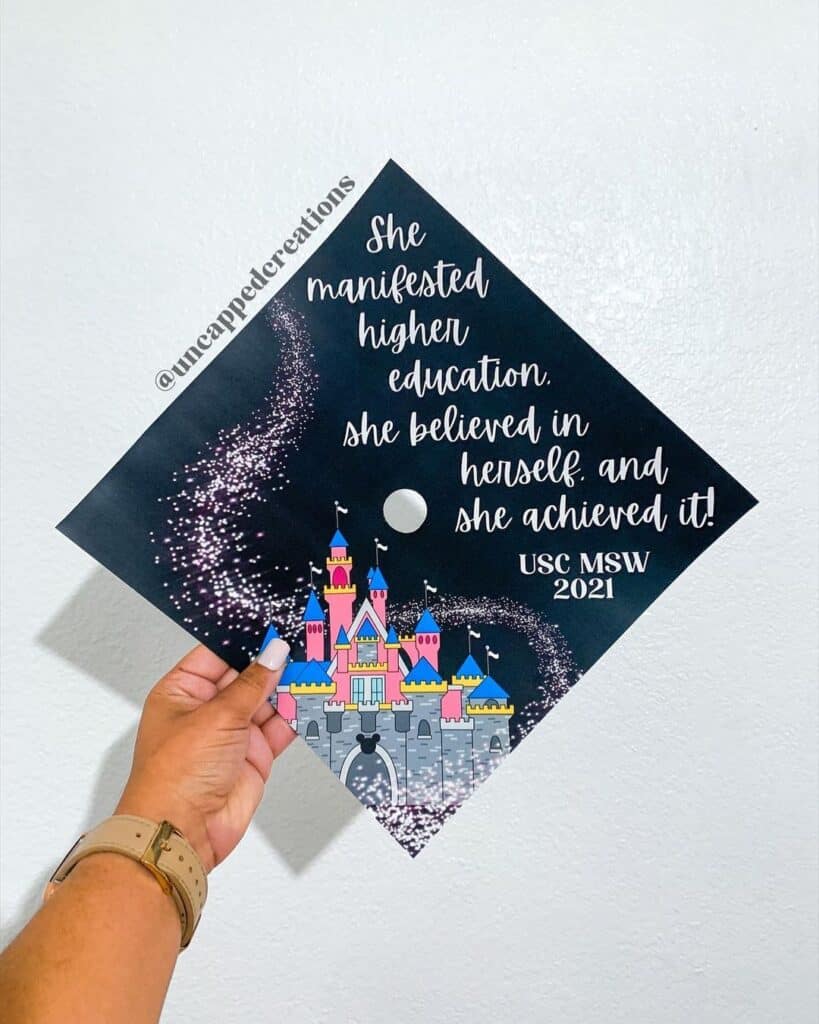 I'm a huge fan of Disney. I literally still watch all my childhood Disney movies because it makes me happy and feels like I'm living in a dream lol ( don't judge me ).
We know Disney isn't only for kids, it's also for grownups! We all know that Disney princesses were saved by a prince at the end of the story.
Well, in real-life your grades save you, princess. You believed in yourself and manifested your higher education, so there is no better way than raising your cap and saying "Here is my Prince".
3. Favourite Office Quote
To those of you who are fans of the Office series, this graduation cap idea is a good choice for you to go for.
I'm in love with this quote, graduation in itself is a challenge and so is what comes after it. So, are you ready to celebrate your success and start a new chapter?
Definitely, share your thoughts with the world on your graduation day by having this cap if this quote is so you.
4.Psyched for New Adventure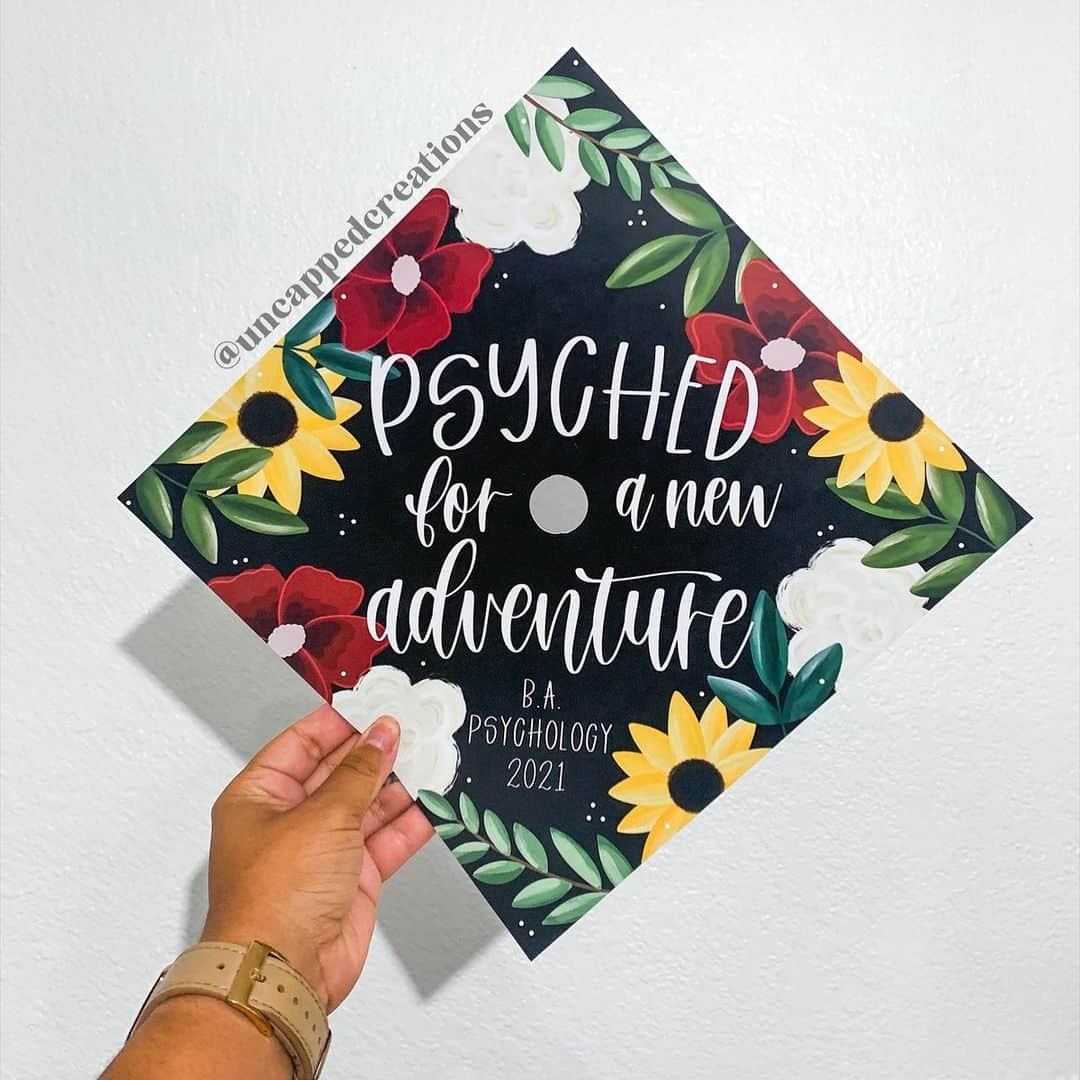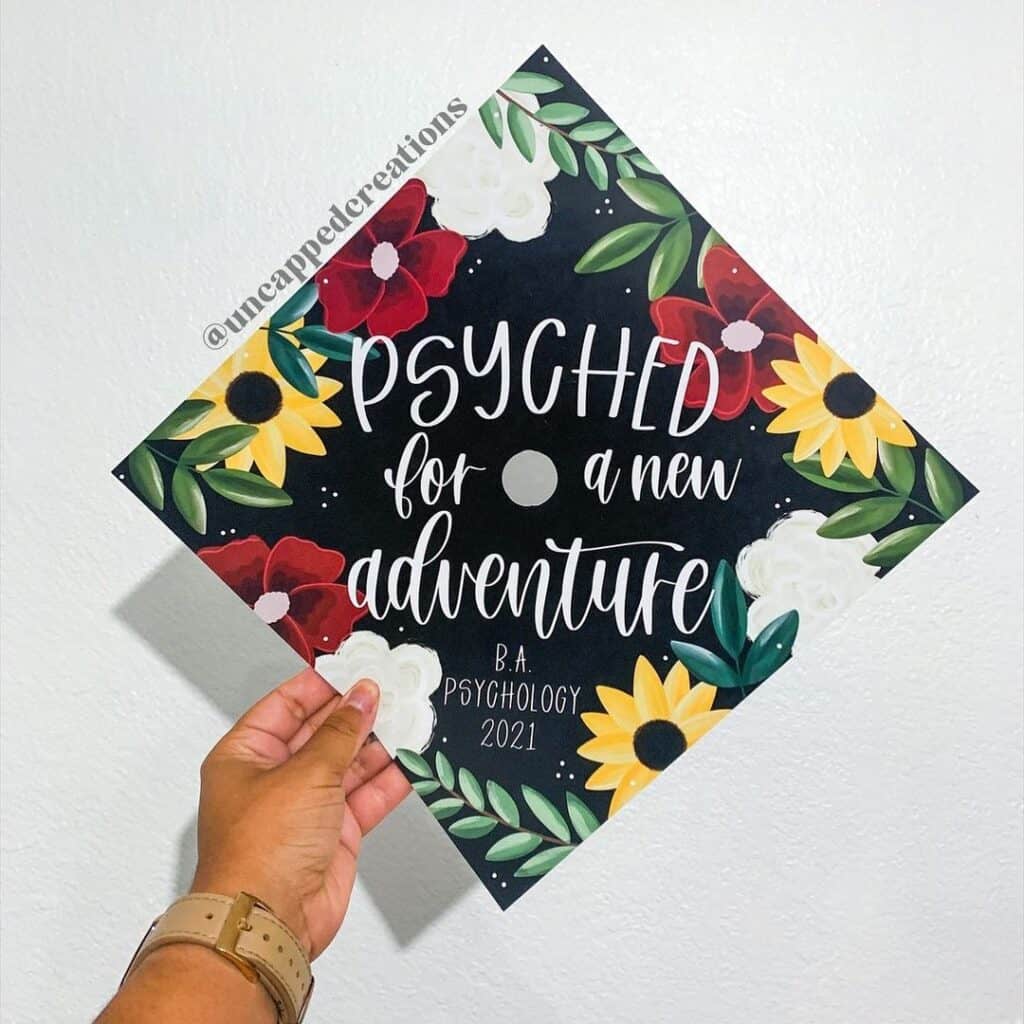 Psychology major people, here me out.
Well, can I just double-check the box to tell you this graduation can idea is for you!
I don't know about you, but I know most of the psychology graduates prefer this one among all the graduation cap ideas.
I like how the quote rhymes with the major. Like, I'm not just excited, I'm psyched for what's coming after my graduation.
5.Let's All that you Do Be Done in Love
This verse for this graduation cap is truly inspiring. It's like whatever we do is done in love and the name of love.
It's one of the best graduation cap ideas I've come across.
Let graduation be a celebration of not only that love but of what you also did for love is the essence of life.
I highly recommend this graduation cap design for inspiring, hardworking graduates who finally made it!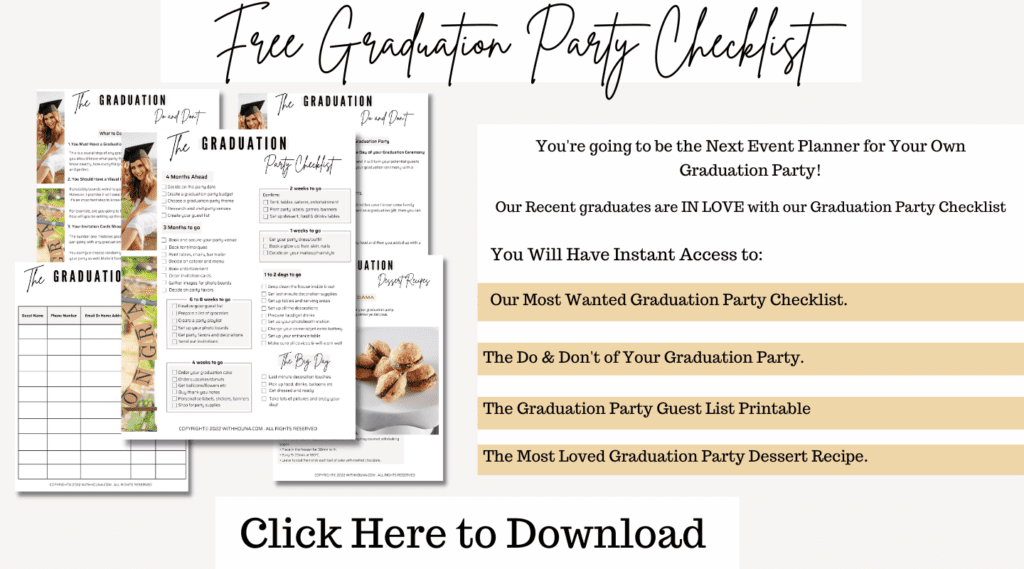 6.Nurse Victoria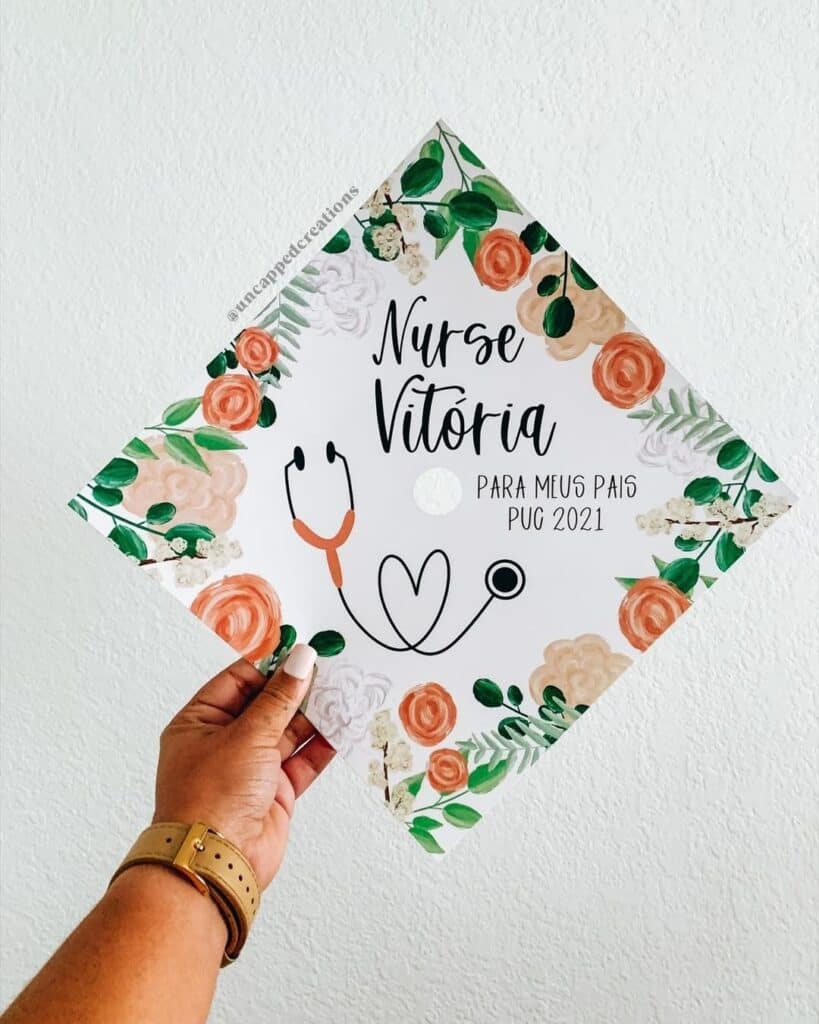 There is no better than a simple graduation cap idea for your graduation day. You'll definitely want to get this one if you're a nurse.
I love the colors on this one, they are beautiful and optimistic just like all the nurses' graduates. And the heart in the stethoscope says: "if I'm still beating then I made it baby!".
7.14 years Later Graduation Cap Idea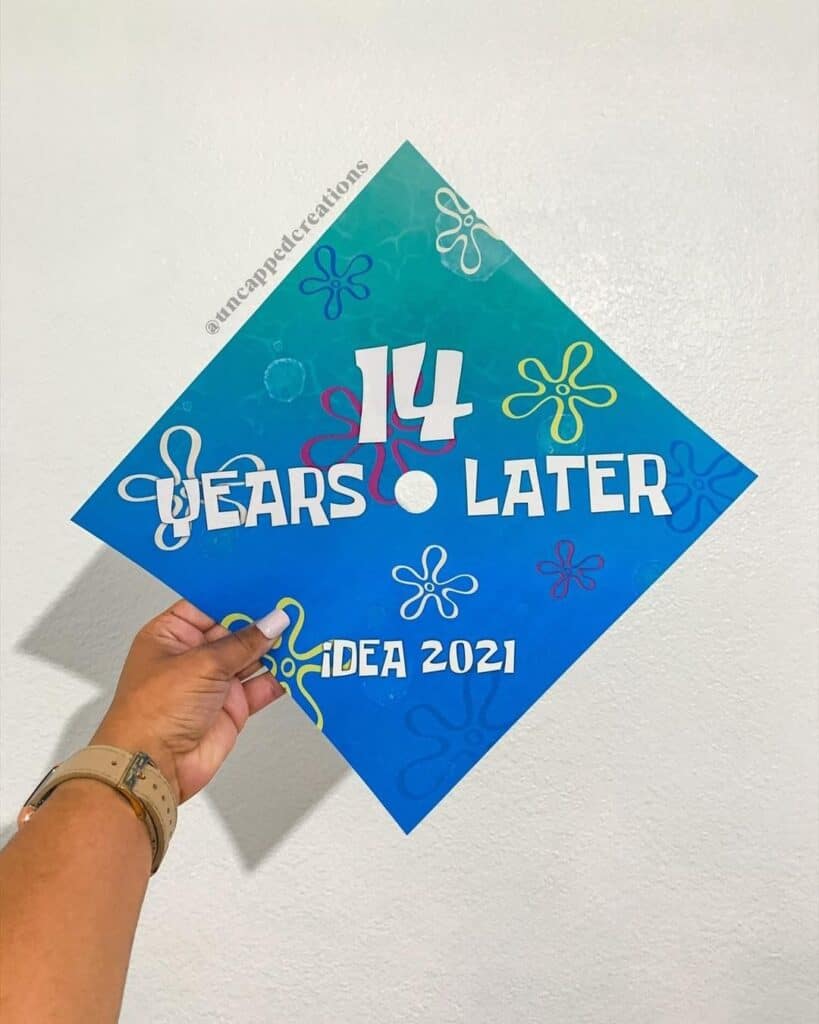 This cap is one of the funniest graduation cap ideas I've ever seen so far.
14 years later LOL.
If you're a SpongeBob fan you would know what this means. Why don't you add some of the fun to your cap?
After all, it wasn't 2 hours but 14 years.
8.I'm a Social Worker, What's your Superpower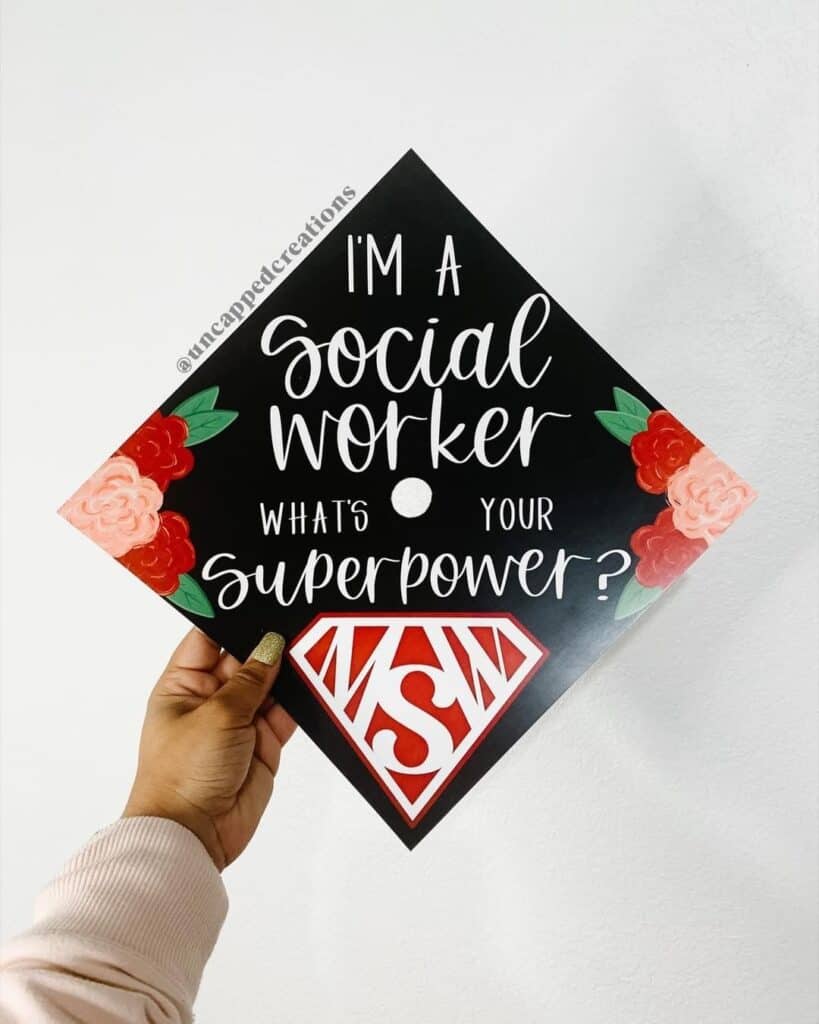 Another Disney graduation cap idea. However, not fairy tales.
This superman graduation cap idea is both funny and inspiring. I literally do agree with every single word.
It takes a human with a superpower to finally make it and graduate.
Isn't a social worker, the equivalent of one of the avengers? You absolutely have to create this graduation cap if you see yourself in this.
9. Finally Done with This B.S.
You're finally done with your BS, and there is no better than this graduation cap design to say it out loud to the world. If you like this kind of humor though, which I'm pretty sure you do, you can't go wrong with this cap idea.
A huge part of it is true though, you got to trust me :p
10.You're Only a Fool if You Give Up
Honestly, these wordings are so me.
It feels so freaking good to finally graduate and not giving up on your dreams is one of the greatest achievements in life.
I love how this graduation cap design with this inspirational quote makes me feel like I never gave up and made it. Let's say, a moment of pride.
11.The Best is Yet to Come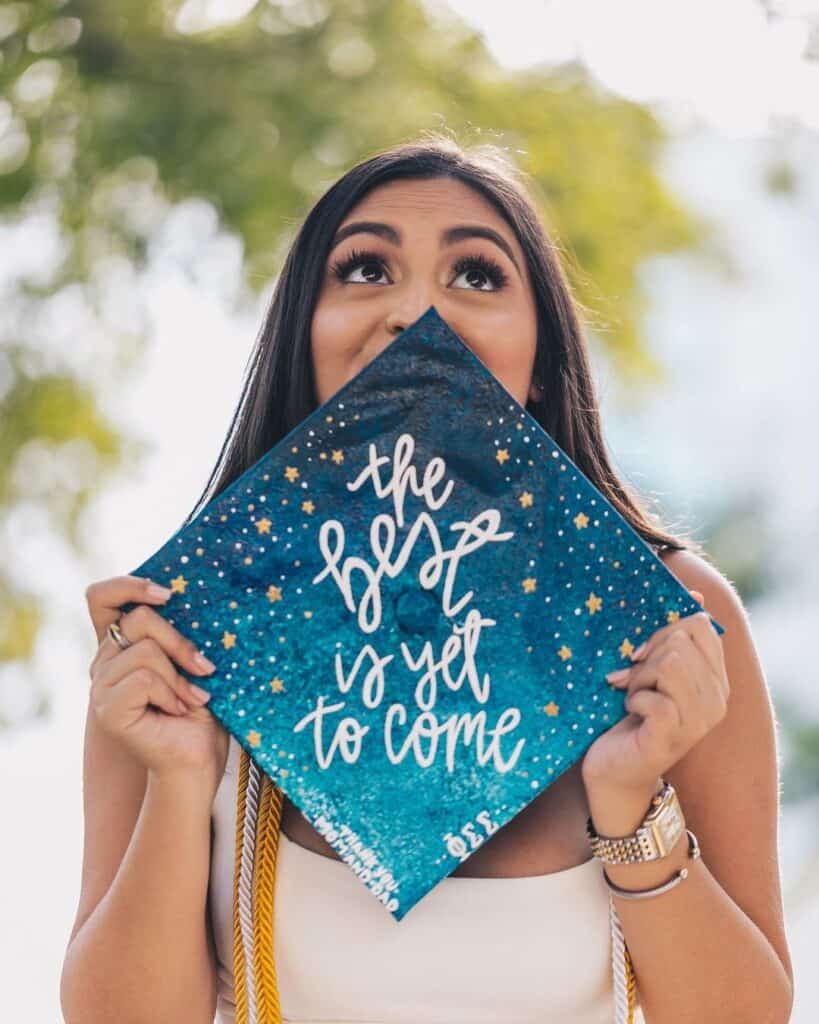 Graduation comes with many hopes of a bright future, it's that phase when we finally opt for what we truly want. I can't see any better graduation cap idea for being optimistic and excited about your future than this one.
Keep your head up girls, the best is yet to come so proudly that you made it.
12.4 Years Later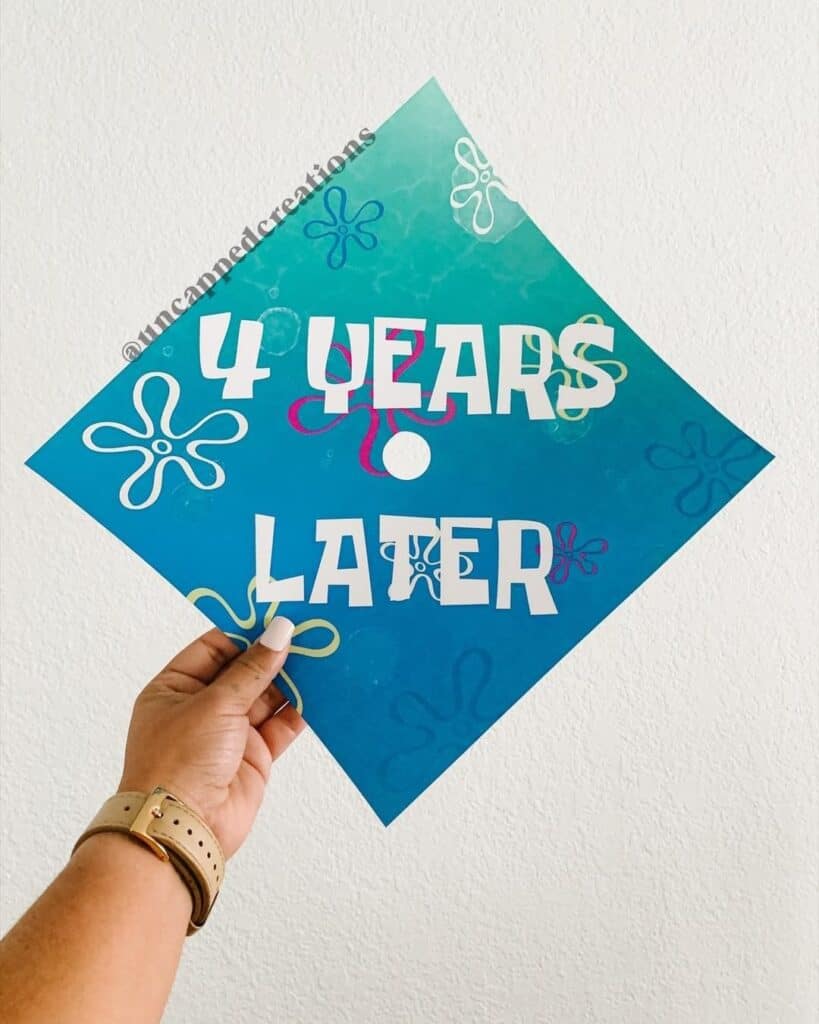 Another funny graduation cap idea is for SpongeBob fans with this funny quote.
Literally, it's only a period of 4 years and the moment of your graduation, it can sound like it has been only 4 days ( at least that's what I felt though).
What happened after these 4 years? yep, you're graduating, so let's forget about the period in between and funnily celebrate this.
13.On to the Next Chapter
You've closed this chapter so on to the next.
This graduation cap quote made graduation look like a fun interesting chapter that I've been reading for so long and now.
I'm happy that I know how the story ends, and so I wonder what the next one has for me.
14.All that I am and Hope to Be I Owe to Those Who Believed in Me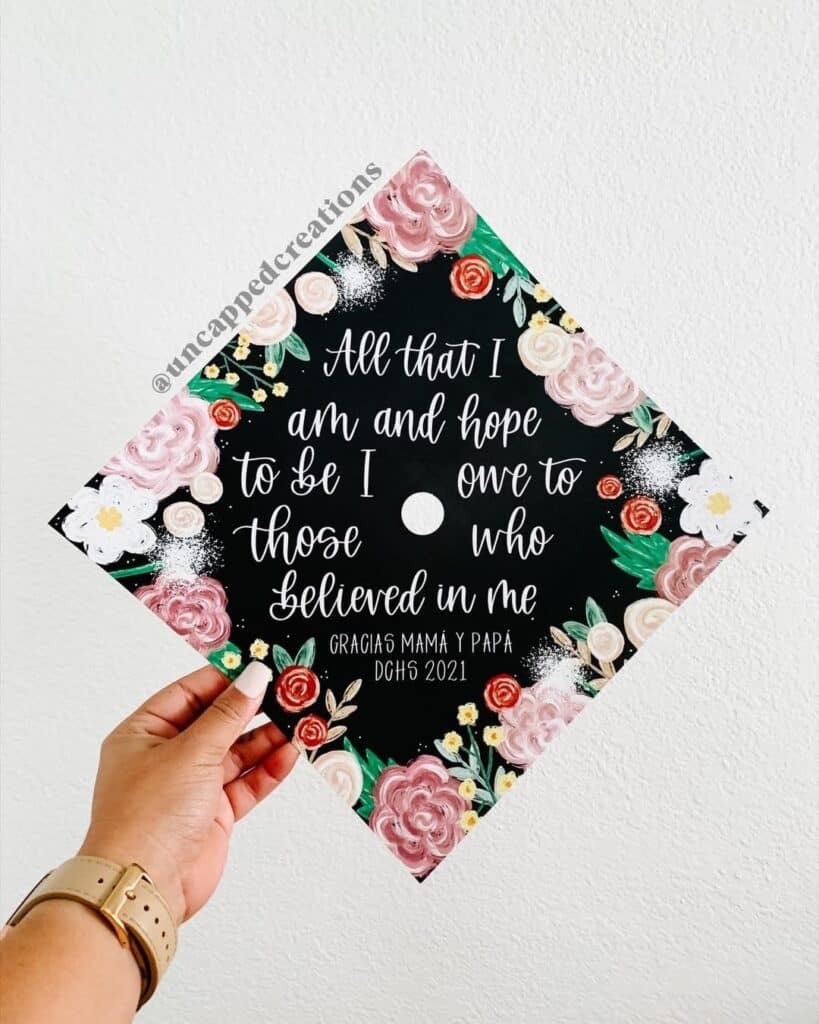 This is one of the best graduation cap ideas to show appreciation to those who believed in you throughout your college years especially your parents and friends.
We all owe it to someone; graduation isn't only for you.
It's also for those who never gave up on you. So, let them know that they are appreciated with this graduation cap design.
15.Get in Loser, We're Graduating
I have to be honest about this one, it is my favorite graduation cap idea ever.
I mean look at this cap design, it looks as if you received a mystery letter from someone. Also, the color matches it perfectly. It is inviting and welcoming, so get in loser we're graduating.
Related: 29 Easy Graduation Cap Ideas To Add Some Serious Eye Candy To Your Graduation Day Look
16.The future is Female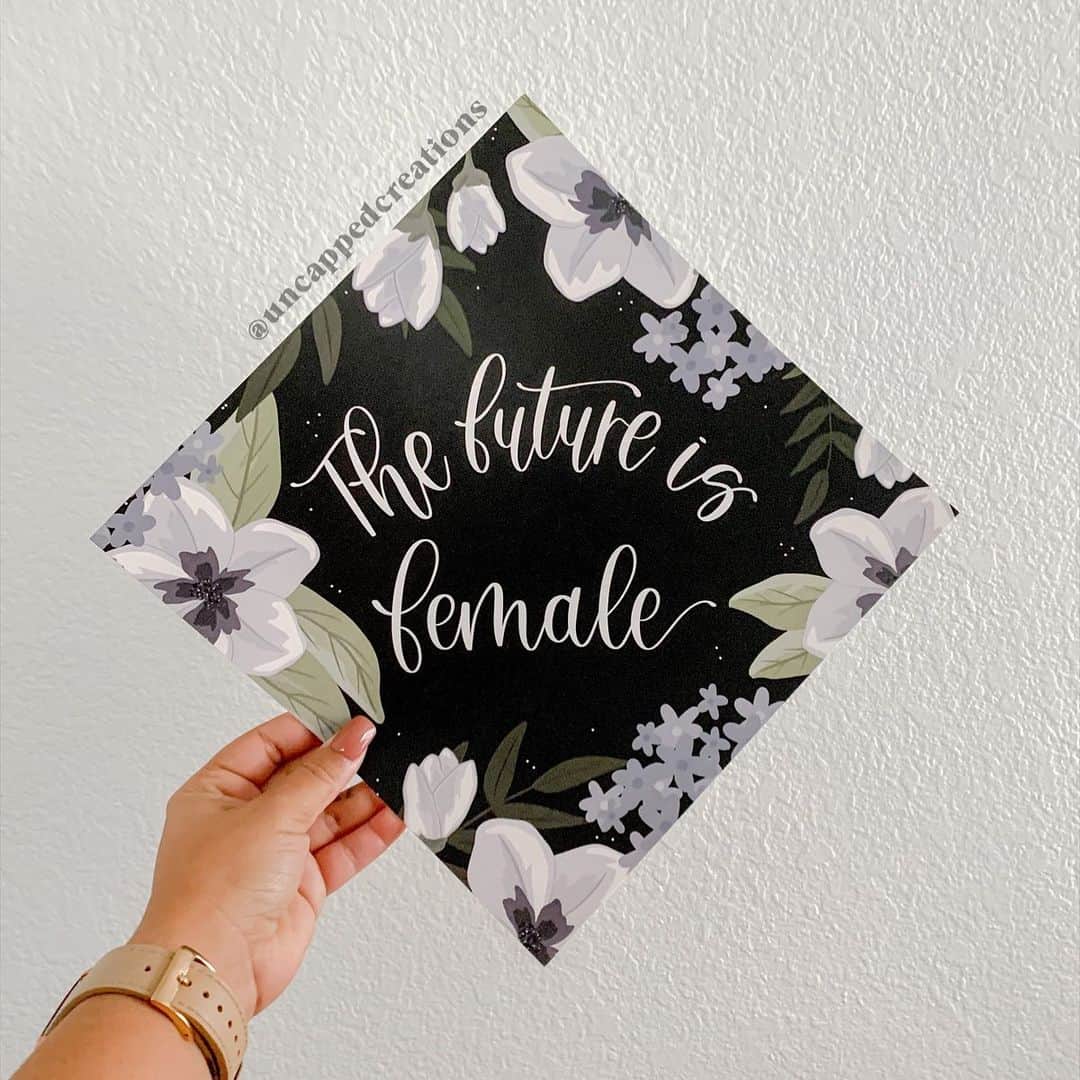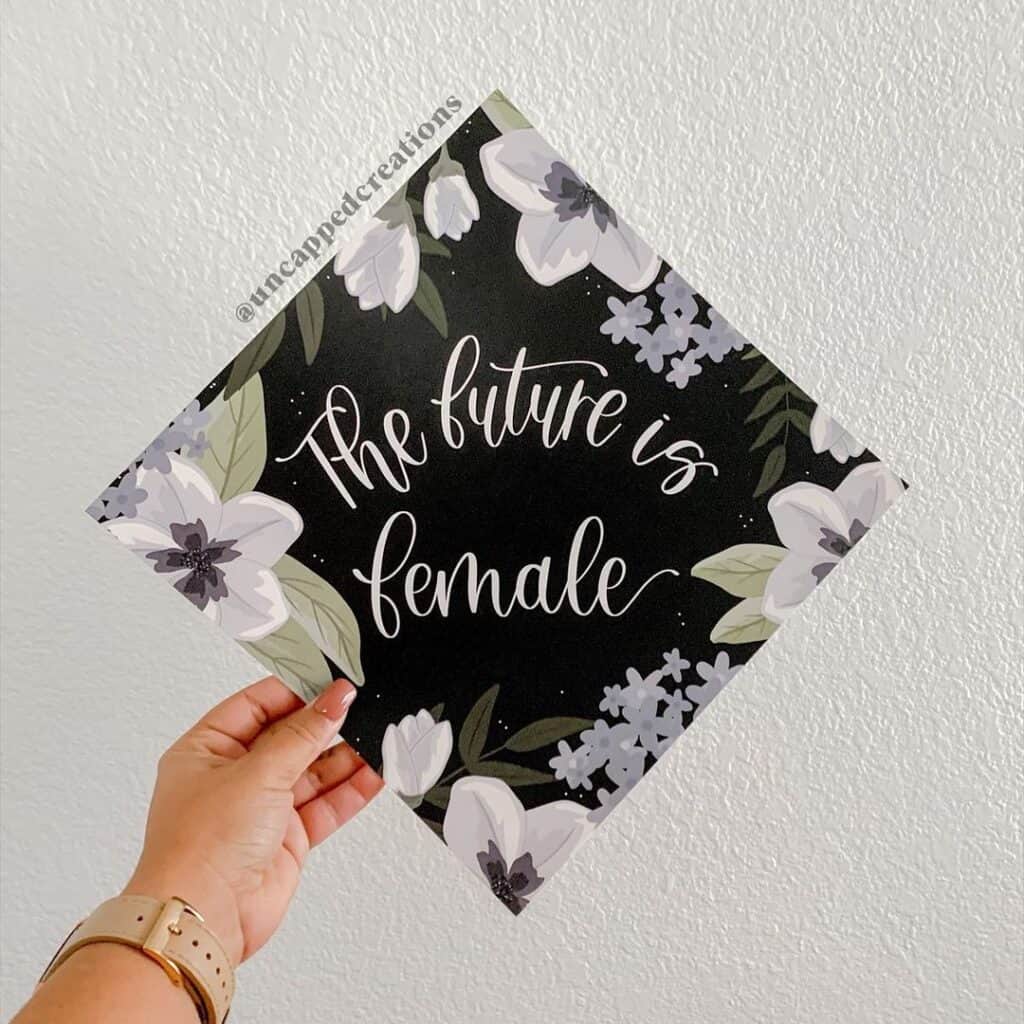 For all the girls out there, who managed to overcome the obstacles they faced, you are the future for the future has and will always be a female. This is a great graduation cap idea to send a message of empowerment for all girls who just graduated.
I'd definitely go for it!
17.Breaking News, Just Graduated Girl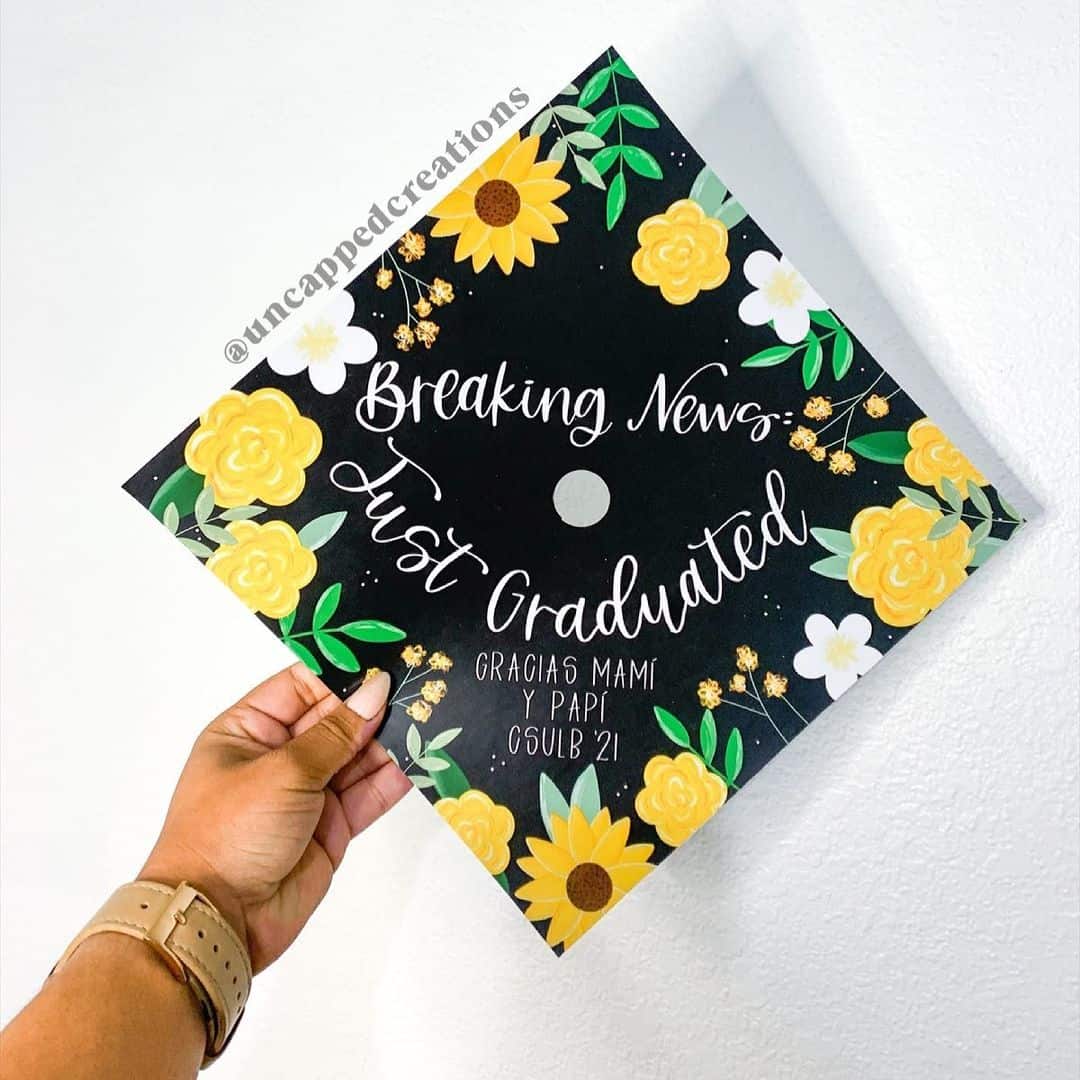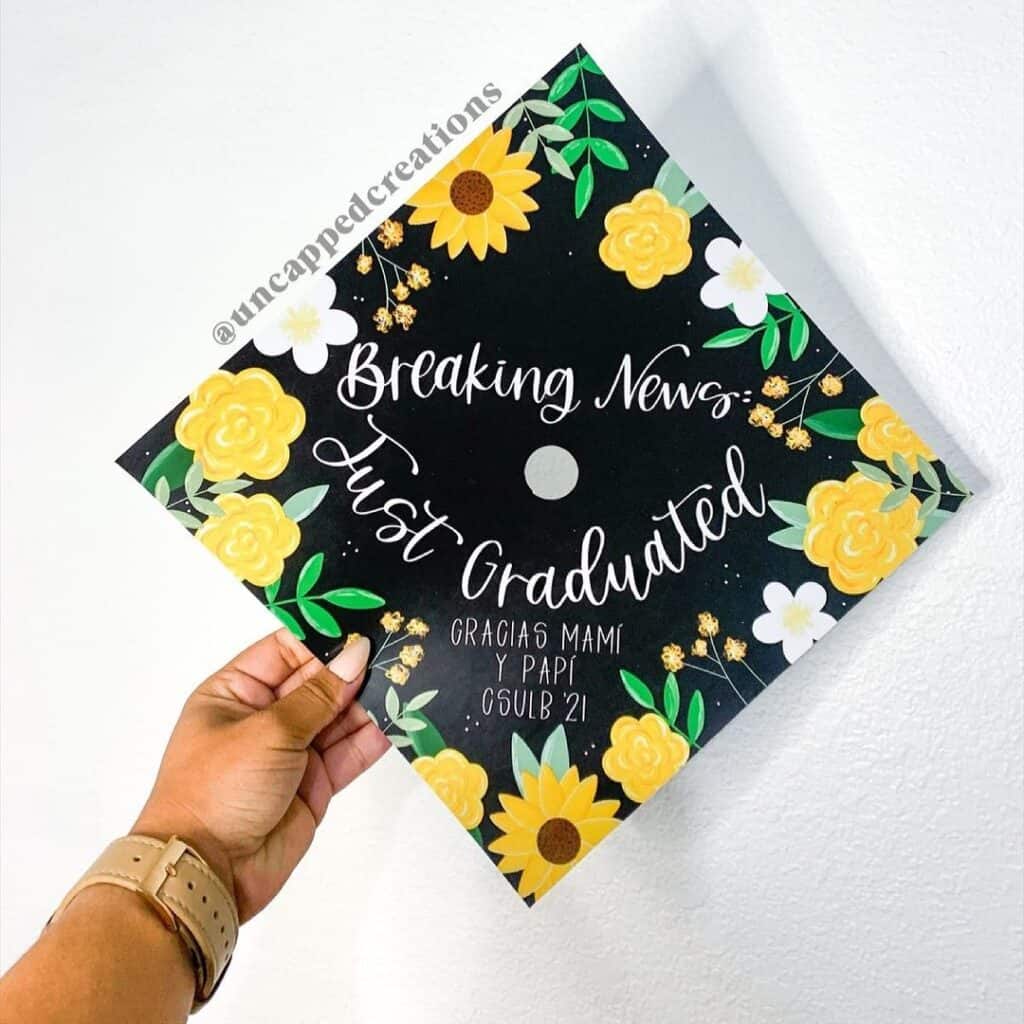 Have you heard the latest news? No girl tell me!
It is breaking news and fresh from the house, I've just graduated girl.
I love the humor in this one hahaha
Tell the world you're just graduated with this funny graduation cap design.
18.For I Know the Plans I Know For You
This hand-painted graduation cap idea with the biblical verse on top of it is everything.
If you're someone who deeply believes in God and is thankful for what God has given you, then this one is for you.
It's just the right verse, painting, and colors that made this graduation cap design worthy.
19.Grow Through What you Go Through
This graduation cap quote isn't only rhyming; it's also touching.
If you take a look at the graduation and the process you went through before you reached the final stages, you'll see how much you've grown up.
I'd choose this graduation cap idea for sure. For the rhyme and meaning, cheer up if you're a poetic person.
20.What Feels Like the End is After the Beginning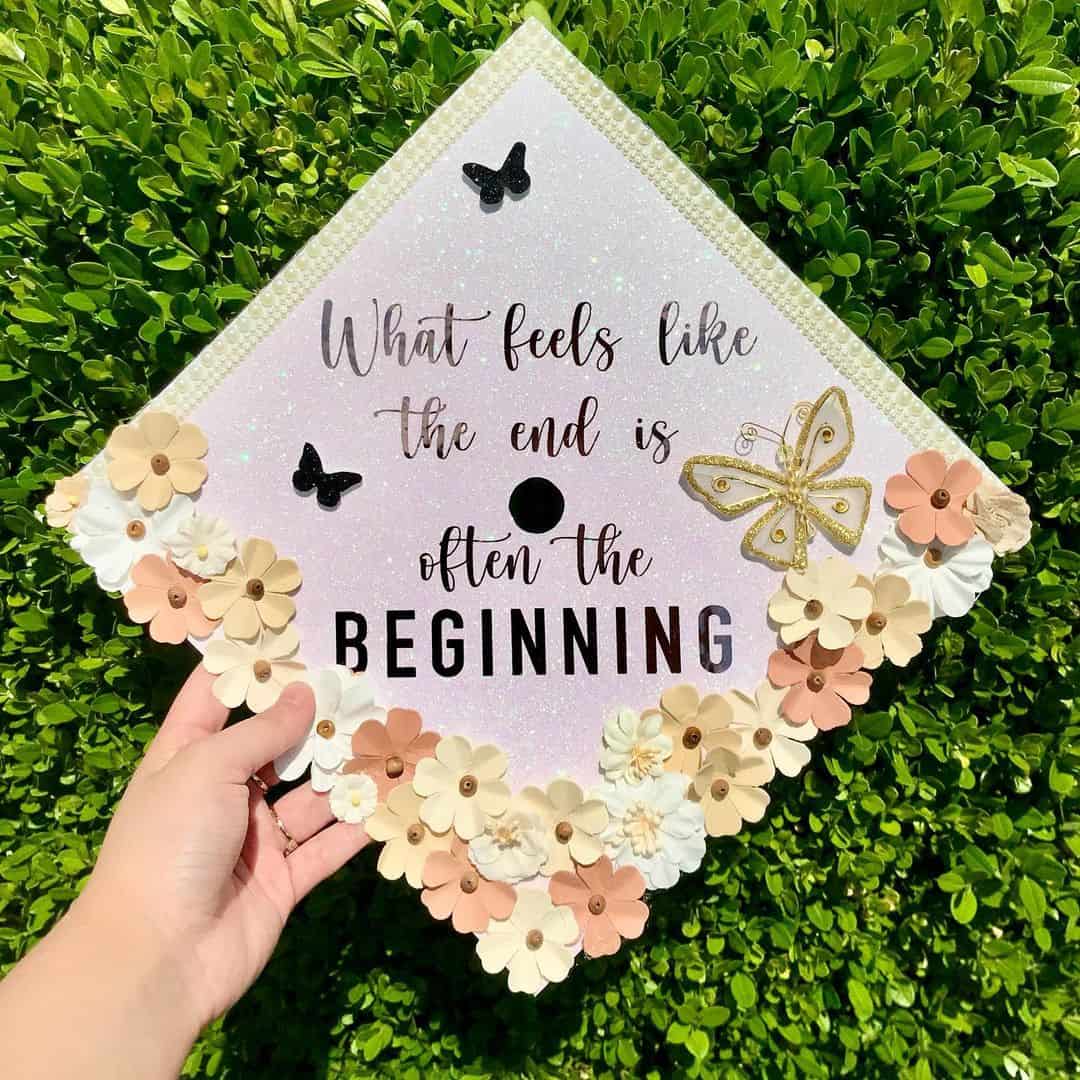 This is one of the most inspirational quotes on the list for a perfect graduation cap idea for this year's graduates.
It is maybe the end of college, but it's the beginning of a new story. The little flowers on the side and the butterflies add a magic look to this graduation cap idea, hence it shines if you put it on.
21.Work Hard and Determined Safe to Say I Earned it
Graduation is the gift of so many years of hard work and toil.
It requires determination to finally step out of it, and this is what this graduation cp idea is all about.
I love how this quote on your cap shows that you earned every happy moment that you're enjoying at the party.
Share these great words with your close friends as I'm sure they want to celebrate your achievements too.
22.Next onto the Pursuit of Happiness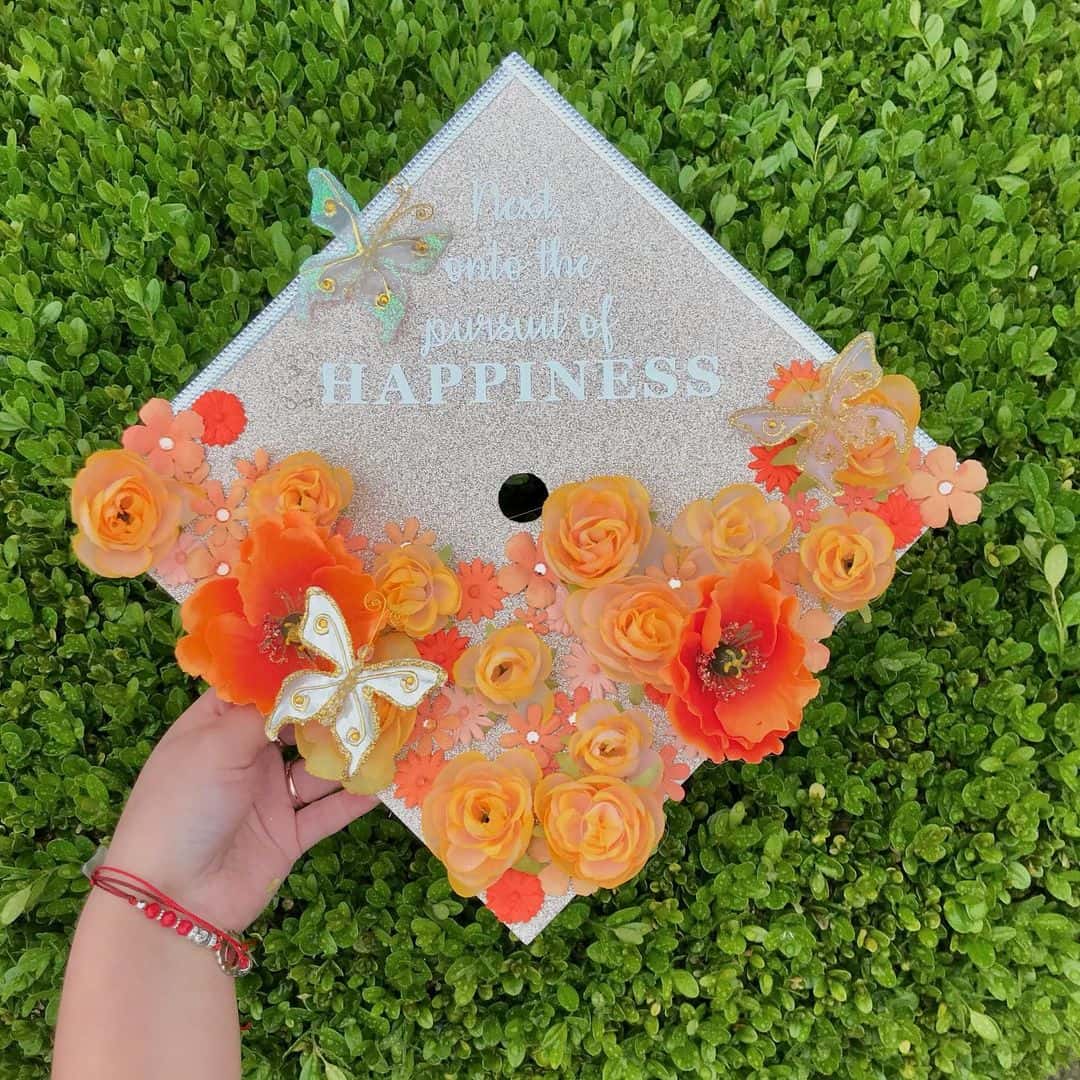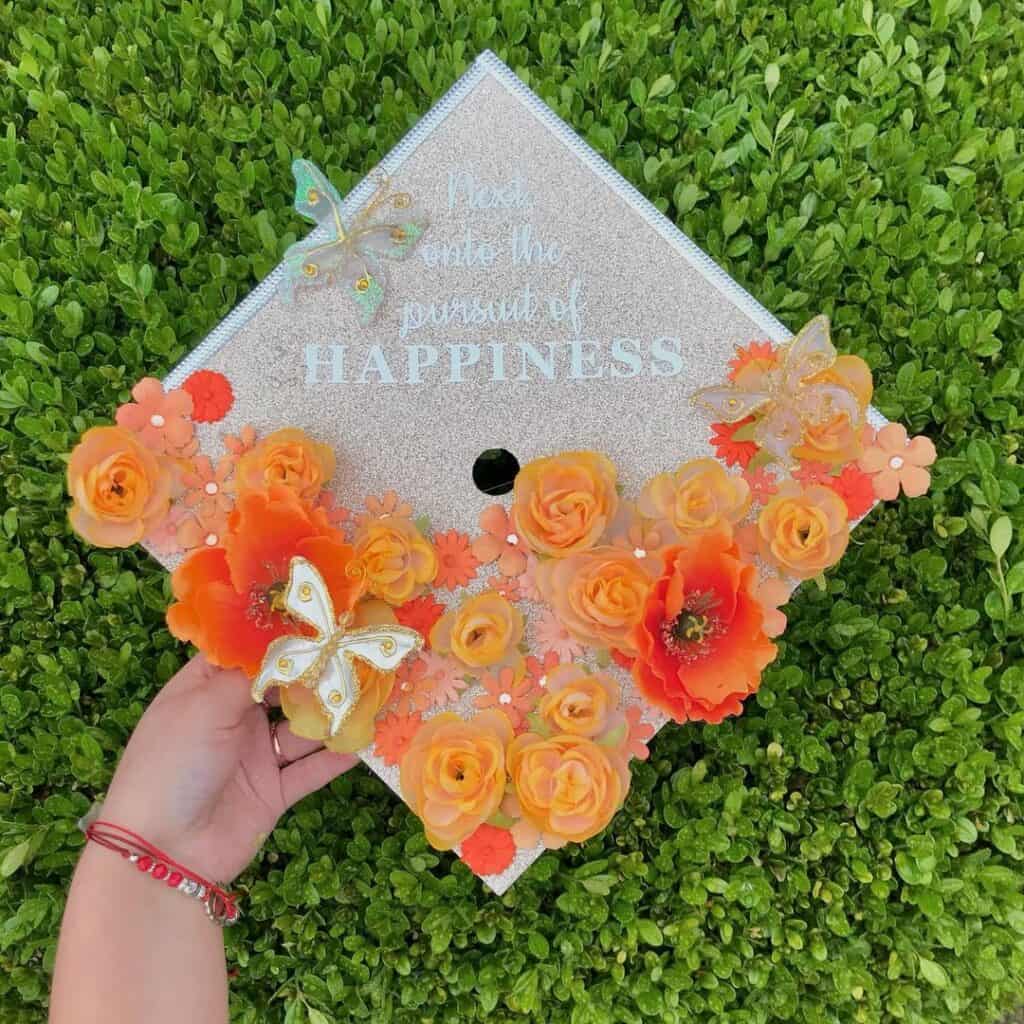 I can see why this is a favorite graduation cap design for so many graduates.
It's not just the inspirational quote on this one, look at the design!! Isn't it perfect? It reflects the words written on it, it sparkles and shows how happy you are that you finally graduated. It is definitely next onto the pursuit of happiness and enjoying the moment.
Related: 48 Best High School Graduation Party Ideas you Can Ever Find
23.By any Means Necessary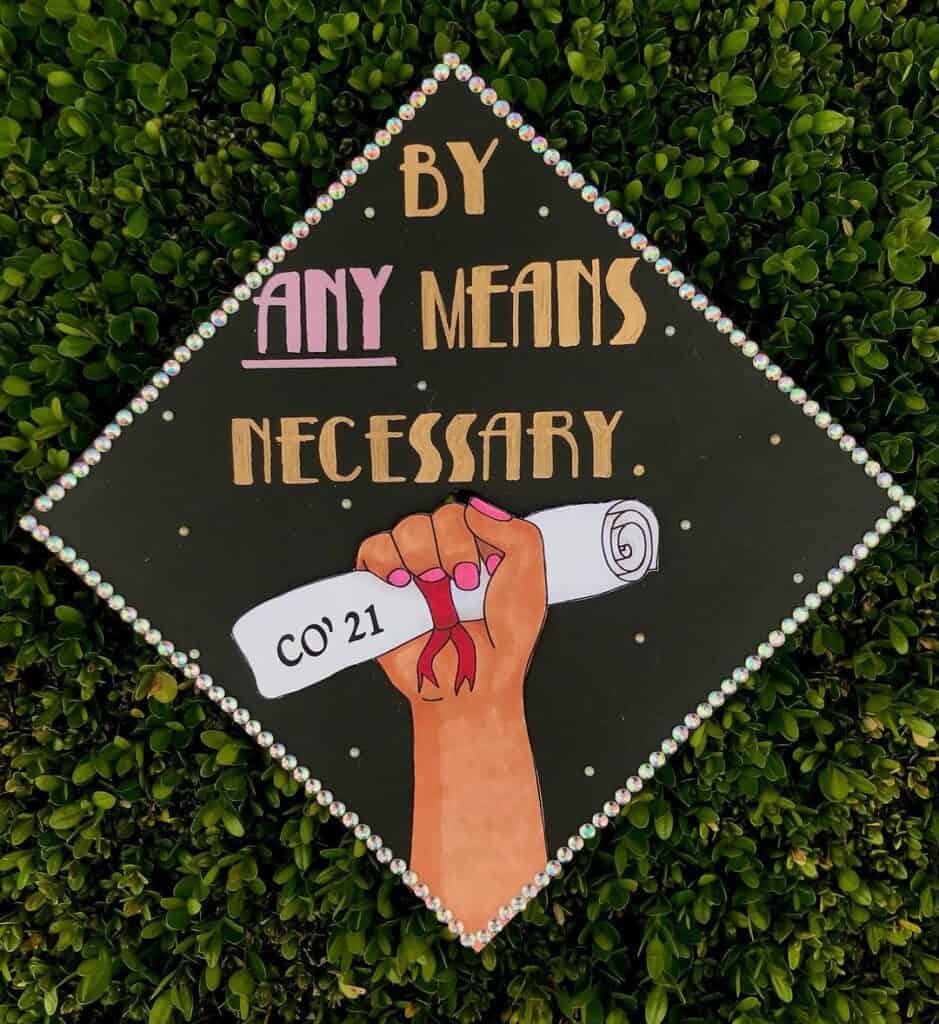 It required more than just strength to be there, I love how this quote says it all. By any means necessary you made it girl! A great graduation cap idea to go for this year.
24.You Should See Me in a Gown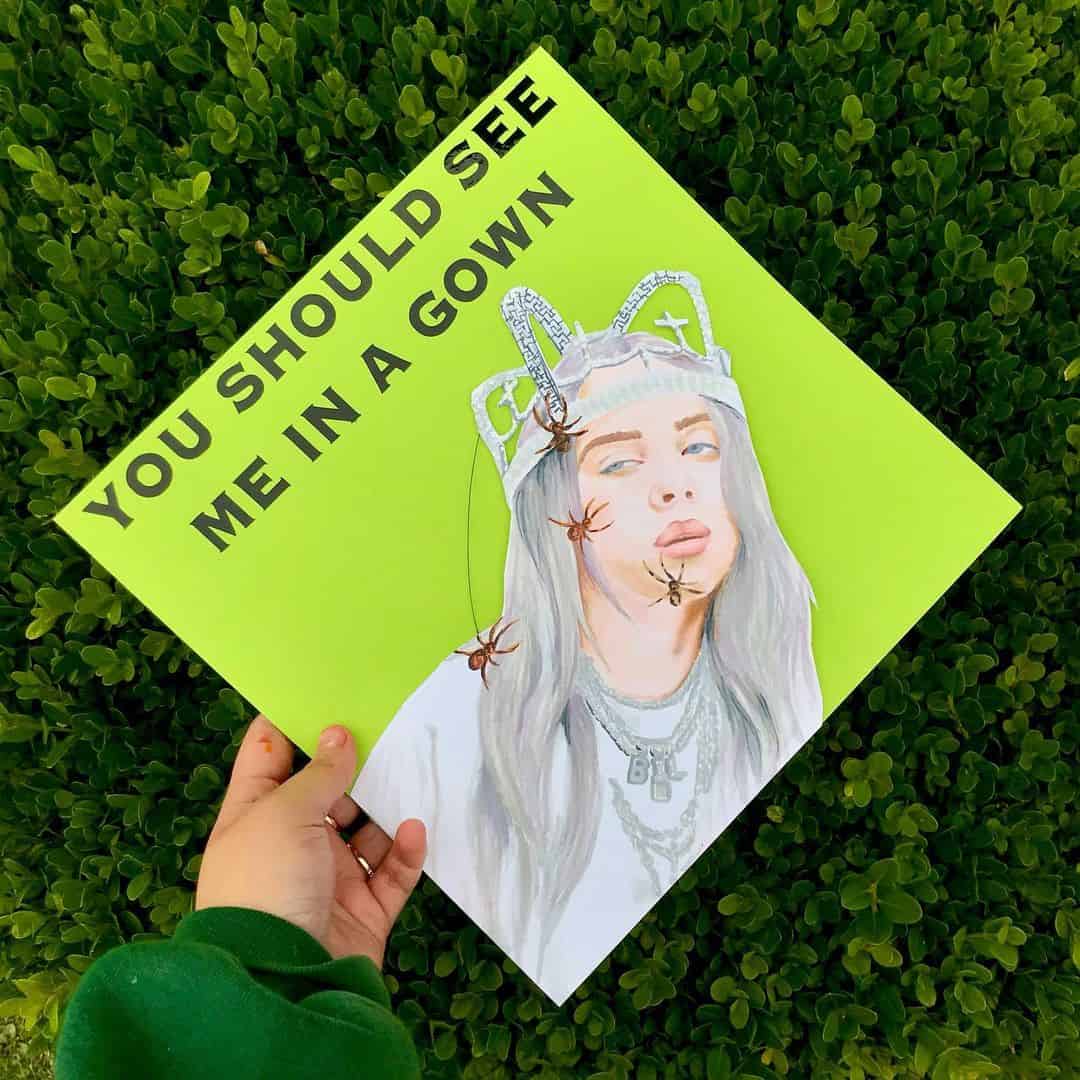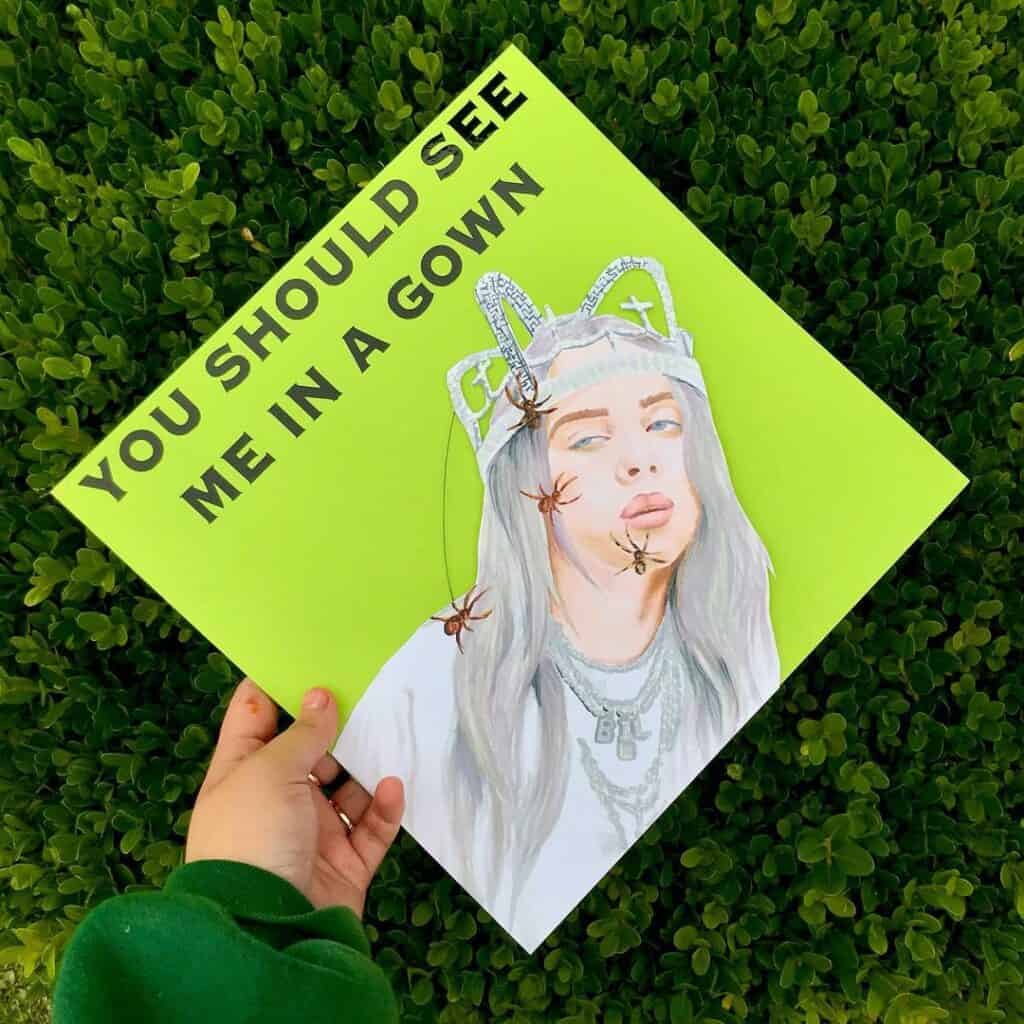 A lot of graduates are obsessed with this graduation cap design. I can see the reason why.
This graduation cap quote can mean so many things. You're the queen of the day and they can see you did it. I believe Billie Eilish's picture sums it all.
Maybe! Still, you should see me gone, a queen in a crown or in a gown, whatever comes to their mind. Let them guess.
25.What's Better Than one Degree
Do you want to flex about the fact that you have two degrees? What's better than one degree? Obviously, two.
Not everyone leaves college with two degrees so I feel like this graduation cap is flex for those who want to brag about it LOL.
After all, you beat up two not just one so let them see it on your cap.
26.Most of What I Learned Comes From Those I Teach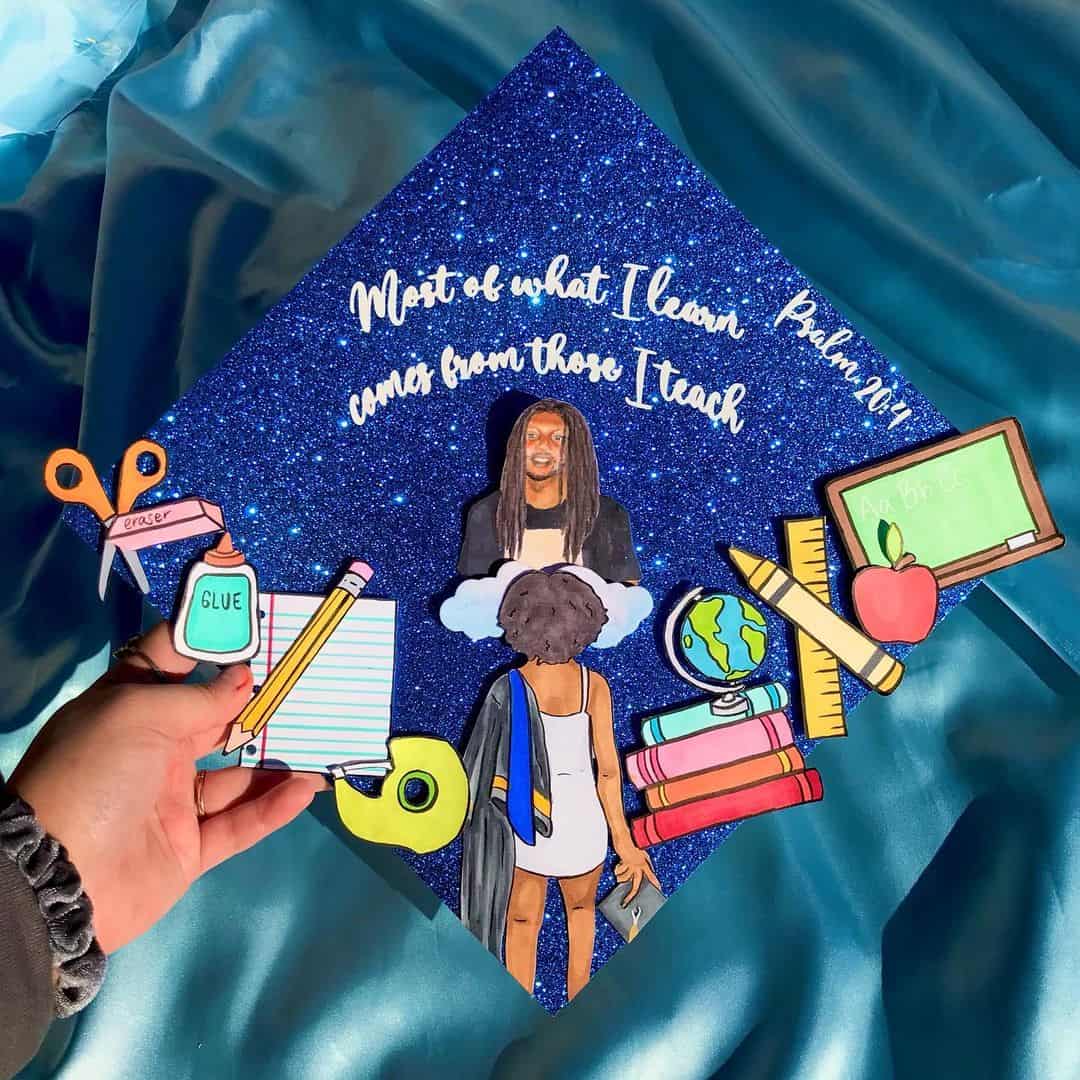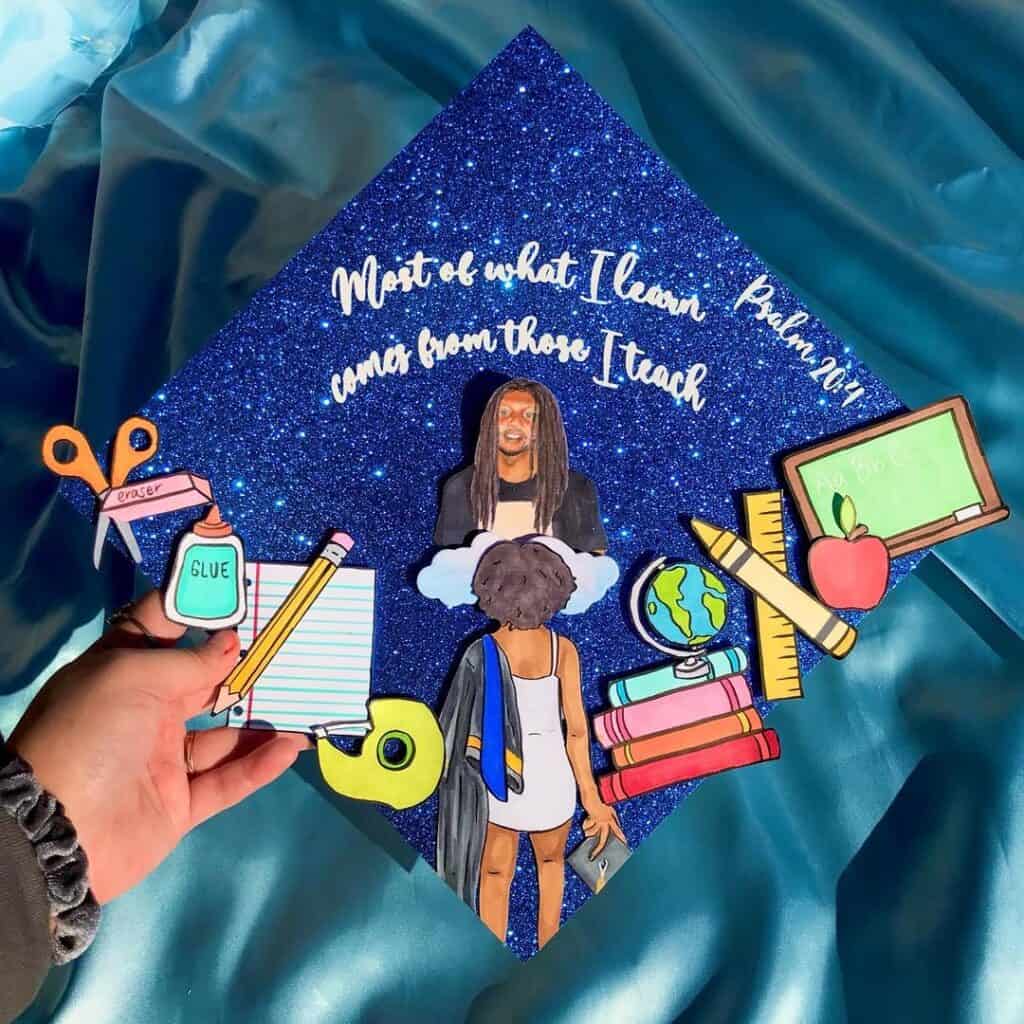 I love this graduation cap decoration. It feels like you're not just leaving college as a learner but also as a teacher. You're leaving everything behind but of course, most of the things you learned you actually passed on to others, so you're leaving with knowledge and you want people to know that!
This quote on the cap is so me as I'm really passionate about it. I can say this graduation cap is perfect as everything blends well together.
27.God is Within Her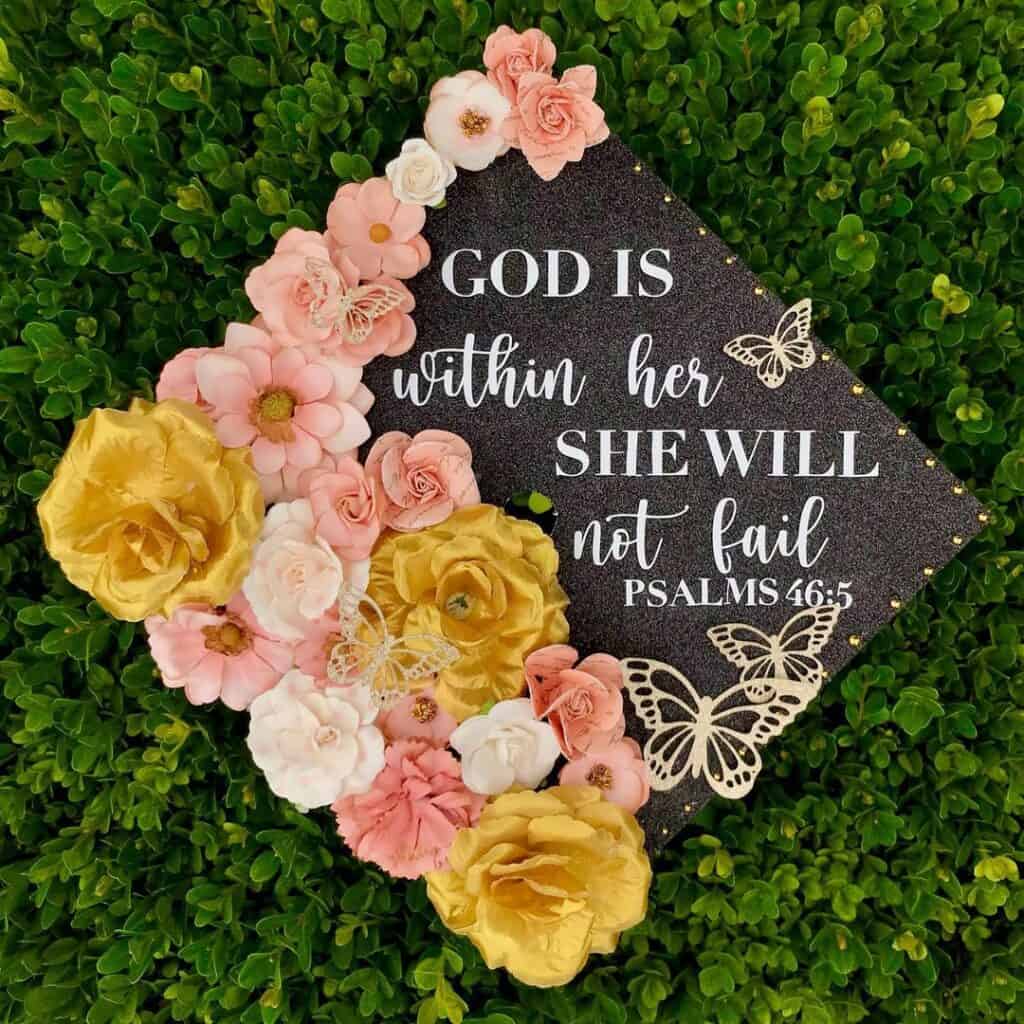 For every girl who believed that God was there with her until she graduated and finished her studies, this graduation cap is a perfect choice for you.
28.How to Get Away with Success
Another great graduation cap design for the graduates of this year.
This inspiring quote is known to all fans of the famous series How to get away with murder. I find it very suitable for Law students.
Justice is blind and so is the woman in the painting.
The quote is ironic, and the final season tells everyone that you're finally done with this series so, thanks for watching LOL.
29.Cardi B Graduation Cap Idea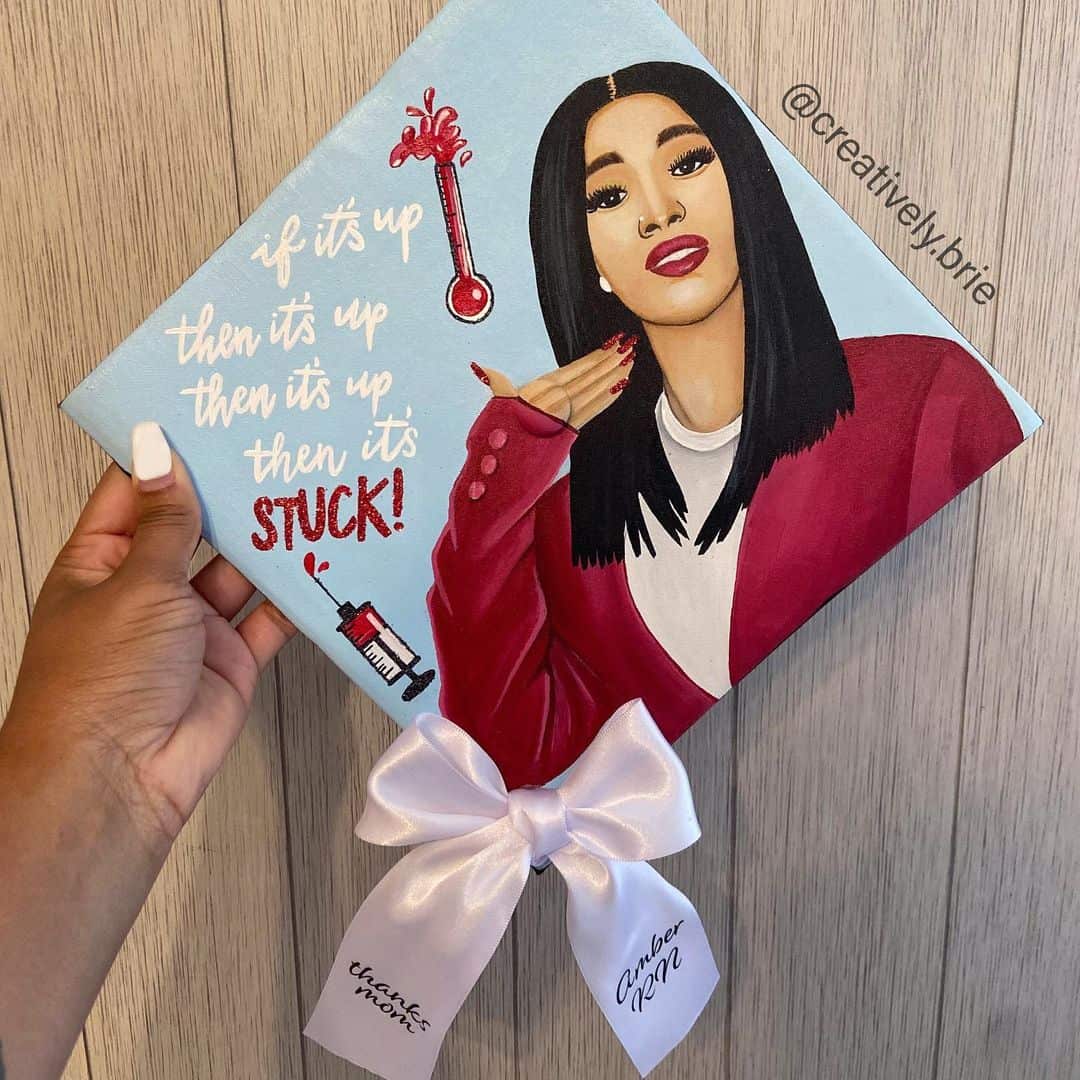 This graduation cap idea isn't just funny and dirty in a way, it's also brilliant. I mean Cardi B's picture and some of her lyrics are everything if you're a great fan of her.
I bet those words have different meanings for you lol. You can absolutely go for this graduation cap design just to heighten up the place a bit and make some people feel uncomfortable hahaha.
30.This is the Start of Something New
Graduation is truly the start of something new. I believe it's the start of a new life after graduation and the end of all those years you spent in college worrying about your marks, thesis, and all of college life.
If you're into red, art, and music, then I highly recommend that you go for this cap idea as it looks suitable for an Art major graduate.
31.Ready to Go into the Unknown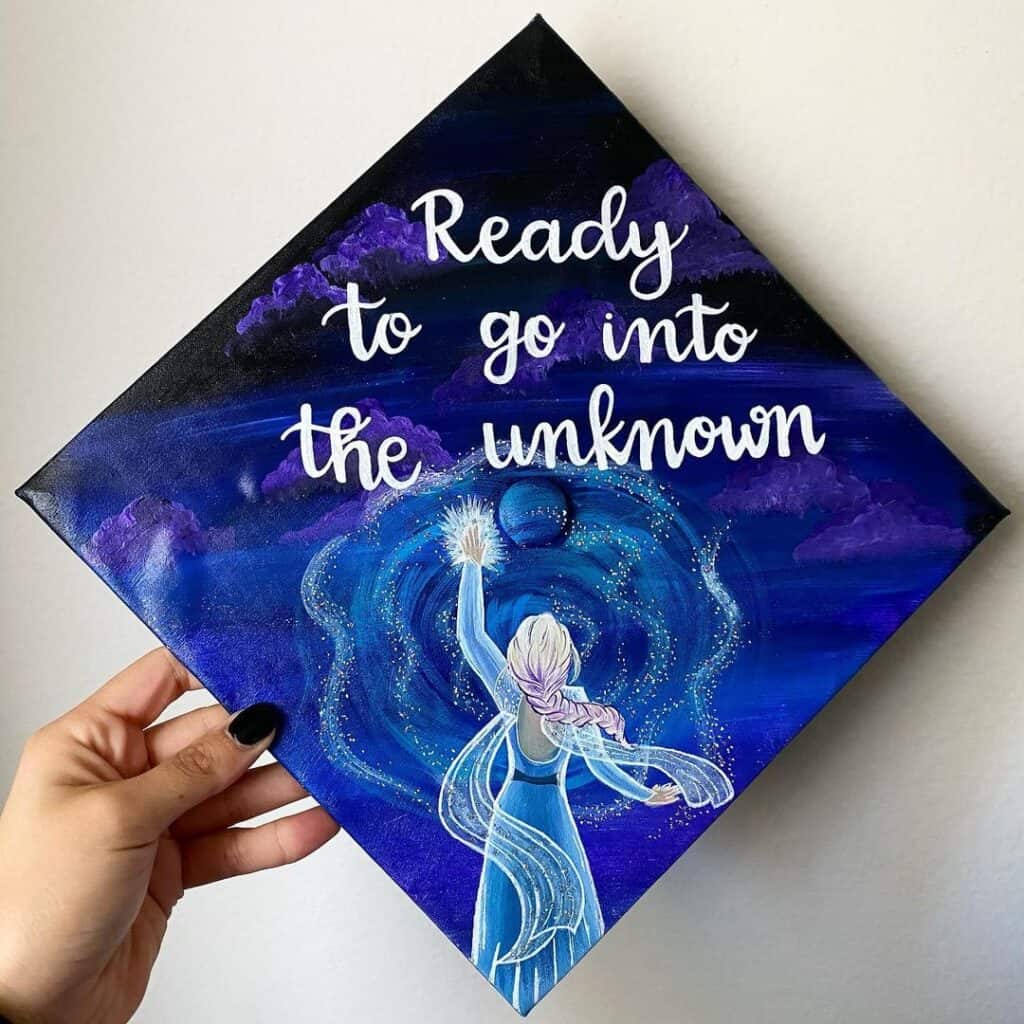 This graduation cap is absolute magic!
You're already aware that life after graduation is the unknown as you'll find out later. I like how this beautiful princess is holding her hand to reach for the moon.
The symbol behind this design is encouraging, especially for those who believe that the sky is the limit.
32.Pretty and Educated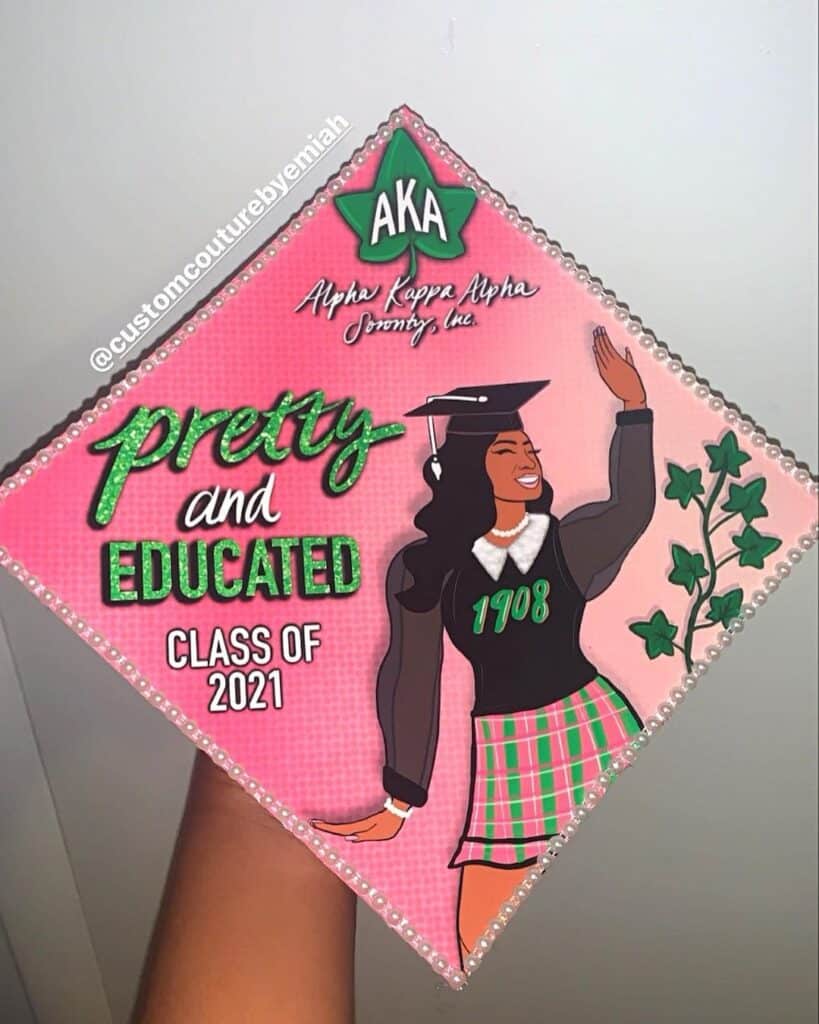 For decades, people believed that those who are given beauty have less brains than those who are not.
I really find it cliché and a needless stereotype. I believe that you're beautiful the way you are and so are those who are there for you.
Also, I'm sure you want them to see that you're more than just a pretty girl, you're actually a high school or a college graduate, so that stereotype isn't right after all. I think this quote is empowering especially for sorority girls, again, I let you decide.
33.See you Later Dude
See ya later dudes! Or maybe not lol.
this graduation cap design is one of the funniest graduation caps out there. The stars, the pearls, and the little shells surrounding the turtle's picture add a certain atmosphere to it.
I don't really know what it exactly is, but it's different from the SpongeBob one and similar in a way, I'll let you think about it and decide. However, it's a great choice if you're looking for funny graduation cap ideas.
34.Off to Make Smiles Brighter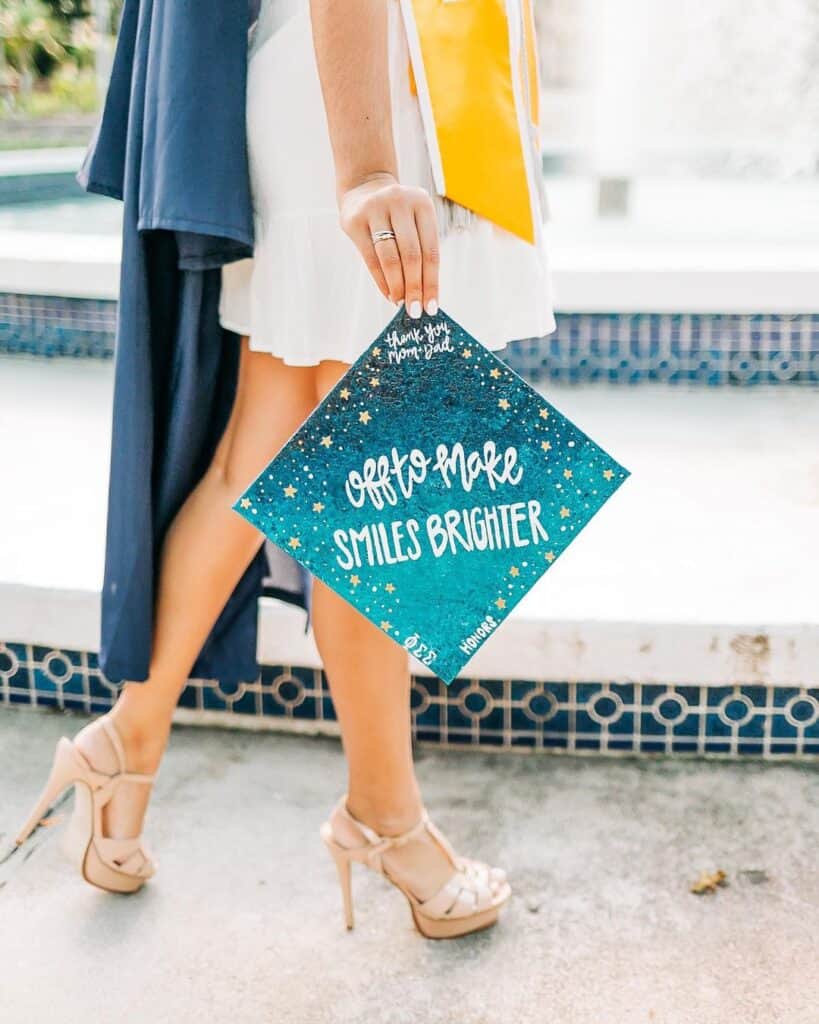 It's not just the quote for this one that makes this graduation cap amazing, I also love the decoration, and the starry sky is like a bright smile.
So off to make smiles brighter, it's the beginning of my career, and I'm so excited for it.
35.A grand Adventure is About to Begin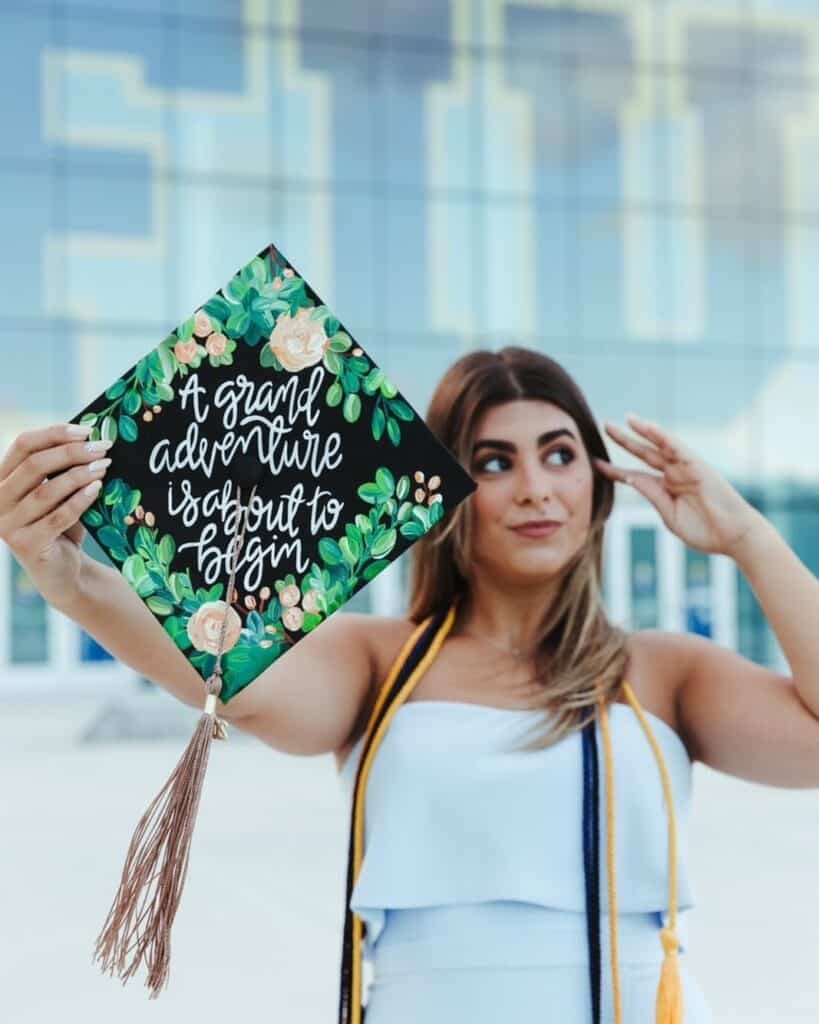 This is one of the most wanted graduation cap ideas ever. Graduation is the beginning of a great adventure; don't you think so? Put your hands in the air if you agree.
Also, this graduation cap design is really great and the colors aren't just matching, they are vibing. If you're someone who's into adventures and sees life after graduation as one, then this beautiful graduation cap design is for you.
36.What she Tackles She Conquers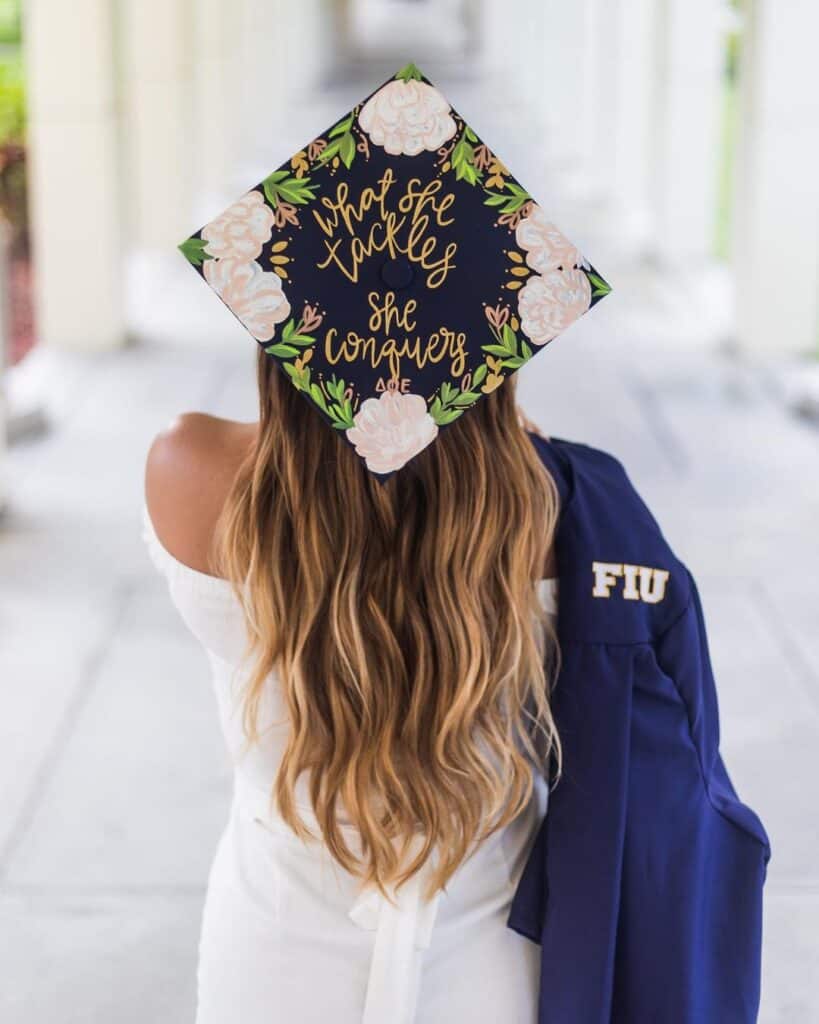 And only queens conquer. This graduation cap is amazing and the words of encouragement are gold.
Sometimes, it takes years to conquer something, but when we finally achieve it, we're so proud of that.
It is only what we tackle, we conquer and so is your major, graduation, and everything else in your life.
If You want to show people how proud you are of conquering what you've been tackling for years? This graduation cap is for you, those who doubted are really in need to hear it.
37.Thank you, Next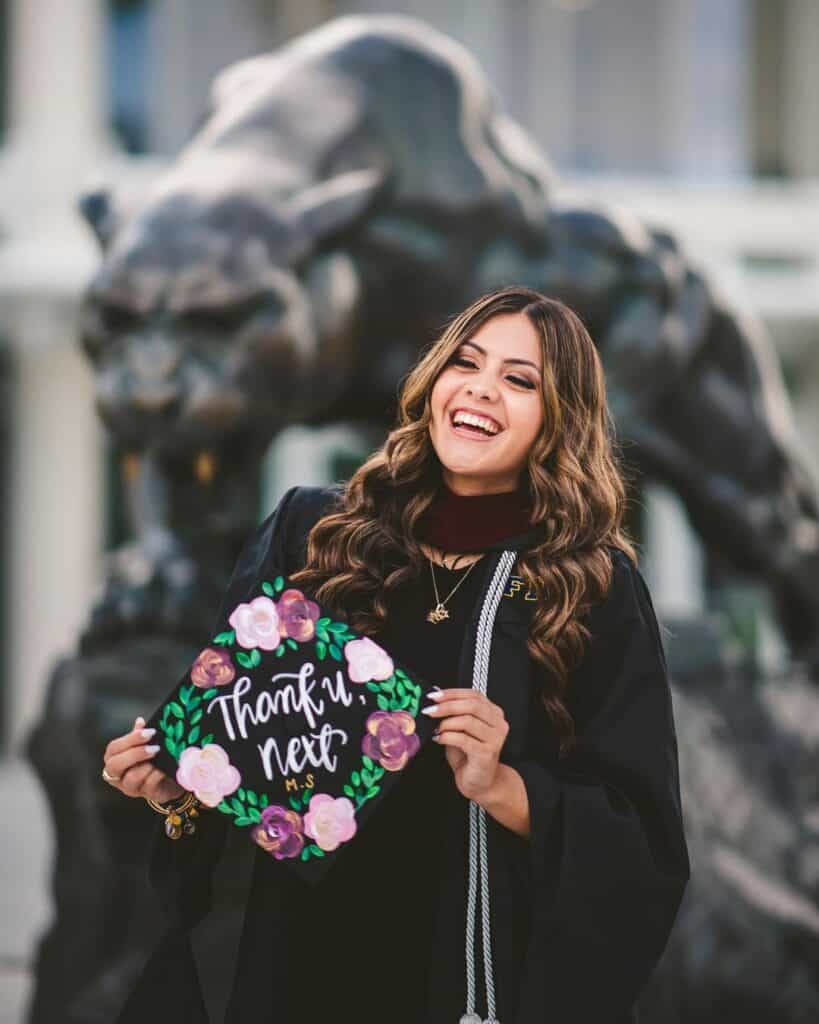 I really love this graduation cap and quote inspired by Ariana Grande Song.
So, what is next for you? you did it LOL.
this is a funny graduation quote on your graduation cap to show that whatever comes next in your life, you're capable of doing it.
38.This One is for You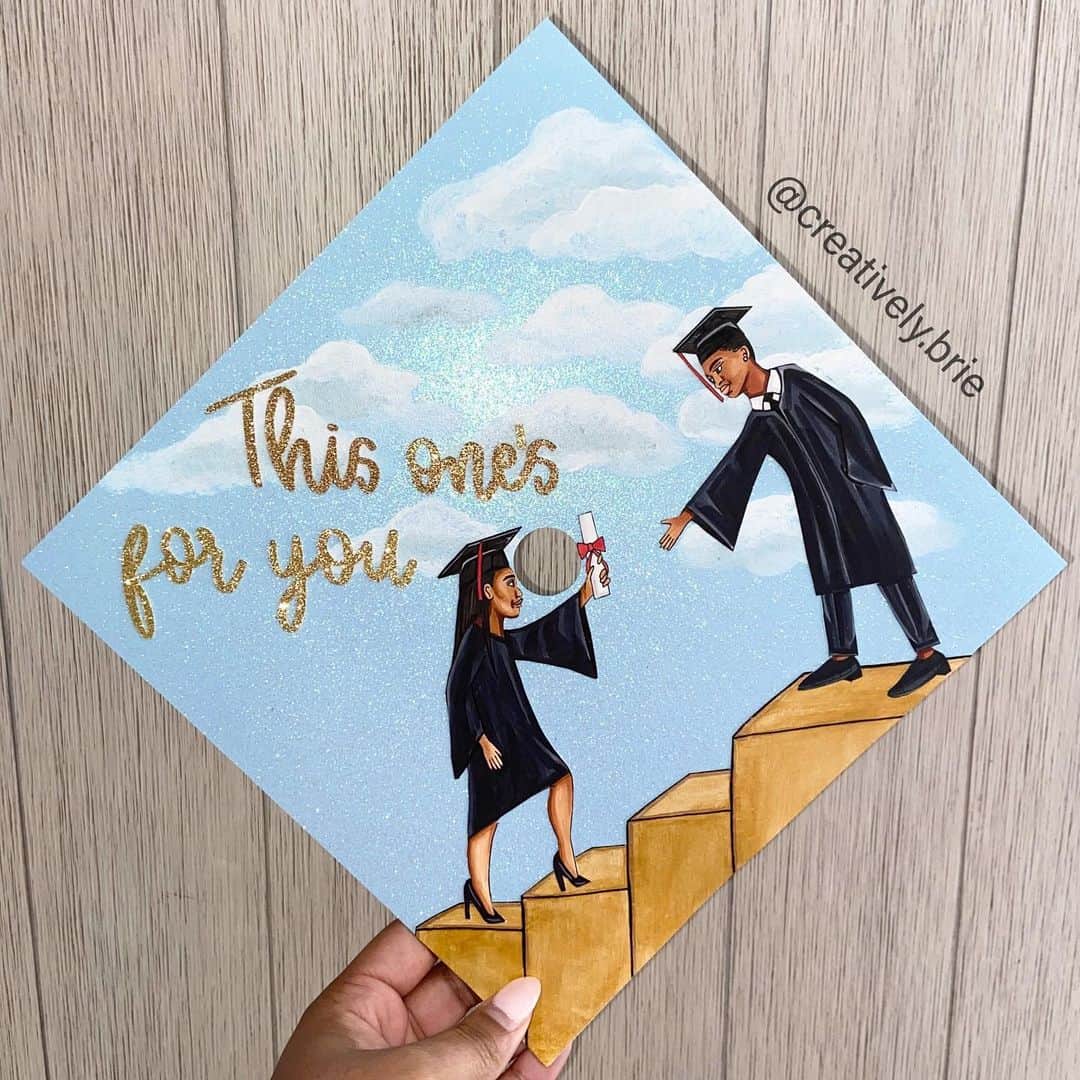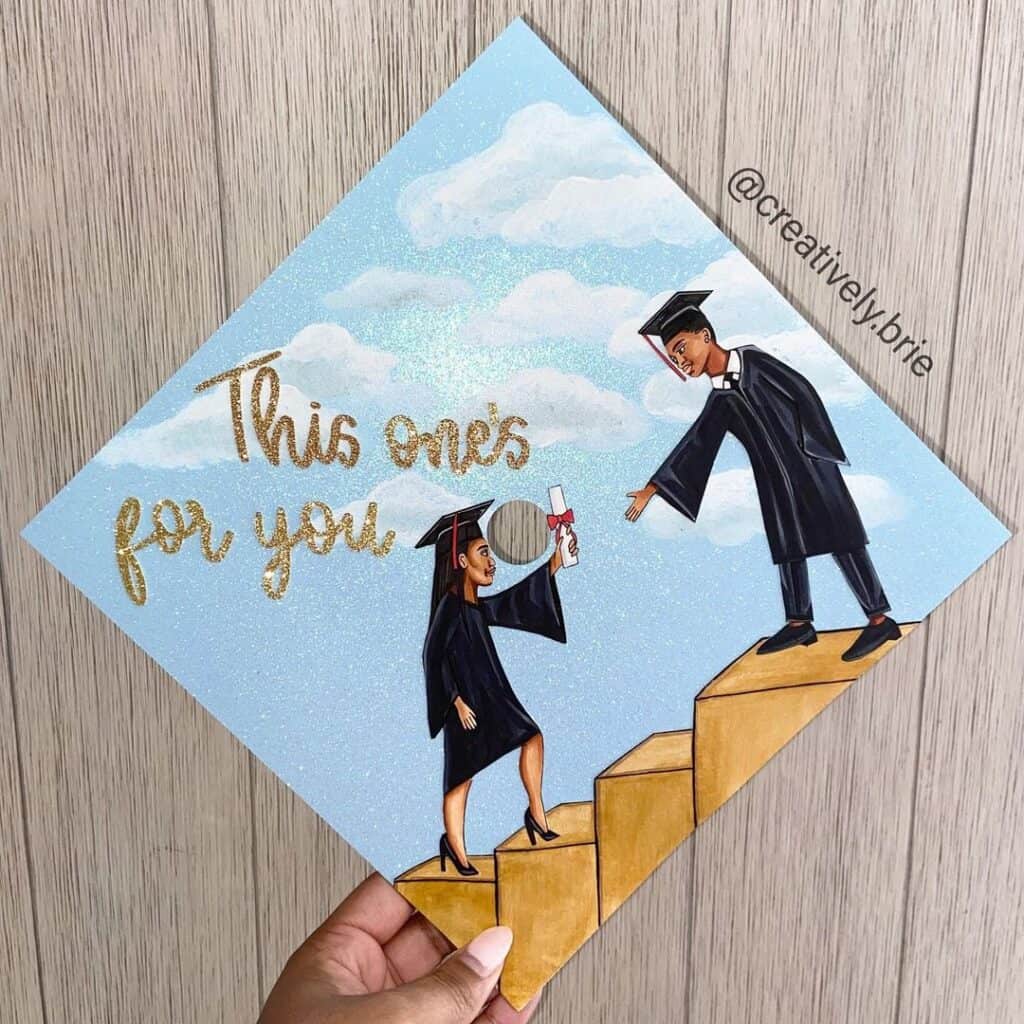 Graduation feels like you've been climbing the stairs of that big building to only reach the top of it both tired and happy that you accomplished it.
I know everyone owns her success to someone who's always been supporting and caring. This graduation cap idea shows your demonstration, its colors are really combined together, and the story on it is everything.
Your graduation cap design will tell the story for you, not only you.
39.Dreams Do Come True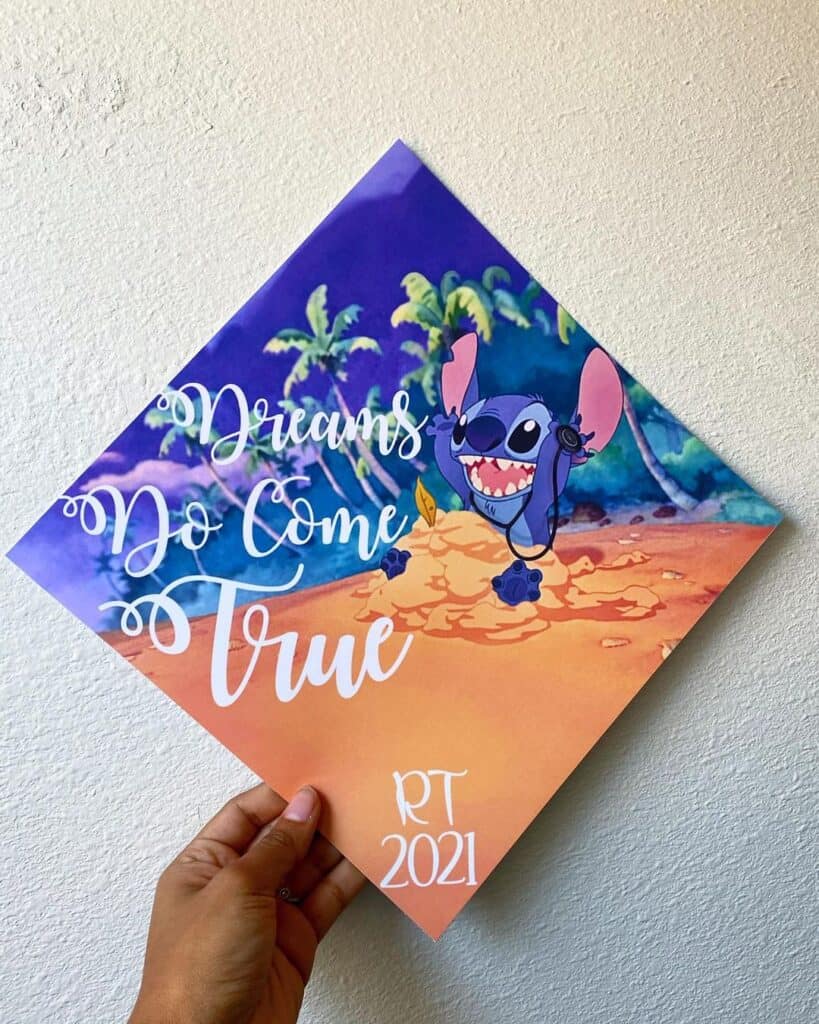 Dreams do come true and if you're a big dreamer like me, you can't get wrong choosing this graduation cap design.
You can now start thinking about having a great summer after graduation and wanting to insinuate that?
Isn't this cap design perfect? I mean by just looking at it, I can tell how much fun summer will be after leaving school and for good.
40.The Future Depends on What we Do in the Present
The present is that phase that leads to the future, and whatever we do now affects our lives later including graduation.
Graduation is your biggest achievement and I'm glad you made it.
If you religiously believe in this saying, you get to make this graduation cap for your big day and share this wording with everyone.
41. High School Musical Graduation Cap Idea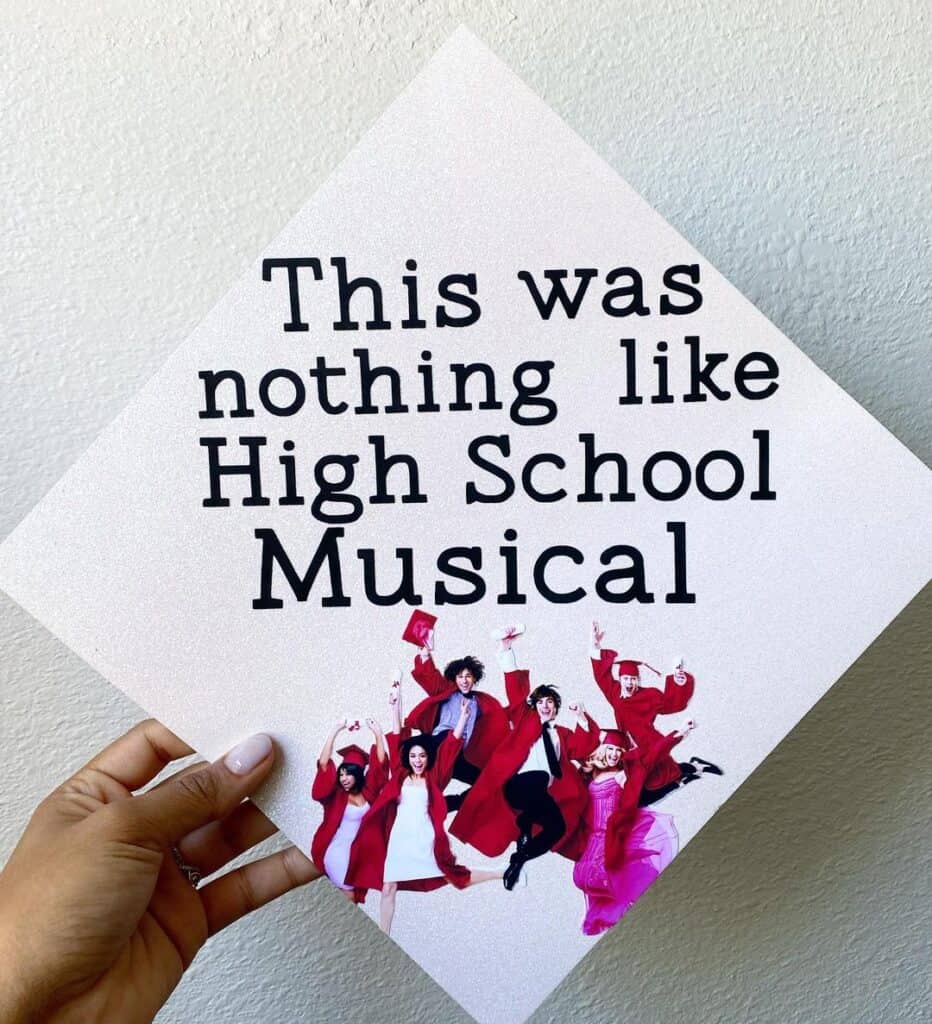 I'm really excited about this graduation cap idea one!
High school musical was one of my favorite series and if you're the same, you'd absolutely go for this one as a high school graduation cap design.
College was a celebration not like high school musical but it was in a certain way fun and full of interesting people, and now that I'm over with it, I want everyone to know that LOL.
42.Thank you for all the Buddys, the Rest is Still Unwritten
Thank you to all those who believed in me and told me that I can make it. this wasn't just for me but also for them and I want them to know that. This graduation gratitude cap design is for all my buddys who have written history with me and still do until now. The rest is unwritten, we'll do it together.
43.I'm Not a Girl that Could Ever Be Defined
Although I wanted to graduate more than anything else in the world, this diploma doesn't define me as it just adds something to me knowing I know I can do more. I love however this cap design.
These flowers, butterflies, and pearls on it make the quote look like it's someone speaking out loud, "Yep I'm more than just a paper".
44.It's your Journey that Teaches you About your Destination
I love this graduation cap design as it feels like the butterflies are flying on a lovely lake, and I bet the eyes have some hidden meaning.
Graduation may have been the destination for you all the time, but I'm sure that you want people to know how important the journey is for you and what you have learned from it by this graduation cap idea.
45.Nevertheless, she Persisted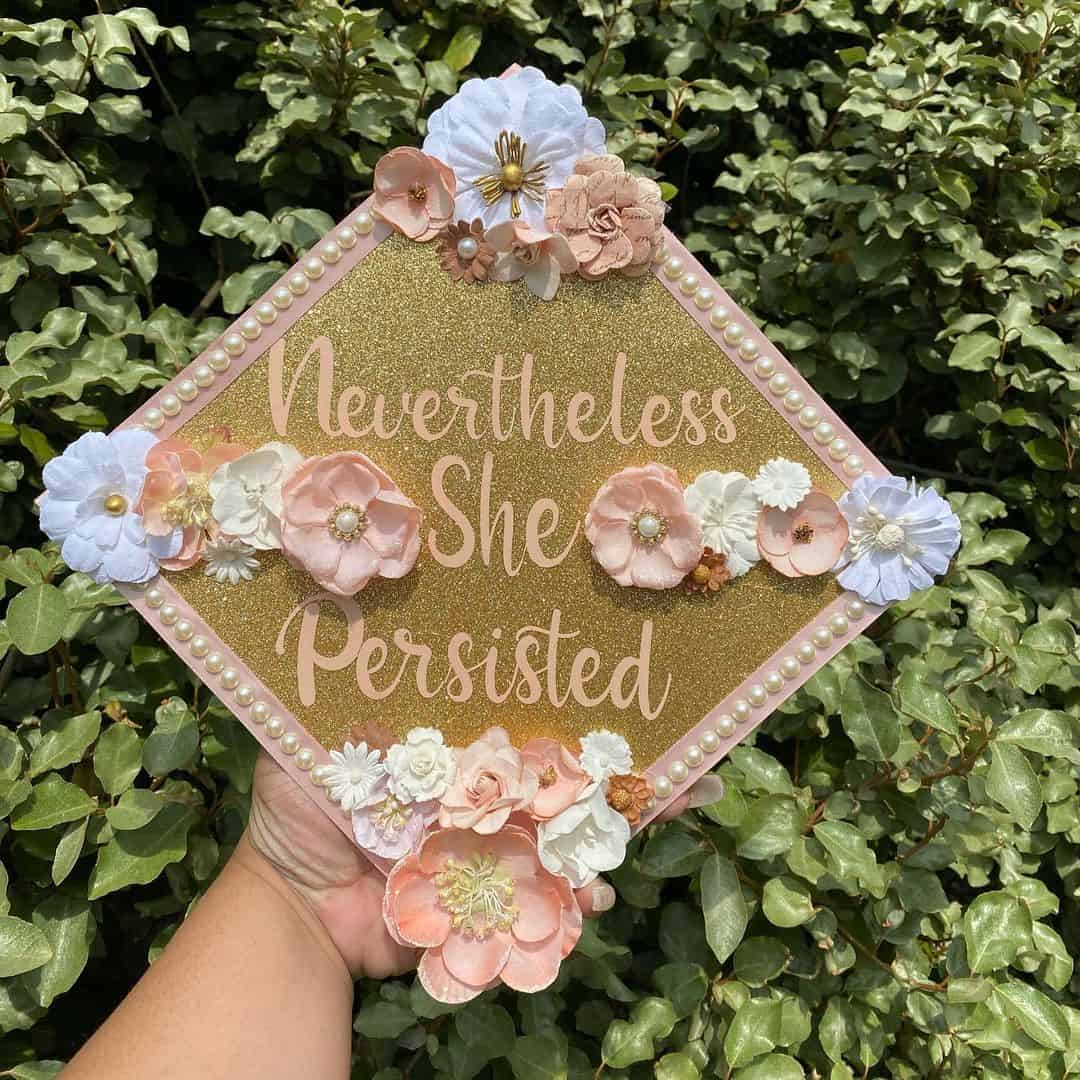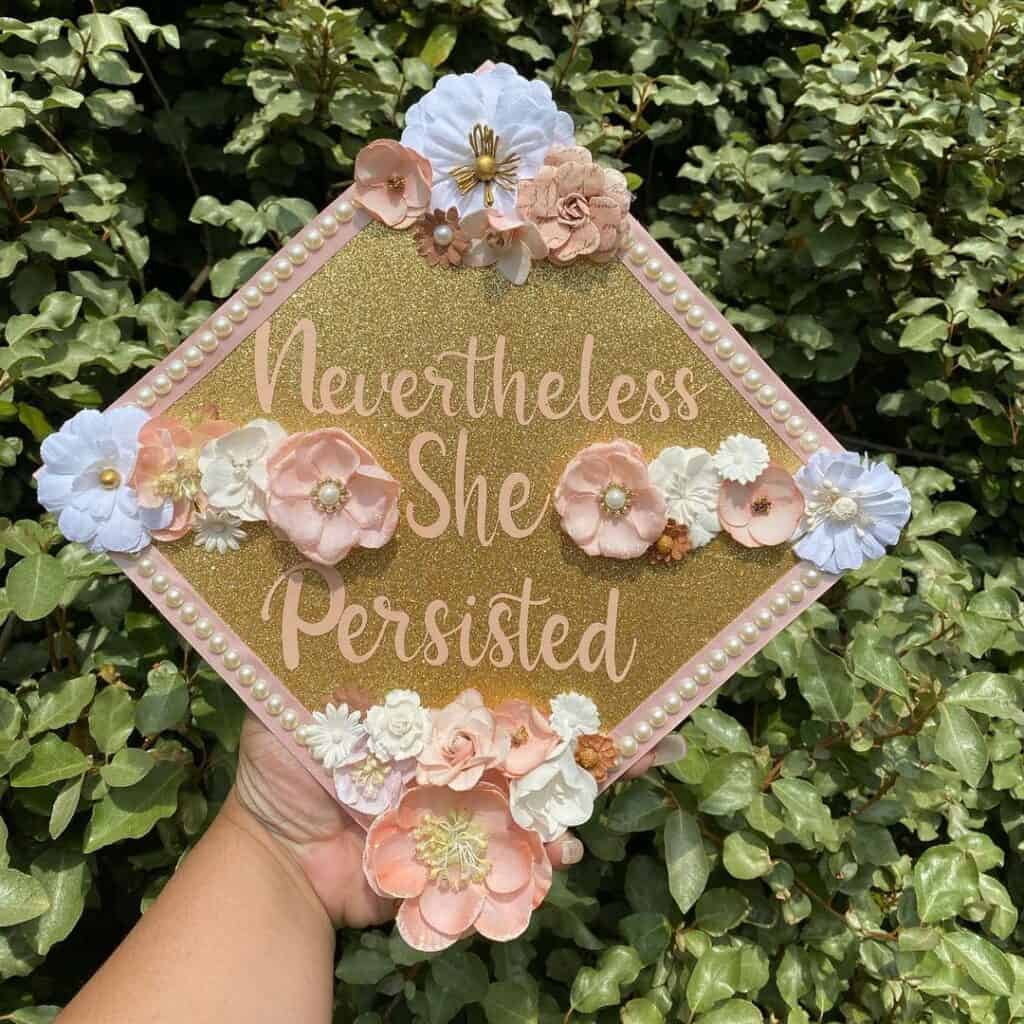 This quote is like a happy ending to a fairy tale. It's not only this though, this graduation cap decoration is like a beautiful dress the princess would wear to the ball.
I really love this cap's pink and white flowers decorations, the beautiful writing on this cap with these little pearls on the sides.
A very tiny detail but let me admit: it's classy.
If you want to show people how persistent you were in perusing your dreams? Well, this one is perfect for you Princess.
46.I Trust the Next Chapter Because I Know the Author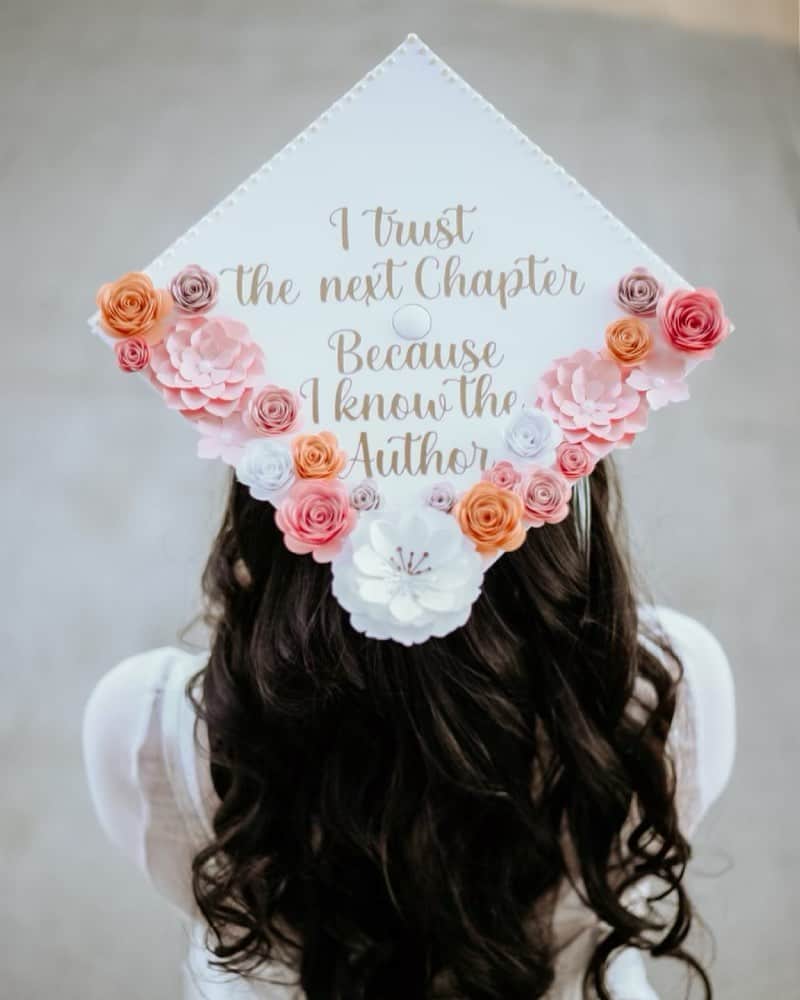 You absolutely need to know that you're the writer of your own story, and that's exactly what this quote says. I love this graduate cap decoration decorations.
It's angelic and lovely. Also, it shows how confident you are of the next chapter that you'll author. So, if you want your fellow graduates to get the message, this graduation cap idea is for you.
47.I Just Finished the Most Masterful Story
Again, this one is the most wanted Disney's cap decoration idea. Even though we're grownups, we never forget what those stories meant to us as kids. Graduation is the same, it's a story that means a lot, and the cool thing is that it has a happy ending.
If you want to mix that childhood innocence with adulthood cunning? I suggest you choose this masterpiece; it is a story worth reading and living after all, and it is yours.
48.Success is the Sum of the Small Effort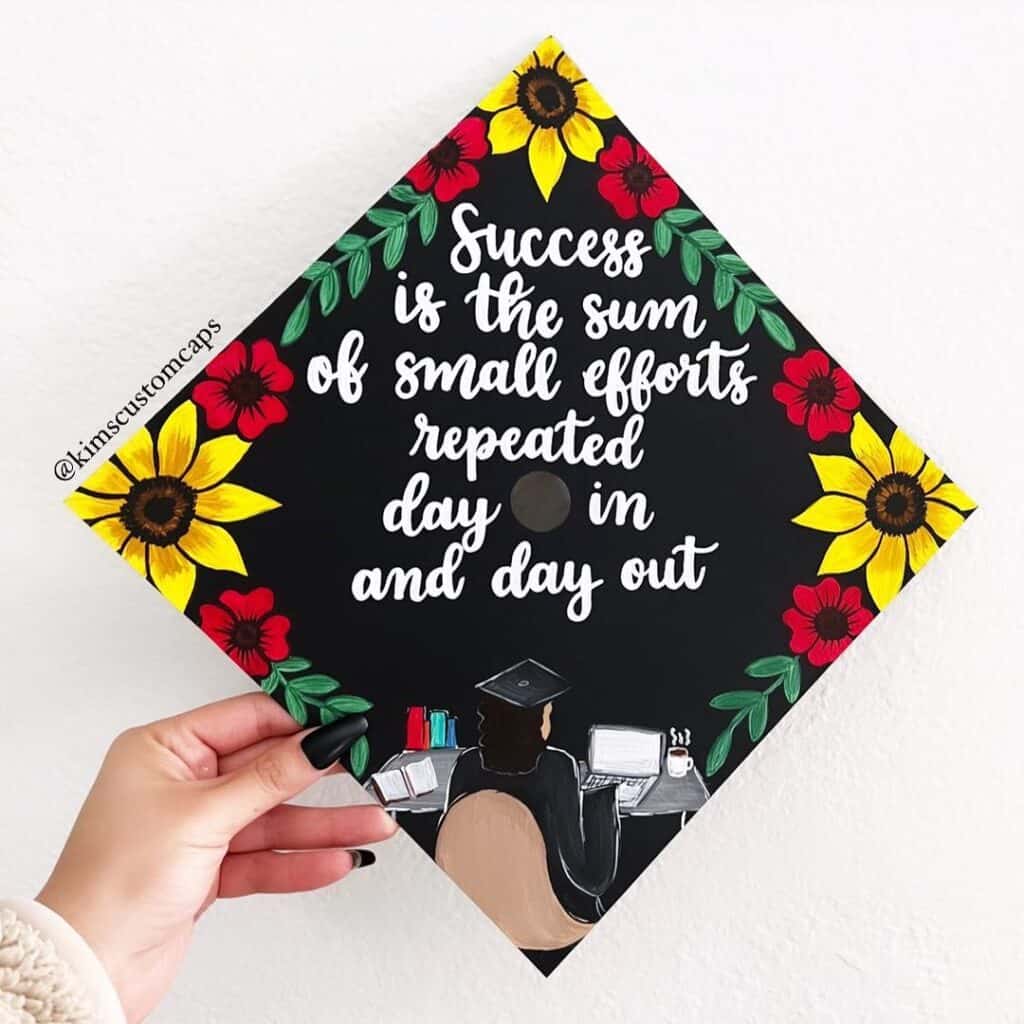 Success is never easy; it is the sum of small efforts repeated daily as the quote states. I can't find a better graduation cap design better than this one.
I like how deep and meaningful this one is. It doesn't only show that you finally made it, but it emphasizes the process and the efforts you put in to reach your goals.
49.Sunflower Graduation Cap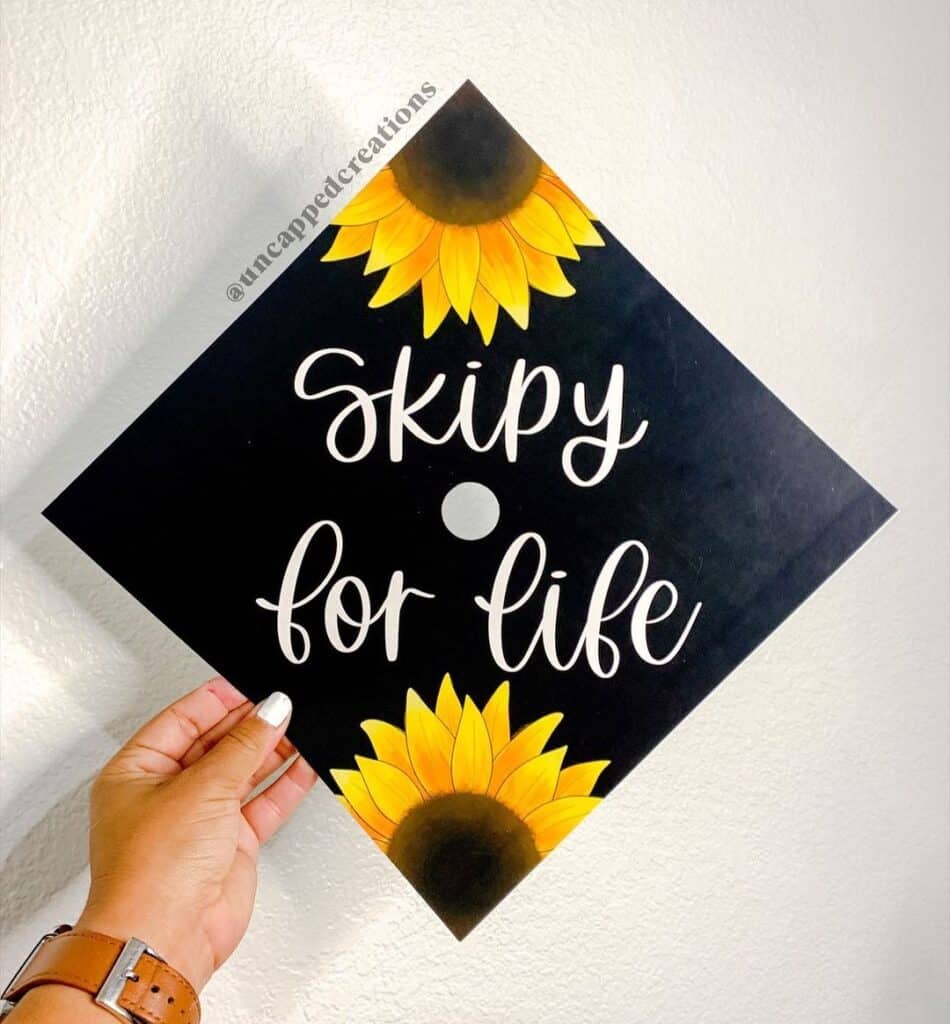 Okay, let's all agree that this graduation cap is so for graduates who are graduating this summer.
I think that this combination of black and golden sunflowers is both classy and dreamy. If you want to tell the world that you're skippy for life? Choose this one you'd absolutely go for this cap idea.
The sunflowers look like they were planted on a starry night and I really like that. Also, the fact it looks hand-painted is just amazing because it's so freaking real.
50.Grad and Boujee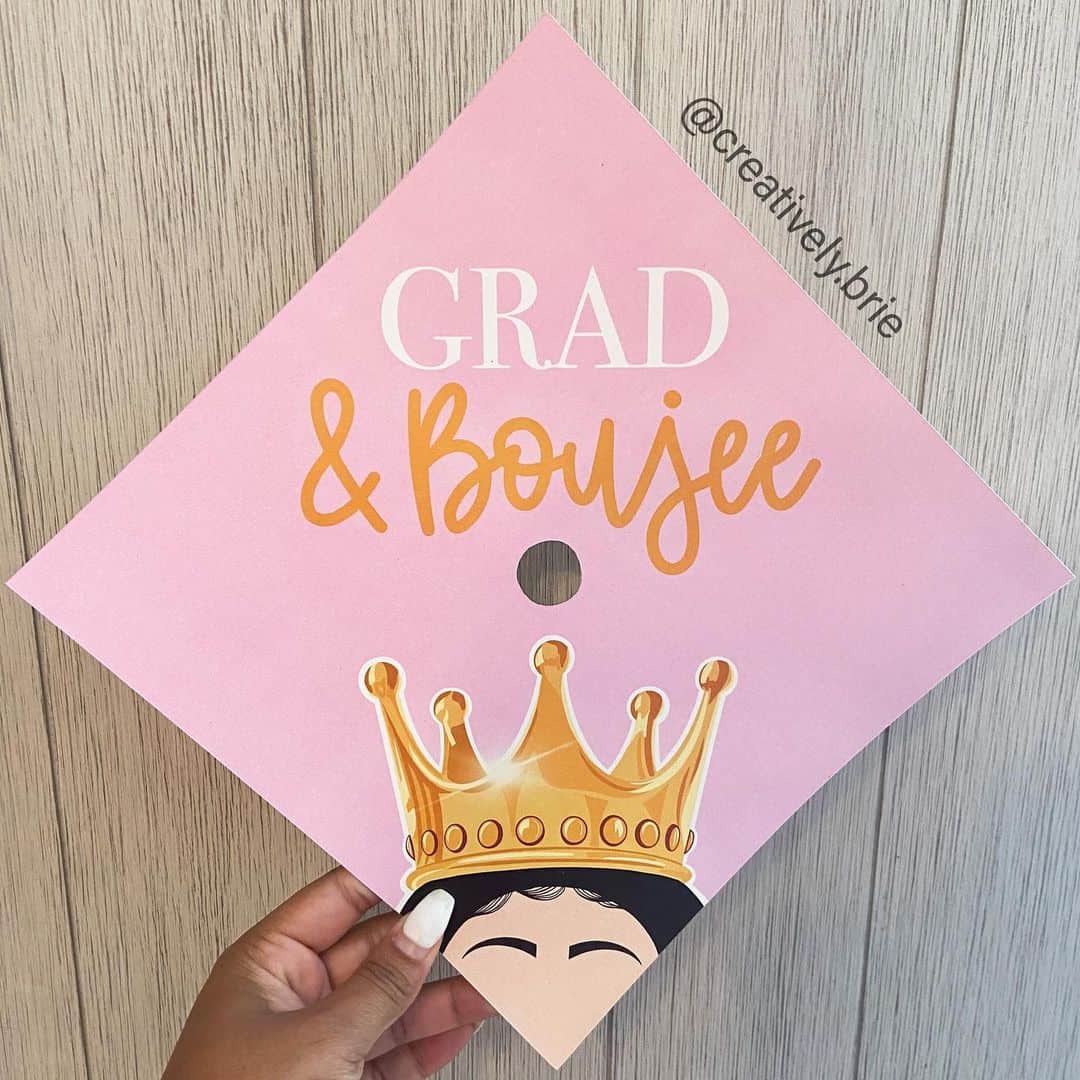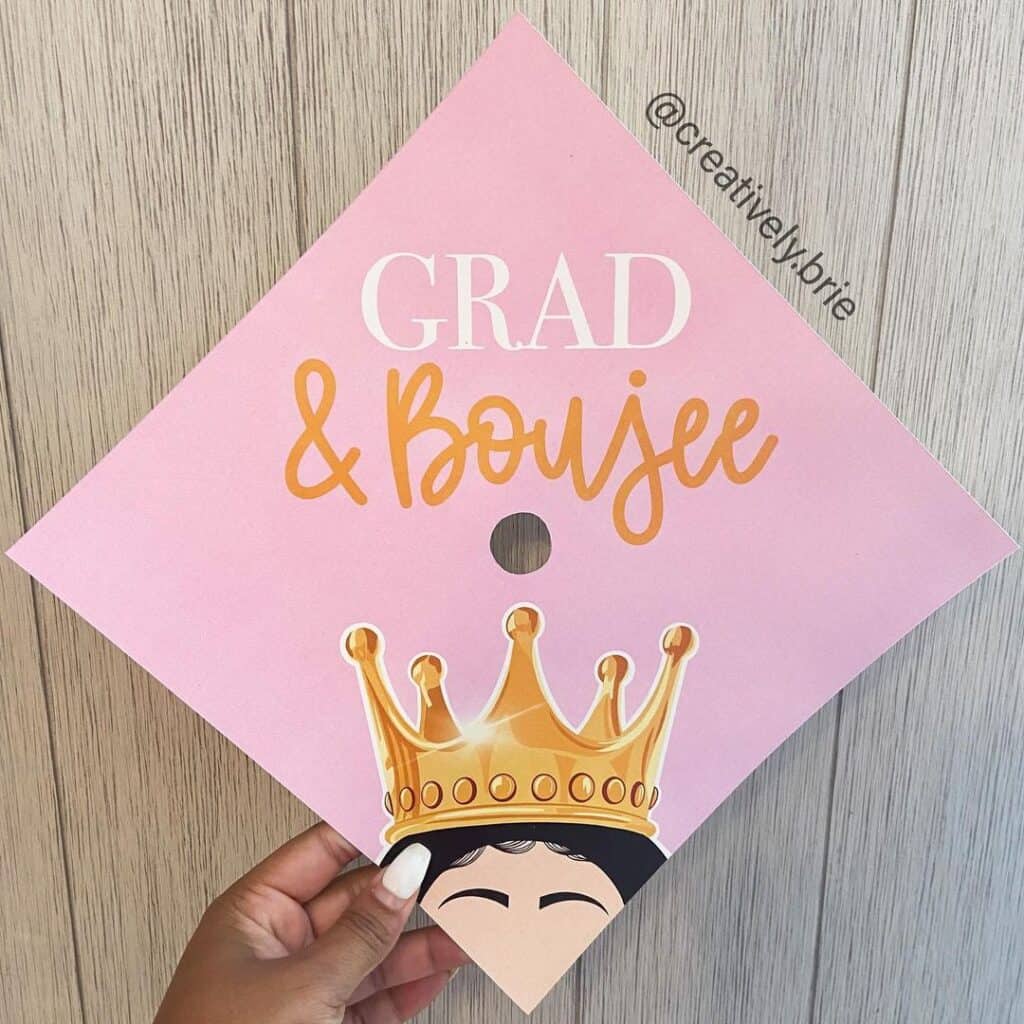 This graduation cap design is very simple yet attractive in a way. We all love the mixture of white and pink, don't we? It literally goes well with the quote "Grad and Boujee", luxurious yet humble.
I believe it's the kind of mix we all like.
51.Impact the World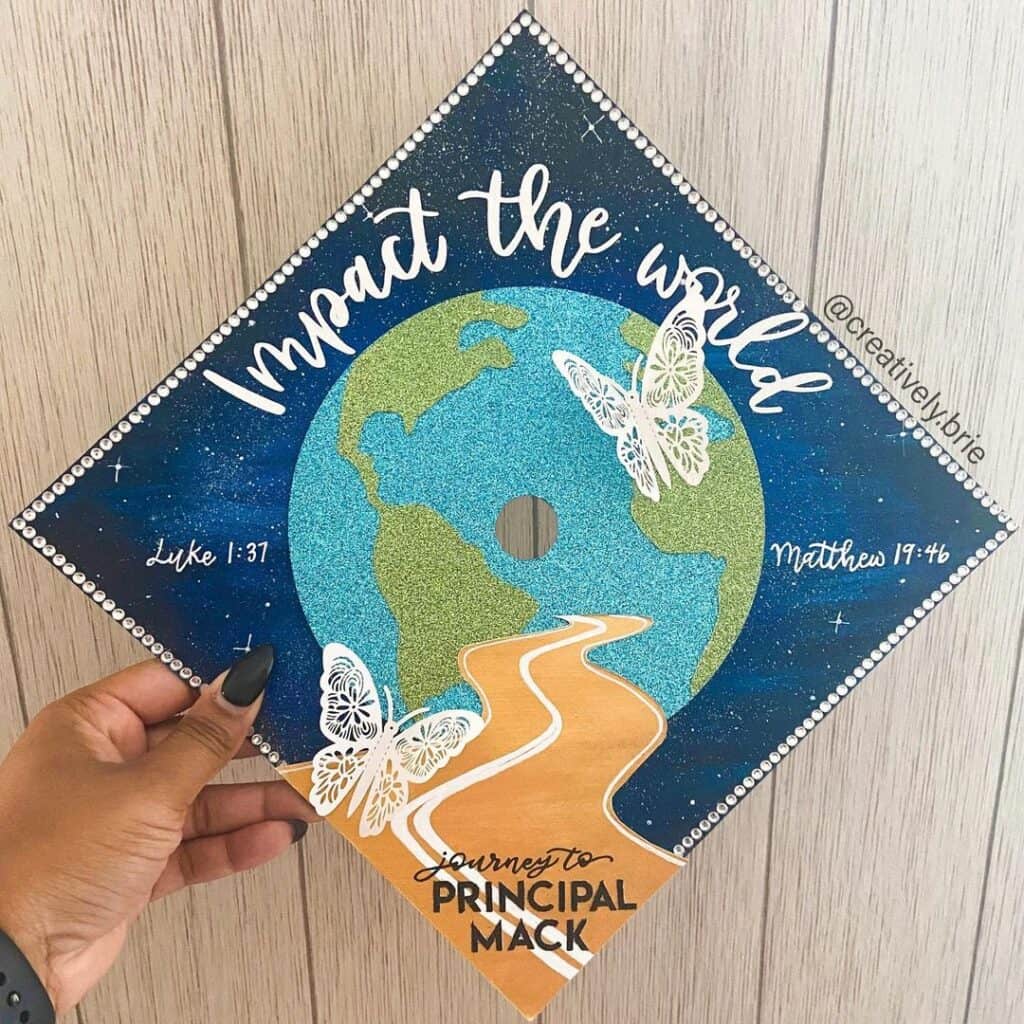 Isn't graduation a great opportunity to not just explore the world, but to impact it? Well, this graduation cap says it all for the young adventurers out there.
This cap design is just incredible, and the little butterfly stepping on the road that is penetrating the globe is You, young lady. So, if I were you, I wouldn't hesitate to get this graduation cap design for my graduation day.
52.Traded my Crown for Another Cap and Gown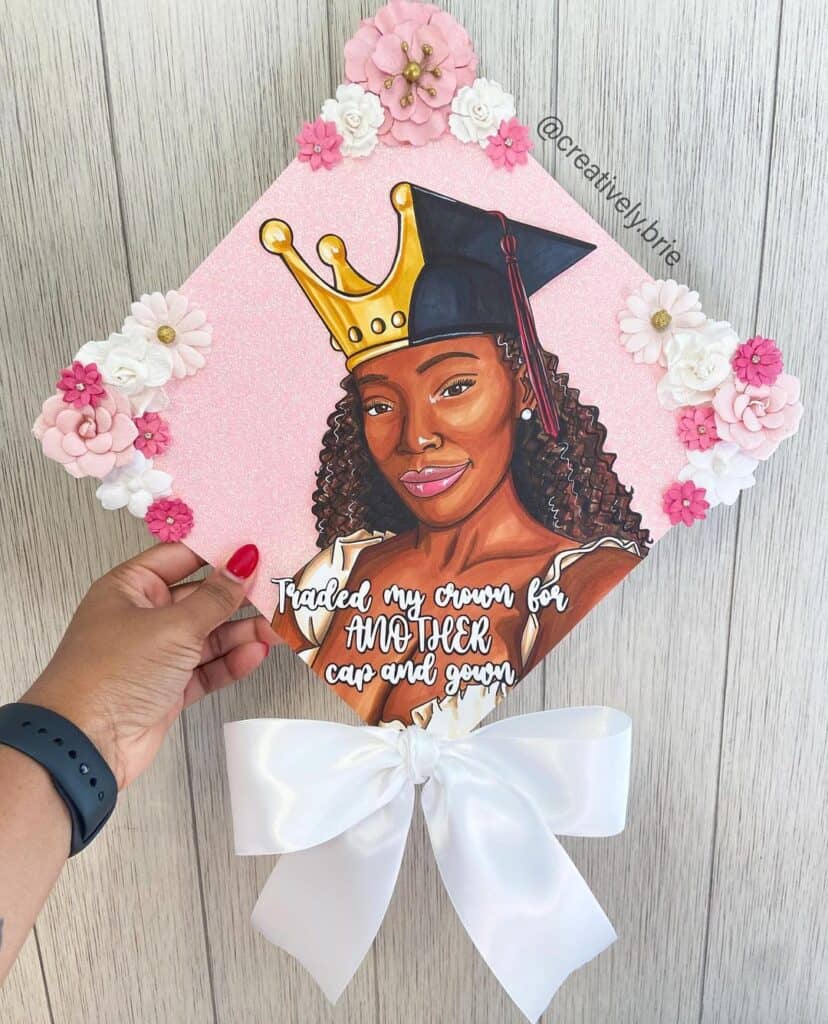 Another graduation cap idea for you queen. I love the fact that this cap design is unique and special. I always say small details make the whole look.
This graduation cap idea is really feminine. I love how it's surrounded by flowers, the little bowtie, and the pink color that is an absolute feminine touch.
What I love about this one is the fact that the quote matches pretty much the picture on it. Also, you even can print your own picture and add a personal touch like the crown/cap, feel free to play with the colors to make it look more like you. Otherwise, this graduation cap design is just perfect and can be customized the way you want it to be.
53.Everything Seems Impossible Until it's Done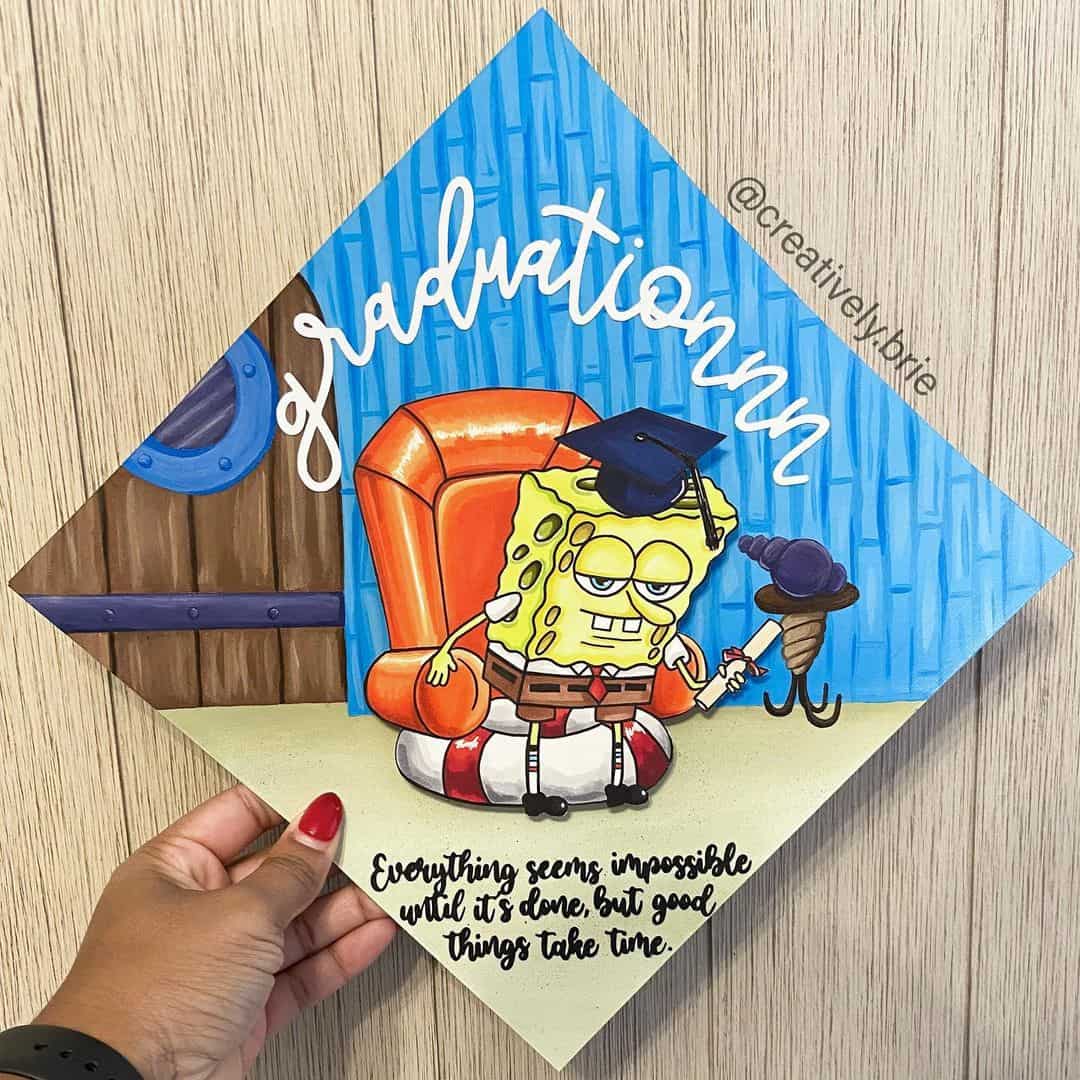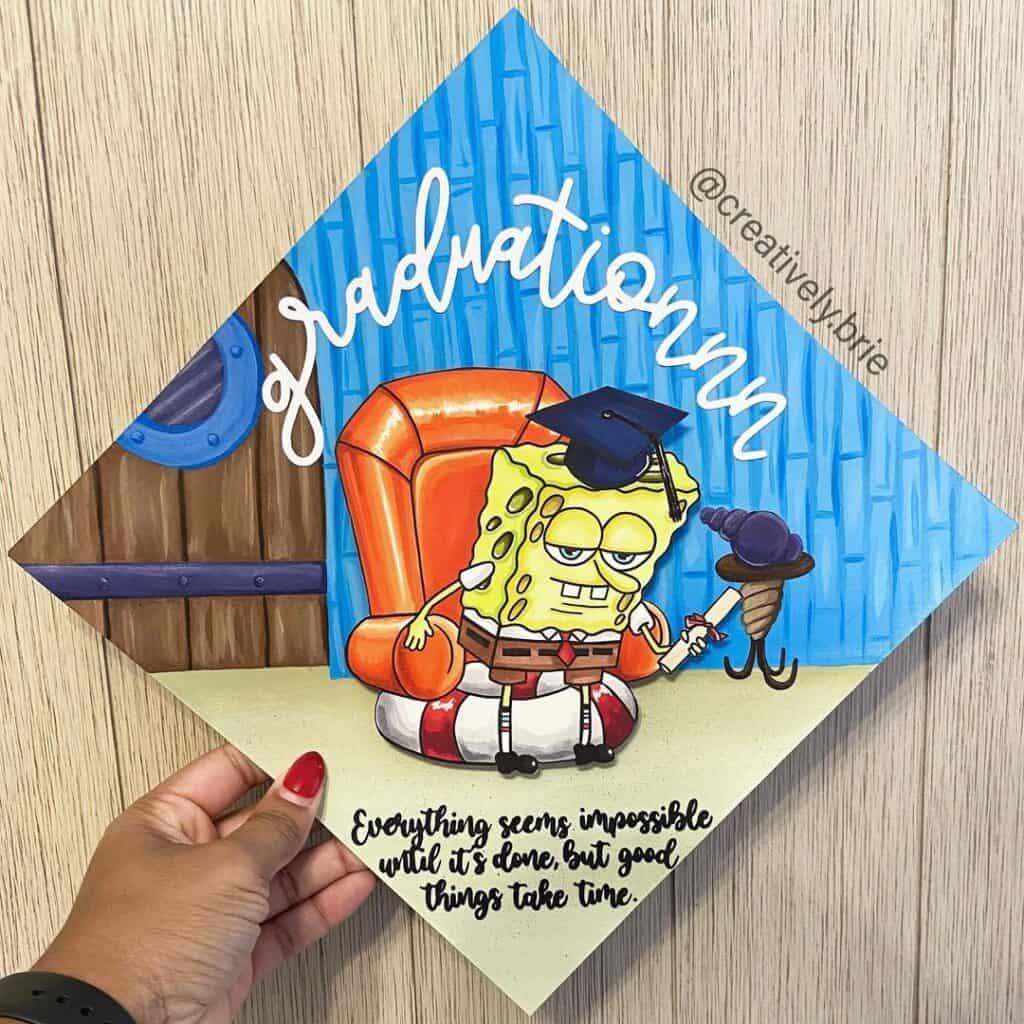 And Back to Sponge Bob to add a little bit of humor to your graduation cap.
Can you notice that most graduates are really obsessed with SpongeBob-inspired graduation cap ideas?
Well, you can't blame them though, we all love it and we're still obsessed with it.
Also, I love what the quote says on this one, and let me say that I do agree! We always think that it's impossible to achieve certain things in life until they finally happen just like this is graduation. It's just one of these things that we think we'll never reach until we do.
54.Be Fearless in the Pursuit of What Sets Your Soul on Fire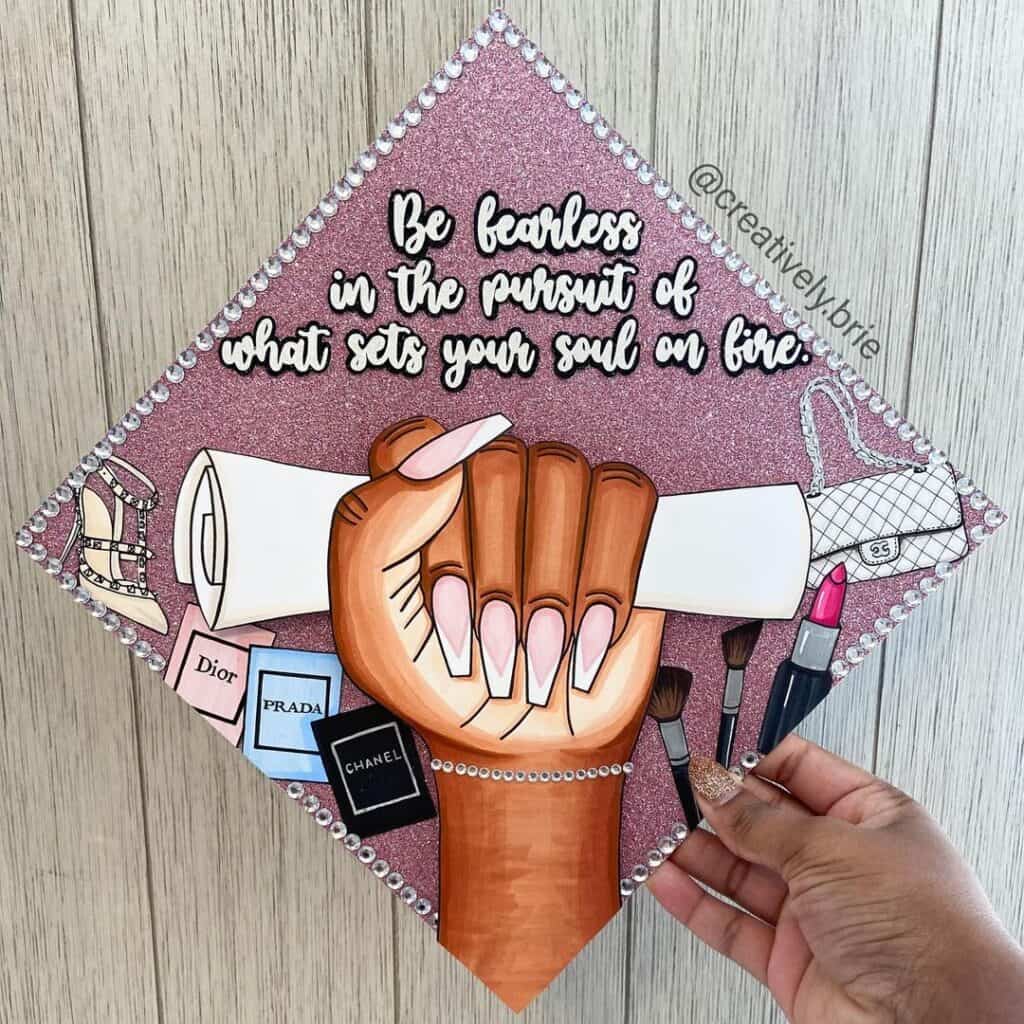 This graduation cap here is artistry made and as you look at its design, and the quote on the top of it you discover that it doesn't only tell others that you've made it, it encourages them to keep going and perusing their passion.
This graduation cap design is definitely for Art graduates who are into everything creative and unique.
55.Even the Smallest Person Can Make a Big Difference
If you want to appreciate the one who has been supporting you through your journey, there is no better way to show this than this graduation cap idea.
For sure the smallest person is the one who makes a difference, let them all know! I believe that there are people who always looked down on you, now it's time to show them that you made a difference when you graduated. To be fair, the design and the colors on this cap design is dreamy and feminine.
56.Graduate Class of 2022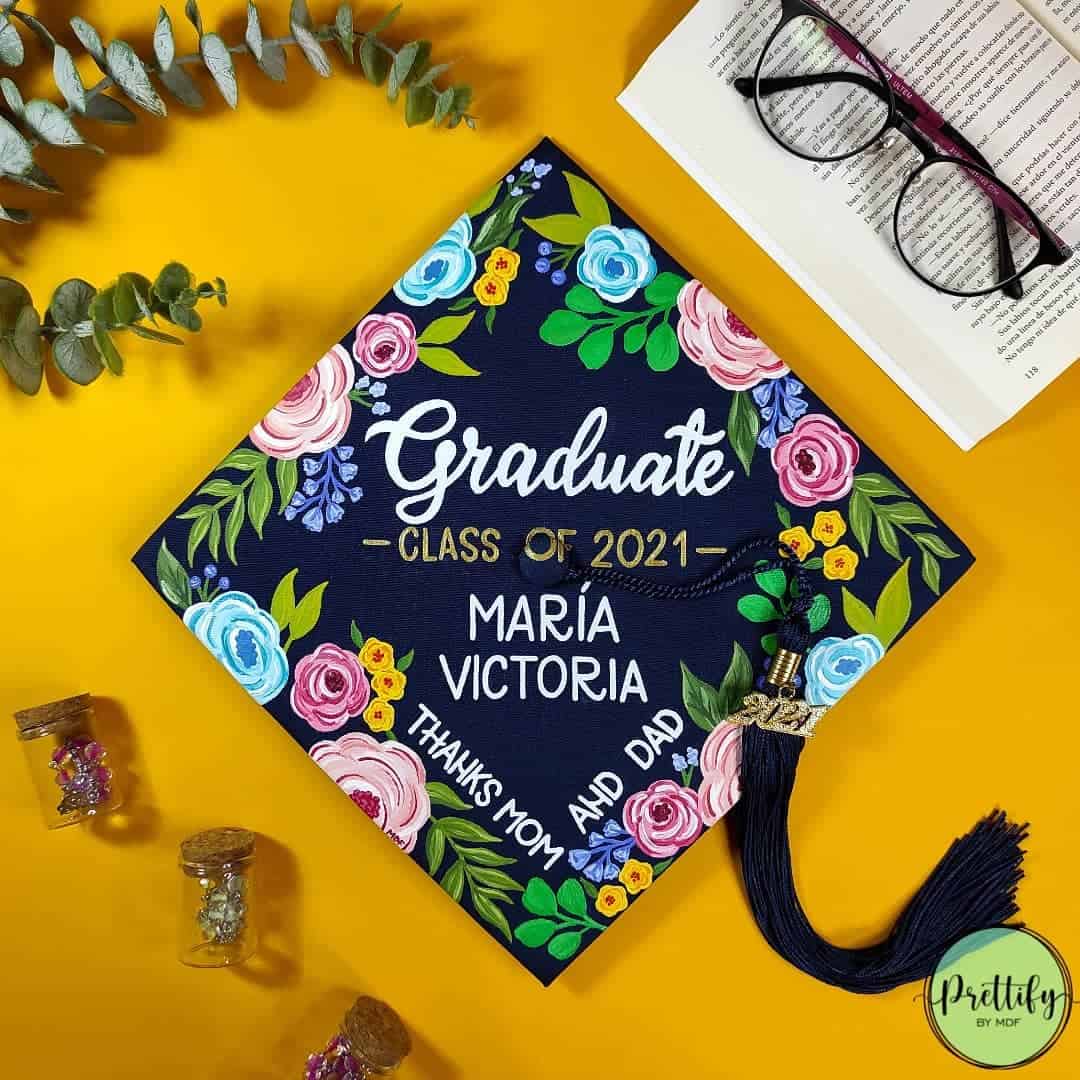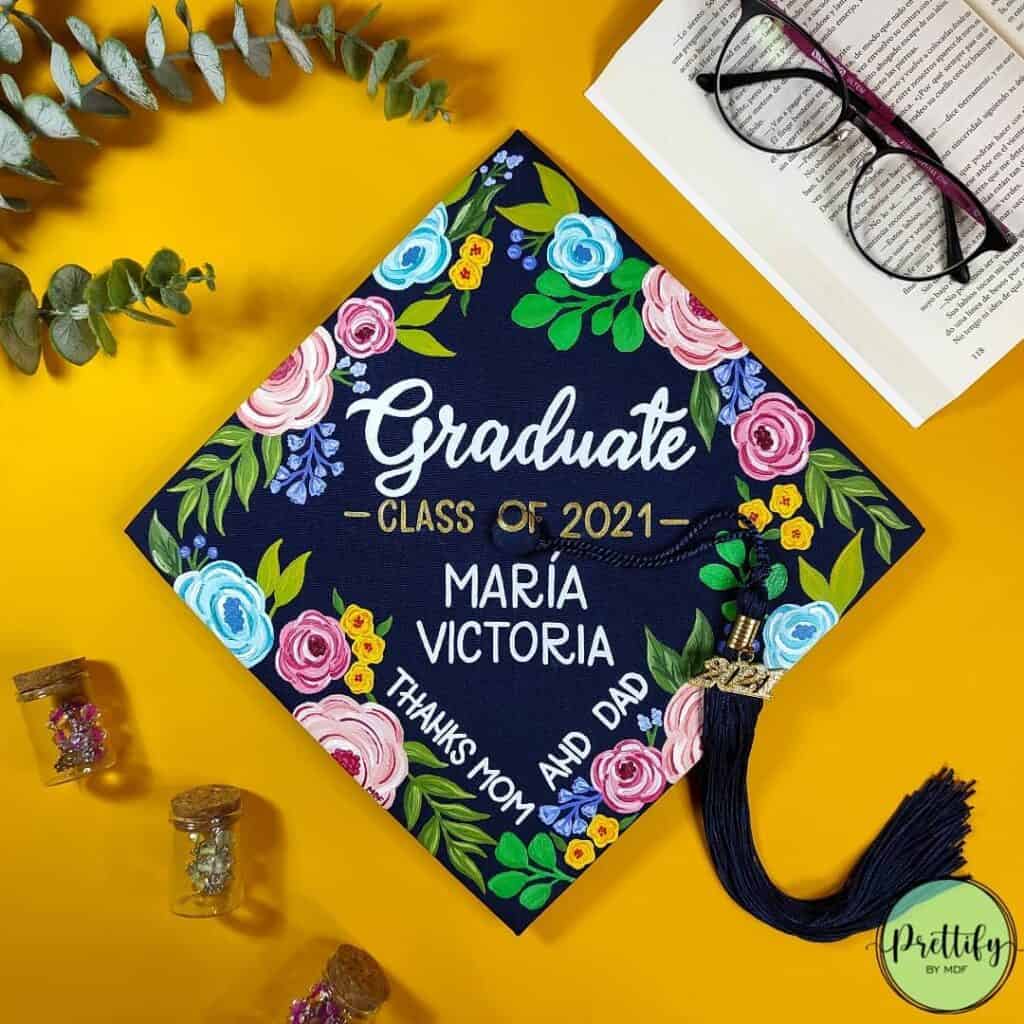 This is one of the most common graduation caps out there, it shows your belonging to the 2022 class. Also, it's one of the easiest graduate cap designs to recreate.
Graduate class of 2022 with a word of gratitude for mom and dad for their contributions throughout the years.
57.The Mitochondria isn't Only Powerhouse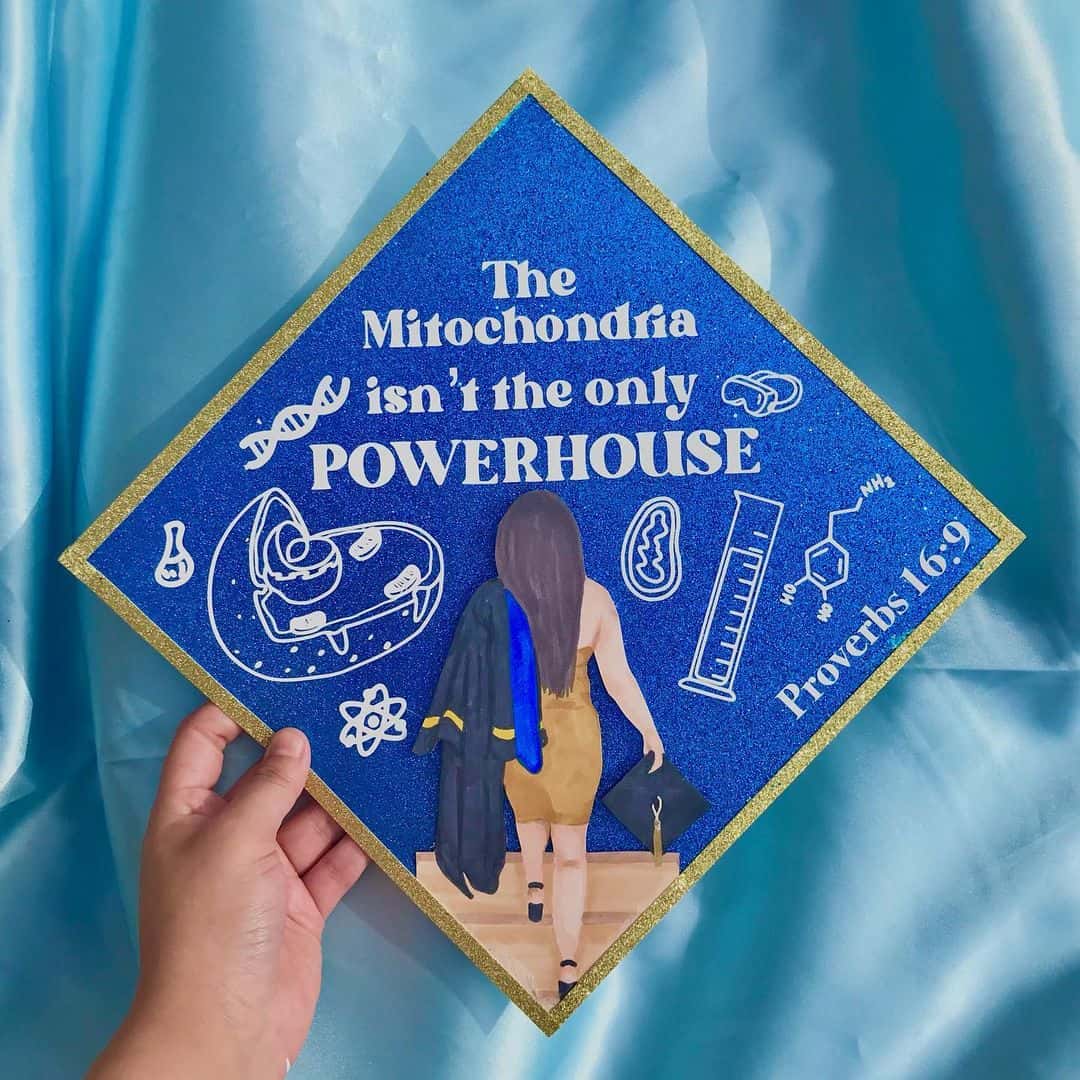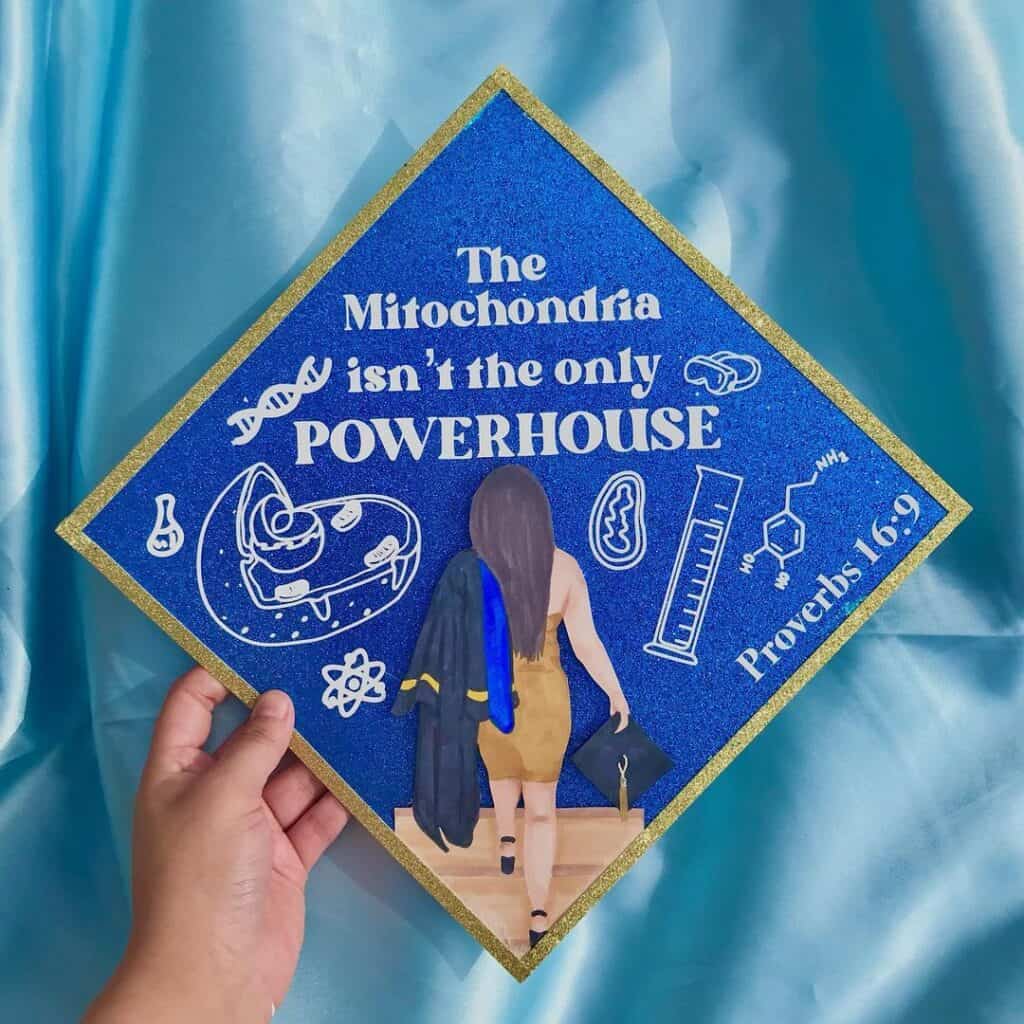 If you are a science major then this graduation cap is for you.
I'm a literature major; so I had to Google it to understand LOL.
I'm sure people of other majors invited to the party will wonder what that means, and a lot of them will ask you questions. The design of this graduation cap is so cute and a good choice for you.
58.The World is Yours
Dear, let me double confirm this for you, but the world is yours now.
You can just leave all the anxiety, stress, depression, fear, and loneliness behind and celebrate the moment. This graduation cap is for those who want everyone to indirectly know how much you endured to reach this so you can finally enjoy the pleasure of winning.
59.Success is Timeless
By the time I graduated, I felt like the years I spent in college was long and challenging. However, success is timeless. This is one of the most relatable graduation cap ideas for college students.
I have succeeded all those years and still succeeding now.
Also, success is made from your small achievements.
Let me tell you now that the clock on this graduation cap is more than just a brilliant idea. I love it as it says one thousand words in a design.
60.Graduation Cap Idea for Future Teachers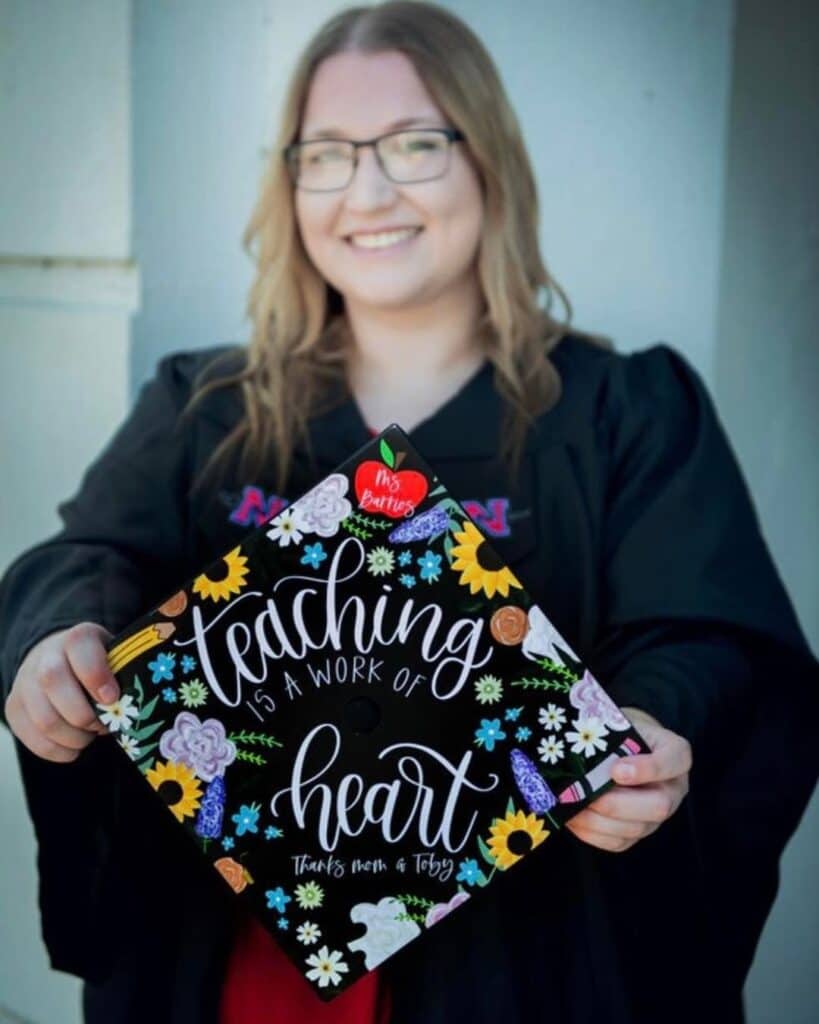 If you're looking for the best graduation cap ideas as future teacher graduation, you absolutely have to go for this one.
I really love this quote of teaching is a work of heart which is absolutely true.
There is no better thing in the world than having a job that you really love and enjoy doing.
Trust me, but this cap idea is so suitable for you future teacher.
61.It Was Ruff But I Did It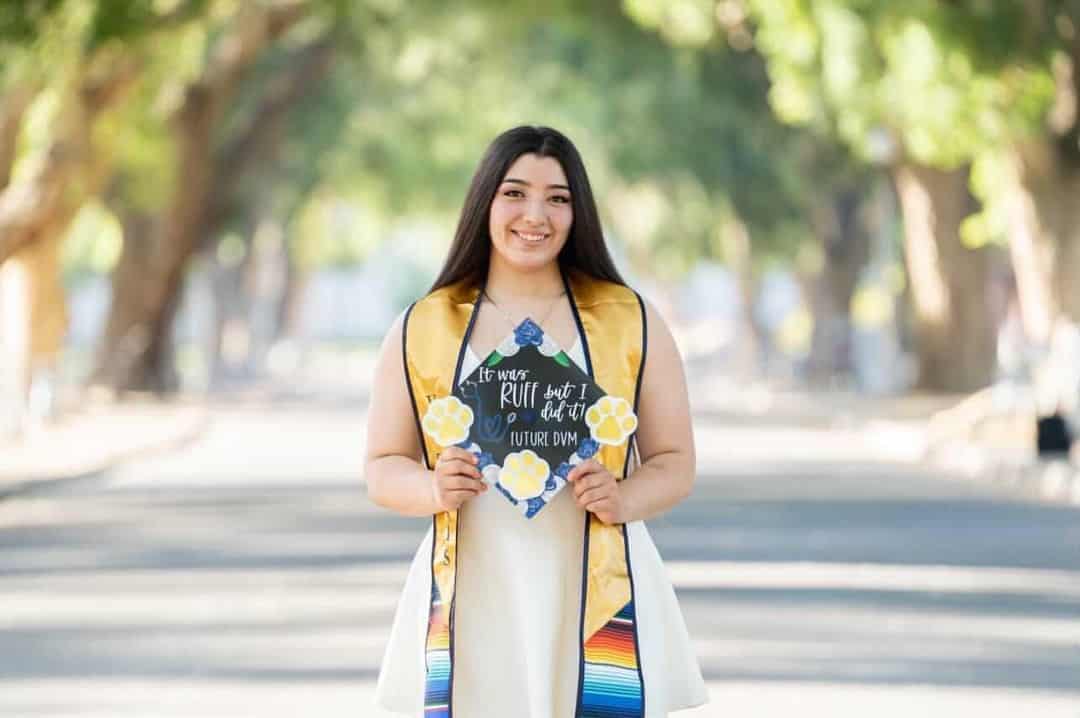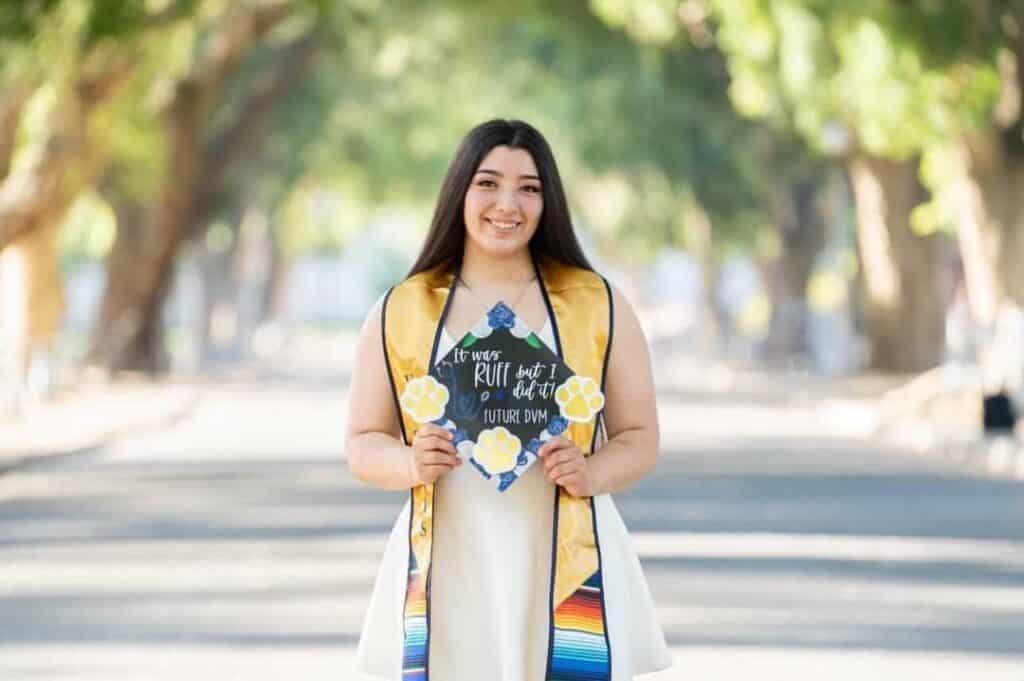 Whether you're a high school or college graduate, I know how hard it is to finally finish studying and feel relieved.
No matter how hard you felt about it, you should be proud you did it.
This graduation cap says it all. It's one of the best graduation cap ideas that graduates love. I bet that you want to hold it in your hands, pose gracefully, and show it to everyone who has been there as either a supporter or an adversary.
62.Kindergarten 20 to 21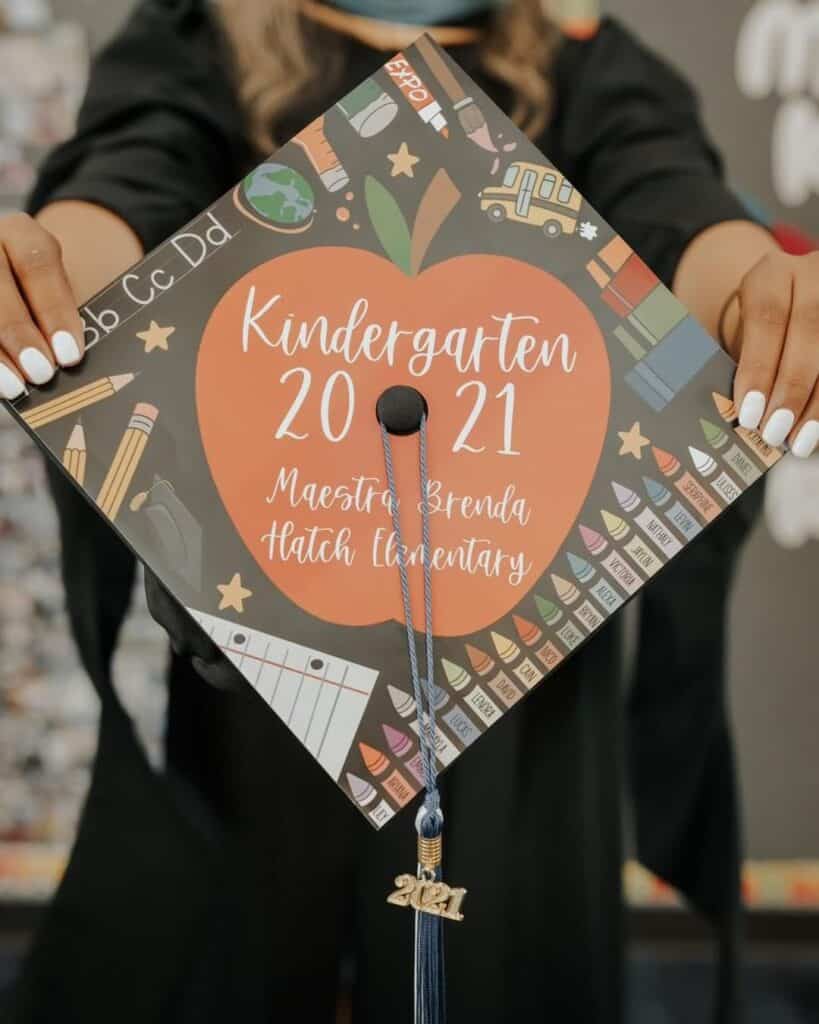 This graduation cap design says a lot. From kindergarten to college. It's really a long journey and now it's your most proud moment that you're finally achieving your dream and becoming the future teacher of your dreams. I really find this graduation cap idea suitable for future graduate teachers who love teaching as a hobby and not only as a job.
Not only this, this graduate cap design can hold a lot of meaning and memories you have from your kindergarten to college that you really want to share with these two words.
63.The Best Way to Find Yourself is to Lose Yourself
This is one of the best graduation cap ideas graduates go for all the time.
If you're someone who believes in this quote and sees college as a journey in which you've lost yourself to finally find it just before graduation or even during, then you can't go wrong with this one.
I mean college is hard and I do agree that to a certain extent it makes you forget who you are. However, in the end, it's just the beginning of new knowledge and new adventure.
64.I Just Raised my Price
Oh yes! Now I'm some expensive brand that only a few people can afford LOL.
One of the trendiest graduation cap ideas for this year. I find this graduation cap quote funny and true at the same time. When I graduated, I felt like my price is higher in the market now, my diploma meant a lot. it's literally more than just a piece of paper that defines me, it's years of hard work that paid off in the end. Honestly speaking, it's my pride.
I mean you want people to know that you're a college graduate now, and believe me it's a huge thing.
This Post is all About 64 Insanely Cute Graduation Cap Ideas You'll Want to Steal Immediately for your Graduation Day
You'll also love
54 Epic Graduation Party Ideas to Make the Best Grad Party of the Year
48 Best High School Graduation Party Ideas you Can Ever Find
29 Easy Graduation Cap Ideas To Add Some Serious Eye Candy To Your Graduation Day Look
Don't forget to pin it!