This post may contain affiliate links, which means I'll receive a commission if you purchase through my link, at no extra cost to you. Please read full disclosure here
This post is about the best college graduation gifts for girls you can ever find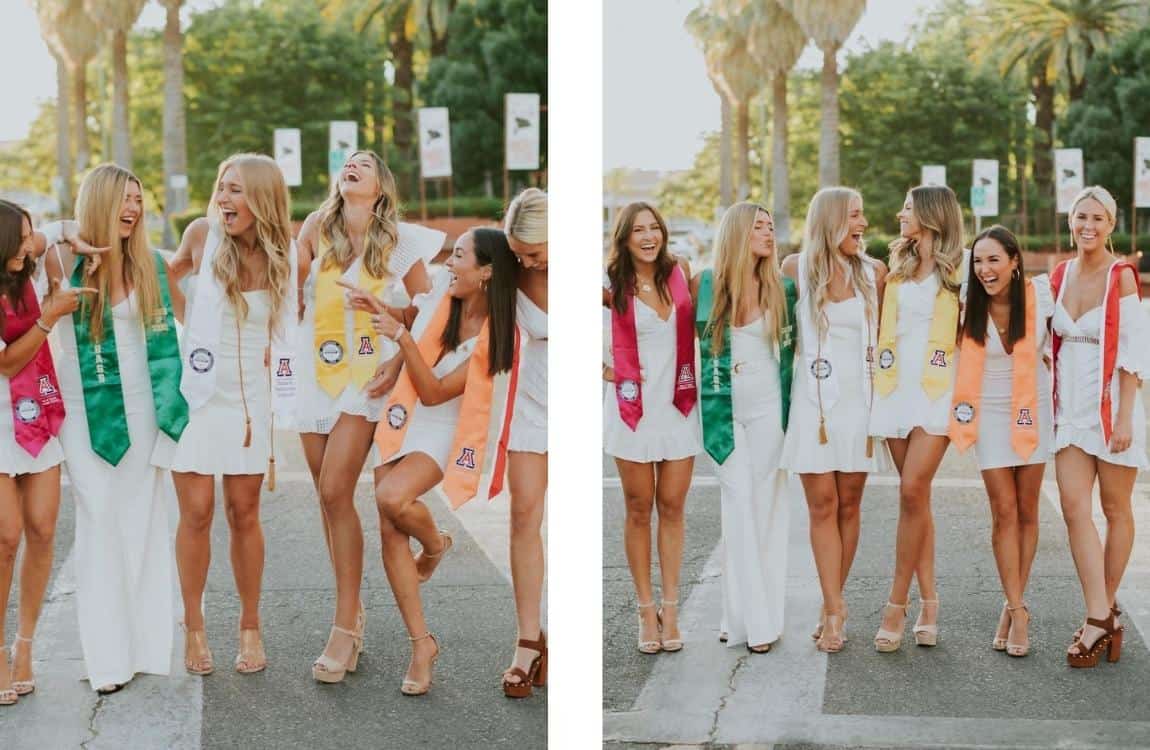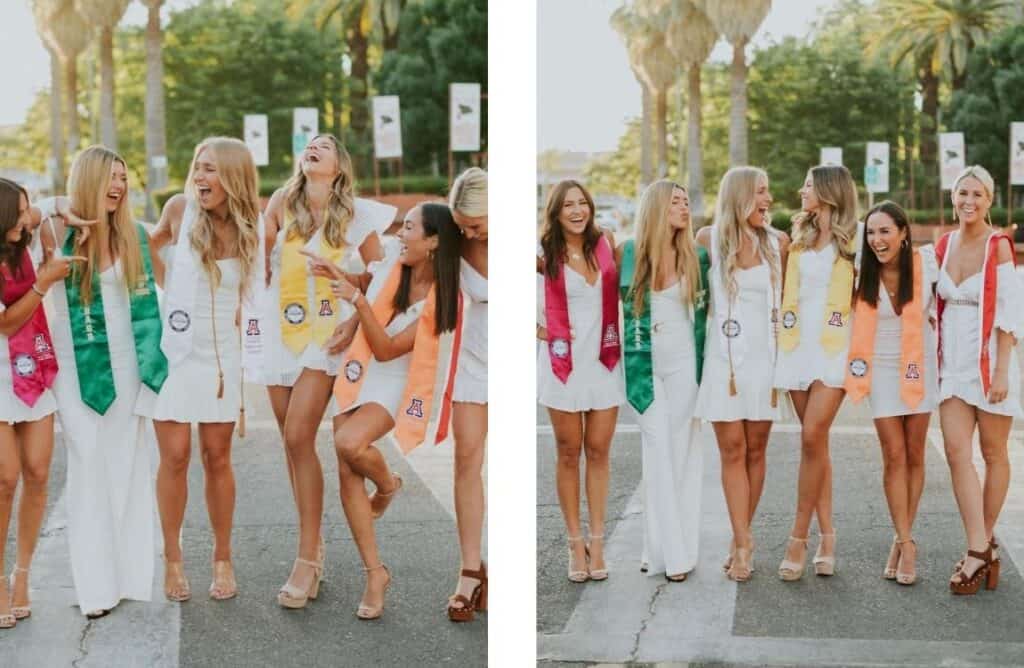 Have you started looking for the best college graduation gift ideas for your graduate, friend, or your daughter? As a recent college graduate, I've been obsessed with a lot of graduation gifts that I personally wanted to get for so long, and what my fellow graduate friends got and really love. These gifts are going to be so helpful for your grad's next life chapter.
Besides, I know how hard it is to look for the perfect college graduation gift ideas all over the internet and hope your graduate will love and use them.
Basically, we've made sure to get the best college graduation gifts for college and high school graduates that they actually want to get themselves.
You absolutely don't have to brainstorm any anymore because we got your back.
College Graduation Gifts For Girls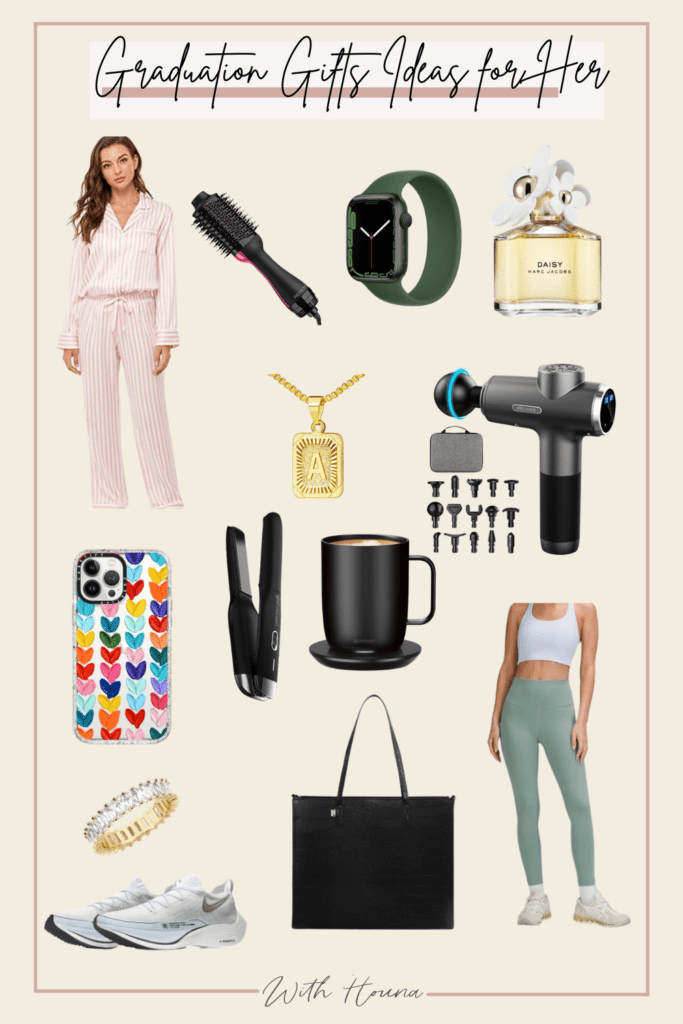 1.Working Tote
This classy tote on-the-go bag is exactly what a college-girl graduate needs as a gift. I mean it saves the trouble of carrying all the stuff she needs to work.
I love the fact that it's stylish, and she can use it as an everyday bag, at weekends, and even as a carry-on when she travels.
This working tote is the best investment ever. I've been wanting to get it for so long as it can hold a lot of stuff. Your 16″ Macbook isn't the only thing that can fit on it.
I believe it is both practical and chic for different occasions.
2.Gift Cards
I believe gift cards to be one of the common college graduation gifts for girls.
They are perfect for college girls especially since they are graduating college, they need these gift cards to shop for their first apartment.
I'm sure your college graduate girl will be thrilled to have one of these to get the things she wants to buy before moving out of college.
The best gift cards for college graduated-to-be girls:
3.Planner
Who doesn't love planners? It's the perfect college graduation gift for girls.
A lot of us get overwhelmed with work, life, and so many things to do after graduation. This planner will help you save time for your graduate girl. It makes your life 10X easier by planning daily tasks and having a schedule.
What I love about the day designer planner is having different sections where you can plan for three months goals or even a year which I really find wonderful.
Also, it's so perfect especially for someone who plans on getting her life together after college and being more productive at work.
4.Lululemons Train Leggings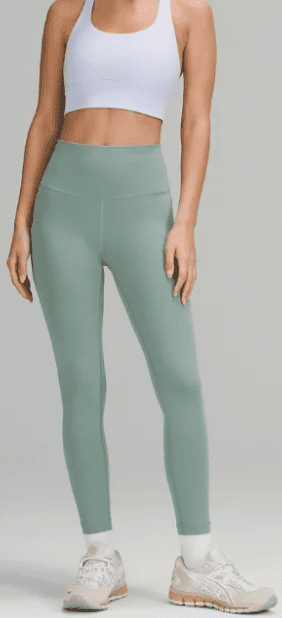 This graduation gift is one of the most wanted gifts among college girls.
These leggings are so perfect for everyday workouts, evening walks, or even on a hike at the weekend.
Either way, I believe those sweat-proof leggings to be a great graduation gift for her.
They are so comfy, give a great silhouette to the body, and they're available in all sizes and colors.
I bet you know someone who would love to have these? Well, if you do, don't hesitate to gift them.
5.Nike Shoes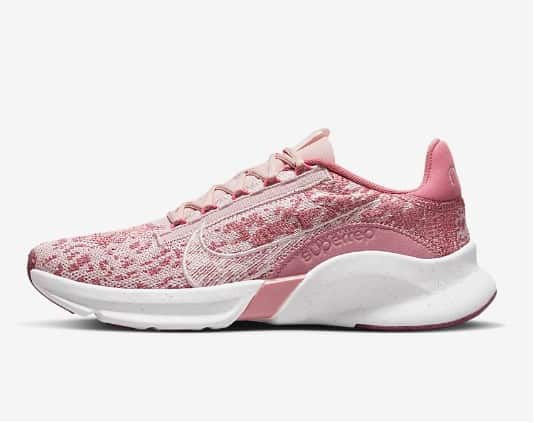 Who would think of gifting Nike shoes? I know! These shoes are the most common graduation gifts for girls you can ever get for your college girl this year.
They're suitable for running or even doing other activities. I'm in love with the shape, and I bet that they'll look good on your college graduate girl. Also, why not style these Nike shoes with the Lululemons train leggings? That way she would have a perfect workout outfit for the gym to release the stress after or before heading to work.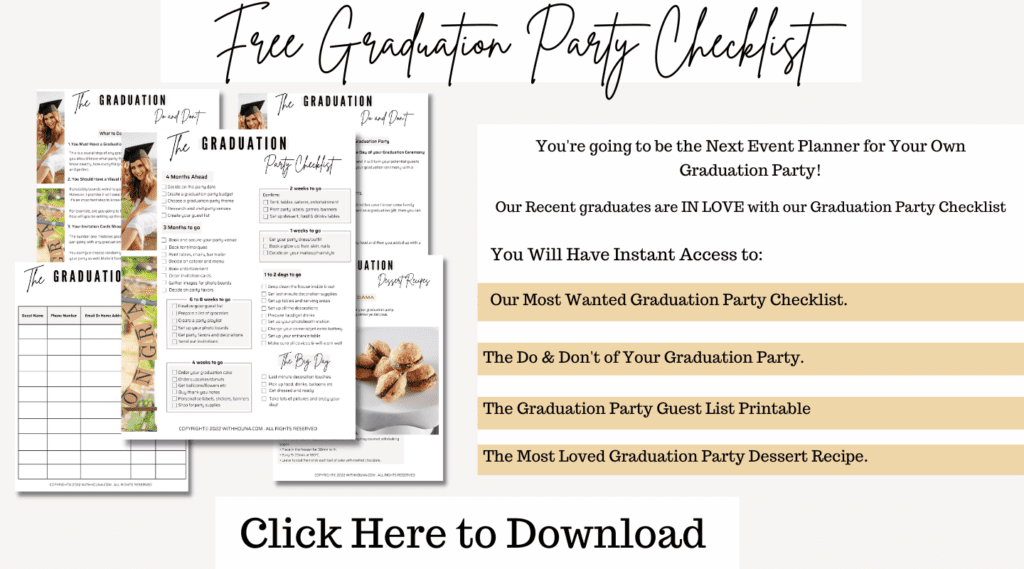 6.Luggage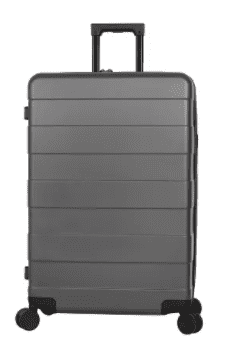 This luggage is a perfect graduation gift for college girls who are into traveling and moving out to their first apartment.
I love the fact that this luggage is durable and carries all the necessary stuff one needs when on the road.
So, if you know a college girl who's about to graduate and has an appetite for discovering new places, fashionable, love to take photos at the airport, and wants a bag that is both practical and chic, then the way travel suitcase would be a good choice and a great graduation gift for girls.
7. Money
If you're confused about what to get as a graduation gift for your college girl, then giving her money is your way to go.
Money can be a great graduation gift for girls, especially those who are moving to their first apartment after college and have endless stuff to get.
I find it very considerate of some people especially the closest ones to gift money. Moving out of college can be hard and money is needed all the time, so it helps settle some things down and add to the budget one already has.
The idea of gifting money doesn't take too much thought but it's thoughtful, considerate, and very solicitous.
8.Nespresso Coffee Machine
A Nespresso coffee machine is the perfect graduation gift for coffee addicts like me.
Also, this is one of the necessities that any college graduate girl must have in her first apartment, and gifting her one saves both time and effort as I promise it's on their apartment checklist.
This Nespresso Vertuo Coffee machine does all the work, it's awesome, it makes the best coffee and it's simple to use. I promise you can make the best Starbucks drinks with it and you'll be surprised how good it is.
Honestly, it's the best college graduation gift for girls.
Related: 48 Best High School Graduation Party IdeasYou Can Ever Find
9. Instax Camera
I keep talking about Instax cameras as a gift idea for college girls because honestly, I haven't met one person who didn't have it on their wishlist.
I'm sure that every girl in college has managed to record her memories somehow, and put those pictures on her dorm room desk or wall. Well, moving out of college feels the same, you want to have some memories recorded and posted in front of you daily, decorate your desk with them in your new apartment.
This Instax camera is easy to use and I love the fact it's really cheap on Amazon compared to other places.
Honestly, you can't go wrong with this college graduation gift for girls.
10. Initial Necklace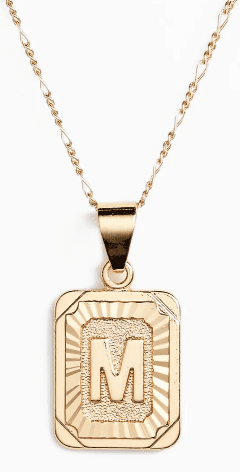 This initial necklace from Nordstorm went viral on all social platforms. I had to get it and OMG, it's really amazing and makes the most unique college graduation gift idea for girls who love jewelry.
Jewelry adds a certain charm to every woman who wears it, it's simply elegant and more feminine than silver.
If you want to give a unique graduation gift to your college graduate girl? I think this initial necklace is 100% worth it.
the price is unbelievable for such a high-quality necklace and I promise the gold color won't run off as it lasts for a long time.
The cool thing is that she can wear it daily with whatever she wants. It Does elevate the look whether she's rocking a casual turtle sweater or a business blazer.
11. Olaplex Hair Set
This Olaplex hair set is definitely a unique graduation gift for girls. I honestly can't say enough about this hair set and why it makes the best graduation gift for girls.
Basically, getting your college graduate girl this hair set to repair her damaged hair after years or months of stressing over her thesis and studying for her exam is Super considerate and thoughtful!
This Olaplex hair set leaves the hair soft, it repairs the damage and strengthens it. To be honest, who doesn't need a hair treatment after all the stress and sleepless nights one went through while in college?
12. GHD Flat Iron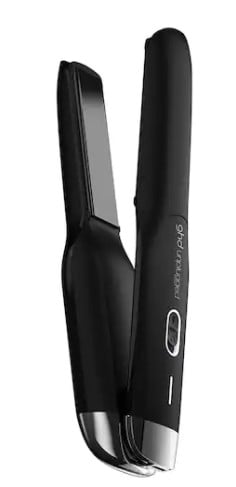 Another life-changer is this GHD straightener which went viral all over the internet and among girls. It's one of the most wanted college graduation gifts for girls lately.
I'm pretty sure your graduate girl will be grateful to have it while moving into her new apartment? There are days when she'll be in a hurry to get to work fast, but she still wants to look great and this flat iron is going to be her best friend. Also, the fact it's cordless, and she can take it with her everywhere is just amazing. It's the perfect graduation gift she will remember you for.
13. Slippers
I'm in love with those super cute comfy slippers from Amazon.
You may think that gifting slippers is a silly idea, but trust me, it is the perfect graduation gift for girls. They are needed all the time and everywhere, especially those mornings when your college graduate girl is super lazy to wear her shoes to the grocery store, your gift will be there for her, right?
These are durable, their sole is thick and they're light weighted. It's cool to walk in them in the apartment or just wear them while relaxing on the sofa and watching Netflix.
14. Baguette Ring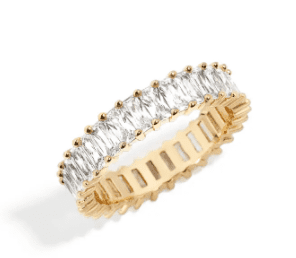 This beautiful golden ring from Nordstrom is a great graduation gift for college girls.
if your recent college graduate girl is into jewelry and loves to style herself? I recommend that you get this baguette ring for her. The pearls are a very important detail that gives the ring a shiny fancy look.
What I love is the very reasonable price and the fact it goes perfectly with the initial necklace. If you're considering getting this ring, two beautiful shiny little things are better than just one, don't you think so?
Related: 54 Epic Graduation Party Ideas for the Best Grad Party Ideas
15. Apple Watch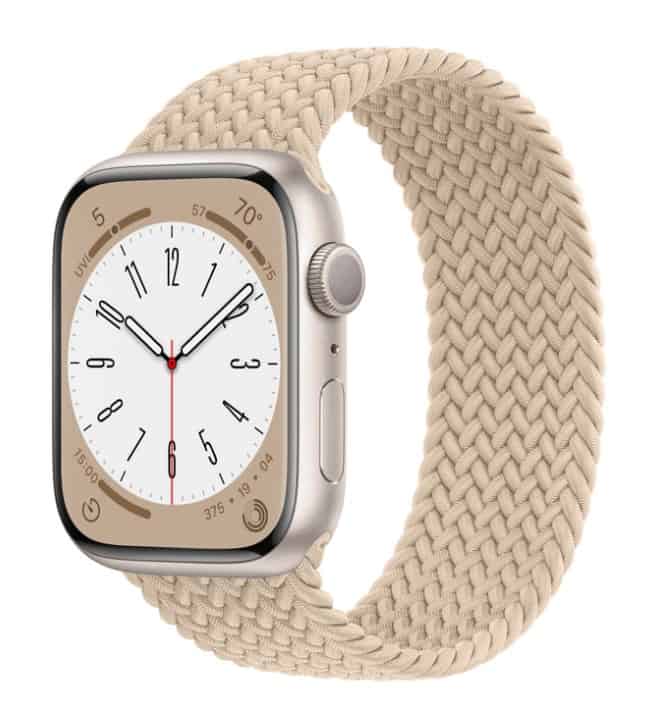 I think an Apple watch is more than just a flex, it's also handy and stylish. If you're college graduate girl is into fitness, which is something I bet a lot of youth are into, then this is a great graduation gift for her.
This beautiful watch comes with a three-month fitness, it's easy to use and literally smart more than me lol.
I find it a great graduation gift because I haven't met a single person who doesn't have it on their wishlist.
16. Air Fryer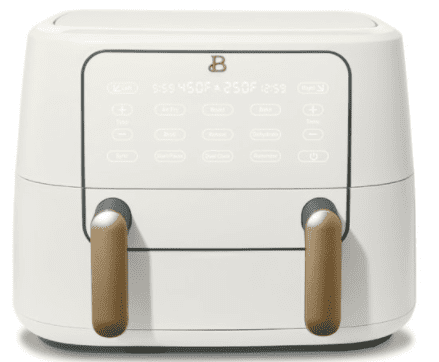 What's better than a first apartment essentials graduation gift? Moving to an apartment can be so overwhelming with all the expenses you recent graduates have to deal with.
and you know what's more frustrating? Yes, your guess is right! We all know how appliances can be expensive and an air fryer is a first apartment essential.
This beautiful Trizone air fryer is a great graduation gift for college girls. It's a time saver and you can cook your meals in less than 30 mins, especially after going back home tired from work.
it cooks two different foods at once for those who like to have a diverse meal, and it broils, roasts, bakes, reheats, and dehydrates. Your college graduate will be so grateful to have it in her kitchen. I believe you have made the right choice on this one and I recommend you go for it. After all, it isn't just a thoughtful considerate gift, it's a life-changer for someone who just graduated from college and moved to her first apartment.
17. AirPods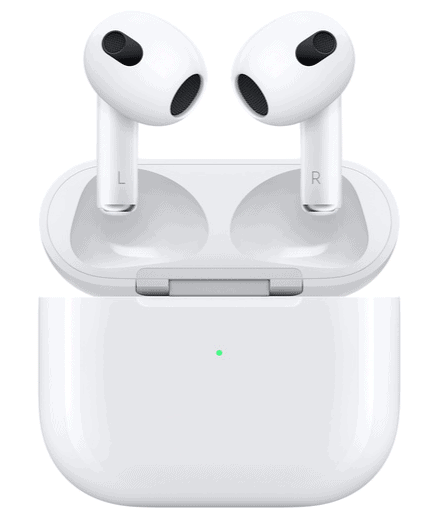 AirPods are one of the most wanted college graduation gifts for girls. It seems common for some people to gift AirPods on different occasions and it's totally worth it.
They are super easy to use whether for receiving calls, listening to music to calm down, on the way to work, when running or jogging, or when watching Netflix.
These 3rd generation AirPods will make her life much more easier either at work, when relaxing in her apartment or when grabbing a coffee from Starbucks. Your college graduate will always remember you for this thoughtful gift.
18. Gold Watch
This Invicta gold watch for women is a great graduation gift.
I love the fact that it looks so expensive, well made, and fancy. A lot of women love to style watches as a casual accessory either for work, school or for a night out.
This gold watch gives a certain glamor to any outfit you'll be wearing.
Your college graduate girl will be happy to receive it for accessories are always welcomed.
19. Instant Pot
I've been asking college graduates about their Wishlist of graduation gifts and kitchen appliances are by far the most wanted ones.
This instant pot is a perfect graduation gift that all graduate girls want to have. It will save your college graduate girl from canned food, I'm sure she won't get tired of cooking after getting this one as you can make any meal in minutes.
What I love about this instant pot is the time it saves for making healthier meals, and the perfect thing to make weekly meals in no time.
20. Bissel Cleaner
Cleaning can be a tiring thing to do that's why Bissel cleaner is going to be your best friend and lifesaver.
If you're looking for the best graduation gift for your girl that is practical and will be using it every single day, you can't go wrong with this Bissel cleaner. It's the best alternative to the Dyson one.?
Honestly, I swear by this one. I asked my mom to get it for me when I graduated and my life changed completely. I can even say I enjoy cleaning lol.
It can be a great first apartment gift for your girl.
kitchen supplies or first apartment essentials are some of the great graduation gifts for girls and they're always welcomed with a big smile.
21. Blanket
Getting your graduate college girl a throw blanket is one of the common graduation gifts for her.
This beautiful, soft, and warm throw blanket is suitable for nights or even days when she just wants to curl up while reading a book, drinking tea, or watching her favorite series. It's 100% polyester and it comes in different colors so you can choose whichever goes with her bed, apartment, or even her favorite color. I'm sure she'll like it.
22. From Our Place Pan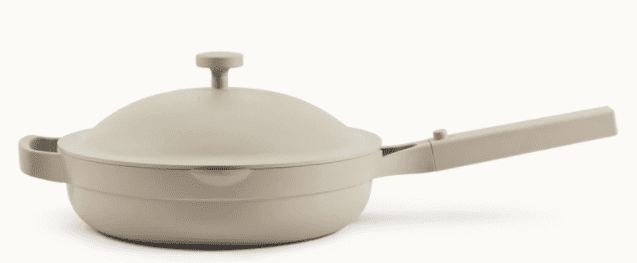 Another kitchen supply that I believe is an absolute must in a new apartment is our place pan.
This pan has been viral for so long and till now people are getting it for it.
I really love the non-stick material which makes it easy to clean and you guessed right: IT IS A BESTSELLER.
Everyone seems into it, and your college graduate girl will love it. A lot of people like to gift what's needed and appreciated so don't hesitate to go for a kitchen supply for someone who's moved into a new apartment after graduation.
23. Candles
Candles are the cheapest and great college graduation gifts for girls. We all love candles because who doesn't love a good-smelling house?
Also, they actually relieve stress, the smell helps me to calm down and just relax. I think your college graduate girl wants to go back home after work to a cozy, comfy house with a wonderful smell.
If you're looking for something charming and affordable, you have landed one. This Jo Malone beautiful candle does the job and more, I'm sure it will be a decorative piece and change the bedroom's energy to a super calm place where one can forget about everything bad.
24. Revlon Hair Brush
I'm sure that you have heard about it a lot and I've been recommending this Revlon brush more than 6 times so far. This is mostly because I really love it and it saved my time.
This Revlon hair brush is easy to use, practical, and another life-changer that any college graduate girl needs.
Not only this, it gives the best blowouts ever and you can style your hair in less than an hour.
25. Tarte Eyeshadow Pallet
There is no better than makeup when it comes to brainstorming the best college graduation gifts for girls.
This Tarte eyeshadow palette is a favorite because it's nude, the shades are amazing and you can use it on an everyday basis.
26. Cheese Handle Board
This beautiful marble wooden cut board is what your college graduate girl needs in her kitchen. It's not only useful for cutting cheese or Mango, it can also be used as a tabletop serving piece, and a decorative object that adds a natural look to the kitchen. If you know what decoration pieces your girl is going for after moving into her new apartment (or even if you don't know) consider gifting her this, I believe it's beautiful whatever the decor is.
27. Phone Case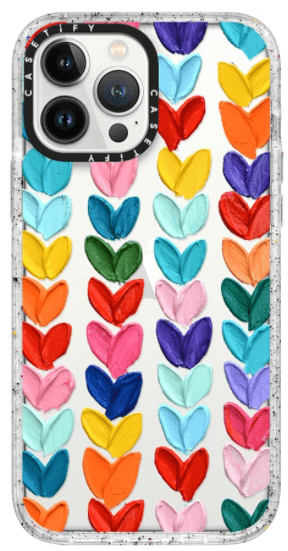 A phone case is a great college graduation gift for girls under 50$. Casetify has the best phone cases ever. You absolutely won't get wrong with choosing this as a graduation gift for her.
What I love most about Casetify is that they provide you with so many options for the best phone case you can ever imagine getting, and personalize it the way you want it to be. This is probably one of the reasons why I love it as a graduation gift as you can leave your special touch on it. Also, their phone cases are so protective.
28. Back Massager
Oh, I would love to get this one myself! Seriously, if you're a college graduate girl who doesn't want it (which is something I doubt) consider me lol. This body back massager is designed not only for athletes but also for everyone! Think of it as a pain fatigue reliever with 15 heads that are ready to relax every muscle in your body not just your back.
How grateful she is to have one of those, I'm sure life after graduation with work and everything is hard so this little detail is an absolute need.
You won't get disappointed with this graduation gift idea for her. I'm sure with the reasonable price and the services it provides, you won't regret it!
29. Heater Mug
This Ember heater mug is one of the most unique graduation gifts for college girls! I admit that it doesn't take much thought to think of such a gift for your college graduate girl, but I'm sure having one of those is highly appreciated.
I'm in love with the black color of this one. Although it comes in different colors but black makes it look fancy and classy at the same time.
We all want our Coffee to be heated at the exact temperature that we like even if we're taking a shower or doing something else without worrying about the coffee or tea getting cold.
This heater mug is one of the essentials you don't think you need until you get it.
So why not make her life easier but her something so practical and needed.
30. Ninja Blender
This is just another great kitchen essential that makes a great graduation gift for her, especially for those girls who like to make fresh healthy juices in the morning, are on a diet, or like to mix up things to get something fresh and smooth.
This Ninja Blender does the work and more, it crushes fruits, vegetables, and ice fast (and fast is what she needs haha).
Also, if she's following one of the famous Keto diets that everyone is into these days, then you landed the perfect gift.
31. Bath Towels
I'm in love with these soft 100% cotton-made towels! Taking care of your skin is one of the most important things to do, and not just skin even hair! So, think of this one as another thoughtful gift that your college graduate girl definitely needs for her bath. They are large in size, they come in 4 sets, and they're nice to hang on in the bathroom.
I find these bath towels very useful indeed, and in a new apartment, the bathroom needs to be taken care of as much as the kitchen. So, don't hesitate to get her one of these, feel free to choose whichever color you want, they're really nice! Don't you think?
32. Mattress Topper
The most wanted gift idea for college girls who are graduating is mattress toppers. Your college graduate girl will need this super comfy large queen-size mattress to move it in, in her bedroom when she moves out of College. This mattress topper is one of the best ones and it's rarely in stock as people are getting it all the time.
It makes the perfect graduation gift idea as mattress toppers are the first thing graduates start looking for when getting ready to move to their first apartment.
33. A Dress
This dress can be a great and thoughtful graduation gift for her.
I love this elegant long sleeve short dress! It can be sexy or casual, whatever she likes. It's stylish and comfy, I can imagine it with a pair of boots, sneakers, flats, or even high heels.
Also, the price is just amazing! It's one of the best college graduation gifts for under 50$.
I bet she'll be having a lot of compliments and asked where she gets it from kind of questions after all the material is good and the tie can be adjustable to fit the size needed. I wouldn't think twice about this one.
34. Daisy Perfume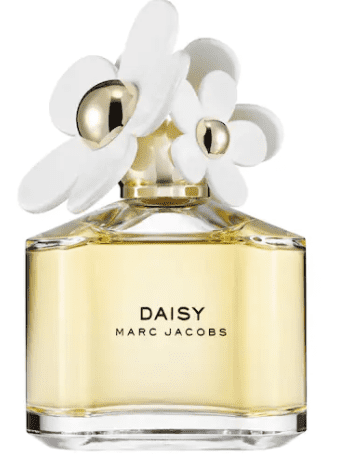 Everyone gifts perfumes and this trend never gets old! I am a perfume lover and I get excited about different types of perfumes. This Daisy beautiful, pure, feminine, and elegant perfume by Marc Jacobs is the most common one and best seller perfume ever.
I truly love it and I wear it every single day. What I mostly love is that the smell is exquisite and a long-lasting one. Your college graduate girl will for sure complement your taste and be happy to have it, trying different perfumes is good after all, she may even think of getting rid of her favorite one thanks to you!
35. Kitchen Aid Mixer
Kitchen Aid Mixer is a best seller and one of the most kitchen appliances ever. Everyone seems to be in love with it for it is durable, fast, and pretty much convenient.
If you're college graduate girl is into making a cake or getting busy in the kitchen when she's not at work then you have found a great gift for her. I know what you're thinking now: Another kitchen supply! But hey, why not? Always remember, she's graduating, soon will be moving into a new apartment, she wants the place to have as many important supplies as needed. Soo, go for this one, it's a really good choice!
36. Milk Frother
Although so many people enjoy having their coffee at Starbucks, at work, or in a coffee shop, a lot of them actually prefer homemade creamy coffee.
Also, if you like your coffee with milk, then this Milk Frother is perfect for the job.
It creates really creamy froth even if you use Almond milk, heats up the milk to the perfect temperature, and makes really good hot chocolate milk for cold days. Consider gifting this one to your college graduate girl and I'm certain that you won't regret your choice especially if she's into homemade coffee and having a calm well-made breakfast before work, or even a fast one it works both ways.
37. Key Chain
These keys need to be put together, otherwise, you will find neither the house keys nor the car keys. I love how this key chain is designed. Ités perfect for women and I love they are girly and more feminine unlike so many in the market, and I would love to hang it on my bag or wear it in my hand. Also, these key chains can be a bracelet as well.
Don't you think that this would make a great graduation gift for college girls? People always tend to forget their keys, girls included, but we all know that girls rarely forget their accessories, me included lol. I know that the price isn't that high for this one and you would be saving a lot, but you won't be disappointed, it's like getting a useful accessory that does more than one job: keeping your keys and helping you look more beautiful.
38. Drinking Glass Straws
Some people don't like to sip coffee or other drinks with their mouths, they like to have this useful tool called straws that takes the drink up to them hahaha. You may call them lazy but it is what it is.
I'm certain that your college graduate girl is just one of those people, well if she is then consider gifting her those beautiful well-made glass straws that are suitable for all types of drinks including coffee, smoothies, chilled drinks, ice, and hot drinks. Those will be very useful when she has a party or friends coming over too, they're a tiny important detail to add.
39. Pajamas
Having a comfy nice-looking pajama is a must for girls, we all like to look good even when sleeping, it's just the way we are, aren't we? These beautiful, soft, light-weighted, machine wash, cozy style, and satin-like fabric pajamas are a unique gift for college girls.
I love the fact that it has a chest pocket and that the pants have an elastic waistband, I would get one for myself too and I think that your college graduate girl will be happy to have it.
So, it is something to consider gifting especially most girls spend more time wearing their pajamas on the weekend when there is nothing to do and of course before going to bed, this piece of clothing must be comfy and soft. Definitely, get her one of these, she'll love them!
40. Sandals
These beautifully braided heels sandals are never out of fashion! I loved them last year, and I love them this year and I'll love them the next year too. They are perfect for summer, super comfy, feminine, and elegant.
They make your feet look good, especially with the right nail polish and pedicure.
To be honest, I wish that gift was for me because if it was then I'll be more than happy to receive it and acknowledge the person who gifted it. Please do go for this gift, these sexy sandals can be worn everywhere, to work, for a party, or just a casual typical day.
I mean who doesn't wanna look fashionable all the time? If you were thinking too much about a gift, you've found the one for this is an absolutely unique graduation gift for girls. Don't you agree?
If you're still looking for the best college graduation gifts for girls, these sandals are your best shot.
These are the Best College Graduation Gifts for Girls she Wants to Get According to College Seniors
You Will Also Love
Insanely Cute 64 Graduation Cap Ideas You Want to Steal Immediately
54 Epic Graduation Party Ideas to Make the Best Grad Party Ever
48 Best High School Graduation Party Ideas You Can Ever Find
Don't forget to pin this!