This post may contain affiliate links, which means I'll receive a commission if you purchase through my link, at no extra cost to you. Please read full disclosure here
Do you have to wait until Valentine's Day to try out heart nail designs? Absolutely no!
Valentines may not be in sight yet, but that shouldn't stop you from trying heart nail designs. Because heart nail designs are timeless, and you can wear them any time of the year, especially Valentine's Day.
It's the perfect excuse to get your heart nails done.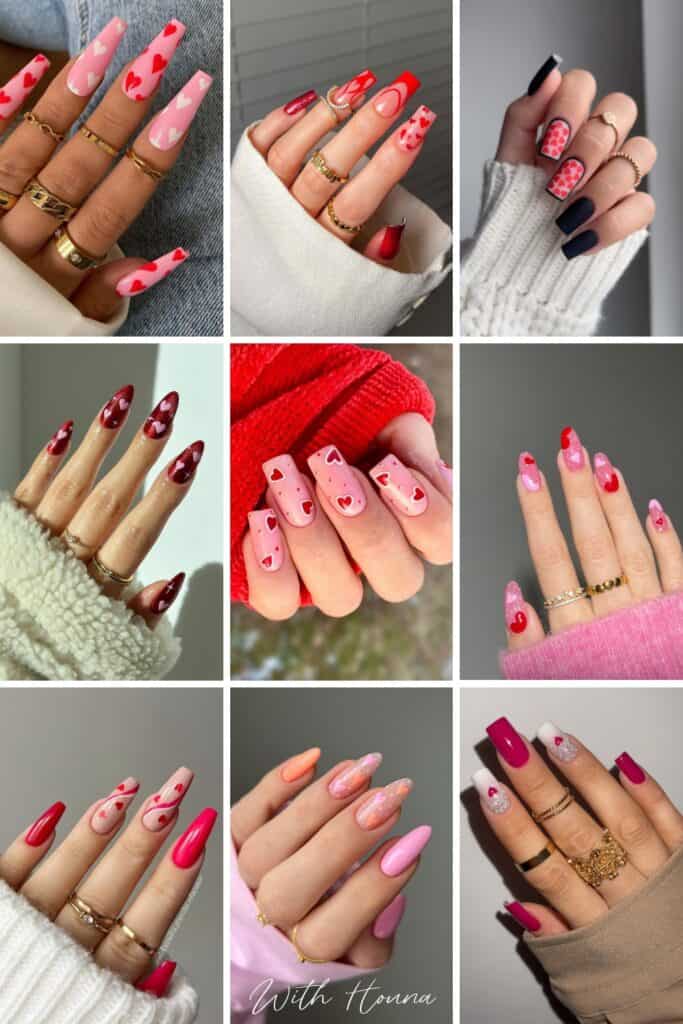 Although Valentine's is the season when these heart nails are super trendy, I also love and wear them, even when It's not Valentine's.
Whether you're a hopeless romantic or a nail-obsessed lover looking to add some love to your manicure, heart nail designs are perfect for swooning.
So you don't have to wait until Valentine's Day to satisfy your heart nails urge and get your nails looking pretty.
However, these heart nail designs can make the perfect Valentine's Day nails of this year.
Undoubtedly, heart nails are pretty, elegant, girly, playful, fun to wear, and easy to create with stickers, decals, polish, glitters, and rhinestones.
From bold and bright heart nail designs to simple, delicate, and fancy accents – there's a heart nail look for you.
You can opt for classic red hearts on white base heart nails or switch things up with pastel pinks and purples to create a softer, feminine look.
Maybe, you're feeling adventurous – create eye-catching gradient heart nails, add some bling to them, or add some edgy black, and your nails will be the first thing people see.
Heart nail designs are fun, playful, and perfect for showing off your personality and creativity.
And don't worry about scrolling the internet for your next heart nail manicure because we've made a list of the best and prettiest, swoon-worthy heart nail ideas for you.
Cute Heart Nail Designs and Heart Nails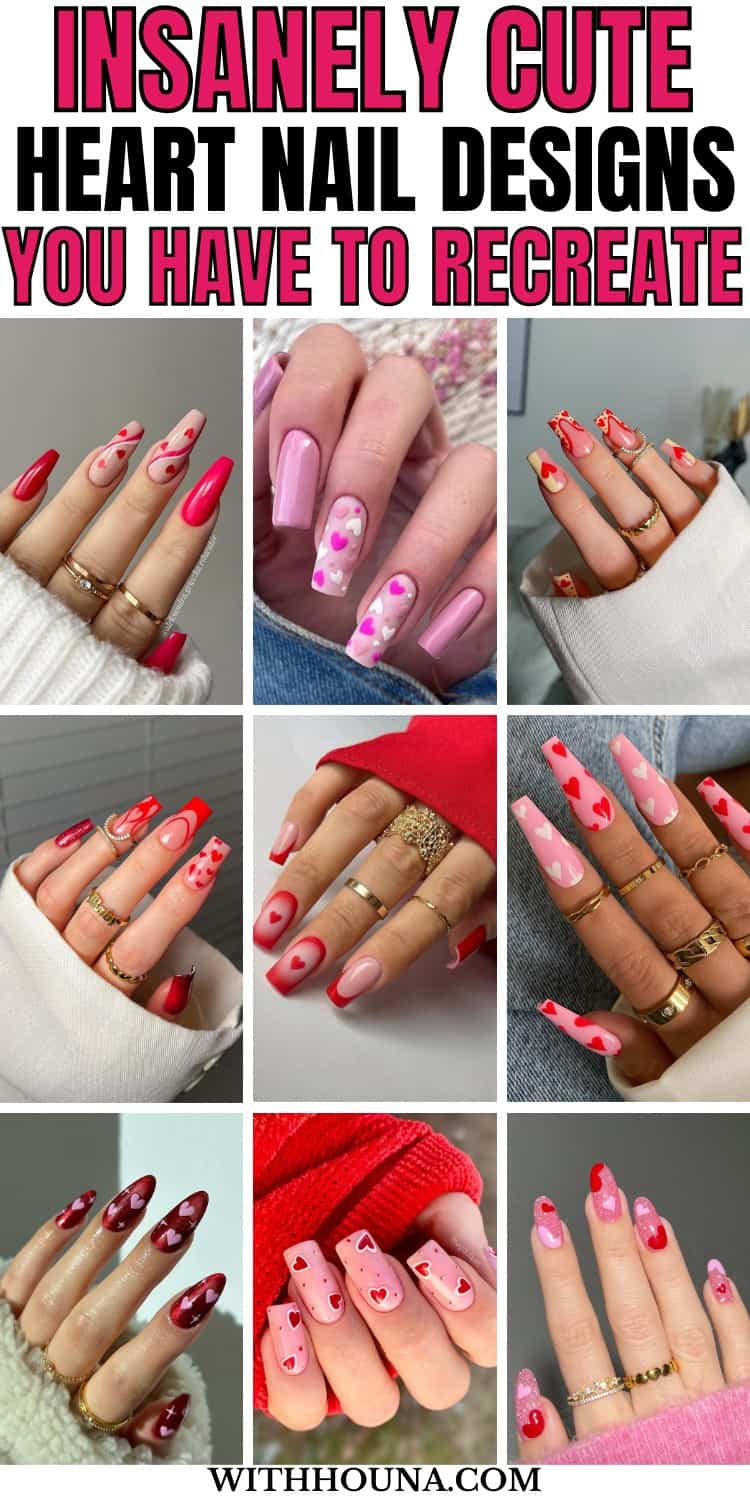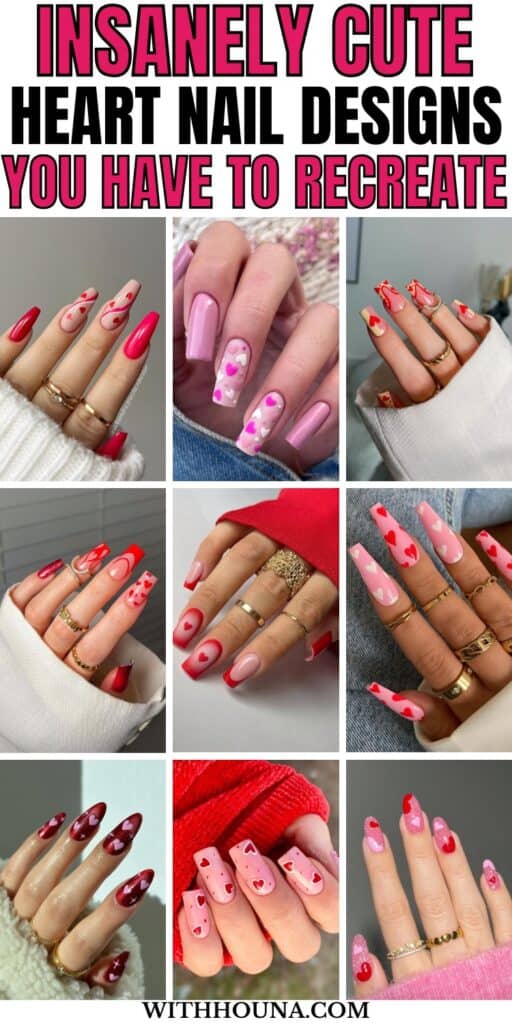 1. Black and Red Heart Nails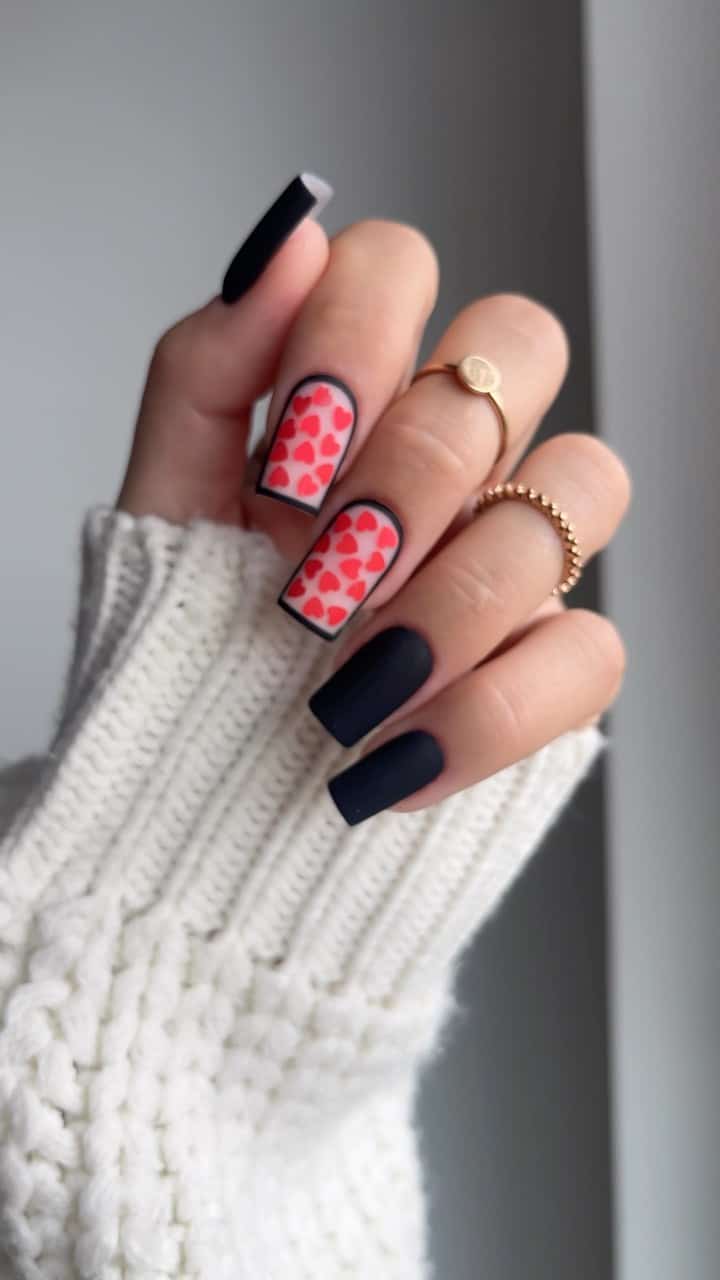 Just when I thought there was no more room in my heart for new nail styles, framed nails appear on the scene, and I fall head over heels.
I just look at how quirky-chic the whole thing is, and I'm in love again. The black frame adds such an effortlessly striking definition to the nails and makes any art within look like a work of art, which the love hearts truly are.
Of course, since this nail needs nothing more to be stunning, the gorgeous black nails are just perfect.
2. I Heart You Nails
When it comes to Heart nail designs, there's just so much to love. Sometimes, you can't decide what style you want to go with, and you don't have to.
You have five nails for a reason, and that's to include 5 trendy styles on each.
So, why not have it all with this manicure that's charming, passionate, and cute all at once.
3. Wredna and Alf Red Heart Nails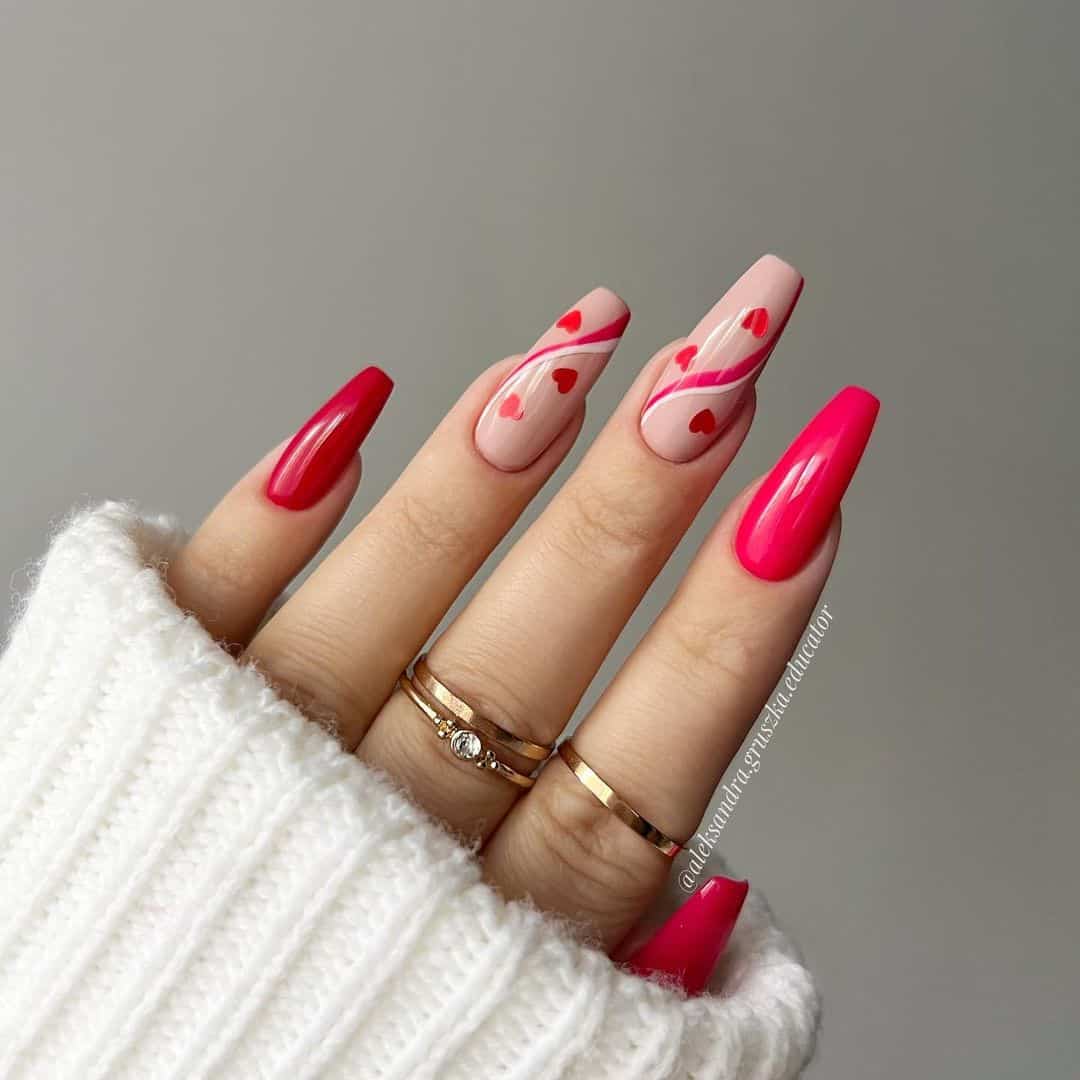 These Heart nails are first-date nails. They look like berries and cream, which, yes, to rhyme, is the dream.
They're such a lovely, free-spirited mix of fun, romance, and excitement. Of course, they're also chic, and stiletto nails keep things looking Instagram-ready, along with the trendy swirls that are the epitome of sensationally soft.
4. Cute Heart Long Coffin Nails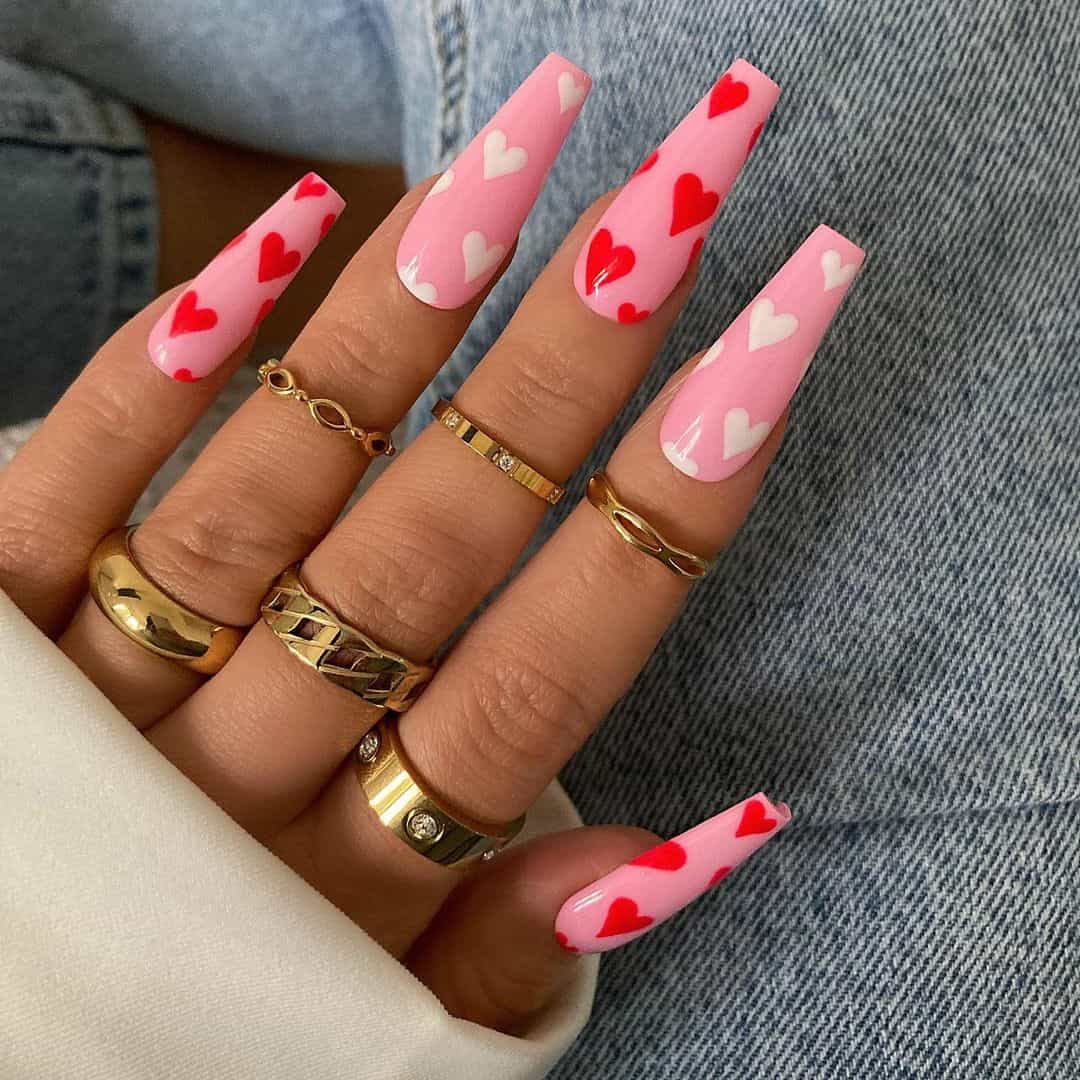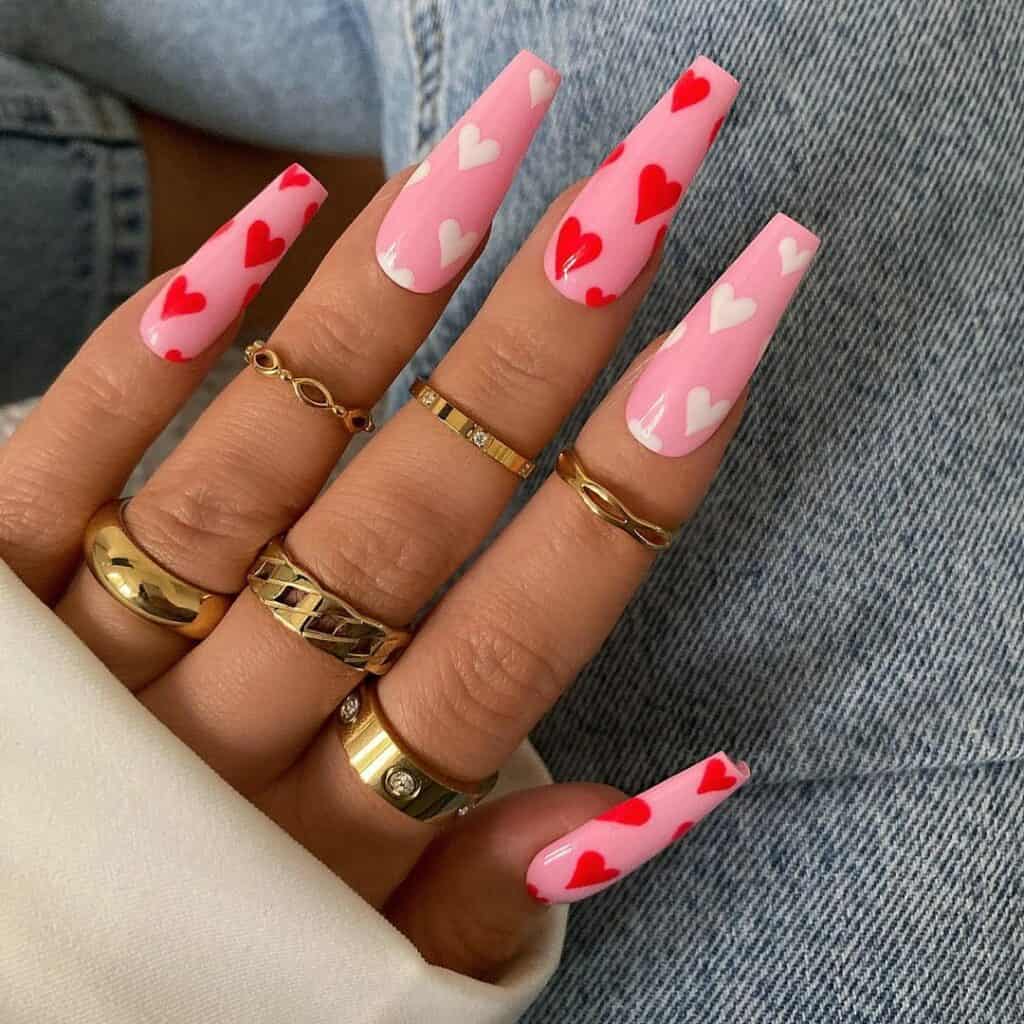 It's just a fashion fact: the classic love heart pattern looks better the longer the nails are, especially when those nails are stiletto-shaped.
Add a little quirky contrast to the mix, and you're onto an absolute winner that's sure to stun and look fantastic with any rings you decide to wear.
5. Pink Glitter Nails with Mini Hearts Touch
Heart nail colors are receiving a bit of a revival, and burgundy has come along for the ride.
It's really such a no-brainer and so fitting for love heart nails.
So, I have no idea why it wasn't popular before, but here it is. Better late than never for adding a vintage and sophisticated edge to the traditionally cute look.
6. Heart French Tip Nails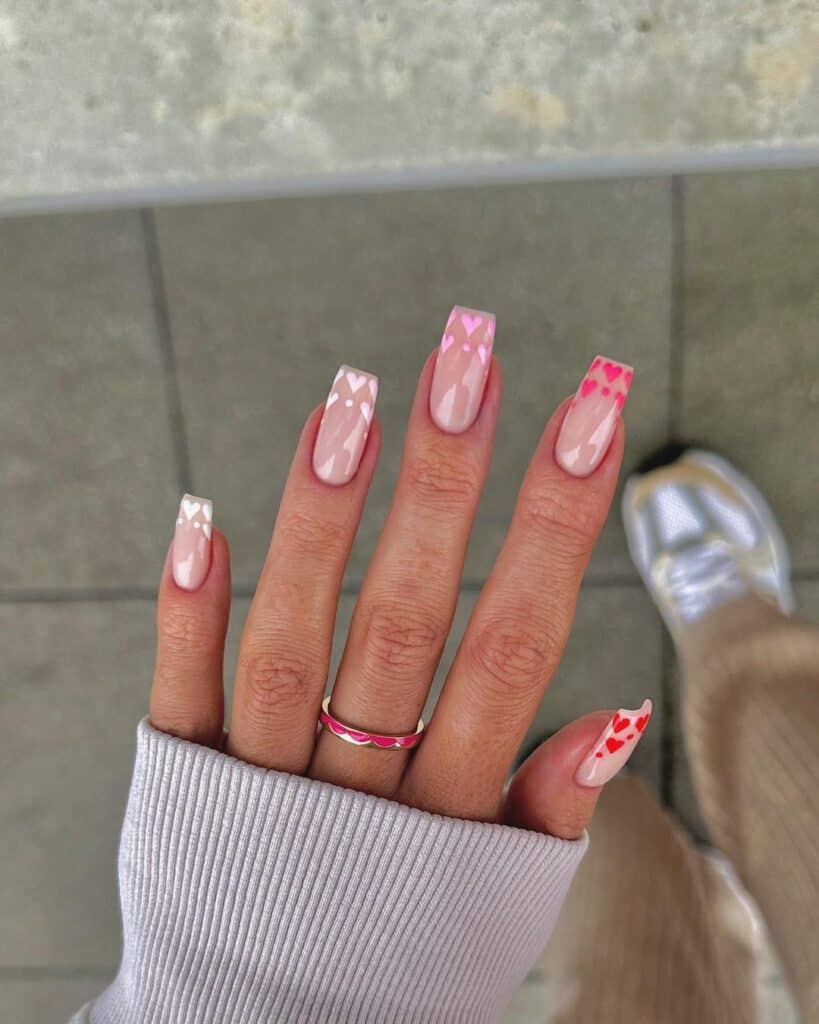 The day I fall out of love with nails is the day that my heart doesn't melt at the sight of gradient nails.
It's like an explosion of one color's shades across the nails, and if you add love heart tips to the mix, well, it doesn't really get much better than that.
Just be sure to keep your nails well-filed, apply a blush base, and you're good to go.
7. Glitter Red Nails with Hearts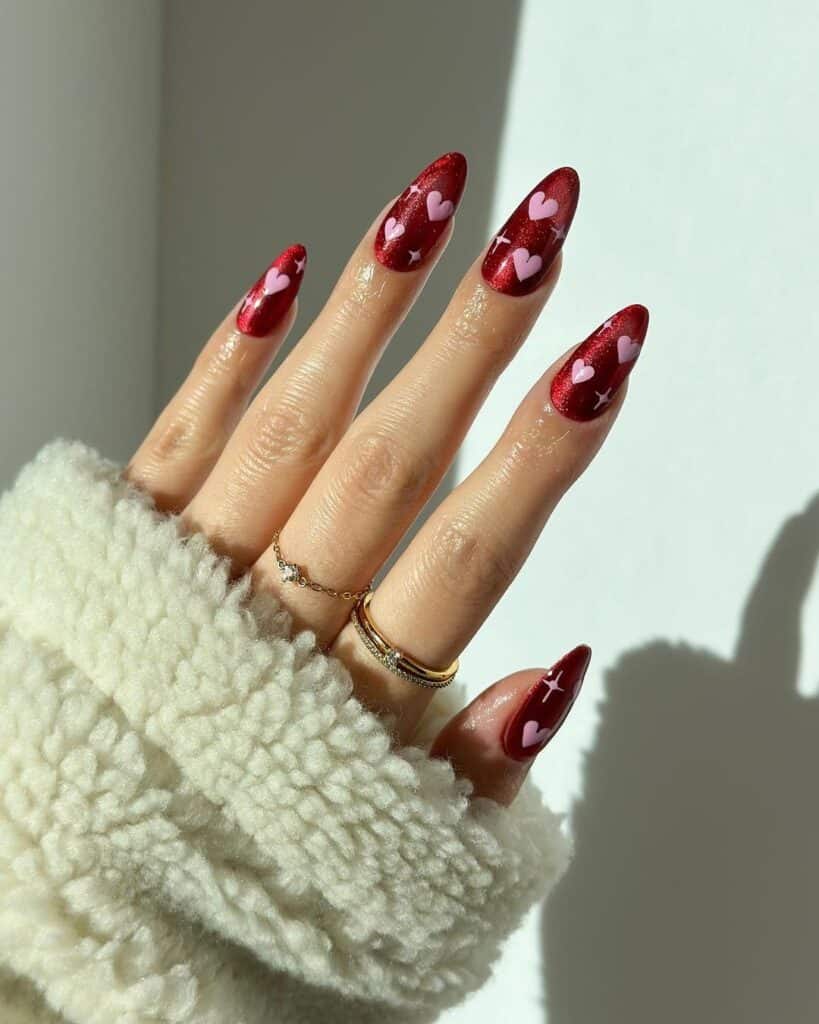 This look just leaps off the nails. It steals the spotlight effortlessly without looking complicated or too loud.
Instead, the nails are just confident enough to expect compliments from all around. There's also something a little cozy and warm about them.
If you really want to perfect the look and let the whole spectrum of amazing vibes shine through, I recommend you let your nail tech take care of these beauties.
8. Pink Nails with White and Red Heart Nail Idea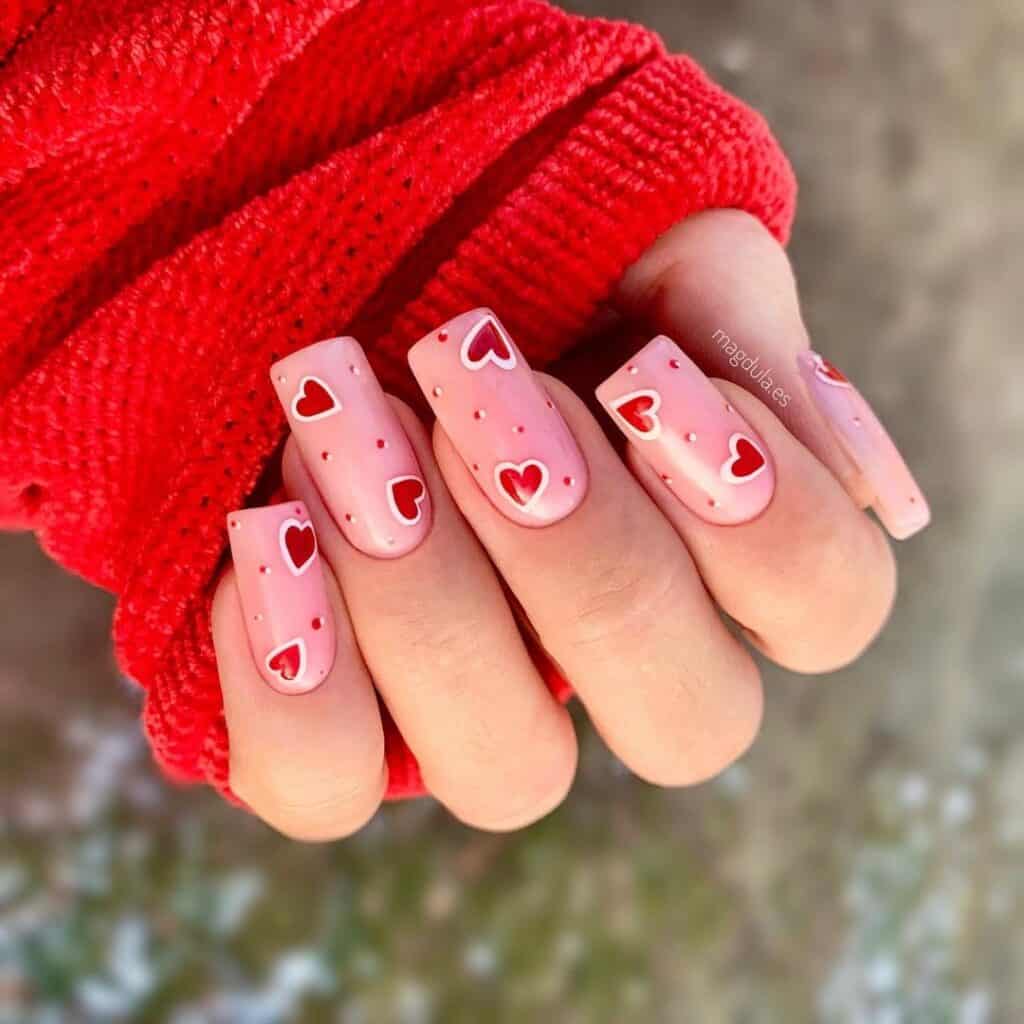 The first thing that comes to mind when I see these nails are little adorably wrapped sweets of gift-wrapped presents.
I love how the love hearts are placed on either side of the nail on every nail, with some turned outwards and others turned inwards.
This artful choice, along with the adorable speckles, is such a wonderful way to make the nails pop.
9. Pink Heart Nail Designs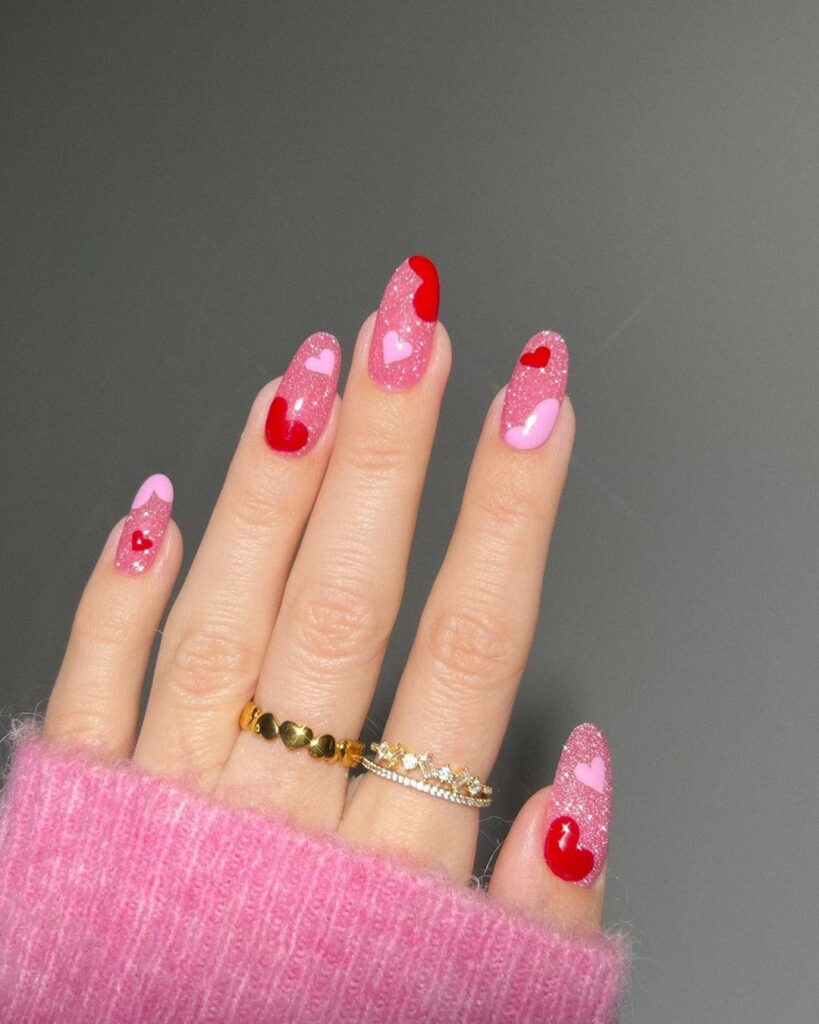 Looks like these remind me why Heart nail designs are my favorite type of nail designs. It's like a sparkly wonderland painted across nails.
A glittery, glamorous dream come true.
It's only natural that such a charming nail design would be oval-shaped and that the hearts would appear to be bubbling off the nail. Just gorgeous.
10. Orange and Pink Heart Nails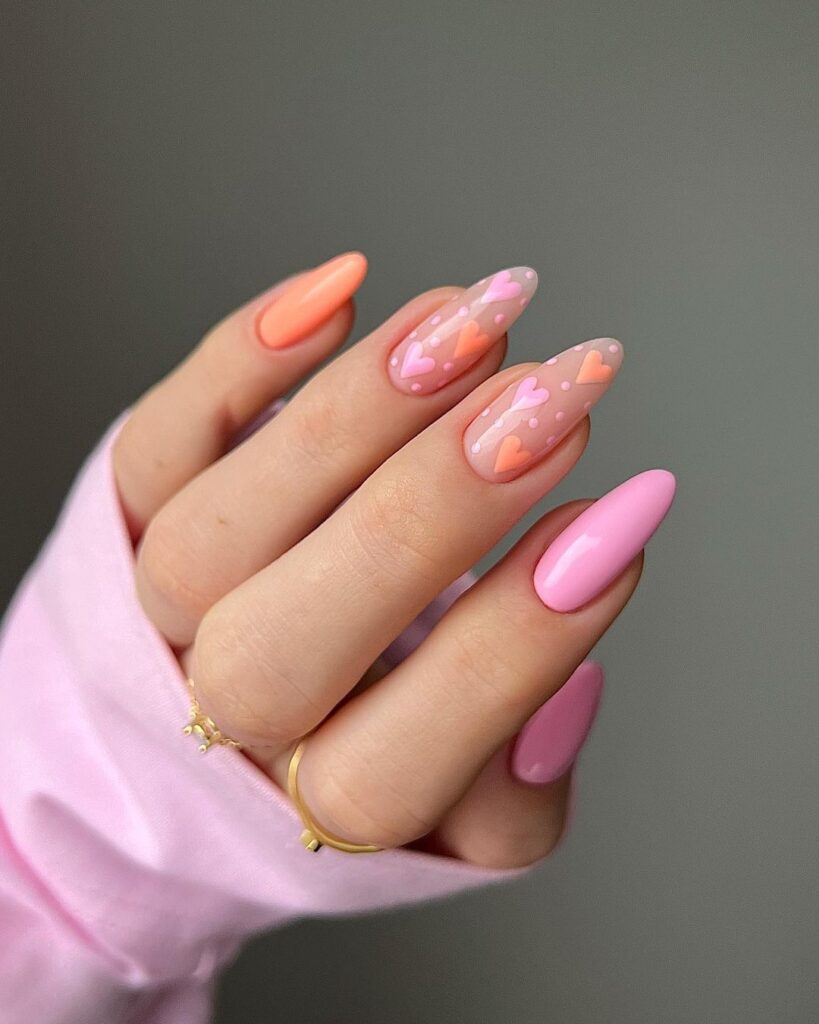 Orange is a truly underestimated soft color. It's just the right amount of bright and lively and adds an almost electric hit to any primarily pink nail.
It's also a little citrusy, which brings some sunshine and Summer vibes that make this manicure a great holiday companion that looks fantastic with flowy dresses, swimsuits, and jumpsuits.
11. Milky Heart Nails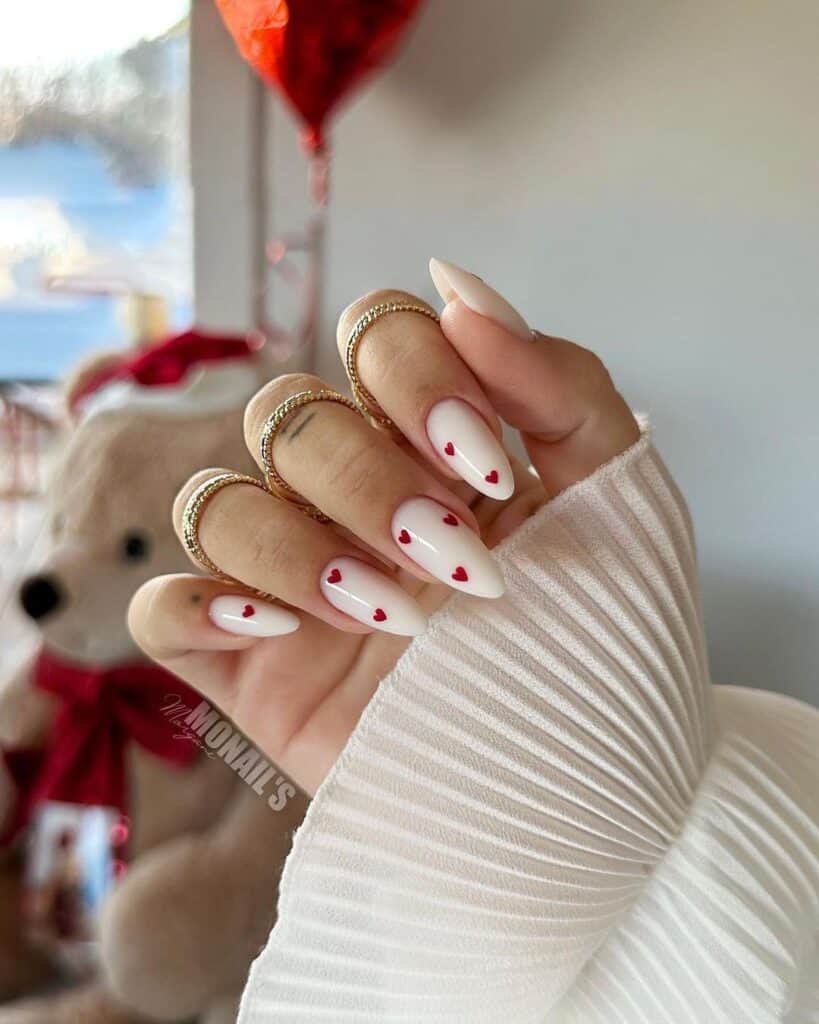 While scrolling through heart nail ideas, sometimes all you want is to find a design with a whisper of love hearts.
Your dream vision is vintage, classic, a little bit quaint, but still chic and trendy and ready to match with any outfit or jewelry that you put it with.
I've found it, so I'm sharing it. Isn't it just dreamy?
12. Harbina I Natural Nails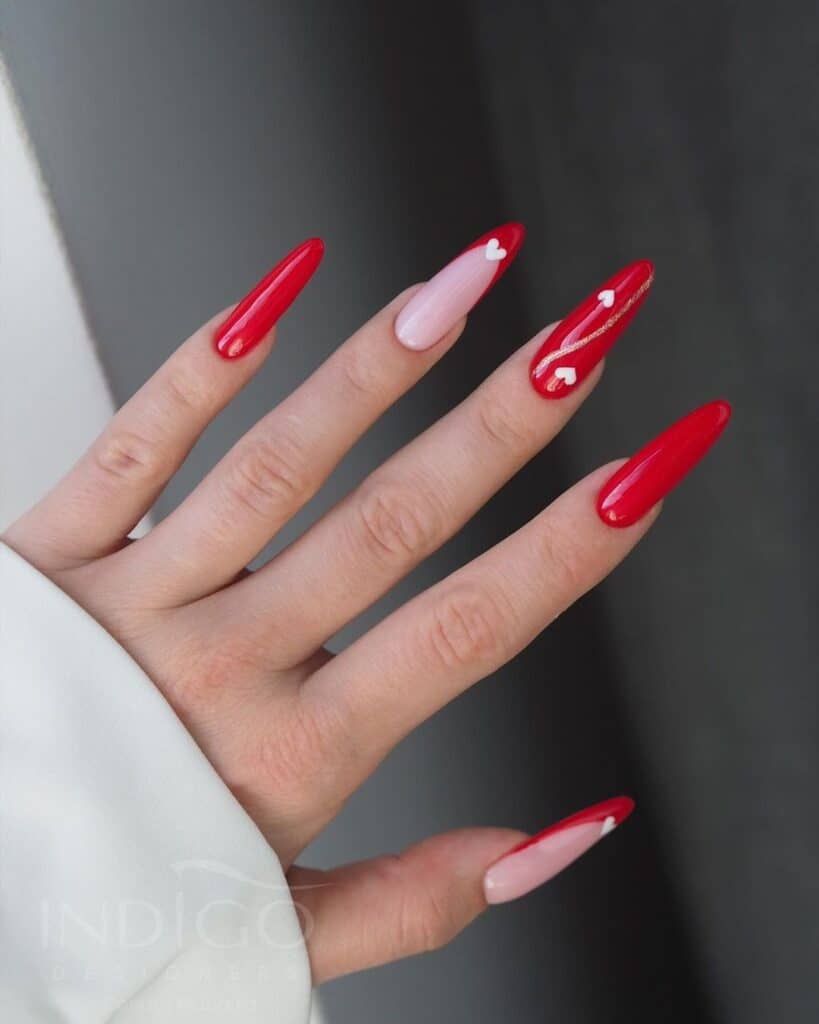 If you're feeling a little extra and want your nails to reflect that vibe, then these are the nails that are more than up for the job.
They're red and not sorry about it. Long, and no one's going to stop you from going longer.
But they keep it cute with the white little love hearts, and they even know how to do chic with Frenchies.
13. Short Velvet Heart Nails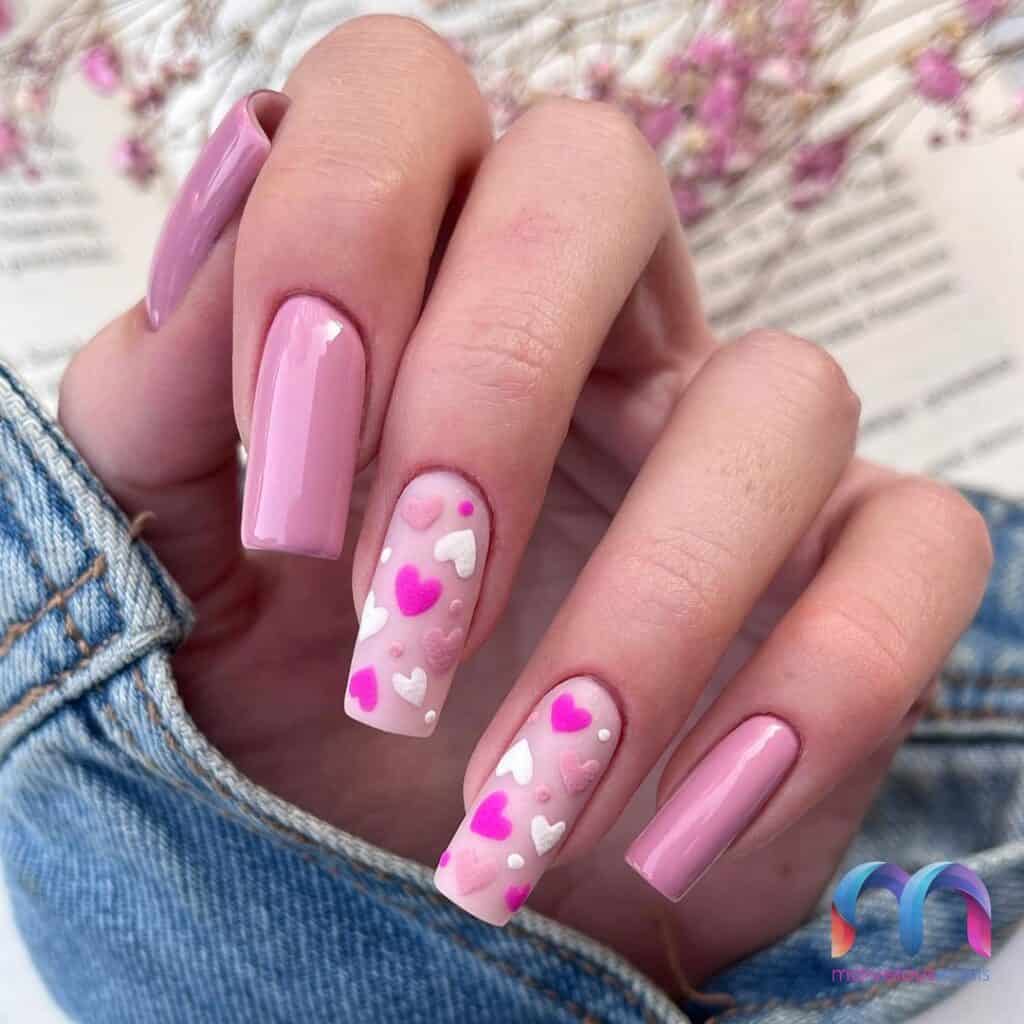 Love heart nail art was made for the velvet effect. At least, that's what I think every time I see their beauty.
It's just the right amount of 3D to keep things cute and soft but also so tantalizingly textured that, honestly, just makes the nails look flawless.
14. Chrome Little Heart Nails
Short, square, sweet, and absolutely bursting with adorable and girly vibes, these are the quintessential pretty girl nails.
They don't even need loads of details or shades to look gorgeous; they look just fabulous in two shades with a little love heart on top, and I'm obsessed.
15. Colored Hearts Nails
Sweet like candy, chic like vogue, and vibrant like a rainbow, these nails are honestly a feast for fashionista eyes.
They look like a funfair and candy wonderland all at once. They're so fun without being funky.
Instead, they lean toward the fashionable side of things, which is so unique and one-of-a-kind.
16. Side French Heart Nails
Heart nail designs don't have to be obvious and in your face. Sometimes, they can whisper love without saying it.
They're so delicately romantic and charming with all the high-fashion vibes of classic slanted French Tip manicure.
17. Diamonds Heart Nail Design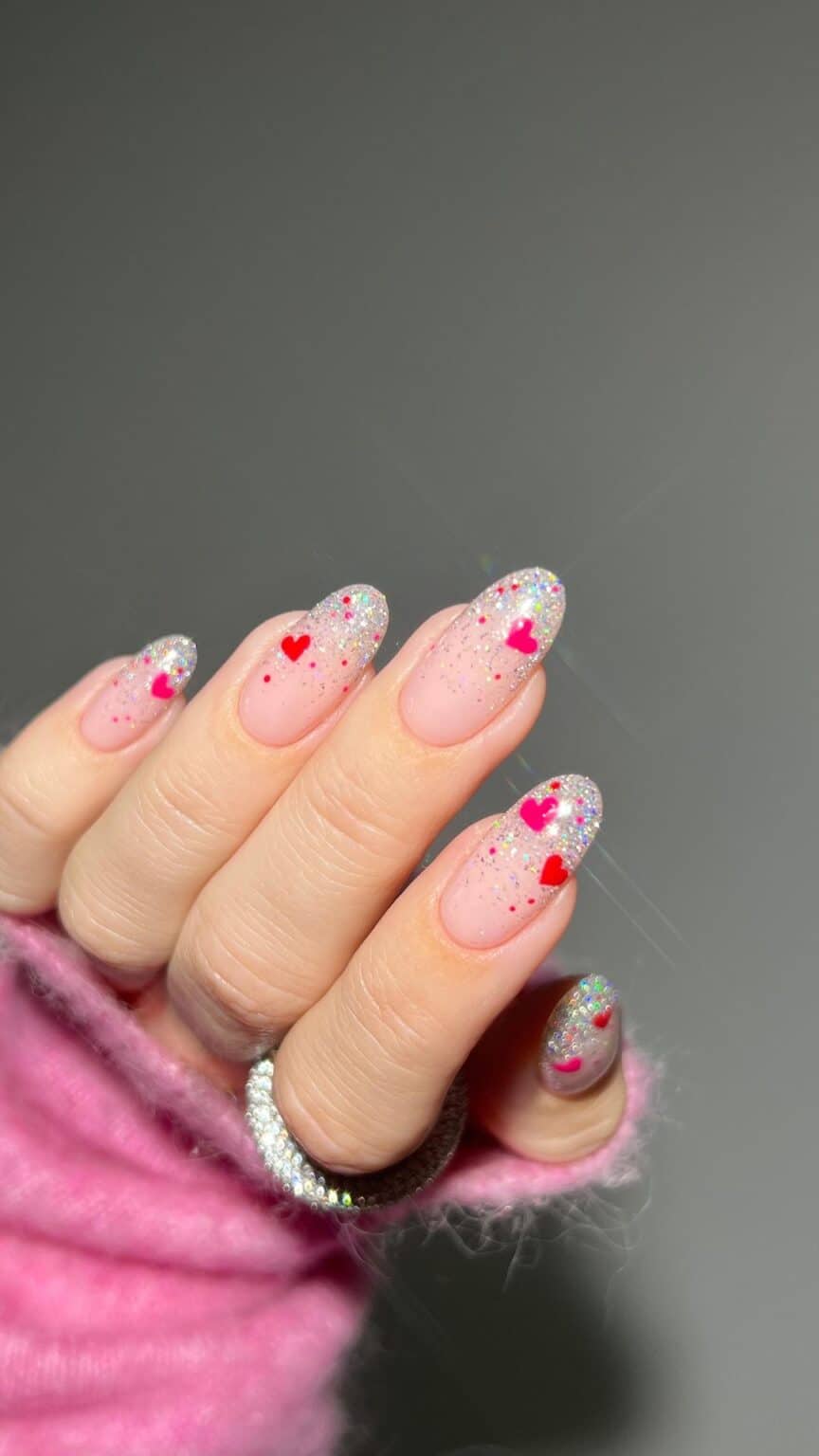 I just knew Barbie and love heart nails would be a match made in heaven. These are such dazzling and girly nails that are perfect for a party or for showing off some sparkle.
They remind me of the popular 90s nail designs, and I love that they're making a comeback.
18. Valentine's Heart Present Nails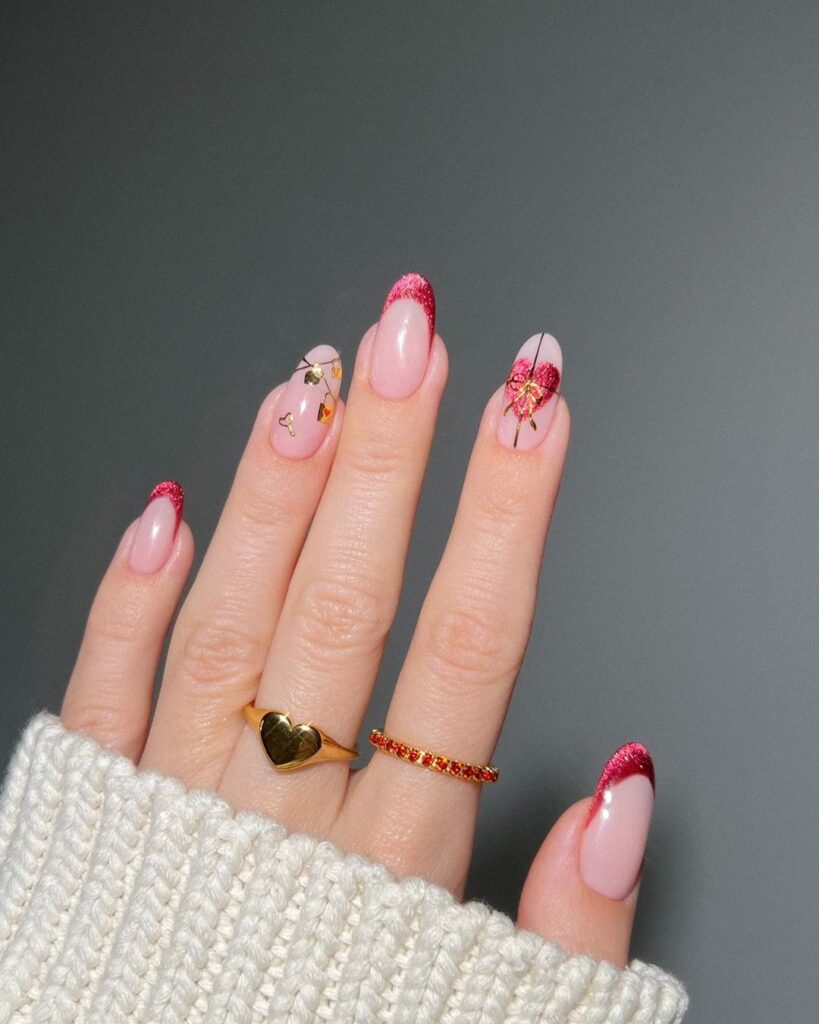 These are what I call tea party nails. But really, they're brunch with mimosas as you share the goss from last night's date with the gal's nails.
They're gorgeously "Fairycore" and beyond beautiful little works of art, so expect to see them on TikTok, Instagram, and pretty much everywhere.
19. Baby Pink Hearts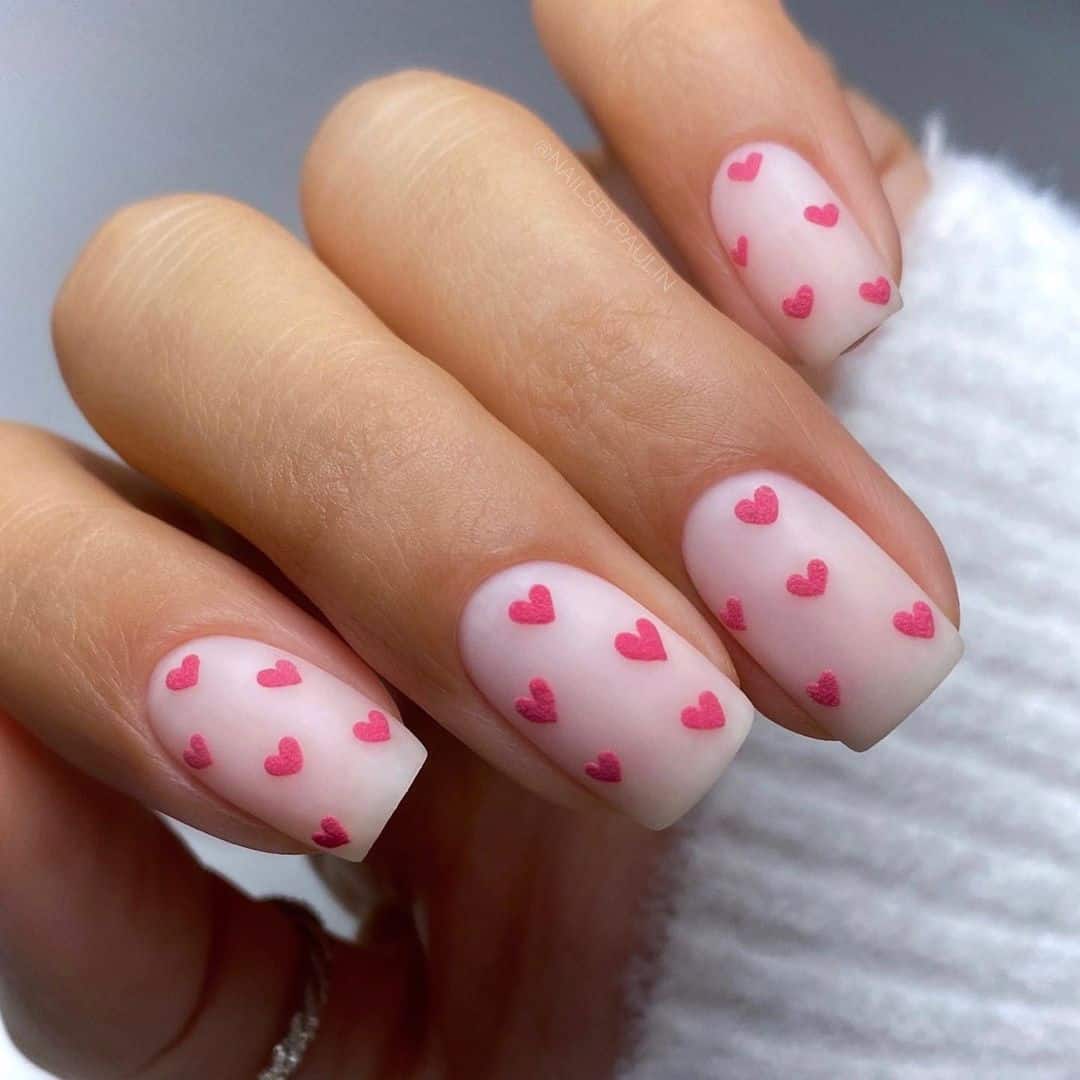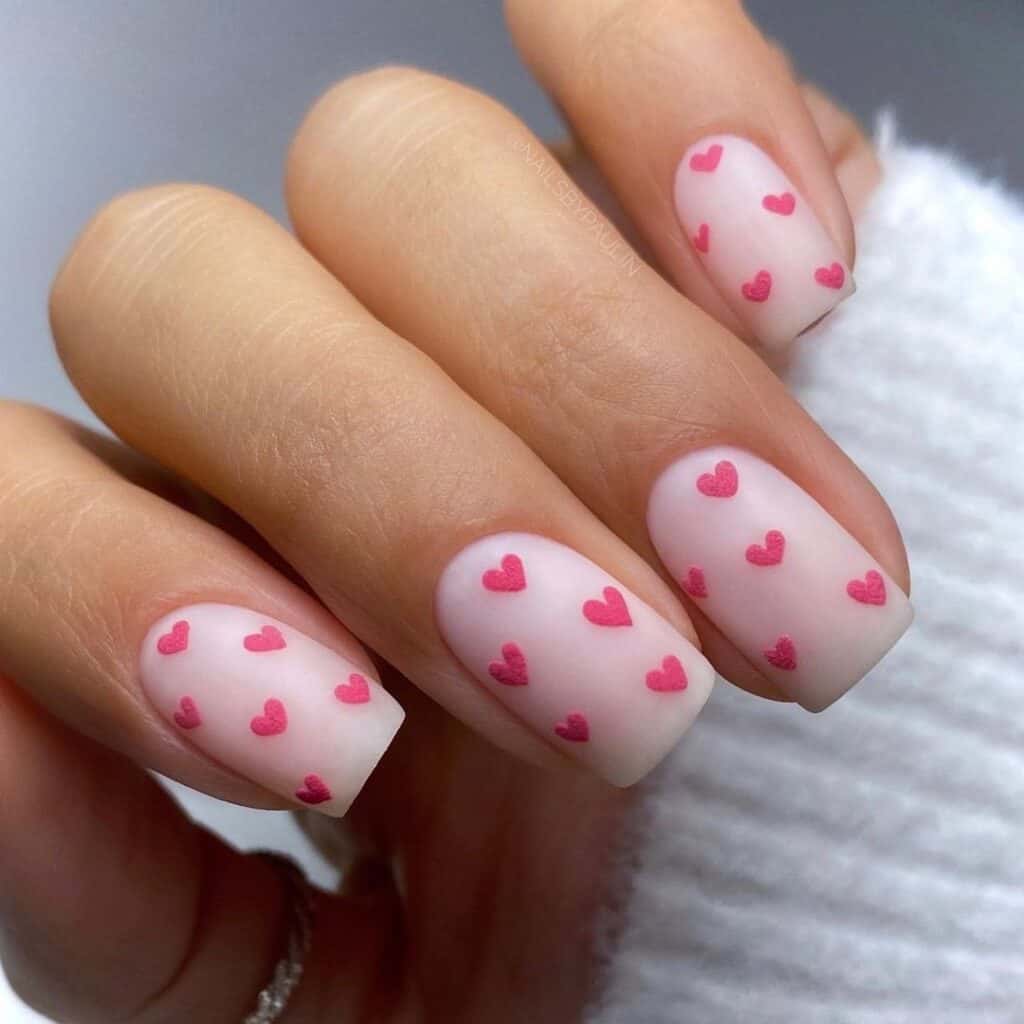 Here are the quintessential love heart nails in all their gorgeous glory. If you want the classic, no-fuss, and perfectly pretty look that won't clash with any of your outfits or jewelry, then this is the manicure for you.
It's casual and quite cool, girl, at the same time, which honestly gives me life.
20. Dainty Heart Nails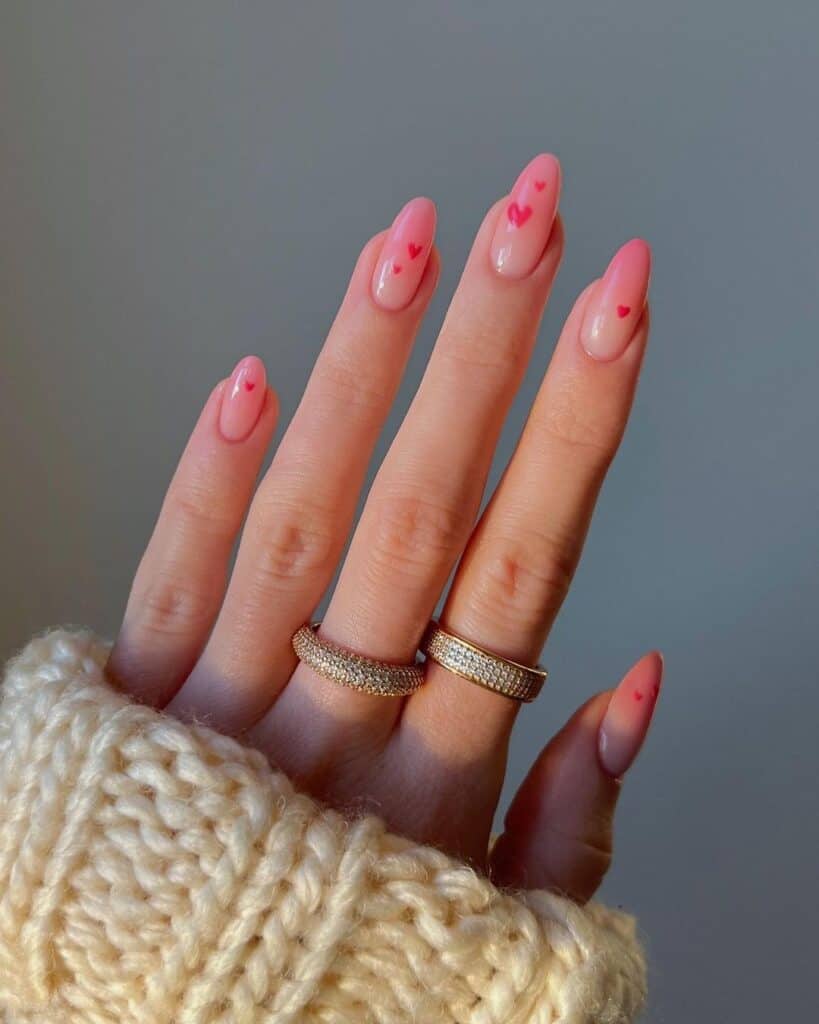 These heart nails are of the daydream variety. They're so easy on the eye, and their softness is without competition.
They bring warmth effortlessly and are even a little bit ombre, which is simply to die for.
21. TGB Valentine's Edit Heart Nails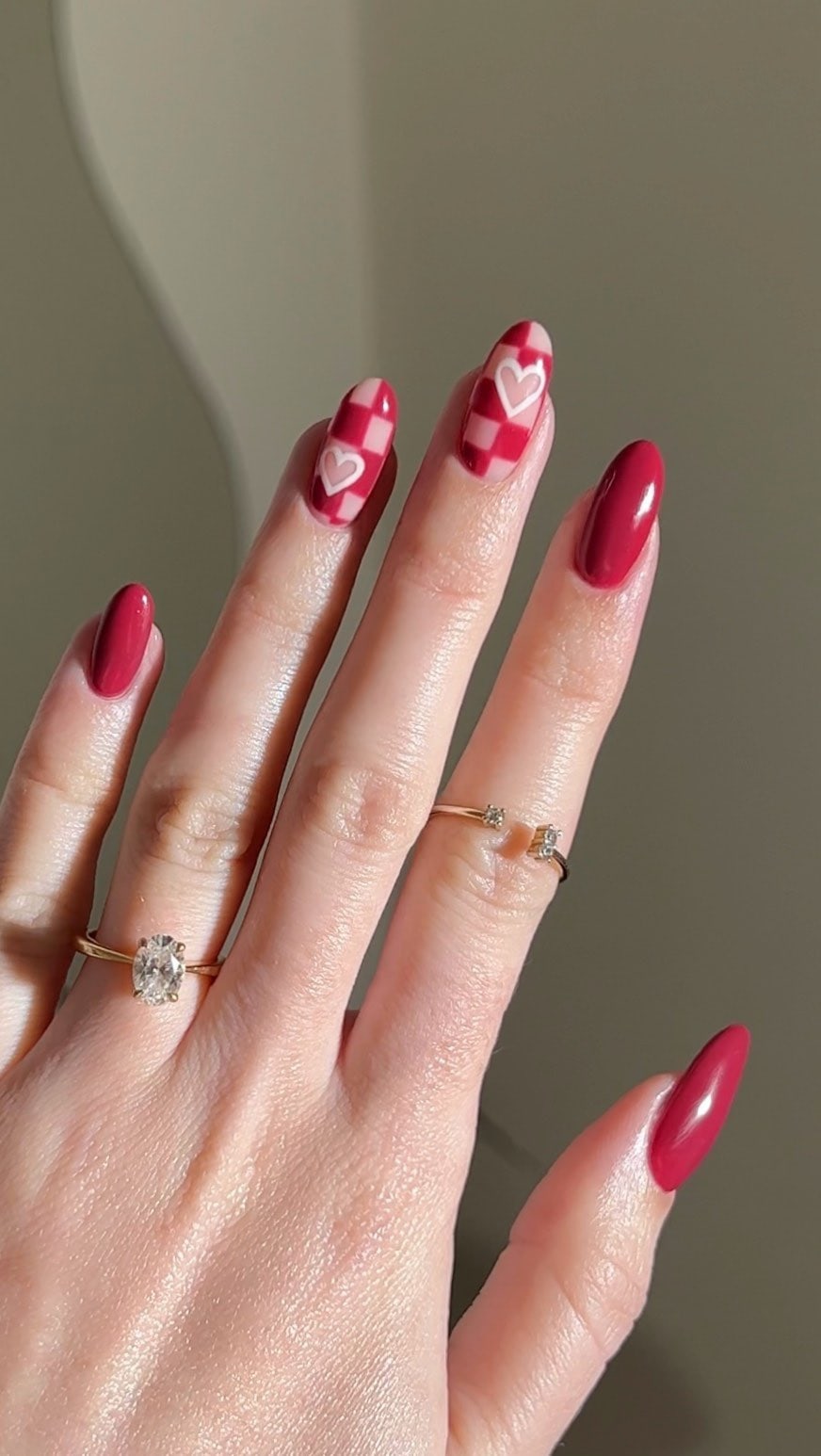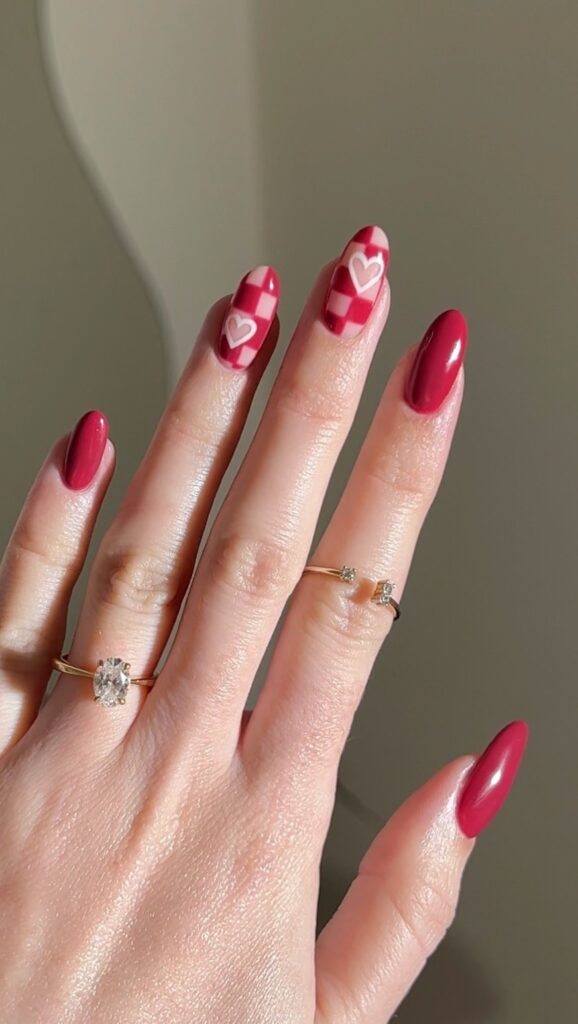 Possibly one of the most casually quirky manicures on the list, these nails have taken Netflix's Queen Gambit for inspiration and got in on the chequered trend that's hitting all sides of the nail beauty scene.
The result is incredibly fun and quirky but even a little moody and romantic at the same time. It's such an intricate blend of vibes, and I'm here for it.
22. Deep red Heart Cut Out Nails
These nails are quite mesmerizing in that the negative space love hearts appear to be floating over the nails.
It's quite a dainty effect that creates a bright and daydreamy vibe that's so alluring.
The medium square shape of the nails is just perfect for this look, though I think you could go even longer if your heart desires. 
23. Valentine's Day Black and Red Heart Nail Designs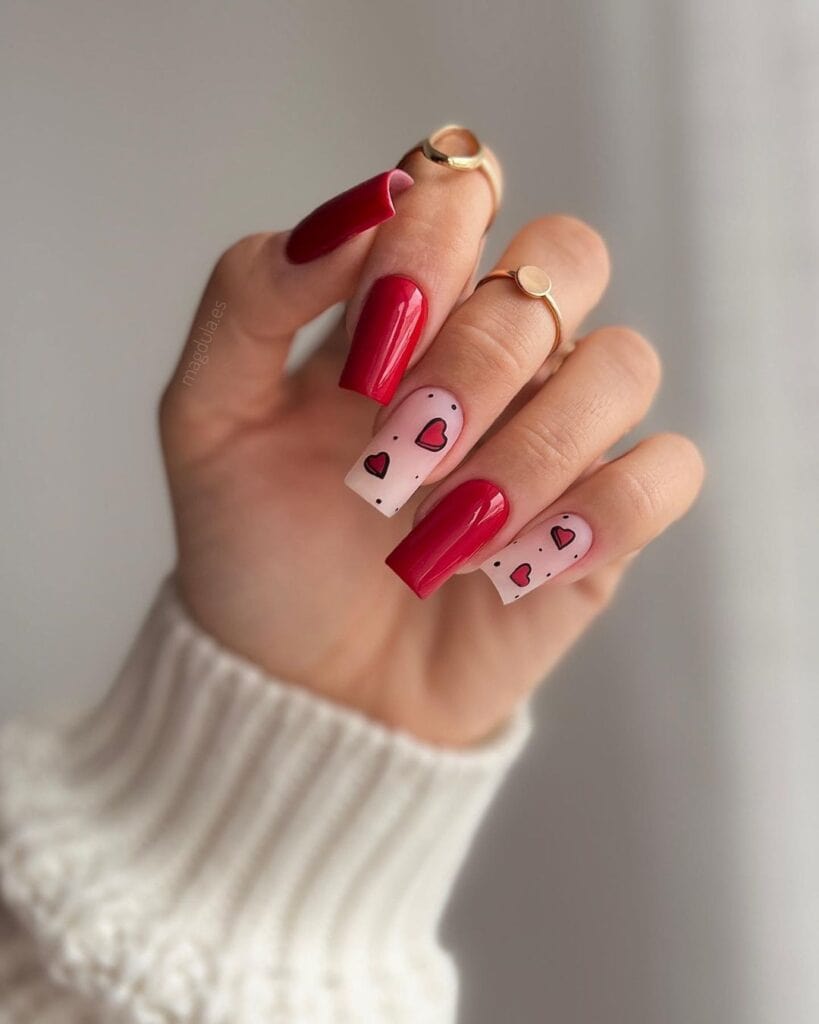 There's something a little early 00s and wonderfully webcore about these nails. They have all the charm of simpler times while also looking playfully romantic.
The glossy red polish and long, sharp square shape bring a certain edge and attitude to the look that really takes the manicure to the next level.
24. Pink Gifted Heart Nails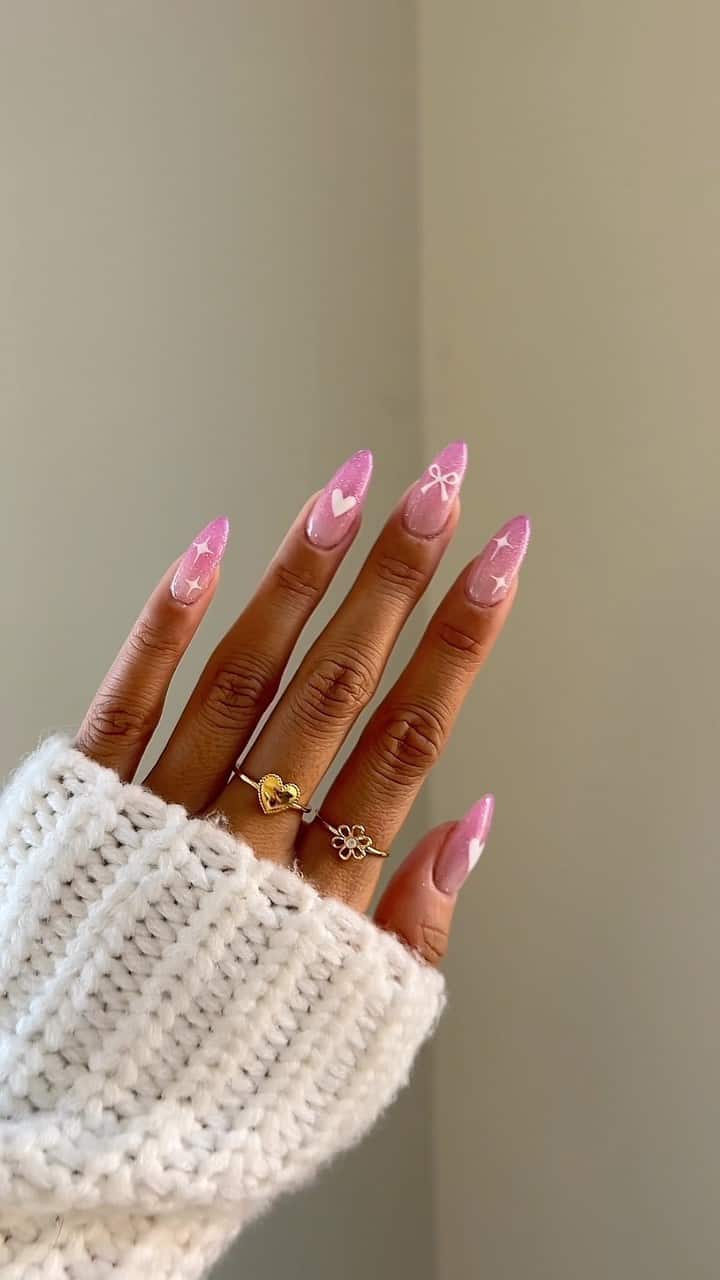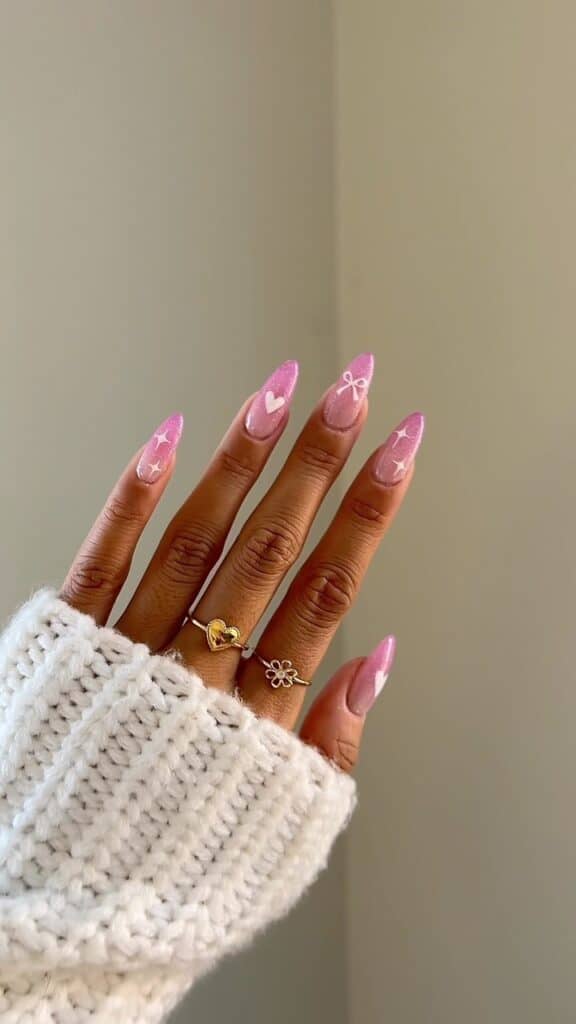 Like heart nails from another galaxy, these are truly out-of-this-world gorgeous and incredibly dreamy.
They're like the nails you might find on a Barbie doll because they truly just are on that material girl and completely unapologetic about it vibe. I'm obsessed.
25. Rhinestone Velvet Heart Nails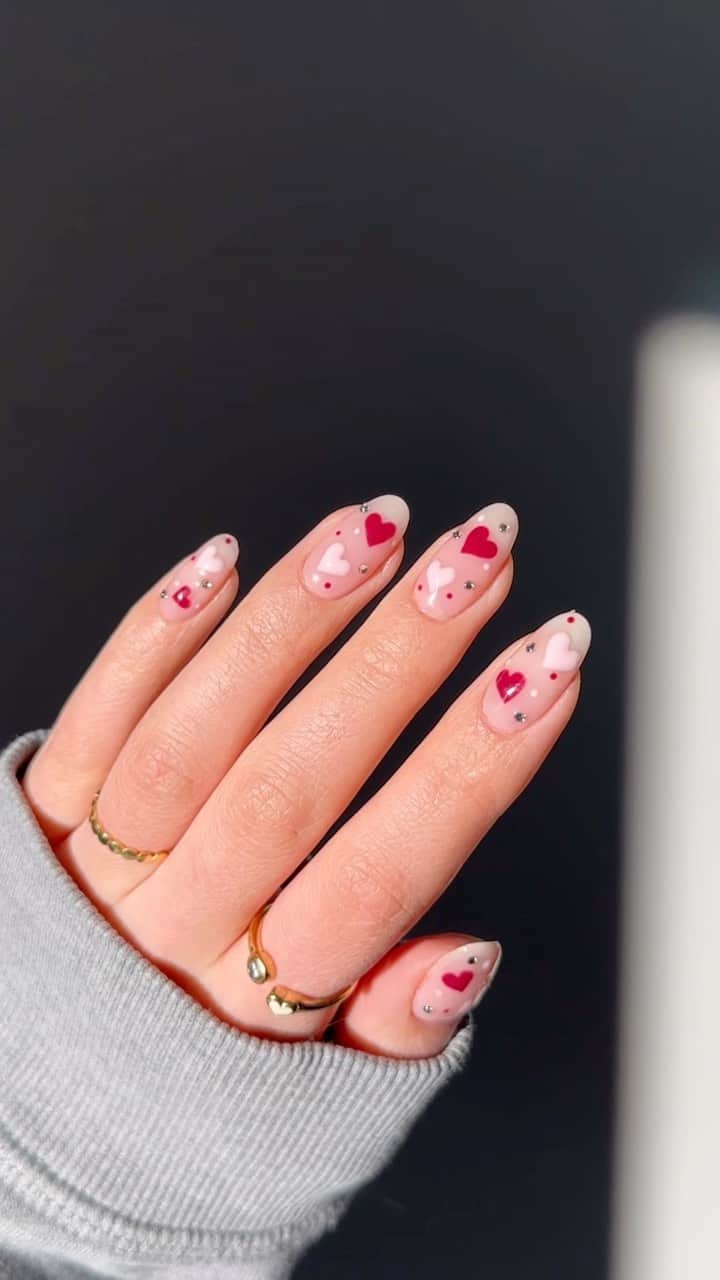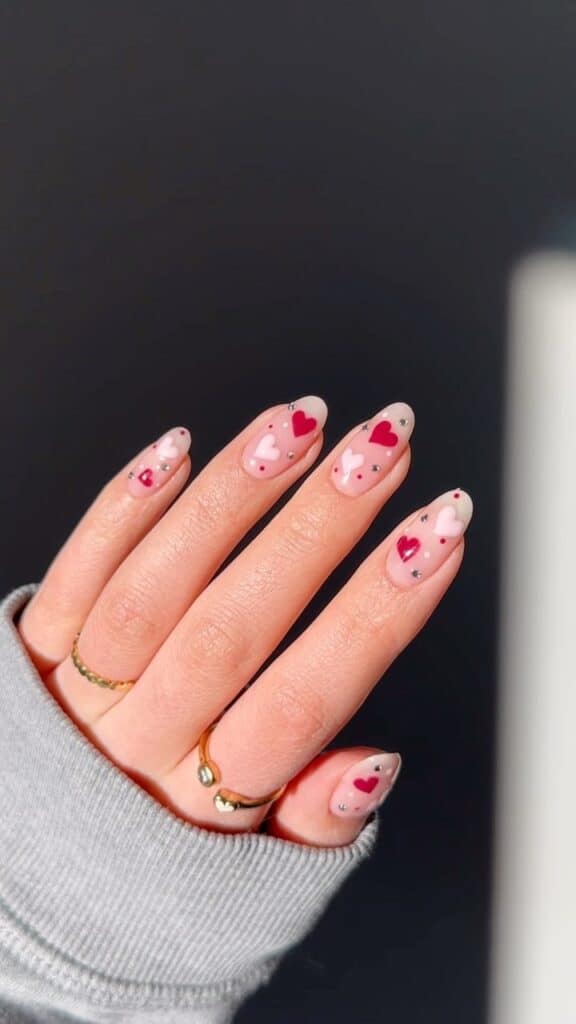 If you're scrolling through love heart nails and getting a little overwhelmed by all of the amazing selection, then go no further than these nails.
They're the every-girl nail that includes everything that makes this manicure style so iconic and fabulous.
They also won't clash with any of your outfits and are sure to land you plenty of compliments.
26. Pink Neon Heart Nail Art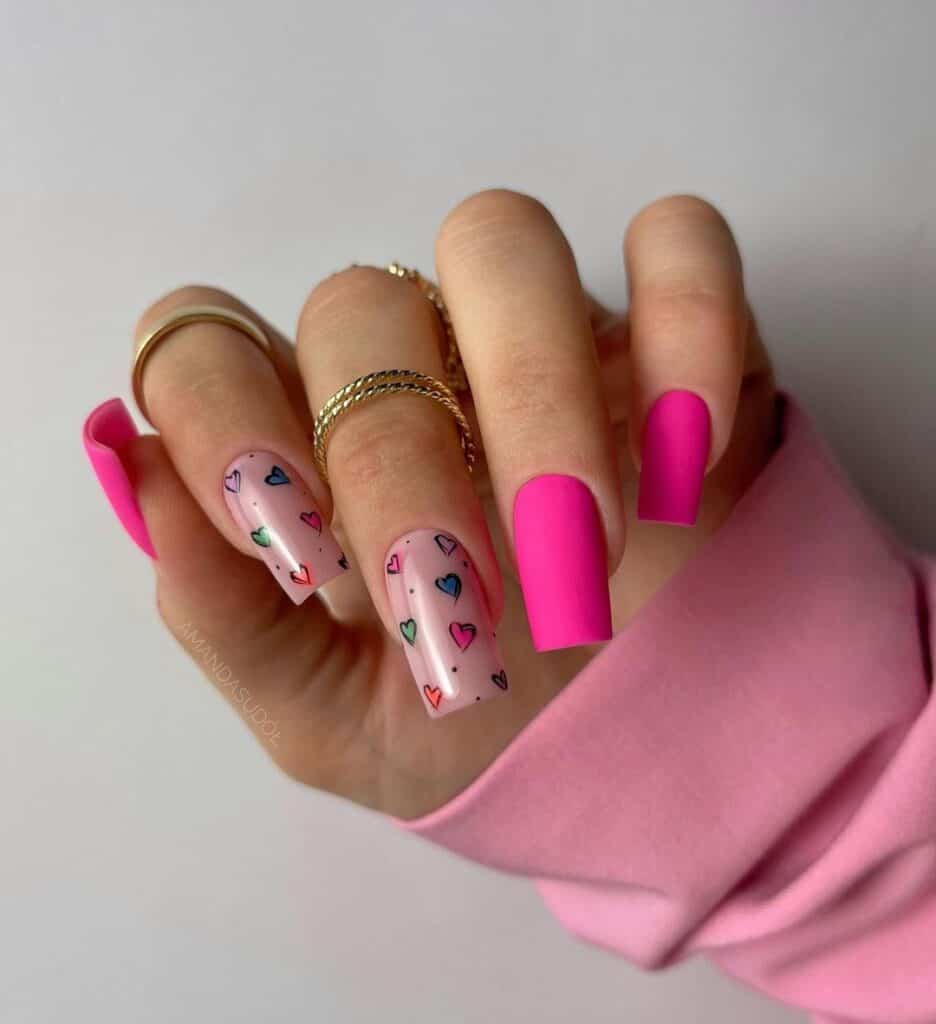 Some nail designs just match those we dreamed of wearing as young girls. This is one of them. It's sweet, playful, entirely charming, and even a little innocent.
Of course, the long square nail shape adds a more mature edge.
Together, both sides of the manicure are a beautiful mix that's really a dream come true.
27. Moon Dust and Peachy Pink Hearts Nail Designs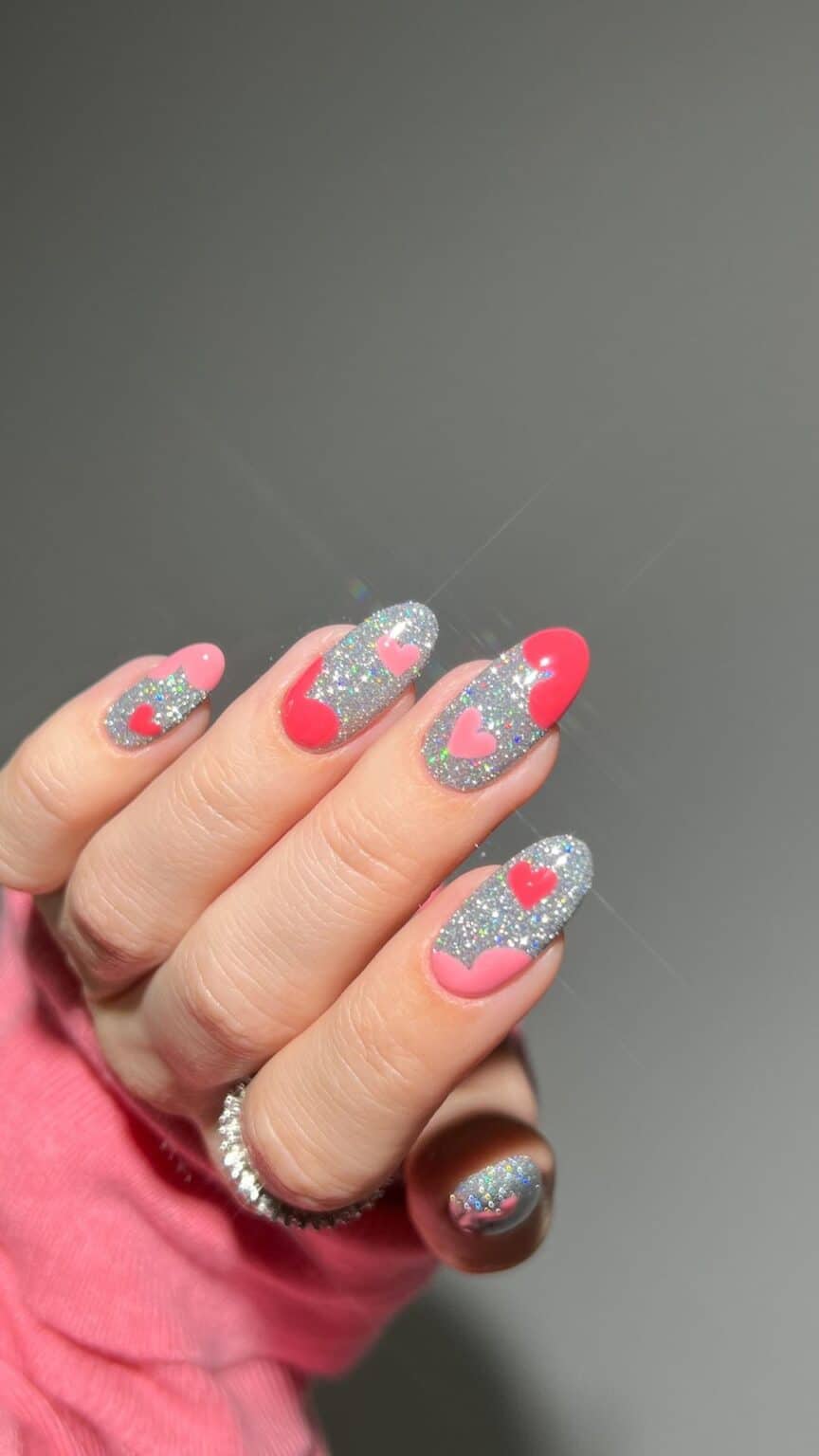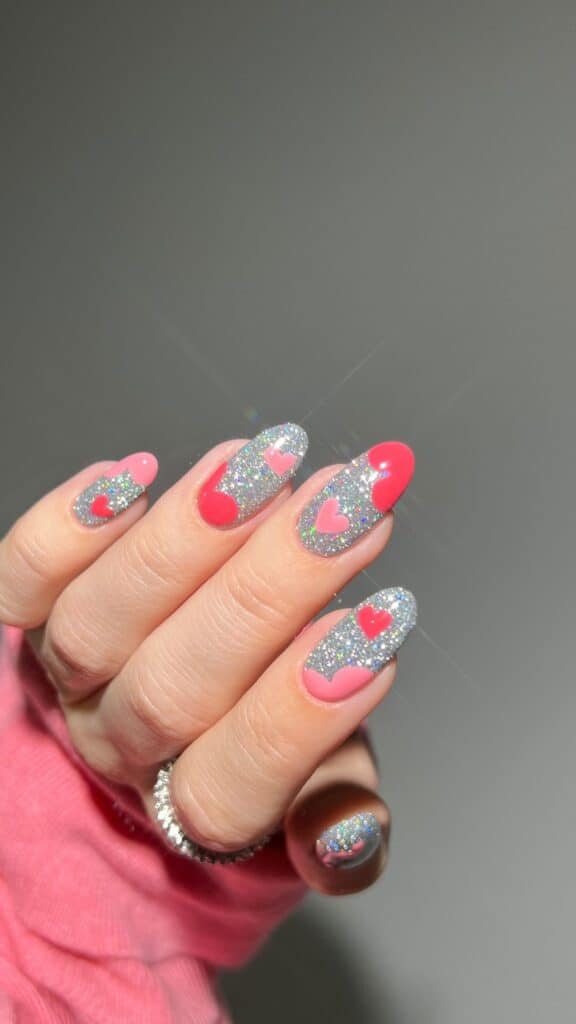 I had to include this dazzling look in my list of heart nail designs because I just know there are a few glitter gals among you.
Here are your darling disco ball nails. They're radiant, loud, and the life and soul of the party while also being fabulously girly and all good vibes. Enjoy.
28. Bows, pearls, and Hearts Nail Designs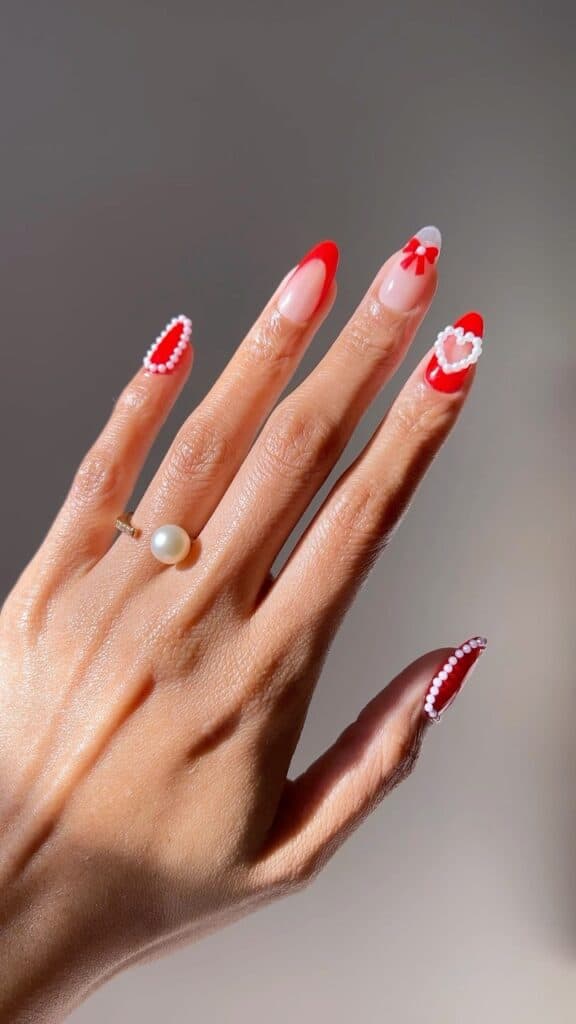 These nails look like what love feels like. They're lavish and a little over the top, but in all the right ways.
I love how the natural nail is allowed to show through on the French tip and bow nails, actually giving the manicure quite a mature and grounded look that's very touching and sentimental.
29. Black and White French Tip Nails with Little Hearts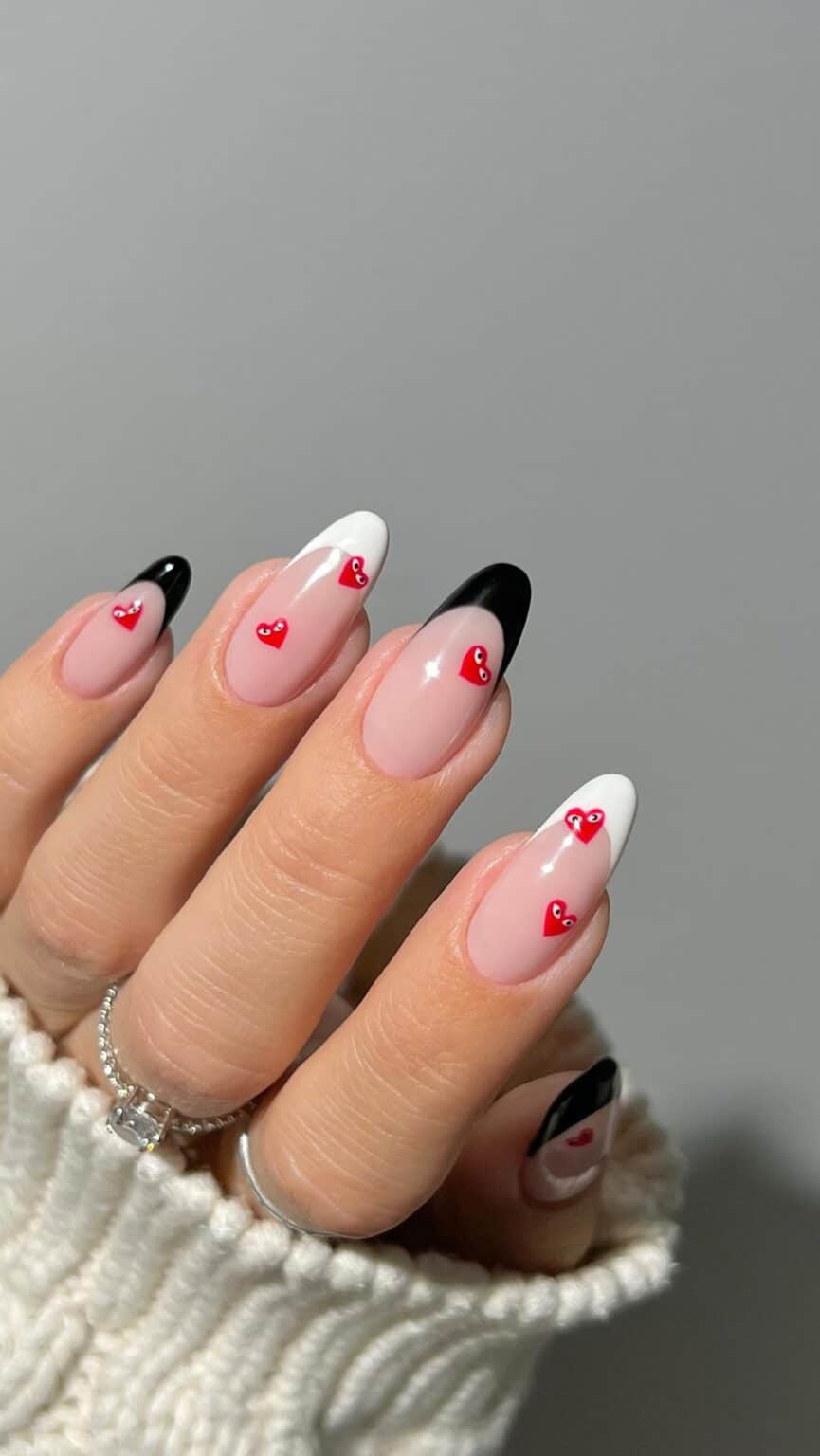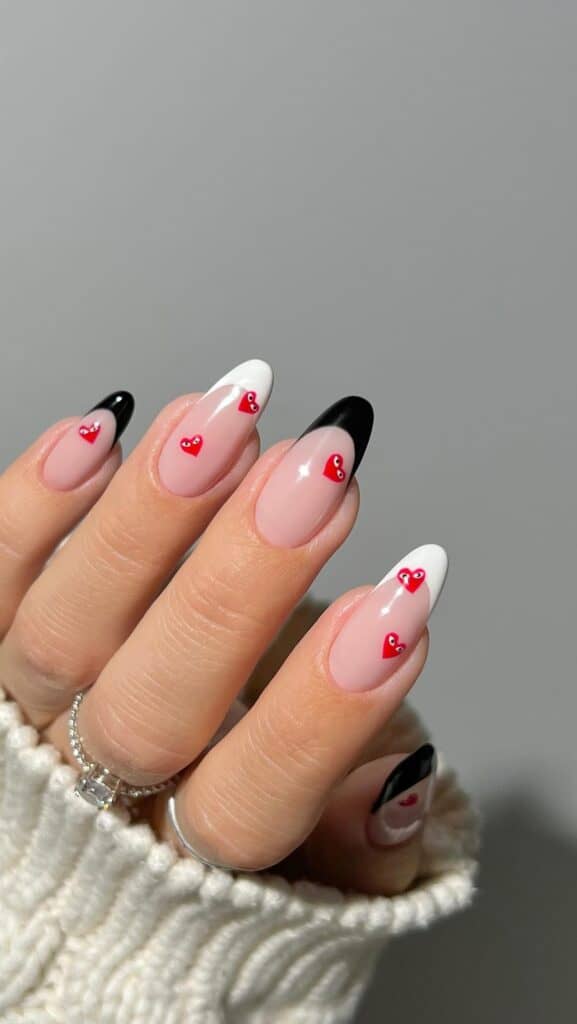 Black, white, and red is probably one of the world's most popular and loved color combos. It just works.
Like always, it brings a classic edge to this otherwise fun and adorable manicure that's also a little bit minimalist-chic, meaning that you should get away with it at the office or college.
30. Galaxy Romance Pink Heart Nails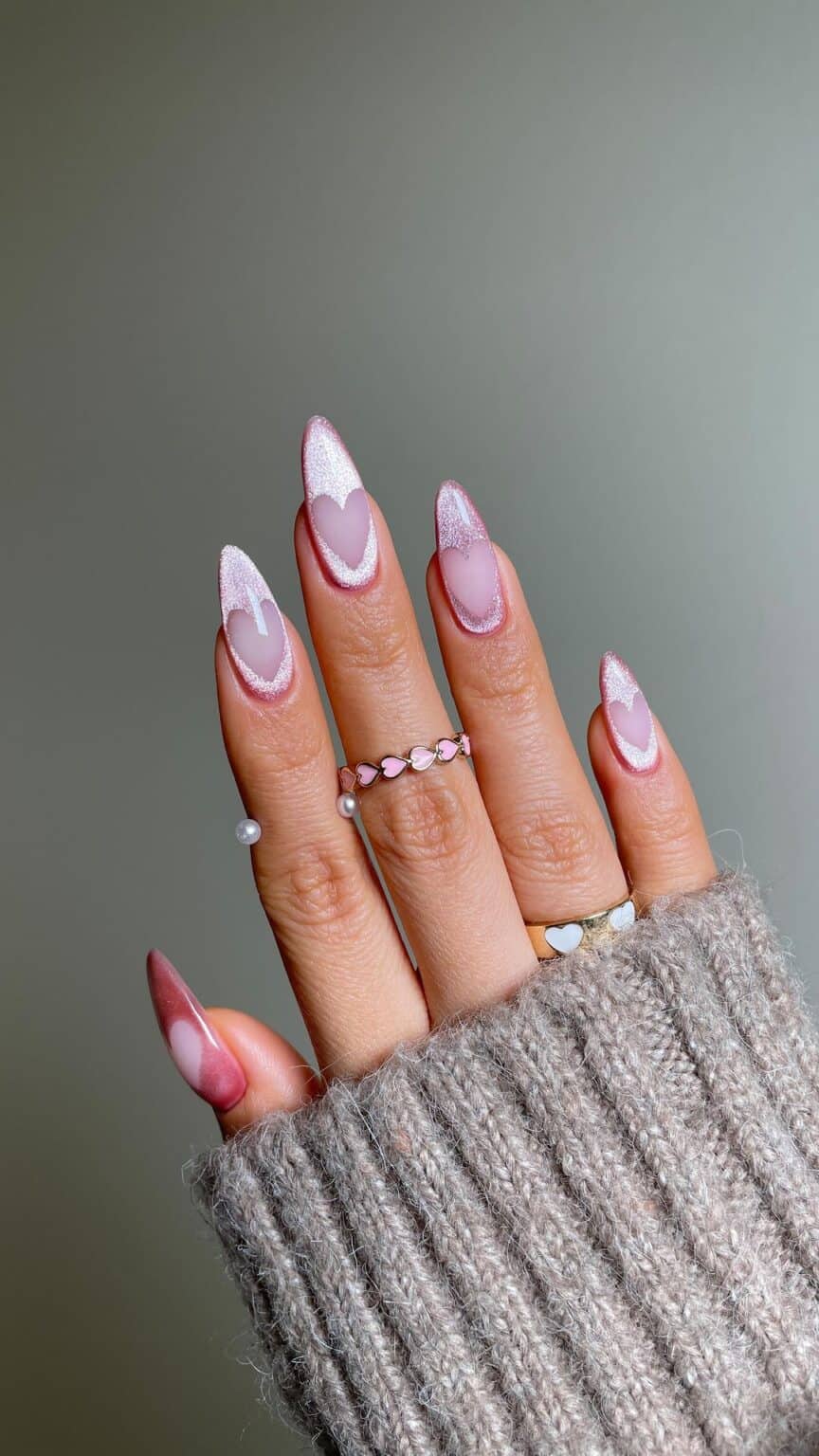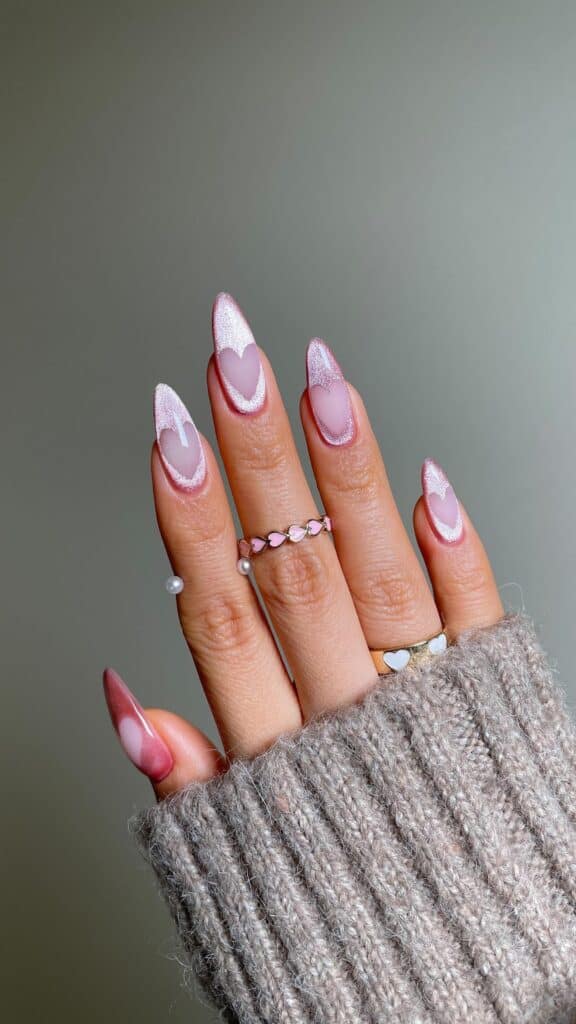 These nails are the epitome of cosmopolitan. They're refined and dazzling at once while also looking quite lavish and like they could strike at any moment.
The sharp nails create the striking claw look with the shimmer, bringing ice queen vibes that are warmed by a burnt pink base, all over captivating and charming nails that are a must this year.
31. Clashy Valentine's Day Heart Nail Design
If you want your nails to have attitude, these are your ideal choice. They're sleek, slick, and chic all at once, with a lot of personality and passion.
It's so creative how the flames form a love heart. Another detail worth pointing out is the wrap-around tip that elevates the warmth of the manicure.
32. Moody Girl Heart Set Nails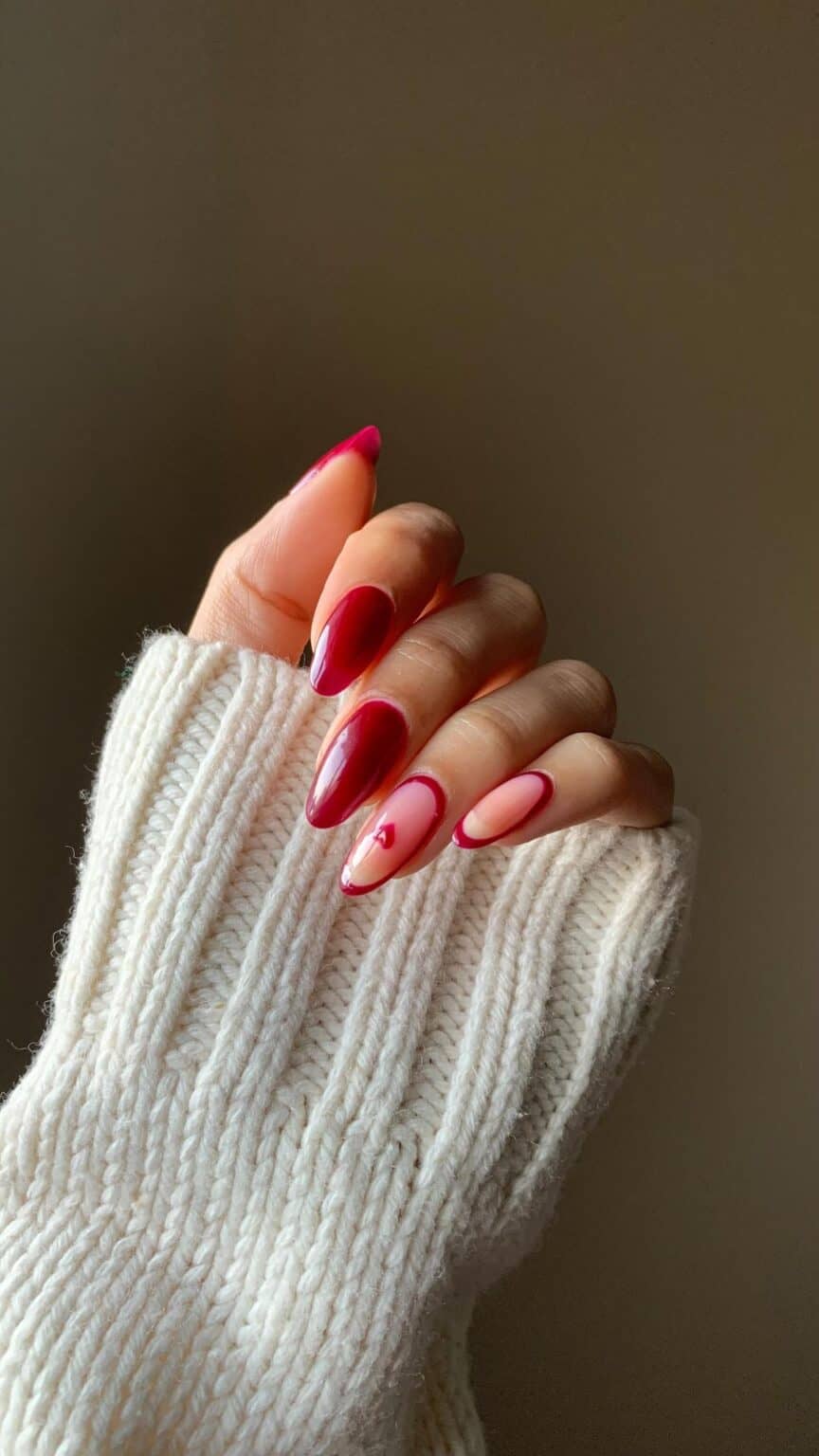 Heart nail ideas don't have to be complex or intricate to be beautiful. Sometimes, you just need the nail polish shade and one of the latest trends: Framed nails.
The look is pretty as a picture, classy, and vintage in all the right ways.
33. Black Cupid Heart Nail Designs
These nails are giving superstar vibes. They're naturally larger than life, not having to try hard with sharp shapes or loud colors.
Instead, their natural personality shines through with the gorgeous negative space heart and dazzling shimmer that looks absolutely stunning atop black nail polish.
34. Frenchies with Tiny Hearts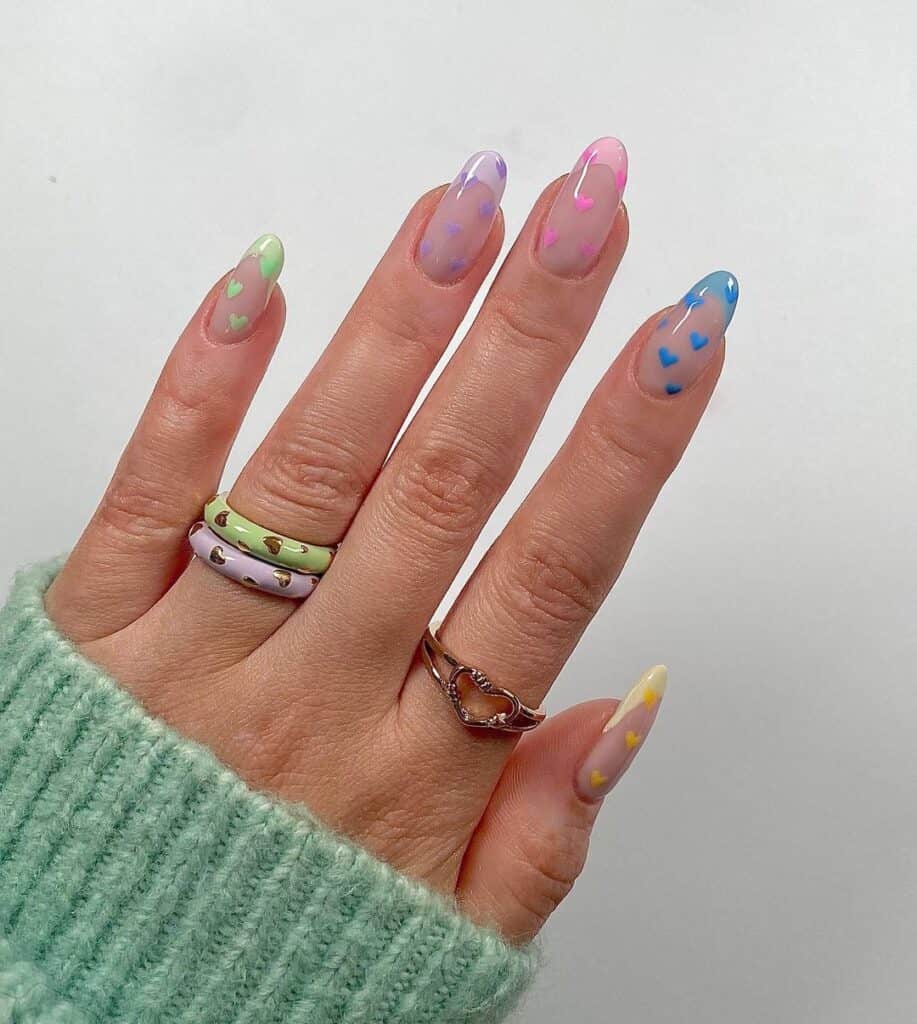 Heart nail colors don't have to be limited to red and pink.
Instead, you can enjoy having a whole rainbow splashed across your nails in one of the loveliest and most darling ways possible.
I just love how easy-breezy and bubbly this manicure is while daring to be colorful.
35. Blush Hearts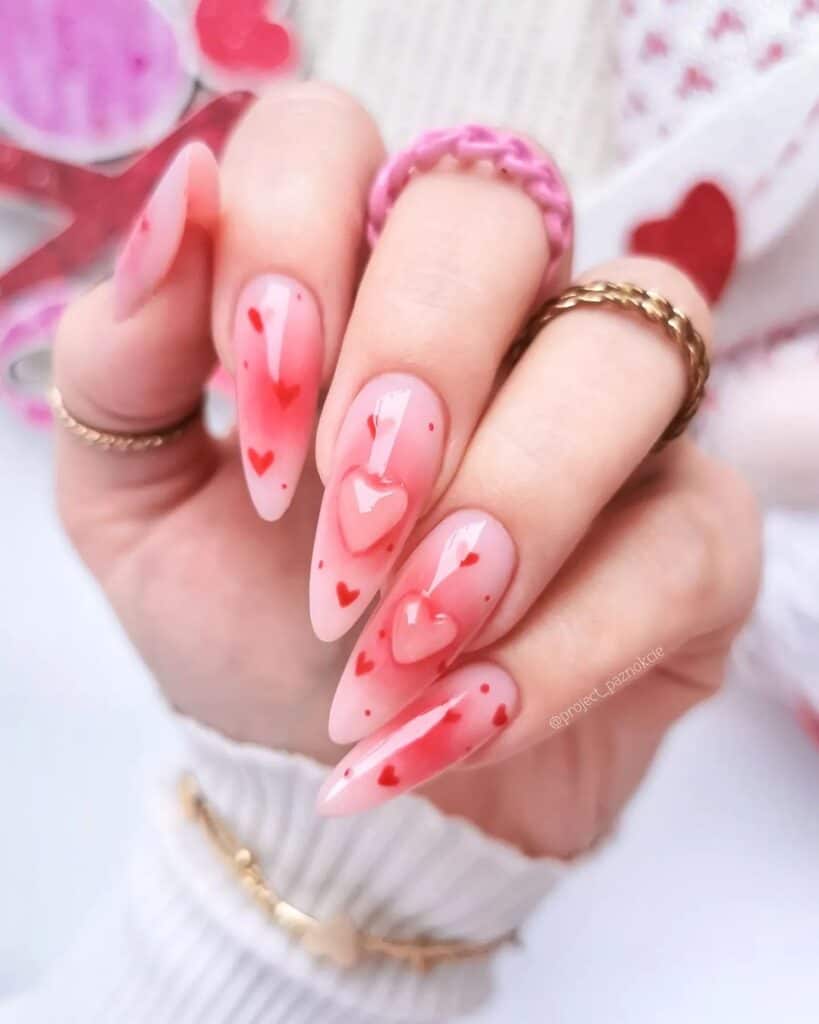 The many effects of these nails are so vivid and well-done that they look real life. It's part of what makes the manicure so captivating and compelling, not to mention alluring.
It's such a smart use of shading, colors, shapes, and even sizes.
Please treat your nail tech to giving these stunning beauties a try, and be sure to post them loads for all of us to gush over.
36. Hearts Comme Des Garçons Nails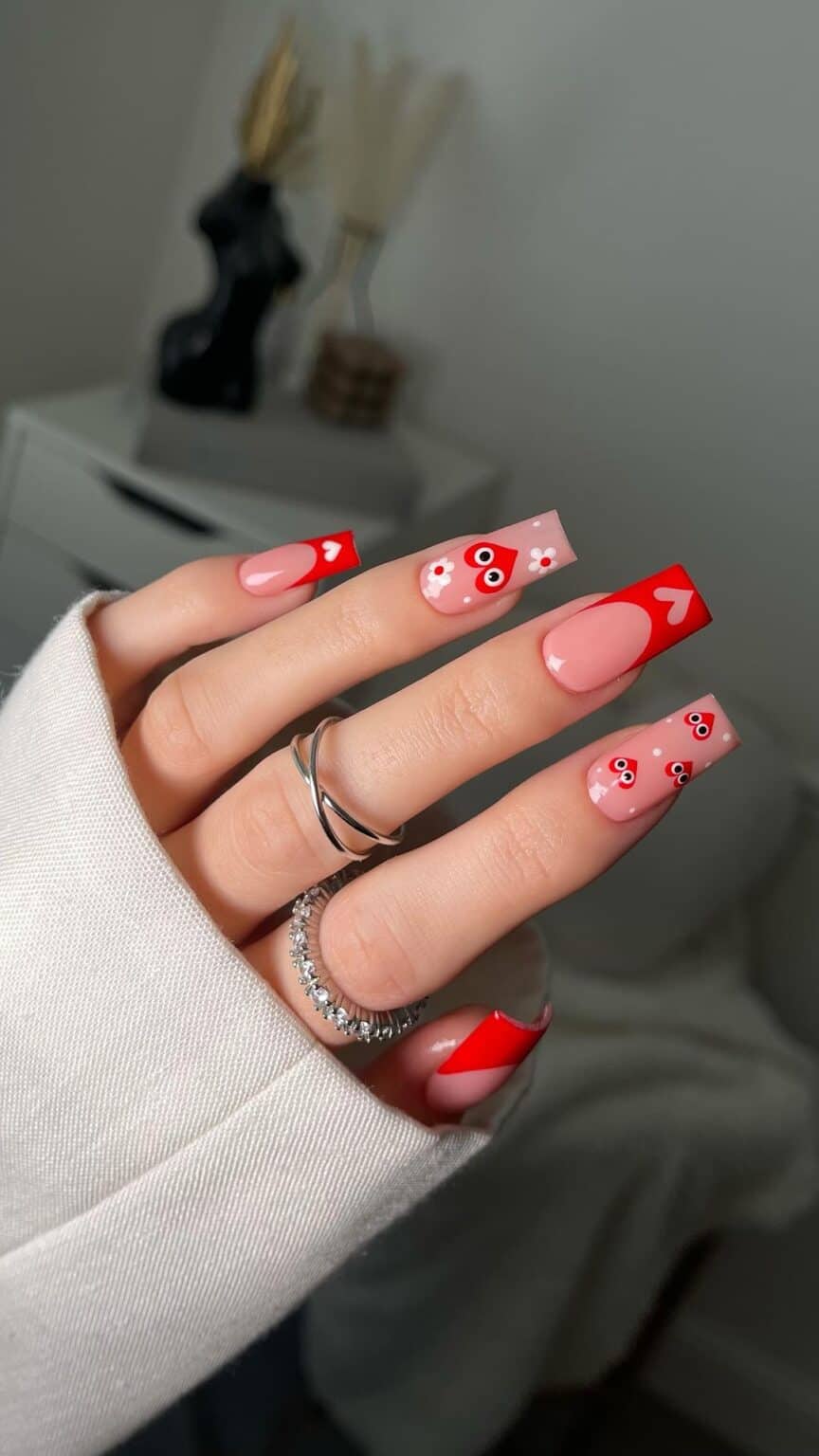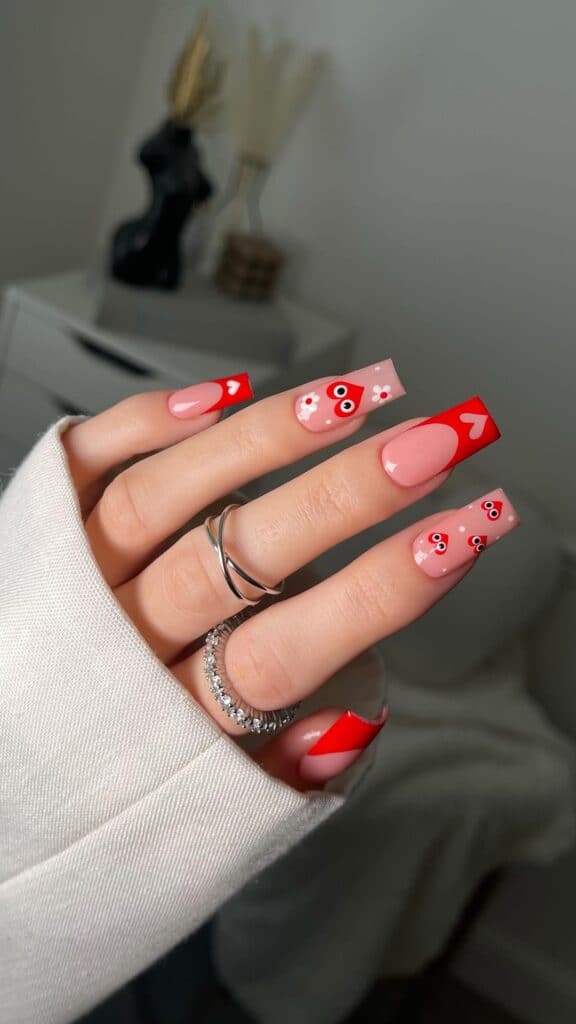 Heart nail designs tend to be naturally cute, but this one is downright heart-melting.
Seriously, I am dying from the adorableness of the cartoonish googly-eye love hearts, and don't even get me started on the negative space French tip. I'm in love.
37. Swirly Red and Yellow Heart Nails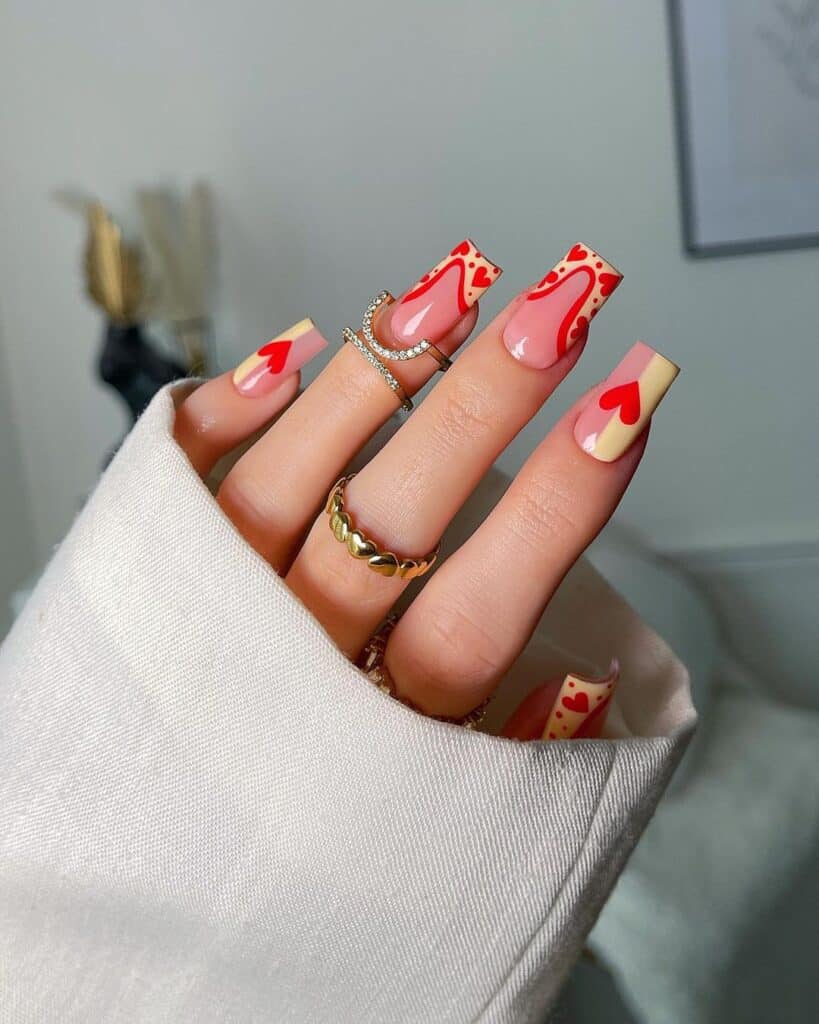 These are the 70s cool girl nails. They're all attitude and confidence with excitement written across the top.
They're even quite the fashion revolution with such funk lines and unique use of nail polish colors.
Plus, I'm obsessed with the symmetrical contrast nail style that I'm so glad to see is making a comeback.
38. Glitter Mix and Match Heart Nails
These nails are dazzling and radiant and honestly look like they have their own light source.
They're such celeb nails and come with superstar power.
The oval shape is also just the right amount of soft and charming to make this one of the most powerful and irresistible looks on the list.
39. Pink Clouds and Glittery Hearts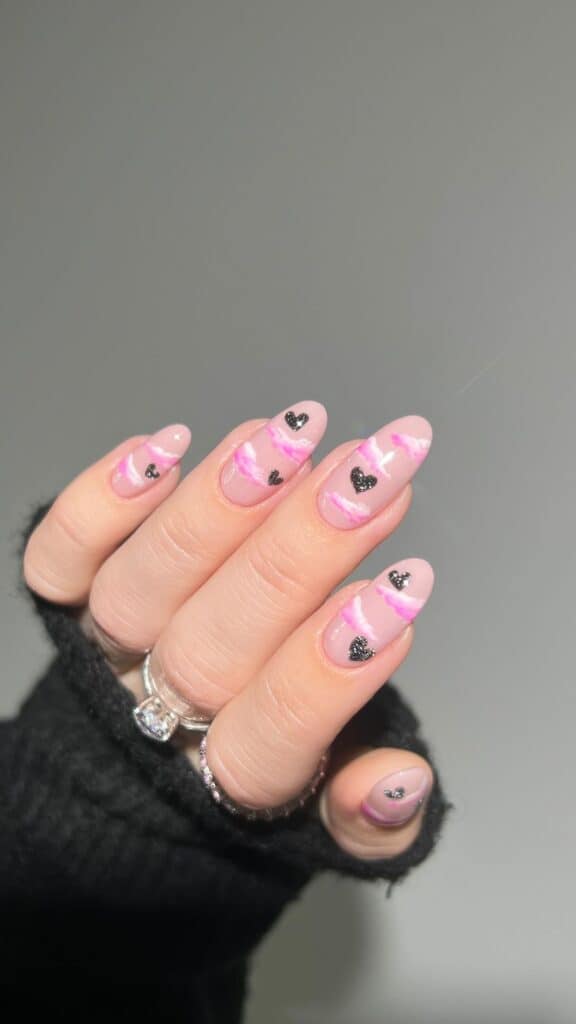 I've never seen nails that look like a literal daydream before. These nails are an absolutely stunning work of art with lighthearted and dreamy vibes written all over them.
To really bring these fantasy nails to life, get on down to your salon and pleasantly surprise them with such a breathtaking manicure idea.
40. Red and Pink Sided with Mini Hearts
These heart nails remind me of the funfair. They're so cheery and full of joy that they're like a pick-me-up manicure.
One look is enough to make anyone smile. Also, they make the best of the symmetry and contrast trends, mixing both into a gorgeously retro look.
41. Matte Red Heart Nails
These matte heart nails are all elegance and sophistication wrapped up in a little chic bow.
They're also quite high fashion due to their sharp edges and artful use of color.
There's no need for too many details because the high quality of the nails speaks for itself.
42. Pastel Candy Heart Nails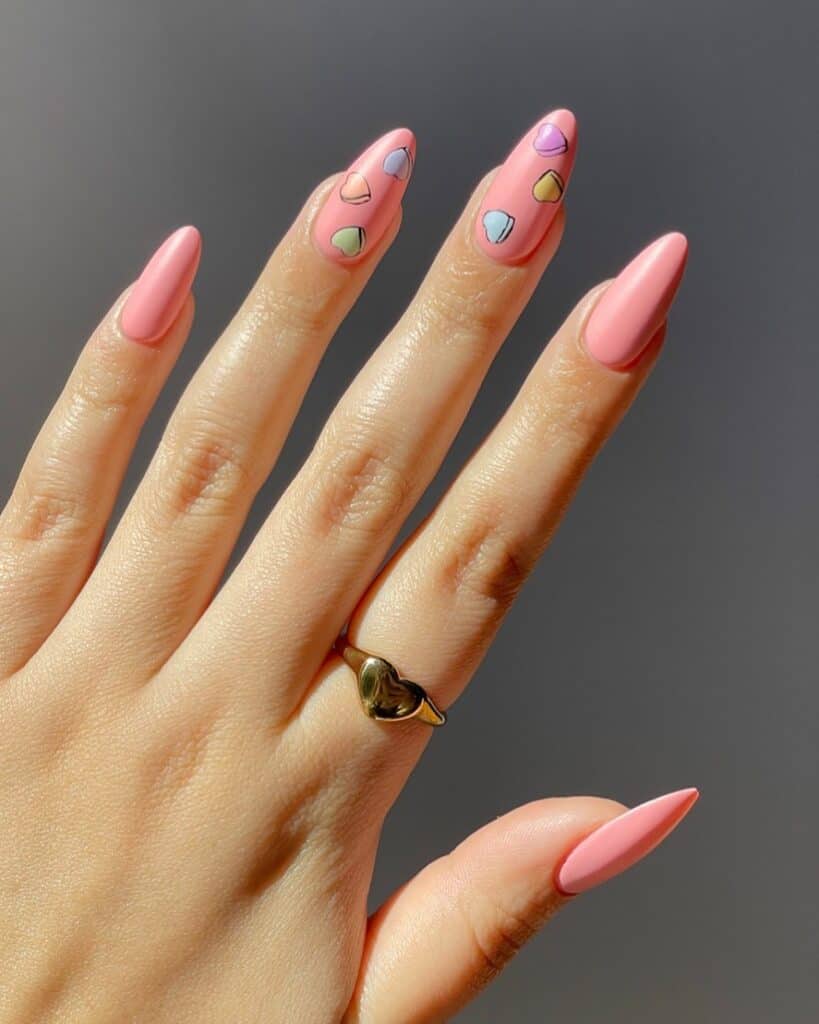 I'm seeing a lot of nail designs these days that are balancing in between almond and oval shaped.
The mix creates such a soft and charming look that pairs wonderfully with my favorite heart nail colors of all time. Anything pastel.
The little love heart sweets are also such a nice retro treat.
43. Cupid Swirly Nail Design
It was only a matter of time until the reign of swirls hit the heart-nail ideas category, and I'm here for it.
They're so 70s and girly that they bring the Power Puff girls to mind because they're also all flower power and personality.
The colors work fabulously together, and the sharp-ish nail shape is an absolute must.
44. Simple Red and Pink Hearts Forever
There's no nail design that suits the transparent style quite like love hearts.
The frothy, bubbly, and exciting vibe of hearts are really allowed to shine through with this captivating effect.
It almost makes the nails like a tad psychedelic but entirely adorable and even a little minimalist-chic as far as love heart nail designs go.
45. Pantones for Valentine's Day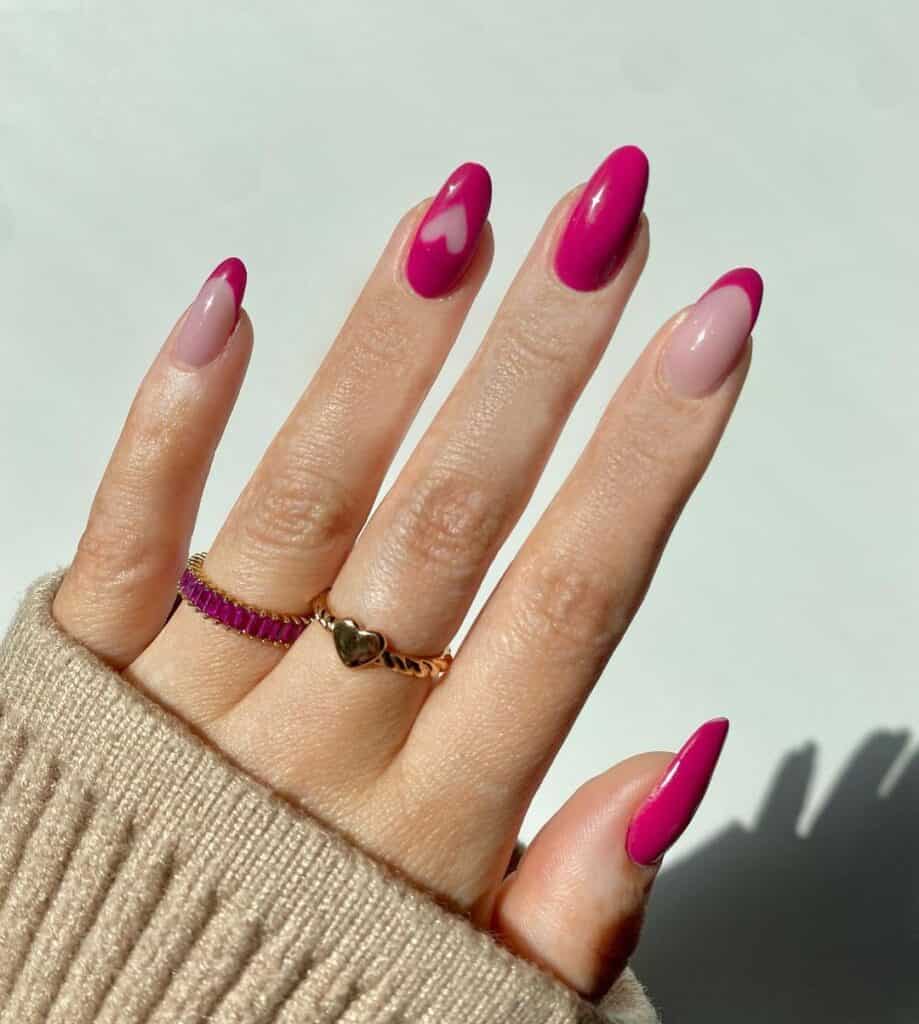 Here are the ever-girl nails. They're here for you, and they won't let you down. They're the perfect accessory for every outfit and fit right in with all your rings.
The same could be said for your moods or absolutely anywhere you find yourself, from work to sipping mimosas with the colors.
The negative space love heart is also just irresistibly gorgeous and trends, so do yourself a favor and keep these on your must-try list.
46. Short Heart Nail Designs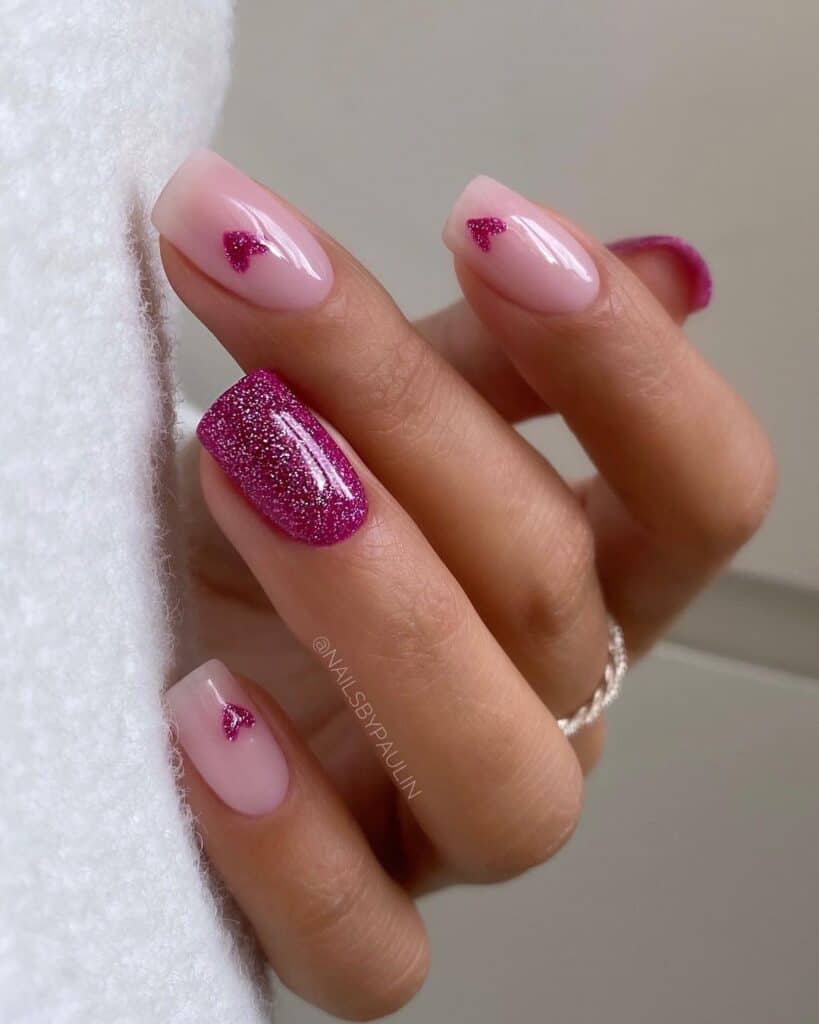 My Barbie nail radar is going wild. This manicure honestly looks like it was designed by Mattel.
They've got Malibu beach vibes and are such free-spirited lovelies. Plus, the semi-transparent pink polish is just so delicate, with the glitter nails and love heart art adding a gorgeously gorgeous twist.
47. Leopard Heart Nail Designs
Consider these the heart nails that you know and love but are not afraid to show their wild side.
They show off in all the right places, even daring to show some sharp edge, but they know when to be chic with gorgeous French Tips.
Plus, they're surprisingly easy to DIY, so what are you waiting for?
48. Valentine's Day is Coming
Some people struggle with the classic love heart nail for Valentine's Day because they either think it's too cutesy or too complicated.
Here, we have the look at its most minimalistic with a lovely quirky twist. It keeps things lovely but adds plenty of personality.
The whole look is wrapped up in a chic aura thanks to the long oval shape of the nail with a milky white base on top. The love hearts are relatively small and no-fuss.
I just love it all.
49. Long Coffin Mini Hearts Nail Idea
When it comes to heart nail designs, there's always one that's fit for a queen. Here it is in all of its regal glory.
Your hand will look like it's dripping in love hearts with these striking, sharp nails that just pop. They look so confident and breathtaking that you'll get a confidence boost just from wearing them.
Plus, how could you not share these on Instagram? Expect plenty of compliments.
50. Heart on Hearts-on-Hearts Nail Art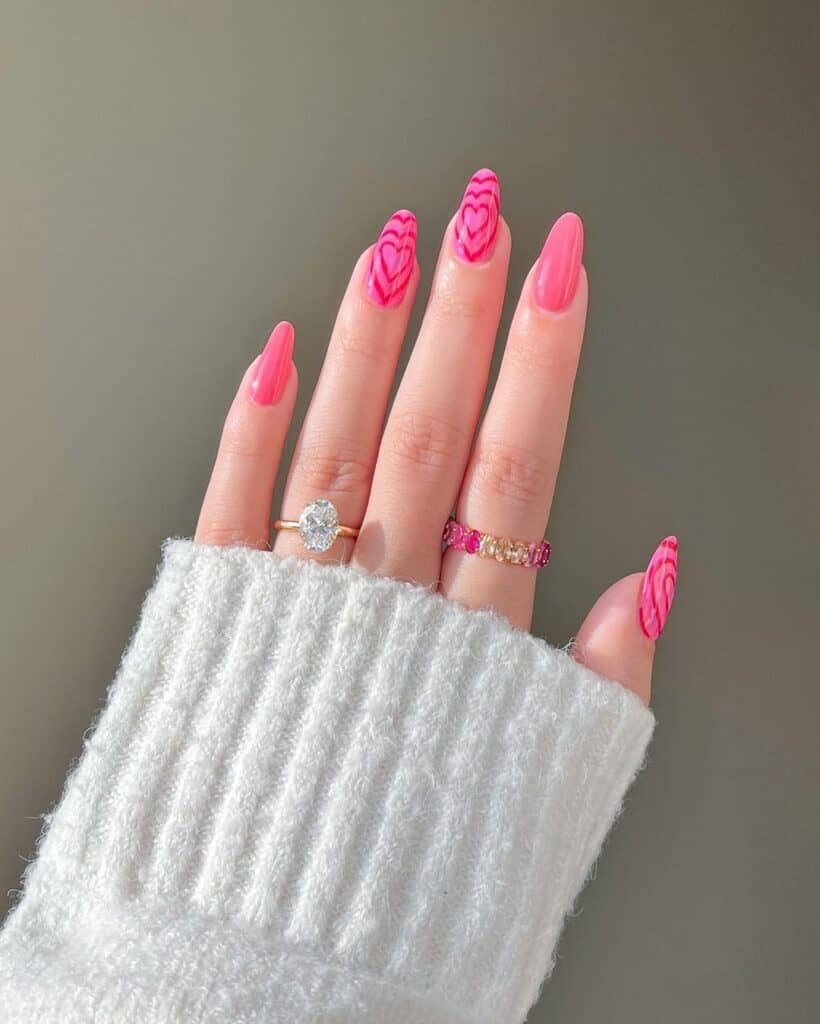 I just love how groovy and fun these nails are. The love hearts are so 70s, and the light pink nails add such a soft touch.
The long oval shape of the nails is naturally feminine and girly and really in at the moment.
If you really want to make the look pop, consider adding a shimmer top coat and pair with diamond pink rings. It'll honestly be stunning.
51. Pastel Heart Nail Designs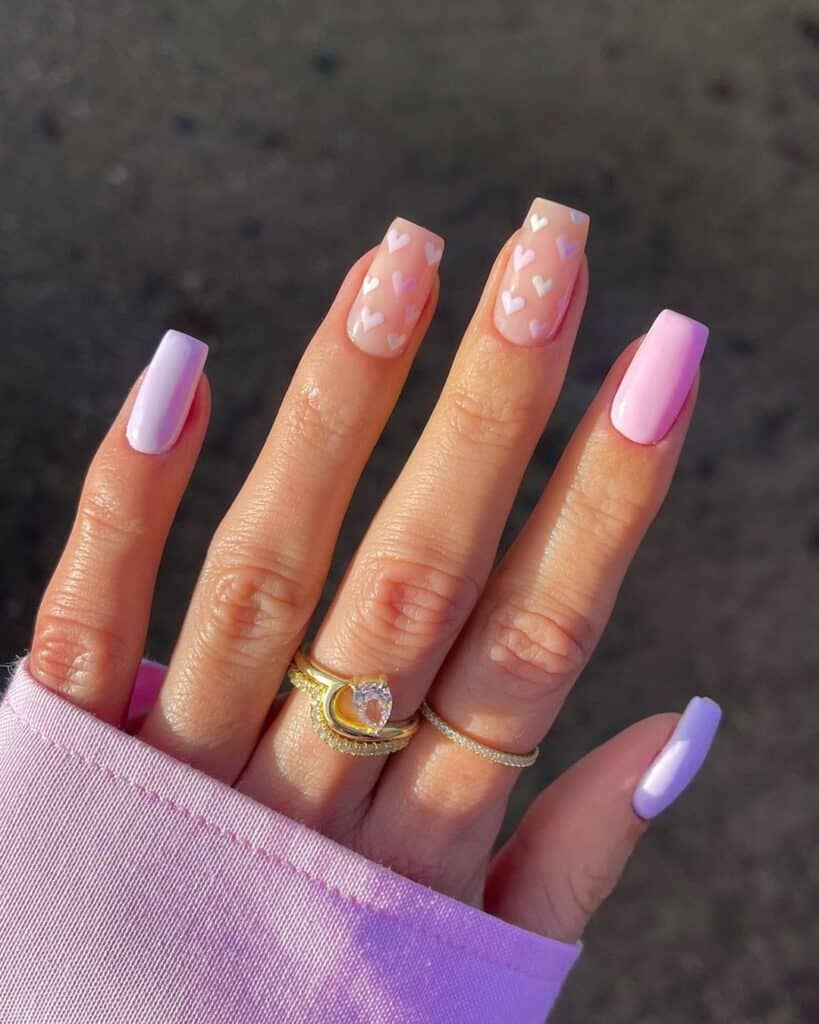 Pastel and love hearts were just meant to be. Soft and cute on their own, together, they're an adorable power couple that seriously can't be beat.
The various pastel polish shades of the
52. Red and White Heart Tips
These pretty hearts' French tip nails are what I call doll nails. They're so darling and adorable, with a little hint of innocence sprinkled on top.
The French tips effortlessly bring their trademark chic aura to the manicure, while the love hearts add cute lovey-dovey vibes.
Plus, the red and white contrast is such a quirky twist that makes these nails oh-so-sweet.
53. Fire Hearts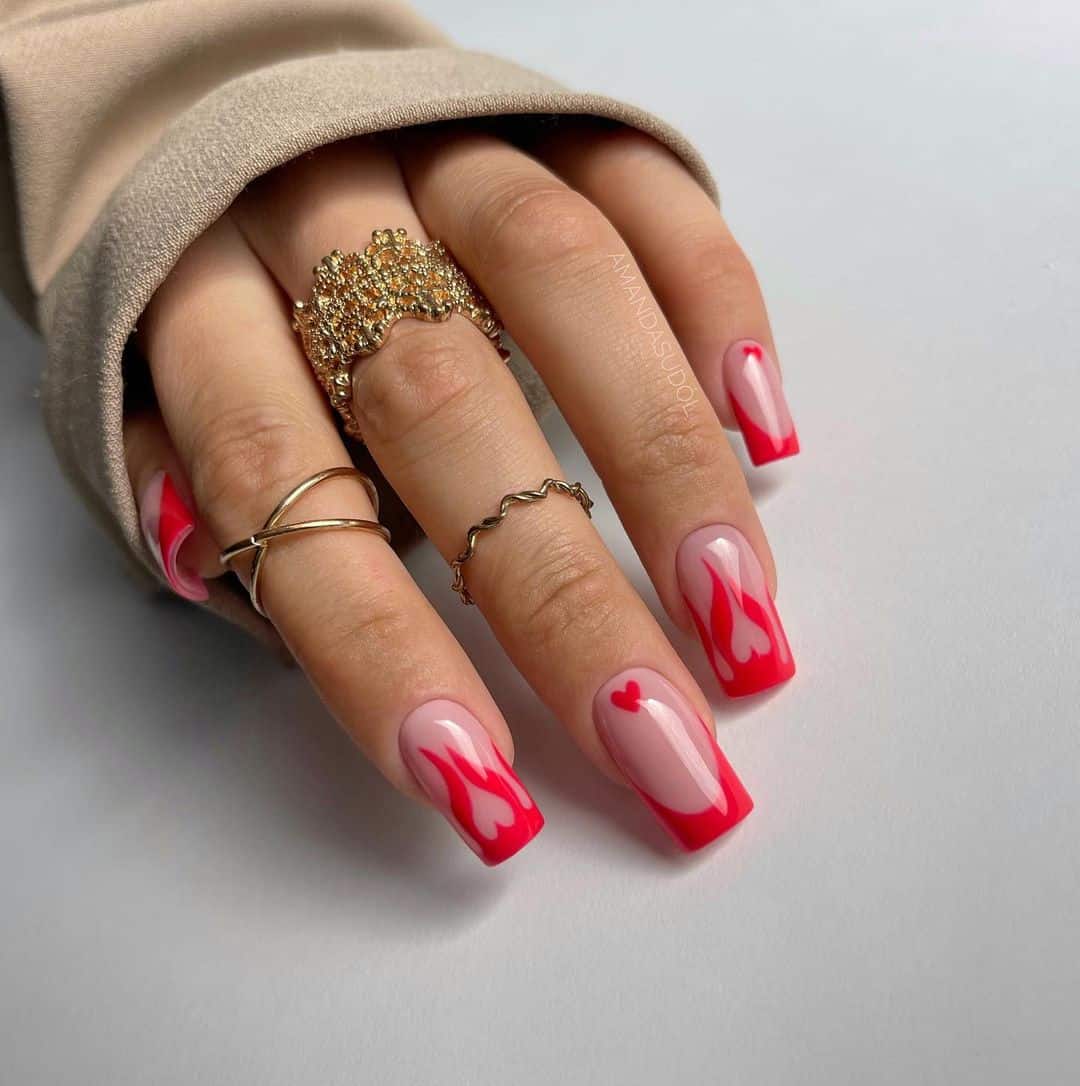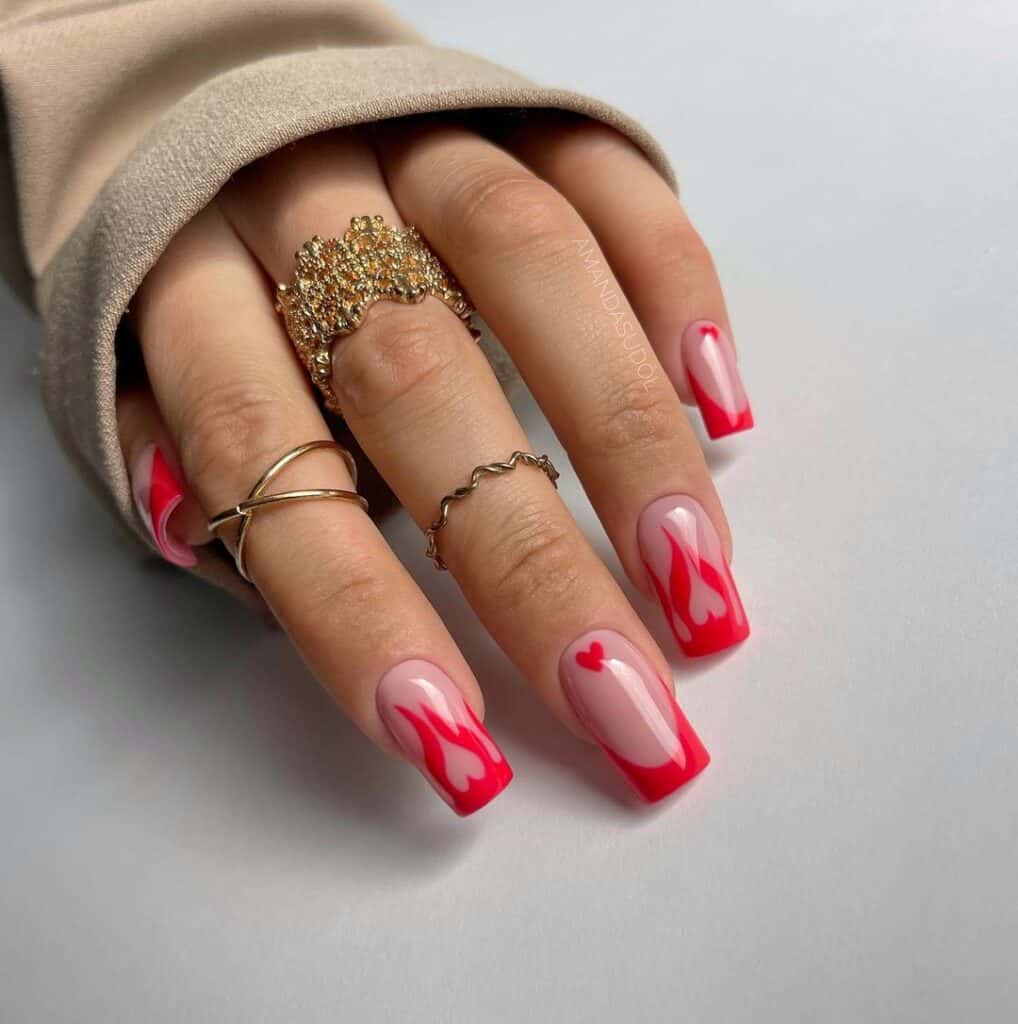 These are biker chick nails. They're fiery, daring, and full of passion but beautiful at heart.
The dramatic flames are the perfect contrast to the adorable French tip love heart nails that are absolutely to die for.
Plus, the long sides of the nails mirror the long flamers, which is why the long, square nail shape is essential to this look, before even mentioning the striking edge it adds.
54. Red Ombre Heart Nails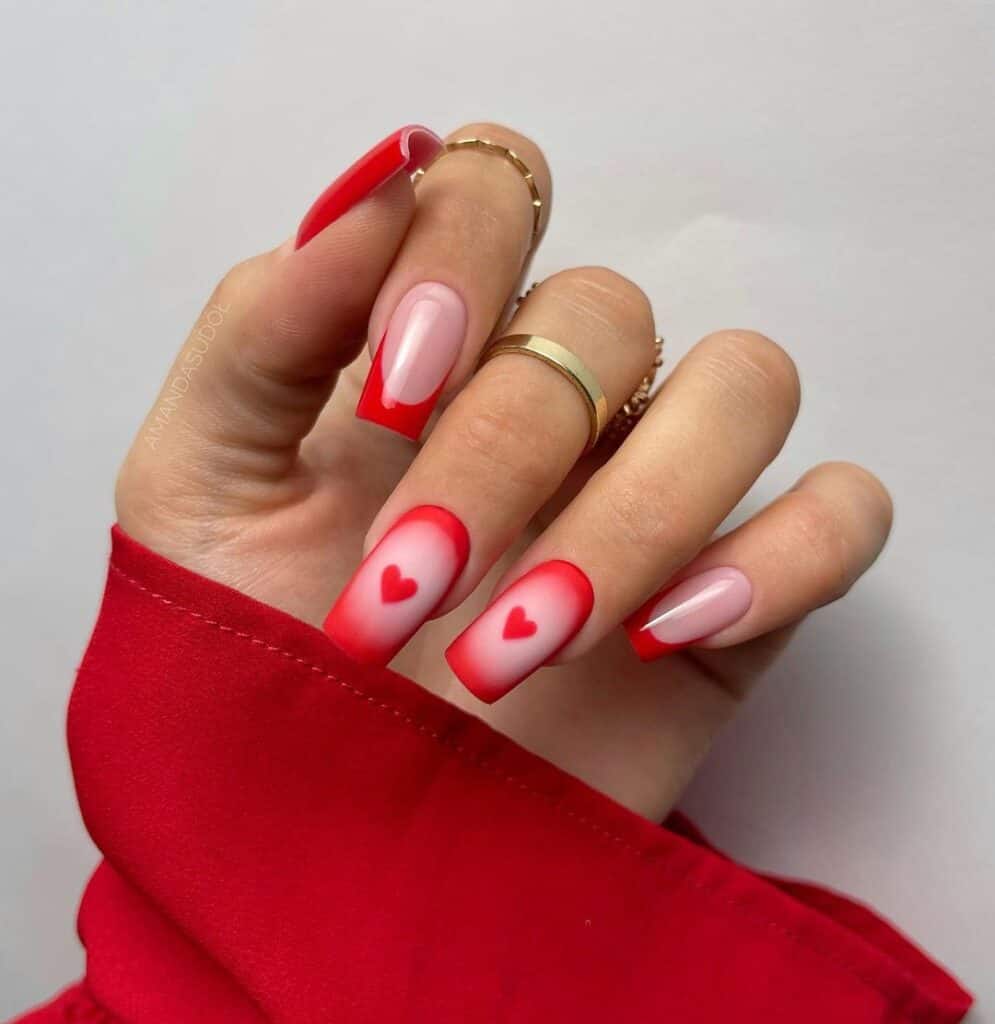 Everyone's love for negative space nails this year has developed into new and colorful takes on the sensational style.
This look mimics the negative space style by adding a gorgeously contrasting twist that only red and white could produce.
The result is so charming and alluring. The soft warmth of the nail also manages to tame the edge that's a trademark of long, square nails.
So, this manicure is a precious rarity and beautiful as well. Do yourself a favor and add them to your must-try list.
55. Matte Red Nails with Hearts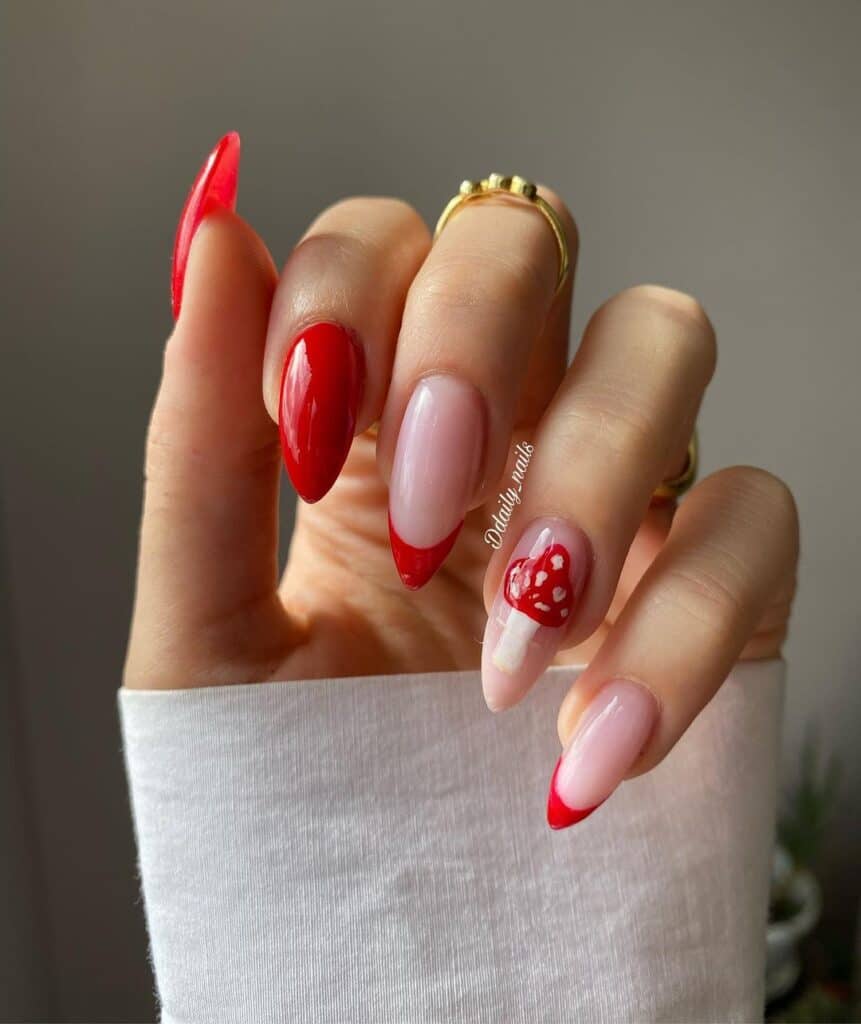 Cottagecore is new to the scene and has seen a meteoric rise in popularity due to TikTok and the beauty side of Instagram.
It's an ode to all things quaint, rustic, and adorable, which these nails just so happen to be.
Mushrooms are a common motif of the trend, and soft almond nails with hearty, strong colors also play right into one of the brighter parts of the trend.
In other words, this is one of the most popular manicure styles right about now.
56. Love Heart Flames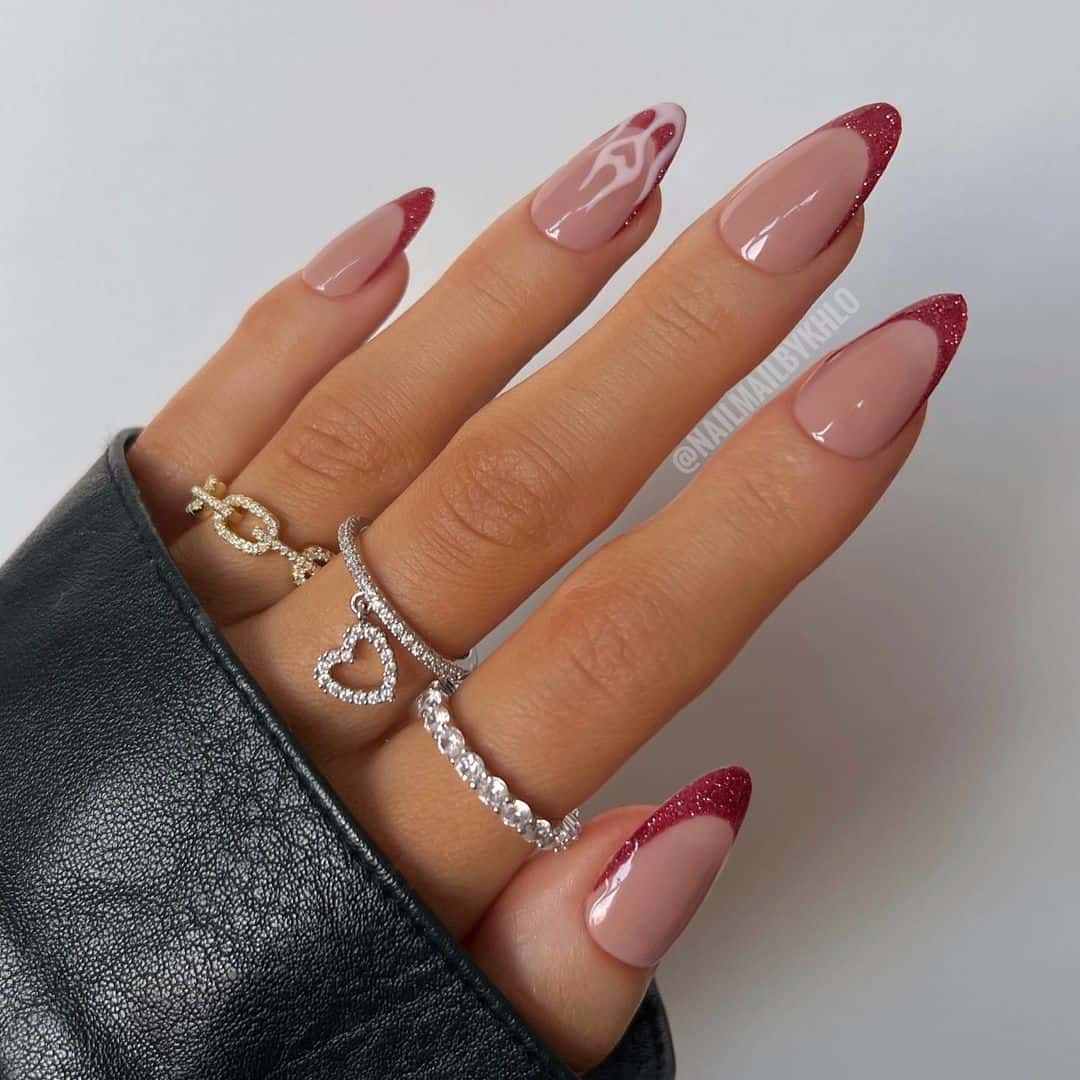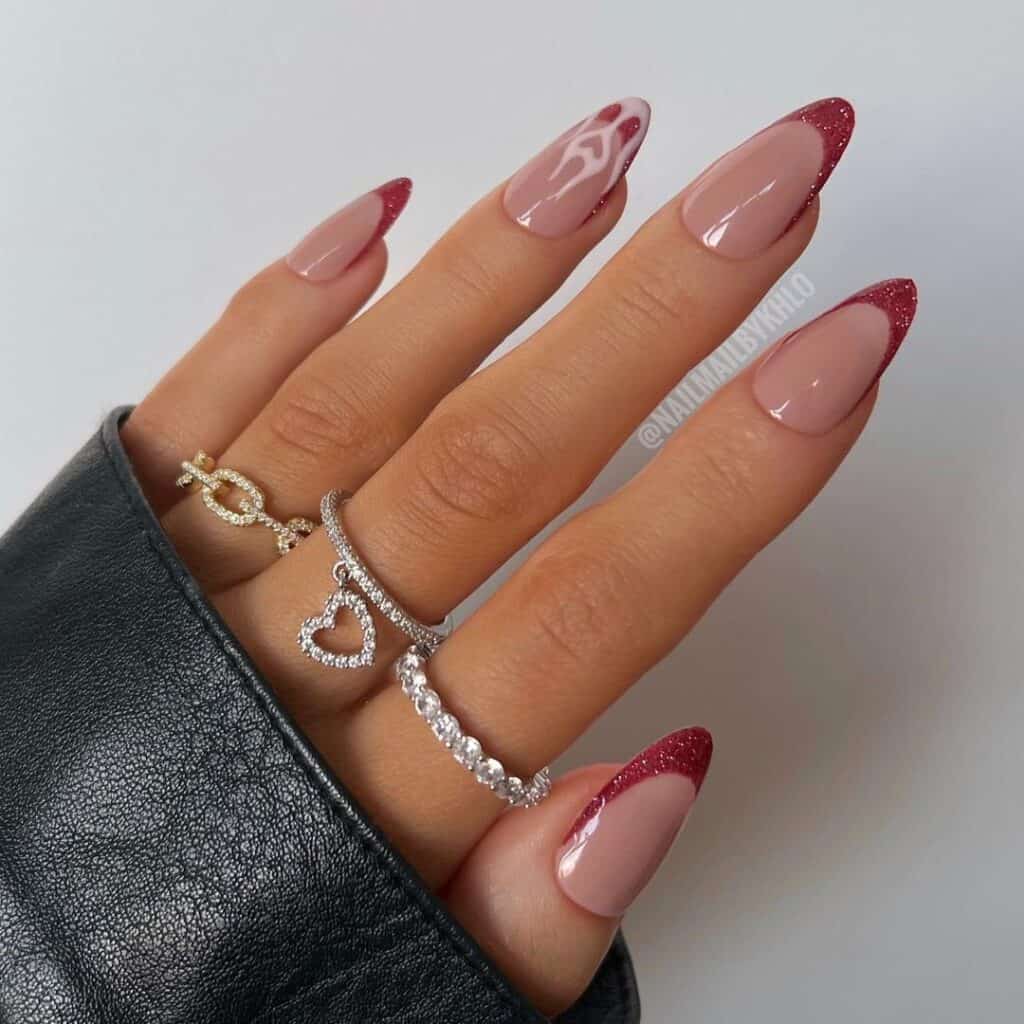 I kind of love how rock and roll these nails are. They bring attitude to the nail beauty game, and they do it all in stunning style.
Shimmer tips are always a favorite of mine, particularly when they're drawn on this high to add length to the nail.
The result is elegant and chic, but the fiery accent nail is really the star of this marvelous manicure. It's utterly gorgeous and such a unique way to add a hint of daring romance to your look.
57. Broken Heart Nail Design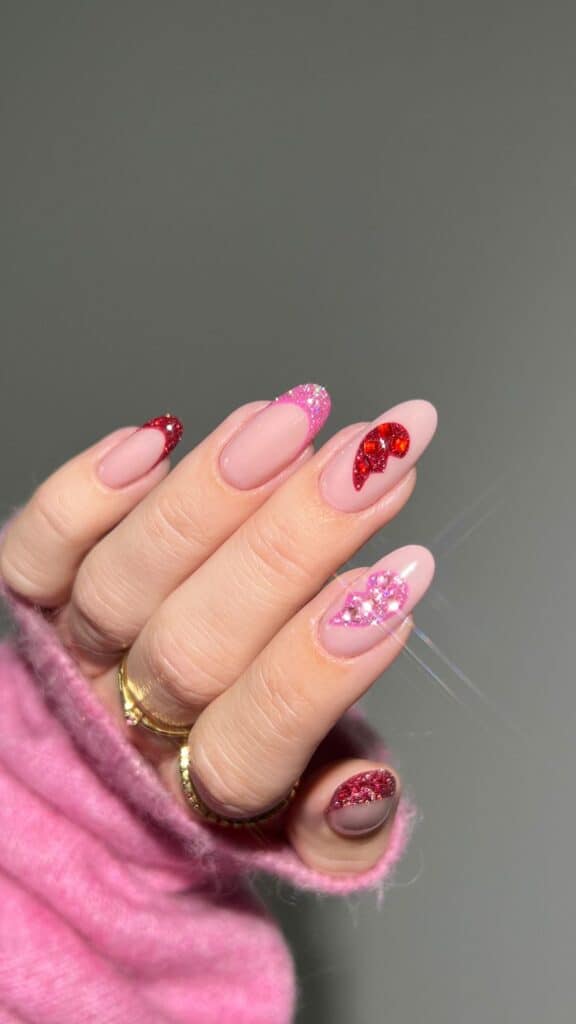 Possibly one of the most unique Heart nail designs I've seen this year, these nails honestly (incoming cliché) have my heart.
They're just the right amount of moody sentimental and are such bleeding heart beauties with sparkles on top that I just can't. I'm definitely wearing them this year.
These WereCute Heart Nail Designs and Heart Nails You'll Want to Recreate this Year