This post may contain affiliate links, which means I'll receive a commission if you purchase through my link, at no extra cost to you. Please read full disclosure here
January is finally here, and if you're anything like me, you're on the hunt for the best January nails and January nail designs to take your nail art to the next level.
The Holiday season is finally over. And it's time to switch out your shimmering Christmas nails to exciting January nails to match the cozy winter season and kick-start the new year.
Besides, this is that famous time of the year when everyone sets new goals, habits, and motivations to improve their health and well-being.
And, like spring, it's a time when you want to get rid of the old and start the year on a clean slate.
But as a nail-obsessed lover who uses anything to get a new manicure, your New Year's resolutions should include "New Year's new nails."
Dealing with winter blues can be exhausting, but with the perfect January nails paired with dark, icy colors or a pop of color, you can get through the cold days like a rock star.
To get your inspiration flowing, I've searched and curated the prettiest January nail designs to help you get your manis glammed and ready to take on the new year.
Whether you're looking for trendy January nails that graced the New York Fashion Week to take to your manicurist, or you want to spend your "me time DIYing" your nails by the fireplace.
Maybe your New Year resolution is to take your self-care a little more personally, and you need January nail ideas to kick-start your goal. I got you.
From the classic dark, icy, and wintry January nail color polishes and designs to icy chrome nails, these nail ideas are Pinterest-worthy.
And even if you want to add a pop of color to your manicure. You'll find the cutest January nail designs that match your mood and style.
The Cutest January Nails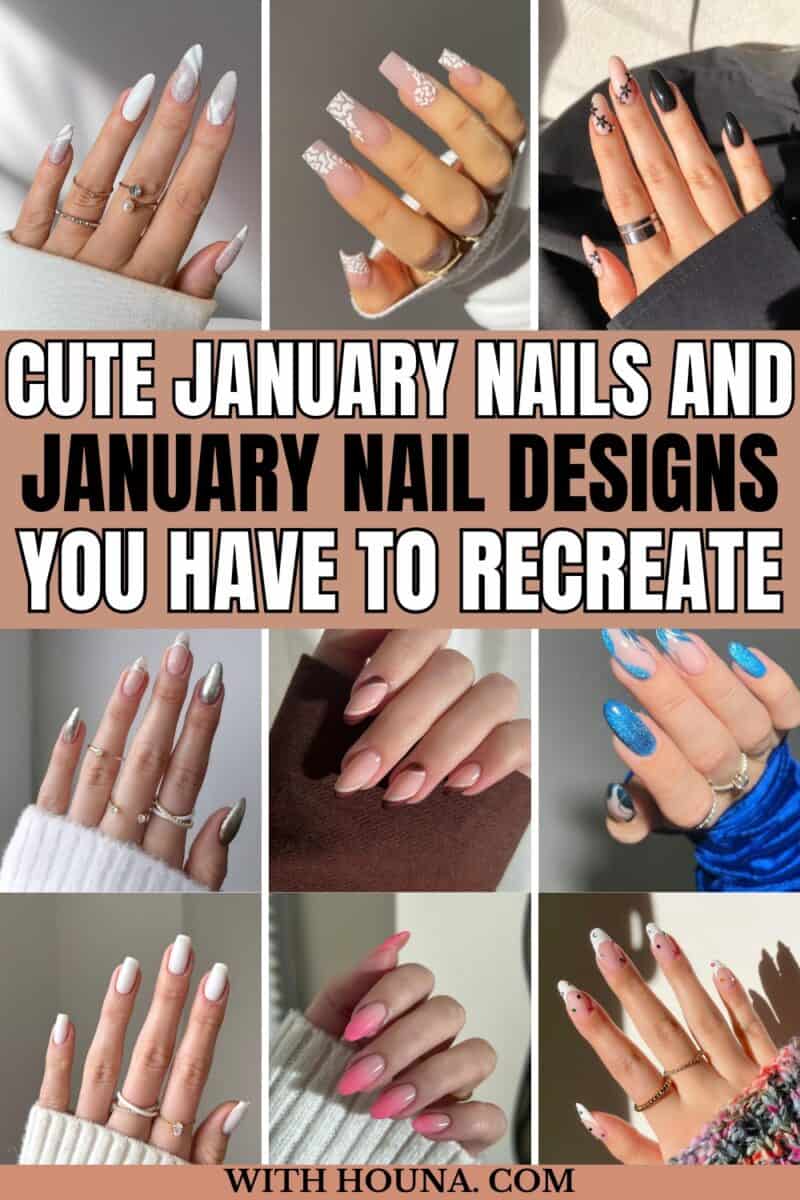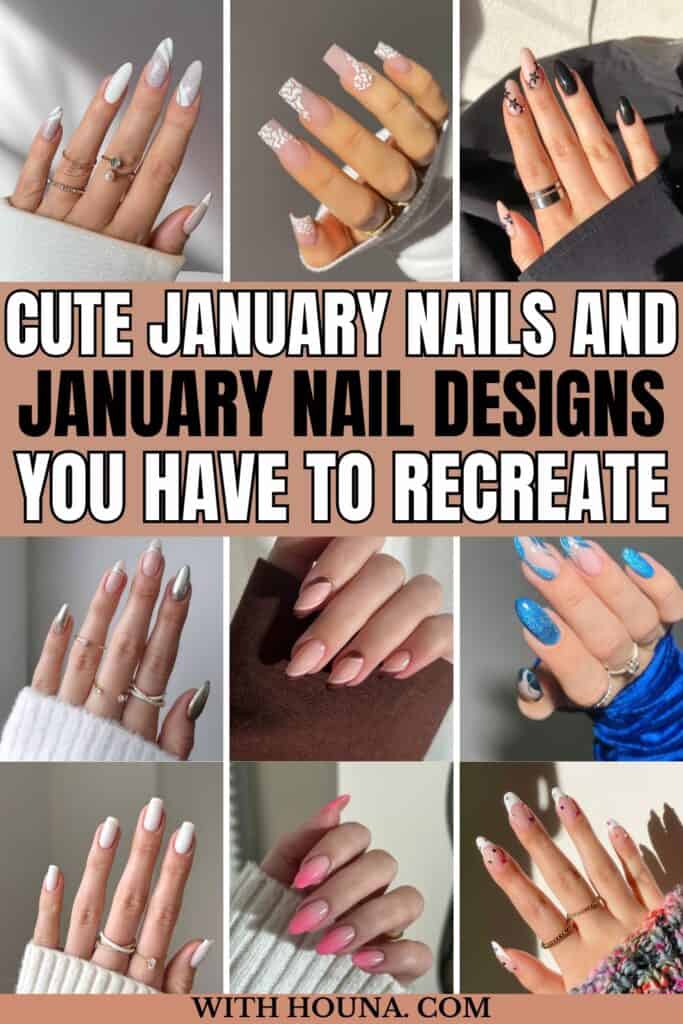 1. Cute Stars January Nails
These January nails are all Madonna. They're giving 70s and 80s at once, bringing the festive party into January in groovy and funky style.
They're also right on them for the month, with the adorable black stars contrasting wonderfully with the powerful shimmer of the nails that is sure to catch attention and look absolutely dazzling on Instagram.
2. Ethereal January Nail Designs
These are the nails of our dreams. Each one looks like a tiny work of art that leaped right out of a fairytale book and onto your hand.
I'm so here for the adorable and quaint turn that nails have been taking recently. I'm also melting before the charm and dreaminess of this ethereal manicure.
They're truly the nails of a lifetime, and you'll never want to take them off. I'm in love.
3. Thanks December, Next to January Nail Designs
January nail designs are wonderful in that they've got all the magic of Christmas nails with the freshness of January nails.
They truly enjoy the best of both worlds, as you can see from the shimmer and shine of these sparkly beauties.
The star nail art literally looks like it's twinkling, while the French tip and swirl nail add such an elegant twist. They're perfection.
4. Snow Sparkles for January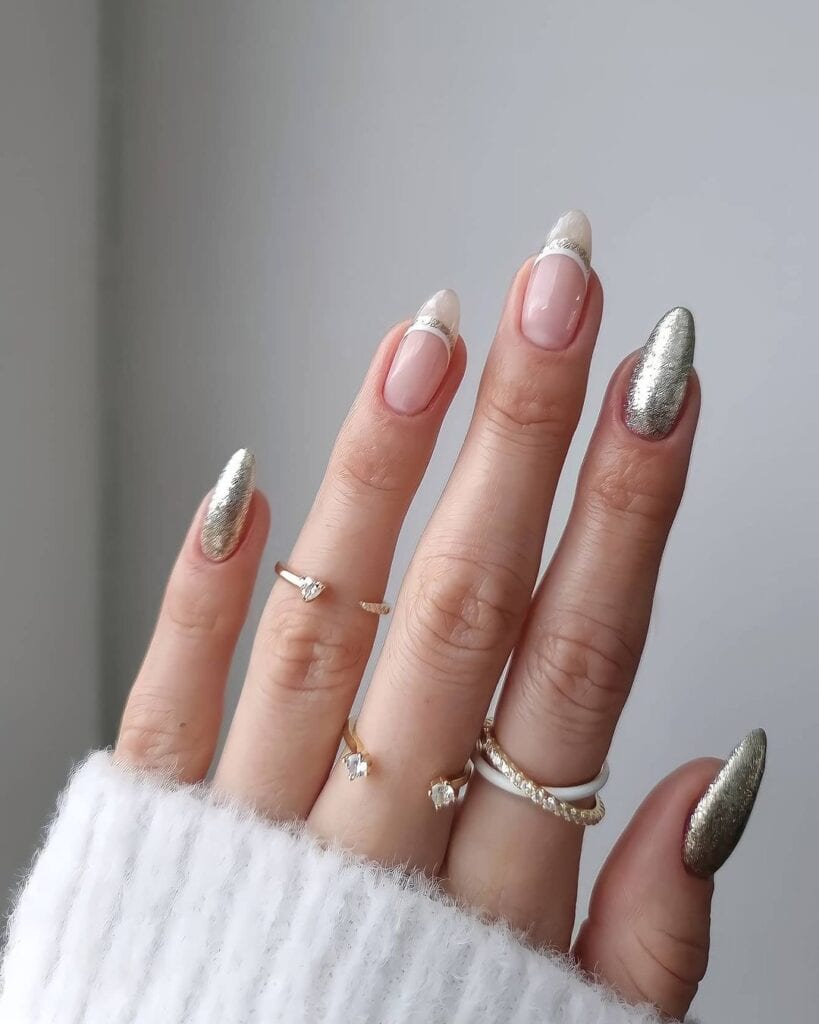 There's a certain hint of sophisticated and elegant wedding day manicure mixed with futuristic fashion in this intriguing January design that has my heart and full attention.
I just know that the metallic sheen of chrome is going to be huge again next year with all of its cosmopolitan goodness.
Add that to the timeless beauty of French tips, and this is just guaranteed to be a trendy look.
5. White Leopard January Nails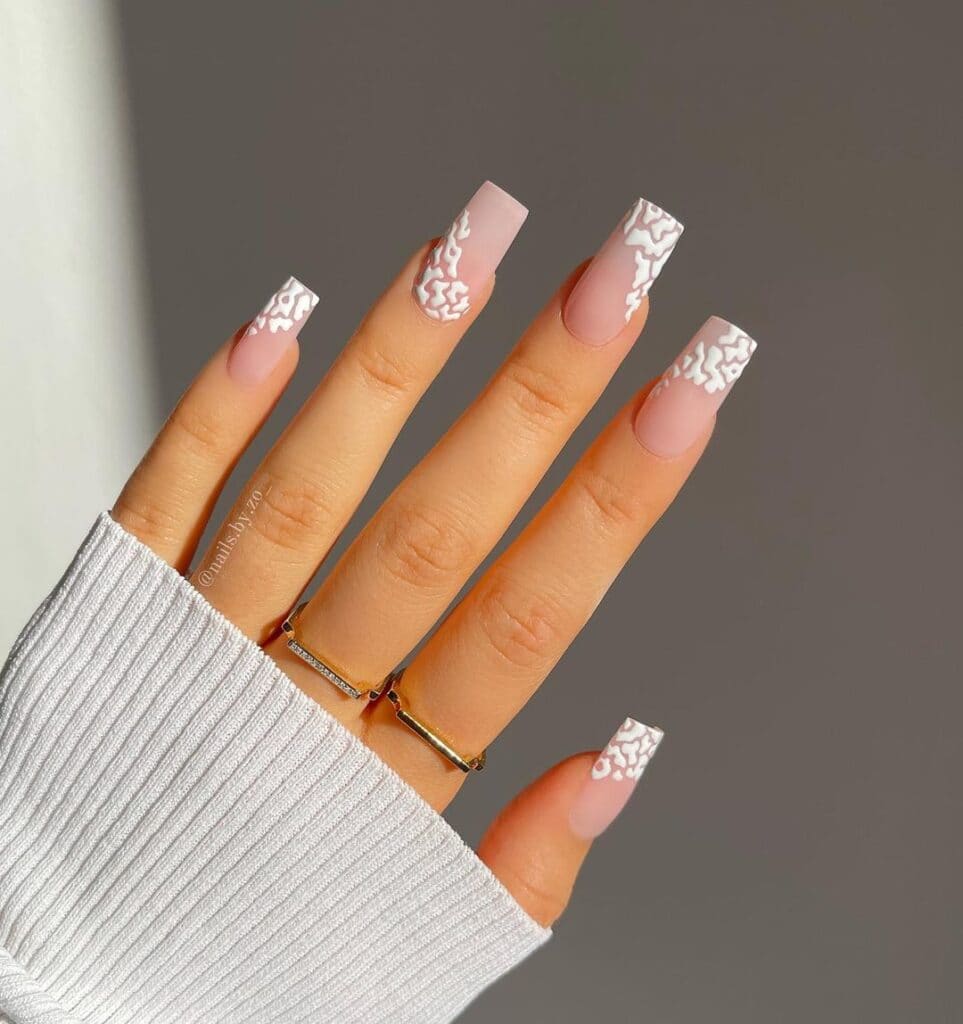 There's very little that can soften long square nails other than adorable white polish animal print.
Honestly, these nails are such a captivating contradiction. They're so full of life and personality, yet they're also incredibly chic and delicate at once.
The result is dynamic and exciting and needs to be shared all over Instagram for more fashionistas to gush over.
6. Glittery Gardient January Nails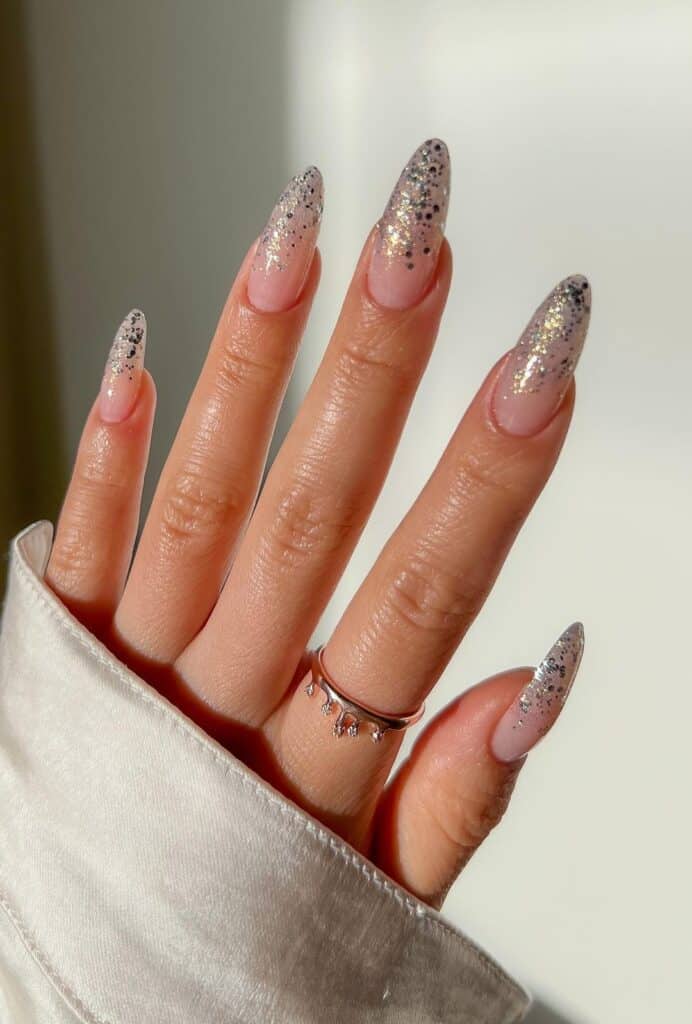 Fortunately for us, January Nail colors include silver and white. In fact, they're the most-loved colors of the month and just tend to look fabulous with sparkles and glitter.
So, if you're not ready to let go of festive designs just yet, the beauty world is on your side. Get those almond-shaped beauties at the ready and let the sparkly party begin.
7. Pink and Orange Heart Nails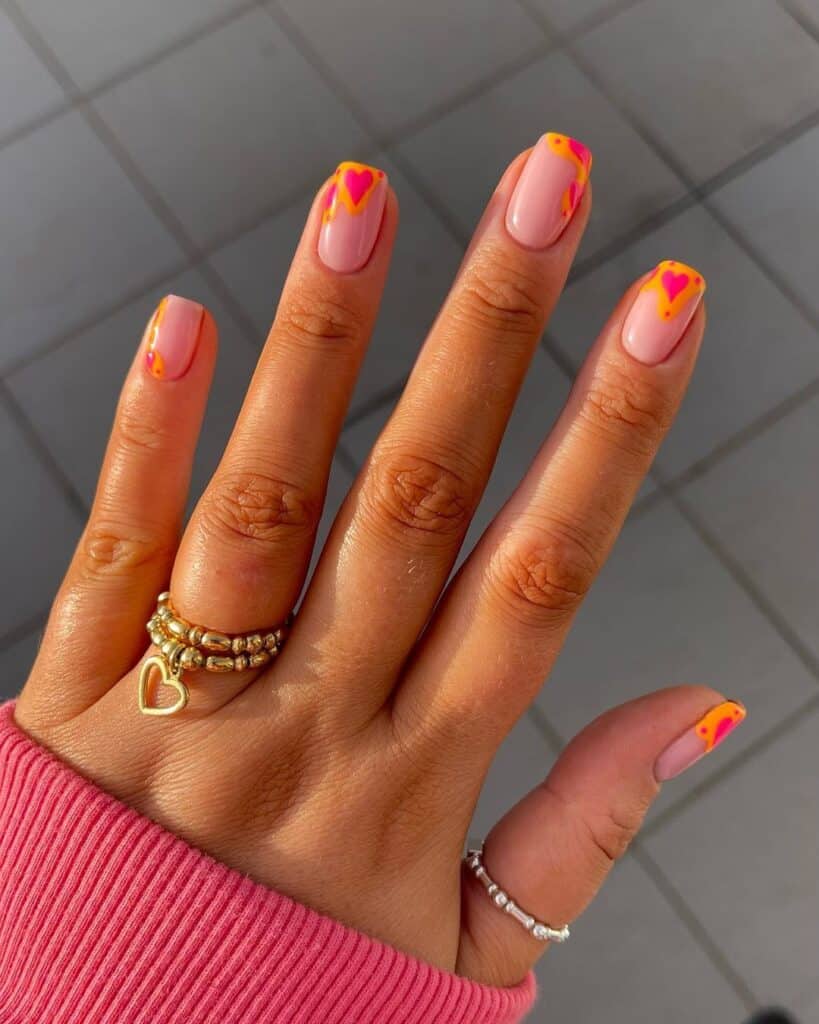 These nails are like a fresh breath of air and the first rays of sunshine shining through the curtain in the morning.
I just love the square shape with rounded sides that provide the perfect base for such quirky tips.
Of course, the vibrant and fun design also pops due to a base that matches the natural nail to keep things neat. All around, just such a groovy and funky look that's incredibly heart-warming.
8. Minimalistic Black Flower Mani January Nail Designs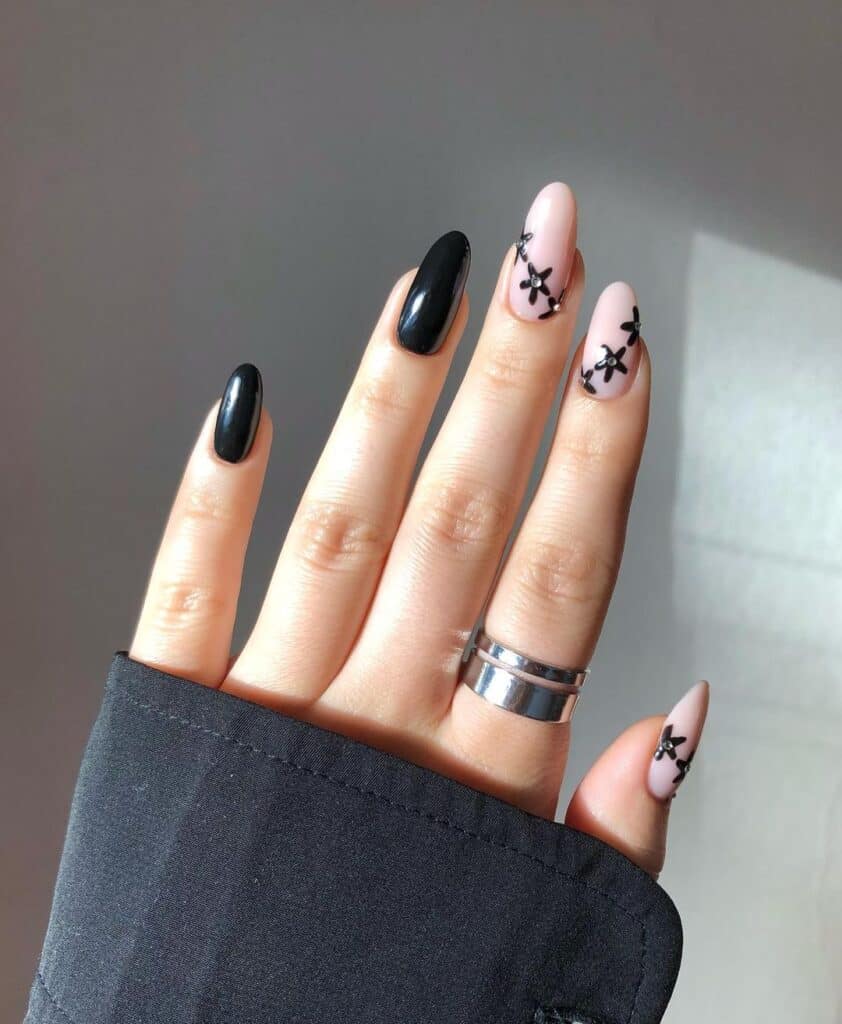 Netflix's Wednesday has repopularised black gothic nails, and I'm here for it.
I'm especially in love whenever the manicure includes adorable additions, such as cute little flowers with diamond-studded centers.
You'll have to keep your nails quite long and ovaly to make this look work, but when it works, it WORKS.
9. Milky French January Nail Designs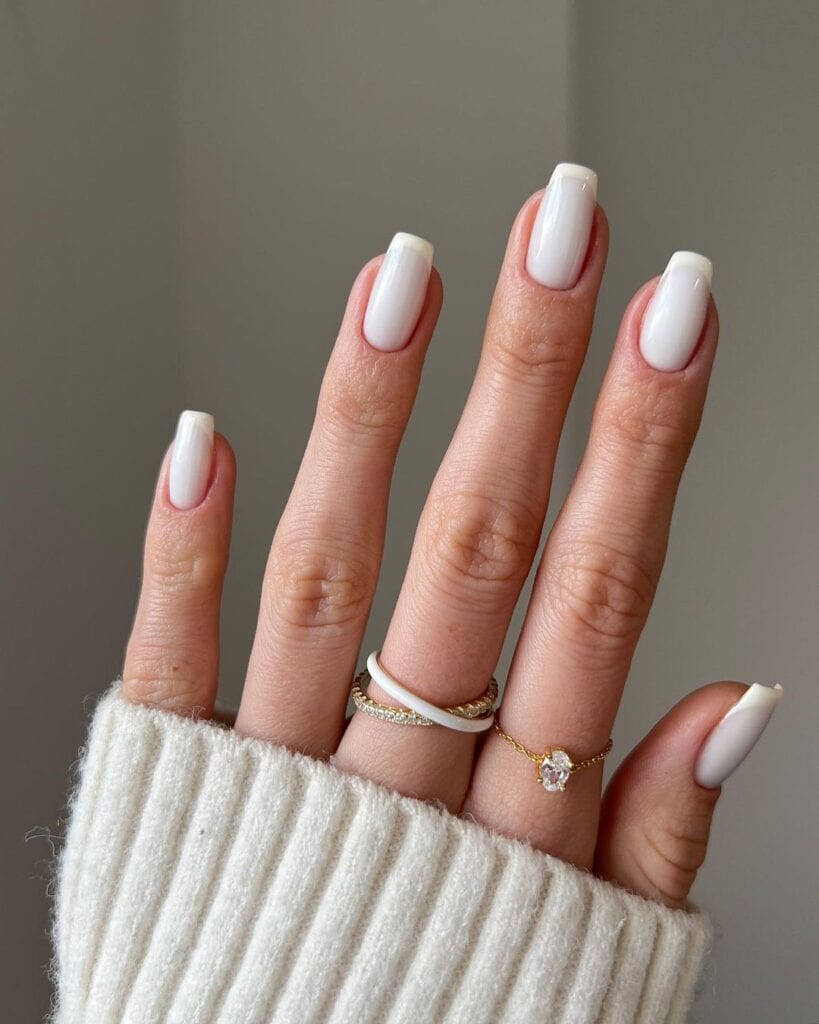 I love seeing two-tone nails, but I'm particularly intrigued when it comes to complementing shades, especially if they're of the same color.
Make that color white, and you have one of the most avant-garde and distinct January nail ideas of the year.
It's the perfect way to add a bit of fascination and excitement to the elegance of a classic white manicure.
10. Neutrals for January
These are what I call accessory nails. As in, they're better than any ring, necklace, or bracelet.
The nails are so subtly painted that they work as an addition to any outfit you wear. They're also incredibly intriguing and entirely unique in their own right.
So understated yet effective, the height of high fashion.
11. Dreaming of a White January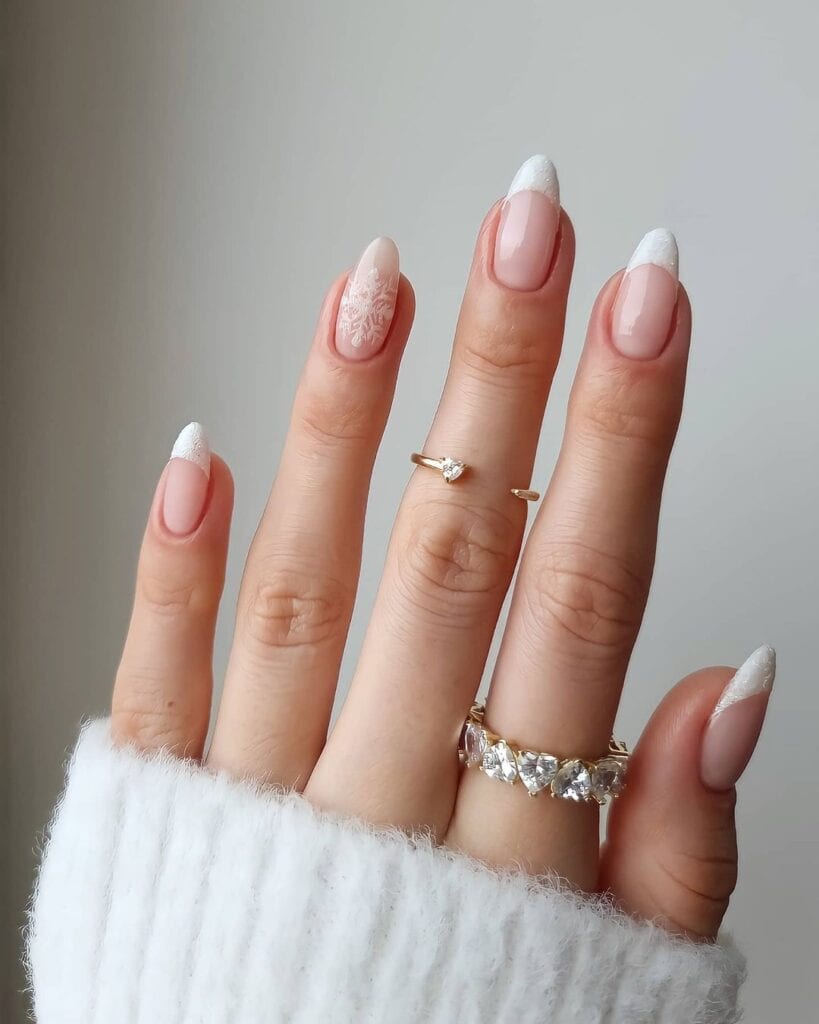 This is what a winter wonderland would look like painted across your nails. They're downright beautiful and stunning.
Plus, while accent nails have been fading in popularity recently, all signs point toward them making a comeback next year, so get ahead of the crowd, make a statement, and guarantee your reputation as a style queen fashionista by predicting and even creating trends.
12. Pink New Year's Nails for January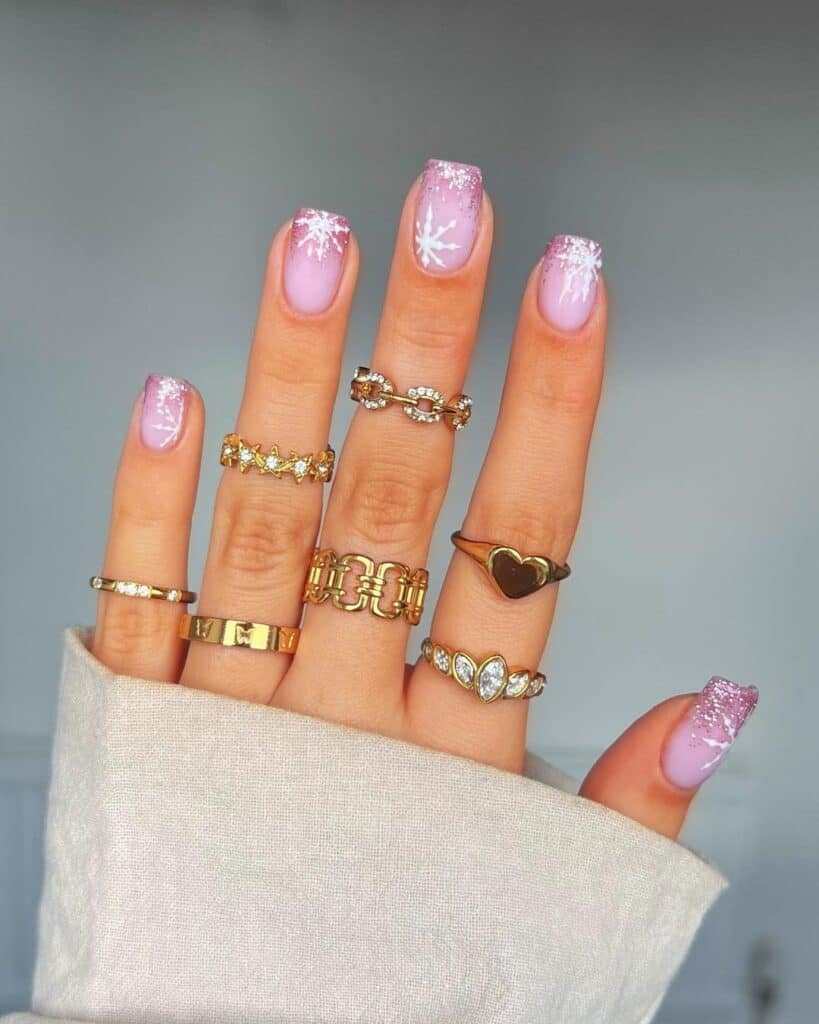 I am head over heels with these January nails, and it's not just because they're pink.
Yes, I've been loving that pink has been everywhere this year, thanks to Barbie, and I'm hoping that it stays just as popular next year.
But it's the sparkle tips and firework-esque snowflakes that have my heart. Plus, any look that brings out the beauty in square nails is always good in my books.
13. Bubbles January French tip Nails
Some nails are beautiful, and some nails make you stop and stare, completely speechless. I think you know which category this manicure falls under.
The dew drop effect is just magical, creating the illusion of little beads of water on the nail, like on the leaves outside on a cold January morning.
I've never seen such unique or creative nails before, and they're simply a work of art to be cherished and, yes, definitely tried out next January.
14. Pearly White Chrome Nails
The most wonderful thing about January Nails is that simplicity and minimalism steal the spotlight.
Around this time of year, clear, clean, and neat looks are best. The white polish was just made for this task.
Slicked across the top of short, sweet, and square nails, it looks positively darling and so chic. They really speak for themselves.
15. Green Marbles Nails
Green is unfairly underestimated when it comes to January Nail colors. Here, we see some of its most unique shades featuring a mix of watercolor and turtle-shell design.
The result is quite a masterpiece.
In fact, the manicure looks like it was inspired by a classic Monet painting. The creativity and elegant beauty are off the charts. These nails are a must-try.
16. Happy 4th of January Nails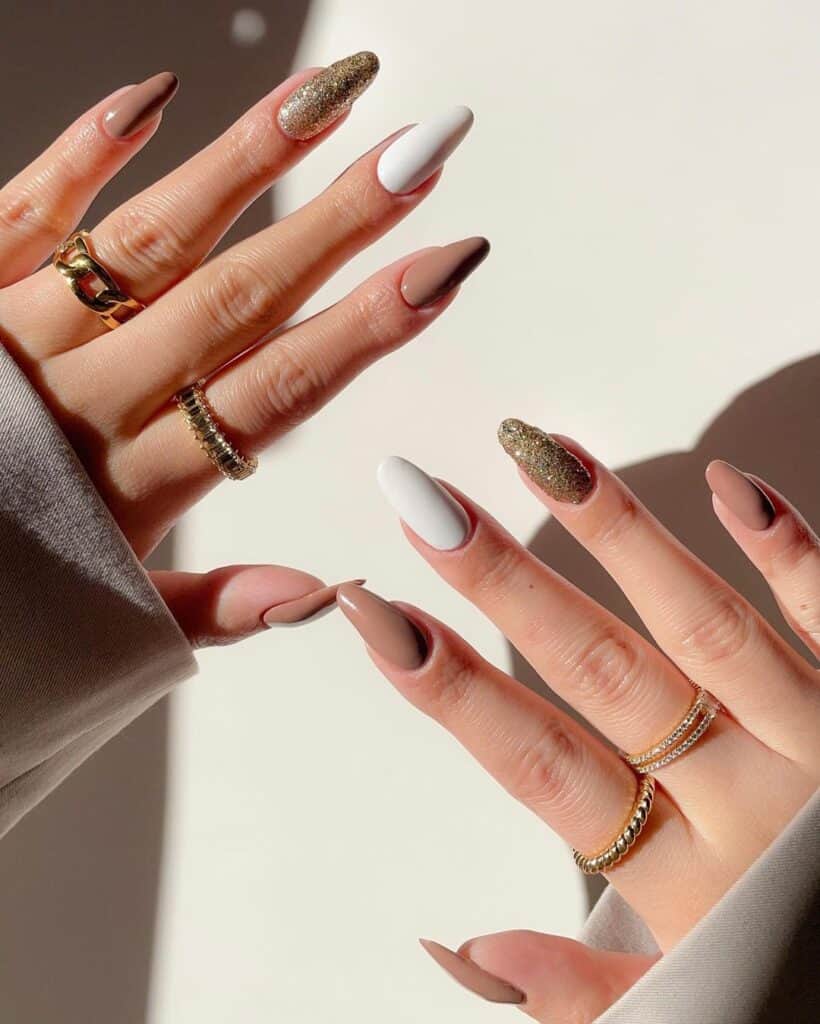 The party doesn't have to end just because it's January. Celebrate the start of a new year, a new you, with nails that are full of excitement and good vibes.
I love the energy of the gold glitter nails that's wonderfully grounded by the neutral browns and lifted by the addition of white polish.
It's really a well-balanced and genius manicure design that you'll be proud to show off.
17. Pastel Blue January Swirly Nails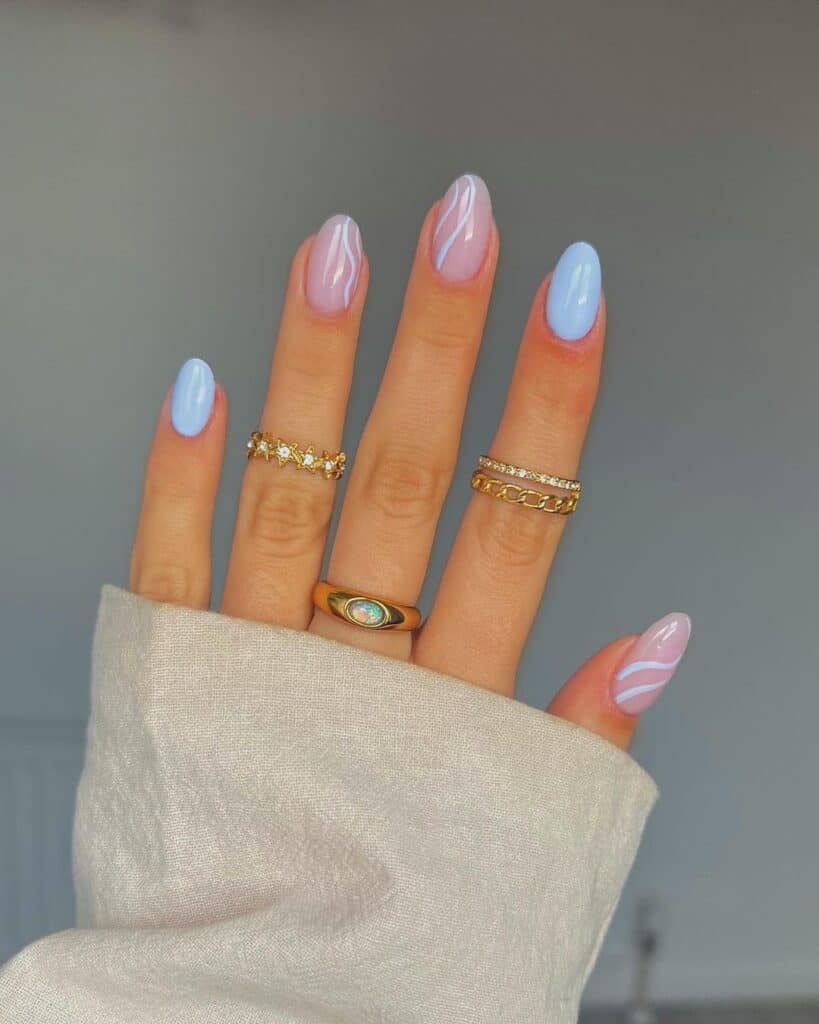 Bright blue is everything I love about January nail ideas. It's the shade of the season, and I'm ready to be surrounded by its natural beauty.
It's such a naturally dreamy and cute shade; of course, it's just made for weaving across nails in swirls while adding some much-needed free-spiritedness and brightness to one of the greyest months of the year. I'm simply in love.
18. Pink Cable Knits Nails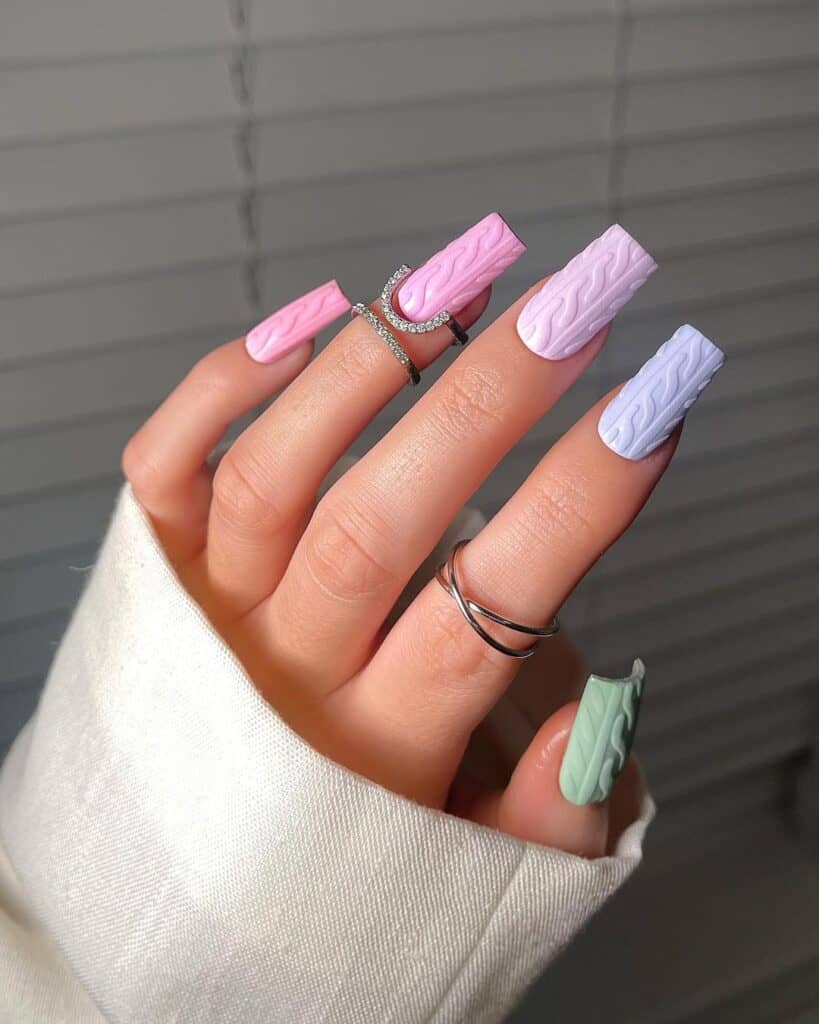 Sweater stitch nails are having more than a moment. They're having a whole year. I also expect they'll be just as trendy come 2024 after being the hottest nail effect on the scene during Winter due to their effortlessly cozy and chic look.
Plus, pastels are just made for January. So, use these as an excuse to take a trip to the salon or keep an eye out for a set of falsies that you can DIY.
19. New Year, New January Nails
Short, sweet, and square? No problem. You can still enjoy the hottest of trends, AKA swirls, along with stunning color clashing.
Lilac and green are an unexpected but entirely in-love match that make it work every time.
They're fresh, free, and bring a certain aura of prosperity and hope that's always good to have by your side stepping into the New Year.
20. Classy Aura Nails
I am absolutely stunned and in awe of these nails. I'm almost left speechless by their beauty.
They almost look otherworldly and cosmic, which makes them pretty avant-garde and downright cool.
I'm not even going to suggest you DIY these amazing beauties but be sure to take them to your nail tech, who'll be as excited to recreate them as I am just to be looking at them.
21. Minimal Stars Nails for January
January nails don't get much more young or trendy than this. These nails fit right into the gothic-chic trend that's all over social media, thanks to Gen Z at the moment.
In other words, these are the adorable, cool girl nails that'll ensure you get January started on the right foot.
Stylish, quirky, cute, and fashionable, what more could you want?
22. Pink Ombré Nails
Ahh, I just love to see the sunrise nails come around again every January. They're so refreshing and full of good, sunny vibes.
It's all feel-good with more than a hint of chic, especially when the nails are long and oval. This look is even a little bit tropical and citrusy, so if you're going on a January getaway, bring these along.
23. White Floral Nails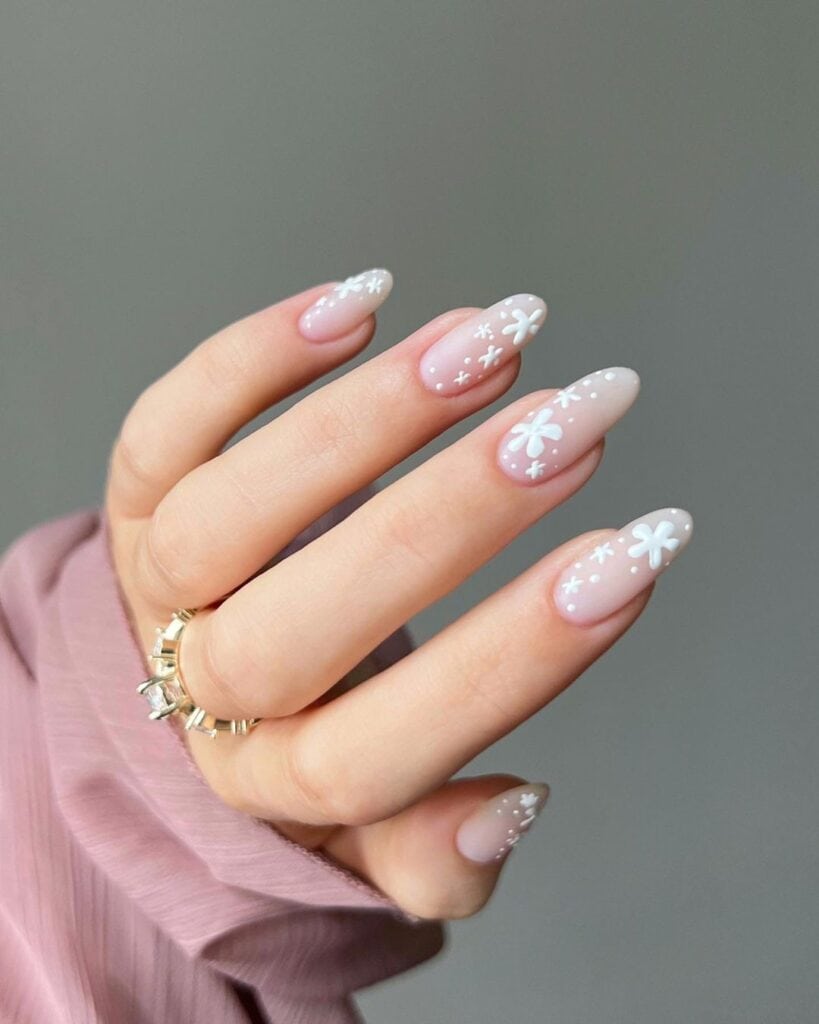 Let's face it. January can be tough. If you're already looking ahead to the more floral, breezy, and warm days of Spring, these are the nails for you.
In fact, it's the perfect manicure to symbolize seasonal changes, making good use of the witty white and funky flowers.
The mix is so cute and stunning and pretty easy to replicate for yourself with a clean toothpick as a brush and white nail polish. Just be sure to add the milky white base beforehand.
24. White Snowflakes for January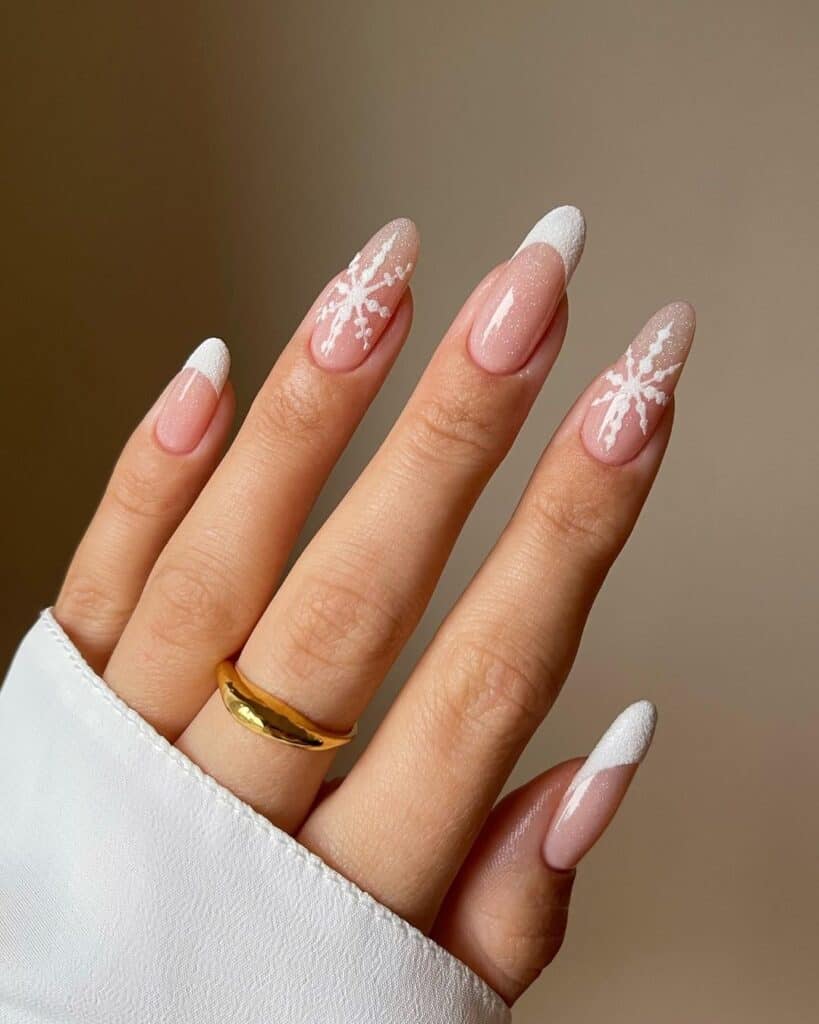 Some of us have a hard time letting go of Christmas, and that's okay. These nails are here to ease you into January gently with their gorgeously dreamy Winter vibes.
The shimmer creates the effect of falling snow from white clouds, which the French tips play the role of fabulously.
The two large and pointed snowflakes are such a statement, and I love how they give balance and symmetry to the manicure.
25. Golden French Tip Nails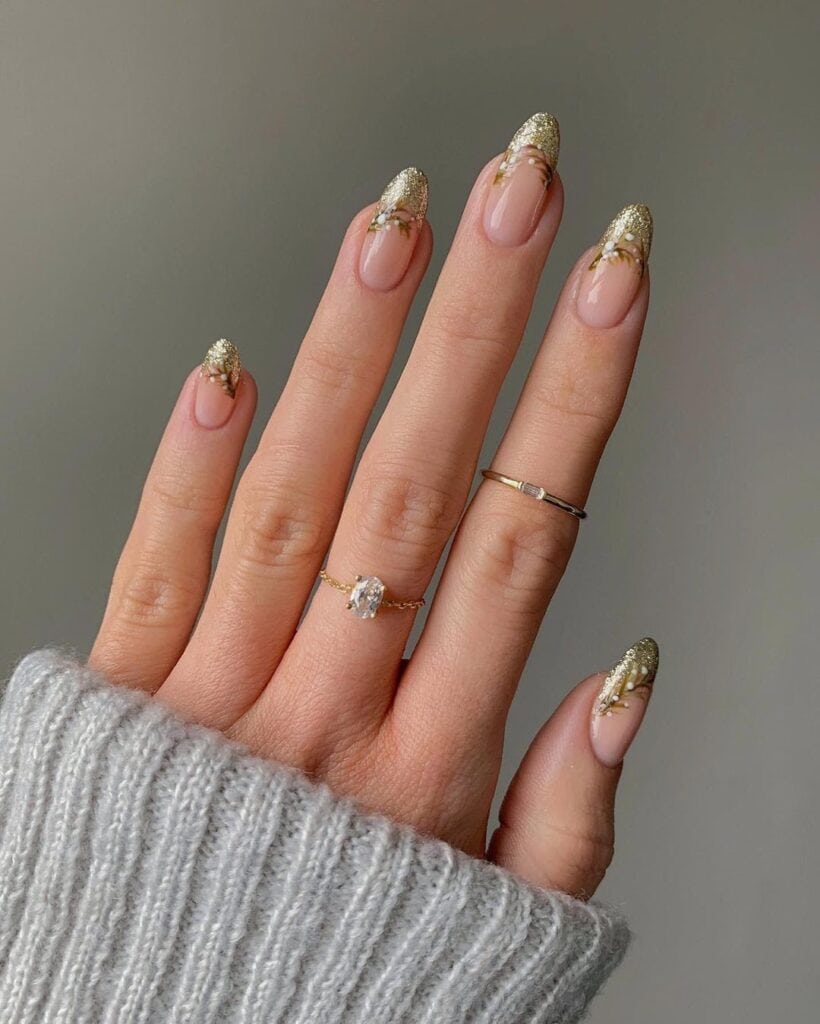 If you're planning on having a low-key January but are feeling the luxury vibes, these are the gorgeous gilded nails for you.
January nail designs truly don't get more charming and lavish than this.
It's hard to make gold French tip nails look casual-chic yet creative and opulent at the same time, but this manicure manages with effort style. They're simply so pretty.
26. Monochrome Swirlies Nails for January
These nails made me stop in my tracks. I want to keep them as my own little secret before debuting them this January, but I simply can't keep such stunning beauty and artful nail design to myself.
It would be a crime not to share this vintage-chic and retro-funky that makes the best of black and white.
Do yourself a favor and wear next year's most breathtaking nails for January.
27. Colored Pearly Nails for the New Year
Multi-colored diamonds always work magic when it comes to nails. They can take something as classic and chic as the iconic frequency and make it look like an adorable party.
These diamond-studded French tips are just so fun and are such a boost throughout the entire month.
So, if you want the most cheerfully gorgeous nails around with an added pick-me-up, these are your heart-warmingly colorful nails.
28. Donut Glazed Hailey Bieber Nails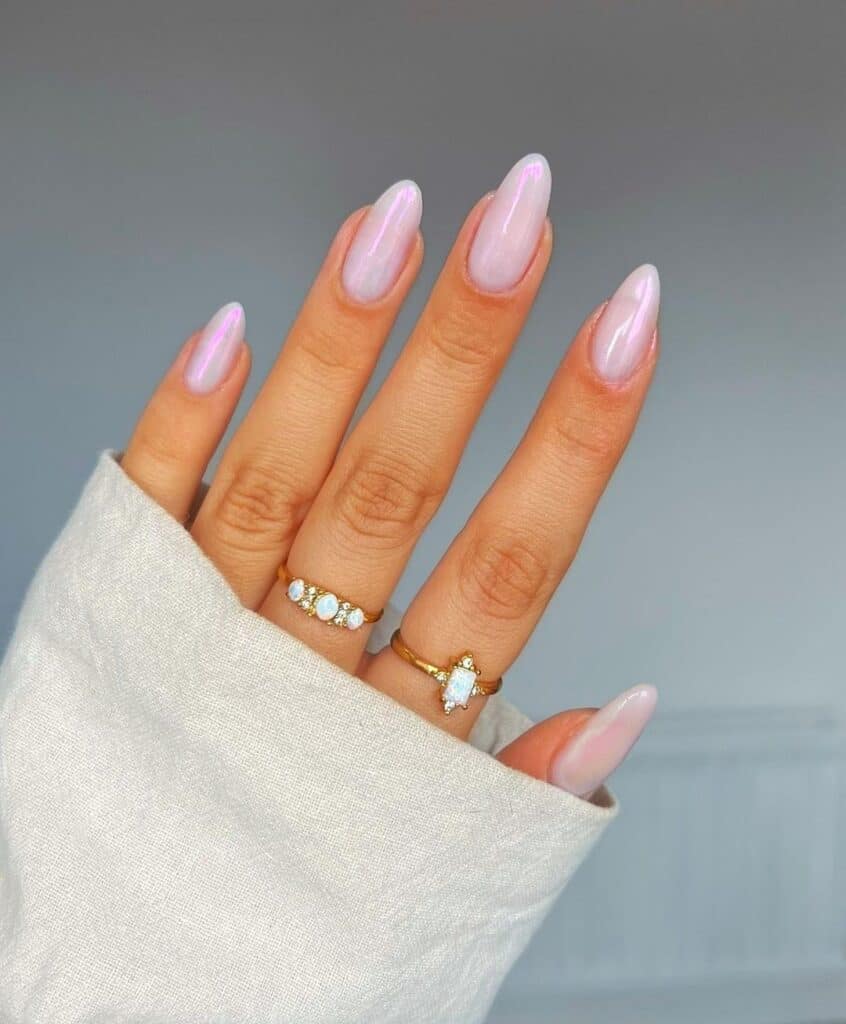 January nail ideas don't get much more ideal than this. This nail effortlessly combines two of this year's (and likely next year's) biggest nail polish shades: milky white and blush.
The result is so graceful and subtly fancy. I would call these stealth wealth nails right down to that in-between shape of not quite almond but not quite oval either.
They're just beautiful, and I'm sure we'll see Hailey Bieber wearing them this January.
29. Blue Winter January Nails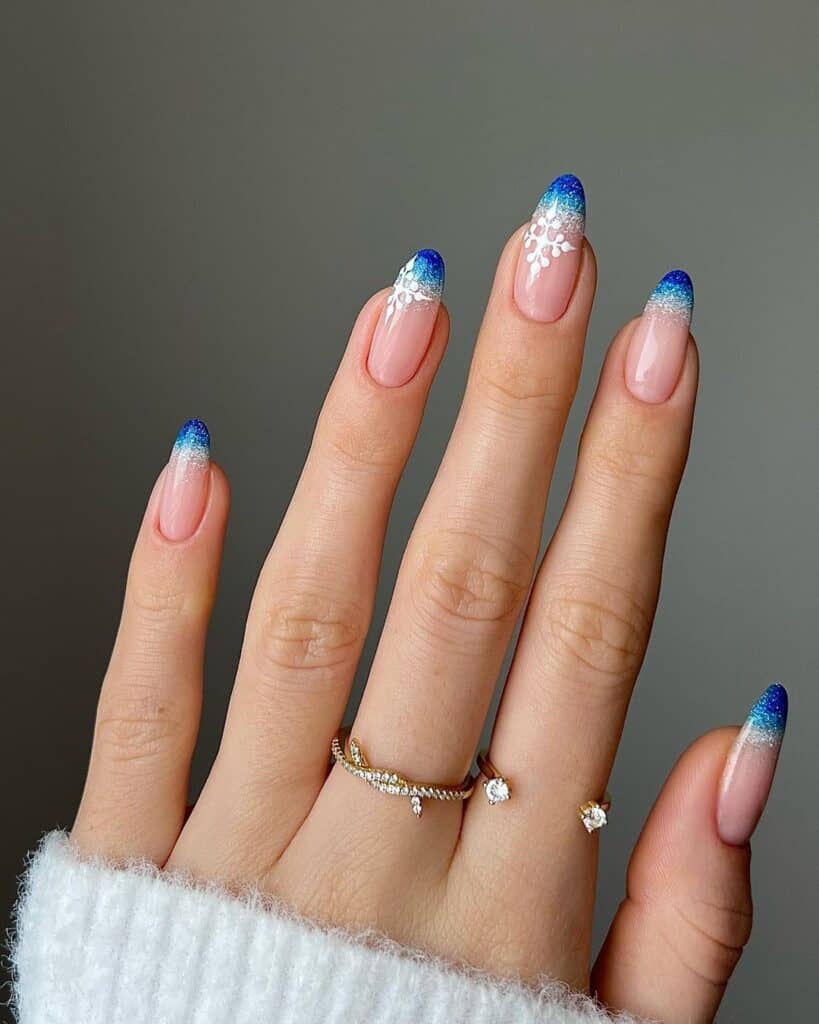 If you're not ready to let go of the most wonderful time of the year just yet and want your nails to reflect that, look no further than these intriguing nails.
Amazingly, these winter nail designs mimic the thawing of ice, with the tippy tip of your Frenchie being dark blue before fading through successive shades, ending in a shimmery silver.
I'm in love, yes, even with the gorgeously delicate snowflake.
30. Pink Doubled French Tip Nails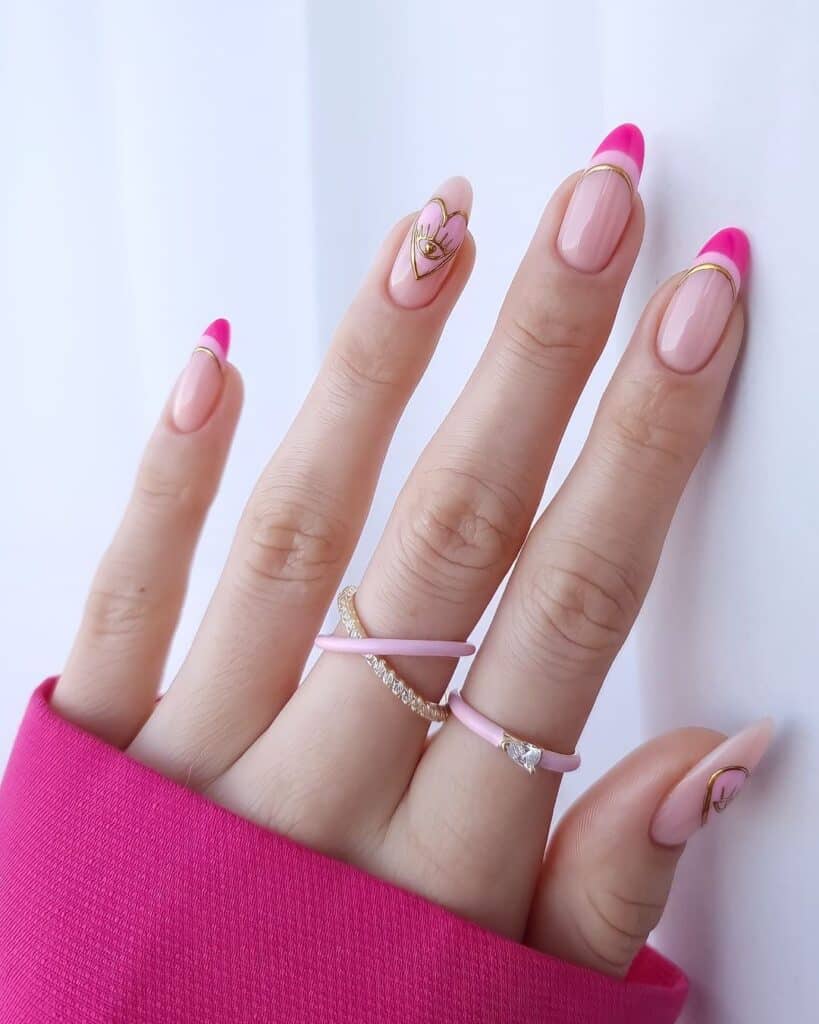 If you're an oval or almond-nailed girly, then this is the beyond-beautiful manicure for you. As pretty as a picture and utterly made for a princess, these beauties are the most girly and adorable nails of January.
Honestly, January is also the month when we want to figure out our Valentine's Day nails.
I just love the two-tone tip and the defining gold line that brings royal vibes. I'm also obsessed with the quirky heart nail art that makes these nails one-of-a-kind.
31. White Glittery January Nails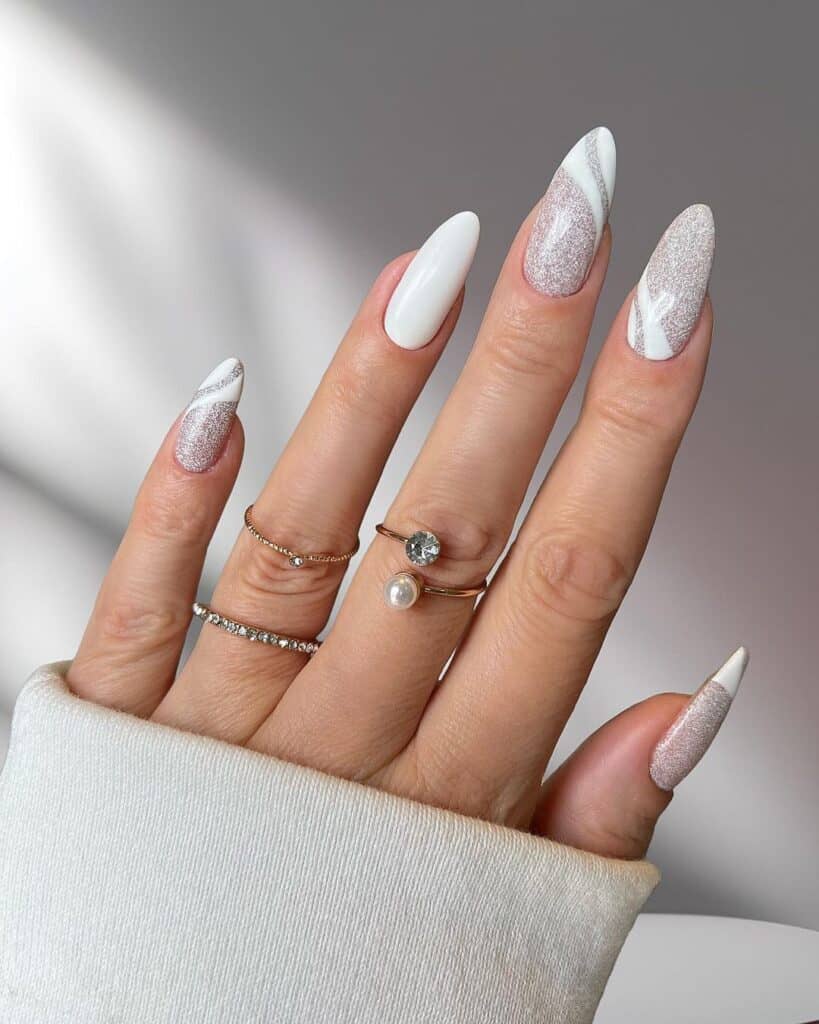 January nail designs often take on a lowkey ice queen vibe that's absolutely breathtaking. The almond shape of the nails only adds to this royally sophisticated and elegant edge.
And that's before even getting to how distinct and sharp the snow white nail polish is, especially when contrasted with the dizzying shimmer of the glitter polish.
32. Swedish Folk Art for January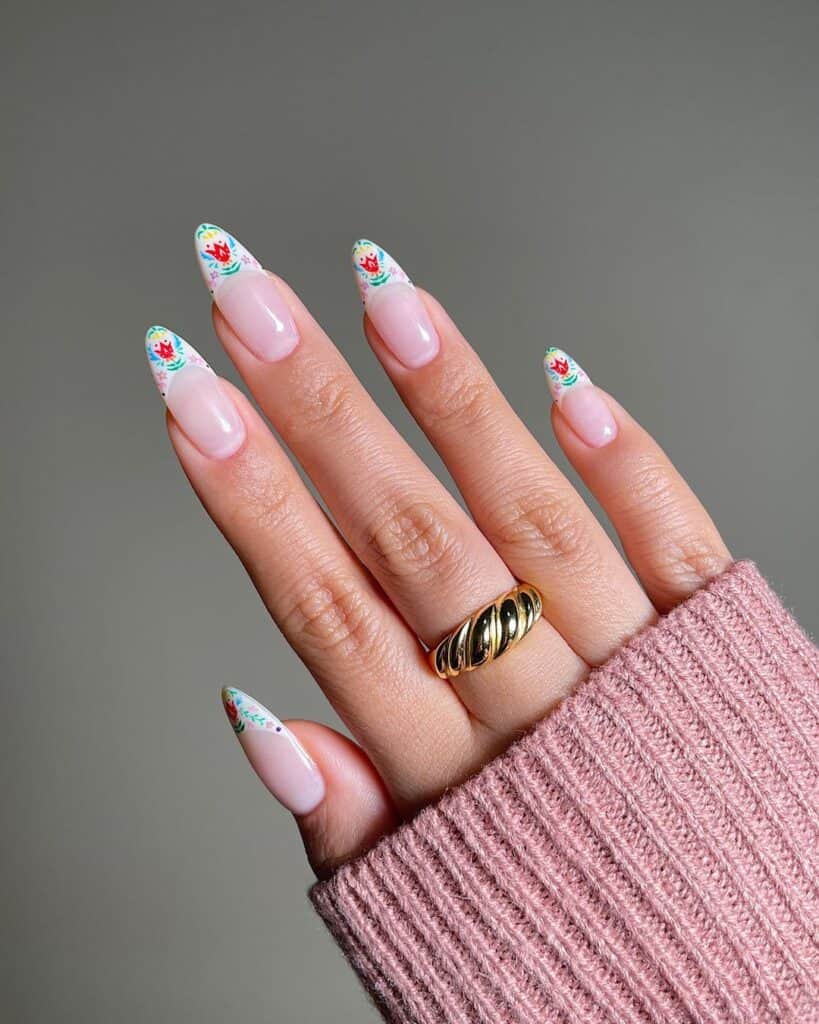 These nails are the epitome of the rustic-chic trend. In fact, they even look like the transition of that popular style into the next big thing: cottage core.
Each nail is like a little cozy work of art, with the colors smartly interwoven to create a traditional pattern that's the stuff of dreams.
I've yet to see such intricately detailed French tips, and I want them on my nails now.
33. Cozy Blue Velvet January Nails
Fresh out of Winter, most of January Nail colors tend to be coldish, fresh, and more striking than the shades we associate with other months.
That's why blue takes center stage as the most loved color for January's nails.
I just love the oceanic and mermaid vibes of these nails that are so mesmerizing, thanks to their ethereal and dreamy waves, which also just happen to be right on trend.
34. Chrome Nail Tips with Pearls
You're probably getting familiar with the metallic sheen of chrome because it's been dominating every style category, from home decor to high fashion.
It's all about cosmopolitan and modern vibes with a hint of sci-fi. That said, if you don't want full-chrome nails, some French tips are a great way to add a chic twist.
Sprinkle some diamonds on top, and the result is to die for.
35. Simple Pearly January Nails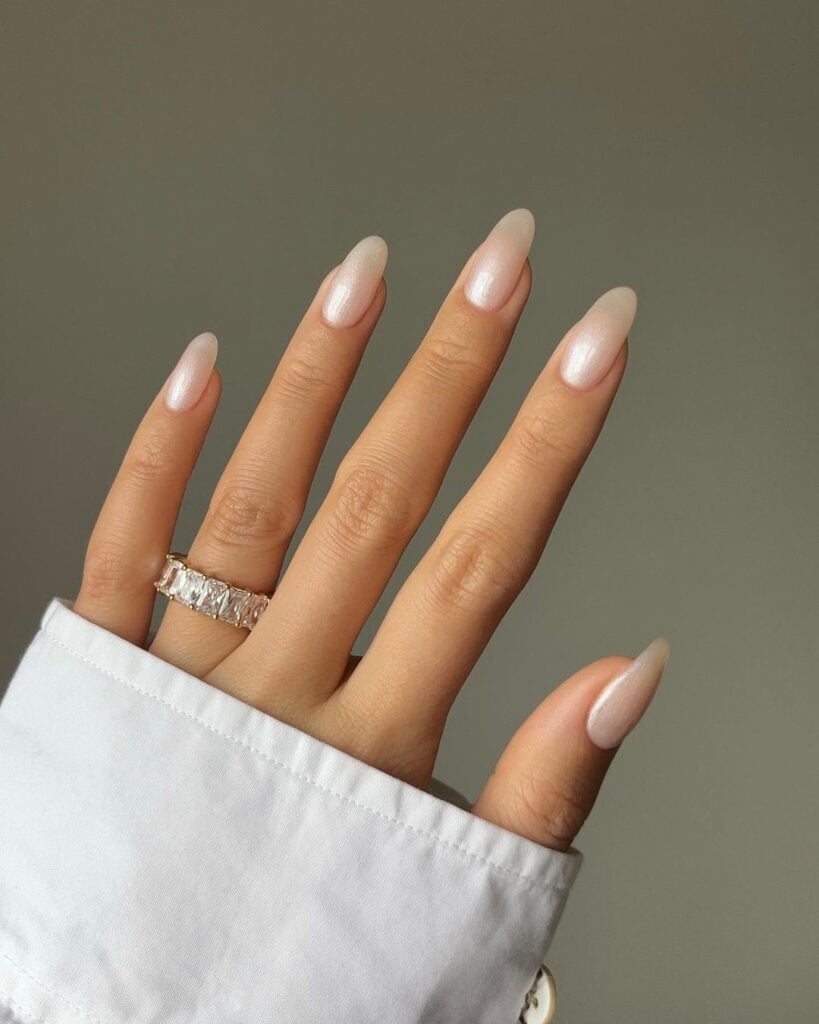 January is a fresh slate. Everything seems fresh and new, so you don't want the January blues to get you down.
That's why January nails should be a reminder of how exciting the New Year really is, and what better way to do that than a milky white, dreamy nail color with just the right amount of shimmer to shine.
These are the nails I want by my side as I step into 2024.
These Were The Cutest January Nails and January Nail Designs You'll Want to Recreate for The First Month of The Year