I only recommend products or services that I believe will add value to my readers. By using these affiliate links, I'll receive a commission if you purchase through my link, at no extra cost to you. Please read full disclosure here
Looking for cute Valentine's Day nail ideas to get your nails glowing with love this Valentine's?
You agree that Valentine's Day is a special occasion and requires extra effort in our fashion and beauty routine.
And If you're anything like me, every Holiday is another excuse to give your nails a makeover, and Valentine's Day is just the perfect day to try new nail designs.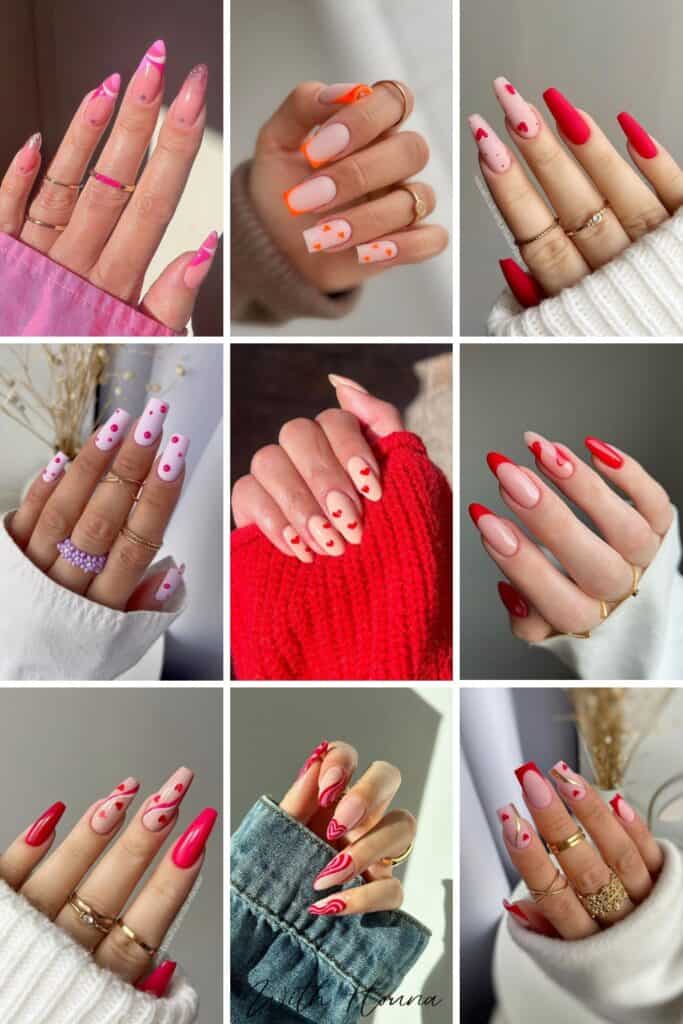 Whether you want to go the traditional Valentine's Day route with pink, red, and white color nails or make it cheesy and girly with elegant and cute Heart-shaped nails (your nails deserve love and attention).
Perhaps, you want to make your Valentine's Day nails look playful and fun by adding patterns and Valentine's themes such as cupcakes, roses, balloons, and lips to your nails. I'm excited about these Valentine's Day nail ideas; they are quirky and stand out.
Whichever look you'll pull off this Valentine, luckily, we've made a list of the best and cutest Valentine's Day nail ideas, so you can step on your Valentine's fashion game.
Whether you'll be spending this Valentine's with your significant other, going out with friends, or treating yourself with some "Me time," you can add colors and love to your outfit with these drool-worthy Valentine's Day nail Ideas.
From bold, elegant, chic, and bright to cheesy and sweet, these Valentine's Day nail designs are perfect and will help your personality shine through.
Trendy Valentine's Day Nail Ideas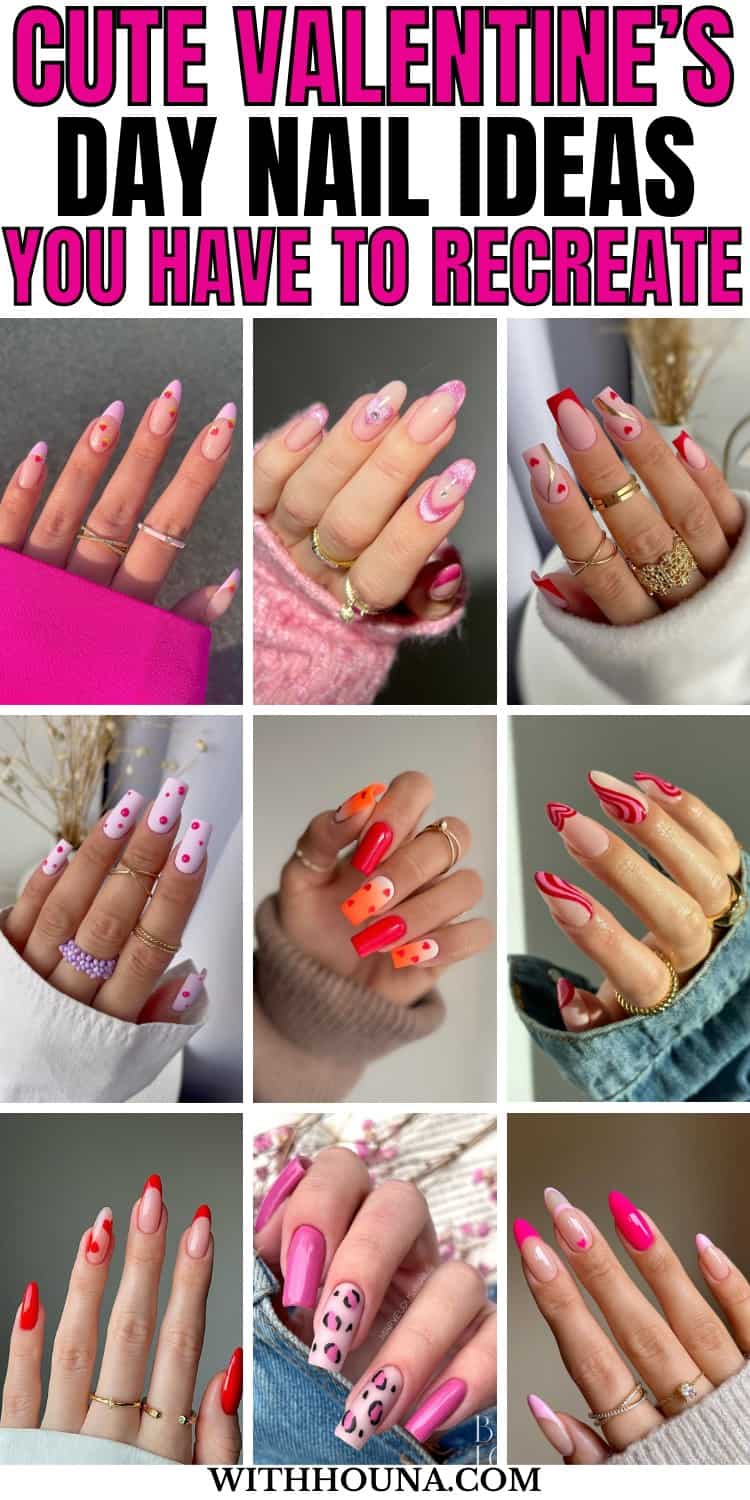 1. Fiery Valentine's Day Nail Idea
These nails are pure love with a dash of fire added. The result is quite romantic and full of personality, that long, sharp square shape that knows what it's all about.
They're quite saucy, a lot loud, and completely unapologetic about being so lovey-dovey. It's really no secret that I'm in love with them too.
Valentine's Day nail ideas are truly the stuff of dreams.
2. Valentine's Day Flowers Nails
Valentine's Day, if done right, can feel like a bright Summer's Day lounging by the beach with a piña colada in hand.
That's what these nails look and feel like. They're groovy, warm, and extremely cute.
Plus, it's just one of those gorgeous looks that suit all nails and fits in anywhere from a romantic candle-lit dinner to a cozy coffee shop.
3. Red Kisses Coffin Nails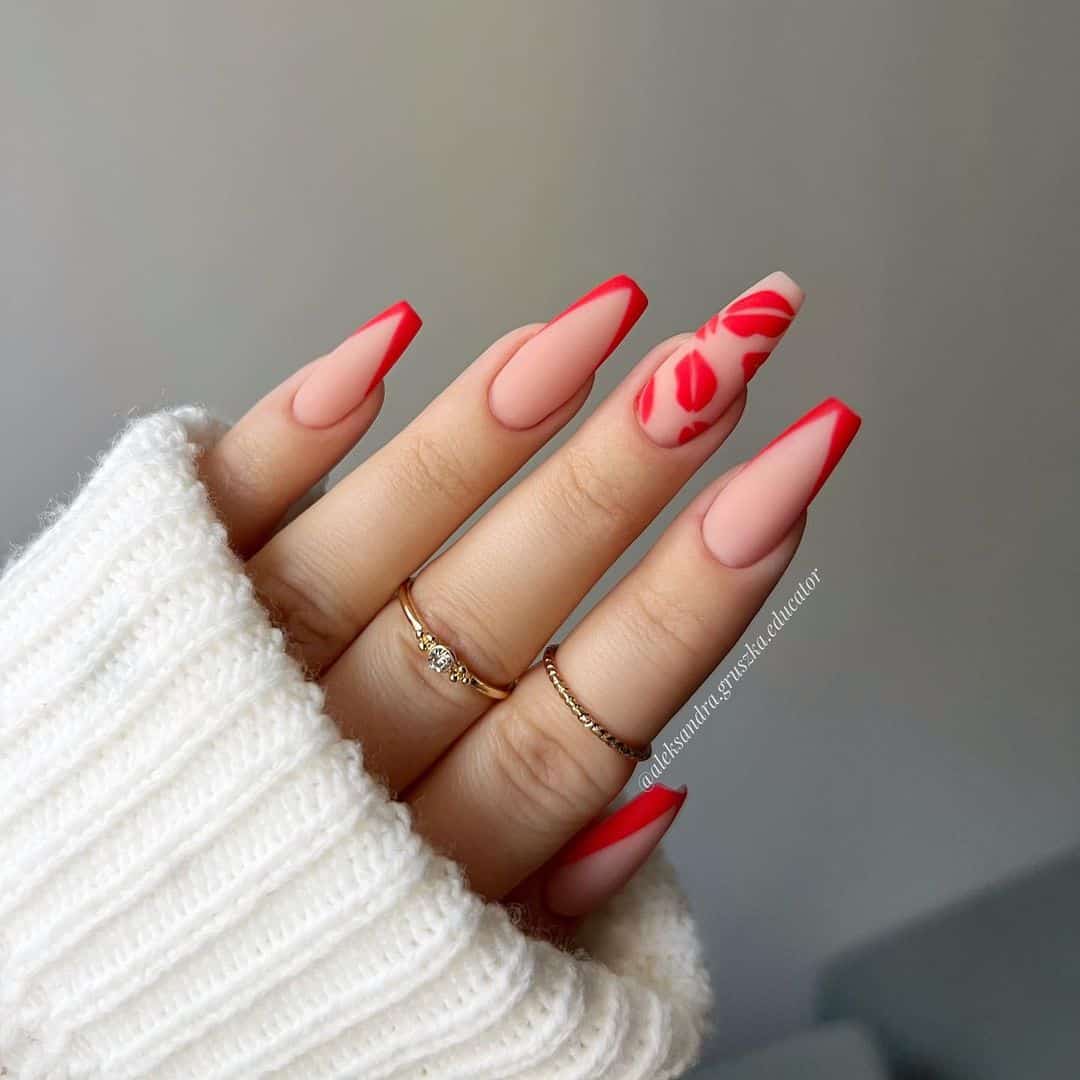 Consider these your date night nails. They're elegant, sophisticated, just the right amount pretty, and are the nails of a gal who knows exactly what she's about, what she wants, and how she's going to get it.
I'm obsessed with the split French tips, but the Loveheart accent nail really has my heart.
Just be sure to keep your nails long and well-filed to really make this look pop.
4. Black Mini Heart Nails for Valentine's Day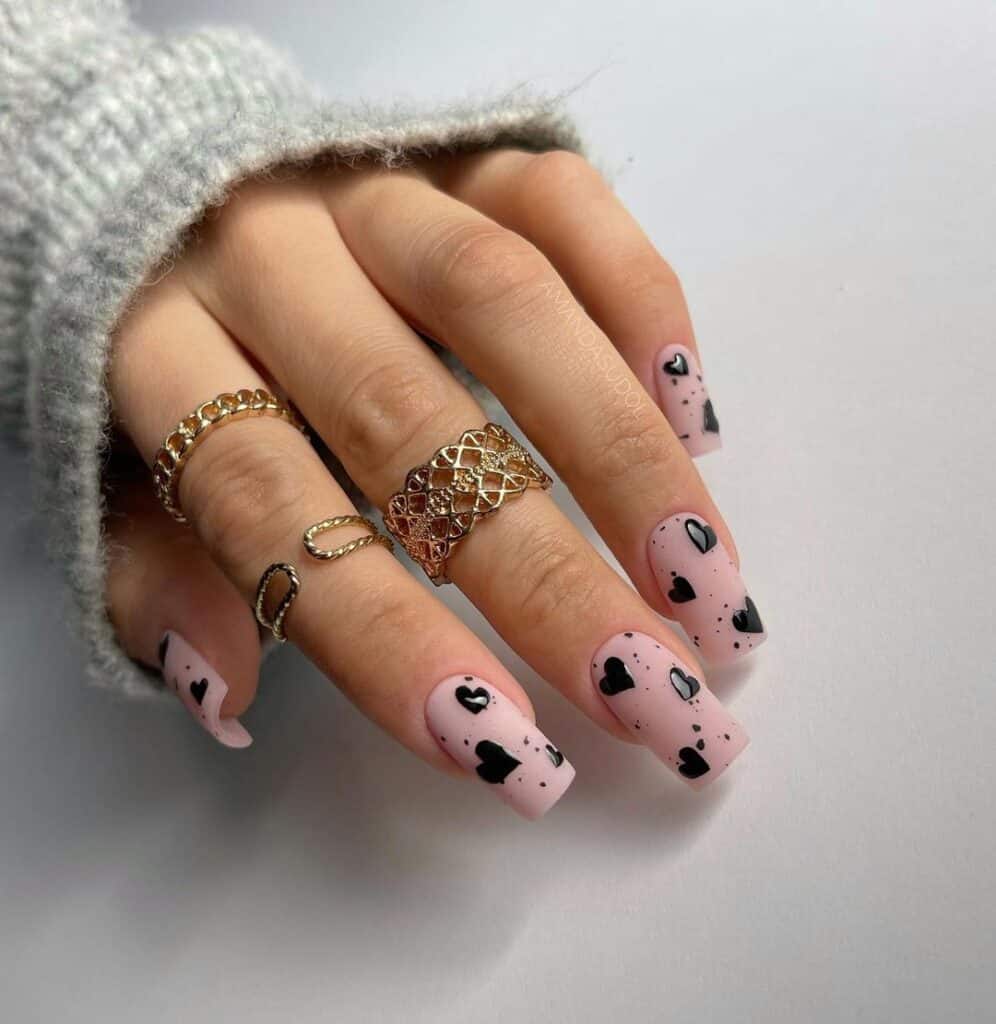 These Valentine's Day nails look like the start of a love story. They're exciting, cute, heart-warming, and whisper love instead of saying it out loud.
I think it's the long square shape that adds edge to the romance, making things a little more casual, which isn't an easy feat when the black love hearts really are just that cute.
5. Golden French Valentine's Day Nails
These nails say love but not a fool in love. Oh no, whatever woman wears these nails is full of self-love first and everything else after.
She knows that she's worth it, and she's even aware that chrome is the color of the year. Its intriguing metallic sheen shows power that's given a chic twist in French tip form.
And the love heart? Just to die for.
6. Matte Red Valentine's Day Nail Ideas
The choice between glossy and matte reveals more than usual during the loveliest time of the year. Glossy is sensual and loud, while matte is a little more subtle and quiet.
It's the two sides of the love coin, and if you're feeling matte this year, then these are the stunning Valentine's Day-themed nails for you.
The coffin shape of the manicure also adds attitude, which I love.
7. Simple Nails with Mini Hearts Nails
When it comes to Valentine's Day Nails, tan isn't a nail polish color we see too often, which is baffling because, as we can see from this design, it's the ideal backdrop for tonnes of adorable love hearts.
The contrast from the more traditional white backdrop is lessened, and the whole look becomes softer.
These heart nail designs are much less likely to clash with any of your Valentine's Day outfits and just so happen to look wonderful with rings.
8. Classy Red Nails with a Touch of Gold Swirls
These are the mature and classy nails of the bunch.
They cover the swirl trend, including adorable love hearts and those chunky French tips that square nails can truly only recreate, but they're, above all, completely and utterly classy.
Plus, they look pretty intricate and detailed, so they look like a high-effort manicure even though they're delightfully easy to DIY.
9. Teddy BIAB Valentine's Day nails
Here are the Valentine's Day nails we've all been waiting for: The Malibu Barbie Valentine's Day nails.
They cover the whole spectrum of pink from bubble gum to hot, and then add some sparkle on top for that sensational shimmer.
The studded cuticle diamond is the stuff of dreams. They're so girly, and I just know that Instagram would go crazy over them.
So, if you use these lovelies as an excuse to book a trip to the salon, please share all of the photos with us. Thanks from the whole world of nail lovers in advance.
10. Cute Short Valentine's Day nails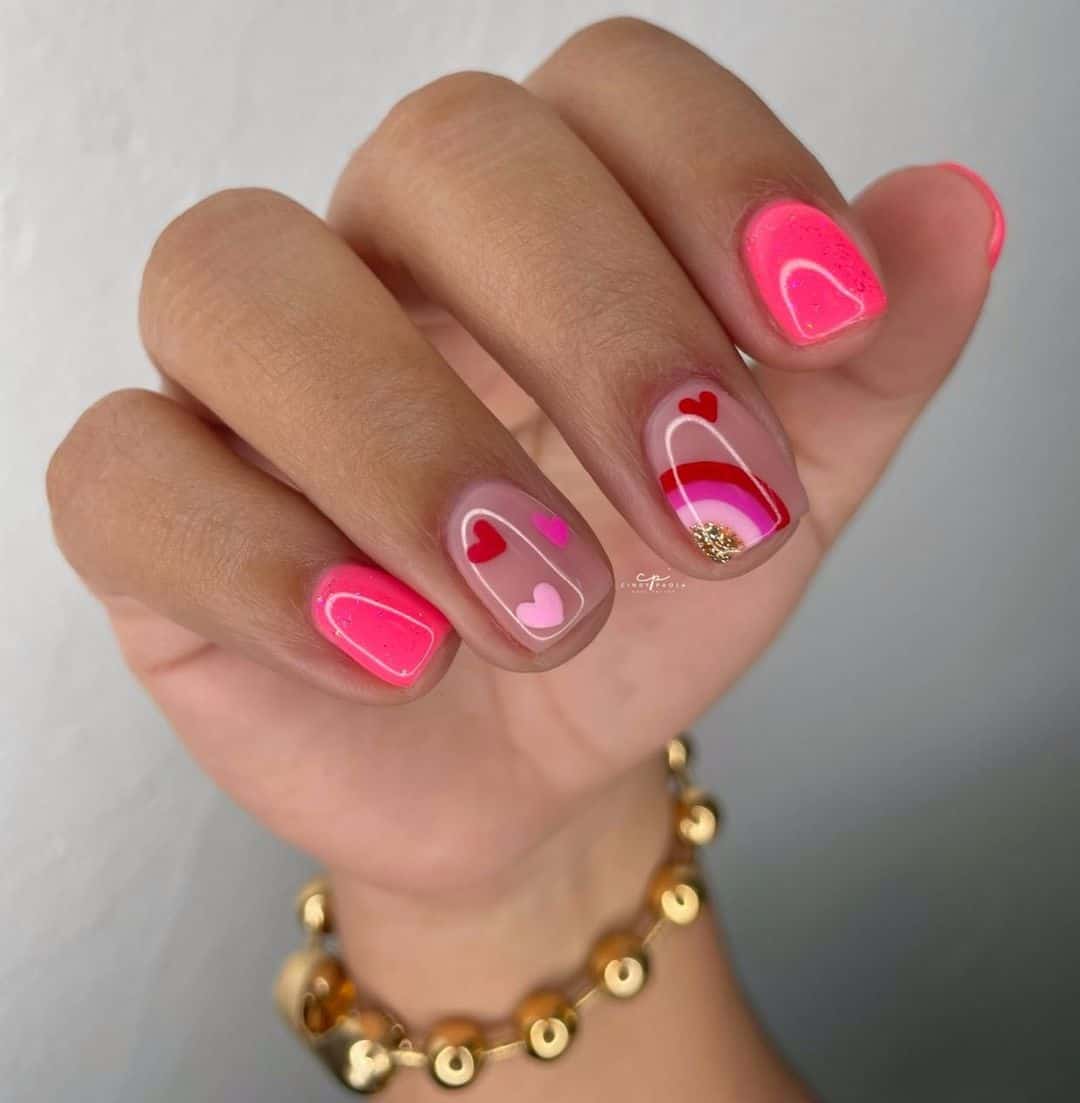 Short, sweet, and square-nailed girlies, I've got the best news for you. Possibly the most irresistibly adorable, fun, and absolutely heart-melting nails are yours.
Looking like a girlhood dream crossed with Candy Land and love sprinkled on top, these are the sweetest nails of the bunch.
The almost neon bright hot pink nails catch attention so that their adorably detailed rainbow and love heart nails can capture hearts.
11. Can't Help but Falling for Love
When it comes to Valentine's Day nail ideas, I just love how incredibly dainty things can get. These would honestly be the nails of Audrey Hepburn.
They've got that vintage-chic and quaint feel while also having a timelessly charming edge.
Just be sure to apply the overcoat generously so that they can really shine bright.
12. Pink for Valentine's Day but Works for Galentine's
Want Pink Valentine's Day Nails that are literally the epitome of the lovey-dovey Day? You've just found them.
These nails are absolute classics. They'll never let you down and can be worn Day or night, fit in everywhere, and promise to never clash with your outfits or accessories.
So, really, they're Valentine's Day nails that can do it all and in fabulous style as well. What's not to love?
13. Soften your Hearts Nails
These nails know that love should be celebrated. They bring the sunshine and joy to Valentine's Day, and I'm maybe even detecting a hint of festival vibes.
They're really just those nails that make everyone stop and stare before fawning over the precious multi-colored love hearts and bright shades.
14. V-Day Swirly Nails
These Valentine's Day Nails honestly look like they were made to go on the hand of a doll.
They're a little bit funky, a lot groovy, and I'm even going to add psychedelic chic to the list.
They do it all, and they do it all in pink, purple, and white, which is impressive. Looking at them is like a little dopamine hit, and I'm seriously addicted.
These nails are definitely mine next Valentine's Day.
15. Pretty in Red Valentine's Day Nails
These are the stunning nails that even your date notices. In fact, they're a great conversation starter if you're going on a first date, and they're also brimming with cool girl boss vibes with a soft twist.
So, if you really want to show him who you are and what you're all about, add these gorgeous red Valentine's Day nails to your date-night manicures list.
16. Semilac Nails for V-Day
Firstly, I'm already in love with any manicure that has a lilac base. Secondly, I'm head over heels for any manicure that covers such a soft and elegant base with 3D effect hot pink dots.
And just when I thought I couldn't love them anymore, they turned out to be fast and simple to DIY.
I'm officially getting married to these nails.
17. Orange Valentine's Day Nail Idea
These nails could be a subtly stylish protest of Valentine's Day, or they could just be a quirky twist on the classic lovey-dovey look.
You decide. Either way, these nails are fabulous. I love the thinly lined French tips that finish abruptly, thanks to the sharp square shape.
Plus, love hearts and diamonds are a charming combo that never fails.
Personally, I think orange has a place in Valentine's Day nails, and I'm even a little obsessed with the citrusy, fresh, and bright vibe.
18. Pink Panther Nail Design
These V-Day nail designs say cute with a wild side. They're also a little Barbie and quite glamorous.
The sharp edge of the long square nails also says you're not to be messed with, but the pink keeps things cute.
I think this powerful combo really makes these nails the ideal and extremely stylish companion for first dates. Enjoy.
19. Natural Valentine's Day Nails
So you want Pink Valentine's Day Nails, but you don't want to go all-out pink? I've heard your wish, and this is my answer.
I was delighted to come across this look because it's so subtly romantic, cute, chic, and still right on theme for Valentine's Day.
I knew some of you would be on the hunt for a similar look that can be worn to the office but also on date night and fabulous always.
20. Dovey Cow Print Nails
Negative space may be having a moment this year, but contrasting and mismatched patterns are about to take off.
This soon-to-be trendy style just happens to pop with animal print. Make that animal print cow print, and the adorableness factor just got turned right up.
It's fun, fresh, fabulous, and I'm all about those things when applied to nails, life, and love.
21. Pastel Valentine's Day Nail Idea
No list of Valentine's Day nail ideas is complete without a look that's fit for a princess. Pastels are such a classic and always bring Chanel to mind.
The calm and dreamy shades are effortlessly cute and have that chic edge that's harder to achieve with stronger nail polish shades.
The almond shape of the nails is also a genius way to add some attitude to this causal-cute look.
22. Natural French Nails Chrome Nails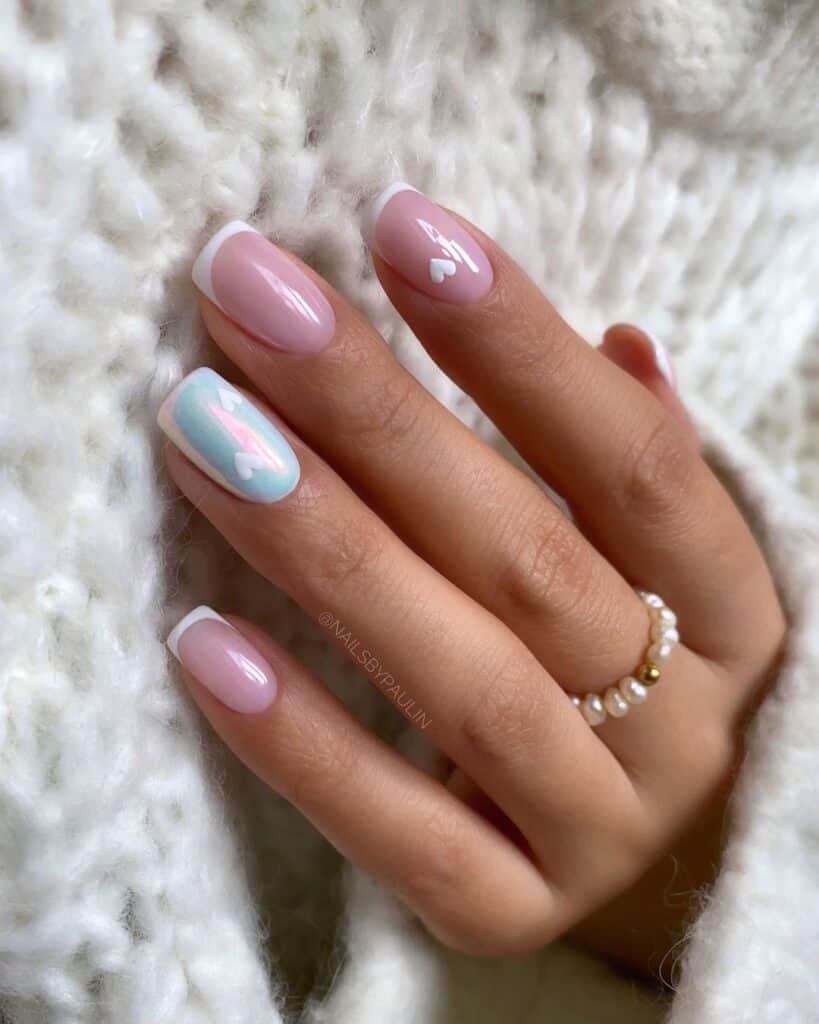 Classic French tips with a pink undertone is perhaps the most reliable and popular Valentine's Day manicure of all time.
So, this is a great one to add to your nail inspo collection, to have just in case. It's quick to do, low maintenance, and can even be worn for the whole of February and beyond.
What really takes this manicure to the next level is the chrome accent nail with adorable detailing, which puts a contemporary and trendy twist on the classic look.
24. Pink Heart Valentine's Day Nail Idea
These nails are giving diva. They're so full of attitude and romance at the same time that they're perfectly sculpted by the sharp edges of the long, square nail shape.
Plus, the jumbo hearts are so extra. I'm here for it.
25. Velvet Valentine's Day Nail Ideas
I challenge you to find me one fashionista or beauty influencer who doesn't have a huge soft spot for the lipgloss nail trend.
The glossiness is so irresistibly radiant and girly, and that's before we even get to those bubblegum-esque pink shades that shimmer so beautifully.
Add awesome negative space, love hearts, and you literally have my heart. I love it.
26. Spicy Valentine's Day Nails
If you're looking to have Pink Valentine's Day Nails without going too pink, here you go.
This is such a striking look that perfectly mixes pretty pastels with popping nail art.
It's fun, a little bit spicy, and hot all around. I'm here for it.
27. Marble Heart Nails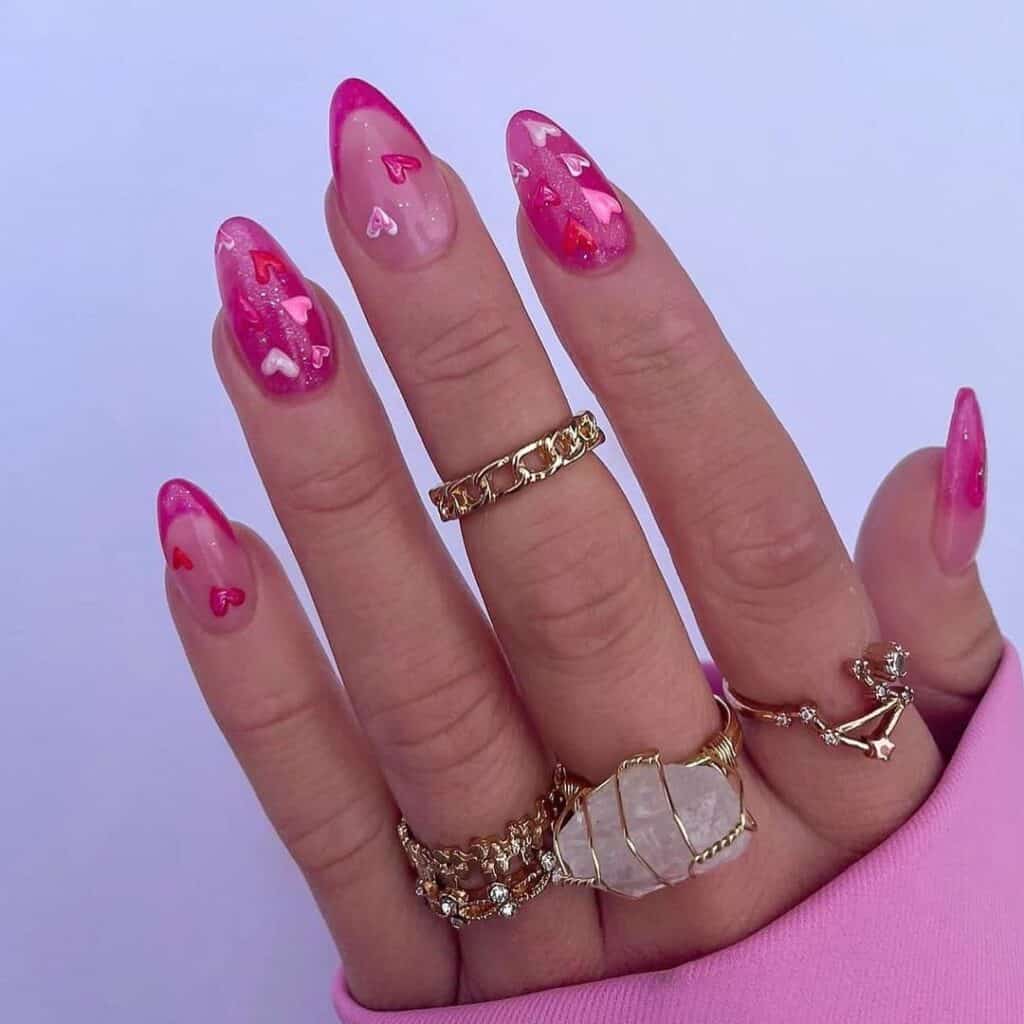 It's all Barbie with these gorgeous lipgloss nails that are so California girl.
Plus, they bring out the beauty in short nails by speckling on delicate hearts that are tiny to avoid overwhelming the nail space.
Plus, the use of various nail polish shades is simply sensational.
28. Anti Valentine's Lük for Cold Cold Hearts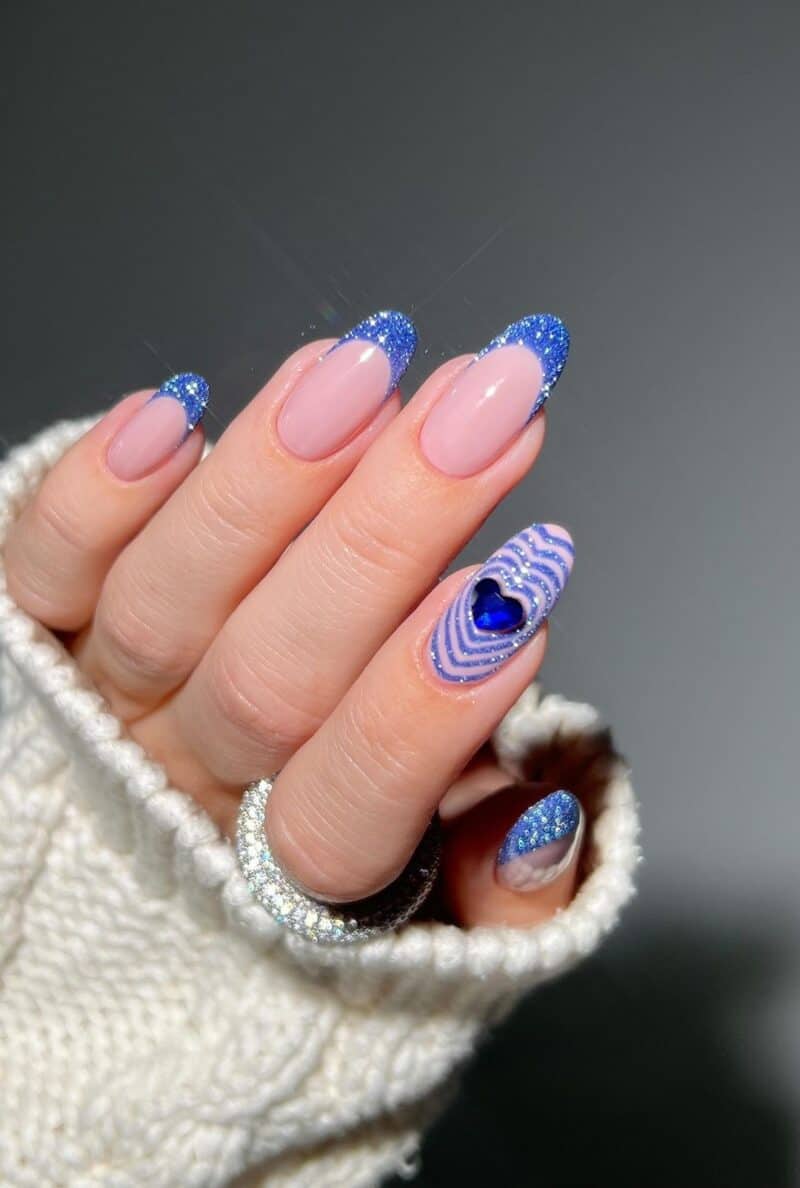 Blue is the unofficial color of hopeless romantics during Valentine's Day.
It's even a little anti-Valentine's Day, but the overall vibe is pretty romantic and oh-so ice queen thanks to the radiating accent nail that's simply gorgeous, and the blue shimmer polish is so dazzling.
29. Pink French Heart Nails for Valentine
If you tend to wear your heart on your sleeve, these nails are right there with you.
The detailed French tips make your hand look like it's dripping in love hearts, which is so precious and charming.
Plus, the coffin shape gives you more space for love hearts and somehow doesn't add an edge or take away from the softness of this darling design.
30. Blush Valentine's Day Nail Ideas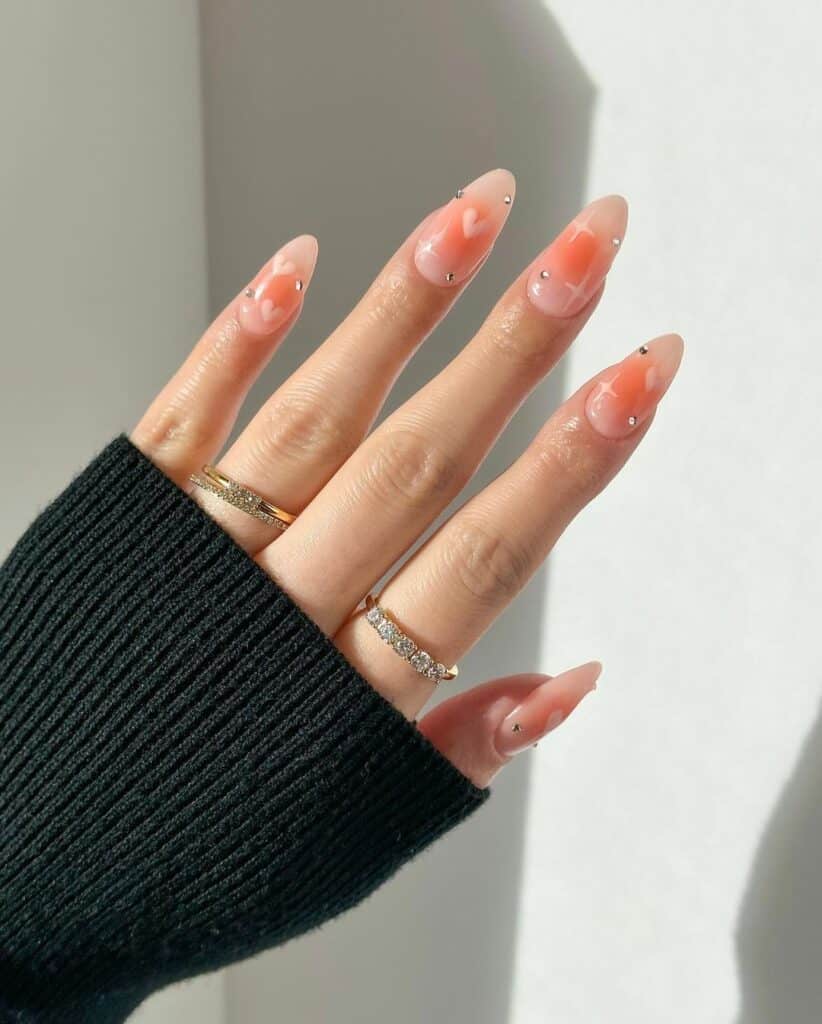 These nails are madly and deeply in love. It's what being head over heels in love feels like, but depicted in nail design form.
The look is just dreamy and so warm. There's also a little bit of a cartoonish element to the nails, which only makes them cuter.
The diamonds are the crucial finishing touch that really elevates the gorgeousness of the look.
31. Blue Valentine's Nails
These are the nails you design your outfits around. They're so commanding and captivating thanks to the dreamy, ethereal baby blue that's slicked effortlessly across the goddess-like nails.
They're a little ice queen but also pretty princess, and that's a combo I'm here for.
Plus, they're only subtly Valentine-themed thanks to the two abstract love hearts, which is entirely vogue.
32. Blush Ombre Nails for Valentine
Pink Valentine's Day Nails have just been taken to the next level thanks to blush polish and the help of some hot pink powder.
Together, those two beauty staples could take over the world. Nail by nail, they're winning hearts with this stunning ombré look that's honestly catwalk-worthy. I'm blown away.
33. Black Little Hearts Nails
These Valentine's Day nail ideas remind me of cookies and milk. They look just perfect and oh-so-sweet. I love how detailed they are yet absolutely lowkey stunning and so charming.
Add these to your must-try list. You won't regret it.
34. Chrome Valentine's Day Nails
Valentine's Day nail ideas don't have to always be cutesy and warm sometimes. They can relish in that marvelous metallic sheen that's taking the fashion and beauty world by storm while also enjoying a sprinkling of love hearts.
It's so cosmopolitan and modern. I'm obsessed.
35. Miss Muffin Nails
Stunning. Breathtaking. Utter perfection. Can you tell that I'm in awe of these impossibly long and perfectly pink nails?
Don't even get me started on the gorgeous gradient effect, which covers the whole pink spectrum with a dash of sparkle on top.
Carefully place a delicate little love heart on top, and this manicure has my heart.
36. Pink Kisses Valentine's Day Nail Idea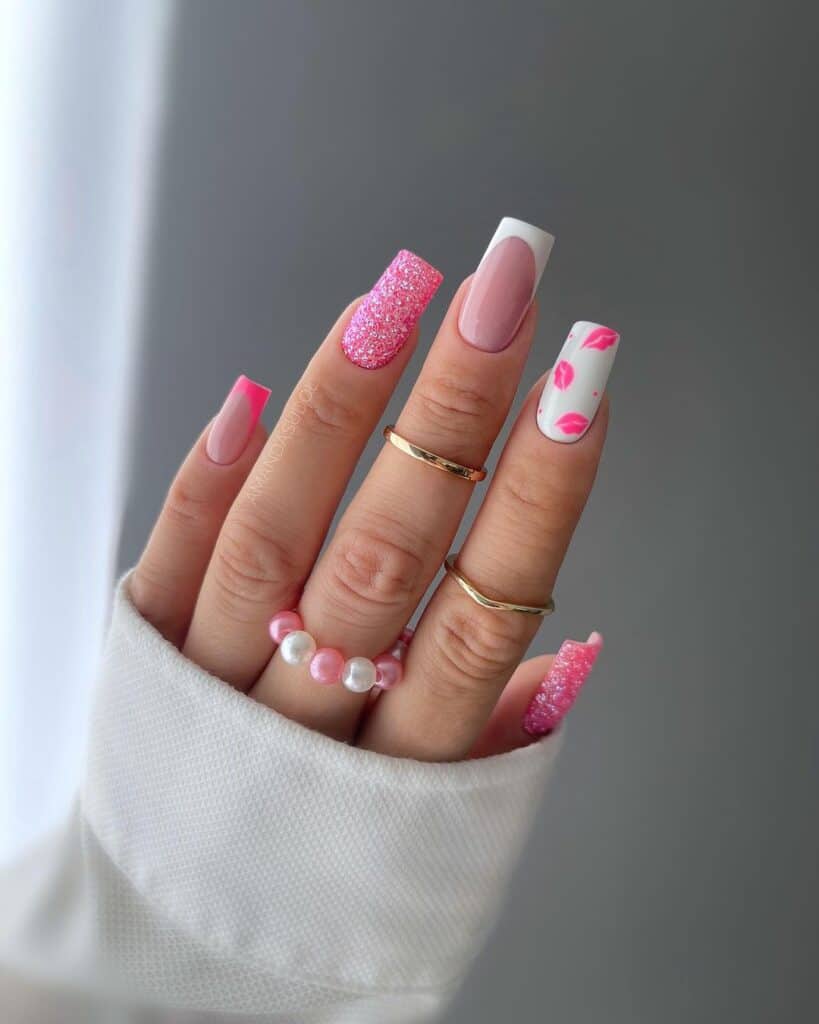 If you want nails that scream I love Valentine's Day but not necessarily scream I love love, then these are the exciting nails for you.
French tips, sparkles, and luscious lips nail art are the ideal recipe for making gorgeous Galentine's Day nails that pop.
Plus, you can definitely replicate this look yourself with just a little effort and skill.
37. Blue and White French Valentine's Day Nails
I honestly think it's a crime that we don't see blue polish used in Valentine's Day manicures more often.
It's ideal for the gal who's not sold on the special occasion but still wants to celebrate in style.
Blue also makes for fantastic Galentine's Day nail ideas, which we can see from this stunning design.
38. Short Glitter Nails for Valentine's Day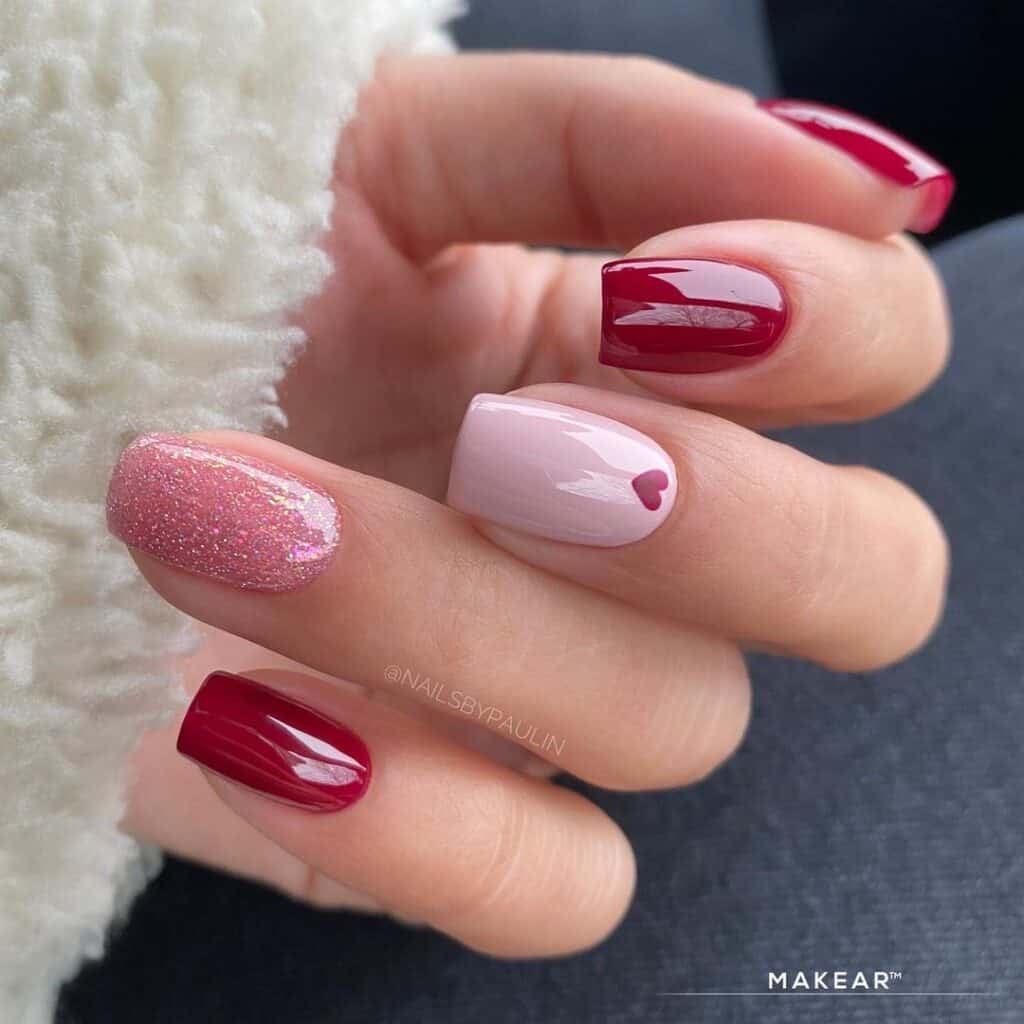 These are berries and cream nails that are just made for savoring. The beauties look fabulous holding a dessert spoon or wrapped around a wine glass stem.
Even their glossy sheen is sumptuous and indulgent.
The sparkles and little love hearts keep things cute, but these nails really are primarily alluring.
39. Layered Hearts Valentine's Day Nail Idea
Untamed swooping swirls, psychedelic vibes, and 70s style are all huge at the moment.
They just so happen to come together wonderfully and tend to create works of art like above, especially in pink.
It's so stunning. I can't wait to see similar styles fill my feed next Valentine's Day and maybe even grace my nails.
40. The World Needs More Love Nails
Valentine's Day Nails or all-year-around nails? You won't be able to decide which once you try out these gorgeous nails.
Seriously, they're classic Valentine's Day. Full of romantic vibes and covering plenty of trendy bases, they're also in style and timeless in their own gorgeous way.
41. Glittery Chrome Pink Nail Idea for V-Day
These nails are radiant. I can't even take my eyes off them. As far as Valentine's Day nail ideas go, this is by far the most high-fashion and chic.
There's also a stunning quality added by not only that glossy shimmer but also the pointed almond shape that's inherently graceful.
These are the nails that'll make you fall in love with your hands all over again; seriously, you won't be able to stop looking at them.
Just be sure to share every picture you take because I need to see more of this marvelous manicure.
42. Minimalism Nails for Valentine's Day
Pink Valentine's Day Nails are set to take on a more blush shade this Valentine's Day, and I'm here for it.
Low-key colors were hugely underestimated until minimalistic tan and milky white nails took off, thanks to Hailey Bieber and Kendall Jenner.
Now, we're seeing more of these gorgeously elegant manicures everywhere. All you need to do to make them Valentine's Day-themed is to add a sprinkling of hearts to the tips, and you're set to be the most stylish romantic around.
43. Purple Love Nails
These Valentine's Day Nails are the most subtly distinct on the list. While no one feature stands out on its own, they all combine to make this look shine.
They're just so dreamy and peaceful, with the softer purple shades pairing gorgeously with the sharp square shape of the nails.
44. Simple Valentine's Day Nail Ideas
There's no rule that says you have to try French tips on Valentine's Day, but still, it's a must.
So, if you're going to try out the classic look, why not spice it up with some red detailing and gorgeous diamond studs. It's absolutely stunning and just works.
45. Pink Leopard Valentine's Day Nail Ideas
These Valentine's Day Nails will never go out of style. That's because long square nails and animal prints are the perfect pair.
They both mean business and are serving attitude and confidence. Plus, the pink nails soften the manicure, keeping things sweet yet powerful.
46. On Wednesday's We Wear Hearts
These are high fashion nails that are all vogue and plenty pretty. I think of them as IT girl nails that are made for Instagram.
The outlined tip solidifies their position at the cool table, and the hot pink, baby pink contrast is as stylishly lovely as it gets.
47. Milky Valentine's Day Nail Ideas
Coconut shades and fine detailing together on short, softly shaped oval nails? Sign me up. This manicure reminds me of fresh cotton sheets.
They're just so snug and chic and look like the best time.
48. Sophisticated Sugar Effect Valentine's Day Nail Idea
These are possibly the classiest Valentine's Day Nails on the list. They're quite formal and opulent, with plenty of stealth wealth vibes thanks to the rich red French tips.
The love heart is just the gorgeous cherry on top to keep things looking sweet.
49. Comme un–Garcon Sparkly Nails
If you're feeling a little anti-Valentine's Day this year and would like to protest in a quirky, fun way that keeps everyone happy, these are the gorgeous nails for you.
They also shine bright, which shows you're not hiding away this lovey-dovey season because you keep the party going no matter what.
50. DIY Valentine's Day nail stickers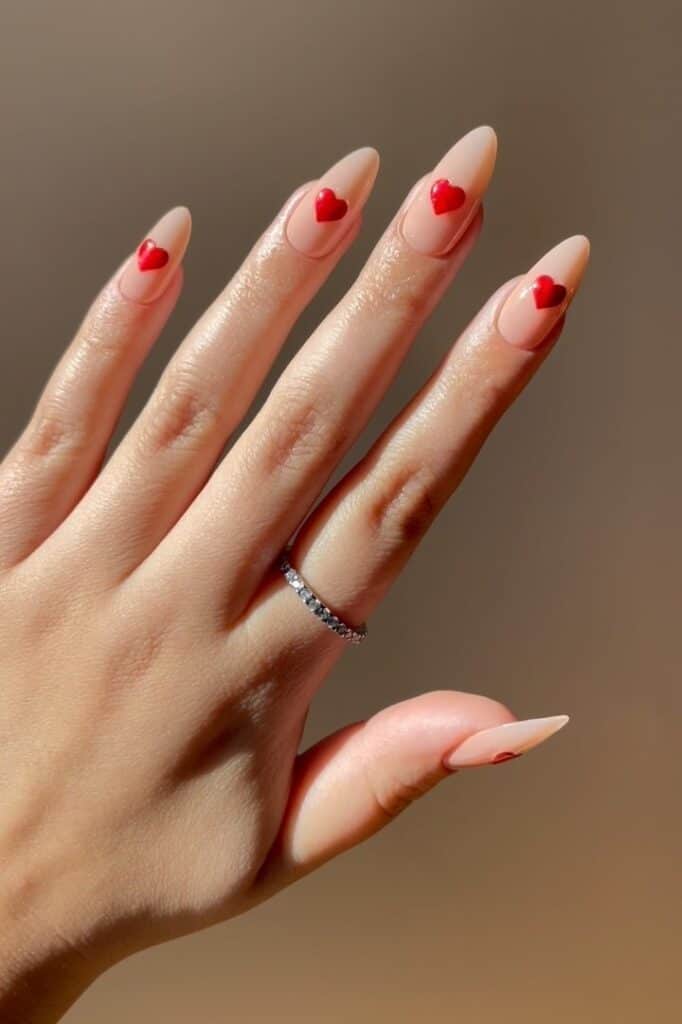 These almond nails are so simple and effort-free that they're even actually quite fun to make.
If you're feeling a small beauty-themed arts and crafts project this Valentine's Day, these are the creative nails for you.
They're also so chic and cute that they're worth every second.
51. Little Strawberries Nails
These nails are brimming with so many summer vibes that I wish I was in an airport right now.
They are so free-spirited and light-hearted while also looking incredibly stylish.
Just be sure to keep those tips pretty straight across the bottom, and those little strawberry nail arts should take care of themselves.
52. Black Poison Heart Nails
Valentine's Day nail ideas don't have to be all cute and lovey-dovey; instead, you can take some inspo from Wednesday Adam's Valentine's Day manicure collection and go for the gothic-chic look that's the ultimate trend this year.
53. Red Velvet Hearts
These nails are all party and celebration vibes. They bring confetti and love wherever you go, and they're just long enough to look like A-list VIP nails with that red carpet allure.
Plus, the love hearts keep things cute and light-hearted, which I love.
54. Black and Red Leopard Nails for Valentine's Day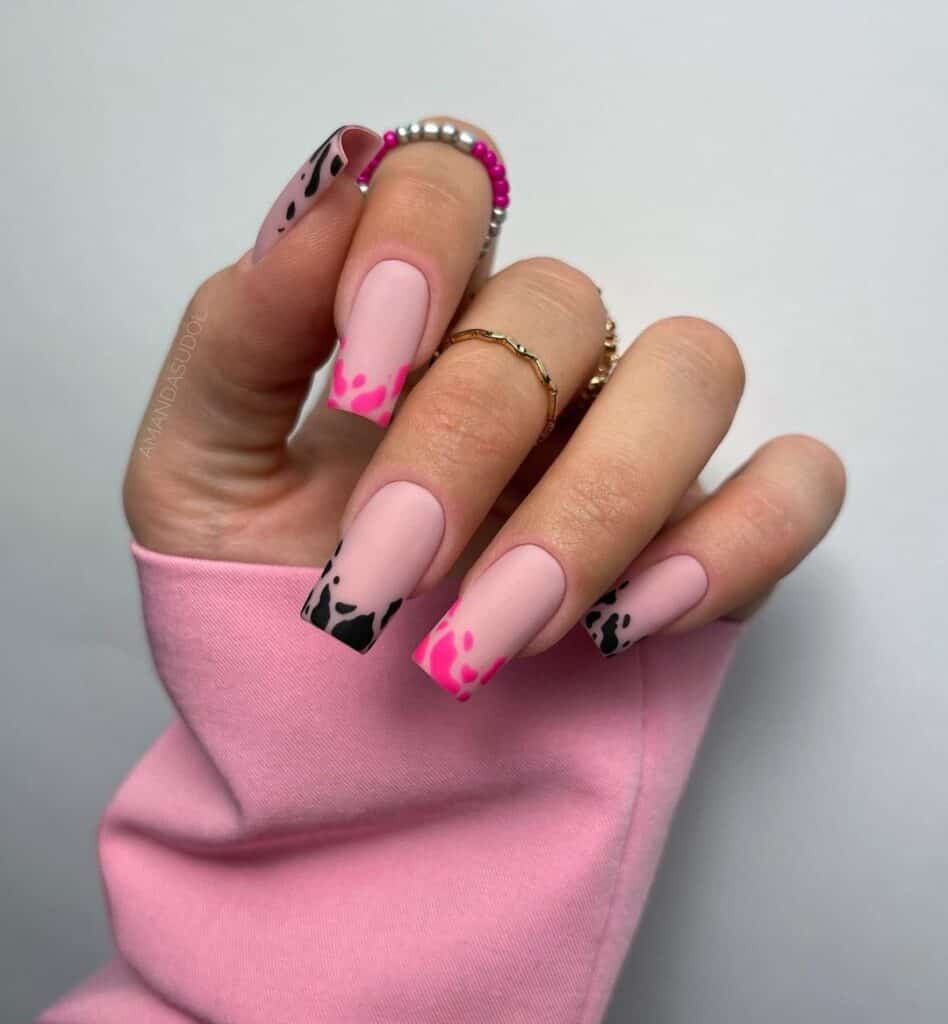 Valentine's Day nail ideas don't have to scream romance, love, or anything like it. Instead, you can pick out two shades and get down to working on lovely animal print tips.
It's quick, simple to put together, and always looks fantastic.
55. Swirly Whirly V-Day Nails
It's all good with these nails. They're easy-going and fun, making Valentine's Day just another day of the year to get the most out of.
Plus, they're swirly, which means they're confidently trendy and even bring Barbie vibes to the game, which is a must.
56. Valentine's Day Tip Nails
These nails are saucy. They've got that foxy allure that only glossy red tips and square-shaped nails can achieve.
The pink base just keeps things soft and neat, which really allows the stars of the show to pop.
57. Milky Reinstone Heart Nails
Pendant love hearts are one of my favorites and, in my opinion, the most criminally underrated romantic nail art designs.
It's just so charming and dainty, especially when set to a neutral backdrop. It always reminds me of those flawless Pinterest manicures that are the stuff of dreams.
58. Matte Brown V-Day Nails
59. Pink and Red Swirly Tip Nails
If there is one nail trend that defined the 2023 beauty scene, it's swirls, especially of the multi-colored variety.
I expect the more abstract version of the look to become even more popular as we enter 2024, which means most Valentine's Day nail designs will look like the gorgeous example above.
Unpredictably swirled tips that seem to melt over the nails will be popular in many of the year's styles.
So, get ahead of the trend and add a few little white hearts to keep things sweet and really put your own spin on it.
60. Swirly Simple V-Day Nails
Say hello to my Valentine's Day this year. They tick all of my boxes with their chic blush pink base, sprinkling adorable love hearts and creamy white swirls like I've never seen before.
It's all just so effortless and free-spirited white also looking quite high fashion.
Plus, stiletto nails and Valentine's Day are a match made in heaven. It's just a fashion fact.
61. Velvet Lips Nails
Valentine's Day nail ideas allow for so much adorable creativity and fun, especially when texture gets involved.
Here, we see one of the most romantic and alluring options used fabulously to create luscious lips nail art.
Of course, it could only be velvet. It truly adds intrigue to the look while keeping things quite soft and even adorable.
62. Endless Love Nails
Hello, influencer and girlboss nails. The design is simple yet effective and makes the most of short and sweet nails.
The square shape keeps things looking neat and clean, while the retro-chic nail art bubbles above.
The use of nail polish shades here is genius and creates such a balanced and warm look while making it all look effortless.
63. Long Square Kisses Nails
It's so rare to find a long square nailed manicure that gives soft vibes with its usual fiery vibes.
This task is especially difficult when it comes to Valentine's Day Nails, which makes these nails all the more precious to me.
I'm so happy to have found them, and I just had to share. Save these ones because I just know we all feel this vibe from time to time.
64. French Pink Ombre Nails
Delicate almond nails are peak Valentine's Day vibes. They're soft and sunny at once and even a little tropical, especially when they look as much like a sunrise as these nails do.
All you need to complete them is light pink polish and some hot pink powder.
Oh, and a nail file if you really want that perfectly rounded almond shape.
65. My Favorite Emoji Nails
How super cool are these nails? Yes, sign me up, I want the most lovable emoji to decorate my nails. It's such a fun and quirky idea that works.
The manicure is brimming with charm, and I'm absolutely seduced by it, yes, even obsessed.
This design also happens to fit right into the cartoon nail trend category, which has been gaining in popularity recently, so be sure to get ahead of the trend by trying out these lovelies.
66. Glitter Marble Nails
Sometime in 2023, the lip gloss nail trend took off, and it hasn't landed since. Its popularity is only soaring, which makes this look one of the best predictions for the trendiest Valentine's Day nail looks in 2024.
That said, achieving this beauty comes at a cost, but it still gives you an excuse to book a trip to the salon. Enjoy.
67. Mr.Black I Hrabina Oraz Giga Flash Nails
Who knew that Wednesday Adams would influence Valentine's Day nail ideas? Well, pretty much anyone who has been keeping track of nail trends.
The gothic-chic style is one of the hottest trends right now, and I just need to point to Olivia Rodrigo to prove it.
So, why not let your dark and classy side show this Valentine's Day with these gorgeous nails?
68. Classy Valentine's Day Nail Ideas
Valentine's Day nail ideas are really taking me by surprise this year. Yes, they're usually stunning and gorgeous, but I've rarely seen any as glamorous as these.
I would like to thank genius creative fashionistas and the Barbie trend for breathtaking designs like these because you'll definitely catch me wearing these nails this Valentine's Day.
69. Valentine's, But Make it Hailey Bieber Glazed Nails
This is the subtle cool girl look that doesn't need loads of color or fuss to ensure it's the coolest manicure around.
Instead, it's tiny detailing and genius use of nail polish shades with a little bit of shimmer sprinkled on top. It's perfection and I'm definitely trying it out this year.
70. Valentine's Day Depression Nails
There's something a little "Bleeding heart" about these nails, especially since they're giving slight Christmas vibes, which say, "I wish it was any other day than Valentine's Day" but that you're still a hopeless romantic and an incredibly stylish one at that with great taste in nails.
71. Chrome French Silver Tip Nails
Expect Valentine's Day nail ideas to look cutely chrome this year. The contemporary and futuristic color has taken the beauty scene by storm, and not only for its ability to bring out the metallic sheen of chic Frnechies.
Add a little love heart for a splash of color, and you're on to a winning manicure here.
72. Classy V-Day Nail Ideas
These Pink Valentine's Day Nails are giving funfair and sweet shop vibes. There's even something a little carnival-chic about them that's just so vibrantly fun.
Plus, you can definitely DIY them if you'd like a little creative project this Valentine's Day.
73. Rabbit Ears for Valentine's Day
Milky almond nails have taken the fashion scene by storm. It's all down to Hailey Bieber's fashion-forward styling and the influencer scene that couldn't get enough of them.
The golden glitter of the florals is gorgeous, and the red tips are such a lovely twist that really takes the look to the next level.
74. Cute Milky Nails
Simple yet powerful, there's something undeniably compelling and symbolic about these nails that are dedicated to the loveliest Day of the year.
The milky white base is a perfectly sophisticated and fresh canvas for the details that look like a literal work of art. It's just a masterpiece manicure.
75. French Manicure i Heart Dots
Valentine's Day nail ideas rarely look this striking. This manicure is so long and elegant but doesn't cross into over-the-top territory, keeping things incredibly sweet and chic due to the rounded tip that's just perfect.
That said, it's rare to have natural nails this long, so don't hesitate to use this look as your excuse to book a trip to the salon.
76. Classic French Tip Nails with Hearts
Square French tips and love hearts always give me candy buffets at a wedding vibe. It's like all your childhood favorites, but make it classy with a personal twist.
It never fails and is timelessly gorgeous, not to mention simple to DIY.
These Were Trendy Valentine's Day Nail Ideas You'll Want to Recreate This Valentine's Day