I only recommend products or services that I believe will add value to my readers. By using these affiliate links, I'll receive a commission if you purchase through my link, at no extra cost to you. Please read full disclosure here
We can't wait for December to come to upgrade our nail designs to December nails. These December nail designs speak holiday lights, gifts, and family happy moments in one mani.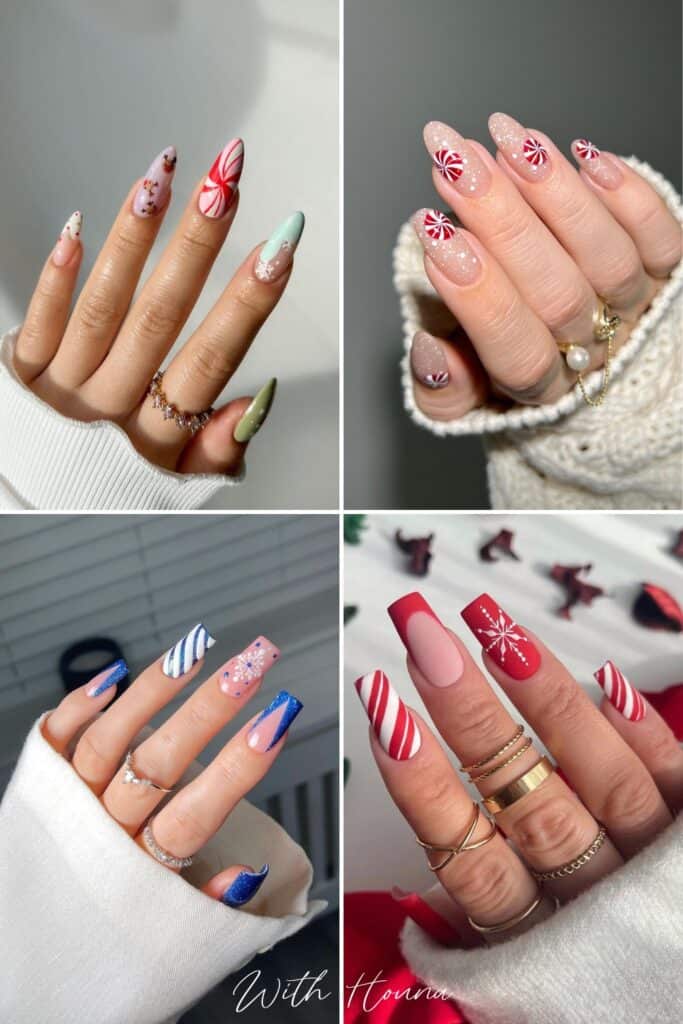 If you're an obsessed lover like me, your Holiday only truly begins when your December nails are to slay at those festive parties.
Hence, you've been scrolling endlessly on Instagram, saving December nails for Christmas to prepare your manicure.
But the truth is, it's easy to feel overwhelmed and not know what type of December nails will match your vibe for the season, especially with the assortments of options available.
I mean, I adore summer nails. But If there's one thing I love about December nails is the "versatility."
You can wear brighter colors, cozy warm nudes, and even sparkling nails for December, yet still stay in tune with the season's trend and appear fashionable.
Thus, to help you skip scrolling and glam your fingers, I've sought help from my professional nail artist friends to curate a list of the prettiest December nail designs.
Not only are these nails pretty, but you'll also find assortments of beautiful December nails for Christmas.
Whether you want to try the random cheesy green and white nails or go for non-cheesy minimalist December nail colors and designs, keep scrolling to find inspirations to get your manicure done.
No matter your plans and mood for this year's holiday season, even if you'll attend every Holiday party and prefer Icy December nail designs with sparkles and glitter.
Or you're all for the cozy winter blues, ugly sweaters, and fireplace and prefer cuddling, reading, and binge-watching your favorite Holiday shows and Hallmark movies. I've got the perfect December nail design for your mood and vibe.
December Nails and December Nail Designs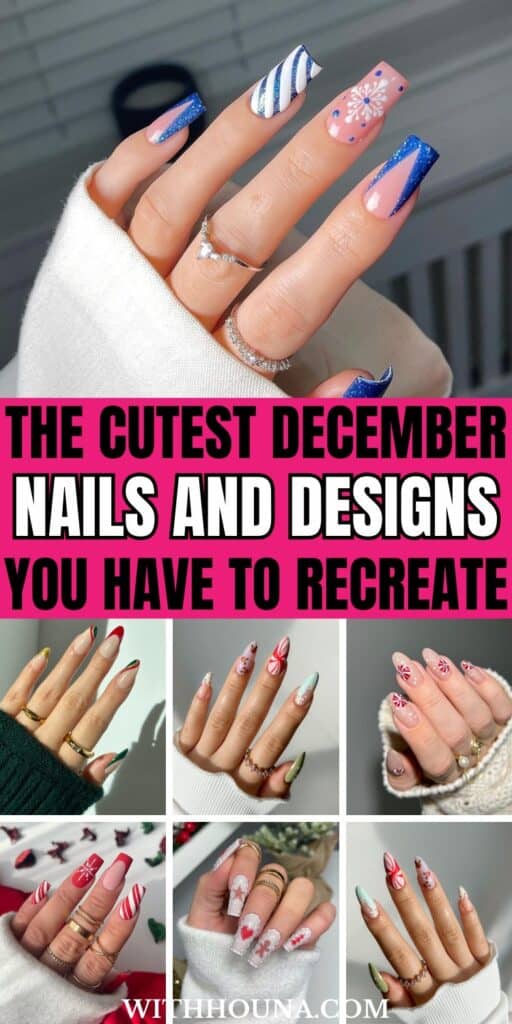 1. It's Giving December Vibes Nails
My favorite thing about December Nails is that Ice queen-chic look. Here, we see that look in all of its gorgeous glory, featuring all of the season's hottest trends in classic style.
It's got attitude thanks to the square shape of the manicure, but the glitter keeps things pretty while the intricate designs make the overall look a work of art that's the perfect vibe for a girlie who means business this Christmas.
2. Blue Glitter December Nail Designs
If what we just saw was gorgeous queen nails, what we're seeing now is the prettier side of royalty: Ice princess nails.
The glistening glitter and subtle shimmer of these nails keeps things pretty and not too over the top.
I love the gentle and delicate vibe of the look with the negative space French tips that are simply stunning.
These nails make the perfect New Years Nails.
3. Royal Blue December Nails with Classic Snowflake
December nail designs don't have to be all shimmer and shine, sometimes, they can look just as good with stronger nail polish shades that lean toward glossy.
This type of look just happens to look fantastic with loud, contrasting nail art that really pops. That's why these wonderfully white snowflakes, stars, and snowdrops look right at home on this manicure.
4. Christmas French Tip Nails for December
The rustic-chic trend that was born on Pinterest before taking TikTok and Instagram by storm is just the right amount of cozy-chic and indulgently snug for the most wonderful time of the year.
The blush base and gold lining add a certain lavish twist while the tartan fills out the square Frenchies wonderfully, with the shape even giving the manicure a daring edge.
5. Holiday Swirls
Some people think the red and green nail polish combination is too tacky to be high fashion or Instagram-worthy.
I think this manicure proves them wrong by weaving the two colors into one of the most elegant and sophisticated nail designs of the season.
Of course, the use of a milky white base, french tips, and rounded oval-shaped nails helps to keep things chic, but the colors also work magic when painted on as swirls. It's just beautiful.
6. Red December Nails for Christmas
These Christmas nails are all out Christmas without being too in your face. So, they'll claim the spotlight without hogging it, and you'll be happy to hear that they'll get along fabulously with any of your Winter outfits.
This manicure is all about sharp lines, contrasting colors, and pointed edges, so don't hold back.
7. Abstract Nails
I love these Christmas nail designs that look like Christmas without even including any wintery features.
This manicure proves that all you need are the most wonderful colors of the season. As long as you have that, the festive fashion world is your oyster, and you can let your creativity flow. I'm so here for it.
8. Black Galaxy December Nails for NYE
I love December Nails, which are depictions of a star-studded night sky. They look so dreamy and deep while bringing the gothic-chic vibes that are huge at the moment.
Plus, black nails never go out of style and are just low-key enough to be worn absolutely everywhere.
9. Pink Dainty Snowflakes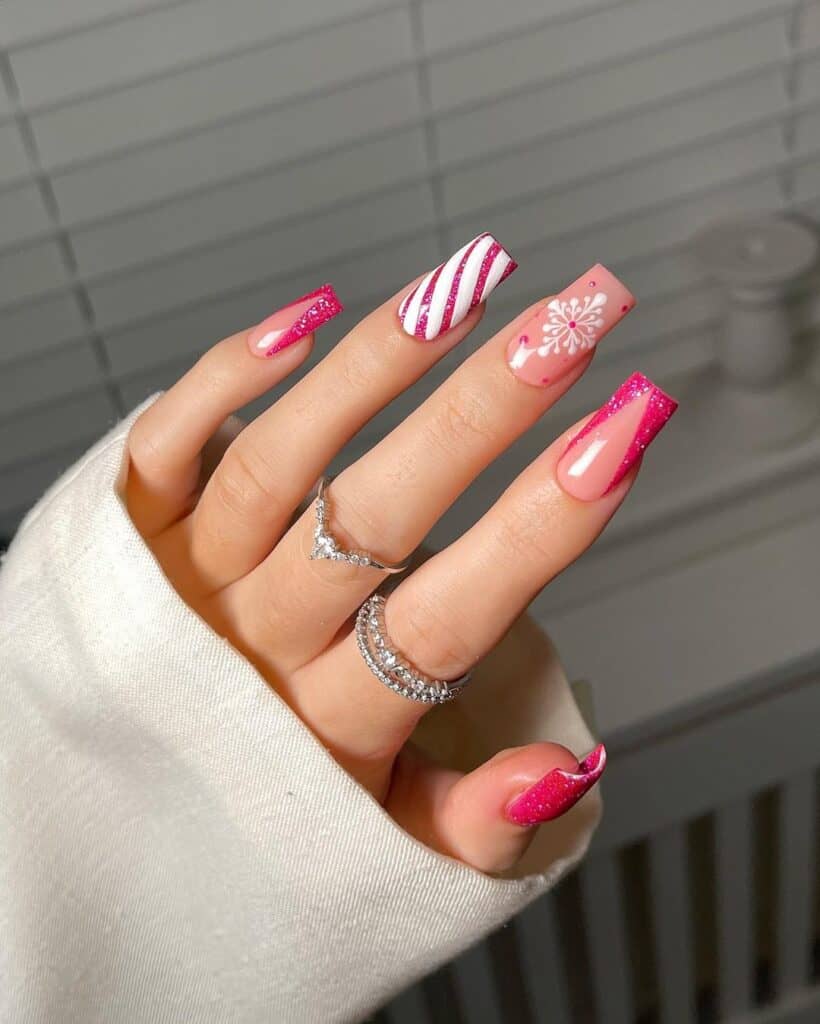 Barbie is currently the queen of the fashion scene. She's the reason why pretty and unapologetically pink nails have found their way into every season's trends this year, and I love her for it.
These are essentially the most classically beautiful Christmas manicures but in pink form. Literally, there's nothing new here, but how can you improve on perfection other than making it pink?
10. Cute December Nail Art for Christmas
Dark Christmas nails are such a mood. They look so moody yet so exciting, and they're always brimming with magical, twinkly night sky vibes that are oh-so dreamy.
Plus, there's no ignoring the adorable little elf design that's just so cute and even fits into the cartoon nail trend.
11. Gingerbread Cookie Nails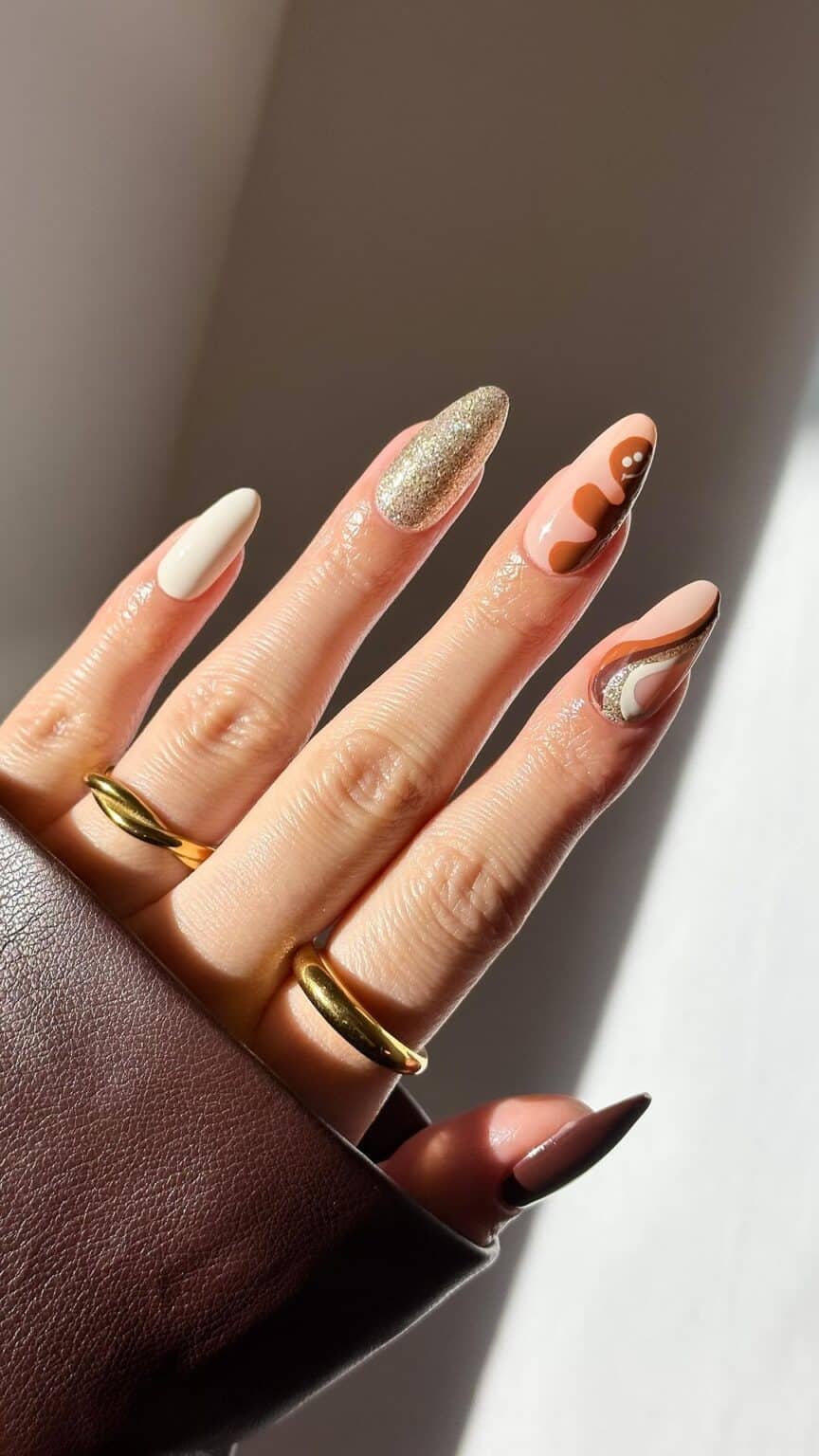 I am obsessed with December nail ideas that give freshly baked vibes. Straight out of the fashion oven, this manicure uses the best of the neutrals Christmas has to offer and adds a touch of glitter to bring party vibes to the mix.
Tying it all together in a chic little bow, however, is the long, oval nail shape that brings elegance to the game and allows plenty of space for the nail art to shine.
12. Matte Christmas Tree Nail Design
These nails are giving polished, neat, pretty, and prim vibes. They're the epitome of perfection, and the crisp blue-green nail polish keeps things fabulously fresh.
Also, the delicate white snowflake looks like it just fell onto the nail, and I have to point out the sweater knit effect that adds a touch of coziness to the manicure.
13. Peppermint Snow Nails for December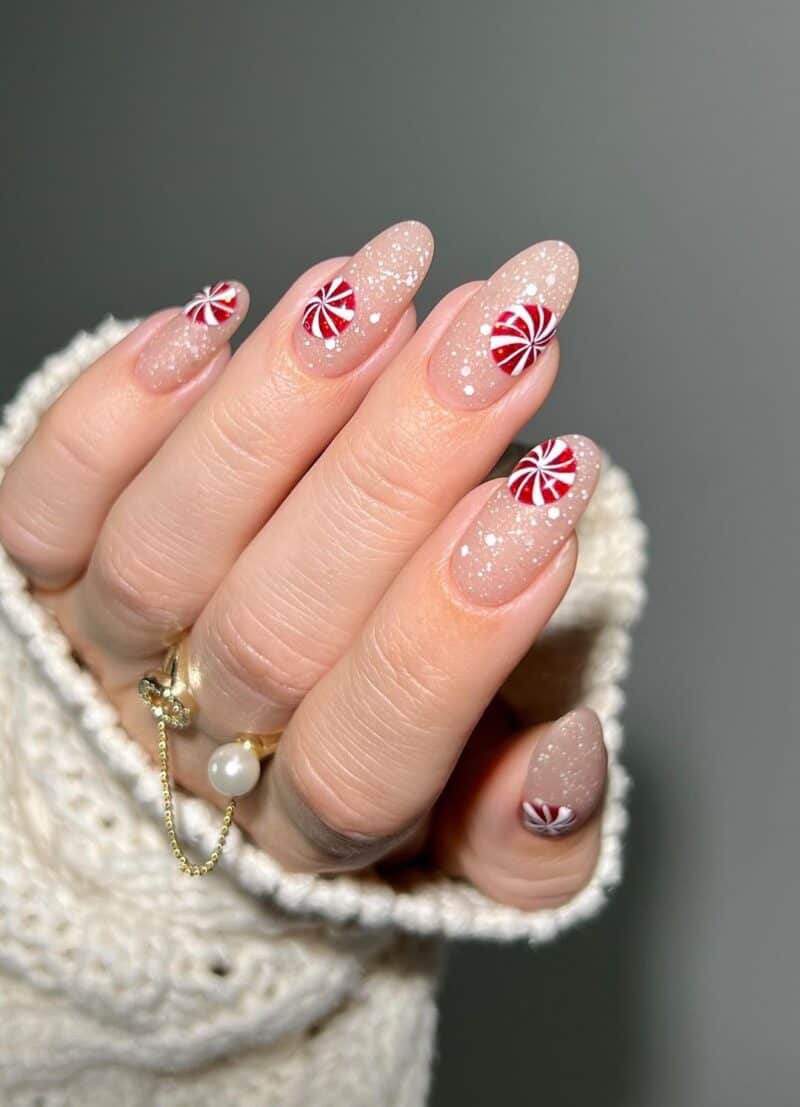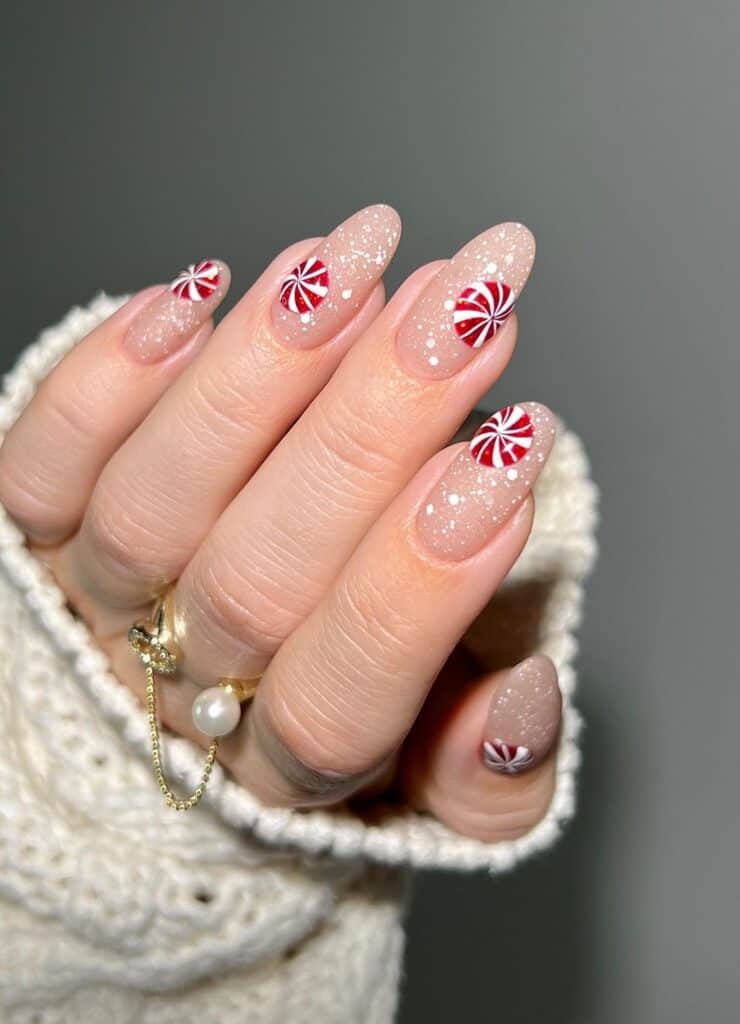 December nail designs are my favorite because it's pretty much the only time of year you can have snow falling on your nails.
It's so dreamy and delicate, like something out of a fairytale book, and when you add the little sweet treat, it's just the perfect cherry on top and adds a fun edge.
14. Platinum Sparkly December tip Nails
The fade effect is the most lavish and opulently perfect style feature for the most wonderful and whimsical time of year.
It's so sumptuous and luxurious and just looks like jewels spilled across your nails.
It's breathtakingly stunning and is such a VIP look that's perfect for you if you're feeling like a style queen this year.
15. Glittery Pink Holiday Nails for December
Girly chic nails are an obsession of mine, which is why I'm absolutely delighted they're having a moment this year.
Glitter and snowflakes are such a glamorous mix, and the delightful deer nail art is so downright cute that I can't even.
You'll definitely catch me wearing this manicure this Christmas, and you can bet I'll be showing it off at every chance I get.
16. Christmas Mood Nails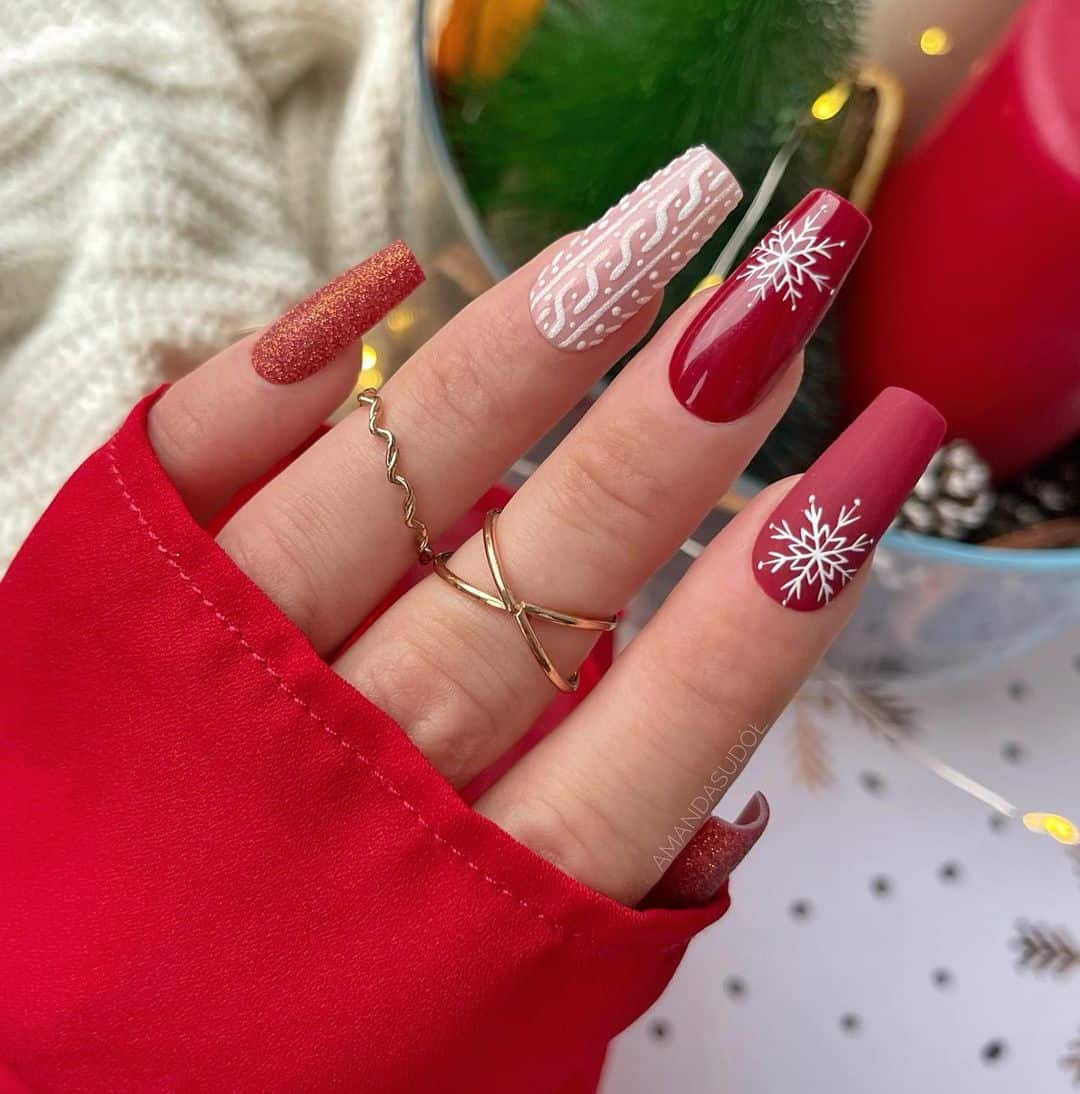 These nails are so rich and sumptuous. They strike me as those marvelous manicures that look just as good wrapped around a mug of hot cocoa as they do around a glass of mulled wine.
They're just so adorable and full of cozy vibes. They would also look splendid with your favorite Christmas dress and right at home with all of your Christmas sweaters.
Plus, the long square shape keeps things effortlessly elegant, and I'm here for it.
17. December Swirly Nails
Barely-there-swirls are set to be huge this Winter, so get ahead of the trend with these avant-garde nails.
The strong colors also add a powerful edge to the otherwise minimalist manicure. That's before evening getting to the chic and vibrant French tips that are simply to die for.
18. Long Red December Plaid Nails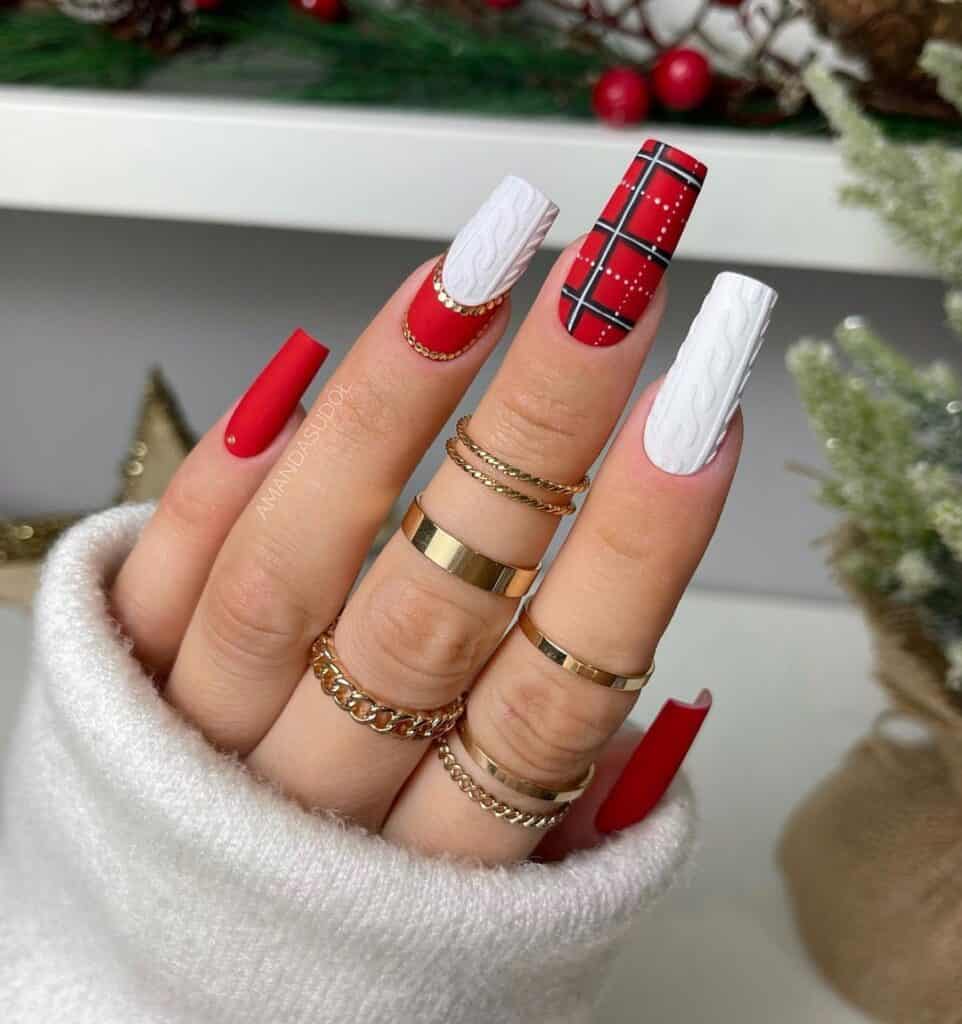 These nails are LOUD in the most stylish and sophisticated way possible. That split nail with matte nail polish, glitter lining, and sweater cable stitch is such a statement.
It steals the spotlight, and that's a tough job when your competition is a striking plaid nail on a sharp, long, square nail shape.
This manicure is just all personality and downright gorgeous.
19. Christmas Mix and Match Nails for December
Fun, funfair, and carnival vibes are the mood of this Disney-esque manicure.
It's all sugar, spice, and all things nice, using pastels alongside stronger shades with pretty little nail art speckled on top.
If you want to spread joy everywhere you go this year, this is the manicure for you.
20. Red and White December Nail Tips
December Nails are made for square french tips. There's just something so perfectly extravagant, elegant, and glamorous about them that they perfectly reflect the abundance and warmth of that time of year.
Add sweater knit effect and delicate snowflakes to the mix, and this manicure is just a treat.
21. Classy Matte Gingerbread Nails
These are those nails we all used to gush over on Pinterest. Make your manicure dreams come true this Christmas by trying out these timelessly classic yet also somehow trendy nails by getting down to your salon and letting your nail tech bring these to life.
I'm absolutely obsessed and will definitely be trying out these nails this Christmas.
If you do, too, be sure to share plenty of them online because they're so Instagram-worthy, and I really want to see more of them.
22. Flame Effect Heartbreaker December Nail Art
Here are the IT girl nails. They're the ideal from tip to cuticle, and there's not a single line out of place.
They just look so fashionable, exciting, and yet casually cool at the same time while managing to be so effortlessly long and square but without being too over the top. They're perfect.
23. Classic December Nails for Christmas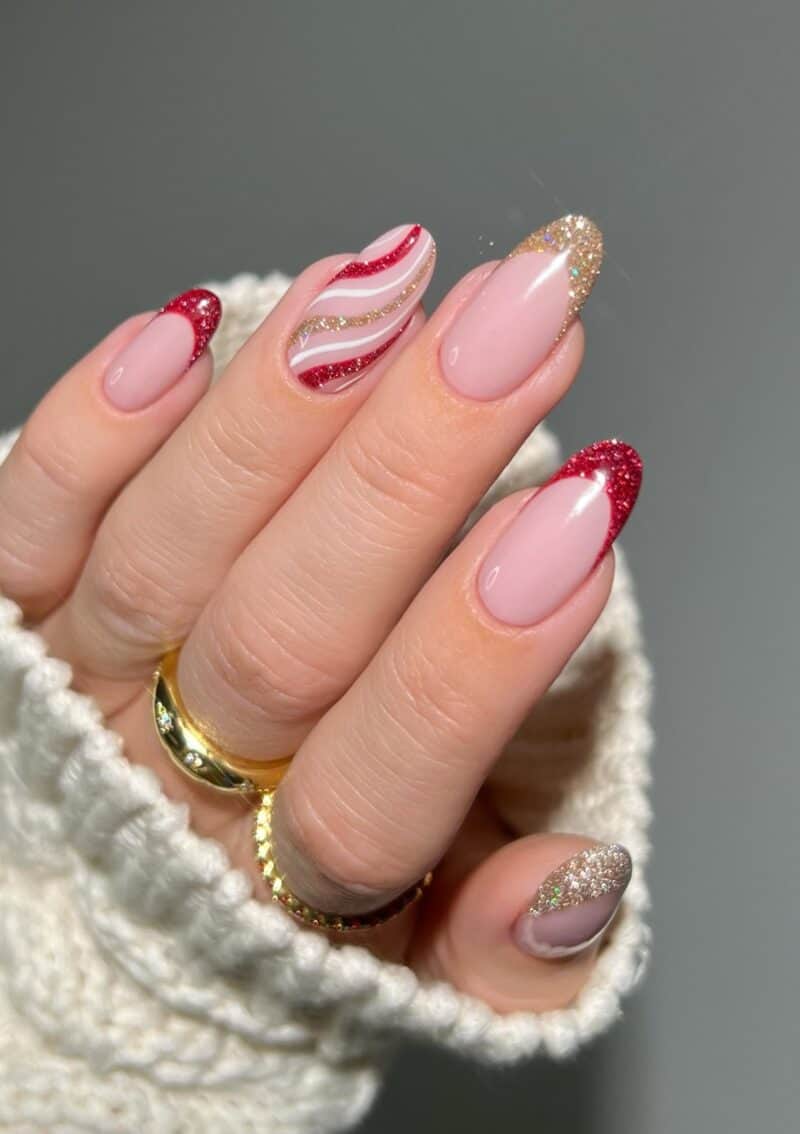 If you know, you want the best December nail designs have to offer, but the selection is getting a little overwhelming, go no further than these beauties.
Everything about these nails is fabulously festive, and the Frenchies are a classic, but the swirl makes things trendy.
Plus, this look won't clash with any of your outfits or accessories, so it's perfect.
24. Red Swirly December Nail Design
I would put these down as Christmas party nails that can be worn all month long and even fit in up until New Year's.
They've got just the right amount of shimmer and glitter with a rich red shade, swirls, and a delicate snowflake just really perfect the look.
The softly sharp almond nail shape is also the epitome of elegance, so wear these as your best accessory for every event this festive season.
25. Ugly Holiday Sweater Nails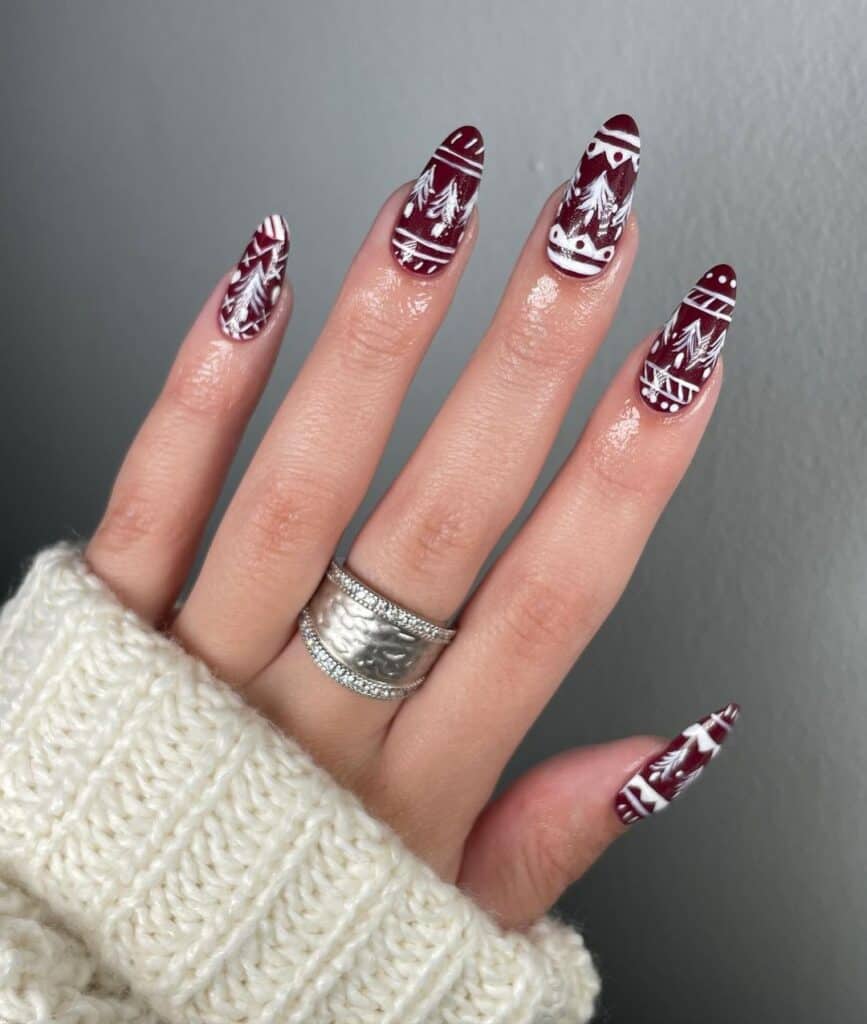 Rustic-chic and cottagecore are written all over these quaint nails that bring organically gorgeous vibes to the nails.
They're so free-spirited and look quite folklorish. Also, while they're a challenge to DIY, it's doable.
But for really sharp lines and to keep your stress levels to a minimum, let your nail tech bring these beauties to life.
26. ELF Green Holiday Nails
When it comes to December nail ideas, these are the home decor nails. Hear me out.
What I mean is that they look like they came right out of a perfectly prim IKEA magazine where everything is so effortlessly chic and casually cool.
It's just the right amount of minimalism and gorgeously green. Plus, I love the added ivy, which is always an adorable addition.
27. December Candy Cane Nails
Treat yourself to the sweetest manicure this year with this genius design made by a daring fashionista who finally decided to introduce light green to the Christmas nails scene.
I don't know why, but we barely see this shade, and as you can see, overlooking this dreamy and soft shade, especially when shimmer is added, is such a crime.
And that's all before we even get to the red and white striped tips, which are absolutely wonderful.
28. Glittery December Nail Colors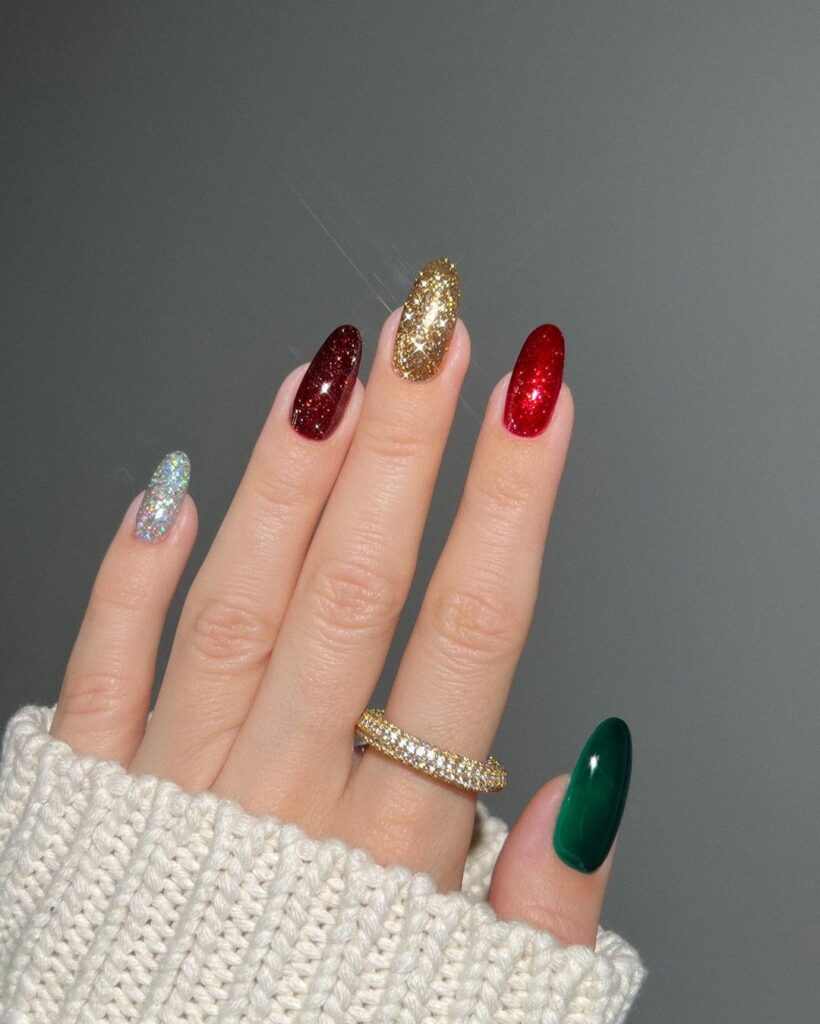 These December Nails remind me of Christmas tree baubles. They're dazzlingly glittery, and the shimmer is otherworldly.
The radiance is hard to miss, and they're guaranteed to draw attention. The key to keeping the manicure distinct is the more low-key green nail.
While the relatively understated thumbnail is necessary, you can play around with nail shape, as this magnificent manicure looks great on nails of all sizes and shapes.
29. 1st of December Gift Nails
There's nothing quite as gorgeous as a gift-wrapped nail when it comes to this time of year. It's such a unique and adorably detailed addition to even the most classic Christmas looks.
I love the light shimmer alongside the chicness that the French tips bring.
It really is just that classic high-fashion look that doesn't need many details to appear downright gorgeous.
30. It's All About Swirls
When in doubt: Swirls. No matter the combination of colors, the textures, or whatever else, if you join them together in a swirly formation, you're on to a winning look.
Here we have the minty fresh side of the Christmas spectrum with a lovely glittery slick added in to bring the joy and party to the look.
It's just so wonderful and creative. Plus, it's not immediately noticeable, but the base is semi-opaque and almost milky white, which offers the swirls a clean and neat base to work with.
It's what makes the look really leap off the nails.
31. Short Red December Nails
Short, square, and sweet nails? No problem. Short nails and girlies are in luck around Christmastime.
The festively fabulous manicure designs of this time of year are such a treasure chest for those with shorter nails.
They somehow include the most intricate detailing and strong nail polish shades, but they make it work.
It's nothing short of a beauty world miracle. But really, the key is to keep the nail art, like the little dainty snowflakes, extra small and detailed.
The lovely lines are also drawn on quite thin, and it works so great. I'm in love.
32. Cozy Winter Flannels
If you love Christmas but don't exactly want your nails to scream Christmas, then this is the manicure for you.
The plaid is low-key festive but could also look fabulous and fit in all year round. The white lines through the plaid design also keeps things bright and shiny.
Pair this subtle detailing with the classic chicness of French tips, and there's something a little bit extravagant but not over the top and entirely elegant about the nails.
It's like a whisper of Christmas, with the plaid even mimicking gift wrapping. It's so smart and creative, and oh-so-gorgeous.
33. Silver Glitter Swirls
Here are the delicate and ethereal Christmas nails. Every year, manicures reach their most mesmerizing and breathtaking around this time of year.
This is the perfect example of that peak. The wavy swirls, gentle glitter, and rounded oval shape all suggest Christmas rather than say it outright.
It's such a formal yet cute look all at once that you could even file under "Wedding Day Nails." The milky white base really solidifies that otherworldly elegance that makes these nails one of the most irresistible manicures this year. They really are must-try nails.
34. Walking in a winter wonderland
Burnt orange is such an underestimated nail polish color when it comes to December Nails.
It's primarily considered a Fall color due to its rustic and cozy vibes, but this mood translates effortlessly into Christmas nails, where it takes on a more "freshly baked" feel.
It complements and clashes just perfectly with the blue shade, creating the Goldilocks Zoen effect that's crucial to bringing such different colors together in a manicure.
The snowflakes are so high-resolution and almost look true-to-life thanks to the intricate detailing.
The swirls and gingerbread man nail art keep things cute, while the almond nail shape is just so classically chic that I'm utterly obsessed with these nails. Could you tell?
35. December Snowman Nail Design
Here are the comic and cartoon nails that come around every Christmas and win hearts like always.
They're so heart-warming and cutesy that pretty much every fashionista has a soft spot for them.
Also, every nail tech, or anyone who's ever tried to DIY a complex manicure, can appreciate just how much effort goes into those adorably detailed nails.
It honestly looks like the two snowmen have been printed across the nails. So, this is definitely a look that you'll want to bring to your salon.
They'll be beyond delighted to get to work on such a unique and challenging manicure design.
Plus, I just need to mention that the glitter and red and white lined nails really bring the party and cheerful vibes.
36. December Plaid Nails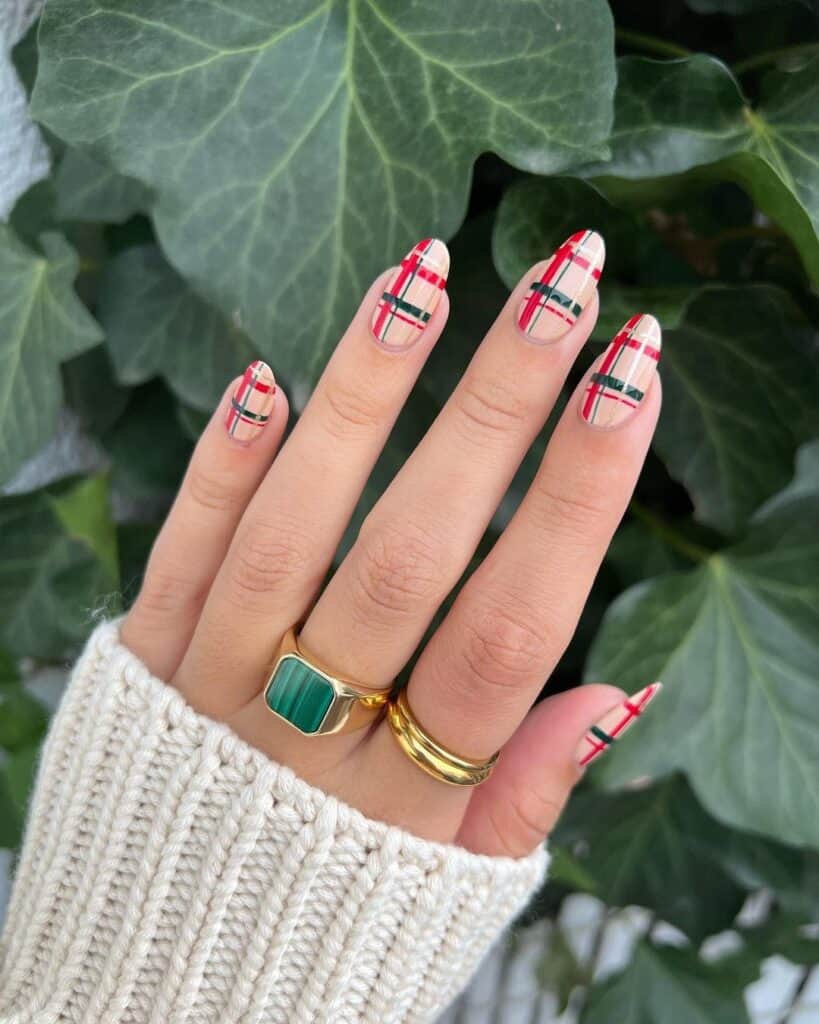 Plaid has become the official pattern of December nail designs, and I'm thankful for that, alongside many other nail obsessives.
Seriously, it's such a pretty and preppy look that it's got just the right amount of coziness and snug vibes to be just right for Christmas.
If you have the time and the right type/amount of brushes or toothpicks, you can definitely recreate this look for yourself.
The oval shape also keeps things looking soft and casual, which means the gorgeous nails can be worn absolutely anywhere without clashing with your outfits or jewelry.
It's truly such a reliable and gorgeous look that you just have to add it to your must-try list this year.
37. A Frozen Christmas Vibes Nails
Sorry, but these are the quintessential ice-princess nails. They're flawless from top to bottom, and even a speck of glitter is out of place.
They look like the nails of a winter wonderland fashionista and IT girl who's sure to share her idyllic nails on their version of Instagram.
Plus, if you plan on wearing all of your glitziest glam this year, these nails are definitely on that luxurious and unapologetically loud vibe.
In fact, they look like fine jewelry themselves with all of those sharp, clean lines, glossiness, and sensational shimmer.
38. Swirly Red Candy Cane December Nails
I call these "hostess with the mostest" nails. They're perfect for hosting parties and have that classic, clean vibe that says you know what you're all about.
Your nails also set the celebratory and cheerful vibe absolutely effortlessly.
That's what Christmas parties, and Christmas time really, is all about. The fabulous manicure features all of the timeless and classic Christmas nail designs.
The shimmer makes everything pop, and the snowflakes are an absolute must. It's just so high-fashion, formal, and fun at the same time. It's giving mature and in control, and I'm here for it all.
39. Festive Nails for December
These are my favorite December Nails this year. They use all of the best December manicure polish shades, bringing just the right amount of girly, fun, gorgeous, and sweet vibes to the manicure.
Lavender is so elegant and subtly girly, while pink is just so sweet and oh-so Barbie. Green adds a quirky yet elegant twist, and it all comes together wonderfully on the trendy swirl nail that's seriously the stuff of fashionista dreams.
It really pops and looks like something straight out of a Vogue magazine. I also can't get over how perfect of an accessory they'd be for parties. I'll definitely be trying out these nails this Christmas.
40. Blue Glitter French Tip Nails
These are the low-key ice queen nails. They shine just as gorgeously at the office as they do at the Christmas party and can be worn to almost every event, and match perfectly with any outfit.
They're also right on trend with the barely-there swirls that look like they gracefully graze either side of the nail.
The French tips also add a layer of chicness that's gorgeously topped with dainty, intricately detailed snowflakes.
Plus, I just have to mention that blue glitter polish is the choice of the season this year, so you're bound to have one of the trendiest manicures this Christmas if you choose to wear this stunning look.
41. Santa Claus Hat Nails for December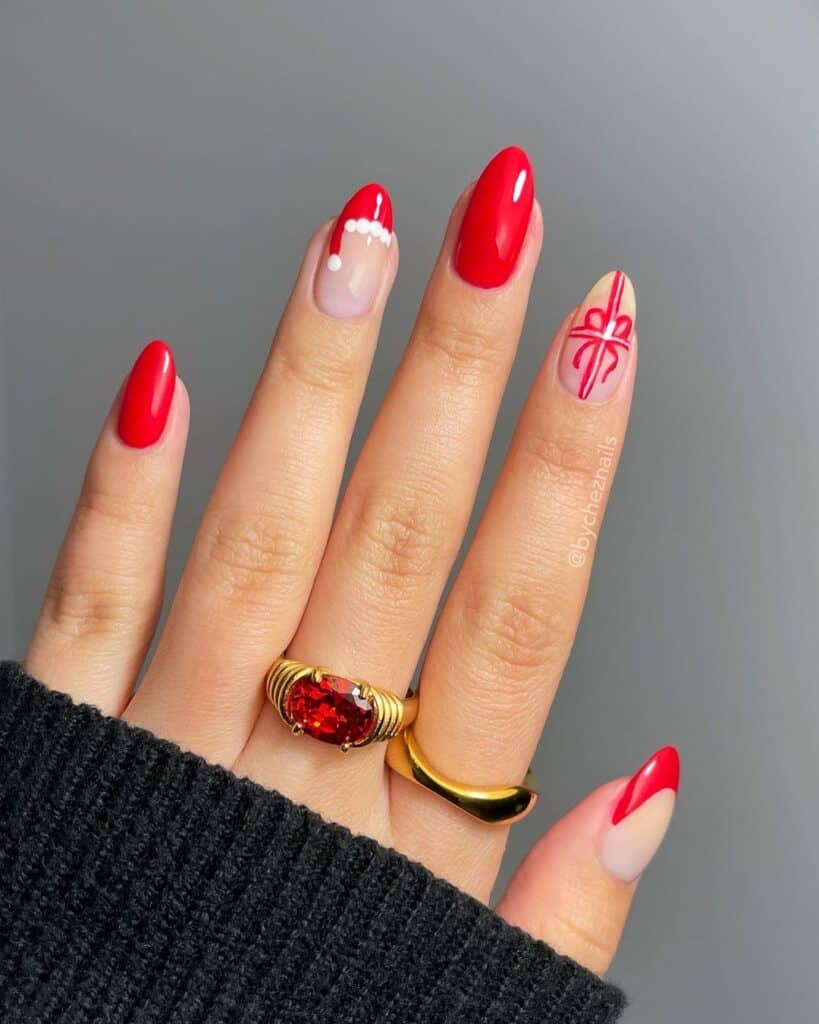 If you're in a rush and want your nails to look like you have all the time in the world and have recently taken a nail design class, here's an early Christmas present for you. It's barely noticeable and still looks great, but there's no base.
It's all all-natural nail here, meaning you can get straight to the nail art. The detailing can be done with a super thin nail brush, but a toothpick is a great alternative that can be dipped into the polish and used to draw on the thin lines to perfection.
The gift-wrapped nail and the Santa tip look so gorgeously intricate but are actually one of the easiest festive styles to DIY.
So, enjoy your low-effort, high-return nails that you can paint on in a time pinch and last all Christmas long.
42. It's Candy Cane Season
I love that December nail ideas so often feature candy vibes. Here, we see the minty, fresh version of those vibes, and I'm here for it.
It's such a fabulously smart and fashion-forward use of color to create a clean, vibrant, and energetic look that's everything Christmas time is made of.
I love the genius use of a semi-opaque base that's liked to the top by the multi-colored French tip and to the bottom by a white slick of polish.
The white dots on the red nails also mimic a frosted or snowfall effect that really elevates the manicure to the next level.
43. Long Almond Blue December Nail Art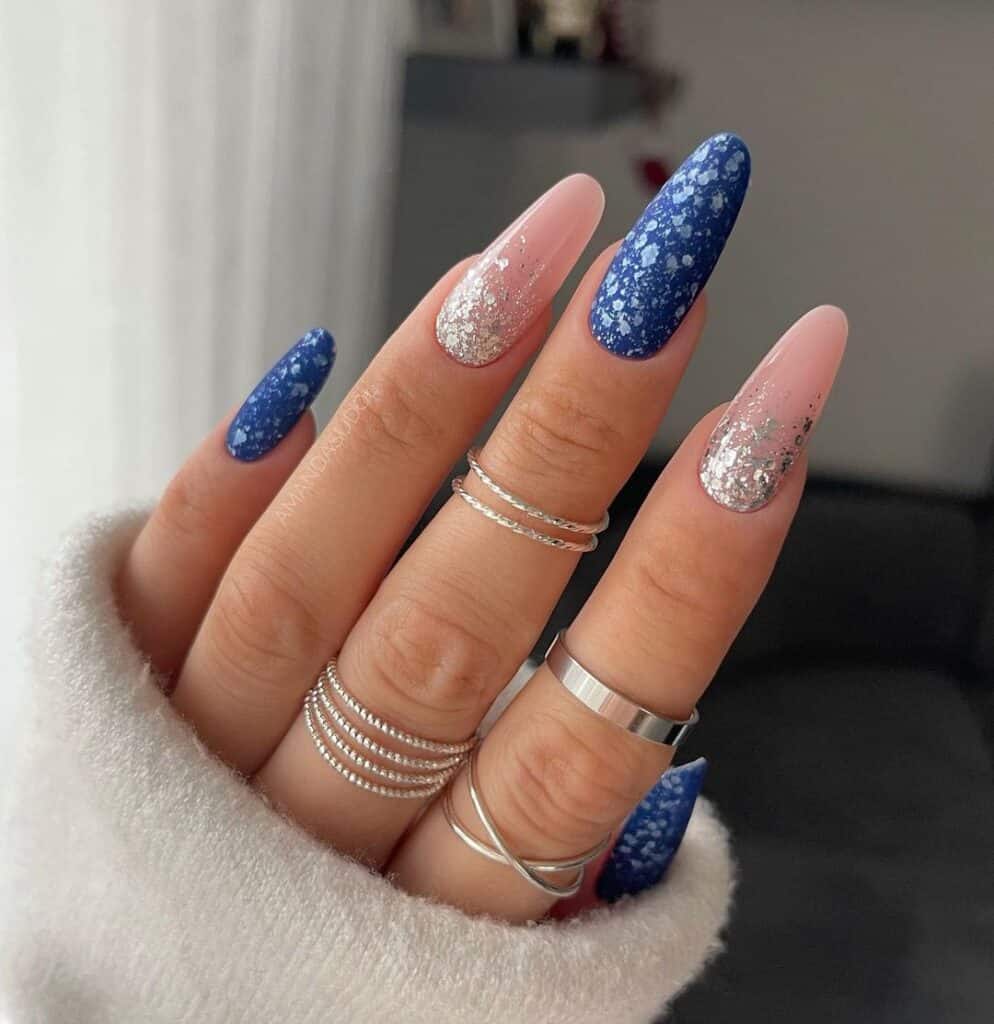 There's something so dreamlike about these nails. The first thing we notice is the blue polish that's covered with light blue, almost white speckles that create an icy effect.
It creates the look of a frosted-over lake that could even reflect snow falling on a cold evening.
The two silvery nails add opulence and sophistication to the look, which makes the manicure all the more magical.
The long, oval shape of the nails is key to achieving the marvelous aura of this manicure and ensures you'll have the most fabulous nails anywhere you go this Christmas.
44. Flashback December Nail Designs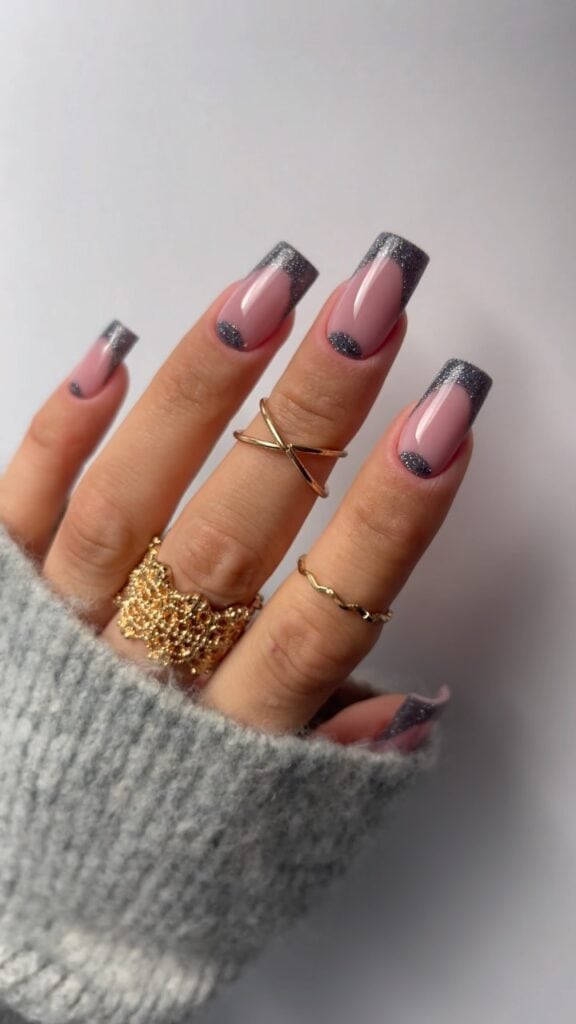 If you want to take the classic French tip to the next level without compromising on chic vibes, then this is how you do it.
A simple half-moon at the cuticle keeps things sophisticated and stylish but with a distinct and unique twist.
Plus, the black shimmer evokes a night sky that's so dreamy and absolutely perfect for the time of year.
Add the sharp, square shape of the nails to the mix, and these are some of the most vividly gorgeous nails on the list.
45. Cute Grey Based Gingerbread Holiday Nails
Cartoon nails are about to be huge this year. They're expected to be one of the biggest trends this Christmas, so why not get ahead of the trends with one of the most unique and adorable manicures this year?
I love that they're framed by a stitching effect with such charming Christmas tree ornament nail art placed in the middle.
They look so gorgeously textured that the nails barely look painted. Instead, they look like they've been crafted from fabric, which brings such snuggly and cozy vibes to the manicure.
46. Blue Snowflake Prints
I just love nails that make smart use of multiple shades of the same color. These nails almost look black at first glance, but the blue hues shine through thanks to the lighter shade of blue used for some of the delicate snowflakes.
I'm also obsessed with the use of various sizes and shapes for the snowflakes, which is such a stunning staple when it comes to December Nails.
This look is also just asking to be paired with gorgeous rings and sparkling jewelry. Plus, it'll get along very well with all of your Christmas outfits, so it's truly every girl's best friend this festive season.
57. Glittery Blue December Nails for Christmas
We're totally obsessed over these December nails.
This Glittery blue Nail design is the first nail design I've created for my clients this year and it turned out amazing that I'm recreating it myself.
It works well as a Christmas or New Year's Eve nail idea if you want to go with only one nail art.
These Were Cute December Nails and December Nail Designs You Have to Recreate For The Holiday Season