This post may contain affiliate links, which means I'll receive a commission if you purchase through my link, at no extra cost to you. Please read full disclosure here
As it's your graduation this year, I can bet you're on the hunt of the best graduation party games to get your guests in the celebration vibe of your big day and enjoy your grad party.
These graduation party games are absolutely fun, and your guests will absolutely love them!
Having the best graduation party games is a crucial part of running an epic grad party people will love and remember for life.
It's a no-brainer that graduation game activities play a huge part in your whole graduation party planning and makes your party interesting.
It's important to make everyone involved with you, enjoy the graduation party vibe, and just get involved with you.
There are so many graduation games you can get to play with your guests to make your graduation party more interesting and fun.
After this post, you'll no longer look for graduation party games to keep your guests interested and enjoy your graduation party to the maximum.
These graduation games work for any type of graduation party you're going for as they are mostly prints which is what I love the most. You basically will have the most interesting graduation games and get them cheap as well.
The most important thing about these graduation party games is that most of them are created by With Houna Team which is why I'm so freaking excited.
Our team and also our dear graduates have been a huge support and helped in this so we come up with the best graduation games that you will love and play with your guests as well.
As we really care about you and pay a lot of attention to details, we've made sure that these amazing grad games printables come in 3 different styles that will absolutely match your graduation party theme.
You want to make sure every.single.thing at your graduation party is coordinated and blends perfectly together.
The Best

Graduation Party Games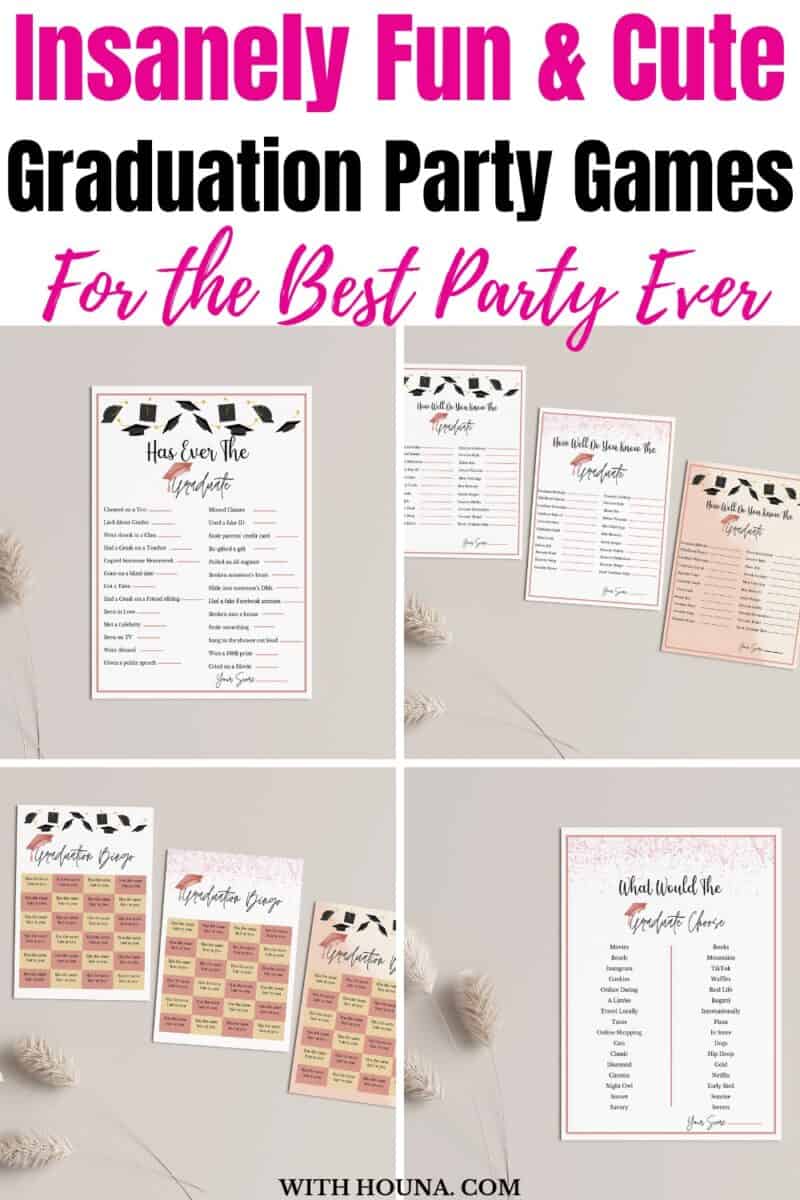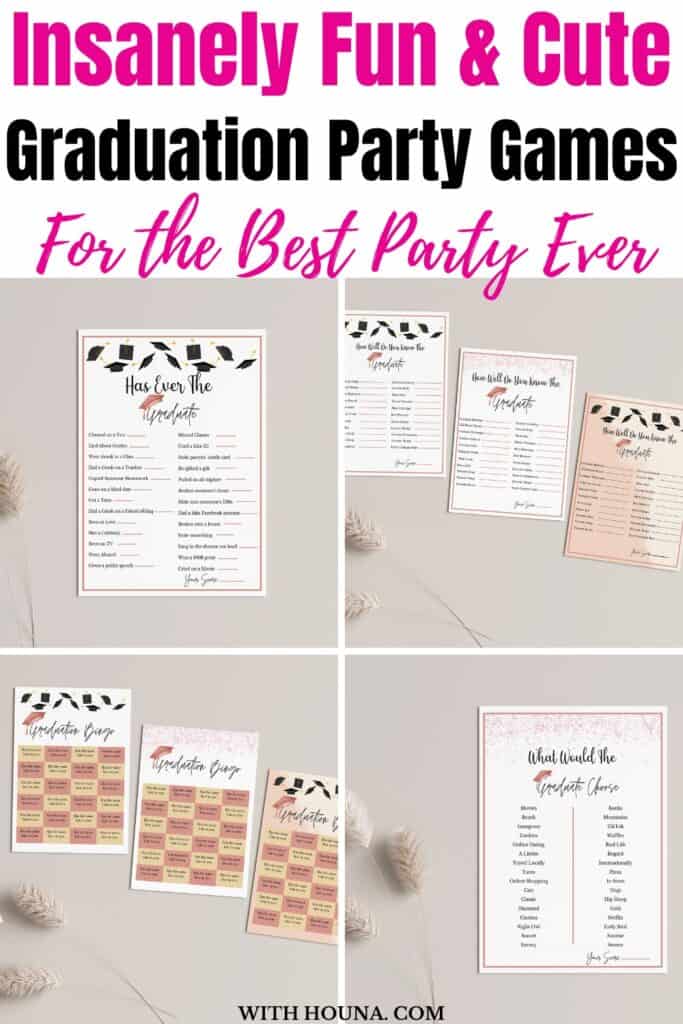 1. How Well Do You Know the Graduate
I really want to start this graduation party game with the most loved and played graduation game in ALL graduation parties.
It's a really cool graduation game to play with your guests especially having fun knowing who's the one that really knows you best.
To make it more interesting, you can set a prize for the one who gets most of the questions correct to as encouragement and create a kind of competition between your guests.
Also, this graduation party game comes with 3 different styles and game instructions on the other side to make it neater and more beautiful.
2. Would the Graduate Rather Game
Another great graduation game that you'll absolutely love to play with your friends at your graduation party.
Would the graduate rather be a simple graduation game printable for your guests to guess if they were you, what's the thing you'll go for?
Every correct answer you get 2 points for. The one who scores the most is the winner.
3. The Graduate Favorite
The graduate favorite game is another most played game at graduation parties. This graduation game is easy and actually, no instructions needed.
As a recent graduate, I've really enjoyed how well my friends and family members know me best and the things I prefer the most.
4. Graduation Lib Game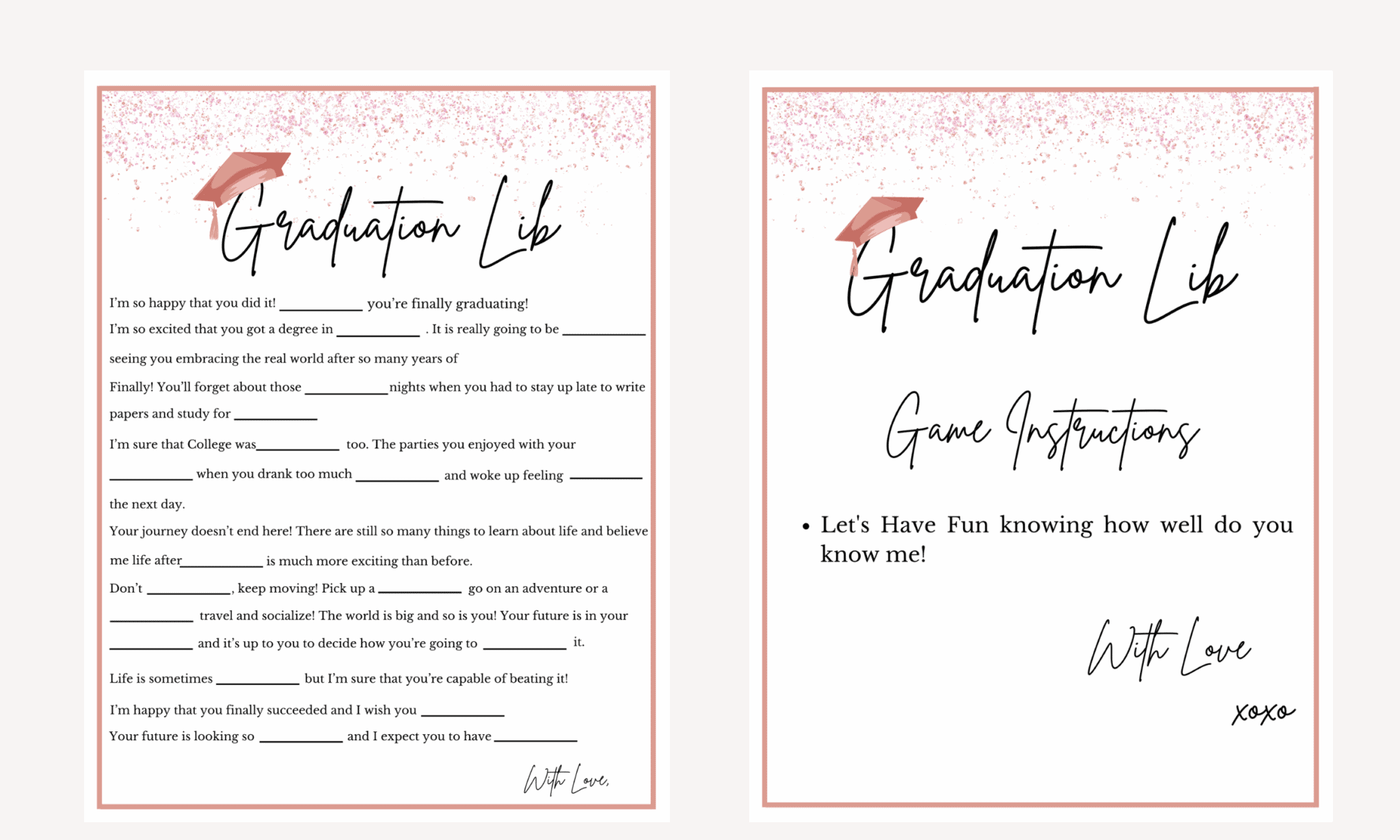 OMG!! I can say I've never got this graduation game until I've tried it out and it's just amazing.
Get your guests to leave a great text for you by filling the gaps with the appropriate words.
5. Graduation Party Games Bundle
This is just a steal and what you absolutely have to get if you want to make your graduation party entertaining, fun, and interesting so your guests will stay involved and don't want to leave your party early.
What I love about this graduation party games bundle is the fact it has the best 9 games printables at an unbelievable price. Also, having all the best games at once is even better.
When you set your graduation party budget, you'll want to make sure getting all of the graduation party essentials that you want at a lower price.
This graduation party games bundle is a favorite for all graduates because it's so cheap and has everything.
Every single graduation game printable comes with 3 different designs that will match any graduation party theme you go for.
Not only this, to make it more classy and next level, it comes with graduation instructions for every single game just to make it more interesting and next level for your guests.
I promise you can't go wrong with this graduation party games bundle as it's honestly the best one ever.
6. Graduation Bingo
Who doesn't love Bingo? Even better? Having a graduation bingo game is always a great idea to keep your party interesting. Also, you want to get your guests involved in the vibe.
However, this graduation bingo is quite different than the typical one you can find elsewhere. Instead of having cards, you'll have statements.
Your guests will find it interesting to play as it's not the classical graduation bingo game they are familiar with.
7. What Would the Graduate Choose Game
Can I say this is one of the best graduation party games ever?
It's a kind of similar to would the graduate rather one but has its own charm though. What's better than letting your friends guess what you'd choose.
Trust me, some answers will chock you and make you laugh OUT LOUD.
8. Has Ever the Graduate
Why not let your friends guess if you've ever done something or you never did it.
Related: 54 Epic Graduation Party Ideas to Make the Best Grad Party Ever
9.Graduation Advice Card
Having a graduation advice card for your graduation party is a must.
Technically, it's not a graduation game. However, it's nice and dear to the graduate heart to leave your wishes and best advice for them.
10.Graduation Work Scramble
Graduation word scramble is a fun game to play with your guests and to see everyone trying to make words from it.
11. Has the Graduate Game
This is one of the most played college graduation party games ever. Getting your college or high school friends to determine if you've ever done something or have been into a certain situation during college or high school or not.
It's the go-to graduation game mostly for college students because college is the place where you had amazing, and crispy experiences that you'll keep as great memories for life.
12. What is on The Graduate Phone
If you've decided to play this super fun graduation game at your party, you'll absolutely have to set a prize for the winner. This game will take the game to next level as I guarantee not everyone can get it right.
You'll get more losers than winners LOL.
This graduation game is really fun to make your guests guess what's on your phone.
13.Pass the Grad Gift Game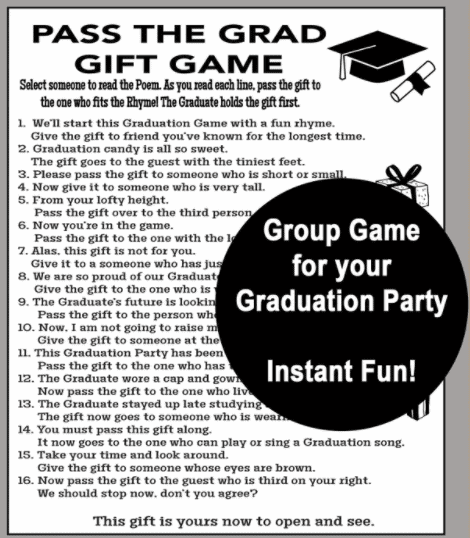 This graduation game is so unique and interesting. I love the fact that is graduation game is just different and it comes as a poem as well.
I promise, your guests and family will love it.
These are the Best Graduation Party Games You Need to Get to Make your Graduation Party Fun and Interesting