I only recommend products or services that I believe will add value to my readers. By using these affiliate links, I'll receive a commission if you purchase through my link, at no extra cost to you. Please read full disclosure here
Are you looking for the best and the-must have graduation party supplies that you need to run an epic graduation party? When I started planning for my graduation party, I didn't know what all the graduation party essentials I needed for my party.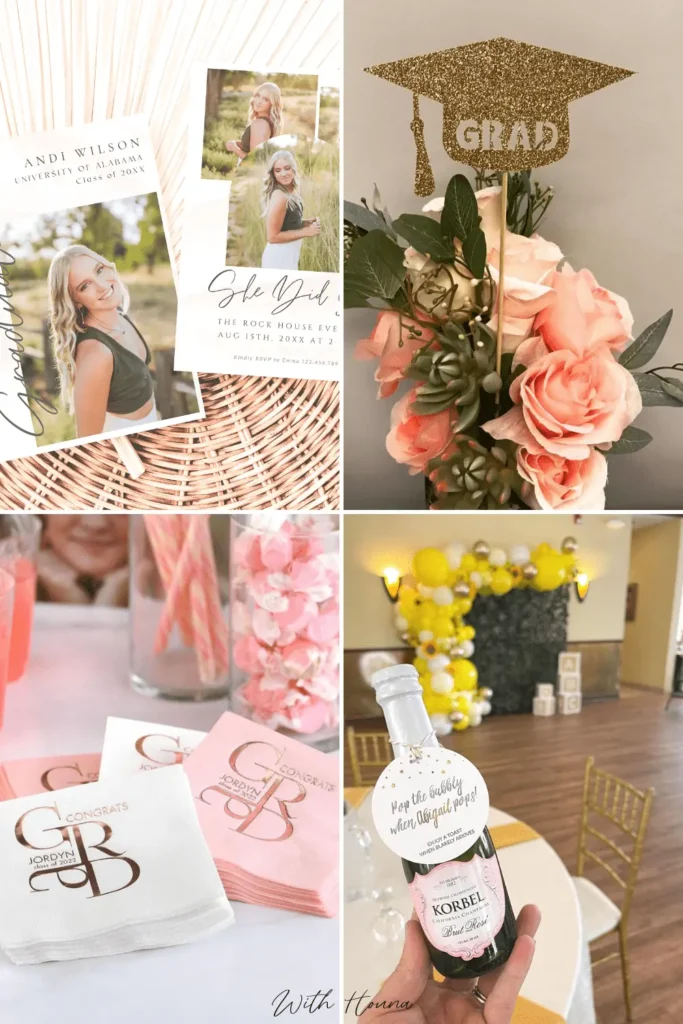 Graduating from high school or college is a significant milestone that deserves all accolades.
And the perfect way to celebrate your big win is by throwing an epic graduation part. You'll want everyone to speak about your until the end of the year. Who doesn't like fun parties anyway?
Whether you're graduating from high school or college, no party is complete without some fun themed graduation party decorations. Also, getting the graduation party supplies to help you host an eventful grad party.
From the best graduation balloons and graduation letter signs to graduation party backdrops and graduation centerpieces, there are plenty of ways to make your party stand out.
The first thing you need to make sure everything are all matching your graduation party theme and the fact you make sure everything is complete.
Although planning a graduation party seems fun, it's so easy to miss out the party essentials you'll need to pull your big day together. That's because there are so many things to keep up with that you can forget the small things, and sometimes, the most important things.
We'll explore some of the must-have graduation party supplies and essentials, so you can throw a memorable party without missing out on anything you'll need.
The Must Have Graduation Party Supplies
1. Elegant Graduation Party Invitation Idea
Set the tone for your graduation party in advance with these elegant invitations with a personal touch.
Everyone from friends to family will know they're in for a treat when they receive gorgeous invitations.
The quality of the invitations gives the special occasion a VIP edge from the very start.
You can add the message and images of your choice, meaning you can make the day entirely your own.
2. Graduation Party Napkins
Funny and cute graduation decorations are all the rage these days. They keep things light-hearted and fun, which is everything a great celebration should be.
They also make for a fantastic photo opportunity for guests, ensuring your graduation day gets the attention it deserves.
These napkins are offered in three different colors, which you can use to complement the color scheme of your graduation party or mix and match for a bit of fun variation.
3. Graduation Party Centerpiece
Centerpieces broke onto the graduation party scene around a decade ago. They started as a quirky and formal addition to the day's decor that mimicked that of a wedding reception.
Before long, the decoration took off, soared in popularity, and became a lot more colorful and fun.
Now, they're a staple of tables at most graduation parties, with each proud graduate putting their own twist on the classic piece.
Nothing quite says a free-spirited and cheerful graduation celebration quite like personalized graduation signs mixed with vibrant colored flowers.
The glitter is such a dazzling touch, and of course, the signs can be kept as a memento to have when you're looking back on a great day. 
4. Graduation Cups and Plates
You can easily take Graduation party supplies to the next level with this set that covers all of your guest's needs.
Among all the graduation party ideas, no one can miss out on getting customized napkins and plates themed with your party.
From plates to cups and napkins, everything is taken care of. Plus, you give your decor that added boost that only themed supplies can give.
It creates a VIP edge and shows you put a lot of effort into planning. Plus, it saves time, allowing you to enjoy your graduation party to the max.
5. Graduation Thank You Tag
I personally think graduation tags are one of the most genius additions to the day. They're so simple yet so touching at the same time.
They can be attached to many other decorations, such as take-home gifts, wine glasses, or whatever your heart desires.
Plus, they can be used as little take-home gifts in their own right, especially if you have them personalized.
When designed as above, they also fit right into the rustic-chic trend that's taking the decor scene by storm and is a huge hit when it comes to graduation parties.
6. Cake Topper
Every good graduation party needs a cake. It's often the centerpiece of the decor, and people love to take photos with it.
Plus, it provides an occasion as well, which is the "cake-cutting" moment that many guests have come to expect at graduation parties.
So, of course, you'll want your cake to look great while being right on theme. This cake topper can help you take your cake to the next level simply and effortlessly.
All you have to do is take it out of its packaging and slot it into the cake.
Plus, who doesn't want their own name on top of their very own cake? It's such a stunning idea.
7. Graduation Tiered Tray Set
Tray sets are hugely underestimated when it comes to Graduation party supplies. Really, they're the most versatile decoration on the market and can be used in so many creative and useful ways.
You can line the set with graduation-themed decorations as the perfect photo backdrop, or you can set up your take-home gifts on the tiered shelves.
Your options really are endless, so be sure to add a tiered tray set to your graduation party decor.
8. Graduation Bottle Label
This is definitely one to add to your Graduation party supplies list. It's fun, funky, and is a perfect way to add a personal twist to the day.
Plus, you can add the labels to take-home bottles so that guests can keep the party going or even take pictures with them to show off.
The labels are also such a classy way to decorate, and still quite unique, but definitely growing in popularity for obvious reasons.
These Were the Must Have Graduation Party Supplies and Essentials You Need to Get For your Party.