I only recommend products or services that I believe will add value to my readers. By using these affiliate links, I'll receive a commission if you purchase through my link, at no extra cost to you. Please read full disclosure here
February is the month of love, and if you're looking for the best February nails of this year, you'll wang to recreate these February nail designs and take your V-Day nails to the next level.
February is here. You can feel the excitement to switch out those cold, muted winter nails for vibrant, pinky, and bright February nail designs.
Apart from confessing your love again," February is the time of the year you'll spur your creativity with heart nail designs.
It's also the closest to spring, meaning we're gearing up to say goodbye to winter.
And, if you're anything like me, you're already tempted to switch to spring nails quickly.
Especially if the thoughts of heart-shaped patterns and all the mushy Valentine's Day clichés make you cringe – That's okay. Not everyone likes it.
Maybe you're love-struck, already making plans with the love of your life.
Or you're deeply in love with yourself and will fly solo this year and a "Barbie girl" who can't wait to mix trendy Barbie nails with stunning Valentine patterns and textures.
And I bet you've been scrolling endlessly on Instagram to find the perfect nail art for you.
Yet you feel stuck and need help picking the cutest February nail designs to up your manis and compliment your style this season.
To help you get your manis glammed, we've searched and curated the classiest and prettiest February nails for you.
Keep scrolling to find the most gorgeous February nail ideas for you, whether you want to keep it simple and elegant without the heart shapes.
Or you're a lover girl and want to try romantic February nails for Valentine's Day, with gems, hearts, and sultry swirls.
These February nail designs will get everyone complimenting your fingertips.
Cute February Nails and February Nail Designs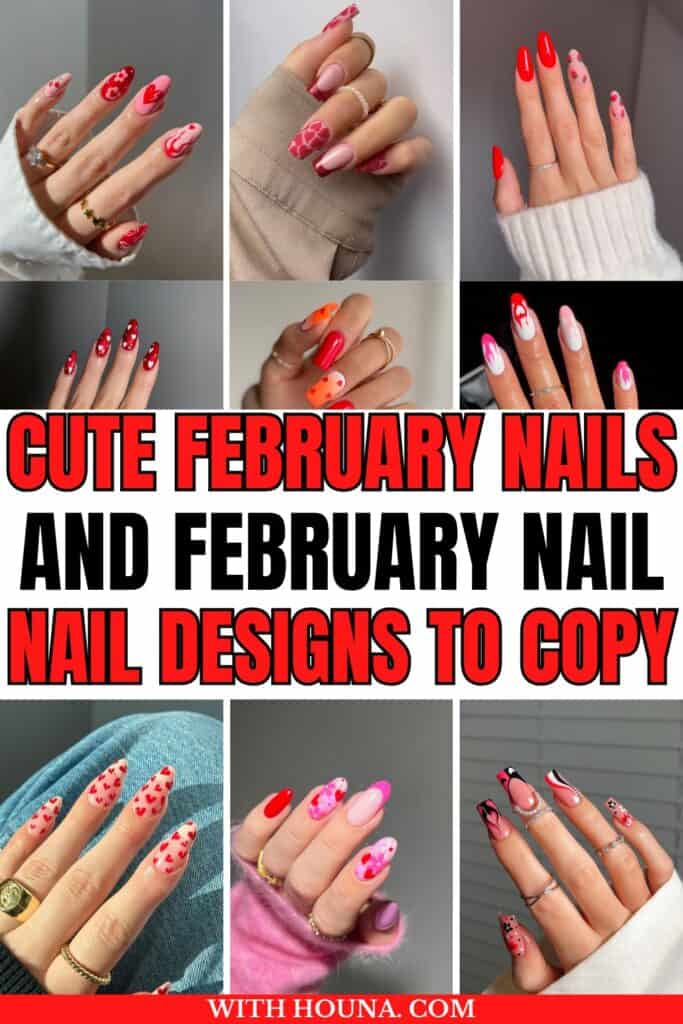 1. Love in the Air February Nails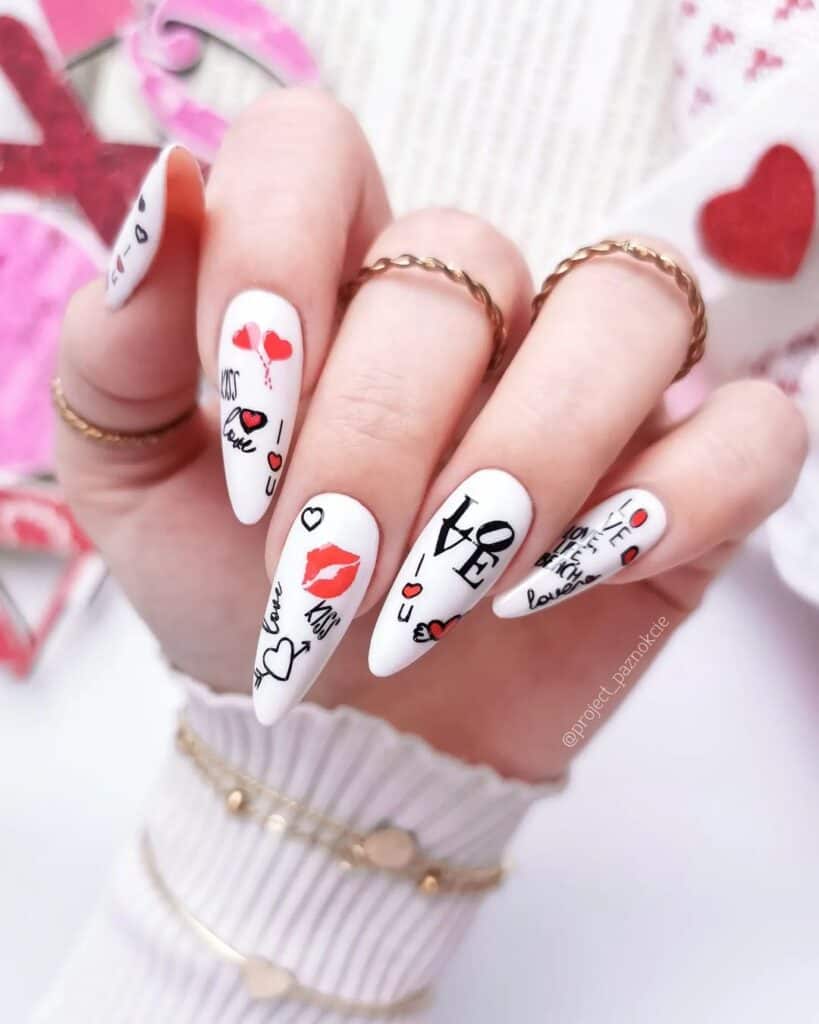 I think of these as "New York" nails. They just look so chic, cosmopolitan, and effortlessly cool. I'm obsessed with the nail art text and how the varying fonts add such a quirky twist to the manicure.
The use of a snow-white shade is genius for such a clear canvas that allows the details to really pop.
Naturally, as New York nails, these are also influencer nails, meaning if you try them out, be sure to post them all over Instagram for us to enjoy.
2. Long Square Mix and Match Hearts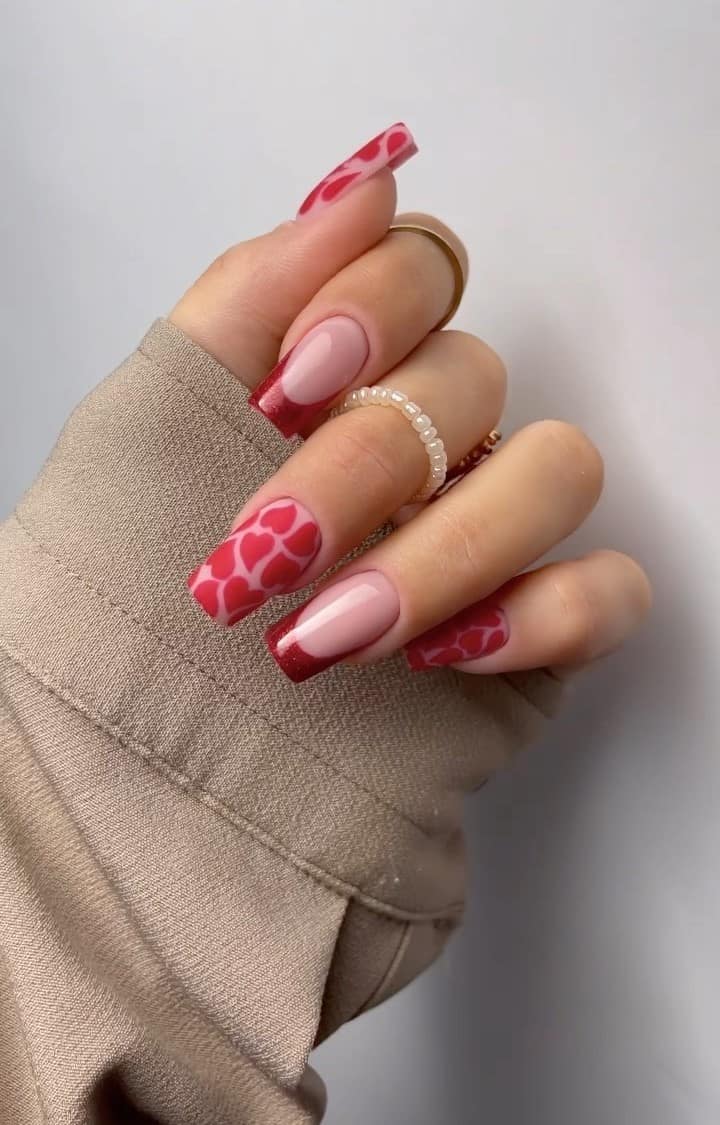 Love heart nail patterns are my favorite every February. I just love how every heart in this manicure fits together as though in a jigsaw puzzle.
The swirled outlines of the hearts also keep the vibe of the manicure fun and light-hearted.
Plus, this is one of those lovely February nail designs that can be used on any nail shape, so keep them as long or as short as you like. Either way, they'll look fabulous.
3. Ombre Orange Heart Nails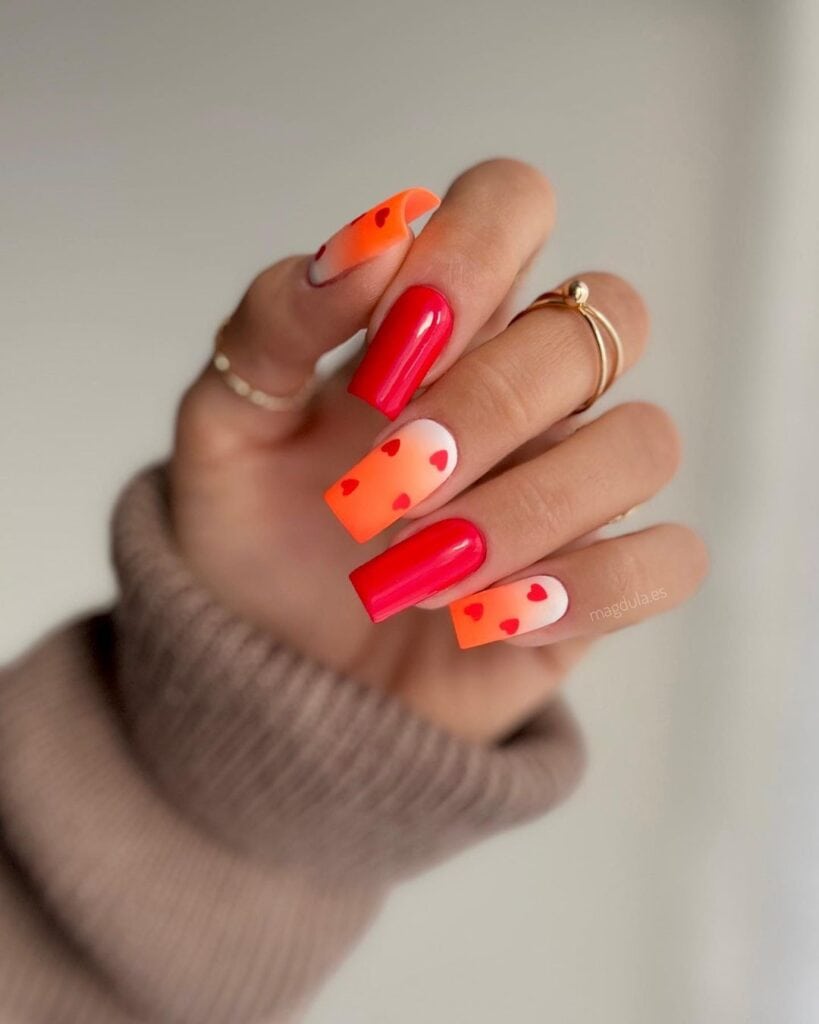 Without a doubt feel-good nails, this manicure makes fabulous use of one of February's most underestimated colors, orange.
Orange shades naturally bring good vibes and a free-spirit aura to a manicure, especially when paired with red.
The fade effect adds another dimension to the look while making things even brighter.
The love hearts are just the perfect cherry on top which makes them one of the best heart nail designs you'll want to recreate this year.
4. Pink and Red February Nails
There's a lot of wiggle room in February nail ideas. You're mid-season and looking forward to Valentine's Day.
This means you can play around with romantic and warm colors even in such a cold time of year.
Plus, glitter is definitely welcomed along with soft oval nails to add a more casual-chic look to these stand-out nails.
5. Red February Nail Design
When it comes to February nail designs, burgundy and rich red colors are set to be the next big thing.
These Valentine's Day nails manicures show the best of February's most popular nail colors thanks to the long, effortlessly elegant shape of the nail that's perfectly rounded.
I love the little love hearts that keep this look adorable and quite quirky.
6. Bright Pink Ombre French Tip Nails
These gorgeous nails are so soft and dreamy. I just love the glossy and matte contrast that really makes the nails pop without being too over the top.
In fact, if you go even just a bit shorter, these could be the perfectly girly all-occasion nails.
Not to mention that they're brimming with Barbie vibes, which are right on trend at the moment.
7. All Flowers Just for February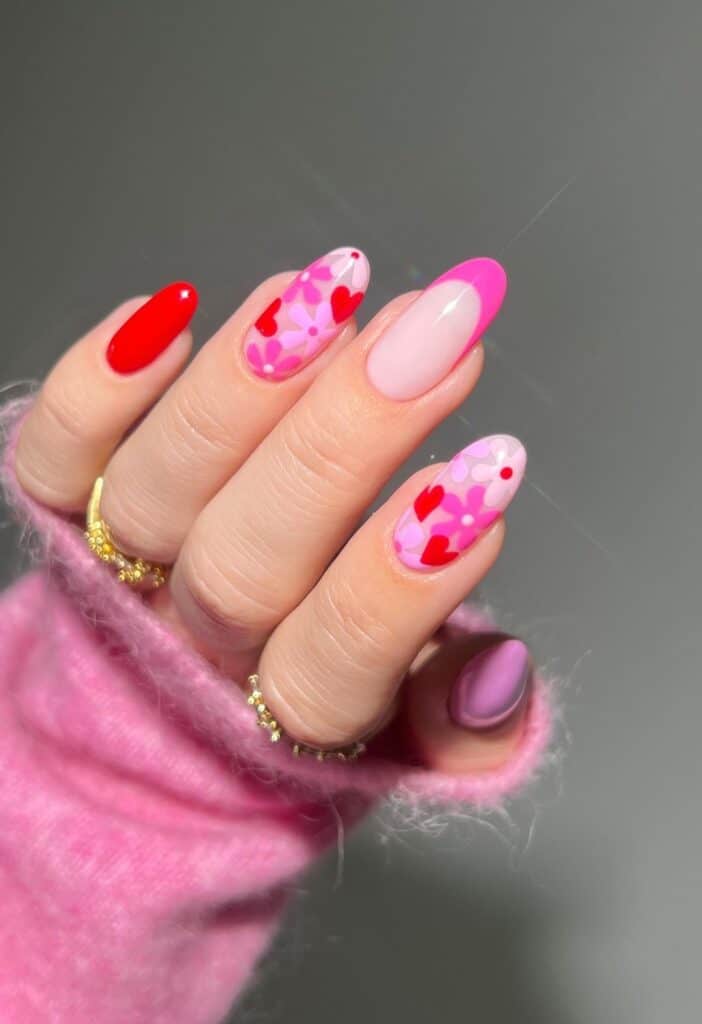 Usually, I'd already be obsessed with these groovy, 70s vibes nails that bring out the beauty of a floral and love heart mix.
But that's before I saw the red accent nail, which makes them one of my favorite designs this year and wins this manicure a spot on my must-try list.
If you're the same, don't forget to go heavy on the under and overcoat to really give this look the glossy sheen it deserves.
8. Pink Paint Splash Nails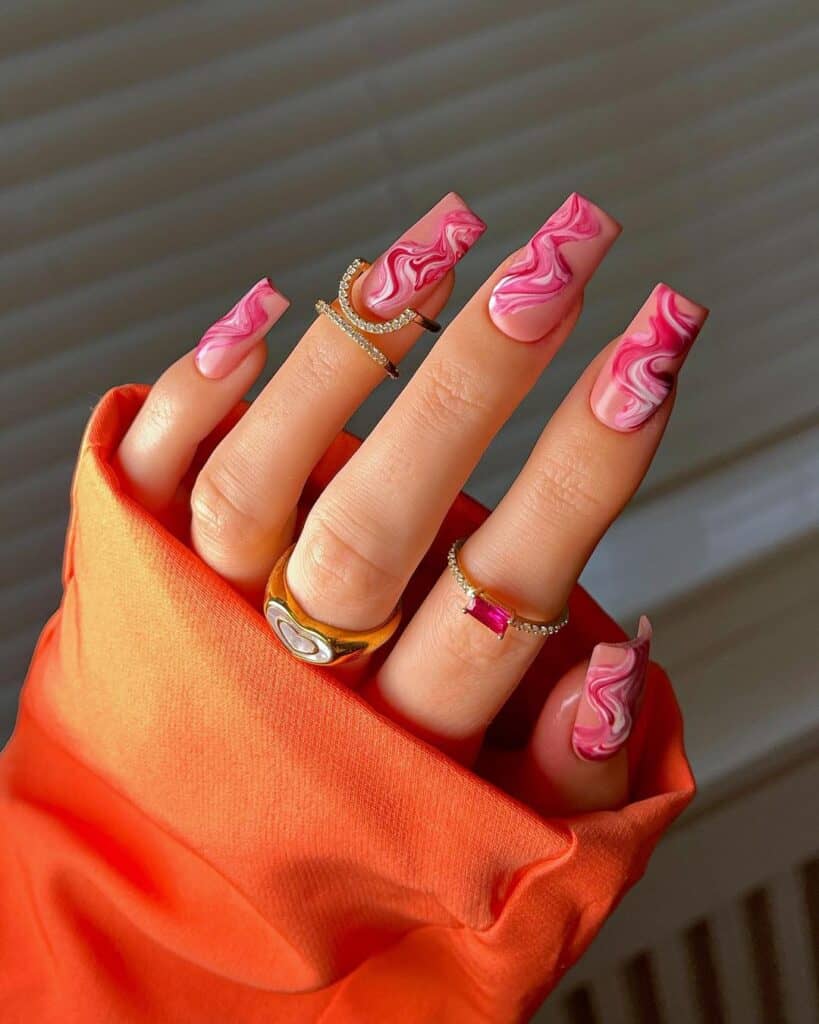 These Valentine's Day nail ideas are a fabulous mix of swirl and watercolor across a long, square canvas.
The nails are filed down sharp, giving the look a striking edge, while the pink and white mix flowing through the center of the nail brings a whimsical and fantasy-like twist.
This manicure is part of the "never clashes with rings, bracelets, or outfits" category, which is rare when it comes to such a striking set.
9. Strawberry Pink Nails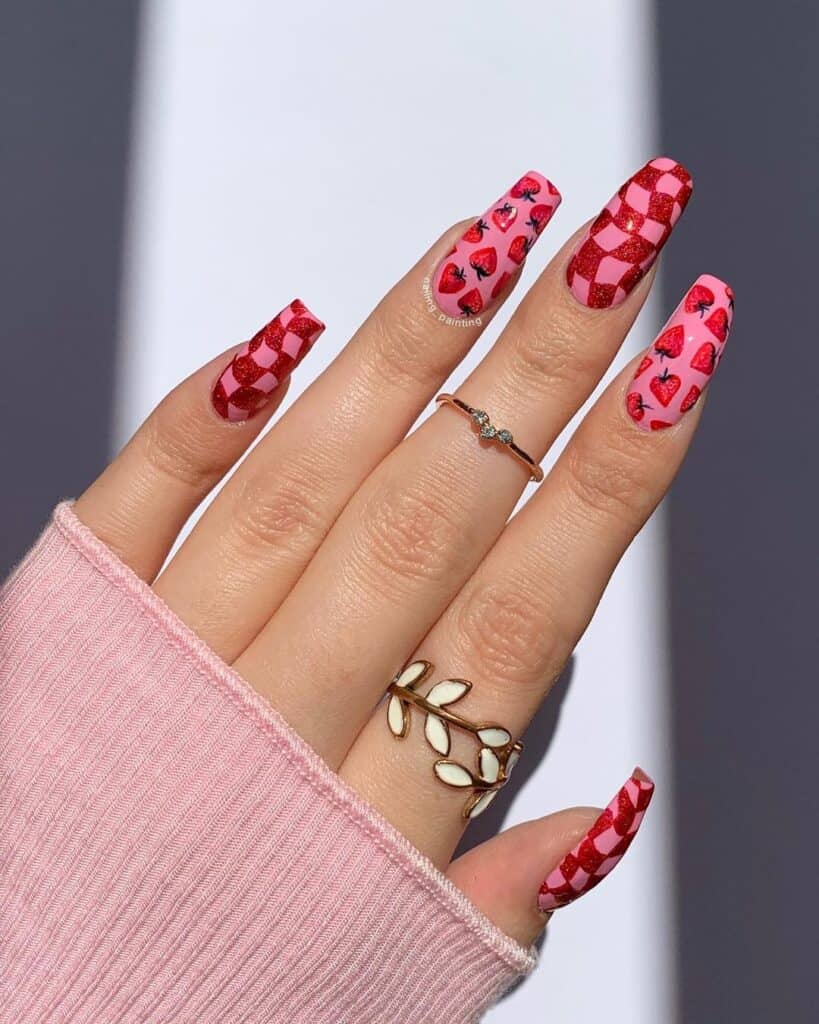 Illusion nails are really taking off, so why not try the trend out this February? The complex mix of colors, themes, and textures of the season's designs gives you plenty of room to play around and get creative.
So, if you're feeling quirky nails, you're in luck. That said, unless you have endless patience, I recommend you bring these to the salon to really bring them to life while keeping your stress levels low.
10. Black with Red Mini Heart February Nails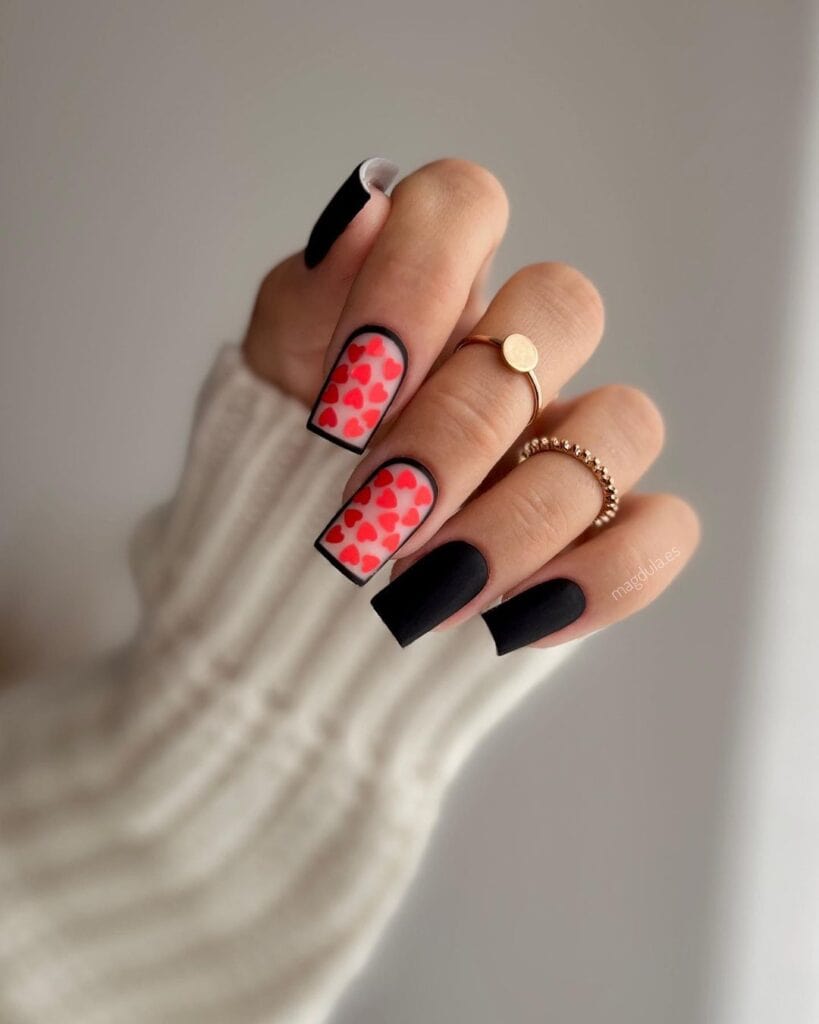 Framed nails are my new favorite thing. It's such a unique and quirky way to add definition to the nail without any need for tricks or twists.
Plus, it takes the idea of accent nails to the next level and really makes the love hearts pop here.
I think the short and square shape is essential to this look, so be sure to get your nail file at the ready.
11. Flaming Hearts February Nails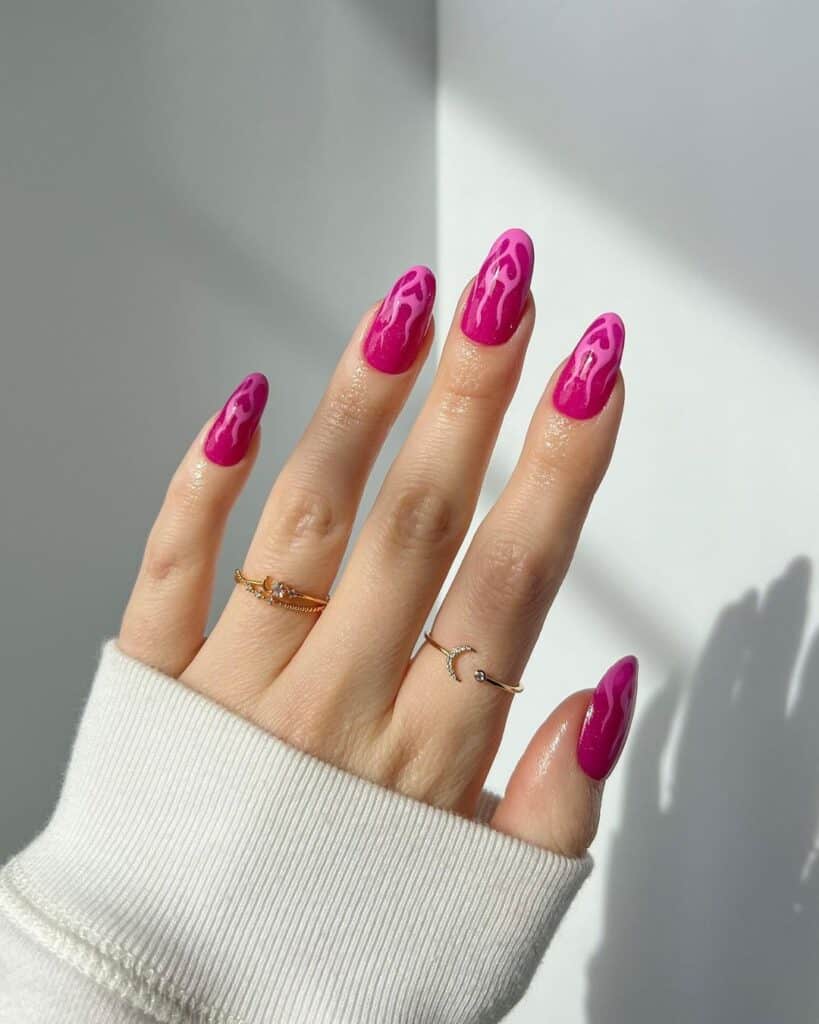 Sometimes, you're feeling the lover girl vibes but still want everyone to know you mean business.
If that sounds like your vibe this February, then these nails are on that vibe with you. Consider them your perfect accessory for dates, dances, and anywhere in between.
They've got just that alluring mix of attitude and romance that looks so exciting and adorable.
12. Layered Pink and Orange Hearts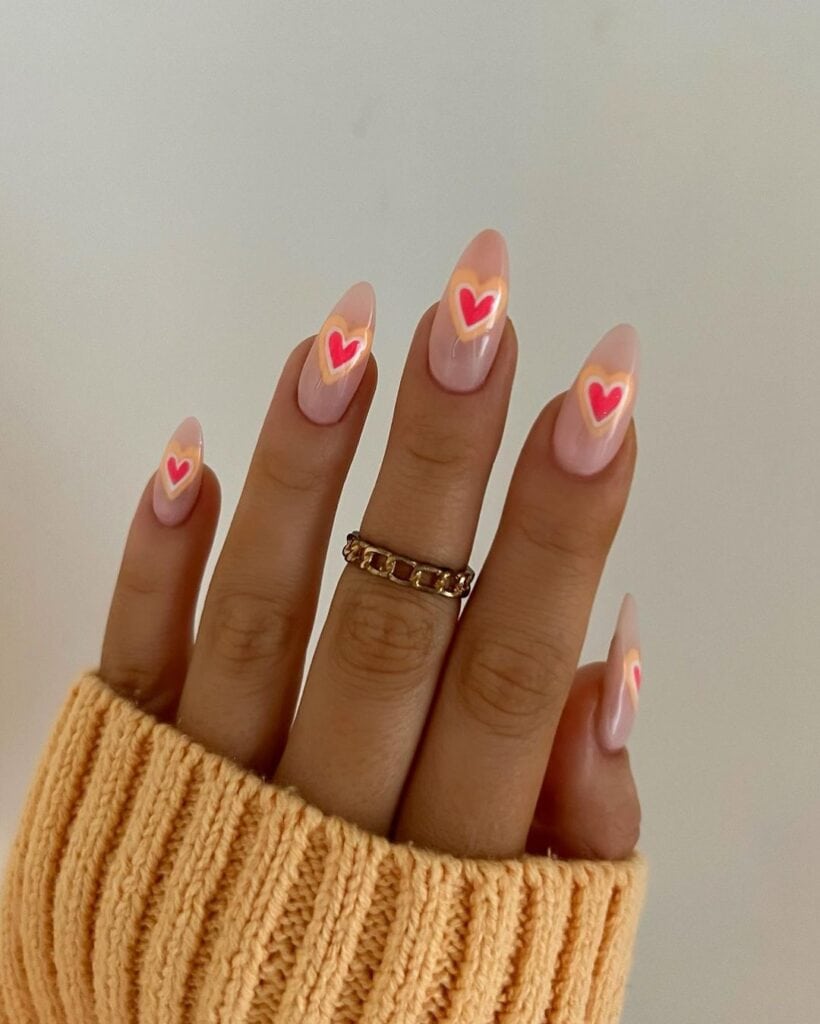 Groovy, funky, and the epitome of 70s-chic are just some of the words that come to mind when I see this delightful design.
It's just such a wonder mix that's full of energy and fun while making stunning use of one of February's most neglected colors.
Since these nails bring up images of tropical getaways and cocktails, I'm going to say they're definitely Galentine's nails.
13. Blue Heart February Nails
Blue belongs in February nail designs; I consider this a fashion law. It's just so fitting for the time of year that we generally associate with colder weather.
It's also such a fresh and free-spirited shade that's perfect for the second month of the new year.
Add in a couple of love hearts, and you can wear these nails all month long, even on Valentine's Day, in fabulous style.
14. Classy February Nail Designs
Here's the February manicure you can expect to see some celebrities or influencers wearing this year. It's just one of those classy looks that stands out in a crowd thanks to its professional look.
Plus, it's just the right amount of casual chic, and using only two main nail polish colors, it won't clash with any outfits or accessories either.
15. Cute Panda February Nail Idea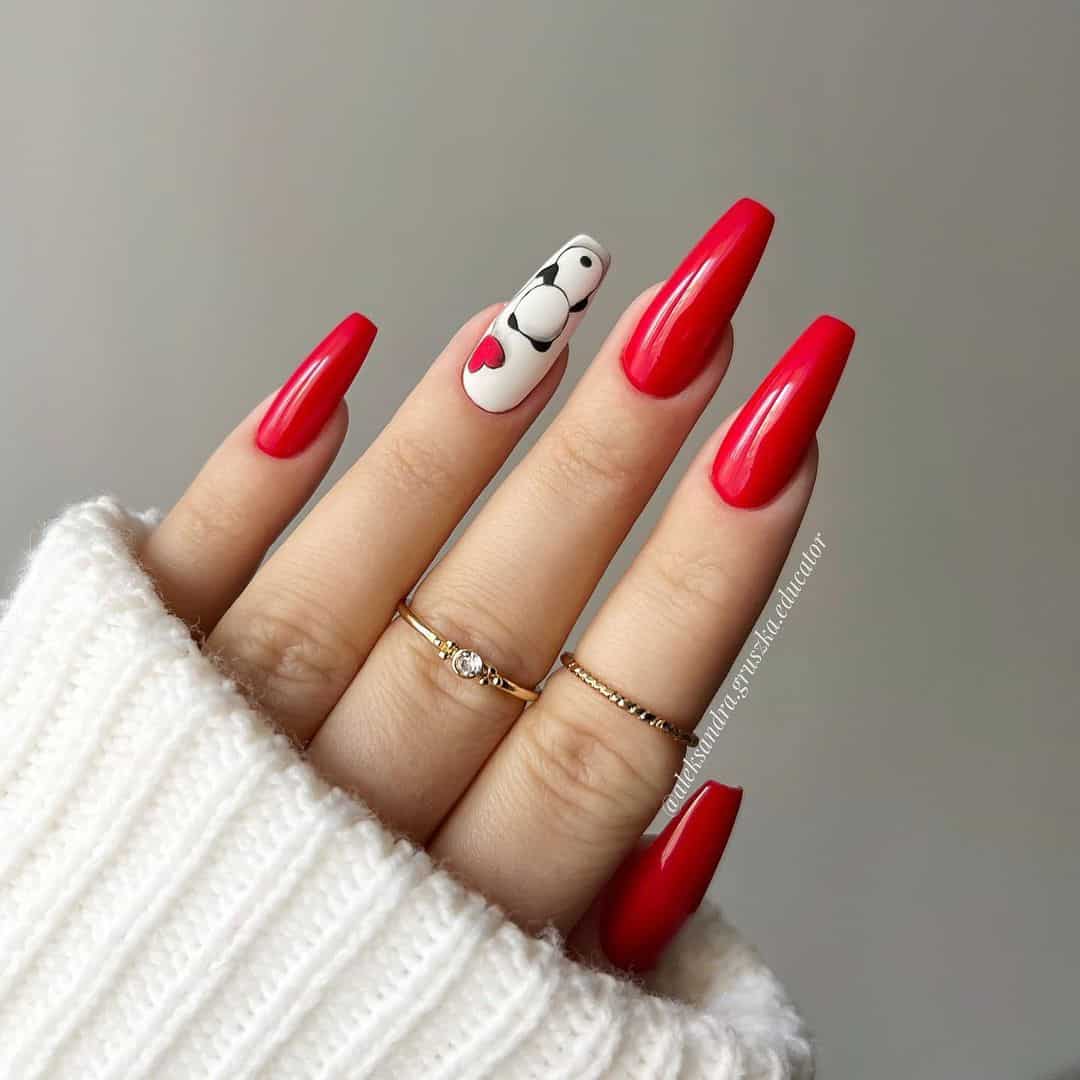 For the last few months, accent nails have been criminally underrated and underused. In many people's view, they're still fashion royalty and a classic that can't be ignored. It's such a simple way of elevating an otherwise normal manicure.
Here, we see the original manicure with a twist at its most beautiful.
Four gorgeously glossy, full-red nails are taken to new heights by a cute, contrasting white nail that's adorably detailed. It's perfection, and I just know it's going to make a comeback.
16. February Watercolor Nails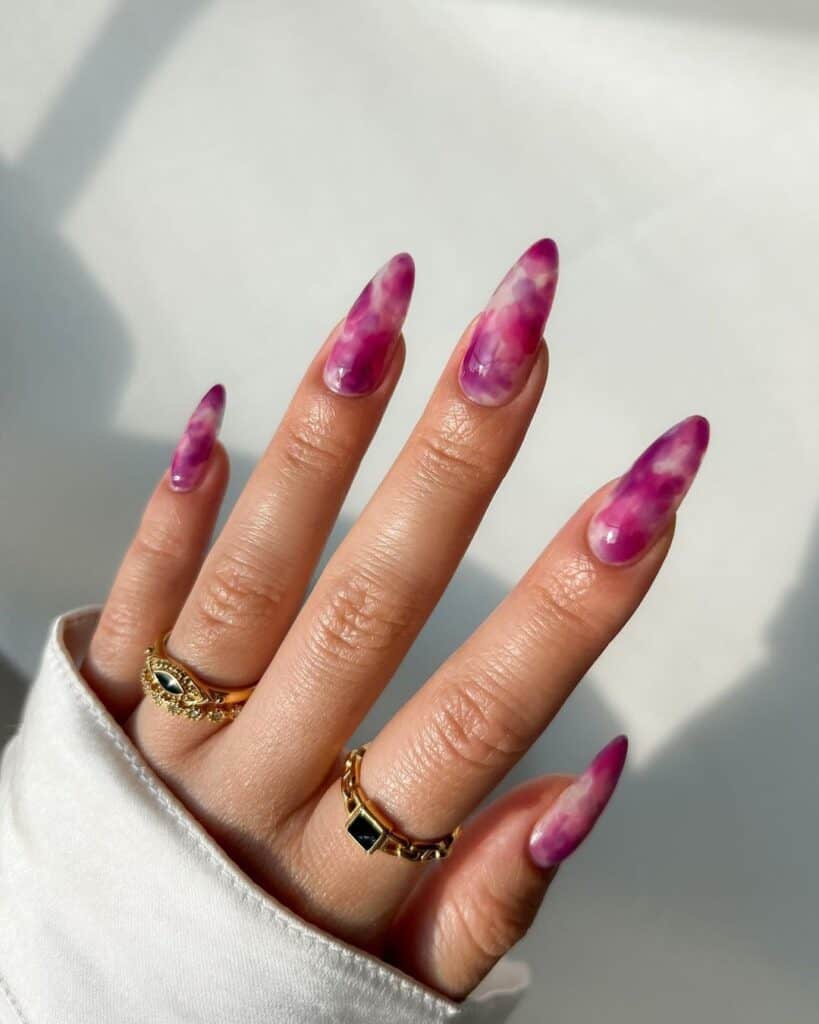 As far as I'm concerned, the watercolor effect never goes out of style. As far as February nail ideas go, I would definitely say these are Valentine's Day date night or Galentine's nails.
They're quite romantic but also sophisticated and pretty warm at the same time.
The lack of love hearts or any outright reference to love or romance also means you can wear them all month long.
17. Monochrome February Nails
Straight to the point, with no fuss, and featuring one of the most classic and loved color contrasts in the history of fashion, this manicure is the definition of elegance.
Part of this look is the flawless neatness and polished look that's down to a naturally colored opaque base.
Plus, once you've finished the gorgeous tips, be sure to apply a generous overcoat to really let these nails shine.
18. Kick in the Bud Nails
So, February is fast approaching, and your nails are looking a little short. Usually, you'd book an appointment at the salon, but you don't have the time.
No worries. This gorgeous manicure works so well with nails that need time to grow. Even better still is that while it looks intricate, the style is actually easy to DIY.
So, this is the winning idea for the gal on the go who wants a practical manicure that's still trendy and utterly gorgeous.
Plus, with all the love hearts and warm pink polish, this look fits right in on Valentine's Day, making it one of the most versatile looks for this time of year.
19. Short Glitter Nails for Valentine's Day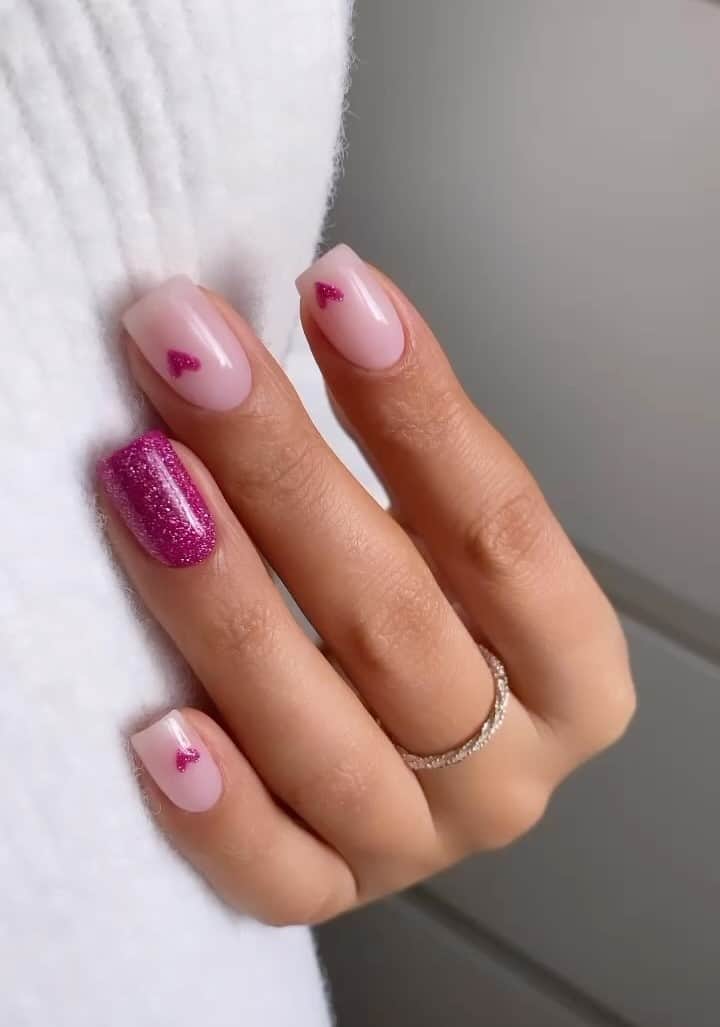 These are the ideal February nails for Valentine's Day. They're just the right amount of low-key romantic and incredibly cute.
All over, it's giving warm and chic vibes with a side of practicality thanks to the semi-short and square nail shape.
This look is also quite easy to DIY as long as you apply a blush base first and keep a Q-tip nearby to mop up any mistakes.
20. Pink Swirly Nails
Get set for the Barbie wave to hit February Nails. I, for one, can't wait to see how all of these exciting February Barbie girl manicures look in real life.
These nails look like they were designed by Mattel and are just brimming with California girl vibes.
The glitter and hot pink combo is just so dazzling, while the oval nail shape keeps things looking soft and girly.
21. Cute Spicy February Nails for Valentine's Day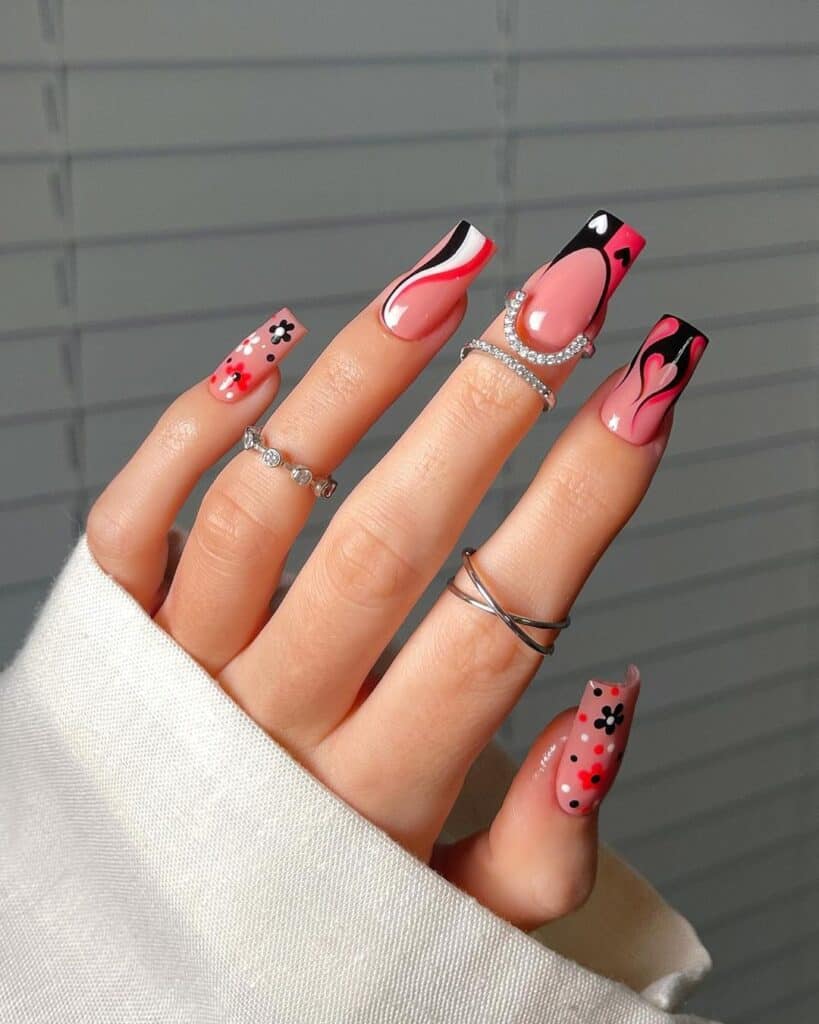 This is one of the most unique color palettes I've seen on a set of nails full-stop, nevermind, February nails.
But it works, and since it works so impactfully well, I can imagine we'll see a lot of designs incorporating these colors in the future.
So, get ahead of the trend and try out these one-of-a-kind nails that include some of this year's hottest nail styles.
22. Valentine's Day Emojis Nails for February
These are THE February nails for Valentine's Day. They've got those rockstar vibes that Olivia Rodrigo has brought back onto the beauty scene with a bang.
The black polish is naturally white, gothic, and chic with the sparkles bringing a dazzling sheen.
That's before we even get to the pink-outlined negative space heart that is the stuff of fashionista dreams.
23. Cupid's V-Day Mani Nails
These nails honestly make my heart soar. They have absolutely everything you want, from flowers to lightning-struck love hearts, cherries, smiley faces, and even a fiery nail.
Seriously, I feel like I'm just listing off trending nail art, which automatically makes this manicure part of the cool girl category.
The colors are so sweet and warm which the nail shape elevates with its soft curve.
24. Croc Pink February Nail Designs
The turtleshell effect may be huge, but the snakeskin effect is about to hit it bigger. One never comes without the other on the beauty scene, so expect to see plenty more looks like this beauty soon.
The pattern works wonderfully with the softer pink shades, keeping things cute, while the studded diamonds bring the bling factor.
25. Ditsy Daisies in Pink Nails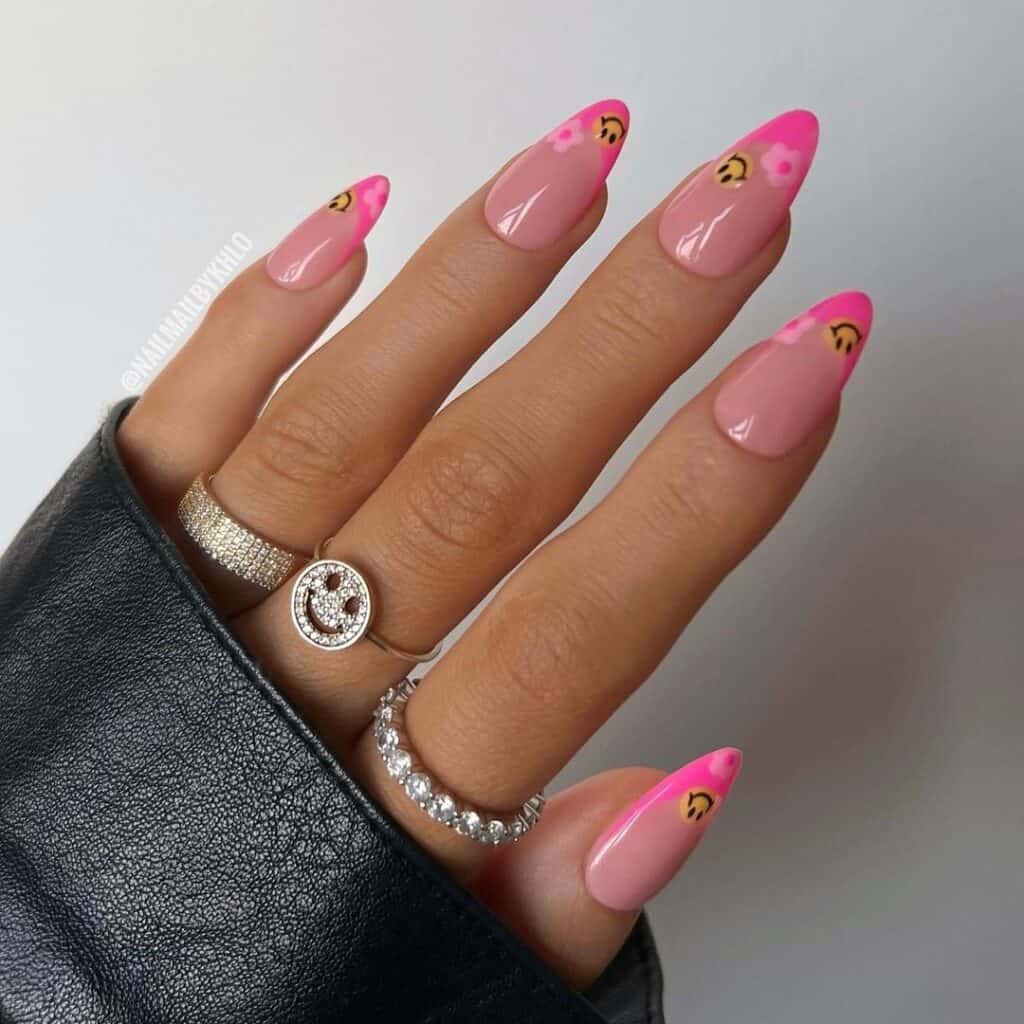 French tips have this wonderful quality that's absolutely cherished worldwide, and it's the spectacular ability to add a touch of chic to even the most fun and quirky looks.
Here, we see the classic cute look that looks like what having a little crush feels like.
It's light-hearted, a little bit exciting, fun, and the Frenchies are there to keep everything looking ultra-stylish.
26. French Heart Tip Nails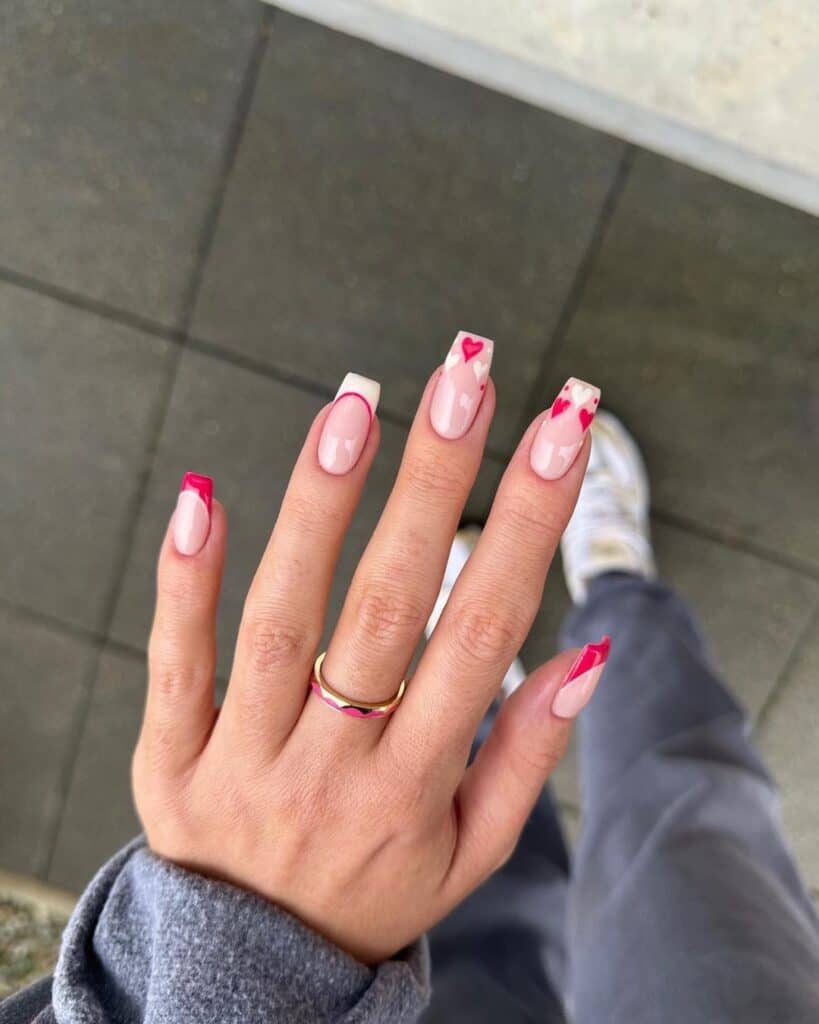 There's something a little Alice and Wonderland about these nails. Maybe it's the hearts that look like they were taken right from a deck of playing cards.
Or maybe it's the red-and-white contrast that's also reminiscent of classic card games.
Either way, when it comes to quirky February nails for Valentine's Day, this is my top pick, because they don't get much more cutely themed or fun than this.
27. Velvet Red February Nails
This manicure looks like a celebration. The rich, sparkly red and white contrast love hearts bring exciting party vibes to the table that are oh-so-slightly softened by the rounded appearance of the nails.
So, if you want your February nail designs list this year to feature at least one high-energy look, make it this one.
28. Golden Heart Nails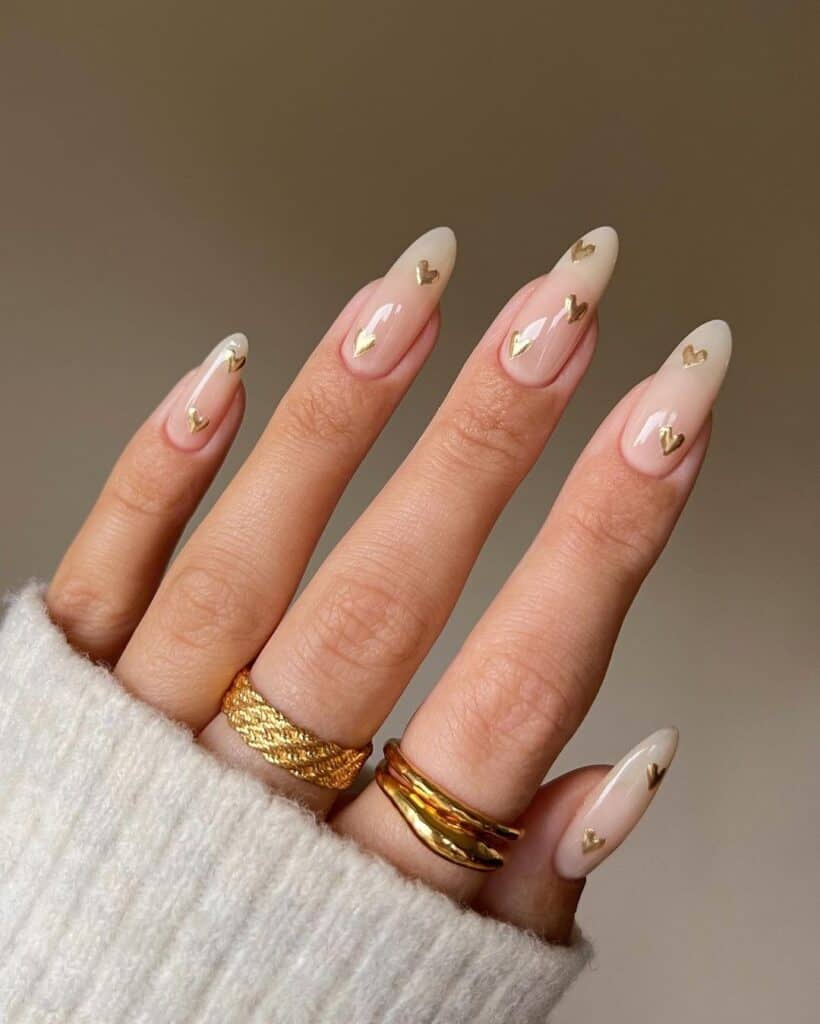 Dainty nail designs that look fit for a princess can be hard to perfect. They require a delicate blend of semi-opaque bases, dreamy vibes, and a sprinkle of nail art that's not too intricate or loud.
Here, the impossible task is pulled off flawlessly with the addition of gold love hearts on top of a milky base. The long oval shape is also absolutely angelic.
29. Dipping Pink Nails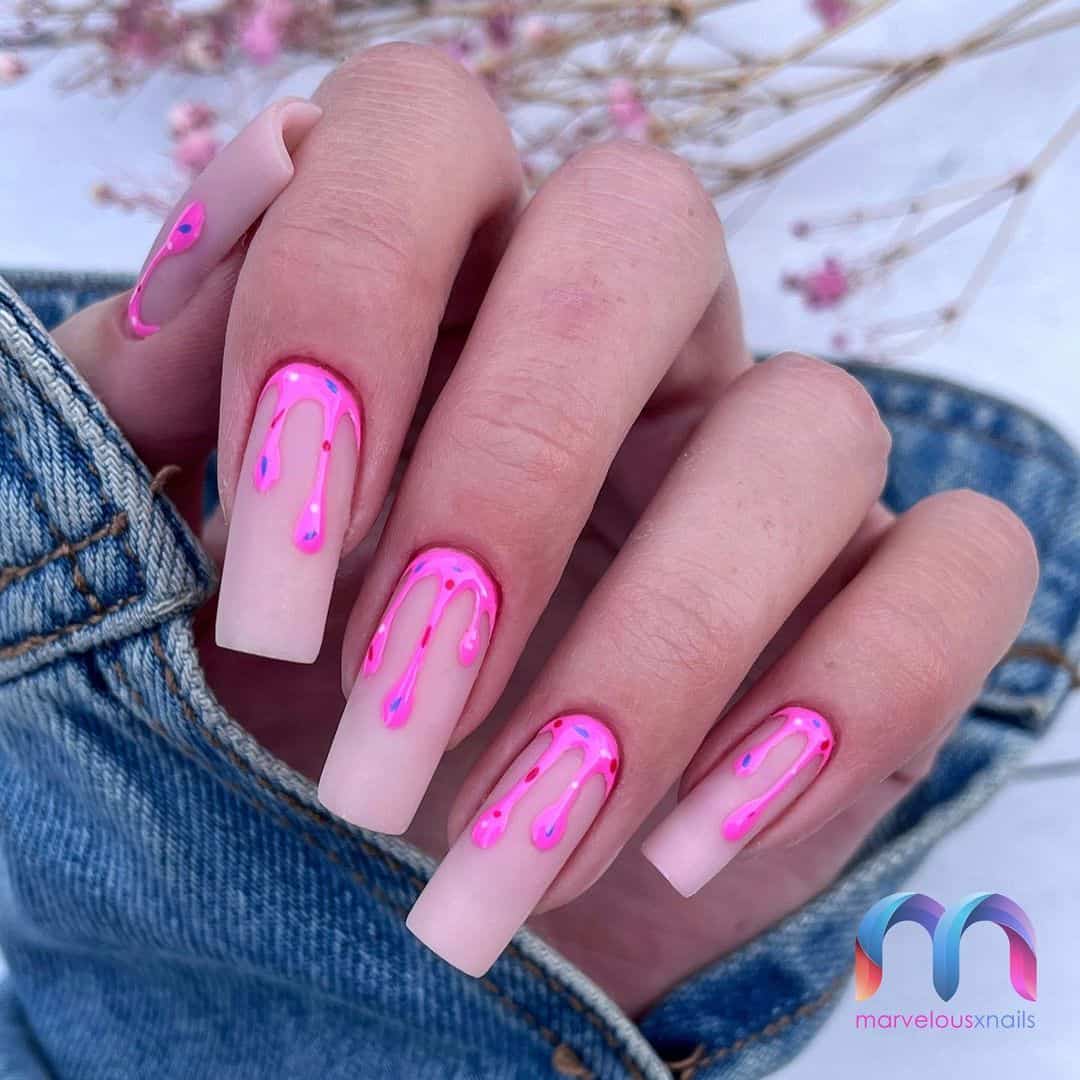 These February Nails are the definition of rock and roll chic. It's mixed in with a little "Webcore," which is one of the latest trends to come out of TikTok before breaking into the mainstream.
So, once considered alternative, expect looks like these to become quite a lot more popular scene. Here's a funky and fun design to get you started.
30. Long Burgundy Nails with Mini Hearts
Here's where cozy and striking styles meet. The result is loaded with charming personality that shines through, thanks to the glossy polish.
The shape brings attitude, while the love hearts add a cute and lovey-dovey aura that's simply to die for.
There's also no denying that these nails would look fantastic holding a wine glass or coffee cup, which is perfect for any February dates you have planned.
31. Valentine's Or Galentine's Nails for February
As far as February nail ideas go, these are the quintessential February nails for Valentine's Day.
These gorgeous nails are all love and romance with a hint of chic charm. I just love the soft swirls and the use of various pink shades.
It's so vibrant and exciting without being too much. These truly are princess nails.
32. Folia Super Gold February Nail Idea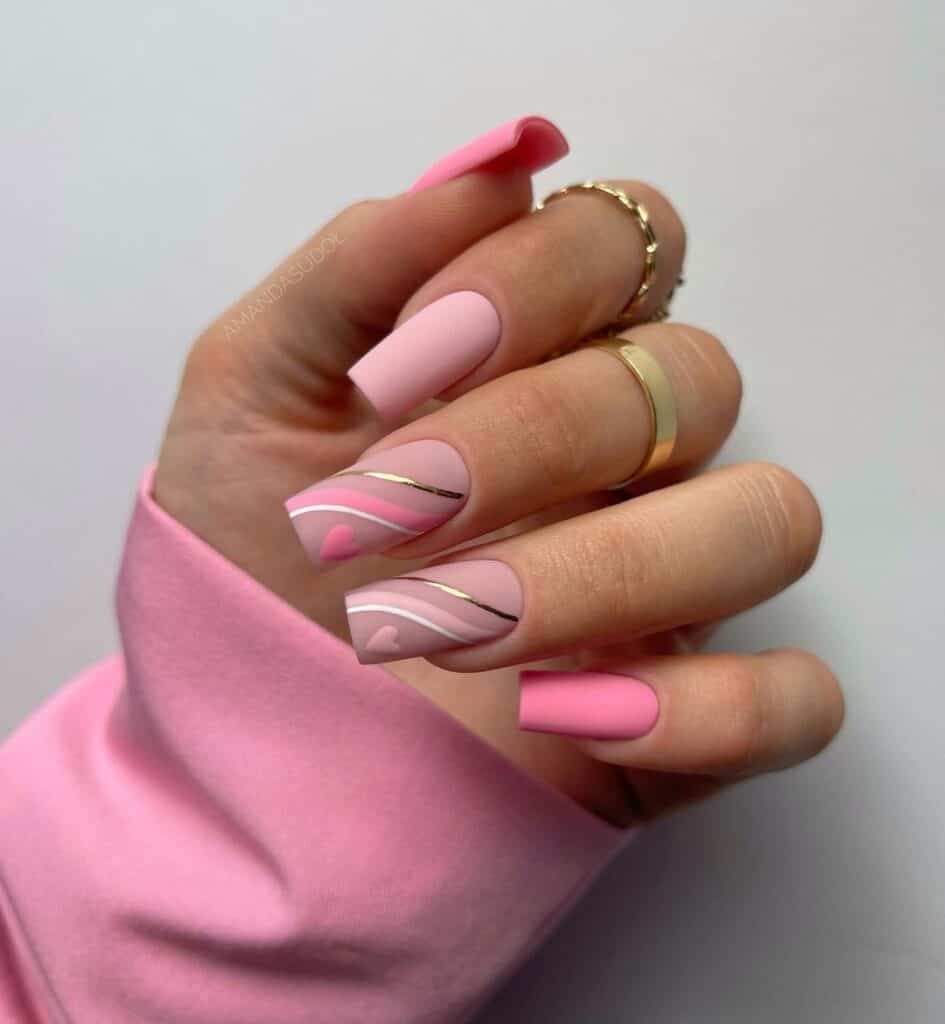 February nail ideas rarely come as glamorous as this. It's giving queen.
Beauty royalty is painted across the nails with a delicate gold swirl mixed with faint pastel pink shades that are so dreamy.
What really solidifies the regal status of these nails, however, is the sharp, square shape that's just so confident and reassured. I'm in love.
33. Pink Clouds and Glittery Hearts Nails
This design is February nails for Valentine's Day at their finest. They're just the right amount of dreamy and adorable and feel like those early-stage butterflies we all know and love.
The manicure just has an absolute fantasy land that's irresistible.
With the right brushes, you can add that wonderfully wispy look to the clouds and ensure each love heart is completely flawless.
34. Pink Heart Sided Nails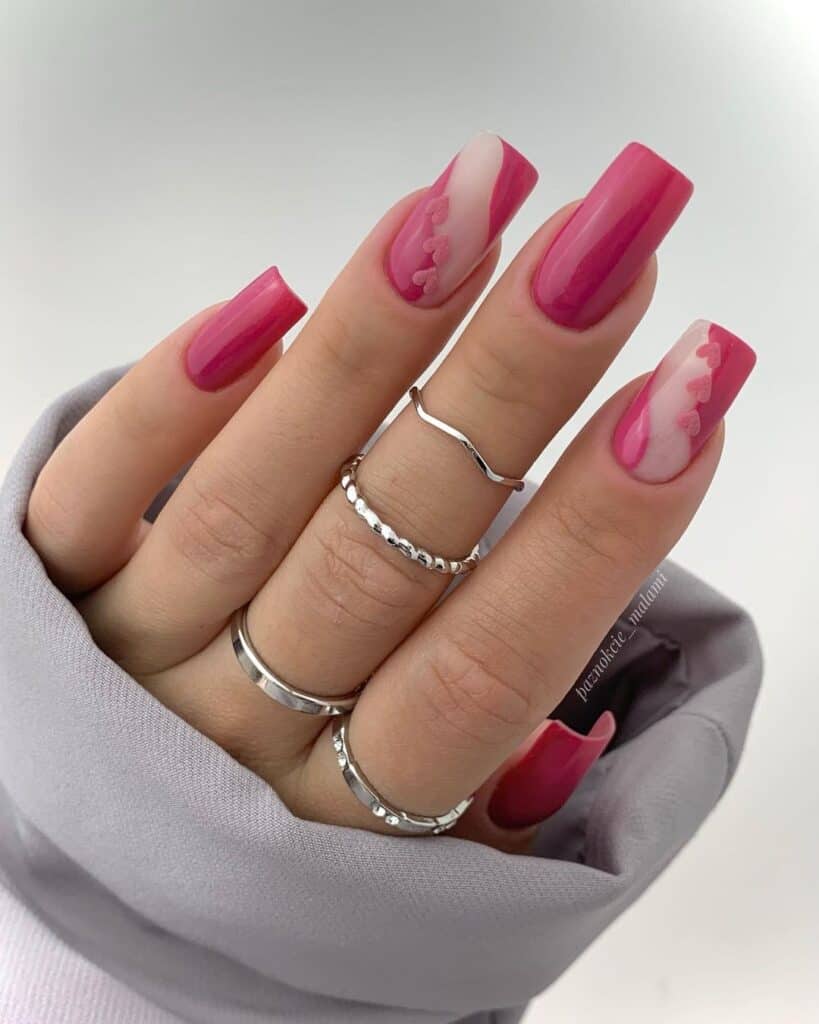 These darling February pink nail designs remind me of a delicious dessert. They're brimming with sweet and irresistible vibes, and the glossiness looks like the result of expert baking skills.
I've never seen a manicure so sumptuous and irresistible that it looks good enough to eat.
Seriously, I'm in love with this look, and if I ever go for long, square nails, this will be the first design I try out.
35. Natural Nails with Mini Hearts
These nails look like a work of art, but it's a masterpiece of the pop art art era with all of its strikingly colorful and vivid details.
Your nails are literally speckled in love hearts from tip to cuticle. I love how the hearts appear as though they were pressed onto the nail, with some appearing in partial form. It creates a dynamic and fun look.
36. Base Flowers Nails
Expect florals to be absolutely huge this time of year as Spring just starts to get in full swing.
Here, we see them at their most adorable and free-spirited in a manicure that's inspired by the picnic aesthetic.
It's all good vibes from the light pink base to the primary color flowers that are speckled across the long, elegant almond-shaped nails.
37. Come on Baby Light my Fire Nails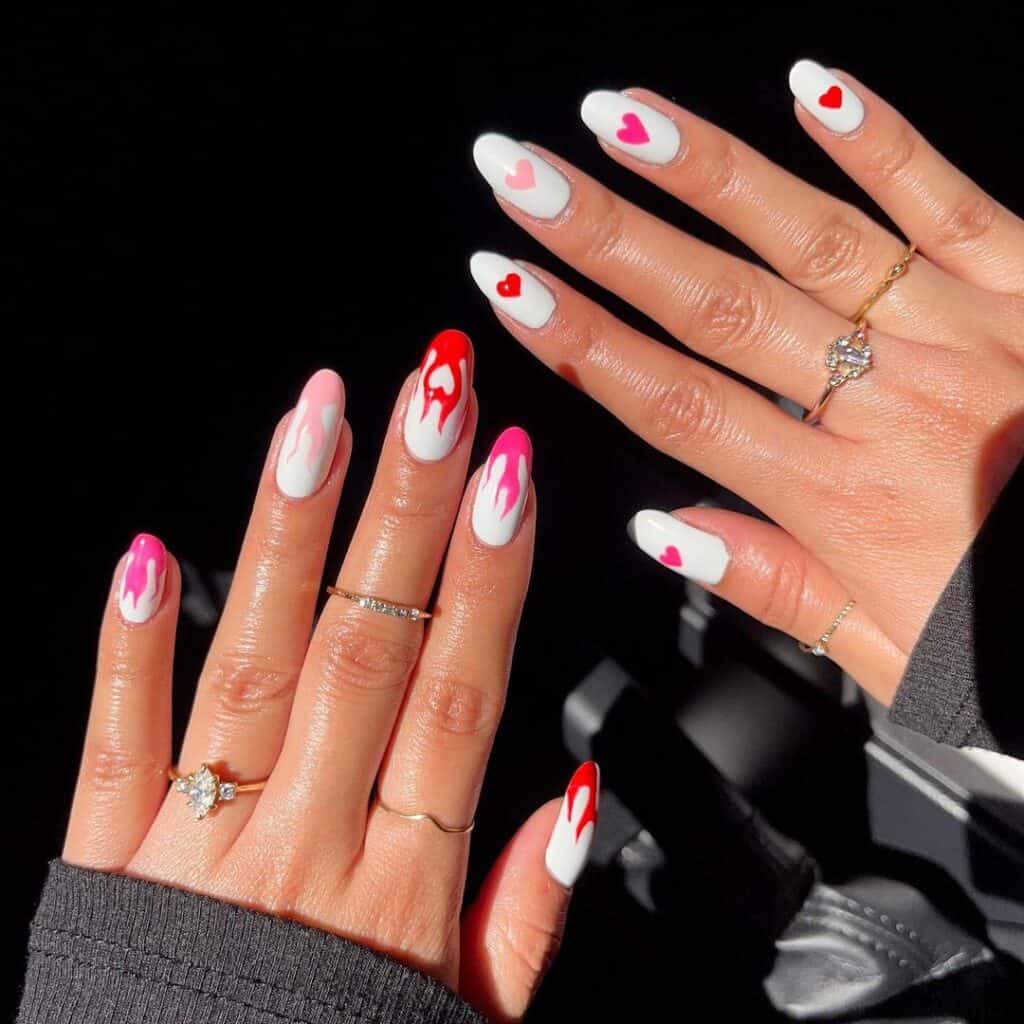 Hello, IT girl nails. Seriously, this manicure is the definition of cool, calm, and collected. It's so effortlessly chic and quirky at the same time that it's just brimming with personality.
All you need to achieve it is a white base, three vibrant nail polish shades, and the patience to craft love hearts and flickery flames. It's downright striking, and you can bet I'll be wearing these nails this February.
38. Velvet Lips February Nails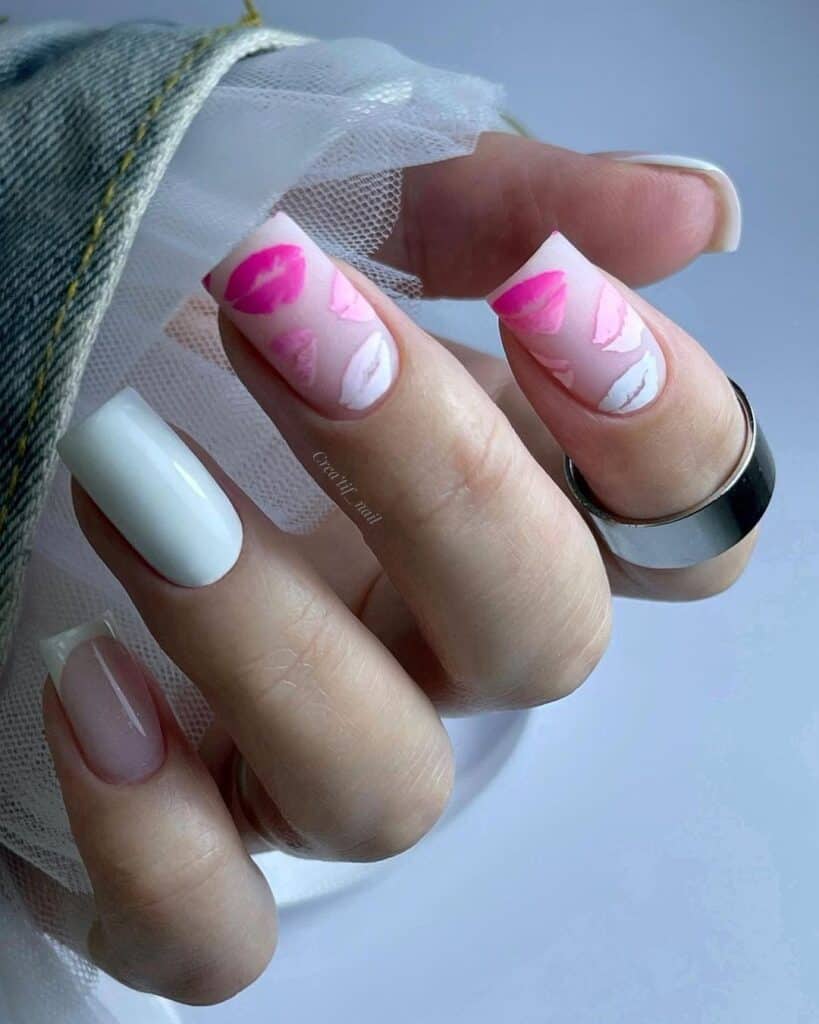 I love how subtly stunning these nails are. Their beauty speaks for itself, and it whispers. The pastels pair beautifully with the soft texture of the velvet lips, and it's honestly a match made in fashion heaven.
These are the practical nails you could look at all day and never have to fear about clashing with your outfit. Plus, the steady stream of compliments they will receive is guaranteed.
39. Pink, Purple, and Orange Nails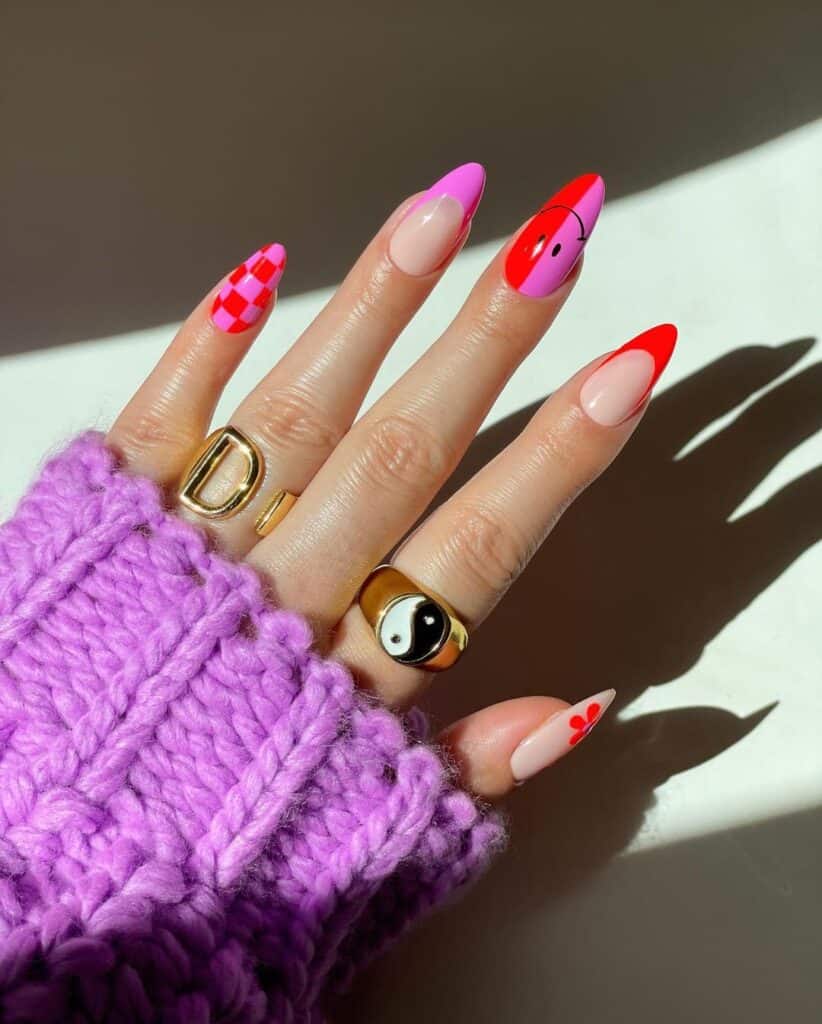 These nails are the epitome of happiness, energy, and vibrant style. The marvelous manicure makes stunning use of the brightest shades on the nail polish color spectrum.
They remind me of good memories, funfairs, and the start of Spring when flowers just start to show off their vibrant petals.
So, be a little fashionably floral and fun this February and share a bit of joy around with these little stunners.
40. Strawberry Just for February
Strawberries and cream nails have really been having a moment, and that moment has lasted over a year now, which means they're here to stay.
So, if you've been reluctant to get on the trend, now's your chance to wear the irresistibly adorable look.
Thanks to the three glossy red nails alongside the relatively long oval nail shape, this manicure is also given a bit of an elegant edge that's ideal for February.
41. French Red and Pink Tip Nails with Mini Hearts
These French tip nails for February are just darling. They're such a delight and a treat for fashionista eyes.
With so few and subtle details, the manicure still packs a powerful punch that'll win you plenty of compliments.
This manicure uses the best February nail ideas by featuring complementing color tips that are delicately stamped by gorgeous little love hearts. I simply adore this look.
42. I Can Buy Myself Flowers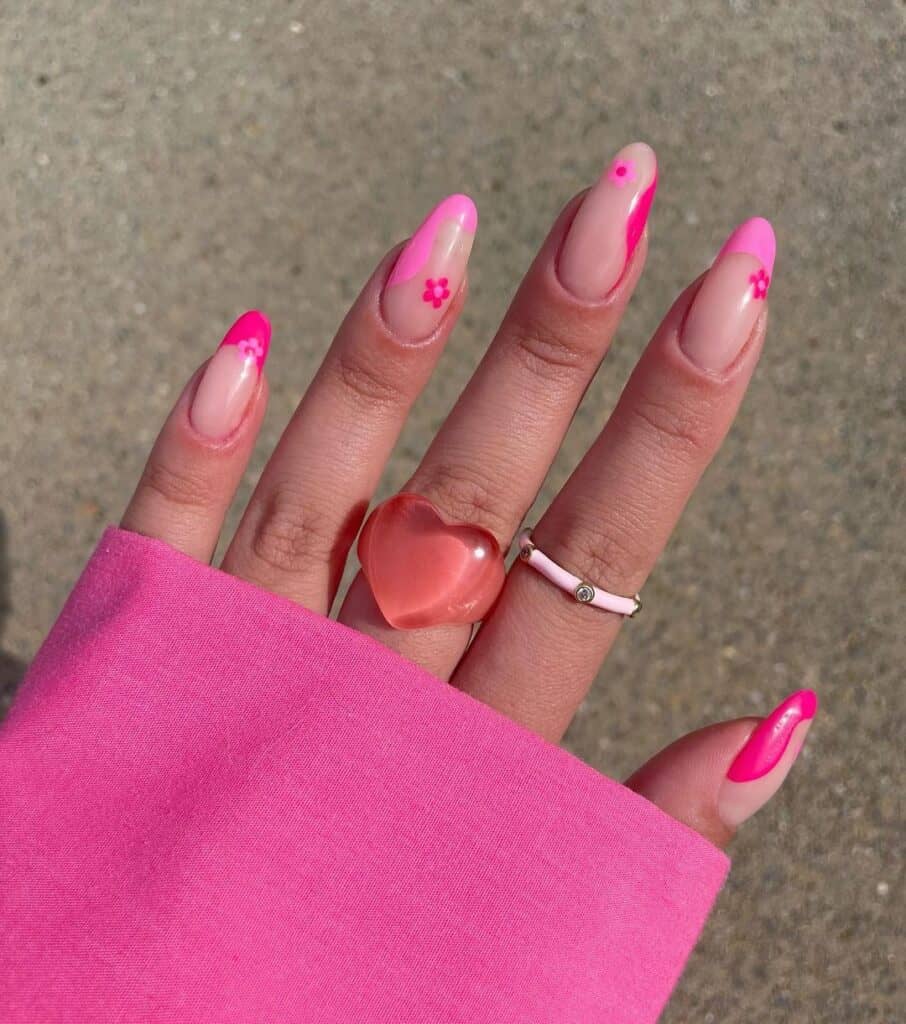 These are what I call groovy-chic nails. They're just so free-spirited and simply look like happiness in nail art form.
As far as February nail designs go, this one certainly leans into the Valentine's Day or Galentine's category while also paying homage to the vibrant florals of Spring.
I love how much of the natural nail is used in this look, while the spirals are quite thin.
It creates a somewhat subtle and minimalistic look that's actually quite organic and earthy, so perfect for February.
43. Matte Flower Pink Nails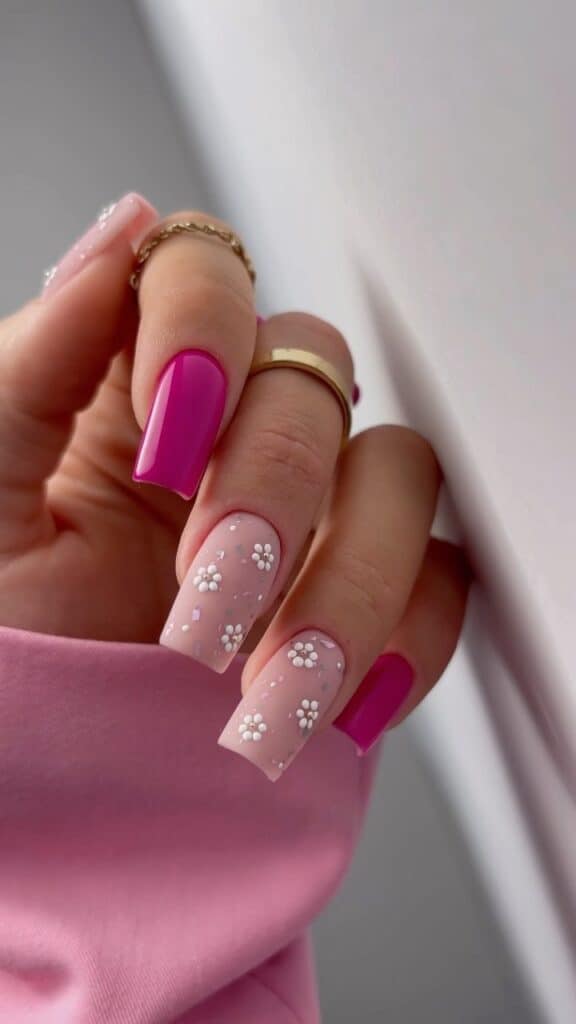 So, you want the most "Barbiecore" girly, adorable, and perfectly pink nails available on the beauty market this year?
You can have it all with this flawless manicure that'll even add a hint of attitude and edge to the mix courtesy of its sharp, square edges and strong shades.
The floral detailed nails are little works of art that certainly bring a masterpiece quality to this manicure, but they may mean it's best to take this gorgeous look to your nail tech.
44. Sweetheart Tips
It's funny how nail art can be so delightfully simple yet so powerfully effective at the same time.
Here's the perfect example of that thought, considering it's a classic set of French tips that are turned into something magical thanks to a simple dent.
Plus, I love that the love hearts are gradient from lightest to darkest of the pink color, even passing into red on the thumb.
This makes the nails not only quirky-chic and entirely unique but also quite trendy, which is always a treat.
45. Classy Valentine's Day Nails for February
February nail designs are your last chance to add Christmas glitz and vibes until Winter comes around again.
With this manicure, you get those vibes and more, with a nice little Valentine's Day love heart addition worked into the mix.
While this style is a match made in heaven with long, slightly sharp nails, it has the added benefit of looking fantastic on nails of any shape or size, so don't feel limited. This manicure's beauty simply can't be dimmed.
46. Pink Sided Tip Nails with Hearts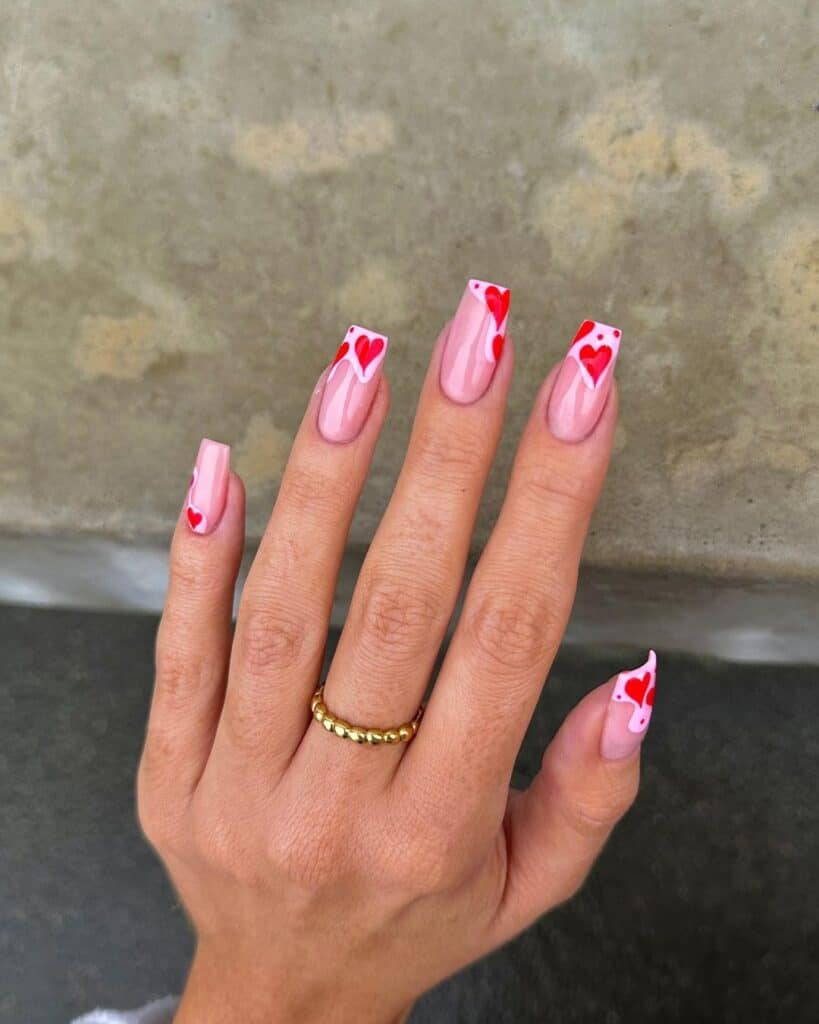 These February nails for Valentine's Day are actually a little abstract.
The love heart-speckled tips appear to be melting over the nails, making for a creative and imaginative manicure that you have plenty of room to play with.
Just be sure to get the shimmery blush base right before playing around with the tips. It's the true, beautiful backbone of these gorgeous nails.
47. SZN February Velvet Pink Nails
Say hello to the most Barbie look on the list. If Barbieland did February Nails (which I'm sure they do), this is what they'd look like.
The shimmering game is seriously next-level and completely stunning.
Combine the shimmer and glossy sheen with the reflective qualities of these two textured nails, and it's honestly the type of look you never want to take off.
I, for one, am head over heels and can't wait to try these nails out.
48. Trendy Comme Un Garcon February Nails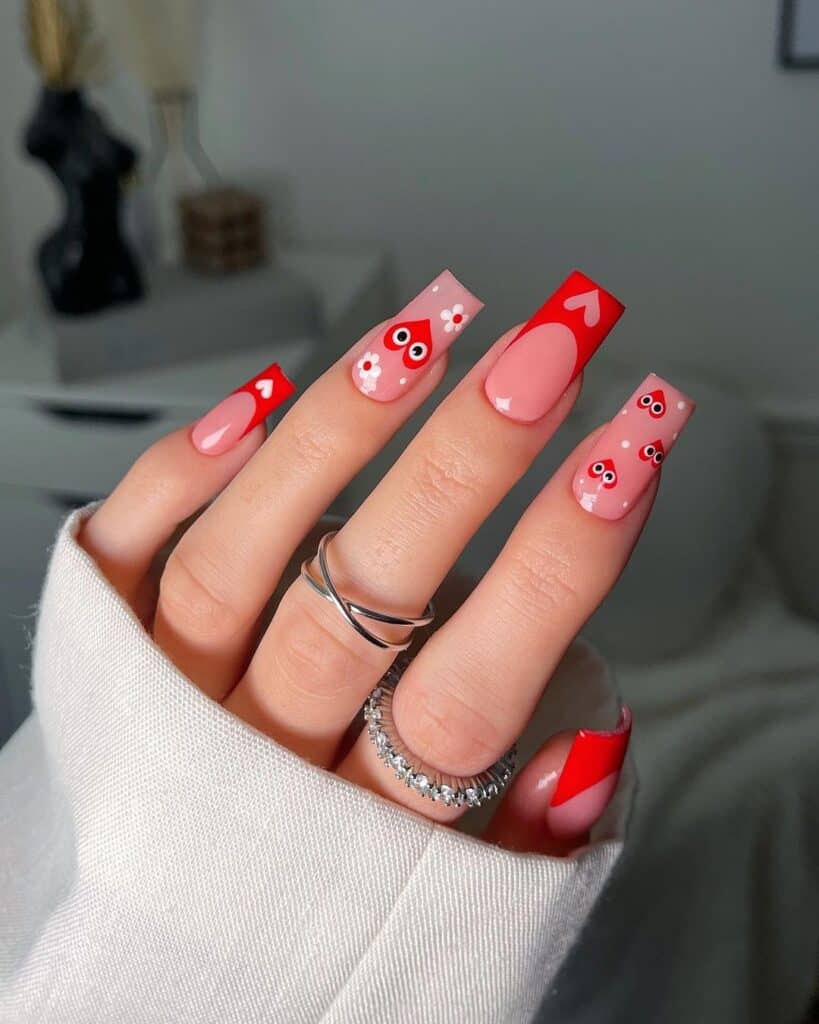 February nail designs are loaded with quirky and dorky-chic details this year, which we can see from the adorable googly eyes of this manicure.
Plus, the negative space love heart is the height of trendiness right about now, and the square shape is just the edge this otherwise utterly soft and chic look needs to really pop.
These Were The Best February Nails and February Nail Designs You Will Love