I only recommend products or services that I believe will add value to my readers. By using these affiliate links, I'll receive a commission if you purchase through my link, at no extra cost to you. Please read full disclosure here
Red Christmas nail designs are the core Christmas nails that everyone should recreate.
And for this, you can't miss out but try one of these red nails for Christmas that will upgrade your Christmas Mani.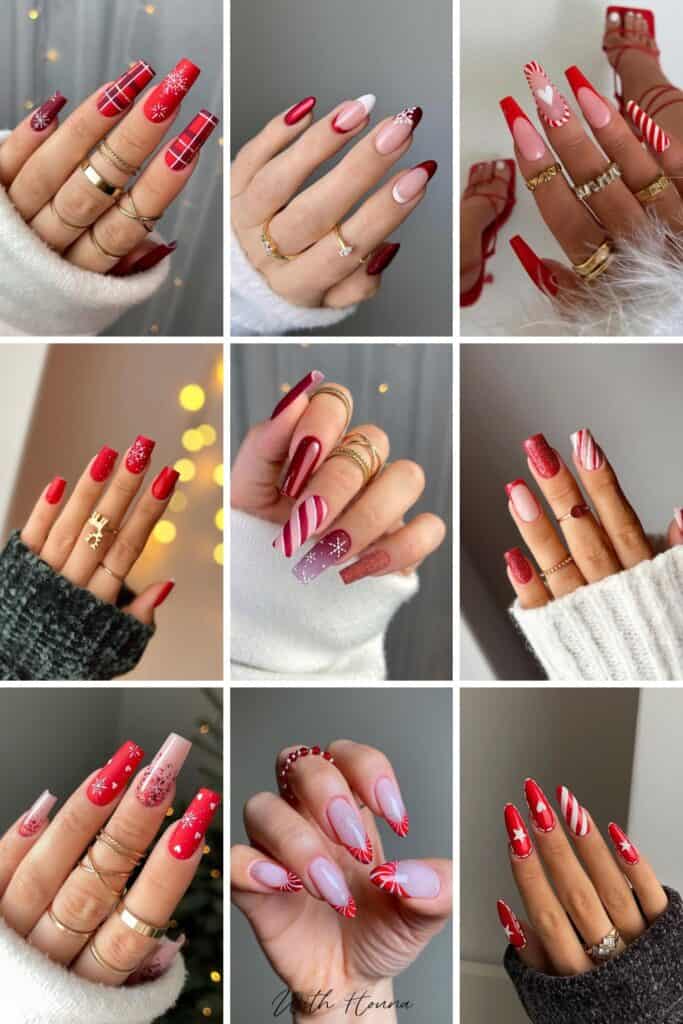 Everyone lately is into red Christmas nails and that's because they are festive and are the core of Christmas.
Red is the symbol of the holiday season and as I've grown up, It cleared up all of my confusion of why women asked their nail artist for red nails every December.
Red nails for Christmas can be easily paired with various holiday-themed nail art and designs.
They serve as a versatile base for adding Christmas motifs like snowflakes, reindeer, ornaments, and more.
Whether you prefer a classic, elegant, or bold red Christmas creative nail design, red is a versatile canvas that can be adapted to various styles and preferences.
We can never get our Christmas nail designs without adding a touch of red to it.
Choosing one of these cute red Christmas nail designs can help you capture the spirit and essence of the holiday season while allowing for creativity and personal expression through various nail art designs and embellishments.
Cute Red Christmas Nail Designs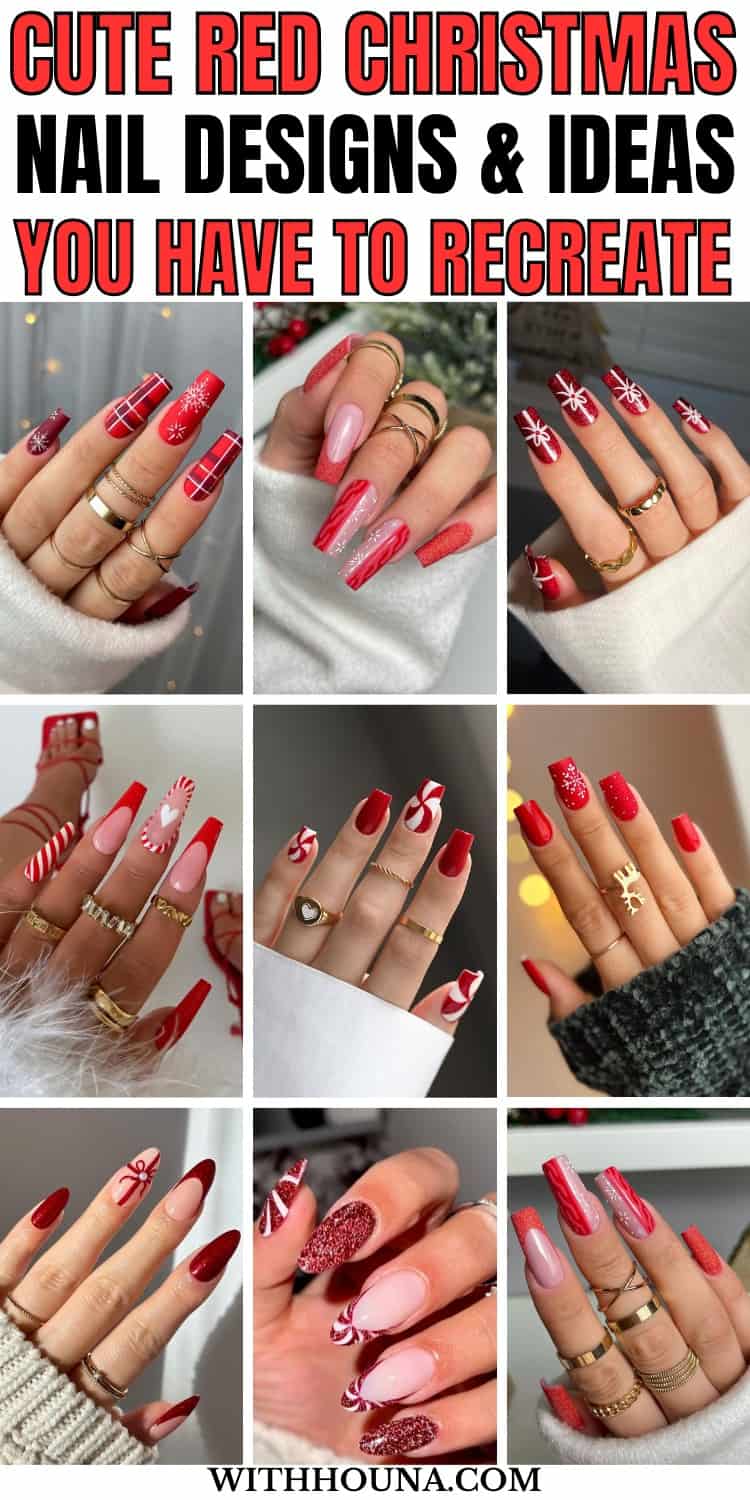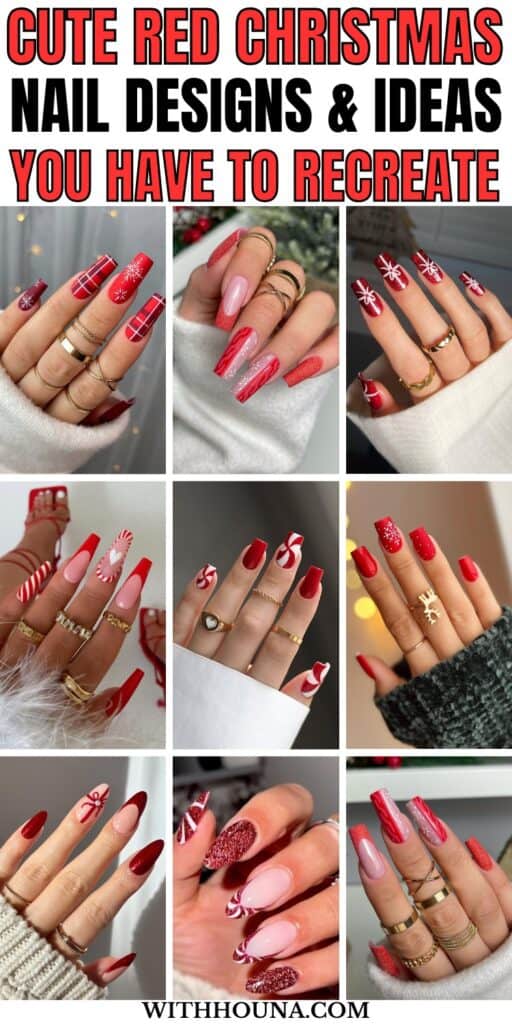 1. Glittery French Red Christmas Nails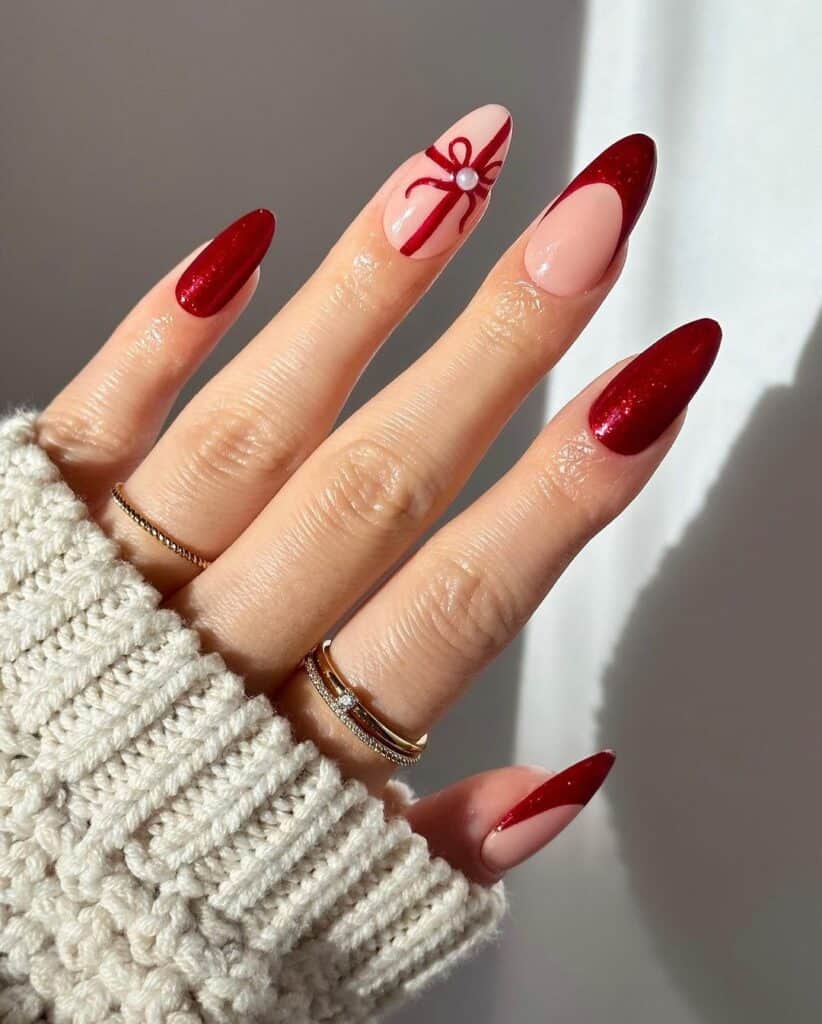 Rich red glitter nail polish is a staple for any Christmas-time beauty collection.
If you don't have any, this is your sign to go out and buy the most sumptuously glittery red shade you can find because it works magic, as you can see from this breathtaking look.
Really, from the French tips to the gift-wrapped nail, it's all quite simple; what really makes it is the stunning polish that steals attention and the heart.
2. Matte Red Christmas Nails with Candy Cane Design
This is just one little reason why I love Red nails for Christmas. I could stare at nail looks all day.
They're like a little hit of dopamine and cheer because they're the epitome of beauty. They just speak to the nail-obsessed part of me because they look exactly what Christmas nails should look like.
They're fresh yet cozy while being quite striking yet chilled at the same time, and I can't get enough of it.
While it's definitely doable on your own to really bring out those strong lines and sharp look, bring this one to your nail tech.
3. Candy Cane Wonderland Christmas Nails
If you want simple Red Christmas nails that are simply in creation only but look gorgeously detailed and extra, this is the manicure for you.
All you have to do is pick out your favorite shade of red glitter nail polish, slick on-snow effect, and clear overcoat before getting to work on that accent-detailed nail.
With the right-sized brushes or even a toothpick, you should be able to draw on the nail art.
It's gorgeous, looks oh-so fabulously Christmasy, and can be worn pretty much anywhere. It's wonderful.
4. Green and Red Christmas Nails
I could talk for hours about how red Christmas nail ideas are rarely complete without the addition of green.
It's such an overlooked color combo because some consider it too cliché. But truly, it's reclaiming its chicness as we become more unapologetic when it comes to picking classic colors.
So, don't be afraid to go for this gorgeous and quirky look. You'll be ahead of the trends and will become known as a trendsetter if you dare to wear these nails this year.
5. Fat Santa Nails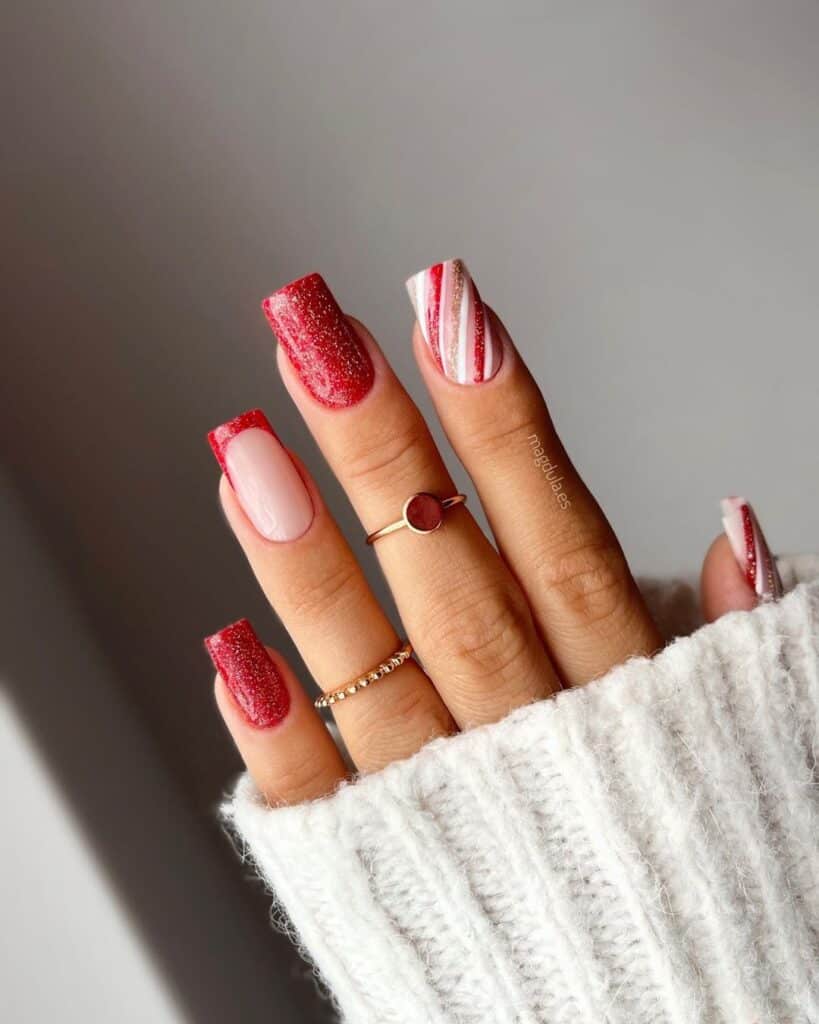 These red nails for Christmas look like a party. They're full of life, energy, and personality. The glitter is so small that it really contrasts with the rich red nail polish and kind of explodes off the nail.
I also adore the swirl nail, and I can't get over how well the square nail shape looks here. It adds a striking touch that's hard to achieve when it comes to Christmas nails.
Plus, this manicure is just made to go with rings or jewelry, so don't hold back when it comes to glitz and glam this year.
6. Propper Red Gift-Wrapped French Tip Nails
Simple Red Christmas nails don't have to be boring. Instead, they can be the epitome of subtle and chic beauty.
They actually look like doll nails and are just oh-so-sweet and cute. I how the French tips are outlined on one side and a striking, sharp square shape on the other side.
I absolutely love the gift-wrapped accent nail that's just so high fashion and vogue.
7. Ho Ho Ho Christmas Nails
Red Christmas nail ideas don't always have to take half the day or all your attention to do. Sometimes, the designs ask that you get a little creative and let your imagination flow.
You can really make this look your own thanks to those artfully messy lines that mimic the cotton of a traditional Santa hat.
The light shimmer of the red nails is also a must, while there's a little freedom when it comes to the white nails.
I think a cream polish could make things a little warmer if that's what you're looking for this Winter.
8. Red Christmas Tree Décor Nail Art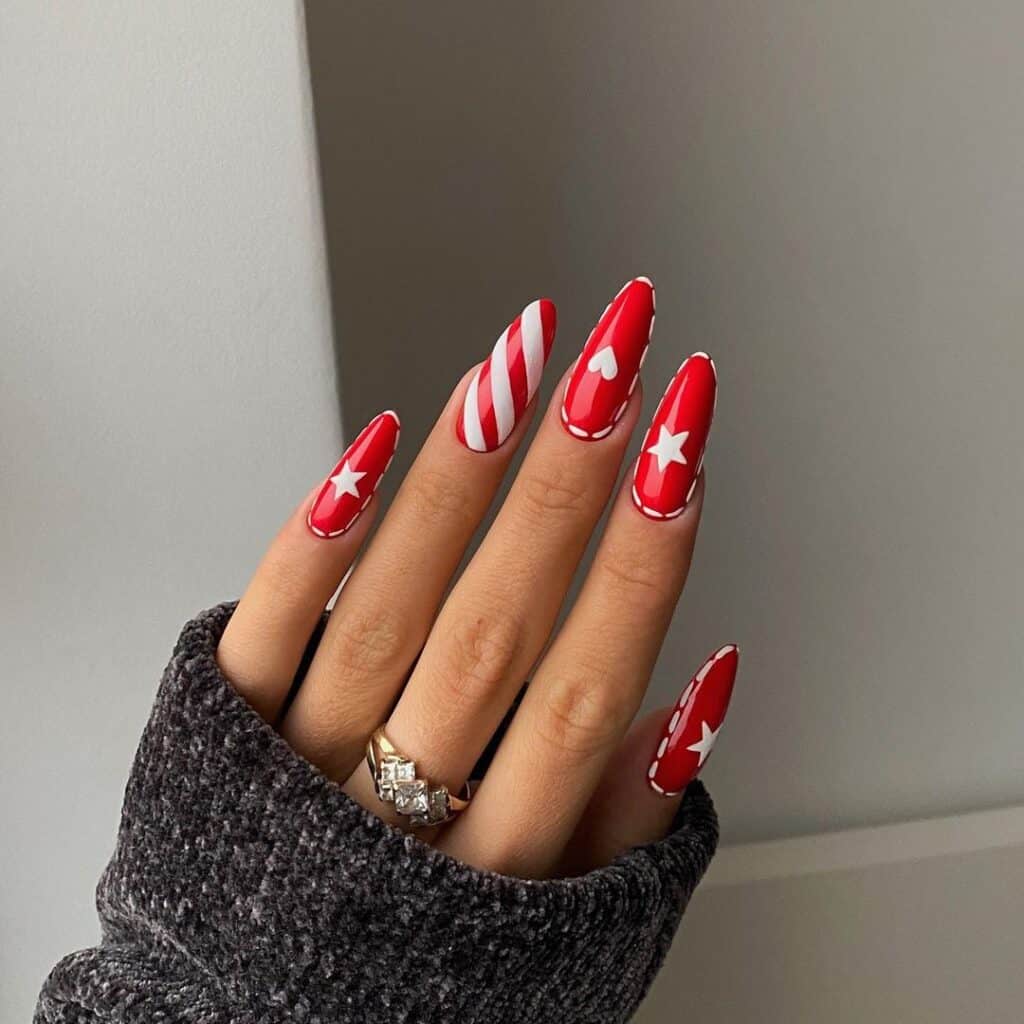 Framed nails are huge this year and are set to be an even bigger deal next year.
So, if you want the most avant-garde and hottest Red Christmas Nail Designs possible, go for these beauties.
I love how the frame has been altered to mimic stitching with little stars and hearts placed inside like little works of art.
Plus, the striped nail keeps things fresh and energetic, which is just what such a cozy look needs.
9. Classic Red Christmas Nails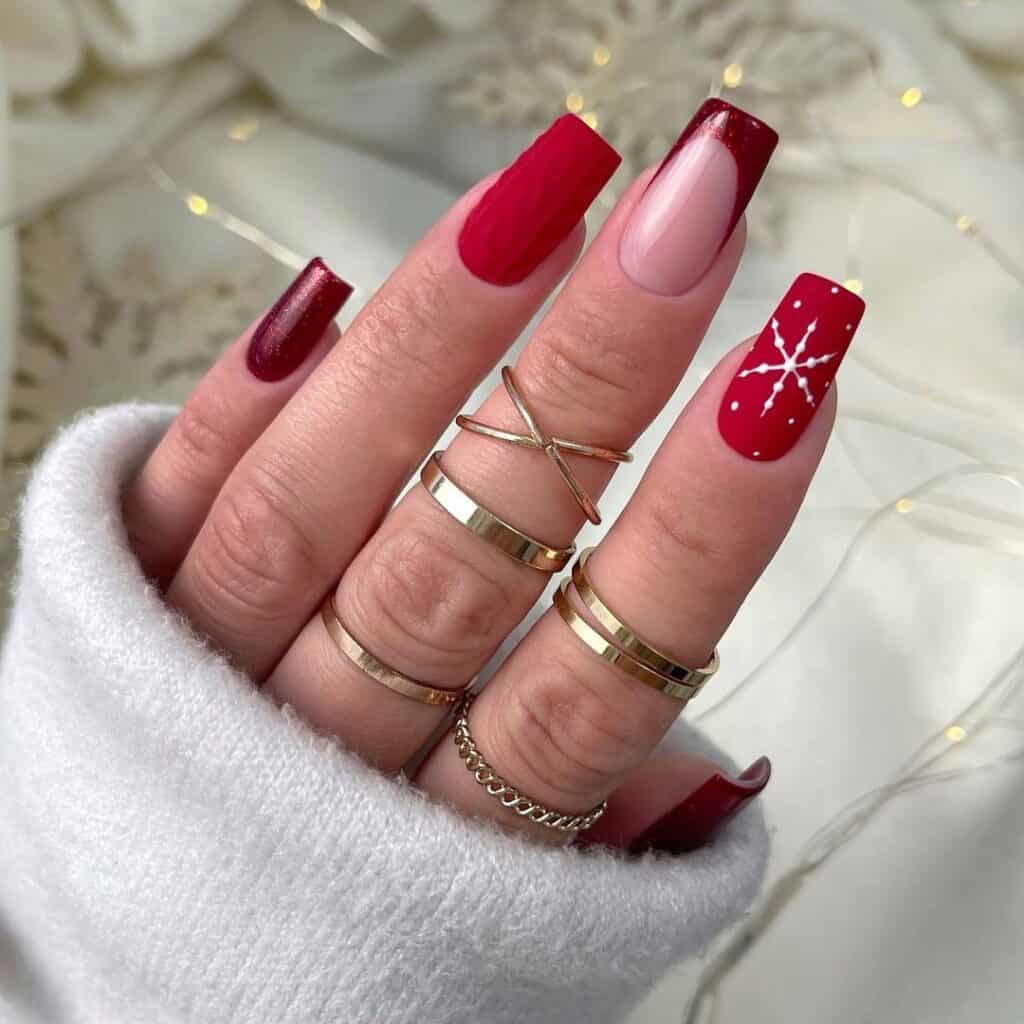 Mid-sized square nails are made for this season. They're the perfect shape to add edge to otherwise charming and cutest Christmas looks.
Plus, these cute December nails allow just enough space to let the nail designs shine. This rings especially true when it comes to sweater knit stitch that looks absolutely fabulous on this size nails and is also much easier to complete on square nails.
I love the addition of the glitter French tip that adds some glitz to the look with the gorgeous snowflake, keeping things cute. I love it.
10. Tote Sweet Red Christmas Nail Design
Perhaps the most simply beautiful and timeless looks on the list, this is THE Christmas manicure.
It's the original and is such a familiar and reliable style that everyone loves. The key to really perfecting the manicure, however, is the rich, glossy nail polish that's flawlessly slicked over the gorgeously oval-shaped nails.
The nail polish shade is quite bright and vibrant, almost leaning into the orange shade territory, which is perfect for pairing with your favorite Christmas outfits.
11. Red Christmas Nail Design with Snowflakes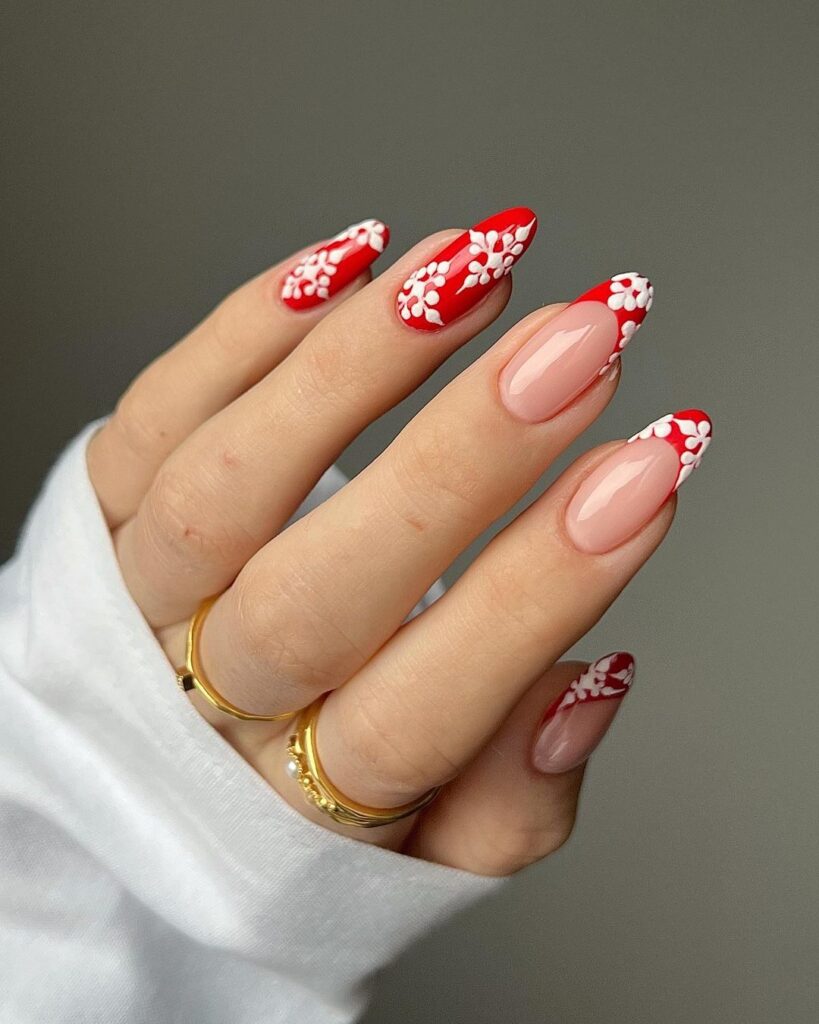 As a literal work of art, this is the manicure that you want to show off all Christmas long. Honestly, switch up the nail polish color, and it's a look you could and will really want to wear all year long. The design is just the epitome of grace and elegance.
I can't get over how gorgeously contrasted the two shades are and how beautifully the design plays out over the oval-shaped nails.
Seriously, this manicure design is a masterpiece and is the perfect accessory this Christmas.
12. Candy Cane Nail Design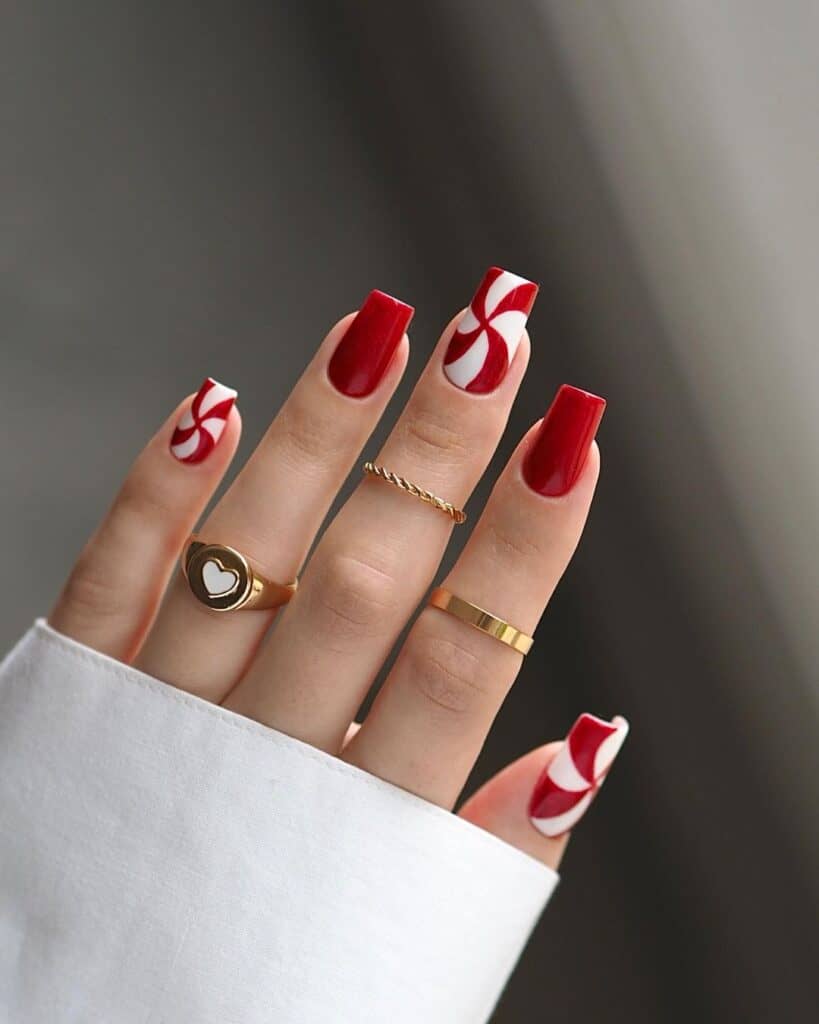 Red Christmas Nail Designs don't have to be completely intricate or detailed. They can look downright gorgeous with just two polish shades applied flawlessly to the nails.
Here, we have the perfect proof of that fact, with short, sweet, square, and swirl nails in all their magic glory.
Seriously, it's such a neat and clean look. There's a fresh, almost minty edge to the manicure that's absolutely perfect for the season.
13. Sparkly and Festive Red Nails
French tips on short oval nails are a dream. But if you want to take them to the next level, adding an adorable Santa hat is how.
A little white polish to evoke that fluffy cotton effect and a slick of glossy overcoat are just the details that this manicure needs to really pop.
What's great is that the look isn't even that complicated but is the gift that doesn't stop giving when it comes to adorable vibes.
You might want to apply a blush base first to really create that clean and neat canvas that helps the hats to pop.
14. Sided Red Santa Hat Nails for Christmas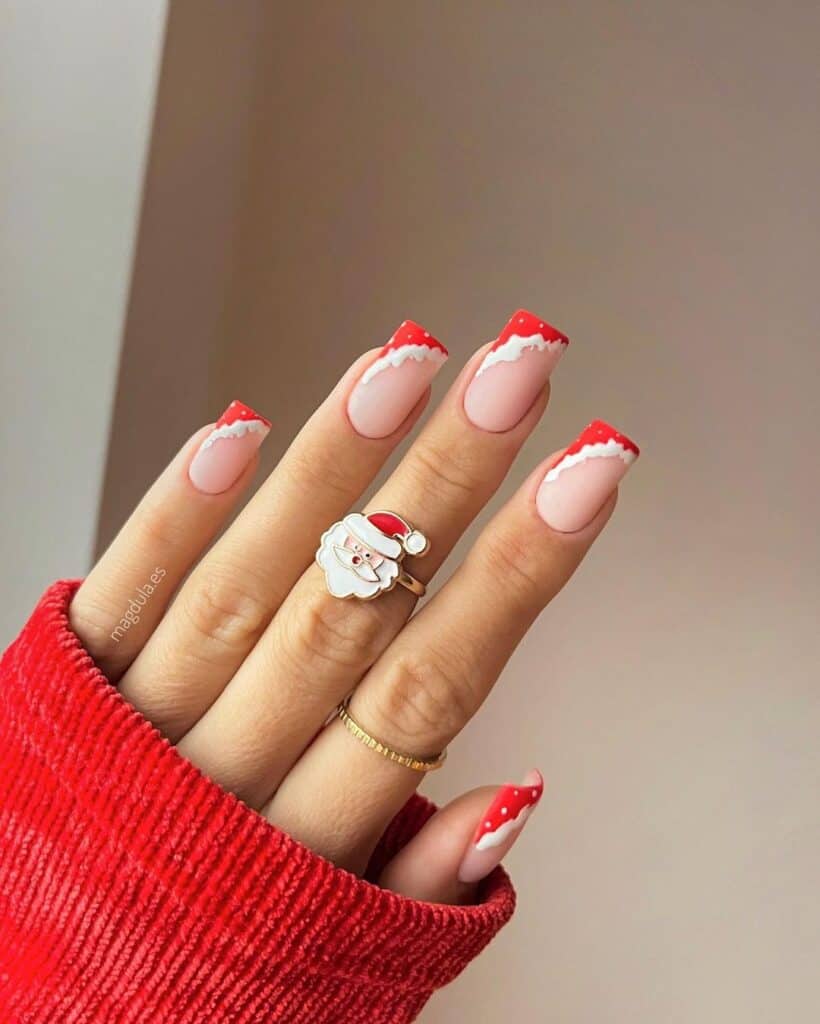 What's more adorably cute and fabulously festive and funkily fashionable than lopsided Santa hats?
A manicure that includes all of those things, that's what. It's not noticeable right away, but why these nails stand out is the milky base that keeps things looking polished (excuse the pun) and neat.
It means that you can go a little wild when it comes to the cotton effect that's just downright adorable.
15. Swirly Red Christmas Mani
We just can't get enough of swirls lately, so it's only natural the hottest topic of the nail scene would find its way into Red Christmas Nail Designs this year.
Firstly, the red and white contrast on the accent swirl nail is so captivating.
Pair it with a set of chic red French tips and two full-colored nails, and you've ticked off most of my "favorites" boxes when it comes to the perfect manicure.
Be sure to get yourself a blush or milky white base to help the nail art really stand out. 
16. Candy Cane Land Nails
Here, we have the most wonderful nails of the year for the most wonderful time of the year. They're absolutely radiant and dazzling.
They really catch the light and look like they shine all on their own. The swirls keep things fun and intriguing, while the shape is quite elegant. This is Christmas manicure 101.
17. Red French Tip Nails for Christmas
Delicate and dainty don't even cut it when it comes to this look. They're like a little magic whisper that suggests Christmas instead of saying it outright.
They make the most of short, oval nails, so this manicure definitely earns its place high up on the short red Christmas nails list. It's simply gorgeous.
18. Red Christmas Plaid Nail Designs
Red Christmas nail ideas, but make it extra. These nails are high fashion and look like they've just walked off the runway.
I absolutely love the sweater knit effect that almost looks sculpted. When mixed with plaid, it's just style genius at its best and so creative. The word glamorous doesn't even cut it.
19. Speaking Christmas Eve in Every Nail Design
Hello, Barbie nails. They're lovely, loud, and unapologetically vibrant. They use pretty much every single texture while covering the entire spectrum of red.
Sweet, glamorous, and classy all at once, these nails will go down a storm on Instagram and will make you the center of attention of any room you walk into.
Seriously, they're such a stylish statement, so creative, and really indulge my beautiful nail cravings, so you'll definitely catch me wearing these nails this year.
20. Red and Gold Christmas Nail Designs
These are some of the most unique Red Christmas nails on the beauty scene right about now.
I love that they buck the trend and add pink to the mix, which I think is such a lovely homage to Barbie and all things girly and somehow just works on this fabulous manicure.
21. Flame Effect Red Nails for Christmas
I honestly consider this manicure a Christmas gift. Whoever designed these nails has given me life.
Seriously, they're just the right amount of flashy and glamorous with a hint of quirky added in. They look like a party on your nails and are not only a celebration of the most wonderful season but also of nail art.
The shape, the matte, the glossiness, the glitter, and the firework nails with love hearts sprinkled about: This is why I love nails with all my heart, and you can bet I'll be wearing these nails this year.
22. Cute Red and Green Christmas Nail Design
Get all the best Christmas polish shades at the ready. We're about to take on one of the most cheerful, cartoonish, classic, and cute nail looks this year.
The manicure is so vibrant, lovely, and full of energy while also having all of the charming trappings of a timeless Christmas look.
It's perfect for pairing with Christmas jumpers, warm sweaters, and any out-there Christmas look.
23. Candy Cane Wishes Red Christmas Nail Designs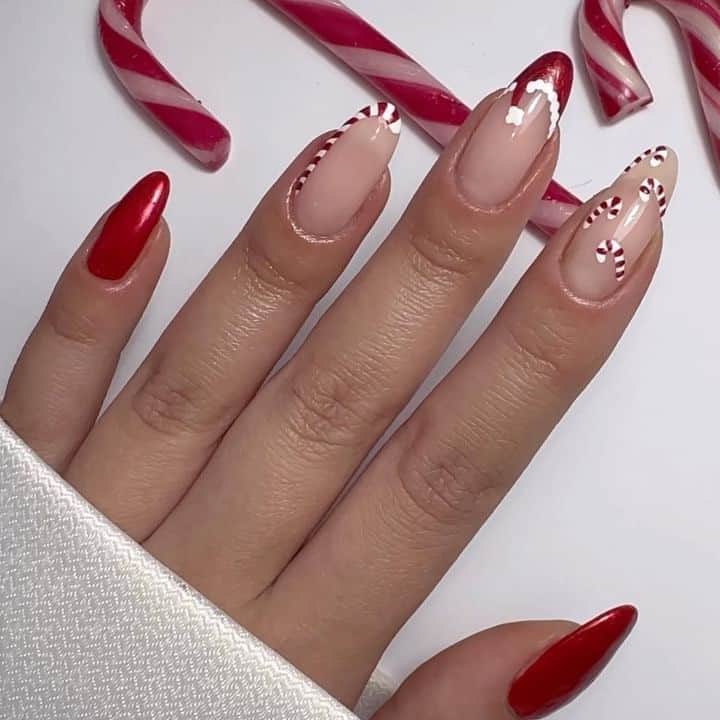 This manicure features all of the classic Christmas trends. I love the candy cane French tip. It's just so quirky and chic at the same time and also so fresh that it really has my heart.
I love the oval shape and the glossy overcoat. It keeps things elegant and graceful while all of the fun nail art brings things to life.
24. Short Red Christmas Nails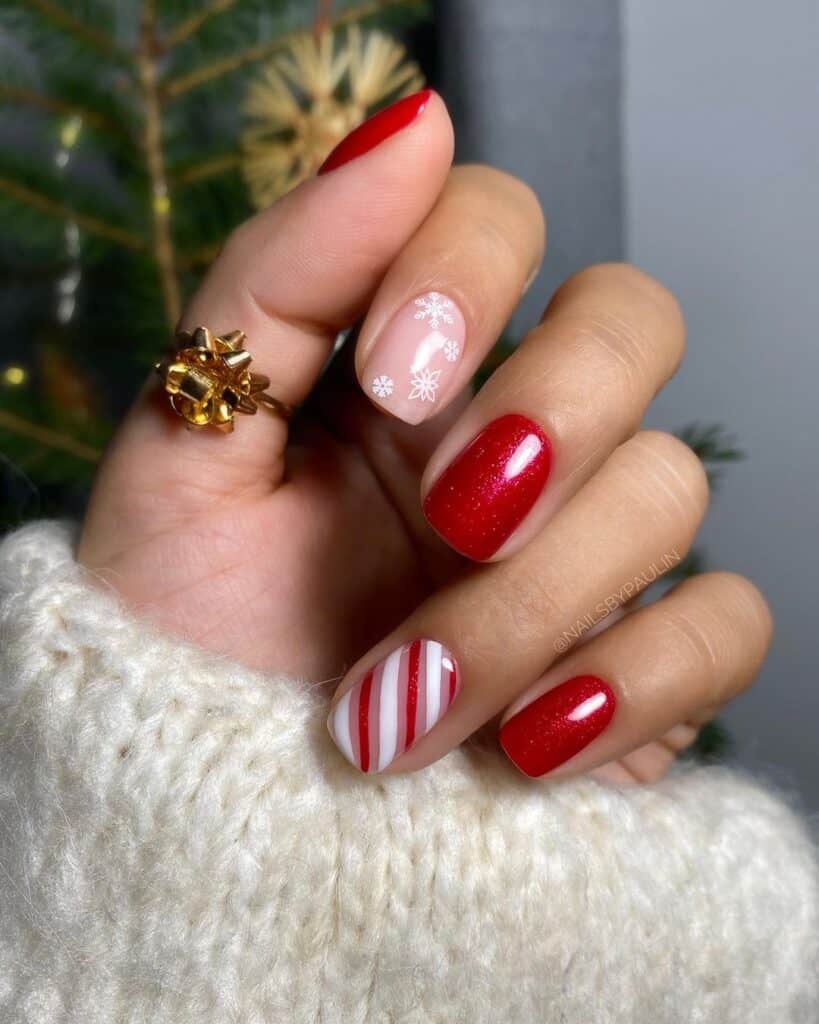 These are such princess nails. They don't come much more dainty or delicate than this, and they whisper Christmas instead of shouting it out loud.
Your nails can be the shortest they've ever been, and this look will still work.
Just be sure to go easy when you're filing down to the square shape to keep things looking soft.
25. Red Christmas Comic Book Nails
Here is the trendiest comic book nails of the season this year. The nail is framed, which is the epitome of style these days, but the framed tip takes things to the next level.
That's before we even get to the reflect effect that takes these nails into the cartoon nails territory, which is set to be all the rage next year.
I'm also loving the glitter, which is just such a glamorous way to bring this manicure to the next level.
26. Peppermint Snow Nails with Red Candy Cane Nails
I absolutely know how fresh and vibrant this nail look is. It's so sweet from cuticle to tip, with every little snowflake along the way looking oh-so dainty and delicate.
And despite the nails reflecting a Winter's snowy sky, it still looks so warm somehow.
The little red sweet is an absolute must to perfect the look.
27. Sugar Effect Red Christmas Plaid Nails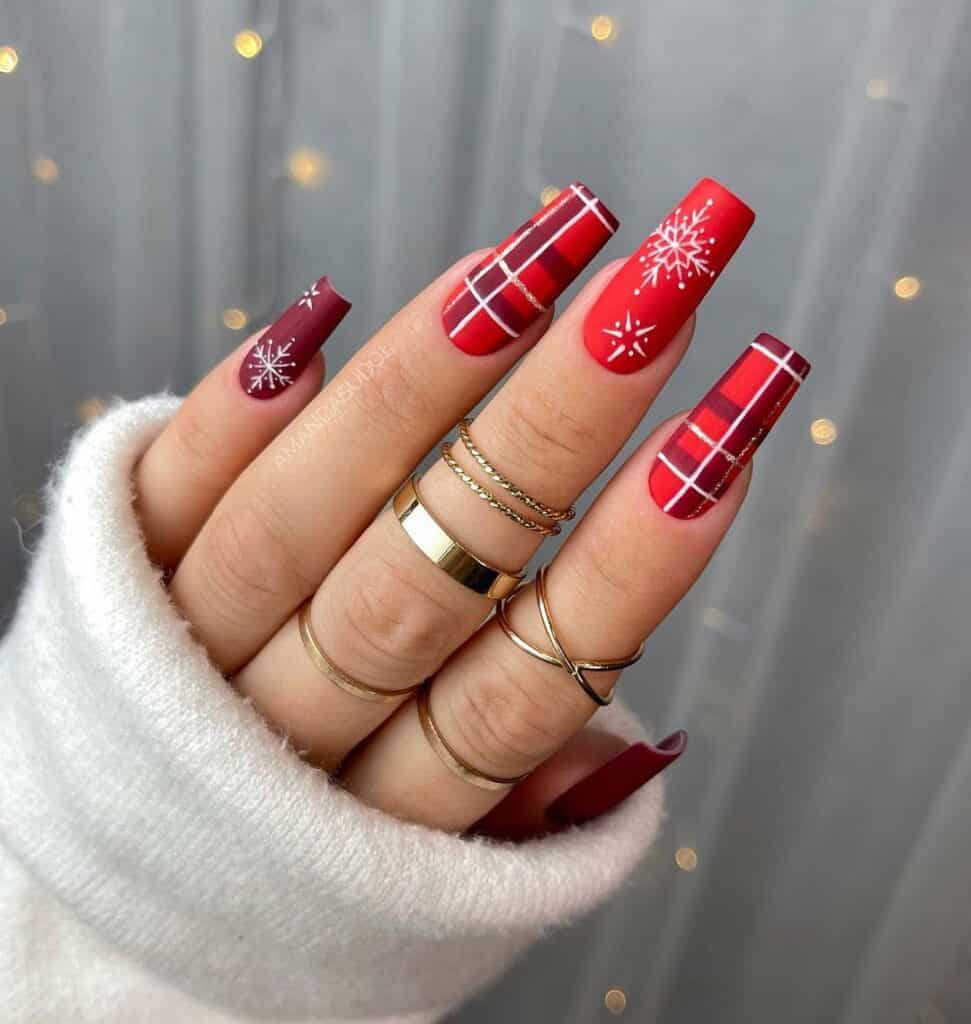 Here we have the IT girl nails of the season. Expect to see this style of festive manicure line your social feeds this year as fashion and beauty influencers claim it as their own.
Plaid is a classic, and when done with such chunky lines, it adds a unique and personality-filled edge to the otherwise utterly adorable look.
The long snowflake nails are so dreamy and just the image of perfection.
Overall, the manicure is completely flawless and is just the right amount of dramatic and complex to look so high fashion and Instagram-ready. 
28. Red Christmas Gift Wrap Nails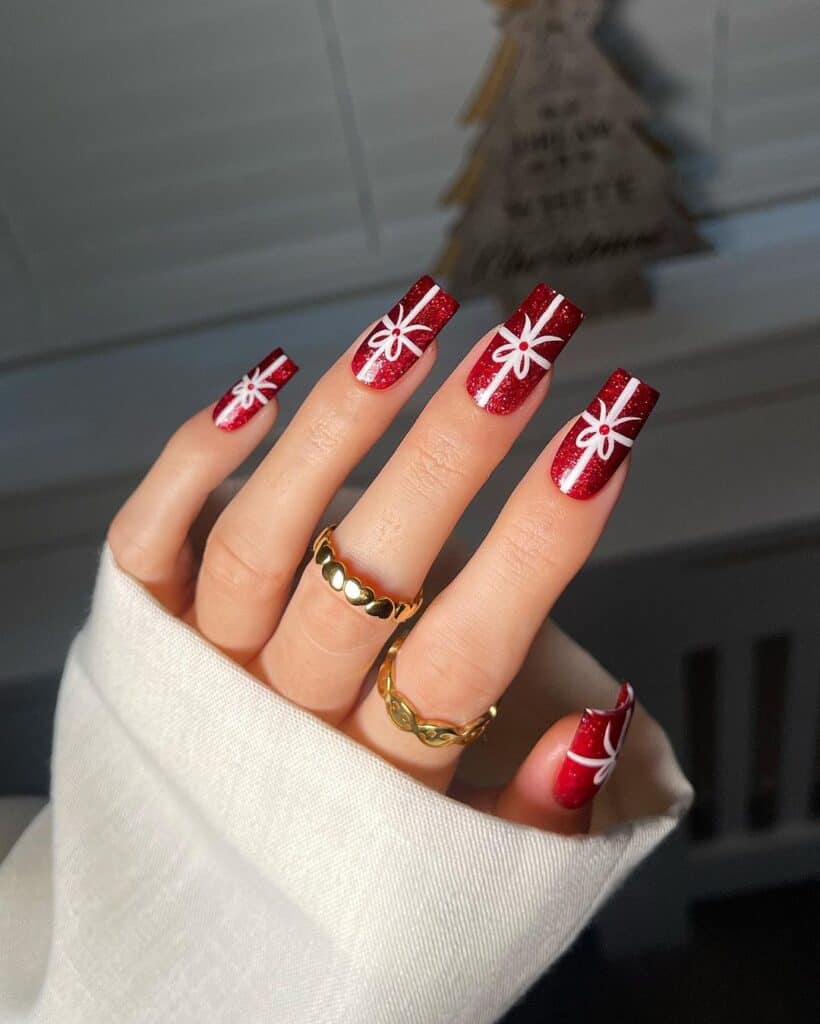 I'm filing these under short red Christmas nails because they look like little square gift-wrapped beauties, even though the example is kind of mid-sized.
Really, this look is fantastic on nails of any shape, but the shorter and more square, the better. These little nails would look absolutely fantastic under the Christmas tree; that's how gorgeously gift-wrapped they are.
Plus, this look tends to work fantastically with typical Christmas outfits and jewelry while also being utterly cute. Do yourself a favor and try this one out.
29. Candy Cane Red Christmas French Tip Nails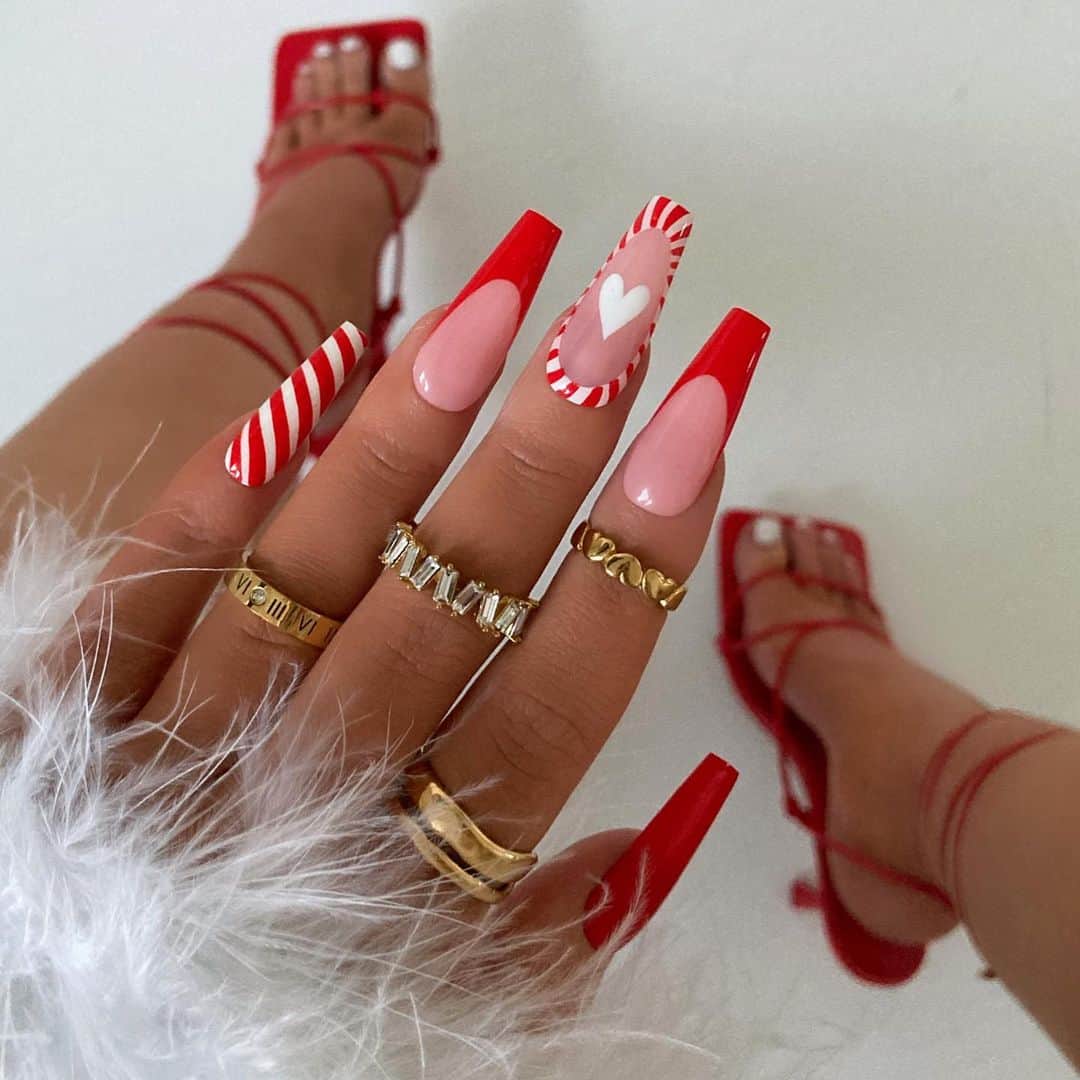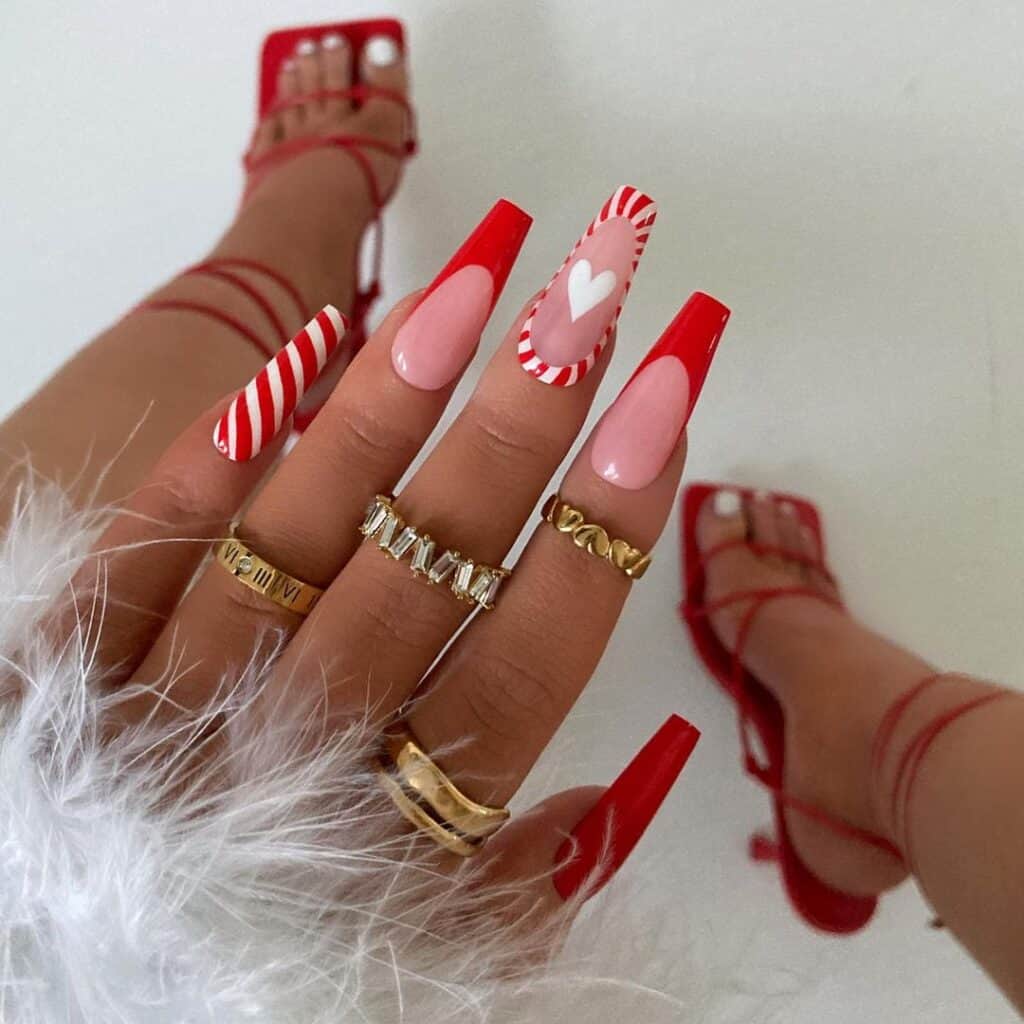 T'is the season for illusion nails. Well, really, it's also just the year for illusion nails since the quirky style has been having a huge moment this year.
The illusion on the middle nail here is done so well that the nail almost looks like it's been filed to be narrower in the middle.
It's fascinating and entirely unique, with the heart in the middle keeping things cute. That's before I can even get to the impressively long and striking french tips or the striped nail.
The stiletto square nail shape is also such a perfect choice to really bring out the most beautiful side of this incredible manure.
30. Reflective Red Glitter Christmas Nails with Double French Tips
A framed French tip and a framed thumbnail mean we're getting off to a very trendy start on this list. It's one of the hottest looks this year, and I'm more than here for it.
It's just the right amount of chic and subtly sophisticated, and that's before even getting to the shimmer.
It really makes the red nail polish pop without overpowering the lowkey statement of the manicure.
The snowflake is just the perfect addition to make the manicure undoubtedly Christmas-themed.
It looks like it just fell onto the hand with the perfect lines and snow-white polish. This is such a modern yet classic look that's a reliable go-to manicure for the festive season.
31. Christmas Candy Nail Art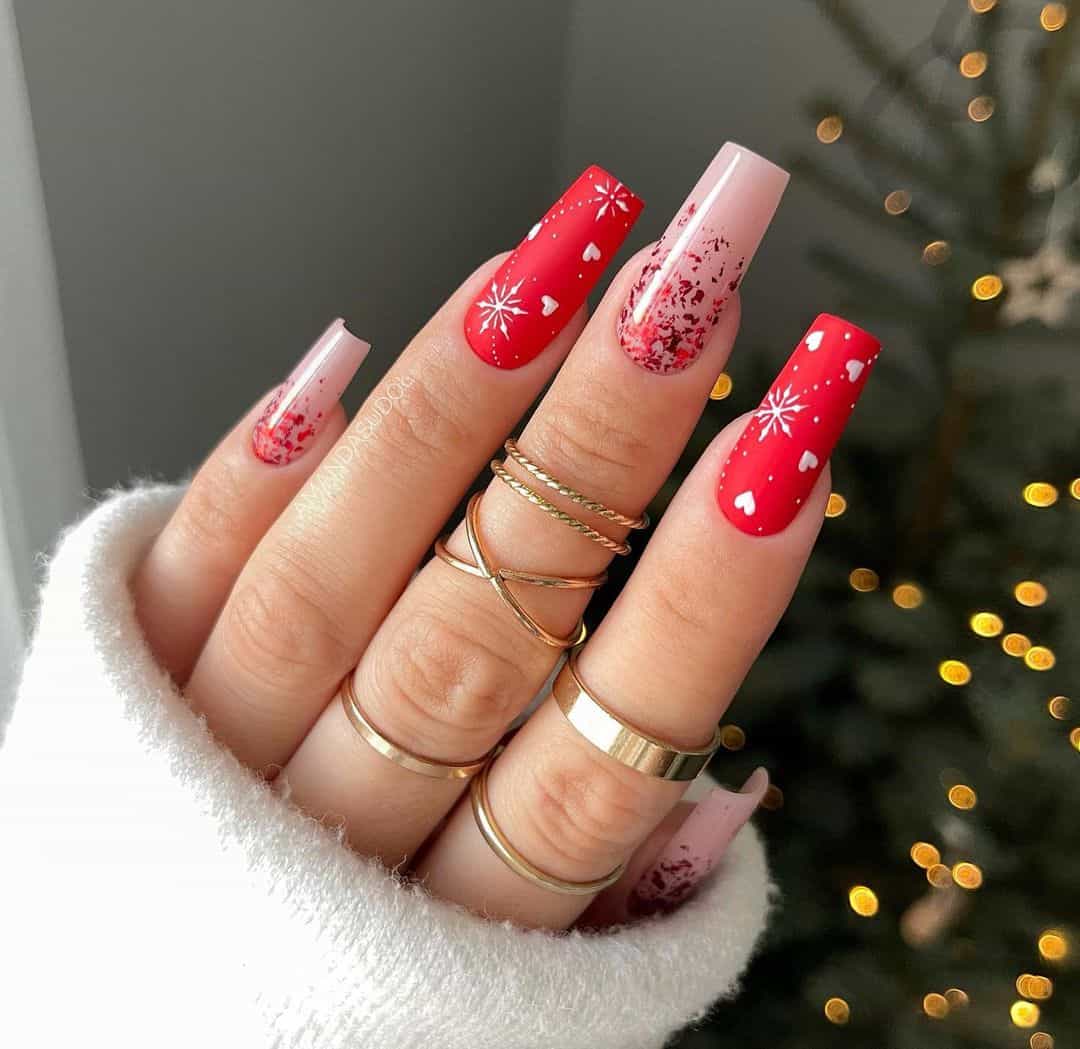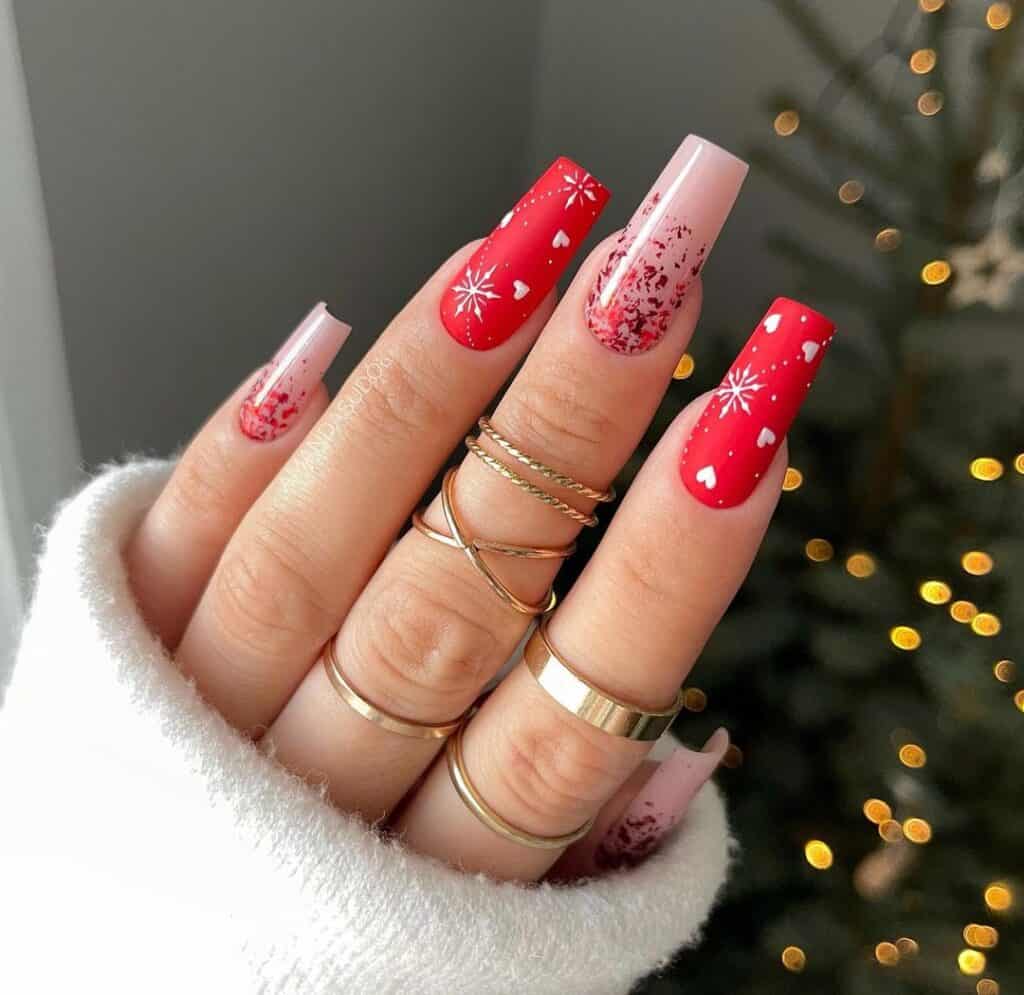 Another classy red Christmas nail art we're obsessed over. This nail design is for everyone who wants to celebrate Christmas through their nail design.
32. White and Red Christmas Nails with Mini Snowflakes
French tips and cuticle lines are huge this year. It takes on the swirl trend and brings it to the next level.
The contrasting shades are also so stunning and really just jump off the nail. All you need are two polishes and a little patience, and you're ready to have fabulous nails this Christmas.
33. Chic Red Glitter Nails for Christmas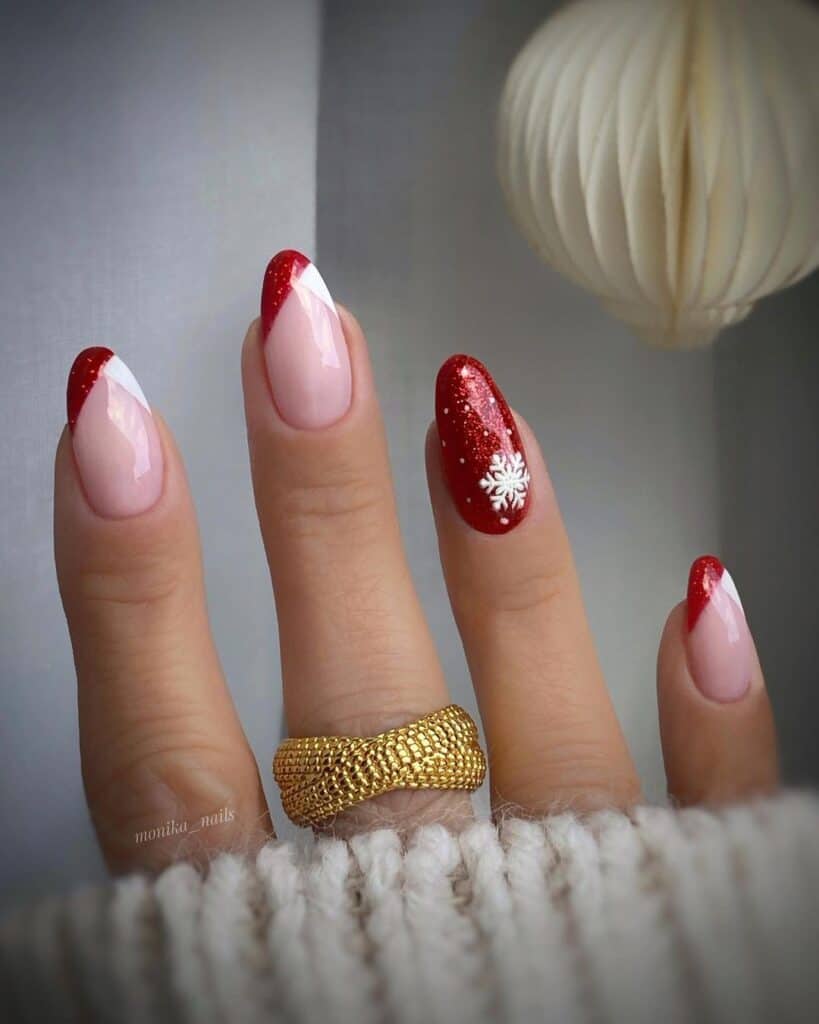 You don't need long and extravagant nails to claim the spotlight this year.
These somewhat abstract yet still classic and entirely dazzling nails are perfect for grabbing attention, posting online, and waiting for those compliments to roll in.
They're just downright fabulous and so futuristic yet timeless that I really can't get enough of them.
34. Simple Red and White Snowflake Nails
These are such enchanting nails. Their daintiness and subtleness are absolutely mesmerizing.
I love how the long tips make the nails look quite deeper and longer than they really are. Alongside this lengthening illusion, the snowflake nail art is absolutely delightful.
So, while they may look like simple red Christmas nails, they're really quite intricate and very beautiful.
35. Red Half Knitted Half Snowflake Christmas Nails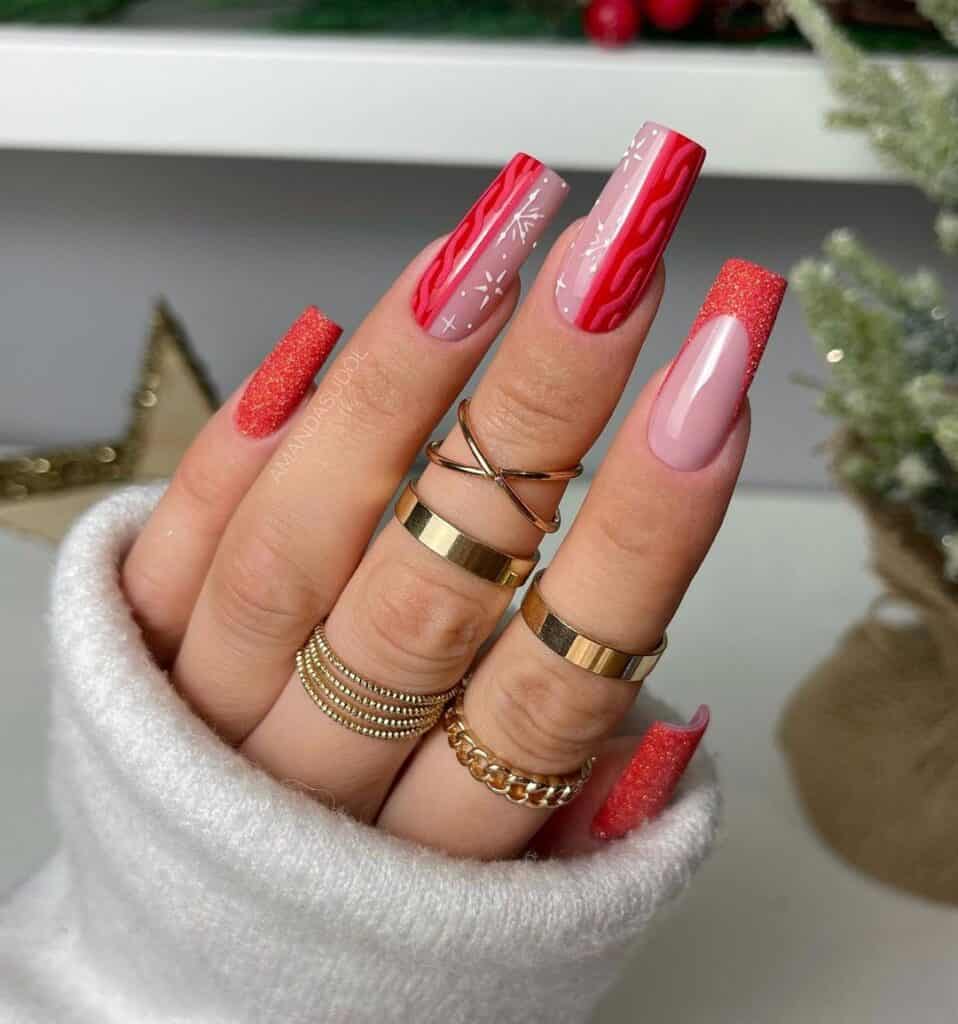 These nails look like they came right out of a dream. The mix of contrasting shades, textures, and nail art is just such a work of art.
In fact, it's so intricate and artful that I recommend you use this manicure as an excuse to book a trip to the salon before walking out of your appointment with THE nails of the year.
36. It's Christmas Yet NYE Nails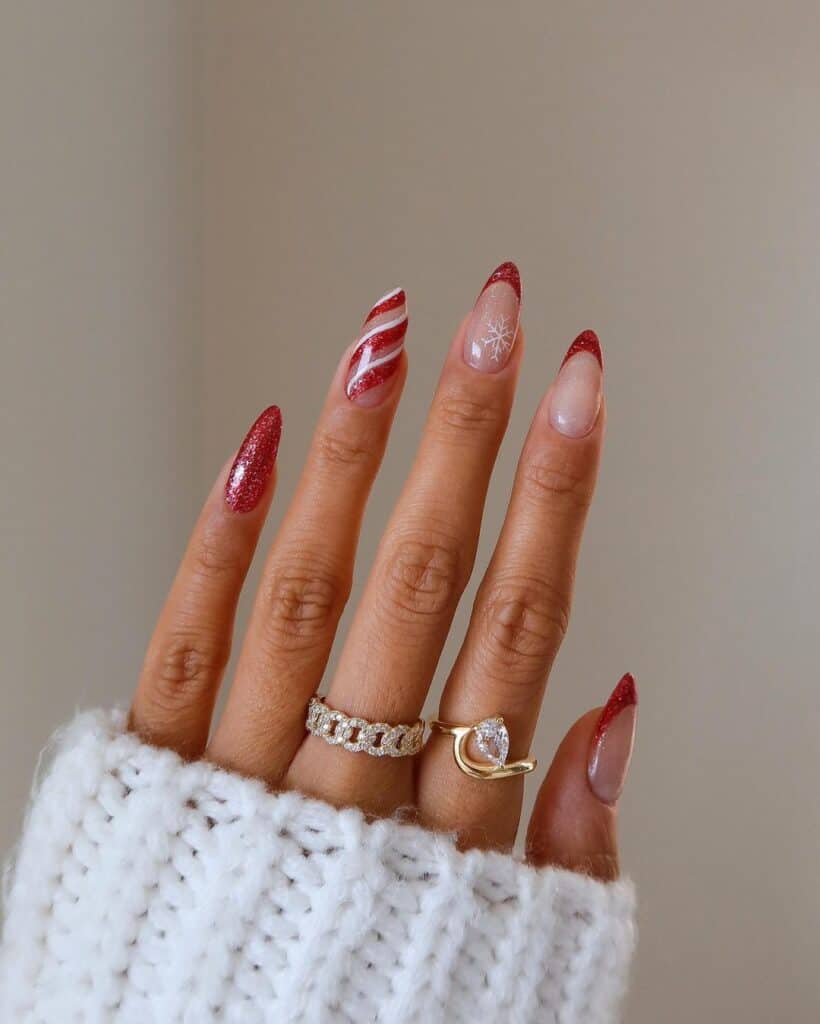 Meet your reliably radiant and all-occasion nails for this year. They're just the right amount of subtly stylish and lowkey while also shining bright, thanks to the shimmer.
The swirls keep things trendy, while the snowflake is fabulously festive. If you want just one marvelous manicure that'll last you from the 1st to the 31st of December, these are your nails.
37. Bold, Vibrant, and Lush Red Christmas Nail Designs
Minimalistic and barely-there swirls are gaining popularity in the beauty scene. So, it makes sense they'd be here for the Red Christmas nails designs.
In fact, get ready to see them a whole lot more, and maybe even on your hands if you're feeling this trendy look that's oh-so-fashionable and set to be the hottest look this season.
38. Matte Red French tip Nails with Simple Snowflakes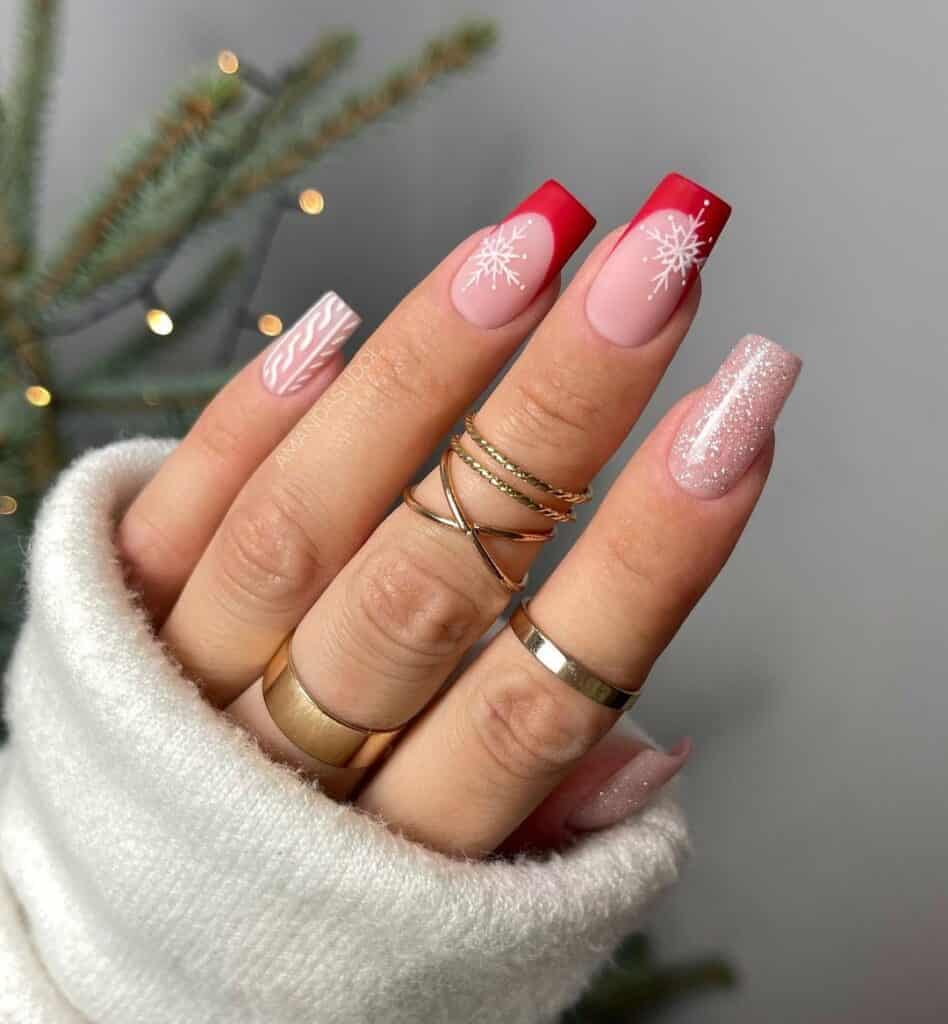 If you're snooping through Red Christmas Nail Designs but aren't yet ready to dedicate to a full-red look, this is the semi-red manicure manicure for you.
The shimmer nail and sweater effect little nails are absolutely dreamy, while the snowflakes keep things festive.
This look is ready for Instagram and sure to work wonderfully with any outfit you choose.
39. Red Glitter Swirly Nail Designs for Christmas
Very few Christmas designs are as reliable, lovely, as familiar, and well-loved as this one. They're so easy to DIY, yet look like they took a lot of work.
The French tips keep things classy, while the gift-wrapped nail is so fashionable and funky. The sharp oval shape also adds some edge, which is just delightful. 
40. Cute Classic Red Nails for Christmas
Red Christmas nail ideas but make them look fabulously short, sweet, swirly, and square. This manicure idea is honestly such an early Christmas gift.
These nails are easy to DIY and look just as good at the start of Winter as they do on New Year's Day.
So, you can count on these nails to look stylish no matter what and look fabulous with all of your outfits.
41. Short Red Candy Cane Nails for Christmas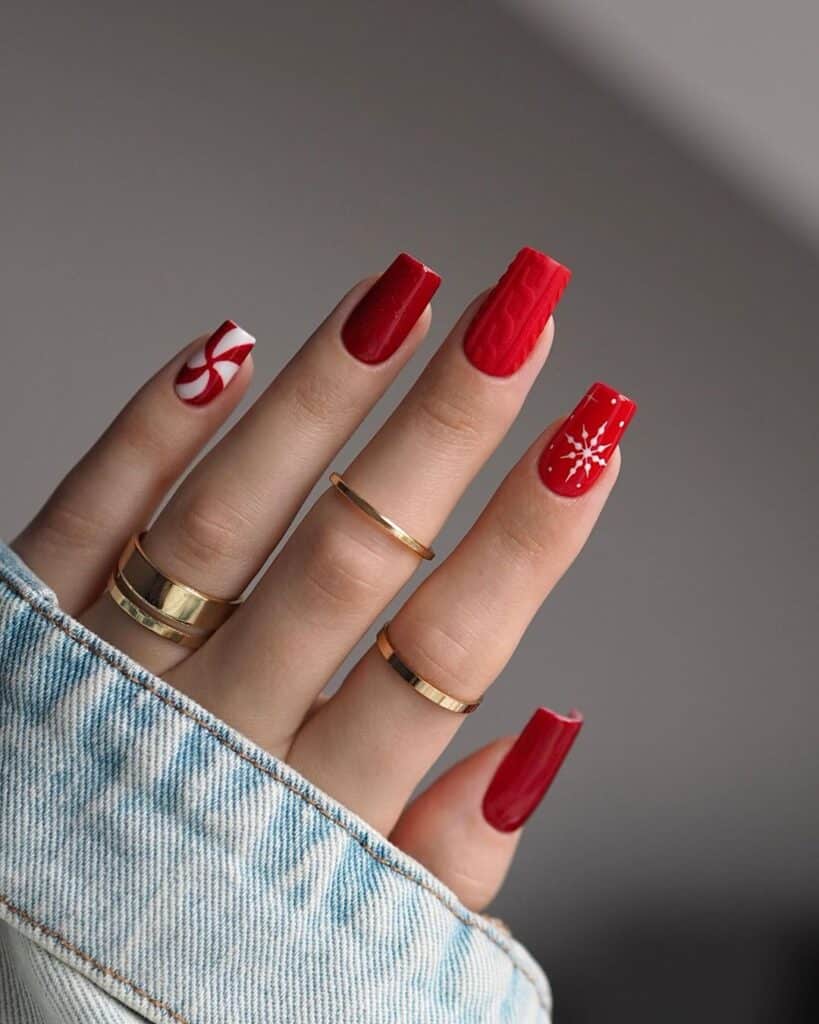 If you want all of this year's top Christmas nail trends on your hand at once, then this is the manicure for you.
It also somehow manages to keep it all low-key and quite high fashion without stepping into over-the-top strategy. I love it.
42. Swirly White Glitter and Red Nails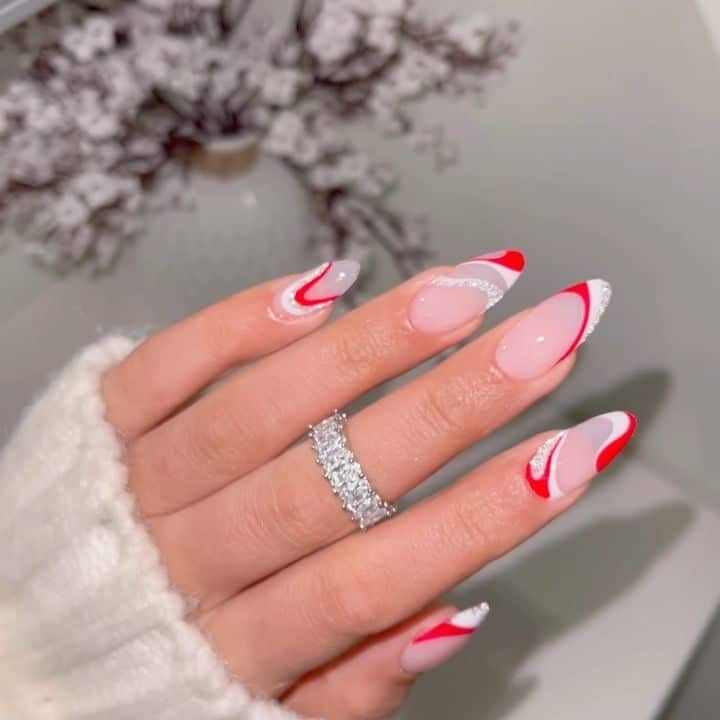 This set of nails is so groovy and even kind of funky, They've got that 70s vibe that's huge these days while also having a trendy edge thanks to the swirls.
The silver glitter really elevates the manicure to the next level, with the oval shape keeping things soft.
43. Candy Cane French Tip Nails for Christmas
I am in awe of these nails. They're so simple yet look like magic yet so sweet at the same time.
Of course, the circular like of the French tip is a must for these nails, but the base can be left up to chance.
You can just apply a clear cover and then one over the top once you've completed the gorgeous tips.
It looks like these are just one reason why I'm obsessed with Red Christmas Nail Designs.
44. Holiday SZN Nails
These red Christmas nails are fit for a queen. They're giving elegance, royalty, and opulence. They just look like fine jewelry atop your nails, and I'm more than here for it.
The slanted and large tips mean that the sharp, oval shape of the nails is a must. I just love how the tips are also lined with the gold shimmer polish.
It's just such a one-of-a-kind and extravagant look that I can't get enough of it.
45. Burak Snowflake Nails
Here are the statement red nails of the festive season. They're loud, full of attitude, and completely unapologetic when it comes to color, shape, and design.
The dark dabbled effect of three of the nails is quite futuristic and almost metallic, while the French tips create the illusion of a longer, more dramatic nail.
I also love how abstract and sharp the snowflakes look. It's utterly glamorous.
46. Long Red Christmas Nail Designs with a touch of Glittery Effect
These Christmas nails really bring the glamour. They're not in your face glitzy or flashy, but they are loud and unapologetic in a sophisticated way.
The shimmering swirls are absolutely dazzling, while the snowflakes are so dainty. The bright red polish brings life to the look and really sets this manicure apart from others on the list.
47. Cute Red Christmas Nail Designs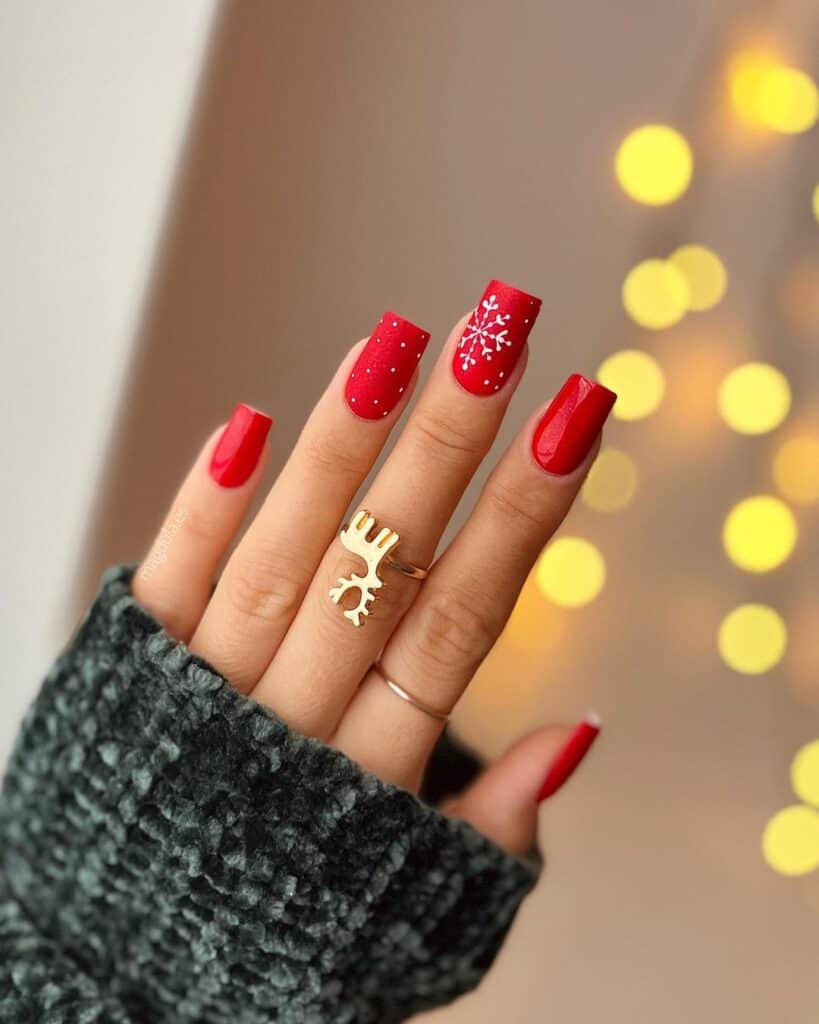 These nails are the definition of cutesy Christmas. They're what I call cocoa nails. Or sitting by the fire nails. There's just something so cozy and adorable about them that they even somehow manage to soften the sharp square shape of the nails.
I love the mix of glossy and matte nails, with the delightfully detailed nails being set to a more low-key background. It's just such a savvy trick that really keeps the manicure in the snuggly territory.
48. Santa Hat But Not Too Christmasy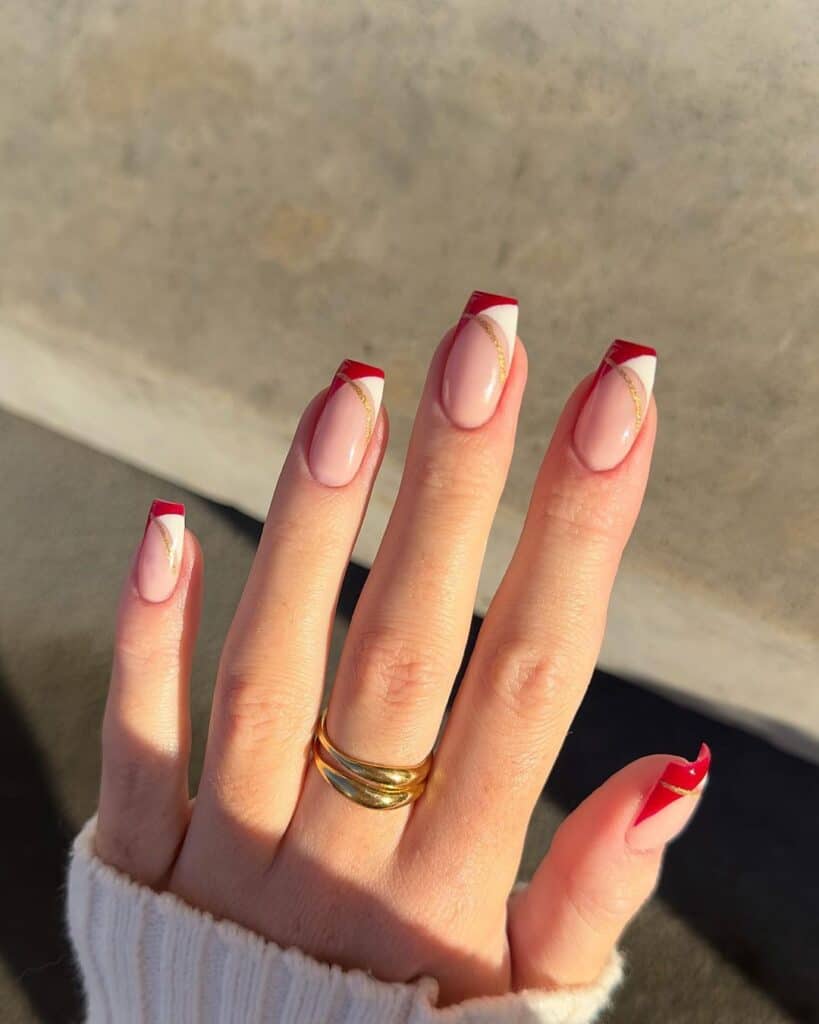 Simple Red Christmas nails have really been taken to the next level this year. Here, we see a sort of deconstructed Santa hat tip manicure that's quite abstract and very avant-garde.
The crisscross tip is quite trendy, and the shimmery gold line keeps things looking luxurious and fashionable.
49. Festive red Nails for Xmas
These Red Christmas nails make the most of the lipgloss nail trend. They're not too glossy, but there's still that opaque touch and shiny overcoat that really helps the glitter to shine.
It gives what's otherwise a classic Christmas look quite the girly edge, and I'm here for it.
50. Just Christmas Before NYE Nails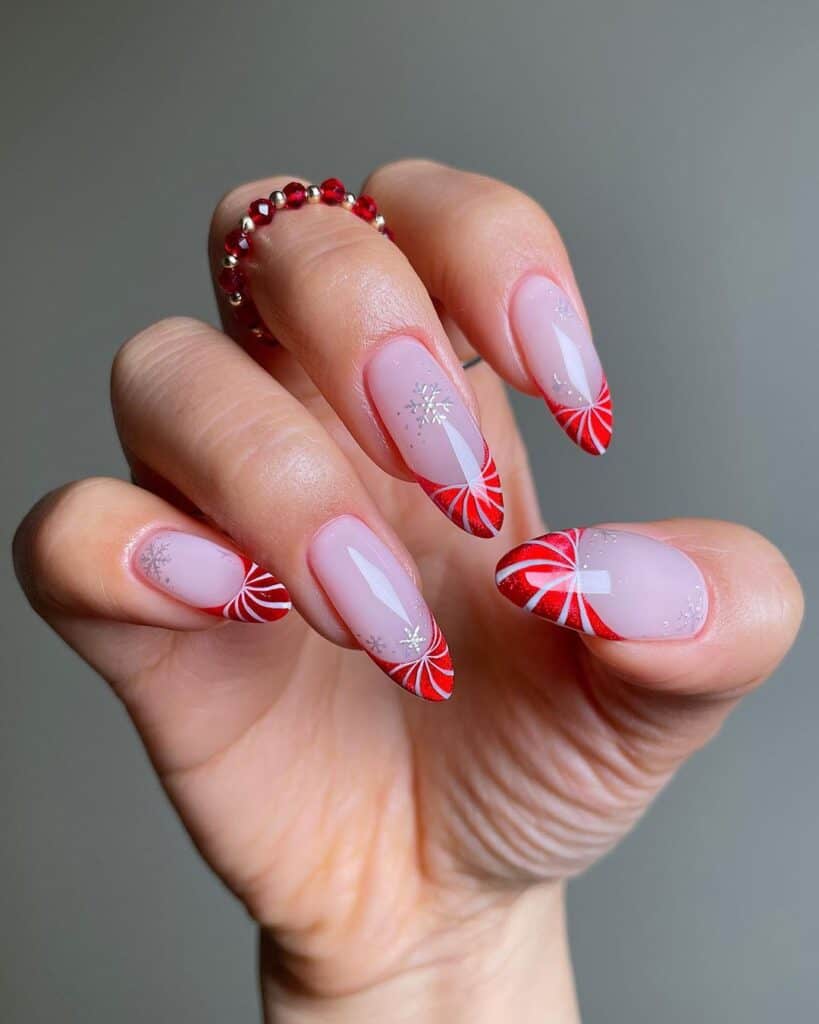 These are the most stunningly striking nails I've seen this year. All of the design features come together to look otherworldly.
The milky white, almost blush base creates a polished look that's perfectly complemented by the barely-there silver snowflakes.
The striped tips are just made for the almond-shaped nails that are so long that they almost reach stiletto-shaped territory.
A hugely glossy and clear overcoat is a must for putting the finishing touch on this look.
51. Glam Red Christmas Nails with Christmas Lights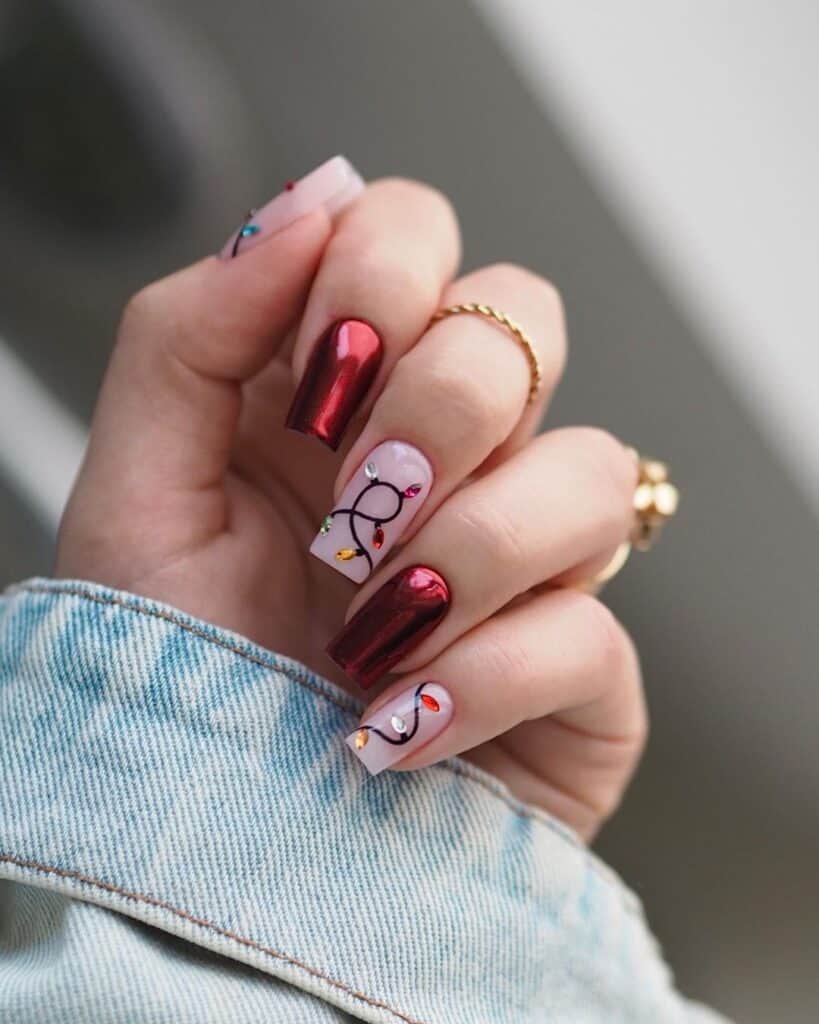 Every year, I fall in love with this look all over again. The Christmas lights are so adorably quirky, and even while they look fantastic and like a lot of effort, they're actually very easy to replicate.
All you need to add is a thin black swirl before applying multi-colored diamonds. Then, take care of the shiny red nails and be sure to keep things sharply square.
52. Santa Red Glitter Effect Nail Idea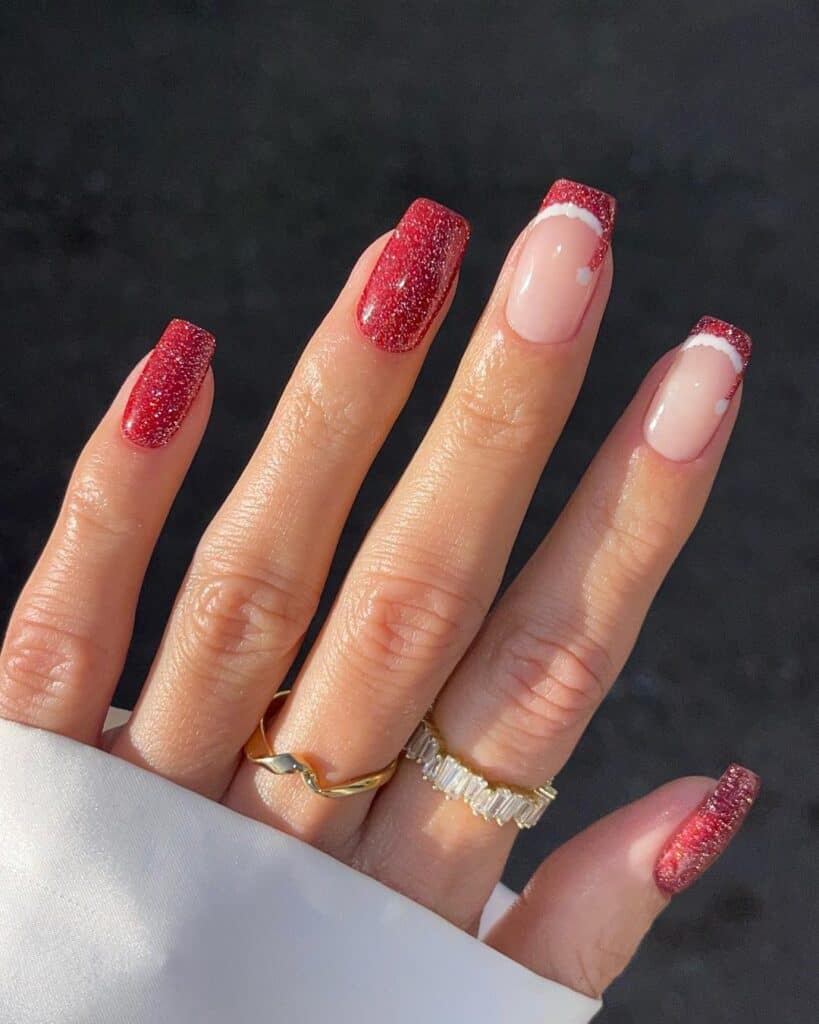 These short red Christmas nails are so subtly dazzling that I can barely take my eyes off them.
I love how low-key the glitter is, and it's kept smartly small, which brings out the best in short nails.
The Santa hats are just such an adorable addition without ruining the perfect balance of the look. It's still chic and elegant and just the perfect all-occasion look for the season.
53. Candy Cane Lined Nails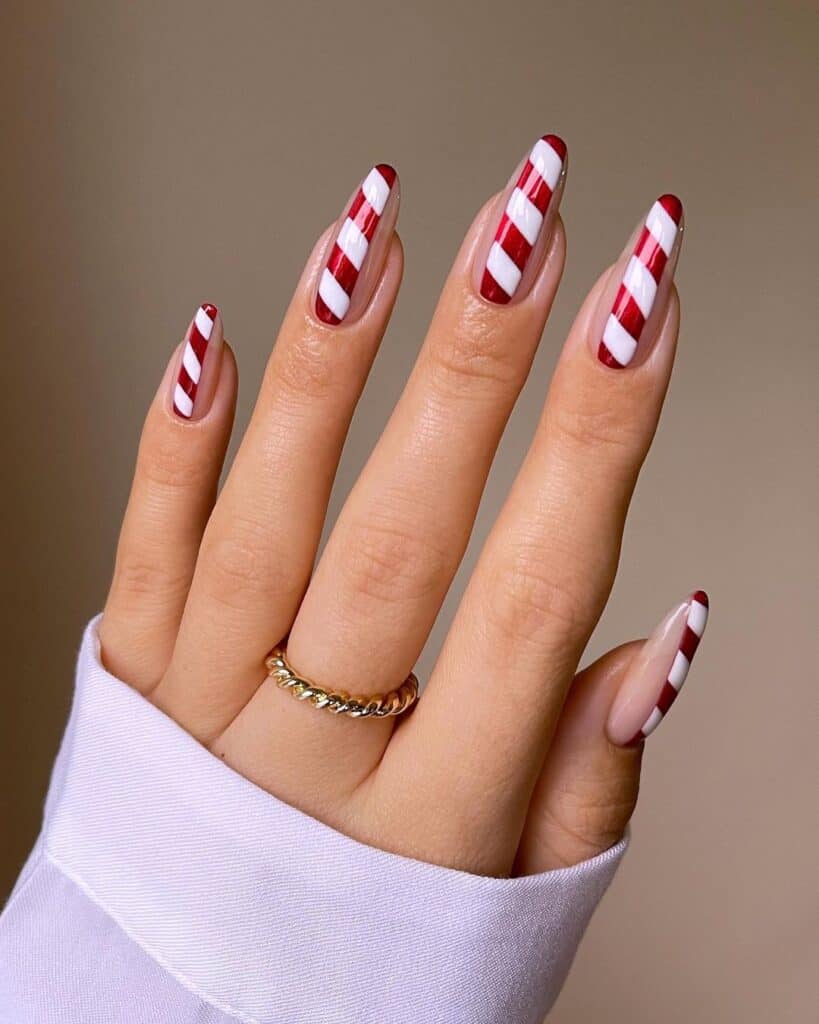 These Christmas nails are magic in their ability to create the illusion of longer nails. The thin candy cane down the middle of the nails has the effect of making the nails look narrower while adding length.
Plus, it's so simple yet so powerful, and I share this look with anyone who thinks their nails are too short for Christmas designs.
It's just such a helpful design to keep on hand in case you need a fast look or break a nail.
54. Red Christmas Chrome Nail Design
Please don't miss out on the celebration, party, and beauty that is chrome nails this year. They look effortlessly festive and even futuristic, while the gift-wrapped nail keeps things looking so classic and charming. I'm in love. 
55. Heart Candy Cane and Santa Hat Nails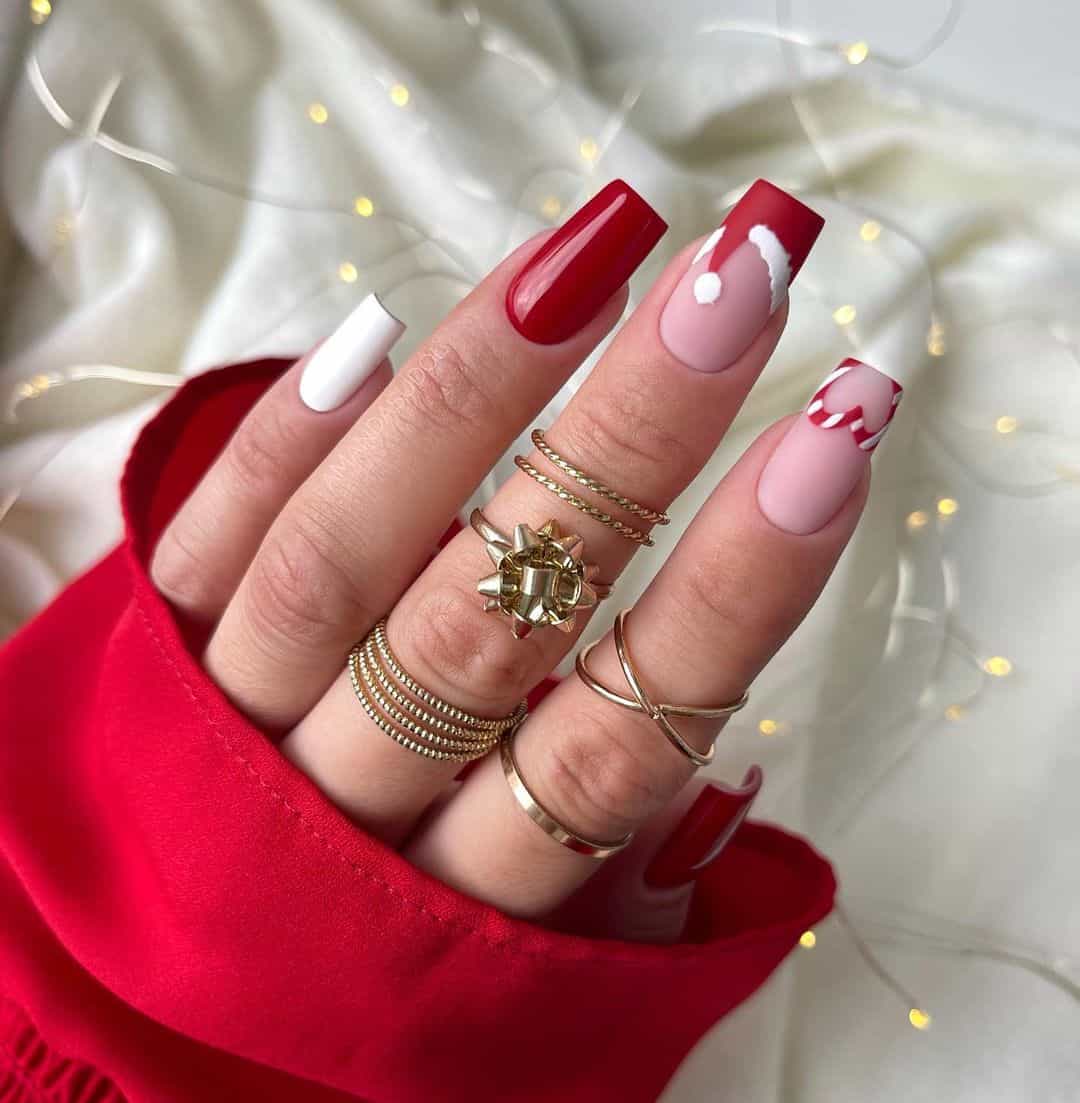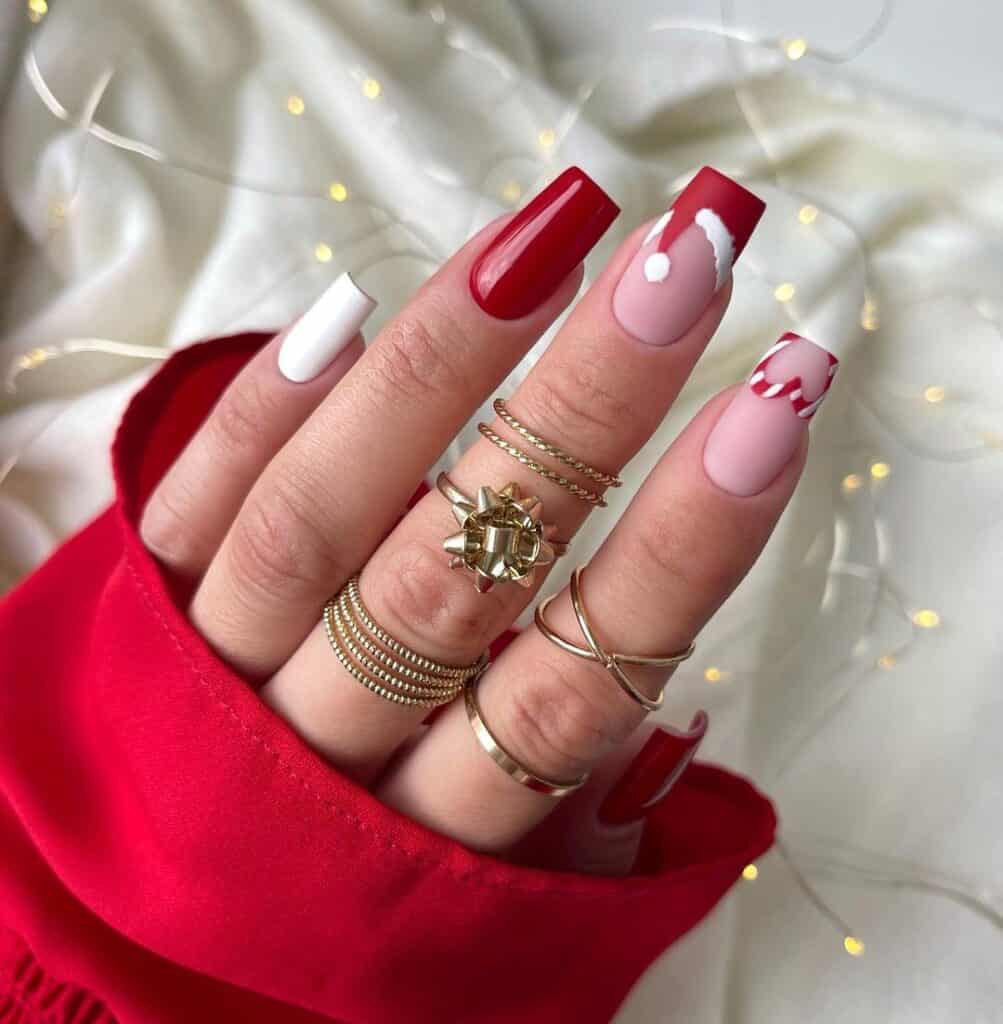 These are Instagram nails. Hands down. The matte and glossy mix is a match made in heaven when it comes to pictures, and the Santa hat and striped love heart tip are so chic and sublime.
Plus, the length is just right, and the square shape keeps things edgy and striking. I love it and get ready to see a lot of similar designs online.
56. Noelle and Candy Cane Hearts Nails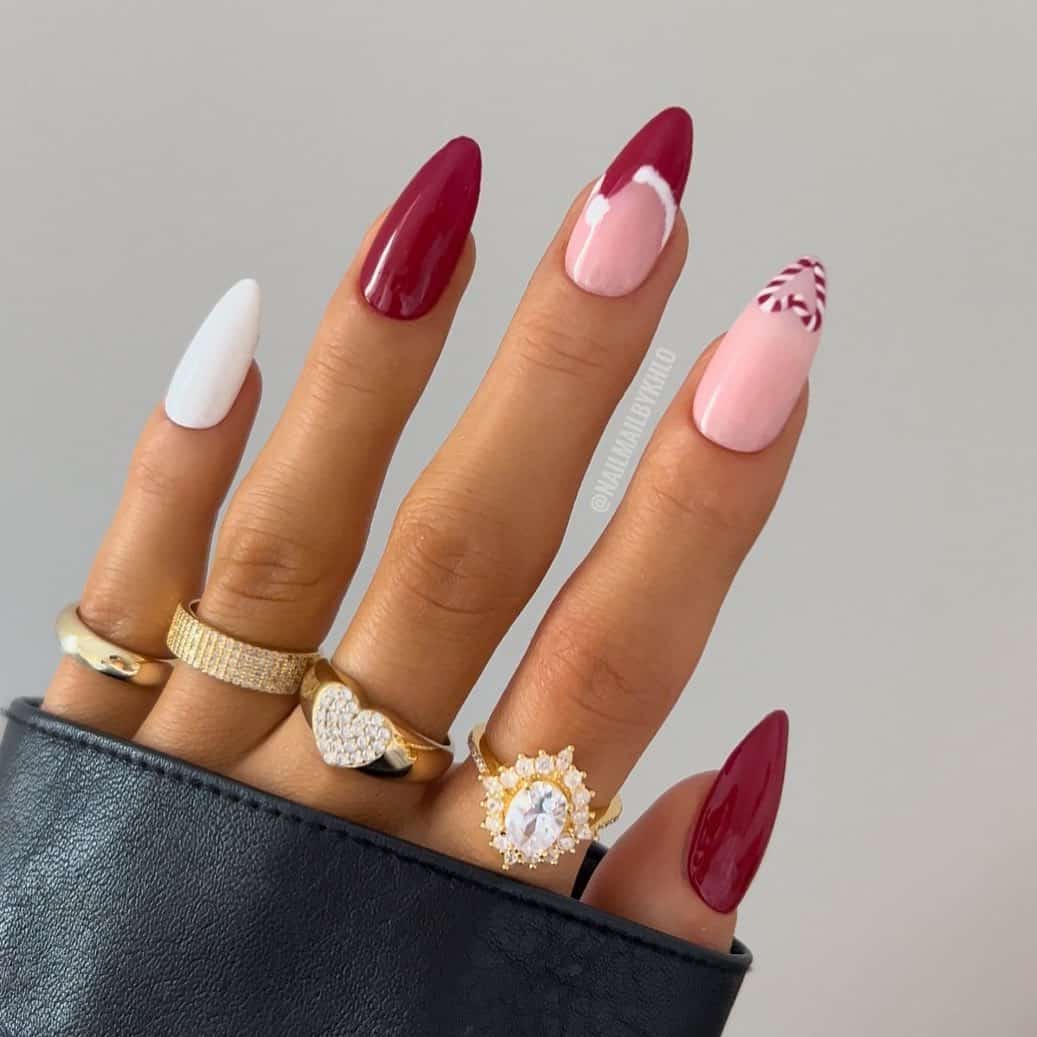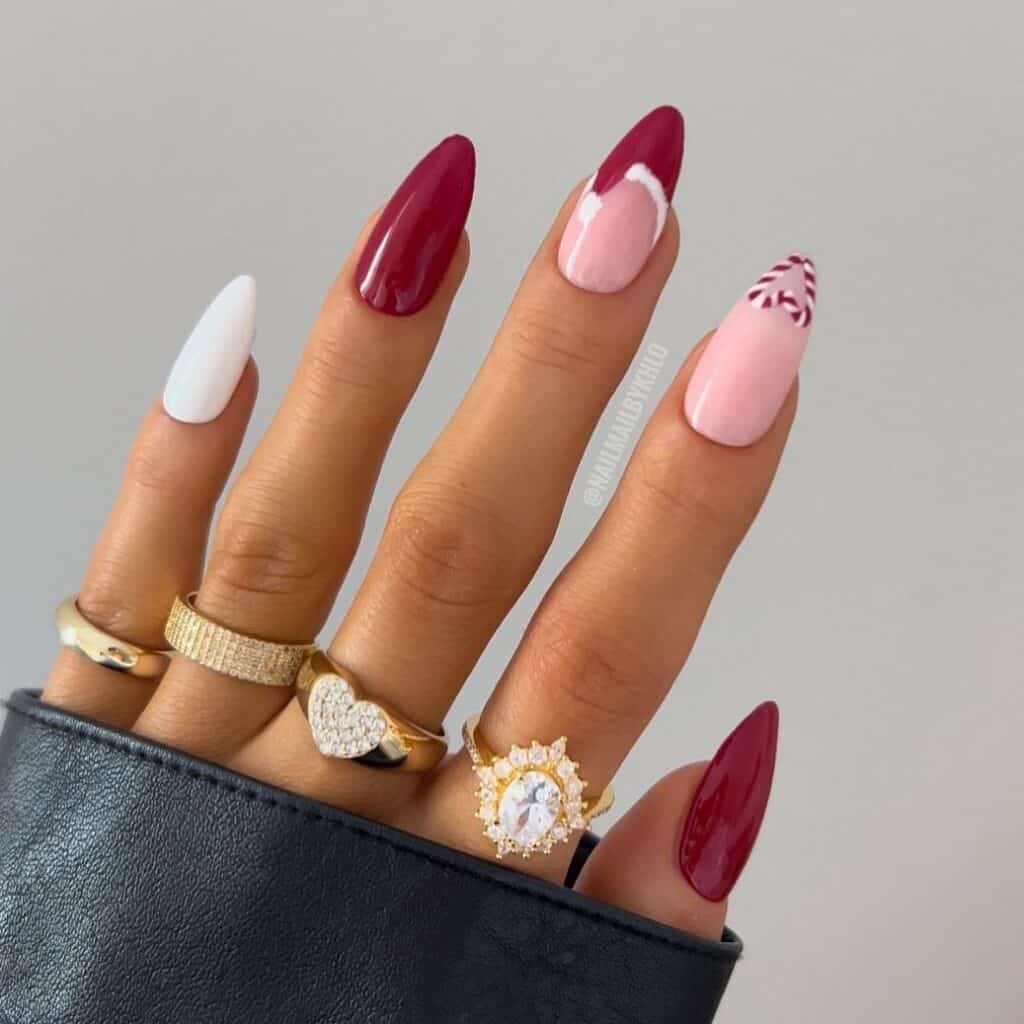 I'm going to classify these beauties under short red Christmas nails because while the oval nails are medium length here, really, this manicure would look just as fabulous with less length to deal with.
What matters is the rich, sumptuous wine-red shade that's so classy and distinguished that it can take a look as adorable as this one and give it a sophisticated spin.
There's a hint of royalty and fun mixed together on these nails, which is such a hard combination to bring to life, but the fashionista genius behind these nails pulled it off flawlessly.
57. Rudolph The Red Nose Reindeer Red Christmas Nails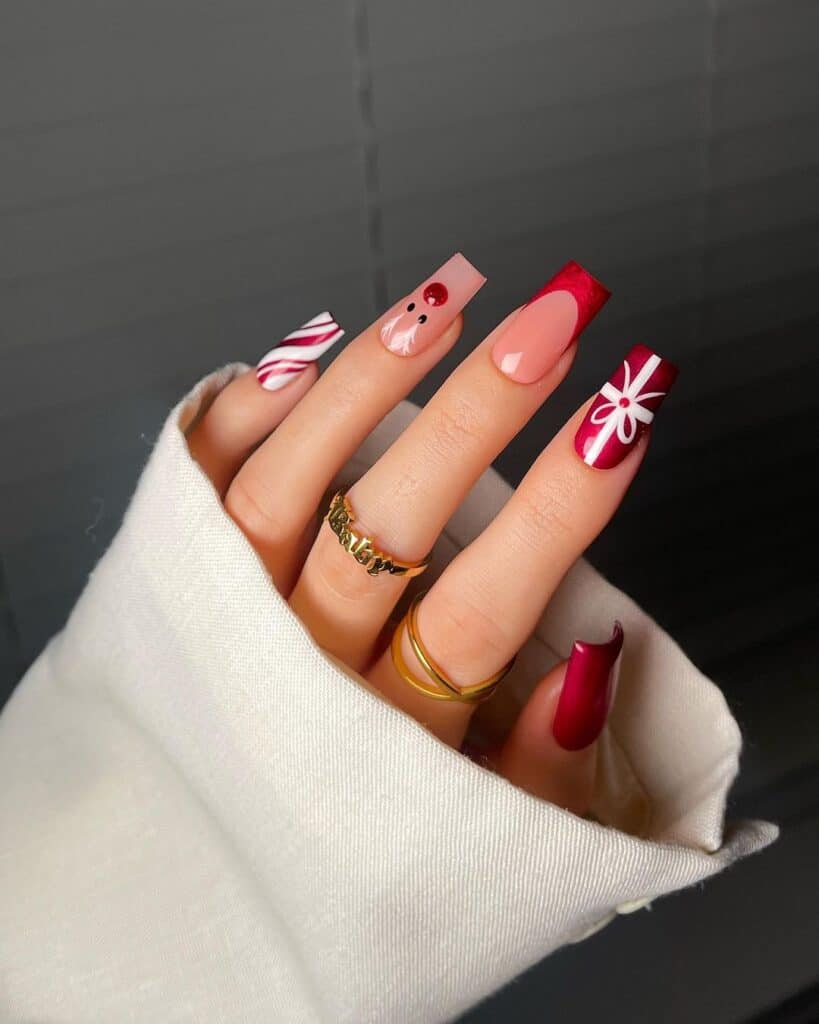 Any red nails for Christmas design that include reindeer nail art has already won me over. The swirl, gift-wrapped, and french tip are all just extras when it comes to this stunning manicure that's definitely going on my must-try list this year.
I also can't help but notice that even though most of the nails are separately cute, they all come together to create quite the glamorous look that's honestly ideal for the festive season.
58. Classic Plaid Red Nail Designs for Christmas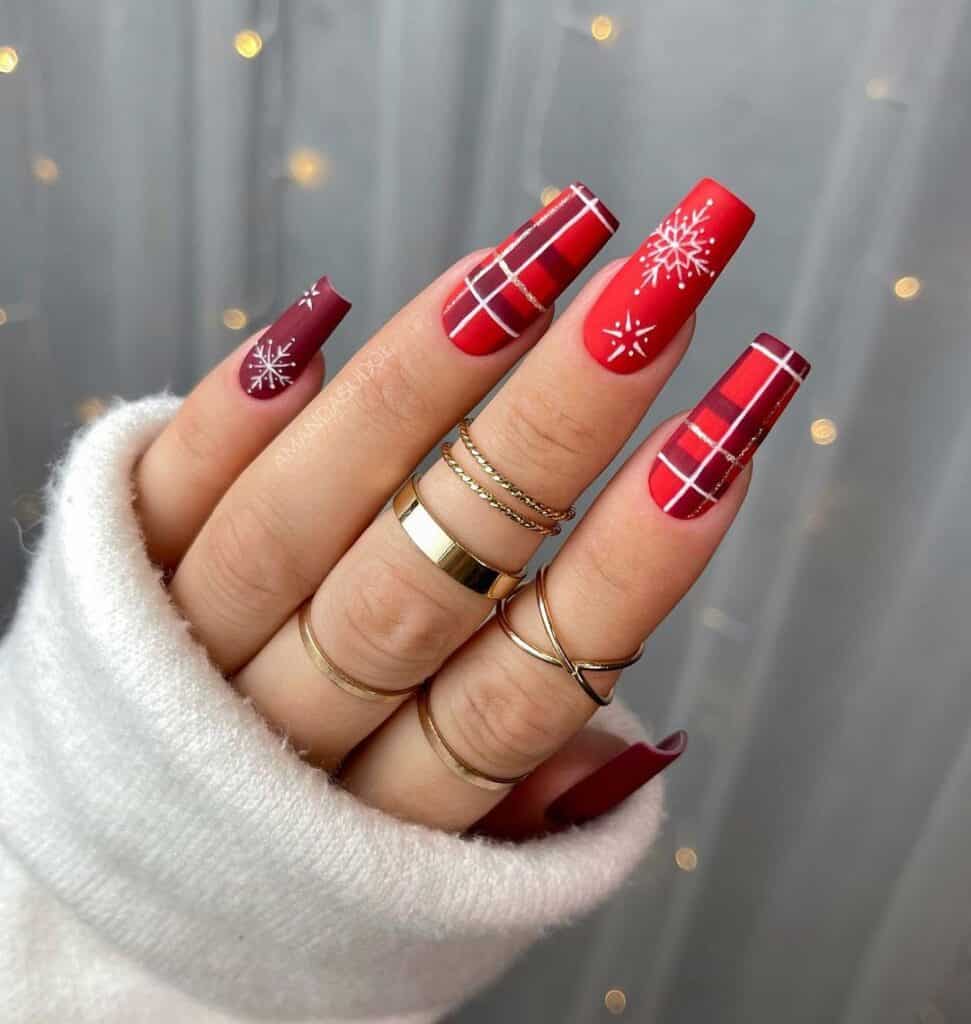 For some reason, these nails remind me of Christmas pajamas. They've got that perfectly plain and cozy look that can still be posted on Instagram and looks as fashionable as any sharp look.
The use of red shades in this look is absolutely genius, and the snowflakes keep things adorable.
This look is a must if you're having a snug yet sensationally stylish Christmas.
59. Red Christmas Nails with Rhinestones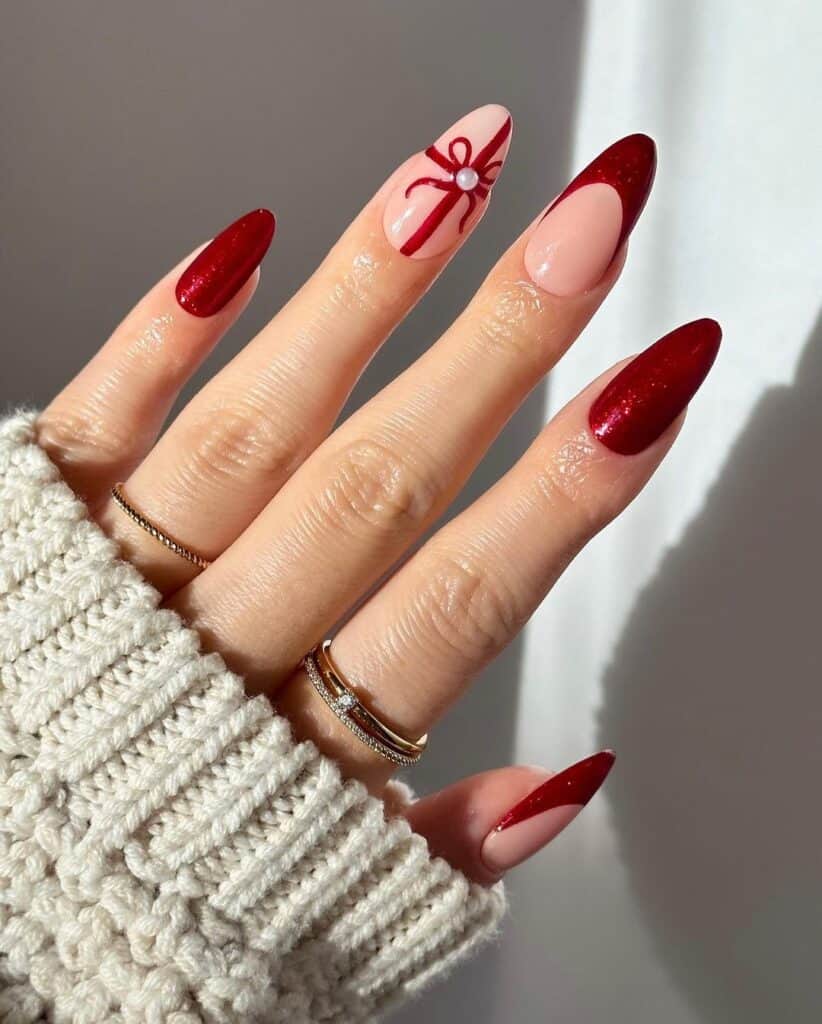 Excuse me, but the first thing I need to point out on this lovely look is the pearl. It's such an intriguing and elegant alternative to the diamond we're much more accustomed to seeing.
Plus, the gift-wrapped bow is a little more intricate and sophisticated than we see on similar looks, which really gives this manicure a graceful and high-quality edge.
These Were The Cutest Red Christmas Nail Designs And Red Christmas Nails To Upgrade Your Nail Art