I only recommend products or services that I believe will add value to my readers. By using these affiliate links, I'll receive a commission if you purchase through my link, at no extra cost to you. Please read full disclosure here
Are you looking for short Valentine's nails to upgrade your short nails for Valentine? These short Valentine's nail designs will help you celebrate Valentine through your nail design while keeping them short.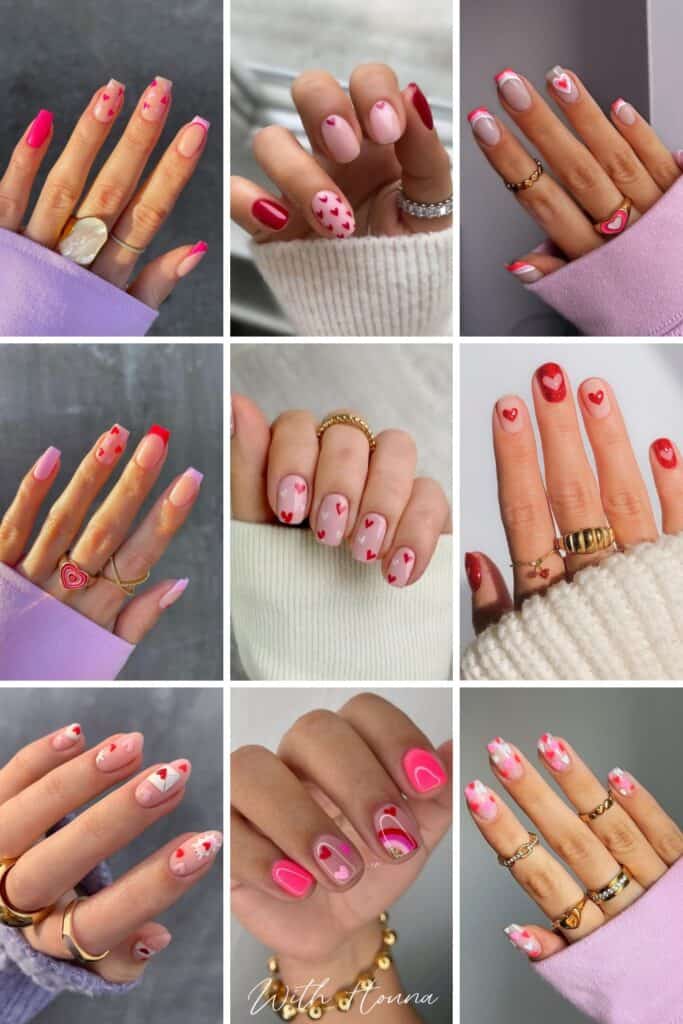 Valentine's Day is just around the corner and everyone is planning to celebrate the month of love their way. For nail lovers like us, we can't miss out on such a chance to celebrate Valentine's through our nail designs recreating the best Valentine's Day nail designs.
Thus, if you're a shorty nails' lover, there are so many ways to upgrade your short nails for Valentine's Day keeping your nails short and sweet.
Short Valentine's nails are a charming way to celebrate the season of love with a touch of style and elegance.
Whether you prefer keeping your nails short for practicality or simply love the aesthetic, there are plenty of creative and romantic nail designs to choose from.
We'll explore delightful and manageable ideas to adorn your short nails for Valentine's Day. From classic red and pink hues short Valentine's Day nails to intricate heart-themed patterns, these short Valentine's nails are perfect for adding a touch of love to your everyday look or a special occasion.
The Cutest Short Valentine's Day Nails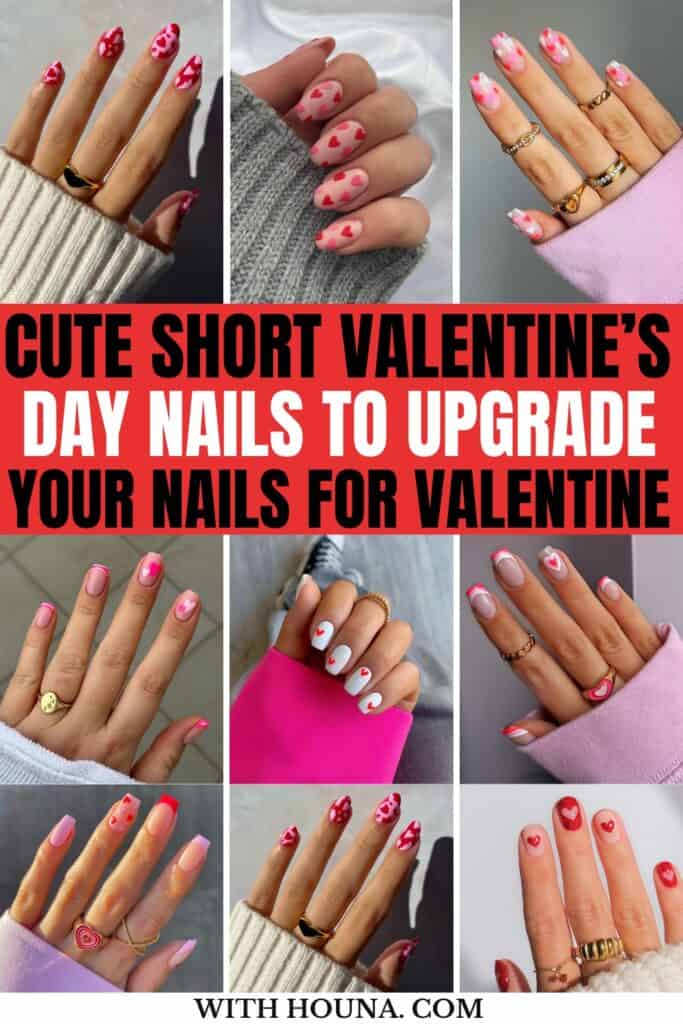 1. Layered Heart Short Valentine's Day Nail Idea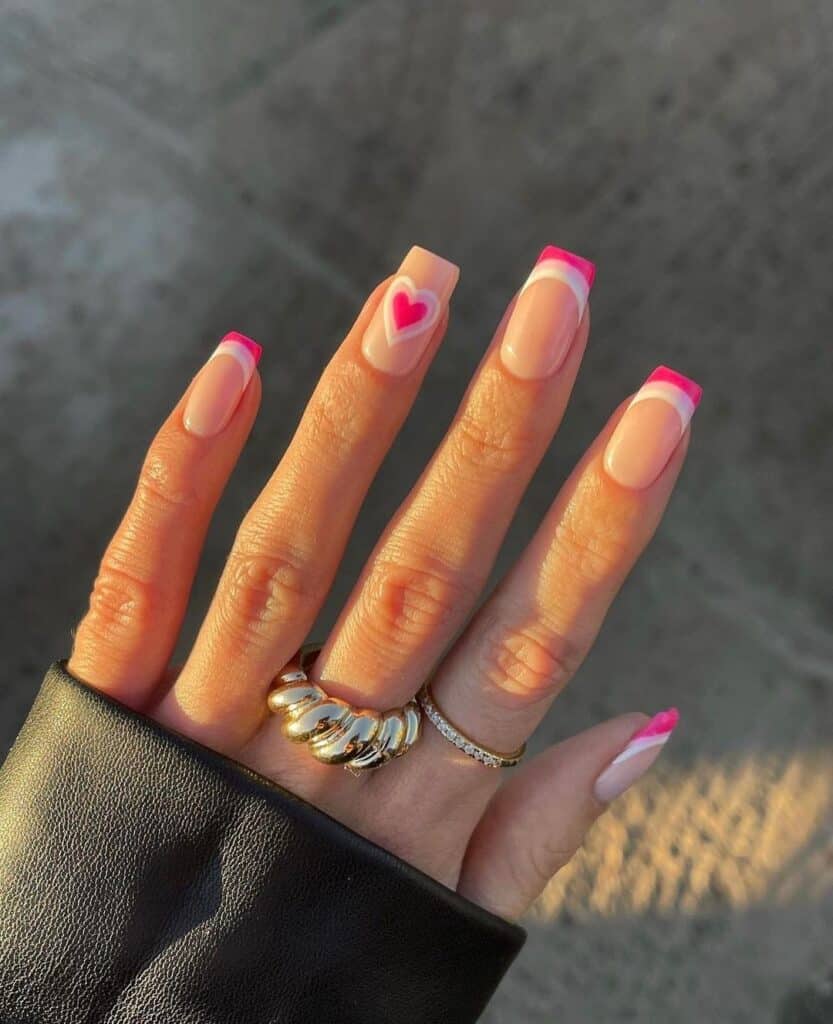 It's Barbie vibes all the way with these retro-chic beauties that have my heart and all of my attention, too, of course.
They're just the definition of pretty with an accent nail added to keep things extra special and cute.
The layered tips and heart are all flower power and carefree, which is what we're all about this season of love celebration.
2. Pink and Red Mini Hearts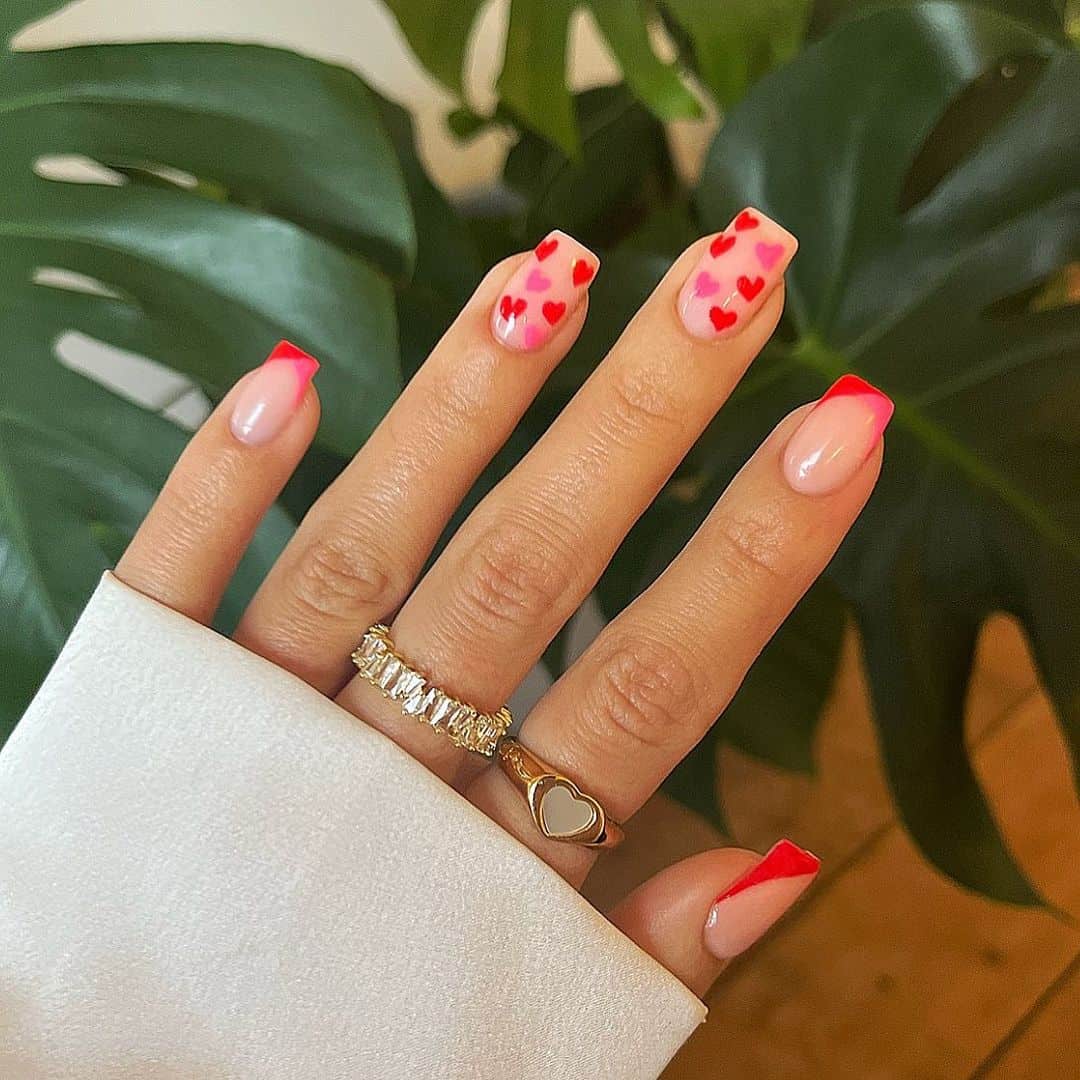 Slanted tips are getting more popular every year, and they're really starting to hit their stride, especially when it comes to Short Valentine's Nails designs.
So, strut them about on your nails this year and enjoy a boost in fashionista cred.
These nails are just the right amount of avant-garde, with the love hearts sprinkled on top, keeping things light, funky, and adorable.
Plus, it's one of those rare designs that make short, square nails really pop without being overcomplicated. It's nail art 101.
3. Short Valentine Sided Nails Tips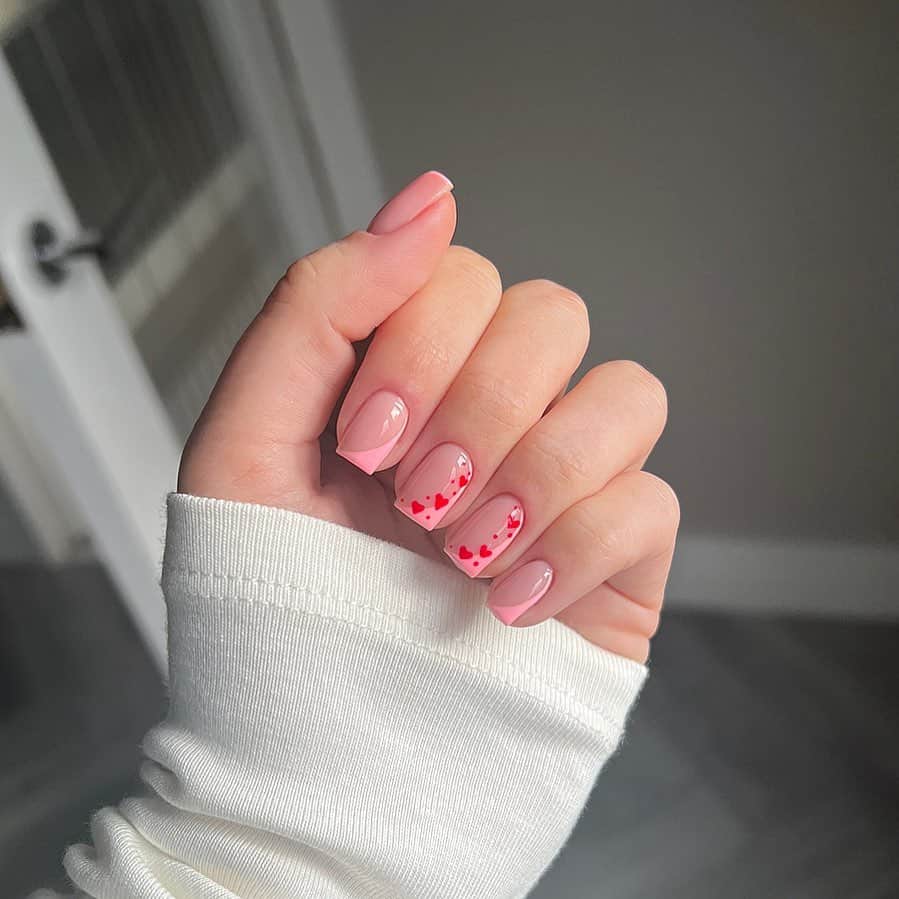 Swirled tips are the new influencer look. They're just the right amount of graceful and daring and add a lovely layer of softness to a traditionally sharp look.
And it's that sharp look that I really can't get enough of it. It's just so short, square, and neat before even considering the light-heartedness of the pastels.
The whole aura of these beautiful nails is just so neat and polished. Definitely a clean girl look.
4. Pink French tip nails for Valentine's Day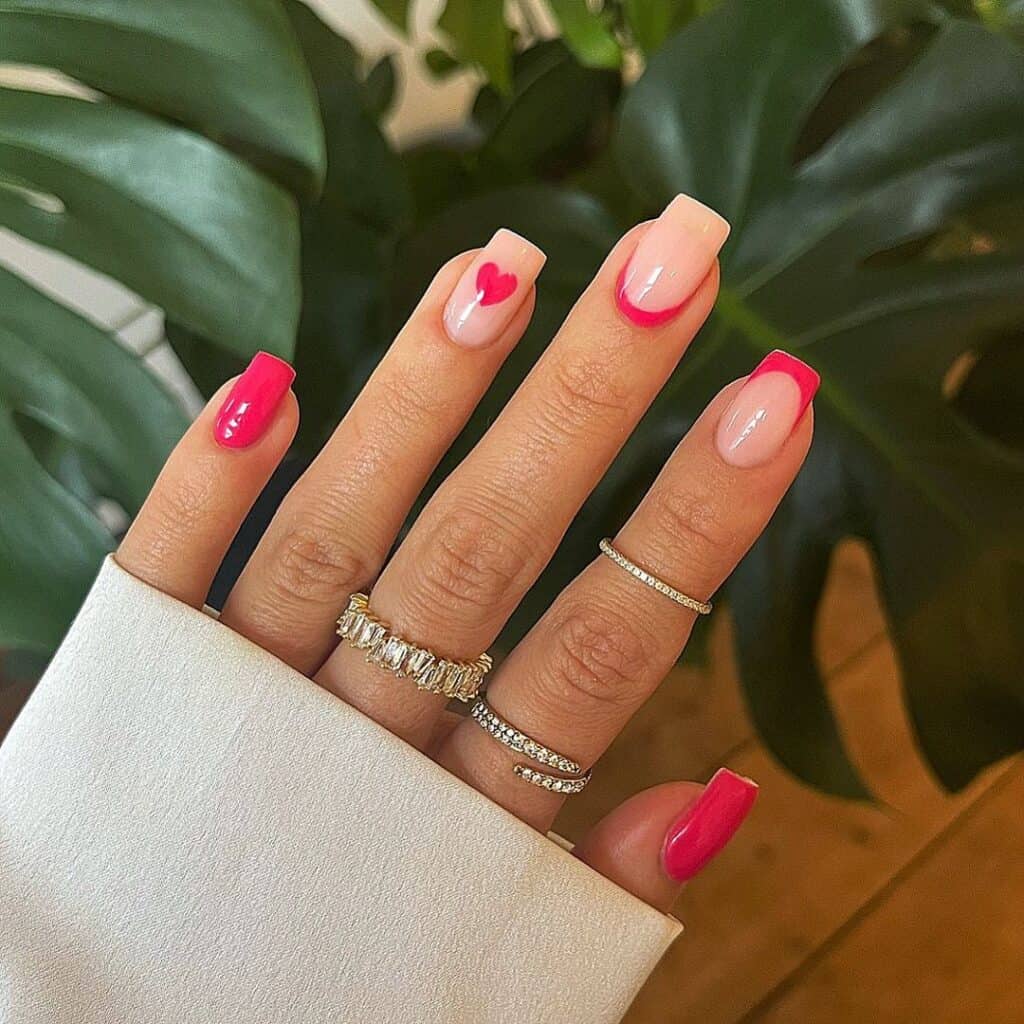 If you're feeling a little bit extra this Valentine's Day and want to really celebrate romance, love, and independence, then grab your favorite hot pink polish shade because it's on the EXACT same vibe.
Few designs are truly worthy of the loud color, but this one has earned the attention-grabbing shade. It keeps things low-key and cute, while the nail polish is all warmth and wonder. I love it.
5. Nude Short Valentine's Day nails with a Touch of Glittery Effect
Champagne glasses and strawberries come to mind with this cosmopolitan design. It's light, fresh, bubbly, and everything your heart could honestly desire this Valentine's Day.
The light-heartedness is ideal for a casual date but also a super fun Galentine's Day.
Plus, the beautiful simplicity of the look is also ideal for on-the-go-gals who'll need to run from the office to their hot date.
6. Short Letters Love Valentine's Nails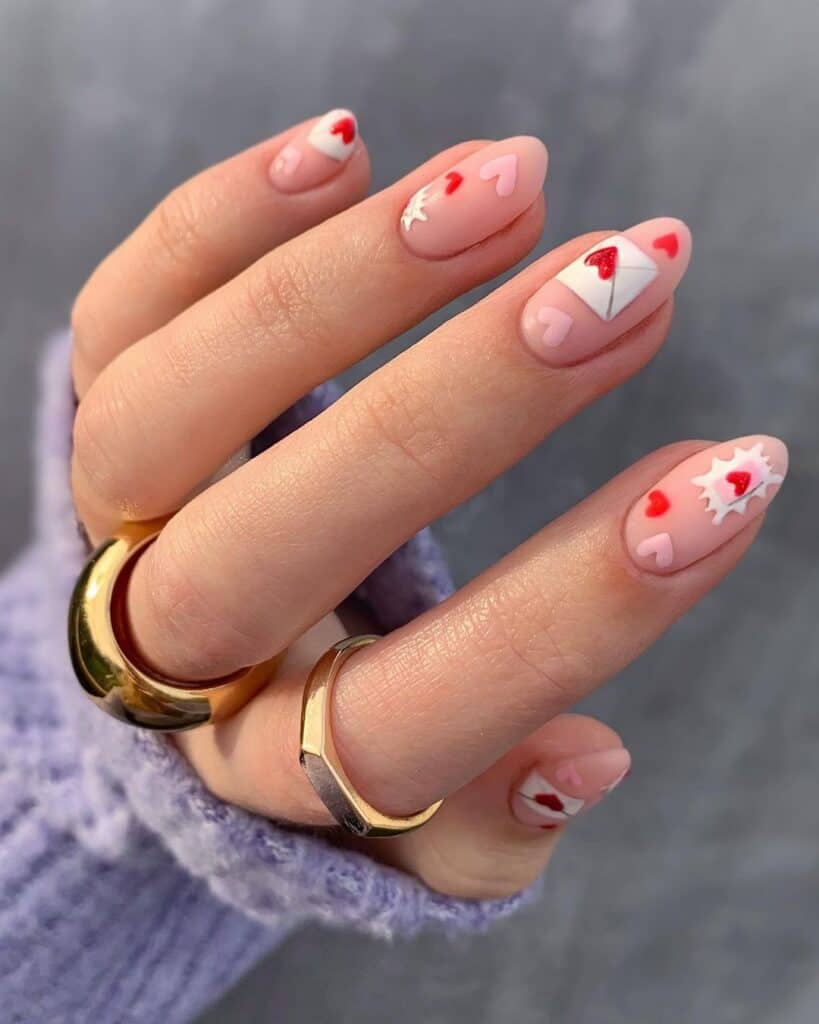 This delightful design writes love, romance, and affectionate across your nails.
This look is ideal for hopeless romantics who melt in front of a Jane Austen novel or for those lovesick couples suffering from the long-distance illness of lack of cuddles and kisses this Valentine's Day.
These nails show your yearning in such a unique and distinct way that's entirely one-of-a-kind while getting your message across.
7. Hearts French Tip Nails for Valentine's Day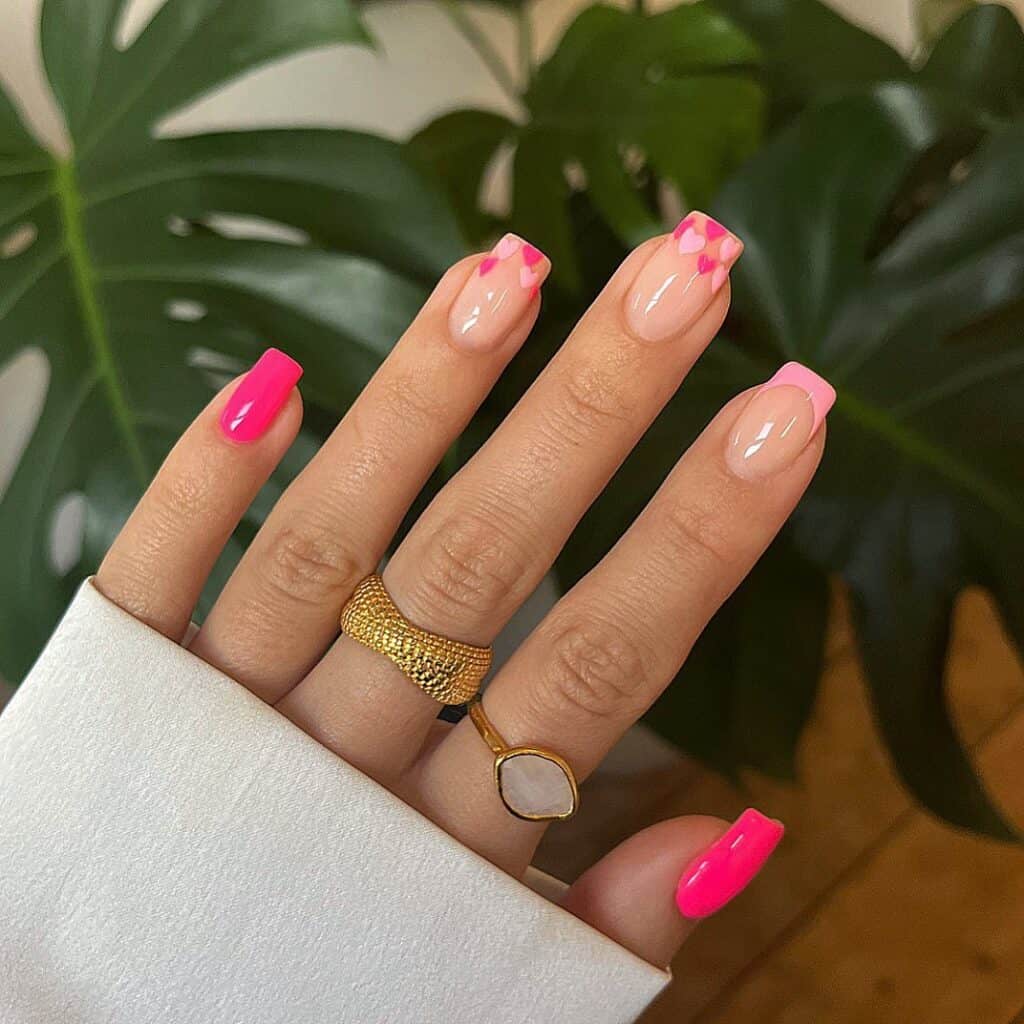 This manicure is giving self-love vibes. They're like a lovely little ode to yourself and ideal for the gal who knows she's worth celebrating.
Also, you deserve to rock nails this gorgeous. But beyond vibes and focusing on aesthetics, this manicure is delightfully minimalistic and charming without going overboard.
The pastel pinks match all outfits and keep you looking and feeling your best self this Valentine's Day.
8. Pink Base Nails with White and Red Mini Hearts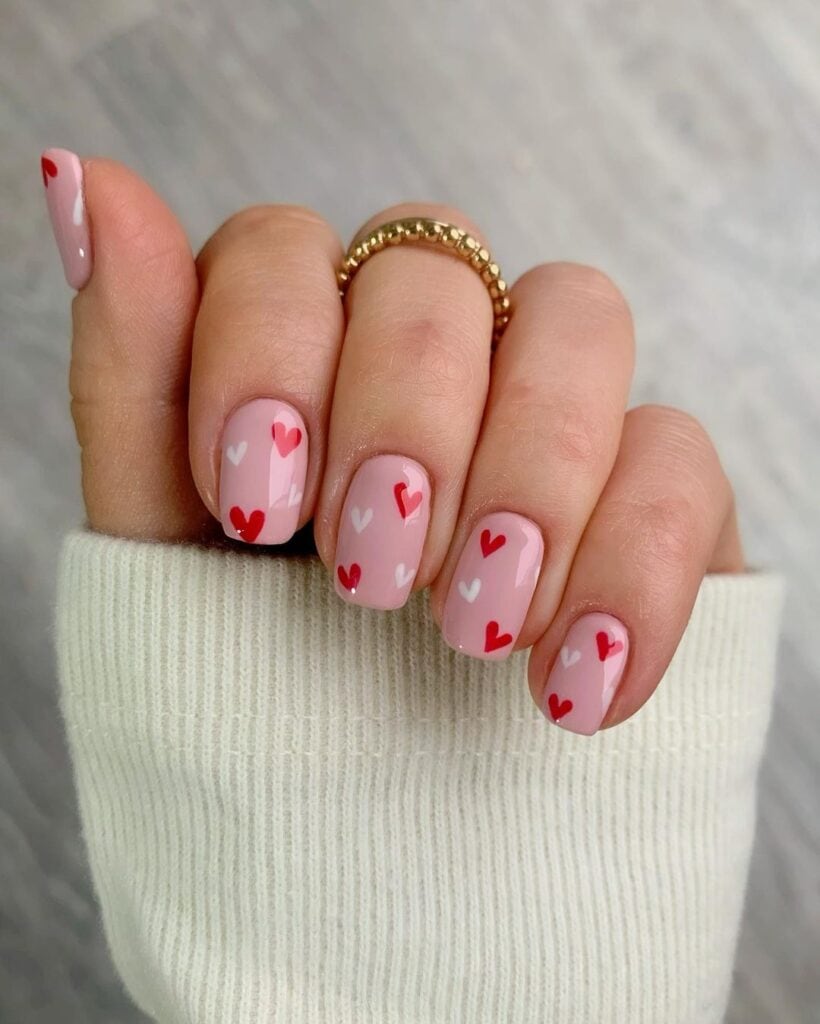 These are coffee date nails. They're warm, classic, and can be worn on literally any nail shape from short to stiletto.
The shade is subdued while the love hearts are sprinkled on top gorgeously, creating a contrast effect that's absolutely to die for.
They're ideal for all vibes, moods, and occasions, so definitely try these out if you're not sure what you'll be doing for Valentine's Day this year.
9. Pastel Short Valentine's Day Nails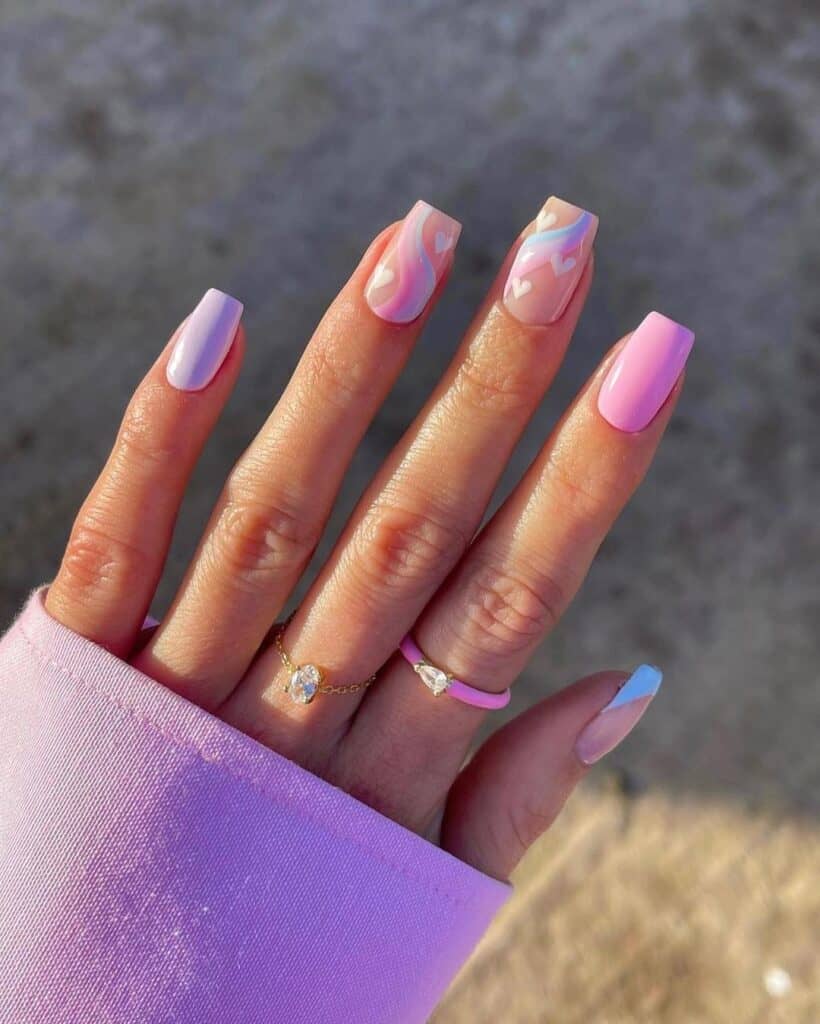 Pastels are life. They're also pure love and good vibes, especially when they're interwoven, swirled, and dotted on in love-heart shape.
It's fresh and warm at the same time in the way that only light blue, purple, and pink could be. It's giving delicious dessert and superstar.
I just love how stunning they are and also elegant at the same time, thanks to the long, square shape. Get after these nails now.
10. Layered Heart Short French Valentine's Nails
Here, we have Barbie doll nails. They're groovy and powerfully pretty at the same time, which is what we're all about here.
I also love the milky white base that gives any manicure an otherworldly aura while enhancing the pink nail polish colors.
The love heart is also gorgeously psychedelic-chic, which is so huge these days, making this manicure trendy.
11. Short White Valentine's Day Nail Design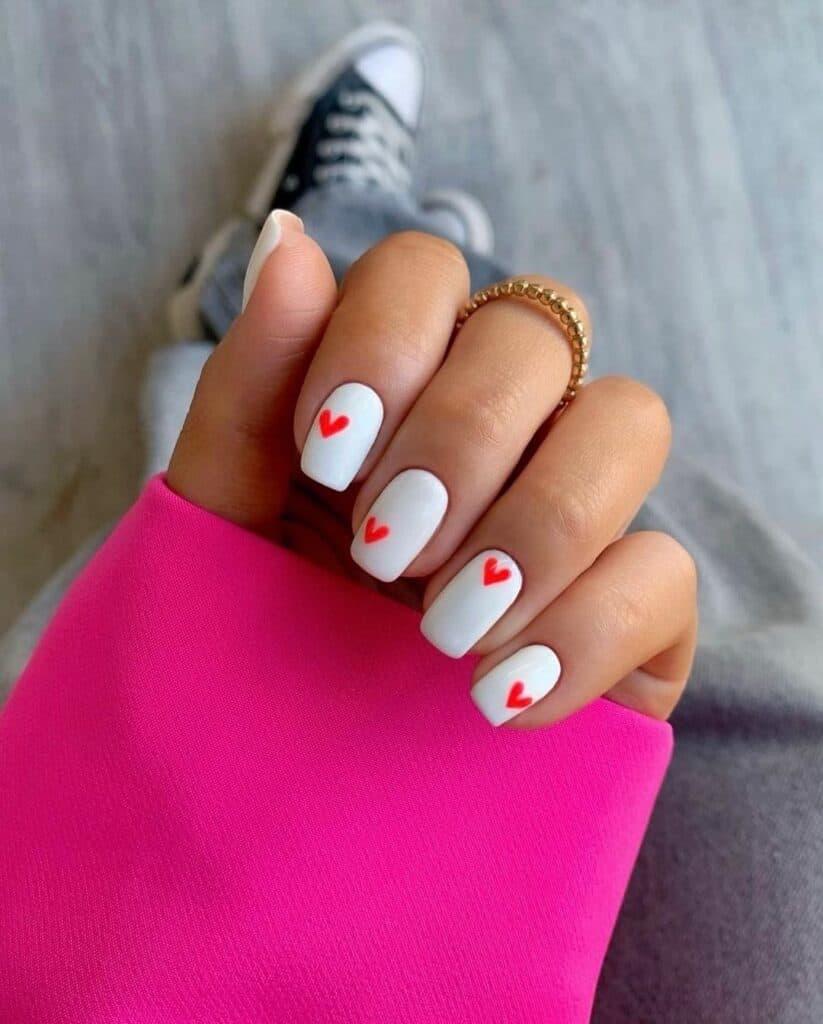 Just because it's Valentine's Day doesn't mean your nails have to be completely red or pink. You can opt for the most neat, clean, captivating, and truly lovely color of all.
Plus, it makes for the perfect, dreamy backdrop to any lovely masterpieces you paint over the top like these charming lovehearts that almost appear to be floating over the hand.
It's truly ethereal while also minimalist enough to vibe with all of your Valentine's Day outfits.
12. Pink Swirly Short Valentine's Day Nails Design
Swirls are claiming this moment as their own, and as far as this Short Valentine's Nails design is concerned, the more swirls, the better.
Like an explosion of romantic vibes and lovey-dovey waves, this design is so captivating and really at the cutting edge of Valentine's Day nail trends.
Plus, it doesn't scream Valentine's Day due to being rather abstract in design. Rather, it whispers love in the most funky and positive way possible. I love it.
13. Sparkly Glitter Gradients
These are the nails we dreamed of as girls. They remind me of princesses going to the ball and fairytales where there's always a happy ending.
If you're looking to manifest that for yourself this Valentine's Day, as you deserve, then these are the nails for you.
They're just so darling and charming and just twinkly enough to catch the eye. Really, they make my heart melt.
14. Short Doubled French Tip Nails for Valentine
Multi-layered tips are here to take over the world, especially when they're done in a gradient style that makes French tips look superhero-esque somehow.
They're also fantastic if you're preparing to dip your toe into the trailblazing comic nails trend but aren't sure where to start yet.
And getting to the psychedelic heart, it's just so retro-chic and gorgeous that it works like its own little love potion.
15. Tiny Metallic Hearts' Nails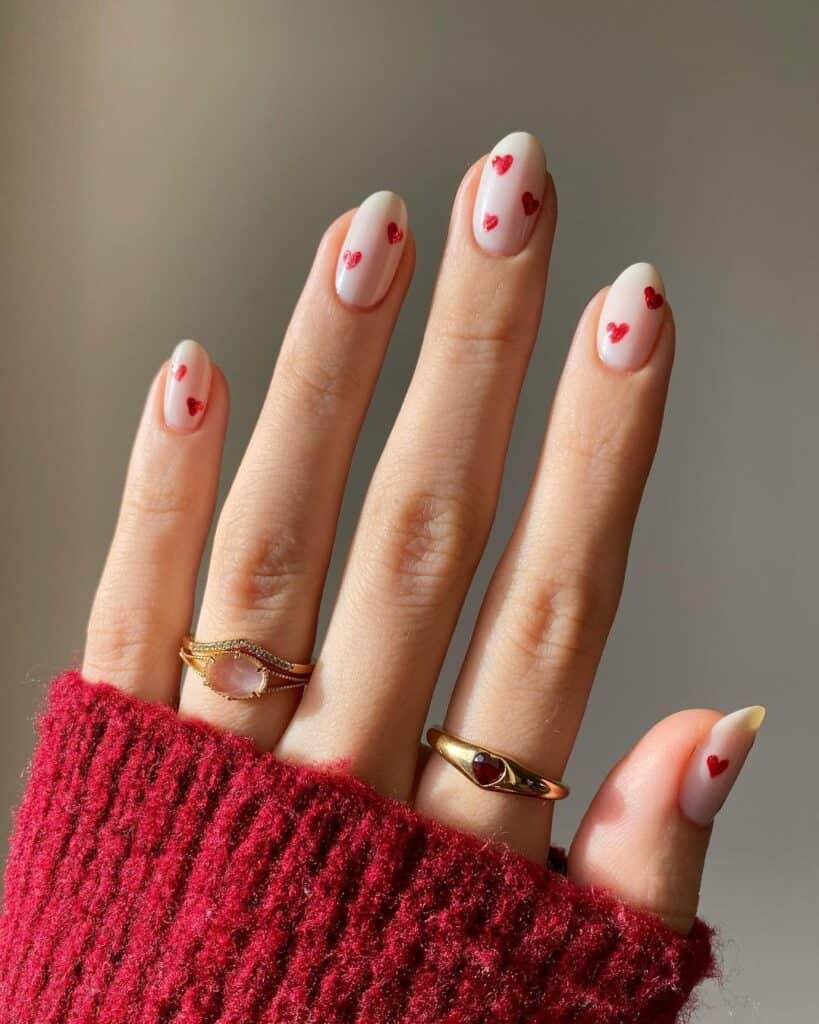 I am absolutely head over heels for these nails for more than one good reason. First of all, metallic and chrome are in.
They're fresh, futuristic, and quite sci-fi, which we're all about these days.
Next, they're set to a milky white backdrop, which is calming and sophisticated in its own right but also functions as a great canvas for any nail art painted on top, like this roaring red and shimmery love hearts that are the epitome of adorableness.
16. Simple Red French tips with Baby Heart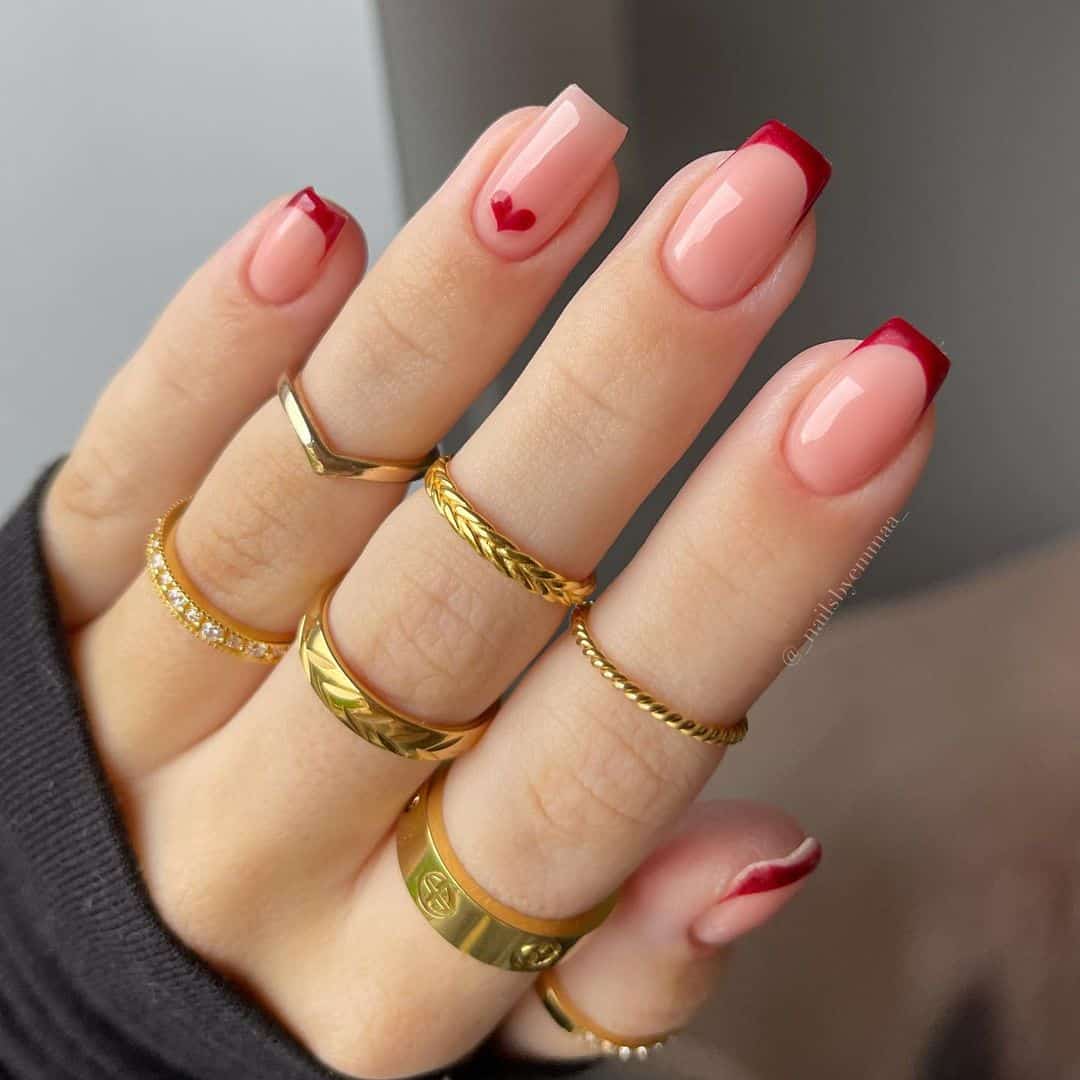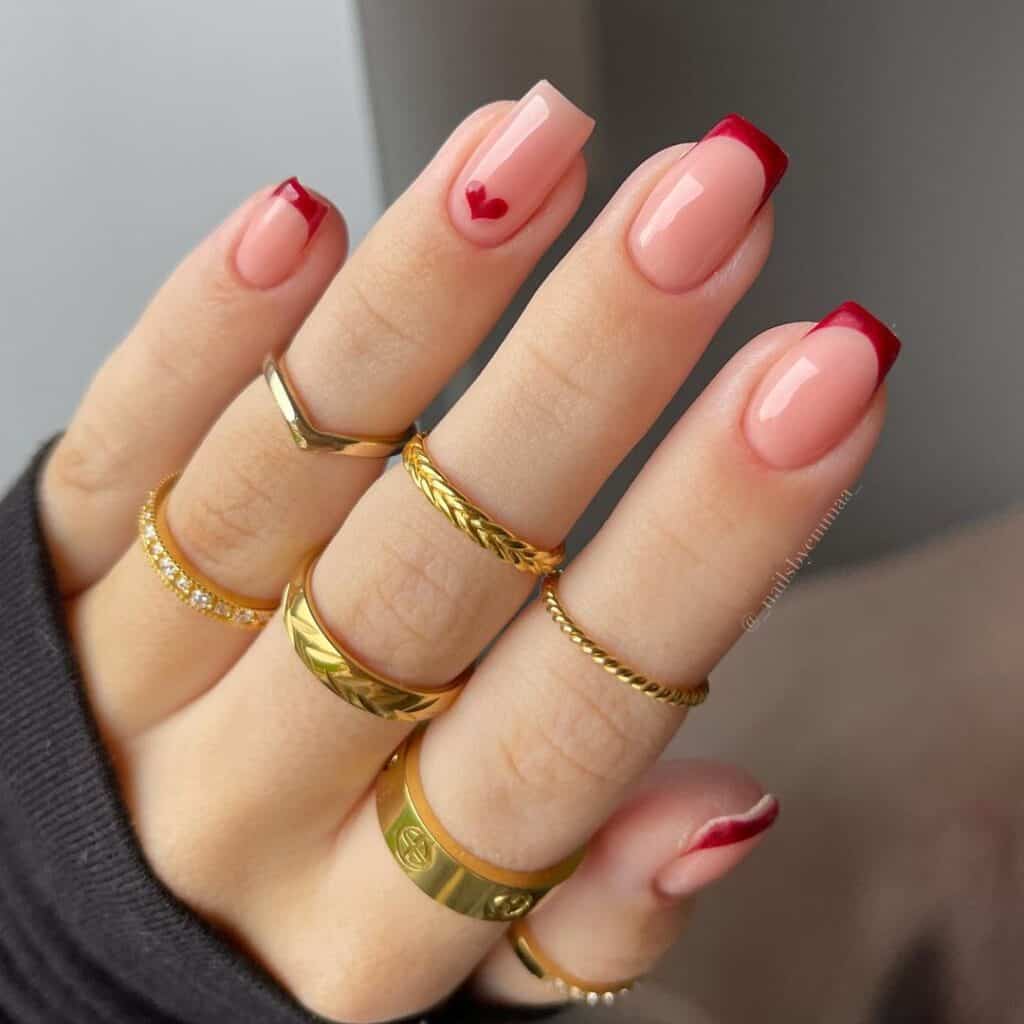 These are wine night nails. So, if you're being wined and dined this Valentine's Day, then these are the fabulous French tip nails for you.
The tips are like a little whisper of elegance atop your nails, while the love heart speaks of love.
They're formal, like a waltz across a ballroom, and classy in all the right ways. They're seriously beautiful and fit for a regal queen.
17. Gardient Hearts' Nails for Valentine's Day
Short Valentine's Nails designs are getting pretty wild this year. I'm loving seeing all of the gradient designs that have clearly come from innovative fashionistas with a flair for the fabulous.
Seriously, these nails are the most trendy you'll find this year and add a little mystery to your vibe this Valentine's or Galentine's Day this year.
They cover all romantic shades in a consistent pattern that's gorgeous while suiting literally all vibes and occasions.
18. Cute Short Black Hearts Valentine's Day Nails
These are the most delicate and dainty nails I've seen this year. They're so doll-like and dreamy, with just the right amount of shimmer.
I love the innocence and sweetness of the manicure. It's just wonderful and ethereal. The black hearts and dots ground the look a bit while also certifying this manicure as a Valentine's Day beauty.
19. Matte Pink Valentine's Tip Nails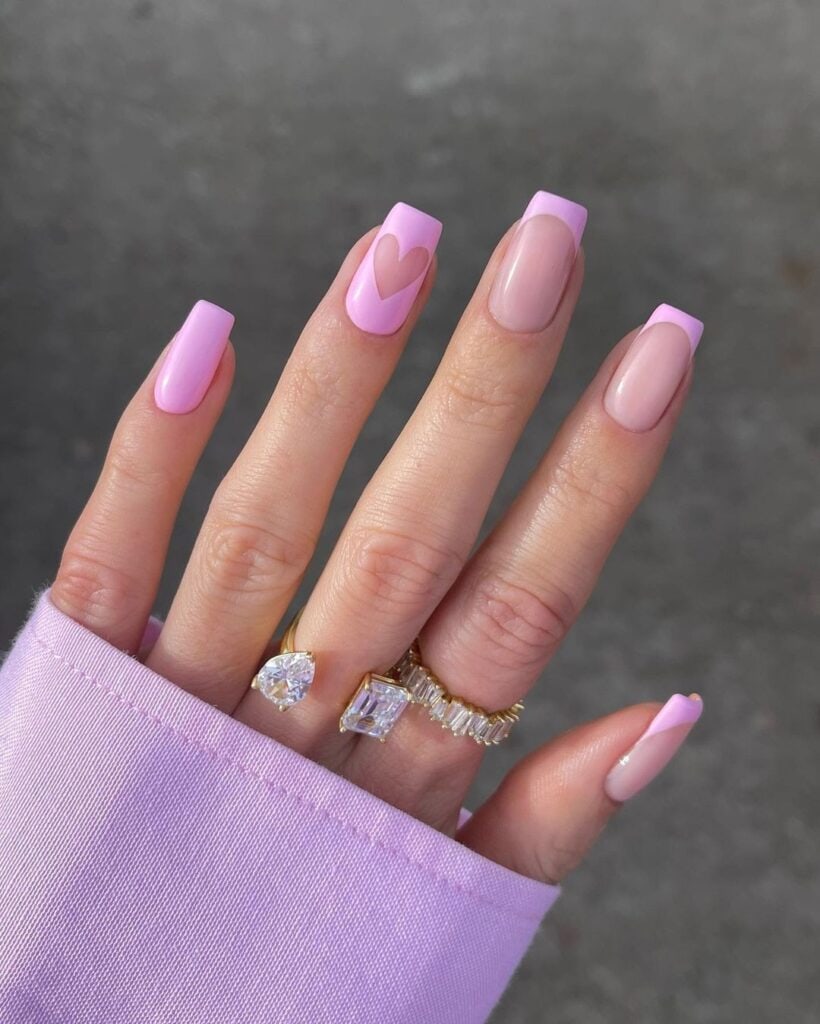 Sometimes, you're not feeling Valentine's Day, and that's okay. You can scoff at the people holding hands and kissing over candlelit dinners with these fabulous nails by your side to be a pick-me-up.
You'll look and feel fabulous throughout the day with these all-year, all-occasion nails that only nod toward love instead of screaming it out loud. And all in fabulous style, of course.
20. Short White Valentine's Nails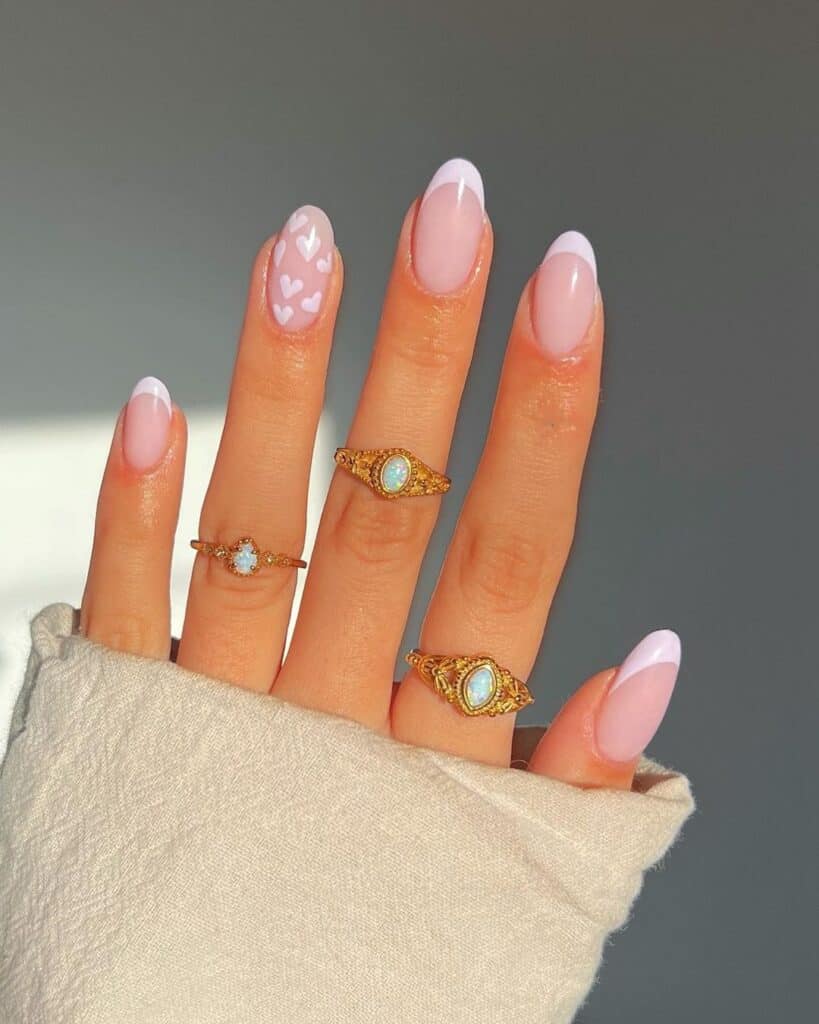 Did you know that most proposals happen on Valentine's Day? If you think you might be adding to that statistic this year, then be sure to add these nails to your special day.
They've got all the elegance and sophistication you need while adding a graceful sprinkling of love hearts to really bring the romance.
Most of all, they're minimalistic and look absolutely gorgeous in photos while allowing your ravishing new ring to shine through so you can show it off far and wide. Enjoy, and best wishes.
21. Short Cupid Nails for Valentine's Day
Here are the nails that you can wear literally anywhere. They cover all Valentine's Day bases while looking just the right amount of extra to pop in person and stand out in photos.
Still, despite their ability to catch attention through loud shades, the relative simplicity of the design means they won't clash with your date night outfits while working fabulously with any rings you decide to pair them with.
22. Short Cloudy Valentines Nails
Short Valentine's Nails can be works of art that look like they belong in your nearest modern art museum.
Seriously, this manicure should go down in history as one of the most gorgeous Valentine's Day nail designs ever created.
It portrays all of the excitement and butterflies of the most lovely day of the year while also seeming to be right out of a fairytale book.
Short nail designs have never looked so good, so they're going right into my must-try collection for this year. 
23. Swirly Valentine's Day Hearts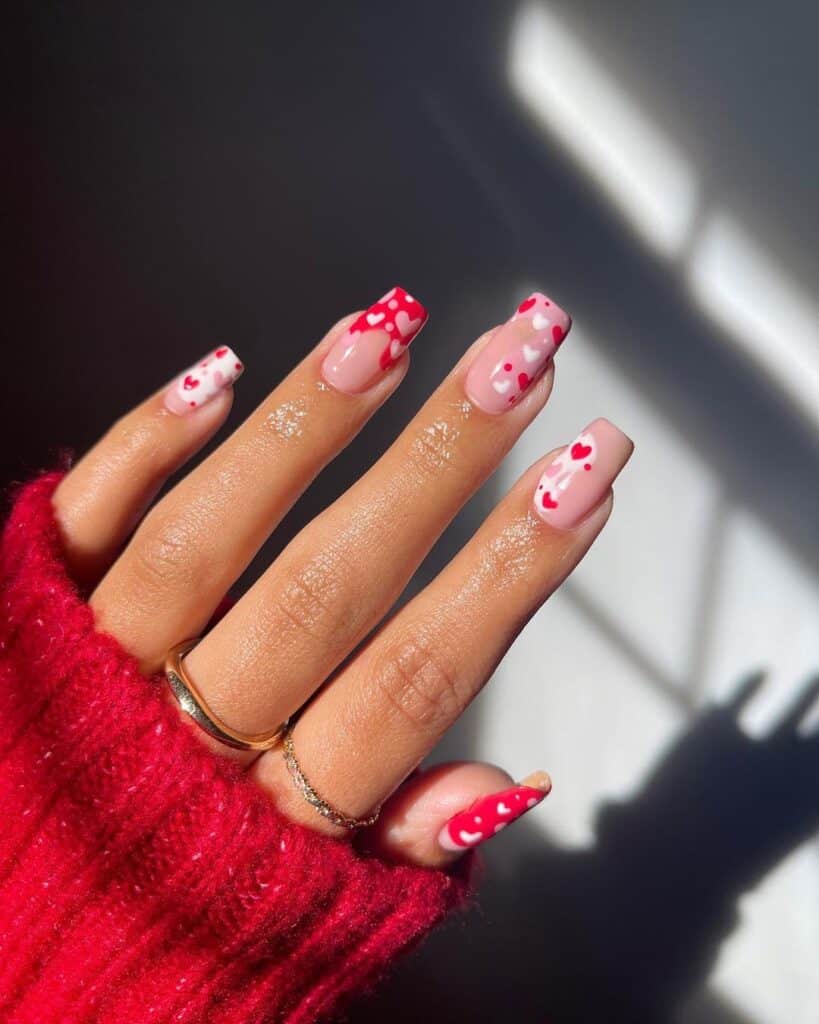 It's manicure designs like these that make me fall in love with nails all over again, and right in time for Valentine's Day.
I know the design is primarily swirly, but they remind me of gorgeously melted French tips that are dripping down the nail with love heart sprinkles on top.
It's really just so so sweet and entirely one-of-a-kind. There's also a cozy and warm feel to the nails that's ideal for a more low-key date night.
24. Barbiecore Nails for Valentine's Day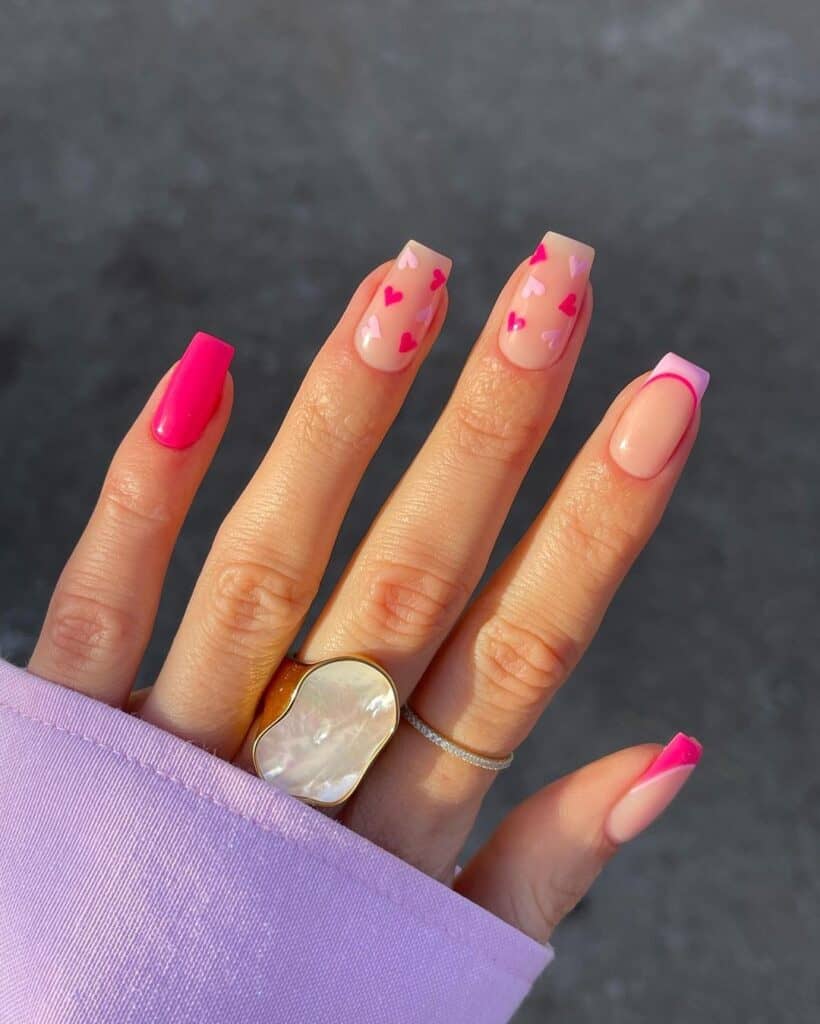 Most of us have been waiting a lifetime for Barbie nails to become super trendy, and now that they are, we're going to make the most of it.
Here's one of my favorite Barbie manicures that's so Malibu-chic and honestly looks like it was designed by Mattel.
While the key to bringing out the California-chic vibes in this manicure is definitely the pink shades, the perfection and neatness of the lines is also essential, so consider treating yourself to a trip to the salon to really Barbie-fy your nails this Valentine's day.
25. Valentine's Glazed Donut Nails with Pink French Tips
Yes, even short Valentine's Day nails are included in the gradient manicure nails that have taken over the beauty scene and possibly the world.
Honestly, they've revolutionized the whole game so much that this multi-shade style has found its way into every season's new looks for almost two years now.
Be sure to draw the tips on high and add a shimmery over or undercoat to really complete this manicure's fabulous flourish.
26. Comme Des Garçons Short Valentine's Day Nails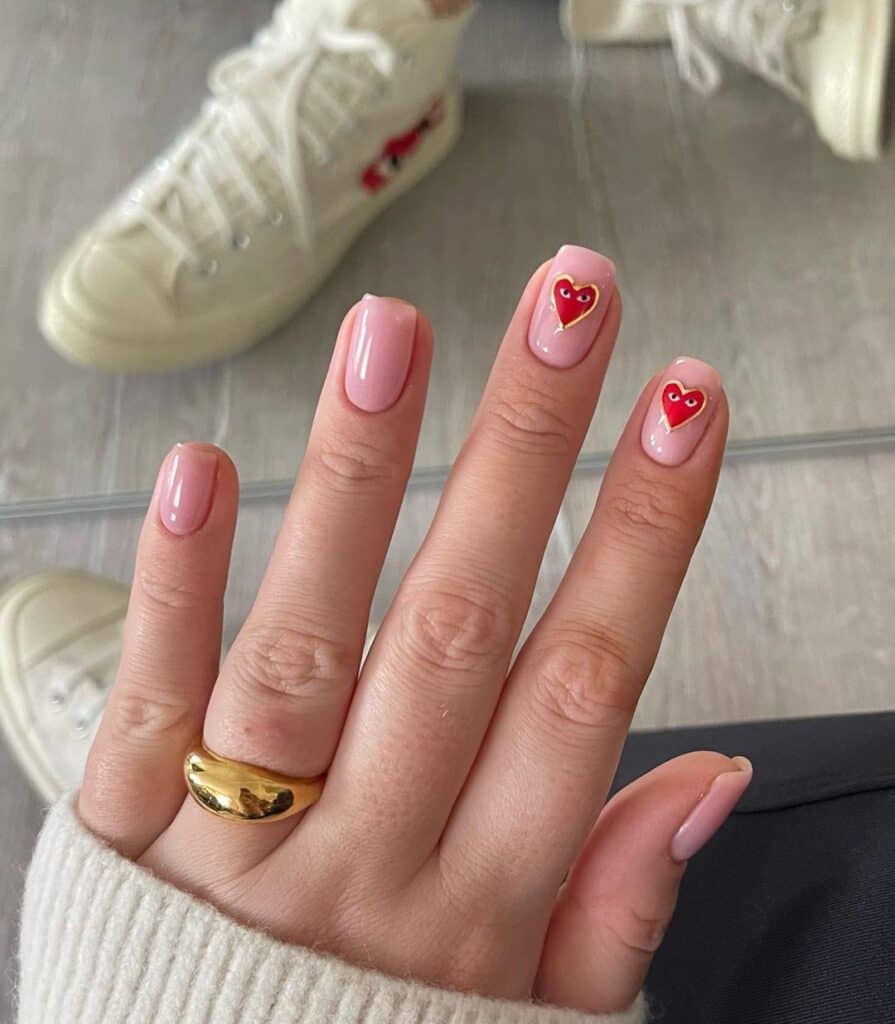 Milky white and blush bases are the foundation of today's nail trends. They ground even the loudest of looks and add a fresh twist to classic designs, as we see here.
All you have to do is paint on two love hearts before adding eyes using a small brush or a toothpick and you've got one of the most distinct Valentine's nail designs of the year.
Be sure to line the heart using gold polish, and you're ready to show this stunning manicure off.
27. Valentine's Day Daisies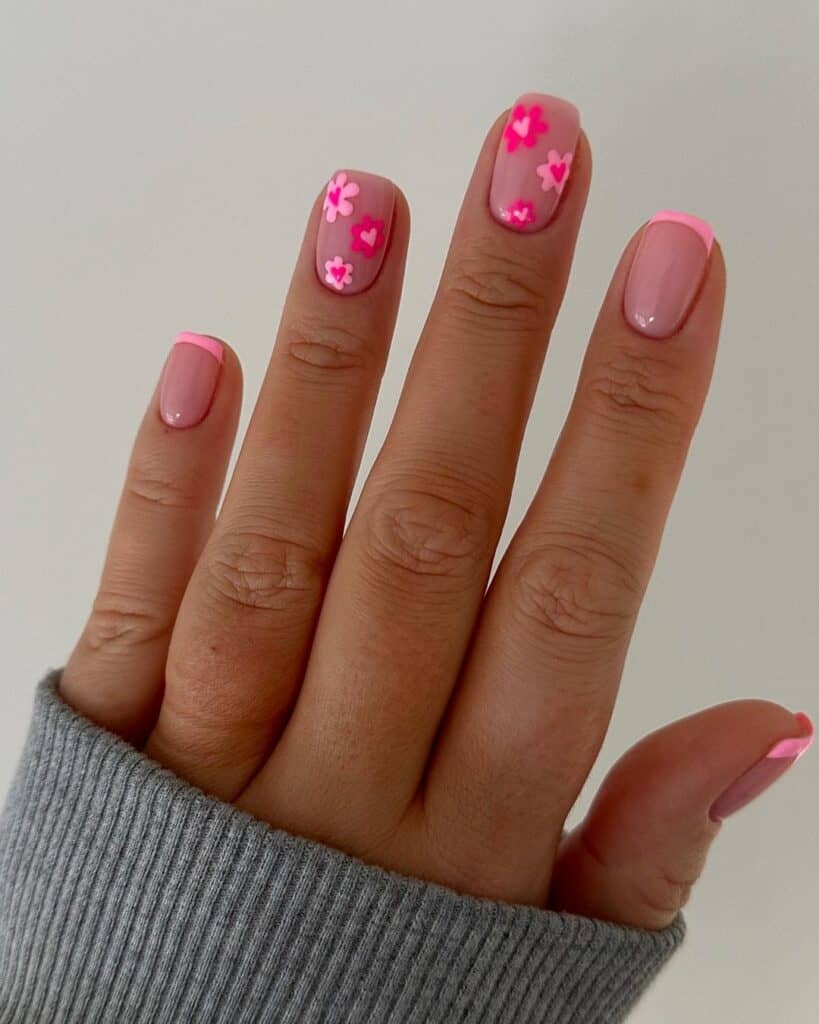 Flower power never goes out of style. The funky, fresh, and groovy vibes are always trending.
They're also low-key Barbie, which is why they're even bigger than usual recently. The thin-lined French tips are ideal for short nails, keeping things looking neat and making most out of what you've got.
However, the love heart studded flowers are the star of the show here, and I really can't take my eye off them.
28. Heart Details Nails
French tips are made for Valentine's Day. They look like a good date feels like.
No matter how they're done, there's always a bit of excitement and good vibes to them, with that unique hint of chicness that we all love.
To really get the most out of this look, be sure to take good care of your cuticles, pare them well back, and draw the tip on high to create the illusion of length.
29. Minimal DIY Valentines Heart Nails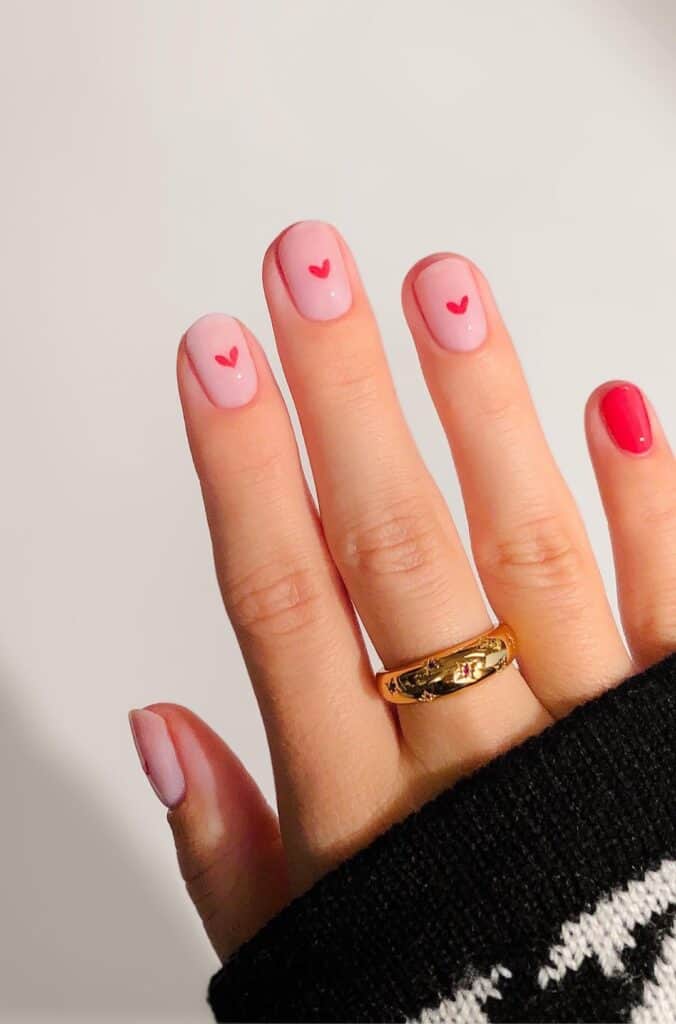 Every year, one look hits the scene that claims everyone's heart.
The usual formula is a heap of chicness, a dash of cuteness, and a little sprinkle of glamour.
Here, we see the recipe perfected, and the result is absolutely flawless. It's one of those looks you can wear absolutely anywhere with absolutely anything and that you won't be able to stop looking at.
So, fall in love with your nails this year and treat yourself to perfection.
30. Final stage Valentines Nails
Short Valentine's Day nails but make them Galentine's day nail perfection. These are THE nails for a girl's night.
They're stunning, all good vibes, and bursting with love. They're also so neat and chic that they're sure to land you endless compliments, especially if you post them online for all of us to go goo-goo gah-gah over.
31. Checkmate Valentine's Nails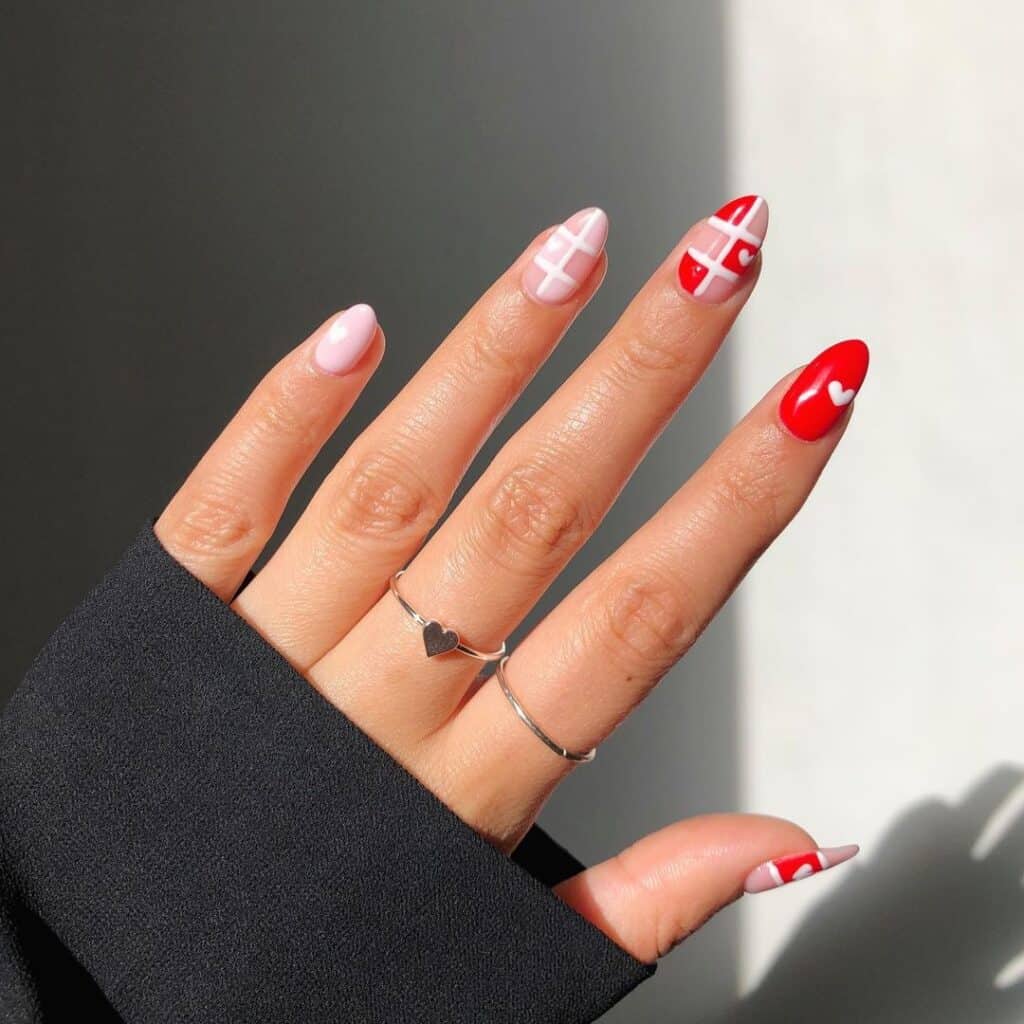 Short Valentine's Nails don't always have to be synonymous with subtly or simplicity. You can enjoy plenty of creative and trendy nail art that bring out the best in your shorty beauties.
My favorite part of this manicure is the subtle differences in shades, especially the barely-there blush on one of the checked nails.
32. Short Infinity Hearts Valentine's Day Nails
There's a fun and playful side to romance that these nails reflect perfectly. Neither casual nor formal, they rest in that Goldilocks zone that's perfect for all Valentine's Day vibes, moods, events, and occasions.
Heart nail designs were honestly made for Valentine's Day. Be sure to pair this look with love heart rings or Valentine's Day-inspired jewelry to really complete the lush look. 
33. Short Sparkly Valentine's Day Nails Idea
These nails remind me of fine jewelry and, well, all of the finer things in life. The backdrop to the main sparkly love heart show looks like pink pearls.
Some of the natural nail shines through this underlayer, making this look all the softer while the shimmery glitter whispers glamorous and screams love. Which is exactly why I love them.
34. Pink Nails for V-Day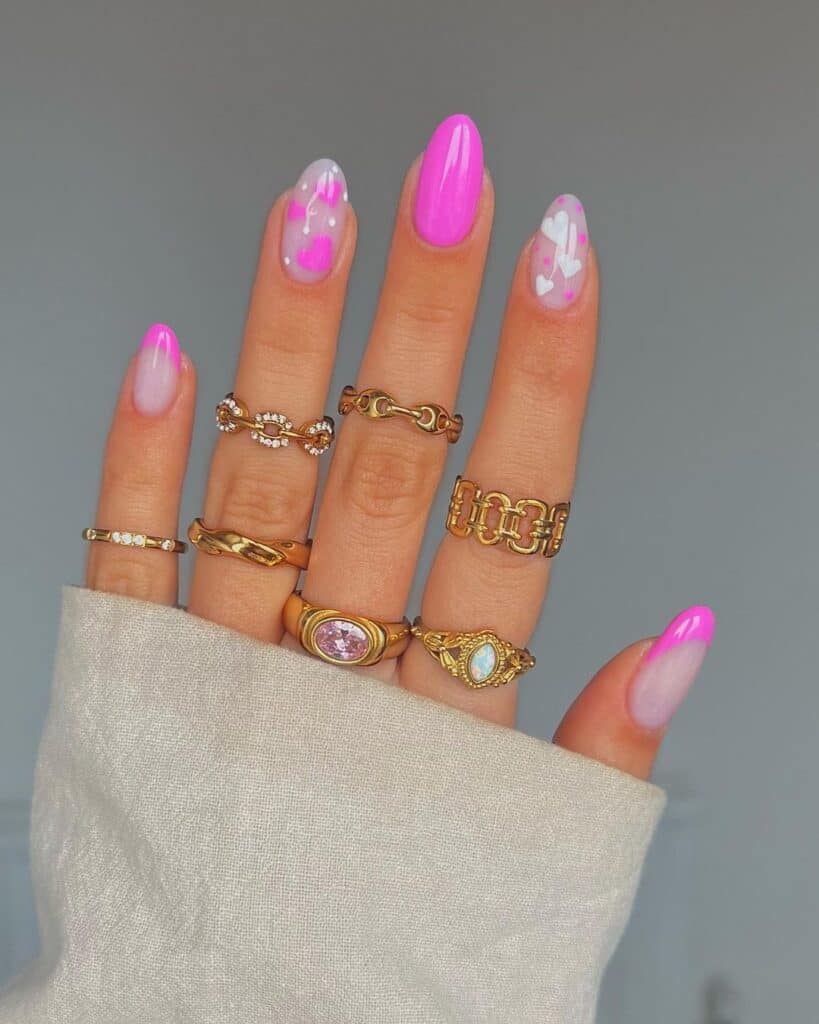 This manicure is downright darling. It's like the froth off the top of a cappuccino, a lovely snuggly teddy bear, and hand-holding while the Valentine's Day fairy lights set the backdrop to you and your love's lovely day.
Plus, beyond that endearing vibe, it's also Barbie, and that's what really matters in the year of Barbie.
So, treat yourself to these Valentine's Day game-changing nails this year; you won't regret it.
35. Short Monochrome Valentine's Nails
Who says anti-Valentine's Day nails can't be charming and downright stunning. Here we have the baddie nails.
They're full of attitude edge and look like they own the place. They're also very cool, calm, and collected and are the manicure equivalent of a leather jacket.
Black and white are a classic combo that never fails. Add a few love hearts to the mix, and this look is for every fashionista this Valentine's Day.
36. Pink Hearts with Rhinestones for Valentine's Day
These are the nails for star-crossed lovers who wear their hearts on their sleeves, dive head first into love, and do it all in fabulous style.
It's light-hearted and charming, with an explosion of bling that brings the glamour. If you're planning on having a fun and memorable Valentine's or Galentine's Day, then these are the nails for you.
37. Short Cut-Out Valentine's Nails
Short, square, and sweet nails? No problem. All good things come in small packages, like fine jewelry, engagement rings, and gorgeously neat nails, which this design just so happens to be made for.
I just adore how the negative space nails are turned into cut-out nails since the cute little love hearts are painted on the next nail. It's just such a delightful and dreamy look.
38. Shades of Pinks Short Valentine's Day Nails
If Cleopatra were alive today, these are the Valentine's Day nails she'd pick. She'd also post them all over Instagram for all of us to gush over because they're downright delightful and absolutely beautiful.
The milky white undercoat and soft oval shape are key to perfecting this prepossessing look that's sure to win hearts.
Plus, get your bling out to really make this regal look pop.
39. Colorful Hearts Nail Design
Maybe it's the vibrant colors or the adorable vibes on the small-sized nails, but this manicure reminds me of the Powerpuff Girls.
The nails are just brimming with personality and power. They're also so radiant and just leap off the nails.
Be sure to add a generous layer of clear overcoat to really bring out the glossiness of this lush look.
40. Cute Valentine's White French Tips with Mini Red Hearts
With this design, your nails will be dripping with love hearts and only love hearts. There's really nothing to this classic look than red polish and classic French tips.
So, you can style these nails however you see fit; they won't clash with any accessories or outfits, and you could even get away with them at the office.
41. Valentine's Day Mix and Match Nails
If you're taking it easy this Valentine's Day and plan on taking yourself out on a date and partying all whole week long, take these nails with you.
They cover almost all of the latest trends and look utterly cool and absolutely quirky while keeping things stylish.
They're pretty and playful and all things nice, so if you're feeling all the vibes this year, then these are your nails.
42. Short Dovey Cow Print Nails for Valentine's Day
Animal print has literally never looked so good. Whatever genius nail designer managed to make cow print look chic, I want to say thank you a million times over because these are now going to be my go-to animal print nails.
The contrasting shades work perfectly together, and I just adore how some of the pattern is heart-shaped, which keeps things so so cute on these Short Valentine's Day nails.
43. Raised Hearts Nails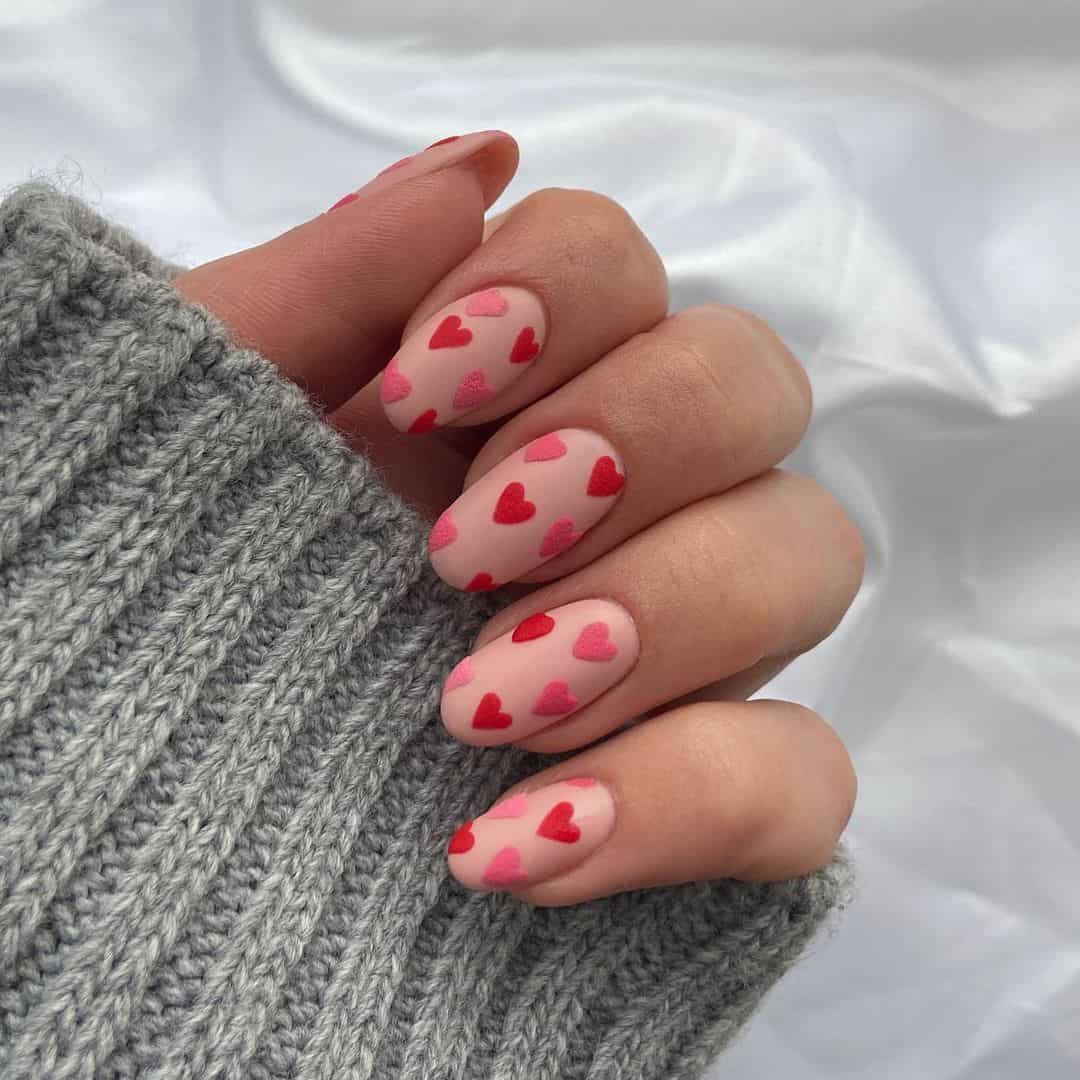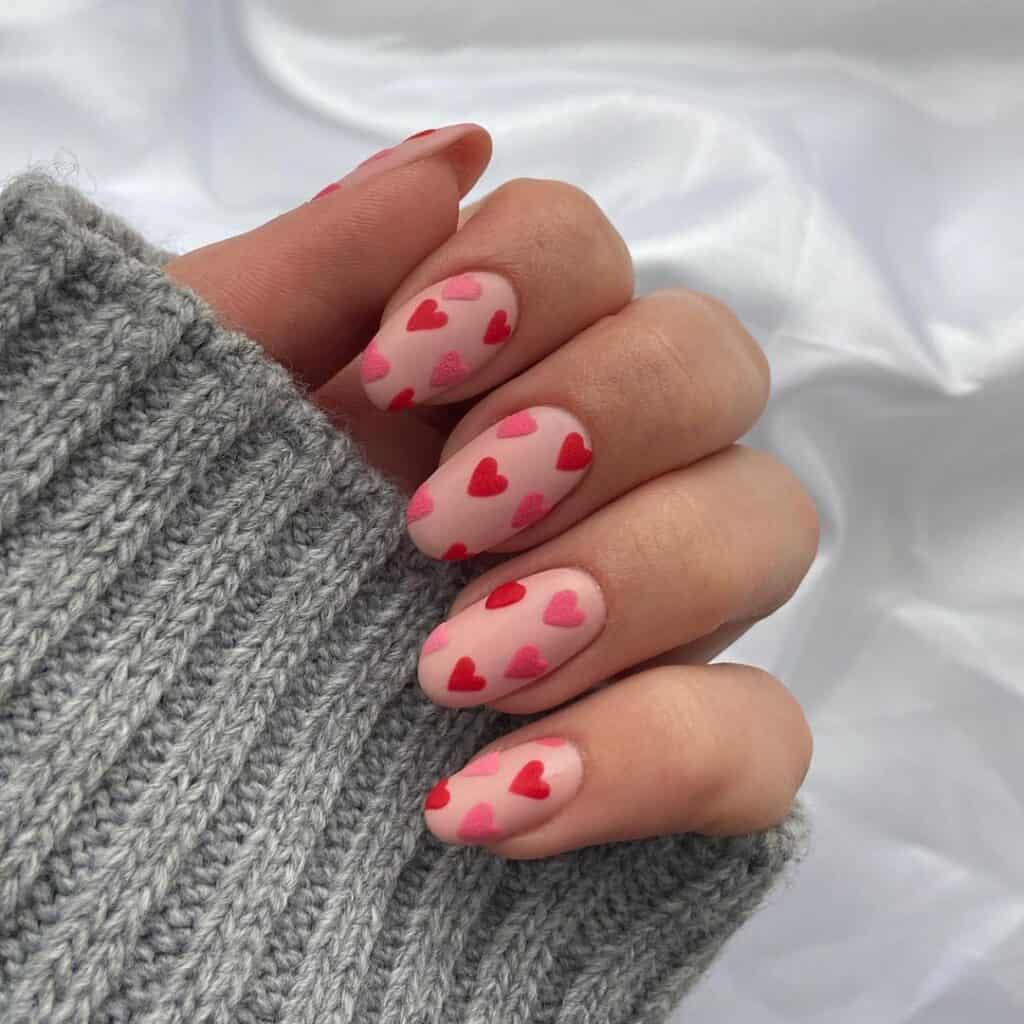 These are my nails this year. I am in awe of their beauty, and it will be a miracle if I manage to remove them before the end of February because I want them for life, if I'm being honest.
Velvet nails are just the answer to all of life's problems. The love hearts just pop off the nails and are so soft while being unique in all the right nails.
Plus, they even look a little "egg-shell effect," which I'm all about, so catch me wearing these at Easter, too.
44. Short Glittery Valentine's Nails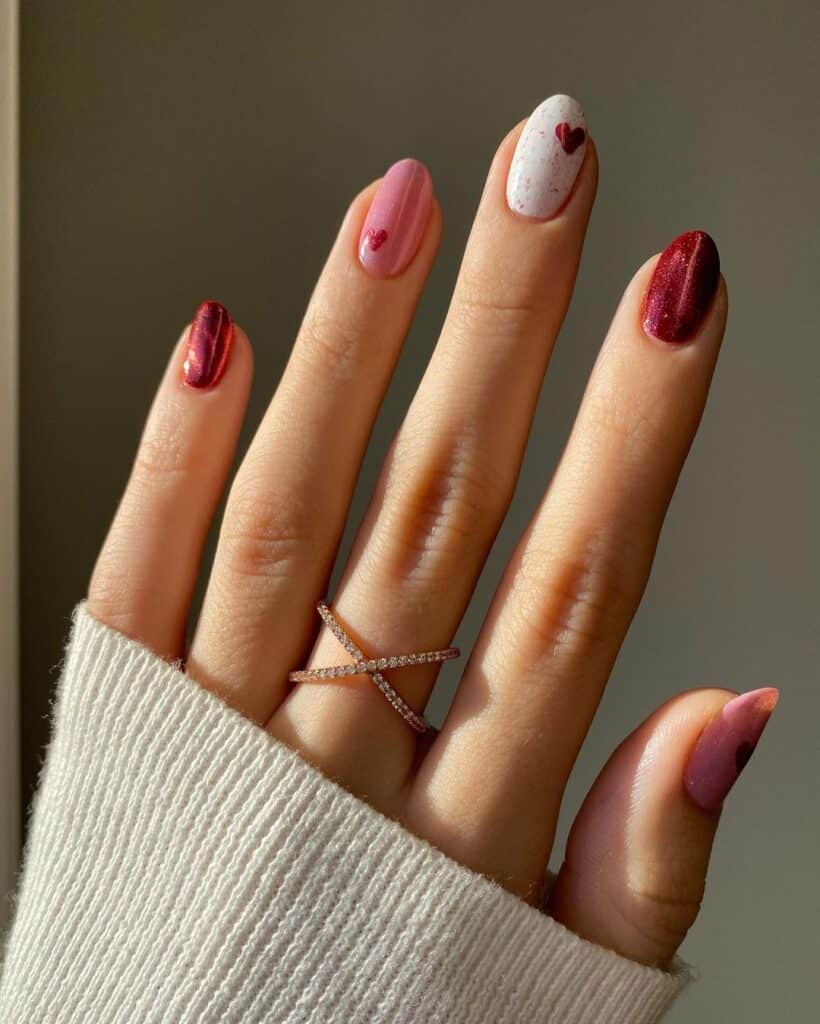 I love the elegance of these nails. But they're also a little bubbly, fizzy, and lively, which is giving champagne dinners and cocktails after with the gals.
Maybe it's the ethereal sparkles that looks like a river of glitter running across your nails or the delicate hearts dotted across the dreamy backdrop, but these nails are all love and charm and I'm here for it.
45. Red Marbled Short V-Day Nails
These nails are electric, almost literally. The two accent nails look like gorgeous lighting strikes, thanks to the wonder of watercolors. So, even though the two nails may look complicated, they're actually quite easy to complete.
All you have to do is get your watercolor solution ready using pink and white polish before dipping in sections of your nail. Add two black hearts and slick on some rich red polish, and you're hot to trot.
46. Short Valentine's Heart Nails
Nails pretty enough for a princess. They're the epitome of beauty, truly. I love the mismatch of the colors that perfectly complement each other and really give life to the look.
They're also simple, considering that it's only fabulous French tips specked with little adorable hearts.
It'll only take a little bit of patience, attention, and skill to complete, but it's more than worth it.
47. Short Comic Valentine's Nails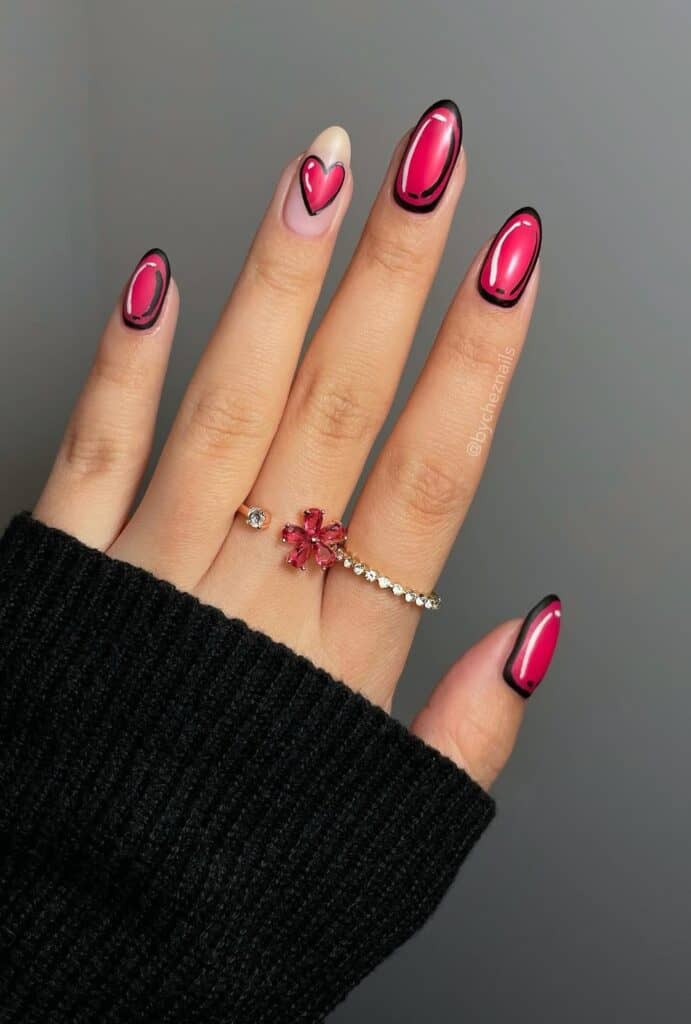 Comic nails are set to be the next big thing. Looking at the design above, it's easy to see why.
They're so quirky and compelling and somehow manage to be so stylish while keeping things fun.
The shade effect and black outline are central to the illusion. The shape is absolutely essential to this look, keeping things soft and cartoony.
These Were Short Valentine's Nails To Upgrade Your Short Nails for Valentine's Day